Lukashenka's speaks to Die Welt, BY and FU square off, Bush, Beavers, Blogs Ahmadinejad, Mirnyi; Political prisoners, Opinion and Sports
Alexander Lukashenko: it is time Belarus and West exploited new cooperation opportunities
From:
BelTA
Alexander Lukashenko :"The Lord G-d endowed Russia with rich natural resources. Nowadays however, Russia uses these resources as a pressure lever of its foreign policy. Well, The Lord G-d also endowed us with other resources — the geographical position of a transit country in Europe. The resource may not be that significant, but we will use it"
It is time Belarus and West exploited new opportunities for cooperation, president of Belarus Alexander Lukashenko said in an interview with political analyst Alexander Rahr for German Die Welt.
"Let us open an overt and honest dialogue. Why Ms. Merkel does not want to talk to people who frequently visit Belarus," the president asked.
"The west should, first of all, lift the 'medieval' travel ban from Belarusian politicians. We cannot shout over the fence," the president said. He mentioned the recent visit of the president of the Council of Europe to Belarus to "educate" us about human rights. "What human rights did he mean? Yes, we may have some drawbacks in guarantying freedom of the press but the EU should admit that our people feel secure. The crime rate in Belarus is one of the lowest in Europe and people have jobs," the Belarusian leader stated.
Belarus president Alexander Lukashenko stated, "The Lord G-d endowed Russia with rich natural resources", however "nowadays Russia uses the resources as a pressure lever of its foreign policy". "The Lord G-d endowed us with other resources — the geographical position of a transit country in Europe. The resource may not be that significant, but we will use it", said Belarus president. He underlined, there are "no completely independent economic systems" and the Russian economy, which is almost 100% reliant on energy export, depends on European customers and, most of all, on Chinese customers".
In response to Alexander Rahr's question, "Vladimir Putin said that Russia subsidises 41% of Belarus budget" Alexander Lukashenko said, "A comedy is staged in Russia. After the Russian public wondered why the Kremlin suffocated its Slavonic brothers, Putin had to think up the way to excuse himself before his own people. The Russian nation took a negative attitude towards the fact that it was the second time we had had the energy inflow shut off since 2004. Russians and Belarusians are united by a blood relation. Our nations have a strong feeling of solidarity, which is fed by memories of the Great Patriotic War. When Hitler assaulted the USSR, Belarus lost a third of its population".
"With its behaviour Russia broke our Customs Union. We will take countermeasures and will collect a land tax on the transit of energy resources through our territory. We studied legal practices used to regulate energy transit in America. We should compensate for the price growth Russia is initiating", noted Alexander Lukashenko.
He named Russia's accusations of Belarus buying cheap Russian oil, refining it and selling expensive oil products "complete nonsense". "We buy Russian oil at global market prices. We pay even $40 more than Ukraine does", stated Belarus leader. "We consume 8 million tonnes, refine 20 million tonnes and sell it as lubricants and fuel. Other leading industrial countries, in particular, Germany, use Russian oil in the same way".
"The Russian government intended to sell gas at $200 per 1,000 cubic metres to us — the same price Germany buys gas at. Back in 2004 Gazprom doubled the price for us. Now, two years later, we have another price doubling. What economy can survive that? Gazprom tried to use us to earn an additional $2 billion. Suddenly Russia demanded that Belarus should pay an export duty of $170 per tonne of bought oil in order to earn another $3 billion. All in all, $5 billion of additional income! Today Belarus budget is as large as $14 billion. It was a primitive but reckless design of Russia!.. Then, Russia demanded that Belarus should pay for oil more than the oil costs on the global market. Russians forced their export duty, and then we raised the transit duty… Where are those billions of dollars Russia allegedly pours into our economy? If it did, our relations with Moscow would have been much better", said Alexander Lukashenko.
Russia is flexing its new energy "muscles" and thinks it can conquer the world once again. The Russian elite has become arrogant, but this will change as energy prices will fall. The head of state urged "not to demonize" Vladimir Putin. "There is no animosity between Putin and Lukashenko. I know Putin as no one else does. He is an outspoken man with precise mind. If he wants to reunite the Slavic world, he should do it in another way," the Belarusian president said.
According to him, Boris Yeltsin knew "how to persuade its neighbors – Ukraine and Kazakhstan – into reintegrating. He never abused his authority. Moreover, energy was very cheap then. Yeltsin always spoke about equal relations and today he urges the Russian leadership to act wiser".
"Belarus still favors the Union State with Russia where both the countries would have equal rights. However, I will never accept Russia's annexing Belarus. To see my country being wiped out from the geographical map of Europe was not what I was elected first president for ten years ago", the Belarusian leader stated.
All Russian TV channels follow one top-down guideline. According to the head of state, during the conflict with Russia he wanted to call a press conference in Moscow to explain his view. The Kremlin banned the press conference. Then Alexander Lukashenko rejected the idea to visit Moscow.
The president also added, "There is no equal access to mass media in any country". Asked to compare Belarus media with Ukraine, which, according to Alexander Rahr, has free mass media, the Belarusian head of state exclaimed, "G-d forbid from the replication of Ukrainian events in Belarus!"
Alexander Lukashenko is convinced, mass media can work like firearms. "Reporters can kill both democracy and totalitarian system, damage the society. In Ukraine there is anarchy, therefore the country's media have anarchy", he said.
Belarus president Alexander Lukashenko believes, former USSR republics "are not ripe" for parliamentary government. According to the head of state, "The Ukrainian constitution reform drove back the country's development".
Who's chair is it? Lukashenko: "when Moscow understood that Lukashenko would not trade-off its country's independence. We believe it is a wicked design to indirectly take our independence from us. But we don't want to get our salaries from the Kremlin. By the way, our Belarusian ruble is stronger than Russian. Our inflation is twice as low as that in Russia.
Expanding the topic, the president noted, after the USSR collapse Belarus was a parliamentary republic. "350 parliamentarians wanted to rule the country, but nobody was responsible for anything. A little bit more, and our MPs would have been as corrupted as those Russia and Ukraine have today. However, in Belarus the parliament itself decided to turn the country into a presidential republic. Now the situation in the country is stable", underlined the president.
In diversifying its energy policy Belarus needs the EU as a partner. "Europe should learn to understand us better. The moment for that is quite good", the head of state is convinced.
Belarus helps the European Union to protect its eastern borders, noted Alexander Lukashenko. "We detain most part of illegal migrants and criminals, who rush to the EU from the east and we bring them back to where they come from. We spend significant funds on this and are a kind of a protective barrier for Europe. Today illegal migrants make their way to the west through the Baltic countries and Ukraine. Our border is impenetrable. How does the EU thank us? By economic sanctions and by stripping Belarus of customs preferences", said the president.
Alexander Lukashenko informed that Belarus' losses stand at $300 million. "We will make up for them by increasing transport tariffs on European transit goods going to Russia through our territory. The new duties could generate up to $1 billion of profits but I do not want a new conflict with the EU", the Belarusian president stressed.
"Belarus is located in the center of Europe, so we have common values. However, we protect our national interests. For example, a strong state is the basis of our socialist economy. Private property is a "sacred cow" for the West and we have been modernizing our sate-run economic entities. For the first time the West took an objective look at us during the recent Belarusian-Russian energy row".
When answering question if the dispute with Russia brought Belarus and the West closer to each other Alexander Lukashenko said: "I do not know. But European states realized: tomorrow Russia can cut gas and oil supplies to the West as well".
According to Alexander Lukashenko, in the future Belarus may start using euro. "Everything is possible in this life. We would like the European Union to open its domestic market for our goods to compete there. It is German businessmen who believe that our economy is more stable than that of many other Eastern Europe countries", stressed the head of state.
In his words, Russia started enforcing its currency on Belarus "when Moscow understood that Lukashenko would not trade-off its country's independence. We believe it is a wicked design to indirectly take our independence from us. But we don't want to get our salaries from the Kremlin. By the way, our Belarusian ruble is stronger than Russian. Our inflation is twice as low as that in Russia. In Belarus nobody would back me if I surrendered our currency now", the Belarusian leader is convinced.
Europe will extend a hand to Belarus for cooperation. Alexander Rahr believes, Belarus and the West "are at the beginning of a very cautious new dialogue, new relations, new rapprochement". "I think the two sides have prospects for that", he said.
Sharing his personal impressions, the analyst underlined the Belarusian head of state "is truly a very open man, a very unusual president both in his communication and argumentation. It was extremely interesting for me to talk to him for over two hours. The interview lasted an hour. Then we had tete-a-tete conversation about Belarusian-European relations, about what awaits Belarus in Europe", added Alexander Rahr.
BELARUS WARNS IT MAY CANCEL ITS SUBSIDIES TO RUSSIA
From:
By Vladimir Socor for the Eurasia Daily Monitor
The Belarus State Property Committee has now prepared draft legislation on rental payments for land tracts used by Russian gas and oil pipelines. Apparently reflecting the "phasing-in of market relations," which Moscow has introduced and Minsk ostensibly replicates, the draft legislation would only charge rent for the forested and other nonagricultural land along the pipeline routes.

Contrary to the widespread impression, Russian economic subsidies to Belarus have been only one side of a two-way process. Belarus has in effect also been subsidizing Russia for the last decade. The mutual-subsidies system has been the only real dimension to the otherwise virtual "Russia-Belarus union state" from 1996 to date. Although politically and institutionally nonexistent, the "union state" has served to justify these arrangements, whereby Moscow and Minsk supported each other through non-cash, not-so-hidden benefits.
Now that Moscow is reneging on its side of the bargain by phasing out the energy subsidies to Belarus, Minsk warns that it could phase out its substantial, if indirect, contributions to Russia's budget. Such contributions include rent-free use of Belarus land for Russian pipelines and Russian military installations, gratis transit of Russian goods through Belarus westward, and other expensive privileges that Russia uniquely enjoys in Belarus. The notion that Moscow has been subsidizing Minsk unilaterally is a tribute to the Russian state media's ability to shape international perceptions of ongoing trends.
As bilateral relations nosedived during the recent negotiations on Russian gas and oil supplies, Minsk hinted at possible retaliation in the form of charging Moscow for some of those services and privileges. On January 14, Belarus President Alexander Lukashenka estimated their value at some $10 billion annually. While offered by Belarus "fraternally" to Russia until now, Lukashenka warned that Minsk could begin demanding compensation in order to offset the higher costs of Russian energy. Echoing him on the following day, Deputy Prime Minister Andrei Kabyakau warned, "If Moscow takes a 'market' approach [to bilateral relations], then Minsk can take a market approach as well."
Lukashenka and other officials have repeatedly hinted at charging rent for the land tracts used by Russian-owned gas and oil pipelines through Belarus. The lines potentially affected are: 1) the Yamal gas pipeline to Europe, the first trunk line of which has reached almost the projected capacity at 30 billion cubic meters annually in 2006; and 2) the pipeline for oil products operated by Russian Transneft's subsidiary West-Transnefteprodukt in Belarus.
The Belarus section of the Druzhba oil pipeline is nationally owned and operated, with Russia enjoying cost-free transit of its oil through Belarus westward. Lukashenka and other Minsk officials have clearly hinted during the recent oil-supply crisis that Belarus would be within its rights to introduce transit charges as any country would under international law.
The Belarus State Property Committee has now prepared draft legislation on rental payments for land tracts used by Russian gas and oil pipelines. Apparently reflecting the "phasing-in of market relations," which Moscow has introduced and Minsk ostensibly replicates, the draft legislation would only charge rent for the forested and other nonagricultural land along the pipeline routes.
Chairing a government session on January 23 in the oil-refining center Navapolatsk, Lukashenka announced that Belarus' annual bill for Russian energy will be higher by $2.5 billion for gas and by $1 billion for oil in 2007. Consequently, Belarus will demand compensation for its services rendered to Russia, proceeding in accordance with international law and starting with Russian pipelines, he confirmed.
The government session focused on energy security, terming it "the most essential issue of our independence and sovereignty." Energy saving and conservation measures were discussed along with diversification of energy suppliers. Failing this, Lukashenka warned, "we would become yet another region of the Russian Federation. But no one will force us onto our knees."
According to First Deputy Prime Minister Uladzimir Syamashka, talks are under way with the Switzerland-based Vitol Oil trading company to supply Belarus refineries with crude oil through Latvia's Ventspils maritime terminal. Vitol is a large oil trader with longstanding interests in the Baltic area. The scheme under discussion would involve using the Navapolatsk-Ventspils pipeline in the reverse direction, via Latvian and Lithuanian territory. Technical work for reversal would cost an estimated $15 to $20 million, according to Syamashka. Russia halted oil supplies through that pipeline to Latvia in 2002 and to Lithuania in 2006 as part of its efforts to devalue and take over the Ventspils terminal and the Mazeikiai refinery, respectively.
Russia is also using two major strategic military installations in Belarus rent-free: the Baranavichi missile early-warning radar and the Vileika naval communications center. The use of these installations is based on agreements signed in 1995 that were meant to compensate for Russian low-cost energy and other forms of economic support to Belarus. In the context of recent negotiations over energy supplies, Lukashenka and other Minsk officials have repeatedly hinted that Belarus would be within its rights to charge rent for Russia's use of those installations.
Western reactions to the Moscow-triggered oil-supply crisis in early January seem to have made a deep impression in Minsk. According to Lukashenka, "Europe and the United States behaved decently, offered support and assistance to us. We shall never forget this." While Russian media toed the official line, Lukashenka remarked, "Western media covered the events objectively" (Belapan, January 14).
In further sign of rapidly changing attitudes, the Belarus government has proposed an energy dialogue with the European Union. The European Commission has received Minsk's initiative favorably and is reviewing it at the expert level. It envisages an EU-Belarus energy dialogue, on a par with the EU-Russia and EU-Ukraine energy dialogues. With Belarus, the dialogue will initially focus on renewable sources, conservation, and energy-saving technologies.
Vladimir Putin Preferred Islam Karimov to Aleksandr Lukashenka
From:
Kommersant
Aleksandr Lukashenka, Belarus (left), Emomali Rakhmonov, Tajikistan (2nd left), Nursultan Nazarbaev, Kazakhstan (3rd left), Robert Kocharyan, Armenia (4th left), Vladimir Putin, Russia (3rd right), Islam Karimov, Uzbekistan (2nd right), Kurmanbek Bakiev, Kyrgyzstan (right) attend the CSTO summit in Minsk.
Russian President Vladimir Putin arrived to Minsk yesterday and attended EurAsEC and CSTO sessions. Putin seemed to have been completely disappointed in Belarus President Aleksandr Lukashenka. It looked like Putin turned to Uzbek President Islam Karimov. Russian officials began considering the possibility that CSTO joint forces will take part in settling the situation in Afghanistan.
Both EurAsEC and CSTO sessions were held in the building of National Library of Belarus Republic. Belarus President Lukashenka wanted to win the support of other EurAsEC members for Belarus's entry to WTO.
Kyrgyzstan President Kurmanbek Bakiev discussed buying agricultural machines from Belarus and Russia. He also said there are 60 uranium waste storage sites, at least 20 of which need urgent reconstruction.
Tajikistan President Emomali Rakhmonov accused Uzbek leader Islam Karimov of not facilitating the visa regime for citizens of EurAsEC member states.
Vladimir Putin did not support one of the documents discussed during the session, the "Concept of EurAsEC International Activity". In fact, Putin want to spoil relations with Lukashenka, being annoyed by their short discussion of natural gas issue. Lukashenka objects to raising the prices on natural gas which Russia supplies to Belarus.
Same members attended the CSTO session. Putin's suggestion to now consider Uzbekistan a full-righted member of the CSTO was unanimously supported. Putin also said Russia is ready for advanced repayment of USSR debts to Paris Club, thus reminding other ex-Soviet states of the debt acquired together, but paid off by Russia only.
Uzbekistan's return to the CSTO makes it possible to conduct a joint CSTO military operation in Afghanistan. This is the main ambition of the organization now, but not Lukashenka's wish to protect CSTO's western frontier.
Border With Belarus Cited as Security Risk
From:
Moscow Times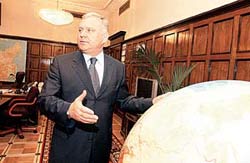 Vladimir Pronichev
Terrorists and criminals could take advantage of Russia's visaless regime with Belarus to enter the country undetected, Vladimir Pronichev, director of the federal Border Service, said Wednesday.
"Russia's border with Belarus is transparent and effectively unguarded," Pronichev said during hearings at the Federation Council, Interfax reported. "A hole has emerged in the border that citizens of third countries use to cross illegally onto Russian territory from Belarus."
Russia requires visas of citizens of some former Soviet republics, but not from Belarussian citizens, creating a loophole that terrorists could exploit, Pronichev said.
"In this situation any foreign citizen can enter Russia unimpeded, and we cannot rule out that terrorists and smugglers might use this channel," he said.
Russia requires entry visas from the citizens of Georgia and Turkmenistan. Belarus only requires visas from citizens of Turkmenistan.
There have been no reports of terrorist attacks carried out by Turkmen citizens. Ethnic Chechens who are citizens of Georgia and live in the Pankisi Gorge have been captured during fighting in Chechnya, however.
Pronichev said international terrorist and extremist organizations remained active in the North Caucasus and that leaders of these organizations continued to seek out "channels for illegally shipping fighters, finances and materiel across the border."
Belarussian authorities were quick to react to Pronichev's statement, which came at a low point in relations between the two countries following a dispute over energy prices.
Oleg Ivanov, deputy head of the Belarussian Foreign Ministry's Commonwealth of Independent States department, disputed Pronichev's assessment, telling Interfax that the absence of border guards did not mean that people trying to cross the border illegally were not apprehended.
Belarus and Russia operate a joint anti-terrorism center and maintain a joint database, Ivanov said. "We are working in both countries, so the transparency of the border has no negative impact," he said.
Ivanov said authorities in the two countries had combined to arrest 60 people wanted by police in the Commonwealth of Independent States
Bush urges democratic progress in Cuba, Myanmar, the Middle East and Belarus
From:
IHT
The United States often condemns Belarusian President Alexander Lukashenko, who has been accused of quashing dissent, harassing opponents and maintaining power through illegitimate elections
President George W. Bush used his State of the Union address to signal the United States' continued support for "the cause of freedom" in Cuba, Myanmar and Belarus, countries the administration has labeled "outposts of tyranny."
Most of Tuesday's speech was devoted to the war in Iraq and domestic issues, and Bush made no major foreign policy announcements. He did speak of several familiar international themes, including the need to confront the nuclear programs of Iran and North Korea, to stop the violence in Sudan's Darfur region and to encourage Middle East peace and democracy.
"We will continue to speak out for the cause of freedom in places like Cuba, Belarus and Burma (Myanmar) and continue to awaken the conscience of the world to save the people of Darfur," Bush said in the speech delivered to the full Congress, one of the most watched political events of the year.
The State of the Union provided a chance for Bush to lay out his plans for the future and to push for democracy in authoritarian countries. Those democracy efforts have been largely overshadowed by fierce debate over U.S. involvement in the war in Iraq.
The speech came as Bush faced his lowest approval ratings in polls and the first Democratic-controlled Congress in 12 years. Democrats wrested control from Bush's Republican Party in elections last November.
The United States often condemns Belarusian President Alexander Lukashenko, who has been accused of quashing dissent, harassing opponents and maintaining power through illegitimate elections. Myanmar's ruling junta and Cuban leader Fidel Castro are regularly criticized for human rights abuses and for imprisoning political opponents.
In his speech, Bush took note of the war in Afghanistan, where "NATO has taken the lead in turning back the Taliban and al-Qaida offensive, the first time the alliance has deployed forces outside the North Atlantic area."
He also mentioned joint efforts by China, Japan, Russia, the United States and South Korea to persuade North Korea to abandon its nuclear weapons. "We are pursuing intensive diplomacy to achieve a Korean peninsula free of nuclear weapons," Bush said.
The United States has taken up the fight against AIDS and malaria in Africa, he said.
"American foreign policy is more than a matter of war and diplomacy. Our work in the world is also based on a timeless truth: To whom much is given, much is required," Bush told lawmakers.
Bush also spoke of the need to encourage democracy in the Middle East and "remove the conditions that inspire blind hatred, and drove 19 men to get onto airplanes and come to kill us" — a reference to the Sept. 11, 2001, terrorist attacks on the United States.
"What every terrorist fears most is human freedom — societies where men and women make their own choices, answer to their own conscience and live by their hopes instead of their resentments," Bush said. "The great question of our day is whether America will help men and women in the Middle East to build free societies and share in the rights of all humanity. And I say, for the sake of our own security, we must."
Two years ago, Secretary of State Condoleezza Rice named six countries as "outposts of tyranny": Cuba, Myanmar, Belarus, North Korea, Iran and Zimbabwe. Bush called Iran, North Korea and Iraq an "axis of evil" in his 2002 State of the Union address.
Belarus vows to up military cooperation with Iran
From:
Jeruselem Post
Mahmoud Ahmadinejad and Vladimir Putin
Belarus pledged to increase military ties and cooperation with Iran on Wednesday, in a rebuff to United Nations sanctions passed last month.
The Belarusian Defense Ministry said Defense Minister Leonid Maltsev, on a visit to Teheran, had met with his Iranian counterpart, Mostafa Mohammad Najar, as well as Iranian President Mahmoud Ahmadinejad.
The two defense ministers on Monday signed a memorandum of understanding that paves the way for visits by expert delegations, military and technical cooperation, staff training and other consultations, the ministry said in a statement.
"The development of bilateral contacts with Iran in the military sphere is being realized by the Belarusian side on the basis of its national interests and in strict accordance with the current norms of international law," the ministry said.
The agreement is likely to renew fears about potential weapons sales to Iran, and fears that Belarus could serve as a conduit for Russian weapons.
Belarus energy security concept to be revamped within two weeks
From:
NLIPRB
Mikhail Myasnikovich
The national concept for energy security and raising the energy independence of Belarus will be revamped within a fortnight, first deputy chairman of the National Academy of Sciences of Belarus (NAS) Piotr Vityaz told media today.
He noted, following the president's order a workgroup led by NAS chairman Mikhail Myasnikovich had been set up. According to Piotr Vityaz, energy saving has been and will be the main part of the concept. The utilisation of local fuel resources, including brown coal and slate, will be expanded. The share of alternative energy sources — the sun, wind, and water — in the country's energy consumption will be increased up to 15%. Power-engineering systems need to be overhauled. Issues related to setting up a domestic nuclear power plant need to be worked out. Search for new energy suppliers might be one of the directions the efforts will be exercised. In particular, the advisability of buying energy in Venezuela, Iran, Azerbaijan, Kazakhstan, and some other countries will be assessed.
Piotr Vityaz noted, January's disruptions of energy shipments to Europe made the European Union develop an energy security concept. He underlined, Belarus had been the first country to develop and adopt the document. "It is a natural process, as energy resources are getting more expensive throughout the globe, forcing most countries to switch to extreme frugality measures", believes Piotr Vityaz.
Belarus, China to implement several large investment projects – Sergei Martynov
From:
NLIPRB
Sergei Martynov
Belarus and China are going to implement several large investment projects, foreign minister of Belarus Sergei Martynov said when answering a question of a BelTA correspondent.
The head of the Belarusian foreign ministry stressed the importance of the agreements which were signed during the 8th sitting of the Belarusian-Chinese commission for trade-economic cooperation which took place several days ago in Beijing. "It is very crucial that the two sides understand that it is more important to focus on large investment programs in Belarus and in China rather than take the simplest "export-import" way of trading. There is a need to set up more joint ventures in Belarus and in China. This is important in terms of import-substituting, jobs", Sergei Martynov noted.
The minister stated that in Beijing the sides discussed the prospects of setting up a joint manufacture of Belarusian tractors in China and there is a full understanding in this issue. Belarus and China have signed a contract on issuing loans to reconstruct CHP-plant #2 in Minsk.
Sergei Martynov also noted that the key issues on the agenda in the Chinese capital were the bilateral cooperation prospects. The two sides are interested in gradual involvement of Belarus in the programs of development of western regions and modernization of north-eastern regions of the PRC. "The Chinese side is ready to cooperate with Belarus in this area", stressed the foreign minister of Belarus.
Alexander Lukashenko: cooperation between Belarus and Vietnam reach level of strategic partnership
From:
NLIPRB
Nguyen Minh Triet
President of Belarus Alexander Lukashenko congratulated president of the Socialist Republic of Vietnam Nguyen Minh Triet on the 15th anniversary of the establishment of the diplomatic relations between Belarus and Vietnam, the press service of the Belarusian leader told BelTA.
Alexander Lukashenko noted with satisfaction that over the past years the cooperation between the two countries has reached the level of strategic partnership.
"Our countries have similar positions and cooperate constructively on the key foreign political issues, oppose the creation of the one-polar world and wish to see that the interests of developing countries and the countries with economies in transition are observed", says the message of the president.
Syria and Belarus boost scientific cooperation
From:
Sana
Lopato Zagorsky
Higher Education Minister Giyath Barakat on Thursday discussed with Belarus Ambassador in Damascus Vladimir Lopato Zagorsky scientific cooperation between the two countries and means of developing it.
Prospects of scientific, academic and research cooperation between the two countries and mechanisms of activating the scientific agreement signed between them were also touched upon during the meeting.
Both sides expressed mutual desire for enhancing scientific cooperation between the educational establishments in the two countries.
A 20-years-old young man fell out of the milicia station window in Pinsk
From:
Charter '97
Pinsk, Belarus
A 20-years-old young man fell out of the window on the second floor of the Pinsk city milicia station and immediately died. As the BelaPAN was informed at the prosecutor's office, the young man was detained on suspicion of a mobile phone theft by the miliciamen at 1.25 a.m. on January 22.
A local national applied to the emergency office of the Pinsk city milicia station with a claim on the above-mentioned crime. According to him, in the period from 10 to 11p.m. on January 21 after drinking hard drinks someone of the company stole a phone from the flat.
The public prosecutor's office reports that the suspect was brought to the milicia station around 1.50 a.m. for investigating the circumstances of the theft as it was after his leaving the flat that the claimer found out that the phone had disappeared. At 2.50 a.m. the suspect underwent the medical test which showed 2 per mille of alcohol in his blood. At 3.10 a.m. the young man voluntarily returned the phone which had been kept in his house. The suspect was being interrogated from 3.20 till 3.50 a.m. on the second floor at the milicia station. He admitted his crime. At 4.26 a.m. after signing the protocol the young man asked an interrogator for a sheet of paper and wrote something down. Then suddenly he jumped onto the table and out of the window. He broke a double window glass with his body.
The young men fell down on a concrete parapet. The emergency was called to the place of accident and stated his death. A pre-death note saying "Forgive me, Katya and brother. I'll remain with you for ever "was found in the dead young man's pocket. All the circumstances of the accident are being investigated by the Pinsk public prosecutor's office.
In 2006 the dead was convicted for illegal drugs' circulation to one year of imprisonment. He was also brought several times to administrative account for petty theft and alcohol abuse.
Belarus has no political prisoners – Interior Ministry
From:
Itar-Tass
Alexander Kozulin
Belarus has no political prisoners, Interior Minister Vladimir Naumov told a news conference on Wednesday.
"In our prisons we have no citizens, who are sentenced on political charges," he said.
Those citizens whom the Opposition or western officials consider political prisoners "as a rule serve their prison term for hooliganism and group violations of public order," Naumov said.
On his recent visit to Belarus PACE President Rene van der Linden called on the Belarussian authorities to begin integration with European structures from the release of political prisoners.
Van der Linden pointed out that international experts should resolve existing disagreements with Belarus on who is a political prisoner.
Belarus Forestry Officials Demand Campaign Against Thriving Beavers
From:
Playfuls
Biologist: Basically, busy Belarusian Beavers have become a burden
Belarusian officials on Thursday recommended rifles and increased body counts as the only way of dealing with the country's burgeoning beaver population, the Belapan news agency reported.
Elizaveta Korolevich, spokeswoman for the Belarus Ministry of Natural Resources and Environmental Protection (MNREP), said past government measures to control the aquatic rodents had failed miserably, despite years of trying.
Belarus straddles the Pripyat marsh network, Europe's largest wetland. The former Soviet Republic's beaver population has exploded in recent years, numbering an estimated 26,087 individuals in 2001, and 43,786 beavers as of the beginning of 2006, according to MNREP counts.
"Control efforts are not working," Korolevich said. "We need more severe measures."
A MNREP study recommended cancellation of a generation-old ban on beaver hunting, and allowing private hunters to kill 6,500 animals annually during a three-year period ending in 2010, and 4,000 beavers every year after that.
Beavers currently are fully protected under Belarusian legislation. Poaching is severely punished by the former Soviet republic's authoritarian government, which for practical purposes bans the ownership of fire arms.
Energetic beaver engineering in recent years has undermined dozens of kilometres of Belarusian roads and railways, and flooded hundreds of square kilometres of arable land, according to Belarus government estimate.
"This is no longer a case of protecting nature," said Dr. Petr Kozlo, a government biologist. "In some regions, beavers are actively destroying the ecology."
Past efforts to minimize beaver-caused property damage centred on trapping the beavers live, and transporting them to regions distant from inhabited areas.
"Trapping is insufficient," Korolevich said. "The ones we catch and remove swim back to where they were trapped."
Kozlo recommended a state campaign to promote the manufacture of beaver hats, as a means of creating economic demand to reduce beaver numbers in the country.
Opinion...
From:
Sergei Karaganov for RIA Novosti
Lukashenko has persuaded the majority of the nation's leaders and population that he can always take Moscow for a ride. He has sown mistrust of Russia not only among the liberal and educated strata, but also among the public at large with his viciously anti-Russian massive propaganda
-Moscow and Minsk seem to have come to terms. Moscow has increased gas tariffs, and given Belarus a blessing of transition. It has also raised export duties for the oil pumped into Belarus and through it.
To sum up, Moscow has reduced but not stopped de facto subsidizing of the Belarusian government.
This is not the first time we have tried to threaten Minsk or persuade it to switch to a more sensible economic policy. There were almost no official calls for a more adequate policy from within. Be it as it may, but the result was zero, if not negative. Eventually, the Russian government resorted to action but stopped halfway. It is clear that we are not completely sure of what to do next.
Before suggesting an alternative, I would like to analyze the policy we have or have not pursued towards Belarus in the last 10 or 12 years. I took an active part in debates on it, although I am sure that my analysis cannot be totally accurate, and many will not agree with it for at least two reasons - first, there were only approaches to the problem instead of a policy, and, second, many will find my analysis unpleasant.
In 1995-1996, a line towards rapprochement with Belarus was justified for three reasons. They were intertwined in the heads of politicians and political scientists, and the division into schools of thought is a mere convention. The first school was in favor of Russia's unification with Belarus. Its advocates believed that Russia should quickly set up an alliance with Belarus, and move to reunification while Alexander Lukashenko was in power. They believed (probably with good reason) that he was not against this scenario at the time. The second school of short-term pragmatics hoped on the eve of 1996 that the course towards reunification would relieve the Russian president of the guilt for the Soviet Union's disintegration. The third school of long-term pragmatics, to which I belonged, believed that fast rapprochement with Belarus would guarantee a politically safe corridor for the transit of Russian goods to and from Europe, help keep the Kaliningrad Region in Russia, and prevent the formation of the second buffer (in the Baltic-Black Sea zone) for containing Russia. Rapprochement with Belarus was also seen as a vehicle of its economic and political modernization.
Left-wingers opposed the plan of reunification with Belarus for fear that it might prolong Boris Yeltsin's political life. Right-wingers were worried that re-unification might turn Lukashenko into our common leader.
As a result, we established some bureaucratic phantom of a union state. Belarus and its leaders received enormous preferences for a decade to come, and a possibility to have a relatively high standard of living at Russia's expense without carrying out any reforms.
Having created this phantom, the Russian policy-making class calmed down, and practically left its neighbor alone. There was a burst of interest when Putin suggested "separating the flies from the cutlets", that is, switching to a more pragmatic policy. But gradually Belarus receded into the background because of political challenges and economic interests which seemed more important.
Rose and Orange revolutions almost completely hushed up the voices of those who criticized Minsk for having stopped being a reliable ally and transit country a long time ago, and for becoming an increasing burden for Russian policy in Europe. The well-known American maxim gained an upper hand - "He may be a son of a bitch, but he's our son of a bitch."
Meanwhile, for all its negligible resources, Minsk did have its own policy, and this policy seems to have won. When it transpired that the hopes to occupy the Moscow throne were unrealistic, the Belarusian leader started consistently consolidating his power and reducing Russia's influence.
He reduced to naught the influence of the once dominant Russian media. The idea of the invincible and irreplaceable Lukashenko was imposed on the nation. Dissidents were ousted or thrown behind bars. The ruling class that once waited for a signal from Moscow was harassed or bribed with money from Russian subsidies.
In more than a decade, there has emerged a Belarusian political class which no longer wants rapprochement with Moscow. Typically, the Batka (father) enjoys support of many ultra nationalists that could not tolerate him only a couple of years ago.
Lukashenko has persuaded the majority of the nation's leaders and population that he can always take Moscow for a ride. He has sown mistrust of Russia not only among the liberal and educated strata (which we have never supported, and even allowed an institute of political prisons to appear in a formally union state), but also among the public at large with his viciously anti-Russian massive propaganda.
As a result, both the advocates of the union and long-term pragmatics have been put to shame. Belarus is far from Russia, and continues moving further from it. It is not a dependable transit country for Russian goods, and especially energy carriers. Minsk is threatening Moscow with geopolitical re-orientation, and an idea to set up a Baltic-Black Sea buffer.
In the meantime, pro-Russian politicians are serving prison terms and damaging their health with hunger strikes. They enjoy only Western support, hypocritical as it is. EU countries are happy to buy increasing amounts of Belarusian oil and gas products. As a consequence, Belarusian exports to Europe have increased many times over, and exceed supplies to Russia. However, when Russia belatedly announced its intention to raise prices on energy exports to Belarus and cut down customs preferences, official Washington came out in defense of the "interests of the Belarusian people," while the Europeans lashed out against Russia for using energy resources as an instrument of political pressure. The Chairman of the Parliamentary Assembly of the Council of Europe (PACE) arrived in Minsk with a strategic support mission though Belarus is not a PACE member.
There is little point in looking at the West in determining policy towards Minsk. Those who tacitly listed Belarus as Russia's sphere of interest not so long ago are gone. For the time being, the West has written off Moscow as an ally for a number of reasons. It is not going to consider Russia's interests, and has opted for tough bargaining. The West will condemn Russia regardless of what it does, and for this reason we should pursue our own genuine long-term interests.
In this case, we should not stop halfway and continue supplying Belarus with energy resources at semi-market prices. We should bring the matter to its logical conclusion and explain our position to everyone.
And, last but not the least, we should stop feigning ignorance of human rights violations in Belarus. I don't want to preach morals to the policy-making class in Russia, but moral policy proves to be useful very often. In retrospect this is an axiom. If we had not withdrawn support for the opposition in Belarus and had protected the media's elementary freedom, the Belarusian elite and official Minsk would be much more pro-Russian and we would have many more opportunities to influence the situation there. There would be more chances for a change of power in Russia's favor, and we would not be ashamed of our lack of action, because of which thousands of people in a fraternal country found themselves behind bars and had to peg their hopes for a better life on countries other than Russia.
Note: The opinions of this aticle do not nessasarily represent the view of the BEING HAD Times etc, etc, etc...
From the blogs...
India's Tata Motors on the road to Belarus auto scene
From:
Dance with shadows
Chairman of Tata Sons Ltd, Ratan Tata
India is seriously looking beyond the boundary in the automobile front. The latest buzz is that India and Belarus are negotiating the launch of joint automobile production in that country.
The initiative is being effected by the Tatas who have shown interest in implementing such a project, said reports quoting Belarus top officials. Tata representatives had visited Belarus several times and negotiated the project.
At a time when the Indo-Belarus trade ties are booming, the Belarus government is believed to have created a sufficient legal base to advance trade and economic, scientific and technical, and military and technical relations. Many bilateral agreements can be revised to embrace new avenues of cooperation, it has been reported.
The Indian embassy is son to have a permanent trade representative and a military attache is supposed to be accredited, too. In view of the expanding cultural ties, the post of cultural attache may be introduced, reports added.
Cooking the Books: The new oil and gas deals with Russia will undermine the foundations of Belarus' economic success.
From:
Siarhej Karol for TOL Blogs
What (The natural gas deal) will do is shatter the myth of the "Belarusian economic miracle" and make plain what the Belarusian economy has always been – an unprofitable one-company enterprise surviving from extracting monopoly rent from its geographic position.
Moscow's decision to start charging Belarus world market prices for energy is one of the most dramatic events in the recent history of the former Soviet republic.
The natural gas deal agreed between Russia's Gazprom energy supplier and Belarus on 31 December means that Belarus' old, deeply discounted rate of less than $50 per 1,000 cubic meters will double in 2007 and continue to rise over the next five years to the price paid by Western European customers.
The new oil arrangement will also cost Belarus plenty. After Russia shut down the Druzhba pipeline, which supplies Belarus and several other countries with Russian oil, in early January, Minsk agreed to pay a duty of $53 per ton on Russian crude used in Belarusian refineries.
Until this month, Belarus probably saved around $4 billion to $5 billion per year on the difference between market energy prices and the discounted rates Russia charged, a sizeable share of its $30 billion national product. This was the main source of the famed stability of that unreformed economy. The sharp reversal of these terms does not yet mean the imminent collapse of the Belarusian economy and the Lukashenka regime with it. What it will do is shatter the myth of the "Belarusian economic miracle" and make plain what the Belarusian economy has always been – an unprofitable one-company enterprise surviving from extracting monopoly rent from its geographic position.
MADE IN THE USSR
To see why these events are so important, one must understand just how peculiar the Belarusian economy is.
Belarus is a rare case of a country whose economy is almost entirely artificial. Most countries' or regions' economies have evolved in line with local factors such as natural resources, land, labor, capital, or conditions that promoted the growth of entrepreneurship and industry. Until the 1940s, Belarus, too, was such a place, naturally evolving in the agricultural and transport, but not manufacturing, sectors.
After World War II, however, Soviet central planners picked Belarus to be the union's assembly line and chemical plant. Belarus became a specialist in turning parts and energy into finished goods. Far from natural resources and makers of the parts used in its assembly factories, Belarus was not a natural location for such a massive industrial complex. It would not have emerged in the conditions of a market economy and was only possible in the planned economy of the Soviet Union, when nobody expected it to break up. When the USSR suddenly collapsed, the economy of Belarus, one of the most advanced among the Soviet republics, also became the most vulnerable. This predicament, well understood by Alyaksandr Lukashenka, became the dominant factor that determined the new nation's post-Soviet development.
Politically, the postwar years that transformed a humble peasant land into an industrial powerhouse became the golden age in eyes of many Belarusians. A curious national identity began to take shape at this time – an identity that combines a sense of proud difference from the country's Slavic neighbors with pride in belonging to a non-Western brotherhood.
The purely economic effect of the Soviet industrialization drive was even more important. Belarus' trade dependency, or the average of its exports and imports as a percentage of GDP, is about 60 percent. An economy with a trade dependency like that must ensure that its exports increase in line with imports. When the country's jury-rigged economic engine starts to misfire, though, incomes suffer, unemployment rises, and unrest begins. This is precisely what happened in the early 1990s to bring Lukashenka to power. Elected on a wave of discontent, he knew that his political survival depended on his ability to maintain the advantageous deals with Russia by any means. This required his personal control over the entire value chain, from purchase of materials to sale of output. Accomplishing that has not been hard: also thanks to Soviet industrial planners, the entire economy is represented by a handful of very large enterprises, organized into ministries whose directors report to the president. These enterprises, including Belneftekhim (petroleum and chemicals), Minsk Tractor Works, Minsk Automobile, the Belaz heavy trucks works, and the Azot chemicals concern, employ hundreds of thousands and produce more than four-fifths of the Belarusian GDP. Belarus' economy is a Fortune 500–size holding company, with the president as CEO.
Text continues...
Sport...
From: Zee News
Bjorkman and Mirnyi are both headed to two finals in Austrailia
Jonas Bjorkman has moved closer to a fourth Australian Open doubles title. Both also will appear in the finals of the mixed doubles.
Bjorkman, 34, combined with Max Mirnyi of Belarus to win through to the final of the Open today.
The pair defeated Australian Paul Hanley and Kevin Ullyett of Zimbabwe 2-6 7-5 7-6 in today's semi-final.
Bjorkman won his first Australian doubles crown in 1998 with Jacco Eltingh.
He won the title with Australians Pat Rafter in 1999 and Todd Woodbridge in 2001.
Bjorkman and Mirnyi now face the winners of the semi-final between Americans Bob and Mike Bryan, the top seeds, and Canadian Daniel Nestor and Mark Knowles of the Bahamas, who are seeded three.
In the other semi-final, Max Mirnyi and Victoria Azarenka of Belarus will face Jonas Bjorkman of Sweden and Francesca Schiavone of Italy.
Mirnyi and Azarenka downed top seeds Bob Bryan and Lisa Raymond of the United States 6-2 6-1 while Bjorkman and Schiavone quelled the fierce challenge of Julian Knowles of Australia and China's Tiantia Tiantian Sun 7-6 (7/3) 6-4 in the quarterfinals.
Sport briefs...
Belarus' Alexander Lasutkin won the men's double pursuit at the Winter Universiade on Wednesday, including 7.5km classic and 7.5km free, by the fastest time of 36:43.7. In the women's double pursuit in the cross-country event Olga Vasiljonok of Belarus took third in 27:12.6.


Midfielder Alex Hleb has been ruled out of action for four weeks after suffering a hamstring injury. Arsenal boss Arsene Wenger told the club's website: "I think he will be out for longer than I first thought - for a good four weeks. You do not want to lose players in January. If you lose them for a long time, then their season can be over."


Sergei Davydov of Belarus was third with 70.14 points in the the men's short program at the European Figure Skating Championships.


Endnote...



Minsk will have 3 top-class hotels

From: Sergey Kozhevnikov for Belarus News and Facts

Hotel "Minsk"

Belarus has never boasted top-class four- and five-star hotels capable of providing bed and breakfast to the toffs. The only hotel certified to have four stars on its façade has been the Hotel "Minsk". But the situation is to change very soon, after 3 magnificent hotels open in the capital city at once.

Hotel "Europe"

This five-star hotel will hang out the "Open" signboard for its first guests at the beginning of 2007. The hotel is located on the spot where there was once the famous "Penguin" café (and then "Blues" café) on Internatsionalnaya and Lenin Streets. The construction was started when the president ordered to build the country's first five-star hotel. Minsk once had the Hotel "Europe" in early 20th century. The hotel was one of the best places for travelers to stay in the North-Western region of the Russian Empire. The five-storey building had 130 rooms, a luxury restaurant with electric lighting, shops, a library and a hairdresser's parlor. Besides, the hotel had a water heating system and the first elevator in the city. The hotel did not survive WWII: it was demolished by Nazi invaders.

The modern "successor" of the Hotel "Europe" will become Belarus' most luxurious hotel with state-of-the-art equipment, including an autonomous boiler-house, which will provide uninterrupted supply of hot water and heat (which is especially important in summer, when hot water is unavailable in Belarus for almost three weeks due to routine maintenance). There are 68 rooms in the new hotel, including a mind-boggling presidential suite. The hotel has a range of recreation facilities for the most exacting customers — a sauna, swimming pool, restaurant, bar, night club, beauty parlor, hair and nail salon and bodybuilding equipment. A spacious conference-room provides an excellent business environment. The designers paid special attention to comfort and equipped each suite with air-conditioning systems, heated floors, access to the Internet, a safe and exquisite furniture sets made from rich woods. The Hotel "Europe" also boasts unique elevators with all-round views and a cozy atrium with a winter garden.

Hotel "Victoria"

Belarus' second four-star hotel will soon open in Pobeditelei Avenue in the center of the city. History appears to repeat itself, just like it happened to the Hotel "Europe": Minsk once had the "Victoria" in Zakharyevskaya and Cherankin Street and belonged to Kh.A.Shapiro. The modern building is located not far from Komsomolskoe Lake and can easily be classified as a high-tech facility for doing business. The key difference from the other four-star hotel of the country is that the "Victoria" is designed as part of a large business center.

The hotel has 169 rooms, including four special suites for wheelchair users, eight king-size suites and a presidential suite. Telephones will be installed not only in living rooms, but also in bathrooms. All rooms have mini-bars and mini-safes, as well as LCD televisions and an electronic wake-up call. There are plastic cards instead of keys, and the same cards may be used to pay for services. Guests will be able to have breakfast in the restaurant, which occupies the ground floor, and order food in their rooms. There is a special tablet with menus in each room; the visitor should just tick whatever he or she likes, and put the menu on the doorknob.

The restaurant with 134 seats is on the ground floor, and the banqueting hall for 56 seats is on the first floor. Besides, the visitors will be able to use a spa-parlor, workout room, vitamin bar and sauna with a pool. Businessmen will clearly be interested in special rooms for negotiations and a business center with copying-duplicating equipment, high-speed Internet access, laminating machines and bookbinders.

The Hotel "Victoria" will open the first set of facilities in 2007.

"Minsk Princess Hotel"

The former Hotel "Svisloch" on the bank of the river Svisloch opposite the Dinamo stadium will turn into a luxury five-star hotel called "Minsk Princess Hotel", a link of the world famous Princess Group hotel chain. The hotel of this level offers everything that its visitors might wish to have and even a bit more. This five-star hotel will focus on recreation and entertainment, according to the executive director of the "Minsk Princess Hotel", Sergey Yakutovich. The facilities of the hotel will be available both to the guests and regular Minsk citizens. A separate building will comprise several disco clubs, 13 bars, three restaurants, a café, a vaudeville house, two casinos and a playing machines lounge. The fitness center of the hotel will have a large swimming pool, and its beauty salon will be using exclusive equipment and technologies that are not used in Belarus yet. Vehicles will be delivered to the underground parking lot by special elevators.

The hotel has over 100 suites, of them two amazing two-storey VIP suites.
The designers and builders had an extremely difficult task of reproducing the design of the hotel built over 70 years ago. They restored stucco work and installed replicas of the Soviet chandeliers.

The "Minsk Princess Hotel" will be opened step-by-step. The first block of facilities to be opened will comprise a casino, café, restaurant and a conference-hall.