The Gas Deal: Part II; Presidential address, News from both sides, Sugar train scandal, oil duties, Opinions and more opinions
Belarus faces difficult, thorny path - Lukashenko
From: Itar Tass and Naveny
Belarussian President Alexander Lukashenko, in his New Year greeting to the Belarussian people praised the republic's economic success in the outgoing year, but noted that the country faced "a difficult and thorny path."
"We should only count on ourselves and our hands; we have to learn to work in new economic reality, live and engage in economic activities more diligently. Our tomorrow is an economy of knowledge and new technology, only thus we'll be able to strengthen sovereignty and preserve the country," the president said.
Last year, "we had to withstand massive internal and external pressure during the presidential election; but the attempt to rock the country fell through," Lukashenko underlined.
"Equity, the world order, Belarus' sovereignty, and the welfare of the nation make the basis of the policy from which we won't step tack, regardless of how much they threaten or pressurize us," the head of state noted.
"We wanted to be less busy with politics and more with the economy and people's living standards, but for reasons that did not depend on us, we didn't always manage to do that," he said. "We had to encounter massive external and internal pressure during the presidential election. But the attempt to shake up the country turned out a complete fiasco. The wise Belarusian people expressed their clear, weighty and firm will."
"They are once again threatening us with economic sanctions and isolation," Mr. Lukashenko said. "The reason is simple. It's our aspiration for self-sufficiency and independence."
"The West's threats are not surprising to us, but the anti-Belarusian sentiment among certain government circles of our friends arouses disappointment," he said. According to Mr. Lukashenko, by ignoring earlier reached agreements, they "deal a blow to our centuries-long friendship." "They appear to have forgotten the old Russian saying that 'God is not in strength but in truth,'" he added.
"A just world system, the sovereignty of Belarus and the well-being of the people are the cornerstone of our policy, which we'll never give up however much they threaten and press us," Mr. Lukashenko said. "We should advance our national interests as our ancestors did in the most difficult periods of the history of Belarus."
"We should be ready for having to make difficult and unordinary decisions because those seeking to hook nice pieces of property in Belarus won't abandon their attempts to break us economically and politically," Mr. Lukashenko said.
"We should never allow discord, disorder and confusion in society," the Belarusian leader stressed.
He noted that the main result of the year 2006 was the fact that "our women have started to feel confident in the future," as "a good birthrate trend has set in for the first time in 15 years.
The Gas Deal...
Belarus, Russia strike gas deal
From: Belta
Belarus and Russia have signed a contract stipulating the terms of supply of Russian gas to Belarus in 2007 and those of transit of gas across Belarus to Europe.
Under the contract, the gas price for Belarus will be $100 for one thousand cubic meters. As Belarusian premier Sergei Sidorskiy told reporters today, the price is rather big. Russia increased it 2,1 times from 2006 thus putting Belarus in a difficult situation as long as Russia's neighbor does not have sufficient supplies of energy resources of its own and Belarus' economy hugely depends on them. On the whole, the terms of the contract are unfavorable for Belarus, the premier said.
From January 1, 2008, calculating the price of Russian gas for Belarus, specialists will apply a formula used for Europe.
On December 31, Belarus and Russia signed a contract stipulating the terms of supply and transit of Russian gas in 2007-2011. The price for Belarus will be $100 for 1,000 cubic meters and the transit rate will rise from $0,75 to $1,45 for pumping of 1,000 cubic meters of gas at the distance of 100km.
Under the contract, by 2011 Belarus will reach the European gas price level. The transition will be gradual as Russia's neighbor will enjoy certain price discounts. For example, in 2008 Belarus will pay 67 per cent of the price paid by European countries under the standard formula, in 2009 – 80 per cent and in 2010 – 90 per cent. By 2011 Belarus will pay 100 per cent of the gas price calculated under a standard formula which Gazprom uses in cooperation with European countries.
According to Belarusian premier Sergei Sidorskiy, the terms of the new contract are unfavorable for Belarus as the gas price is set to double.
"Of course, Belarusian economy – which has no resources of raw materials of its own and which, just like Russian economy, takes much pains to keep growing – will have to look for reserves to keep developing in line with the plans," he said.
The price of $100 is rather big for Belarus "this is why both the government and economic entities will have to work really hard", he added.
In case Belarus finds it difficult to meet its gas bills, it will hold negotiations with Gazprom so that the payments could be postponed or made by installments.
Initially, as Sergei Sidorskiy told reporters, the idea was to make the price $75. From January 1, 2007 gas price in the Russian ninth zone will make $54. "We proposed starting with $75 for Belarus, i.e. we were ready to add $21 in favor of Gazprom. But we were told "no". However, as long as we respect our partners, including those in Europe who were contacting us over the last two days, we had to agree upon the new price. It will be hard but Belarus, as always, will cope with the difficulties," he added.
"We were set a condition: gas price had to be doubled. We accepted it. We accepted it only because in this way we once again demonstrate our partnership with the Russian Federation and the fact that we are reliable partners," the Belarusian premier said.
"I talked to the premiers of neighboring countries and of European Union member-states and promised we would take balanced decisions which would give our partners in Europe confidence that Belarus is a reliable partner. The Security Council of our country and the government jointly made a decision. We accept the price of $100 which is rather big for us and we will solve all the relevant issues in Belarus on our own," he said. "Belarus has always held out in difficult situations. We will do our utmost so that our people could not feel this rise," he added.
Besides, on December 31 Belarus and Russia signed a protocol on setting up a joint venture on the basis of Beltransgaz, a major Belarusian gas producing and gas transporting concern. Having embarked on the course of setting up such a joint venture four years ago, Sergei Sidorskiy said, Belarus has been consistently fulfilling its obligations before Russia. "It was the price that was the stumbling stone," he added.
Independent experts assessed Beltransgaz as worth of $5 billion. "We have found a common ground with our colleagues on that point. $5 billion is a firm price of Beltransgaz. We have agreed that Gazprom will buy 50 per cent of shares of that company and will pay in equal shares within four years," he said.
The parties have not agreed upon oil duties yet, he added.
"Belarus pays world price for oil. We are proposed to add another $160 to this price from January 1, 2007. This is why I have told the Security Council of Belarus that the economy of the country is unable to buy oil at a price which is bigger than the world one," Sergei Sidorskiy said.
In case new duties for the import of oil are enforced for Belarus, the oil price it pays will soar to $400. So, Belarus refused to buy oil at such a price from Russia.
"We have not been buying oil for several days now. Our partners – Russian oil companies – also understand the reasons for such a situation and treat this issue with regret because there is no sense in sending oil to Belarus at such high a price," the head of the Belarusian government said.
Belarus has proposed Russia dividing export duties on oil products applying the ratio of 50/50.
Today the parties intend to discuss these issues in Moscow.
Gas Deal signed just before midnight:Belarus to pay $100
From: Reuters, Interfax
Belarus will more than double its payments for Russian gas from Monday after Minsk and Moscow agreed late on Sunday to settle their pricing dispute, which was threatening to disrupt gas flows to Europe.
Following are key facts about the gas deal signed by the Belarus government and Russian gas monopoly Gazprom
GAS PRICE
Belarus will pay $100 per 1,000 cubic metres of natural gas from Monday, up from $46. The country buys around 21 billion cubic metres (bcm) of Russian gas every year, so its gas bill will rise to $2.1 billion a year from around $1 billion before.
Gazprom had wanted Belarus to increase payments to as much as $200 as it seeks higher revenues from all ex-Soviet states. Belarus argued it should pay the same for its gas as Russian domestic customers as it is building an economic union with Russia.
By comparison, Gazprom agreed this year to charge Ukraine $130 per 1,000 cubic metres, Moldova $170, Georgia $235, while consumers in Western Europe pay an average of over $250. Gazprom says even with the increase, Belarus will still have the cheapest deal of any ex-Soviet republic. Belarus says the increase will have a detrimental effect on its economy.
GAS TRANSIT
Gazprom, which supplies a quarter of Europe's gas needs, ships around 80 percent of that gas via the territory of Ukraine and the rest via Belarus.
Belarus is the key transit route for gas to Poland and Germany, which together receive about 30 bcm of Russian gas a year. Minsk had threatened to halt those shipments if a deal with Russia was not agreed by Monday.
Polish Economy Minister Piotr Wozniak told a news conference: "After a somewhat nervous night we were relieved to learn the gas situation on the eastern border is normal."
Under the deal, Gazprom will almost double transit payments to Belarus. The new fee will be $1.45 for every 1,000 cubic metres of gas pumped 100 km (62 miles). Up to now Belarus has charged Russia $0.75. Belarus had wanted Gazprom to pay $1.65.
BELARUS PIPELINES
Gazprom already owns all of Belarus' transit pipelines but also wants a share of the country's local pipelines, controlled by a state-run firm known as Beltransgas.
On Sunday, the two sides agreed Gazprom would pay $2.5 billion for ownership of 50 percent of Beltransgas. The money is to be paid in cash over four years. Belarus had wanted Gazprom to pay the entire sum in 2007. Gazprom had initially valued the entire firm at less than $1 billion.
OIL DELIVERIES
Belarus refines around 400,000 barrels per day of Russian crude. Until this year, the crude was shipped from Russia to Belarussian refineries without export duty being levied on them.
Russia has said it would impose an export duty of $180 per tonne on supplies to Belarus from 2007, while Minsk has said it would scrap all import deals with Russian oil firms in 2007.
Many analysts have said Moscow was using the oil export duty threat as a bargaining chip in its negotiations over gas. The two sides are continuing talks on crude oil on Monday.
Belarus will get 21.2 billion cubic meters of natural gas in 2007 and another 600 million if technical capabilities allow, Belarus' First Deputy Energy Minister Eduard Tovpenets said at the Minsk airport on Monday on his return from Moscow.
"The volume of gas, to be shipped to Belarus in 2007, is far above the volume received in 2006 and will guarantee normal and smooth work of the country's economy and energy sector," Tovpenets said, noting that 20.5 billion cubic meters of gas were delivered in 2006.
"The contract signed will guarantee the country's stable economic performance and uninterrupted electricity and heat supplies. Belarus has also confirmed to its foreign partners, alarmed by possible delays I gas transit, that it is a reliable supplier," the Belarussian official said.
The contract is intended for the next five years - "the first ever contract to have been signed for such a long period," he said.
The Energy Ministry has been working on a plan of energy saving and technological overhauling measures, which will smooth out the negatve effects of the price rise," said Tovpenets
Some Numbers from the Gas deal
From: Itar-Tass
Belarus will pay about $2 billion for Russian gas in 2007, according to the agreement reached just before New Year. The agreement set the Russian gas price for Belarus at $100 per 1,000 cubic meters as against $46 the year before. Belarus will receive about 20 billion cubic meters of gas this year.
Minsk will gain about $720 million in Russian gas transit to Europe and Gazprom payment for a stake in Beltransgaz. The charge on Beltransgaz transit of 14 billion cubic meters of Russian gas increased to $1.45 per 1,000 cubic meters, which would bring no less than $20 million to Minsk. Gazprom has not announced the transit charge for the Yamal-Europe pipeline, which will deliver 30 billion cubic meters of fuel to Europe. According to some sources, the charge won't differ much from the previous $0.46 per 1,000 cubic meters. This is another $78 million worth of profits.
Gazprom and Belarus agreed that the Russian concern will pay for a 50% stake in Beltransgaz by equal transfers within four years. Belarus will annually receive $625 million this way.
A decision on the mechanism of Beltransgaz stake management will be taken "corporately and formulated at the upcoming negotiations," Gazprom spokesman Sergei Kupriyanov said.
Gazprom and Belarus agreed that the gas price for Belarus would reach the European level in the future. Gas prices on the Russian domestic market will be leveled with the ones on the external market by 2011, Russian Industry and Energy Minister Viktor Khristenko said earlier. In fact, that would be a European price excluding export duties and transportation charges. Khristenko said that Russian citizens would be immune to the changes.
Higher gas charges on Belarussian citizens won't come as a shock, Belarussian First Deputy Prime Minister Vladimir Semashko said on Tuesday.
Gas charges on Belarussian end users will increase from $75.4 to approximately $150-153, while electricity charges will grow by 54%, and heating charges will increase by 55%. The increase will reduce cost-effectiveness by 1.5-3%, "which is not lethal," he said. Besides, charges on enterprises, which use a lot of energy, "will be differentiated," the official said.
Belarus will have to review the energy strategy to ensure the quicker accession to market prices and larger energy saving, he said.
News From Belarus...
Suspected Belarussian spy appeals extradition to Poland
From: Interfax
Sergei Monich, a Belarussian citizen suspected of spying, and two of his defense lawyers have appealed the ruling to extradite Monich to Poland with Lithuania's Court of Appeals, whose decision will be final.
The appeal requests that the ruling, passed by a district court in Vilnius, be overturned, lawyer Albertas Banzius told BNS news agency.
Lithuania and Belarus are signatories to an agreement on legal assistance, "which says that Belarussian citizens have the same rights in Lithuania as Lithuanian citizens in Belarus," the lawyer said.
Since Lithuania, in accordance with the constitution, does not extradite its citizens, "a discrepancy arises between international and specific agreements," he said.
The district court ruled on December 22 that Poland's request for the extradition of Monich, 40, must be granted in line with the European Convention on Extradition.
Monich's detention was extended until January 26.
Poland said in a warrant for Monich's extradition that sufficient evidence had been gathered to suspect him of spying against Poland.
Monich claimed in the court that he had never engaged in espionage and that it was a setup organized by his acquaintance from Poland.
Poland suspects Monich of instigating espionage activities, including the gathering and transfer of information about Poland to a foreign intelligence service. Lithuania's State Security Department is also investigating to find out whether Monich was spying against Lithuania, as well.
Monich was arrested in Vilnius by the Lithuanian Prosecutor General's Office and State Security Department on November 25 at Poland's request.
A Polish prosecutor, Janusz Kacmarek, earlier claimed at a press briefing in Vilnius that Monich had been recruiting Polish citizens in Lithuania and gathering information from them for a reward.
Fifty-seven wagons of Belarusian sugar return from Russia
From: Belta
Fifty-seven wagons loaded with Belarusian sugar have been returned from Smolensk to Belarus. Each wagon contains 63.3 tons of sugar, chairman of Belarusian food industry concern Belgospischeprom Ivan Danchenko told reporters today. Now the wagons are in Orsha.
According to the official, the Russian railway authorities did it to prevent demurrage of wagons in the Russian Federation. The demurrage would have increased damage to Belarusian producers. Meanwhile, 210 wagons of sugar have been prepared for shipment to Russia. However, they will not be dispatched, as on December 29 the Federal Customs Service of Russia unreasonably stopped customs clearance of Belarusian sugar at Troyekurovskiy customs post — the only post the Belarusian sugar is allowed to pass to enter Russia.
The customs clearance procedures were stopped in breach of an agreement reached by the presidents of Belarus and Russia to resolve the problem connected with the supplies of Belarusian sugar to Russia. Thus Belarus has almost fully suspended exports of sugar to Russia.
"The situation is a result of a number of restrictions enforced by the Federal Customs Service of Russia, which have in fact banned the supplies of Belarusian sugar to the Russian market," Ivan Danchenko said.
Despite the negotiations on proposals to supply Belarusian sugar to Russia using simplified schemes, the temporary storage facility was closed on January 1 and will stay closed till January 9. Eleven wagons have not been cleared yet. The Federal Customs Service of Russia cannot find a replacement to the temporary storage facility owned by OOO Sakhar of the Russian Union of Sugar Producers while the customs service retains services of the company. Ivan Danchenko assumed, the customs service acts for the benefit of the businessmen, who want to take control over Belarusian sugar sales in Russia. "We believe that such actions regardless of whoever prompted them are inadmissible", underlined Ivan Danchenko.
Belarusian sugar producers are ready to sell 350,000 tons of sugar to Russia using simplified schemes, chairman of Belarusian food industry concern Belgospischeprom Ivan Danchenko told media today.
In his words, the concern has already thought out specific ways to supply the sugar using simplified schemes. The latter provide for customs clearance and random sugar inspections. Proposals stipulating terms and volumes of the supplies have been forwarded to the Russian Union of Sugar Producers. A draft intergovernmental agreement on Belarusian sugar supplies to Russia has also been prepared and submitted to the Russian Federation government. "Both the sides should benefit from signing the document", underlined Ivan Danchenko.
To further regulate the sugar exports, four Belarusian sugar refineries founded Belarusian Sugar Company. The company will take care of sugar sales in Russia acting within the framework of the Russian legislation and acting as a taxpayer in the Russian Federation. Since the very foundation, September 1, the company has been facing a most severe pressure of the Russian Union of Sugar Producers.
Nevertheless, Belarusian Sugar Company contracted to supply 350,000 tons of sugar to Russia. However, it cannot fulfil the contract terms due to the unreasoned limitations imposed by the Federal Customs Service of Russia, underlined Ivan Danchenko. The official noted, the Belarusian sugar supplies do not harm Russian sugar producers. Russia's annual demand for sugar is estimated at 6 million tons. 2.8 million tons is made of sugar beet. The rest is imported to Russia, with the imports standing at 600,000 tons annually.
Ivan Danchenko informed, every year a balance sheet of the Union State is compiled. At recent negotiations the Belarusian side was suggested decreasing sugar supplies down to 100,000 tons. "This miserable amount of export seems to do more damage to Belarus economy, not Russia's, as the country continues importing sugar anyway. Wouldn't it be better to import sugar from Belarus — the partner in the Union State?" wondered Ivan Danchenko.
He expressed hope, negotiations between the two governments will produce a compromise solution and the Belarusian sugar supplies to the Russian Federation will be resumed.
In 2006, the sales of Belarusian sugar in Russia plummeted by 50 per cent. The worst slump took place in Q4 last year when companies started processing sugar beet of a new harvest. All in all Belarusian producers exported only 37 thousand tons of sugar made from sugar beet of the new harvest in Q4 2006 to Russia. Some 580 carriages arrived to the Troyekurovo customs clearance checkpoint. 11 of them have not undergone customs clearance yet. The sugar is in open air in wet weather what inflicts serious losses on both Belarusian sugar producers and railway service. Because of untimely customs clearance and stoppage of carriages, Belarusian companies lost $2 million.
As Ivan Danchenko said, the Federal Customs Service of Russia set up a single customs clearance checkpoint and a warehouse for temporary storage of goods produced by Belarusian manufacturers and closely monitors quality of sugar.
According to Ivan Dnachenko, Russian custom officers defend interests of a small group of Russian businessmen who aim to take control over import of Belarusian sugar hence preserving their monopoly at the Russian market.
Belarus Poised for Eurovision Decision
From: dotEurovision
Belarusian TV Viewers will learn on 22 January who they have voted for to become the performer who will go to Helsinki and sing at the 2007 Eurovision Song Contest.
Three performers are in the running for the job and money is currently changing hands behind the scenes to decide who is most eligible for the job. There will be a televised show featuring all three acts and a telephone vote will take place, however it will have no sway whatsoever on the result which will have been decided in advance by a government-backed jury of 'experts'. Presumably the same experts who sent us Angelia Agurbash and Polina Smolova.
Back in December, 15 acts took part in a televised national final, 'Eurofest'. Viewers were allowed to phone in and vote at the time, though their opinion counted for little. A jury chose two acts. A third place was reserved, just in case the public chose someone else. Naturally enough, since they based their decision on talent and popularity rather than money, this happened. This meant that the government jury now had to consider three acts. Obviously, given the reputation for openness enjoyed in the country, one act was already dead in the water, but the other two are still literally bidding for the job. Or, in the words of the organisers, working on polishing up their performances.
On 22 January, Diana Gurtskaya and The Project will sing the songs they originally performed in the semi-final while Dmitry Koldun (pictured) has confirmed he will sing a new song.
Monument to Yanka Kupala to be unveiled in Moscow in 2007
From: Belta
A monument to Belarusian poet Yanka Kupala will be inaugurated on Kutuzov prospect of Moscow in H2 or H3 2007. Yakub Kolas' famous poem "New Land" will be newly translated from Belarusian into Russian in tribute to the 125th anniversary of the birth of the poet of Belarus, BelTA has been informed in the Russian regions department of the Belarusian foreign ministry.
The department praised the cooperation between Belarus and the Russian capital in humanitarian-cultural and social spheres. This year the Belarusian culture ministry and the Moscow committee for culture are set to sign a culture cooperation agreement for 2008-2009. The agreement on cooperation between the Belarusian health ministry and the health department of Moscow is expected to be concluded as well.
In 2007, the work related to supporting the Belarusian diaspora in Moscow will be continued. The festival of amateur bands of Belarusian communities of the federal national-cultural autonomy "Belarusian natives in Russia" will be held in Moscow. Its winner will become a participant of the gala-concert of the Moscow Days at the international festival of arts "Slavonic Bazaar in Vitebsk". In 2007 the 3rd congress of the Belarusian natives in the Russian Federation will be held in Moscow.
Following the tradition, Belarusian kids from children's homes will go to Moscow for winter holidays. A youth camp for Belarusian and Russian young people will be organized near the lake of Seliger.
Man drops in from Belarus for holidays
From: Caller.com (Corpus Christi
Some gifts are unexpected.
Take Rand Mason, a 2006 Ray High School graduate currently doing volunteer work in Belarus who missed the holidays last year with his family. He made it this year.
"He just walked through the door," said mother Lisa Mason. "We had no idea he was coming."
Mason, 19, has come to cherish the gift of giving.
He has spent 14 months in the Eastern European country helping orphans through the local Episcopal Church of the Good Shepherd and its San Antonio base at the Episcopal Diocese of West Texas. Now home for the holidays, Mason said his work is far from done, and he plans to continue his own education in Belarus, a nation formerly under the rule of the Union of Soviet Socialist Republics.
Mason first traveled as a missionary to the country at 15, and said he has been back seven times, including last summer when he returned with Belarusian orphans who visited South Texas for the first time.
"After several trips to Belarus, my life has changed," Mason said. "I know I want to dedicate my life to those who need help."
Lisa Mason, whose family moved to San Antonio last summer, said she remembers her son going through a period of transition as a teenager, when he toyed with the idea of designing jewelry to make a living.
"That was not what he wanted to be doing," Lisa Mason said. "He wanted to find a way to really give back."
For Mason, giving meant working with orphans in Minsk, the Belarusian capital, through programs such as the abroad program for orphans, as well as safe-house, camp and retreat programs.
For Mason's parents, giving meant letting go of their oldest son for a cause they strongly support.
"We felt it was the right thing," said Lisa Mason, who along with the rest of the Masons is also a member of the church. "We thought if he went to college, but really wanted to be in Belarus, he'd be miserable."
Mason has learned a lot. He already knows the Belarusian language and has become so accustomed to using it he said when he comes back home he sometimes struggles to remember the English translation of some words.
For now, Mason is using the break to relax and catch up with old friends.
Fellow church member Catherine Clemons, 19, said she has known Mason since before they attended elementary school.
Now home on break from classes at the University of Texas, she said her friend's work is unique, but inspiring.
"I think what he is doing is so radical," she said. "One person is making such a huge difference."
Church member Pam Gouverne said between 15 to 20 members of the church have traveled to Belarus for similar missions.
"It's to demonstrate to these kids that we're loved, so we want to give them that love," she said. "We don't do a lot of evangelizing. It's more of a ministry through example."
Mason's gifts come in the form of 15-year-old named Sasha, who Mason said arrived at the safe house weighing 49 pounds.
"As of mid-December, he has gained 16 pounds and receives a sufficient amount of vitamins to help his condition," Mason said.
Mason said for now, his future is in Belarus.
He will visit his family in San Antonio this week, and travels back to the country on Jan. 8.He said he has grown to appreciate Belarus' unique qualities.
"The Belarusian culture is much different than here," Mason said. "It is a much older culture - one I have grown to appreciate.
"Because of the opportunities I've been given, I've been able to help make a difference."
More than 12,100 parents charged with minor civil offenses for evading parental duties in 2006
From: Naveny
More than 12,100 parents were charged with minor civil offenses for evading their parental duties in 2006, the press office of the education ministry said.
Among them 55 parents were reportedly charged with minor civil offenses for involving legal minors in criminal activities.
As a result of inspections of conditions of raising and maintaining children in families, which were conducted in October and November of 2006, officials registered 24,204 children who lived in families, where living conditions caused alarm and concern.
In 2005, as many as 4,669 parents were deprived of parental rights.
"A significant step in providing a legal basis for the work aimed at protecting children's rights and increasing parents' responsibility for the upbringing of children was the adoption of the November 24, 2006 presidential decree introducing amendments to laws governing the protection of the rights of children in problem families," the press office said.
In December 2006, the education ministry worked out five bills governing the implementation of this decree.
According to the education ministry, education authorities and educational institutions support and render the necessary assistance to 39,586 children living in socially dangerous conditions.
A total of 36,400 children were recognized to be in need of state protection, with 32,900 of them being orphans and children left without parental care and 3,536 children having no orphan status.
From the Blogs...
Russians about gas price deal
From:
Belarus News and Facts
Russian MPs have expressed a favorable opinion about a deal that Belarus and Russia reached two minutes to midnight on New Year's eve on 2007 gas supplies.
Belarus will pay $100 for 1000 cubic meters of natural gas in 2007, up from the $47 the country had been paying before. The contract obligates Belarus to pay gradually increasing prices that will match global market prices of over $200 by 2011 and sell Gazprom half the stakes in Beltransgaz for $2.5 billion.
Sergei Mironov, chairman of the Federation Council, Russia's upper parliamentary house, described the agreement as optimum.
"What is particularly delightful is that the agreements that have specified the scheme of Russian-Belarusian relations in the gas sphere for several years to come are long-term."
He said that the deal was another step by the two countries to establish the Union State.
Konstantin Kosachev, chairman of the international committee in the State Duma (lower parliamentary house), said that the deal was beneficial for both sides. He stressed that Belarus had been offered the best terms among other Gazprom clients, adding that slow progress in the establishment of the Union State made it impossible for Russia to charge Belarus domestic prices.
"I am glad that Lukashenko decided at the last minute to give up his political game," Gleb Pavlovsky, head of the Effective Policy Foundation that is closely aligned with the Kremlin, told RIA Novosti. "It was a wise step by him that will make further actions toward further negotiations, not trade war, possible."
Mr. Pavlovsky downplayed the importance of Beltransgaz for Russia, saying that it carried only part of its natural gas exports to Europe.
Another political analyst, Sergei Markov, said that the deal had showed the two countries' preparedness to compromise this year and beyond. He said that the gas price talks also had been about further steps to form the Union State. He however noted that any progress in the matter would depend on the Belarusian authorities.
Note:
Sometimes Mr. Garmahis is so good it makes me cry...
Opinion...
Belarus Deal Signals Russia's Growing Clout
From: Washington Post
Belarus looked headed for a cold New Year's Day until the former Soviet republic's prime minister walked into the offices of Russia's natural gas monopoly, Gazprom, just before a midnight deadline and agreed to most of Gazprom's terms for continued supplies.
"There was a tense atmosphere among the Belarusan delegation since we have agreed to and signed a contract whose conditions for the delivery of gas are not at all favorable," Belarusan Prime Minister Sergei Sidorsky said at a news conference at Gazprom's headquarters late Sunday night.
Under the agreement, Belarus will pay more than twice its current price for natural gas for its 10 million people and -- to keep from paying an even higher price -- will sell Gazprom a 50 percent interest in its gas pipeline network. The terms are similar to what Gazprom has been extracting from other neighboring former Soviet republics, such as Ukraine and Georgia. The Russian energy giant wants higher prices for its natural gas, and it is using its leverage as sole or principal supplier to get a share of other countries' domestic pipeline networks and transit lines to the West.
"[Russian President Vladimir] Putin's mission has been to regain the energy assets and export infrastructure that [former Russian President Boris] Yeltsin lost when the Soviet Union broke apart," said Michael Lelyveld, a senior analyst on Russia at PFC Energy, a Washington consulting group.
The new deal is the latest instance of Gazprom playing hardball with its neighbors. Exactly a year ago, it cut off supplies to Ukraine, which had a newly elected West-leaning government, in what was widely seen as politically inspired move. That crisis ended when Ukraine agreed to a sharp price increase, to $95 per thousand cubic meters, while the price to Belarus remained at $47. Recently, Ukraine agreed to another hefty price increase to $130, but it kept the price well below Western European levels of $230 by giving Gazprom a stake in its pipeline system.
Now that Gazprom has treated the authoritarian, pro-Moscow government of Belarus in a similar way, it lends some credibility to Gazprom's claim to have not political but commercial motives, namely the end of heavily subsidized gas prices that date to when its neighbors were all Soviet states. Belarus will now pay $100 per thousand cubic meters, with prices rising to market levels by 2011. A portion of that price will be paid in shares of the national pipeline company.
"There have been absolutely no political demands from the Kremlin, only financial ones," said Jonathan Stern, director of gas research at the Oxford Institute for Energy Studies. Stern said that though this year's gas price in Belarus will be half that paid by Georgia, the differential may be more a reflection of the bargaining power Belarus had over the transit line to the rest of Europe than a political distinction between the pro-Moscow Belarus and the pro-West Georgia. Gazprom originally sought a price of $230 per thousand cubic meters from Belarus, then demanded $105; the implied price, $2.5 billion, it will pay for the Belarusan pipeline system is also more than it originally offered.
Still, in Western Europe, Gazprom's brinkmanship has raised alarms about its power and expansionism. Western Europe is heavily dependent on Russian natural gas supplies, which account for a quarter of Europe's needs and 40 percent of its imports. That share is expected to rise over the next 15 years, according to an analysis by Deutsche Bank Securities.
About 80 percent of the Russian gas crosses Ukraine, and the rest crosses Belarus. Both price disputes threatened to cut off or curtail those supplies; Belarus threatened to siphon the gas it needs from supplies destined for other countries, and a year ago, Gazprom's two-day cutoff to Ukraine crimped supplies elsewhere. That has spurred talk about Europe's energy security and its need for supply diversification.
"All of a sudden, Russian supplies, which seemed so reliable during the Cold War, seem unreliable," said Stephen O'Sullivan, emerging-markets oil and gas analyst for Deutsche Bank. He said that is driving Europe to look at nuclear power and liquefied natural gas imports from other countries. Even though the Belarus dispute was settled before supplies were disrupted, O'Sullivan says: "It gives more momentum to a search for alternatives to Russia . . . You never know what might happen down the line."
In addition, Gazprom has been trying to use its leverage as the biggest supplier of natural gas to Europe and its control over access to oil and gas exploration prospects in Russia to acquire stakes in pipeline networks in countries such as Italy, France and Germany. But those countries have been reluctant to put their private firms under the control of a state-owned company, especially because Russia strictly limits foreign acquisitions within its borders.
"Putin has told the Europeans that Russia's strategy is only aimed at enhancing their mutual energy security, but it's really all about expanding Russian power," Lelyveld said. "The assertive tactics may frighten the Europeans, but in the near term, there's very little they can do to reduce reliance on Russia."
The new agreement with Belarus, which is set to last four years, will alleviate some of Europe's concerns about supply interruptions. "The brinkmanship aspect is significant for Europe, but now that everything seems settled -- at least for the moment -- people will relax again," Stern said. "This four-year deal means that we should not be going through this again next year."
But as long as the state-owned Gazprom controls Russia's natural gas supplies and most of the exploration prospects in Russia, and with high energy prices pumping cash into its coffers, the company will remain powerful. It controls about a quarter of global gas output and reserves.
Last month, Gazprom used that power to pry its way into Royal Dutch Shell Group's oil and gas exploration and production project on Sakhalin Island, off Russia's east coast. Threatened with delays for environmental reasons, the project got the go-ahead the day Shell and its Japanese partners agreed to halve their share in the project, delay cost recovery and sell Gazprom a controlling interest.
One area in which Gazprom has been barred from using its muscle is domestic Russian gas prices. Those prices are rising but remain far below market levels. Domestic sales account for 70 percent of Gazprom's gas volume but only 30 percent of its revenue, according to a Deutsche Bank analysis. Raising Russian prices to global levels and domestic efficiency measures could cut Russia's consumption by an amount equal to a fifth of Europe's imports, enabling Gazprom to expand its exports or decrease its reliance on Central Asian nations, such as Turkmenistan, for a portion of its supplies. But the Russian government recently said that domestic gas prices would remain subsidized for at least the next five years.
Now it's Belarus' turn
From: IHT
A year after Russia put the gas squeeze on Ukraine, it was Belarus' turn. Unlike Ukraine, Belarus blinked two minutes before the Jan. 1 deadline and Russia had its booty: a 50 percent share of Belarus' pipeline network and a more than doubling of the price Belarus will now pay for Russian gas.
There was no global outcry this time. President Aleksandr Lukashenko, the utterly Soviet boss of Belarus, has no friends in the West. But this latest squeeze is another warning that the Kremlin will let nothing — personal loyalty, contracts, the law — halt its drive to reimpose state control on Russia's energy sector. It is also another reminder that the West, a big consumer of Russian energy, remains vulnerable to President Vladimir Putin's whims.
The Belarus deal came less than two weeks after Royal Dutch Shell gave in to the Kremlin's pressure and sold a controlling share in the Sakhalin-2 oil and gas project to Gazprom, Russia's state gas monopoly. Moscow is now leaning on the British-Russian joint venture, TNK- BP, to give Gazprom a large and possibly controlling stake.
A year ago, when the democratic revolutions in Georgia and Ukraine were seen as serious threats to the Kremlin's influence, Putin was eager to prop up Lukashenko. But once Lukashenko successfully stole the March presidential election, the new gas bill arrived in Minsk. It included half ownership for the Kremlin of Beltransgaz, the state pipeline operator that not only fuels Belarus but also supplies a fifth of Europe's gas.
Russia's European customers could increase their leverage — and possibly improve the Kremlin's behavior — if they negotiated jointly with Gazprom, rather than scurrying to cut separate deals. Western companies and governments also need to warn Moscow that its leverage has limits. Russia still needs the expertise and capital of foreign companies to developing its natural resources. No one wants to do business with a bully.
The Squeeze on Belarus: 'Europe's Last Dictator' loses his energy subsidy from Moscow
From: Washington Post
EUROPE narrowly averted another energy supply crisis this week when Russia and Belarus struck a last-minute deal, preventing a threatened Russian cutoff of natural gas supplies. Since Russian gas flows through Belarus to Poland and Western Europe, a disruption could have affected consumers far beyond Belarus, as happened a year ago when Russia turned off the tap to Ukraine. The source of the dispute was the same in both cases: Russia's demand that its neighbors pay vastly increased prices for gas and turn over controlling stakes in pipelines that carry gas to the rest of Europe. Belarus, like Ukraine, claimed that Moscow's commercial hardball was politically motivated, while the Kremlin argued that it was merely ending subsidies that were a legacy of the Soviet Union.
In fact both sides are telling the truth -- but it's the political ramifications that should concern Western governments. As executives of the Kremlin-controlled Gazprom company asserted, the price to be paid by Belarus -- $100 per thousand cubic meters of gas in 2007 -- is still one of the better deals Russia offers, even if it is far more than the previous rate of $46. But Belarus obtained the discount only by agreeing to sell a controlling interest in the transit line, thereby advancing Russia's disturbing campaign to monopolize energy supplies to Europe.
Belarusan President Alexander Lukashenko is widely known as Europe's last dictator. What's less well known is that he has been resisting pressure from Russia to annex his country. Mr. Lukashenko signed a deal with Russian President Vladimir Putin several years ago under which the two countries would merge; by its terms Belarus was to adopt the Russian ruble and turn over the gas pipeline. But Mr. Lukashenko, who once dreamed that the union would propel him toward becoming leader of both countries, changed his mind when he realized he was on his way to becoming a provincial governor. He has resisted yielding the pipeline or abandoning his country's sovereignty.
Mr. Putin is consequently using "market pricing" to extract what he wants from Belarus. "We are being threatened with economic sanctions and isolation again," Mr. Lukashenko said in a New Year's address. "The reason is simple: It is our desire to be independent." He went on to denounce "anti-Belarusan sentiments" in Russia that "are dealing a blow to our century-old friendship."
Mr. Lukashenko's disillusionment with Russia might make him wish for better relations with the West. But as the European Union recently reiterated, that would require steps to democratize his country, something the strongman has shown no inclination to do. Still, Mr. Lukashenko's assertion of Belarusan sovereignty and independence could open the way to reform. If Belarus is really to survive in the center of Europe independent from Russia, it will inevitably have to accept far greater change than simply paying the market price for gas.
Andrei Sannikov: "Lukashenka is ready to yield the whole state"
From: Charter '97
Another gas conflict of Russia and Belarus has highlighted key points both in the relations in Belarus and Russia, and in the domestic policy of Belarus. It is obvious that unlike previous clashes, the sides have found their position in what they want from each other. Moscow has found a way to have Belarus on a string without any formal documents. And Lukashenka, who had been trying to play on both friendship with Russia and defence of Belarus' independence, has demonstrated that he is ready to yield the whole state. Exactly these events were taking place on the New Year night. The Belarusian government has agreed for a creeping surrender of national property to Russian oligarchs in a hope to keep the regime existing n Belarus," told the international coordinator of the Charter'97 press-center, a former deputy foreign minister of Belarus Andrei Sannikov, commenting on the Belarusian-Russian gas agreements.
"In general, we have learnt a lot of new things during this conflict," Mr. Sannikov notes. "For instance, that the Yamal-Europe trunkline belongs to Russia completely, including the land under the pipeline which had been given for an indefinite lease; that the Belarusian "economic wonder" cannot bring profits which could cover expenses for energy products".
"It looks like fiscal revenues are not allocated for satisfaction of people's needs, but for building villas for officials, for supporting a huge repression machine, mass production of new paddy wagons for political prisoners and so on. The Belarusian regime has vividly demonstrated its complete bankruptcy and inability to defend the independence of the state even acting in own selector," the politician believes.
Sports...
Christmas tournament of hockey lovers attracts a record number of participants
From: Belta
Twelve teams will take part in the 3rd Christmas tournament of hockey lovers for the prize of the President of Belarus which starts today in Minsk. This is a record number of participants, Vladimir Naumov, the chairman of the Belarusian ice hockey federation, has told reporters today.
The teams from Canada, Kazakhstan and Germany will compete in the event for the first time. Regular participants are the teams from Austria, Slovakia, Russia, Finland, the Czech Republic, Sweden, Switzerland and Belarus, minister of sport and tourism Alexander Grigorov has noted.
The tournament opens with a match between Russia and Slovakia (Group C) (15h00 in the ice palace in Pritytskogo Street). Two matches will be staged in the main venue – Sports Palace. At 19h00 Belarus will play Ukraine (Group A) and at 22h00 Austria will compete against Germany (Group D). The Czech Republic will play against Kazakhstan (Group B) at 21h00 in the indoor skating rink in Gorky Park.
According to Vladimir Naumov, all guests of the tournament will be accommodated in Minsk's best hotels. They will be also offered the tours around the Belarusian capital, meeting with Minskers and other interesting events.
Vladimir Naumov hopes that all matches will be sold out. Two best-placed teams promote to the next round. The tournament finishes on January 7. A reminder, Belarus is a two-time champion.
Belarusian Junior Hockey Ponders Future
From: EuroHockey
It will likely be another year of frustration for Belarus. The up-and-down going team had good faith of finally managing to stay up this year after their 4-3 upset over Finland, but in the end find themselves back on familiar territory with 0 points taken with them into the relegation series.
The team possesses smooth skating and amazing puck control, but are simply not at the same level as some other teams. They are able to beat any team which underestimates them though. Needing two victories against Slovakia and Germany, team Belarus can no longer force itself into the underdog role as they will have to come out and play offense.
Forward Sergey Kostitsyn will be counted on to score the necessary goals. So far he has only been able to score a single goal. Kostitsyn is tied in points with Mikhail Stefanovich who has picked up a pair of goals and 1 assist for 3 points.
Belarus' power play ranks amongst the worst of the teams with a percentage of just 8.7% and will need to be improved if they want to stay up. Between the pipes Valery Pronin is prone to giving up a lot of rebounds but he has been solid in net otherwise. It is unlikely the coaching staff will make a move for Dmitri Zhuravsky in net.
If Belarus is to go down it would mark the third consecutive time they have not managed to stay up after promoting.
With things looking dark for Belarus, things look even darker for Slovakia. The proud nation has not been able to gain the same success with its juniors as with its seniors and are serious contenders for the drop this year.
The team has a mountain to climb trailing three points and they now must defeat a stiff Swiss side as well as Belarus in order to stay in the race of survival.
Although the task is not impossible, the Slovaks have yet to pick up a single point this tournament and will have to clear their heads first. They need to learn winning again as well as finding the net. Especially their power play is not working well having been unable to score during their last 36 minutes with at least one-man advantage.
A scoring efficiency of 5.13% underlines this.
Travel Belarus...
Attractions in Belarus
From: www.belarusguide.com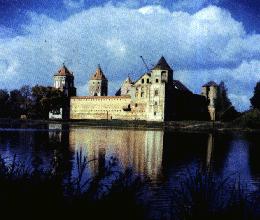 Whether it is WWI or WWII, Napoleon war or Northern wars - they happened here in Belarus. There is plenty of history of Russian Socialist revolution here too. Belarus has the richest Jewish history. Whether it is David Mayer-Lanski or David Sarnoff, Isaac Asimov or Menachem Begin, Irving Berlin or Eliayahu Golomb, Kirk Douglas or Gwyneth Paltrow, Haim Weizmann, Eliezer Ben-Yehuda, Shimon Peres, Marc Chagall, Micgel Kikoine, the Chofetz Chaim, Bielski brothers, and the first Lubavitcher Rebbe - they were born or have roots in Belarus or within 50 miles of its current borders. The first ever Yeshiva was built in Valozhyn, Belarus.
There are plenty of XII-XIV centuries Castles left in Belarus. Most of them half destroyed. Some (in Mir, Nyasvizh, Zaslaue, Lida, Kamianec) are reasonably preserved. Depicted on the left is Mir Castle - one of the many former residencies of the famous Belarusian Radzivill family. Today it is a residence of the college of architectural restoration...
Click here for complete text...