Belarusian Girl a hero in Italy! Belarusian girl a hero in Italy, CIS in Minsk, Greenpeace and Kyoto, Pop Music, Blogs, Hleb #1 again
From the Top


Belarus building people-oriented economy, president says
From: Belta
Belarus is building a social security economy, a state for people, Belarus president Alexander Lukashenko told today's press conference for representatives of Ukrainian mass media.
"We abandoned all the '-isms' and are trying to use life as a point of view, to build a state for people, where life will be comfortable", said the head of state. "We manage it to a large extent and cannot manage many things yet. There are issues to address in every sphere, but we will deal with them. We have the resolution to overcome barriers and capacity to do it. We know how to do it", stressed Alexander Lukashenko.
According to the president, some people may not like the state organisation and administration in Belarus, may not like the good things we did because we are competitors. "But the West has most ambitions. What happened? We wasted millions of dollars, counted on some jeans, rag, orange and other revolutions to happen before Ukraine and nothing has come out. Now they are smearing us", noted the head of state. In any trend, any move, any situation one should see not only what he is wanted to see, one should be able to find good things, the president added.
As far as future relations are concerned, Ukraine could join the project on supplies of Caspian oil going to Belarus and Europe.
If 10 million tons of oil were supplied to Mozyr Oil Refinery every year, "we could provide half of Ukraine and the south of Belarus [with oil]". "We have no such opportunity. But have calculated the cost of transportation of oil and found there would be no problems. Ukraine and Azerbaijan could extract oil in the Caspian basin. The oil could be transported by tankers from the Odessa port. This is how energy security can be built," the head of state said.
Answering journalists' questions, the president did not rule out that theoretically Belarus and Ukraine could develop closer relations, like those in the Belarus-Russia Union State framework, and that would bring economic benefits. "If it happened, there would be no ambitions like you are small and we are big. It would be easier for us to come to agreements. Together we could gain a lot in the world," Alexander Lukashenko said. As he added, this would be a different configuration in Europe.
The president added that opponents of such a union could appear in the world in case such a union took shape.
Another promising avenue of cooperation between Belarus and Ukraine is the work on ensuring energy security of the two countries.
The president noted that by joining efforts in this area the two countries could solve many problems in oil and gas sphere. For that the two countries "have colossal levers they just need to agree, and then the configuration of economic and political relations will change radically". Alexander Lukashenko believes it is beneficial for Belarus. The president did not enumerate all the opportunities but stressed: "We might get mature some time in the future to take decisions in these issues".
The president believes today there is no need determining some global issues in bilateral cooperation. Unsettled problems are few comparing to what has been done already. The trade turnover between Belarus and Ukraine which is approaching USD 2 billion this year is testimony to the good dynamic development of trade and economic relations between the two countries. Moreover, there is a stable parity in terms of trade balance what attests to the demand of products in the Belarusian and Ukrainian markets. However, that was preceded by a fall in the trade down to USD 0,5 billion several years, Alexander Lukashenko reminded. After that we realized how much we need each other.
The head of state also noted the work of the Belarusian-Ukrainian mixed commission for trade-economic cooperation which has gathered for a sitting in Kiev. It has been tackling the issues which, following the request of Ukraine, "has been packaged in one set": border demarcation, settlement of debts and some others. "We are ready to sign this package of documents today if the Ukrainian leadership is ready. There are few problems and they should be settled, they are on the surface", the president noted.
In closing, the president offered that Belarus is not a corrupt country. The country constantly improves legislation in this field, Alexander Lukashenko underlined. "We will pass the third law on combating corruption soon", the president noted and underlined that it is impossible to root out corruption but it is possible to prevent many illegal acts.
Alexander Lukashenko has also informed that at the level of legislation Belarus has settled an issue on conducting inspections. For example, the government took a decision that a representative of a watchdog agency does not have the right to visit a company or a businessman to carry out inspection without an instruction in written form given by the chief of his watchdog agency.
According to the head of state, many other inspections are still carried out in Belarus but their number is reducing.
Journalists asked Alexander Lukashenko about prospects of bilateral cooperation in the economic, political and social-economic fields and the socio-economic progress in Belarus. During the press conference special emphasis was placed on the Belarus-Russia Union State construction and participation of Belarus in international organizations.
Representatives of more than 30 mass media covering all regions of Ukraine took part in the press tour, which started on November 20. They visited several agricultural and industrial companies of Gomel, Mogilev and Minsk oblasts, the republican scientific-practical center of radiation medicine and human ecology and the historical-cultural compound "Stalin's Line".
Ukraine is an important trade and economic partner of Belarus. Over the last four years the bilateral trade turnover has tripled — from USD562 million in 2002 to USD1.8 billion in 2005. The bilateral trade turnover growth tendency continues this year as well. This year's figure is expected to exceed USD2 billion.
Tours to Belarus have become a tradition for representatives of Russian regions' mass media. It is the first time Ukrainian reporters have come for a press tour around Belarus.
Ukraine and Belarus agree on military-technical cooperation in 2007
From: For-Ua.com
During a working meeting in Brest, Belarus, which is hosting a regular sitting of the CIS Council of Defense Ministers, Ukrainian and Belarussian Defense Ministers Anatoliy Hrytsenko and Leonid Maltsev signed an interagency agreement on creating the system of information exchange and a bipartite cooperation plan for 2007, Cabinet press office reported.
The agreement provides for 16 joint events in Ukraine and 15 in Belarus, bipartite consultations into defense-related issues, official visits by the two countries' Defense Ministers and commanders, exchange of language teachers and peacekeeping courses, organization and holding joint exercises and working meetings in the sphere of military education.
In other Belarus Ukraine news, Belarusian President Alyaksandr Lukashenka has urged Ukraine to coordinate policies to counter Russia's pressure over energy supplies.
Lukashenka made the comments yesterday in Minsk, "RFE/RL" reported.
Belarus and Ukraine together hold nearly all the pipelines that take Russian gas to western European customers. Both countries are faced with demands by Russia's Gazprom monopoly for steep increases for gas supplies.
Lukashenka, speaking to a group of Ukrainian reporters today, suggested energy cooperation should focus on gas transit and said the two countries had "more trump cards."
He also said Belarus could respond to higher Russian gas prices by charging Russia for cargo transit and the use of military facilities.
Lukashenka, condemned in the West for his authoritarian regime, is an unlikely partner for pro-Western Ukrainian President Viktor Yushchenko.
Yushchenko is going to Belarus
From: Ukrayinska Pravda
President of Ukraine Viktor Yushchenko is going to participate in the summit of CIS states heads in Minsk.
"President Viktor Yushchenko is going to participate in the summit," said Vitaliy Hayduk, the Secretary of National Security and Defense Council of Ukraine (NSDC).
He also remembered that NSDC had considered a problem of cooperation in the frame of CIS on Friday.
"I think the decision accepted by NSDC will be formalized into the relevant decision of National Security Council and confirmed by the presidential decree," said Mr. Hayduk.
Earlier President of Byelorussia Alexander Lukashenka declared that Viktor Yushchenko "did not intend to participate" in CIS summit in Minsk.
Facing gas price hike, Belarus threatens to charge Russia more for freight, military
From: IHT
President Alexander Lukashenko threatened Thursday to respond to a possible fourfold increase in Russian natural gas price by charging Moscow for its military bases in Belarus and making it pay more for goods shipments between Russia and Europe.
Russia is seeking to hike the price Belarus pays for gas fourfold to US$200 (€155) per 1,000 cubic meters, stoking tension that persists between the neighboring nations despite ties that are closer than most in the former Soviet Union.
"Russia is keeping Belarus on a short leash with oil and gas," Lukashenko said.
He said if Belarus were to charge US$10 (€7.70) per ton of goods traveling across its territory to or from Russia, "that would be a billion dollars — and then there would be no problem with Russian gas prices."
Today in Europe
Dutch parties seek alliances after vote EU fails to adopt common front before talks with Putin A spirited war: The search for the real vodka
Lukashenko also said that Russia pays nothing for its military installations in Belarus, including two bases, and suggested that could change.
The comments were the latest salvo in the dispute over gas prices. Belarus' Soviet-style economy relies largely on cheap Russian gas and oil, and Lukashenko said Wednesday that next year could be "catastrophically tough" for the nation of 10 million if Russia's monopoly Gazprom makes good on its threat.
Moscow, which has raised prices for several former Soviet republics, has indicated it could compromise if Belarus hands over 50 percent of its pipeline system transporting Russian gas to Western Europe, but Lukashenko is wary of losing control over the pipes.
He called on the government Wednesday to look for alternatives to Russian gas and oil, and Thursday he urged Ukraine — which is struggling with higher Russian rates for gas — to "consolidate efforts with Belarus in talks with Russia."
In Ukraine, Belarus' southern neighbor, Belarusian Deputy Prime Minister Vladimir Semashko said Thursday that Belarus is considering seeking to "lease" at least one electricity-generating reactor at a Ukrainian nuclear power plant.
The approaches toward Ukraine were unusual because ties with Ukraine and its liberal, Western-leaning president have been strained by Lukashenko's persistent accusations against the West and suppression of dissent at home.
Foreign Ministry spokesman Andrei Popov on Thursday criticized a recent European Union message that said Belarusians could benefit from closer EU ties if their government introduces democratic reforms, saying it contained "nothing fundamentally new."
Despite tension over gas deliveries and the future of the close union Belarus and Russia pledged a decade ago to create, Russia has supported the authoritarian Lukashenko as he has prolonged his rule through elections denounced in the west as illegitimate.
Russia and Belarus, which both eye the West with distrust and have watched warily as NATO has expanded to their borders, have close military ties. Belarusian Defense Minister Leonid Maltsev said Thursday that Russia had completed the delivery of an unspecified number of S-300 anti-aircraft missile systems.
An official with a military alliance linking ex-Soviet republics said earlier this month that Russia had delivered four S-300 systems, boasting that neighboring NATO member Poland's acquisition the same week of four American F-16 fighter jets would not affect the security of the alliance's air space.
Belarusian Girl a hero in Italy!
From: Znamaya Yunosti
The Belarusian Union of Young People have congratulated Anna Shochrei by giving her a gold medal and a document designating her to hero status. Shochrei, a 16 year-old school girl from Gommel, was in Italy on holiday when she saved a young Italian child from drowning in a fountain.
Like a lot of children from her school district, Shochrei received an invitation to go to Lonato, near Milan for her vacation. She had been there several times and had taken up studying languages and had made friends with several Italian families.
On the day of heroism, she had gone to a neighbor's house. This neighbor had a swimming pool in which many locals families used on hot days. It was a very hot evening, but the pool was basically empty. Suddenly the peace was broken by hysterical cries for help. The cries came from the child's mother who was asking for anybody who could help. The mother had just pulled the girl from the pool where she had gone under the water. The girl was unconscious.
The little girl, named Anna Fabbi, had been with her seven year old sister playing in the street, but had walked away and gone to the pool to play alone. By the time that the mother discovered that the girl was missing, and had the thought that her Anna might go over to the pool, it was too late and the little girl was already under the water. When she saw her baby at the bottom of the pool, she dove straight in and pulled he girl out. But by the time she had gotten the girl out of the water, the little girl's face was blue and her body, limp. There were others who came as a result of the mother's cries, but they all stood there in fear and could do nothing to help.
This was when Anna Shochrei stepped up. With all her strength she took the girl from the mother's hands and quickly and precisely as she had learned in school in her first aid classes, cleared the water from the girl's lungs, gave her a chest massage and mouth to mouth resuscitation. Within few moments the drowned girl came to and Anna gave her mother back her daughter, once more alive.
A huge round of applause came from onlookers for the heroism of our Belarusian girl. Doctors said later that if Shochrei had not stepped in, the girl would not have lived. She had been at the time of being given first aid technically dead. If she had come to the hospital without Shochrei's help, there would have been nothing they could have done.
The mayor of the town of Lonato after, at the celebration of the heroic event of the saving of an Italian child's life, presented several documents of congratulations to Sochrie and also told her the offer of a full scholarship had been offered by local businessmen that, should she desire to do so, they would pay for her education at any medical collage in Italy.
While speaking to the press later, Shochrei said that she had always wanted to be a doctor or a veterinarian and that she might be very happy to take Lonato up on their offer. Shochrei lives with her mother in Gommel with her two other brothers. She had graduated from Music school majoring in Piano and Cymbala.
Belarus gets 2 battalions of S-300 air defense systems
From: Itar Tass
Two battalions of S-300 air defense systems were shipped from Russia to Belarus on Thursday, Belarussian Defense Minister Leonid Maltsev said. The shipment completes the Russian-Belarus contract of supplies of this equipment to Minsk, Maltsev said.
The first two battalions were supplied to Belarus in the summer. Belarus fielded them in Brest, while another two battalions will be deployed near Grodno.
"The personnel are ready to fulfill tasks involving S-300 systems," the Belarussian minister underlined. The personnel had extensive training to learn to handle the new equipment, including at Russia's Ashuluk range, where they practiced live shooting.
The next meeting of the CIS Heads of States Council is held in the Belarus National Library in Minsk today.

From: apa.az
According to the information given by CIS Administrative Committee nearly 30 issues will be discussed. The heads of the states are discussing the issues about the regulation of the 2007 CIS Budget, transition to the uniform payment system of security bodies financed by CIS Budge. Besides CIS Anti-Terror Center chief's report will be listened and some specialists issues. Then the heads of the countries will adopt the amendments to Regulations for finding product maker country, the documents about 2007-2010 program fighting human trafficking, Strategy of CIS information exchange and some other document without any discussions. Then the venue and time of the next meeting of CIS Heads of States Council of will be defined. Belarus President Alexander Lukashenko will receive the heads of the delegations. The Cabinet of Ministers has no information about the head of the Azerbaijani delegation. But according to the information got from other sources Azerbaijani delegation is represented by Premier Artur Rasizadeh, Deputy Foreign Minister Khalaf Khalafov and other officials.
Kazakhstan is interested in creating a CIS interstate workforce databank. The statement was made by Alma Salykpayeva, head of the population employment agency of Kazakhstan Labour and Social Security Ministry, during today's session of the expert group in charge of considering the draft agreement on main principles of CIS states' migration co-operation.
She said, the Kazakhstan-proposed draft agreement is meant to systematise the previously adopted legal acts, make CIS states' laws closer, and create unified rules to regulate the field. Meanwhile, some clauses of the previously adopted CIS documents do not correspond to the new agreement. The legislation amendments are designed to regulate visa-free travelling, length of stay without registration, deportation and reimbursement of expenses, border-crossing for residents of borderline areas, introduction of unified requirements for the list of documents the registration process needs.
Alma Salykpayeva noted, labour migration issues are quite pressing for Kazakhstan despite the adopted measures. In particular, Kazakhstan took measures to legalise migrants. Almost 130,000 people have been legalised. Of the number Uzbeks account for over 70 per cent, people from Kyrgyzstan — over 14 per cent, from Russia — over 6 per cent, from Tajikistan — over 4 per cent. In comparison with other CIS states the number of labour migrants from countries bordering on the CIS is growing. The migrants are mainly employed in construction, services, and agriculture. According to the official statistics, the country has over 20,000 open vacancies.
Local elections: no foreign observers
From: Belarus News and facts
Belarus will not invite foreign observers to monitor January's local elections, Lidiya Yermoshina, head of the central election commission, said in an interview published in Wednesday's Mestnoye Samoupravleniye newspaper.
"Not inviting foreign observers to local elections is an international practice," the official was quoted as saying. "Our country has decided not to be a 'white crow' among other nations and is not going to invite foreign observers."
According to Ms. Yermoshina, the January 14 vote will be observed by a large number of Belarusian monitors. "Belarus ranks first in the CIS in terms of the number of organizations entitled to send domestic observers to polling stations," she explained.
The official said she did not expect neck-and-neck struggle between soviet hopefuls in an overwhelming majority of election districts, with many election races likely to be uncontested. "However, there will be struggle in Minsk anyway, as quite a big number of well-known politicians are running in the elections in the city," she noted.
Greenpeace warns against adding Belarus to Kyoto
From: NNSEEK
A new proposal to add Belarus to the Kyoto protocol
at international climate change talks could send 50 million tonnes of
"hot air" per year into the atmosphere, environmental groups warned
on Friday.
The groups said that Belarus, like Russia was hoping to take advantage
of the collapse of the Soviet Union to earn Kyoto "credits" from
other countries.
"They should not be allowed to hold this process hostage," said
Steve Sawyer, a spokesperson from Greenpeace International.
The emissions of the the former Soviet countries dropped substantially
in 1990 because of a collapse in their economies. Since the Kyoto
protocol sets up a trading system that allows countries to benefit
financially when they are below their 1990 levels, it allows the former
Soviet countries to sell credits and increase their current greenhouse
gas emissions at the same time.
Eurovision Belarus: negative reactions on Angelica's entry; song published online
From: Oikotimes
Angelica Agurbash announced on her website her intention to participate again in the Belarusian selection. The song which she submitted (and if not changed as the previous time) is titled "Miracle". The song is a disco act and the artist herself said that she learnt from the mistakes of the past this time. The negative and sarcastic reactions on the web for Angelica keep on publishing. Menawhile schlagerblog.blogspot.com posted a hilarious article on Angelica which although we reproduce, we emphasize that we don't necessarily endorse it.
schlagerblog.blogspot.com reports:
Oh My God! The 2007 season is upon us all ready! How fabulous! "Miracle", which will hopefully represent Belarus next year is sung by Angelica have-another-bash and its fab in a Carola b-side type way."Love Me Tonight" was severely let down by the lack of key change moment and it is generally accepted among the more intelligent members of the euro community that this was the reason it didn't qualify in Kyiv (not because she sung like a .... and forgot how to pitch the high notes). Our Ange has obviously been reading Schlagerblog and has made sure that this time the key change goes in, and at exactly the right time too. Hmm, that should be an interesting live moment! Lets hope she drags the golden cloak out from the bottom of the wardrobe for another go in Helsinki!
Three times more sales of the CD with the music of Belarusian

From:
Half-year past, the sales of the CD with the national pop music in Belarus have grown almost three times. Between the best group of Atlantic selling English speech, Tsyany-Tolkaj, J-mors and Alexey Hlestov of the musicians of Belarusian.
In the opinion of Nikolay Sapunov, the one in charge of the catalogue of Belarusian of the files of the west, a draft contingent in 75 percents of the music of Belarusian is associated mainly to the decision of the government on the introduction in the air of the stations of the radio. Some people consider it like radical step. But in the field of the popularización of national music she was required to do something.
In the TV channel of Belarusian Ontario has demonstration appeared the song of the year. In this project, the musicians of Belarusian participate only. They made more popular, they began to make more concerts and trips. The necessity of the radio stations of qualitative articles has impelled in the creativity of the musicians of Belarusian.
In addition, due to the organization RUPIS who protects copyright in Belarus, the poets and the composers began to receive the somewhat great rights of the use of their products in the radio, TV, in coffee, I sweep, restaurants, discs. Certainly, it stimulated its activity. According to Nikolay Sapunov, the musical market of Belarusian differentiates seriously even from following Russia. Belarus is the small country, he is impossible to sell discs in the great amount here.
Also they are cheaper, than in Moscow.
New the Jerusalem group of the outbreak of Belarus said, that for a concert in Moscow that has sold more CDes, than by a month in Belarus. Although of the certain interest that the Russians demonstrate to the music of Belarus, the market in Russia is supersaturated and to the triumph in him the place and to discs of the sale for Byelorussians is successfully very difficult.
The CD of the license in Belarus is much more expensive that piracy one. Naturally, the sales of discs of the piracy greatly exceed sales the production of the license. To even regulate arrives stores and taking from the falsified production not to change a situation. People young unloading music of the Internet. It is necessary to raise the culture of the consumer of people, speaks Nikolay Sapunov. The situation will probably improve with the later growth of the well-being of citizens.
Kazulin Has Lost 30 Kilograms
From: Charter '97
The hunger strike of the former candidate for presidency Alyaksandr Kazulin, who protests against Alyaksandr Lukashenka's rule and demands to consider the Belarusian question in the UN, continues in Vitsebsk colony. the wife of the political prisoner, Iryna Kazulina, told to Radio Svaboda that Alyaksandr Kazulni weighs 73 kilograms now. The height of the politician is 188 cm. His weight before arrest on March 25 was 103 kilograms.
November 22 marks the 34th day of A. Kazulin's hunger strike. The information about his state of health is as following:
"It was almost impossible to reach the administration on the phone: phones of the director and his deputies are not answering. For the moment, there are no sources to get information about the health of Alyaksandr Kazulin except the administration of the colony. The lawyer of Kazulin, Ihar Rynkevich, has been denied a meeting on the grounds that some doctor is always staying beside Kazulin, and that is why it would be impossible to ensure the confidentiality of contacts.
A former deputy Syarhei Skrabets was on hunger strike with Kazulin until November 15. Now he is released. The last latter from Kazulin was received by his family on November 2.
Belarus opposition leader detained in fatal car accident
From: Ria novosti, AP
Belarusian opposition leader Alexander Milinkevich has been detained over his alleged involvement in a fatal car accident, his press secretary said Friday.
The accident, in which one person reportedly died, occurred in the country's Vitebsk Region, about 130 miles northeast of the capital, Minsk.
Pavel Mozheiko said: "Milinkevich's car was stopped near the city of Vitebsk by traffic police, who conveyed Milinkevich to a police station where he was told that a car resembling his had left the scene of an accident."
Mozheiko added that the car was stopped several times while Milinkevich was on a tour of the region as part of an election campaign for seats in local legislatures, with police officers establishing and noting the identity of all passengers. He called the incident "the latest provocation by Belarusian security services, which are trying to hamper the activity of the opposition."
Milinkevich contested Belarus' presidential elections in March as the main opposition candidate, but finished a distant second, with 6% of the vote, behind incumbent President Alexander Lukashenko, who officially won 83% of the vote.
Milinkevich has since been arrested several times over his role in mass demonstrations that followed the elections. In April, a court sentenced him to 15 days of detention for his part in an unauthorized 3,000-strong rally, organized by opposition groups.
The Pen Pushers
From: Moscow Times by Richard Lourie
A few years back, I chanced to spend some time in rural Belarus. The area, near the border with Lithuania, was green and pleasant, but the country towns were like museums of Leonid Brezhnev's Soviet Union. The town squares all had puddles, cracked pavements, flyblown photos of outstanding workers. The atmosphere was one of fear and depression; people were both sluggish and scurrying to make ends meet. There were no restaurants and, except for limited produce -- bread, meat, fruit juice -- the stores either had bare shelves or goods so dismal you could weep. You couldn't spend $50 with the best will in the world. I thought that radical leftists the world over should be sent there to feel what actual communism felt like -- the disheartening heaviness of it all.
"Piggy Foxy and the Sword of Revolution," a collection of sketches and doodles by Bolshevik officials from the 1920s and 1930s, breathes something of that listless, lethal spirit and its principal value may be to remind readers that communism, apart from all its other faults, was deeply boring. This book may also be a sign that communism is not only dead as a force in history but as a subject of historical study. Of course the debates will go on forever -- was communism a good idea or even a workable one, how many fewer would have been murdered under Leon Trotsky than under Josef Stalin, could Mikhail Gorbachev have saved the Soviet Union and should he have. Every generation will produce its new biographies of the great and the obscure; monographs will cover the neglected aspects of the past. But the latest offering in Yale University Press' Annals of Communism series definitely belongs to the dustpan and brush phase -- sweeping up the last fine details of a collapsed edifice after the major rubble has been removed.
For some readers and researchers, this collection of drawings will be of interest and value, but I fear their number will not be very large since it should include me but does not. No light is shed by these crude drawings on history or on the personalities of those who made history. The selection is in fact very limited. Apart from 18 drawings that are unattributed, the majority are by three men -- Nikolai Bukharin, Politburo member and editor of Pravda, Valery Mezhlauk, chairman of the State Planning Commission and Yemelian Yaroslavsky, a party official. There is one piece by Stalin himself, the former journalist and Party bureaucrat Karl Radek, and the highly placed official Gleb Krzhizhanovsky, and two by Moris Belotsky, first Party secretary of Kyrgyzstan.
Some of the caricatures are better in their titles than in their execution, as, for example, Mezhlauk's "Evolution of Soviet bureaucrat according to Darwin (adaptation of species). Enlarged bottom for [sitting at the] meetings, and belly for tea."
A sketch by Valery Mezhlauk jokes that Soviet officials might eventually evolve natural cushions for sitting through meetings.

Another crude image by Mezhlauk, reminiscent of those scratched onto the walls of stalls in men's rooms, has Nikolai Briukhanov, the People's Commissar of Finance, strung up by his balls with an inscription by Stalin: "For all the sins, past and present, hang Briukhanov by the balls. If the balls hold out, consider him acquitted by trial. If they do not hold, drown him in the river." This medieval jocularity carries a bit of a shock, but its voltage is low given all we know of Stalin from elsewhere.
The translation of the captions is not good enough. The little humor they contain is often missed by renderings that are too literal, part of the misplaced fussiness of the volume as a whole. In the just quoted captions there are several little off-notes that create the feeling of something not quite English. "For all the sins" sounds clunky. "For all sins" would be better, as would "For all his sins."
A few of the drawings are decently done and worth looking at for themselves, such as Yaroslavsky's sketches of Vasily Shmidt and Yakov Yakovlev, both done in 1923, when hands, along with everything else, were freer. A self-portrait done that same year by Yaroslavsky is also strong.
A sketch of Stalin the "all-party oppressor and gendarme" trampling on "party democracy" is more courageous in content than in acknowledgement -- the artist is listed as unknown. That person was smart as well as talented, since most of the artists and subjects would soon be shot dead by firing squads.
Yale University Press
Yemelian Yaroslavsky's drawing of Vasily Shmidt, from 1923.
If there was a standard Bolshevik look, it was basically Vladimir Lenin's, the key feature being the moustache and goatee. Trotsky, Bukharin, Felix Dzerzhinsky, Mikhail Kalinin, Aleksei Rykov, even Lazar Kaganovich all assumed the goatee, which always had a touch of the Chekhovian intelligentsia about it. The goateed were not lucky -- Lenin and Dzerzhinsky succumbed to strokes; Bukharin and Rykov were shot. Kalinin went on and on as formal head of state, and Kaganovich was smart enough to join the mustachioed -- Stalin, Vyacheslav Molotov, Anastas Mikoyan -- who proved much longer lived. There were of course plenty of exceptions to that rule, notably Sergo Ordzhonikidze and Mikhail Tomsky. Caricaturists always seize on one or two features and exaggerate them, and for cruder stylists like those in this anthology, beards and moustaches were a great help, though some of the goateed cannot be told apart in profile. The only woman represented, Nadezhda Krupskaya, Lenin's widow, was caricatured by Mezhlauk in 1933 with a protuberant lower lip, gigantic nose, and exophthalmic eyes. An unpleasant portrait, but without evident political intent.
In the end, I must agree with a line from the book's introduction: "People who grew up in a free society will no doubt see this humor as timid, feeble, and deficient." And humor that isn't any of those -- like that in the movie "Borat: Cultural Learnings of America for Make Benefit Glorious Nation of Kazakhstan" -- still can't find a place in Russia.
From the blogs...
Hightech Park planning promotion
From: Belarus News and Facts
The administration of the Minsk-based High Technology Park plans a large-scale campaign to promote its opportunities among potential investors abroad.
Valery Tsepkalo, head of the administration, said at Wednesday's conference in the Belarusian capital.
"We've passed the first stage and are now entering the stage of advertising abroad. We need different countries of the world to learn about us," the official stressed.
Mr. Tsepkalo said he had held talks with potential investors in Canada, the United States and Singapore, adding that Belarus could borrow the experience of the latter country. It is "thanks to the development of industrial and technology parks that the country managed to turn in 40 years from an obscure, abandoned port where workers were brought from India, China and Malaysia to a country whose gross national product is 50 percent higher than Ukraine's gross national product."
Mr. Tsepkalo rejected speculation that the experience of such countries like China, Singapore, Ireland or Finland cannot be applied in Belarus, Russia and Ukraine. "People are the same everywhere and it would not be true to say that we cannot materialize some idea," he noted.
The official said that high technology parks in developed countries offer a 50-percent one-year office rent discounts to new investors, something that Minsk cannot offer to foreign companies at present.
The head of the High Technology Park administration said he does not know when the park will have its office complex constructed.
"As for construction, we have been given a detailed High Technology Park layout and designing work will be done now," Valery Tsepkalo told reporters in Minsk on Wednesday. According to the official, "one cannot start digging without a detailed layout and a land survey, without a general architectural design." "In this respect, we cannot move faster than allowed," he added.
Mr. Tsepkalo sidestepped questions on the construction of High Technology Park facilities, saying that "we will speak about what will be there when the president approves the [design] concept."
Speaking at an international conference last November, the official said that he expected construction at the site of the park to kick off in 2008. The building of the national science academy's Physics Institute is scheduled to be completed on the territory of the park in 2007, he said. Office rent in the building will be half the average rate elsewhere in Minsk.
Lukashenka asks Belarusians to brace for worse
From: TOL Blogs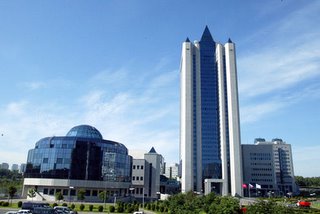 The gas conflict between Russian and Belarus enters the new stage. Let me remind, the issue of contention is the price Belarus will have to pay to Russian gas monopoly Gazprom from the next year. Currently, it is 46 dollars per 1000 cubic meters. Gazprom threatens to raise it up to 230 dollars per 1000 cubic meters. The sum in question, given that Belarus imports 20 billion cubic meters of gas per year, is about 3.6 billion dollars. That is how much the Belarusian government spends per year, for example, to pay pensions…
Now, Gazprom wants Belarusian gas transportation and distribution network, Beltransgaz, as a condition to continue supply gas at discount. Few weeks ago, Lukashenka demanded some totally insane sum for it, about 17 billion dollars. Few years ago, he insisted on 5 billion. Gazprom is ready to pay no more than 2 billion. Also couple of weeks ago, Lukashenka sounded very optimistic about the future of gas deals - only to see Russian government officials declaring that Belarus will most likely have to pay full price… Now Lukashenka calls upon the Belarusian people to prepare for worse.
(AP, 22 November). MINSK, Belarus: Belarus' authoritarian leader warned Wednesday that demands for a fourfold rise in the price of imported Russian gas meant next year could be "catastrophic" for his ex-Soviet republic.

"It will be a very tough year, catastrophically tough," Alexander Lukashenko told a government meeting.

Lukashenko called on the government to look for alternatives to Russian gas and oil and pursue talks with energy-rich Iran, Venezuela and Azerbaijan.

"We want to preserve our country for our children, our sovereignty and independence so that we aren't put up against the wall every day, month and year and shouted at: 'Pay for gas and oil,'" he said.
Ok, Mr. Lukashenka, you can buy energy in Azerbaijan and even Venezuela, but who will give you discounts that Russian used to give?
Yesterday, speaking to Ukrainian journalists, Lukashenka even declared that he would support the 'Union state with Ukraine.' The talk is, of course about some sort of transit cartel, which would allow to collectively blackmail Russia iby transit tarriffs in response to its price harassment. Once again, such a move takes a lot to materialize (not least, you have to burn bridges with the Russians, whereas Ukraine will need Okay from EU for such cartel with Belarus…) and actions to prevent price shocks are needed here and now. Lukashenka is also contiuously announcing that in the case of price shock, he will present his own bill to Russia - for transit, military bases, etc… But if it goes down to this, Lukashenka may end up unmasking the myths: Belarus simply does not offer Russia as much as it takes. Of course, Lukashenka tries to convinse Belarusians that the reverse is the case and that it is actually Belarusians who subsidize Russia. But when mutual bills are really presented, the bluff will be called. Consequently, if he goes for this, he will simply burst his own ideological bubble. The buttom line: Lukashenka needs a deal with Russia.
It looks like that gas conflict is going into the final phase and it does not look too promising for Lukashenka. Analysts were predicting throughout the last two weeks that Lukashenka would be looking for the ways to give the conflict a more political dimension. But Lukashenka can politicize the dispute with Gazprom only inside Belarus. He will be able to cry around that 'Russian oligarchs are at the gates' and that 'he won't sell out Belarus'. But escalating partiotic and even anti-Russian rhetoric is one thing and tangible money is absolutely another… Lukashenka knows he needs to deliver. It is his ability to deliver: discounts, pensions, protection, security, that makes his rule in Belarus stable and absolute.
Or maybe, Lukashenka is simply escalating fear? I don't doubt that Russians will no longer support Lukashenka at the rate they used to. But it does not mean they will do anything to incur too much damage. Lukashenka will no longer be able to expand wage hikes at the rate it happened in 2004-2006. He will probably need to lower overblown social expectations. Then, when nothing terrible happens, or price shocks are mild and the population adjusts to this, he will present it as an outcome of his genious and resolve to 'save' Belarus. For example, when Gazprom announced 200-230 dollars today and it will turn out in the end to be 100 dollars per thousand cubic meters. Lukashenka will then declare that he averted a disaster and saved the country… Consequently, all what is going on can be some political circus without strong economic implications once again…
Sports...
Arsenal's Hleb voted Belarus player of the year
From: Reuters
Arsenal midfielder Alexander Hleb has been voted Belarus' top player for the fourth time in the last five years.
In a nationwide poll of the country's soccer experts, conducted by the sports daily Pressbol, the 25-year-old playmaker was the overwhelming winner, ahead of Dnipro striker Sergei Kornilenko and Tom Tomsk midfielder Alexander Kulchiy.
Hleb also won the honour in 2002, 2003 and 2005 and finished second behind Dynamo Moscow striker Maxim Romashchenko in 2004.