Azerbaijan, South Africa, Iran, BY to built NPP, Hedging against oil debt, Hunger Strikes, Cows and Blogs
From the Top


Belarus could provide oil transit infrastructure for Azerbaijan

From:Ria Novosti, Belta and The office of the president

Belarus is willing to cooperate with Azerbaijan in a wide range of bilateral relations. There are no closed topics in cooperation with Azerbaijan and with many other brotherly countries. A statement to this effect was made by President of Belarus Alexander Lukashenko at his meeting with President of the Republic of Azerbaijan Ilham Aliyev on October 17.

It is the first visit of the Azerbaijani leader to Belarus since that country gained independence.

During the closed-door talks, Alexander Lukashenko expressed the conviction that the official visit of the President of Azerbaijan to Belarus would open new prospects for cooperation between both countries.

The Belarusian leader valued positively the dynamic commodity turnover growth in trade relations of both nations. In 2005, the mutual trade volume reached almost US$30 million and increased, in comparison with 2004, by more than 85 percent. Addressing Ilham Aliyev, Alexander Lukashenko underscored: "We are meeting with you at the time when the basis of our mutual relationship - commodity turnover - grows with every passing year. It is a very good dynamism." He remarked, however, that there is a need to increase the mutual trade volume.

The President of Azerbaijan said that his country is willing to boost bilateral ties with Belarus. According to Ilham Aliyev, he regards his visit as "an important element of our bilateral relations which are developing with a very dynamic pace."

Addressing his Belarusian counterpart, the President of Azerbaijan pointed out: "You enjoy overwhelming support of the population of this country. It makes it possible to vigorously carry our various reforms." The Azerbaijanian leader valued highly the importance of the socially targeted policy pursued in Belarus. "It is a very rightful policy because we ought to work and strive to improve the living standards of our people," Ilham Aliyev said.

During the enlarged talks, the heads of the two states reiterated the intention to develop long-term cooperation in a wide range of areas.

Alexander Lukashenko believes that we have very significant prospects for bilateral cooperation in the oil and gas sector. Rich oil and gas resources of Azerbaijan and modern petrochemical industry of Belarus form a basis for mutually beneficial relations in the energy sector," the President underlined.

Belarus is ready to provide the infrastructure needed to pump Caspian oil via pipelines to the Baltic states and Poland, President Alexander Lukashenko said Tuesday before the launch of talks with officials from oil-rich Azerbaijan.

"We are ready to provide pipeline transport infrastructure for the transit of Caspian oil to the Baltics and Poland, if Azerbaijan considers it necessary and beneficial," Lukashenko said.

The Belarusian leader said his country can implement joint projects in the sphere of oil and gas deposit development. "I received support on these issues from my Azerbaijani counterpart," he said.

Belarus aims to diversify its oil supplies to become less dependent on Russia, its main supplier. Russia cut off supplies to the Baltic States' only refinery in July after an accident on a pipeline that runs through Belarus.

Since the pipeline accident, Russia has not resumed oil flows to Mazeikiu Nafta, which has been widely viewed as a response to the Lithuanian government's decision to sell the Baltic refinery complex to a Polish firm, rejecting rival bids from Russian crude producers.

Last Thursday a fire broke out in the refinery, causing millions of dollars worth of damage, putting in further doubt the purchase of Mazeikiu Nafta by Poland's PKN Orlen.

Lukashenko and President Ilham Aliyev discussed several large joint projects in industry and energy. "We have significant prospects for bilateral cooperation in the oil and gas sphere. The presence in Azerbaijan of large oil and gas fields, and the powerful petrochemical complex in Belarus, is a basis on which our energy relations can develop for our mutual benefit," the Belarusian leader said.

Lukashenko said the growth of the two countries' economies had boosted bilateral trade.

"In recent years, trade turnover between our countries has significantly grown. In 2005, it reached almost $30 million and increased, in comparison with 2004, by more than 85%," he said.

The two presidents pledged to increase current trade levels by several times.

Alexander Lukashenko and the Head of the Azerbaijanian State Ilham Aliyev had an informal meeting in the National Library of our Belarus. Ilham Aliyev wrote a message in the honorary guests book. The President of Azerbaijan expressed the confidence that the National Library would be contributing to further development of the great intellectual potential of Belarus.

The same day the President of Azerbaijan left for Baku.


Official visit of South African parliamentary delegation in Minsk starts today

From: Belta and Pan Armenian

An official parliamentary delegation of the Republic of South Africa arrives in Minsk on an official visit on October 19. The delegation will be headed by chairman of the National Assembly of the South-African parliament Baleka Mbete, BelTA has been told in the press service of the Chamber of Representatives of the National Assembly of Belarus.

The visit will run until October 22. The speaker of the National Assembly of the South-African parliament is scheduled to meet with chairman of the Chamber of Representatives of the Belarusian parliament Vladimir Konoplev on October 20. On the same day the foreign guests will visit the Oval Hall.

According to Vladimir Konoplev, the forthcoming visit attests to the interest of South-African parliamentarians in strengthening of bilateral cooperation with the Belarusian parliament, the press service noted. The relations between Belarus and South Africa have been gathering momentum, with the interaction between the parliaments of the two countries making an important part of the bilateral cooperation.

The whole gamut of the Belarusian-South-African cooperation will be high on the agenda of a visit of a parliamentary delegation headed by chairperson of South Africa's National Assembly Baleka Mbete, spokesman for the foreign ministry of Belarus Andrei Popov told a briefing today.

Invited by the National Assembly of Belarus the delegation will be staying in Minsk from October 19 to October 22. It will conduct meetings with chairman of the Council of Republic, speaker for the Chamber of Representatives, ministers of foreign and interior affairs, education and healthcare as well as representatives of the State Committee for Science and Technology and Republican Union of Women.

In other government news, a governmental delegation, led by Belarus PM Sergey Sidorsky will pay a visit to Armenia October 22-24, Head of the Information Department, Belarus MFA Spokesperson Andrey Popov stated at a news briefing for the media. In his words, within the framework of the visit talks with Armenian PM Andranik Margaryan and meetings with President Robert Kocharian and Catholicos of All Armenians Garegin II are scheduled. Humanitarian and regional cooperation, expansion of trade and economic ties, specifically increase of supplies of Belarus automobile and agricultural equipment will be considered,» Popov underscored. Presentation of innovation technologies of Belarus and its High Technologies Park is planned. A scientific and practical seminar on new Belarus developments in medicine production is to be held.


Belarus announces plans to build nuclear power plant

From: Raw Story

A senior scientist in the pariah state Belarus announced his country would begin construction of a nuclear power plant as early as 2007, according to a Thursday Bel-1 television news report. Mikhail Miasnikovich, chairman of the Belarus Academy of Sciences, said state budgeting was in place for the power plant, scheduled to be completed by 2010.

"Work on the project will begin already next year," Miasnikovich said, without giving details.

Miasnikovich's officially-sanctioned announcement marked a dramatic reversal of national energy policy by Belarus' authoritarian leader Aleksandr Lukashenko, who as recently as last month complained of a plan in neighbouring Lithuania to build a modern nuclear power plant near the Belarusian border.

Lukashenko is an admirer of the Soviet Union, and Belarus retains a wide range of Soviet-era technologies. The country nonetheless is not thought to contain engineering skill sufficient to construct a modern nuclear power plant.

Belarus' economy is dependant on Russian natural gas and oil sold at lower-than-market rates. The Russian natural gas monopolist Gazprom recently announced it wanted Belarus to pay the full market rate.

Belarusian construction of a nuclear reactor using home-grown technologies would be worrying to neighbouring countries because of potential radiation threat if there were an accident, and because of the potential the politically-marginalised Lukashenko regime might develop nuclear weapons.

The largest area of radiation-contaminated territory on Earth is in in Belarus, which was downwind of the 1986 Chernobyl nuclear power accident.


Belarus sets up Stabilization Fund to deal with energy problems

From: Ria Novosti

Belarus has set up a stabilization fund to deal with a possible hike in the price it pays for Russian natural gas, the head of the country's Central Bank said Thursday.

The price of gas sold to Belarus has not changed since 2004, and currently stands at $46.68 per 1,000 cubic meters. But Russia's natural gas monopoly Gazprom said it would pursue a European price formula for Belarus as of 2007, rising the price to around $200 per 1,000 cubic meters, a move expected to tear a hole of around $2 billion in the Belarusian budget.

But Petr Prokopovich, board chairman of the National Bank of the Republic of Belarus, said the increase would not affect the country's economy.

"This will by no means affect the economy as a whole, or the gold and currency reserves," he said. "We have to work hard to increase exports of Belarusian goods and services."

He said the Stabilization Fund will not draw on the country's gold and currency reserves, but will use only budget funds.

"The state budget is the sole source for the fund," he said. "As far as I know, the fund already totals more than 100 billion Belarusian rubles (about $50 million)."

Russian Prime Minister Mikhail Fradkov said in late September that the problem of Russian natural gas deliveries to Belarus and its transit via Belarusian territory in 2007 would be resolved by the end of 2006.

Gazprom is also seeking a stake in the Belarusian state pipeline company Beltransgaz, which owns pipelines leading to Europe. It has offered to partially compensate the Belarusian firm for the price hikes if Beltransgaz agrees to sell the Russian energy giant its main gas routes.

A source in the Russian government said earlier the two companies are in talks to create a joint gas transit venture. He said that a contract on gas deliveries to Belarus in 2007 should be signed by the end of the year.


Russia, Belarus to sign agreement on joint air defense system

From: Ria Novosti

Russia and Belarus will sign an agreement in the near future on forming a unified air defense system, the Russian Air Force commander said Thursday.

"The documents on formation a unified air defense system have already been submitted to the prime minister for signing," Vladimir Mikhailov said. "If he signs them today than we will sign an agreement tomorrow at a joint session."

The commander said Russia had been actively cooperating with Belarus on issues of air defense, and that in the future Russia will be able to form such joint systems with other countries.

Mikhailov said the territorial headquarters of the new air defense system will be located in Russia, and the auxiliary command center will be in Belarus.


Unique surface-to-air missile baffles foreign military diplomats in Egypt

From: Ria Novosti

A military parade was held in Cairo to mark Independence Day on July 29. Three-axle trucks, each carrying two missiles inside sloping bodies, rolled by the VIP grandstands.

These missiles did not look like any other known shorter- or intermediate-range missiles. Their pointed warheads and four rows of fins on each stage closely resembled the well-known S-125 Pechora (NATO reporting name, SA-3 Goa) surface-to-air missile (SAM) system, which took part in several Egyptian-Israeli wars and reportedly downed dozens of enemy aircraft.

The stationary S-125 SAM was mounted on special platforms, rather than trucks, and had four launching rails, whereas the one displayed in Cairo featured two guiding rails.

Foreign military attaches did not expect the Egyptian military to show off such obsolete equipment, even if out of mere respect.

But the military attaches were wrong. The Egyptian army now wields brand-new Pechora-2M SAMs, "grandchildren" of the good old S-125, which knocked down nearly 4,000 U.S. aircraft in Vietnam and even one F-117 Stealth Fighter during the 1999 war against Yugoslavia.

Some countries, which cannot afford to replace the S-125 with the more advanced S-300PMU SAM system, opt to upgrade it in line with modern standards and objectives because of substantially lower costs.

The Russian-Belarusian financial-industrial group Oboronitelnye Sistemy (Defensive Systems) overhauled the S-125 SAM system on orders from Egypt and renamed it as the S-125 Pechora 2M. This R&D project can be compared to a quantum leap, of sorts.

The Soviet Union supplied S-125 SAMs to 35 world and seven CIS countries. However, Oboronitelnye Sistemy first decided to modernize the weapons owned by the Egyptian army, after winning an international tender, which was announced by Cairo in 1999, and which also involved Poland and Belarus.

But the Russian offer turned out to be more attractive, and the combat efficiency of the Pechora-2M was better than that of other systems. In fact, the Pechora-2M has outperformed its forerunner.

Viktor Vashchuk, deputy CEO of Oboronitelnye Sistemy, said the Egyptian contract was a real breakthrough for his company and for Russia, because military-technical cooperation with Egypt had been frozen for nearly a decade after the Soviet Union's break-up.

Spartak Narbikov, PhD, Oboronitelnye Sistemy chief engineer, explained the difference between the S-125 and the Pechora-2M. It took over three hours to transport the stationary S-125 launcher from one firing position to another, but the mobile Pechora-2M with the 5P73 index can change positions in just 20-25 minutes. Enhanced maneuverability contributes greatly to combat survivability, because approaching enemy aircraft can promptly attack exposed SAM launchers.

A state-of-the-art elements base is another crucial difference. Unlike the older S-125 system, which featured lamp electronics, solid-state and digital units account for 90% of the Pechora-2M's electronic network. The service life of advanced microprocessors has increased from 30-40 to 2,000 and even 10,000 hours. Moreover, the new jam-resistant system can successfully cope with enemy ECM (Electronic-Counter-Measures) systems and missiles.

Experts recall that the United States had used Shrike anti-radar missiles against targets in Vietnam. But things have changed since then, and even the sophisticated HARM anti-radar missile is unable to hit Pechora-2M aerial posts because they simply vanish off the screen. Unlike its predecessor, which had a 26-km range, the new SAM system can hit enemy aircraft 35 km away.

The Pechora-2M features an optronic network consisting of one TV channel and one thermal imaging channel. This network makes it possible to attack and destroy aerial targets day and night in conditions of radio-electronic warfare. Consequently, the Pechora-2M can hit F-16 fighters at 30-km ranges and larger aircraft at a range of up to 35 km.

The Izhevsk-based electromechanical plant Kupol and the Ulyanovsk mechanical plant, which are part of the Almaz-Antei Air Defense Concern, turn out revamped Osa-AKM, Tor-M1 and Buk-M1-2 SAM systems with similar optronic networks for the Russian army. These weapons have other ECM-protection systems.

Pechora-2M systems feature more powerful and effective missiles with the 5V27D and 5V27DE index. They have more advanced radio proximity fuses and warheads. Improved missile-guidance methods and the propulsion unit's higher power-to-weight ratio also deserve mention.

The MKB Fakel machine-building design bureau near Moscow manufactures these missiles and their 5V27DE equivalents. The latter feature heavier solid-propellant boosters for higher speed, range and hitting power. Only two, rather than four, missiles can now be launched. However, this will not impair the system's combat efficiency because each warhead now contains 270% more fragments, whose weight has increased 60%. The radio proximity fuse, which is activated 20 meters from the target, leaves no chance for any enemy aircraft, shorter- or intermediate-range missile. Fragmentation patterns make it possible to destroy the target's vital elements and missile warheads even at high angular speeds. Consequently, all targets flying at up to 750 meters per second cannot escape. This remarkable achievement makes older SAM systems obsolete.

The Pechora-2M, which can effectively hit incoming targets, uses new 5V27D and 5V27DE missiles, as well as the older 5V27 missiles.

Oboronitelnye Sistemy experts said their new invention was capable of firing any kind of ammunition. This is very important because foreign armed forces, including the Egyptian army, have many unspent missiles.

Text continues...



Foreign minister of Belarus to visit Iran October 21-24


From: Belta


A wide range of issues of the Belarusian-Iranian cooperation will be on the agenda of a visit of foreign minister of Belarus Sergei Martynov to Tehran on October 21-24.

During the visit, he would confer with Iranian President Mahmoud Ahmadinejad, foreign minister, minister of economy and finance and head of Iran chamber of commerce, industries and mines on expansion of mutual economic and trade cooperation, interparliamentary cooperation.

The two sides will discuss the state and development prospects of the Belarusian-Iranian relations and interparliamentary cooperation. The issues on promotion of Belarusian exports to Iran and closer business interaction will be high on the agenda as well.


Belarus: Are Hunger Strikes Losing Their Power To Persuade?

From: RL/RFE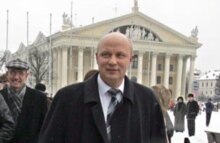 Jailed Belarusian opposition politician Alyaksandr Kazulin is due on October 20 to begin a hunger strike he hopes will draw attention to the country's human rights abuses.

His family and political party have reportedly urged him to forgo the protest -- not only out of concern for his personal well-being, but also because they believe hunger strikes have lost their power as a political tool.

The West had critical words to say when Kazulin, the former rector of Belarus State University and head of the Hramada party, was sentenced in July to 5 and 1/2 years in jail for his role in a peaceful opposition march.

Now, says his wife Iryna, Kazulin is hoping the West will once again come to his defense.

"As far as I understood, he primarily wants international organizations to speak out [on Belarus]. I asked him straightforwardly: 'When will you decide to end your hunger strike?' He answered that [he will do this] when the Belarus issue is put on the agenda of the United Nations," Kazulina said.

Hunger strikes are seen throughout the world as a protest of last resort and a powerful form of moral pressure.

They have been used by everyone from Indian spiritual leader Mahatma Gandhi to prisoners at the U.S. military prison at Guantanamo Bay, Cuba.

Bobby Sands

Denis O'Hearn, a sociologist and biographer of perhaps the world's best-known hunger striker, Irish republican Bobby Sands, says it's the ultimate form of protest.

"It takes a very long time, it's a very painful way for someone to die. And if people are willing to go through that, either to the death or nearly to the death, it's quite an extreme and wrenching form of protest," O'Hearn says.

Sands was the first of 10 Irish republicans who systematically starved themselves to death in a British jail to protest prison conditions.

He died in May 1981, after 65 days in which he ingested nothing but water and occasional spoonfuls of salt to give his body the minimum it needed to stay alive.

Hernan Reyes, who oversees prisoner medical issues for the International Committee of the Red Cross, says determined strikers want to stay alive as long as they can.

The longer they fast, the rationale goes, the more extreme their suffering -- and the more powerful their message. It only takes a few weeks for the physical pain of a fast to become profound.

"You don't feel hunger after a few days because of the ketosis. You have ketones in your bloodstream, which actually stamp out sensations of hunger as we understand it," Reyes says. "But of course there are other sensations. After a couple of weeks you'll have what we call nystagmus, which means that you have these uncontrolled rapid eye movements which give you a feeling of dizziness or vertigo, and you feel like you just go off a carousel that's been spinning around very fast. And it's extremely unpleasant. People throw up, they can no longer drink their water. And this is definitely one phase of the hunger strike which all hunger strikers who reach it do remember."

New Life


That phase is rapidly approaching for the more than 150 Protestant believers in Belarus.

They launched a hunger strike on October 5 to protest the ejection of their community called the New Life Church from property it legitimately purchased from the state in 2002.

Azerbaijani students hunger strike against nonrecognition of their university diplomas The New Life community says authoritarian President Alyaksandr Lukashenka and other officials have been relentless in their repression of religious minorities in Belarus.

Now 14 days into the fast, they have vowed to see the strike through to the end if their demands are not met.

New Life member Uladzimir Mackevich says the group remains determined.

"[Our] mood is good, elated. We are convinced that we will win. It is a serious, composed mood. The initial enthusiasm has ended, and now we are soberly confident," Mackevich said.

The mass protest may be getting results. New Life on October 18 filed an appeal with Belarus's Supreme Economic Court against the city decision to confiscate the church's land.

The group filed the appeal at the recommendation of Lukashenka's aide for ideology. The president, in a sudden show of sympathy, had ordered that the church be helped.

Reyes says the success of a hunger fast -- among both prisoners and regular protesters -- largely depends on how willing a government is to stand by as a person or a group slowly and painfully starves itself:

"To protest by fasting is for prisoners very often the last resort they have to make their protest known outside. Of course, this implies that they can make it known outside, which is not always the case in many countries. [It also implies] that the country actually cares about their image -- not the prisoner's image, but their own image as authorities, as being benevolent and listening to this last resort of this prisoner calling for some specific action," Reyes says.

Lukashenka is not usually credited with having a benevolent side. But a third hunger strike has also gained the attention of the authorities.

Independent trade unionist Alena Zakhozhaya has been fasting since October 3.

She is protesting what she says is discrimination against fellow union members by a regional tire factory that is part of Belnaftakhim, the state petrochemical concern.

Her campaign appeared to score a victory earlier this week, when Belnaftakhim representatives promised to deliver unpaid bonuses and restore other benefits promised under the terms of the union's collective bargaining agreement.

But until the money had arrived in the proper accounts, Zakhozhaya says she will continue her fast.

"A representative of the concern [told me]: 'Stop your hunger strike, give us 10 days and we will resolve this problem.' I said 'I can't, you'll trick me one more time.' Therefore, as long as I can hold my ground, I will hold it," Zakhozhaya says.


Russia's FM Lavrov, Lukashenka discuss CIS reform

From:Ria Novosti

Russian Foreign Minister Sergei Lavrov met with the president of Belarus Monday to discuss how the largest post-Soviet alliance could be made relevant again.

The Commonwealth of Independent States, a loose confederation of 12 ex-Soviet republics, has been criticized by some of its members - notably Ukraine and Georgia - as being ineffectual, and a vehicle for promoting Russia's interests. Moldova's leader has also questioned the organization's future, and last year Turkmenistan ceased to be a full member.

Talking to Alexander Lukashenko about prospective reforms to the alliance, Sergei Lavrov said, "We all want to approach [reforms] without unnecessary leaps, advancing consciously along a course set by CIS heads of state."

Lavrov and Lukashenko held discussions on the sidelines of a meeting of CIS foreign ministers, currently taking place in Belarus' capital, Minsk.

Addressing the gathering, the Belarusian leader called for efforts to prevent the 15-year-old body from breaking apart.

"We now have a huge market and rich resources, and most importantly, former Soviet republics are developing dynamically and actively, both in political and economic terms. So what is the point in destroying something that works?"

"We could all survive without the CIS, of course, but things would be much harder for us," the president added.

Lukashenko said the CIS' most important achievement is free trade, and that the bloc has been the main market for its member states, in the face of increasingly fierce global competition.

"As of now, total trade turnover between CIS countries has already reached $140 billion," he said, adding that Belarus' annual trade with the alliance amounted to $20 billion.

He also called on CIS members to tap into the alliance's high potential for goods transit. "According to estimates, the annual income from goods transit in the CIS could be raised to $15 billion."

The Belarusian president highlighted the CIS' role as an umbrella organization for expert councils managing specific areas of cooperation.

"We, as heads of state and government, may disagree at times, but experts have more success in resolving problems. This is especially true of law-enforcement agencies and special services," he said, adding that even Russia, the largest CIS member, cannot handle trans-border crime effectively without partners' help.

Russian President Vladimir Putin and seven of his CIS counterparts discussed ways to reform the organization at a Moscow summit in July. Four other leaders, notably Georgia's Mikheil Saakashvili and Ukraine's Viktor Yushchenko, did not attend.

The two leaders, who came to power on the back of 'color revolutions', have pledged to bring their countries out of Russia's sphere of influence, and are actively seeking NATO and eventually EU membership.

The chairman-in-office of the CIS, Kazakh President Nursultan Nazarbayev, said at the summit that only 10 percent of the CIS' agreements had been implemented, and suggested specializing cooperation to areas such as transport, education, and the fight against terrorism and drugs trafficking.


Belarussian president warns against breaking up CIS

From: People's daily and Jamestown.org

Belarussian President Alexander Lukashenko on Monday warned against attempts to abolish the Commonwealth of Independent States (CIS) and stressed the role the group plays in tackling issues in the post-Soviet space.

"If someone wants to do away with the CIS on the pretext of reforming it, we will not be a party to the process. Belarus will not be involved in destructive tendencies in the commonwealth and is calling on other states to follow this example," Lukashenko was quoted by the Interfax news agency as telling foreign ministers from CIS member countries in Minsk.

The 12-member CIS was set up after the break-up of the Soviet Union to try to maintain economic and political ties. It groups all former Soviet republics except the three Baltic states.

The 15th, "jubilee" Commonwealth of Independent States summit of heads of state was to have been held in Minsk on October 16-17. However, it transpired as late as October 10 that the summit is being postponed, probably for late November, by a joint decision of Presidents Vladimir Putin of Russia and Nursultan Nazarbayev of Kazakhstan, to the surprise of most other countries. Apparently, disagreements among otherwise loyalist leaders over CIS reforms forced the delay.

Instead of the heads of state, only the CIS Council of Foreign Affairs Ministers met in Minsk on October 16, and in a severely depleted composition. Only three ministers -- Russia's Sergei Lavrov as outgoing chairman of the Council, Kazakhstan's Kasymzhomart Tokayev as incoming chairman, and Tajikistan's Talbak Nazarov as assistance supplicant -- bothered to travel to the meeting. Other ministers announced that they were sending deputies or ignored the event altogether. Once assembled in Minsk, the delegations agreed to cut short the agenda "in order to save time."

Formally, the bone of contention is Nazarbayev's concept of reforming the CIS. He presented this concept in July of this year at an informal CIS summit in Moscow for further examination and ultimate adoption at the aborted October 16-17 summit.

Nazarbayev's concept would limit the CIS mainly to matters of transport, migration policy, cross-border criminality, and education and culture -- a concept sometimes derided as a "social CIS." Furthermore, this reform would reduce the CIS operating budget by cutting the approved roster of CIS bodies and their staffs (a perennial cost-cutting proposal by Nazarbayev). The reform concept would change the CIS Charter to reflect the organization's changed role.

Russia and Belarus closed ranks against this concept at the Minsk meeting. Hosting the event, President Alexander Lukashenka dismissed Nazarbayev's proposal as "so-called reforms" that would involve a "CIS breakup" and "could only benefit our adversaries."

Lavrov supported Lukashenka's view that all concerns and problems in the CIS can be addressed within the framework of the existing Charter. Moscow regards Nazarbayev's concept with misgivings, because a CIS reduced to social functions could no longer serve Russia as a political stage for its bloc-leader ambitions.

Nevertheless, the ministerial meeting showed that the CIS atrophy process continues. The meeting mainly prepared proposals on social issues -- migration and the readmission of illegal migrants, laundering of unlawfully earned incomes, retraining of specialists and mutual recognition of diplomas, care for veterans and preservation of the collective memory on World War II -- for consideration at the rescheduled summit of heads of state

"The CIS is a crucial instrument in tackling issues in the post- Soviet space. But there are people in our organization who are strongly interested in ruining the CIS," Lukashenko said.

Leaders of CIS member states are expected to meet at the end of November in Minsk for a summit that was delayed by more than a month.

Russian Foreign Minister Sergei Lavrov said that improving and reorganizing the group's activities dominated the discussion in the Belarussian capital and that positive results in CIS reorganization would depend on the political will of its members.


Poland deports illegal alien cows

From: Various reliable sources

Poland transported 240 cows back to Belarus Thursday when vets established the animals were in good health after swimming across the Bug River.

On Sunday at Janow Podlaski, in eastern Poland, border guards tried to herd the cows back across the river to Belarus but after their efforts failed they placed them in quarantine, Radio Polonia reported.

Radomir Banko, a Polish vet said the cows, all 14 to 18 months old, were "very good swimmers" and all in good health.

Banko said he believed the cows were attracted to cross the Bug by the sounds of cattle grazing on the Polish side of the river.

none of the cows had applied for political asylum nor claimed to have wanted to get into the EU.

"Having been over there now," quipped one swimming cow, "I can honestly say that the grass is not greener on the other side."


Russian space agency shoots for the mon

From: Ria Novosti

Russia's Rocket and Space Corporation Energia said Wednesday it will create a new spaceship capable of flying to the Moon.

"We have started developing the final design of a modernized spaceship that has been given the working name of Soyuz-K," Nikolai Sevastyanov, the corporation's president, told RIA Novosti.

"The new version will be equipped with digital control systems and is being designed in such a way that it could be launched both from the Baikonur space center and equatorial Kourou space center, located on a peninsula in French Guiana," he said.

Sevastyanov said Soyuz-K will be able to fly to the Moon and to re-enter the Earth's dense atmosphere on its return.

In addition, the company's president said Energia is continuing design work to create a new Russian space shuttle, the Clipper.

The Clipper, a six-person spacecraft similar to the U.S. space shuttle, is designed to replace the Soyuz and Progress carrier rockets in making regular flights to the International Space Station, and even the Moon and Mars. It will carry two professional astronauts and up to four passengers.

"Work on the Clipper is continuing. On the whole, the image of this spaceship is clear, but there are still several critical technologies whose development will take time, but we are convinced we will succeed," Sevastyanov said.

Earlier, he said Russia plans to conduct its first manned flight around the Moon in 2011-2012.


Russia Limits Belarusian Imports

From: Kommersant

Russia plans to limit state imports from Belarus, Deputy Economic Development and Trade Minister Andrey Sharonov said. The ministry explains, however, that this is just a response to the discrimination of Russian goods in Belarus. Yet, the curtailing of imports, to be introduced by November, looks like a tool to influence Alexander Lukashenko's regime in negotiations over gas prices for 2007.
Russian Economic Development and Trade Minister Andrey Sharonov confirmed yesterday, speaking to State Duma deputies that he had sent a letter with a suggestion to limit state purchases of Belarusian goods to the Agriculture Ministry and heads of Russian regions. The letter of the economic ministry was signed back in mid-July. It asks to give remarks on the exclusion of some Belarusian goods from the list of Russian federal and regional orders. The Sharonov List has been discussed by Belarusian mass media for a few days already. On Wednesday, Russia officially confirmed plans to limit state imports from Belarus.

Nevertheless, Andrey Sharonov said this proposal does not mean an unofficial trade embargo. "There are no curbs," the minister said yesterday. "Any person is free to buy what they have been buying – and in any amounts. We are going to make a decision on limiting state orders of those Belarusian goods that are not unique for some of our recipients." Belarusian press mentions curtailing imports of such goods as furniture, sanitary engineering, ceramic tiles, meat products, vegetables and synthetic cleansers.

The Economic Development Ministry posted an official statement on its web-site with explanations following Andrey Sharonov's speech at the Duma. A new law came into force this January determining rules of state purchases and describing the so-called national regime for some foreign companies which could get access to state orders on the same conditions as Russian producers. "However, this regime is based on mutual terms only," the statement says. The ministry does not mention if analysis of terms of access to state purchases has been conducted in other countries. But as far as Belarus goes, there have been "terms which limit the access of Russian producers to tenders and create unequal conditions" in the tenders' procedures.

The discrimination of Belarusian goods in Russian state orders can be considered a decided matter, but the Economic Development Ministry still underscores that it has not been officially signed into a law yet.

The volume of Belarusian goods bought on Russian budget money is unknown. But the ministry's decision will surely send the declining Belarusian import further down. It fell to $10 billion from $11 billion last year. Judging from the list of the goods that are proposed to be limited, the Belarusian imports can drop as much as $200 million.

Belarusian authorities decline both "plans of the Russian budget to discriminate its goods" and their own discrimination of Russian manufacturers. Russia's state purchase regime with Belarus has not been altered since 2003. A new bill on state orders took effect this January and the first steps to create a system of "mutual discrimination in state purchases" for Russia and Belarus were taken in July, just as Gazprom announced a hike in gas prices for Belarus up to $200 per 1,000 cu. meters in 2007. Information about the Sharonov List cropped up as Transneft revealed plans to cut oil supplies for Belarusian oil refineries. The decision was reportedly made after the examination of the Druzhba pipeline and the meeting of Alexander Lukashenko and Azerbaijan's President Ilkham Aliev where the two leaders discussed oil deliveries from Azerbaijan to Belarus via the Ukrainian Odessa-Brody gas pipeline.

Curbs of the Economic Development Ministry will damage not only Belarusian firms but Russian companies as well. Belarusian goods from the list of Russian state purchases are normally imported by Russian traders. Only large Belarusian companies export goods on their own, but their products are not on the Russian ministry's list.

From the blogs


Nisciuk calls West to reconsider its policies

From: TOLBlogs: Belarus

One of the most controversial news of the week was a speech by Uladzimir Nisciuk, a vice chairman of the Belarusian Social Democratic Party "Hramada," that he gave at the seminar of the NATO Parliamentary Assembly. In his address, Nisciuk stated that the opposition had no support of the populace and the state officials and was torn apart by the internal disagreements. He said, "The opposition was preoccupied with failing projects like the last one, "Milinkevich – Our President." We are lucky he did not win, because he has nothing behind him."

According to Nasha Niva, he spared no words in praising the incumbent. He said, "A. Lukashenka is not Akaev, Kuchma, Shevarnadze or even Saakashvili. He is a strong, self-sufficient and independent politician."

Nisciuk suggested that the West should reconsider its policies toward Belarus. He called to repeal the economic sanctions and the visa ban imposed on some officials as "meaningless."

A Social Democratic politician said that a step-by-step normalization of relations between the European Union and Belarus could be achieved in the following way:

Belarus is granted a status of special invitee to the Council of Europe in exchange for "even few changed to the electoral law;"

The European Union postpones for a year or two a decision to deprive Belarus of the trade preferences, and Minsk softens Kozulin's sentence;

The European institutions revoke their plans to finance new radio and TV broadcasts to Belarus, and Lukashenka returns "Narodnaya Volya" and other oppositional newspapers to newsstands and subscription catalogs;

In exhange for softened mass protests law and abolishment of some norms of the Criminal and Administrative Code, Belarus should be accepted to the Council of Europe, EU should begin cooperation with Belarus, and a couple of investment projects should be approved.

Nisciuk expressed similar ideas in an interview with Marketing and Consulting Agency. He also spoke to Nasha Niva to clarify his position. Answering a question, how he substantiated his premise that the opposition wouldn't be able to run the country if it won the elections, Nisciuk said, "Because the opposition has not done anything over the past few years and rests on the achievements of the early 90s made by Zianon Pazniak and his cohorts. There are no new successes, fiascos only. For five years since the 2001 Presidental Election, the opposition has lost 10% of its electorate, and it is not because the populace supports Lukashenko but because they do not want to vote for the opposition."

His stance seems to have surprised not only European politicians at the NATO seminar but his own party which issued a statement repudiating his position. Some people have expressed their concern that Nisciuk might be another Haidukevich widely rumored to be on Lukashenka's payroll. Others saw some reason in what he said. In any case, Nisciuk added more fuel to the on-going disagreements in the oppositional camp.


The "Truth" about Iran

From: TolBlogs

A few days ago, I ran into my five-year-old neighbor, who was very excited to tell me that she learned a new bad word, the "a__" word. Before I could open my mouth to tell her that I wasn't interested in hearing such words, she exclaimed: "It's "American"! Clearly, I had another word in mind, and was shocked with her response. I figured that she must have learned it in kindergarden, because her grandfather is a well-known scholar and frequent guest at US Embassy receptions, and her aunt works for an NGO. This episode made me think about the scope and impact of state propaganda. We, adults, can downplay it by not watching TV or making fun of the state newspapers, but today it is penetrating society and reaching the youngest and most vulnerable.

In the past, state propaganda focused on praising the President, slandering the internal opposition, and discrediting the democratic values and opinions of the international community. Today, the regime seems to be actively looking for allies among other authoritarian countries, promoting the idea that in today's "unipolar world" dominated by one superpower, the main threat to "small independent states" like Belarus is an external enemy.

Last Sunday during prime time (9 pm), Belarusian State TV showed the first part of a documentary called "The Truth about Iran ." It was repeated at 10 am the following morning and the second part will be shown this coming Sunday. At the very beginning of the documentary, it was stated that the true reason behind the international community's "anti-Iranian hysteria" is Iran 's oil and its independent policy. Iran is depicted as a peaceful Middle East country with ancient traditions, which became the victim of the big, bad West, especially the United States . The West attempted to impose its secular ideology and alien culture on Iran , which led to mass dissatisfaction and a revolution against the pro-Western Shah. The documentary praised the religious leader Khomeini as a wise and far-sighted statesman, who led his country to greater prosperity based on traditional values. Iran 's formula for success, according to the directors, is the limitation of Western influence as a key principle of foreign policy and the promotion of Islamic ideology in its domestic policy. The documentary attempts to explain how there is greater freedom of expression, higher standards of life, and greater women's participation in all aspects of public life, even though those women must wear Islamic dress. Watching children visiting Khomeini's mausoleum, a reporter asks a leading question with the US in mind: "Why is there still so much evil in the world?" He concludes that a country with such deep religious traditions cannot possibly be a threat to anybody else.

I wondered how anybody could possibly believe this unctuous documentary, which frequently lacked logic and was badly put together by Russian-speaking Iranians who studied in the Soviet Union and advocated Islamic revolution and traditional values, while at the same time expressing their fondness for Slavic women (the strongest impression of Belarus , according to one of those interviewed). But I also realized that not many people in Belarus know anything about Iran or have a friend, like I do, whose family had to leave the country for practicing the peaceful religion of Bahaism, or heard about terrible persecution of those who disagree with the government, which goes so far as to even arrest women for swimming in a bathing suit in a swimming pool in her own house (see the link to the Omid Memorial website). It goes without saying that the hostage-taking of Americans, atrocities committed in the decade-long Iran-Iraq War, state support for worldwide terrorism, violations of UN declarations, attempts to develop an atomic weapon and other "traditional values" of the mullahs' regime are not mentioned in the film. The film is yet another piece of propaganda about a far-off, exotic country that is designed to warm the hearts of Belarusians who are shivering in the fall cold and trying to survive in their own "paradise on earth." I have seen the truth of Iran 's regime on the face of my friend, who was forced to leave her homeland. And how many Belarusians have been forced to make the same choice? We are lucky that there are ever fewer dictatorships left which can serve as entertainment and models for the Belarusian propaganda machine.


Sports


Veremeenko signed with Russian "Khimky"

From: Eurobasket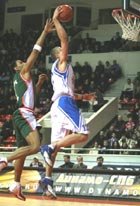 The Belarus forward, Vladimir Veremeenko (208-F-84), who played for Dynamo form St. Petersburg signed with BK Khimky. He is a very versatile player; he is tall enough to play PF and is quicker than most PFs and bigger than most SFs. A good athlete with leaping ability and runs the floor pretty well for a big man. Vladimir Veremeenko knows how to score around the basket. He can hit even from beyond the arch. He has great hands, battles for rebounds. His game is still developing, but his fundamentals are very good. In the season of 2005 he won the FIBA title with his previous team.

Standing 6-11, he takes advantage of his great mobility and coordination from the power forward position. He runs the court very well, and enjoys a very good first step and nice handles that allow him to penetrate, giving him the ability to punish his defender with his superior quickness. He can also produce from the low post, although he usually looks for a turnaround jumper in those situations.

He's quite a nice team defender, careful with rotations and sometimes even energetic while trying to come up with a block from the weak side, showing a nice vertical leap and good timing. He has good lateral quickness for the power forward spot as well.

The previous game Khimky played against "University-Ugra" and won 92:83. The next game the team plays on October 21st.