BY gets vote from EU, Maria still at large, Yelena Yeskova, Russian Beer, gas and Union State issues, Communist party shut down, sports
From the Top


Alexander Lukashenko partakes in consecrating bells of All Saints Memorial Temple

From: Belta

Today Belarus president Alexander Lukashenko took part in consecrating bells of All Saints Memorial Temple in Minsk.

A prayer and the consecration of the bells on behalf of Belarus president, Patriarch of Moscow and All Russia Aleksiy II and Metropolitan of Minsk and Slutsk, Exarch of all Belarus Filaret took place. Before the bells were lifted to the top of the bell tower, Alexander Lukashenko performed symbolic verberation.

Three bells were lifted, the largest of them weighs 5 tonnes and was lifted on behalf of Belarus president. The other two were presented by Metropolitan of Minsk and Slutsk, Exarch of all Belarus Filaret.

During the solemn ceremony archpriest Fedor Povnyi noted, the Memorial Temple was built in the name of the unity of the society. "Bells of the temple will awaken people's memories. It is the loudest voice of the people directed to the sky," said Fedor Povnyi. In his words, an entire spiritual environment will appear at the place.


Belarus and Russia intends to speed up process of settling property issues of Union State

From: Belta

Belarus and Russia intends to speed up the process of settling property issues of the Union State. Russia will soon complete coordination of the corresponding documents at the interdepartmental level, prime minister of Russia Mikhail Fradkov stated today after the meeting of the Council of Ministers of the Belarus-Russia Union State. In the near future this issue is planned to be considered in the government and later in the State Duma.

The Belarusian parliament will consider the agreement on the property of the Union State at its next session.

Summing up the results of the meeting of the Council of Ministers of the Union State Mikhail Fradkov expressed confidence that the sides discussed all issues put on the agenda.

In turn prime minister of Belarus Sergei Sidorskiy also expressed satisfaction with the results of the joint meeting and underlined that the sides took positive decisions on all the issues.


Commission suffers setback on Belarus trade move

From: EU observer

Member states have rejected European Commission proposals to punish Belarus with mini-trade sanctions in a surprising move, but the battle over the decision is not over yet.

Poland, Lithuania, Latvia, Greece and Cyprus on Tuesday (26 September) voted against the proposal to suspend Belarus from the EU's Generalised System of Preferences (GSP) on trade, while Italy, the Czech Republic and Slovakia abstained.

The negative result from Tuesday's expert committee or "working group" meeting means that EU ambassadors in Brussels will have to look at the matter afresh on 12 October.

A positive result would have cleared the way for EU foreign ministers to formally announce the GSP move in mid-October and for the commission to impose tariffs on imports of Belarusian wood, textiles and minerals in mid-2007.

Poland, Latvia and Lithuania - who are staunch critics of Belarus president Aleksander Lukashenko - fear the tariffs would impact ordinary Belarusian people and damage the EU's profile in Belarus.

"It came as a little bit of a surprise to everybody," a Lithuanian diplomat said. "We are worried about the negative political consequences the decision could have."

The GSP move would also impact small, cross-border traders in Poland, Latvia and Lithuania - all of whom share frontiers with Belarus.

The European Commission and international trade unions have been lining up the decision for over a year, on the grounds that Belarus violates GSP rules such as freedom of assembly.

As late as last week, EU officials felt certain the move would go through with no problems, saying the EU stands to lose credibility if it does not act in the black-and-white case.

"The commission continues to believe the suspension of GSP privileges is extremely important and will continue to argue strongly for the decision," a commission spokesman said.


Maria/Vika News


BYELORUSSIAN CHILD: LAWYER FRIZZI, PROSECUTORS HAVE VIDEO

From: Agi.it and La Stampa (loose translation from The BHTimes)

A video that depicts Maria (Vika) the Byelorussian child who is being kept hidden by the Giusto couple from Sept. 8, was deposited at the Genoa prosecutors' office on Saturday morning. Giusto family's layer Maurizio Frizzi confirmed the date of the deposit today with his colleague Giovanni Ricco. "The video can be watched by the prosecutors from Saturday morning. I talked on phone with my colleague that confirmed me the deposit" he said. Maria Chiara Bornacin and her husband Alessandro Giusto are waiting the Genoa court of Appeal's decision on the petition filed by their lawyers against a measure taken by the juvenile court that ordered the child's return to Belarus.

Police in Italy are searching for the two "grandmothers" of Maria/Vika, the Belarusian orphan who has been missing for 18 days now. Elena Dagnino and Maria Edges, the respective mother's of Maria Bornacin and Alessandro Giusto, are said to have taken the girl into hiding. Police are searching now for the grandmothers in the hope of finding the 1—year-old orphan. The girl's parents allegedly took matters into their own hands after the girl complained of sexual abuse at the orphanage in Belarus where she had come from. Belarus had allowed the girl to go to Italy as a part of a care and rehabilitation program in which orphaned children from near the Chernobyl region are allowed time spent with families from other countries. Belarus has complained that it wishes to have its citizen returned, and has cut off further access to its children to Italy as a result of this situation.

Photos of the two grandmothers have been issued over Italian television in the hopes of helping the search for the girl. Italian courts have agreed with the Belarusian side in that the girl must be returned. . Though it seems unlikely that the child could be held in perpetuity, as of the moment the scandal has taken on international attention. Bornacinna and Giusto have offered to adopt the girl legally, but as of this moment, this request seems to be taking a back seat to the search for the girl who allegedly claimed she would "throw herself into the area if made to return to Belarus. One need not speculate too hard as to whether the local reaction to the pictures of the two grandmothers would be to label them fugitives or heroes, nevertheless, the search for Maria/Vika continues.


Lukashenko directs that orphan children be paid allowances in full amounts

From: Belapan

Aleksandr Lukashenko on September 22 issued a presidential edict that pensions paid to orphan children and children left without parental care should be increased to the amounts that had been in place before the August 1 enactment of amendments to pension laws.

Following the enactment, it turned out that the amendments deteriorated the conditions of pension support for orphan children and children left without parental care who are under the care of foster and guardian families, the Belarusian leader's press office explained.

The press office noted that the edict took effect retroactively to August 1, 2006, which means that the underpaid amounts would be promptly paid


Yelena Yeskova elected leader of Belarusian Women's Party "Nadzeya"

From: Naveny

Yelena Yeskova was elected leader of the Belarusian Women's Party "Nadzeya" at the party's 5th convention held in Minsk on Sunday.

Ms. Yeskova replaced Valentina Matusevich who had resigned, pleading a lack of time. Nonetheless, Ms. Matusevich will hold the post of deputy chairperson.

The change of the leader will not entail a change in the party's policy, Ms. Yeskova told BelaPAN. The protection of women's interests remains its main aim, she added.

"The constitution guarantees equal rights to men and women, but things are absolutely different in real life," Ms. Yeskova said. "I believe that if the woman can keep a household, she is able to manage government affairs."

The newly elected leader also noted that the party would continue its membership in inter-party bodies, including the Political Council of United Pro-democratic Forces.

Ms. Yeskova had headed the legal department of the Belarusian Union of Automobile and Agricultural Implement Workers (BUAAIW) for many years. Afterward, she was an activist of the Belarusian Party of Labor until it was outlawed by the Supreme Court of Belarus in August 2004.


Belarusian cabinet expected to abolish restrictions on Russian beer imports

From: Belapan

The Belarusian Council of Ministers is expected to abolish restrictions on the import of beer from Russia, Vladimir Kuznetsov, spokesman for the Russian Union of Brewers, told BelaPAN.

The matter was under discussion at a meeting of the Committee on Tariff and Non-Tariff Regulation under the Council of Ministers of the Belarusian-Russian Union State held at the Russian economic development and trade ministry on Monday.

The discussion was initiated by the Russian delegation, according to Mr. Kuznetsov.

Under a directive issued by the Belarusian cabinet in 2003, Russian beer importers should deliver shipments to Belarus through specially established warehouses. "The rules apply to the import of beer from Russia only," Mr. Kuznetsov said. "They cause logistic problems for Russian breweries, as well as lead to substantial financial loss and increases in the retail price of their beer."

The Committee reportedly agreed that the rules should be abolished. The Belarusian cabinet is soon to draft a directive to this effect.

Mr. Kuznetsov said that the move would be well in line with efforts to establish the Union State, which he noted envisages equal conditions for Belarusian and Russian businesses.


Belarus: take a close look at Belarusian finalists for Junior Eurovision

From: oiko times

Names of finalists of the National Children's Contest "Song for Eurovision" released. The professional jury announced the results of the national selection round of "Song for Eurovision". This year a total of 40 applications had been filed. 10 singers will go on to perform at the gala concert on September 30. Based on telephone voting and the jury's say, the winner will be selected to present Belarus at the International Junior Eurovision Song Contest in Bucharest this December. So here comes a brief(!) article for you to know a little more about the finalists.

01. Artem Azuka (12) was born and now lives in Grodno, a city in the North of Belarus. His favourite places in his city are Swiss Valley and Zhiliber Park, where he can have rest and enjoy the beauty of the nature, as he says. He is a typical Pisces boy. He is outgoing and he likes it. He is satisfied with his own traits. Having history as his favourite school subject, his favourite movie is Troy as expected. He likes music a lot, which made him take up making his own music. His Junior Eurovision song is about "summer and tender memories, warmed by gentle shining of the sun." So far, he has taken part in some music events such as Young Talents 2005, Constellation of Hopes 2005 and international contest in Katowice, Poland. When he is asked the thing that made him take part in JESC selection, "I made up my mind to tale part in such a prestigious contest and bring fame to my country" he says.

02. Alexandra Stelmach (10), Artem's company in JESC lives in Grodno too. Unlike her closest companion, she likes the old building of Grodno University as she goes to the music studio there. She's Virgo, has good expression skills, and is emotional, which she finds the most positive among her traits. Like Artem, she says she hasn't been able to find a negative trait in herself. When she matures enough, she dreams of being a singer. In her free time, she likes meeting her friends and playing with her little brother, Ivan. Her favourite movie is Harry Potter. "I took up music listening my mother singing, and I sang along too." she says. Her favourite bands are Petr Elfimov and Dimitry Koldun. So far she has taken part in only one music event, the one held in Poland's Katowice and participated in her studio's disc presentation. "Last year I supported Ksenia Sitnik, this year I decided to try myself" she says.

03. Polina Koval (12) is a girl living in the capital city of Belarus, Minsk."I am just and kind, I would like to get rid of fretful temper." she says. Her favourite school subject is Mathematics. She likes composing songs and playing films in her free time and she dreams of being a singer when she grows up. Her favourite movies are "Three Nuts for Cinderella" and "Kamenskaya". When she is asked the time she began being interested in music, she says "When I was born". Her favourite music band in Studio Natalie. Her JESC song is about "When your friends are near, your life will be full of laughter, joy and dreams coming true." as she says. Up to now, she has taken part in various music events. "My music teacher Natalia and my mother are my main inspirations", she says. "I composed a song and my music coach liked it so we wanted other people to hear it. So I made up my mind to participate in JESC."

04. Alina Konareva (12) lives in Vitebsk. "I like having perseverance, daydreaming, focus on goal. I want to lose shyness." Her favourite school subjects are Geography and Computer Science. She longs for being a professional singer in the future. She took up music from karaoke and going to concerts with parents. Her favourite music band is Pesnyary. 2004 CIS and Baltic Festival Movement (1st place) and Open Belarus-2005 International Student Festival are the music organizations she has taken part in so far. Her song is about friendship, joy, fun (every kid's dream, as she says). "This is my second try. I wanted to tell children about peace, dreams and friendship. I am happy I made it into the finals."

List continues...



Russian oil exports outside CIS down 0.8% in Jan-Aug

From: Interfax

Oil exports from Russia (including from oil refinery terminals) to outside the CIS amounted to 140.95 million tonnes in the first eight months of the year, down 0.8% year- on-year, the Industry and Energy Ministry's press service said.

Exports to the CIS amounted to 24.63 million tonnes of oil down 3.4% year-on-year). Exports to Belarus and Kazakhstan increased, while exports to Ukraine fell.

In the reporting period oil supplies to the domestic market increased. Primary oil refining in January-August amounted to 143.62 million tonnes (up 5.6% year-on-year). Refinery throughput in August amounted to 18.89 million tonnes (up 5.4% year-on-year).

Gasoline production in the first eight months amounted to 22.42 million tonnes (up 6.5% year-on-year), diesel - 42.03 million tonnes (up 7.6%) and heating oil - 38.54 million tonnes (up 4.1%). rd


Russia to decide on 2007 gas supplies to Belarus by end of 2006

From: Ria Novosti

The problem of Russian natural gas deliveries to Belarus and its transit via Belarusian territory in 2007 will be resolved by the end of 2006, the Russian prime minister said Tuesday.

After raising gas prices for several of its other ex-Soviet neighbors, the Russian state-controlled gas monopoly Gazprom said it will also pursue a European price formula for Belarus as of 2007.

"Talks are underway, and today this issue was discussed at a bilateral meeting [of the countries' premiers]," Mikhail Fradkov said.

Gazprom is seeking a stake in the Belarusian state pipeline company Beltransgaz, which owns pipelines leading to Europe. It has offered to partially compensate the Belarusian firm for the price hikes if Beltransgaz agrees to sell the Russian energy giant its main gas routes.

Fradkov said: "We expect a valuation of the Belarus gas transit system this November," adding that there was still plenty of time to reach an agreement.

Belarusian Prime Minister Sergei Sidorsky said that several problems concerning starting conditions and rules remain to be negotiated.

A source in the Russian government said earlier the two companies are in talks to create a joint gas transit venture. He said that a contract on gas deliveries to Belarus in 2007 should be signed by the end of the year.

Belarus currently pays $46.68 per thousand cubic meters of Russian natural gas, while average gas prices for European Union countries are $180-200 per 1,000 cubic meters.


Sidorsky: Belarus is ready to agree to gas price increase that Russian consumers accept

From: Naveny

Belarus is ready to agree to the increase in the price of natural gas that Russian consumers accept, Prime Minister Sergei Sidorsky told reporters in St. Petersburg on September 25 after he had attended an industrial forum called Russian Industrialist 2006.

According to the Belarusian premier, by the end of the year, Belarus and Russia seek to complete an appraisal of the assets of Belarus' Beltransgaz gas transportation company, agree on a joint enterprise involving Gazprom that would control the Beltransgaz gas pipeline network, and decide on a gas price for Belarus.

"Our Gazprom partners and Belarusian experts currently hold talks on an appraising company, which is to determine the Beltransgaz assets," Mr. Sidorsky said. "After this, we will get down to negotiations about the gas price."

Mr. Sidorsky noted that a preliminary agreement had been reached that if the joint enterprise was established, the gas price to be set for Belarus would be in line with the Treaty of the Formation of the Union State.

Earlier reports had it that the appraisal of the Beltransgaz assets had been assigned to the Netherlands' ABN Amro on the initiative of the Belarusian government.

Gazprom seeks to buy a 50-percent stake in Beltransgaz. It has eyed the stake in the gas distribution network since 2003, but the sides could not agree on the method of appraising for a long time.

Earlier this year, Deputy Prime Minister Vladimir Semashko said that the Belarusian government was ready to sell a controlling stake to Gazprom before the end of the year provided Belarus took part in Russian gas production. "We are ready to sell 50 percent of the assets in exchange for getting assets of Russian gas producing companies, which would let us extract 12 billion cubic meters of gas," Mr. Semashko said this past May.


Belarus Council of Ministers to consider draft national insurance development programme

From: NLIPRB

Belarus Council of Ministers board will consider a draft national programme for the development of insurance business in the Republic of Belarus in 2006-2010 on September 27. The session will be chaired by prime minister of Belarus Sergei Sidorskiy.

BelTA learnt from the Council of Ministers Staff, in 2001-2005 a similar programme was implemented. Measures outlined by the programme were generally accomplished. Therefore another programme is required to guide insurance business development in 2006-2010.

The new programme is expected to improve insurance legislation, in particular, stability and reliability of the national insurance system, to promote voluntary kinds of insurance and build an effective mandatory insurance system. The national insurance market should become more integrated into the international insurance system. Control over insurance activities in Belarus will be improved.

By late 2010 the programme is expected to increase the share of insurance revenues in the GDP up to 1.5-1.52 per cent. The figure corresponds to the one set by the national services development programme in 2006-2010.

As of January 1, 2006 there were 26 insurance organisations in Belarus, including 3 state-run ones, as well as 3 insurance brokers. There are 12 insurance organisations with a share of foreign capital.


Belarus Moves Against Opposition Communist Party

From: RFE/RL, Ria Novosti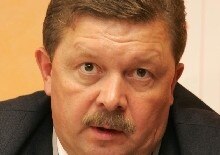 The Belarusian Justice Ministry has filed a suit with the Supreme Court to suspend the activities of the opposition Belarusian Party of Communists (BPC).

The ministry accused the party, which is led by Syarhey Kalyakin, of violating the law on political parties. It said officials suspected the party's membership was less than 1,000, the legal minimum, and accused the party of failing to provide data on its members.

The Justice Ministry's action was prompted by a request for such a probe lodged by the pro-government Communist Party of Belarus in July.

Kalyakin says the move is revenge for his party's support for Alyaksandr Milinkevich, the main opposition challenger to President Alyaksandr Lukashenka in the March election.

"The Justice Ministry's move was illegal and was aimed at preventing his party from running in forthcoming local elections. We will continue our political activity, which is aimed at restoring democracy, freedom and human rights in Belarus, no matter what."

Sergei Kalyakin also said the party has started forming a new organization in Minsk.
he said.


Opinion


Is Communism Dead?

by Lee Edwards, Ph.D.
From: Heritage.org

It is a grave failing of our age that the full extent of Communism's inhumanity to man is not known.

Who knows that the Soviet Union murdered 20 million people through mock trials, purges, famines, and the infamous Gulag?

Who knows that Mao Zedong and the other Chinese Communist leaders have slaughtered an estimated 50 million people through the Great Leap Forward, the Cultural Revolution, the Tiananmen massacre, and the Chinese version of the Gulag—the Laogai?

Who knows that Fidel Castro has executed thousands of political prisoners since coming to power in 1959 and continues to silence any open opposition to his rule?

Who knows that the Communist plague has exact­ed a death toll surpassing that of all the wars of the 20th century combined?

This tragic oversight must be corrected. A Memorial to the more than 100 million victims of Communism must be built—and it will be. Groundbreaking for the Memorial, located on Capitol Hill just three blocks from here, is scheduled for next month. [Editor's Note: The groundbreaking is scheduled for Septem­ber 27, 2006.]

The Memorial will feature a 10-foot-high bronze replica of the Goddess of Democracy statue erected by Chinese students in Tiananmen Square in the spring of 1989 and then destroyed by Chinese Com­munist tanks. The statue was based on our own Statue of Liberty in New York Harbor.

On the front pedestal of the Memorial statue will be the words: "To the more than one hundred million victims of Communism and to those who love liberty."

On the back pedestal will be the words: "To the freedom and independence of all captive nations and peoples."

These words will serve to remind visitors that one-fifth of the world's population still lives, and not by their choice, under Communism.

You and I are blessed to live in a free society. We have never had to worry about a knock on the door in the middle of the night and the secret police dragging us from our home. We have never had to endure the horrors of so-called reeducation camps that break the bodies and minds of dissidents. We have never seen families, communities, whole cities, eliminated at the order of a cold-blooded tyrant.

But for many millions of people over the past century these horrors were a daily fact of life.

Once asked who were the victims of Commu­nism, a former occupant of the Soviet Gulag replied, "Everyone who lived in the 20th century was a victim of Communism."

As Anne Applebaum, the Pulitzer Prize–winning author of Gulag, wrote, mere statistics cannot reflect "the cumulative impact of Stalin's repres­sions on the life and health of whole families."

Consider: A man was tried and shot as an "ene­my of the people." His wife was taken to a camp as a "member of an enemy's family." His children grew up in orphanages and joined criminal gangs. His mother died of stress and grief. His cousins and aunts and uncles cut off all contact with one anoth­er in order not to be tainted. Fear weighed heavily on those left behind, even when they did not die.


Today, 50 years after Stalin died, the remaining Communist dictatorships perpetuate the Leninist legacy of fear and intimidation, as you will hear from our distinguished panelists this afternoon.

There is one aspect of the Leninist legacy that directly affects every American today.

It is a fact, documented by the terrorism expert Michael Waller, that the U.S.S.R. and its proxies armed and built the international terrorist net­works of the 1960s through the 1980s. The states supporting international terrorism are mainly former Soviet client regimes, including Cuba, North Korea, and Syria under the Assad family. It is a fact that Soviet sponsorship of Yasser Arafat and the PLO allowed Moscow to gain influence over terrorist groups like Hezbollah.

If the Communist-coordinated terrorists had been squashed or had never existed, Dr. Waller concludes, in all likelihood the world would not be plagued by the present-day terrorism of Hezbollah, Hamas, al-Qaeda, and the other violent organizations that commit mass murder in the name of God.

Text continues...



Speculation


Russia's Neighbors Splitting Gas into Atoms

From: Kommersant

The countries of the CIS are beginning a campaign to eliminate their dependence on gas from Russia. Ukraine's new energy strategy anticipates decreasing gas imports by 16.4% before 2010. The country's increasing energy needs will be met by nuclear power stations. Almost simultaneously, Belarus declared its intentions to wean itself off gas in favor of nuclear energy.
Ukraine is expected close a deal this week with Gazprom concerning gas prices for 2007, even while the country's government is exploring ways to decrease its dependence on Russian gas. The plan worked out by Ukraine's Energy Ministry calls for a decrease in the country's gas consumption to 71 billion cubic meters by 2009 (78 billion will be used in 2006) and for a decrease in supplies from Russia from 58 billion to 48.5 billion cubic meters. For 2030, target gas consumption is 50 billion cubic meters, of which 30 billion are supposed to come from either within the country or from sources abroad – excluding Russia.

Ukraine is already exploring its options abroad. For example, Ukrnafta will soon be assessing and developing gas and oil fields in Libya.

To help compensate for decreased dependence on Russian gas, the country also plans to increase its generation of nuclear power to 101.2 billion kW by 2010. Ukraine's current energy production is 210.2 billion kW•hours. The Energy Ministry's plan calls for the working lives of Ukraine's existing reactors to be prolonged by 12-15 years and for new reactors to be built after 2014 in cooperation with the American company Westinghouse Electric, which will be providing experimental fuel for the reactors. If the experiments are successful, the Ukrainian company Energoatom will have a source of reactor fuel that is completely independent of Russia.

The idea of exchanging gas energy for nuclear energy is gaining popularity among the countries of the CIS. Belarus, whose reliance on Russian gas is almost total, is already deciding on the location where a nuclear plant will be built. If the plan is realized, by 2010 the country will get a third of its energy from nuclear sources. Meanwhile, Georgia is following a different path: the country is anticipating the completion of a pipeline supplying gas from Azerbaijan and, possibly, Iran.

Thus, even as EU officials investigate whether Gazprom has the resources necessary to provide for Europe's gas needs, the countries of the CIS are taking a different route to energy security by turning to sources that are not associated with Russia.


Belarus School Protests Ban On Polish Teachers

From: RFE/RL
The students and staff of a Belarusian middle school walked out of classes today to protest a government ban on the use of exchange teachers from Poland.

Reports say police are monitoring the peaceful demonstration in Volokovysk, in the western province of Hrodna, but not interfering.

The protest comes after local officials enforced a ban against Polish teachers. Minsk says Warsaw is seeking to undermine its rule through contacts with Belarus' large Polish minority.

Note: The BHTimes sides with the govt. Whether or not they were spies, Belarus is better off without them in general.


Sports


Top draft pick, three other returnees among five assigned to Aeros

From: OSC.com

Minnesota Wild President and General Manager Doug Risebrough today announced the National Hockey League (NHL) club has reassigned the following five players to the training camp for the Houston Aeros of the American Hockey League (AHL): left wings Benoit Pouliot (ben-WAH, POOL-ee-ott), Roman Voloshenko (vohl-oh-SHEN-ko) and Peter Olvecky (ohl-VEHT-skee), center Jason Morgan and defenseman Erik Reitz (pictured). The Aeros' training camp is set to open this Wednesday from 1-3 p.m. at Sugar Land Ice & Sports Center.

Voloshenko, 20 (5/2/86), made a huge splash in 2005-06, torching the AHL early and often en route to a 60-point (33-27=60) rookie campaign in 69 games despite missing three weeks to play for Russia's World Junior team. The 6-foot-1, 189-pounder from Brest, Belarus, tied for ninth among all AHL rookies in points and third in goals. He tied an Aeros team record with 20 power play goals, and at 19 years old became the youngest Aero to ever record a hat trick in a 6-5 win over San Antonio on Opening Night, October 7. Not to be outdone, Voloshenko lit up former Stanley Cup champion goaltender Chris Osgood and Grand Rapids for the second four-goal game in team history, October 21. Voloshenko was Minnesota's second-round pick (No. 42 overall) in the 2004 NHL Entry Draft.


Football News


UEFA EURO 2008: Gaev rejoins Belarus party

From: SF Gate, Noticias

FC Dinamo 1948 Bucuresti goalkeeper Vladimir Gaev has returned to the Belarus squad for the UEFA EURO 2008™ qualifiers against Romania and Slovenia.

Young hopefuls
Gaev is one of a number of experienced players returning to the team along with Russian-based Vitali Bulyga, Sergei Gurenko and Andrei Lavrik. Meanwhile, coach Yuri Puntus has found room to bring Under-21 internationals Yan Tigorev, Artyom Radzkov, Anton Omelchenko and Leonid Kovel with the latter pair receiving their first call-ups. However, Parma FC striker Vitali Kutuzov will not play as he is suffering from an ankle injury and has asked not to be considered for international games.

Belarus squad
Goalkeepers: Yuri Zhevnov (FC Moskva), Vasili Khomutovski (FC Tom Tomsk), Vladimir Gaev (FC Dinamo 1948 Bucuresti), Anton Omelchenko (FC Moskva).

Defenders: Sergei Omelyanchuk (FC Shinnik Yaroslavl), Sergei Shtaniuk (FC Luch-Energia Vladivostok), Dmitri Lentsevich (FC Torpedo Moskva), Aleksandr Yurevich (FC Shakhtyor Soligorsk), Dmitri Molosh (FC BATE Borisov), Yan Tigorev (FC Dinamo Minsk), Artyom Radzkov (FC BATE Borisov).

Midfielders: Timofei Kalachev (FC Rostov), Vladimir Korytko (FC Terek Chechenskaya Respublika), Aleksandr Kulchy (FC Tom Tomsk), Denis Kovba (FC Krylya Sovetov Samara), Maksim Romashchenko (FC Dinamo Moskva), Aleksandr Hleb (Arsenal FC- see below), Oleg Strakhanovich (FC MTZ-RIPO Minsk).

Forwards: Sergei Kornilenko (FC Dnipro Dnipropetrovsk), Artyom Kontsevoi (FC MTZ-RIPO Minsk), Viacheslav Hleb (FC MTZ-RIPO Minsk), Leonid Kovel (FC Dinamo Minsk).

Hleb scores: Arsenal 2, FC Porto 0

Thierry Henry and Alexander Hleb scored in each half in Arsenal's victory. Henry scored in the 38th with a rare header, and Belarus midfielder Hleb made it 2-0 in the 48th from 15 yards after clever passes from William Gallas and Henry.

Arsenal, last season's runner-up to FC Barcelona, leads Group G with six points in two games. Porto has one point.