EurAsEC summit, BY asks EU to ease off, Gazprom, Post-Orange Ukraine, Iranian Cement factory to be built, Culture, Sport
From the Top


Leaders Meet in Russia for Energy Talks
From: Chron.com, UZ report and Belta
EurAsEC leaders gather in Sochi for informal talks concerning the creation of a customs union and a common energy market
President Vladimir Putin and the leaders of five other ex-Soviet states gathered Tuesday on the Black Sea for three days of talks on forming a customs union and a common energy market.
Leaders from Belarus, Kazakhstan, Kyrgyzstan, Tajikistan and Uzbekistan joined Putin in the port of Sochi for discussions on developing that the Eurasian Economic Community _ a grouping that aims to restore economic ties after the 1991 Soviet collapse.
Proposals to be discussed included water energy regulation in Central Asia and setting up a Eurasian hydroelectric consortium.
Belarus will by no means be a hindrance to integration processes. Belarus will work hard to set up a real EurAsEC Customs Union, president of Belarus Alexander Lukashenko told reporters today in Sochi.
Equal terms should be created for economic entities of all the EurAsEC member states, the president said. "This is our main requirement. I am grateful to the colleagues for understanding the position of the Belarusian side," he added.
This rule is applied to integration processes throughout the world, he said.
Alexander Lukashenko is satisfied with the results of the Sochi talks. "We have finally agreed we should act with great efficiency to form the Customs Union. Three states – Belarus, Russia and Kazakhstan - have appeared to be more advanced in this respect", the Belarusian leader said. "However, Tajikistan is keeping pace with us in unifying documents as well; the problem is we do not have common borders", Alexander Lukashenko underlined.
The Belarusian president considers the Sochi talks to be fruitful. According to him, yesterday during the informal meeting the presidents spoke about various aspects of the relations between the EurAsEC member states including the forthcoming CIS summit which is due in autumn in Minsk.
Armenia's leader, Robert Kocharian, was attending the meeting as an observer, as was Ukraine's new prime minister, Viktor Yanukovych, on his first trip abroad since being confirmed to the post by parliament earlier this month.
Comments by Yanukovych _ whose policies are considered pro-Russian _ will likely be seen as an indication of whether he will aim to strengthen cooperation with Russia, even as Ukrainian President Viktor Yushchenko tries to move his nation closer to the West.
Earlier Tuesday, Putin met for one-on-one talks with several of the leaders, including Kazakhstan's president, Nursultan Nazarbayev.
Putin and Nazarbayev signed a series of agreements intended to streamline customs tariffs and tariffs for transporting Kazakh cargo via Russian railroad lines, Russian news agencies reported.
President of Belarus Alexander Lukashenko believes that Customs Union, envisaging simplified rules of crossing borders and cargo transportation, will work really not earlier than after year and a half.
"To sign agreement is one thing, and to create really the union is another. According to high-level experts' estimations, this term makes up about three years. But if we work hard, we will be able to create the union in 18 months"
Belarus claims opposition leaders train in Poland
From: POland.pl
Belarus accuses Poland of training opposition leaders
A Belarusian daily has accused Poland and other neighbouring countries of training future Belarus opposition leaders.
The government daily Respublika claims that a summer camp serving that purpose was organized recently at a Baltic sea holiday resort of Jastrzebia Gora, where young Belarusians were allegedly instructed how to conduct an election campaign.
The daily says that at such events "professional revolutionaries" are shaped to take part in "illegal political actions". It claims also that similar trainings are organized for students expelled from Belarusian universities by the regime of the authoritarian president Alexander Lukashenko. They were invited by countries such as Poland to continue their education.
EU, U.S. to reject isolationist policies
From: Interfax
Belarus calls for a more reasonable policy from the EU
Belarus says it disagrees with the opinion voiced by the EU and the U.S. on the human rights situation in the country and calls on the West to stop its efforts to isolate Belarus.
"Belarus sees nothing new in the statements made by the EU and the U.S. There is a politicization of issues that should be solved exclusively using legal means," Maria Vanshina, head of the press service of the Belarussian Foreign Ministry, said Wednesday. Vanshina was commenting on the last EU and U.S. statements, which express disappointment with the sentences handed down to four members of Partnership, an unregistered civil organization.
"Belarus calls on the EU and the U.S. to reject their isolationist policy, restrictions, and bans, which have repeatedly proved their inefficiency and even counter-productive nature," she said.
Vanshina confirmed Belarus' readiness to "solve all issues in our relations through dialogue on the basis of equality and mutual respect."
Belarus deliberately delaying gas price solution - Russia
From: Belapan
Russia is irritated over gas price resolutions
Belarus is artificially delaying a settlement on the price of natural gas supplies from Russia, a Kremlin official said Tuesday.
After raising gas prices for several of its other ex-Soviet neighbors, Russian state-controlled gas monopoly Gazprom said it would also pursue a European price formula for Belarus as of 2007, and offered to partially compensate for the price hikes if Belarusian gas pipeline company Beltransgaz were to sell the Russian energy giant its main gas routes.
"Belarus is under the illusion that something can change in Gazprom's position on the price of supplies to the country," the source said.
He said Russia had voiced its proposals on the price issue long ago but had received no response.
The price of gas supplies to Belarus has not changed since 2004, and currently stands at $46.68 per 1,000 cubic meters. Russia is seeking a price in the region of $180-200.
In his response to parliament's inquiry into reasons for raising the price for Belarus, Andrei Dementyev, deputy minister of industry and energy, said that the current price of $46.68 only partially compensated for spending on the extraction, storage and transportation of gas to Belarus.
"Under these conditions, keeping the current gas price means not only directly subsidizing supplies to Belarus, but also the absence of a source of investment into the development of the gas industry, and a reduction in budget revenues," he said.
Belarus interested in construction of new hydropower stations in Kyrgyzstan
From: Gazeta kz
Belarus is interested in the development of Kyrgyzstan's hydropower resources
Belarus is interested in participation in the development of Central Asian hydropower, in particular, in the construction of new hydropower stations in Kyrgyzstan, Kazakhstan Today reports citing the BELTA agency.
Kyrgyzstan's most promising and significant project to date is construction of a hydroelectric system consisting of two Kambaratin hydropower stations. Russia and Kazakhstan are regarded as the most probable investors into the development projects in Kyrgyzstan. In April 2003 the heads of EurAsEC member states made a decision to participate in the development of Kyrgyzstan's hydropower resources.
In relation with this Belarusian ventures are ready to provide supplies to Kyrgyzstan of mine trucks, trucks and other road construction technique to Kyrgyzstan. "These products have proven themselves well on construction and mining works of many world countries. The scale and significance of the Kyrgyz energy projects for the region is a basis for initiating before investors and within the EurAsEC special leasing schemes for the supplies of the required equipment," - Belarusian presidential press service said.
Belarus to have population census in 2009
From: belapan
Census takers will be out in 2009
The Presidium of the Council of Ministers, at its August 15 session, decided to conduct a general population census in 2009, according to the cabinet's press office.
The census will ask people on their earning, ethnicity, preferred language, and the quality of their housing, said Vladimir Zinovsky, minister of statistics and analysis.
Data also will be collected on the status of women, children, youths and retirees, as well as characteristics of homeless households, unemployed people and those who are temporarily staying in the country.
The Ministry of Statistics and Analysis suggests conducting the survey between October 14 and 24. An experimental census is scheduled for 2007.
Ahead of the census, the government needs to create a legal basis and settle related organizational and financial matters, the press office said, noting that there is also a need for statistics agencies to employ additional staff.
As much as 21 billion rubels will be allocated for conducting the census, or the average of one US dollar per person. According to Mr. Zinovsky, foreign countries spend between $1.5 and $2 per person.
Post-Orange Ukraine
From: cfr.org
Viktor Yanukovich talks to lawmakers in Ukraine's Rada.
Economist John Kenneth Galbraith once likened a successful revolution to "the kicking in of a rotten door." In the case of Ukraine, though, one might say the rotten door has swung back in full force, given the dismantling of the coalition that carried out the Orange Revolution. The ringleaders of the 2004 revolution proved ineffective and out-of-touch, resorting more to political infighting and settling scores than improving Ukrainians' livelihoods. With pro-Kremlin Viktor Yanukovich back in the prime minister's saddle, Ukraine looks poised to rejoin Moscow's orbit (CSMonitor) after a period of closer ties with organizations like the European Union and NATO. Yanukovich is currently in Russia meeting with President Vladimir Putin to renegotiate a more favorable energy deal for Ukraine (BBC).
The collapse of the Orange Revolution has created a stir among democracy activists across the post-Soviet space. After all, if Ukraine, a country in Europe's backyard with relative freedom of the press and a vibrant opposition, can't sustain a pro-democratic revolution, what hope is there for Belarus, Kazakhstan, or any other country where opposition groups have begun clamoring for more freedoms? "It will be seen very negatively by opposition groups [in the region] that had hoped to follow the path of the Orange Revolution," George Washington University's Taras Kuzio tells CFR.org.
However, some experts tell RFE/RL that Ukraine's reorientation toward Russia should not have a noticeable effect on its post-Soviet neighbors. Nor will the revolution's demise result in a firm tilt away from Brussels toward Moscow. "Ukraine's distinctive history," writes Columbia University's Mark von Hagen in the Wall Street Journal, "refuses to put the country firmly in the East or West, but somewhere in between." Yet, at least for the near future, Ukraine's attempts to cultivate closer ties to Europe and NATO appear to be "under a cloud," Columbia's Robert Legvold tells RFE/RL.
Regionally, the collapse of the Orange coalition should, if anything, soothe the nerves of post-Soviet authoritarian leaders, who are paranoid of grassroots uprisings sweeping them from power. The presidents of Belarus, Russia, and Uzbekistan, for example, have rolled back democratic reforms in the past year for fear of allowing a spark that could set off a color revolution. They have called government turnovers in Georgia, Ukraine, and Kyrgyzstan the work of CIA-backed operatives. The president of the National Endowment for Democracy, Carl Gershman, writes in the Journal of Democracy that the backlash following the Orange Revolution has wiped out the modest political reforms in many "hybrid regimes" and "prompted a more aggressive and coordinated response on the part of the world's authoritarians and autocrats".
The issue of East versus West remains germane to Ukraine's internal politics as well. The Economist reckons that handing over the premiership to Yanukovich, who rightfully won the post and remains popular in Ukraine's Russian-speaking east, should help heal the country's East-West divisions.
Belarus to introduce united offence registration system
From: NLIPRB
Belarus is constructing a state offence databases
Belarus is introducing a united offence registration system. The regulation on the system's functioning was approved by Council of Ministers resolution #909 of July 20, 2006. The resolution comes into force as from January 1, 2007.
The resolution reads, administrative offences will be registered by courts as well as state bodies and officials, who are legally empowered to draw up reports or consider administrative offence cases. The offences will be registered by preliminary investigation authorities, prosecutors, common courts and bodies in charge of punishment execution.
Every offence will have a unique ID and will be entered into special logs and registration cards. After that the information will be forwarded to united territorial, regional or state offence databases according to regulations and terms introduced by the resolution.
The state offence databases will keep information about administrative offences for 10 years, territorial and regional databases — for at least 3 years but no more than 10 years. Crime information will be stored for 100 years and between 15 and 100 years in each of the listed kind of the databases.
Once expired, the data will be erased from electronic data storage means using methods, which prevent later recovery.
The databases will provide information to criminal prosecution bodies and those hearing an administrative cases as well as courts within 120 hours after the database receives a data request.
Information can be provided within ten days to other state bodies in cases laid down by national laws and to foreign state bodies and international organisations in compliance with international agreements of Belarus. Natural persons will be able to get information within 15 days after submitting a data request. Non-governmental organisations and individuals will be charged 0.5-1 basic amounts for the information depending on the expediency of the data request. In certain cases laid down by the regulation the information will be provided free of charge.
Government resolution #840 ordered the internal affairs ministry to design registration cards for the united offence registration system and rules for filling in the cards. State bodies are authorised to start registering and submitting offence information to bodies of the interior ministry as from January 1, 2007.
Pathologist from Belarus comes to B.C. to learn
From: battlecreekenquirer.com
BY pathologist finds cooperation between east and west possible in the medical field
Dr. Yuriy Rogov, a leading pathologist in Belarus, recently spent three weeks in Battle Creek learning how American coroners, medical researchers and medical examiners work.
His visit was sponsored by the Worldwide Humanitarian Aid organization, which is affiliated with the Bellevue Church of Christ.
Steve Doty, minister of the Bellevue church and head of the foundation, first met Rogov eight years ago at a Bible study Doty conducted on one of his missions to Belarus.
Doty learned from Rogov just how few books, microscopes and other equipment the pathologist had for his use and for teaching Belarus' 300 pathologists who work under him.
The level of pathological research in Belarus is very "low level," according to Rogov.
"When the Soviet Union broke up, we all of a sudden didn't have the books and equipment and contacts we needed," he said.
Doty was pleased with the warm reception Rogov met in this country. As he explained, "Helping the helper is going to help the many. God has blessed me, and if I help Yuriy, he can help 300 pathologists, and they can help millions."
Iran, Belarus sign four cooperation agreements
From: Irna.ir
Iran will build a cement factory in Belarus
During his recent visit to Belarus, Minister of Industries and Mines Alireza Tahmasbi signed four cooperation agreements with Belarus state officials.
Director General of the International Relations Department of the Ministry of Industries and Mines Qader Soleymani said this on Sunday in a briefing to reporters on the outcome of Tahmasbi's visit to Belarus.
He said that according to a mutually inked agreement, Iran will build a cement factory in Belarus.
"The basic framework of the cement production plant was specified in the document and the final contract will be signed soon," he added.
He put the daily and annual capacity of the plant at 3,300 tons and one million tons respectively and said, "That part of the funds for the establishment of the plant will be provided by the Belarus employer while the rest will be provided through the credits allocated to the project by Iran's Export Development Bank as well as Industries and Mines Bank.
"A memorandum of understanding on formation of a joint industries and mines committee were also signed between the two countries to broaden their industrial cooperation," he added.
The official said that during his two-day visit to Belarus, Tahmasbi also conferred with the country's parliament speaker, deputy prime minister as well as ministers of industries and housing on matters of mutual interest.
Hotelkeepers Signal of Illegal Tour Operators Along Northern Black Sea Coast
From: focus-fen.net
Black Sea tour groups are taking advantage
Unlicensed tour operators are doing away with the tourist business along the northern Black Sea coast of Bulgaria. This became clear after a signal made by the owners of residential complexes along the Black Sea, Radio FOCUS-Varna informs.
Unknown tour operators are sending holidaymakers mainly from Russia and Belarus to expensive Bulgarian hotels without the owners' knowledge. The foreigners explained they had paid their holidays in advance.
The result of the illegal actions is double booking of rooms that have already been sold to other tourists. The consequence of all this is the negative advertisement, the affected explain. Some of the hotelkeepers have already approached the Prosecutor's Office.
Transport ministry rejects speculation about rise in transit fees
From: Naveny
Customs fees for trucks are causing problems at the borders
The Belarusian transport ministry has denied reports about a rise in transit fees collected from foreign-registered vehicles that have allegedly prompted many transport companies to reroute their Russian-bound trucks from Belarus to Latvia.
Russia's Federal Customs Service reported on Tuesday that trucks had formed kilometers-long lines at Russia's Latvian border, explaining that many companies had diverted traffic to Latvia after Minsk had raised transit fees and introduced stiffer control rules.
When reached by BelaPAN, representatives of the transport ministry flatly denied the reports, saying that the country's transit fees had remained at the same level for several years. The rate off fees collected from trucks at Belarus' only toll highway, the M1/E30 Brest-Minsk-Russian border road, has not changed either, according to a source with the ministry's road construction and maintenance department.
Latvia Blames Border Backup on Mafia
From: Moscow Times
Truck drivers continued their tiresome wait for a third day Thursday to cross the Russian-Latvian border, as the Baltic state pushed on with an investigation into the 20-kilometer backlog.
Latvian authorities say criminal organizations are behind the jam. The organizations, they say, have deliberately slowed down customs processing at the border in order to turn a profit by offering faster clearance services for drivers.
Yanis Vidrikis, the Latvian border patrol's investigations chief, offered his resignation, and three of his staff were excused from duties in connection with the investigation, the border service said Thursday in a statement.
Trucks en route to Russia from European Union countries have backed up at the Russian-Latvian border, with drivers seeking to avoid a transit route through Belarus, which recently raised transit tariffs.
The backlog was exacerbated by the closure of Estonia's Narva checkpoint last week due to road repairs.
About 800 trucks waited to cross into Russia from Latvia on Thursday morning, down from 950 the previous day, but still twice the emergency crossing limit at the Terekhovsky-Burachky border point, said Yevgeny Vensko, a spokesman for Russia's Federal Customs Service's northwest division.
"We have the maximum number of customs officers at the border point -- 12 -- working in three shifts to process 460 vehicles per day," the spokesman said. The normal processing limit is 400 to 410 vehicles, Vensko said. "People don't have time to run to the toilet."
The Federal Customs Service does not expect the lines to ease before the weekend, when truckers will be returning with goods to Europe.
Belarus welcomes UN Security Council resolution on Middle East ceasefire
From: NLIPRB
The Belarus foreign ministry hopes that the resolution will be rigorously observed by all
Belarus welcomes the UN Security Council resolution #1701 on the ceasefire in the Lebanese-Israeli conflict zone, says the statement released by the press service of the Belarus foreign ministry on August 14.
The document says: "The balanced resolution that takes into consideration the interests of Lebanon and Israel gives hope that the fighting will stop immediately and that truce will prevail in the zone of the conflict".
The Belarus foreign ministry hopes that the resolution will be rigorously observed by all the sides involved in the conflict and will become the basis for lasting peace between Lebanon and Israel.
The statement says that the unanimous approval of the resolution by the UN Security Council member-states attests that the world community realizes the need to adopt urgent measures to stop military actions and suffering of the civic population, to prevent further escalation of the humanitarian crisis in Lebanon".
Note: For an interesting presentation on manipulation of media images from the war in Lebanon, please click "HERE"


Russian foreign ministry offers help to promote best of Belarusian culture abroad

From: NLIRB



Belarusian/Russian culture to be promoted in honor of the Union State


The Russian Federation Foreign Ministry is ready to offer assistance to Belarus in promoting the best achievements of the Belarusian culture abroad. The statement was made by Tatiana Poloskova, head of the compatriots, CIS and Baltic states department of the Russian Centre for International Scientific and Cultural Co-operation of the Russian Federation Foreign Ministry during today's roundtable sitting "Youth and Culture: Bridge to the Future" at the National Library of Belarus.
"The Belarusian-Russian humanitarian relations have not used up their potential within the Union State framework," she said. According to Tatiana Poloskova, the fact should urge the two countries to think about using each other's opportunities in Russia and Belarus as well as third states. Belarus could use Russian culture and information centres abroad for promoting cultural, scientific, and educational achievements and for presenting an unbiased point of view on all events taking place in the country, she said.
The official informed, at present there are 44 Russian culture and information centres in non-CIS states. Another two centres are placed in the CIS. The centres host various conferences, which can be participated by Belarusians. After every conference performances by Belarusian artists can be arranged.
According to Tatiana Poloskova, apart from that the Russian side is ready to offer co-operation for creating and promoting various Belarusian-Russian joint youth programmes.
The official stressed, within the framework of the Union State Russia and Belarus also need to develop common views on the propaganda of cultural achievements in non-CIS states and shape a common humanitarian policy. "We are a union and therefore should work together," she stressed. According to Tatiana Poloskova, in the near future signing an agreement on building a Russian science and culture centre in Belarus will remain a top priority task of the Belarusian-Russian humanitarian co-operation. The issue has been negotiated for several years and can end positively within a year, she informed.


Russia: Kremlin Attempts To Get Ukraine Back In Its Orbit

From: RFE/RL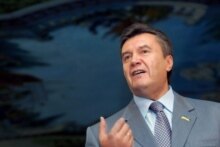 Ukrainian Prime Minister Viktor Yanukovych


It was perhaps no coincidence that Ukrainian Prime Minister Viktor Yanukovych's meeting in Sochi with his Russian counterpart, Vladimir Putin, coincided with an informal meeting of the Eurasian Economic Community (Eurasec) -- an organization Ukraine is not a member of.
It looks like Moscow is working hard once again, since the appointment of the pro-Moscow Yanukovych, to bring Ukraine back into its orbit.
Yanukovych was in Sochi for talks with Russian Prime Minister Mikhail Fradkov about the price Ukraine will pay for Russian gas. On August 16, Yanukovych announced that both sides agreed to keep the current gas price for Ukraine until the end of 2006.
Eurasec was created in 2001 to further the economic integration of former Soviet republics. The organization is seen by the Kremlin as a way to restore its political and economic clout, not only over Central Asia but in the European part of the former Soviet Union. It comprises Russia, Belarus, Kazakhstan, Uzbekistan, Tajikistan, and Kyrgyzstan.
Although Russia has made some gains in Central Asia, with the help of its ally Kazakhstan, it has had little success westward. Its only ally to the west, Belarus, cannot play the role of middleman with the European Union because of the isolated regime of Belarusian President Alyaksandr Lukashenka.
In terms of influence to the west, Ukraine is the key. In 2003, the Kremlin advanced the idea of the Single Economic Space (SES), an idea supported also by Belarus and Kazakhstan.
The weak and corrupt administration of Ukrainian President Leonid Kuchma signed the SES accord, but Ukrainian interest waned after Kyiv shifted its foreign-policy orientation to the West after the country's 2004 Orange Revolution.
Thus, with a new pro-Moscow Ukrainian prime minister, Moscow put its cards on the table. Konstantin Zatulin, a Duma deputy and director of the Institute for CIS Studies, said that "Despite the impression that the energy issue dominated, the topic of Ukraine's integration should not be forgotten," regnum.ru reported on August 16.
Another important issue on the EurAsEC summit agenda was the creation of a Eurasian hydro-energy consortium.
Eurasec is one of the few mechanisms with which Moscow attempts to ward off Chinese and U.S. influence in the region. And the creation of a hydro-energy consortium under Russian leadership is an ideal tool.
Water is a potentially explosive issue in Central Asia. Uzbekistan and Kazakhstan are the region's main fresh-water consumers, while up to 80 percent of the region's water resources belong to Kyrgyzstan and Tajikistan. To avoid conflicts over water, Russia has suggested creating a supranational hydro-energy consortium that will regulate the use of water resources and intervene if conflicts arise.
Russia, with 24 percent of the world's fresh-water resources, can use water as a political lever, just as it has already done with oil and gas. Moreover, the choice of water as a weapon gives Russia the edge over China, which itself suffers from an acute fresh-water deficit.
Because of the sensitivity of this issue, it was discussed behind closed doors. The leaders were briefed about the project but no details were made public.
Also under discussion was the creation of a joint customs union, which would eliminate border duties between member countries. It was decided that Russia, Kazakhstan, and Belarus would be the first members of the union, providing their parliaments approved. The other Eurasec states will join the process later.
Since Moscow failed to get Washington's consent to join the World Trade Organization (WTO) at the July Group of Eight (G8) summit in St. Petersburg, the Kremlin has pushed for the creation of a customs union. Among Eurasec states, only Kyrgyzstan is a member of the WTO, with Russia, Kazakhstan, and Ukraine on the verge of joining.
With WTO membership delayed probably until the end of 2007, Russia is pushing to become a big regional economic player. The customs union -- which could be a prototype for an all-ruble zone -- is just one way of doing this.


Belarus to announce tender for new national satellite

From: Novosti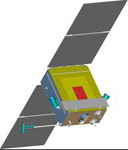 Plans are in the works for a second BelKa national satellite


Belarus will announce a tender by the end of the week for a new national BelKa satellite to replace the one destroyed when a Russian rocket crashed in Kazakhstan in July, a source involved in the negotiations said Thursday.
A Dnepr rocket carrying the Belarusian satellite, along with several international satellites, crashed shortly after liftoff from the Baikonur space center due to a first stage engine shutdown on July 26.
"We expect Belarus to announce a tender this Friday for a new BelKa national satellite, in which at least three Russian companies will take part," the source said.
"One option is to build the satellite using the platform created by [Russian rocket and space corporation] Energia, and another is to use the production platform of [Russian state research and production space center] Khrunichev, with optical and electronic work to be carried out by Belarus," he said.


Representatives from 60 Estonian companies to visit Belarus in late October-early November

From: NLIPRB



Relations between Estonia and Belarus are doing well


Representatives from about 60 Estonian companies will visit Belarus in late October - early November to take part in a contact and cooperation exchange, BelTA was informed by counselor general of the Republic of Belarus to Tallinn Alexander Ostrovskiy.
According to him, the exchange will give Estonian businessmen an opportunity to establish contacts with their Belarusian counterparts, visit Belarusian companies, conduct negotiations and strike deals.
Alexander Ostrovskiy mentioned that the Estonian businessmen have been showing increasing interest in cooperating with Belarus. Thus, over 6 months the general consulate of Belarus to Estonia issued more than 600 business visas.
He also highlighted active development of the investment cooperation between the two countries. In 2005 Estonia's investments to the Belarusian economy amounted to USD 5,8 million, for the five months this year they exceeded USD 2 million. There are 41 companies with Estonian investments in Belarus.
One of the largest Belarusian-Estonian projects is being implemented in Vitebsk oblast. Here, investments in woodworking branch are expected to total EUR 10 million, Alexander Ostrovskiy said.


How the Turava sisters dared to dream

From: european athletics
All the talent evident when she set two world records in her first four races at the distance was on show again in Göteborg's Ullevi stadium last night when Alesya Turava won the first women's 3,000m steeplechase in the history of the European Athletics Championships.
It marked a unique double. Belarus had never won a women's track or road title since they first entered these championships in 1994. Now they have landed two in four days, and both from the same family, for Turava's sister Ryta won the 20 kilometre walk on Wednesday.
If it all seemed like a dream to Alesya, that's because it was. "Ryta told me she had a dream that she would win the walk, and she did," said Alesya. "She told me that I should try to see victory in my dreams - and I did. It feels great. I'm the first European champion in this event. I dared to dream to be champion."
Ryta warned her sister that she had no alternative but to win. "She is older, and we spoke together," said Ryta. "I said that if I achieved something, she must be better than me ... she has only one choice - to win too."
It was only Alesya's third steeplechase race this year, because she has been suffering from injury problems - "to my back, my legs - constant problems," she said. "I was injured for two months this year, and sometimes in the past for much longer. It made me very upset. I was injured last year, and was in training only in the last three months. I decided to compete here only after I ran in our national championships, so my fitness is only about 70 to 80 per cent."
Alesya says her sister, the silver medallist in the 20km walk at last year's world championships in Helsinki, and the world record holder for 5km indoors, is the most famous sports person in the region of Dubrovno Vitebsk, where they live. "Now, perhaps, I will be as famous as her," she said.
Their victories mark a great sporting moment for their family, and for a nation first identified in 980, but variously part of Lithuania, Poland, Russia, Germany, and the Soviet Union, before independence was declared in 1991. With Ivan Tikhon's victory in the men's hammer and Natallia Khoronenko's in the women's shot, Saturday was indeed a great day for Belarus athletics.
In the steeplechase final, although Turava disobeyed her mentor, Igor Zakharevitch, she played her hand perfectly. "My coach had prepared some tactics, but I went with my own: just to run with the others," said Alesya, "and before the finish to speed up."
She said she was "not that happy with the weather ... for three days it rained every day at the time of my race, so I was prepared for it. If it rains in Belarus, we would never delay training."
She did not know whether her sister had seen her race. "Can I tell you, I did not watch her race?" she confessed. "I do not like to watch my sister. It is too much tension. Now we will celebrate together." At 26, Alesya is the eldest of five children, but she says, "only Ryta and I are into athletics".
Alesya was sixth at the world indoor championships in 2001, took the European Under 23 tile at at the distance that year, and was seventh at the world championships in Edmonton. She won European indoor bronze at 1500m, and showed further potential with an indoor 1500m victory in Stockholm over Kelly Holmes in 2004, before the English woman's Olympic double in Athens. "But I don't plan to run indoors at all next winter, or do cross country, except as training," she admitted, despite having been Russia's Under 20 cross country champion in 1998.
Turava set a world best on her very first outing over the barriers in 2002, in Ostrava, taking half a second from a record that was just a week old. It had belonged to Poland's Justyna Bak, who was in that Ostrava race, but Turava sliced another five seconds from it when she ran 9:16.51 in Gdansk just a few weeks later. Although the record was later taken by Gulnara Samitova, that remains her personal best.
Samitova broke Turava's world mark in August 2003, and now holds it at 9:01.59. But with her European title Turava now has designs on it again. "If I stay healthy for the future, I can attack the world record and run under nine minutes," she said. Her fastest flat 3,000m was 8:32.89, suggesting that is not an unreasonable goal.
However, Turava is not yet finished at 1500m, the event at which she showed such early promise. Her best of 3:59.89 dates back to 2002, the season when she finished seventh in the European Atheltics Championships in Munich, before the onset of her recurring injuries.
"I'm not sure what distance I will run at the world championships next year," she said. "It might not be the steeplechase - maybe the 1500m."
Yet Turava admits the 'chase has changed her life. "I have no commercial sponsor, except for my shoe sponsor, adidas," she said. "But my world records brought money with which I bought a flat in Minsk and a car."