Lukashenka in Cuba for NAM, Iran, Vika/Maria still at large, New ambassador, Oil and Gas, World's biggest truck, Protests, BY 69-GB 68 in Eurobasket
From the Top


Belarus president's initiatives voiced at UNO summit entered into NAM statement

From: Belta

Several initiatives Belarus president voiced during the jubilee summit of the United Nations Organisation in 2005 have been entered into the resulting document of the Non-Aligned Movement summit of heads of state and government in Havana, the Belarusian president's press service told BelTA.

In particular, the resulting document, which now contains Alexander Lukashenko's New York statements, reads that NAM heads of state and government agreed "to withhold from recognizing or applying exterritorial or unilateral measures or rules, including unilateral economic sanctions, other pressure means, arbitrary travelling limitations, which are supposed to put pressure on non-aligned countries, threaten their sovereignty and independence, freedom of trade and investments, disallow establishing political, social and economic systems on the basis of self-determination, in cases when such measures directly violate the UN Charter, the international law, the multilateral trade system, norms and principles of friendly relations between states".

Leaders of Non-Aligned Movement states confirmed their intention to oppose the application of such measures and rules and to continue exercising efforts to annul the measures.

Heads of state and government pointed out the necessity to encourage, protect and defend the abovementioned principles and agreed to contribute to the recognition of the multitude of development ways in line with the UN Charter and international laws as the key value of the non-aligned countries for the sake of sustaining the global peace and security.

Participants of the summit stated that today's world consists of states varying in political, social, economic systems and religions, which are determined by their history, traditions, and cultural diversity. They stressed recognition of the versatility of such systems and development ways is the key value upon which relations between states and their co-operation should be based while the world is living through an age of globalisation. The recognition is needed for contributing to the establishment of peace and prosperity across the globe, a fair world order and an environment, which helps nations to share their experience.

The resulting document, which is based on the Belarusian initiatives, expresses serious concern of the heads of state and government "about the impact of slavery and human trade on human rights and development". The document reasserts the necessity of total fight against the evil and recognises that slavery and trafficking in persons still pose a serious challenge for the humanity and require concerted international efforts. With the purpose in view summit participants called upon every state to develop, implement and build up effective measures for the fight against and elimination of all types of slavery and trade in humans.

On the whole, the resulting document assesses the situation in various parts of the globe and suggests a programme of actions in key directions and co-operation issues. The document proclaims the necessity of establishing a prosperous and fair world order and bridging the information gap between developed and developing nations.

The document stresses that globalisation processes should be refined into a positive factor for the developing nations while member-states of the Non-Aligned Movement should assist with the dialogue between civilisations. The document also promotes more vigorous co-operation with the G8 and the European Union.

The membership in the Non-Aligned Movement gives Belarus political, economic and diplomatic benefits, president of Belarus Alexander Lukashenko told reporters in Havana today.

According to him, the membership in the NAM and participation in the ongoing Havana summit promotes the creation of a cooperation framework.

'Today we are trying to create the so called 'external arch' of our foreign policy. The arch is built in the following way: from Cuba through the countries of Latin America, so far with a focus on Venezuela and other states, we are entering the phase of active cooperation with Brazil, Bolivia, South Africa and other African countries and then goes the Persian Gulf area, Iran, China, Vietnam and Malaysia. This is how far-reaching the circle of foreign policy is,' the president explained.

Alexander Lukashenko said that Belarus has established robust cooperation with Russia and maintained trade with the EU. Today Belarus intends to regain the once strong positions in those countries 'which has known of Belarus since the time of the Soviet Union'.

'From this perspective, the Non-Aligned Movement is very beneficial for us. And that is not to mention politics,' the Belarusian leader said. As he added, today there are nearly 120 countries in the NAM and it is very beneficial for Belarus to have such a support.

Drawing the conclusions of the Havana meetings, Alexander Lukashenko said that he reached an agreement on the exchange of visits with the Algerian president. Also a top level visit has been mapped out to South Africa.


Lukashenko says Belarus deserves to be treated as sovereign state

From: Naveny

Belarus deserves to be treated as a sovereign state, Aleksandr Lukashenko said in an interview with the BBC during the summit of the Non-Aligned Movement held in Havana last week.

"If the United States believes that we are a sovereign state, what we are, they should act in accordance with this belief instead of lording it over us or pressing us. We deserve to be talked to as a sovereign state... We do not want much. We just want normal cooperation that will be of benefit to our state. If the Americans agree, we are ready to cooperate with them as early as tomorrow," he said.

The Belarusian leader denied that convicted Aleksandr Kozulin who ran against him in the March presidential election was a political prisoner. "When 95 percent vote for the incumbent in presidential elections, what idiot can take someone and put him in jail? It will above all do harm to you."

He said that foreign observers had "confidentially and privately" informed their countries' authorities that he had won a landslide victory in the election, suggesting that he had not have any reasons for imprisoning Dr. Kozulin.

He stressed that a person would be jailed in any country for an attempt to take a detention center by assault. "Imagine that someone has lead a group of some people to storm a detention center in the United States, the United Kingdom or somewhere else. How would you react? You would react in the harshest way because this is a violation of the law."

When asked abut the political situation in belarus, the president said "All sorts of revolutions in Belarus are over. The West and, in particular, the United States attempted several times to stage a certain revolution in the republic, with the most recent such attempt taking place during March's presidential election. "We did not respond to them and asked our people to respond to the Americans and the West," Mr. Lukashenko said. "Approximately 95 percent of the population said 'No' to them. And, as far as I know, they abide by this, although not publicly, have to abide. In this case, they have realized that the president of Belarus was elected by an overwhelming majority of the population, and Belarus exhausted the limit of revolution long ago."

When asked about the independent media in the country, Mr. Lukashenko said that it was impossible today to ban it. He said that "at least" half of all Belarusians watched CNN, noting that the BBC, Euronews and Eurosport channels also were available to Belarusian viewers, along with Russian TV channels.

"How is it possible today to isolate a country and ban the independent media? They are openly being financed by Americans and Europeans. There is a new Russian channel, RTVi, which I believe is owned by [Russian media tycoon Vladimir] Gusinsky. Money was provided for it. People watch it here and I also do. There is also a Belarusian-language version of this channel's programs. And they say there things that are far from being pleasant for the Belarusian president. Have I closed these channels? I do not even pay any attention to them. Because it is all lies. The West suffered a defeat in Belarus, but Americans and the West do not want to acknowledge this," he said.


Belarus Lukashenko Meets Iran's Ahmadinejad in Havana

From: MoisNews

Aleksander Lukashenko, Mahmoud Ahmadinejad discussed issues concerning the development of political, trade and economic partnership during the meeting in Havana September 15 on the sidelines of a summit of the Non-Aligned Movement (NAM). The prime minister of Malaysia, Abdullah Ahmad Badawi also took part in the meeting.

According to the Interfax news agency, the Belarusian leader confirmed his consent of paying a state visit to Iran and invited his Iranian counterpart to pay a state visit to Belarus. The president of Iran accepted the invitation.

Lukashenko, Ahmadinejad also agreed to meet in the near future in Tehran, Belarusian Foreign Minister Sergei Martynov told reporters.

Belarus proposes that the Non-Alignment should have an action program that would clearly specify its aims and purposes and be aimed at making the movement one of the centers of political force in the modern world, Minister Martynov explained.

There are a group of states within the NAM that realize that the movement should advance to a new level, Martynov said. "These states, which include South Africa, India, Venezuela, Algeria and Malaysia, have the necessary political will, authority and serious resources," he noted, adding that Belarus is also among this group.

The Non-Aligned Movement, or NAM, is an international organization of over 100 states which consider themselves not formally aligned with or against any major power bloc.

Officially the purpose of the organization as stated in the Havana Declaration of 1979 is to ensure "the national independence, sovereignty, territorial integrity and security of non-aligned countries" in their "struggle against imperialism, colonialism, neo-colonialism, apartheid, racism, including Zionism, and all forms of foreign aggression, occupation, domination, interference or hegemony as well as against great power and bloc politics".

They represent nearly two-thirds of the United Nations's members and comprise 55% of the world population.


Alexander Sychev taking part in jubilee session of IAEA General Conference in Vienna

From: Belta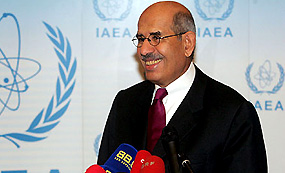 A Belarusian delegation headed by permanent representative of this republic in international organizations in Vienna Alexander Sychev is taking part in the 50th jubilee session of the General Conference of the International Atomic Energy Agency in Vienna. The Belarusian delegation is composed of representatives of the foreign ministry of Belarus, the National Academy of Sciences, the Chernobyl Committee and the department on supervising safe works in industry and atomic power engineering of the emergency ministry of this republic.

As BelTA was informed in the foreign political department of Belarus, participants of the session are expected to consider the progress reached in the IAEA activities in 2005 and to determine priorities of the work of the Agency for the near future. The General Conference is also expected to approve summery documents of the Agency for 2005, the budget and other financial indices for 2007 and to elect new members of the IAEA Board of Governors. Special attention will be paid to the strengthening of the potential of technical cooperation within the IAEA frames and to the international regime of guarantees connected with the Non-Proliferation Treaty

Leaders of the Non-Aligned Movement member-states adopted a statement on Iran nuclear programme during Havana summit. The document stressed the right of every state to use nuclear energy for peaceful purposes and called upon Iran to co-operate with the International Atomic Energy Agency in order to settle down all problems, BelTA learnt from the Belarusian foreign ministry.

The Non-Aligned Movement statement on Palestine points out the inalienable right of the Palestinian nation to self-determination and creation of an independent state and stresses the necessity of fulfilling all respective resolutions of the United Nations Organisation.

The summit also adopted a document on NAM methods. The document defines measures required to increase the effectiveness of Non-Aligned Movement mechanisms.


Underage Belarusian girl still missing in Italy

From: Belta

An underage Belarusian female citizen, who was visiting Italy as part of a group of students of a Belarusian orphanage, has not returned home on time. Head of the Belarusian foreign ministry press service Maria Vanshina confirmed the fact.

"The Italian family, which had repeatedly housed the girl for recreation purposes, openly declared they are not going to return her. Italian authorities responded to the situation. On September 6 Genoa Underage Affairs Court ruled to return the girl. As the Italian family failed to return the girl, a new decision was taken to declare the girl as missing and return her to the motherland immediately".

The source stressed, the Belarusian ambassador to Italy and a consular department officer rushed to Genoa where they are now co-operating with Belarusian and Italian authorities in search and return of the girl. Belarusian children protection bodies officially assured the Italian side that the child's interests will be protected during and after the girl's return to the home country and she will be given medical and psychological rehabilitation. The guarantees were accepted by Italy, which demonstrated respect to Belarus right to defend rights and interests of its citizens.

Italian law enforcement agencies are doing their best to find the girl and are rendering the necessary assistance in restoring law and ensuring the child's return to Belarus.

"Undoubtedly, we regret the actions of the Italian family, which endangered not only interests of a specific child but those of hundreds Belarusian kids from Chernobyl-affected areas who are traditionally sent to Italy for rehabilitation," said Maria Vanshina. "Belarus esteems co-operation with Italian agencies in resolving the situation. We are deeply thankful for the Italian nation and government's many years of rehabilitation of Belarusian children and we hope this particular incident will not affect the further development of co-operation between Belarus and Italy and will not be used for political purposes".

According to AGI.it, No solution was reached after a meeting between the lawyers of the Giusto family, the couple from Cogoleto that has been keeping the girl from Belarus hidden, and Justice Undersecretary Daniela Melchiorre. "It was just an interlocutory meeting". said lawyers Maurizio Frizzi and Giovanni Ricco. "The undersecretary showed a 'relative' availability, bearing in mind the bonds set by the govt, which impose priorities that diverge from those of our clients. Let's not forget that Belarus threatened to freeze adoptions, and that's something the government must consider".


New US ambassador arrives in Minsk

From: Naveny

Karen B. Stewart, the newly appointed US ambassador to Belarus, arrived in Minsk on September 18. At the airport, she was met by representatives of the Belarusian foreign ministry and journalists.

Ms. Stewart said that Belarus is a special country for her. According to her, she has devoted the last four years of her career to Belarus.

A career member of the Senior Foreign Service, Ms. Stewart previously served as director of the Office of Ukraine, Moldova, and Belarus Affairs at the Department of State. Still earlier, she served as deputy chief of mission in Minsk.

Ms. Stewart said that she was glad to come back and she was going to get down to her functions as soon as possible to continue the work of her predecessors.

The new head of the US diplomatic mission stressed that she would represent the point of view of the American people and the American government, as well as the official reaction of the US authorities to events in Belarus.

Ms. Stewart noted that she had met with officials of the US Presidential Administration a few days ago who said that the USA would continue to a reliable friend of the Belarusian people and would be together with the Belarusians in their work for a better future for their country.

The ambassador was speaking to those meeting her in English and Belarusian.


Government Of Belarus Wants Answers To Student's Death

From: Wcsh6 and the San Jose Mercury News

Government officials in Belarus say it's time for detectives in Maine to find out how a 20 year old student died in June.

Aliaksei Vasileuski was found dead outside a boarding house in Wells. He had been working at a plaza along the Maine Turnpike in Kennebunk as part of a summer work program. The medical examiner say he was stabbed to death.

Belarus officials say Vasileuski was murdered. State police detectives call the death suspicious, but are not ready to call it a homicide.

The Foreign Ministry issued a formal protest on Friday over security for Belarusians participating in student programs in the United States after two students were killed.

The protest, in a note delivered from the ministry to U.S. charge d'affaires, referred to "three tragic incidents" in recent months involving Belarusian students participating in the Summer Work and Travel Program sponsored by the U.S. State Department, the ministry said in a statement.

Ministry spokeswoman Maria Vanshina said two Belarusian students have been murdered in the past three months and another was victimized in an armed robbery.

"If the American authorities are not capable of guaranteeing the security on their territory of foreign citizens, they have to openly warn world society of this," the ministry said in its note.

The ministry went on to say that given the "high level of danger" it will recommend students avoid participating the the program.

Aliaksei Vasileuski, 20, of Belarus was stabbed to death in June in Maine. Vanshina did not give details of the other alleged killing or of the armed robbery.

The U.S. State Department responded that the deaths were tragic but urged continued involvement in the study programs.

"The deaths of the two Belarusian citizens are terrible, albeit wholly unrelated events," said department spokesman Edgar Vasquez.


Belarus creates "Belarusneft" oil production enterprise

From: Itar Tass

Belarus has created a big state-run oil production enterprise - Belarusneft under a decree issued by the Belarusian president.

The purpose is to complete creating an entire network of oil product supply to Belarus and carry out full-scale reconstruction and modernization of oil production capacities, the press service of the Belarusian president told Tass on Saturday.

The Belarusneft state enterprise was created on the basis of a unitarian enterprise with the same name and incorporated a number of affiliated enterprises - Lidanefteproduct, Pukhivichinefteproduct and Seismotechnika enterprise.

The reorganization is expected to promote oil exports, improve the system of the realization of oil products on the home and foreign markets and improve the competitiveness of Belarusian oil products, the decree said.

Belarusian oil producers take part in joint projects with oil companies of Russia, Syria, Vietnam, Cuba, India, the United States and a number of countries of Western Europe.


Belarus builds world's largest truck

From: NBC5i

The world's largest truck was delivered last Friday to a client in Russia.

The truck, called the Belaz, has 350 tons of capacity, a 3,500-horsepower engine and stands five stories tall when the bed is up.

The bad news is that its tank holds 1,000 gallons of fuel.

Parking also might be a problem, but the Belaz has cameras installed on each side to make maneuvering easier.

It took 25 rail cars to transport the truck to Russia from its manufacturing plant in Belarus.

The first client was a mining company. However, officials wouldn't say how much they paid for it.


Belarus posts trade deficit in 7 mths

From: Interfax
Belarus posted a foreign trade deficit for goods and services of $415.4 million in January-July 2006, according to the payment balance methodology prepared by the National Bank, compared with a foreign trade surplus of $769.7 million in the same period in the previous year, the Statistics & Analysis Ministry told Interfax.

The foreign trade deficit for goods was $840.5 million, against a trade surplus of $198.7 million last year, while there was a foreign trade surplus for services of $425.1 million, down 15.9% from last year.

Foreign trade turnover grew 31.9% to $25.036 billion in the first seven months of 2006. Exports increased 24.7% to $12.31 billion and imports grew 39.7% to $12.726 billion.

Foreign trade increased 33.7% to $23.047 billion, according to ministry. Exports grew 26.6% to $11.043 billion and imports rose 40.8% to $12 billion.


Russia Strips Belarus of Its Oil Export Duties

From: Kommersant

Russia's government seeks a larger share of profits from export duties on oil products made at Belarusian refineries from Russian oil. Belarus is reluctant to annually lose up to $2 billion and suggests a bargain – raising rates of oil export duties up to those in Russia and freezing prices on the export of Russian oil via Belarus.
A governmental source reported that Russia would suggest that Belarus consider raising Russia's share to 85 percent at talks of economic officials of the two countries late September.

The duties bring an estimated $2 billion to the Belarusian budget annually, boosting the country's GDP by up to 3 percent every year. The existing practice also helps Russian companies to earn. Local subsidiaries of Russian firms supply oil to Belarusian refineries duty free, only to export oil products with low Belarusian duties to Western Europe. Last year, Belarus imported 19.2 million metric tons of oil from Russian, exporting 13.5 million tons of oil products.

Meanwhile, Belarus has promised to increase its duties up to those in Russia.

Belarus's agreement to give Russia 85 percent of profits on the duties could bring $350 million to the Russian budget every year, and the unification of the duties rates – another $500 million.


KYRGYZ PRESIDENT REGAINS POLITICAL FOOTING

From: eurasia insight

Taking advantage of divisions within the opposition, Kyrgyzstan's president, Kurmanbek Bakiyev, is rapidly regaining his political footing after being knocked off balance by accusations that the National Security Service planted drugs on a prominent member of parliament.

In the past few days, damage-control measures undertaken by Bakiyev appear to have blunted the opposition's political momentum. Bakiyev critics had hoped to use the recent scandal -- in which NSS agents were implicated in the set-up of Omurbek Tekebayev, a former parliament speaker and still fierce critic of the president -- to prompt a radical change in Bakiyev's reform course, or even to force him from office. Tekebayev was arrested and briefly held in Poland on a drug possession charge. The implication of the NSS in the affair prompted the resignation of the service's chief, Busurmankul Tabaldiyev, and his deputy, Janysh Bakiyev, who is also the president's brother. [For background see the Eurasia Insight archive].

The president appeared in the legislature on September 14 to head off a parliamentary resolution calling for his resignation. In explaining his conduct, he insisted that both Tabaldiyev and Janysh Bakiyev "had nothing to do" with the set-up of Tekebayev, the AKIpress news agency reported. He also appeared to open the way for their return to the security service, pending the results of various official inquiries. "I agreed that until the end of the investigation both of them have to be suspended from their work," Bakiyev said. He suggested that foreign agents might have put heroin in Tekebayev's luggage in an effort to destabilize Kyrgyzstan.

In addition, Bakiyev adamantly denied accusations that he met in late July with fugitive Russian tycoon Boris Berezovsky, a meeting that would have violated international agreements concerning extradition. "I have never seen him [Berezovsky] and have never had any relations with him," Bakiyev said.

He voiced vigorous opposition to a parliamentary attempt to open its own investigation into the Tekebayev affair. "Parliament should be a parliament, and not an investigative or punitive body," Bakiyev said.

Meanwhile, the opposition continues to struggle. Radical opposition leaders and their supporters tried to maintain the pressure on Bakiyev during a mass meeting in Aksy, the scene of a bloody confrontation in 2002 between police and protesters. [For background see the Eurasia Insight archive]. The so-called kurultai adopted the type of resolution that the national parliament so far has shied away from -- demanding that Bakiyev resign unless he dismisses all his relatives from government posts, undertakes far-reaching constitutional reform and gives an accounting of security troops' behavior during the Aksy events.

One of the leading figures associated with the kurultai, Azimbek Beknazarov, head of the Asaba Party, had vowed that 15,000 people would attend the meeting. Journalists estimated only about 2,000 people actually showed up. The low attendance appeared to undercut the significance of the meeting's resolution.

Since the Tekebayev scandal broke, radicals, including Beknazarov, have made regime change their top priority. Moderates within the opposition, on the other hand, believe the emphasis should be on promoting constitutional reform.

The opposition cause has not been helped by the fact that a witness, Nadir Mamirov, who implicated Janysh Bakiyev in the Tekebayev affair, has subsequently changed his story, and now denies that the president's brother ordered drugs to be placed in the MPs luggage.

Observers say state-controlled media outlets, including Vecherny Bishkek and the National TV Corp., have been used in an attempt to erode public support for the opposition. For example, a September 16 commentary published in Vecherny Bishkek quoted political analyst Imankadyr Rysaliev as warning that opposition leaders were intent on destabilizing Kyrgyzstan. "If we follow political extremists, this can lead to civic confrontation and blood," Rysaliev said.


Earth satellite flight control centre to appear in Minsk

From: Belta

An artificial Earth satellite flight control centre will be set up in Minsk, president of the National Academy of Sciences of Belarus Mikhail Myasnikovich told today's press conference.

"We will do our best to make mission tasks, transmit data and run the satellite independently," Mikhail Myasnikovich noted. He also informed, it would take 2-2.5 years to build a new satellite.

The official informed, Belarus had already considered 9 proposals from potentials partners from Russia, China and Ukraine. The first option is creating a BelKA-like satellite and the second option is designing a more up-to-date one. According to Mikhail Myasnikovich, the second option is most advisable. The final decision on the satellite's model and construction terms will be taken in late September — October 2006.

Mikhail Myasnikovich stressed, the satellite design project accomplished by Belarusian scientists and industrial enterprises had met a wide response among scientists from many countries. In particular, now Belarus is receiving orders from specialists of China, Russia and Ukraine.


New Ukraine PM Pledges Reform, Better Ties With Russia

From: MosNews

Prime Minister Viktor Yanukovich, back in office nearly two years after his "Orange Revolution" defeat, vowed on Tuesday to oversee faster reform, but Ukraine's main opposition leader dismissed his promises as meaningless, Reuters reported.

Yanukovich was humiliated when he lost the re-run of a presidential election to Viktor Yushchenko, who was backed by thousands of demonstrators demanding reform of the ex-Soviet republic. The original vote, which pro-Moscow Yanukovich won, had been found to be rigged.

However, Yanukovich emerged as prime minister in August after months of turmoil over an inconclusive parliamentary poll. Addressing parliament's first sitting since his appointment, Yanukovich said his government would make Ukraine a reliable place for foreign investors. "We will create a transparent investment climate. We will form a real, transparent tax policy," he told the chamber.

His government remained committed to Yushchenko's policy of faster integration into Europe. But good relations with Russia were also vital to guard against a repeat of a New Year row that disrupted Russian gas supplies to Europe. "Grand declarations about Ukraine's integration with Europe must be relegated to the past. We must not try to persuade the world that we are something exceptional," he said. "We must simply work and work hard, guided by national interests...As the president has said: We have to learn to score victories."

Yushchenko's powers have been reduced under constitutional changes agreed during the 2004 "orange" protests in his favor that eventually led to his election victory on pledges of ending a decade of post-Soviet corruption. He agreed to appoint Yanukovich after months of torrid negotiations that saw the "orange" coalition shatter and his revolution-era colleague Yulia Tymoshenko head into opposition.

The fiery Tymoshenko was Yushchenko's first prime minister, sacked after eight months. She said Yanukovich's record as prime minister during former President Leonid Kuchma's 10-year stay in office, rendered his pledges pointless. "Have you forgotten that for 10 years under Kuchma, brilliant speeches were made?" Tymoshenko, sporting her trademark peasant braid, told reporters. "They said the right things, but nothing was done. We will not be comradely about this. Ours will be a true opposition."

A number of Yushchenko's allies remain in the government —- mainly in areas still linked to the president under the constitution, like defense and foreign policy.


Roundup: UN conference on migration calls for international cooperation

From: People's daily

Participants at the High-Level Dialogue on International Migration and Development continued to call for international cooperation in addressing migration issues as the UN conference went into its final day on Friday.

Chinese Permanent Representative to the UN, Wang Guangya said that earnest efforts should be made to conduct international cooperation as migration was a global issue. The source, transit and destination countries of immigrants should strengthen dialogue and cooperation on the basis of mutual respect, equality and mutual benefit, and effectively manage the flow of migration.

Victor Filistovich, deputy interior minister of Belarus, said his country had initiated the establishment of a global partnership against slavery and trafficking of persons. Belarus would be holding an international high-level conference in October, on fighting the demand of trafficking and improving cooperation among countries of origin and destination.

The draft resolution on "Improving Coordination of Efforts Against Slavery and Trafficking in Persons" prepared by Belarus was believed to be an important step towards a global partnership framework.

Mozambican Vice-Minister of the Interior Jose De Jesus Pedro Mandra said that any discussion on immigration should keep in mind the importance of the respect for human dignity and rights, and of the sharing of responsibilities among countries of origin, transit and destination.

He noted that Mozambique had taken steps to create a framework for an African migration policy, intended to address issues such as brain drain, transnational crime, protection of refugees, and the transfer of know-how, savings and remittances.

Text continues...



Thousands Rally To Free Belarusian Political Prisoners

From: RFE/RL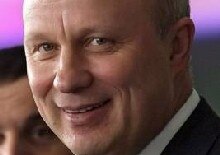 Several thousand opposition supporters rallied in Belarus today against President Alyaksandr Lukashenka's government and to demand the release of political prisoners.

Police were deployed around the officially sanctioned site of the rally in central Minsk but did not intervene. However, about 10 activists who attempted to stage an improvised march across town were detained.

Demonstrators held signs reading: "Freedom to Political Prisoners!" and "Solidarity."

They urged authorities to free an opposition presidential candidate, Alyaksandr Kazulin, as well as jailed election observers and activists who campaigned against Lukashenka in the run-up to the presidential election.


"KFC Tortures Chicks" : Animal Rights Activists in Bikini

From: MosNews

Animal rights activists wearing bright yellow bikinis locked themselves in a cage in front of a Moscow KFC fast food restaurant to protest cruel treatment of chickens.

U.S. People for the Ethical Treatment of Animals, PETA, and Russia's Alliance for the Protection of Animals say Kentucky Fried Chicken chain abuses chickens — the birds are kept in horrible conditions only to be killed in a cruel and painful way.

More than 850 million birds are annually slaughtered at the KFC suppliers' poultry farms in most cruel ways, PETA says: the birds' wings and legs are broken, they are parboiled while in full consciousness. Before they are killed, the chickens are kept in most miserable conditions — in dirt and cramped for space.

In Moscow on Tuesday two girls wearing bikinis sat locked in a cage with a banner saying "KFC Tortures Chicks" in Russian and English. Eight more protesters stood behind the cage holding banners that said "Boycott KFC" and "KFC Cruelty."

"You don't even have to be a vegetarian to realize that KFC suppliers' approach is cruel," said Inessa Samkova, one of the "chicks" in the cage.

Note: The BHTimes is pretty sure there is no KFC in Belarus. Nevertheless, as the editorial staff is vegetarian, the story seemed worthy of printing anyway.


Eurobasket final: Belarus downs GB 69-68

From: BBC

Great Britain's men stumbled to a 69-68 defeat against Belarus at Sheffield's Ponds Forge on Saturday night, losing ground both in their Eurobasket B Championship group and in their attempt to be promoted to the A division for next summer's finals.

Trailing 69-65 with less than a minute to go, Britain got to within a point on a three-point shot from Nate Reinking.

But with 7.7 seconds left, Andrew Sullivan missed a shot and Roger Huggins' rebound attempt was blocked.

The defeat means GB lie fourth but just one point off the lead in Group B after the first season of qualifying games.

Netherlands lead the group, tied on seven points with Belarus. GB have six points, the same as Slovakia, who are ahead by virtue of the fact that they beat Britain.

Sullivan led Great Britain's scorers with 18 points and Reinking added 13.

Chris Finch's team only rarely led against Belarus, who took a 24-17 advantage into the second quarter.

The introduction of Steve Hansell and seven second-quarter points from Sullivan meant GB trailed 32-34 at the interval.

Two three-pointers from Reinking gave Britain a 42-41 lead in the third quarter, but again Belarus recovered to lead 53-49 by the end of it.

A three-pointer from Chris Sanders, and another from Reinking with 1:13 left, raised hopes of another escape from the jaws of defeat.

But after Belarus failed to take a shot on their last offence because of excellent British defence, the home team were unable to come up with a game-winning basket.

Sullivan's shot rimmed out and Huggins found the 7ft 2in figure of Aleksandr Koul waiting for his attempt.


Briggs to challenge Liakhovich for WBO heavyweight title

From: Int. Herald Tribune

Shannon Briggs has seen Sergei Liakhovich fight, so he knows what to expect from the WBO heavyweight boxing champion.

Briggs will challenge the Belarus boxer in a title fight on Nov. 4 at Chase Field in Phoenix. It will be Liakhovich's first defense since beating Lamon Brewster for the championship on April 1.

"Liakhovich is the best heavyweight champion out there," Briggs said at a luncheon at a steakhouse in New York on Monday. "I was a guest analyst on ESPN before Sergei fought Brewster and I picked Liakhovich to win. I know what I am up against. There couldn't have been a better time for me to fight for a heavyweight championship."

Briggs (47-4-1, 41 KOs), from New York, is ranked No. 3 by the WBO.

Briggs won his first 20 fights, and was 25-1 before beating George Foreman on Nov. 22, 1997. Fighting for the WBC heavyweight title just over four months later, Briggs lost by TKO in the fifth round to champion Lennox Lewis.


"I am much more experienced now and much more hungry," Briggs said.

Liakhovich (23-1, 14 KOs) has won seven straight fights, including a 12-round unanimous decision against Brewster. He is one of four heavyweight champions from the former Soviet Union — along with Nicolay Valuev (WBA), Wladimir Klitschko (IBF), and Oleg Maskaev (WBC).

"At 6-foot-4 (1.93 meters), Liakhovich is also the same height as Briggs and unfazed by the challenger's tough talk.

"This guy says he will take the title from me. We'll see," said Liakhovich, who lives in Scottsdale, Arizona. "I fought hard for this title, and it's just not going to happen.

He's (Briggs) a good fighter, a strong fighter. He's got good hand speed and a good right. But if he tries to knock me out he will be in trouble."

Before agreeing to fight Briggs, Liakhovich challenged the other three champions — specifically Klitschko.

"He doesn't want tough fights," Liakhovich said. "He won't fight me."