Gas and Oil special, reports from the negotiating table, Russia threatens cutoff, Belarus fights back, Junior hockey upset, News and Blogs
Belarus president outlines 'live up to income' approach
From: Belta
Belarus has created necessary prerequisites to meet the economic targets in 2006, prime minister of the country Sergei Sidorskiy stated on December 26 during a meeting of the Council of Ministers of the Republic of Belarus.
According to Sergei Sidorskiy, Belarus has created an economic basis for successful performance in 2007, however what is needed today is to set some goals clear. "Each index of socio-economic development of the country is an integrated figure, which depends on the performance of every branch of the economy, department, oblast and company", the prime minister underlined.
The head of government has underlined that the Belarusian industrial sector has the potential which needs to be exploited. The existing production facilities should increase their output. New production lines should come fully on stream. We need to do it to increase the output and "to fill all market niches with Belarusian goods", the prime minister said. At the same time he urged the government to do the work quickly minimizing the paperwork.
Sergei Sidorskiy noted the importance of science in speeding up production growth rates. "All novelties designed by national research institutions should be applied in production", the head of government stressed. Analyzing this year's economic performance the prime minister said that there are no serious problems. There are some drawbacks which should be eliminated. He also urged ministers, chiefs of the concerns and oblast executive committees to encourage the people who did well in 2006. "It is not about the performance indices and figures only. We need to appreciate the work of people", the prime minister said. He also reminded the participants of the sitting that the wages in the country should be paid in full volume by December 30.
Belarus president Alexander Lukashenko believes that, facing external pressure, Belarus needs "to live up to income and economize".
While considering personnel appointments today, the president noted, Belarus development had reached certain results. "The more achievements we make, we more pressure we get, from different directions. In these conditions the ability to live up to income and economize, especially economize energy resources, is the most important thing. First of all, for the real economy", the press service of the Belarusian leader quoted him as saying.
The head of state underlined, starting January 1 the country will have to largely step up efforts aimed at increasing the effectiveness of the national economy management.
Responsibility for one's area of work and tangible results will be gravest, stated the president.
Alexander Lukashenko instructed the leadership of the State Control Committee to strictly control the observance of laws regulating the utilisation of state property, lands and forests.
In other government news, early voting for the January 14th election will start on January 9 next year, BelTA learnt in the central election commission of the Republic of Belarus.
A reminder, the ballots for voting will be handed over upon presentation of a passport or other ID featuring a photo of the holder such as a student card, a pensioner card, a service certificate of a civil servant, a military ID, a certificate issued by the interior ministry to those who have lost their passport.
Regardless the early voting, campaigning for deputies to the local councils of the 25th convocation which started on December 15 will go on till January 13.
Belarus warns Russia over gas transit to Europe
From: Reuters
Belarus issued an implicit threat that it could stop Russian gas deliveries through its pipelines to western Europe unless Gazprom relented on demands Minsk pay steep price increases in 2007.
"We are inter-dependent. If I don't have a domestic gas supply contract, Gazprom won't have a transit deal," Belarus's Deputy Prime Minister Vladimir Semashko said at Minsk airport late on Tuesday after his return from failed talks in Moscow.
"I think Gazprom should give a signal and come to Minsk. It's their turn now."
Semashko did not say whether Belarus was prepared to stop all gas transit via its territory. Two years ago, the country took no such action in a similar dispute but Gazprom accused it of taking gas from transit pipelines for its domestic needs.
Gazprom said on Tuesday the latest round of talks with Belarus on 2007 prices had ended without agreement. But it said customers in western Europe were safe as it had stockpiled gas in Germany and Austria to guard against possible cuts.
Relations between Russia and its former ally Belarus have soured ahead of the New Year deadline, reviving memories of last year's cutoff of supplies to Ukraine which reduced flows to Europe in the first days of January. Gazprom still hopes for a deal to allow Belarus to receive gas and Gazprom to transit gas to Poland and Germany.
Gazprom has repeatedly warned Belarus it has to pay higher prices from 2007 and share control of its pipelines with the Russian firm or face reduced supplies from the New Year.
Gazprom, the world's largest gas producer, supplies a quarter of Europe's gas needs. The cutoff to Ukraine prompted European leaders to raise concerns over reliance on Russia.
Belarus is also a supply route, with smaller volumes. Poland and Germany get some 30 billion cubic metres of gas via Belarus each year, while Ukraine ships over 100 bcm to some 20 European states.
Gazprom says it offered major concessions to Belarus on Tuesday such as lowering the proposed price to $110 per 1,000 cubic metres from the previous proposal of $200.
Belarus now pays $46.7, or as much as consumers in Russia. By comparison, Gazprom will charge Moldova $170 in 2007 and Georgia $235, while consumers in Europe pay over $250.
Gazprom also said Belarus could pay part of its bill in assets, but Minsk insists it should pay lower prices.
"We are ready to sign before the end of the year. But talks will probably continue in January-February... Before that the price will be $46.7 because the old deal is valid in the absence of a new deal," said Semashko.
He also said he did not believe Gazprom would made good on its threat and cut gas supplies from January.
"It will prove to be an unreliable supplier. That would damage Gazprom's reputation," he said.
Gazprom still hopes for a deal to allow Belarus to receive gas and Gazprom to transit gas to Poland and Germany.
Gazprom has repeatedly warned Belarus it has to pay higher prices from 2007 and share control of its pipelines with the Russian firm or face reduced supplies from the New Year.
Gas Cutoff to Belarus Draws Nearer
From: Moscow Times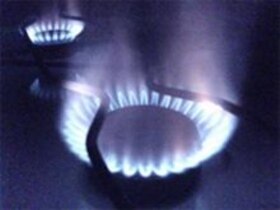 Last-ditch gas price talks between Gazprom and Belarus aimed at averting another potentially bruising New Year's standoff broke up Tuesday without agreement.
Gazprom on Tuesday said it was offering to restrict the price for Belarus to $80 per 1,000 cubic meters in return for control of half of Beltransgaz, the country's pipeline network.
If no agreement is reached, Gazprom has said it will cut off supplies Jan. 1, in a potential replay of this January's dispute with Ukraine. In that standoff, supplies to Europe suffered, prompting the West to accuse the Kremlin of using Gazprom as a political tool.
Unlike Ukraine, however, Belarus has not sought closer ties with NATO or the European Union, and regards Moscow, its partner in the loose Russia-Belarus union, as a key ally.
Another Gazprom customer faced with a higher price, Azerbaijan, on Tuesday rejected Gazprom's price demand, saying it would rely on its own resources.
Talks with Belarussian Deputy Prime Minister Vladimir Semashko on Tuesday "ended without a result," Gazprom spokesman Sergei Kupriyanov said.
By not striking a deal, Belarus could prompt Gazprom to pull the plug on its gas supplies, Kupriyanov warned Monday.
"Belarus' negotiating position is irresponsible and puts at risk the energy supplies to this country," he said in televised remarks.
The standoff would not hurt Russian gas transit to Europe through Belarus, Kupriyanov said by telephone Tuesday. "A stoppage of supplies from Russia is not at issue."
Two-thirds of the gas exported from Russia through Belarus is carried by the Yamal-Europe pipeline, which is fully Gazprom-owned, Interfax reported Tuesday.
Gazprom has also stored more gas in Europe, in the event of transit disruption, compared with the same time last year, Kupriyanov said Tuesday.
Belarussian officials Tuesday downplayed the risk of a New Year's standoff. "It's too early for Kupriyanov to make such statements. Everything will be good," Andrei Zhukov, a spokesman for the Belarussian energy ministry, said by telephone from Minsk.
Gazprom has hiked gas prices for a number of former Soviet states, such as Ukraine, drawing accusations that the increases are being doled out as a weapon to punish the countries for their Western leanings. But Belarussian President Alexander Lukashenko is a staunch political ally of President Vladimir Putin and has never irritated Moscow by seeking closer ties with the West.
Russia's insistence on higher gas prices for Belarus reflects its disappointment with the idea of uniting in a single state, said Alexander Shmelyov, director of the Center for Comparative Political Research at the Russian Academy of Sciences. "What's clear is that we'll need to build relations as independent states," he said.
A higher gas price would reduce the funds for social spending in Belarus, thus undermining Lukashenko's grip on power, he said.
Belarus, which currently pays Gazprom $47 per 1,000 cubic meters for its gas, wants to buy at the price paid by the neighboring Russian region of Smolensk, where industrial consumers pay $54 per 1,000 cubic meters.
Gazprom demands that Belarus either pay $200 next year, a more than fourfold increase on this year, or pay $110 for the next four years and sell Gazprom half of Beltransgaz, Kupriyanov said.
Of that amount, Belarus would pay $75 to $80 in cash and the rest in Beltransgaz shares, Kupriyanov said Tuesday.
Gazprom agreed to value Beltransgaz at $5 billion, the figure sought by Belarus, Kupriyanov said Tuesday.
"However Belarus declined this proposition as well," Kupriyanov said.
Beltransgaz deputy general director Venery Volchuga hung up his cell phone when reached for comment in Moscow on Tuesday.
The date for the next round of talks has not been set yet, Kupriyanov said.
The Yamal-Europe pipeline will have transported 29.5 billion cubic meters in 2006 while Beltransgaz will have handled 14.5 bcm, Interfax reported. The share handled by Beltransgaz will further decline when Yamal-Europe expands its capacity, the report said.
Azerbaijan rejected Gazprom's offer to buy gas at $235 per 1,000 cubic meters next year, Rovnag Abdullayev, president of the Azeri state oil company, said in Baku on Tuesday.
Eighty percent of the gas that Russia sells to Azerbaijan comes from Kazakhstan and Turkmenistan at the going price of $100 per 1,000 cubic meters, Abdullayev said.
"We can't understand why transportation of this gas costs $135," he said, Interfax reported.
The latest talks between Gazprom and Azerbaijan ended Friday.
Azerbaijan will use its oil resources instead of gas at its power stations, Azeri President Ilham Aliyev said in an interview with Ekho Moskvy radio on Saturday. As a result, it will reduce crude exports through Russia to the Black Sea port of Novorossiisk, he said.
Azerbaijan will also negotiate gas supplies with Iran, Abdullayev said.
Azerbaijan is importing 4.5 bcm of gas from Russia this year at $110 per 1,000 cubic meters. It produced 6.1 bcm of its own gas in the period from January through November, Interfax reported.
The prospect of Azerbaijan having to rely on its own gas comes as the country is about to start exporting gas to Turkey and Georgia from the BP-led Shah Deniz field in the Caspian Sea.
Georgia is seeking 800 million cubic meters of Azeri gas next year, originally allotted to Turkey. On Friday, Georgia also agreed to buy 1.1 billion cubic meters from Gazprom. Gazprom will sell the gas at $235 per 1,000 cubic meters, and Georgia has yet to hammer out the price for the Azeri gas that will flow via the Baku-Tbilisi-Erzerum gas pipeline.
The Shah Deniz pipeline has yet to go on line. The Azeri state oil company said Tuesday that a leak in one of the field's wells had delayed production until January.
Gazprom and Moldova on Tuesday agreed to sign a contract that would put the price for Russian gas at $170 per 1,000 cubic meters next year, a modest increase from the current price of $160, the company said in a statement.
Gazprom CEO Alexei Miller and Moldovan First Deputy Prime Minister Zinaida Grecianii agreed to further raise the price over the next few years before it reaches European levels in 2011, the statement said. Moldova, which is importing 2.5 bcm of gas this year, will allow Gazprom to gain more stock in its gas distribution company, Moldovagaz, the statement said.
Russia resumes talks on sharing Belarus oil product export duties
From: Interfax and Naveny
Russia has again launched negotiations on sharing Belarus' export duties on oil products, Belarussian First Deputy Prime Minister Vladimir Semashko told journalists on Wednesday.
"Russia has already moved to start talks on the export duties on oil products. There is an order issued by the Russian prime minister," he said.
"But not everything is lost. Belarus has forwarded a draft agreement on duty sharing to the [Russian] government on December 13. The Russian prime minister issued an instruction to study it before the end of the year. This deadline was later postponed to January 17," he said.
The administration of the Belneftekhim company is currently engaged in talks with Russian oil suppliers on the price for oil at the beginning of 2007, Semashko said. An export duty of $180.7 per tonne will be levied on oil shipments to Belarus, he said.
"Regrettably, the price will grow from $247.5 in December to $405 in January on average due to the duty. These figures are increasingly painful for the economy," the first deputy prime minister said.
"My impression is that they [in Russia] want to stop our oil refineries," he said.
If the price is set at $75 or $110 for 1,000 cubic meters, the Russian company will be charged $1.3 and $1.65, respectively, in transit fee per 1,000 cubic meters/100 kilometers for gas pipelined via Beltransgaz's network, the Belarusian official told reporters on December 26.
According to the deputy prime minister, a total of 44 billion cubic meters of gas is annually pipelined through Belarus' territory.
When asked to predict what would happen if Russia cut off gas supplies to the country on January 1, Mr. Semashko said that "gas can be shut off, but there would be enough gas for Lithuania and Poland only for 12 to 13 days." "Whatever happens, Belarus will have gas. We and Gazprom are interdependent," the official noted.
"Of course, they can carry out such experiments on Belarus but this won't give Gazprom any additional advantages," he went on to say.
Gazprom currently pays Belarus $0.75 per 1,000 cubic meters/100 kilometers in transit fee, a rate which is even lower than fees charged in Russia, official information sources said. Ukraine charges Gazprom $1.6 per 1,000 cubic meters/100 kilometers, Poland, $2.5 and other countries, $3.5.
Gazprom annually saves $882 million in transit fees by pipelining gas to Western customers through Belarus, Mr. Semashko said. The amount can grow to $1.2 billion if the Russian giant goes ahead with its plans to raise the amount of gas transited via Belarus to 61 billion cubic meters, he added. "Although the Russian company is trying to convince everyone that it does not need this pipeline that much," the official noted.
Text continues...
Note: There are many, many articles out there on this subject. Some of the better ones can be found
Here
,
Here
,
And Here
Interview...
Pavel Borodin: Gas Price Will Be Decided On This Year
From: Kommersant
State Secretary of the Union State of Russia and Belarus Pavel Borodin told Kommersant correspondent Vladimir Solovyev what he thinks about the Russian-Belarusian gas war.
S: Has Gazprom's ultimatum to Minsk made your life harder?
B: In principle, it's not my issue. We have a union agreement and production programs that we discuss. Social question, the movement of capital and people. Gas prices have nothing to do with interstate affairs I am engaged in…
S: Everyone is taking the intercorporate conflict as the final divorce.
B: I don't think it is. We have a competent president. He was with Lukashenko for a seven-hour session to come to an agreement. They'll reach an agreement now.
S: Why make such a fuss over gas with your closest ally?
B: Lukashenko wanted to know why you don't raise gas prices inside Russia if you're raining them for us. He in fact repeated the question the Americans once asked our giant of economic thought [Minister of economic Development and Trade German] Gref. At WTO negotiations, they asked how you can enter the WTO when your internal price for gas is $30 per 1000 cu. m. and the export price is ten times more. Therefore, I think that, if we are talking about raising gas prices for the CIS and union state to market level, we have to raise the domestic price as well. Our great economists and financiers today have an unrealistic, and I would even say idiotic, price policy.
S: A year ago there was such a gas war with Ukraine. It ended with the triumphant return of pro-Russian Viktor Yanukovich to power and now Moscow and Kiev have full mutual understanding. Maybe Moscow is using a well-developed approach against Minsk.
B: Our leadership is not pursuing political goals. We have already prepared a constitutional act for the union of Russia and Belarus… The union with Belarus is the first step in restoring the post-Soviet space in the economic sense, not the political. The price of gas will be decided on before the end of the year.
S: Does the Belarusian side want to reach an agreement?
B: It will have to reach an agreement. We are all Slavs. The Armenians, Georgians, Kazakhs, Uzbeks, Belarusians, Russians, Evens, Evenki, Chukchee – we are all Slaves. We have been living together for more than a thousand years. So we'll reach an agreement.
S: Do you think that the current gas ultimatum will warm the desire of the Belarusians to live together with Russia?
B: Our peoples and our presidents are un favor of the union state. We don't have jerks at the head of our states now…
S: So you think there are no jerks at the head of the states, but the jerks are in some of the state monopolies?
B: You could say that. They are not even jerks, but simply guys who really love money.
Satanists Suspected of Church Arson in Belarus
From: MOsNews
According to the Belarussian Ministry of Emergency Situations a Russian Orthodox church was set on fire for the second time in one month in the town of Mazyr, the Interfax news agency reported Tuesday.
The church of St. George the Victorious in the Diocese of Turov and Mazyr was set on fire last Monday. The fire destroyed the roof and the interior of the church building.
Police said satanists were prime suspects in the arson as it was first set on fire on November 13 and then satanic symbols were drawn on the church.
NATO-Supported Destruction of
Landmines on Track in Belarus
From: New York Jewish Times
A ceremony on in Borisov marked the destruction of 177,200 anti-personnel landmines as part of NATO's Partnership for Peace Trust Fund project in Belarus.
Belarus acceded to the Ottawa Convention in 2003, declaring a stockpile of more than four million anti-personnel landmines.
At the request of Belarus, NATO offered assistance to help Belarus meet its commitments to destroy all stocks of anti-personnel landmines as set out under the Ottawa Convention on prohibition of the use, stockpiling, production and transfer of anti-personnel mines and on their destruction.
The whole task includes destroying 700,000 conventional landmines and will be completed by January 2007.
The destruction work is carried out by the Belarus Corps of Engineers under the supervision of the NATO Maintenance and Supply Agency (NAMSA).
Belarus is working together also with the EU to destroy its stockpile of non-conventional anti-personnel landmines by the March 2008 deadline.
This was NATO's first Partnership for Peace (PfP) Trust Fund project in Belarus. Canada is the lead nation in the project with Lithuania providing additional funding.
There are nine ongoing PfP Trust Fund projects, assisting Partners to meet their international obligations and to manage the consequence of defence reform. All projects are funded by voluntary contributions.
Current projects are estimated at € 33 million.
Iran, Belarus agree to develop Iranian oilfield
From: Tehran Times
Oil Minister Kazem Vaziri-Hamaneh on Sunday announced Iran-Belarus agreement on the development of an Iranian oilfield.
"During our recent visit to Belarus, we came to an agreement to develop Jofeir Oilfield, southern Iran," the senior official said.
Hamaneh noted that a Belarusian oil delegation will visit Iran late February to prepare the Master Development Plan (MDP) on the field.
The managing director of Belarusian state oil company Belarusneft will head the delegation, he added.
According to the official, Tehran and Minsk have previously reached the agreement on the development of the field during a recent trip by the Belarusian first deputy prime minister to Iran. He elaborated, "In previous talks, a memorandum of understanding (MOU) was signed for the development of two Iranian oilfields. Oil officials of Belarus conducted studies on the fields, and a final agreement was reached on Jofeir Oilfield."
He added that Belarus is currently studying methods to finance the project. "Talks on this issue are expected to come to a result within the next couple of months," he stated.
Hamaneh arrived in Minsk last Thursday on a two-day visit and meanwhile discussed with the Belarusian officials including the prime minister about the avenues for the exploration of mutual energy cooperation. On December 22, Interfax news agency quoted Belarusneft's deputy general director for geology as saying, "Iran has proposed we analyze an oilfield," adding, "We have partially studied them and selected the one seeming to be the most promising from our point of view."
Located in Iran-Iraq border, Jofeir Oilfield will produce 30,000 barrels per day (bpd) of crude oil based on initial estimations.
According to the Iranian Students News Agency (ISNA), the National Iranian Oil Company (NIOC) already held negotiations with India Oil and Natural Gas Corporation Limited (ONGC) over the development of the field.
In return for buying 2.5 million tons of liquefied natural gas (LNG) from Iran, India agreed to implement the expected production of 30,000 bpd crude from the field.
BELARUS' ROUGH IMPORTS UP 73% IN JANUARY TO SEPTEMBER 2006
From: Diamond int
Belarus' rough diamond imports in the first nine months of 2006, at US$10.6 million, increased by 72.8 percent compared to the comparable period of 2005, says a spokesman for the country's Finance Ministry. In terms of carats, however, there was a slight drop of 5.5 percent to over 40,00 carats.
In 2005, Belarus imported over 50,000 carats of rough diamonds, down over 41 percent than in the previous year. Imports in value totaled US$21.6 million in 2005.
Regulations ready to encourage business development in small, medium towns of Belarus
From: NLIPRB
Legal regulations have been developed to create conditions encouraging business development in small and medium towns of Belarus, Belarus vice premier Andrei Kobyakov told today's session of the Council of Ministers chaired by prime minister Sergei Sidorskiy.
According to Andrei Kobyakov, a draft document stipulating simplified taxation of companies in such towns has been developed. In particular, the document allows companies employing up to 100 people and earning at most Br2 billion annually to use the simplified taxation. Privileges are provided for other companies in such towns.
A document has been developed to promote the production and sale of certain goods. The document lists goods, which can be sold using the support of the state as well as goods, which raw stock, components and equipment are imported to Belarus and exempted from customs duties.
Besides, a draft document has been developed to engage unused state property in commerce.
Andrei Kobyakov noted, in 2006-2010 the development of small and medium towns will be performed via the state support rendered to existing organisations, raising the competitive ability of companies in such settlements as well as creating conditions for small business development.
The draft programme for the development of small and medium townships in 2006-2010 covers 187 settlements, including 86 problem ones. Investment projects are to be launched in every settlement listed by the programme. The number of the investment projects will exceed one thousand, with 344 of the number being major projects. Within the five years 105 thousand new jobs will be created in small and medium towns of Belarus.
Belarus to take measures to stimulate consumer goods production
From: NLIPRB
Measures to stimulate production of consumer goods will be taken in Belarus, economy minister Nikolai Zaichenko declared during a sitting of the Council of Ministers of Belarus on December 26.
In his words, the government has been elaborating a draft legal act to activate production and sale of some consumer goods.
In 2006 companies under the industry ministry, Bellesbumprom and Bellegprom concerns failed to meet the target on increasing output of consumer goods. So far, the total output of consumer goods has increased by 10.3 per cent now. The increase was mainly insured by foodstuffs which soared by 12 per cent while nonfoods upped by 9 per cent.
Consumer goods production is one of the most important constituents of the economic growth. When commenting on this topic, prime minister of Belarus Sergei Sidorskiy noted that the country will built new factories to produce consumer goods. These will be competitive, hi-tech production facilities which will contribute to the increase in Belarusian exports, Sergei Sidorskiy said.
From he Blogs...
A PERCENTAGE OF AMERICANS WILL SUPPORT THE UNION STATE
From:
Mike's Vacation
Americans are intelligent and perceptive people. Most Americans are hard working and honest. Sadly most of us have to work so many hours to afford to have decent lives that we don't have time to do dilligence on what our diplomats abroad are saying, and most of us don't have time to pay close attention to what our foreign policy actually is around the world.
It is obvious the people of America have allowed our perverbial "goat" to get loose and eat the flowers of our neighbors on several occasions. Ultimately the people of America are responsible for what our "goat" or government is doing with our money and our good name.
Perhaps we need to more closely examine the facts surrounding our foreign policy in regards to The Republic of Belarus and her president Alexander Lukashenka.
Upon examination of the facts of this case, many Americans will recognize the right of Belarusians to pick a president, and join their country in a union-state with Russia.
Many Americans would proably vote for Lukashenka in a mock vote if given the chance to pretend to vote as Belarusians and live with the consequences of our vote.
American foreign policy is complicated and sometimes abstract, but Americans understand that frequently unscrupulous and dishonest parties come to power here in America.
Americans also know that our foreign policy is often engeneered to benefit the short term goals and interests of our Washington burocrats and not the American population in general.
We also know that often our "official foreign policy" is not just wrong but criminally wrong.
Most Americans don't earn their living from being an "Ambassador" to another country.
Karen Stewart is misleading the world when she states " the United States will not recognize a Union State between Russia and Belarus."
Believe me, If America recognizes present day Iraq, or Sudan, or Likme-Dikme, we will clearly recognize a union state between Russia and Belarus.
Perhaps there are some War Criminals and xenophobes that ultimately will have their monpolar influence dulled by this proposed Union State, and they may continue a Mafia-like strangelhold over the state dept, thus controling its official statements and press releases.
But the conscience of America will recognize the reality that Lukashenka is the rightfully elected president of Belarus, and we will also recognize that if Belarus wishes to form a union state with Russia, she clearly has this right.
Ambassador Stewart should be a little more precise with her statements about what America will and won't do, and what we won't recognize. Perhaps she will be big enough in the future to begin to acknowledge that many or at least some Americans are supporters of Lukashenka, Putin, Belarus, and Russia, and of a future Union State if both of these two countries desire to do this.
Belarus nuclear program
From:
Belarus News and Facts
Alexander Lukashenko has made the decision to build a nuclear power plant without discussing the issue with the public.
A majority of the population in Belarus, the country hardest hit by the Chernobyl nuclear accident, most likely would oppose the project if the government were to hold a referendum. But the Belarusian leader does not think the public has a say. At a news conference he gave to Ukrainian journalists on November 23, he actually defended his high-handed fashion of rule.
"Maybe there's something good in this dictatorship,' I'm putting the word in quotation marks. We know many dictatorships where people are eaten and abducted in the street, there's nothing of the kind in our country," Lukashenko said.
There are issues in which the general public should not be involved, and decisions can be made by experts. The nuclear power plant does not seem to be the case, especially considering the trauma caused by the Chernobyl disaster. There must be a national consensus. To achieve it, the government would need to restore some democratic mechanisms.
There is a saying, "War is too a serious matter to be handled by the military." It is the same as far as nuclear power is concerned - this is too a serious matter to be handled by nuclear engineers only. Like all state institutions, official scientists in this country are servile, ready to substantiate any project supported by the leadership.
The decision seems to have been taken under pressure from supporters of nuclear power advancing their corporate interests.
It gave rise to questions that must be answered before the project gets underway.
The question of security is of prime concern. Minor and major accidents occur at nuclear power plants from time to time. There is always increased radioactivity around nuclear facilities, which is to contribute to the overall level of radiation in the country already contaminated with radionuclides released as a result of the explosion of the Chernobyl reactor.
One more lesson Belarus learned from the tragedy is that in undemocratic countries authorities are not accountable to the public and make non-transparent decisions. In this situation mistakes and disasters happen more often.
From the very beginning the government seems to be trying to rush up thins without any apparent reason. Under the government's energy security program, the first nuclear power generation unit is to be built in 2015.
But Mikhail Myasnikovich, head of the Belarusian National Academy of Sciences (BNAS), said that the plant might be put into operation two years earlier. Myasnikovich said that Lukashenko had tasked experts with considering that possibility.
This sounds familiar. The Chernobyl plant was also built in a rush, ahead of schedule, and its dedication ceremony was timed to coincide with some national holiday. A nuclear power plant is not an ice hockey palace or a new national library building. Its completion cannot be timed to an election campaign or some other occasion.
An important question that must be answered before the start of the project is how much electricity will Belarus need in 10 and 20 years from now?
The country has a very power-intensive economic system with a large number of inefficient enterprises and considerable cross-subsidies aimed to cover household bills. Belarus' per-capita consumption of electricity is at least three times higher than in developed economies. The system cannot be sustained for much longer.
Russia's push for market-driven pricing prompts Belarus to reform its economy. Power-intensive and inefficient plants would have to close down, the large-scale rural revival program would have to be suspended, while privatized companies would need to cut costs and adopt high technologies.
In 10 or 15 years, Belarus may have a different economy that would be able to function without a nuclear power plant.
Many scientists argue that it is much better to spend money on energy efficiency and new energy sources.
It will be up to our children to decide what to do with the nuclear power plant after its operation life is over. Our generation, however, will have to deal with nuclear waste. The government does not seem to have considered this matter seriously. The treatment and disposal of nuclear waste is three times as expensive as nuclear fuel. Nuclear waste is stored for decades and centuries.
Lukashenko decided to build the nuclear power plant to reduce the country's dependency on energy imports from Russia. Belarus can buy power plant equipment in the West, but it will have to buy nuclear fuel from Russia and store nuclear waste in Russia. So, apart from oil and gas the country will also depend on Russian nuclear fuel.
The government says that the nuclear plant is necessary because oil and gas prices will continue to rise. But the matter is that uranium prices are rising even faster - from $7 per pound in the early 1990s to $77 now.
Lukashenko says that Russia is running out of and may stop exporting oil and gas soon. But when Russia runs out of decommissioned nuclear weapons, it also may face a shortage of uranium for its nuclear power plants.
Finally, there is also a political aspect.
Authorities have repeatedly threatened Europe to open Belarus' border for illegal migrants, illicit drugs, radioactive materials and HIV positive people in response to its "hostile" policies.
With a nuclear power plant, the Belarusian leadership will not be able to resist the temptation to threaten the West with nuclear weapons. Lukashenko more often than not said he regretted that Russia had withdrawn its nuclear missiles from Belarus.
The international community does not know how to deal with North Korea and Iran. Belarus is not located in Asia, it is situated in Europe. Its nuclear program may cause a new international crisis.
The conclusion is very simple. Belarus may consider building a nuclear power plant only after it has carried out market-oriented reform and democratized its political system. Otherwise, the government can create many problems for the international community.
Lukashenka bets on zero
From:
TOL Blogs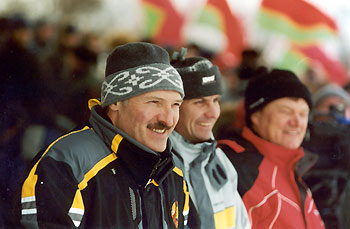 Russian gas monopoly Gazprom proves it is not going to tolerate Lukashenka's bluff and proceeds from warnings to direct actions:
Additional amounts of natural gas have been stored in the underground storage facilities in Germany and Baltic states in order to avoid cutoffs in supplying European states. Gazprom mentions that everything is being done to avoid the 2004 scenario, when Minsk decided to use transit gas destined for Kaliningrad region of Russia and Poland instead of making a contract and paying the monopoly prices. (Reported by Kommersant, info via Lenta.ru)
Meantime, additional details make the plot even more interesting: Russian news agency "Vremya Novostey" publishes a story claiming that Belarusian government attempted to force Russia into paying more for the Belarusian gas transit system (or lowering the going prices for gas in 2007) by announcing that an unnamed US-affiliated entity was going to pay $17 billion for it. Wow. That's three to twenty times more than Russia hoped to pay. No doubt the charitable billionaire from the US does not exist, but this Russian media stunt looks like a sure sign that Russians are serious about closing all open gas questions (on their terms, of course) still in 2006. Merry Christmass to all dictators!
UPDATE:
We get more explanations, but they make less sense with each passing day:
Belarus: Gazprom scrapped the agreement which was reached last week and was supposed to be signed on December 26th, where gas price was set at $75 per 1000 cu.m. This is a provocation. Russia goes back to their earlier unacceptable demands of $110 per 1000 cu.m. If we don't reach an agreement before December 31st, the old contract must be continued, based on old prices - $46,46. If Gazprom needs a new contract, they should come to Minsk themselves this time. (Explanation by Uladzimir Siamashka, vice-premier of Belarusian government and "chief gas negotiator", given during his after arrival from Moscow at 11pm December 26th).
Gazprom, Russia: Belarus was offered a discounted price of $110 ($30 can be paid in shares of Beltransgaz, Belarusian gas transit enterprise, which currently transports 16% of Russian gas export to the EU). Citing the fact that every single other ex-USSR country will pay more, some even up to twice this figure, Gazprom Export division chair Alexander Medvedev maintains that the price is "very preferencial". On December 27th, a new, slightly lower figure was announced by Gazprom: $105 (including $30 in Beltransgaz shares).
Meanwhile, results of online opinion polls indicate that about half of people in Belarus still believe that Gazprom wouldn't dare to cut off Belarus in 2007, even if the deal is not reached, or hope that the sides still reach some agreement before January 1st.
Sports...
Belarus upsets Finland
From: Sun.com and EuroHockey
The Americans weren't the only ones feeling upset on the opening day of the world junior hockey championship.
Just like the Germans, who shocked the United States squad, Belarus edged favoured Finland 4-3.
Germany and Belarus were promoted to this tournament by winning their respective second-tier world championships last year.
If the tournament opener's are any indication of what is to come, then the 2007 World Junior Championships could be one of the most surprising ever.
Mikhail Stefanovich had three points and the game winner as Belarus shocked Finland in Mora, Sweden.
Sergei Kostitsyn of the London Knights led the Belarusian upset with a goal and two assists and goaltender Valeriy Pronin stopped 32 shots.
Yuriy Ilin also had a goal for Belarus, which scored three times in the third period for the comeback win.
Mikko Lehtonen scored twice and Leo Komarov once in reply for the Finns.
"This was really disappointing", Finnish forward Sami Sandell sighed after the game. "We didn't play as a team at all and we all wanted to be heroes out there on the ice." Asked whether they might have underestimated today's opponent Sandell eventually had to admit that "perhaps we did underestimate them somewhat".
His words perfectly summed up the game. Despite outshooting Belarus 35-17, Finland were unable to crack a resilient Belarus defense which was pushed back deep into its own zone at times.
After having taken a surprising lead on a power play goal by Stefanovich, Finland rebounded with a pair of goals in each period themselves. Leo Komarov scored a mentally important equalizer with just three seconds left to play in the first period with the man advantage. Mikko Lehtonen seemed to have put Finland in a driver's seat with yet another power play goal midway the second period, but Finland were unable to extend their lead whilst chances were there.
Trailing just 2-1 going into the third period, Belarus realized they had a chance to get something out of this game. They started the third period brightly and waited patiently on the chances to come. Their first one came just over five minutes played. Vili Sopanen was handed a penalty for boarding and within seven seconds of the power play, Belarus had tied the game. Mikhail Stefanovich perfectly found Yuri Ilin free in front of net who one-timed it in behind a mediocre Tukka Rask.
The goal spurred the Belarus confidence.
Less than three minutes after the tying goal with Belarus killing a penalty, Finland lost the puck in the offensive zone and Pavel Musienko sent clear Sergei Kostitsyn. The Belarus star player shook off a defenseman and slid the puck in the net underneat Rask. The Finnish goaltender complained that he was ran into, as Kostitsyn and Rask ended up in the net together, but his complaints were in vain as Russian referee Aleksandr Poliakov allowed the goal to stand.
In other action yesterday, Russia edged the Czech Republic 3-2.
Belarus Travel...
The six "regions" of Belarus
From: Travel Wise
Many people associate Belarus with Minsk. And rightly so, as it is by far the largest city in the country. With a population exceeding 1.7 Million, it is more than three times larger than Hrodno, the next largest Belarusian city. What may come as a surprise to many is that Minsk is the 12th largest city in Europe! Minsk is larger than Warsaw, Vienna, Munich and Milan and more than twice as large as Amsterdam, Athens, Stockholm and Lisbon. In fact, if you add the combine the populations of Oslo, Hannover and Amsterdam, you get a population equal in size to Minsk. But Belarus does not stop at the boarders of Minsk, there is much more to see. Belarus has a population of just around 10 million people though some sources say it is slowly declining. It is divided into six provinces (oblasts or voblasts). Each province is named after its capital city. Each province is approximately similar in area and population making up (very roughly) 15% of the population and territory of the country. With 1.1 million people Mogliev and Hrodna are the smallest provinces and with 1.4 million Brest, Minsk and Homel provinces are the largest. This overview will start with Minsk Province, as it is the center of Belarus. Then we will go to the top, Vitebsk, and go clockwise. Cities with population of 100,000 or more are mentioned.
Minsk Province is in the center of the country and the city of Minsk is both the capital and economic heart of the republic. Most of the entertainment and cultural opportunities as well as finer hotels, restaurants and theaters can be found in the capital. Minsk is the only province that does not boarder another country. It includes lake Naroch, a pristine jewel it is the largest lake in Belarus. Important cities in the province other than Minsk include Barysau (founded in 1102. In 1802 it was the site of a battle with Napoleon's troops), Salihorsk (founded in 1958) and Maladzyechna (setteled in 1388 and has a pretty orthadox church dating back to 1867). Dudutki Park, about 60km from Minsk is a nice day excursion. It is a 'hands on' outdoor museum / park, where you can make pottery with a master potter, pound out a horse shoe with a blacksmith, or simply taste homemade bread, honey and vodka. Everything is done by hand like it used to be done centuries ago. Nesvizh Castle and Church complex, a UNESCO monument, is located in Minsk Province, as is the monument to the village of Khatyn which was destroyed by the Nazis in World War II. For more information click here Although located in the Hrodna Province, the Mir Castle is very close to the Nesvish Castle and Church, so visits to these two places can probably be combined.
Vitebsk Province is situated in the North and has borders with Lithuania, Latvia and Russia. The largest cities are Vitebsk, Orsha and Navapolatsk. While Naroch of Minsk Province is the largest lake, Vitebsk is the home of 11 major lakes, more than any other province, and is therefore perhaps the fishing capital of Belarus. Probably the oldest town in Belarus, Polatsk first mentioned in 862, is located here. Polatsk is the location of the historic Saviour Transfiguration Church and St. Sophia Cathedral. Vitebsk is the birthplace of Marc Chagall. His birth place and a museum which houses the series of illustrations to Nicolai Gogol's "Dead Souls" can be visited.
Mogilev Province is in the Eastern part of Belarus and borders Russia. The largest cities are Mogilev and Babruysk. The town of Shklov in Mogilev Province is the birthplace of president Alexander Lukashenko. Mogilev Province and Gomel Province suffered most from the 1986 Chernobyl nuclear reactor accident. The city of Mogliev was founded in 1267. It is the home of the St.Nicholas Monastery Complex. Babrusyk is one of the oldest towns in Belarus as is home of a famous fortress which today is considered a national architectural monument.
Homel Province is in the South-Eastern part of Belarus, bordering Ukraine and Russia. Largest cities are Homel and Mazyr. The Homel region is the home of the Pripyatsky National Park. Homel city, with a population of nearly 0.5 million, is the second largest city in Belarus. It is believed to have been founded in 1142. The most interesting sight of the city is Homel palace and park. The city of Homel also has several older buildings which give the city a unique charm.
Brest Province is in the southwest corner of the country and shares borders with Poland and Ukraine. The largest cities are Breast, Baranovichi and Pinsk. The Breast Fortress, the hero fortress of world war II can be found in Brest. This famous castle was the site of the first resistance to the Nazi invasion in 1941. Though expected to fall within hours, it lasted for 4 days and the red brick castle has been a symbol of Belarusian resolve ever since. The town of Brest probably dates back to 1019. As a border town, it has changed hands many times. Sometimes being part of Poland and sometimes being part of Lithuania or Russia, the region became a permanent part of the USSR in 1939. The resurrection Church of Brest is the largest in Belarus. Pinsk is a historical city and together with the town of Stolin, it is the spiritual home of Hasidic Judaism. The "Belavezhskaya Pushcha", the last virginal forest of the European lowlands is located 70 km north of Brest. Three of the five sites of the Struve Geodesic Arc (Ossownitza, Tchekutsk and Leskowitschi) are located in a cluster just outside of the city of Pinsk. The Kamyanets Tower is located about 40km North of Brest. For Jewish Historians, Menachem Begin, former prime minister of Israel, was born in Brest Province and Golda Meyer and Chaim Weitzman grew up near the town of Pinsk and attended school there.
Hrodno Province is in the North-West of Belarus and has borders with Poland and Lithuania. The Hrodno Province has many things for tourists to see. The Mir Castles is in this province. In addition, Novogrudok Castle, the fortress-churches of Zeiveny (15th cent.) and Shchuchin (16th cent.), the Muravanka Church Fortress and the fived domed Boris and Gleb Church are all located in this province.