Gazprom deal to be signed today; Most probably Belarus to pay $105; Russia buys into pipeline; Polls, Kozulin, money, sports and blogs
Note: As of the time of this issue's publication, according to spokesman for Gazprom Sergei Kupriyanov, Gazprom is set to sign all gas supply and transit contracts with Belarus today.
Alexander Lukashenko: no cheap Russian gas in Belarus
From: Belta, Ria Novosti
There is no cheap Russian gas in Belarus, Belarus president Alexander Lukashenko told the media today.
"The fact that the gas is cheaper in Belarus than somewhere else does not mean we received the gas as a gift", underlined the head of state. Alexander Lukashenko noted, Belarus provides the same value in services to Russia and "we provide the same value in securing Russia's interests in Belarus such as transit, military facilities. It costs money".
The head of state also noted, at present Russia pays some $4.5 billion for transit to Poland, while Belarus gets around $120 million. "Is it a problem? Pay us the same amount for transit and we will buy the gas at the German price", stressed Alexander Lukashenko. So, today Belarus buys Russian gas at a price higher than the one Germany pays, with distance considerations taking into account. Gazprom profitability nears 130 per cent in Belarus and 110 per cent in Germany. "What kind of a gift is that? What is the blame of ours before Russia and Gazprom for them to place us next to Germany?" wondered the head of state.
Speaking about the development of Belarus-Russia relations in the gas industry, Alexander Lukashenko also said, "The blackmail is still in effect. If they persist in it, we will live in mud huts, but will not yield to the blackmail".
Russia's policy towards Belarus leads to the destruction of the bilateral relations, Belarus president Alexander Lukashenko told the media today.
"I doubt Russia and the Russian Federation leadership will follow the old approach one more time. We saw it in 2004 when we were cut off from the Russian natural gas supply. The situation is repeated. At that time we actually had the gas price doubled for us. We made certain concessions", said the president.
Alexander Lukashenko noted, buying cheap Russian gas is not the point today. "We hold to one point. Belarus and Russia have signed the Union State treaty and several accompanying agreements securing our union", underscored the Belarusian head of state. "These documents ensure equal conditions for economic entities. That is why we would like the prices to be equal here and there. That is what we want, not cheap gas. The gas price may be as large as $200, $300 or $500 /per 1,000 cu m — BelTA/, but the conditions must be equal", noted Alexander Lukashenko. "Russia raises the gas price for Belarus in two-three times. As a result, the price is three-five times higher than the one in Russia".
Speaking about Russia's policy towards Belarus, he underlined "It is the destruction of all the relations. We are being ousted from the Russian market. We will not be able to sell our products there, because they will be much more expensive", said the head of state
A senior Gazprom official dismissed Friday Belarus's allegations that the energy giant was blackmailing Minsk in a dispute over a price on gas supplies in 2007.
"There was no blackmail whatsoever," said Alexander Medvedev, head of Gazprom's export arm.
Medvedev said it was Belarus that blackmailed Gazprom and Europe, threatening to disrupt Russian natural gas transits via its territory, 90% of which was pumped through Russia's Yamal-Europe pipeline.
Belarus's President Alexander Lukashenko said earlier Friday that his country would not yield to Gazprom's pressure.
"We would rather go to bunkers than succumb to blackmail," Lukashenko said.
Medvedev argued Belarusian authorities were trying to justify their economic shortcomings.
"The president of Belarus was informed about a rise in gas prices in advance. And Belarus was proposed the most favorable terms of gas supplies, compared with other ex-Soviet republics," Medvedev said.
Adjustment of the 2007 budget in view of the gas price increase and introduction of oil duties will not affect social programs, deputy finance minister of Belarus Vladimir Amarin told a briefing on December 29.
He noted that the 2007 budget was based on the forecast of the socio-economic development made by the economy ministry in July 2006. "It goes without saying that the changes in oil prices in connection with Russia's imposition of oil duties were not taken into account then. Now we are ready to make all the necessary amendments to the budget," Vladimir Amarin said. The deputy finance minister did not dwell on the topic of what exactly would be done, but admitted that the oil refining revenues were likely to fall. Nonetheless, social programs will be funded in full, he assured.
Vladimir Semashko: next year's gas price for Belarus set at $100 per 1,000 cubic m
From: Belta
The price for the gas Belarus will buy next year will be as high as $100 per 1,000 cubic metres, first vice premier Vladimir Semashko told the media in Minsk today.
The Russian side will pay only money for Beltransgaz shares. Variants are possible: one time payment or at most one year of payment by instalments with a certain bank rate.
In 2007 the price for Russian gas transit via Belarus will make $1.65 per 100 km.
Tomorrow morning Vladimir Semashko intends to leave for Moscow to sign a framework agreement on setting up a joint venture based on Beltransgaz, provided the Russian side agrees to the proposed contract.
The official noted, all the documents for setting up a Beltransgaz-Gazprom joint venture had been agreed with all the interested parties. According to the documents, the joint venture will be set up by July 1, 2007. Vladimir Semashko said, the Belarusian side had been ready to set up the joint venture before the end of 2006. However, the market price for Beltransgaz is known to have been the stumbling stone. Now all the arguments are over, underlined the first vice premier. Beltransgaz market price is set at $5 billion.
Vladimir Semashko goes to Moscow to finsih talks
From: Reuters
Belarus's top gas negotiator was in high-level talks in Moscow on Sunday, raising hopes of a last-minute deal in a pricing dispute that threatens to disrupt Russian gas supplies to Europe from New Year's Day.
Russia's gas monopoly Gazprom has said it will cut gas supplies to Belarus from 0700 GMT on Jan. 1 if no deal is reached, while Minsk said it would retaliate by halting flows of Russian gas crossing the country bound for Western Europe.
About 20 percent of Russian gas exports to Europe go through Belarus. A similar dispute between Gazprom and Ukraine a year ago briefly disrupted supplies to Europe and raised questions about Moscow's reliability as an energy supplier.
Gazprom spokesman Sergei Kupriyanov said Belarus's First Deputy Prime Minister Vladimir Semashko, who has led talks with the Russian company, had flown to Moscow and started talks with Gazprom's top managers.
"We haven't reached a deal yet, but Gazprom is doing its best to sign all the necessary documents in the time left (before the New Year)," Vesti 24 state television quoted Kupriyanov as saying.
Until now the two sides had been communicating by fax, and it was understood Semashko would only travel to Moscow in person if there was a real chance of signing a deal.
Belarus's top gas negotiator was in high-level talks in Moscow on Sunday, raising hopes of a last-minute deal in a pricing dispute that threatens to disrupt Russian gas supplies to Europe from New Year's Day.
Russia's gas monopoly Gazprom has said it will cut gas supplies to Belarus from 0700 GMT on Jan. 1 if no deal is reached, while Minsk said it would retaliate by halting flows of Russian gas crossing the country bound for Western Europe.
About 20 percent of Russian gas exports to Europe go through Belarus. A similar dispute between Gazprom and Ukraine a year ago briefly disrupted supplies to Europe and raised questions about Moscow's reliability as an energy supplier.
"A Belarusian delegation, headed by First Deputy Prime Minister Vladimir Semashko, is currently conducting negotiations with Gazprom on new gas supplies terms starting in 2007," Sergei Kupriyanov said in an interview with Russia's Vesti television.
"We have not yet reached an agreement, but Gazprom is making all possible efforts to finalize all necessary contracts in the time remaining [before the New Year's]," the Gazprom official said, adding that Belarus was offered the most favorable gas delivery terms, compared with other ex-Soviet republics.
Gazprom has proposed that Belarus pay $75 per 1,000 cubic meters in cash, plus $30 in shares of Beltransgaz, while it currently charges Armenia $110 per 1,000 cu m, Ukraine - $130 for Central Asian gas and Moldova - $160. In addition, Gazprom has recently signed contracts for the supply of 1.1 billion cu m of gas to Georgia in 2007 at $235 per 1,000 cu m.
Kupriyanov also said that an uninterrupted transit of the natural gas via Russia's Yamal-Europe pipeline was a mandatory and unquestionable condition for the successful completion of the current talks.
Polls: 72.3% of Belarusians believe there is no reason why Gazprom should increase gas prices
From: Belta
Two thirds of the population of Belarus (72.3 per cent) believes there is no reason why Gazprom should increase gas prices fourfold for Belarus in 2007, EcooM analytical center said recent poll results showed.
When asked to give their view of Russia's intent, 30 per cent called it "immoral", 31.1 per cent said what Russia intends to do has little to do with friendship and with relations the two nations in a union state would like to have. Some 2.9 per cent said it is unfair, 10 per cent believe such actions are tantamount to "a type of pressure". Another 11.5 per cent of respondents said "there is no room for morale here, these are market relations". Only 3.6 per cent of people say Russia is right while some 7.2 per cent found it hard to tell.
Some 35.2 per cent of people believe Belarus needs to apply economic methods in trying to solve the energy issue, another 18.4 per cent of people think Belarus should make use of the political lever. 40.1 per cent say the sides should look for an alternative, 3.3 per cent are willing to accept Gazprom's proposal. Some 2.8 per cent of people expressed other points of view.
40.3 per cent of the respondents see the policy of Russia towards neighboring countries as "wrong". 27.7 per cent view it as "wrong and short-sighted". 10 per cent of Belarusian characterize the Russian policy as right though with some flaws. Only 8.9 per cent of Belarusians aged 18 and older see the policy of Russia towards CIS countries as absolutely right and far-sighted. 13.1 per cent could not answer this question.
Almost a half of the Belarusians (44.5 per cent of the questioned) believe that Russia has learned wrong lessons from its failures in the relations with the neighboring countries. Another 22 per cent are sure that Russians never learn any lessons from foreign political failures.
35.5 per cent of the Belarusians polled believed that trade wars can dissolve the Belarus-Russia Union State.
22.5 per cent of the respondents said "rather, yes".
Some 20.5 per cent of the polled are sure that trade wars cannot dissolve the union. 18.4 per cent said "rather, no". Some 3.1 per cent of the respondents found it difficult to answer the question.
13.2 per cent of the questioned believe the trade war is inevitable. 20.6 per cent of the respondents said "rather, yes". Some 49.6 per cent did not agree with them (21.8 per cent said "no" and 27.8 per cent – "rather, no". Some 16.6 per cent were not sure about the answer.
In speaking about the domestic situation however, about 70 per cent of residents of Belarus view Belarus' policy on improving living standards as effective. Some 10.7 per cent of the questioned said it is "rather ineffective" and 5.2 per cent - "absolutely ineffective", a public opinion poll conducted by the analytic center EcooM indicated.
The respondents were asked the same question about Russia's policy in this field. 37.1 per cent of the questioned call it "rather ineffective" or "absolutely ineffective" and 35.8 per cent – "quite effective" or "rather effective". 20.1 per cent found it difficult to answer the question.
Some 1,450 people aged 18 and older from various regions of the country took part in the poll.
Belarus ambassador slams Russian newspaper article
From: NLIPRB
Belarus has never been a boarder of Russia and always settles accounts, Ambassador Extraordinary and Plenipotentiary of Belarus to the Russian Federation Vasiliy Dolgolev stated in an open letter to the editor-in-chief of Izvestiya newspaper.
The article the newspaper published to highlight the ongoing complicated negotiations on Russian gas supplies to Belarus contains "totally groundless statements", noted Vasiliy Dolgolev. In particular, these statements read, a quarter of Belarus economy depends "on Russia's charity", which comes as "understated prices for supplied gas, electricity, and other goods".
According to the ambassador, the discussion started after the introduction of the value-added tax based on the country of destination principle. "As far as the processing of Russian oil by Belarusian oil refineries is concerned, the losses Belarus incurred due to the country of origin VAT were much higher than the profits the Russian Federation could have gained if the 1995 agreement on sharing duties on exported Belarusian products made of Russian raw stock had been fulfilled".
The article omits the unprecedented preferences the Republic of Belarus provided during the construction of Yamal-Europe gas pipeline. Belarus created every favourable condition for building the second Yamal-Europe gas pipeline with minimal costs. OAO Gazprom has never enjoyed more favourable conditions anywhere in the world, stressed the ambassador. By the way, the cost of gas transportation through Belarus is more than three times lower than the money Poland charges.
Belarus also bears the load of guarding the western border of the Union State, noted Vasiliy Dolgolev. Thanks to the fact our neighbouring states have an open internal border, while their citizens enjoy full freedom of travel
Dealing with the EU: 100,000 illegal migrants to be sent to be let go?
From: Belta
The European Union did not survive the competition with Belarus on the EU's commodity markets. That is the reason Belarus was stripped of customs preferences in the trade with European Union states, Belarus president Alexander Lukashenko told the media today.
"They did not stand the pure competition and sought administrative measures", noted the head of state. He underlined, Belarus losses caused by the forfeiture of customs preferences in the trade with European Union states are not significant. "I am calm about it. What have we lost? Some $100 million or $200 million. We will not notice it. It is not the gas and oil debt to Russia. We'll survive", underscored Alexander Lukashenko.
He noted, in the future Belarus is not going to prevent illegal migrants from trying to enter European states. He reminded, around 100,000 illegal migrants are staying in Belarus, trying to get to Europe. "As from January 1, we will not be catching anyone", said the head of state.
Belarus will preserve the development pace despite the external circumstances, Belarus president Alexander Lukashenko told the media in Zhlobin today.
On the whole, in 2006 Belarus development was stable. "If Belarus preserves the pace in the years to come, we will be rich and dignified", said the Belarusian leader.
The head of state stressed, in 2006 Belarus vigorously developed relations with foreign countries, including Cuba, Venezuela, India, China and Vietnam. "We have big interests in these countries, rather good cooperation prospects, including economic ones", noted the president.
Belarus has essentially advanced in cooperation with the Non-Aligned Movement states. "We had approved ourselves", emphasised Alexander Lukashenko.
The president was pleased with results of Belarus cooperation with the CIS states. In his words, in 2006 Belarus reached an energy security agreement with Azerbaijan.
Among negative moments of 2006 the president of Belarus named problems with Belarus relations with the European Union. He underlined, the Belarusian side cannot be blamed for the problems.
The head of state was regretful about difficulties in Belarus relations with the Russian Federation. The difficulties are connected with supplies of energy resources and privatisation in Belarus. Alexander Lukashenko said, Russia is still talking about the possibility of Belarus becoming part of the Russian Federation.
"Someone may want it, but we have not promised it to anyone", stressed the Belarusian leader.
Alyaksandr Kazulin Can Be Hospitalized
From: Charter '97
On December 28 the former candidate for presidency in Belarus, a political prisoner Alyaksandr Kazulin was visited by his lawyer Ihar Rynkevich in the colony. The meeting lasted for two hours. The most important news is that the state of health of the politician is worsening. He has also made a statement about local elections.
Ihar Rynkevich has informed that Alyaksandr Kazulin's transition from the hunger strike turned out to be more complicated than expected. As said by the attorney, prison doctors spoke in favour of Kazulin's hospitalization.
"His suffers from water retention and colic. He has to keep his bed most of the time. It seemed earlier that he was gaining weight, but gaining in weight and puffiness are different things. It is possible that some organs, possibly kidney, haven't renewed their functioning. Some other problems could cause such alarming symptoms," the lawyer told to Radio Svaboda.
However, Alyaksandr Kazulin refuses hospitalization. The politician explained to the lawyer that placing him to Minsk prison hospital is connected to quarantine and other procedures under prison regulations during which it would be difficult to follow a routine of hunger strike finishing.
Alyaksandr Kazulin asked the lawyer to forward his thoughts on the events in the country. The former candidate urges the democratic forces to pass a no-confidence motion against the Central election commission which cannot guarantee legal elections, and to stop elections campaign.
As reported, the former presidential candidate Alyaksandr Kazulin had been sentenced to 5.5 years of imprisonment for organizing a protest rally against rigged presidential elections on 25 March. "Amnesty International" has recognized Kazulin a prisoner of conscience. In the colony Alyaksandr Kazulin was on hunger strike for 53 days. As a result of his hunger strike the Belarusian problem was brought up at the session of the UN Security Council.
Belarus bank denies plans of rouble re-denomination
From: Itar-Tass
The Belarussian National Bank has dismissed rumours about the forthcoming re-denomination of the Belarussian rouble.
"The re-denomination of the Belarussian rouble is not planned in 2007," the bank's information department said in a statement released on Friday.
It also said that "maximum possible efforts will be taken for the fulfilment of all main directions of the money and credit policy of the Republic of Belarus for 2007".
In particular, devaluation of the Belarussian rouble's official rate to the US dollar is to be kept within 2.5 percent as of January 1, 2008.
"The National Bank is going to further conduct the policy of strengthening the national currency. Attractive conditions for keeping deposits in Belarussian roubles will be created both in this and in the coming years," the information department said.
"The level of interest rates on deposits denominated in the national currency will be above both the inflation rate and yield on savings in a freely convertible currency as before," the bank said.
Note:
True to this article it should be noted that although the Belarusian ruble had previously been known for its infationary habits, since it has been tagged to the US dollar (as it has for almost three years) the value of the ruble against the dollar has remained the same. However, it is worthy to note that prices have risen in almost all aspects of life in Belarus during this time.
Stepan Sukhorenko: manifestations of extremism to be suppressed in Belarus
From: Belta
Manifestations of extremism will be suppressed in Belarus, chair of the State Security Committee of this country /KGB/ Stepan Sukhorenko told reporters today.
According to him, there are people in Belarus who try to popularize themselves by displaying various forms of aggression. It will not work in this country, as Belarusian people and veterans still remember the Great Patriotic War. "Every third citizen of Belarus fell during the war for the sake of the future generations", he said.
"We elicit certain facts of extremism and ruthlessly suppress them", the KGB chair underlined.
The main result of the activity of the Belarusian law enforcement bodies in 2006 is peace and stability in the society, Stepan Sukhorenko noted.
Belneftekhim promises low oil prices for Belarusians in 2007
From: Belta
Next year petroleum prices for Belarus individuals will not increase despite the price for Russian oil imported to Belarus reaching $180.7 per ton due to the introduction of the import customs duty. The statement was made by Belneftekhim chairman Alexander Borovskiy today as he commented on the Russian government's introduction of customs duties on oil exported to Belarus.
The official stressed, "Belarus will be seeking other ways out, but will not resort to increasing the petroleum prices". The possibility of buying crude oil in Europe is under consideration. Talks about joint oil exploration in Iran and Venezuela are under way.
Yet Alexander Borovskiy admitted, "We are not ready yet to take a decision on buying and refining the Russian oil. But we will take it". The official regretted the adoption of the resolution by the Russian government. He informed, the resolution was made when Belarus and Russia "were holding normal negotiations on sharing petroleum export duties". "But the decision to impose the customs duties on oil was taken without a notice", noted Alexander Borovskiy.
The official was bewildered by the adoption of such inadequate measures by the Russian government at this particular time, in winter, on the eve of the New Year. In his words, "Such actions target not industrial companies, but people". He also reminded, Belneftekhim concern employs over 125,000 people. Now these people will not be busy, as the workload of the oil refineries will be much less.
From the Blogs...
SKIF supercomputer project
From: Belarus News and Facts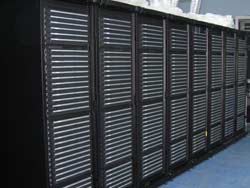 Alyaksandr Vaytovich, a former president of the Belarusian National Academy of Sciences (BNAS), maintains that Belarus achieved only sporadic success in research and development, and considers SKIF supercomputer development was one of the most successful projects in the last few years.
When SKIF K-500, a model developed under a Belarusian-Russian program, entered the biannual list of the top 500 fastest computers in November 2003 Belarus became one of the world's four nations developing supercomputers.
Belarus could be on the cutting edge in information technologies because this area of research does not require energy resources, Vaytovich says.
SKIF-500, based on 128 Pentium Xeon processors, could perform 716.8 billion calculations per second.
This year, the new cluster model, SKIF K-1000, was rated sixth fastest supercomputer by TopCrunch, a project launched to track the aggregate performance trends of the world's best-performing computers.
The new model can perform up to 2.5 trillion calculations per second. It can be used for calculation intensive tasks such as processing radar and optical signals, automatically recognizing and selecting tasks, simulating broadband space and time signals and research into gas dynamics.
The European Commission offered Belarus €300,000 for integrating SKIF into the European network of supercomputers for solving global problems.
If Belarus accepts the offer, SKIF will be connected to the European network through the Polish Academy of Sciences, which currently operates five supercomputers, says Mikhail Mikhanyok, director of the National Center of Information Technologies and Resources.
He noted that Belarus takes interest in the offer, noting that it will be necessary to build a new cable line to Poland to increase the speed from 155 Mbps to 1Gbps.
"Other countries also should have access to our computer. It is essential to create high-speed interfaces and network infrastructure, and ensure the synchronic operation of supercomputers for one task. For instance, it is possible to connect telescopes located thousand kilometers apart for research into one problem," Mikhanyok says.
The Belarusian Ministry of Communications and the telecommunications monopoly Beltelecom need to appraise costs of building the new cable line to the Polish border. "The European Commission's funding will be needed for covering traffic costs before the project breaks even," Mikhanyok added.
The project could be carried out next year.
Text continues...
Opinion...
Belarus Heads Toward a New Year`s Face-off With Putin
From: Time By Yuri Zarakhovich (Via Charter '97)
The former Soviet republic has balked at a hike in gas rates, and Moscow has threatened to turn off the gas. Is it just business, or it Putin looking for annexation?
Russia has never been shy about using its enormous natural gas and oil resources — and its neighbors` lack of the same — as a not-so-subtle diplomatic weapon. Last New Year`s Eve, amid icy blasts of winter, Russia`s state-owned Gazprom turned off the gas on democratizing Ukraine, which has often tacked the other way from Russian President Vladimir Putin and the other former Soviet republics under his thrall. This year, however, the focus is Belarus, the nouvelle Stalinist state run by Alexander Lukashenko, a man who has tried to appear to be Putin`s acolyte. On Jan. 1, unless Belarus agrees to pay double what it used to for Russian gas ($105 per 1000 cubic meters instead of the current $46), Moscow will cut off gas supplies and leave its erstwhile ally in the cold. Other observers believe something more shadowy than a pure grab for more money is in the works: a reincorporation of Belarus into a reconfigured Russian Federation. "It does feel like war is about to break out within days," says journalist and human rights activist Irina Khalip in a phone call from the Belarus capital of Minsk. "People are stockpiling fuel and warm clothes."
But Putin would not need to send troops to accomplish the expansion of his Russian Federation. Khalip and other observers believe that Putin is using the price hike to pressure Lukashenko to agree to make the Russian ruble the sole currency of Belarus. More importantly, Putin wants Lukashenko to stop dragging his feet on establishing the "Allied State of Russia and Belarus" — proclaimed in 1997 — and to sign the Constitutional Act in 2007 that could lead to the formal inclusion of Belarus into the Russian Federation. That would make Putin the first reunifier of the Slavic lands lost by the previous leaders in Moscow, Mikhail Gorbachev and Boris Yeltsin. Annexing Belarus would also create a new legal option for Putin to stay on in the Kremlin, should he so choose: it would be his first constitutional term as President of a new state rather than the third unconstitutional one of the current Russian Federation.
Might these simply be the imaginings of the conspiratorial Slavic mind? Russia merely says that the threatened cutoff is business. Market prices are for all, friend or foe. And for practical reasons, Russia may want to exert full control over Beltransgaz, Belarus` gas distribution network. The cornerstone of Lukashenko`s regime has been his ability to run the economy on cheap Russian gas as well as to sell expensive products refined from cheap Russian crude oil to other customers in Europe. If Russia goes ahead with the cutoff, Belarus threatens to hijack gas designated for European customers that run in pipelines through its territory. Immediately affected would be neighbors like Poland and Lithuania as well the Russian Baltic Sea enclave of Kaliningrad.
Lukashenko might take advantage of the crisis by imposing a state of emergency and assuming even greater dictatorial powers. He could also make humanitarian appeals to the world community to prevent Putin from freezing his people out of power — and himself out of the Presidential palace. If he surrenders to Putin, the consequences are fraught. Much as Belarussians need their fuel, they do value their independence. The temperatures may be cold in Minsk over the New Year. But it will be a hot time.
Sport...
Russia Crushes Belarus in Junoir Hockey
From:
Vyacheslav Buravchikov scored twice to lead Russia to an easy 6-1 win over Belarus at the World Junior hockey championship on Friday.
Buravchikov, Pavel Valentenko and Alexander Vasyunov all scored in the first period to power the Russian side to their third straight victory. Igor Musatov and Evgeni Ryasensky had the other goals for Russia.
Forward Alexei Cherepanov had one assist in the game giving the 17-year old five points in three games.
Russian netminder Semen Varlamov saw his shutout streak end at just over 91 minutes when Alexander Shurko scored the only goal for Belarus in the second period. Up until that point, Varlamov had not surrendered a goal since 55:38 of the third period in a game against the Czech Republic back on Tuesday.
The win secured at least second place in Group B for Russia.
Vladimir and Anastasia Veremeenko named best basketball players of Belarus

From: Belta
According to the results of the poll conducted by the Pressball Newspaper among basketball specialists and journalists, Vladimir Veremeenko has been named best Belarusian basketball player of 2006.
The 22-year old forward of the national team of Belarus and Moscow oblast club Khimki has won the Player of the Year Award for the fifth time. Egor Mescheryakov (UNIKS, Kazan) placed second while Vladimir Sharko (Minsk Vitaliur) third.
The sister of Vladimir Veremeenko, Anastasia, has been recognized best female basketball player. The 19-year-old Anastasia plays for Orenburg Nadezhda Club and is a member of the national team of Belarus. Svetlana Volnaya
(USK, Prague) placed second and Elena Levchenko (TEO Vilnius) third.
The best coach of men's teams is Alexander Borisov who heads the national team and Vitaliur Club. Anatoliy Buyalskiy (the coach of the Belarusian national team and Novosibirsk Dynamo-Energia) is named best coach of female teams. He has helped the Belarusian national team to advance to the European champions finals.