Standoff lasts one day; Pipeline open, Ukraine, Germany, Poland deal with the deal, Oil prices drop, deals in the making in Moscow
Belarus Capitulates and Re-opens the Druzhba Pipeline
From:
Belta
President of Belarus, Alexander Lukashenko Awarding the prizes "For Spiritual Revival"
On January 10, at 11.25pm (Moscow time) director of the republican unitary company Gomeltransneft Druzhba informed the leadership of the Russian company OAO Transneft and OAO Oil-Trunk Pipelines Druzhba (Bryansk) that in line with the reached agreements Gomeltransneft Druzhba had resumed oil deliveries to Poland, Germany, Ukraine, Slovakia and Hungary, BelTA was told by director of the republican unitary company Gomeltransneft Druzhba Aleksey Kostiuchenko.
Specialists of the Belarusian and Russian oil-transport companies have started coordinating technological parameters to ensure stable work of the oil-trunk pipelines. At present the equipment delivering the Russian oil via Belarus is stably working according to the schedule. The Russian oil is being delivered to the border regions of Ukraine and Poland.
Today the presidents of Belarus and Russia had a long telephone conversation to discuss bilateral problems in the trade-economic field, BelTA has been told in the presidential press service.
In particular, the matter concerned the provision of Belarus with energy resources and also oil and gas supplies to European countries. During the conversation the sides came to compromise, which would help settle all the problems including those connected with the Russian oil transit to European states via Belarus.
During two days the prime ministers of Belarus and Russia are expected to produce a set of recommendations on resolving all the problems and to submit them for consideration of the heads of state by Friday, January 12.
Russia's approach to handling situation with Belarus misses focus on geopolitical interests
When asked what the Russian-Belarusian row will culminate in, deputies of the Russian State Duma, the lower chamber of the Russian parliament, said they viewed the position of the Russia's leadership as erroneous in that energy conflict.
According to Dmitriy Rogozin, "In its relationship with Belarus and Ukraine Russia behaves itself like a businessman who is representing interests of his corporation being heedless of geopolitical interests".
As he said, "Russia is often guided by the interests of a group of people who hold the power and control the filling station rather than by national interests". "The president of Russia should understand that not everything should be pressed, one should know how to find a common ground," Dmitriy Rogozin said.
Deputy of the Russian Duma, member of the committee for budget and taxes Oksana Dmitrieva believes "Russia had no political grounds for the increase of prices". She expressed confidence that "the approach in dealing with Belarus should be radically different from the one that is applied in relations with foreign non-CIS countries and with most of the CIS member states because it is only with Belarus that Russia has created a union state".
Oxana Dmitrieva believes that "cooperation with Belarus is very beneficial for the Russian Federation and the benefits fully offset such expenses as low gas prices". According to her, a compromise will be found and the energy row between Russia and Belarus will be settled.
"The future of the Union State depends on the Russian government," Russian MP Sergei Glazyev believes. "If Russia fulfils its obligations on formation of the single economic area, including introduction of common price formation rules, the Union State will become a reality," the MP says.
According to him, the Gazprom move to increase the gas price for Belarus makes the attempts to form the single economic area senseless. Sergei Glazyev noted with regret that "greed of Gazprom bosses and their partners in the Russian government overrules Russian political will".
"By raising the gas price for Belarusian consumers we discriminate against our partners and put an end to the customs union, the single economic area and the Union State. It is surprising that the responsible officials are not held accountable for this," the MP said.
Statements that the abolishment of oil export duties will affect Russians are unjustified, deputy of the Russian State Duma Sergei Glazyev stated in an interview with the First TV Channel.
He said that according to the monetary policy of the Central Bank and finance ministry of Russia "the part of revenues from export duties will not be used by the Russian budget". It will be sent to the Russian stabilization fund in the US "via which it will be channeled into crediting of the US and NATO budget deficits".
Therefore Russian spending units do not need these additional funds. We will not receive anything but symbolic interests from this money," Sergei Glazyev highlighted.
Russia restarts pipeline oil flow to Belarus
From:
Reuters
Transneft said earlier it expected to resume normal operations on the Druzhba pipeline -- which supplies around a tenth of Europe's oil needs -- around eight hours after Belarus turned on the taps
Belarus said on Wednesday it had restarted the flow of Russian oil through a major pipeline across its territory, ending a three-day stoppage that rattled Europe.
The resumption came hours after Belarus scrapped an oil transit duty it imposed last week on shipments of crude through the Druzhba ('Friendship') pipeline linking Russia's Siberian oilfields to central and eastern Europe.
"Belarus started transit shipments of crude at 11:35 p.m. Moscow time (8:35 p.m. British time)," Alexei Kostuchenko, general director of Belarussian pipeline operator Gomeltransneft Druzhba, told Reuters by telephone.
"We have told Russian pipeline monopoly Transneft that, according to the agreement reached earlier, the pumping of oil has started to Poland, Germany, Ukraine, Slovakia, the Czech Republic and Hungary."
Claude Mandil, chief of the International Energy Agency that advises industrialised nations, said the disruption had shaken confidence in Russia as an energy supplier and affected countries in Europe were forced to tap their strategic reserves.
"The cut in oil supplies from Russia is unacceptable ... This raises a problem, a real problem of credibility. We would like to guarantee that this does not happen in the future," European Commission President Jose Manuel Barroso said.
Transneft said earlier it expected to resume normal operations on the Druzhba pipeline -- which supplies around a tenth of Europe's oil needs -- around eight hours after Belarus turned on the taps.
I expect this to happen tomorrow," Transneft CEO Semyon Vainshtok told reporters.
Belarussian President Alexander Lukashenko reached an understanding to resolve the halt during a telephone call with Kremlin leader Vladimir Putin, Lukashenko's office said.
"Belarus has fully returned 79,000 tonnes of oil. Transneft started to pump oil in the direction of Belarus at 8:22 a.m. Moscow time (0522 GMT)," Sergei Grigoryev, vice-president of Russian pipeline monopoly Transneft, told Reuters.
"The Druzhba pipeline is working normally."
DE-ESCALATION
The shutdown marked the climax of a trade dispute in which Moscow doubled gas export prices to Belarus at the New Year and imposed a crippling crude oil export duty equivalent to 10 percent of the gross domestic product of its western neighbour.
Minsk retaliated last week by imposing its own oil transit duty. Transneft shut off the oil flow on Sunday night, accusing Belarus of siphoning 80,000 tonnes of oil from the pipeline to take payment of the levy in kind.
Minsk caved into pressure from Moscow after Putin said on Tuesday Russian oil firms should prepare to cut production if no compromise was reached, threatening prolonged supply cuts to Europe just a year after a Russia-Ukraine gas crisis.
Russian Energy Minister Viktor Khristenko met oil bosses on Tuesday night and Wednesday to discuss reductions. But further discussions were called off when Belarussian Prime Minister Sergei Sidorsky said that Minsk had withdrawn the transit duty.
"If oil pumping restarts before the end of the day ... the issue of (Russian) oil production cuts will be off the agenda," Russian Deputy Economy Minister Andrei Sharonov said earlier.
LOSS OF TRUST
Sidorsky flies to Moscow on Thursday and he said he expected the Russian side to respond by lifting trade restrictions it has imposed on Belarus.
EU leaders said the stoppage of 1.5 million barrels per day of oil flows made it harder to trust Russia as a supplier and berated both states for failing to consult key customers like Germany before turning off the taps.
Many analysts say the short-lived oil transit tax, which triggered the Druzhba closure, was Minsk's reaction to the December gas agreement in which Russian gas monopoly Gazprom also bought a half-share in Belarus' gas pipeline network.
"The disruption in oil supplies has yet again undermined Russia's efforts to establish itself as a reliable source of supplies to Europe," said Yaroslav Lissovolik from Deutsche UFG.
Prime Minister Sidorsky to leave for Moscow on January 11 for talks with Russian premier
From:
Naveny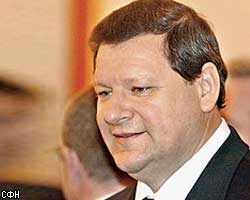 Belarusian Prime Minister Sergei Sidorsky
Belarusian Prime Minister Sergei Sidorsky told reporters in Minsk on Wednesday afternoon that he would fly to Moscow on January 11 to hold talks with his Russian counterpart, Mikhail Fradkov.
According to Mr. Sidorsky, Aleksandr Lukashenko assigned him to leave for the Russian capital after his Wednesday telephone conversation with Vladimir Putin.
As Mr. Sidorsky said, the objective of his meeting with the Russian premier is to discuss "all issues concerning bilateral relations within the framework of the [Belarusian-Russian] customs union," and "work out all differences that have emerged recently so that we, as the two member countries of the Union State, entered into trade relations without exceptions, customs duties and mutual claims."
Mr. Sidorsky explained that he was speaking about oil, petroleum products and other "sensitive groups of commodities of the Russian Federation that are present on Belarus' market and Belarusian commodities on the Russian market."
The results of the premiers' talks are to be reported to the president of Belarus on January 12, Mr. Sidorsky said, adding that he was going to contact Mr. Fradkov within the next few hours to decide on a plan of work for the following day.
Mr. Sidorsky also said that a Belarusian delegation led by Deputy Prime Minister Andrei Kobyakov, which was staying in Moscow, had been told to continue negotiations for lifting all restrictions in trade relations between Belarus and Russia.
Oil price drops to $55.64 a barrel
From:
The Statesman
Oil prices fell Wednesday amidst the continued mild winter in the US Northeast and selling by large investment funds.
"We are seeing unfettered selling, any and all supportive factors are being ignored," wrote John Kilduff, Senior Vice President for Energy Risk Management at Fimat USA, in a research note. "Technical influences will now exert themselves as important support levels are broken."
Light, sweet crude for February delivery dropped 11 cents to $55.53 a barrel in Asian electronic trading on the New York Mercantile Exchange, mid-afternoon in Singapore.
The contract shed 45 cents to settle at $55.64 a barrel Tuesday, paring its losses after plunging as low as $53.88 in earlier electronic trading. The front-month contract last fell that low in June 2005.
February Brent crude fell 12 cents to $55.06 a barrel on the ICE Futures exchange in London.
Analysts also said large funds that held long positions — those that expected prices to rise — have been exiting the market since prices began their downward spiral, exacerbating the decline. Crude prices have plummeted nearly 9 percent this year.
Winter in the US Northeast has been warmer than normal, which has curbed demand for heating fuels in the world's largest heating oil market. As a result, market watchers expect to see larger petroleum inventories in this week"s Government report, due later Wednesday.
Crude inventories were expected to climb an average of 820,000 barrels. Petroleum product stocks are expected to increase for the fourth straight week. Distillate stocks, which include heating oil and diesel fuel, are seen rising by an average of 1.9 million barrels while gasoline stocks are projected to increase by 2.5 million barrels.
On Monday, crude oil prices rose as high as $57.72 on reports that OPEC oil ministers would consider another cut in output, and worries that a dispute between Russia and Belarus could result in energy shortages in parts of Europe.
Heating oil prices rose marginally to $1.5572 a gallon, while natural gas futures added 8.3 cents to $6.714 per 1,000 cubic feet.
Russia-Belarus Standoff Over Oil Ends, Clearing Way for Accord
From:
Washington Post
Presidents Vladimir Putin of Russia and Alexander Lukashenko of Belarus are shown on a news broadcast in Minsk.
A standoff between Russia and Belarus that led to the shutdown of a pipeline that delivers crude oil to European Union countries ended Wednesday, after Belarus backed down and lifted a duty it had imposed on Russian fuel transiting the country.
The breakthrough came after Russian President Vladimir Putin spoke by phone Wednesday afternoon to his Belarusan counterpart, Alexander Lukashenko. The Belarusan presidential press service said that the countries' prime ministers had been told "to propose ways of settling all problems and to submit them to the presidents by Friday."
Belarus's imposition of the duty led Russia to switch off the flow of oil, a move greeted with dismay in Western Europe. Leaders there wondered aloud about Russia's reliability as an energy supplier.
Oil began flowing again late Wednesday, the Associated Press reported from Minsk, the Belarusan capital, citing a senior pipeline official.
In Brussels, European Union officials on Wednesday unveiled a long-term energy plan to reduce the continent's dependence on oil and gas and limit the greenhouse gas emissions blamed for global warming.
"Europe must lead the world into a new . . . post-industrial revolution, the development of a low-carbon economy," said Jos? Manuel Barroso, president of the European Commission, the E.U.'s executive arm. "We need new policies to face a new reality."
The E.U. plan, which will be discussed by the 27 member states in February, calls for greenhouse gas emissions to be cut by at least 20 percent below 1990 levels by 2020. That goes beyond the Kyoto Protocol of 1997, which called for the E.U. overall to cut to 8 percent below 1990 levels by 2012.
The United States has refused to sign the accord, arguing that it would damage the American economy and, to be fair, should require countries such as China and India to meet similar goals.
"We are not speaking about European warming, we are speaking about global warming," Barroso said. "We need the United States with us -- they are, after all, the biggest polluter in the world."
It is uncertain if the E.U. plan will be accepted by the member governments and, if so, whether the targets can be met. A number of European countries, including Italy and Spain, are already having trouble meeting the Kyoto requirements. Environmentalists would like to see even more ambitious goals to reduce emissions.
The plan emphasizes the development of renewable energy, such as biofuels, and new low-pollution technologies, as well as the reduction of emissions from existing energy sources. It does not call for increased reliance on nuclear energy, which emits no carbon dioxide, the most significant of the gases that trap heat in Earth's atmosphere.
Barroso said nuclear energy would be a matter for individual states to decide.
He also said Europe should "actively develop a common external energy policy and speak with one voice to third countries" -- a clear reference to Russia.
The union has been divided in its approach to Russia, with Poland, for instance, objecting to a pipeline under the Baltic Sea that will directly connect Russia to Germany.
Belarus, which is heavily dependent on Russian energy subsidies, has been smarting from increases in the prices it pays for Russian natural gas and the crude oil that it profitably reprocessed before selling it to Western Europe. It imposed the duties on Russian oil transshipments in response; Russia asserts Belarus was also siphoning off oil for its own use.
Belarusan Prime Minister Sergei Sidorsky said he planned to fly to Moscow on Thursday for talks. "I hope that we will settle all mutual differences and claims relating to Russian oil deliveries in two days," Sidorsky told reporters in Minsk.
Russia had earlier insisted that lifting the oil duty, which it said was illegal, was a nonnegotiable precondition for any talks. It was unclear if Putin promised Belarus anything in return. The Kremlin issued a terse statement saying that Putin and Lukashenko had discussed "energy relations," among other issues.
Poland arranges for seaborne oil deliveries after supply cut in Russia-Belarus row
From:
IHT
Piotr Naimski
Poland has arranged for seaborne deliveries to help boost its oil supply after Russia cut off deliveries via the Druzhba pipeline amid a row with Belarus, Polish officials said Wednesday.
Deputy Economy Minister Piotr Naimski said Poland's oil supply situation was under control, and that seaborne oil deliveries should arrive "in a matter of days."
Naimski would not comment on specifics about the deliveries, saying it was a matter for Poland's two major refineries. The refineries did not answer their phones late Wednesday.
He said Poland had informed Germany that it was ready to help supply two German refineries that also had their oil deliveries interrupted due to the trade spat between Minsk and Moscow that erupted Monday.
The European Union's only oil terminal capable of pumping seaborne crude shipments into the Druzhba pipeline — which terminates at the Leuna and Schwedt refineries in eastern Germany — is in the Polish Baltic port city of Gdansk.
Polish Foreign Minister Anna Fotyga and Naimski said the pipeline shutdown buttressed Poland's arguments for a collective European energy policy and its opposition to the German-Russian project to build a gas pipeline under the Baltic Sea.
"Our offer to the German refineries is an example of Polish solidarity," Fotyga said. "We expect similar solidarity from our partners in the EU, which we have long believed is the only basis for energy security for the whole of Europe."
Poland, which receives around 96 percent of the oil it consumes via the Druzhba pipeline, is pushing to diversify its energy supplies to wean itself off Russian deliveries.
Candidate for Deputy Arrested for 7 Days
From:
Charter '97
Pinsk, Belarus
A candidate for deputy in Pinsk city council Alyaksandr Vasilyeu has been sentenced to 7 days of administrative arrest. He has been charged with petty hooliganism during consultations of the local vertical of power with members of election commissions, Radio Svaboda informs. Participants of election campaign in Brest region state that it is not an isolated case of intimidation of independent candidates by the regime.
The independent candidate Alyaksandr Vasilyeu was detained on January 8. His team in election campaign learnt about reasons of his arrest only on the next day, during a court session.
"He was detained for visiting the meeting of the leadership of the regional executive committee with secretaries of election commissions. It was held by the head of legal department Melnichuk. Among other things, he told: bring empty forms to the executive committee with signatures of members of election commissions. Vasilyeu heard that, he stood up and told that it's a crime, falsification. And turmoil started. Vasilyeu was knocked down on the floor. Policemen were called in, and then a court farce started," the candidate for deputy of Pinsk city council Alyaksandr Auseenka said.
In line with the decision of Pinsk city court Alyaksandr Vasilyeu is to serve seven days of administrative arrest for alleged using foul language.
A deputy of the city council in Belazyorsk Yuras Hubarevich, who runs for a new term too, says that other examples of authorities' pressure on independent candidates are observed in Brest region.
"A search in the apartment where the independent newspaper "Altanka" is published, was held in Byaroza district. The newspaper has been issued for five years by public actavists and then deputies of the city council. It could be considered intimidation of candidates, of people who help candidates. One cannot expect anything from this vote," Hubarevich is convinced.
Expert: Ukraine will not support Belarus in its oil-and-gas conflict with Russia
From:
Regnum
Victor Yanikovich
"It is hardly probable that Viktor Yanukovich's government will become united with the official Minsk. Well, the best action in this situation could be if Ukraine together with Belarus denied access of the Russian oil abroad. But there is pro-Russian government now in Ukraine, and main participants of the anti-crisis coalition, Regions Party, Ukrainian Communist Party and Ukrainian Socialist Party, are more inclined to support the Kremlin's position in the Moscow-Minsk stand-off," political analyst, MP (Bloc of Yulia Timoshenko) Vladimir Polokhalo said.
"If in the end of 2005 and 2006 Ukraine did not dare to turn to the international community concerning the undisguised gas blackmailing by Russia, Ukraine will take no action to help Belarus now either. Thus, we remember that it was Yushchenko's peaceful pro-Russian position that caused signing of those notorious gas agreements when the Yekhanurov government practically forced Ukraine to its knees in front of Russia. So, one can state today that Ukraine is gas-addicted from Russia and cannot get rid of this addiction," the MP believes.
According to the analyst, today in Ukraine, "excessive Yushchenko's tolerance together with Yanukovich's pro-Russian stance was the reason why Ukraine made no official statements concerning its two closest neighbors, Russia and Belarus." "That is why Kiev will not make friends with Minsk against Moscow. The official Kiev will never go against Moscow," Polokhalo said.
"If one assesses Lukashenko's actions in this situation, one can say that he had two reasons for a conflict with Russia. First, there is an example of Ukraine: the Kremlin's tough pragmatism does not appreciate tolerance of a weaker party, and such scenario does not suit Lukashenko. Second, Lukashenko is now more oriented towards Beijing from which he received serious proposals and, henceforth, expects support," Vladimir Polokhalo concluded.
Viktar Lukashenka Introduced into Security Council
From:
Charter '97
Victor and Alexander Lukashenko
Viktar Lukashenka, a president's aide on national security, has been officially introduced into the Security Council of Belarus. A Decree No. 3 of January 5, 2007, "Ezhednevnik" informs. The status of Alyaksandr Lukashenka's elder son in fact is equal to the status of the KGB chairman or the head of Interior Ministry.
The membership of the Security Council was authorized by presidential Decree No. 41 of January 23, 2005. Except the state secretary, the Security Council includes president, prime minister, the head of presidential administration, chairmen of the two chambers pf the "national assembly", the chairman of the National bank, finance minister, and heads of power departments of Belarus.
Until now, the Security Council hasn't had such a member as an aide to the president. Thus, as stated by "Ezhednevnik", the status of Alyaksandr Lukashenka's elder son in fact is equal to the status of the KGB chairman or the head of Interior Ministry.
Besides, the decree reflects the reshuffling in the leadership of the KGB (State security Committee). In October 2006 Zyanon Lomats was appointed its chairman.
Merkel says Germany should lessen dependence on Russian energy
From:
IHT
Angela Merkel
Russia's unannounced oil pipeline cutoff was "not acceptable," Germany's chancellor said Tuesday, also talking pointedly about diversifying sources of energy to reduce dependence on any one big supplier.
Angela Merkel joined EU President Jose Manuel Barroso in admonishing Russia for Monday's cutoff of the Druzhba, or Friendship, pipeline from Russia across Belarus and Poland to Germany. Barroso used the identical "not acceptable" phrase.
The cutoff presents no immediate threat to Germany's oil supplies, but has unsettled European policymakers by underscoring doubts about Russia's long-term reliability as a major source of the natural gas and oil that keeps Europe's economy running and its homes heated and lit.
"It is not acceptable when there are no consultations about such actions," Merkel said after talks with Barroso in Berlin. "That always destroys trust and no trusting, undisturbed cooperation can be built on that."
"We will certainly say to our Russian partners but also to Belarus that such consultations are the minimum when there are problems, and I think that that must become routine, as it would be within the European Union," said Merkel, whose country took over the rotating EU presidency Jan. 1.
Barroso said the cutoff added "urgency" to the EU's search for energy security: "It's not acceptable, we believe, for either a supplier or transit countries to take measures that impact on the partners without consultations."
Merkel said she would travel to Moscow on Jan. 21 to discuss a new EU-Russia cooperation agreement with President Vladimir Putin that she hopes will include provisions on energy cooperation.
On Monday, Russia stopped pumping oil to Europe via the pipeline that crosses Belarus, accusing its neighbor of siphoning off oil. Both countries are locked in a dispute over a Russian decision to impose hefty duties on oil exports to Belarus; Belarus retaliated with a transit fee on Russian oil headed for Europe.
It follows a similar cutoff of natural gas to Ukraine last year.
On Wednesday, the EU will unveil a new energy policy that will include proposals that large national oil and gas companies be separated from distribution networks.
EU officials will need support from European governments for any changes and some are reluctant to slice up large homegrown success stories despite the EU claiming that these companies are abusing their monopoly power by overcharging and underinvesting.
"The status quo is not an option. We have to change the status quo," Barroso said.
In an interview broadcast earlier Tuesday on ARD public television, Merkel said it was "smart not to be one-sidedly dependent on one supplier."
"Therefore one will also think about liquid gas, for instance the building of a large terminal near Wilhelmshaven, one must conserve energy, one must use renewable energy, and therefore one must also consider well what consequences there would be if we shut down nuclear power plants," she said.
The German utility E.On AG is planning a liquid natural gas terminal at the northern port of Wilhelmshaven, where liquid gas could be brought by ship from suppliers in the Middle East and North Africa instead of Russia. Germany gets a third of its natural gas from Russia.
A planned joint German-Russian pipeline under the Baltic Sea would bring gas from Russia's Arctic fields straight to Germany without passing through other countries such as Belarus or Poland, but will not come on line for several years.
Merkel sought to reassure Poland, an EU member since 2004 with an edgy relationship with Russia, that Germany "must also think about whether we develop the possibility to send gas back to Poland out of what we receive in Germany."
"And I would also advocate that there be a tight network in Europe, so that in case of bottlenecks, there would be the possibility that European countries could help each other in certain situations."
Merkel's tentative remark about nuclear power — which stopped short of actually calling for lengthening the lives of Germany's reactors — could bring her in conflict with her coalition partners, the Social Democrats, who share power with her conservatives.
Germany is in the process of closing its 17 nuclear power plants over the next 14 years, and a 1974-vintage plant at Biblis is set for shutdown this year, while one at Neckarwestheim will go in 2008, with two further plants to be shut down in 2009.
Merkel and Barroso voiced support for EU plans for a new union-wide energy policy to be unveiled Wednesday that includes proposals that large national oil and gas companies be separated from distribution networks.
Germany commits to revive EU constitution but sees uphill battle
From:
IHT
The signing of the EU constitution
Chancellor Angela Merkel on Tuesday pledged to renew negotiations over the European Union's stalled constitution, but said it would be an uphill battle to rally 27 nations around a new charter unless they all cooperate.
Merkel, whose government assumed the EU presidency Jan. 1, said "the period of reflection" over the charter — that has been ratified by 18 states but suffered stunning defeats in Dutch and French referendums in 2005 — was over.
She said at a joint news conference with European Commission President Jose Manuel Barroso she still wants to see the charter — in some form or other — enacted by 2009 but gave no indication how that is to be achieved.
"Of course, we need the cooperation of all member states," she added. "It is certainly a tall order, whereby our task ... is to set out a road map about how we want to proceed."
Germany plans to consult all 27 EU nations to see what reservations they have to see what bits can be rescued from the stricken charter and which must be jettisoned.
With the bloc now numbering 27 states, reform in its decision-making is widely seen as necessary. As it is, the EU has no strong leadership and national veto rights are a recipe for stalemate at every turn.
Merkel revealed no strategy for overcoming the divisions in the EU over the much maligned charter.
Eighteen EU nations have ratified it. But French and Dutch voters denied the charter unanimous popular backing in referendums that turned into a protest against the bloc's embrace of globalization and rapid eastward expansion. Seven fence-sitting nations have put ratification on hold.
Germany wants to save as much as possible of the draft text which was designed to accelerate policy-making and give the EU, now comprising 489 million people, more visibility on the world stage by creating the posts of EU president and foreign minister.
In an interview broadcast on ARD television Tuesday, Merkel said she "will start from the current draft. We will consult every member state about who has reservations about what, who has which concrete expectations and wishes for changes ... We are not starting from scratch. I believe that would be quite wrong."
Merkel and her cabinet met Tuesday with the European Commission, led by Barroso who said reviving the constitutional debate means EU governments must win the hearts and minds of 489 million Europeans and deflate popular "myths" about the EU. He called the EU's eastward enlargement and its single currency economic success stories.
Negotiations for a new charter will be difficult because France has a presidential election this year, and in Britain, Prime Minister Tony Blair is expected to step down this year.
British politicians are avoiding taking strong positions on Europe until after the new leadership is in place, and it's not clear who will be France's next president. And neither Socialist candidate Segolene Royal nor her most likely challenger, Nicolas Sarkozy, is embracing the idea of a constitution.
Several proposals have emerged in recent months to get the EU out of the constitutional impasse — including bringing key ideas from the charter into a "mini-treaty" that could be passed without further referendum votes, or selecting individual elements from the treaty one-by-one to allow progress in specific policy areas.
None has gained widespread support. At an EU summit in December, Merkel opposed such "cherry-picking." If a deal can be worked out on which bits of the charter to cut, which to change and which to water down, Merkel hopes a final text can be ready in time for the constitution to be enacted in 2009.
Spain will host a "friends of the constitution" conference on Jan. 26 to encourage noncommittal countries to push ahead with ratification. Prime Minister Jose Luis Rodriguez Zapatero has said the charter is vital to keep the EU manageable as its takes on new members.
Luxembourg's Prime Minister, Jean-Claude Juncker, has offered to host a follow-up conference to which France and the Netherlands have been invited but to which both have reacted coolly.
The Dutch will also get a new government this year — but that won't change how they view the constitution. "The Dutch see the EU as meddlesome and bureaucratic," Foreign Minister Ben Bot said in a recent speech.
Poll finds few Europeans favor use of nuclear power
From:
Houston Chronical
Only 20 percent of Europeans favor the use of nuclear power as an energy source, according to an EU poll released today.
The survey indicates that a large majority favor the use of renewable energy sources such as solar power, wind energy and hydroelectric energy as viable energy sources in the years ahead.
The poll comes just two days before the release of new EU proposals to steer dependency away from foreign oil and gas to lessen the impact of high and volatile prices, unreliable supplies, and to tackle global warming.
Last winter's energy shortages because of a pipeline dispute between Ukraine and Russia, and problems over another pipeline between Belarus and Russia this month have forced the issue of drafting a common energy policy to the top of the EU agenda.
Europeans have growing concerns over secure supplies and high prices, according to the poll. It said that 47 percent agreed it was likely there would be "significant disruptions" in natural gas supplies in the next three years, while 76 percent felt energy prices were likely to double in the next thee years.
The poll said that 60 percent think energy research should be a priority for the 27-nation bloc.
The poll questioned 24,815 people across the then 25-nation EU in May and June, half a year before Romania and Bulgaria joined on Jan. 1. The poll had a margin of error of plus or minus 3 percentage points.
Forty-two percent of EU citizens continue to accept the use of natural gas as a viable option, and about a quarter favor oil and coal.
Austria, Greece, and Denmark posted the highest opposition to the use of nuclear power, while Sweden and Slovakia were the strongest backers of nuclear power as an energy source.
The promotion of nuclear energy is a tough sell in Europe, where public opinion remains deeply affected by the Chernobyl nuclear plant disaster in 1986.
Popularity for the use of nuclear energy remains divided in Europe's biggest nations like Britain, France and Germany. In France, 44 percent of those asked had a "balanced view" on the use of nuclear power, while only 21 percent voiced outright support for it. A similar 43 percent expressing a "balanced view" was posted in Germany, while in Britain 47 percent was neither for or against.
Belarusian fur farms get ready for St. Petersburg auction
From:
NLIPRB
Belarusian fur farms have already received an official invitation from the auction
Fur farms of the Belarusian Union of Cooperative Societies (BUCS) are getting ready for the international fur auction in St. Petersburg scheduled for January 25-27, BUCS deputy head Ivan Makovskiy told BelTA.
In his words, the Belarusian fur farms have already received an official invitation from the auction administration as the Belarusian furs were a real hit in St. Petersburg last year. In January 2006 some USD 906,000 worth of furs were sold at the auction. In December 2006 the sales mounted to USD 3,119,000.
Belarusian fur producers hope that this year's auction will be as successful as the last year's one. In February this year Belarusian furs will be sold at the Helsinki fur auction.
The Belarusian furs enjoy stable demand in the foreign market, Ivan Makovskiy said.
BUCS allocates great funds for purchase of special fodder and technical equipment of fur farms. In recent years the output has been constantly growing. Thus, last year 610,300 pelts were produced as against 585,700 pelts in 2005, an increase of 4.2 per cent.
As a rule, fur auctions are held at the end and at the beginning of the year. Fur is a seasonal commodity and the revenues generated at the auctions are used throughout the year, Ivan Makovskiy noted. In January 2006 the St. Petersburg and Helsinki auctions sold USD 906,000 and USD 3,326,200 worth of furs respectively. The total revenues stood at USD 4,232,600 with additional profits exceeding USD 878,000.
In December 2006 the two auctions sold USD 8,124,000 worth of furs with USD 1,440,000 worth of additional profits.
According to preliminary data, in 2006 revenues of BUCS fur farms totaled Br2,622,000. Now the Belarusian Union of Cooperative Societies has two fur farms and five fur animal breeding branches at the agricultural companies. Fur farms in Kalinkovichi and Pinsk are the largest. Last year they produced 119,900 and 114,200 pelts respectively with output at the Kalinkovichi fur farm up by 7 per cent.
Opinion...
Is Russia Provoking Crisis in Belarus?
From:
Mikhail Marynich
Energy collision between Mink and Moscow may result over this year in the economic model crises and, possibly, in the power crises in Belarus. This opinion has been shared by the Belarusian independent experts interview by the Vremja Novostey. They consider that the construction period of the economic model, once called the market socialism by Alexander Lukashenko has elapsed. Soon the country will have nothing to do but to pass to economic reforms.
Over the last years, the Belarusian government has considered economic stability to be its major achievement. Local functionaries have been speaking about the "economic miracle" and the have even used the "European tiger" terminology thus comparing their country with the rapidly developing Asian economies. "Notorious stability of the Belarusian economy is the stability of a drug-addict , receiving cheep junk. Today the society has come back to the situation of 1994 when being scared of the reforms it elected Lukashenko for the presidency," said Leanid Zaika, the head of the "Strategy" Belarusian Analytical Center to the Vremja Novostey. He also stressed that the gains of Belarus were based on the Russian cheap resources.
Today's dependence of Belarus on Russia remains considerable. "Russia accounts for 48% of the Belarusian merchandise turnover, including 100% export of Belarusian- made foodstuffs. The dependence on Russian energy resources is almost all-round", remarks Yaraslau Ramanchuk, an independent Belarusian economist. According to his estimations, the gas contract signed a couple of minutes before the New Year with allowance made for the gas costs raise , customs' duties growth, and Beltransgaz shares selling will result in 400 million dollars losses for the Belarusian economy. The damage caused by the changed conditions of Russian oil deliveries which is expected to comprise from 2 to 4 billion dollars depending on the result of the negotiations will become even more considerable for Minsk.
"The gas and oil cost hike will affect the Belarusian output net cost which, in its turn , will result in the GDP reduction. Even the most optimistic scenario can't avoid termination of the "European tiger" growth", said Alyaksandr Patupa, the head of the Belarusian Entrepreneurs Union.
To the experts' mind, the major error of the government is the refusal of economic reforms. Mikhail Marynich, the former Minister for International Economic Relations, stressed ,"The Belarusian management hoped that the subsidies would be unlimited and was eating them away without improving the economy ." The government overused the luxury of cheep oil and gas. Now it faces the threat," considers Stanislau Shushkevich, the former speaker of the Belarusian Parliament. According to Leanid Zaika, decline of the Belarusian ruble and deterioration of the financial status of Belarusian enterprises is soon to come. Alyaksandr Patupa supposes that "the decline of the economy will result in wages decrease and "social programs reduction". As Mikhail Marynich said, all the above-mentioned "will seriously affect the position of the present power; the dissatisfaction of the electorate with its actions will grow."
PRESIDENTIAL WHIMS AT ROOT OF RUSSIA-BELARUS OIL DISPUTE
From:
Jamestown.org
Vladimir Putin and Alexander Lukashenko
Last month's acute conflict between Moscow and Minsk over natural gas prices has carried into the New Year as an oil-pricing dispute. This week the transport of oil through the Soviet-era Druzhba pipeline system from Russia to Europe has been disrupted (see EDM, January 8, 9). Yesterday, January 9, bilateral talks in Moscow failed to solve the problem.
For several days Russian national state-owned TV channels -- well-tuned, Kremlin-controlled propaganda machines -- have been heaping abuse on "the Minsk regime" in more or less the same manner as in previous months Georgia and its president, Mikheil Saakashvili, were targeted. Anti-Georgian propaganda was coupled by the imposition of an embargo on Georgian fruit, wine, and mineral water. Now the cutoff of the oil flow to and through Belarus may be followed by other restrictive actions. A year ago Ukraine was accused of stealing Russian gas, now TV First Channel, Rossiya, and NTV have accused Belarus of stealing Russian oil.
Russian President Vladimir Putin told government ministers yesterday it was "necessary to continue negotiations with our Belarusian partners" and to "do everything to secure the interests of Western consumers." At the same time he announced that it might be necessary to cut Russian oil production due to the shutdown of the Druzhba pipeline, a decision the West will hardly appreciate (RIA-Novosti, January 9).
As in previous disputes with other members of the Commonwealth of Independent States, Russian officials have denounced the undemocratic nature of Belarus President Alexander Lukashenka's regime in an apparent attempt to win Western sympathy. Mikhail Margelov, chairman of the International Affairs Committee in Russia's Federation Council told a pro-Kremlin website: "Lukashenka has shown that his interests don't coincide with ours. Friendship with undemocratic rulers cannot be reliable and association with Lukashenka only tarnishes Russia's reputation" (Strana.ru, January 9).
Clearly many would agree with Margelov. But there is a problem: Most of Russia's other close friends today -- Iran, Syria, Kazakhstan, Uzbekistan, China, and Venezuela -- are authoritarian. Singling out Belarus does not change the overall picture.
Margelov (a former KGB undercover agent in the Arab world in Soviet times) is a well-informed and well-placed Kremlin insider, a member of the so-called liberal faction of Putinites that believe close partnership with the West will better serve their (and Russia's) interests. A Russo-Western alliance seemed close at hand after 9/11, but Putin's authoritative policies, in particular the murder of Putin's critics Anna Politkovskaya in Moscow and Alexander Litvinenko in London last fall, have seemingly crashed the idea irreversibly.
Perhaps the pro-Western Kremlin "liberals" still hope that mounting a joint assault with the West against Lukashenka, often described as the last dictator in Europe, could help reverse Putin's growing isolation. This hope is apparently unfounded. Calling contemporary Belarus the "last dictatorship in Europe" seems in itself an example of Western double standards, since it in effect denies Russia the right of being a European nation.
Other Moscow-based observers are more coolheaded. Vyacheslav Nikonov, president of the Kremlin-funded For United Russia Foundation, noted, "My impression is that in such a situation, both Europe and America would probably side with Belarus rather than Russia. They would say that Russia is punishing Minsk for Lukashenka's refusal to dance to Moscow's tune" (Komsomolskaya pravda, January 4). Boris Makarenko, deputy head of the Political Technologies Center, argued, "The gas wars with Ukraine and Belarus had been handled badly, and the crisis with Georgia had dented Russia's reputation." He believes that within the CIS Russia behaves "like a bull in a china shop" (Politcom.ru, December 29).
Putin's attitude toward those he perceives as enemies inside Russia and in the CIS neighborhood (Chechen separatists, unfriendly oligarchs, Ukraine, Georgia, etc.) has always been highly aggressive, unscrupulous, and revengeful. Nikonov once told me that of all the world leaders, there are two Putin personally despises to the extent that meeting them makes him physically sick: Saakashvili and Lukashenka. It is a well-known fact in Moscow that the present fray with Belarus is political, economic, and personal all at the same time, which, as in the case of Georgia, complicates the possibility of reaching a genuine long-lasting negotiated solution.
In the 1990s Lukashenka actively pressed for a unification of Russia and Belarus, apparently hoping to succeed the unpopular Russian president Boris Yeltsin as leader of a joint state. After Putin's accession to power in 1999 Lukashenka lost any prospect of taking over the Kremlin and the unification plan was put on hold. But the idea of a merger with Belarus, which would increase Russia's Slavic population and partially restore the Soviet Empire, remains very popular among the Russia elite and masses.
The present pressure put on Belarus will most likely misfire, instead of pushing Lukashenka into a union. This may undermine the Kremlin's authority, cause oil export revenue losses, and provoke internal high-level acrimony, while at same time weakening the Lukashenka regime. Beginning this fight was senseless and finding a negotiated solution is a necessity, but, as happens with dictators, personal whims often overpower all other arguments. This simplifies the process of national decision-making to an extent that Western politicians and analysts refuse to understand.
Oil and gas crisis may encourage regrouping of forces in post-Soviet states
From:
Vedomosti
Vladimir Filin: "The idea of a union state of Russia and Belarus has died, whereas the idea of Belarusian-Ukrainian rapprochement is winning over more supporters."
Countries of the Commonwealth of Independent States (CIS) are pondering the possible consequences of the Moscow-Minsk energy standoff, although no one is eager to voice an official opinion.
However, experts said that the oil and gas crisis would bury the union of Russia and Belarus, complete the disintegration of the CIS, and provoke a regrouping of political forces in the post-Soviet states.
Nikolai Azarov, first deputy prime minister of Ukraine, said his country would maintain its neutrality in the conflict, although some time earlier, Fuel Minister Yury Boiko said publicly that Ukraine might increase the transit of gas to Europe (to help Gazprom put pressure on Belarus) through its pipelines.
Azarov said: "Statements on a possible increase in gas transit are an expression of a personal opinion."
Belarusian President Alexander Lukashenko has spoken only positively about Ukraine and Ukrainians, which political analysts interpret as a desire to find a new ally, Kiev.
Vladimir Filin, an expert with the Institute of Globalization Problems, said: "The idea of a union state of Russia and Belarus has died, whereas the idea of Belarusian-Ukrainian rapprochement and their East Slavic Union is winning over more supporters."
On January 9, Alexander Lukashenko and Viktor Yushchenko agreed to meet, possibly in the second half of February. A source in the Ukrainian government said the president might sign important documents that would dramatically change the lineup of forces in the CIS.
Many experts believe that the clash with Russia can force Lukashenko to make a compromise with the West.
Sergei Tolstov, director of the Ukrainian Institute of Political Analysis and International Studies, said the West supports Moscow's intention to put an end to the Soviet practice of privileges and to develop market relations with post-Soviet states.
Tolstov said: "In itself, the elimination of privileges for post-Soviet states is seen as the end of an era, the final dismantling of Soviet-era relations, and a forerunner of the decline of Russia's influence in the post-Soviet states, a crisis, the possible dissolution of the CIS and the strengthening of NATO and the EU."
Sport...
Юрий Жевнов: иногда и к знахарке сходить не помешает
From:
Sport Panorama
Прошедший сезон для вратаря национальной сборной Беларуси и «Москвы» Юрия ЖЕВНОВА однозначно не оценишь.
С одной стороны, он по-прежнему считался ведущим игроком этого амплуа в своем клубе. С другой, занимал место в воротах не так часто, как ему хотелось бы. Причиной тому — травмы, замучившие 25-летнего парня.
— Столько повреждений, сколько выпало на мою долю в 2006-м, наверное, хватило бы на несколько лет, — сказал Юрий корреспонденту «СП». — Мне трудно судить, почему так случилось именно сейчас. Возможно, дала о себе знать усталость, накопившаяся за предыдущие годы. Не поверите, даже прибегал к услугам знахарки.
— Вы в это верите?
— Однозначно не отвечу. Но она мне сказала: «Тебя, парень, кто-то сглазил». И начала лечение. Думаю, помогла, ведь концовку сезона провел, как считаю, неплохо. Поэтому, когда меня просят оценить завершившийся год, неизменно разбиваю его на две части.
— Вы вообще как к приметам относитесь?
— А почему вы об этом спрашиваете?
— Еще в межсезонье у вас начались проблемы со здоровьем. В товарищеском матче с южноафриканским «Кайзер чифсом» соперник по неосторожности травмировал вам руку. И, как говорится, пошло-поехало.
— Не скажу, что сильно придерживаюсь примет, хотя есть некоторые в дни матчей. А что касается той истории, прочитал столько ужасающих подробностей, что, видимо, есть смысл рассказать, как все было на самом деле. Я отбивал мяч, вытянулся в струнку. Мышца и не выдержала, произошел надрыв бицепса до 10 сантиметров, рубец на память остался. Доктора вначале не разобрались, что к чему, поэтому и выпал из нормального тренировочного процесса на два месяца. Хотя должен был вернуться в строй дней на 30 раньше. Не исключаю, что этот затянувшийся больничный сказался затем на моей игре. Руку нельзя было тревожить, приходилось работать как полевому игроку. Сами понимаете, эти тренировки очень отличаются от обычных вратарских.
— А вот болельщики назвали вас после того матча героем.
— Это они преувеличили. Но игралось действительно тяжко. Рука жутко болела, третьего вратаря у нас не было, поэтому пришлось остаться в «рамке». Пару раз удалось отбить мяч. А потом, согласно регламенту, пробивались пенальти. Честно признаюсь, ни одного не отразил. Мы победили только потому, что один из футболистов «Кайзер чифса» угодил в штангу, наши же ребята были неизменно точны. Несколько раз прыгнул на больную руку, скажу вам, увидел все звезды небесные.
— Несмотря на то, что вы разделили прошедший сезон на две части, болельщики «Москвы» признали вас вторым игроком команды после Романа Адамова. Для вас это неожиданно?
— Для меня неожиданным стало уже то, когда вы позвонили и сообщили об этой новости. И не знал, что проводятся подобные опросы. Как к ним отношусь? Спокойно, но кому это будет неприятно?
— Адамов действительно лучший в споре?
— Безусловно. Он столько мячей забил, что, не приди в «Москву», вряд ли бы команда заняла шестое место. К сожалению, у Бракамонте и Кириченко игра не заладилась. Это, конечно, не мое дело, но, видимо, нужно было купить еще одного забивного форварда.
— Шестое место — потолок для «Москвы»?
— Оптимальный вариант. Вообще же первая шестерка команд расположилась соответственно уровню своей игры. Для нас подняться на одну строчку выше было бы тяжело. Мы уступаем лидерам в целом комплексе организационных вопросов. Хотя с каждым годом ситуация меняется к лучшему. На нашей базе, например, сделали два отличных поля плюс еще одно с искусственным покрытием. А то ведь было время, когда тренировались на «огородах». Только хочется, чтобы эти изменения происходили быстрее.
— А я думал, у вашей команды вообще нет проблем, такой спонсор за плечами — мегаполис. Название тоже громкое.
— Если честно, не очень чувствуется эта забота. У нас есть хозяин — «Норильский никель». А что до названия, то оно просто ассоциируется с городом. Помню, несколько раз меня спрашивали: ты за какую команду играешь? Отвечаю — за «Москву». Понятно, говорят, что за Москву, но из какой ты все-таки команды?
— Понятно… Вернемся к вашей персоне. Интересно, как реагировал наставник «горожан» Леонид Слуцкий на частые травмы Юрия Жевнова?
— Вы, что называется, сорвали у меня слова с языка. Я и хотел сказать о том, что Слуцкий повел себя в непростой для меня момент, как отличный педагог. Он часто разговаривал со мной, советовал ни о чем не беспокоиться, воспринимать проблемы как неизбежные в нашей профессии и готовиться в любой момент занять место в воротах. Во многом заслуга Слуцкого в том, что я удачно провел концовку сезона. Он вообще замечательный человек. Не каждый тренер может взять на себя ответственность за поражение. Сколько раз читал в прессе, как наставники обвиняют в неудаче своих игроков или судей. Слуцкий же всегда сетует на себя и никогда не выливает ушаты грязи на подопечных. Он практикует беседы тет-а-тет. Мне лично это всегда импонировало и помогало.
И ведь в итоге все так и получилось, как говорил тренер. Вернулся в ворота после неудачного для нашей команды матча с «Рубином». Помните, мы тогда 0:5 «сгорели»? Моему сменщику было трудно психологически настроиться на следующий поединок. Да и я бы понял, если бы наставник заменил меня в схожей ситуации.
— Иными словами, вратарь должен уметь дожидаться своего часа?
— Совершенно верно. И очень терпеливо ждать. Некоторые порою всю спортивную жизнь проводят на скамейках запасных. Но всегда человек должен чувствовать, что на него рассчитывают. Доверие окрыляет. Если этого нет, то лучше сменить команду.
— Кроме того, вратарь еще и опасная профессия, если учесть ваши многочисленные травмы.
— Повторю, это еще не показатель, тем более, как мне сказали, в моем случае имел место сглаз. Кто-то считает, что голкиперам в плане травм везет больше, чем другим: мол, они меньше вступают в контакт с игроками. Но, с другой стороны, мировая тенденция такова, что наше амплуа становится все опаснее. Вспомните того же Чеха. Да что Чех, вот наш Василий Хомутовский, уже трижды получавший сотрясение мозга. Впрочем, футбол контактная игра, в ней без повреждений не обойтись.
— Можете ли вы сказать, что, выступая в чемпионате России, выросли в профессиональном отношении?
— О своем мастерстве судить трудно, это пусть лучше вам другие скажут. А вот, что добавилось психологической уверенности, это точно. Здесь другой, чем в Беларуси, футбол: быстрее, грамотнее, сильнее.
— В газете «Спорт-Экспресс» недавно опубликовали данные опроса по определению тройки лучших игроков сезона-2006. Вы оказались одним из тех, кто угадал призеров со стопроцентной точностью: Аршавин, Домингес, Акинфеев. Вам впору почетное звание оракула присваивать.
— Да не нужно тут быть семи пядей во лбу, чтобы угадать. И угадывать нечего, так как эти трое действительно выделялись среди остальных. Аршавин весь сезон провел на одном дыхании. Домингес такое порою вытворял (в хорошем смысле этого слова) на поле… Акинфееву же нет равных среди вратарей. Но я назвал Игоря не потому, что он мой коллега по амплуа. Будь он полевым игроком, все равно бы попал в этот список. Это классный голкипер, и как он играет, дай Бог каждому.
— Рискнете дать прогноз на выступление «Москвы» в предстоящем чемпионате?
— Пятое место будет для нас идеальным вариантом. С ведущей четверкой тягаться пока тяжело. Кроме того, хотелось бы удачно сыграть в сборной Беларуси, а то из-за травм прошлый год мне не удался. В официальных матчах не участвовал, а в товарищеском с Эстонией, откровенно говоря, сплоховал. Стыдно за ту игру, пусть и болельщики знают об этом. Только нужно относиться к нашей команде бережнее, что ли. Пришел новый тренер, формируется новый коллектив, на становление и притирку необходимо время. Мы играли с очень приличными соперниками, и нужно с пониманием относиться к проблемам сборной, не требовать от нее сиюминутных результатов.
— Контракт с «Москвой» у вас еще будет действовать два года. А что дальше?
— Не хотел бы так далеко заглядывать. Поступят серьезные предложения, буду рассматривать. Нет, продолжу играть за клуб, в котором меня пока все устраивает.