Lukashenka: tough times ahead, Border with RF stays open, PACE talks a BSU, China, Russian Commies, Paranoia, Iran, Blogs and Sports
President: economizing is crucial for tightening economic security and independence of Belarus
From:
BelTA
Belarus president Alexander Lukashenko
Today Belarus president Alexander Lukashenko stated, the Belarusian leadership will not stop seeking ways to secure cheaper energy resources and components for the national economy.
"We need to shake ourselves up, to stop whining, to understand that nobody, not even the closest countries will give us cheap gas and oil. But it doesn't mean the leadership will stop fighting for cheaper energy resources and components", the head of state underlined while talking to ZAO Atlant personnel.
Alexander Lukashenko also noted, Belarusians should understand they can count primarily on themselves. Yet, the president said, the country's leadership will not "abandon its people in distress".
"We will do our utmost to create optimal conditions for the people", said the Belarusian leader.
The new economic environment Belarus has found itself today places higher demands on the country's economy, president of Belarus Alexander Lukashenko has stated today during an opening ceremony of Atlant household appliances plant.
According to him, the ability to save funds and resources is pivotal today for Belarus' economy. "This is a crucial prerequisite for meeting all targets, strengthening economic security and independence of our country", he underlined.
"During the current five-year planning period we are scheduled to build about 300 new enterprises in the country's regions, plus we will modernize and reequip several hundreds of existing enterprises. This will result in a totally new economy oriented to the processing of domestic raw materials, to the maximal promotion of import substitution policy and energy resources saving," said President of the Republic of Belarus Alexander Lukashenko at the opening ceremony of the Minsk Plant of Household Appliances – Atlant CJSC.
The Head of State is confident in the rightfulness of the policy line choice aimed at building up the capacity of Belarus' industrial flagships whose products are in demand throughout the world. To achieve these goals, largely uneconomic and loss making enterprises, first of all in the country's regions, will be handed over to the largest and most successful Belarusian manufacturers for the expansion of production.
President: no plans to guard Belarusian-Russian border
From:
BelTA
Belarus and Russia
On January 18, the Head of State Alexander Lukashenko approved the decision on the protection of the state border of the Republic of Belarus in 2007.
Presently, Belarus guards 2 331.6 km of the Union State border. Only the section of Belarus-Russia border (about 1 283 km long) is unprotected. There are 57 border crossing points, including 42 international ones. 24.5 mln persons and more than 8.2 mln vehicles had crossed the border in 2006. This kind of traffic increases with every passing year.
At present and in the future Belarus does not plan on guarding the Belarusian-Russian border, Belarus president Alexander Lukashenko stated today when approving this year's state border guarding strategy.
"Despite the present attitude of the Russian leadership, we are not going to give any orders to the border troops concerning the Belarusian-Russian border. We will not guard it", said the head of state.
"It is right. We shouldn't give a reason for criticising us, though they [Russia — BelTA] have customs bodies stationed at the border", said Alexander Lukashenko.
Today there are 16 customs clearance stations at the Belarusian-Russian border. According to chairperson of the State Border Troops Committee of Belarus Alexander Pavlovskiy, "Actually those are 16 customs houses mainly controlling goods coming from third countries". "Frankly speaking, Russia has to take one more step to set up a customs border", he informed.
The Russian side has already made a step towards restoring its border with Belarus, Belarus president Alexander Lukashenko stated today when approving this year's state border guarding strategy.
Chairperson of the State Border Troops Committee of Belarus Alexander Pavlovskiy informed, the Russian Federation has around 150 operating executives stationed near the border with Belarus and acting in the interests of the Russian border troops.
Meanwhile, Alexander Pavlovskiy noted, the Russian side has not yet enforced a border zone at the border with Belarus like the ones, which are in place at Russia's border with Ukraine, Latvia and Estonia.
According to Alexander Pavlovskiy, over the last three years more than 27,000 Chechens officially crossed the Belarusian border. Two terrorists wanted by Russia were arrested and handed over to Russian authorities.
Belarus covers two thirds of the expenses on the Union State border protection. The statement to this effect has been made today during a ceremony of approving by president of this country Alexander Lukashenko the decision on the protection of Belarus' state border in 2007.
At present Belarus patrols 2,500 kilometers of the Union State border, chairman of the State Border Troops Committee of Belarus Alexander Shpilevskiy stated. The Belarusian-Russian border (about 1,230 kilometers) is not guarded.
The Union State border protection is financed in line with the corresponding Union State program. Belarus' contribution makes about two thirds of the whole program. Besides, this country allocates funds from its own budget, Alexander Shpilevskiy said.
Belarus has created a reliable system for guarding the 1,250-km-long Union State external border with the European Union. The statement was made today when Belarus president Alexander Lukashenko approved a strategy for guarding the State Border of Belarus in 2007.
Chairperson of the State Border Troops Committee Alexander Pavlovskiy said, "Unlike at the Belarusian-Russian border, here we have a fully demarked border with the necessary infrastructure and an extensive network of border checkpoints on the main routes".
In his words, over the last three years Belarus has virtually rebuilt the 400-km-long border with Poland (the former Soviet border), cut a border guard vista, and replaced 95% of the frontier markers.
Besides, as part of the fight against illegal migration Belarus still pays for maintenance of engineering facilities left at the border since the Soviet times.
The official informed, in the Baltic section of the border a border guarding system has been created along the main lines of the concentration of efforts. A new five-year Union State programme has been worked out to complete the deployment of border guarding units in the Baltic section of the state border, see to the renovation of the Polish part of the border, as some outposts are more than 50 years old.
Belarus will continue pursuing its Union State border policy involving international financial programs with a view to ensuring concerted efforts to develop the infrastructure of the state border. A statement to this effect was voiced today as president Alexander Lukashenko approved the strategy on the protection of the state border of Belarus in 2007.
According to chairman of the state border troops committee, Alexander Pavlovskiy, the committee will focus on fulfilling the president's orders relating to the protection of the state border given present-day risks, dangers and threats.
Belarus plans to switch to a computer-aided system of protection of the state border, border control and criminal investigations, Alexander Pavlovskiy said. "This year a system of mobile units for the protection of the state border will be introduced at the stretches of common border with the Baltic states and Ukraine," he said.
Also this year specialists will develop a concept of the development of border troops for 2008-2018.
"The state border troops committee intends to interact with all civil bodies of authority with a view to taking coordinated efforts to ensure national security," Alexander Pavlovskiy said.
In Minsk, PACE President Calls For Democratic Change
From:
RFE/RL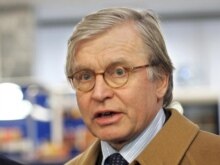 Rene van der Linden
The highest-ranking European diplomat to visit Belarus in years called today for democratic change and the release of political prisoners during a speech at Belarusian State University.
Rene van der Linden, the president of the Council of Europe's Parliamentary Assembly (PACE), also met with government officials, opposition leaders, and the wife of a political prisoner in the course of a two-day trip that concluded today.
The top government official to meet with van der Linden was parliament speaker Vladimir Konoplyov.
Open To Discussion
But the PACE president did not rule out a potential future visit with the country's authoritarian president, Alyaksandr Lukashenka.
"This first visit is a visit between the speaker of parliament and the president of the Parliamentary Assembly, on the parliamentary level," van der Linden said. "I don't exclude, if we see real positive steps, that next time there will also be a meeting with the president."
Van der Linden was speaking today at a press conference in the Belarusian capital. He also called for an international fact-finding mission into what opposition leaders say is the country's growing ranks of political prisoners. "I don't exclude, if we see real positive steps, that next time there will also be a meeting with the president." -- van der Linden
"Even if there is a dispute whether there are political prisoners or not, let's ask international experts and accept the outcome of this fact-finding mission by experts," van der Linden said.
During his visit, van der Linden met with government officials, NGO representatives, students, and opposition leaders.
After meeting with the PACE president, the country's main opposition leader, Alyaksandr Millinkevich, said he hoped the Dutch official's visit would spur reforms.
Milinkevich said his decision to come to Belarus represented "a last chance" for Lukashenka's iron-fisted regime to forge ties with Europe.
"Once again, a hand has been extended to the Belarusian authorities," he said. "They weren't even required to take the first step of improving the situation with democratic institutions. [The European officials] just came. The authorities will not get a better gift than this. Now they must make reforms, political and economic."
But the opposition leader added that he was skeptical, because previous European offers have amounted to nothing. Yet, "hope springs eternal," he said.
Long-Isolated Belarus
Belarus has long been suspended from the Council of Europe, and Lukashenka has been isolated by the West for crushing human rights, suppressing independent media, and rigging elections.
Anatol Krasutski, a parliament deputy, told RFE/RL that the Council of Europe should reconsider its decision to expel Belarus.
"This is not only a question of Belarus's need to take steps [toward Europe]," Krasutski said. "Logical steps should also be taken by the Parliamentary Assembly of the Council of Europe, which -- as early as 2003 and for no special reason -- unilaterally shut the door, in practice, to the Belarusian parliament."
On his arrival at the Minsk airport on January 18, local news agencies quoted van der Linden as saying that he hoped Belarusian officials "understand isolation is not a way to the future" and that a dialogue could begin during his visit.
Local officials signaled their own position. Parliamentary speaker Vladimir Konoplyov said during his meeting with van der Linden that politicians would "consider various questions" but also "defend our point of view." "The authorities will not get a better gift than this. Now they must make reforms, political and economic." -- opposition leader Milinkevich
Anatol Lyabedzka, the chairman of the opposition United Civic Party, told RFE/RL after his meeting with the PACE official that his visit has already produced modest opportunities for dialogue between the European community and Belarusian authorities, as well as between the authorities and the opposition.
"This visit may already be meaningful, in that the Europeans may realize once again that their expectations regarding the Belarusian regime are excessive," Lyabedzka said. "We [in the opposition] cannot say no to efforts to promote new dialogue. We're interested to see whether the government will change the strategy they've been following for the past 12 years. I'm not convinced that Lukashenka is even psychologically ready for this, but every little bit helps."
Just last week, Belarus and Russia ended a bitter row over energy prices and taxes that saw Russia halting oil supplies for several days in a key export pipeline. Relations between the two traditional allies have significantly cooled, and observers are asking whether this is a window of opportunity for Europe to try and bring Belarus closer to the West.
While in the country, van der Linden also met with the wife of jailed opposition political figure Alyaksandr Kazulin, currently serving a 5 1/2-year sentence for organizing protest rallies following Lukashenka's victory last March in what the West called a rigged election.
Note: Please note that there were no riots, arrests or violence. It should be also be noted, one would suppose, that the man was without issue allowed into the country and to speak to university students. So much for supression of the opposition...
Turkmenistan signs contract for supply of Belarus made farm equipment worth US $ 54 million
From:
Turkmenistan.ru
A Belarus-1221 tractor
As the Ashgabat correspondent of Turkmenistan.ru reports referring to the State News Service (TDH), Turkmenistan's acting president Gurbanguly Berdymukhammedov signed the resolution "On signing contracts for the purchase of farm equipment".
According to the document, Turkmenobahyzmat village services association is authorized to sign a contract with Minsk tractor plant (Belarus) for the purchase of 1,000 Belarus-1221 tractors worth US $ 31.95 million, 1,000 Belarus-80Х tractors worth US $ 11.08 million and spare parts worth US $ 8.8 million.
Besides, Turkmenobahyzmat plans to contract Minsk gear-wheel plant to purchase 1,000 ploughs worth US $ 1,915 million and spare parts worth US $ 189 thousand on condition that the machinery would be delivered in Turkmenistan until May 31, 2007.
According to the agreement, representatives of Turkmenistan would travel to Belarus to oversee supply of machinery and spare parts. Turkmen specialists would also have the opportunity to get acquainted with training of agriculture specialists in higher and special education establishments of Belarus.
After the signing ceremony representatives of Belarus enterprises visited the home village of the first president of Turkmenistan Saparmurat Niyazov, Kipchak, and laid flowers on the mausoleum.
The program of stay also includes visits to the provinces of Turkmenistan to see the work of local service centers of Minsk tractor plant.
FM: Belarus, China to broaden relations
From:
China View
and
People's daily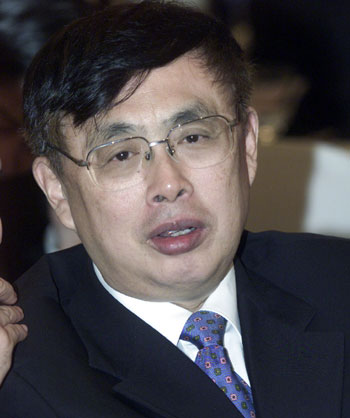 Chen Haosu
A reception was held in Beijing on Friday to mark the 15th anniversary of the establishment of diplomatic relations between China and Belarus.
Addressing the reception hosted by the Chinese People's Association for Friendship with Foreign Countries (CPAFFC), Chen Haosu, president of the association, said the past 15 years had proved that China and Belarus were true friends and reliable economic partners. He said that obvious achievements had been made in cooperation in the fields of economy, trade, science and technology, culture and education.
Cooperation at the local level is also expanding, said Chen, adding that six pairs of provinces or municipalities in China and Belarus have developed sisterhood relations.
Belarusian Ambassador to China Anatoly Afanasievich Tozik also spoke highly of the bilateral relations, especially the growing economic relations between the two countries.
Tozik said bilateral trade had soared from "tens of millions of US dollars in 1992 to hundreds of millions of US dollars in 2006", without giving any specific details.
The bilateral relations between China and Belarus have kept growing ever more fruitful since they first established diplomatic ties 15 years ago, and now enjoys the prospects of a bright future, Belarussian Foreign Minister Sergei Martynov said on Friday.
"The close and stable relations between the two countries are built on mutual trust, understanding and support," Martynov said in an interview with the Chinese media.
China established diplomatic relations with Belarus on Jan. 20,1992.
Among the factors that determine a rapid and smooth development of the relationship are, sharing similar views on global affairs such as building a new international political and economic order, and also their booming economies, which compliment each other, he said.
Their trade volume grew nearly 30-fold over the past 15 years to reach nearly 1 billion U.S. dollars.
Based on strong political ties and the willingness to engage in a broader cooperation, the bilateral trade has great potential, the minister said, adding that he hopes to see more Chinese investments in Belarus, which can serve as an entry for Chinese businesses seeking access to the European market.
"We can still promote bilateral trade and perfect economic cooperation thanks to the great potential," Martynov said.
Belarus has a stable political and economic environment since its independence, thanks to the government's relentless efforts focusing on economic development to improve the welfare of its people, Martynov said.
Serious damage done by windstorm in Belarus
From:
Itar-Tass
Almost 1,900 populated areas were left without electricity in the country on the whole
The windstorm raging in Belarus during the past day did serious damage to more than 2,000 populated areas, the Belarussian Emergencies Ministry's press secretary Vitaly Novitsky told Itar-Tass on Saturday.
The most serious damage was done to the Vitebsk region. The situation was the worst in the power supply system.
Almost 1,900 populated areas were left without electricity in the country on the whole.
About three fourths of the electricity system damage was repaired by the morning of January 20.
The wind also damaged roofs on 120 houses and about 300 farm constructions. Besides, according to reports, a water tower was destroyed and a long mobile communication antenna fell from a roof. Fortunately, there were no victims.
Meteorologists have issued another storm warning for this Saturday.
Snow, the first this year in Belarus, has covered a large part of the republic's territory.
A heavy wind of up to 24 metres a second is forecast there for Saturday
Russian Communists pledge to restore former Soviet Union
From:
Ria Novosti
Russian Communists urged Saturday the Communist parties of ex-Soviet states to join their efforts to restore the former Soviet Union.
Communist leaders from Russia, Belarus, Ukraine, Armenia and other ex-Soviet republics gathered Saturday in the Russian capital to discuss the strengthening of future cooperation and the development of a common strategy to re-unite the former members of the now-defunct Soviet Union.
"We believe that the restoration of a broken union [between ex-Soviet republics] is our key goal, and we will continue our efforts to accomplish this [the restoration] task," Russian Communist Party leader Gennady Zyuganov said during a plenary meeting of the Council of the Union of Communist Parties of ex-Soviet states.
The participants of the meeting issued a statement calling upon all parties on the territory of the former Soviet Union that adhere to Communist ideology to join the fight for the "socialist development of brotherly nations and their unification into a Union State."
"Without a union between Russia, Ukraine, Belarus and other brotherly republics that used to be members of the Soviet Union, we do not have a future," Zyuganov said.
Note: Could not agree more! However, I guess it should be mentioned that the following article illustrates one of the lesser parts of the old East/West Cold War standoff...
World has 5 minutes on Doomsday Clock
From:
Gopusa/UPI
The hands of the world's Doomsday Clock were moved by global scientists Wednesday 2 minutes ahead to just 5 minutes from the end of civilization.
The clock has been located at the University of Chicago since 1947 and is a gauge of how close humanity is to annihilating itself with nuclear weapons. Since 2002 the clock has been set at 7 minutes to midnight, but the board of the Bulletin of Atomic scientists said two major sources of catastrophe had expanded.
In a statement, the scientists cited "the perils of 27,000 nuclear weapons, 2,000 of them ready to launch within minutes," and for the first time, the effects of global warming.
"We stand at the brink of a Second Nuclear Age," the statement said. "Not since the first atomic bombs were dropped on Hiroshima and Nagasaki has the world faced such perilous choices."
"The dangers posed by climate change are nearly as dire as those posed by nuclear weapons," the report continued. "Over the next three to four decades climate change could cause irremediable harm to the habitats upon which human societies depend for survival."
The clock had been adjusted only 17 times prior to Wednesday.
Not: For more about the clock, please see Wiki
Iran, Belarus Defense Ministers Hold 1st Round of Talks
From:
Payvand
"Although the sides have no common borders, similar point of view between Tehran and Minsk on regional and international issues has led the two nations to satisfactory cooperation," Mohammad-Najjar said
Visiting Belarus Defense Minister Leonid Maltsev and his Iranian counterpart Brigadier General Mostafa Mohammad-Najjar on Sunday held their first round of talks.
Maltsev, heading a top-ranking delegation, arrived in Tehran on Sunday for an official two-day visit at the invitation of Mohammad-Najjar.
Pointing to Iran's principled policy on expansion of cooperation with the friendly and independent states, the Iranian minister said, "Defense and security convergence and interaction with different states are on agenda of Iran's Defense Ministry."
He added that expansion of defense cooperation between Iran and Belarus showed determination of the two sides' political leaders and a very good sign for cooperation between two independent states.
"Belarus enjoys a special status in Iran's foreign policy.
"Although the sides have no common borders, similar point of view between Tehran and Minsk on regional and international issues has led the two nations to satisfactory cooperation," Mohammad-Najjar said.
He added, "The Islamic Republic of Iran has always had constructive cooperation with different countries through negotiations during its 28-year political life (after victory of the Islamic Revolution in 1979).
"It believes that understanding, friendship and cooperation serve the nations' interests and lead to peace, tranquility and development in the entire world."
Maltsev, for his part, said the visit by Belarus President Alexander Lukashenko to Iran in November, 2006 was a turning point in ties between Tehran and Minsk.
He expressed confidence implementation of agreements signed between the two sides during Lukashenko's Tehran visit would pave the way for bolstering bilateral cooperation.
The Belarus minister stressed Iran's special role in regional and international equations and voiced his country's readiness to promote defense cooperation between the two countries.
He condemned dual and discriminatory policies of certain countries on regional developments and said his country enjoys a common stance with Iran in this regard.
Germany's Merkel to meet Putin on Mideast issues
From:
J Post
Angela Merkel heads for Russia on Sunday for talks with President Vladimir Putin
Chancellor Angela Merkel heads for Russia on Sunday for talks with President Vladimir Putin that come amid a push to reinvigorate the Mideast peace process and questions of Europe's dependence on Russian natural gas and oil.
Merkel spokesman Ulrich Wilhelm said before the trip that the Mideast peace process would be a major topic of the talks with Putin.
"The situation in the Middle East and the revival of the Quartet will certainly be an important topic," Wilhelm said.
The one-day trip comes after calls last week by US Secretary of State Condoleezza Rice to "re-energize" the involvement of the "Quartet" of the EU, Russia, the UN and the US in Israeli-Palestinian peace efforts. Germany currently holds the EU's rotating presidency.
Belarus: BTRC announces live show for Monday's national final
From:
Okio Times
Xenia Sitnik
On Monday, January 22, viewing audience of the First Channel and Belarus'TV will be the first to find out just who will be representing Belarus at Eurovision'2007 in Helsinki, Finland. The final gala "Road to Eurovision" of Eurofest national selection round will begin at 19:20. Apart from the main show heroes - the finalists - there will be performances by participants of previous Eurovision contests from different countries.
The Palace of Sports' show will be opened by little stars Andrey Kunets and Xenia Sitnik followed by current Eurofest finalists Dmitry Koldun, Diana Gurtskaya and "The Project". Dmitry Koldun will sing his new song "Work your magic", Diana Gurtskaya will sing a lyrical song "How long", "The Project" will do their number "S.u.p.e.r. s.t.a.r.". Carola ( Sweden), Dima Bilan ( Russia), "Cosmos" and Mary N ( Latvia) will come to support the Belarusian finalists on stage.
During the concert a professional jury headed by national artist of Belarus, Professor Mikhail Finberg, will be working at the Belteleradiocompany studio to judge the contestants watching at the screen like TV viewers do. The TV bridge will be hosted by First Channel hosts Olga Schlager (in studio) and Denis Kurian (Palace of Sports). The jury will announce the name of the winner who will go to Helsinki at the end of the January 22 gala concert on the First Channel and Belarus TV Channel.
Interview...
We're No 'Monster'; A Kremlin insider defends Russia's powerful energy giant—and its controversial policies
From:
msnbc
Alexander Medvedev
Alexander Medvedev is deputy chairman of Gazprom, the huge company at the heart of Russia's emerging energy empire. Last week he announced that profits rose 43 percent in 2006 to $37.2 billion, even as European leaders were voicing open concern about Russia's use of oil and gas shipments to pressure small neighbors like Belarus and Ukraine. Medvedev is among the Gazprom execs preparing to travel to Davos, where "power shifts" to new players like Russia lead the agenda. They'll try to present Russia as a reliable partner and head off European moves to diversify. Medvedev spoke to NEWSWEEK's Owen Matthews in Moscow:
Matthews: How badly have oil and gas cutoffs to Belarus and Ukraine damaged Russia's reputation?
Medvedev:
There's a Latin saying: "Through difficulties, we reach the stars." Our actions were misunderstood, especially by the press. But in fact all our actions have actually been aimed at reducing long-term risk to gas supplies by normalizing relations with transit countries. Those transit countries were used to living on someone else's account. Now we are shifting all our relations with customers to a market basis. We have signed new long-term contracts, not just for a couple of winters, but until 2025 and 2030. There will be no more crises.
German Chancellor Angela Merkel spoke of "a loss of trust" in Russia.
The question of energy cooperation has been needlessly politicized. If you take the long view, you see that we have been a supplier of gas to Europe for over 30 years, and there hasn't been a single occasion when we didn't fulfill our contractual obligations. Even during the [2006 cutoff of gas to] Ukraine, we continued supplying gas to European customers—the problems came from the transit country, not from us.
Why, then, is suspicion of Russia so deep?
Gazprom has become one of the world's leading companies in the energy sphere—and not everyone likes that. Some have painted Gazprom as a monster. But in truth, we are as dependent on European customers as they are on us. Two thirds of our sales are to Europe, and most of our investment programs are also aimed at European consumers.
Yet Dick Cheney accuses Russia of using energy as a weapon.
I categorically deny that. The Russian state may be our largest shareholder, but we are a commercial company. We act according to universally accepted principles of corporate governance—to make money, and increase the value and share price of the company.
Some Europeans fear Gazprom will sell gas to China instead of Europe.
We have a situation where demand for imported gas in Europe is set to rise as European reserves fall. Yet at the same time we hear that Europe wants to reduce its dependency on Russia. The Europeans believe they will source gas from elsewhere, apparently. Fine, but we have to know if Europe is planning to do that or not, since we are talking of billions of dollars in investments in new pipelines—for instance, one under the Baltic Sea. If Europe is ready to buy more gas, we are ready to sell more. But if not, we have other customers—for instance, China.
Do you see potential for conflict between the United States and Russia over the energy resources of Central Asia?
We see the U.S. taking a strong interest in the region. Sometimes they don't play entirely by the rules. For instance, we had talks last year with Turkey and Greece to send gas to Europe through the Southern Corridor [via the Bluestream pipeline under the Black Sea]. We reached agreements. But then Condoleezza Rice came to Greece and talked of Russia as an unreliable supplier. We were surprised. At the same time, we prefer to think of the U.S. are our partners. We hope that the U.S. will be a major buyer of our liquefied natural gas. And we have invited Chevron to join us in exploration in Western Siberia.
Do you think that the United States wants to undermine Russia?

It's an argument which dates back to Soviet times—is it better for the world to have a weaker or a stronger Russia? In general, the consensus was that it was better to weaken the Soviet Union, and that was perhaps right, given its totalitarian tendencies. But you can't take the same line with Russia. A strong Russia is a guarantor of security, not just of energy supplies. A strong, democratic Russia is good for the world. But I'm afraid that old concepts still hold sway among many in the West.
Were government complaints of environmental violations against Royal Dutch Shell a way to force the company to sell the majority of its Sakhalin-2 field to Gazprom? One Western paper described the sale as a "state-sponsored mugging."
I am from Sakhalin myself, so I am very sensitive about any environmental violations there. Our buyout of Sakhalin-2 was done on a purely market basis. California, for instance, has extremely strict environmental demands of any oil company—but no one accuses the governor of California of "mugging" the oil companies. He is just protecting the economic and environmental interests of his people—as we are.
Utilities Bills in Belarus Grown
From:
Charter '97
In line with the ruling of the government, utility rates for gas and electricity would grow by 20%, heating by 12%
Since January 1 housing maintenance and utilities tariffs for citizens in Belarus have grown, told a deputy prime-minister Viktar Bura to journalists. According to information of Housing and utilities infrastructure Minister Uladzimir Belakhvostau, in line with the ruling of the government, utility rates for gas and electricity would grow by 20%, heating by 12%.
As a result, officials state that bills for a two-room apartment would grow by $5. In this way the expenses of enterprises that provide energy would be compensated. Housing and utilities infrastructure Ministry is to look for other sources to minimise results of price rise.
As said by Viktar Bura, there wouldn't be another rise of utilities tariffs for the population, unless circumstances beyond control occur.
From the blogs...
Belarusian 2nd in Ford Supermodel
From:
Belarus News and Facts
Viktoriya Makhota
Viktoriya Makhota, a 15-year-old girl resident in Minsk, Belarus took second place at the final round of the Ford Supermodel of the World contest in New York on January 17. Her prize was a $150,000 contract with Ford Models.
Sanne Nijhof of the Netherlands, won the top prize, a $250,000 modeling contract with Ford Models, and a girl from Denmark placed third and was awarded a $100,000 contract.
The jury said that the Belarusian contestant had a better defile than the winner, Olga Popova, director of Belarus' leading model agency Sergei Nagorny's Fashion Studio of Sergei Nagorny.
According to her, experts said that the Belarusian would have won the contest, which featured some 45 contestants, if she had been 16 years old.
After winning a months-long national round of the elite world pageant, Ms. Makhota had an intensive training course at Sergei Nagorny's Fashion Studio, where she had acting, etiquette, art, make-up artistry, defile and hairstyle classes, as well as was taught how to work in front of a camera. Apart from this, the girl attended English classes.
Yekaterina Domankova, a 17-year-old student at a Minsk high school, won the Ford Supermodel contest in 2006.
Supermodel of the World (Ford Supermodel of the World, former name Face of the 80s) is the biggest modeling contest in the world. Established by Eileen Ford in 1980, it searches the pre-eminent female model in over 50 countries that successfully finds fashion's newest faces year after year.
Money, Not Geopolitics, Drives Russian Energy Policy
From:
Charles Gansky for Russia Blog
Gazprom sign near Red Square in Moscow
Ever since Russia briefly interrupted natural gas deliveries to Ukraine on New Year's Day 2006, Moscow has been harshly criticized in the West for allegedly using energy as a tool to blackmail its neighbors. The recent spat between Russia and Belarus over Moscow's price hike on oil and gas deliveries to Minsk once again prompted charges from Western politicians and pundits that Russia is not a reliable source of energy. But where many Westerners perceive Russia as a regional bully, the Kremlin argues that former Soviet republics are not entitled to cheap Russian energy simply because Russia's major export pipelines cross their territory.
Russian commentators have complained in the last several weeks about how Belarusian President Alexander Lukashenko has sought to transform his country's image in the West from an authoritarian pariah state into yet another victim of Russia's "energy imperialism". Russians ask: why does the West criticize Russia for subsidizing Lukashenko, and then criticize us again for stopping these subsidies? And how exactly does the West expect us to get countries like Belarus or Ukraine off the dole without threatening to shut off gas supplies? Russians scoff at the idea that Lukashenko would ever agree to price increases that could threaten his grip on power because the European Union presented him with a polite request.
It is clear to the Russians that they can no longer afford to subsidize their neighbors with cheap natural gas while continuing to meet Russia's export obligations to the rest of the world. For months, the Russian state-owned gas monopoly Gazprom has telegraphed its resolve to make every former Soviet republic – whether they are Russian allies, like Armenia, or less friendly states, like Georgia – start paying higher prices. The price Belarus reluctantly agreed to on New Year's Eve, $105 per thousand cubic meters, is still just half of what Western Europeans pay. After experiencing a similar price hike last New Year, Ukraine's economy still grew at more than 6% in 2006.
Gazprom's critics can point to the fact that the Russians are raising rates on their neighbors while still subsidizing their own industries at home. However, Gazprom is restricted by Russian law from raising domestic gas rates above one quarter of the export price. Furthermore, Russia is hardly the only major energy producer in the world to subsidize its people with cheaper electricity and heat. Nonetheless, Gazprom is planning gradual price increases beginning next year with the goal of doubling domestic natural gas rates by 2010.
Arguing that Moscow's neighbors should avoid relying on Russia as an energy supplier at all costs often leads commentators to ignore economic reality. For example, one commentator recently wrote in Newsweek International that Azerbaijan can easily purchase gas from Iran instead of agreeing to Moscow's exorbitant price ($200 per thousand cubic meters - about what Gazprom customers in Germany and Poland pay).
Unfortunately, the author of the Newsweek piece forgot to mention that last month Iran had to suspend its already meager natural gas exports to Turkey. The Iranian Oil Ministry blamed a cold winter for an unexpected spike in domestic natural gas demand – but everywhere else in the Northern Hemisphere, oil and gas prices are falling due to one of the warmest winters on record. Yet somehow, in spite of the increasingly evident decay of Iran's oil and gas infrastructure, the Islamic Republic is still viewed by some commentators as a more reliable supplier to the Caucuses republics than Russia.
In North America, the equivalent to this absurd position would be insisting that Mexico seek energy independence from the U.S. by relying instead on Hugo Chavez's Venezuela. Like Iran, Venezuela's oil production has declined in recent years due to political instability and neglect. Meanwhile, last summer Russia quietly surpassed Saudi Arabia to become the world's largest oil producer and is currently investing tens of billions into developing vast gas fields in the Arctic.
When it comes to Russian energy, why do so many American politicians and certain editorial boards in Washington engage in wishful thinking to support their position of "anybody but Moscow"? Could it be that the politics of Russian energy in the West are still tied to the mental baggage leftover from the Cold War?
Russia is accused in the U.S. and Great Britain of wanting to hang on to its former Soviet empire, even when the evidence suggests that Russians just want their neighbors to pay European market prices for gas. At any rate, the days of dirt cheap Russian gas for the former Soviet republics are over. To the extent that higher prices will lead to more conservation and energy efficiency across the former USSR, the West should welcome this development.
beware the great have-not
From:
Michael T Klare for Constelations...
Sooner or later we may find ourselves under constant state surveillance, lest we consume more than our allotted share of fuel or engage in illicit energy transactions...
Unlike Islamo-fascism, Energo-fascism will, in time, affect nearly every person on the planet. Either we will be compelled to participate in or finance foreign wars to secure vital supplies of energy, such as the current conflict in Iraq; or we will be at the mercy of those who control the energy spigot, like the customers of the Russian energy juggernaut Gazprom in Ukraine, Belarus, and Georgia; or sooner or later we may find ourselves under constant state surveillance, lest we consume more than our allotted share of fuel or engage in illicit energy transactions. This is not simply some future dystopian nightmare, but a potentially all-encompassing reality whose basic features, largely unnoticed, are developing today.
These include:
* The transformation of the U.S. military into a global oil protection service whose primary mission is to defend America's overseas sources of oil and natural gas, while patrolling the world's major pipelines and supply routes.
* The transformation of Russia into an energy superpower with control over Eurasia's largest supplies of oil and natural gas and the resolve to convert these assets into ever increasing political influence over neighboring states.
* A ruthless scramble among the great powers for the remaining oil, natural gas, and uranium reserves of Africa, Latin America, the Middle East, and Asia, accompanied by recurring military interventions, the constant installation and replacement of client regimes, systemic corruption and repression, and the continued impoverishment of the great majority of those who have the misfortune to inhabit such energy-rich regions.
* Increased state intrusion into, and surveillance of, public and private life as reliance on nuclear power grows, bringing with it an increased threat of sabotage, accident, and the diversion of fissionable materials into the hands of illicit nuclear proliferators.
Together, these and related phenomena constitute the basic characteristics of an emerging global Energo-fascism. Disparate as they may seem, they all share a common feature: increasing state involvement in the procurement, transportation, and allocation of energy supplies, accompanied by a greater inclination to employ force against those who resist the state's priorities in these areas. As in classical twentieth century fascism, the state will assume ever greater control over all aspects of public and private life in pursuit of what is said to be an essential national interest: the acquisition of sufficient energy to keep the economy functioning and public services (including the military) running.
. . .
All of these countries [United States, China, Japan, and the European powers] have undertaken major reviews of energy policy in recent years, and all have come to the same conclusion: Market forces alone can no longer be relied upon to satisfy essential national energy requirements, and so the state must assume ever-increasing responsibility for performing this role. This was, for example, the fundamental conclusion of the National Energy Policy adopted by the Bush administration on May 17, 2001 and followed slavishly ever since, just as it is the official stance of China's Communist regime. When resistance to such efforts is encountered, moreover, government officials only wield the power of the state more regularly and with a heavier hand to achieve their objectives, whether through trade sanctions, embargoes, arrests and seizures, or the outright use of force.
. . . Already we have the beginnings of the energy equivalent of a classic arms race, combined with many of the elements of the "Great Game" as once played by colonial powers in some of the same parts of the world. By militarizing the energy policies of consuming nations and enhancing the repressive capacities of client regimes, the foundations are being laid for an Energo-fascist world.
. . .
Of course, senior officials and foreign policy elites are generally loath to acknowledge such crass motivations for the utilization of military force -- they much prefer to talk about spreading democracy and fighting terrorism. Every once in a while, however, a hint of this deep energy-based conviction rises to the surface. Especially revealing is a November 2006 task force report from the Council on Foreign Relations on "National Security Consequences of U.S. Oil Dependency." Co-chaired by former Secretary of Defense James R. Schlesinger and former CIA Director John Deutsch, and endorsed by a slew of elite policy wonks from both parties, the report trumpeted the usual to-be-ignored calls for energy efficiency and conservation at home, but then struck just the militaristic note first voiced in the 2000 CSIS report (which Schlesinger also co-chaired): "Several standard operations of U.S. regionally deployed forces [presumably Centcom and Pacom] have made important contributions to improving energy security, and the continuation of such efforts will be necessary in the future. U.S. naval protection of the sea-lanes that transport oil is of paramount importance." The report also called for stepped up U.S. naval engagement in the Gulf of Guinea off the coast of Nigeria.
When expressing such views, U.S. policymakers often adopt an altruistic stance, claiming that the United States is performing a "social good" by protecting the global oil flow on behalf of the world community.
. . .
The last face of Energo-fascism to be discussed here is the inevitable rise in state surveillance and repression attendant on an expected increase in nuclear power. As oil and natural gas become scarcer, government and industry leaders will undoubtedly push for a greater reliance on nuclear power to provide additional energy. This is a program likely to gain greater momentum from rising concerns over global warming -- largely a result of carbon-dioxide emissions created during the combustion of oil, gas, and coal.
. . .
The only way to increase reliance on nuclear power, therefore, is to federalize the permit process by shunting local agencies aside and giving federal bureaucrats the unfettered power to issue permits for the construction of new reactors.
Unlikely, you say? Well consider this: The Energy Policy Act of 2005 established a significant precedent for the federalization of such authority by depriving state and local officials of their power to approve the placement of natural gas "regasification" plants. These are mammoth facilities used to reconvert liquified natural gas, transported by ship from foreign suppliers, into a gas that can then be delivered by pipeline to customers in the United States. Several localities on the East and West coasts had fought the construction of such plants in their harbors for fear that they might explode (not an entirely far-fetched concern) or become targets for terrorists, but they have now lost their legal power to do so. So much for local democracy.
Here's my worry: That some future administration will push through an amendment to the Energy Policy Act giving the federal government the same sort of placement authority for nuclear reactors that it now has for regasification plants. The feds then announce plans to build dozens or even hundreds of new reactors in or near places like Boston, New York, Chicago, San Francisco, Los Angeles, Denver, and so on, claiming an urgent need for additional energy. People protest en masse. Local officials, sympathetic to the protestors, refuse to arrest them in droves. But now we're speaking of defiance of federal, not state or municipal, ordinances. Ergo, the National Guard or the regular Army is called up to quell the protests and protect the reactor sites — Energo-fascism in action.
Sport...
Powell River (Canada) Regals tune-up for Belarus tournament
From:
www.zwire.com
Regals received an invitation to compete in Belarus for the 2007 Polese Cup, which would include world ranked Latvia (ninth), Belarus (tenth) and an elite Russian club team to be named later
It seems like yesterday that the Powell River Regals were hoisting the Allan Cup over their heads after dominating their competition throughout last year's tournament. Along with the trophy, rings, and the extended celebration, was the promise of an international appearance in a quality competition.
Regals received an invitation to compete in Belarus for the 2007 Polese Cup, which would include world ranked Latvia (ninth), Belarus (tenth) and an elite Russian club team to be named later.
That team has been announced and the Allan Cup champs will face Russia's Moscow Dynamo in their very first game. Dynamo plays in the Russian Super League, was formed in 1946 and most recently won the championship in 2005. The league is considered second only to the NHL and has provided hockey fans with many notable stars, including Pavel Datsyuk, Sergei Gonchar, Darius Kasparaitis, Alexei Kovalev, Vladimir Myshkin, Alexander Ovechkin and others. Their current roster is full of future prospects and includes two Canadians--former Montreal Canadien, David Ling and Mike Bishai, who in 1996 scored 100 points for the Surrey Eagles.
Regals know they will have their work cut out for them and Scott Mastrodonato says they have been busy reinforcing their strong local contingent.
"We have secured the services of Richard Seeley and his teammate, the leading scorer on the Duisberg Foxes, Matt Dzieduszkycki. We also have added Jame Pollock and Murko Murovic. Murko is from the Swiss A league and Jame is from the DEL (German Hockey League). Both of those players played recently in the Spengler Cup for Canada."
Mastrodonota is pleased with the additions to the team.
"That was really our ambition from the get go--to pick up one top line of forwards. We also signed Mike Legg, who would be known to hockey fans and famous as the player who scored the highlight goal from his position behind the net."
Not going to Belarus but picked up for the Kokanee Cup this weekend is defenceman Cal Benazic, who trains professional hockey players for a living. The majority of the Regals on the roster for Belarus will be in Trail this weekend, including Troy Dalton, who is coming off recent surgery.
Regals got in some valuable ice time last weekend when they hosted their affiliate North Island Capitals at the Powell River Recreation Complex. On Saturday night the Regals dominated the visitors 14-6, with three hat trick performances from Glendon Cominetti, Joe Caldarone and Rick McLaren. Jeff Parsons, Mastrodonato and Curt Smith got singles while Rob Whidden added a couple.
Don't get excited. McLaren came out to bolster the Regal lineup but has opted out for the remainder of the year.
"I'm not going to go. I'm busy coaching the Peewee rep team this year and it's my turn to give something back. Of course you miss it but I wish the boys all the best."
Regals leave to compete for the Kootenay Cup on Thursday in Trail and will play their first game against Jackson Hole at 5 pm on Friday January 19. They play two games on Saturday with the final game on Sunday.
Sport briefs...
Natalya Sokolova of Belarus was third, 58.2 seconds back of Kati Wilhelm in a women's biathlon World Cup 10-kilometer pursuit race at Pokljuka, Slovenia.

Sergei Novikov won the first biathlon gold medal at the University Games at Turin, Italy as he timed one hour, two minutes and 41.8 seconds in the men's 20km event to let Belarus lead the medal table by two gold, one silver and one bronze.


Hao Shuai (China) toppled defending champion Vladimir Samsonov of Belarus 11-7, 11-7, 10-12, 9-11, 13-11, 12-10 to succeed at last for his first career ITTF Pro Tour men's singles title. With the victory, Hao Shuai also levelled his record to Samsonov 1-1 in a world ranking event.


From the Austrailian Open: Lucie Safarova, Czech Republic, d. Anastasiya Yakimova, Belarus, 6-3, ret. Jelena Jankovic (11), Serbia, d. Victoria Azarenka, Belarus, 6-3, 6-4.


Irina Nafranovich of Belarus finished third by 15:54.10 at the women's 5km individual cross-country skiing classic technique.
at the 23rd World Winter Universiade on Friday Pragelato Plan. The cross-country events were on the brink of danger to be cancelled due to the lack of snow on the course, but finally got on the track and highlighted the first-day competition of the Universidade.


Endnote...



World peace: My master plan

From: The Free Republic

Prince Taliesin

I have to admit that for a spell last week, I swung my feet up onto the desk and began to laugh and rub my hands; Russia's Gazprom had announced a huge price increase for it's neighbors, Belarus included. The EU Commission started to tear their hair out in public because Gazprom were cutting off the supply if Putin's wishes were not met, and truth be known, the EU politicos were playing an acting part because, as outlined in my ed of July 14, 2004, (Crème de la Kremlin) Romano Prodi on behalf of the EU Commission had already conspired with Russia to hike up the price of Russian oil and gas! And here's part of the ed;

"Romano Prodi went on to state, "This includes a commitment that the price of gas for industrial users covers costs, profits and investment needed for exploitation of new fields. Russian gas prices to industrial users would be gradually increased from the current $27-28 to between $37-42 by 2006, and $49-57 by 2010."

Those goals could never be guaranteed without removing private sector control over oil and gas in Russia. There's no room for the free market in such price-hiking schemes. If the private sector anywhere in the world decided to hike up prices similar to the above, the governments would slam 'em into the courts because it constitutes monopoly aggression, but if you're the EU or Russia, laws are only for the little people ... the burro-rats believe they are above and beyond the law, and they act accordingly."

EU politicos live in hope that the average EU citizen will fail to read their reports, but if they do, that they'll have short memories. The war against Europe's consumers began to be waged in the late 90's by the hand of the United Army of Russia and EU Commission. Last week found us all in thick battle. But politicians of all persuasions happen to be the ultimate losers at battle's end, for although they play on the fact that their European subjects are ignorant of their devices, they are the most ignorant of all; They're unaware of the part they play in the world of prophecy and destiny. Politicians, when it comes to things of the spirit, most especially prophecy, are pig ignorant. In matters of government they appear to be "smarter than the average cat" but in actual fact they're lower than the ant! ...

And with this solemn message in mind here's an ancient British prophecy for us all to consider, made way back in the fifth century by an exceptionally powerful visionary named Taliesin;


Within my mind
I hold books confin'd,
Of Europa's land all the mighty lore;
O God of heaven high!
With how many a bitter sigh,
I my prophecy upon Troy's line pour:

A serpent coiling,
And with fury boiling,
From Germany coming with arm'd wings spread,
Shall Britain fair subdue
From the Lochlin ocean blue,
To where Severn rolls in her spacious bed.

And British men
Shall be captives then
To strangers from Saxonia's strand;
From God they shall not swerve,
They their language shall preserve,
But except wild Wales, they shall lose their land.

The United Kingdom is part of the European Union. Britain was indeed attacked by Germany from the air in ww2, and Germany lost the war ... the minor war that is, because Taliesin saw another war, a hidden one, taking place on and after ww2 that finally would spell defeat for the UK. Nazi Germany is no more.

Hitler's dream of supreme control via "National Socialism," continued on however, albeit under cover. The EU and Russia are jointly experiencing the fulfillment of Adolf Hitler's dream; Total control of the earth's resources, industry, and people. Europe's final Great Dictators. The Siberian gulags have followed alongside Gazprom's pipelines and are a new integral part of the EU Experience!

For those of us who observe and understand the prophetic picture, life in the EU is simple to comprehend; You don't have to be a master locksmith to crack open the EU's secret vault. This vault, with all that's hidden within, was conceived, designed, and constructed, by mindless wackos ... political vegetable matter, nothing more, and nothing less!

I remember full well that rare occasion when I contracted a severe case of jet-lag. I felt drunk and worn out. So when I arrived home it was still light, early evening. I showered, fell into bed to instantly enter the land of nod, and man did it feel good. When I woke up I felt great. I lay there with my head on the pillow enjoying the sunlight pouring through the window, then I looked at the clock and began to realize that it was still early evening ... an hour had passed, and I had thought it was the next day! That experience brought back the lag ... the disorientation ... and that, I guess, is where EU politicos are; They think it's the dawning of a new day, but for them it's the onset of nightfall. The earth and it's resources, business, industry, and common people are not their's to control.

But that's twenty-first century planet earth for you, and with my very long memory motor hummin' along in overdrive, I can't help but tie in the UN's Iraqi "Oil for Fraud" program. The UN is of course the bigger brother of little EU, and their plans and schemes are closely linked. With the soon to be departing, Kofi Anan, some folks have begun to discuss whether Ban Ki Moon will perform his ditties better than Kofi, and there's a simple answer to that question; "No!" No one gets to lead the UN unless he's a bum and a corrupto, because that's what the UN is all about ... it's a leech that crawls around eating up everyone else's resources.

Both the UN and the EU are well versed at throwing productive nations' tax dollars down failed and failing nations' toilets, pretending that they're trying to "end poverty and debt" in those locations, while conveniently closing their eyes to those on and below the poverty line in Western nations, United States included. Millions of people are below the poverty line in the West. Many thousands are without a roof over their heads in Paris, France, for instance, and still the only thing I hear from both entities is the sound of silence.

But that's what it's all about ... that perceived thing called world socialism. I've yet to meet any politician, left, right, or center, these days who does not have, in one way or the other, a socialist mind-set. They all talk about the poor and underprivileged, but none of them ever attempt to defeat poverty in their own lands. Everywhere I go in Europe there's a mass of poor people; Folks who try their best to make ends meet, but find themselves in that everlasting, untouched, poverty trap.

Western politicos often boast about their own "rich nation," while millions of families are on or below the bread-line. Those same politicos also boast about how much tax-payers dough they intend to cast on the shores of other nations, when those most deserving of help are within their borders, conveniently ignored. The battle to control the world, it's people, and it's resources, is fully underway and a One World Government is next on the agenda.

Text continues...