Zhadobin heads KGB, Oman cooperation, Eulogy for Timoshenko, Iran, Sidorsky out?, GDP, Energy spending, Human trafficking, Blogs and Sport
Alexander Lukashenko Picks Major-General, Yuri Zhadobin as New Chairman of the State Security Committee (KGB)
From: BelTA
Installation of new Chairman of State Security Committee, major-general, Yuri Zhadobin
Belarus President Alexander Lukashenko has signed decrees to relieve Chairman of the State Security Committee (KGB) of the Republic of Belarus, Lieutenant-General Stepan Sukhorenko and First Deputy Chairman of the State Security Committee, Major-General Vasiliy Dementei of their duties in connection with their transfer to new positions, the press service of the President of Belarus told BelTA.
Major-General Yuri Zhadobin, who was the head of the Security Service of the President of the Republic of Belarus, has been appointed the new Chairman of the State Security Committee. His previous position has been filled by Lieutenant Colonel Andrei Vtyurin, who was the head of the personal guard unit of the Security Service of the President of the Republic of Belarus.
The new KGB leadership have been tasked with submitting proposals to the President of Belarus concerning the reinforcement of human resources of the State Security Committee.
The former leadership of the State Security Committee (KGB) of Belarus did not manage to establish a systematic approach to the state security using modern methods.
"I am forced to regretfully state it. Moreover, the organisation and discipline started dwindling recently as well as professional skills in all spheres of the KGB work. In some cases it resulted in straightforward failures," underscored the head of state.
The President demanded the new KGB leadership should put the institution in order.
"I am convinced Yuri Zhadobin will bring the order the KGB lacks nowadays," said Alexander Lukashenko.
President of Belarus has praised employees of the State Security Committee (KGB) for uncovering a Polish spy ring in Belarus.
"Thank you for your work. You have caught resident agents of the Polish secret service red-handed. Well done!"
The State Security Committee is one of the important constituent elements of the stability in the society.
"Our life changes fast but the main tasks the Committee should address remain the same. Two and a half years ago when introducing the former newly appointed KGB chief we agreed that the main thing in the work of the Committee was to ensure state security, the Belarusian leader said. I have never directed the Committee to provide security to my personal power. I do not need that. KGB officers should protect not so much the president but the people."
Alexander Lukashenko reminded that in due time he promised support to the KGB for creating a powerful, effective, professional organization which "should act efficiently but at the same time quietly." "So that our people could proudly speak of the KGB officers as the people loyal to the state and characterized by complete moral honesty. At that I warned that I would keep an eye on the work of the Committee as I value highly its work."
Belarus: Theories Abound In Ouster Of KGB Chief
From:
RFE/RL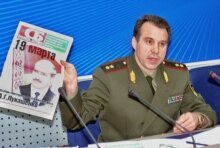 Sukharenka had held his post since late 2004
The chairman of Belarus's State Security Committee (KGB) was dismissed on July 17 -- just days after the KGB publicly boasted of its success in uncovering a spy ring it said was supplying secrets about Belarusian and Russian defense interests to Poland.
Stsyapan Sukharenka assumed the post of KGB chief in December 2004, some two months after a rigged constitutional referendum that allowed President Alyaksandr Lukashenka -- the man who would eventually dismiss him -- to run for president for an unlimited number of terms.
At the time, it was rumored that Sukharenka's predecessor, Leanid Yeryn, lost his job as a result of a friendly conversation he had with a group of activists opposed to Lukashenka's apparent attempts to become president-for-life.
Strong-Arm Tactic
Sukharenka was generally seen as a man who would not permit himself such "liberal gestures" toward the opposition. And he lived up to his reputation in full during the presidential election campaign in 2006, when he publicly denounced Lukashenka opponents as terrorists.
The KGB chief also became notorious for his televised assertion that opposition activists were planning to use dead rats to contaminate Minsk water supplies during the presidential polls in March 2006. He never succeeded, however, in identifying the alleged saboteurs.
So why the sudden ouster? Activist Mikalay Statkevich, who spent nearly two years in prison for organizing anti-Lukashenka protests shortly after the 2004 constitutional referendum, told RFE/RL's Belarus Service that it was Sukharenka's lack of professionalism and heavy-handedness in dealing with opponents of the regime that eventually led to his dismissal.
"Sukharenka didn't shine intellectually," Statkevich said. "In general, the Lukashenka era saw the intellectual and professional capabilities of the KGB deteriorate. I say this as a person whom they've worked against. At this point, [their methods] have become extremely coarse -- planting things like narcotics, provoking scuffles, jailing young people. That's the level they operate at."
Pavel Sevyarynets is the former leader of Youth Front, an unofficial opposition group. Like Statkevich, he spent two years in prison for protesting the constitutional referendum. He also said that Sukharenka, for all his efforts at muzzling the opposition, never managed to eradicate it -- a failing in the eyes of Lukashenka and others.
"Sukharenka failed to do away with the Youth Front," Sevyarynets said. "Sukharenka's main task, in terms of political repressions, was to tame the Belarusian youth, the Youth Front in particular. Sukharenka has failed to do that. According to our count, more than 30 criminal cases were opened against Youth Front members during his tenure, including four that are still active."
Dissention In The Ranks?
But Svyatlana Kalinkina, deputy editor in chief of the opposition-minded "Narodnaya volya" daily, said that Sukharenka's sacking may be a result of clan rivalry within Lukashenka's entourage.
"I think there were a number of reasons [for Sukharenka's dismissal]," Kalinkina said. "It occurred because there are plans to consolidate the KGB by subordinating a number of [security] structures from the border troops and the presidential protection service to it. It also may have occurred because of an ongoing clan war, which at any given time sees some people gaining victory over others."
One theory popular among Belarus's nonstate media is that the Interior Ministry is engaged in a permanent power struggle against the KGB. Proponents of this theory see Sukharenka and his first deputy, Vasil Dzemyantsey, who was also fired by Lukashenka on July 17, as the latest victims in this conflict.
In a terse article published in June on the Russian news site gazeta.ru, it was reported that the Belarusian Interior Ministry had arrested an unidentified group of KGB officers on corruption charges.
That report has not been officially confirmed. But following the dismissals of Sukharenka and Dzemyantsey, many commentators in Belarus quickly concluded that they had lost their jobs as a direct result of the Interior Ministry's corruption-related charges.
If that is the case, then last week's public disclosure that the KGB had uncovered a spy ring working for Poland could be seen as a move by Sukharenka to salvage his public image and show that his organization is capable of high-profile successes.
But Sukharenka's time in the limelight was short-lived. Russia's "Kommersant" daily reported on July 17 that it was Russia's Federal Security Service (FSB) that had put Belarus's KGB on the trail of the spies.
According to "Kommersant," a Russian national who was part of the ring spying on a Russian-Belarusian joint air-defense system confessed to the FSB, which passed the information on to the KGB in Minsk.
Moscow Machinations?
Other observers have even more radical conclusions, saying it was Moscow that provoked this week's revelations about the spy case, which had remained undisclosed for many months. If that was the case, it might have been because Moscow hoped to prevent Belarus from mending its fences with Poland and embarking on a more independent foreign policy than Russia would like.
Kalinkina believes that is a credible theory.
"Many Russian and Belarusian publications confirmed that the [spy] scandal was provoked by Russia," Kalinkina said. "It was provoked at a time when it could coincide with all the events linked to the deployment of the [U.S.] antimissile defense system in Poland and Russia's withdrawal from the Conventional Armed Forces in Europe treaty. The spies themselves were detained as early as this past winter. It's likely that in this case, the Belarusian KGB and Stsyapan Sukharenka were playing a Russian game. And it is likely that in Belarus these days, [such games] are not as welcome as they were before."
In Sukharenka's place, Lukashenka appointed Yury Zhadobin, a career military officer with no prior experience in the KGB. Zhadobin is seen as a transitional figure who will most likely be replaced in the fall, when Lukashenka is expected to decide on a new configuration for Belarus's security services.
That decision may bring an answer to the question of who won the war between the Interior Ministry and the KGB. But it may also clarify who will become the president's main adviser on security policy -- Security Council Secretary Viktar Sheyman, or the president's son, Viktar Lukashenka.
Security Suitors
Sheyman is the last high-ranking government official remaining from Lukashenka's election team in 1994, at the start of his presidential career.
Viktar Lukashenka, who is just 31 years old, was appointed to the Security Council in January 2007, automatically gaining status equal to that of the KGB chief or interior minister. His father gave him the task of supervising Belarus's security and law-enforcement agencies.
To observers who enjoy connecting the dots, Sukharenka's dismissal is generally perceived as a gain for Viktar Lukashenka and a loss for Viktar Sheyman, who was seen as having close ties to the ousted KGB chief.
Oman studies Belarusian offers on investment cooperation
From: BelTA
Oman is one of the most important partners of Belarus in the Middle East, Chairman of the Council of the Republic of the National Assembly of Belarus Gennadiy Novitskiy said today at a meeting with Yusuf bin Alawi bin Abdallah, Minister Responsible for Foreign Affairs of the Sultanate of Oman. "We are interested in stepping up the contacts and have been studying the offers put forward by the Belarusian government," he said. "We hope that several projects will be implemented."
According to him, today during his meeting with President of Belarus Alexander Lukashenko a "whole range of friendly relations binding the two countries" was discussed.
The Belarusian and Omani officials exchanged opinions on opportunities of establishing contacts in such spheres as trade, economy, investment and education. "We hope that in autumn this year specialists of the two countries will start negotiating and will closely discuss areas of cooperation," Yusuf bin Alawi bin Abdallah said.
He added "we intend to develop friendly relations with Belarus".
Gennadiy Novitskiy stressed, the official visit of Belarus President Alexander Lukashenko to Oman in April 2007 gave a major impetus to the bilateral relations. Top-level meetings held during the visit showed that the potential of the bilateral cooperation is great.
According to the Speaker, maintaining a regular top-level dialogue between the two countries is an important component of relations between the two states.
Gennadiy Novitskiy also noted, the proximity of Belarus' and Oman's views on most pressing global political issues favours the fruitful cooperation of the two countries in the international arena, including cooperation within the framework of international organisations. He expressed gratitude to Oman for supporting Belarus during elections to ECOSOC 2006 and the UN Human Rights Council for the term 2007-2010.
The Speaker expressed confidence the visit of the minister of the Sultanate of Oman will become another major landmark in the dynamic development of the bilateral relations.
In turn, Yusuf bin Alawi bin Abdallah informed, Oman is ready to advance cooperation with Belarus. "Since the arrival we have felt we are amongst friends. It is very important for the promotion of relations," he said. The Minister also stated, the visit of President of Belarus Alexander Lukashenko to Oman, which took place in the year of the 15th anniversary of establishing diplomatic relations between the two countries "opened doors for the development of across-the-board cooperation".
The Economic and Social Council (ECOSOC) is the chief body in charge of coordinating economic, social and other related activities of the United Nations Organisation as well as specialised institutions known as "the family of UN organisations". ECOSOC includes 54 members elected for a three-year term by the UN General Assembly. Eighteen ECOSOC members are elected every year for a three-year term. ECOSOC is authorised to carry out and arrange researches, compile reports concerning international economic and social issues, cultural, educational, healthcare issues and adjacent areas of interest or to encourage others to do it. ECOSOC can also give recommendations concerning any of these issues to the UN General Assembly, UN members and interested specialised institutions.
The Human Rights Council is an auxiliary body of the United Nations Organisation. It was founded in 2006 to replace the UN Commission on Human Rights.
A NEW YORK HERO: EULOGY FOR RUSSEL TIMOSHENKO
From:
NY Post
ON the day that Russel Timoshenko graduated from the Police Academy in June 2006, I was honored to be there at Madison Square Garden to welcome him into the department.
When a group of people dedicate their lives to protecting you and your family, you feel a deep responsibility to make sure that every one of them comes home safely at the end of each day. It breaks my heart when that doesn't happen.
Russel gave his life so we could live ours - safely and peacefully.
On behalf of all New Yorkers, I want to tell you that we are deeply saddened . . . and eternally grateful. I promise we will do everything in our power to make sure that the men who committed this awful crime are brought to swift and full justice.
And as a small measure of our appreciation for the supreme sacrifice that Russel made, and to honor his life, we are posthumously promoting him to the rank of Detective.
From the moment Russel was brought into this world, his family knew this was a very special boy. They still marvel at how well he could speak, even before he was a year old. People would stop on the streets just to talk with this amazing eloquent baby.
But no one thought he was more amazing than his grandmother - his babushka. She took special care of him, making sure he was warm and that he was eating. Always eating.
When he was still young, his parents gave up everything and left Belarus in search of a better life for their only child. That sense of sacrifice clearly has always run in the family.
Here in Brooklyn, Russel really came into his own and before long he was demonstrating those characteristics that others would come to know well: Humor . . . responsibility . . . leadership. He was only 9, and didn't speak any English - but that didn't stop him from taking his younger cousins under his wing.
Russel always seemed to be a step ahead of everyone - on the lacrosse field at Tottenville High School . . . in the classroom at City College . . . He was a true leader. And it wasn't too long before Russel started talking about wanting to make a difference - about being a hero for others.
He could have done anything with his life; he was a top student, with the charisma and common sense to take him as far as he wanted to go. But Russel set his sights on the NYPD.
Belarus, Iran work on implementing bilateral agreements
From:
Itar Tass
and
Press TV
Manoucher Mottaki arrives in Minsk to discuss ties
The Iranian Foreign Minister has arrived in Minsk to confer on bilateral relations and regional developments with Belarus officials.
In a meeting with his Belarus counterpart, Manoucher Mottaki pointed to the firm determination of both heads of states for expansion of mutual ties and called for effective measures to be taken in this regard.
He added that the Iranian parliament plays a decisive role in determining the country's foreign policy through ratification of the relevant bills, reported IRIB.
Mottaki also briefed the Belarus foreign minister on Iran's economic, trade and industrial potentials and said, "The potentials of both sides in various fields including oil, industry, establishment of cement factory and automobile manufacturing plant have created new horizons in mutual relations."
For his part, Sergei Martinov elaborated on the progress achieved in Iran-Belarus agreements and announced his country's readiness to discuss the issues with Iranian officials.
"Belarus and Iran are actively working on the implementation of the agreements reached at the meetings of the presidents of the two countries in Minsk and Tehran," Belarussian Foreign Minister Sergei Martynov said on Saturday.
Summing up the results of his talks with Iranian Foreign Minister Manouchehr Mottaki, the Belarussian minister said, "Today Belarus welcomed my esteemed colleague – Minister of Foreign Affairs of the Islamic Republic of Iran, Manouchehr Mottaki, with whom we maintain permanent working contacts. In the recent several months we've met in Minsk and Tehran two or three times. This proves of intensive contacts between our countries."
"Our meetings are devoted to the ministries' efforts aimed at implementing the agreements reached by the leaders of our states in Minsk and Tehran," Martynov stressed.
Iranian President Mahmoud Ahmadinejad visited Minsk at the end of May. Belarussian President Alexander Lukashenko and the Iranian leader agreed to maintain cooperation at the international arena and step up interaction in the trade, economic and banking spheres.
In addition, in their joint communiqu? the heads of state of the two countries expressed satisfaction with their accord to continue cooperation in developing the Jofeir oil field.
Lukashenko to Reshuffle Belarus: Sidorsky out?
From:
Kommersant
Belarusian Prime Minister Sergei Sidorsky (L) and Belarusian President Alexander Lukashenko (R) visit Russia to sign a number of Russia-Belarus agreements.
Belarus President Alexander Lukashenko decided to dismiss the government of Sergei Sidorsky. The decree might be published soon. New prime minister is to initiate privatization, which might open the way for Russian business into Belarus' petrochemical sector.
Kommersant's source in the Belarusian government said that President Alexander Lukashenko had signed the decree on dismissing Prime Minister Sergei Sidorsky a week ago. "The decree is ready. It's on the president's desk, and might be published very soon," the source said.
There are different versions in Minsk concerning why Sidorsky is being dismissed. First, it might be a regular rotation. Lukashenka is known for changing the country's prime minister every 2 or 3 years, to prevent the minister's political strengthening. Second, it is a tradition that a prime minister serves as a scapegoat when Belarus' economy is falling.
Belarusian authorities plan to initiate privatization of some enterprises of the country's petrochemical center. Russian companies will take part in the tenders for the shares in those enterprises. Apparently, it will be a new prime minister to supervise the privatization procedures. Sidorsky might be replaced by Interior Minister Vladimir Naumov, Belarusian politicians say off-the-record.
The West believes that Naumov is linked to the disappearance of businessman Anatoly Krasovsky in 1999 and ORT camera-operator Dmitry Zavadsky in 2000. During the last year's presidential election, Naumov personally sanctioned the harsh crackdown of opposition rallies in Minsk. Due to these actions, Naumov is now in the blacklist of Belarusian officials whose foreign accounts are frozen and who are banned from entering the countries of Western Europe and North America, compiled by the European Union and the United States.
Storm in Belarus kills man, leaves settlements without electricity
From:
Itar Tass
Over 140 settlements have remained without electricity as a result of a strong storm in Belarus on Wednesday. A man was killed by lightning in the Mogilev region, sources from the Belarussian Ministry for Emergency Situations told Itar-Tass on Thursday.
The Mogilev region and some areas of the Minsk region were particularly hit. Strong wind with gusts up to 23 meters per second with downpour and a thunderstorm damaged power transmission lines, roofs of over 80 houses and over 60 agricultural facilities.
Active repair work is underway in all these areas. Electricity supply was restored to almost all settlements by Thursday morning.
This year Belarus reduces GDP energy intensity by 17.2%, Viktor Buria says
From:
NLIPRB
In January-April 2007, the GDP energy intensity in Belarus went down by 17.2%, Belarusian Vice Premier Viktor Buria noted during a joint session of the two houses of the Belarusian parliament.
"This is a very important result for the economy. The energy intensity went down due to energy saving efforts as well as warm weather," he noted.
The forecast of Belarus' socio-economic development for 2007 foresees the reduction of the GDP energy intensity by 7-8% as against 2006.
According to the Vice Premier, in the period under review Belarus met 12 out of 19 targets of socio-economic development. In January-May, Belarus grew GDP by 9% what meets the upper annual projections.
In January-May, capital investments went up by 20.9%, Viktor Buria said. "We hope that this year the social and economic development targets will be hit", the Vice Premier said. He also noted that in 2007, the country looks set to meet the parameter on the growth of real money income.
In a
related story
, in January-June this year, Belarus generated 15.2 billion kWh of electric power, or 5.7% down as against the same period last year. The production of heat power downed by 16.4% to make up 18.4 million Gcal. As BelTA learnt in the Ministry of Statistics and Analysis, in H1 2007, Belarus generated power at the amount of Br2.82 trillion.
According to Belenergo Company, the reduction of heat power generation caused by weather conditions: in January-June this year, they were much warmer than in H1 2006.
The capacity of the Belarusian grids makes up more than 7.8 thousand MW. It can provide the national demands with electric power completely.
According to the Ministry of Statistics and Analysis, in January-May this year, the profitability of sold products, works and services of Energy Ministry's companies totaled 14.3%.
Belarus Unlikely To Liberalize Beltelecom in 2007
From:
Belarus Today
Belarus' state-run telecommunications company Beltelecom is very unlikely to go public this year, and no moves to liberalize the monopoly are expected soon, an economist with the Privatization and Management Institute, Anastasia Glambotskaya, said in an interview with Prime-Tass. She noted, though, that there have appeared speculations about the reform of the company.
"Liberalization should be expected in 2008-2009, when the monopoly may even go public. I will refer to Beltelecom itself, which admits that it is inadvisable for a single company to control the external communications channel. The situation will change, according to the administration of the operator, but changes are very unlikely this year," Glambotskaya said.
Belarus is supposed to liberalize its telecom segment as a move to join the World Trade Organization (WTO).
The specialist believes Belarus should not expect a foreign investor to take part in Beltelecom privatization. "The government will be looking for ways to keep this market under its control, and foreign investors will appear much later," she believes.
At the same time, this segment must be quite appealing, as the Belarusian market is far from saturation.
"Although the number of subscribers is rising, it is far from the top. Mobile penetration in Belarus is at 66%, compared with 120% in Europe [number of phones per capita], so there is an excellent opportunity for growth," Glambotskaya said.
Belarusian operators are capable of introducing new technologies, but the demand for new services is rather poor.
"Mobile operators are eager to launch new products, but are they called for? Will the return on investment be enough?" the specialist said.
Beltelecom was founded in July 1995. The company provides about 70 services, including telecommunication and Internet access services. The company employs 26,500 people.
Belarus has four mobile telecommunications companies, including three GSM operators – joint venture OOO Mobile Digital Communications, or MDC; joint venture OOO Mobile TeleSystems, or MTS; and ZAO BeST, and one cdma2000 operator – joint venture OOO BelCel.
Turkmenistan and Azerbaijan increase Belarusian trade turnover
From:
Turkmenistan.ru
and
NLIPRB
Turkmenistan and Azerbaijan have both set up joint-ventures with Belarus
In January-May 2007, the trade turnover between Belarus and Turkmenistan totaled US$ 56.8 million, the 14-fold growth with exports up 15 times, REGNUM Information Agency reports referring to the Foreign Ministry of Belarus.
According to the agency, the significant increase in turnover has been achieved due to implementation of contracts between PO "Minskiy Traktorniy Zavod" (tractor manufacturing works) and "Turkmenobakhyzmat" Association for the delivery of 1000 Belarus-1221, 1000 Belarus-80X tractors and spare parts to them at the total value US$ 51.8 million and 1000 ploughs manufactured by RUP MZSh totaling US$ 1.9 million.
As was reported earlier, in January-February 2007 Belarus increased its exports to Turkmenistan 17 times year-on-year.
Additionally, Belarus and Azerbaijan intend to launch joint productions of buses, elevators and lifting cranes.
Belarus and Azerbaijan intend to launch the assembly productions of Belarusian buses, elevators and lifting cranes, Ambassador Extraordinary and Plenipotentiary of Belarus in Azerbaijan Nikolai Patskevich told BelTA.
The diplomat positively appreciated the work of the joint-ventures set up in Azerbaijan. Thus, starting from the beginning of 2007, 120 Belarusian tractors and 9 MAZ trucks have been assembled in Azerbaijan. Today, the sides are discussing the Azerbaijani state order for the products of the Minsk Automobile Works (MAZ), the official noted.
According to him, the recent visits of Belarusian President Alexander Lukashenko and Belarusian Premier Sergei Sidorskiy to Azerbaijan brought the bilateral cooperation to a higher level. According to Nikolai Patskevich, owing to the visits, the Belarusian side managed to generate the interest of the Azerbaijani business elite in Belarus. Just only in June this year, eight Azerbaijani delegations of businessmen visited this country.
The sides are considering numerous joint projects, doing their best to boost the mutual trade. Over the five months this year, the Belarusian export to Azerbaijan increased 2.2 times to make up $34 million. The Belarusian machinery including road and agricultural equipment, trucks, construction materials are in popular demand in Azerbaijan.
Speaking about the importance of the annual seminars for chiefs of Belarusian embassies and consular departments which are being held in Minsk now, Nikolai Patskevich noted that there is a need to improve the quality of domestic goods, learn to compete with leading world producers. "We should work in all directions, including an active participation in foreign exhibitions", the diplomat noted.
In 2006, Azerbaijan ranked sixth among the CIS member-states on Belarus' trade partners main list. Last year, the bilateral trade turnover made up $37 million, or 24% up as against the same period 2005. The Belarusian exports to Azerbaijan upped by 22.9% to reach $34.5 million, imports – by 39.4% to reach $2.7 million. Belarus posted a surplus in trade with that country.
World community recognises Belarus' successes in counteracting human trafficking and illegal migration
From: BelTA
Belarus believes the opening of the international centre for training and retraining specialists in combating human trafficking and illegal migration in Minsk today to be the recognition of the country's successes in addressing these problems by the international community, Belarus President Alexander Lukashenko said during the opening of the centre today.
The head of state stressed, in the modern world these problems had become global. Slave trade had become a most profitable crime business, which along with drugs trafficking represents a serious threat to the welfare of any state.
Well-trained specialists and constant cooperation of law enforcement agencies as well as non-governmental organisations of various countries and continents are needed to fight these phenomena effectively, noted Alexander Lukashenko. As criminals do not recognise borders, the fight against them should be waged on a large scale only, should not be confined within one country, stressed the President of Belarus.
Understanding the specific acuteness of the problem and its importance for the world community, Belarus put forward an initiative to set up an international centre for training and retraining personnel at a conference in the UN headquarters early this year. Alexander Lukashenko noted, Belarus' proposals had been approved and backed by many countries and NGOs.
Alexander Lukashenko: Belarus' hardline stance allows standing up to slave trade, ensuring security of people
"The hardline and uncompromising policy Belarus leads allows standing up to modern slave trade and ensuring the security of Belarusian people. Belarus has no intention of abandoning the policy and is ready to promote fruitful cooperation with international organisations and interested countries and individuals."
The newly created Minsk centre will play a special part in handling these issues, stressed the head of state. There is every prerequisite for it. It was no accident the Belarusian Interior Ministry Academy had been chosen as the centre's location.
According to Alexander Lukashenko, scientific and research potential of Belarusian scientists and lawyers will allow the centre to work out scientifically substantiated strategies and practical recommendations. Its doors will be open to representatives of various parts of the planet.
The Belarusian head of state expressed gratitude to the leadership of the International Organisation for Migration for essential aid in equipping this unique facility.
Among post-Soviet countries Belarus has been most effective in addressing such urgent problems as counteracting illegal migration and trade in people what is noted by foreign experts.
According to the Head of State "the country has created good legal basis; special-purpose programmes have been successfully underway."
Alexander Lukashenko noted that studying and distribution of advanced experience and best practices is the main mission of the international centre for training and retraining specialists in combating human trafficking and illegal migration.
"We have got something to show and to tell our foreign partners, the President said. Belarus is located at the crossroads of migration flows therefore it needs to protect not only its own territory but also other states (first of all Western Europe) what is burdensome to the country and its budget."
The European Union might have expanded cooperation with Belarus in the fight against illegal migration.
According to Alexander Lukashenko, European countries should be more interested in cooperating with Belarus in these areas of interest. He said, "For Europeans illegal migration is a catastrophe while we are in the epicentre of the fight against it".
Belarus could show a lot and share experience of resolving these issues, stressed the head of state. "As a result of hardline uncompromising fight Belarus leads few illegal migrants travel through our country," stated the President.
Belarus intends to step up the counteraction of human trafficking and illegal migration.
According to the head of state, the opening of the international centre for training specialists in combating human trafficking and illegal migration in Minsk is just the first step. The second step will be improving the legal base. "We should show practical results," noted Alexander Lukashenko. "A year or two will pass and we will increase the efforts to meet the reality".
The President also said, Belarus intends to continue supporting the International Organisation for Migration.
Alexander Lukashenko thanked the IOM and Brunson McKinley personally for cooperation with Belarus.
Around the region...
Phosphorus spill in Lvov Region poses no health threat - ministry -
From:
Ria Novosti
The amount of poisonous phosphorous in the air in the Lvov Region in western Ukraine does not exceed maximum allowable concentration levels, the Ukrainian emergencies ministry's press service said Wednesday.
Tests revealed no significant air, soil or water pollution in the area, where a train carrying yellow phosphorus, a poisonous substance, 0.05 to 0.15 grams of which is enough to kill a human being, derailed and caught fire Monday.
Official reports said 49 people, including 15 children, were injured and 14 settlements with a total of 11,000 residents were affected. During the clean-up operation, 18 emergency workers were also poisoned.
Lvov administration officials said some 800 people evacuated from the polluted area are now able to return to their homes.
However, Ukrainian emergency ministry experts said a new leak of phosphorus is possible when the derailed cars are hoisted.
The cloud of poisonous smoke subsided near the site of the accident and no neighboring countries, including Belarus, are in danger.
The Ukrainian government said the accident was the country's largest man-made disaster after the 1986 Chernobyl tragedy.
Ukrainian rescuers continued clean-up efforts Tuesday evening as several spot fires were reported at the site. Emergency workers continued to cover phosphorus concentrations with a mixture of sand and sodium carbonate, as the substance is highly inflammable and the hot weather in Ukraine could cause more fires.
Kazakhstan's emergencies ministry has sent a disaster recovery team, as Ukraine has no experts trained to handle phosphorus.
A special commission has been set up to investigate the accident and criminal proceedings have been launched. Traffic is expected to resume within 24 hours.
Ukrainian authorities have cited the poor condition of the railroad as the main reason for the accident.
A Kazakh company that produces phosphorus said it was ready to retrieve and transport the dangerous cargo back to Kazakhstan.
Army chief warns Poles: if you want U.S. shield, buy gas masks
From:
Rai Novosti
Russia's highest-ranking military officer condemned Monday U.S. plans to deploy a missile shield in Europe, and jokingly warned Poles that they might need to prepare themselves by buying gas masks.
When a journalist from Trybuna, a Polish daily, suggested that Poles might need to think about buying warm clothes to prepare for being sent to Siberia in the case of a Russian retaliation to the missile shield project, Army General Yury Baluyevsky, Chief of Staff of the Russian Armed Forces, said it wasn't warm clothes they would need, but protective equipment.
"The decision to place [the shield] on Polish soil was taken by the Polish government. It seems to fully realize what kind of retaliation this may lead to... What they really should be concerned about is what will happen in the event that the shield works at all," Baluyevsky said.
"Intercepted missiles will disperse over your territory, and you will need to think not about warm clothes, but about acquiring gas masks and other protective equipment," he said.
The chief of staff dismissed the Pentagon's justification for the shield plans.
"As for the arguments [in favor of the shield], they can be described very simply - non-existent," he said in the interview, which was re-published on the Russian Defense Ministry's website.
He said that even the architects of a Europe-based U.S. anti-missile solution had already dropped their assertion that North Korea ever posed a missile threat to U.S. or Europe, and that "talk of a hypothetical Iranian threat takes a leaf from the same book," adding that this claim was also likely to be dropped soon.
When asked why Russia, with its powerful nuclear arsenal, is afraid of a handful of U.S. missiles in Poland, he said Russia was worried about the "third site" as an element of a much broader agenda.
"Of course a dozen such missiles as the Americans are planning to deploy in Poland - unproven and untested as they are - are not seen as a direct threat to Russia's deterrent capability," he said. "However, the U.S. doctrine treats missile defense as part of a broader 'strategic triad,' which also includes offensive strategic weapons."
"We are sure that U.S. missile defense capability, including a proposed European site, would develop, and its anti-Russian capability would grow in the future," Baluyevsky said. "In such an environment, we would be forced to take appropriate countermeasures."
He said Washington's decision to deploy a missile shield in Europe was "logical, but only under a logic that belongs to a past era."
"You have Russia and the United States, and both have to reduce their nuclear capabilities. What you want is to be able to deliver a first strike while minimizing your potential enemy's ability to do so. To achieve that, you need to encircle the enemy's territory with offensive and missile-defense bases. . . This is normal military logic. The only problem is that this is the logic of a past era - the Cold War, and standoffs between blocs in Europe."
"During that era, there were ideological grounds. . . Today, there is no such confrontation, but the ideas of that era seem to be alive and well. This is where the logic breaks," Baluyevsky said.
During the interview, Baluyevsky took a global map of U.S. anti-missile sites and said that "all these sites are close to Russian borders, all are looking toward Russia. This is the reason why we have said our country is being militarily encircled."
When asked about Europe's apparent indecision over the shield, Baluyevsky praised the EU for its readiness to discuss all difficult issues.
"The issue affects all Europeans and must therefore be discussed on a multilateral basis," he said.
"It is dangerous to make decisions of such seriousness without even talking to your neighbors," he added.
Baluyevsky denied that Russia's recent reaction to missile plans was "knee-jerk," and said that historically, cooperation between Russia and the West was always more effective than fighting. He declined to give his personal assessment of Poland's policies concerning the shield and other issues.
"Assessments of the actions of a foreign government is not my territory. The Poles have elected this government and only they are in a position to decide whether its course is satisfactory and whether the alliances this government makes are good. What makes me sad is the current relationship that we have with Poland - on the state as well as military level," he said.
"I think what is happening now in Russian-Polish relations will also become history, albeit one with an unpleasant aftertaste. I am optimistic; I believe that good sense will prevail eventually," Russia's top general said.
Business leader warns Russian cos. may quit LSE in row with U.K
From:
Ria Novosti
A leading spokesman for Russia's business community warned that the diplomatic row with Britain could force many Russian companies to leave the London Stock Exchange, and that British companies in Russia could face difficulties.
"If events develop in this key, Britain's trading floors traditionally favored by Russian companies, including state-run companies, would start losing ground, and Continental exchanges will obtain an opportunity to attract Russian companies to their bourses," said the president of Russia's Union of Industrialists and Entrepreneurs, Alexander Shokhin.
Earlier Thursday Russia announced it would expel four British diplomats and stop issuing visas to officials, in a direct retaliation to Britain's expulsion of Russian diplomats three days ago, in protest against Moscow's refusal to extradite Andrei Lugovoi, who Scotland Yard suspects of murdering former Russian security officer Alexander Litvinenko in London last November.
Shokhin warned that British companies in Russia may now face difficulties with tax authorities and regulators, and that inspections may become more frequent. "Perhaps, under broadly equal conditions, some companies may fail to win tenders," he said.
He said that U.K.'s decision to refuse entry visas to Russian officials could be easily applied to the executives of Russia's state-owned enterprises.
"There is nothing to stop the British from saying that managers of state-owned corporations are also state officials. In addition, many officials who sit on boards of directors will fail to enter the U.K. as their companies' business will require," h said.
Shokhin warned Russian authorities against mirroring British punitive measures, saying that it could end up in a "political ping-pong, which may mean a chill in Russia-U.K. relations, if not a return to the Cold War times."
The Board of the Russian Union of Industrialists and Entrepreneurs, which Shokhin chairs, includes most of Russia's richest people - owners and top executives of leading Russian companies, many of which are listed in London and New York.
On the board are the heads of Evraz, LUKoil (Vagit Alekperov), Troika Dialog, Renova (Viktor Vekselberg), Basic Element (Oleg Deripaska), Sistema (Vladimir Yevtushenkov), IBS, VTB Group (Andrei Kostin), Gazprom (Alexei Miller), Novolipetsk Steel (Vladimir Lisin), Severstal (Alexei Mordashov), Interros (Vladimir Potanin), MMK, Alfa Bank (Mikhail Fridman), UES Russia (Anatoly Chubais), and Vimm-Bill-Dann.
Gazprom, LUKoil, Sistema, Novolipetsk Steel, UES, Evraz and Severstal are listed on LSE; Newly-formed aluminum giant United Company RusAl is considering a London IPO this fall.
Current nuclear threat worse than during Cold War - U.S.
From:
Ria Novosti
The risks of an accidental nuclear war have increased since the Cold War as Russia's early warning capability has deteriorated, a former U.S. defense official said.
William J. Perry, a senior fellow at the Hoover Institution and co-Director of the Preventive Defense Project at Stanford University, said in a congressional testimony Wednesday that "the danger of nuclear war occurring by accident" still existed.
"Both American and Russian missiles remain in a launch-on-warning mode," Perry, who served as U.S. defense secretary in 1994-97, said. "And the inherent danger of this status is aggravated by the fact that the Russian warning system has deteriorated since the ending of the Cold War."
Since the collapse of the Soviet Union, Russia has heavily depended on its radars located abroad, particularly the Daryal facility in Azerbaijan and two Dnepr stations in Ukraine, near Sebastopol and Mukachevo.
Some reports said the outdated radar facilities that Moscow is renting on the territories of former Soviet republics were in poor condition, and that "holes" had appeared in Russia's early-warning missile threat coverage.
In the same testimony, Perry blasted the Bush administration for concentrating its efforts on building defenses to protect the U.S. from a potential ballistic missile threat, while downplaying the danger of nuclear terrorism.
"The centerpiece of our government's strategy for dealing with a nuclear attack is the National Missile Defense system now being installed in Alaska," he said.
"But the greatest danger today is that a terror group will detonate a nuclear bomb in one of our cities," the expert said.
"Terrorists would not use a ballistic missile to deliver their bomb, they would use a truck or a freighter," Perry said, adding that a missile shield alone would not reduce the nuclear threat to the country.
Colonel General Valter Kraskovsky, a former commander of the Soviet Union ballistic missile defense, dismissed Perry's statement as an element of the information war the U.S. is waging against Russia.
"We should have expected such statements. The U.S. will continue pressing this issue because its main goal is to present Russia as a country owning powerful retaliatory weapons which it is incapable of controlling. They will be striving to disarm us on any possible pretext - for instance that we cannot oversee everything, that we can make a mess of things, or accidentally deliver strikes, and so on," Kraskovsky said.
He said the Russian warning system properly monitored near-space, but that the situation could change if intergovernmental agreements on Russia using the two radar stations in Ukraine were revoked.
"If the stations stop operating in the interests of our country, the Russian air defense system will have problems," Kraskovsky said.
U.S. judge orders Polish murder suspect freed
From:
Reauters
Judge rejects Mazur extradition for questioning in Poland murder
A U.S. judge denied a request on Friday from Poland's government to extradite a Chicago businessman for allegedly soliciting the murder of a former Warsaw police chief, denouncing the key witness as "a known scoundrel" and chastising prosecutors over faulty evidence.
Polish authorities, represented by U.S. prosecutors, failed to produce proof required under treaties to justify the extradition of Edward Mazur, U.S. Magistrate Judge Arlander Keys said in his scathing 69-page ruling.
Mazur, 62, arrived in court shackled but wept with joy when the judge ordered him freed after being held for nine months in a U.S. jail, his lawyer said.
"I had argued that this was a frame-up but the court ruled the evidence was essentially worthless, that it was meaningless," attorney Chris Gair said.
A call to Poland's embassy in Washington seeking comment was not immediately returned.
Patrick Fitzgerald, the U.S. Attorney in Chicago, said: "While we respect the Magistrate Judge's thoughtful opinion, we respectfully disagree with the result."
Mazur was arrested soon after the 1998 murder of Marek Papala, a former commander general of the Warsaw Police Department who was shot in a parking lot next to his home.
Mazur, who had seen Papala earlier in the evening, was questioned by Polish authorities but released.
Poland's current government reinstated charges against Mazur in 2005, charging he offered $40,000 to organized crime figures to kill Papala.
Much of the government's case relied on Artur Zirajewski, an underworld figure whom Keys described as "a known scoundrel and unmitigated liar" whose 14 statements to Polish authorities were wildly inconsistent.
"Zirajewski either admits that he lied under oath, admits that he essentially made up the connection between Mr. Mazur and General Papala or he admits that he is providing information in exchange for a reduced sentence," Keys wrote.
Keys also decried a 2002 police lineup in Poland in which Mazur was asked to don a red jacket and was joined by three men who bore no resemblance to him.
"They may as well have made him wear a target on his chest or a sign over his head saying 'pick me.' Mr. Zirajewski's identification would never pass muster in this country ... the government's reliance on this identification is shocking and offensive," Keys wrote.
Mazur, born in Lubzin and living in the United States for the past 44 years, holds U.S. and Polish citizenship. In past decades, he engineered numerous business deals in Poland for major corporations such as Cargill, his lawyer said.
Gair said the case had political overtones, with Poland's current government seeking to discredit those who worked with its predecessors.
Fitzgerald said his office and Justice Department lawyers would evaluate the court opinion in considering their options.
U.K. Police Warned of Murder Plot, Berezovsky Says
From:
Bloomburg
Boris Berezovsky
U.K. police warned Boris Berezovsky of a plot to assassinate him in London, said the Russian billionaire and critic of Russia's President Vladimir Putin.
Berezovsky, 61, was told an assassin had been sent from Russia to kill him, and he was advised by police to leave the country.
``I went overseas for a week and then the police informed me that I could return,'' Berezovsky said today in an e-mailed statement. ``It's Putin personally that's behind this,'' he said later at a news conference in London.
The U.K. on July 16 ordered the expulsion of four Russian diplomats in response to Russia's refusal to extradite Andrei Lugovoi, a suspect in the murder of Alexander Litvinenko. Former Russian spy Litvinenko, a Kremlin critic and friend of Berezovsky's, was poisoned by the radioactive isotope polonium 210 in London last year.
Berezovsky is wanted in Russia to face charges for allegedly plotting a coup. He said that he's a target of Putin's government after spending as much as $400 million funding political opponents of Putin and for his support of Litvinenko.
U.K. security services and counterterrorism police seized a Russian at the Hilton hotel on London's Park Lane, who planned to shoot Berezovsky after luring him to a meeting in a hotel room, the London-based Sun newspaper reported today, citing unidentified security officers. The newspaper didn't say what happened to the detained man.
Berezovsky confirmed the account and said that the would-be assassin, whom he didn't know, was deported to Russia.
A Metropolitan Police spokesman said that a man was arrested on June 21 on suspicion of conspiracy to murder, and released on June 23 without charge into the custody of U.K. immigration authorities. The spokesman declined to provide further details.
`Political Fugitive'
Putin's spokesman, Dmitry Peskov, declined to discuss Berezovsky's claim. ``I don't have any intention to comment on the statement of a political fugitive,'' Peskov said by telephone in Moscow.
The expulsion of the Russian diplomats marks the biggest rift between the two countries since 1996, when first Russia, then Britain expelled four diplomats over a spying dispute.
The issue adds to more general tensions between Russia and the West that have grown as the U.S. pushes a plan to build a missile defense system in the Czech Republic and Poland. The European Union also is seeking independence for Kosovo from Serbia, a Russian ally. The EU today criticized Russia for failing to cooperate with Britain.
Largest Investor
The U.K. is the largest foreign investor in Russia. British companies including BP, Royal Dutch Shell Plc, British American Tobacco Plc and Cadbury Schweppes Plc invested almost $15 billion dollars in Russia from 2000-2006. Trade between the two countries in 2006 was $16.2 billion, 15 percent up on a year earlier.
Berezovsky made his fortune in cars, gas and media after the 1991 breakup of the Soviet Union. He became a critic of Putin after helping him gain power, and fled to London in 2001. Britain gave him asylum in 2003.
Berezovsky, who is also wanted in Russia on fraud and embezzlement charges, offered in an interview with the British Broadcasting Corp. to stand trial in a third country if Lugovoi does the same. Berezovsky, who denies the allegations against him, has said he won't receive a fair trial in Russia, while Lugovoi, who has repeatedly denied killing Litvinenko, said the process in Britain wouldn't be fair.
Extradition Request
The U.K. in 2003 rejected a request for Berezovsky's extradition for the alleged financial offenses. British prosecutors decided earlier this month not to charge Berezovsky over an April 13 U.K. newspaper article in which he was cited as saying it was necessary to use ``force'' to overthrow Putin.
Prosecutors looked at the full transcript of Berezovsky's interview with the London-based Guardian newspaper and found no evidence to justify a charge of inciting violence overseas, Sue Hemming, head of the Crown Prosecution Service's counterterrorism division, said July 5. ``We concluded that he appeared to indicate civil disobedience as the model he was advocating,'' Hemming said.
Russia lodged a new request for Berezovsky's extradition in April on charges of plotting a coup.
From the blogs...
Lukashenka shakes things up
From:
Duck of Minerva
I've been meaning to write something about the tit-for-tat between the UK and Russia and the strange and unfolding saga of Boris Berezovsky, but things keep changing before I get anything coherent written.
So, let's take a quick look to Russia's neighbor to the west: Belarus.
Belarus gets little attention in the western media. They haven't had an exciting people's revolution to cover. The president, Alyaksandr Lukashenka, keeps a pretty tight handle on the media and on the opposition, which tends to be disorganized and ineffective, fighting amongst themselves instead of uniting in the common cause. Lukashenka is a pretty savvy politico, as well. When he was first elected president in 1994, he was a bit of dark horse. He positioned himself as a political outsider: a man of the people and an anti-corruption crusader. Once elected, he triangulated his opponents and eliminated them one by one (sometimes literally--more than one opponent has simply vanished). But Lukashenka didn't just target the political opposition--during his time in office, not even his inner circle has been secure. He's careful to make sure that no one has the opportunity build an independent power base--he keeps the regional governors moving around and has been perfectly willing to sic the legal system on insiders who grow too powerful. Since Belarus is one of the most corrupt countries in the world, it's easy to charge enemies with corruption: the charges are almost certainly true...it's the application that is politically motivated.
Now it looks like Lukashenka is going to sack his prime minister, Sergei Sidorsky. Sidorsky has been in office now for about 3 1/2 years, so he's due to be replaced, kind of like the timing belt in your car--it's not broken yet, but you'd better do it with that mileage. Kommersant seems downright pleased by this story: the Russians have been trying to break into the Belarusian petrochemicals markets for a couple of years now and they seem to be hoping that this will be their big break.
Kommersant also predicts that Lukashenka will tap a particularly unsavory figure as Sidorsky's replacement: Vladimir Naumov. Currently Interior Minister, Naumov is allegedly linked to the disappearance of numerous opposition figures and is banned from traveling to the United States and western Europe.
280 $ за газ у верасні?
From:
palitekanom
По неофициальной информации, в Москве проходят переговоры представителей "Газпрома" и "Белтрансгаза". Как сообщают российские СМИ, в составе белорусской делегации - генеральный директор "Белтрансгаза" Дмитрий Казаков, его заместитель Винерий Волчуга, а также начальник отдела экономического анализа, прогноза и разработки экономических норм Юрий Ляшенко.
Никаких официальных сообщений по этому поводу пока нет. Ситуацию не комментируют ни в "Белтрансгазе", ни в "Газпроме".
Тем временем неофициальные источники сообщают, что белорусская сторона предлагает изменить условия оплаты за поставленный из России газ. "Мы действительно прилетели на переговоры, которые связаны с нашими взаимоотношениями с "Газпромом", - цитирует российская газета "Взгляд" Юрия Ляшенко.
Как известно, 4 июня "Газпром" оплатил стоимость 12,5% акций "Белтрансгаза" (625 млн. долларов США). Планировалось, что деньги вернутся концерну как оплата за углеводородное сырье, поставленное российской стороной. "Но средства перечислены не были", - пишет "Взгляд". Дату, до которой "Белтрансгаз" должен, согласно договору, оплатить углеводородное сырье "Газпрома", Ю.Ляшенко назвать отказался, сославшись на конфиденциальность информации, отмечает российское издание.
Сообщается также, что у российской стороны есть намерение повысить в сентябре цены на газ для Беларуси до мирового уровня - 280 долларов за тысячу кубометров.
Напомним, что в первом полугодии 2007 года Беларусь по договоренности с Россией оплачивала 55% контрактной цены газа и только с 1 июля перешла на полную оплату - 100 долларов за 1 тыс. куб. м. Несмотря на это в мае долг перед "Газпромом" за поставленный газ достиг 400 млн. долларов.
Ранее в правительстве заявляли, что способ погашения долга будет найден до 23 июля. В противном случае, по оценкам экспертов, к середине года размер долга возрастет до 500 млн. долларов.
Следует также отметить, что вот уже несколько месяцев Беларусь пытается получить российский кредит в 1,5 млрд. долларов для ликвидации долгов.
Restlessness
From:
Middle Age Ramblings
It seems that a lot of folks experience a sense of restlessness at different periods of their lives. Graduation, whether high school or college, sometimes triggers that sense of uncertainty. Children leaving home/middle age is another period that can trigger a sense of questions about life in general. There are some that seem to make it through without having to deal with this questioning but, if most are honest, the feelings are very common. That has been the case for quite a while in my life. My children are basically grown and fairly self-sufficient, which is the goal as a parent, but it does leave a gap. In addition, the job I hold is not really what I want to do. It is what I have to do because of where we are and the necessity for me to work. That being said, I don't really know what I would do otherwise - this is basically what I've done since I graduated from college, other than raising children and maintaining a house. It always seems like there should be something more. This restlessness is lack of time with the Lord, listening to His quiet voice.
When I think of others in this world who have so little and yet have faith greater than mine, it really does make me ashamed. Americans take so much for granted. A friend is on a mission trip to Belarus. Before leaving, the group was told this may be the last time they get to go as the government is trying to keep evangelistic groups out. This makes it really difficult for my friend and the group as they care about the people they've met. This group has gone several times and have made friends there. Knowing they could face being forced to leave is not really an issue with them, but what could happen to the ones that live there is. One of the jokes that's made about the trip is that the group survives on a cucumber diet. They do serve meat to the group but when asked what kind of meat, their response is "It's meat." The animal the meat came from is normally not told so quite often, they just don't eat it. :)
This post started out as one on my own restlessness. I still struggle with it and will continue to do so, but the Lord is faithful. He has a plan and it is far better than anything I could dream up on my own. I just need to spend time with Him in quiet and listen.
Of course, I have 2 different guitar players playing at the same time, not together, not even the same song!!! That's okay - I enjoy hearing both play!
Свободные мысли... - В каких странах самые дешевые выпивка и еда
From:
Sammy_Belarus
Любой турист знает, что, отправляясь в путешествие, стоит ориентироваться не только на стоимость турпутевки, но и на предстоящие расходы на питание и выпивку, пишет Alconews.Ru. Ведь отдыхать за границей и не попробовать местный алкоголь и кухню — это неполноценный отдых.
Согласно данным EuroNews, самые дорогие продукты и напитки во всем Eвросоюзе — в Дании. В среднем в три раза дороже, чем, например, в Болгарии. Так что, отправляясь на болгарские курорты, можно насладиться не только окружающими пейзажами, но и местным вином, а также вкуснейшей едой без особого ущерба для кошелька.
К примеру, тарелка пельменей обойдется в 3 лева (1,5 лева = $1). Столько же стоит мясо-гриль. За салат (целый тазик) вы отдадите 1,7 лева, за кружку пива — 1,25 лева. Бутылка вина стоит от 3,5 лева, коньяка — 8 левов. Ужин в приличном ресторане на троих человек с алкоголем — примерно 50 левов.
Эксперты европейского статистического агентства утверждают, что если определить среднюю по Европе цену на продукты как 100%, то впереди всех с индексом 142% окажется Дания. Ненамного отстают Ирландия, Финляндия и Швеция. Самые высокие цены в 15 старых членах Eвросоюза.
Все новички, за исключением туристического Кипра, в этом отношении гораздо гуманнее. В Болгарии, Польше, Словакии и Литве за продукты вы заплатите менее 70% от среднеевропейской цены.
Недавно авторитетный деловой журнал "Economist" опубликовал ежегодный "индекс Биг Мака". Этот полушутливый рейтинг отражает стоимость фирменного бутерброда ресторанов "McDonald's" в разных странах мира. Выяснилось, что дешевле всего булка с котлетой и сыром стоит в Китае, дороже всего — в Швейцарии.
Что касается алкогольных напитков, то здесь впереди Eвропы всей оказалась Ирландия. Спиртное там в 2,5 раза дороже чем, к примеру, в той же Болгарии.
К слову, алкогольный туризм, когда люди едут за спиртным в другие страны, где оно дешевле, чем у них на родине, причиняет беспокойство европейцам уже более десяти лет. В рамках единой Европы нет ограничений на ввоз алкоголя частными лицами. Из-за этого бюджеты таких стран, как Великобритания или Финляндия, где действуют наиболее высокие акцизы на алкоголь, недосчитываются значительных средств. Так, английское казначейство зарабатывает 15 млрд. фунтов в год на акцизах на алкоголь и сигареты — этого достаточно для оплаты текущих расходов Министерства внутренних дел, Министерства иностранных дел и Департамента культуры, СМИ и спорта. Но из-за беспошлинного ввоза этих товаров частными лицами государственный бюджет теряет миллиарды фунтов налогов.
С расширением ЕС проблема еще более усугубилась. Так, Финляндии пару лет назад пришлось снизить почти в полтора раза акцизы на алкоголь, чтобы у граждан этой страны пропал стимул отправляться за дешевой выпивкой в соседнюю Эстонию. Однако это не слишком помогло. Тогда Финляндия убедила Эстонию, чтобы та повысила свои алкогольные акцизы. Но и это решило проблему лишь частично.
Источник
Метки: новости
Promotion Of Biofuels Yields Unintended Consequences
From:
Political Yen/Yang
For Progressive types that want to see biofuels used more in place of carbon based, here is something you may want to consider in your reflections:
A surge in the production of biofuels derived from corn, wheat and soyabeans is helping to push up food prices so sharply that the World Food Programme, the United Nation's agency in charge of fighting famine, is finding it difficult to feed as many hungry people as it has in the past.
This means that more people go hungry and the UN is already feeling the pinch, before this technology is even fully developed.
So to all of the members of the Global Warming Church I say, remember this, when famine becomes more widespread. Remember that it was you that put everyone on such a course.
It was you that scared people into believing that mankind is responsible for the ills of everything, to include warming. And the next time I hear a sob story about a village in a third world nation that is starving to death because the UN cannot provide relief, I will be reminded that it was all so Progressives could feel good about changing the world for the better.
Maybe some of them can go to that village and explain why it's more important to keep food out of their mouths, over some unproven theory.
Who Is Anatoly Golitsyn?
From:
New Zeal
Anatoliy Golitsyn was the most important Soviet intelligence officer ever to defect to the West.

Anatoliy Mikhaylovich Golitsyn was born in Piryatin, Ukraine, on 25 August 1926.
"...While a cadet in military school, he was awarded a Soviet medal 'For the defence of Moscow in the Great Patriotic War" for digging anti-tank trenches near Moscow. At the age of fifteen, he joined the Komsomol (League of Communist Youth) and, at ninteen, he became a member of the Communist Party.
"In the same year, he joined the KGB, in which he studied and served until 1961. He graduated from the Moscow School of Military Counter-espionage, the counterintelligence faculty of the High Intelligence School, and the University of Marxism-Leninism and completed a correspondence course with the High Diplomatic School. In 1952 and early 1953 he was involved with a friend in drawing up a proposal to the Central Committee on the reorganisation of Soviet intelligence.
"In connection with this proposal he attended a meeting of the secretariat chaired by Stalin and a meeting of the Presidium chaired by Malenkov and attended by Khrushchev, Brezhnev and Bulganin. In 1952-53 he worked briefly as head of a section responsible for counter-espionage against the United States. In 1959 he graduated with a law degree from a four-year course at the KGB Institute (now the KGB Academy) in Moscow.
"From 1959 to 1960, at a time when Soviet long-range strategy was being formulated and the KGB was being reorganised to play its part in it, he served as a senior analyst in the NATO section of the Information Department of the Soviet intelligence service. He served in Vienna and Helsinki on counterintelligence assignments from 1953 to 1955 and from 1960 to 1961, respectively.
"He defected to the United States in December 1961. Subsequently, his contribution to the national security of leading Western countries was recognised by the award of the United States Government Medal for Distinguished Service.
"He was made an Honorary Commander of the British Empire (CBE). A promise of membership of the Legion d'Honneur made when President Pompidou was in power was not fulfilled owing to the change of government.
"Since 1962, the Author has spent much of his time on the study of Communist and international affairs, reading both the Communist and the Western press. In 1980 he completed, and in 1984 he published, 'New Lies for Old', a study of the Soviet long-range strategy of deception and disinformation.
"For over thirty years, the Author has submitted Memoranda to the Central Intelligence Agency, in which he has provided the Agency with timely and largely accurate forecasts of Soviet Bloc developments and on the evolution of Soviet / Russian / Communist strategy. By applying the dialectical methodology which drives the strategy, the Author has been able to score innumerable 'bulls-eyes'. This unparalleled track record reflects the Author's personal experience of four years in the KGB's strategy 'think tank', together with his deep understanding of the dialectical nature of the strategy and the Leninist mentality of its originators and implementers.
"The Author is a citizen of the United States."
Rewriting Russian History: A Disgraceful Scandal
From:
Robert Amsterdam
Earlier this week we posted an exclusive translation of an article from Nezavisimaya Gazeta on the Kremlin's controversial history textbook - the following is the second article in the series from journalist Oleg Kashin. (there is also good coverage from WaPo today).
"I would very much not want my name to be associated with this disgrace"

Work on the new history textbook has decisively turned into a squabble

By Oleg Kashin, Nezavisimaya Gazeta
The scandal around the new school textbook of the recent history of Russia (see «NG-politika» of 3 July) continues. As became known to «NG», professor of the Russian State Service Academy Oksana Gaman-Golutvina, who, as was assumed, was supposed to head the new collective of authors of the textbook, refused to take part in further work on the book.
Just as a reminder, during the time of the All-Russian Conference of Social Sciences Instructors, A Book for the Teacher (A Contemporary History of Russia 1945-2006) was presented to its participants. It had been written by a group of political scientists close to the Kremlin, and a school history textbook was supposed to be created on its basis. Written to order for the administration of the president, the book was issued by the «Prosveshchenie» [Enlightenment] publishing house, and, according to one of the authors, Foundation for Effective Politics scholar Pavel Danilin, was supposed to "set certain guideposts for the instruction of history" and become "a first try at calling for an historic civil peace in our country against the background of that chaos that is taking place in the interpretation of historical events"..
However, judging by the reaction of the conference participants, instead of putting an end to the "chaos in the interpretation of historical events", the book became a new wave of it. The most controversy was caused by the last chapter of the book – "Sovereign Democracy", dedicated to the period of the rule of Vladimir Putin, consisting of the sections "The course of president V.V. Putin towards the consolidation of society", "Domestic policy at the beginning of the 21st century – the restoration of the state", "The course towards sovereign democracy", "The restoration of Russia's position in foreign policy". The content of these sections boils down to the fundamental theses of modern-day Russian official propaganda. For example, A Book for the Teacher writes about the «YUKOS affair» that its sense "was in that a strengthened state sent big business a clear message: obey the law, pay taxes and do not try to place yourself higher than the state. The message was heard." On the elections in the Ukraine: "Yanukovich was the only candidate capable of truly standing up to Yushchenko. Therefore Russia's choice was obvious." On elections by party lists: "Political science and political practice categorically assert: elections by party lists allow the nuances in the political preferences of voters to be reflected more precisely than by majority districts".
Among the participants in the discussion of the book at the instructors' conference were assistants of the president Vladislav Surkov and Djakhan Pollyieva, as well as minister of education Andrey Fursenko. Summing of the discussions, Djakhan Pollyieva admitted that the textbook turned out uneven, because it had been "written by authors of various levels" and that this level must be "levelled out". In the words of the deputy director of the Institute of Eastern Europe, Vasily Zharkov, who participated in the conference, it was specifically after this discussion, as the result of which A Book for the Teacher was not supported by the teachers and instructors, that authors Alexander Filippov, Pavel Danilin, and others were not invited to a meeting of historians with the president in Novo-Ogarevo. Vasily Zharkov reported likewise about how Alexander Filippov had been taken off the work on the textbook, while the leadership of the authors' collective was offered to professor of the Russian State Service Academy Oksana Gaman-Golutvina.
However, yesterday Oksana Gaman-Golutvina, having confirmed that she had "officially been offered the leadership of the authors' collective", declared about her refusal to participate in this work. "I categorically refuse to be the head of the authors' collective of this textbook", declared Gaan-Golutvina in an interview with «NG». "The acknowledgement directed at me that stands on the cover page has to do with the fact that I had consulted the authors of the book on questions of relations within the leadership of the USSR of the times of Stalin, Khrushchev, and Brezhnev", says the historian. "Furthermore, what was ultimately written on this topic in the book appeared without me having a chance to approve it, and doesn't at all look like what I had written. Therefore I ask that you not even consider me a co-author of this textbook. I don't even know messrs. Filippov and Danilin. I once saw Filippov, already after the book came out, before the conference, and right there I voiced my negative attitude towards the contents of the book. I would very much not want my name to be associated with this disgrace." In his turn, Pavel Danilin, commenting on this declaration, told «NG» that "Gaman-Golutvina actively participated in the work on the book and even went to the president specifically as a co-author of the book."
An «NG» interlocutor in the administration of the president, who had participated in the organization of the work on the book, expressed regret with respect to the fact that the discussion about the textbook had come out into the public space and had acquired the character of an open squabble. "This took place due to the low communicative abilities of Filippov and the juvenile maximalism of Danilin, who, having felt his closeness to something great, started up an idiotic din on the internet", considers the official. In the administration, they are inclined to write off the causes of the conflict as the economic interests of the parties. "It is necessary to understand that the authors wrote this book at their own risk and peril for paltry remuneration, while titled historians, whom we also approached, immediately demanded that we name precise sums and print runs, which nobody knows, because nobody knows whether the book will receive the approval of the ministry", says the employee of the administration of the president, adding "Any talk about allocations of state budgets is complete delirium; not one kopeck was spent on the book from the budget." Indeed, according to the information of «NG», all expenses for the publication were taken up by the «State club» foundation, which funds a series of youth projects, including the «Nashi» movement. The director-general of the «Prosveshchenie» publishing house, Alexander Kondakov, who will now have to quickly put together a new authors' collective (it was initially assumed that the new history textbook for the 11th grade would come out by 1 September of this year), refused to comment. "The discussion about the history textbook has turned into an inter-personal confrontation", asserts Kondakov.
Sport...
Mikhnevich, Ostapchuk and Krautsova beat bad weather at Belarussian Champs
From:
IAAF
Nadezhda Ostapchuk (BLR)
The open championships of Belarus were held 5 - 7 July) in the new arena in Grodno, in three days of appalling weather set with torrential rain and a squally wind.
Despite the conditions Andrey Mikhnevich and Nadzeya Ostapchuk distinguished themselves in the men's and women's Shot Puts. There was also a quality distance double for Olga Krautsova in the 5000 and 10,000m.
Weather ends hope of serious Shot duels
In the men's Shot Put a duel was expected between the 2003 World champion Andrey Mikhnevich and the 2007 European Indoor silver medallist Pavel Lyzhyn. But Lyzhyn could not adapt to the wet sector and only took one attempt, his 18.71 giving him third place. Jury Belov also used only one attempt, but produced 19.52 for second.
Mikhnevich pushed the Shot out to 20.64m in the first round, added one centimetre with his next, and in the third the implement landed at 20.55. There was a foul with his next and he passed his last two efforts.
A duel between the reigning World champion Nadzeya Ostapchuk and 2000 Olympic gold medallist Yanina Provalinskaja-Karolchik also failed to materialise in the women's Shot Put.
Ostapchuk with her second effort produced 19.54m, and it was only in the third round that Karolchik was able to even come close to her, with 18.15, and added another 25cm with her final round, enough for second place (18.40). Ostapchuk landed her third at 19.50, and then 19.09, 19.39, a fine series which obtained her gold. The bronze was taken by Yuliya Leantsiuk with 18.00m.
Without top throwers
In absence of the best athletes in the men's and women's Hammer Throws - Ivan Tikhon and Aksana Miankova - 23-years Pavel Kryvitski won the former event with his third round 76.18m, and Darya Pchelnik took the latter with 69.74m. The women's was the best quality competition overall as the silver was taken by Alena Matoshka from Novopolotsk with 68.90m, and bronze by Nadezhda Pavlyukovskaya, a Grodno local who produced 68.52m.
47-years Ellina Zvereva, the former World and Olympic women's Discus Throw champion became national champion with a second round 60.20m. The men's division was won by Aliaksandr Malashevich from Smorgon with a third round 60.47.
Volha Krautsova from Mosti on the first day won the women's 10,000 m, with 31:58.52, and a day later Krautsova took the 5000m in 15:27.17. Both victories were virtually gun to tape solo efforts.
Natallia Safronnikava from Grodno, also completed a double in the women's 100 and 200m. Here best times came in the semi-finals (11.45 & 23.03 seconds) which came before the weather got seriously bad. In the finals she ran 11.72 for the 100m and 23.67 for the 200m.
Sviatlana Kovgan was also a double winner - 1500m 4:23.83 / 800m 2:03.80, while Mikalai Seradovich won the men's 20km race walk in a fast time - 1:22:12. Ukraine's Lyudmila Yegorova-Shelest took the women's 20km win in 1:32:39.
Belarus teen moving up in the world
From:
Cincinnati Post
Olga Govortsova
At this time last year, Olga Govortsova barely had cracked the top 400 of the Sony Ericsson WTA Tour. After making the top 10 as a junior player, the Belarus native still was trying to acclimate herself to the pro circuit and was in the middle of a three-month period of inactivity.
On Thursday, she earned the biggest win of her career at the Western & Southern Women's Open, knocking off ninth-seeded Jill Craybas 6-7 (5), 6-3, 6-1 and earning the first WTA Tour quarterfinals berth of her career.
Craybas, ranked No. 66 in the world, also has the distinction of being the highest-ranked player Govortsova has beaten.
In a year's span, it's pretty clear Govortsova's game drastically has improved.
Just ask Craybas. In February, the two met in the semifinals of a $75,000 Challenger event in Midland, Mich., and Craybas had little problems with the 18-year-old, defeating Govortsova 6-2, 6-3.
Five months later, Craybas could admit Govortsova had enhanced her game quite a bit.
"She's definitely improved," Craybas said. "She's a little more consistent, and her serve got a little stronger in the second and third sets as well. A lot of it is playing matches too."
Govortsova has played quite a few of those recently. Thursday's victory was her 62nd match of the season, and she's won 48 of them.
Her ranking reflects it. She entered the W&S with a No. 107 ranking - she was a career-best No. 105 two weeks ago - and by making the quarterfinals to meet third-seeded Sania Mirza today, she might crack the top 100.
Funny thing about that, though. She said it was tougher to get into the top 300 than it was to make the top 100.
"Right now, it's not hard for me," Govortsova said. "It was hard to start. It was hard to go into the top 300. That was much harder than now. Right now, I'm feeling great."
The competition, however, won't get any easier when she starts playing mostly WTA Tour events. So, her huge jump in rankings might begin to slow.
"When you're ranked 300, it's easy to move up very quickly," Craybas said. "As soon as you get higher and higher, the jumps get smaller and smaller. It's always in stages. Once you get in the top 100, it's slower progress."
Endnote...
The World Without Us
From:
Jason's Random Thoughts
Once every few years we find a book that is so astounding that we have an uncontrollable need to share it with the world. These books are typically great works of literature where the reader often considers putting their entire life on hold until the story is completely told, and leaves us speechless for a short time after. I believe that Alan Weisman's The World Without Us is one of these books.
Before getting into the details, though, I would like to say that this is NOT a paid review. After reading this book at the behest of a friend of mine, I think it's something that everyone should read. The conversations that have been sparked as a result of this novel have left my brain thirsty for more, and I'd welcome an international audience
With all the questions that surround us on a daily basis, there is one that many of us have considered as we stop to reflect on the large buildings that reach high into the skies, and the pollution that we have both buried in the ground and burned into the atmosphere; What if we didn't exist anymore?
Much like the other eternal question, "Where did we come from?", we know that we can never truly say how the world would change if we were not present. Thinking of the question, let alone answering it, requires a magnificent suspension of the vanity that characterizes most humans. But as we hear more about the effect we play on the world's biosphere with our wasteful ways, this question is asked by more people.
Alan Weisman, an author, journalist, radio producer and professor, has asked this seditious question in his new book, The World Without Us. Forcing us to acknowledge the effects we've all had on the planet, he engages our imagination in what could have been or might have been, or even what might still be yet to come. Rather than ask how we humans will go about fixing the mess we've made over the last few thousand years, he simply takes us out of the equation and allows us to think about the possibilities.
Using some of the most up-to-date science, Weisman asks the quesions and then explores the answers with some of the world's greatest scientists. What would happen to animals and stocks without agriculture? What would happen to the cities? Would another species see their opportunity to conquer the world? How long would our humanly constructs last? Would the Pyramids stand against time better than the city of Tokyo?
Using some of the last areas of the planet devoid of humans, he takes us to the primeval forests bordering Poland and Belarus to the Kenyan heights. He tells us about a four-storey hotel in the war-torn Cipriot town of Varosha and the trees that are growing between the cracks in the asphalt, the buildings literally falling apart beside him.
His description of just how quickly nature woud dismantle Manhattan, returning it to the wildlife after five hundred years of colonial rule, is incredibly well written and makes us wonder just how long some of the world's most beautiful cities could survive without human intervention. Without us to heat and repair our buildings, our tall structures of steel and glass would begin to decay in just a few years. Subways and many of our roads would be destroyed within a decade. Our strongest bridges, while able to withstand incredible forces of nature, would begin to fail after just a few centuries.
Interestingly enough, though, our plastics will long outlive even the most advanced of city structures. In the half-century since the large-scale manufacture of plastics started, more than one billion tons of the stuff has been produced and there is still no real plan for recycling this material. All but a tiny, incinerated portion of it still exists, dumped somewhere in the environment with a large quantity going out to the ocean. Plastics are immune to decay from bacteria and sunlight, making it our immortal polymer.
Weisman reports that a quarter trillion pounds of plastic is produced every year, and quite a bit shows up on beaches around the world, carried by tides, and eaten by sea creatures that later die from intestinal problems. A 1998 study showed that there was six times as much plastic in the ocean as plankton by weight on the surface of a thousand-mile crossing of the North Pacific Gyre. He also cites a study nearly four months later near the mouths of creeks in Los Angeles feeding into the Pacific Ocean that showed 600 times as much plastic as plankton. With our ever-disposable society throwing more away, this number is constantly on the rise.
Currently there are over 6.1 billion humans on the globe and, if our reproductive rates continue on their current trend, the world's population will reach 9 billion by the middle of this century. Nine billion is a number that most experts believe is just too large for the world to handle. Offering a rather draconian thought on the situation, if every human female on Earth were limited to bearing one single child, the human population would drop to about 1.6 billion in time for the start of the 22nd century. That's not to say that it's women's fault for the number of people on the planet, as it takes two to tango, but it does give us something to think about.
So … what then?
Weisman's final thoughts are poignant. Just as light keeps moving, so does human thought. We've been transmitting our thoughts in the form of television and music for a hundred years, and much of this has bled off into space. Maybe, he posits, that will be the human legacy that nature can never erase. Once we are gone, maybe our thoughts or even our memories will keep bouncing around the universe, eventually finding their way back to the post-human Earth we betrayed and abandoned.
Seriously … if you only read one book in the next 10 years, make it this one.