Belarus celebrates Independence Day, blasts U.S. shield; Foreign trade, Marriage fraud, South Africa, Ukraine, Estonia, Gazprom and The blogs
Belarus celebrates Independence Day.
From: Belta
The president at the Gala Concert "For Independent Belarus'. The events that took place at the stele "Minsk – a Hero City" gathered around 200 thousand people and became a true holiday for the guests and residents of the capital.
Note: The following was excerpted from several speeches made during the day by the president.
Independence Day, July 3, has become the main holiday of the country by the will of the Belarusian people, President of the Republic of Belarus Alexander Lukashenko has said today. Speaking at the parade on the occasion of the holiday and the 63rd anniversary of Belarus' liberation from the Nazis he said: "Every time on this day we remember all those who sacrificed the most precious thing, their lives, to gain the long-awaited freedom".
The Head of State stressed that the Belarusian people will always remember what price has been paid for peace and independence. "It is Belarus who has suffered the biggest losses among all republics of the former Soviet Union and other countries. Our country has lost every third citizen. Hundreds of towns and thousands of villages were annihilated or destroyed," Alexander Lukashenko said.
The socio-economic development of the state is oriented towards man
The President stressed that the social sphere in Belarus has been developing stably. In 2006 alone, more than 100 thousand new jobs were created. The wage policy allowed to increase real wages by almost 18% and reduce the share of low-income people to 11%. Pension benefits grew by 20% over the past year.
According to the President, the work on introducing the system of state social standards, construction of agro-towns, development of the regions, small and medium towns help even out the socio-economic situation throughout the country.
According to Alexander Lukashenko, Belarus actively invests in the health of people. Today a resident of a village or a town does not have to go to the capital city for medical examination or treatment. In all regions there are large medical centres, hospitals, networks of out-patient departments which are fitted with cutting-edge equipment.
The construction of sports facilities meeting the European and world level continues in the regions of the country. "Undoubtedly, this is the foundation for the development of the national sport. Stadiums, swimming pools and sports grounds are available for all local people – from children to grown-up people," the Head of State said.
Today there are no reproaches, as this was the case several years ago, that the country spends big assets to construct sports facilities. "For the young people to be healthy and become decent successors it is necessary to invest real money because no one in the world has ever managed to settle this problems using the words only," Alexander Lukashenko stressed.
The Belarusian people are not going to yield to the dictate of force and pressure.
"The historical path of our country has never been easy and smooth. The attempts to impose one's will on the Belarusians, to make them yield to someone else's interests do not stop today. But, like during the Great Patriotic War, our people is not going to yield to the dictate of force and pressure today," the Head of State said.
He stressed that Belarus is confidently pursuing its own course that is based on the interests of all strata of the population, rather than on the interests of some clans or of a bunch of oligarchs. Belarus consistently addresses the issues related to the creation of a law-governed state, fair and open society, ensures socio-political stability, peace, tranquility and order.
According to Alexander Lukashenko, under difficult conditions, Belarus manages to attain economic growth that serves as a foundation for continuously improving the quality of life of the people. Belarus is expanding opportunities for free entrepreneurship and business activity and at the same is reinforcing social security of the ordinary people, preserving the principles of social justice in the society. As the Head of State said the country successfully develops socio-cultural sphere, strengthens the family and children support. Impressive results are achieved in arts and sports.
Over a short period our young state has managed to enhance the international prestige, Alexander Lukashenko stressed. Through the well-coordinated work of the diplomatic missions abroad Belarus has established close cooperation with international organizations and various countries. The security of the country is ensured through the mechanisms of regional security.
"All we have achieved is a result of joint efforts, is a result of love for the Fatherland and selfless work of the Belarusian people," the President of Belarus stressed.
Belarus will survive the withdrawal of the European trading preferences
"We have not succumbed to the pressure of the energy price hike and will not die from losing $20-30 million as a result of these sanctions," the Head of State said.
He stressed that by revoking the preferences the European Union "showed its face". "They hold negotiations by one hand and try to choke us by the other. Not Lukashenko but the Belarusian people and our state," the President said.
According to him, they are doing this "not because we lack democracy as they say." "They had better deal with the democracy in their own countries. We have not forced any nation to its knees; we have not sent troops to kill children and mothers. We mind our business in our own country. The reason of the pressure is that no one wants to see on the map of the world a calm, civilized, fast-growing and economically advancing state which bows to no one. They have failed to force us to our knees as they wanted to," Alexander Lukashenko said.
In case the USA imposes economic sanctions, Belarus will take appropriate measures
Belarus will take the toughest measures in respect of the companies with the US ownership which operate in Belarus, the President said.
The President reminded of the significant contribution of Belarus to the defence of the civilizations from the Nazism. "What would have happened if we had not lost every third citizen, if the nation had not lost around 30 million people," the Belarusian leader put a question.
"This is why we do not have to be lectured. We see, they show by themselves, what democracy they want, how they act when the tiniest threat is made to their prosperity. They do not take into account anything - neither people nor the environment - and use all possible and impossible means [to achieve their ends]." Alexander Lukashenko said.
Belarus is interested in developing normal, mutually beneficial relations with the European Union and the Unites States of America. "For that however, there is a need for a full-fledged and mutually beneficial dialogue. The dialogue on an equal footing, without any humiliatory preconditions and mass-scale pressure," the Head of State said.
The state will do everything possible so that the Belarusian people would not suffer from the consequences of the increase in the prices for the Russian energy carriers.
"That was a gonzo price hike, with no such precedent in history," the Head of State said.
According to him, the talks started to emerge in the society that the government would have to curtail the social program. "A half a year has passed and nothing terrible has happened or will in the future. In fact, the price spike passed unnoticed for the population," Alexander Lukashenko said, "It is not easy to overcome. But this is not a catastrophe. We should hold out and reach the parameters and goals we have set for ourselves," the President added.
Alexander Lukashenko stressed that the problem of diversifying energy supplies has come to the forefront in Belarus. "We are forced to search for other ways, to negotiate with other countries. We will do this in the near future," the Head of State stressed.
Belarus honours and remembers all those who contributed to Great Victory. Their names, of the dead and living, have been inscribed in the Belarusian history forever.
"During the war the Soviet people was the main shield which saved not only Europe but the whole international community from enslavement. "And we are proud that we, the Belarusians, were part of the people and great country," Alexander Lukashenko said.
"More than a million of the natives of the Belarusian land fought in the fronts of the Great Patriotic War as soldiers of the Red Army and Navy shoulder to shoulder with representatives of the brotherly peoples of the Soviet Union. They fought to the bitter end defending Kiev, Moscow, Leningrad and Stalingrad, liberating Ukraine, Moldova, Baltic states, Poland and other countries of Eastern and Central Europe, beating the enemy in its lair," the head of State said.
The President noted that the contribution of Belarus to the Victory was evaluated by the international community – Belarus became one of the UN founding nations.
Military valour in defending the Fatherland, selfless labour in the name of creation are an integral part of the Belarusian national character
The Head of State said that with every year the Great Patriotic War becomes a more distant past, but "the bells of Khatyn send out the echo of the past war over the Belarusian land." It reminds the descendants about the severest hardships many nations had to endure.
"Belarus values highly the contribution of all countries of the anti-Hitler coalition to the fight against the Nazism. The memory about the millions of the victims should make all politicians remember about the outcome of the war," Alexander Lukashenko said. However, the number and scale of challenges and threats to the international security are not getting fewer, Alexander Lukashenko said. Among them he named aggressive armed conflicts a new turn in the arms race, religious, nationalistic, political extremism, international terrorism, trafficking in people, drug trafficking.
Eastward advancement of the Nato military infrastructure and anticipated deployment of the US anti-missile defence system in the neighboring countries complicate the military-political situation nearby our borders
The Belarusian leader stressed that "one of the pillars of the European security, the adapted Treaty on Conventional Armed Forces in Europe, has been undermined and is, in fact, not valid. These all are happening with the European democracies keeping silent.
"We cannot fail to take these factors into account when building up our own system of national, first of all, military security," Alexander Lukashenko said.
"Despite the difficulties in economic relations with the Russian Federation, Belarus will always be loyal to the Union State relations and will observe the agreements 'to bear with honour its share of the responsibility for protecting the Union State.
"There is no allowing unilateral disarmament, weakening of the security and defensive capacity of Belarus and Russia," the President said.
All-round improvement, strengthening and development of the Armed Forces and the entire military organization of the country will remain one of the priorities of the Republic of Belarus
The Head of State assured the Belarusian people that the national security system is ready to defend the constitutional basis, sovereignty and territorial integrity of the state, peace and tranquility of the citizens.
According to Alexander Lukashenko, information expansion, political blackmail, sanctions and economy leverage are increasingly used today to pressurize the countries pursuing independent policy. "The events this year have repeatedly showed that the security of any state today is not restricted to purely military or security aspects," the President said.
Under any conditions the Belarusian state will be consistently strengthening all components of its the national security - from defence to food security.
"Sovereignty and independence, peace and stability on the Belarusian land will be preserved, Alexander Lukashenko said. The historical choice of the Belarusian people will remain inviolable!"
The Belarusian nation, the nation-victor, the nation-creator will take all efforts to defend and strengthen the Belarusian statehood. This is the greatest achievement of our heroic history, the Belarusian leader stressed.
"Glory to the Belarusian people who defended the independence of the Fatherland! Eternal glory to the heroes who died defending the Homeland, who gave their lives for the freedom and happiness of the future generations! Let us be worthy of their great feat!"
The Head of State addressed special congratulations and best wishes to the veterans of the Great Patriotic War – "those who sparing no lives of their own beat the enemy on the fronts and who forged victory in the rear". "Thank you that you held out, endured all the hardships of the most terrible war of the past century!" Alexander Lukashenko.
"May the sky will always be peaceful, the future be bright and our beloved Motherland flourish!" Alexander Lukashenko said.
Note: for a verbatim translation of the address by the president on the occasion of Independence Day click HERE
Belarus blasts U.S. shield, vows to work with Russia
From:
Reuters
President Alexander Lukashenko said on Tuesday Belarus would disregard its economic rows with Russia and work closer with Moscow to counter U.S. plans to erect an anti-missile system in eastern Europe.
Lukashenko, barred from the United States and European Union over allegations of rigging his 2006 re-election, quarreled with Russia in the New Year over energy prices and has called for improved ties with the West. But he dismisses any notion that he must first improve Belarus's human rights record.
Lukashenko renewed his criticism of stationing parts of the proposed U.S. system in neighboring Poland and the Czech Republic during ceremonies marking Belarussian independence day.
"The eastward expansion of NATO's military infrastructure and planned deployment of parts of the U.S. anti-missile system in countries next to Belarus seriously worsens the military and political situation on our borders," he told the gathering.
"Despite the economic difficulties in relations with Russia, Belarus will remain true to its obligations and bear its share of responsibility for defending our union state."
Lukashenko was referring to a series of pacts signed with Russia since 1996 on the creation of a "union state" reuniting Belarus with Russia to the east.
Negotiations have failed to produce concrete moves towards a merger and Kremlin leader Vladimir Putin has proved cooler to the proposal than his predecessor, Russia's first post-Soviet president, Boris Yeltsin.
Both Putin and Lukashenko have voiced strong opposition to the proposed U.S. system. The Russian leader has proposed alternatives, including joint use of a radar in Azerbaijan.
At talks with U.S. President George W. Bush in Maine, Putin suggested incorporating a radar system in southern Russia and giving European nations more decision-making power within the framework of the Russia-NATO council.
Putin congratulates Belarus on Independence Day
From:
Itar Tass
Russian President Vladimir Putin has congratulated his Belarussian counterpart Alexander Lukashenko upon the Independence Day, the presidential press service said on Tuesday.
"It is symbolical that this date is entirely linked with the liberation of Belarus from the Nazi occupation. Our people fought shoulder to shoulder to gain one victory for all. Russia will always remember heroic deeds of Belarus' sons and daughters who gathered to resist the enemy," Putin said in his congratulatory message.
"Our friendship and mutual respect that survived hardships today serve as a reliable ground for further development of neighbourly good relations. Russia and Belarus face many common tasks. It is necessary to pool efforts to resolve these tasks effectively," he said.
"We have a firm intention to promote mutually advantageous integration cooperation in every possible way that will contribute to economic and social progress of our states and the strengthening of their democratic institutions," Putin said.
Also, from
The Rising Napal
we find that Prime Minister Girija Prasad Koirala has extended sincere congratulations to President of the Republic of Belarus Aleksandr Lukashenko and to Prime Minister of Belarus Sergey Sidorskiy on the happy occasion of the Independence Day of the Republic of Belarus.
In a congratulatory message sent today, he has wished good health and happiness as well as progress and prosperity of the people of Belarus.
He has expressed his confidence that the friendly relations existing between the two countries will grow further in the years ahead.
The Emir H H Sheikh Hamad bin Khalifa Al Thani has
aslo sent a cable
of congratulations to the President of Belarus on his country's national day.
The Heir Apparent H H Sheikh Tamim bin Hamad Al Thani also sent the President of Belarus a cable congratulating him on the occasion.
Russia is set to build nuclear power station in Belarus
From:
Charter '97
The slogan on the streamer reads: "No to second Chernobyl!"
In the near future Belarus is to put out tender for construction of a nuclear power station. It has been stated by Prime Minister Syarhei Sidorski in Moscow. Appropriate decisions have been already taken, and now volume and sources of financing, location of the important object are discussed. The Russian side has many times stated its readiness to take part in construction of the first Belarusian nuclear station. There many reasons to think that the tender commission would make a corresponding choice.
As "Rossijskaya gazeta writes", water reactors are most likely to be used in Belarus. They are the safest for today. Such equipment is produced by Russian enterprises.
Recently Belarusian experts got acquainted with expertise of construction and running of Russian nuclear power station and equipment of this type. It is planned to place two reactors with total power of 2000 megawatt. Construction of the station would cost 1.5-2 billion dollars. The first power unit is to be launched by 2015, and after that in five years natural gas consumption in the country would decrease to 50-55% of the state's fuel and energy balance thanks to the nuclear power station.
Belarus increases foreign trade by 18.5% in January-May
From:
NLIPRB
In January-May 2007, Belarus increased the foreign trade by 18.5% as against the same period last year to make up $18.818 billion, BelTA learnt in the Ministry of Statistics and Analysis.
Over the five months this year, the Belarusian exports upped by 15% to make up $8.684 billion, imports – by 21.7% to make up $10.134 billion. Belarus posted a deficit in foreign trade to the tune of $1.45 billion.
The trade turnover with the CIS member-states is expanding dynamically. In January-May, Belarus increased foreign trade with the CIS member-states by 21.6% to reach $10.581 billion. The exports made up $4.02 billion, imports - $6.561 billion, 30.3% and 16.7% up respectively. The exports to the Russian Federation made up $3.191 billion, 29% up, imports - $5.902 billion (14.6% up). On the whole, in January-May this year, the foreign trade with Russia increased by 19.3% to make up $9.093 billion.
The trade turnover between Belarus and Ukraine grew by 26% as against the same period of 2006 and totaled $1 billion 32.8 million, BelTA has been told in the Belarusian diplomatic mission to Ukraine.
For the five months of the current year the Belarusian export to Ukraine increased by 18% to $480.9 million; the import – by 35% to $551.9 million.
In January-May 2005 the trade turnover between Belarus and Ukraine totaled $601.2 million; for the analogous period of 2006 - $814 million.
For the five months this year, the foreign trade of Belarus with non-CIS countries upped by 14.8% to make up $8.237 billion. The exports increased by 4.5% to make up $4.664 billion, imports – by 31.9% to make up $3.574 billion as against January-May 2006.
In a
related story
, In May 2007 Belarus' external debt fell by 0.6% and totaled Br1794.4 billion (about $836.6 million) while the limit makes $2 billion, BelTA was told in the Finance Ministry of Belarus.
At the same time the debt guaranteed by the government stands at Br622.1 billion or 34.7% of the aggregate external debt. In May this index fell by 1%. The debt of the central government totaled Br1172.3 billion or 65.3% (long-term loans accounted for 84% of the aggregate debt). According to the source, last month this index fell by 0.5%.
In May 2007, Belarus' internal debt grew by 1.2% and stood at Br4678.1 billion as of the beginning of June. Including the debt guaranteed by the government grew by 3.1% to Br1126.9 billion and accounted for 24% of the aggregate debt. The debt of the central government stood at Br3551.2 billion and increased by 0.7% in May 2007.
In May the total debt grew by 0.7% and stood at Br6472.6 billion as of the beginning of June.
Russia seeks to promote the Russian language
From:
IHT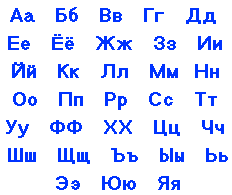 The Russian alphabet
Russia has opened a campaign to promote the national language after almost two decades of retreat, hoping to match the country's increasing economic and political confidence.
The Kremlin believes it can start rebuilding the credibility of Russian as a means of communication outside its borders, with business, and not Communist, ideology driving the revival.
In Moscow last week, ministers announced a series of plans, like expansion of an international cultural foundation comparable with Germany's Goethe Institute or the Alliance Francaise.
"Russian was the first language spoken in space," Education Minister Andrei Fursenko said, referring to the first cosmonauts and their Cold War-era space race against English-speaking American astronauts.
Once the common language across most of the Communist world, Russian has been sidelined, especially in Eastern Europe, where English has replaced it as the favored second language. Russian also suffers from an image problem there, with Czechs, Poles and residents of other former Warsaw Pact member states resentful at having been forced to study a language linked with an occupying foreign power.
Across former states of the Soviet Union, only Belarus still recognizes Russian as a state language. In many others, notably Turkmenistan, the post-Soviet leadership has sought to erase all traces of Russian.
The number of mother-tongue Russian speakers also continues to decline. Russia's population is falling by 700,000 every year and stands at 142 million.
In his annual address to Parliament in April, President Vladimir Putin linked the country's linguistic fate to its morals and values.
"Looking after the Russian language and expanding the influence of Russian culture are crucial social and political issues," he said.
Putin said he backed proposals "to create a National Russian Language Foundation, the main aim of which will be to develop the Russian language at home, support Russian language study programs abroad and generally promote Russian language and literature around the world."
The Russian government has created a Web site (www.russian2007.ru) in both Russian and English to promote the Russian language. It provides details on more than 100 international festivals and events, as well as publications and plans to build libraries.
One recruitment expert has advised expatriates that if they want a top management job they should learn Russian.
"In the mid-'90s we could put up with people not speaking Russian, because they had other experience and expertise. Now, Russians are catching up," said Anton Derlyatka, a partner with an executive search consultant company, Ward Howell International. "The complexities of the Russian market have increased so much that you can't work without understanding the mentality of the people and the Russian context. In order to do that, you have to speak Russian."
At least nine charged in marriage fraud cases
From:
Hampton Roads
Federal authorities are investigating a local marriage broker who has been linked to sham nuptials between U.S. citizens and Eastern Europeans seeking a better life here.
The broker favored Navy sailors for spouses because of the pay and housing benefits involved. Officials say the sailors' involvement has created a potential national security threat.
Prosecutors have charged at least nine individuals in an ongoing investigation into illegal immigrants attempting to obtain citizenship through marriage. Three were in court Monday.
Not every case is connected to the broker, who has not yet been publicly identified, but at least four of the defendants are linked to the broker, according to court records and interviews. In the past several months, an undercover federal agent posing as a Navy sailor infiltrated the broker's inner circle to arrange marriages.
On Wednesday, the undercover agent and a Russian national, Yulia Kroshmeva, were "married" in a phony civil ceremony at Norfolk Circuit Court. She had taken the train from New Jersey that day.
As part of the deal, Kroshmeva was to pay the "groom" $6,000 before the ceremony and $2,000 after meeting with
immigration officials to secure papers allowing her to remain in the country legally, according to court records. She also asked for a military identification card, a joint bank account and a joint cell phone account to make the marriage look real, the papers say.
Through an arrangement with the city clerk, the marriage was never validated. Instead, the bride was taken away in handcuffs and charged with conspiracy to commit marriage fraud. But at a court hearing Monday, a federal magistrate dismissed the charges against Kroshmeva when federal immigration agents failed to show up for a preliminary hearing.
Prosecutors cited a "miscommunication" with U.S. Immigration and Customs Enforcement agents.
Kroshmeva's attorney, Assistant Public Defender Larry Dash, told a magistrate that he has a right to cross-examine the federal agent who lodged the complaint.
"We all knew the other day this was scheduled," Dash said. "If they can't make probable cause, then this complaint should be dismissed."
Magistrate F. Bradford Stillman agreed and also ordered Kroshmeva released. But being a suspected illegal immigrant, Kroshmeva may be kept in custody pending deportation, prosecutors said.
Stillman told prosecutors they could appeal his ruling or seek an indictment from a grand jury.
Also Monday, in a separate but related case, Russian national Elena V. Ryabikina, 22, was sentenced to 10 months in prison after pleading guilty to marriage fraud charges. She admitted entering into an arranged marriage with former Navy sailor Nathan W. Wicker of Panama City, Fla. Wicker also has pleaded guilty to similar charges and will be sentenced later this month.
Assistant U.S. Attorney Joseph Kosky said the case highlights the national security threat posed by illegal immigrants attempting to gain access to military facilities by marrying a service member.
"It raises force protection issues," Kosky told U.S. District Judge Raymond A. Jackson during the sentencing.
"She certainly did not have any plans to bring harm to this country of the Navy," Ryabikina's attorney, Keith Kimball, said.
Ryabikina will be deported after serving her prison term.
Her boyfriend, Andrei Baletski, 22, who was charged with trying to arrange his own phony marriage, pleaded guilty and is awaiting sentencing. The Belarus native also will be deported.
He, too, was "married" at Norfolk Circuit Court to an undercover agent, according to court records. Baletski had arranged to pay the bride $6,000 in three installments.
In another case filed in federal court, Vadym V. Borodyonok of Ukraine was indicted with Ashley Y. Farrell of Virginia Beach on marriage fraud charges.
They are accused of entering into a phony marriage in April. According to the indictment, Farrell was paid $2,000 to get married. That case is pending.
At a bond hearing for Borodyonok on Monday, his attorney told a magistrate that the marriage was annulled the day after the April 24 ceremony at the Virginia Beach marriage commissioner's office.
The attorney, Williams Holmes, sought to have the indictment dismissed, but Stillman denied the request. Borodyonok remains in jail pending trial.
South Africa: SA, Belarus to Strengthen Bilateral Ties
From:
All Africa
Dr. Nkosazana Dlamini Zuma
South Africa and Belarus are to strengthen their bilateral ties as South Africa's Foreign Minister Nkosazana Dlamini Zuma meets her Belarusian counterpart Foreign Minister Sergei Nikolayevich Martynov in Minsk, Belarus, Wednesday.
Discussions will focus on consolidating and strengthening bilateral political, economic and trade relations between the two countries, according to a statement released by the Department of Foreign Affairs, Wednesday.
According to the department issues on the agenda include:
* the status of bilateral political, economic and trade relations between both countries including areas of future engagement and co-operation;
* Belarusian support for promoting the African agenda;
* nuclear non-proliferation and disarmament;
* the conflict in the Middle East; and
* co-operation between the two countries in multilateral fora including the United Nations (UN) and the comprehensive reform of the UN.
Ms Dlamini Zuma will also to unveil on Thursday the South Africa - Belarus Joint Intergovernmental Committee on Trade and Economic Co-operation (ITEC) which was signed into law in August 2006.
The ITEC consists of the following sub-committees: Minerals and Energy, Science and Technology and Trade, Investment and Banking. These committees will investigate further areas of co-operation between both countries.
During her visit, Minister Dlamini Zuma will on Friday receive the award of Honorary Professor of the Belarusian State University.
While in Belarus, Minister Dlamini Zuma is also expected to pay a courtesy call on President Aleksander Lukashenko, meet with the Chairperson of the House of Representatives of the National Assembly, and the Deputy Chairperson of the "Belarusian Women's Union".
Minister Dlamini Zuma will also be accompanied by Minerals and Energy Minister Buyelwa Sonjica and Trade and Industry Deputy Minister Rob Davies.
Minister Dlamini Zuma is expected to return to South Africa on Sunday.
"The potential for economic development and interaction with South Africa remains significant, and has, and still could present South African businesses with excellent opportunities," according to the department.
Trade between South Africa and Belarus according to the Belarusian 2006 statistics is $15 million.
South African imports of potassium fertilisers (main import), refrigerators, flax fabrics and spare truck and tractors parts amount to $6 million.
Belarus also exports fully assembled low cost agricultural tractors and large dump trucks for the mining industry.
South African exports of diamonds, veneer sheets, organic chemicals, vehicle spare parts and capital goods are $4 million.
Slovakia intends to continue improving political relations between Belarus and EU, Slovakian diplomat says
From:
NLIPRB
Slovakia, which represents the Portuguese EU presidency in Belarus, intends to continue improving political relations between Belarus and the European Union, Charge d'Affaires ad Interim of the Slovak Republic to Belarus Lubomir Regak told a press conference today dedicated to the state holiday of Slovakia – the Day of Saints Cyril and Methodius.
"We will continue improving relations between the European Union and Belarus. It concerns trade-economic and political relations," the diplomat said.
"The European Union has been paying constant attention to Belarus," he underlined. The EU ambassadors have been working hard to improve the bilateral relations between the European Union and Belarus, Lubomir Regak underlined.
Belarus and the EU have been pursuing a policy of good-neighbourly relations. "Belarus and the European Union are neighbours and trading partners. The EU and Belarus have historical ties. That is why long-term relations will not be bad," Lubomir Regak is convinced.
By representing the Portuguese EU presidency in Belarus the Slovakian embassy in Minsk will coordinate the work of the diplomatic missions of the EU member states, will speak on behalf of Portugal, which took over the EU presidency, will hold dialogue with all strata of the Belarusian society and will organize trips of diplomats around Belarus.
In a
related story
, The Slovakian business circles are interested in promoting production cooperation in Belarus.
According to Lubomir Regak, the Slovakian businessmen are ready to invest in such sectors of the Belarusian economy as light industry and mechanical engineering.
Lubomir Regak praised development of the trade-economic cooperation between Belarus and Slovakia. In 2006, the trade turnover between the two countries grew by 51% as against 2005 and totaled $141 million. For the four months of the current year the Slovakian export to Belarus accounted for 66% of the mutual trade. Belarus imported the Slovakian component parts, truck and tractor materials, engines, generators, polymers and petrochemical goods. Oil products accounted for more than 57% of the Belarusian export to Slovakia. Belarus also exported tractors and prime movers to Slovakia, refrigerators and freezers and metal cord. Since the beginning of 2007 the Belarusian export to Slovakia has dropped, Lubomir Regak said.
When speaking about political cooperation between the two countries the diplomat noted that it is rather limited. "Unfortunately, the European Union follows certain principles. And it is rather difficult to deviate from these principles in the relations with third countries," the diplomat said. However, Belarus and Slovakia continue holding a dialogue at the expert level. The Foreign Ministries of the two countries and the consular departments hold regular consultations. The next meeting of the commission on trade-economic cooperation is scheduled for November 2007, Lubomir Regak underlined.
Kyrgyz president says no need to join Russia
From:
Ria novisti
President of Kyrgyzstan Kurmanbek Bakiyev
President Kurmanbek Bakiyev said Thursday Kyrgyzstan did not need to form a confederation with Russia or any other state at the moment.
The opposition in the ex-Soviet Central Asian state initiated a nationwide referendum to join the union of Russia and Belarus in June. The decision was made by United Front, led by an ex-premier and the president's former ally, Felix Kulov, and other opposition parties.
"As to Kyrgyzstan's possible union with other states, there is no need to raise this issue at the moment," Kurmanbek Bakiyev said in a RIA Novosti interview. "The opposition has put forward the idea to seize attention."
A spokesman for the Russia-Belarus Union State said earlier Kyrgyzstan could be accepted into the alliance, which did not contradict the fundamental agreement on the union. But he warned that it was premature to discuss the trilateral union before a referendum.
The impoverished Central Asian state has been deadlocked in a political crisis since a confrontation between the president and parliament resulted in Kulov's resignation in February.
The opposition is accusing Bakiyev of failing to improve living standards, curb corruption and bring democracy, and has demanded his resignation and early elections.
But Bakiyev said Kyrgyzstan could not stand aloof from the integration processes going on in the world, and he praised post-Soviet economic and security alliances, as well as the European Union.
"We are following the integration processes going on in the world with interest and will develop cooperation with other countries in all possible ways if their activities are to the benefit of Kyrgyzstan and other friendly nations," Bakiyev said.
Musicians Vladimir Chekasin and Piatras Genjushas to give concert "Sabotaging the Classics"
From: BelTA
A Subversive Breaks Free: The Volatile and Enigmatic Vladimir Chekasin (Click)
A unique duet composed of two famous musicians Vladimir Chekasin (saxophone) and Piatras Genjushas (piano) will give a concert in the Big Hall of the Belarusian State Philharmonic on July 5. Audience will be presented the concert "Sabotaging the Classics", an interesting combination of jazz and academic music.
As BelTA learnt in the Lithuanian Embassy to Belarus, the concert is devoted to the State Day of Lithuania (the Crowning Day of King Mindaugas) which is celebrated on July 6 and also to the 15th anniversary of establishing the diplomatic relations between Belarus-Lithuania. The concert is organized by the Lithuanian Embassy, the Belarusian Culture Ministry and the Belarusian State Philharmonic.
Vladimir Chekasin is a legend of the jazz music, a composer, a director and a professor. He was born in 1947 in Yekaterinburg (Russia). He started to play the violin at 6, the clarinet at 10 and saxophone at 15. During his creative activity, he has released about 60 albums. He has been on tour in many countries and taken part in many various festivals in Europe, the USA, Canada, Cuba, Japan, India and others. among his students are famous musicians of Lithuania for example Piatras Vishniauskas, Vitas Labutis, Neda Malunavichjute, Statis Sasnauskas. In the 1980s the big-band of the Lithuanian Academy of Music was recognized best one in the Soviet Union and Vladimir Chekasin was the country's musician number 1.
Piatras Genjushas is a prize winner of many international contests, the Professor of the Lithuanian Academy of Music. He has been on tour in Russia, Germany, Poland, France, Switzerland, the USA, Japan and many other countries worldwide. He has taken part in numerous radio and television concerts. His execution of Rakhmaninov's Second Concert was broadcast by European Radio in 18 countries. Piatras Genjushas is an outside Professor of the Royal Academy of Music in London, gives master-classes in Japan and the Baltic States. The pianist was awarded Lithuania's National Prize for his concert activity. In 2004, World Intellectual Property Organization presented Piatras Genjushas with a gold medal for his creative activity.
An interesting thought...
Russia, U.S. confirm intention to reduce strategic arms to minimum -1
From:
Ria Novosti
Russia and the United States have confirmed their intention to reduce their strategic offensive arms to a minimal level and develop relevant agreements, Russia's foreign minister and the U.S. Secretary of State said in a statement Tuesday.
"Russia and the United States state again their intention to continue with the reduction of strategic offensive weapons down to the possibly lowest level, which would guarantee national security and alliance obligations," Sergei Lavrov and Condoleezza Rice said in the joint statement, which summarized the results of the summit in Kennebunkport, the United States.
The START I treaty was signed July 31, 1991, five months before the collapse of the Soviet Union, and it expires December 5, 2009. It remains in force, as a treaty between the U.S. and Russia, Belarus, Kazakhstan and Ukraine. Belarus, Kazakhstan and Ukraine have since totally disarmed their strategic arms capabilities, and the U.S. and Russia reduced the number of delivery vehicles to 1,600 units, with no more than 6,000 warheads.
The treaty was followed by START II, which banned the use of multiple re-entry vehicles (MIRV) but never entered into force and was later bypassed by the Treaty on Strategic Offensive Reductions (SORT), signed May 24, 2002 by Vladimir Putin and George W. Bush in Moscow.
SORT, which expires December 31, 2012, limited both countries' nuclear arsenal to 1,700-2,200 warheads each. The treaty has been largely criticized for the lack of verification provisions and the possibility of re-deploying stored warheads.
Around the region...
Russia's Sochi wins 2014 Winter Olympics bid
From:
Ria Novosti
Russia's Sochi was selected to host the 2014 Winter Olympic Games Wednesday at the 119th International Olympic Committee (IOC) session in Guatemala, dashing the hopes of Salzburg in Austria and Pyeongchang in South Korea.
Following the opening of the session at 9:00 a.m. local time (3:00 p.m. GMT) Wednesday, each country gave an hour-long presentation of their programs followed by 30-minute news conferences. Russia was the first to give its presentation, followed by Austria and South Korea.
Russian President Vladimir Putin, who was the captain of the Sochi bidding committee, took the audience by surprise, delivering his speech in English and making closing statements in French to honor the two official languages of the IOC.
Putin promised sound security for all participants and guests at the Olympics, and snow on Sochi's mountains.
"We will do our best to make the games in Sochi secure and pleasant for the athletes, spectators, journalists and guests at the Olympics and Paralympics," the Russian president said, adding he would make sure that roads around the facilities were not hampered by traffic jams.
"Winter sports are very popular in Russia. Our athletes have won many competitions and contributed greatly to the Olympic movement," Putin said. "But we have never had the honor of hosting the Winter Olympics."
The president guaranteed that the Olympic facilities would be built on time, and said the government had allocated $12 billion for the purpose.
"Particular attention will be paid to environmental issues, infrastructure, and the most modern means of communication," the Russian leader said. "Seventy percent of participants will be accommodated within five minutes' walking distance from the competition site."
Shortly after the announcement of the bidding results, Russia signed an official contract with the IOC on hosting the 2014 Winter Olympics.
Sochi, a resort city on the Black Sea, previously bid for the 1998 and 2002 Winter Olympics, but was rejected mainly due to its poor-quality Soviet-era infrastructure.
Ukraine downgraded in human trafficking report
From:
Kiyev Post
Ukraine has made little progress in its fight against human trafficking this year, due largely to the government's failure to implement reforms, a US report released last month said.
According to a number of sources, another problem hampering Ukraine's battle with trafficking is a lack of cooperation between Ukraine and trafficking destination countries in prosecuting traffickers.
Ukraine was downgraded from its 2006 ranking in the US State Department's 2007 Trafficking in Persons/People (TIP) report, released June 12.
In the ranking, which was the result of monitoring conducted between April 2006 and March 2007, Ukraine was downgraded from its Tier 2 ranking in 2006 to the Tier 2 Watch List, reflecting the country's failure to make sufficient progress combating trafficking over the last year.
"The Government of Ukraine does not fully comply with the minimum standards for the elimination of trafficking; however, it is making significant efforts to do so," the report stated.
The annual report monitors the efforts of governments worldwide to combat severe forms of trafficking in persons. Its authors reproved Ukraine for failing to prosecute and punish traffickers and to protect trafficked persons.
Russia, Kazakhstan, Moldova and Belarus joined Ukraine on the Tier 2 Watch List this year. There are 32 countries on the Tier 2 Watch List in total. Uzbekistan was the only CIS country to fall into Tier 3, the report's worst ranking, which included 16 countries.
Former Soviet republics experienced severe economic depression and poverty after the breakup of the USSR, which has made them vulnerable to large-scale human trafficking.
Ukraine remains a major source of and destination for men, women, and children trafficked internationally for purposes of commercial sexual exploitation and forced labor.
The International Organization for Migration (IOM) has estimated that approximately 100,000 Ukrainians have been trafficked since 1991.
In one of the latest human trafficking-related cases in Ukraine, on June 19, police detained a Kyiv resident for allegedly trying to sell five Ukrainian women into sexual exploitation in Germany.
In addition to poverty and unemployment, widespread corruption and the "possible complicity" of government officials are also believed to impede the prosecution of traffickers by supporting cross-border smuggling and document forgery.
Ukraine's government has taken some steps to broaden its anti-trafficking efforts over the year.
In September 2006, the Interior Ministry established a special unit within its Anti-Trafficking Department to combat trafficking for labor exploitation and to monitor businesses involved in employing Ukrainians abroad. However, only four investigations into labor exploitation were conducted in the first four months of the special unit's inception.
In March 2007, the government adopted the National Anti-Trafficking in Persons Program, which for the first time earmarked funds for anti-trafficking efforts. Although the US report commended the program as a "positive step," it said that higher levels of funding are necessary for the plan to be effective.
Despite these measures, only a small number of convicted traffickers faced punishments suitable to the gravity of their crimes.
Last year, 47 of 86 convicted traffickers received probation rather than jail time and most of the others received between two to eight years imprisonment. The assets of 18 convicts were confiscated.
The report also claims that victims' rights are often not respected during the prosecution of traffickers, and said that some judges and prosecutors "demonstrated unsympathetic, negative, and sarcastic attitudes toward victims."
Ukrainian citizens trafficked internationally are most often destined for Russia, Poland, Turkey, The United Arab Emirates, Lebanon, the Czech Republic, Italy, Portugal, Germany, Austria, Cyprus, Greece, Serbia, Montenegro, Spain, Hungary and Israel, according to the report.
In addition to domestic and international trafficking of Ukrainians, the country is also a major transit country for women from Central Asian countries, like Kyrgyzstan and Uzbekistan, who are trafficked for sexual exploitation in Europe.
Frederick Larson, the Counter-Trafficking Program Coordinator for Belarus, Ukraine, and Moldova at IOM, agrees with the TIP report that impunity for traffickers is among the main problem areas.
"The prosecutorial and judicial systems fail in providing sufficient punishment for those individuals who are taken to court," Larson said.
However, he emphasized that Ukrainian authorities have made commendable efforts to stop human trafficking, and even "more [efforts] than many other countries."
Larson said that while most cases have involved the sexual exploitation of women and children in the past, he has seen an increase in the number of labor exploitation cases in the last two years.
Story continues...
Russian Plans to Inspire Rivals
From:
SPTimes
U.S. Deputy Assistant Secretary of State Matthew Bryza (l) said Russian plans could inspire a southern corridor response.
Plans for a natural gas pipeline across the Black Sea by Gazprom of Russia and Eni of Italy were adding to pressure on a U.S.-backed group to complete a rival project in southern Europe, an official with the U.S. State Department said.
Gazprom, the Russian gas monopoly, and Eni would compete against a planned Turkey-to-Austria pipeline backed by the United States and European Union as a way of pumping central Asian gas to Europe without going through Russia.
The U.S. deputy assistant secretary of state, Matthew Bryza, said the announcement last month of the Russian-Italian venture could inspire countries along the southern corridor to move ahead quickly to build the pipeline.
"The urgency of this latest development maybe will spur the countries and companies to say: Enough, it's time to show our cards to each other and get on with the transit agreements and the other legal agreements," Bryza said during an interview during a NATO conference in Ohrid, Macedonia.
The pipeline diplomacy comes as the North Atlantic Treaty Organization and European Union countries search for ways to enhance their energy security, with President Vladimir Putin of Russia asserting greater control over Russian oil and gas resources.
Gazprom and Eni plan to spend 10 billion euros, or $13.4 billion, to build a 900-kilometer, or 560-mile, link under the Black Sea that would compete against the 5 billion euros project, known as Nabucco, favored by Washington.
Stretching 3,300 kilometers, the Nabucco line would tap into the same gas fields in Kazakhstan and Turkmenistan that the Russian-Italian venture was eyeing. Nabucco is led by OMV of Austria, with partners including Botas of Turkey, Bulgargaz of Bulgaria, Mol of Hungary and Transgas of Romania.
Speaking of the effect of the Gazprom-Eni pact on Nabucco, Bryza said, "I just hope it will become a catalyst for the various parties to say: You know what we need to overcome our self-doubt, our doubt of the other side and reach these agreements."
Bryza said it was unclear how well Gazprom and Eni would manage to pull off "a really expensive project" that would need to look elsewhere for gas once the Siberian fields are exhausted.
The United States was not looking to block the Russian-Italian project, Bryza said, which would add a Balkan link to a web of Russian pipelines that already supplied a quarter of natural gas for the European Union.
"We've never tried to frustrate any pipeline projects in Europe," Bryza said. "We don't see a zero-sum game. If we were playing a zero-sum game, we would try to block those alternative pipelines. We don't."
Russia has flexed its energy muscles by halting supplies of gas and oil to Europe twice in the past two years, in disputes with Belarus about crude oil at the start of 2008 and with Ukraine about gas in 2007.
At the NATO conference, alliance leaders took the first steps toward sketching out an energy security strategy in response to appeals by former Soviet-dominated countries like Poland and Lithuania.
Kuchma Believes Ukrainian Revolution Gave Putin a Lesson
From:
Ukrainskaya Pravda
Leonid Kuchma
Former President Leonid Kuchma believes that the Ukrainian scenario of revolution is not possible in Russia.
"I think Russia must thank Ukraine for a good lesson of Orange Revolution . Russia drew very serious conclusions judging those steps which has been taken", he said in Komsomolska Pravda interview.
As an example he pointed at a situation of cruel measures toward the un-government agencies.
"A big fuss was made in West that it was an oppression of democracy, freedom of speech, etc. But when they saw what Russia decreed… It appears to be nothing serious, all within the limits of the European standards: if you want to work – work. But you are a part of an organization and must be under control – where does money go, to whom and from where?", - marked Mr. Kuchma.
He reminded that in both, Europe and the USA, the un-government agencies also work under control.
"They are at least under the tax control and it is even more frightful for people than political", the ex-President stated.
Answering to the question what is his forecast regarding "power interception" in Russia, Mr. Kuchma said that all these attempts regarding Russia are "not serious".
"Russia has the political stability in principal. It means a lot. The entire world appreciates this, especially the world of business. Businessmen have another opinion about Russia than politicians. They say that its stability should be kept as the apple of one's eye", he said.
Regarding Russia-Ukraine relationship the former president believes that the behavior of political elite is "something temporary".
"The history sets us to live in the world and be real strategic partners. To my mind, this is truth that does not need any proofs", informed Leonid Kuchma.
"We have cried a lot "European Union! European Union!" Europe still needs to solve its problems. It has no time for Ukrainian ones. With Russia we had good prospects. I mean the treaty about Common Economic Space. The documents were countersigned in Russia, Belarus, Kazakhstan and we blocked all these processes", pointed out the former president.
Once more he complained that Ukraine lost its chances in Common Economic Space. At the same time he also suggested Russia "to stop living only with mottos about brotherhood of Ukrainians and Russiands".
Estonia reburies 8 Soviet dead from monument site
From:
Gulf Times
Russian ambassador Nikolai Uspenski (second right) attends a ceremony in Tallinn yesterday during a reburial ceremony of eight World War II-era Soviet soldiers
Estonia yesterday reburied eight World War II-era Soviet soldiers whose remains were exhumed after the removal of a Red Army memorial that triggered a bitter political row with Russia. The long-dead men received military honours at the Estonian defence forces' cemetery, a quiet setting in the capital Tallinn where the relocated Bronze Soldier memorial now also stands.
Orthodox and Protestant chaplains, reflecting the country's main religious make-up, said prayers and the eight coffins, draped in white cloth, were lowered into the ground as officials and veterans' representatives looked on.
"I hope the remains of the Red Army soldiers who had been waiting to get a peaceful burial place for more than sixty years have found their final resting place today," Estonian Defence Minister Jaak Aaviksoo said. "We have fulfilled our duty to them."
After months of debate, Estonia shifted the monument from its central location in the capital at the end of April.
At the time, Moscow blasted the move as a "blasphemous" affront to the Soviet dead.
In a sign of Moscow's continued anger, Russia's embassy in Estonia had said it would boycott the reburial.
"The Russian side has on the highest level declared that we consider it unacceptable that the monument was dismantled, the remains were exhumed and all this has been accompanied by attempts to rewrite history in order to win points in domestic politics," the embassy said Monday.
The Russian military attache was nonetheless present at yesterday's ceremony, although he wore civilian clothing and did not lay a wreath.
The embassy said its representatives would attend a separate service at the cemetery after the official function.
However, the ex-Soviet republics of Ukraine - the homeland of one of the soldiers - and Belarus, were among more than 20 countries which sent diplomats to the official ceremony.
"The Russian embassy said they would not send an official delegation here today," Ukrainian ambassador Pavlo Kiriakov told reporters after the ceremony.
"But I saw the Russian military attache here, so I don't know why they are doing this," he said. "I'm glad that the soldiers who fought fascism have finally found a peaceful resting place."
The remains of 12 soldiers were discovered and exhumed from the Bronze Soldier's former location.
The remains of two were handed over to relatives in Russia, and of another to a Russian-origin relative in Israel, for reburial after DNA tests confirmed family ties.
Preliminary tests on the remains of a fourth soldier matched the DNA of two relatives from Ukraine, but it was not known when they will arrive in Estonia for conclusive tests, the Estonian defence ministry said.
A black granite memorial plaque with the names - in Cyrillic script - of the eight soldiers whose relatives have not to date been found was placed yesterday alongside the graves.
DNA samples have been taken from the remains, should any further relatives come forward and ask to rebury them.
The bitter dispute over the Bronze Soldier plunged relations between Estonia and Russia to their lowest level since 1991, when the Baltic country regained independence as the Soviet Union fell apart.
For Russians - including Estonia's Russian-speakers, who make up around a third of the population - moving the memorial dishonoured the memory of soldiers who fought the 1941-1944 Nazi German occupation of Estonia.
For many Estonians, however, the monument was a painful symbol of the Soviets' own 1940-41 occupation, and the five decades of rule by Moscow in the wake of World War II, when thousands of Estonians were deported to Soviet prison camps and equal numbers of Russian colonists were sent to the Baltic country.
The monument's previous site was a regular flashpoint between Russian minority activists and far-right Estonians.
Gazprom to raise its own private army to protect oil installations
From:
Times On-line
Gazprom will create its own private army after Russian lawmakers gave the gas utility and Transneft, the state oil pipeline monopoly, the power to create armed units to defend their installations.
A Bill passed yesterday by the Duma, the parliament's lower house, would allow Gazprom and Transneft to recruit and arm their own security forces, giving them greater powers than private security firms.
The move provoked a storm of protest against the creation of private armies within Russia's largest corporations. Gennadi Gudkov, a deputy in the Duma who had opposed the Bill, called it a "Pandora's box . . . This law envisages the creation of corporate armies. If we pass this law, we will all become servants of Gazprom and Transneft."
Russia's move to arm Gazprom has emerged as Nato begins to forge links with multinational oil companies. The organisation has offered Royal Dutch Shell and BP seaborne rapid response forces to defend oil platforms and installations from hijackers and hostage-takers.
The Bill – which has to be ratified by the Federation Council, the parliament's upper house, and by President Putin to become law – will enable Gazprom and Transneft to create their own security force, instead of hiring external security guards to protect their installations. It envisages a force armed with handguns and pump-action shotguns.
Its supporters said that the two utilities needed greater power to protect pipelines from terrorist attack. Gazprom controls 153,000 kilometres of gas pipeline, linking gasfields in remote parts of Siberia to urban areas and to Europe. Transneft's pipelines have come under attack in the Caucasus from separatist groups.
Alexandr Gurov, a Duma deputy who drafted the Bill, said: "A couple of terrorist acts and an ensuing ecological catastrophe would be enough to immediately declare Russia an unreliable partner and supplier of energy."
However, the signs that the Kremlin is creating a private military force within Russia's most powerful company will arouse concern that Gazprom is rebuilding a power base that extends beyond its role as a gas utility. The Bill allows the security force to be deployed only to protect infrastructure, but Gazprom's pipelines provide vital links to Europe across sensitive borders with Ukraine, Belarus and Poland.
Nato is beefing up its activity in the energy sphere, with a view to providing emergency assistance to oil companies in Africa, Asia and the Middle East, according to Jamie Shea, director of policy planning for the organisation.
Speaking at a recent Chatham House energy conference in London, he said that oil companies were keen to receive help with intelligence. Attacks against oil pipelines are endemic in Nigeria and concern is mounting about the vulnerability of oil and gas installations in the Gulf.
"In Nato we are looking very actively at using our maritime resources to see how we can link up with oil companies," Mr Shea said.
The organisation is in talks with the Government of Qatar about security for the vast liquefied natural gas projects under way in the Gulf state.
Moscow's Tchaikovsky Competition Concludes with No Gold Medal for Piano; Houston Grand Opera Studio Member Takes Vocal Honors
From:
Playbill
Pyotr Il'yich Tchaikovsky (1840-1893)
The 13th Tchaikovsky International Competition concluded on Saturday night (June 30) with an awards ceremony at the Great Hall of the Moscow State Conservatory. Prizes were given in five categories: violinist, pianist, cellist and male and female vocalist.
In addition to career-building cachet, the Tchaikovsky Competition offers relatively hefty prize money: $40,000 for each gold medalist, $30,000 for each silver medalist and $20,000 for each bronze medalist. And the career-building has already started: according to a report from Agence France-Presse, managers and impresarios from Russia and other countries have already offered engagements to several of the laureates.
The president of this year's event was to have been Mstislav Rostropovich, who died earlier this year. This year's competition was dedicated to his memory, and his widow, soprano and pedagogue Galina Vishnevskaya, presented the medals at the closing ceremony, along with Russian national minister of culture Alexander Sokolov.
The big winner among the contestants seems to be Albina Shagimuratova, a 27-year-old soprano born in Uzbekistan and representing Russia, who just completed her first year with the Houston Grand Opera Studio, the company's young artists' program. She took the gold medal for female singers as well as a Rostropovich Grant (underwritten by the Wimm-Bill-Dann company), the Toyota Prize and a special award for dramatic skill from the Union of Theatrical Workers of the Russian Federation. Shagimuratova played the Dew Fairy and Sandman in this past season's HGO production of Hansel and Gretel, directed by Basil Twist; during the coming season in Houston, she will sing the Queen of the Night in Mozart's The Magic Flute and Musetta in Puccini's La Boheme.
The gold medal for male singers went to 31-year-old Ukrainian bass Alexander Tsymbalyuk, a member of the Hamburg State Opera.
The piano jury decided not to award a gold medal at all, reportedly after long and heated debate, according to The Moscow Times. Miroslav Kultyshev of St. Petersburg, Russia was awarded a silver medal. Fellow Russian Sergei Antonov took top honors among the cellists, while the gold medal for violinists went to 21-year-old Mayuko Kamio of Japan. According to Agence France-Presse, violinist and conductor Vladimir Spivakov, who was on the jury, has already offered Kamio an engagement to play the Tchaikovsky Violin Concerto with the National Philharmonic Orchestra of Russia under his baton.
There was another unusual decision from one of the juries this year, according to The Moscow Times. The violin judges felt that 23-year-old Artyom Shishkov of Belarus probably deserved to make the finals, but for his poor-quality violin. Spivakov said frankly at a press conference last week that Shishkov "played very well, but on a catastrophically bad instrument. So we simply couldn't advance him." The jury wrote a formal letter to Belarussian President Alexander Lukashenko asking that his government provide the young violinist with a decent instrument.
The Tchaikovsky Competition, whose once-formidable reputation had fallen somewhat in recent years, began a serious effort this year to regain some of the luster it had in the 1950s, '60 and '70s. The voting system was reformed and made more transparent, and the Tchaikovsky Foundation will make an effort to support winners in their career development following the competition. Among the prominent jurors this year were Spivakov, pianist and former Curtis Institute president Gary Graffman, legendary violin teacher Zakhar Bron, cellist Laurence Lesser, and singers Irina Bogacheva, Luigi Alva, Vladimir Galouzine, Yevgeny Nesterenko and Grace Bumbry.
Normally held every four years, the Tchaikovsky Competition had been due for 2006 but was delayed by a year in order to avoid overlap with the World Cup of soccer. Thus, the next edition of the event was supposed to have been held in 2011 — but it has been moved back to 2010, according to The Moscow Times, because the Tchaikovsky Competition is contractually bound to avoid scheduling conflicts with the Queen Elisabeth Competition in Belgium.
From the blogs...
Three knights of Belarusian Apccalypse
From:
TOL
A former nation of 10 million has been thrown back in time to the population rank of 1970's. The trend is serious and extremely alarming. The nation of Belarus, the quarter of which had been tragically whipped away by the woe of World War II, undergoes steady decline. According to the official web site of the president Lukashenka, Belarus has (-0,06)% population growth with natural increase in population of (-51,5) thousand. Total fertility rate in Belarus is very low with only 1.43 children born per woman. In Belarus 27.1% population lives below poverty line, the figure is even higher than in Russia (17.8%).
The picture gets even worse when one hears about a shocking drop in life expectancy for men to 63,5 years, whereas women's life expectancy remains 75 years old. On the criteria of male life expectancy, Belarus occupies 120th place in the world out of 193 countries ranked, outscored by neighboring Lithuania (68.94), Poland (70.3), and frequently-compared-to Cuba (74.94), and followed by Ukraine (61.6), Moldova (61.12), and Russia (60.55). No matter what one sees on the statistic charts, he/she should not forget how Belarusan data comes to the statistical bureaus. Belarusan government with its invisible hand influences any piece of information, which is born in Belarus or leaves the country. So, who knows what actually kills Belarusan nation, and what the real figures are. Let's figure out for ourselves.
Alcohol addiction acquires steady growth in Belarus. As soon as Belarus became an independent nation, the alcohol consumption in the country had more than doubled since the collapse of the USSR. So did the consumption of vodka in specific. Alcohol is accountable for not only major earlier deaths in the country (alcohol poisoning causes more deaths than road traffic accidents, 18 deaths per 100,000 population as of 1998) and significant drop in male life expectancy, but also for major government revenues. According to the Ministry of Public Health Care, there are more than 253,000 alcoholics and drug addicts in Belarus today, a rise of 4.1% over the figure for January 2005. The total includes more than 169,000 male alcoholics, 6,000 women, and 57,965 who are registered drug addicts. According to the chief health official in this sphere, Uladzimir Maksymchuk, only 22% of residents of Belarus lead a "sober way of life," 42% drink occasionally, 26% drink quite frequently, and 10% drink habitually (Narodnaya Volya).
According to a recent publication on Radio Free Liberty, a Belarusan sociologist Mikhail Zaleski, who specializes in the problems of alcohol abuse, had stated that if alcohol influence on male life expectancy is removed, the average life expectancy of a Belarusan man will increase by 7 years.
The societal alcohol psychosis is a result of "Lukashenka's inability to address the problem". Alcohol is an easy solution for a man to get away from depression, inability to be a bread winner for the family, and powerlessness to make a change in society. The problem becomes more apparent when one realizes how cheap vodka is in Belarus. It became even cheaper than in Soviet times if compared the price of alcohol in relation to the average salary. Moreover, alcohol production industry is booming in Belarus. In 2006 Belarus increased the output of vodka and liquors by 18.8% on the year in January-October. Loosing high revenues is not a solution for the government. In a state of dictatorship, having a weak and careless population gives a dictator a steady electorate, which would not rebel. Trying to put restrictions on the industry will result in the loss of Lukashenka's popularity. Therefore, no alternatives to quit drinking are available.
Continue reading 'Three Knights of Belarusian Apocalypse'...
Светлое будущее
From:
Project Belarus
Alexander Lukashenko has participated in the solemn meeting at the Palace of the Republic on the occasion of Independence Day of the Republic of Belarus.
Навіны з Расеі працягваюць інтрыгаваць. Вось анатацыя да фантастычнага расейскага бэстсэлера некага Дмітрыя Беразінскага (псэўданім?) «Путь, исполненный отваги»:
Некие высшие космические силы создают альтернативную Россию на планете земного типа Гея. Движущей силой этой альтернативной истории становится отряд белорусских десантников.
Я ня мог утрымацца і скачаў пірацкую копію гэтай кніжкі. Па ходу дзеяньня атрымліваецца, што на Гее спрабуюць стварыць Расію, дзе не прыйшоў да ўлады Пётр І, які, маўляў, паламаў усім жыцьцё і вінаваты ўва ўсіх бедах. Мімаходзь у кнізе расказваецца пра беларускую апазыцыю, БНФ, Лукашэнку і інстытут манархічнага прэзыдэнцтва.
Тым часам, позірк падае на іншае паведамленьне ў google-news: Владимир Путин поздравил президента Белоруссии Александра Лукашенко с национальным праздником - Днем Независимости. Как сообщает пресс-служба президента РФ, в поздравительной телеграмме, в частности, отмечается:
"Символично, что эта дата неразрывно связана с днём освобождения Белоруссии от фашистских захватчиков. Наши народы плечом к плечу сражались за свободу, ковали одну на всех Победу. И в России всегда будут помнить подвиги славных сынов и дочерей белорусской земли, поднявшихся на отпор врагу.

Пронесённая через тяжелые испытания дружба, взаимное уважение и сегодня служат надёжной основой для дальнейшего развития наших добрососедских отношений. Перед Россией и Белоруссией стоят во многом общие задачи. И для их успешного решения необходимы слаженные совместные усилия. Твёрдо настроены на всемерное продвижение взаимовыгодного интеграционного сотрудничества, способствующего экономическому и социальному прогрессу наших государств, укреплению их демократических институтов".
Лукашэнка і Пуцін, якія разам будуюць демократычныя інстытуты на базе ўзаемавыгаднага супрацоўніцтва паміж РБ і РФ? Навуковая фантастыка, ды й годзе. Пайду лепей пап'ю халоднай Абалоні.
Ситуация №19
From:
mikola-a.livejournal
Наконец-то попал мне в руки 19-й номер газеты "Ситуация". Если кто не в курсе, это еще одно издание Автономного Действия. Выходит раз в два месяца. В руках у меня сейчас номер за май. Приступим к рецензированию.
1. Открывает номер статья под названием "Галимый оранжизм". Не очень удачное название для заголовка передовицы. Суть статьи - обсуждение провальности и бестолковости "марша несогласных" и "Другой России". Касьянова сравнили с попом Гапоном. Довольно удачное сравнение :)
2. Ход событий. Основные акции анархистов за прошедший период. Очень-очень основные)) Ну, грубо говоря, где-то одна пятая от того, что произошло. Но такую краткость можно понять - газета не резиновая
3. Последние дни Фиделя. Интервью с либертарным движением Кубы. Кубинский активист-либертарий рассказывает об их движении. Рассказывает как-то вяло, и без энтузиазма. Ни слова про то, какие акции они проводят, или пытаются проводить. Статья в целом в пух и прах разбивает иллюзию о том что Куба - это остров свободы. Никакой свободы там нет. Обычная диктатура.
4. Анти-новости. Попытка реакции на окружающие политические и социальные события. Автор пытается писать с юмором, но получается очень уж мрачно))
5. Рубрика "Наши глаза" рассказывает о Маршах Несогласных, а также о двух белорусских событиях: 1. День Воли. Отчет о Дне Воли, взятый с нашего сайта ( http://belarus.avtonom.org/?p=110 ), дико укороченный и урезанный. Про участие анархистов (пусть и символическое) ни слова. А зря. 2. Чэрнобыльскі шлях, отчет о которого аналогично взят с сайта АД-Беларусь ( http://belarus.avtonom.org/?p=134 )
6. Миром правят единицы. Интервью с позитивной Ижевской хардкор-группой "ИНДИКАТОР". Их вокалист: timkol
7. Кулак против саммитов. Устаревший материал. Посвящен концепции протестов против саммита в Хайлигендамме. Саммит уже прошел ))
8. Бла-бла-бла-РЕВОЛЮЦИЯ. Заметка о слабости "левой оппозиции" и о том что жизнь "активистов-леворадикалов" зачастую не соответствует их убеждениям. Многое написано толково, однако вырубает 2 момента: Постоянное отождествление нас с некими "левыми". Кто эти "левые". В массовом сознании это социал-демократы, совковые "камунизды" и прочее дерьмо. Или это АКМ, СКМ, НБП??? Что у нас с ними общего? От них, наоборот, надо дистанцироватся. А мы и себя и их причисляем к какой-то непонятной левой общности, хотя видно что у нас больше различий, чем схожести. В АД вроде давно уже решили что мы называем себя либертариями, анархистами, анархо-коммунистами и т.д., но никак не "левыми" или "леворадикалами".
Второй момент - зачем публиковать исключительно внутреннюю критику во внешней газете? Концепция Ситуации такова что нужно, чтоб ее можно было дать почитать любому субкультурщику, молодому человеку, интересующемуся политикой, не члену АД, и т.д., и в принципе Ситуация справляется с этой целью. Так зачем публиковать там внутреннюю критику, да еще к тому же выставляющую многих из нас не в самом выгодном свете? Это неправильно.
9. Константин Вентцель. История либертарной мысли в России. Статья об известном российском анархисте начала 20 века, основателе либертарной педагогике, чье имя сейчас забыто.
10. Пост-анархизм. Статья с претензией на ревизию анархистских догм. Сама задумка толковая, много интересных мыслей. Однако такому материалу, спорному, как и любая теоретическая статья,место в Автономе скорее, или на сайте АД, я так думаю. Наши углубленные теоретизирования врядли будут интересны основной аудитории Ситуации.
11. А-ДИСТРО. Очень полезная рубрика. В ней можно заказать всякие интересные вещи для личного и общественного просмотра\прослушивания\прочитывания. В этом номере представлены: Второй номер владивостокской газеты АД "Удар". Книга Жан-Поль Сартр и либертарный социализм во Франции (50-е - 70-е гг. ХХ в)., запись передачи с РенТВ "Бойцы под знаком Антифа", альбом социальной-рэп группы SIXTYNINE "Делай что должен", а также газета Федерации Анархо-Коммунистов Ростова-на-Дону "Протест".
12. Некролог Жану Бордийарду
13. Обзор полезных сайтов.
14. Нужна помощь! Краткое описание последних проблем анархистов и антифашистов с законом. Указание зон, куда можно писать письма, прилагается.
Итог: создается впечатление, что уровень газеты скачет от номера к номеру. Мое твердое мнение - газета должна быть такой, чтоб ее можно было дать любому неполитизированному человеку, и он бы нормально вдуплил, о чем там пишется. Теоретические, спорные статьи прекрасно подойдут для сайта или журнала "Автоном". Для Ситуации должно быть все только самое свежее и простое для восприятия. Иначе, скажу честно, получается ни рыба ни мясо. Народ вот жалуется что как-то газета похуже стала, и брать не хотят. Так что, уважаемая редакция, примите к сведению.
Желающие приобрести газету, пишите:
Минск (и другие города Беларуси, не указанные в списке)
belarus@avtonom.org
Гомель
satana@riseup.net
Солигорск (Минская обл.)
Adsoligorsk@gmail.com
Putin And Bush Discuss Missile Shield
From:
Political Yen/Yang
One topic that appears to have come up during Putin's fishing trip with his American counterpart is the Missile Defense Shield. (
Details here
.)
Russian President Vladimir Putin offered an expanded counterproposal to U.S. missile defense plans Monday, challenging President Bush to build a regional European missile shield that could include a sophisticated new radar facility on Russian soil.

Putin's proposal went far beyond the cooperation he first suggested in Germany last month and surprised Bush as the two leaders wrapped up two days of informal meetings at the president's family compound in this oceanfront resort town. Bush welcomed the plan, and his advisers said Putin's suggestions convinced them that he is serious about working together, not just posturing, as they initially suspected.
Criticism of Putin is nothing new here at PYY and I am sure that there will be much to criticize him for, in the future. With that said however, I also would say that Putin's counter-proposal should be looked at before reaching any final conclusions.
I haven't had time to scrutinize the proposal. But I would say that to balk without looking at it, would be foolish. If the world is to ever have a remote chance of seeing peace, the U.S. cannot be at odds over trivial things with Russia. In short, we have to pick and choose our battles wisely.
Like it or not, Russia cannot be ignored as a player on the world stage. Aside from the rhetoric that comes with the territory (international politics), I still think that Putin would rather have us as an ally, than as an adversary. Deep down, despite the differences in both governments, I still think Putin sees a greater enemy than the U.S., which is radical Islam.
Poland nursing a grudge
From:
The Beatroot
There is wide public sympathy for the nurses' cause
The EU deal that wasn't; striking doctors and nurses; and the Father Henryk Jankowski – Mel Gibson connection: the usual weird and wonderful stories out of Poland didn't stop just because I went on holiday.
For the last two weeks now, nurses have joined doctors and come out on strike and camped themselves, literally, opposite the prime minister's office. Just half a kilometer from where I live, a line of tents – a 'white city' - has emerged on the plush Ujazdowski Avenue, and lining the lush Lazinki Park.
Work to rule, even hunger strikes have been part of the protest – these people are pretty desperate. Not hard to imagine why as both sets of workers get less than the national wage for doing a job that requires a much higher than average level of skills and training.
The government has been unsympathetic (unlike the general public) to their plight and repeatedly claimed that 'there is no more money' – as they waste billions sending armed forces to Afghanistan and Iraq, and elsewhere besides.
The latest news appears to be an offer by health minister Zbigniew Religa for a 30 percent pay rise… next year. The nurses and doctors must be tempted to take the offer and pack up their tents.
EU agreement that wasn't
Chancellor Merkel must have felt proud of herself when she got Poland to sign up to the new EU Treaty, an agreement which included Warsaw accepting a new method of voting that decreased its influence in Brussels. This was a surprise as the 'square root' method favoured by the Polish government was something that the Kaczynskis claimed was 'worth dieing for…'.
Well, President Lech Kaczynski had to come home from the summit in Germany with his tail between his legs and very much alive.
Unfortunately, his brother, PM Jaroslaw appears to have been none too pleased by Lech's work abroad. He suddenly announced days after the deal was signed and sealed that, in fact, Warsaw did not accept the deal. He said that it was unfair to relate the voting weight of a country to the size of its population. Why? "Because Poland's population would have been much larger than the current 38 million if not for the Nazis (and Soviets) murder during WW II."
Er…um…
This is indeed a strange argument. Should Ireland be given greater voting strength in the EU because it suffered a 25 percent decrease in its population during the Potato Famine of the 1840s?
As someone said to me at work today – to think something like that in private is understandable, but to use it as a negotiating tactic is ludicrous.
A better argument would have been to point out that WW II, and the Soviet occupation after it, severely stalled the lively development Poland experienced between the two world wars.
But even still – I don't think even that argument would have increased Poland's entitlement to EU structural funds.
Father Jankowski – a bit like David Beckham, actually
The Dziennik newspaper printed a story today revealing that the priest so prominent during the Solidarity strikes of 1980 has contacted Mel Gibson to direct the planned biopic of Jankowski's life.
Funding for the new movie is no problem – some big name sponsors are ready to sign up. All the film needs is the delicate touch of Gibson, director of the film The Passion, which ultra-Catholic Jankowski obviously greatly enjoyed.
It was also revealed that Father Jankowski is releasing a new range of cosmetics – notably a perfume called HJ – and he is also, via the Jankowski Institute, opening a chain of cafes, which will be serving wine, vintage Jankowski, as every bottle has the priest's face on it.
But what will this new perfume and wine smell and taste like?
Well some are expecting them to smell and taste of…anti-Semitism.
Jankowski has been repeatedly told off by the Vatican for his anti-Semitic statements. In 1997 the Polish Church was forced to ban him preaching for one year after these kind of remarks, reported by the Anti-Defamation League:
'[Jankowski said]…in June 1995, with Polish President Lech Walesa in attendance, that members of the Polish government have secret allegiances to Israel or Russia, and that the Jewish Star of David was part of the Nazi swastika and the communist hammer and sickle. In December 1995, during a meeting at his Church, Father Jankowski said, "I have nothing to apologize for my [anti-Jewish] words...Why shouldn't we talk about such things as the murder of Germans by Jews? Why may we not talk about the Jewish-communist administration that governs Poland today? The reason is that they have banks, and everything else in their hands."
So will Jankowski become the new Polish David Beckham, endorsing all sorts of products, from wine to cosmetics, or is his 'brand' already tarnished by his ugly prejudices?
He did it in English...
From:
The Story
I just saw Putin on television in Guatemala pitching for the 2014 Olympics. Russia is trying to get the winter Olympics for that year and are pushing Sochi, the resort town on the Black Sea, an area referred to as the Russian Riviera. The International Olympic Committee will decide the winning bid on Wednesday. Austria and South Korea are also in the running.
What was really interesting though was that Putin made the entire speech in perfect English. And not only that, the last few sentences were said in flawless French, perfect accent and all.
Yahoo news called it this way:
Russian President Vladimir Putin duly led the presentation for the Black Sea resort of Sochi here on Wednesday to win the right to host the 2014 Winter Olympics but stunned his audience by speaking in English in public live for the first time ever.

Putin, who was so nervous about his speaking in English before entering the hall where the International Olympic Committee (IOC) members are assembled to hear the final presentations of Sochi, Salzburg and Pyeongchang that his legs were shaking, managed to give a command performance.

"Keep your cool," commented one journalist to him.

"To what?" replied Putin.

Putin, who has been called the captain of the Sochi team and who has a dacha in Sochi, said that the history of Russia in winter sports - they have the most ever medals in Winter Olympic history - merited a win for the Russians.

"We are good at hosting special events and over the last 25 years we have proved this by hosting 100 major championships," said Putin, who like his counterparts Austrian Chancellor Alfred Gusenbauer and Korean president Roh Moo-Hyun have come here to lobby for their respective candidates.

"Russia is the way ahead," he continued.

"The Olympic family is going to feel at home in Sochi.

"Winter sports are very popular in Russia and have proved that in the sporting arena but we have never had the honour to host the Winter Games."

Putin said that that Sochi would bring to Russians and to the world something which has been lacking in the country since the break-up of the Soviet Union.

"This would be the first ever winter sports cluster in Russia," he said.

"After the break-up of the Soviet Union we lost all mountain venues, would you believe it!"

"Thus all athletes have no venues to train in.

"Sochi would be a new world class venue for the new Russia."

Putin, who emphasised that there would be special care taken over the environment which has created some concerns in ecological circles with a beautiful national park and also security, wanted to also reassure sceptics that they could guarantee snow for the Games with people warning that there would be increasingly warm winters in the future.

"I skiied there over six weeks ago and there was real snow, I kid you not!" said Putin, who reaffirmed the pledge of 12billion dollars for the Games.

Putin added that he could also assure people of two other crucial factors to do with the Games.

"We will lift all restrictions on minimum stays for delegations and that has been signed into law by myself," he said.

"There will also be no traffic jams, I can promise you that."
Now perhaps this shouldn't have affected me as deeply as it did. Perhaps if I would have been following Russian/Belarusian news in America or at least on cable, I would have heard the man speak several times in English. And I could even add to this that I understand he was intelligence which means he probably would have had an understanding of the language of his adversaries. But you must understand that after all the time that I have been here and all of the anti-American and European rhetoric that goes across my desk; I was simply not prepared for it.
For sure, Lukashenka doesn't speak English. I mean he might, but I have never heard even the slightest utterance from him outside of Russian. And after four years here I don't expect him to. So maybe this was part of the shock at listening to Putin.
Part of me though didn't believe in it. I was thinking that perhaps the speech was written out for him phonetically with the translation just below it. There were several times in the speech when it seemed that he wanted to come off as spontaneous or even mildly hip or glib and it just didn't seem right. But then again, this could also be cultural because Russians are sort of bottom line in their habits.
The French though I believed in. All upper-education types from the USSR spoke French. When I first got here in fact, this was the language I got along in. And when Putin went into French, it fell off the tongue as if it really belonged there.
Now Bush and Putin got together in Kennebunkport. Did anybody notice if there was a translator? When Hugo Chavez was in Belarus, there was a Russian/Spanish translator walking between Lukashenka and Chavez. And in Guatemala, when the head guy from the Olympics was talking, Putin had headphones on and then spoke in Russian to the press. But this was Spanish. Did anyone notice if Putin and Bush talked man to man, or did they need a go-between? I am only speaking about Putin here and again, I don't want to come off as insulting because learning a second or third language would not be something that would be beyond the man, that's a rediculous thought. George W on the other hand has troubles getting along in English; there is no way in hell the man speakes any Russian.
I guess what I am saying is that regardless of whether Putin really can speak English, watching the man put himself out like that in the English language came as a real shock. We just don't normally see this kind of thing in general. The presidents of Belarus and Russia simply don't… uh… work to impress; they for sure do not work to impress Europeans and they especially do not work to impress in the language of the Americans.
I mean, I get it that Russia really wants the Winter Olympics in Sochi the presidnt of the Russian Federation making a speech in English was simply saying that Russia is an internationally oriented, multi-ethnic and diverse country and that they have the capacity to host the Olympic games in the proper style and theme that has come to be expected by the international community. And that their doors in this case are very open. This I get. It is just that this is not what is going on around here on a day in and day out basis. On any normal day, they are working on the next cold war. On a normal day, frankly, everybody hates each other.
But today I guess, was not a normal day.
And really, even Russian Deputy Prime Minister Alexander Zhukov knew that the English speech was going to be a shocker. On the third he was quoted as saying:
"Tomorrow's speech by the President will in some way be a surprise not only for the IOC but also for us,"
For sure it was. For sure…
Sport...
411Mania Exclusive Interview: Vladimir Matyushenko

From:
411 mania
The IFL's regular season is over and the semifinals are less than a month away! The Los Angeles Anacondas are taking on the Quad Cities Silverbacks and the Tokyo Sabres take on the New York Pitbulls in the two match-ups. In one of many bouts to highlight the card, "The Janitor" Vladimir Matyushenko of the Sabres is taking on Jamal Patterson of the Pitbulls! In this exclusive interview, Matyushenko took the time to talk to 411Mania's Lotfi Sariahmed about his career and his bout with Patterson!
Vladimir Matyushenko has been around MMA for a while. He started in 1997 with three wins in one night at IFC 5. "The Janitor" also spent time in the UFC where he compiled a 3-2 record. Now he's in the International Fight League where he is 3-0 fighting for the Tokyo Sabres. Vladimir and the Sabres are preparing for their semifinal bout against the New York Pitbulls on August 2nd in East Rutherford, New Jersey. He recently took the time to talk to 411Mania about his upcoming bout and his career.
411Mania.com: You've become one of the best light-heavyweights in the IFL fighting for the Tokyo Sabres but it's been a long journey for you coming up in this business on your own. Tell our readers about establishing yourself here in America starting on your own.
Vladimir Matyushenko: Well yeah it's kind of a long story. I came to America with the National Belarusian team for freestyle wrestling. One time we were on a tour and I got into a disagreement with the coaches. At that time, everything in Belarus was falling apart and I had my family I had to support them, and I decided to stay.
411Mania.com: How difficult was that for you that transition? How did you manage to assimilate and make in on your own?
Matyushenko: It was pretty hard. I didn't just do it on my own; a lot of people helped me right away. Maybe it was just luck but I'm grateful to my American friends. I went to wrestling junior college and the coaches helped me learn the language right away. They were patient with me. The collegiate style of wrestling was different but from day one I was helping them coach and showing moves to the wrestlers, so that's helped me learn the language too. Because If I were just working on construction somewhere, not talking to anybody, I would probably not learn as well as now.
411Mania.com: How did you end up joining the Sabres?
Matyushenko: Ken Yasuda. I don't know it was luck. He actually created a good team, and I just enjoy working out with all my teammates. He just called me up and I didn't agree to a contract at first. I didn't know too much about the IFL at first. So I did a little research and I kind of liked it. So I tried out and I think it was a good move for me.
411Mania.com: How has fighting in the IFL been different for you compared to the time you spent in the UFC? Or is there any difference at all?
Matyushenko: There are some differences and some similarities. A fight is a fight, which is the similar part. You go in and you're one on one with an opponent, that's the similar part. The differences; I have more fights right now with the IFL in a short period of time. In the UFC when I fought, I fought once a year sometimes, sometimes twice. You don't know when you're fighting and for a long period of time it's hard to prepare yourself mentally. You can train and all that but it's hard to get ready when you don't know when you're fighting. With the IFL right now this is going to be my fourth fight in six months and it really helps me to prepare physically and mentally when I know where I'm fighting. It's good training wise to help get myself better.
411Mania.com: How about the business side of things? There has been so much speculation about the IFL from a business perspective? Have you had any problems in your dealings with Kurt Otto and Gareb Shamus?
Matyushenko: No. To me they were very nice, very professional. This is how any organization should be right now, the UFC or anybody. To be on top of this game you should start treating people right and it goes for any organization. It can work for working for railroads or any organization. You need professional relationships with your employer and employees. From that aspect they do a pretty good job.
411Mania.com: What do you think you've brought to the Sabres as a fighter and now a teammate?
Matyushenko: Definitely my experience. I'm more calm than most of the guys. Some of the younger guys before fights they get nervous and walk around. Deep inside I'm still nervous too but I don't show them and it calms them down too. My fighting experience as a wrestler helps too. We have a great team and we help each other. We have Antonio McKee (Sabres welterweight), he's a veteran and myself and Wayne Cole (Sabres heavyweight) and he's an older guy. We just try and help each other. If somebody makes a mistake during training, we help each other to train. I help with the takedowns; someone helps with the striking and submissions. I'm happy with my team.
411Mania.com: Talk a little bit about your coach Ken Yasuda. What has he done for this team to make it so successful?
Matyushenko: The biggest thing he did was put the team together. I think that was his greatest accomplishment. I don't know how that happened but that's one of the reasons I didn't want to fight at first. I didn't know whom I was fighting with and who Ken Yasuda was. But after a few practices and getting to know Yasuda I decided that's what I needed. I think that's the biggest thing he's done so far. We're still together. I know other teams have bad relationships with their coach and we've had our problems but we've stayed together and we're ready to go to the semifinals. That's a big accomplishment so far.
411Mania.com: Lets delve into this team match-up now. You're the #3 seed taking on the #2 New York Pitbulls. You'll be fighting their light-heavyweight Jamal Patterson, how is training for the fight going?
Matyushenko: Well, training is training. He's a better fighter than anyone I've fought so far. He has good submissions and he's an ex-wrestler. There's a lot of pressure on him so he's probably training right now pretty hard for me. That's his hometown right there where we're fighting.
411Mania.com: Is there any added pressure in this bout for you given that it's the semifinals? You're taking on like you said probably your toughest test in the IFL to date?
Matyushenko: Yes, there's definitely some pressure. But my experience with fighting is getting better so I can handle it better. Like I said before this is my fourth fight in a short period of time. So after a while I just get used to it and I'm going to do what I'm going to do.
411Mania.com: Looking at Jamal as a fighter what do you think his strengths are and what do you have to look out for in your fight?
Matyushenko: Well I have to look out for everything. He's definitely ranked as good submission fighter but that's not all. Compared to my previous fights in the IFL he's the best athlete out of all of them. He's in good shape and he's very strong. I have to be ready for pretty much anything, not just submissions.
411Mania.com: You've been in MMA for a long time and spent some time in the UFC too. What role do you think your experience will play in this fight against Jamal who only has four fights to his resume?
Matyushenko: Well it's definitely a plus my experience. But I am also older. I'm just fighting good guys. I've experienced different guys. I've fought strikers, submission fighters and wrestlers so I can fight pretty much anybody right now. It's just like playing golf on different golf courses. So even if I haven't fought him before, I already know how to fight him.
411Mania.com: What do you have to do to win this fight?
Matyushenko: I want to be in good shape and mentally prepared. Technical wise I'm working on my submissions and defense and all that.
411Mania.com: Which one of the other team match-ups do you think will be the toughest fight?
Matyushenko: I don't know. I'm not sure who's going to be our middleweight. We're still working on that. We're waiting on medical clearance for heavyweight for Wayne (Cole), so I don't know what to say because we don't know who's fighting yet.
411Mania.com: So (Kazuhiro) Hamanaka (Sabres middleweight) might not be fighting for you guys at middleweight?
Matyushenko: Yea, it's a big possibility.
411Mania.com: Is there any word as to who else might be replacing him or you're not sure yet?
Matyushenko: I might have an idea but it's the coach's decision I don't want to speak for him.
411Mania.com: Looking back on your career so far, which fight do you think was your best?
Matyushenko: My best fight hasn't happened yet. But if you want me to answer the question it's different. My fight with Pedro Rizzo I was very smart, I was very tactical and technical. My fight with Tito Ortiz was a good fight. I lost but it was a good experience to go five 5-minute rounds. It's a long fight and there's a lot of pressure. I lost but I learned a lesson there.
411Mania.com: How much longer do you see yourself fighting?
Matyushenko: That's a good question. I want to still be fighting by my 40th birthday. I'm 36 right now, at least for four more years.
411Mania.com: Is there any thought that maybe when you're done with the IFL that you take one last run in the UFC or are you going to end with the IFL?
Matyushenko: Anything's possible. I like to fight for the IFL. But all my fights right now are in preparation for something big. It doesn't matter where it's going to be. IFL, UFC, I just want to fight right now just to tell people I still exist. I'm in shape; I'm ready to go.
411Mania.com: I'll give you an easy one to wrap up the interview. How did you get the nickname "The Janitor"?
Matyushenko: It was a long time when I wrestled back for the Russian team. The U.S. team came and there was a big tournament in Siberia, all the World Champions and Olympic champions wrestled there and I was just 18 years old. At the time I was cleaning the mats and my clothes weren't very presentable, I just got out of the military. Dave Schultz was a great wrestler on the team and the next day I beat the best guys in America, Kevin Jackson and Rory Sallinger. Kevin Jackson was already a World Champion back then. They thought I was a janitor. Dave Schultz made fun of them saying, "You guys lost to the Russian janitor." They brought it up to me and I liked it.
411Mania.com: So it's worked well for you thus far. You've stuck with it.
Matyushenko: Yes, I'm working on my website. It's going to be VladTheJanitor.com.
411Mania.com: Vladimir I appreciate the time.
Matyushenko: Thank you very much. Good luck with everything.
At Wimbledon, Nicole Vaidisova, defeated Victoria Azarenka of Belarus 6-4, 6-2.


Alex Bolotin, who was born in Minsk, Belarus was the runner-up in the $5,000 buy-in Six-Handed No-Limit Hold'em championship at the World Series of Poker. Bolotin, who now lives in New York was devastated by the loss, despite taking second-place prize money amounting to in excess of half-a-million dollars. "I come for the bracelet," Bolotin announced.


At the Zagreb Grand Prix at Mladost Stadium Ilona Usovich, Belarus, won the women's 400 meters with a time of 51.73. Also, Sviatlana Usovich, Belarus, took 5th in the women's 800 at 2:02.80.


Endnote...



Photo Essay: The president of Belarus enjoys Independence Day on July 3rd

From: The office of the president

At the physical culture and sports event on the morning of the holiday dedicated to the Independence Day of the Republic of Belarus. Alexander Lukashenko at the start of the bike race
Getting the job done on his mono-fork Cannondale
during the sports holiday.
Prize-giving.
delivering the Independence Day Address before the parade
The wreath-laying ceremony.
Laying a wreath of flowers at the Victory monument.
Independence Day: Parade of Minsk Garrison Troops
On July 3, upon completion of the festive events near the Hero-City of Minsk obelisk, the President of Belarus visited the Cathedral of the Holy Ghost in Minsk where he lit up a candle to commemorate the Belarusian warriors who had lost their lives in the Great Patriotic War and the guiltless victims of that war.
And finally, at the Gala Concert "For Independent Belarus'