Lukashenka calls for an end to waste, Chavez on the way, Arms sales, Crime, Nules, Integration, China, Missiles, Bad scouts, Opinion, Blogs and Sports
Alexander Lukashenko wants government to stop wasting public funds
From: NLIPRB
The President of Belarus, Alexander Lukashenko, visited Mir Castle and surveyed the progress in its reconstruction
Belarus President Alexander Lukashenko has demanded that the government should stop wasting public funds.
At today's session, which tabled state support for real economy companies, the head of state expressed concern about the government spending huge funds on supporting unprofitable companies. "I've made one conclusion that the government tries to cover up its inadequacy and bad work at the expense of the state budget," he said.
According to the President, if some area of the real economy has to be stabilised, instead of raising effectiveness of well-run companies the government pours budget money into unprofitable companies, promising they will work better later. As an example Alexander Lukashenko mentioned the government policies for Belarusian light industry companies.
President of Belarus Alexander Lukashenko has slated work of the government in the light industry.
At today's session highlighting state support for real economy companies, the head of state declared that he would soon request a report about the reasons for such a poor performance of companies of the light industry.
Alexander Lukashenko intends to compare western and domestic softgoods. "The time has come to take up responsibility," he said.
He also stressed that if the government continues funding production of goods in low demand the companies will continue underperforming.
When addressing the government, the President demanded to stop squandering public funds. "We have good projects which are needed to the state and if we invest one ruble in these projects we will get ten in return," the head of state concluded.
Starting 2008 the policy of government preferences will be radically changed, Belarus President Alexander Lukashenko said at today's session, which tabled state support for real economy companies.
In his words, it is time to stop supporting hopelessly bad performers and stop wasting public funds on ineffective projects. The head of state underlined, all the available funds should be concentrated in breakthrough areas, boosting the competitive ability of the national economy. "It is necessary to make every company work effectively and profitably. I would like the government to tell me how it will be done," said Alexander Lukashenko.
Addressing government officials, the President underlined, "You shouldn't blame malfunctions of the existing system of preferences, which was introduced by a corresponding decree. It was thanks to the system that after many years of pouring more and more financial resources into the national economy that at last we have been able to see the result in concrete figures".
Chairman of the Presidium of the National Academy of Sciences of Belarus Mikhail Myasnikovich and Chairman of the State Control Committee Zenon Lomat informed the head of state about what is being done to perfect the state support for the real economy.
President of Venezuela is expected to visit Belarus on June 29
From:
NLIPRB
Hugo Chavez and Alexander Lukashenko
President of Venezuela Hugo Chavez is expected to visit Belarus on June 29, Charge d'Affaires ad Interim of Venezuela to Belarus Americo Diaz Nunez told BelTA.
Hugo Chavez was in Belarus in July last year. After the negotiations in Minsk in 2006 Presidents of Belarus and Venezuela Alexander Lukashenko and Hugo Chavez respectively signed a joint declaration of the Republic of Belarus and the Bolivarian Republic of Venezuela. The document is aimed to strengthen the bilateral support and to extend the mutually beneficial cooperation. A number of intergovernmental agreements in science, technology, power engineering and petrochemistry were also signed. The parties also concluded memoranda on understanding in the field of political consultations between the Foreign Ministries of Belarus and Venezuela, as well as in the field of agricultural, sci-tech and innovation cooperation.
Venezuela's Chavez seen wanting office "for life"
From:
Washington Post
Insecurity, "malignant narcissism" and the need for adulation are driving Venezuelan President Hugo Chavez's confrontation with the United States, according to a new psychological profile.
Eventually, these personality traits are likely to compel Chavez to declare himself Venezuela's president for life, said Dr. Jerrold Post, who has just completed the profile for the U.S. Air Force.
Chavez won elections for a third term last December. Since then he has stepped up his anti-American rhetoric, vowed to accelerate a march towards "21st Century socialism" and suggested that he intends to stay in power until 2021 -- a decade beyond his present term.
But Post -- who profiled foreign leaders in a 21-year career at the U.S. Central Intelligence Agency and now is the director of the Political Psychology Program at George Washington University -- doubts that Chavez plans to step down even then. "He views himself as a savior, as the very embodiment of Venezuela," Post said in an interview.
"He has been acting increasingly messianic and so he is likely to either get the constitution rewritten to allow for additional terms or eventually declare himself president-for-life."
Post portrays Chavez as "a masterful political gamesman" who knows that his popularity largely rests on being seen as a strong leader who takes on the United States, the Venezuelan elite and a host of other perceived enemies -- often with public insults that are rarely used by other leaders.
"To keep his followers engaged, he must continue outrageous and inflammatory attacks," Post said.
Even Chavez's most determined opponents concede that he is a gifted orator and has a rare ability to mesmerize audiences. In the language of political psychology, this is a "charismatic leader-follower relationship."
DONKEYS, THIEVES AND CRYBABIES
Chavez has called U.S. President George W. Bush a "donkey," U.S. Secretary of State Condoleezza Rice an "illiterate," former Mexican President Vicente Fox a "lapdog of imperialism" and Peruvian President Alan Garcia a "rotten thief" and a "crybaby."
Jose Miguel Insulza, the Secretary General of the Organization of American States, attracted the public label "asshole" (as did Bush), and Chavez described the entire Brazilian Congress as "puppets."
"The major psychological reward for Chavez derives from being seen as the pugnacious openly defiant champion of the little man, as one of 'us' versus 'them,"' Post said.
In his assessment, one of the character traits that drive Chavez is "malignant narcissism," a term that denotes an extreme sense of self-importance and is usually coupled with extreme sensitivity to criticism.
"The arrogant certainty conveyed in his (Chavez's) public pronouncements is very appealing to his followers. But under this grandiose facade, as is typical with narcissistic personalities, is extreme insecurity," Post wrote in his profile "The Chavez Phenomenon" for the U.S Air Force.
Story Continues...
RSK MiG predicts up to $20 billion of sales by 2020
From:
flight global
RSK MiG is forecasting that it can win sales of MiG-29/35 series fighters worth $10-12 billion and MiG-29 upgrade work worth $7-8 billion by 2020.
The manufacturer hopes to sell between 250 and 350 new MiG-29SMT/K/KUB/M1/M2 and MiG-35 multirole fighters to domestic and international customers.
The Russian manufacturer recently signed agreements with Kazakhstan, Ukraine, Turkmenistan, Belarus and Uzbekistan for maintenance and upgrade work on a total of 600 MiG-29s. The contracts include "on-condition", "service-on-call" and "guaranteed level of combat readiness" packages.
Vladimir Vypryazhkin, head of RSK MiG sales, says the company's new maintenance approach has enabled it to cut support costs by 40%.
The company expects the five CIS republics to sign for upgrades to their MiG-29s, to the MiG-29SMT standard. This SMT provides extended lifetime and maintenance intervals, as well as a multirole capability.
The manufacturer has upgraded Slovakian air force MiG-29s NATO standards with BAE Systems and Rockwell Collins avionics and Vladimir Barkovsky, head of RSK MiG's Artyem Mikoyan Engineering Center, says Bulgaria, Poland and Hungary are close to signing for similar upgrades.
Vypryazhkin says RSK MiG has also won its first order for MiG-29M1/M2 multirole fighters, from an undisclosed customer.
Barkovsky says that development of the MiG-35 remains the main priority for the company in the near term. "This does not mean that the MiG-29 will go out of the market. We will still be offering MiG-29 variants worldwide along with the MiG-35, so as to best meet specific demands of particular customers, taking account of their financial capability," he says.
Crime rate has been stabilized in Belarus, prosecutor general says
From:
Naveny
The implementation of the government's 2006-2010 crime prevention program has made it possible to "ensure the stabilization of the crime situation and strengthen some welcome trends that took shape last year in the struggle against crime," Prosecutor General Pyotr Miklashevich said at a news conference held in Minsk on June 25.
According to him, the crime rate went down two percent in 2006 and this trend went up in the first five months of 2007, which saw a 9.3-percent year-on-year decline. The prosecutor general noted that serious crimes decreased in number by 21 percent, crimes committed by under 18-year-olds by 20 percent, and thefts by 6.2 percent.
As Mr. Miklashevich said, over the last 18 months, prosecutors have sent to courts criminal cases against 84,500 people and sanctioned arrested of some 28,000 dangerous offenders. Prosecutor's offices have investigated some 6,000 criminal cases, mostly murders, offenses against public property and various corruption-related offenses. Some 100 old murders have been solved. Prosecutors have aborted 6,400 wrongful criminal prosecutions, and reversed 4,300 unfounded orders to drop criminal cases and 11,200 orders to suspend preliminary investigations. Prosecutors have taken part in the judicial examinations of 105,000 criminal cases and 41,000 civil cases.
Reform Community Thriving in Belarus
From:
Jewish Times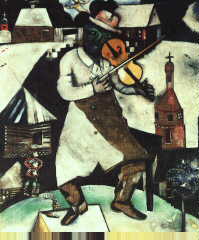 Marc Chagall's "Fiddler"
Visitors to any capital city in the former Soviet Union are likely to find a building much like the one at Kropotkina 22 in central Minsk. Situated on prime real estate and a stone's throw from the U.S. Embassy, it bears the insignia of Chabad-Lubavitch.
Yet this particular Chabad synagogue and community center is strikingly different from its neighbors in the Belarusian capital: It's as empty as a ghost town. The center, with its cracked brown fa?e and rusted gates, is visual testimony to the fate in Belarus of Chabad, the most widespread and arguably most influential Jewish organization in nearly every other country of the former Soviet Union.
"In Minsk, they're certainly not the dominant factor," said Stuart Saffer, the American Jewish Joint Distribution Committee's country director for Belarus and Moldova. "There's the Progressive community that has large-scale outreach and the modern Orthodox group," referring to the country's Reform movement and the Jewish Religious Union of Belarus.
Three years after the contentious departure of Iosef Gruzman, Chabad's chief rabbi in Belarus, the fervently Orthodox organization is still struggling to assert itself in Belarus. Gruzman left amid accusations of financial irregularities and erratic behavior. Neither the rabbi nor Chabad would comment on the accusations.
Just how much Chabad's misfortunes in Belarus are the result of Gruzman's leadership is unclear. One possible explanation is offered by Rabbi Grisha Abramovich of the Association of Progressive Jewish Communities of Belarus, widely considered Minsk's largest Jewish religious organization.
Abramovich says that Chabad has been unable to establish the type of relationship with the Belarusian government that it enjoys elsewhere in the former Soviet Union. Unlike in Russia, for example, where President Vladimir Putin openly supports Chabad Chief Rabbi Berel Lazar, the Belarusian government of President Alexander Lukashenko does not involve itself in the internal politics of the Jewish community, leaving it instead to a Darwinian struggle.
The main beneficiary of the leadership vacuum at Chabad has been the Reform community, which is uncommonly strong for a region with a predominantly Orthodox tradition. The Progressive movement headed by Abramovich, a young native of Minsk whose calm eyes mask boundless energy, claims more than 3,000 adult members in Minsk and an additional 7,000 children enrolled in educational programs countrywide.
Chabad claims to have about 5,000 members, though the actual number of those participating in regular activities led by the group appears to be much smaller.
The Progressive community recently received a $1 million donation from the Breslauer family in Houston to build a new synagogue, an unprecedented windfall for Reform Jews in the former Soviet Union. Typically FSU Reform Jews struggle for funding and are often without a proper house of worship. Moscow, for example, still has no Reform synagogue.
Abramovich says Chabad's problems are not a matter of mismanagement but approach. "To be successful, you have to work with other Jewish organizations," he said.
Indeed, Jewish life in Minsk is centered on a large complex funded by the Joint Distribution Committee, referred to as "the campus." The campus, where U.S. and Israeli flags frame the flag of the Republic of Belarus, was designed to encourage pluralism and cooperation and is open to all denominations.
It contains the offices of every major Jewish organization in Belarus, from the student group Hillel to Hesed, the JDC's welfare center. But Chabad is absent.
"I personally went around and offered space to everyone," Saffer said. "But Rabbi Gruzman refused to set foot on the campus." In addition, unlike Chabad in Belarus, the Reform organization has always been united, said Leonid Levin, a renowned architect and president of the Union of Belarusian Jewish Public Organizations and Communities, an umbrella group.
Levin believes that Chabad's internal fighting over the synagogue ownership -? a battle that lasted for years -? smeared the reputation of the entire Jewish community in the eyes of the authorities. Gruzman's replacement, the French-born Rabbi Shneur Deutsch, has chosen to focus on the new synagogue in the two years he has been in Minsk.
From his spacious yet conspicuously deserted offices in central Minsk, Deutsch spoke about his organization's approach and its recent achievements. Having had some time to regroup, Chabad now has a day school serving 90 students in a new Minsk location. It will also run a summer camp in July, which about 250 children are expected to attend.
Asked why Chabad does not use the campus facilities, Deutsch said, "You have to understand, we have 20,000 Jewish people" in Belarus. "We can't put every organization in the same place."
Although Deutsch told JTA that the synagogue would be operational within five months, he denied a request to examine the grounds. Viewed from the street, it is difficult to imagine how the building will be able to meet that time frame.
Avraham Berkowitz, the Moscow-based executive director of the Chabad-led Federation of Jewish Communities, defends his organization's success in Belarus.
"We have six rabbis in Belarusian cities," he said. "Show me another organization that has that."
Lavrov confirms policy of integration with Belarus
From:
Interfax
Sergei Lavrov
Moscow will continue integrating with Belarus, Russian Foreign Minister Sergei Lavrov said at the Belarusian State University in Minsk on Thursday.
"No matter who wins the presidential elections in Russia, he will support the integration policy," he said.
Lavrov cited President Vladimir Putin's words that "relations with Belarus are a priority."
The minister confirmed that Russia will go as far in the integration as Belarus wishes but admitted certain problems in developing the Union State. "The more progress we make on integration, the more problems we have to resolve in the social, economic and strategic spheres," he said.
Sergei Sidorskiy: Belarus must export more of every product to Europe
From:
NLIPRB
Sergei Sidorskiy
Belarus must export more of every product to Europe. Belarus Prime Minister Sergei Sidorskiy set the task at today's meeting with Belarus' trade counsellors in foreign countries.
At present most Belarusian exports are shipped to Russia and the CIS states.
The Prime Minister noted, Belarusian exports shipped to many European countries are connected with supplies of potassium fertilisers and petroleum products. In particular, these exports have secured a foreign trade surplus in Belarus' trade with Germany and Great Britain.
Nowadays it is necessary to increase export of other commodities as well, the head of government is convinced. "We should seek commodities foreign countries need today," stressed the Prime Minister. In particular, he said, trade counsellors in China and India might have worked harder, as potassium fertilisers and petroleum products constitute the bulk of Belarus' export to these countries. Belarus is losing foreign markets for exported chemical products, construction materials, precision machinery industry products, said Sergei Sidorskiy.
On the whole, the head of government was barely satisfied with last year's performance of the trade counsellors and noted "There is still much to be addressed".
In January-April 2007 Belarus' export swelled by 11.6% to reach $7.448 billion, with import up 22.1% to $8.19 billion. The foreign trade deficit totalled $741.8 million, with the merchandise trade deficit as large as $1,126.5 million, the surplus of trade in services — $384.7 million.
Belarus can build and safely operate nuclear power plant
From:
Itar Tass
Belarus has conditions for the construction and safe operation of a nuclear power plant, Andrei Malyshev, the deputy head of the Federal Atomic Energy Agency (Rosatom), said in Minsk on Tuesday. He participates in the 9th meeting of the CIS member states commission for peaceful uses of nuclear energy.
He said Belarus has good cites for the construction of a nuclear power plant, water sources for cooling and a favourable geological structure. There are also certified researchers and technologists in the republic who, with adequate training, could tackle problems of the construction and operation of a nuclear power plant. The country has production facilities to be used in the construction of such a plant.
"The existence of research and design organizations and production facilities shows that there are suitable conditions for the construction of a nuclear power plant and its safe operation," Malyshev said.
"We will be very glad to give assistance to the fraternal republic in the construction of a nuclear power plant," he said. However, the question of Russia's specific contribution, technologically and financially, will become clear when there is the official decision of the Belarussian side on the plant's construction and the terms on which it will be built, he said.
Assembly production of tractors Belarus opens in Chinese Urumqi
From:
NLIPRB
Assembly production of tractors Belarus has opened in the Chinese city of Urumqi. Ambassador Extraordinary and Plenipotentiary of Belarus to China Anatoliy Tozik, representatives of the local authorities and also about 20 dealers from various Chinese provinces which sell tractors and other agricultural machinery took part in the solemn opening of the new production.
The head of the Belarusian diplomatic mission met with heads of several companies of the Chinese province of Jiangsu to discuss supplies of Belarusian tractors and their production in China.
In January-April this year, the Belarusian-Chinese trade turnover made up $333.2 million, or 57.9% up as against the same period 2006. The Belarusian exports to the People's Republic of China made up $129.6 million, or 61.5% up. China is the 8th biggest trade partner of Belarus in the world. In January-April, 2007, the Chinese imports to Belarus made up $203.6 million, or 55.7% up as against the same period last year.
Belarus air defense crews practice live shooting in Chita region
From:
Itar Tass
S-200 missile systems
Crews of Belarussian air defense units practice live shooting at the Telemba firing range in Russia's Chita region, an aide to the Russian Air Force commander, Colonel Alexander Drobyshevsky, told Itar-Tass on Tuesday.
"The first stage of ' the Combat Alliance - 2007 ' drill involving member-states of the CIS unified air defense system began at the Telemba range today," Drobyshevsky said.
Belarussian air defense units will perform a fire practice with S-200 systems at six high-altitude targets.
Baltic Fleet air defense units have successfully hit two targets at an altitude of 8,000 meters within the framework of the drill, the military official said.
The second stage of the exercise will be held in the second half of August at the Ashuluk range in the south of Russia's Astrakhan region.
The exercises will involve aviation and air defense of Russia, Armenia, Belarus and Kyrgyzstan, Drobyshevsky said.
The third and fourth stages are scheduled for late August and early September at training ranges in Kazakhstan and Uzbekistan with the participation of air force and air defense units of the six CIS countries.
Drobyshevsky also said missile systems S-75. S-125. S-200. S-300 would be used in fire practices. Sukhoi and MiG fighters will drill strikes on aerial and ground targets.
Former scout leader filmed naked Belarusian boys
From:
Independant
A FORMER children's charity worker and boy scout leader filmed and photographed scores of naked boys from Belarus who stayed with him at his home.
John Peppard (52) pleaded guilty to the possession of 10 videotapes and 143 pornographic images on a computer of boys aged between 10 and 14.
Peppard, with an address at Mount Melleray, Cappoquin, Co Waterford, appeared before Judge Alice Doyle at Carlow Circuit Court yesterday.
The court heard how Peppard had become involved in the Chernobyl Children Appeal Ireland charity in 1995 and how boys from the affected region would holiday at his house for periods of between four and eight weeks.
Prosecution for the State Aidan Doyle explained how suspicion was raised after Peppard, a retired insurance broker, dropped a roll of film into a local chemists in June of 2003.
Gardai secured a search warrant of Peppard's house after an employee at the chemists alerted them to the content of the film.
Sgt Pauline Sheehan of Dungarvan Garda Station told the court that she had found photographs in Peppard's house of naked children from Belarus taking showers or swimming.
Suspicion was raised after Peppard dropped a roll of film into a
local chemist
Sgt Sheehan said the photographs were taken in both Waterford and in Belarus.
A laptop computer containing 143 images of child pornography both of the visiting children and from the internet was also discovered at the house.
Peppard was arrested in February 2004 and, according to Sgt Sheehan, admitted to being involved in the charity which brought the children here and in taking the photos and videos.
Sgt Sheehan told the court that when arrested Peppard did not appear to acknowledge the "inappropriate nature of the content of the videos".
The court heard that Peppard thought it was "harmless fun" and that the "kids enjoyed the videoing".
Sgt Sheehan said it was clear some of the children were "not comfortable" with the filming.
Defending barrister Michael Delaney told the court that his client, a single man who ran a souvenir and sweet shop in Melleray, remained completely adamant that he has never sexually abused or fantasised about abusing the children.
He said Peppard wanted to apologise to the boys and their families. A neighbour of Peppard, Michael Rawlings, told the court that he had always found the accused an "honourable, sincere, just and kind man". Mr Delaney presented a report by clinical psychologist Dr Nicholas Banks, which he claimed showed Peppard at "low to medium risk" of re-offending and suggested that a suspended sentence could be imposed.
Judge Doyle adjourned the case for sentencing until Thursday.
Opinion...
Making a mockery of human rights
From:
JACKSON DIEHL for the J Post
Sudanese President Omar al-Bashir, left, and his Iranian counterpart Mahmoud Ahmadinejad, right, review an honor guard upon Ahmadinejad's arrival at Khartoum, Sudan in February of this year.
Where does the global human rights movement stand in the seventh year of the 21st century? If the first year of the United Nations Human Rights Council is any indication, it's grown sick and cynical - partly because of the fecklessness and flexible morality of some of the very governments and groups that claim to be most committed to democratic values.
At a session in Geneva last week, the council - established a year ago to reform the UN Human Rights Commission -listened to reports by special envoys appointed by its predecessor condemning the governments of Cuba and Belarus. It then abolished the jobs of both "rapporteurs" in a post-midnight maneuver orchestrated by its chairman, who announced a "consensus" in spite of loud objections by the ambassador from Canada that there was no such accord.
While ending the scrutiny of those dictatorships, the council chose to establish one permanent and special agenda item: the "human rights situation in Palestine and other occupied Arab territories."
In other words, Israel (or "Palestine," in the council's terminology), alone among the nations of the world, will be subjected to continual and open-ended examination. That's in keeping with the record of the council's first year: Eleven resolutions were directed at the Jewish state. None criticized any other government.
Genocide in Sudan, child slavery and religious persecution in China, mass repression in Zimbabwe and Burma, state-sponsored murder in Syria and Russia - and, for that matter, suicide bombings by Arab terrorist movements - will not receive systematic attention from the world body charged with monitoring human rights. That is reserved only for Israel, a democratic country that has been guilty of human rights violations but also has been under sustained assault from terrorists and governments openly committed to its extinction.
THE OLD human rights commission, which was disparaged by former UN secretary-general Kofi Annan for casting "a shadow on the United Nations system as a whole," frequently issued unbalanced condemnations of Israel but also typically adopted half a dozen resolutions a year aimed at the worst human rights abusers.
For the new council, Israel is the only target. Eighteen of the 19 states dubbed "the worst of the worst" by the monitoring group Freedom House (Israel is not on the list) were ignored by the council in its first year. One mission was dispatched to examine the situation in Darfur. When it returned with a report criticizing the Sudanese government, the council refused to endorse it or accept its recommendations.
The regime of Gen. Omar al-Bashir, which is responsible for at least 200,000 deaths in Darfur, didn't just escape any censure. Sudan was a co-sponsor on behalf of the Arab League of the latest condemnations of Israel, adopted last week.
This record is far darker than Kofi Annan's "shadow." You'd think it would be intolerable to the democratic states that sit on the council. Sadly, it's not. Several of them - India, South Africa, Indonesia - have regularly supported the Organization of the Islamic Conference and the Non-Aligned Movement in their assaults on Israel and defense of Cuba, Belarus and Sudan. The council's chairman, who rammed through last week's decisions without a vote, is a diplomat from Mexico.
The European Union includes countries holding eight of the council's 47 seats. It has made no serious effort to focus the council's attention on the world's worst human rights violators.
Are Moscow and Minsk to be brought together by economic pragmatism?
From:
Charter '97
Today the head of Russian Foreign Minister Sergei Lavrov is to take part in celebration on the occasion of establishing diplomatic relations between Russia and Belarus. The program of Lavrov's visit includes meeting with Alyaksandr Lukashenka and the head of the Foreign Ministry Syarhei Martynau. LAvrov is to be given Belarusian Foreign Ministry's Certificate of Merit, and Martynau is to get Russian Foreign Ministry's lapel badge "For Contribution in International Cooperation". The head of the Russian diplomatic agency is going to deliver a lecture to professors and students of the Belarusian State University.
In the run-up to the visit representatives of the Russian side spoke about a necessity of closer integration. "We are for speeding up union creation. In the dynamics of its building a certain slowdown has been observed in recent years," told Russian Foreign Ministry representative Mikhail Kamynin. Russian Ambassasdor to Minsk Alexander Surikov told in an interview to Belarusian informational agency BELTA: "Surveys show that Belarusians' partiality for the Russians is not getting weaker. There are certain bursts of discontent and hard feelings, but they are connected either to gas price hike, or something else. Later this all returns in due limits. This is usual disagreement like in any family".
Russian energy recourses price hike for Belarus since the beginning of this year and decrease of economic backing by Moscow have become a beginning of a new state of bilateral relations, Belarusian analysts believe. This issue is to be discussed during Sergei Lavrov's visit. "Talks are to be kept in the tideway of the new policy of economic pragmatism carried out by Russia. Loud statements summing up the results of the visit are hardly to be expected. It is most likely that a delicate conversation on sensitive topics is expected," Belarusian political analyst Alyaksandr Klaskouski said. The expert reminded Moscow is interested in access of Russian capital to privatization of Belarusian enterprises.
Analysts agree that the last months have clearly demonstrated the greatness of Belarus' dependence on Russia. Minsk has started active search for new partners rich in hydrocarbon resources. Venezuelan President Hugo Chavez is to arrive on a working visit to Minsk tomorrow. However, over the resent months Belarusian officials many times admitted that Russian oil for Belarus remains the cheapest for Belarus. "Search for partners in Iran and Venezuela does not promise huge profit. Recent events show that the times of proletarian internationalism are over," Klaskouski noted. As a Belarusian social scientist Aleh Manaeu said to "Belorusskie novosti", "The Belarusian side has little room for manoeuvre, both in Western direction and in cooperation with Arabic and Latin American countries. It becomes evident for all including Minsk".
America is helping deice the homo sovieticus
From:
Middle east on-line
Homo sovieticus: The Soviet Man
Russia and the now politically-detached eleven neighboring republics may only comprise just over 4% of the world's population, but likely possess over 15% of the world natural resources, says Ben Tanosborn.
Give us a break, Mr. Putin, sharing a radar station in Azerbaijan, US and Russia? You were joking, we assume, but the truth is that our august leader has made a calculated decision from which there is no backing away. Although that decision likely originated with the pea-brained ideologues advising him – who hold the reins at the Pentagon – it's a sure bet he'll stick with it during the remaining months of his presidency.
After hearing about Putin's comment at the G8 Summit, whether or not his proposal to Bush had been made in jest, I needed to be briefed as to what this "compromise radar station" was all about. And who better to brief me than Anar Orujov, my young journalist friend from Azerbaijan who heads the Caucasus Media Investigations Center in Baku.
Anar quickly convinced me that Putin's suggestion was, as he puts it, "unreal and ironical." But it was my friend's thorough analysis of the Azeri-Russian ever-changing relationship (post breakup of the USSR) that zeroed in the possibility of a new era of collective security in that part of the world, particularly in light of what is happening in the other former Soviet republics – with the exception of the three Baltic states which were really never willing partners in the communist fold… even with their large minority Russophone populations.
What's becoming more obvious, and something likely to be reaffirmed during Putin's visit to Bush's vacation digs in Maine this July, it's the assertive posture by the Russian leadership of their readiness to call any poker hand the US might hold, whether based on legit cards or a bluff. And in this cat and mouse chase of a renewed but more subtle cold war, it's the European Union that appears to have the most to lose, not just militarily, its cities programmed in Russian nuclear missiles, but economically as well.
The possibility of sharing the radar facilities in Azerbaijan was just a way for Russia to tell the United States diplomatically: "don't corral us; let's work things out together, but whatever you decide in the omnipotence of your power, don't tread on us." It has been stated in a language leaving no room for doubt; not just by Russia's head of state at the G8 Summit, but by his foreign minister, Sergei Lavrov; the deputy foreign minister, Sergei Kislyak; and the chief of Russia's general staff, Yuri Baluyevski. And it has been said for the entire world to hear within a span of barely two weeks. Can the Russians make themselves any clearer without resorting to the theatrics of four decades ago that had Premier Khrushchev banging his shoe on a table at the United Nations?
It probably feels good to America's elitist leaders to display their cocky feathers around in an unanswered war dance. It's been sixteen years since the informal and unwritten armistice between capitalism and communism took place; thus, there's little reason to continuously remind them who got the upper hand. Wasn't it enough that America's strategy of economic "shock and awe" to the changeover was unnecessarily harsh and painful for the Soviet population? That the American government, directly or indirectly, helped create a capitalist society where the communal wealth of the nation ended up in the hands of a few former Soviet apparatchiks and opportunistic thugs and oligarchs in a privatization process that was little more than a joke – much like what took place in Iraq? And that in both cases the US could have influenced a more just outcome?
And, not considering it enough, America had to make sure that the breakup of the "empire" was thorough; also influencing internal dissension in the republics to distance them from Russia… all done under the banner of "democracy and freedom" which often was found to be but a cover-up for the CIA to claim its prey. And so it went with the US influencing "color revolutions," separatist conflicts and even regional organizations.
America was able to bury the homo sovieticus under a glacier of ice with little or no resistance. But now, it seems that an awakening is beginning to take place, not just in Russia but in many of the sister republics as well; a regional warming of sorts that aided by our arrogant hot air is melting the glacier, thawing back to life the homo sovieticus.
For several years now these former Soviet states have tried to play the US-against- Russia card to obtain favorable resolution to issues of both freedom and historical national significance, such as the dispute between Azerbaijan and Armenia over Garabakh. And although that level of "mild extortion" still exists, it's becoming more evident to these republics that they may be overplaying that card, given the makeup of the US economy as an addicted borrower-nation, and a weak conventional military that after four years has been unable to subdue a small nation of fewer than thirty million people. So it's a safe bet most of these republics will rethink their status, and aim at even closer ties to Russia.
Putin is wising up to the idea of how the West measures wealth and productivity to achieve its ends. And the IMF (International Monetary Fund) figures listing Russia's 2006 gross domestic product as 20% below Spain's (with a population less than one-third of Russia's) – as an example – brings to question the validity of how products and services are being measured; and the meaning of currencies and exchange rates.
Russia and the now politically-detached eleven neighboring republics (Armenia, Azerbaijan, Belarus, Georgia, Kazakhstan, Kyrgyzstan, Moldova, Tajikistan, Turkmenistan, Ukraine and Uzbekistan) may only comprise just over 4% of the world's population, but likely possess over 15% of the world natural resources, even if the former Soviet block is only shown to account for 2.6% of the world's GDP.
Maybe the homo sovieticus will need to be re-baptized, given another name. Maybe its tender socialist beginnings can bring about a more humane and gentler type of capitalism, allowing us all the option to molt the callous skin of predatory capitalism.
Facts...
SIPRI: World military spending up 37 percent in 10 years, led by US
From:
monday morning.com
World military expenditure was up 3.5 percent in 2006 from 2005 and by 37 percent since 1997, SIPRI said in its annual report.
The United States accounted for 46 percent of the spending last year -- far ahead of any other country -- and was responsible for 62 percent of the total increase.
The United States registered spending of 528.7 billion dollars in 2006.
"The increase in US military spending has to a large extent been driven by supplemental allocations for those operations and policies associated with the 'global war on terrorism'", the institute said.
The United States was followed by Britain, France, China and Japan, which each account for around four to five percent of world military expenditure. The top 15 countries accounted for 83 percent of spending.
The region where military expenditure increased the most in relative terms in 2006 was Eastern Europe, where it rose by 12 percent.
Decreases were meanwhile noted in Western Europe and Central America.
Over the 10-year period 1997-2006, Central Asia was the region that had the highest increase, registering a 73-percent rise. However, SIPRI noted that the estimate was "somewhat unreliable" due to the lack of data for certain countries.
Azerbaijan and Belarus registered rises of 82 and 56 percent respectively from 2005, the two countries with the highest relative increases in 2006.
Russia, the fourth largest spender in Europe, increased its expenditures by almost 12 percent last year, building on a 19-percent increase in 2005.
"Since the start of this increasing trend in 1998, Russia's spending has increased by 155 percent," SIPRI said, noting however that changes to Moscow's budgetary system made it difficult to follow exact movements in the trend.
Increasing financial resources have been decisive in driving spending upwards, SIPRI said.
China, which has seen a rapid increase in spending which exceeded Japan's for the first time last year, "is the prime example of a country where a booming economy, amongst other factors, has allowed a steep rise in military expenditure.
"There seems to be little chance of there being a rapid decline in world military expenditure, which could allow governments to give higher priority to social expenditure", it concluded.
The upward trend in spending "is unlikely to be reversed while the world's largest military spender remains at war."
Meanwhile, SIPRI said sales by the world's 100 largest weapons manufacturers rose by three percent in 2005 to 290 billion dollars, spurred primarily by the United States.
American companies and those in Western Europe dominated SIPRI's Top 100 list, together accounting for 92 percent of arms sales in 2005, the latest year for which figures are available, the institute said.
Forty American firms accounted for 63 percent of sales, while 32 West European companies accounted for 29 percent and nine Russian companies accounted for two percent.
Companies based in Japan, Israel and India accounted for most of the remaining six percent.
Around the region...
Hugo Chavez Arrives in Russia, Receives Low-Key Welcome
From:
Kommersant
Venezuelan President Hugo Chavez, left, bends to Russian President Vladimir Putin.
Venezuelan President Hugo Chavez arrived in Moscow yesterday. Today he will have negotiations with Russian President Vladimir Putin. Col. Chavez, who has stops in Belarus and Iran as well on this tour, was expecting a grandiose reception in Moscow. But many of the ceremonial events timed to his arrival were cancelled at the last minute. It seems the Kremlin decided not to irritate the White House before Putin's trip to Kennebunkport. Nonetheless, Chavez will discuss energy cooperation and buy his latest lot of arms while here.
An Inconvenient Guest
Chavez has been coming to Russia nearly annually for the last seven years, always in the summer. In the colonel's busy schedule, working day and night to form an anti-American axis, Moscow has always occurs on a tour of countries that he considers his closest allies in the fight against American hegemony. At the beginning of his presidency, Putin always received the Venezuelan president happily. Lately, he has been coming at the most inconvenient times. Lat year, for instance, the colonel managed wanted to come just before the G8 summit in St. Petersburg. The Kremlin insisted that he change his plans to come at the end of July, and it was decided that the meeting between Putin and Chavez, who arrived from talks with Belarusian President Alexander Lukashenko in Minsk, would be informal. That did not affect their friendly relations, however. Moscow sold Caracas $3-billion worth of weapons and Russian state companies reached energy agreements with Venezuela.
This year, Chavez was counting on the situation being corrected and on receiving a big welcome. Before he began his trip, he began telling about how Putin helped him stay in power during the attempted coup in 2002. Then he offered to address both houses of the Federal Assembly, or at least the full State Duma.
But Chavez's timing is off this year too. On July 1, Putin leaves for the United States for negotiations with U.S. President George W. Bush. Their conversation may be the last chance to resolve amiably the disagreement over Washington's plans to place part of its missile defense system in Europe. Chavez's trip to Moscow could seriously affect the outcome of those negotiations.
That may be why Chavez appearance before the State Duma was cancelled at the last minute through the efforts of the United Russia Party. Only 129 MPs voted for his appearance, with 226 votes necessary for it. Chavez will have to be satisfied talking to 40 Duma members. The ceremonial aspects of the trip have been trimmed to a minimum as well. The Venezuelan leader will meet with Putin only this evening, in the context of an informal dinner. The business aspect of the trip is not likely to suffer from those changes.
Business in Moscow
Chavez's visits are always good news for Rosoboronexport. Just before departing for Russia, he said, "Our country must have the means to defend the state on land, on water, underwater and in the air." Soon after, Kommersant learned that Moscow and Caracas are close to concluding a major deal for the purchase a large lot of diesel-electric submarines. So far, the Venezuelan Defense Minister is prepared to buy five Project 636 subs, but Caracas will be able to buy four new Project 677E Amur models, which has yet to go into service in Russia. Venezuelan Navy commander Vice Admiral Armando Laguna stated that a formidable underwater fleet was needed to protect the oil-bearing continental shelf from possible American attack.
Venezuelan appetite are not limited to submarines. Caracas has also shown interest in Il-76 transport planes and Yak-130 training planes, and it may buy Top-M1 systems for its missile defense system. Moscow may offer various radar intelligence systems, handheld grenade launchers, portable ballistic missile complexes and mortars.
Besides military topics, the presidents will probably touch on energy as well. Moscow is most interested in holding such talks with the end of forming cartel of natural gas producers. Not long ago, Putin discussed that idea with Malaysian Prime Minister Ahmad Badawi. Now it is Chavez's turn for that talk, and he is in favor of the idea. Putin will probably try to win Chavez's support for holding the 2008 session of the Gas Exporting Countries Forum in Moscow. That was an initiative of Russian Minister of Industry and Energy Viktor Khristenko that was announced at the GECF conference in Doha in April.
Finally, Putin and Chavez will discuss major projects that Russian business has undertaken in Venezuela. Chavez said before taking off for Moscow that he is very strongly counting on Russian companies for the design and construction of the Southern Gas Pipeline, which will unite the energy complexes of Venezuela, Brazil, Argentina, Uruguay, Paraguay and Bolivia into a single energy network. Gazprom is hugely interested in that project. Projects involving LUKOIL will probably also be discussed. That company has also showed high interest in Venezuela.
Most likely, after all of those pleasant conversations, Chavez will forgive Moscow the lack of pomp and continue on his usual course with a light heart. After visiting a helicopter plant in Rostov-on-Don, he will visit Belarus and Iran. One thing may still darken Chavez's mood, however: if Putin does not follow his example and become president-for-life, next summer he will have to hold talks with someone else in the Kremlin.
In Ukraine, Four Steps to Democracy
From:
Washington Post
President Viktor Yushchenko and Prime Minister Viktor Yanukovych
The Ukrainian parliament has wound up its life and set the stage for early parliamentary elections on Sept. 30, four years ahead of schedule. The elections could give Ukraine's revolution -- recently mired in crisis -- new momentum and have an impact elsewhere in the post-Soviet space.
President Viktor Yushchenko and Prime Minister Viktor Yanukovych agreed to hold early elections after a tense two month stand-off, caused by Prime Minister Yanukovych's attempt to diminish the powers of the president and reverse many of Yushchenko's pro-reform and pro-Western policies. Yanukovych and his allies removed checks and balances by seeking a constitutional majority that threatened to sideline the president and create a powerful prime minister.
Yushchenko's decision to dissolve parliament and call for new elections demonstrated a resolve and decisiveness that had been often lacking in the past. Yushchenko had little choice. He had to reshuffle the deck or watch his authority -- and Ukraine's hopes for democratic reform and integration into Euro-Atlantic structures -- become progressively emasculated and diminished by Yanukovych.
Four steps are crucial if the crisis is to contribute to democratic consolidation in Ukraine:
First, all sides need to adhere to the compromise agreements that have been reached. These compromises should ensure that the checks and balances of the reformed parliamentary constitution are not again threatened by the pro-government coalition attempting to forcefully usurp monopoly power by seeking to establish a constitutional majority. Ukraine cannot continue to have periodic breakdowns and crises every six months. The nation's four crises since the Orange Revolution threaten to bring on Ukraine fatigue by Western governments giving up hope in Yushchenko's ability to promote democratic change in Ukraine.
Second, if Ukraine's 2007 elections are recognized as having been held in a "free and fair" manner by international organizations, as last year's elections were, the outcome should be accepted by all sides. Early elections will permit a new parliament to begin office with a democratic mandate built on a consensus on domestic and foreign policy goals enshrined in law. Yushchenko needs to act decisively following the elections by ensuring a coalition and government is in place, thereby not repeating last year's six-month post-election crisis.
Third, all sides in Ukraine need to adhere to the June 2005 recommendations of the Council of Europe's legal advisory board, the Venice Commission, and to join the president's constitutional commission. The Venice Commission recommended a range of improvements to the reforms in imperative mandates, inter-institutional relations, human rights and the constitutional court. These reforms, the Venice Commission said, would "improve the state of democracy and rule of law in their country."
Fourth, active Western support will be important. The crisis in Ukraine provides an opportunity to consolidate the democratic gains of the Orange Revolution through building democracy at home and integrating Ukraine into the Euro-Atlantic community of democratic nations. If fair and free elections are carried out, the European Union should quickly move to negotiate a free trade agreement with Ukraine following its entry into the World Trade Organization. NATO should continue to hold out the offer of a membership action plan that Ukraine may find appealing.
The West has a strong political stake in Ukraine's success. Ukraine's evolution will have a significant impact on the Western regions of the post-Soviet space. If democracy can be consolidated in Ukraine, the pro-Western orientation of Georgia and Moldova will be strengthened, while Alyaksandr Lukashenko's autocratic rule in Belarus will be weakened. But if Ukraine's democratic reforms fail, the prospects for reform and closer ties to Euro-Atlantic structures in all three countries will be set back, perhaps irrevocably.
Russia's political evolution could also be affected. If Ukraine's Orange Revolution gains new momentum, it will be harder for Russian President Vladimir Putin's successor to continue the progressive backsliding on democratic reform that has been a hallmark of Putin's rule.
Greece to join Russia pipeline into Europe
From:
serbianna
Greece says it will take part in the construction of a natural gas pipeline that will run under the Black Sea, linking Russia with customers in Europe.
Prime Minister Costas Karamanlis of Greece made the announcement about the South Stream pipeline Monday after meeting Russian President Vladimir Putin at an economic forum comprising countries in the Black Sea region.
"This is a very important project, which will help bolster energy security but also diversify supplies of natural gas to the European Union," Karamanlis said at the forum in Istanbul. "Greece, after examining this subject in collaboration with Russia, Bulgaria and Italy, is ready to proceed with this major project."
Italian energy company Eni SpA and Russia's state-controlled OAO Gazprom said this past weekend that they had signed a memorandum of understanding on the possibility of supplying Russian gas to European Union countries through the South Stream pipeline.
Construction could begin in 2008 or 2009, and the pipeline's annual capacity could be 30 billion cubic meters (1.15 trillion cubic feet).
Under the plan, more than 900 kilometers (550 miles) of pipeline could be laid down under the sea and across Bulgaria before splitting off in two directions, north through Hungary to reach Austria, and south through Greece and on to Otranto, a port near the southeastern tip of Italy, the Italian news agency Apcom said.
"It is clear that Greece is becoming an international energy hub for the transport of oil, electricity and now natural gas," Karamanlis said. He noted Greek involvement in other energy transportation projects, including the Burgas-Alexandroupolis pipeline to transport Russian oil from the Black Sea to the Mediterranean, and a Greek-Turkish pipeline that will be extended undersea to Italy.
There has been some concern about deepening European dependence on energy from Moscow, which grew sharper after Russia cut gas taps to Ukraine, and by extension customers farther west, in a political dispute in early 2006. A year later, oil supplies through Belarus were reduced in another dispute.
Russian Research Finds South Ossetians Favor Joining RF
From:
Messenger
The CIS States Institute of Moscow, under direction of the Russian Foreign Affairs Ministry, has issued a report entitled, "Russian Diasporas in the CIS States."
The report's authorship was headed by Russian MP Konstantin Zatulin.
Surveys were carried out in Armenia, Belarus, Kazakhstan, Kyrgyzstan, Ukraine, Moldova and its separatist province of Transdnistria, and the breakaway region of South Ossetia in Georgia.
Two-thirds of polled South Ossetians say that their individual rights were violated when they were under the authority of the central Georgian government. 68 percent of respondents want to become part of the Russian Federation, reports the news agency Regnum.
26.8 percent preferred an alliance with Russia as a sovereign state, and one percent said they would like a confederation.
Two-thirds of respondents report that Russia does its best for South Ossetians, while 32 percent say that Russia does something to support them, but not enough.
From the blogs...
Hello from Belarus

From:
Skokskokkolobok
Dear president Bush...
My dream is to come to the United States and build a better life for myself. I am a resident of Belarus and do not understand why your great president Bush does not topple my horrible president Lukashenka. Why we Belarussians do not deserve Operation Freedom? We would even acceept Operation Chut Chut Freedom. A tiny tiny bit of Freedom we want. Our Batka wouldn't let us though. That is why I talked to my fairy today and she turned me into Kolobok. Kolobok is an ancient Belarussian fairy tale hero who is big and strong and (almost said wears a thong because I like to rhyme things) fights for poor people against haves. Robin Hood from Gomel neighborhood. So me now is Kolobok. The most amazing thing about Kolobok is that he can do skok-skok. Which is to jump at an unlimited distance. For example, I can jump from my home village of Zajibutychi all the way to the city of New York. But I am not going to, not yet. I am writing to your my Internet friends to help me to write a letter to President Bush asking him to liberate my people the Belarussians from the totalitarian oppression. And for everyone of you who responds to my blog and tells me he or she supprots me I will tell you one fascinating thing about my country Belarus that you may not know. Don't worry, Kolobok will not be Borat and will not play a cruel joke on you about wanting to marry Pamela Anderson. I will tell you about how beautiful my country is and how much we Belarussians want to have freedom and live like you do in the U.S.A. I hope Mr. Bush reads my blog one days and decides to come and help us. But maybe because I am now a Kolobok who can do skok-skok I will skok-skok to the USA and tell Mr. Bush the story of my country Belarus in person.
Mr. Bush. Please respond. Will you help Belarus?
With respect,
Zajibatychi village, Gomel region.
Kolobok
help wanted
From:
Edward Lukas
I keep coming across this prophetic-sounding quote on the internet, sometimes in rather kooky places. I would love to have a proper source for it. Does anyone reading this have access to a good library of Russian political texts?
"War ...is inevitable. Today, of course, we are not strong enough to attack. Our time will come in 20 to 30 years. To win, we shall need the element of surprise. The bourgeoisie will have to be put to sleep. So we shall begin by launching the most spectacular peace movement on record. There will be electrifying overtures and unheard-of concessions. The capitalist countries , stupid and decadent, will rejoice to cooperate in their own destruction. They will leap at another chance to be friends. As soon as their guard is down, we shall smash them with our clenched fist." Dmitri Manuilski , Lenin School of Political Warfare
Many thanks
Putin will "Save" Poor Stalin from the Evil West
From:
La Russophobe
The
Telegraph reports
that Putin has launched a new initiative to take control over the teaching of "history" in neo-Soviet Russia in order to protect Stalin the Great from the malicious lies of the West. He also claims that Stalin's murder of 20 million Russians is analagous to the U.S. war in Vietnam, where less than 100,000 Americans were killed, and the nuclear bombing of Japan, where no Americans were killed, as if Stalin had the same right to go to war against the people of Russia as America did to fight Japan or the North Vietnamese Communists, sponsored by the USSR. In other words, he's gone stark raving mad, himself a victim of the censored textbooks by which he learned the "history" of the world.
President Vladimir Putin has raised the prospect of a return to Soviet-style academic censorship after he accused the West of plotting to distort Russian history in an attempt to crush patriotic sentiment in schools. The Russian leader claimed that a generation of schoolchildren was learning a version of their past that had been deliberately skewed by historians in the pay of the West. "Many of our textbooks are written by people on foreign grants," Mr Putin told history and science teachers at a conference outside Moscow. "They are dancing a polka ordered by those who pay for it. This is undoubtedly an instrument for influencing our country."
In a warning that will send a chill through Russia's dwindling ranks of liberal academics, the president indicated that publishing houses that did not print more patriotic textbooks would face state censorship. "Publishing houses should become more responsible," he said. "The state should play a greater role in this respect." According to the president, Western historians have attempted to belittle the Soviet Union's role in World War II and exaggerate the negative aspects of Stalin's Great Terror in the 1930s, which saw millions of Russians die. He said Russia's past was much more benign and much less blood-soaked than that of the United States. "We have fewer such (dark) pages than do some countries, and they were less terrible than in some countries," he said. "We have never used nuclear weapons against civilians and we have never dumped chemical weapons on thousands of kilometres of land as was the case in Vietnam." Vladimir Ryzhkov, a historian and one of the last independent MPs in the Russian parliament, said that Kremlin hardliners were keen to revive Stalin's reputation in order to justify the country's increasingly autocratic path.'
A reader comments by e-mail:
Now THIS I call really disturbing, though, of course, not surprising. Actually the rubbish about America is the least worrying because it is so ridiculous. Excuse me, just where are the mass graves, each with 10,000+ bodies with a single bullet in the back of the skull containing victims of American OFFICIAL execution squads (as in Butovo, Kurapaty, and Katyn) ? They don't exist. And did the Americans rape millions of German women as the Red Army did? (yes "millions" - Anthony Beevor's research identified the huge numbers including that "The scale of rape is suggested by the fact that about two million women had illegal abortions every year between 1945 and 1948"). Did American presidents or British Prime Ministers slaughter seven million of their own people and incarcerate 20 million? Which ones killed most of the members of his own family and his in laws, including their sister in law who they had had an affair with, and put their daughter's boyfriend in a labour camp? None, stupid. What planet are you on Mr Putin? To talk about Hiroshima casualites is also stupid. 90,000-120,000 died in Hiroshima - at the time and from the later effects of radiation. More than twice that number - 300,000 - of Red Army soliders died taking Berlin and over 1,000,000 German soldiers died at the hands of the Red Army as Germany fell. That's war. Stalin's lack of preparedness and the way his generals we put up against each other in a race to be the first to get to Berlin, regardless of casualties cost AT LEAST the same number of deaths as Hiroshima, if not more. Possibly, if you add the Russian POWs that died in German camps because Stalin refused to acknowledge them and they couldn't receive Red Cross parcels, TEN times more. Pollution? Talk to the people in the nuclear sites south of Chelyabinsk, where babies are born without eyes or limbs and the local museums have glass jars containing two headed cows. And elsewhere all over Russia. The 2006 Blacksmith Report on the 34 most polluted cities and regions in the world named SEVEN in Russia and FIVE in other countries of the former USSR. That is ONE THIRD of the worlds most foul spots.
COME ON! Repeat a lie often enough and you get people believing it. But, as I was saying the REALLY worrying thing is the censorship of history that Putin is proposing. Any one who tells the truth, or tries to find it out, is an agent of the West. Historians who come to Russia are suspect if they want to find out anything that doesn't glorify Russia. What else can you expect from a KGB man?
Putin's Miscalculation
From:
Political Yen/Yang
Russian President Putin is
at the propaganda podium
again.
THE history of the Soviet Union had fewer black pages in its history than certain other countries, not least the US, Russian President Vladimir Putin has said in a speech.
It's a short article. The question I have is, who is he trying to convince? Himself?
Let's take a look at the Soviet Union. Revolution brought the deaths of the Czar and his family, as well as those that supported him. After Stalin came to power, the deaths by government (democide) were astronomical.
China, Cuba, and Iran also had their democidal moments immediately post revolution. Even France had its "Reign Of Terror".
But where did we read that Americans executed British soldiers and those that sympathized with them, immediately after the American Revolution was won?
If you want to use the American nation as a measuring stick, that's fine. There are some moments in our history that we were not the bright shining city on a hill, but nowhere (save the War Between The States) did Americans kill other Americans for their political beliefs, certainly not in the numbers that the USSR and other despotic regimes did.
Want numbers? Look
here.
Really want to learn something? Peruse Dr. R.J. Rummel's work at the University of Hawaii. Do this, then come back here and tell us all how utterly horrible the United States has been throughout its short history.
Sport...
Wenger boys all set for Gorgie gig
From:
The Scottsman
Van Persie, Hleb, Fabregas, Henry
TYNECASTLE is presently some way off comparisons with the Emirates Stadium as it awaits redevelopment but the hallowed ground could become a home from home for Alexander Hleb and his Arsenal team-mates.
The prospect of Vyacheslav, the younger Hleb brother, establishing himself at Hearts next season has whetted Alexander's appetite, prompting him to ready colleagues like Cesc Fabregas and Mathieu Flamini for regular trips to Edinburgh.
Hleb Snr joined Arsenal from Stuttgart in 2005 and has spent the intervening two years craving his sibling's arrival in Britain. During that time, work permit complications and concerns over his attitude have left "Slava" ensconced in the footballing outpost of Minsk, where he plays with Vladimir Romanov's Belarussian club, MTZ Ripo.
However, assuming Home Office permission and a glowing reference from Anatoli Korobochka, Hleb Jnr will lead the Hearts forward line next season. For Alexander and his Arsenal buddies, a slice of SPL action is in prospect.
"I know Edinburgh is a very nice city and I want to go there to see Slava play," said Hleb in an exclusive interview with the Evening News.
"I will bring some of my team-mates from Arsenal. I have plenty friends there and when we have time I can come with Fabregas or Flamini or some others. I would like to have brought Henry, but that is maybe not possible now.
"I look forward to having Slava with me in Britain. I can help him and speak with him and, when we have time off, I can come to see him or he can come to me in London."
Employing one of the more colloquial London sayings, Hleb continued: "Slava is my man. He has fantastic qualities. He is very quick, his dribbling is very good and he can shoot. Overall, he is a very good striker and can be very important for Hearts."
Rumour has it the new Umbro No.9 jersey has already been set aside at Riccarton, and the prospect of perming any two from Hleb, Pinilla and Bednar for next season will rightly excite supporters. Several of last season's fixtures were characterised by Hearts' lack of a predatory goalscorer, particularly when Pinilla was in Chile and Bednar found himself beset by injury. If Hleb applies himself properly, that should change.
Support from football luminaries like Fabregas and Flamini can only encourage the 24-year-old striker to blossom. Alexander accepts his brother's talent has never been in question, but even he detected a fault in Slava's make-up which contributed to perceived failure in Germany with Stuttgart and Hamburg.
"The only problem is his character. He is very impulsive and this is maybe a fault," said Alexander. "I think when he changes club he can change character because he knows this is the last chance for him to get to Britain. He needs this chance.
"He had chances with Stuttgart, with Hamburg, but as I said I think it was character. He is older and he knows he won't have a lot of chances left.
"When he is in Scotland the whole country will see what he can do, and I think maybe he can move to England later if he can play well. When he works as a professional and concentrates he can change, but for now it is important just to get to Hearts."
Joining his brother in the English Premiership is a distant objective for young Hleb at the moment. The pair spent four years together at Stuttgart having cost just ?100,000 when they arrived as a package in 2000. Five years later Alexander was recruited by Arsenal manager Arsene Wenger for a sum totalling ?10million including add-on fees, but Slava's career stalled at Hamburg and Grasshopper Zurich and he headed back to Belarus.
He had to overcome allegations of debauchery earlier this year after being thrown off a train on the Lithuania/Belarus border along with international colleague Oleg Strahanovich. The suggestion was that both players were intoxicated on vodka, but Hleb Snr is quick to intervene to absolve his younger sibling.
Alexander said: "This happened with Strahanovich, not with Slava. Of course, Slava was with Strahanovich but he doesn't drink. Everybody knows this, Romanov as well. It was Strahanovich's fault, Slava was only with him on the train.
"Now, everybody is saying they were drinking together but this is not true. Slava is a professional, he wants to play football for a good club like Hearts."
Romanov is also an admirer of Strahanovich's talents having transferred him from MTZ Ripo to FBK Kaunas in Lithuania earlier this year. The midfielder was mooted for a move to Hearts but for the moment Romanov is intent on nurturing the undoubted potential of young Hleb. A telephone conversation between the pair earlier this month allowed the player to relay his side of the train incident and convince the Russian banker to sanction his transfer.
Those who witnessed Hleb's recent outings in Minsk are already convinced of a star in the making. He must now impress Korobochka, the interim head coach at Tynecastle, during a "trial" period that should begin next month when Hearts embark on pre-season tours of Austria and Germany.
"Everybody in Belarus knows who Mr Romanov is," added Alexander. "I think he is a good president but I don't know him personally, he is only the president of my brother's team. I think if Slava goes to Hearts it will be good for him and good for Romanov as well."
The elder Hleb brother is certainly ready to revel in Slava's arrival. Messrs Fabregas and Flamini might also want to start looking out the maroon scarves.
Two-time World champion Ivan Tikhon showed that he's clearly the event's current No. 1 after taking the victory with a second round 80.19 throw, the only toss of the day to sail beyond the 80 metre line at the Golden Spike Grand Prix - IAAF World Athletics Tour 2007 - in Ostrava.

"I wanted to throw over 80 metres and I did, but I'm not completely satisfied because I felt that I could throw at least two metres more," said Tikhon, the season's world leader at 82.58.

Opening with a 76.15, Tikhon followed up his winning effort with a foul and a 79.54 throw, but only reached 77.76 on his fifth before walking out the circle after his sixth.


At Wimbledon, Victoria Azarenka, Belarus, def. Jelena Kostanic Tosic, Croatia, 6-3, 6-1;


Endnotes...



Strawberry crisis at Wimbledon averted

From: South Asian Focus
LONDON-- Just in time for Wimbledon, Britain's summer strawberry crisis has been nipped in the bud.

Catering officials at the All England club had been on alert after hitches looked to be developing in the production pipeline for the iconic fruit of choice at the Championships.

Local press reported that a supplier with a over a decade's relationship with the event was worried that not enough pickers could be found to fill Wimbledon's massive annual order.

The reason was down to EU bureaucracy, which said that 40 per cent of the field workers had to come from new EU states Romania and Bulgaria. Under the order, recruiting from the traditional labour pools of Russia, Ukraine and Belarus was off the table.

But Wimbledon bosses breathed a sigh of relief after 400 workers were found and put to work in southern Kent, loading berries by the truckload for transport to Wimbledon.

So far, supplies of cream appear to be safe.


Adaptable teen named a national scholar

From: THE NEWS TRIBUNE
Name: Inna Gavrilovich, 15.
Hometown: Auburn.

School: Sophomore, Auburn Mountainview High School.

Award: Named an All-American Scholar Award Winner by the United States Achievement Academy.

She is eligible for one of 254 educational cash grants of from $1,500 to $10,000.

Criteria: Grade-point average, student achievements, and a well-balanced schedule of academics and extracurricular achievements.

Resume: Born in Belarus, Russia, she moved with her family to the United States five years ago. Fluent in Russian, Inna had to learn English quickly. In those five years, she has acquired the language and the culture with ease. "I think American," she said.

She is a 3.8 GPA honor student and is pursuing a language arts honors class, as well as chemistry, trigonometry and Advanced Placement European history.

Inna leads a worship group at her church, specializing in playing piano. She sings in the choir and is teaching herself violin. She also plays tennis for fun.

Future Plans: She plans to enroll in the Running Start Program at Green River Community College in the fall.

She eventually would like to transfer to the University of Washington or Northwest College to earn a four-year degree in political science.

Inna loves to travel and plans to take two semesters during college to study in Spain, preferably at the University of Grenada.

Career Goal: Be an interpreter in Russian, Spanish, English, Ukrainian and Belarussian.