President visits Brest, Privileges, Milinkevich out, Iran, Russia, Ukraine, Weapons sales, Oil, Gas, Blogs and Sport
Head of State Visits Brest District
From: BelTA
Alexander Lukashenko visiting the agricultural production cooperative (APC) 'Chernavchitsy'
Ways of developing the agroindustrial complex, introduction of energy saving technologies, meeting the European standards for the agricultural products were the focus of attention during the first day of the working trip of the President of the Republic of Belarus to Brest region.
On May 24, the Head of State visited Brest district. Alexander Lukashenko surveyed from helicopter the agricultural work in progress in Brest region.
The Belarusian leader became familiarized with the progress in implementing the rural revival programme in the region, listened to the report on fulfilling the assignments on construction and technological reequipement of dairy farms, with the state farm 'Chernavchitsy' being the case study.
On May 25, the second day of the working trip to Brest region, the President will become acquainted with the new sports facilities in Brest and those under reconstruction. He will also take part in the solemn opening ceremony of the Olympic Reserve Centre for the sport of rowing.
"Belarus has created state-of-the-art sport facilities, which allow training sportsmen able to worthily represent the country at international competitions and Olympics." Belarus President Alexander Lukashenko underscored the fact during his working trip around the Brest oblast, the press service of the Belarusian leader told BelTA.
After arriving at the Brest Oblast Centre for Olympic Training in Team Sports "Viktoriya", the President got acquainted with sport development in the oblast and the progress in fulfilling earlier instructions.
The construction of the unique sport complex Viktoriya started in 2003. The sport complex is able to host international competitions, championships and tournaments in team sports. The complex has basketball, volleyball and handball divisions.
Talking to Brest oblast governor Konstantin Sumar and Sports and Tourism Minister Alexander Grigorov, Alexander Lukashenko tasked Belarusian sportsmen with winning at least one Olympic medal in every kind of sport.
The head of state spoke for building a swimming pool with a highboard as well as an ice ground at the Viktoriya sport complex. The President requested everyone to do their best to reach better results in Belarusian handball. "If there is progress, achievements, we will provide the corresponding support to this kind of sport", said Alexander Lukashenko.
After visiting Stroitel and Dinamo stadiums the head of state headed over to the Centre for Olympic Training in Rowing Sports, where a rowing canal was solemnly opened. The event was attended by President of the National Olympic Committee of Ukraine Sergei Bubka, Executive Director of the International Rowing Federation Matt Smith, coach of the Belarusian national rowing team Yuliya Bichik, sport veteran Sergei Makarenko, and other well-known sportsmen.
The construction of the Brest rowing canal began following an instruction of the Belarus President in September 2004. Today it is a unique facility paralleled only by similar projects in Australia and Canada. The design and equipment of the rowing canal allow all-year training sessions for both top sportsmen and beginners. Built in compliance with international requirements and fitted with unique sport and recreation infrastructure, the Brest rowing canal has been chosen as the main facility for training rowing sportsmen for the oncoming Beijing Olympics.
During the solemn opening the head of state underscored, Brest architects and specialists had managed to create one of Europe's best sport facilities. "Now national teams have all conditions for training for Olympics and World Cups. Besides, Brest has received not only a prestigious sport facility, but also a beautiful place for recreation of people", said the Belarusian leader.
According to Alexander Lukashenko, sport has become an alienable part of life of the Belarusian society, a major indicator of the nation's health.
"Sport successes mean not only the country's prestige, but the resolution of problems of defensive capacity, demographic security, and a stronger gene pool of the nation", said the President.
According to the head of state, the Brest oblast like every other place across the country does a lot to build up modern sport industry. Last year alone 16 up-to-date sport facilities were commissioned in the oblast.
Olympic champions meet with Brest school students
Alexander Lukashenko noted he hopes Belarusian rowers will perform successfully at the 2008 Olympics in Beijing. "I am confident that the soft water of this canal will bring luck [to the Belarusians] at the 2008 Summer Olympic Games. We have everything for that: a good base, determination, persistence, motivated sportsmen and experienced coaches," the President underlined. "We believe that Ekaterina Karsten-Khodotovich, who won medals for rowing at four Olympic Games, will be able to perform excellently in Beijing in 2008, too".
Alexander Lukashenko noted, rowing sports have been developing in Belarus since the 1940s. It is symbolic that it was Belarusian rowers who were among the first Olympic champions. Twenty-seven Belarusian rovers won medals at various Olympic Games, of whom 10 sportsmen won gold medals.
The President expressed confidence, in the near future international federations of rowing sports will allow Belarus to hold world cups as well as Europe and world championships.
Belarus has already sent an application for hosting the 2010 World Rowing Championship in Brest.
According to the head of state, the Brest rowing canal has already become the key facility for training national teams. At present there are nearly 4,000 young rowing sportsmen at specialised sport education institutions of Belarus as well as over 8,000 sportsmen practising canoeing. These days Brest is hosting an international rowing regatta "Friendship". Here rowers will compete within the framework of the first junior Eurasian games.
The President added, the build-up of the sport industry necessary for training rowers will continue in Belarus. In the near future corresponding facilities will be built in Pinsk, Minsk, Gomel, Mogilev, and Vitebsk.
While visiting the Centre for Olympic Training in Rowing Sports, the President was shown samples of ceremonial clothes Belarusian sportsmen will wear during the forthcoming 2008 Olympics in Beijing.
Alexander Lukashenko generally approved the design concept of the uniform and made certain adjustments. The samples use the colour gamma of the national flag of Belarus and the Belarusian ornament.
The head of state shared his impressions of what he had seen in front of mass media. The President admitted, he was pleased with the development of the sport industry in the Brest oblast. "I've received a good impression, as those are all state-of-the-art facilities. I don't pity the money we've invested in them. I've seen the ready sport facilities and those under construction. They have a peculiarity of their own. They will embellish the city", Alexander Lukashenko said.
The reporters were interested in the head of state's opinion about such a sensitive issue as the privileges reform. The President believes, the alignment of privileges will not raise "social heat" in the country. Alexander Lukashenko said he was confident that pensioners and the older generation will be understanding. "Privileges are not the point today. People of the older generation take a dim view of raising the retirement age. Everybody wants to retire like in the Soviet times. I promised that if people want it and we don't have to raise the retirement age today, let it be so. But you should agree that it is totally impossible to get privileges with that", said the President.
Alexander Lukashenko pointed out, scrapping unwarranted privileges is not a whim, but objective reality. "I would have liked everyone in our country to have privileges. If Belarus was like the Arab Emirates, which has oil and large money resources, I would give each Belarusian $5,000 every year like it's done in some Arab states. But it is impossible in our country. Aligning the privileges is not a whim, but objective reality we are facing. If we take popular decisions, in five years you won't recognise the country — it will be ruined along with its economy", added the head of state.
Meanwhile, a transparent mechanism for providing individual social aid will be developed in Belarus, the President stated. "A corresponding decree is being prepared to systematise privileges. We will aid those, who really need it, including veterans and disabled persons. We will give privileges where the state and the economy can bear it", stressed Alexander Lukashenko.
The President attributed the approach to demands of the existing reality. "Privileges cannot be granted to some 7.5 million people in our country, where 10 million people live. No country can bear it, as the lesser part of the society works for the larger one. I am convinced the society will support our actions", said the President.
He added, certain privileges have been in place in Belarus since Stalin's times. "You see privileges where you go. All countries have settled the problem long ago", noted the head of state.
Alexander Lukashenko stated, the money released by the privileges reform will be used to support children and improve the national demographic situation.
Talking to reporters, the President refuted allegations made by certain politicians, who say that Belarus may distance itself from Russia by promoting cooperation with Iran. "Only if Russia wants this alienation, it will happen. If we are taken by the throat and are strangled for the second time, then naturally we have to respond to it in some way", said the head of state.
He also underscored, the development of Belarusian-Russian relations now depends on Russia's stance. "Russia understands perfectly well that the ball is in its court", said Alexander Lukashenko. He reminded that Russia accounts for some 45% of Belarus' trade while the European Union accounts for another 45%. "This dependence is too big and we need to look for new markets. Iran buys $60 billion worth of goods annually. Iran could buy our products, too. If we are offered profitable joint projects, why should we decline them and treat the move as some sort of alienation from Russia?" the President wondered.
The head of state noted, Belarus is overcoming crisis phenomena and one should take Belarus' sovereign policy for a fact. "The Russians, Ukrainians and Belarusians are in fact one people that nobody will be able to split," concluded Alexander Lukashenko.
Before leaving Brest, the President was made familiar with the project to build a modern aquatics palace in Brest near the River Mukhovets. The facility is supposed to be erected within the next few years.
The palace will have three swimming pools (50 and 25 meters long) and a special pool for platform diving. Apart from that, the palace will have a recreational complex. Sportsmen will be able to practise every kind of water sports here while the general public will enjoy recreation opportunities.
After seeing the model of the palace, the head of state approved the project.
Alexander Lukashenko justifies scrapping unwarranted privileges
From: BelTA
The alignment of privileges will not raise "social heat" in Belarus, Belarus President Alexander Lukashenko told media in Brest today.
"It would be incorrect if I said I didn't worry about the authority of the government. May God judge those, who believe the privileges scrapped by law will bring down the government's authority", stressed Alexander Lukashenko.
The head of state said he was confident that pensioners and the older generation will be understanding. "Privileges are not the point today. It should be understood that people of the older generation take a dim view of raising the retirement age. Everybody wants to retire like in the Soviet times. I promised that if people want it and we don't have to raise the retirement age today, let it be so. But you should agree that it is totally impossible to get privileges with that", said the President.
Scrapping unwarranted privileges in Belarus is not a whim, but objective reality, Belarus President Alexander Lukashenko told media in Brest today.
"I would have liked everyone in our country to have privileges. If Belarus was like the Arab Emirates, which has oil and large money resources, I would give each Belarusian $5,000 every year like it's done in some Arab states. But it is impossible in our country. Aligning the privileges is not a whim, but objective reality we are facing. If we take popular decisions, in five years you won't recognise the country — it will be destroyed along with its economy", added the head of state.
A transparent mechanism for providing individual social aid will be developed in Belarus, head of state Alexander Lukashenko told media in Brest.
"A decree is being prepared to systematise privileges. We will aid those, who really need it, including veterans and disabled persons. We will give privileges where the state and the economy can bear it", stressed Alexander Lukashenko.
The President attributed the approach to demands of the existing reality. "Privileges cannot be granted to some 7.5 million people in our country, where 10 million people live. No country can bear it, as the lesser part of the society works for the larger one. I am convinced you will support our actions", said the President.
He added, certain privileges have been in place in Belarus since Stalin's times. "You see privileges where you go. All countries settled the problem long ago", noted the head of state.
Alexander Lukashenko stated, the money released by the privileges reform will be used to support children and improve the national demographic situation.
Minsk Congress Ousts Milinkevich
From:
Moscow Times
and
Itar Tass
Belarussian delegates shouting "Long live Belarus!" during a raucous opposition congress in Minsk on Saturday.
The Belarussian opposition voted out Alexander Milinkevich as its head Sunday, instead electing four co-leaders and calling for dialogue with the authorities.
Milinkevich, who challenged President Alexander Lukashenko in last year's presidential election and then led unprecedented protests, criticized the changes and indicated he would continue to organize street protests.
"The result is sad. Now Belarus does not have a single leader of the democratic forces, and it will be much more difficult to confront dictatorship," Milinkevich said after the vote in the Congress of Democratic Forces removed him as coalition chief.
Milinkevich had been elected leader of the sometimes fractious coalition before the March 2006 election, in which the official count gave Lukashenko a landslide third-term victory.
He led protests that drew thousands of people following the vote.
The opposition coalition approved a new strategy that calls for a "constructive dialogue with the authorities," suggesting some members saw Milinkevich as too confrontational.
"We are hoping that Lukashenko will show reason and that Milinkevich will show reason," said one of the four new opposition co-leaders, Communist Party chief Sergei Kalyakin. "We must unite not around an individual but around the idea of change."
Milinkevich said the opposition would now likely "realize two strategies," suggesting that the coalition would seek dialogue with Lukashenko, but that a movement he is forming -- For Freedom -- would unite supporters of "active measures."
"The politician's place is on the street and among the people, not at a round table with the authorities," he said.
Two trends within the Belarusian opposition – liberal social democratic one the one part, and nationalist radical on the other part – got involved in an uncompromising fight from the very minutes of the congress at the Palace of Culture of the Minsk Automobile Works, where authorities had allowed the forum to be held.
Delegations from radical and nationalist parties and organisations said the opposition's strategy must be top priority. They rejected a draft strategy prepared by the congress organisers and described it as a "strategy of fear".
"What hopes for the evolution of power and round tables with authorities?" one of the opposition leaders, Nikolai Statkevich, asked from the podium. "We need a strategy of struggle and victory," he said.
Another opposition leader, former presidential candidate Alexander Milinkevich said he was sceptical about the congress.
"It is regrettable that this congress does not unite us. But I do hope that it won't drive us apart too much either," he said.
"My offer to those who adhere to national democratic positions is that if there is a left-wing bloc within the opposition, let's pool our ranks too. We musty say frankly that there is no united opposition and we have to organise two blocs," Milinkevich said.
More than 500 delegates from the majority of opposition parties and movements are talking part in the congress. The heads of diplomatic missions of several Western countries are attending the forum as guests.
Along with Kalyakin, the new co-leaders of the opposition coalition are United Civil party leader Anatoly Lebedko and Belarusian Popular Front leader Vintsuk Vyachorka and Anatoly Levkovich, leader of the Social Democrats.
Lukashenka denies speculation that rapprochement with Iran may estrange Belarus from Russia
From:
Naveny
Alyaksandr Lukashenka denied speculation that the current rapprochement with Iran might estrange Belarus from Russia. "Estrangement will occur only if Russia itself wants this," the Belarusian leader said while visiting Brest on May 25.
"If they take us by the throat and cut off our breath for the second time, we naturally have to somehow respond to this," Mr. Lukashenka's press office quoted him as saying.
He insisted that the development of Belarusian-Russian relations currently depends on Russia's will. "Russia understands well that the ball is on its side," he said.
Mr. Lukashenka noted that Russia accounts for 45 percent of Belarus' foreign trade. "This is too strong dependence and we have to look for new markets," he said. "Iran annually purchases goods to the amount of $60 billion. Why doesn't it buy our goods? If we are offered beneficial joint projects, why should we reject them and view this as some estrangement from Russia?"
According to Mr. Lukashenka, Belarus is overcoming crisis phenomena and following a sovereign policy, which he said should be accepted as a fact. Nonetheless, he stressed that the Russians, Ukrainians and Belarusians "are in fact one nation, which no one will manage to split."
The relationship between Belarus and Iran is close and friendly, Iranian President Mahmud Ahmadinejad said at a meeting with Belarusian Foreign Minister Sergei Martynov in Tehran on Sunday.
The two countries have similar stances on mayor international political and economic subjects, the Islamic Republic News Agency (IRNA) quoted Mr. Ahmadinejad as saying.
The Iranian president also suggested expanding bilateral ties in the energy, trade, industrial and defense spheres.
Apart from this, Mr. Ahmadinejad emphasized the importance of cooperation among all friendly countries that advocate a multi-polar world and said that Iran wants to develop relations with independent states, in particular with Belarus, in the framework of bilateral and multilateral cooperation.
According to the IRNA, Mr. Ahmadinejad also expressed hope that Aleksandr Lukashenko's forthcoming visit to Tehran would become a turning point in the history of Belarusian-Iranian relations and would contribute to the strengthening and expansion of bilateral cooperation.
Mr. Martynov said that conditions for cooperation between Belarus and Iran are quite favorable, and that Belarus is interested in the development and diversification of bilateral relations.
The minister criticized what he called a unipolar world system, adding that Minsk is ready to cooperate with Iran and other independent states in their effort to establish a multipolar world system.
Iran to finalize oil deal with Belarus
From:
Khaleej Times
Iran aims to finalize in two weeks' time a deal allowing Belarus to extract oil from the Islamic Republic's southern Jofeir deposit, the Oil Ministry's web site Shana reported on Sunday.
The agreement was first announced on May 21 when Iranian President Mahmoud Ahmadinejad visited his counterpart Alexander Lukashenko in Belarus, which seeks new sources of energy for its economy amid frosty relations with Russia.
Iran, which faces a possible third round of UN sanctions over its nuclear ambitions, is keen to attract foreign investment to develop its oil sector. Belarus has defended Teheran's right to pursue its nuclear programme.
'In two weeks a delegation of Belarus experts will visit Teheran for following up the negotiations,' Gholamhossein Nozari, managing director of the National Iranian Oil Company (NIOC), was quoted by Shana as saying.
The amount of investment by Belarus is not clear yet, he said, adding the field's development will take three years.
'The clear issue in this plan is that 14 wells will be drilled and 25,000 barrels of oil (per day) will be produced.' Nozari said.
Lukashenko, broadly popular at home but accused by Western countries of crushing fundamental rights, has called for Belarus to diversify its energy sources
Belarus owes $400 million to Russia for natural gas, vice premier says
From:
Naveny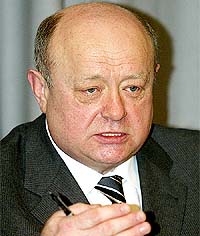 Mikhail Fradkov
Belarus currently owes $400 million to Russia for natural gas, First Deputy Prime Minister Uladzimir Syamashka told reporters in Minsk on May 25.
He noted that under an agreement with Gazprom (Russia's government-controlled natural gas monopolist), Belarus would have to pay off this debt by July 23. The debt has been accumulated because Belarus has been paying 55 percent of the contractual price since the beginning of the year, when the Belarusian government contracted to pay $100 for 1000 cubic meters in 2007 compared with $46.68 in the previous two and 1/2 years.
Mr. Syamashka also said that a general meeting of stockholders of a joint company with Gazprom to elect its governing bodies was scheduled for July 20. "If the president [Alyaksandr Lukashenka] gives his consent to holding the meeting and approves the proposed Belarusian members of the supervisory board, the meeting of the joint enterprise's stockholders will take place," he said.
Under an agreement signed in Moscow on December 31, 2006, Gazprom is to acquire a 50-percent stake worth $2.5 billion in Beltranshaz (Belarus' gas pipeline network) by June 1, 2010 to form a joint gas transport company. It would pay for the stake by equal installments between 2007 and 2010.
In
a related story,
Belarusian Prime Minister Syarhey Sidorski and his Russian counterpart, Mikhail Fradkov, met on the sidelines of a session of the CIS Council of Heads of Government in Ukraine's Black Sea resort of Yalta on May 25 to discuss Russian gas and oil supplies to Belarus and the export of Belarusian products to Russia.
According to the press office of the Belarusian Council of Ministers, Mr. Sidorski noted an estimated 14-percent year-on-year increase in Belarusian-Russian trade in the first five months of the year. He said that trade between the two countries might exceed $20 billion in 2007.
Messrs. Sidorski and Fradkow also reportedly discussed issues concerning a uniform veterinary certificate, which Belarus and Russia are expected to adopt soon
Belarus to fix uniform prices on cement to avoid profiteering
From:
NLIPRB
The Government of Belarus will fix a uniform price on cement in order to avoid profiteering, Minister of Construction and Architecture of Belarus Alexander Seleznev declared during a joint session of the two chambers of the Belarusian Parliament. The draft resolution will be submitted for consideration of the Government on June 6 this year.
Under the document the cement prices will be uniform both for state and private traders. "The failure to observe the price formation order will be persecuted," the Minister said.
According to Alexander Seleznev, the shortage of cement is created artificially. Thus, this year the cement supplies were twice as much as last year. Nonetheless, the market faced the shortage already in May while last year the deficit was reported in July-August.
After an in-depth analysis it was revealed that the cement is mainly bought only to be resold at higher prices, Alexander Seleznev said.
Russia Denies Arms Sales Through Neighbor Belarus
From:
Defence News
s125 Pechora missile system
A senior Russian arms official on May 23 denied any suggestion that Moscow was violating international agreements by selling weaponry through ex-Soviet neighbor Belarus to countries subject to embargos.
Western countries, harsh critics of Belarus' human rights records, have accused Minsk of engaging in illegal arms sales, sometimes on behalf of Russia.
Some media have said Belarus supplied weapons illegally to Iraqi President Saddam Hussein before his overthrow in 2003.
And Russia's Kommersant newspaper reported in March that Moscow may have sought to sell arms to Iran via Belarus.
"There have been no instances of selling arms and material to countries subject to an international embargo through our (Belarussian) partners," said Vladimir Paleshchuk, deputy head of Russia's federal service for military technical cooperation.
"Nor will this ever occur. There will be no secret acting behind the back of the international community," Paleshchuk told Reuters at the MILEX-2007 fair of weapons and military equipment.
Russia will boost arms sales to a record $7.5 billion in 2007 as the Kremlin breaks into new markets for its military equipment, top military officials have said.
Moscow's drive to boost arms exports have raised tensions with the United States as the two former Cold War foes are often now in direct competition for major arms contracts.
The most prestigious exhibit at the Belarus arms show was organized by Russian state arms exporter Rosoboronexport, which put on a display the state of the art Pechora missile system and various models of tank.
Forty-three military delegations visited the fair -- including senior officials from China, Iran, Sudan, Syria and Venezuela -- but neither Belarussian nor Russian exhibitors were announcing any deals clinched.
"There was considerable interest in our production. Nearly all the delegations visited us," said Valentin Koptev, general director of BelOMO, which produces optics for a wide variety of weaponry, including Kalashnikov automatic rifles.
"But in general a lot of time passes between an expression of interest and signature of a contract. And as a rule, only one in five contacts culminates in a contract being signed."
Arms exports have declined sharply in recent years in Belarus, which has only a small number of its own producers.
The country ranked among the top 10 world exporters at the end of the 1990s, when it was selling off surplus equipment and models left over from the Soviet era. Belarus does not disclose details about its arms exports.
RF-Belarus Union Parliamentary Assembly discusses social policy
From:
Itar Tass
Petrozavodsk
Deputies of the sixth meeting of the standing seminar at the Parliamentary Assembly of the Russia-Belarus Union State discuss the drafting of the social policy in the Union State. The meeting opened in Petrozavodsk on Thursday.
Politicians, scholars and economists from Russia and Belarus discuss topical problems of social security in Belarus and Russia, as well as granting equal rights to Russian and Belarussian citizens, Deputy Chairman of the Federation Council Committee on Economic Policy, Business and Ownership Vladimir Fyodorov told Itar-Tass on Thursday.
"In particular, as the head of the committee preparing proposals in the draft law on traffic, I am surprised with the current situation, when a driver and a Belarussian citizen, who was stripped of the driving license in Russia for a blatant violation of our traffic rules, will get a new driving license without problems upon coming home," the senator pointed out.
On May 25, which is the second day of the seminar, prospects for the development of tourism and sport in the Union State, further formation of a common cultural space in Russia and Belarus will be discussed.
Belarus' internal troops train sappers for Emirates
From:
BelTA
Sappers, also known as combat engineers, perform any of a variety of tasks under combat conditions including bridge-building, laying or clearing minefields, demolitions, field defences as well as building, road and airfield construction and repair
The internal troops of Belarus train sappers for the United Arab Emirates, Belarus Deputy Interior Minister, Internal Troops Commander Valeriy Gaidukevich told a seminar for central Belarusian mass media today.
He said, Belarus had contracted to train specialists for the UAE, there is a corresponding training programme. The Demolition Centre of the internal troops is used as the educational facility, as the Centre is certified for training such specialists.
Valeriy Gaidukevich also said, Qatar had also showed interest in having law enforcement personnel trained in Belarus, not only sappers, but other professionals as well. Negotiations are underway.
The Internal Troops Commander noted, education cooperation successfully develops with many countries. In particular, the Internal Troops Faculty of the Military Academy of Belarus trains cadets from Armenia. The first class will graduate this year. Representatives of Moldova have also been trained. "Representatives of many countries speak about the educational level of law enforcers in Belarus in glowing terms. Our experience attracted, in particular, China, Vietnam and other countries", said Valeriy Gaidukevich.
Around the region...
U.S. to Station Missile Defense Shield in Europe Despite Russia's Opposition
From:
Kommersant
and
Moscow Times
Crew members chat on a E-3A AWACS aircraft during a presentation of NATO's airborne early warning radar system at a military airbase near Bucharest.
The United States will station parts of its missile defense system in Europe despite Russia's objections, U.S. Deputy Assistant Secretary of Defense for European & NATO Policy Daniel Fata said during the spring session of NATO Parliamentary Assembly held in Portugal.
Negotiations with Poland and Czechia will be finalized by late 2008. Stationing will complete and the missile defense system put into standby alert by 2013, Daniel Fata said, specifying they will do it despite Russia's objections, as the facilities are aimed at countering the threat, which they regard the key one.
For NATO, the key threat is Iran along with its ballistic missile research. The forecast of Pentagon is that Tehran that has only the middle-range missiles now will get first intercontinental missiles by 2015. Moreover, roughly 20 states are moving in the same direction, the Pentagon analysts claim.
The U.S. missile defense system should be of no trouble to Russia, as it doesn't threaten it and will hardly trigger a new wave of the arms race, according to Fata.
Czechia and Poland are ready to host the U.S. radar and interceptors. The standing of Moscow remains negative. The plans to station missile defense system close to Russia's border pose a threat to the country, General Staff Chief Army General Yury Baluevsky confirmed in Brussels May 10 after the sitting of Russia-NATO Council.
According to the Moscow Times, Poland may allow Moscow to inspect a U.S. anti-missile shield on its territory to convince the Kremlin that the weapons would pose no threat to Russia, a Polish official said Friday.
The plan to place 10 interceptor rockets in Poland and a radar system in the Czech Republic has been strongly criticized by Russia, which says it threatens its national security.
Polish Deputy Foreign Minister Witold Waszczykowski said Poland would consider allowing a visit by Russian inspectors to prove the missiles could not become an offensive weapon, nor to shoot down Russian missiles as they would be fired from too close a range.
In Prague, meanwhile, about 2,000 people marched Saturday against Washington's plans to place parts of the new missile defense system in the Czech Republic.
Washington Acknowledges Russia as Superpower
From:
Kommersant
Daniel Fried, U.S. Assistant Secretary of State for European and Eurasian Affairs, came to the conclusion that the stronger Russia gets, the harder it is to deal with it.
U.S. Commission on Security and Cooperation in Europe held special hearings devoted to Russia on Thursday. The Commission came to a conclusion which is flattering to Russia: the latter is returning to the international arena as an influential political and economic power. At the same time, the Commission noted this process is accompanied by exacerbating differences between the U.S. and Russia. Moscow is really confident of its powers and does not intend to change its policy. Russian President Vladimir Putin said in Luxembourg on Thursday that the West "has few instruments of influence on Russia left".
The Commission on Security and Cooperation in Europe (Helsinki Commission) held special hearings devoted to Russia on Thursday. The chief speaker, U.S. Assistant Secretary of State Daniel Fried, said: "Russia has restored its position of a large political and economic force recently." At the same time, Washington acknowledges the consequences of that process, negative for it: "Russia's strengthening has been accompanied by a cooldown in its relations with the U.S.".
The U.S. is concerned about Moscow's moratorium on the Treaty on Conventional Armed Forces in Europe, disagreements about deploying missile-defense elements in Eastern Europe and about the state of democracy in Russia.
Meanwhile, Russian President Vladimir Putin spoke to Western reporters in Luxembourg. He said that the West now "has very few instruments of influence on Russia, which became independent both militarily and economically."
Apparently, both Washington and Moscow understand the current situation in their bilateral relations will remain unchanged for some time. Mikhail Margelov, chairman of the Federation Council's International Affairs Committee of Russia, said the U.S.-Russia relations can be improved, but not with the current authorities. "A new cycle might begin only after 2008, when both the U.S. and Russia will have new presidents," the Russian politician said.
Swiss help Polish corruption probe
From:
Poland PL
Switzerland will disclose to the Polish law enforcement agencies, the list of Swiss bank accounts belonging to Polish politicians.
Justice Minister, Zbigniew Ziobro has launched an investigation into a number of possible cases of corruption by prominent politicians of Poland's former post-communist government.
Some of the politicians suspected of illegal dealings are still prominent figures on the left of the Polish political scene. The disclosure of their deposits on Swiss bank accounts may be a shock to the Polish political scene, said the ruling Law and Justice party MP Jacek Kurski. According to Kurski, these accounts may contain money obtained from corruption and other abuses. That may prove that Poland was in fact robbed by the previously ruling post-communist, said Jacek Kurski.
The Crisis Is Over in Ukraine
From:
Kommersant
Ukrainian President Viktor Yushchenko (center), Prime Minister Viktor Yanukovich (right) and Parliament Speaker Alexander Moroz finally realized whatthey had in common and settled the country's political crisis.
The political crisis in Ukraine ended Saturday night. It lasted 60 days, but ended with satisfaction all around. Viktor Yushchenko and Viktor Yanukovich forgot about their old hard feelings and called each other partners. The president decided not to remember that he had dissolved the Rada either. The prime minister agreed to early elections on September 30. Their supporters practically forgot everything they had been fighting over for the last two months. Kommersant special correspondent Mikhail Zygar witnessed this Ukrainian happy ending.
The Solution
At 3:30 a.m., Ukrainian President appeared in a window on the fourth floor. He waved his arms at journalists lying directly beneath and banged on the window. Prime Minister Viktor Yanukovich appeared in another window in his shirtsleeves. He cast a gloomy look at the street. It was beginning to get light.
Negotiations between the two Viktors, speaker of the Supreme Rada Alexander Moroz, opposition leader Yulia Timoshenko and another dozen Ukrainian politicians had been in progress for eight hours.
The political crisis in Ukraine lasted 60 days. It began on Easter week. Yushchenko compared the dissolution of the Rada to the casting of the Pharisees from the Temple at the time. By Whit Sunday, Yushchenko had persuaded the "Pharisees" to leave the parliament.
A little after 4:00, Yushchenko, Yanukovich and Moroz came out of the presidential secretariat building.
"We have news worthy of this great holiday of Whit Sunday," the president said. The political crisis in Ukraine is over. We have found a solution that is a compromise." He looked surprising well for having has a sleepless night. So did Yanukovich. He was wearing a fashionable checked jacket and a big smile.
In the last two months, Yushchenko and Yanukovich have spent a lot of time together in their endless negotiations and apparently have grown close.
"I want to thank our immediate partners, with whom we found reached this excellent result," Yushchenko continued, nearly hugging Yanukovich, who continued to smile. A few years ago, Yushchenko was not calling him a partner, but a bandit.
The new-found partners had succeeded in finding a way out of the crisis on that amazing night that made them all look like winners. Yushchenko dreamed of dissolving the Rada. He issued two decrees to that effect in two months, but it did not dissolve. Under the first decree, it was to take place on May 27, that is, yesterday.
Yanukovich was not against new elections. He would win them most likely and even make a better showing. But he did not want the Rada to be dissolved at the president's will. He and Speaker Moroz claimed that the president's decrees were illegal.
Finally they have reached an agreement on it. The president has agreed to pretend that he never issued any decrees. The Rada has agreed to meet two more times, on Tuesday and Wednesday, to pass the laws necessary for the elections and then dissolve itself, not by presidential order but because the embers from pro-presidential Our Ukraine and from the Yulia Timoshenko Bloc are resigning. Under Ukrainian law, the Rada cannot function if more than a third of its members are absent. New elections will be held September 30.
The agreeing Viktors were in a playful mood.
"Let's not engage in… what's that called? Revisionism. There is such a word," Yanukovich said. "We have to agree. If there were mistakes on both sides, they have to be corrected."
Yushchenko was ready to make corrections to. When they asked him about the internal forced troops making their way to Kiev, he widened his eyes.
"That's a lot of nonsense, one of the fables they are telling to misinform the public!" he exclaimed and went on to say that the extra forces were coming to the capital only because Sunday the final match between Kiev Dynamo and Donetsk Miners soccer teams.
"And this evening we are going to the game together!" Yushchenko beamed, taking Yanukovich and Moroz by the arms. Finally they embraced. Camera flashes blazed. It was already light out.
Read More...
Shortchanging Democracy in Ukraine: The President's 'Freedom Agenda' Is Losing Momentum
From:
Jackson Diehl for the Washington Post
Amid the wreckage of the Bush administration it's easily forgotten that the export of democracy to formerly unfree societies has not always been a failing policy. For a decade after the end of the Cold War, the United States and its European allies worked through NATO and the European Union to convert 10 post-Communist countries in Central and Eastern Europe. At the time it wasn't clear that all or even any of them would embrace free elections and free markets. That they did was due in large part to the abundant tutelage, training, aid and tough love provided by the Western alliance.
Lots of people are pointing to Iraq as an example of what happens when attempts at nation-building go wrong. But what happens when it isn't tried -- when the West sees a country struggling to find a new political order after decades of repression and simply decides to back off? In effect, a test of that option is underway far from Iraq, in the biggest country between Western Europe and Russia -- Ukraine.
Three years ago, when the Bush "freedom agenda" was still gaining momentum, Ukraine was a focal point. U.S. funds poured into nongovernmental organizations that were agitating for a free presidential election. When a Russian-sponsored candidate tried to steal the election through blatant fraud, the Bush administration strongly backed the popular protest movement, the Orange Revolution, that eventually forced a new vote. The pro-Western winner of that ballot, Viktor Yushchenko, was for a while a favorite in Washington; there was even a push to put Ukraine on a fast track for NATO membership.
The change from then to now is one measure of how far a demoralized administration has retreated from its ambitions, and from the world outside the Middle East. Last week Ukraine was again in political crisis; the protagonists once again were the pro-Western president, Yushchenko, and his pro-Russian rival, Viktor Yanukovych, who is now the prime minister. Once again crowds gathered in the center of Kiev. There were struggles for control over government buildings, and each side accused the other of plotting a coup. The country seemed to teeter between a compromise agreement on new parliamentary elections -- which was announced yesterday -- and an attempt by one side or both to seize power by force.
The Bush administration and its NATO allies, meanwhile, were nearly invisible. Contact between U.S. officials and the feuding Ukrainians was limited mostly to the U.S. ambassador in Kiev and European affairs officials at the State Department. A senior adviser to Yanukovych who came to Washington last week to lobby for more involvement, former foreign minister Konstantyn Gryshenko, found it hard to get a meeting at the National Security Council or the vice president's office.
"What's needed from the United States, and what has been lacking, is a strong message to all sides that it is in their interest to abide by democratic principles," Gryshenko, a former ambassador to Washington, told me. "The message we're getting is that the United States really doesn't care."
It's not just the lack of phone calls or visits that conveys that disengagement. As the human rights group Freedom House points out in a new report, the administration's foreign aid budget proposal for next year contains big cuts in democracy funding for Europe and Eurasia. In Ukraine, the administration would slash funding for civil society organizations -- that is, the groups that led the democratic revolution of 2004 -- to $6.4 million, reflecting a 40 percent reduction from last year. In Russia, where pro-democracy and human rights NGOs are under enormous pressure from an increasingly autocratic Vladimir Putin, a cut of more than 50 percent is planned.
The retreat is largely a function of the administration's ever-deeper absorption in the Middle East -- a lot of the democracy funding is being shifted there -- and simple demoralization. There's a reluctance to do anything that might help Russia's perceived ally, Yanukovych, who believes he would win any free and fair election. It doesn't help that European governments have lost their willingness to offer more memberships in Western clubs. Both NATO and the European Union have made it clear that Ukraine won't be admitted anytime soon, regardless of how its politicians behave.
What will happen in the absence of Western influence? Maybe Ukraine will muddle through; most of its leaders seem more interested in the model of democratic Poland than of Putin's Russia. Maybe Russia, which will never lose interest in its neighbor, will succeed in converting it into a political satellite, as it tried to do in 2004. Or maybe the chaos in Kiev will deepen, violence will erupt and the country will start to splinter, like Yugoslavia in the 1990s -- or Iraq. If so, it won't be because the United States tried to impose democracy; but it might be because it didn't.
From the blogs...
The Belarus Bypass Surgery
From:
Robert Amsterdam
So much for the "Friendship" Pipeline - the supply artery carrying up to 1.2 million barrels of Russian crude a day across Belarus and on to consumers Poland, Germany, Slovakia and the Czech Republic (10% of Europe's oil).
The big news breaking today is that Russia has given approval to carry out unnecessary bypass surgery on Europe's energy supply coronaries.
Perhaps the Kremlin didn't enjoy getting scolded last week at the EU-Russia Summit in Samara, when EC President Jose Manuel Barroso sternly remarked that "Poland's problem is a pan-European problem, just as Lithuanian or Estonian problems are problems for all of Europe." Irregardless of possible political motives, the announcement today that approval has been given for the expansion of the Baltic Pipeline System (which will take oil to the Russian port of Primorsk) feels fortuitously timed.
Attentive readers of this blog will recall our coverage of the supply disruption of the Druzhba pipeline last January, as well as the gas war between Minsk and Moscow. You can't say we didn't warn you. Back in late December and early January, when Gazprom was threatening to cut off supply to Belarus, Alexander Medvedev argued that Russia was simply asking the former Soviet republics to pay "market prices," and that he was tired of the West vilifying Russia for simply following commercial sense. Many in the media bought this excuse - the same line of reasoning used during the Ukraine fiasco.
Those who believed that argument must be feeling naive today.
How interesting is it that the Primorsk pipeline announcement comes just three days after Russia finally closed the deals to take control over Belarus's pipelines? As we pointed out months ago, market prices are all well and good, but those price disputes provided convenient cover for what the Kremlin was really after - Beltransgaz - a controlling stake in the transit company, providing Moscow with one more pressure point from which to squeeze Europe.
When Russia plays hardball with the former satellite states on energy prices - the last thing they are looking out for are their accounts receivables. It is a deficit creation strategy, which forces critical transit countries to give up key concessions in transit, delivery, and point of sale companies. The last thing they want is money (there's no shortage of that) - they seek to create a situation in which the only way out is to give up strategic infrastructure. Furthermore, if Gazprom were really only looking to get market prices from Belarus, then why are they now paying only $100 per 1,000 cubic meters of Russian gas in 2007 (just 40% of the "average" price in Europe)?
The Financial Times reports:
The Beltransgaz deal, which was 13 years in the making, will increase Gazprom's lock over gas networks to the west just one week after Russia, Turkmenistan and Kazakhstan agreed to expand shipments out of Central Asia via Russia in a blow to western governments' efforts to build alternative pipelines bypassing Russia.

Gazprom signed a $2.5bn (ˆ1.9bn, ?1.3bn) agreement with the Belarus government on Friday for the 50 per cent stake. It is to pay Belarus $625m for a 12.5 percent stake in Beltransgaz in the next 20 days, while the remaining 37.5 per cent of the pipeline operator's shares are to be transferred from 2008 to 2010.

"It is a big question: which is the centre of power [in Russia] – the Kremlin or Gazprom?" said Mr Kirkilas. (blogger's note: Gediminas Kirkilas, Lithuania's prime minister).

Warning of instability in the run-up to Russian parliamentary elections later this year, he added that he expected to see "a lot of people from Gazprom" in the Duma. "During the cold war, Russia was a more reliable partner than it is today," he said.
So what does this all really mean? The most immediate message to take home is that Russia wanted to remind Europe that it will continue its "divide and rule" strategy of bilateral energy deals so long as it pleases. By approving the extension to Primorsk on the Monday following the summit, the Kremlin is calling Barroso's bluff - if Europe really wants to stand behind new members at the cost of good relations with Russia, then prove it.
But the Primorsk extension is also very real. Apparently it could be completed in as little as 18 months, and would allow for Russia to divert some if not all supply that currently go through the Druzhba (back in April they said they would probably send half of Druzhba's oil to Primorsk). Not that that is going to be the automatic outcome. I think that the Primorsk line will likely exist as the "threat alternative" - Druzhba will still be the most cost-efficient way of getting oil to major markets such as Germany, and now that Gazprom has a 50% share in Beltransgaz, Russia can collect transit fees from its own supply (which sounds like another RosUkrEnergo - a shell company that could allow Russian officials to siphon and launder money).
While Russia may be eager to become less reliant on transit countries, never underestimate the attractive pull of an opportunity for corruption. The Primorsk extension will certainly weaken Belarus and Europe's bargaining position during price negotiations, but for now it seems like the crude will continue to flow through the Druzhba as long as the price is right.
Ryanair pulls Kaczynski romance advert
From:
the beatroot
The Polish government threatened to sue Ryanair after an advert made fun of the prime minister's alleged affair with old Solidarity colleague.
The rumors of an affair (see above front page of Polish tabloid last year) between Jaroslaw Kaczynski and Law and Justice MP Jolanta Szczypinska have been around for sometime. And the supposed love affair was used by the cheap flight carrier Ryanair as the subject for one their characteristically zany advertising posters. IOL reports:
The ad shows the deputy, Jolanta Szczypinska, with Kaczynski under the headline "Are they thinking of a honeymoon?"

A comic book speech bubble shows Kaczynski asking, "Shall we take the government plane?", to which Szczypinska replies: "There's no need, Ryanair guarantees the lowest prices."

Ryanair, which is known for unorthodox publicity campaigns, "must pay for this", Szczypinska fumed on Wednesday.

"I am shocked. This is a scandal," she said in an interview with the daily newspaper Dziennik. "Illegal exploitation of the image of the head of government is a crime."
We rang up Rynair for a comment and they told us that they have now cancelled the advert after the legal threats. Shame.
That the government is suffering from a humor by-pass will not come as a shock. But many might be skeptical of the rumor of the romance. Some think it's a PR stunt.
The dumbest thing about all this is the government's willingness to sue all and sundry when being made fun of. A secure, mature government would take the mocking on the chin. A childish administration will throw a tantrum.
Expect more tantrums.
Demolishing buildings, burning history books
From:
TOL
On May 24th two more demolition workers started to dismantle two more historical buildings in Hrodna: the building of steam mill (XIX century) and of outhouse (XVIII century) of state forest authority palace. The situation is becoming absurd: city authorities are using propaganda through (newspapers "Hrodzenskaja Prauda" and "Viacherny Hrodna"), where they are talking about "new perspectives being opened by the reconstruction". The authorities are saying that the buildings are not being demolished, but are being carefully renewed; also the authorities are saying that "bloggers want to annoy" the honest officials, who are so much concerned about culture, architectural legacy preservation and well-being of the city population.
Well, here's the tragedy happening in front of our eyes: Hrodna has undoubtedly the most imposing and well-preserved historical city of all Belarusian cities — but the current city administration has demolished dozens of historical buildings over the past 3 years in an attempt to lure invectors and dedicate large strips of land in the centre to commercial development. The current Belarusian regime has changed history books, burned historical flags and sumbols, and nothing, it seems, can prevent it from erasing parts of architectural legacy of our historical cities for good.
A group of history students, youth activists, journalists and bloggers thinks otherwise: they have launched a civic campaign "Stop destruction of Hrodna". So far, they managed to delay the demolition of a few buildings, have invited musicians, writers and historians to performances in support of the campaign — gathering hundreds of people, collecting signatures for holding a city-wide referendum for deciding the fate of the historical city center of Hrodna.
Read More...
Cyberwarfare update: Newly nasty
From:
Edward Lucas
Defences against cyberwarfare are still rudimentary. That's scary
IMAGINE that agents of a hostile power, working in conjunction with organised crime, could cause huge traffic jams in your country's biggest cities—big enough to paralyse business, the media, government and public services, and to cut you off from the world. That would be seen as a grave risk to national security, surely?
Yes—unless the attacks came over the internet. For most governments, defending their national security against cyberwarfare means keeping hackers out of important government computers. Much less thought has been given to the risks posed by large-scale disruption of the public internet. Modern life depends on it, yet it is open to all comers. That is why the world's richest countries and their military planners are now studying intensively the attacks on Estonia that started four weeks ago, amid that country's row with Russia about moving a Soviet-era war memorial.
Even at their crudest, the assaults broke new ground. For the first time, a state faced a frontal, anonymous attack that swamped the websites of banks, ministries, newspapers and broadcasters; that hobbled Estonia's efforts to make its case abroad. Previous bouts of cyberwarfare have been far more limited by comparison: probing another country's internet defences, rather as a reconnaissance plane tests air defences.
At full tilt, the onslaught on Estonia was also of a sophistication not seen before, with tactics shifting as weaknesses emerged. "Particular 'ports' of particular mission-critical computers in, for example, the telephone exchanges were targeted. Packet 'bombs' of hundreds of megabytes in size would be sent first to one address, then another," says Linnar Viik, Estonia's top internet guru. Such efforts exceed the skills of individual activists or even organised crime; they require the co-operation of a state and a large telecoms firm, he says. The effects could have been life-threatening. The emergency number used to call ambulances and the fire service was out of action for more than an hour.
For many countries, the events of the past weeks have been a loud wake-up call. Estonia, one of the most wired nations in Europe, actually survived pretty well. Other countries would have fared worse, NATO specialists reckon.
National security experts used to dealing with high-explosives and body counts find cyberwarfare a baffling new theatre of operations. In Estonia's case, "botnets" (swarms of computers hijacked by surreptitiously placed code, usually spread by spam) swamped sites by deluging them with bogus requests for information. Called a "distributed denial of service" (DDOS) attack, this at its peak involved more than 1m computers, creating traffic equivalent to 5,000 clicks per second on some targets. Some parts were highly co-ordinated—stopping precisely at midnight, for example. Frank Cilluffo, an expert formerly at the White House, says that the attack's signature suggests that more than one group was at work, with small-time hackers following the initial huge sorties.
Most countries have been complacent about guarding information infrastructure. In America, a congressional committee for computer security has given failing grades to many of the federal bodies it scrutinises. The Department of Homeland Security supposedly has a "cybersecurity czar" but the throne has not yet found a steady occupant.
Private firms have had more experience in fighting off internet attacks. Organised crime gangs, often from Eastern Europe, extort money from gambling and pornography sites by using botnets to make them unreachable. Last week a large DDOS attack hit YLE, Finland's public broadcaster. This week Britain's Daily Telegraph was hit. No political or financial motive was apparent. A Romania-based hacker led the Finnish attack.
Firms of varying competence and credibility peddle technical solutions. The typical protection against DDOS attacks is to buy lots of extra computers and bandwidth to handle an unexpected spike in traffic. "Mirroring" content across several servers means the cyber-attackers must hit many more targets simultaneously before disrupting anything. A system's architecture helps too: Estonia's open approach, with its built-in flexibility and resilience, and co-operation between the state, business and academics, worked well. Mr Viik hopes this will deter those trying to build cyberdefences on a military or state monopoly model.
Counterattacks are possible, but tricky. Security firms' staff can pose as hackers to infiltrate cybergangsterdom. This used to be a mere battle of wits. Now there are real fears of violence. "It's changed now that big money is involved. It is not beyond the realm of imagination that someone might be targeted," says Mikko Hypponen of F-Secure, an internet security firm.
But technology and sleuthing offer only a partial fix. The real question facing industrialised countries is how to create a legal environment that counts cyberaggression not as a kind of practical joke, but a grave breach of the legal order, akin to terrorism, international organised crime, or aggression against another state.
NATO is rethinking its position. It is designed to protect members against physical attack. When Estonia appealed for help it could only send an observer to Tallinn to monitor the attacks. For now, informal alliances are more useful. Internet companies in friendly countries such as Sweden headed off many of the attacks before they even reached Estonia. Ken Silva, the security chief at VeriSign, which runs big chunks of the internet's domain-name system, advocates defences at the core of the network to tackle malicious data-packets before they reach their target. But finding agreement among the world's privately run internet networks is hard.
The urgent need is for an international legal code that defines cybercrimes more precisely, and offers the basis for some remedies. The Council of Europe, a continent-wide talking-shop that is the guardian of many international legal conventions, has a treaty on cybercrime dating from 2001. Acceptance has been partial. From overseas, America and Japan have signed up; Russia so far hasn't.
The International Telecommunication Union, which unites all 191 countries that use the world telephone system, hopes to take the lead in pushing for a global convention against cybercrime. Alexander Mtoko, its expert on cyberwarfare, says the key issue is anonymity: "We are in an industry where there is no control, no rules, no identities—it's the wild west. But for critical applications you have to know who you are dealing with." NATO experts agree. At a minimum, any international cybercrime convention is likely to oblige internet service providers to co-operate in blocking DDOS attacks coming from their subscribers' computers.
Yet the underlying problem is the internet itself. Wreaking havoc with anonymous telephone calls is hard. The internet's inherent openness allows hackers to hide. Yet that also helps make it cheap and innovative. Some countries may be more willing than others to trade freedom for security.
Mr Viik thinks a new global cybersecurity treaty may be reached by 2012. But victory will never be complete, thanks to the asymmetry between cat and mouse, notes Bruce Schneier, a security expert. "It is easier to come up with a new attack than with a new defence," he says. The strongest defence, says Mr Cilluffo, may be resilience: "the ability to reconstitute quickly, recover and absorb."
Sport...
Dynamo Brest takes the cup
From: Belarus Sport
Dynamo Brest beat champions and cup holders BATE Borisov on penalties 4-3 in the Belarus Cup final on Sunday to win the first trophy in their history.
Dynamo goalkeeper Yuri Tsygalko saved the decisive penalty from his opposite number Alexander Fedorovich to clinch the win after the two sides battled to a 0-0 draw for 120 minutes.
BATE, who won the league and cup double last year, had been considered strong favourites to retain the trophy but came up short against a determined Dynamo side, who will now represent Belarus in the UEFA Cup next season.
Belarusian Alexander Usov, Ag2R Prevoyance Team of France, finished in 8th the 198km-long 11th Stage of the prestigious Giro d'Italia race. A reminder, the Belarusian finished in 6th the four out of ten stages and one time he was 8th. Ten stages are left before the Giro is over (June 3 in Milan). Two more Belarusians taking part in the race represent Italy's Acqua and Sapone Team. Bronislav Samoilov finished in 97th, Andrei Kunitskiy was 99th. Italy's Andrea Noe is a leader in the overall scoreboard. The top Belarusian is Bronislav Samoilov (56th position), Andrei Kunitskiy (91st position), Alexander Usov – 102nd.


The top seed, China's Ma Lin showed his intent by beating crowd favourite Vladimir Samsonov of Belarus in the first quarter-final of the Men's Singles event at the Liebherr World Championships in Zagreb on the morning of Saturday 26th May 2007. Ma Lin won 11-9, 11-7, 12-10, 9-11, 11-6. Vladimir Samsonov had the support of the crowd; simply as soon as they saw him walk into the arena they applauded and that support lifted the man from Belarus. The reason for the support was two folded, he's `Mr Nice Guy? and his wife is Croatian.


Endnote...



Belarus' average monthly pay in first four months reported at $300

From: Navany
Belarus' average before-tax monthly pay in the first four months of the year was 640,500 rubels ($300), or 18.5 percent more than in the same period in 2006, according to the Ministry of Statistics and Analysis.

In April, the average pay reportedly was 661,900 rubels ($310) compared with $309 in March and $251.3 in April 2006.
In real (inflation-adjusted) terms, the average monthly pay in the first four months of 2007 was 10.2 percent higher than that in the same period of the previous year, whereas the government had projected a rise of eight to nine percent. //BelaPAN