New presidential decrees, Ahmadinejad coming soon, Nigerian kidnapping. BY out of hockey worlds, Koldun, Yeshiva foreclosure, Opinion, Blogs and Sport
New Decrees by the president of the Republic of Belarus
From: The office of the president
Face-to-face talks between the President of Belarus, Alexander Lukashenko, and the President of the Republic of Azerbaijan, Ilham Aliyev. May 2, 2007
The President of the Republic of Belarus, Alexander Lukashenko, has signed into action Decree No 207 which introduces additions and amendments to the Rules of managing hunting facilities and hunting and to the Rules of managing fishing facilities and fishing (hereafter referred to as "the Rules").
The adoption of this document has been motivated by the fact that the practical application of the Rules approved by the Presidential Decree No 580 of December 8, 2005, has given rise to the problems relating to the legal specification of some paragraphs, the regulations concerning hunting and fishing, and by the fact than some norms are no longer applied in practice or, if applied, are ambivalently interpreted.
On April 30, the President of the Republic of Belarus, Alexander Lukashenko, signed into action the Decree which approves an amendment to Annex B to the Kyoto Protocol to the United Nations Framework Convention on Climate Change adopted on November 17, 2006, in Nairobi.
In pursuance of the amendment, Belarus assumes an obligation to limit and reduce the amount of greenhouse gas emissions to the level of 92 percent against the base year of 1990, which corresponds to 117.2 million metric tons.
The quantitative obligations established for Belarus in terms of limitation and reduction of the amount of greenhouse gas emissions are an indispensable condition for entitling the republic to use the economic mechanisms and other measures stipulated by the Kyoto Protocol.
On May 4, the Head of the Belarusian State, Alexander Lukashenko, signed into action Decree No 209 "On Lottery Activities on the Territory of the Republic of Belarus."
The Decree has been issued with a view to regulating the processes of establishing, organizing and holding the lotteries and is called upon to eliminate the overlap of many legal acts on the regulation of relations in this sphere.
The document also provides for an additional protection of the rights of lottery participants, and creates the necessary conditions for the development of electron lotteries in Belarus.
Government of Belarus improves labour remuneration system
From:
BelTA
Having adopted Resolution #529, the Government of Belarus introduced amendments to statutory acts relating to labour remuneration. The resolution will come into force on the first day of the month which will follow the month when it will be officially announced.
The amendments are aimed at improving the system of remuneration of labour of workers in commercial organisations and at extending top-managers' rights to encourage the best professionals, Gennadiy Prokhorchik, the Chief of the Main Labour and Salary Department of the Ministry of Labour and Social Security of Belarus, told BelTA.
Before the adoption of this resolution the money for encouragement of top-managers, specialists and other workers (except for those working for budget-funded companies and companies that use state subsidies) for achievements in labour, for fulfilment of especially important or urgent work, etc. was not to exceed 20% of their monthly salaries. These extra payments are included in production costs. Resolution #529 raised that figure to 30%.
But this money must not be "squandered," Mr Prokhorchik said. "First of all, [this money] will be used for paying bonuses to highly-qualified managers and specialists. And the amount of the bonuses should vary depending on the complexity of work, achievements in labour and on personal contribution to the overall results of their companies," he said. The official was confident this measure would encourage "key" specialists to continue working in such companies and not to leave them.
In conformity with Resolution #1003 on increasing the dependence of salaries of heads of companies on the results of their financial and economic activity issued by the Council of Ministers on July 25, 2002, heads of stable companies either fully or partially owned by the state, which showed good operation efficiency and had priority importance for their industries, or of organisations which aim was social and labour rehabilitation of disabled persons and their integration into society, could have the ratio of their average salaries to the average salaries of other workers in their organisations at the level exceeding 3.5. The ratio of 3.5 to 4.5 was to be applied only after appropriate coordination with the Prime Minister of a Vice Premier, and the ratio of over 4.5 could be set only by a resolution of the Council of Ministers after due coordination with the President of Belarus (in exceptional cases this can be done on the basis of a well-grounded request from a body authorised to manage state property). Resolution #529 has increased that ratio to 5.0. Thus, after the resolution comes into effect, the ratio of up to 5.0 inclusive will be set after due coordination with the Prime Minister or a Vice Premier, and the ratio of above 5.0 – by a resolution of the Council of Ministers after due coordination with the Head of State.
According to Mr Prokhorchik, this step will allow to increase the salaries of chief executives of the companies which are essential for the national economy and, hence, will improve the image and prestige of managerial work. This measure will be an additional incentive for chief executives in both improving the quality of work and increasing the salaries of their companies, he added.
Resolution #1651 of the Council of Ministers on regulating remuneration of labour of workers in commercial organisations issued on December 27, 2004 stipulated the maximum basic amount of the first-class tariff rate for workers in either fully or partially state-owned commercial organisations in the amount of subsistence budget for people of working age. Resolution #529 has introduced a new provision: if the subsistence budget for able-bodied people decreases, the maximum basic amount of the first-class tariff rate will remain intact.
"The introduction of this norm will help prevent social tension in companies if the first-class tariff rate in these companies reaches or exceeds the maximum basic amount (MBA) while in the following three months MBA will be stipulated at a lower level than before (like during the period from November 1, 2006 till January 31, 2007)," the official said. In such a situation, he explained, "the employer will not have to reduce the amount of the first-class tariff rate or make any additional payments from net profit to remunerate the labour of the workers so that to prevent a decrease of their salaries."
Moreover, Resolution #529 has abolished the List of Professions of workers involved in auxiliary manufactures in either fully or partially state-owned commercial organisations, for whom no differentiated coefficients to the maximum basic amount of the first-class tariff rate were applied. The new resolution will set uniform terms of labour remuneration for workers of both principal and auxiliary manufactures, he added.
Republican state administration bodies have been instructed to bring their statutory acts in conformity with Resolution #529.
Iranian President to visit Belarus
From:
Press TV.IR
Mahmoud Ahmadinejad
Iran has announced President Mahmoud Ahmadinejad will pay an official visit to Belarus sometime within the next few weeks.
Abdolhamid Fekri, Iran's Ambassador to Belarus, said on Saturday the trip is intended as a return gesture for the official visit that Belarus President Alexander Lukashenko made to Iran several months ago.
"We can expect a considerable expansion of bilateral cooperation and an increase in the amount of trade and industrial exchange between the two countries," he said.
The President of the Eastern European nation paid an official two-day visit to Iran last November, when he was accompanied by a high-ranking delegation of political and economic officials.
Lukashenko held talks with senior Iranian officials at the time and invited President Ahmadinejad to pay an official visit to Belarus.
Russia says kidnapped woman in Nigeria is citizen of Belarus
From:
RIA Novosti
The woman kidnapped in Nigeria is a citizen of Belarus, an adviser to the Russian embassy in the African country said Sunday.
Western news agencies reported May 6 that unknown gunmen had kidnapped Saturday night a Russian woman who worked for a local oil company. The woman was kidnapped in Nigeria's main oil city of Port Harcourt.
"This is preliminary information, of course. She is a citizen of Belarus. Her name is Irina," Viktor Goncharov said over the phone.
The Belarusian Foreign Ministry confirmed Sunday that a Belarusian national had been kidnapped in Nigeria.
"We have just received a notice from the Belarusian embassy in Great Britain through diplomatic channels that a citizen of Belarus has been kidnapped in Nigeria," the ministry's spokesman said.
Goncharov also said that the Russian embassy in Nigeria will deal with the release of the kidnapped woman because Belarus has no diplomatic mission in that African country.
"We'll have to deal with this case. The Belarusian Foreign Ministry will apparently delegate the right to deal with her release to us," Goncharov said.
Belarusian diaspora to partake in making law to protect Belarus nationals abroad
From:
NLIPRB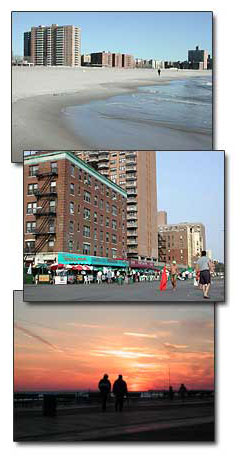 Brighton Beach, home to probably most of the Belarusian diaspora
A bill meant to protect Belarus nationals abroad will be developed taking into account opinions of representatives of Belarusian diaspora, BelTA learnt from Mikhail Rybakov, press secretary of the Office of the Belarus High Commissioner for Religions and Nationalities (BHCRN), at a press conference "Belarus Viewed by Belarusian Diaspora Mass Media".
The bill "Protection of Belarus nationals" was worked out by the BHCRN Office and has been approved by the Belarus President Administration.
The Council of Ministers has charged the Foreign Ministry and the BHCRN Office with adjusting the bill taking into account opinions of Belarus nationals, who live abroad. Mikhail Rybakov noted, the bill may regulate the possibility for foreign ethnic Belarusians to get dual citizenship as well as educational and economic preferences in Belarus.
"We are considering all proposals of our compatriots concerning the protection of their cultural, informational and social rights. According to Belarusian laws dual citizenship is unavailable yet, but the bill will take into account the advisability of introducing dual citizenship", said the official.
In turn, Maksim Dubenok, president of the Belarusian society for relations with compatriots abroad Radzima (motherland), underlined the new bill should stem from interests of Belarusian diaspora.
In 2007-2010, Transport Ministry of Belarus will implement 7 innovation projects worth of Br276,9bln
From:
NLIPRB
The state program of innovative development of the Republic of Belarus for 2007-2010 includes seven projects of the Ministry of Transport and Communications to the tune of Br276,9 billion, BelTA has been told in the press service of the ministry.
Foreign investments are expected to make up Br227,4 billion, own funds of the companies - Br44,7 billion, the means of the innovation fund - Br4,6 billion, the means of the national budget - Br131 million.
According to the Transport Ministry, in 2007-2010 three new manufactures will be set up at existing companies (the volume of financing – Br230,8 billion). Four existing productions will be upgraded (the volume of financing – Br46 billion).
In 2007-2010, the share of innovative companies is projected to grow from 30% to 38%. The share of innovative products in the total volume of shipments will increase from 12% to 20%. The share of certified products in the total volume of industrial products is supposed to up from 38.6% to 42.5% by 2010.
One of the largest projects is the relocation of Minsk aircraft repair plant to the territory of the national airport Minsk and creation of the center for servicing and repairing of new types of Russian aircraft and air vessels of Western make. The project is scheduled for completion 2008-2010. Foreign investments, means of the innovation fund and own funds of the company will be attracted to prepare design and estimate documentation.
The aim of the project is to promote rational use of the land in the center of Minsk, to relocate eco-unfriendly productions out of town, expand the list of aircraft repair services.
The program also provides for setting up of a computerized public transport control system which will be delivered in 2008 in Gomel and other oblast centres and the capital city.
Up-to-date software and satellite navigation would help ensure effective management of the public transport and forwarder services. This will open up an opportunity to coordinate the bus timetable with timetables of other kinds of public transport, regulate intervals and introduce changes in the timetables if necessary.
The project also envisages upgrade radiolocation, radio-navigation and communications means to develop aeronautical services. The project will be implemented stage by stage within 2008-2010. The project aims to ensure safe aeronautical services in the air space of Belarus and competitiveness in the market of aeronautical services.
A special computerized system of ticket sales for public transport for passenger terminals, public transport companies will be set up. The project will be financed by the national budget, innovation funds and air-transport companies. These will let automate all ticket sales, store and process the information about sold tickets, forwarder services. At the second stage of the project the system will be linked to the similar systems of Belarusian Railways and aviation department what will allow to reserve tickets for all kinds of transport at one place.
According to the Transport Ministry, the plans on the table feature the setting up of production of gas-generating boilers running on local fuels at Slonim aircraft overhaul plant. This will help the industry increase the share of local fuels by 5% and reduce the energy dependence on external energy sources.
The magic grows: Belarus rehearses
From:
ESC Today
Work your magic
I never wanna lose this feeling
I am able and I'm willing
Yes, I'm willing

Work your magic
You set my beating heart in motion
When you cast your loving potion
Over me
Koldun and the Belarus team continue to build on their dramatic show elements in a strong second rehearsal at the Hartwall Arena.
The Belarussian team now seem to be dressed for the part, all in black, Koldun himself in a black silken shirt open to the chest. As such, the whole stage is in classic blacks and whites, with the tiniest hint of indigo in the lighting. A deep star field zooms behind the set, giving the impression that the performers are singing and dancing somewhere in space.
Reserved vocal
Koldun's vocal, which had been seen as the make-or-break factor of this entry, is holding up well; he pushes it, and some of the longer, higher notes seem a touch brittle, but otherwise he carries the tune strongly. There is definitely a sense that he is saving himself for the big night, and there is not even an attempt to reach the final high note of the big finish yet. Otherwise, the performance is gutsy and confident, and Koldun looks intense on stage.
The magical elements such as Koldun's initial appearance from nowhere and the vertical wall climbing are looking better than ever; the general consensus is that these clever touches really make the show. Koldun's dancers are a real credit to the song, and they truly maximise the energy of the routine.
The team managed to run through that very show several times, making the absolute most out of the time they had to get everything just right and learnt by heart.
Press conference
The Belarusian delegation worked its magic at the 2nd press conference; they offered a nice box with sweets to the ones who asked the best questions to Koldun. The delegation is very pleased with the second rehearsal, and it's almost certain that there won't be any changes in Koldun?s stage act. In answer to one question, Koldun stated that the most magical moment in his career so far was his participation in Russian Factory but he's hoping that the result in the Eurovision Song Contest will be the next one.
For the rest, Philip Kirkorov, former Eurovision Song Contest participant and actual composer, producer and… choreographer of Dmitry Koldun's Work your magic answered most of the questions himself. Kirkorov stated that Fokas Evaggelinos –successful choreographer of the Greek entries in 2004 and in 2005- is not the choreographer of the Belarusian entry this year, denying rumours that he was. He didn't deny though that he asked Evaggelinos' help, but the Greek choreographer said all he could do was just paying them a visit here in Helsinki today for the 2nd rehearsal of Koldun, offering his precious advices to his friend Phillip Kirkorov and Dmitry Koldun.
Struggle Over Belarus Yeshiva
From:
Jewish Times
A historic yeshiva in Belarus that was returned to the Jewish community could be confiscated again if local Jews can't raise $20,000 to renovate the building.
Authorities last week gave the community until May 10 to raise the money or face a lawsuit returning ownership of the building to the municipality.
At stake is the fate of the Volozhiner Yeshiva, the 1806 building of the former Jewish religious school in the town of Volozhin, 55 miles from the Belarussian capital of Minsk.
"If we lose the building, we'll say goodbye to a huge part of our heritage," said Yuri Dorn, chairman of the Jewish Religious Union of Belarus, an Orthodox umbrella organization.
In 2000, authorities in Volozhin, a town of 5,500 that once was predominantly Jewish but today has only 11 Jews, returned the building to Dorn's group.
Dorn says his organization has tried desperately to find resources to renovate the building, which was returned to the community in a rundown condition. In recent years the building had housed a deli.
Founded in 1803 the Volozhiner Yeshiva, also known as Etz Chaim, quickly became the spiritual center of Eastern Europe's Lithuanian, or non-Chasidic, Jewry.
Despite wars, czarist decrees and revolutions, the school stayed open in the historic building until World War II, when the Nazis occupied Belarus. They killed 800,000 of the country's Jews, including about 3,500 Jews of Volozhin and the surrounding area.
In the past seven years, Dorn said, his organization has raised $22,000 from foreign donors to paint parts of the facade and remove garbage from the grounds. The building houses a temporary exhibit on the history of the yeshiva that attracts about 300 foreign Jewish tourists a year, he said.
"There were original plans to rebuild the yeshiva," Dorn said.
Some yeshivas in Israel and the United States showed interest in the project and would have sent students to study in Volozhin during the summer months. But the project would have cost $400,000, beyond the community's means.
In early April, the Jewish Religious Union of Belarus received a letter from town authorities saying ownership of the building would be returned to the municipality if renovations did not begin before an April 26 court session. The deadline later was extended for two weeks.
According to Dorn, town officials are upset because the Jewish community seems unable to quickly renovate and maintain the building, located in Volozhin's historic center.
"It's unfortunate but the building, which is seen from the mayor's windows, is indeed in very bad shape," Dorn said.
In an earlier letter to the community, the town called the building's current condition "a shame to Volozhin" that "creates a negative image of the town in the eyes of its visitors."
Dorn said there is no indication that the town's decision is motivated by anti-Semitism rather than commercial reasons.
If the Jewish community cannot renovate the building, the town may want to sell it to a business that will invest and turn it into commercial property.
Belarus: frosts have not presented serious threat for grain
From:
Agro Perspective
Crops of summer grain crops in the majority of areas of republic have normally transferred(carried) the last May frosts, the chief of central administrative board of plant growing of the Ministry of Agriculture and the foodstuffs Grigory Romanyuk has told BELTA.
On turbaries of Polesye only insignificant damages of shoots summer grain are noted. However final conclusions about quantities(amounts) of damages to do(make) early as in night for May, 3rd and 4 new frosts are expected. Also nights on May, 4th and 5 will be cold. Therefore the further situation will depend completely on concrete development of weather in regions. Especially excites experts as will transfer(carry) frosts crops winter rapsa as in many regions the culture has started to type(collect) color.
Disturbs also a condition of crops of a sugar beet and flax, especially in southern regions where these cultures have sown the first, and they have reached(achieved) the certain growth. For a greater part of crops winter grain present frosts do not represent serious threat the same as and for crops summer grain, the expert considers(counts).
Making comments on changes of weather, the chief of a department agrometeorologicheskikh forecasts republican gidrometeotsentra Hope Melchakova has noted, that present frosts represent greater(big) threat to fruiters which have started to blossom already. At flowering fruiters especially dangerously decrease(reduction) in temperature to a minus of 2 degrees and below. To Polesye the temperature of air places fell up to a minus of 5 degrees, and it can be reflected more seriously in formation of the future crop, has noted N.Melchakova.
In an extreme southwest of republic (in the Brest area), probably, already there is a formation zavyazi and for trees downturn of temperature for a long time represents the most serious danger. Even downturn of temperature up to a minus of 1 degree can lead to subsidence zavyazi and to decrease(reduction) in a crop. Only pears, kostochkovye fruiters for the present blossom. The majority yablonevykh gardens yet have not reached(achieved) a pink bud. Therefore there is a hope, that in present frosts yablonevym to gardens will not put(render) the big loss to year.
Around the region...
EU to support Russia`s WTO bid, "but not at any price"
From:
New Europe
The European Commission on May 4, denied that it was seeking to block Russian membership of global free trade pacts, but warned Moscow that trade disputes and recent crisis between Russia and its neighbours were threatening European support, Deutsche-Presse-Agentur (dpa) reported.
The European Union was ready to support early conclusion of Russia's accession to the World Trade Organisation (WTO), "but not at any price," a commission spokesman told reporters. "Bilateral problems and the disregard for the implementation of existing commitments will be a major impediment," he said.
The EU wants to use an upcoming summit in Russia to get concessions on disputed trade issues, including export duties on wood and dual pricing for international and domestic rail cargo, the spokesman said. The 27-member bloc is also hoping to convince Russia to lift its ban on imports of Polish meat, a move which would allow Warsaw to give its go-ahead to the negotiation of a new EU-Russia agreement covering energy sector cooperation. In addition, the EU would press Moscow to withdraw new legislation on trade barriers as the laws violated WTO rules, the spokesman said.
"WTO membership creates legal obligations to openness and a commitment to transparent and proportionate regulation of trade," he stressed. Russia has said that it wants to join the WTO by the end of this year.
Meanwhile, Federation Council Speaker Sergei Mironov said information the EU might block Russian accession to the WTO over trade disputes and strained relations with Estonia will not affect Moscow's position, Interfax reported on May 4. "Russia does not fear the threat that accession to WTO might be denied to us," Mironov said on Vesti-24 TV on May 4. "If anybody thinks that Russia dreams about the WTO and has no other problems apart from joining the WTO, he is deeply misled," he said.
"The WTO is a modern tool to be used on equal terms," he said. "Russia should and can join the WTO when it is offered on the same basis conditions, without additional burdens," he said.
Earlier, with reference to European newspapers it was reported that the EU is discussing its strained relations with Russia. It does not exclude the possibility of blocking Russia's accession to the WTO and postponement of the planned Russia-EU summit.
Preparations for the EU-Russia summit in Samara on May 18 are proceeding without disruptions, spokesman for the Delegation of the European Commission to Russia Sean Carrol has said.
Quoting reports from Brussels he told Interfax on May 4 preparations for the summit were proceeding, as they should.
Local Marine killed in Poland
From:
Home Town Annapolis
AARON CORBAN LAWSON
Matthew Munsey thought the two Marines who pulled up in front of his Cape St. Claire home April 24 were there to recruit.
After all, his 16-year-old son Jacob planned to follow his older brother's footsteps and join the Marine Corps someday. It was going on 8 p.m., a little late for visitors, but Mr. Munsey couldn't think of any other reason they'd be there.
The men weren't interested in recruiting though. They told Mr. Munsey they needed to speak with him and his wife, Loretta Lawson-Munsey about something very important - and it involved their eldest son.
"I thought, what the hell, he's in Poland," Mr. Munsey said. "Is he AWOL or something? Has he gotten into any trouble?"
The parents weren't prepared for what they heard next: their 28-year-old son had been found dead outside a Warsaw night club three days earlier.
Aaron Corban Lawson, of Arnold, was found lying on theground outside the club around 9 a.m. April 21. He had a fatal blow to the left side of his head, and his pockets had been emptied.
The time of death and exactly what happened that night is unknown at this time.
But Polish authorities have deemed the death a homicide, and it is under joint investigation with the FBI and American Embassy. Polish police are talking to a woman who worked in the night club, who some say was acquainted with Mr. Lawson. They said they are trying to track down anyone who may have been with the man that night.
Mr. Lawson, a world traveler, had gone to Poland by himself.
The Marine reservist was a business partner with his friend Sam White, who he met in the Marine Corps. Their business SAMRON International Inc. - a combination of Sam and Aaron - is opening the Sunshine House Assisted Living Facility in Odenton this month. Mr. Lawson went to Poland to recruit anyone interested in working for his business, Mr. Munsey said.
"He wanted them (Polish workers) to come over for a positive experience," he said. "That's why he was there. And he went to this night club. It was a bad idea."
Mr. White told the family he will put total effort into running the business exactly as he and Mr. Lawson had planned. The assisted living facility was scheduled to open next week.
Marine life
Born and raised in Annapolis, Mr. Lawson always planned to join the U. S. Naval Academy.
But while in his teens, he changed his mind and instead, wanted to join the Marine Corps, his mother said.
Mr. Lawson served as an anti-tank/assaultman for the U. S. Marine Corps from 1997 to 2001.
The Broadneck High School graduate was honorably discharged from the Marine Corps after serving four years on active duty with the 1st Battalion, 8th Marine Infantry and last year fulfilled his dream of becoming a sergeant with the 3rd Force Reconnaissance Company 5th Marine Division.
"He wasn't any old Marine, he was an infantry Marine," Mrs. Lawson-Munsey said. "He was so proud."
Until his death, he was part of a Marine reserve unit in Alabama.
"He was going to get deployed to Iraq or Afghanistan sometime (between) June and January," Mr. Munsey said. "I think he was aware of his pending deployment and was really spending time doing stuff he wanted to do."
World traveler
Mr. Lawson loved to pick up and go, according to longtime best friend and roommate Andrew Chambless.
"We had this motto. It was 'do it, to it,' " Mr. Chambless said. "What we basically meant by that was to maximize every moment you can in life. That's something that I saw in Aaron. He tried to make the most of every moment - to live life to the fullest. I really think that he did."
He said some people have to follow a schedule, "but not with Aaron."
Mr. Lawson traveled so much, in fact, that he had to get another passport.
"There wasn't any more room for stamps," Mr. Munsey said.
Beau Breeden, a friend of Mr. Lawson for 18 years, said he didn't worry about his friend when he traveled.
"He traveled enough to know where he should have gone and where he shouldn't have gone," he said. "He would just travel, come back, and we'd get together for a beer. I'd hear stories of where he went. Honestly, I was more worried about him being a Marine than in Europe and traveling."
Family man
Although Mr. Lawson left a lot to travel and get away, he maintained a close relationship with his family and friends.
The eldest of six children, Mr. Lawson shared a special bond with his 13-year-old sister Madison.
"They were like two peas in a pod," Mrs. Lawson-Munsey said.
He was protective of his siblings, ages 26, 16, 13, and 8-year-old twins, and would always stand up for them.
"He was always there for them and looking out for them," Mr. Breeden said.
Mr. Lawson had an "undying love" for his parents, Mr. Chambless said.
And he tried to be a good father to his 2-year-old son Gabriel, who lives in the Netherlands with his mother.
"He always said how he was going to take care of Gabriel," Mrs. Lawson-Munsey said. "He wished and hoped it wouldn't have to be long-distance. That was very sad for him."
Mr. Lawson was an active member of St. Margaret's Episcopal Church in Annapolis. He even had a tattoo of one of the church's stained-glass windows on his leg.
He also had many friends in the Annapolis area, including several employees of Pusser's Annapolis Pub and Restaurant, where he worked as a doorman for several years. His brother and sister work at the restaurant now.
The family plans a celebration of Mr. Lawson's life at Pusser's Tuesday, following his funeral service.
Estonia police chief vows calm and order after recent riots
From:
RIA Novosti
The riots that erupted in the Estonian capital after the removal of a Soviet-era WWII memorial from central Tallinn will not be repeated and calm is returning to society, Estonia's police chief said Sunday.
The memorial, commemorating Soviet soldiers who fought against Nazi Germany during WWII, was taken from central Tallinn to the city's outskirts on April 27. The controversial relocation sparked protests among members of Estonia's Russian community in Tallinn, where one person was killed and more than a hundred injured in clashes with police.
"During the forthcoming week, the police will continue its tight security measures. But many signs suggest that the April events will not be repeated," Raivo Aeg said.
The relocation of the Bronze Soldier statue angered officials in Moscow, who described it as an act of blasphemy.
Earlier this week, pro-Kremlin youth groups held violent protests outside Estonia's embassy in Moscow, prompting Estonian authorities to briefly suspend the consular section's operations and evacuate some of the diplomatic staff.
Pessimism and Deception in Ukraine
From:
Prensa Latina
The hastily-reached compromise between Ukrainian President Viktor Yuschenko and Prime Minister Viktor Yanukovich is far from easing the political crisis triggered by power struggle a month ago.
Yakunovich was even forced to explain to followers of his Party of the Regions and the Parliament majority coalition the reason for his pact with Yuschenko about holding the very much criticized legislative elections.
The head of Government, who is also a target of the President Parliament disputes, told a crowd gathered at Kiev s Independence Square that he agreed on the compromise to prevent a division of the country and destruction of the economy.
He added that blockade of the Constitutional Court seeks to deliberately destabilize the nation, cause the people and regions to fall out, thus serving the opposition s interests.
It seems that the Yuschenko-Yakunovich agreement was made during a closed-door meeting and without previous consensus among political forces grouped in the Parliament majority coalition, which reject the holding of new elections in the Rada.
The legislative has the final say, anyway, and judging from the prevailing atmosphere, it won t be easy to pacify the sectors opposing the president
Opinion...
Scientist says Putin's Russia worse than under Stalin
From:
Reuters
The pursuit of science in President Vladimir Putin's Russia is driven by profit alone and there was less government interference even under Josef Stalin, a Russian Nobel Prize winner said in a interview.
Vitaly Ginzburg's comments to the Sunday Telegraph newspaper are likely to put Russia's scientists back on a collision course with the Kremlin.
In March, Russia's Academy of Sciences, founded by Tsar Peter the Great, spurned a government plan to establish a new supervisory council that would control the body's finances and include officials from the presidential administration.
The government says the reform of the Academy is desperately needed to reverse the continuing brain drain from Russia, make research work lucrative for a generation of young scientists and help build the hi-tech economy Putin has set as his goal.
"Of course, in Stalin's times the Academy was under the control of the central committee of the Communist Party," Ginzburg told the paper.
"But in those days you could come up with an idea and create -- that's how we put the first Sputnik satellite into space. Now the government thinks science must bring only income and profit, which is absurd."
"Of course it is about Putin. Our democracy is far from ideal," said Ginzburg, 90, who shared the 2003 Nobel Prize for physics with fellow countryman Alexei Abrikosov.
Putin, whose second -- and last -- four-year term ends next year, enjoys vast popularity nationwide while the economy is fast growing, people's incomes are rising and state coffers groan from windfall revenues from booming oil exports.
But critics at home and abroad accuse the Russian leader of backtracking on democratic reforms and establishing tight control over the bureaucracy and the economy.
They say he is trying to bring the academy under his sway as well. Supporters of the reforms say too many institutions are run by cliques of elderly academics who resist change while promising young scientists are tempted abroad for better pay and opportunities.
The Academy has boasted dozens of Nobel prize winners in its near 300-year history.
Poland Plays with Fire
From:
Bits of News
In politics all is rarely well when the most heated debates erupt over symbolic acts, not policies. When disagreements about flags, declarations and history are in the news, tempestuous times often lie ahead.
How quickly a symbolic act, carried out in the full conviction of acting with the truth on one's side, can turn into rioting and international tensions was demonstrated by the Estonian authorities a few days ago. Chaos and unnecessary misery ensued when Estonia announced its intention to remove memorials to Soviet soliders who had freed the country from Nazi rule during World War II. Any sober mind that followed this sorry spectacle might have concluded that, at least when they are hardly about to wake up and bite you, it is better to let sleeping dogs lie.
The Polish government, however – in any case not particularly renowned for its soberness – seems to have drawn the opposite conclusion. Engaged in what has justly been described as a "witch hunt" against intellectuals who have co-operated – or, as likely, been forced into pretending to co-operate – with Communist authorities, it took the events in Estonia as inspiration to take its unhealthy obsessions another step further. As a result, the catalogue of unsavoury and dangerous measures against ideologically "suspect" Poles is growing day by day.
The Kaczynski twins, respectively President and Prime Minister of Poland, have for some time been orchestrating a "lustration law", according to which all state employees (including university professors) and figures of public life (including journalists) have to sign a declaration about whether they had any involvement with the Polish secret services during communism. In case they refuse to fill out the government questionnaire, or are judged to have lied, they will be suspended from their work for 10 years.
The eminent British historian Norman Davies has rightly called this a "threat to freedom". Not, however, because a serious investigation of crimes committed during communism is unnecessary; but rather because under a surveillance system akin to that depicted in The Lives of Others countless people were pressurised into signing declarations that they would co-operate with secret services, yet never passed on any information. Superficial glimpses into secret service archives are therefore bad guides to historical guilt. What is worse, the de facto declaration of allegiance demanded by the "lustration law" replicates Communist rituals of ideological cleansing – and runs the danger of being used primarily as a partisan weapon against political opponents.
In the last days the Polish government has taken further, equally worrying, steps, which demonstrate that in its fanatical fight against all things communist it will not leave untouched even the battle against fascism. First, it tentativley followed the Estonian example by loudly considering to authorise local government agencies to remove monuments to Soviet World War II soldiers. Now, it is removing veteran status from Poles who had fought against fascism on the Republican side in the Spanish civil war.
A great majority of those unjustly dishonoured by this symbolic step have died long since – only five Polish veterans from the Spanish Civil War are still alive.
A declaration signed by important intellectuals in Poland and abroad, and published in the country's most important daily, the Gazeta Wyborcza, has called upon the government to reconsider its policies. "We appeal to public opinion throughout the democratic world: don't turn your eyes away from what is happening in Poland. For the sake of your, and our, freedom".
Indeed world, and especially European, opinion will have to decide how to confront the Polish government's actions. Whilst the European Union appears unwilling to meddle with the way its member states deal with their past, it cannot turn a blind eye to the ideological prosecution of individuals unfolding within its territory.
Neither can the EU remain silent about other policies activley pursued by the Kaczynski brothers, such as legislative projects which clearly discriminate against homosexuals. According to a law currently under consideration by the governing coalition, for example, school teachers could be dismissed if they publicly admitted to their homosexuality.
If the EU is to be a society defined by shared values, rather than merely a common market, it will have to find effective means to stop these ideas from becoming law. If public opinion in other European countries fails to rise to this challenge, the Polish government's pyromaniac penchant for symbolic politics could burn down a piece of the European project as well as political freedom within Poland itself.
The authors of the recent declaration are right. All of us must engage with current events in Poland to safeguard liberty – and to protect the credibility of the European project.
From the blogs...
May days in Warsaw
From:
The Beatroot
It's been the 'long weekend': May 1 and May 3 are national holidays in Poland, so virtually everyone takes three days off.
May 3 is Constitution Day, in celebration of Europe's first ever written, coded constitution. It was very unlike the 250 page EU 'constitution' that wasn't. A constitution has to come from grass roots pressure: the EU Constitution is coming from Eurocrat-roots pressure.
May 1 was Labour Day and an old holiday the communists were more comfortable with. This year there were a couple of marches by the Old Left and the New Left (less than a 1000 people in total). The Left is finished in Poland.
In the centre of Warsaw they had a rather lame attempt at recreating the 'People's Republic' times. It could have been good, but was half hearted and rubbish.
Best thing was the giant Mis, from the very popular comedy of the same name from 1980. In the background you can see Jo Stalin's gift to Warsaw, the Palace of Culture.
Zimbabwe and Belarus poised to take key U.N. leadership positions unless blocked
From:
Sisyphus
Here is disturbing news from yesterday's Financial Times regarding two countries with terrible human rights records:
Zimbabwe is poised to become chair of the United Nation's Commission on Sustainable Development, while Belarus is set to win a seat on the UN Human Rights Council, in two decisions likely to attract fresh ­criticism of the world body.
A UN diplomat on Wednesday said that Francis Nhema, Zimbabwe's environment minister, looked almost certain to get the CSD position after being nominated as Africa's candidate in April.
Zimbabwe government policies are seen as having triggered its most severe economic crisis since independence, with annual inflation at 2,200 per cent.

Qatar holds the chair of the session due to end next week. By tradition the position rotates regionally, with Africa next in line.

The Commission, created in 1993, is the UN's main forum for discussing the relationship between development and the environment and is expected to issue recommendations on climate change next week.

Meanwhile, a coalition of 40 human rights groups called on the UN to reject Belarus's candidacy for the Human Rights Council, which last year replaced the discredited Human Rights Commission but has itself faced mounting criticism.

"Belarus's record on human rights makes [it] a supremely unfit candidate for the Council," said Human Rights Watch, a New York based pressure group, in a statement issued on behalf of three dozen rights groups. The Belarusan government "severely restricts the activities of human rights groups, and has systematically moved to close them and opposition parties. Peaceful protesters are violently dispersed and arrested, and opposition leaders are jailed," it said.

The 47-nation Human Rights Council was conceived as a way to refocus the UN's primary rights body away from political point-scoring, where abusive governments banded together to avert criticism.

But it has failed to conduct peer reviews on its own members' human rights records and in elections this month most candidates are running unopposed. Only Belarus and Slovenia are contesting two vacant seats for eastern Europe. Slovenia had indicated it would not stand if opposed.
According to Human Rights Watch (HRW), "Belarus' shameless record on human rights outweighs its hollow rhetoric, and UN members should reject its candidacy." HRW points out that the U.N. Human Rights Council appointed a human rights monitor for Belarus but he was blocked from entering the country by the government of President Alexander Lukashenka. HRW argues that this action alone should disqualify Belarus from Council membership.
Zimbabwe is suffering terribly under the repressive policies of the government of Robert Mugabe. Over one-third of the population suffers from malnutrition in a country that used to be called the "bread basket" of Africa. Life expectancy, that averaged 62 in 1990 is now 34 for women and 37 for men. Women dying in childbirth has skyrocketed from 1000 ten years ago to over 42,000 now. Political opponents who live in cities are forced into the countryside to fend for themselves. International aid is rejected. What Mugabe is doing in Zimbabwe is little more than genocide.
The British are working to prevent Zimbabwe from assuming this position.
We can only hope common sense and common decency will prevail and both Zimbabwe and Belarus will be blocked.
A lttle wife beating wisdom...
From:
Being Had: The STORY
The Hotel "Pripyat" in Pinsk
Today's entry, which is following with the program of reprinting letters from the time just before my "Being Had" episode in Poland, is one I am not all that comfortable with. It was from a letter which I write the day after getting involved in an incident where a man in a bar simply threw a punch at a girl who had stood up to him. The incident started when the guy asked me to sit and drink with him while I was talking to the girl. After trying to politely turn him down two or three times, I was more interested in the girl, the girl went after him that he we too stupid to understand when he was being asked to leave. In response, he just nailed her. After I stepped between them, what his face showed me that he was hurt that I could possibly take her side.
Sat, 13 Apr 2002 02:43:49 -0700 (PDT)
Bill,
Well, so much for fun. Today I have just a few thoughts about wife beating and chauvinism. Settle down, settle down...Now, I think I wrote to you before about the little punk and the scene at the bar and that he hit the girl I was talking to, right? Ok, I just want to share a few thoughts on the subject with you because we are friends, and you've been married forever and you are with the cops…anyway, I think this is a good fit.
So, what we have here is a system that does not "over protect" the women. I say the words over protect, because, as I am sure you are aware of, there have been enough abuses of the system on the part of the women, that there is now an argument about a woman's responsibility not to over burden the system. But we do know that because of how quickly (and sometimes thoughtlessly) we act in our country on our women's behalf; there have been many, many cases of systemic abuse. If you don't agree with what I am saying, or if you don't want to talk about the subject, I guess you can stop now. But I am not just talking about drunks beating up on their wives; I am talking about the idea of a man hitting a woman at all and what all it actually means. Because in our country, and this is the way that it has been explained to me, if a man was to hit a woman, or even, if the woman says that the man hit her (and this is where the abuse of the system part comes in,) the man gets canned, at least for the night, and is therefore tagged for all future considerations as a guy who has lain a hand on a woman. True. We like to teach each other about these subtleties, because we like to can each other. And I am making jokes, but it really is the truth because de facto: man plus hit plus woman equals police and courts and jail. This is how we think, and this is how we play our game.
But here, they don't seem to want to mess around with issues between two people. And this is both men and woman and men and men. Any one on one meeting between two angry parties is pretty much their business, and people here just don't call the cops on each other. So I have seen three times here a guy hit a woman over some issue or other. And each time it happened, the woman did not run to her friends and tell how ruined her life was, nor did she go to the police and complain about anything. What I saw was more like, she took the hit, like you or I would take a hit, kind of a "go ahead big shot, show mw how big and bad you are!" And he did. And she didn't cry or carry on, she just kind of checked herself out the way I would after falling from my bike. Something happened. I hurt a little. I am not dead. I don't think I need a doctor. Can I continue? 'Nuff said. And in two of the three cases, and I am not bullshitting, her body language was so asking for the hit before it happened, I mean, you could see it coming, that even I was thinking that that is what the girl really wanted.
This leads me to believe that we are not in Kansas anymore. These are tough people and this is a hard life. And if I am reading this correctly, it is not simply a matter of protection from the law, or what are male or female roles, what it is about feeling the pain of life, and letting it out, wherever and however it is supposed to be let out. I talked to these girls after the fact, and each and every one of them gave me the "I had it coming line". And we know this is the states, from a female masochist's angle, and we try very hard to reeducate these woman as o their rights and all. But what I am saying is that life just goes on here. And more then that, these girls are just chalking these moments up to experience. And in two of the three cases, the girl was drunk too, knew she was taking her chances, and even says that they were being bitches. And in all three of the cases, the girls knew that they were fucking with a stupid drunk men, and got smacked, and that that is just the way it is, and was, and they knew what they were doing when they showed up to play. Boom, welcome to the party! She is just telling everyone that she was indeed tough enough to play, did play, got beat (literally) and she should have known better. And both he, and she, and all of the friends, and all of the people who saw it, all seem to agree with this all. If you are going to play with fire you might just get burned.
But anyway, there is a reason I am talking about all of this today. Because, it is strange for me to be in such a world, because I have been through the American feminine/pugilistic reeducation system (without having earned it, as I am still female hitless in my time) and I don't really have any particular feeling for the punching of woman. Actually, I have been in a few fights, and I am pretty good at winning quickly, but I have never started one in my life, and I still have no desire to hit a woman. But I am living in a place where men do. And because of this, I am feeling a little out of place! And worse, I feel I am being taken advantage of as weak, by women because they have the idea that as an American, I won't ever hit them, and this knowledge does not breed love and trust, but scorn! They, and I don't mean all women, but some actually refuse to take me seriously because they feel they will not get punched out. See my point? And this is a very strange "when in Rome" moment if you catch my drift, because I really don't feel like there is any real reason to go Mohammed Ali on some 19 year old just so she doesn't mock my pigeon Russian. However, it is a real and true fact of the rather earthy nature of life where I am sitting just now. In a place where we all drink straight vodka, and work for nothing, and have no particular hope, we are also living in a place where a woman seems to want her man to "show her" he means business from time to time. And she doesn't want to hear about it, she wants to feel it and to know about it because her security depends on it. In other words, they are making some serious bitches here, Bill. Know what I mean?
Sport...
Slovakia reach final eight with win over Belarus
From:
Guardien
Minnesota Wild sniper Marian Gaborik fired a pair of second-period goals and set up the game winner as Slovakia beat Belarus 4-3 on Sunday to go into the quarter-finals of the ice hockey world championship.
Riding the momentum from their 3-2 victory over arch rivals the Czech Republic, Slovakia posted their second win in 24 hours to join Canada and the United States in the final eight from Group F.
The loss eliminated Belarus from medal contention.
Slovakia opened the scoring on a powerplay strike from Boston Bruins' towering defenceman Zdeno Chara but Belarus hit back before the end of the first period when Aleksei Ugarov one-timed a shot past Karol Krizan.
The Slovaks also got the second period off to a flying start, Gaborik notching his fourth and fifth of the tournament. Belarus, though, quickly cancelled out the two-goal lead with captain Oleg Antonenko and Konstantin Koltsov scoring 30 seconds apart to send the teams into the intermission deadlocked at 3-3.
Needing a regulation time win to keep their hopes of advancing alive, Belarus pulled netminder Andrei Mezin in the final minute for an extra attacker and the Slovakian's pounced, Gaborik feeding Wild team mate Pavol Demitra in front goal for the game winner.
Strong throwing by World Champion Tikhon in Belarus
From:
European Athletics
Ivan Tikhon and Vadim Devyatovskiy
Twice World Champion Ivan Tikhon, (BLR) started his 2007 outdoor season in style as he claimed Gold in the Hammer at National Track and Field Throwing Championship, which took place in Brest, Belarus, for the 23rd time.
One of Tikhon's greatest adversaries last season, Vadim Devyatovskiy (BLR), was breathing down the Champion's neck again, as his on-form throwing made sure it was a tightly contested event.
After the second throw both competitors were neck in neck, with Tikhon having a slight advantage but by the end of the fourth throw the eventual winner had already cleared the 79m mark three times, and went on to produce a mammoth distance of 81.18m, his longest throw of the competition. His compatriot had to make do with silver, and a best throw of 78.10m gained in the final round.
After winning the event Tikhon said: "It was a good start to the season, I am pleased with myself. I wanted to come here to test my form and I found it is quite good. With a result like this I could win the World Athletics Championships once again."
The competition saw a new face emerge, in the form of 17 year old Oleg Dubitski, who put in a noteworthy performance of 71.35m.
Another good start to the season went to Pavel Lyzhyn (BLR) in the Shot Putt. The European Indoor Silver Medallist won the competition with a throw of 19.65m. Second place went to Andrey Sinjakov (BLR) who reached 19.65m, only 40cm behind the winning sput.
Many of Belarus' top female athletes were absent from the event, which meant the competition for the Shot Putt was not as tough for Yuliya Leantsiuk as it may have been. Leantsiuk, who finished fourth at Birmingham's European Athletics Indoor Championships, took Gold here with a distance of 18.73m. But Olympic Champion Yanina Provalinskaja-Karolchik (BLR) was not there to contest the result as she had decided to delay the start to her season until later in the year.
Nadezda Ostapchuk (BLR) who is on Army Duty was also unable to attend, as was Natalia Khoroneko (BLR) who is expecting her first child.
Canada hands Belarus 6-3 defeat at hockey worlds
From:
ESPN
Canada's Shane Doan (right) scores against Belarus' goalkeeper Stepan Goryachevskikh during world men's ice hockey action in Moscow, Friday
Facing criticism off the ice, Canada captain Shane Doan made a statement on it by scoring three goals in the second period Friday in a 6-3 win over Belarus at the hockey world championships.
Burnside: Get Over Yourselves!
While Canadian politicians summon Hockey Canada to Ottawa, Scott Burnside wonders, doesn't the government have more pressing issues to discuss? Story
Doan's captaincy has been criticized in Canada's parliament over allegations he uttered an ethnic slur at French-speaking officials during a 2005 game between the Phoenix Coyotes and the Montreal Canadiens. An NHL investigation found no evidence he used any slurs.
Doan tied Canada's game early in the second period, taking a pass from Rick Nash during a two-on-one and shooting past Belarus goaltender Stephan Goryachevskikh for a shorthanded goal that made it 1-1.
The Coyotes forward gave Canada a 2-1 lead at 5:15 of the second when Jonathan Toews' shot bounced off Goryachevskikh and went to Doan, who scored into an open net for a power-play goal.
Toews scored three minutes later and Doan completed his hat trick at 9:13, taking a pass from Matthew Lombardi from behind the net to beat Goryachevskikh through the pads from in close.
"This was a game that we needed to win," Doan said. "I just try to come out here and compete and win and that's what you focus on. All the other stuff is beyond my control."
Canadian ice hockey officials agreed to appear before a parliamentary committee in Ottawa to explain why Doan was chosen as captain.
"As a Canadian you come over here wanting to represent everyone in Canada and when something like this happens it's a little overwhelming," Doan said.
Lombardi, who added a goal in the third for Canada, said Doan inspired the team.
"That first goal set the tone for us," Lombardi said. "Being the leader Shane is he just steps up in a lot of different ways and tonight he did it on the scoreboard."
Canada is 4-0 and Belarus dropped to 1-3. The Canadians next face the Czech Republic.
Endnote...
BelTA wins Belarus' best news agency title
From:
BelTA
It is the third time that BelTA has won Belarus' best news agency title. During a ceremony to honour the winners of the 3rd national printed mass media contest in the Palace of the Republic on May 4 BelTA General Director Dmitriy Zhuk was presented the bronze statuette 'Golden Letter' (the symbol of the contest).
According to Dmitriy Zhuk, a reporter is not a profession but the way of living. BelTA reporters are always in the thick of events striving to produce high-quality information product. Most important events taking place in the country and in the world in political, economic, social and cultural spheres are reflected in BelTA reports. News is delivered in real-time regime to the subscribers in Belarus and abroad. Information products are delivered to Belarusian TV and radio companies, FM-stations, ministries and agencies, local authorities, diplomatic missions, companies. BelTA products are supplied to news agencies of Russia, Ukraine, Moldova, Lithuania, other CIS member states, are places daily on the agency's own web-sites and the sites of Moscow's largest internet-companies. BelTA pictures are distributed worldwide.
BelTA photo correspondent Sergei Kholodilin was recognized winner in the nomination Best Press Photographer. BelTA press photographer Viktor Tolochko also won a prize of the contest.
Sovietskaya Belorussia newspaper has been recognized best public-political paper. Best edition catering for children and teenagers is Young Rescuer, best newspaper about leisure time, sport and tourism – Zdorovaya Gazeta. Belarus Magazine has been named best public-political, literature magazine while Kacheli Magazine won the nomination Magazine for Children and Teenagers. Gomelskaya Prauda Newspaper won the contest among oblast newspapers, Nashe Zhytse (Minsk region) – among regional papers.
Vasiliy Matveev of Respublika Newspaper was recognized best reporter, Dmitriy Patyko (Respublika Newspaper) - best observer.
The prizes of the contest of creative projects among national newspapers went to the Semja (Family) project of Narodnaya Newspaper and to the project Her Majesty-A Woman of the Praca Newspaper (Zelva) among regional newspapers.
The prizes to the participants of the 3rd national printed mass media contest 'Golden Letter' were presented in 24 nominations. Congratulating the winners of the contest and all representatives of mass media outlets on the professional holiday Day of the Press the Deputy Prime Minister of Belarus, Alexander Kosinets, said that mass media is the 'mirror of the nation'. According to him, the 11th international specialized exhibition 'Mass Media in Belarus' showed that the importance of printed mass media is not declining despite the fact that Internet has become an integral part of modern life.