Slavonic Bazaar Festival, Oil talks, Gomselmash, Weapons cooperation with Iran, South Africa, Dzmitry Zavadski's disappearance, Yanka Kupala's poetry
Over 4, 000 renowned arts professionals from 32 countries to demonstrate their mastery at the 16th Slavonic Bazaar Festival
From: The office of the president
The President of Belarus has honoured Sofia Rotaru with a special prize of the Belarusian Head of State "Through Arts to Peace and Mutual Understanding." "We are awarding an outstanding singer, a beautiful woman and a good friend of Belarus,"
The Slavonic Bazaar perfectly communicates the spirit of historical predestination of Belarus – the country which is not only a geographical but also a cultural centre of Europe, a bridge between the western and eastern civilizations, said President of Belarus Alexander Lukashenko at today's opening ceremony of the 16th International Arts Festival "Slavonic Bazaar in Vitebsk."
"Being of a truly Slavonic scale and scope, the festival transcends the borders between countries and continents, nations and cultures," the Head of State said. The festival's noble motto "Through Arts to Peace and Mutual Understanding" unites thousands of artists and millions of spectators in one large family, in which everyone feels close kinship to the others.
Over 4,000 artists from 32 countries of various continents will perform at the sixteenth Slavonic Bazaar Festival. The peculiarity of this year's festival, as Alexander Lukashenko emphasised, is in a multitude of new participants and artistic groups. This festival will be a good launch to a long creative life for the young participants of music contests.
According to the Belarusian leader, one of this festival's creative highlights will be the birth anniversary celebrations of Yakub Kolas and Yanka Kupala. Their works are a spiritual and intellectual message of Belarus to all peoples of the planet.
Our land has always been an open and hospitable home for everyone who comes with good intentions, and so will it be, the President stressed. Alexander Lukashenko wished that the Slavonic Bazaar would help widen the circle of friends of Belarus.
It is for the sixteenth time that Belarus is opening this long-awaited and joyful holiday of arts and inspiration – the International Arts Festival "Slavonic Bazaar in Vitebsk," Alexander Lukashenko stated. Few festivals in the world have been as much successful as the Slavonic Bazaar. According to the President, the secret behind this success lies in the atmosphere of a sincere joy, freedom, hospitality and cordiality dominating Vitebsk during these unforgettable days.
Owing to architects and builders, the Summer Amphitheatre in Vitebsk has morphed into a modern-day concert hall equipped in line with international standards, the Head of State said. Today it is the biggest concert ground in Belarus, where we will never be ashamed to receive world-renowned groups and highly-acclaimed star guests. Incidentally, the remodelling of the amphitheatre is but a link in a series of large-scale construction activities currently in full swing throughout Belarus.
Alexander Lukashenko has praised the work of builders and architects on remodelling the Summer Amphitheatre and expressed profound gratitude to all those who had helped create this architectural and technological complex. The President has also voiced hope that the remodelling will give a breath of fresh air to the festival and help it become truly great in scope.
"I would like to thank all those who were involved in the creation of such an architectural and technical compound," the Head of State said during an opening ceremony of the 16th international festival of arts in Vitebsk on July 7. "A decision to reconstruct the Summer Amphitheatre was taken a year ago. I knew that our constructors, executives would cope with the task," the President said. In his words, they created such a masterpiece which has no analogues in the world. This is the first object of the kind".
Some Br46 billion was funneled into the reconstruction of the Summer Amphitheater in Vitebsk.
After the reconstruction the number of seats in the Amphitheater was increased by more than one thousand. A unique roof was built over the stalls. The first stage of reconstruction was completed in the shortest possible time – in 10 months instead of 36 months as it was planned earlier.
"Belarusian construction organizations proved their effectiveness. They can build any facilities for any sector of economy," Vladimir Matveichuk said.
The Head of State thanked the Vitebsk integrated house-building factory, Institute "Vitebskgrazhdanprojekt", Ministry of Construction and Architecture, Vitebsk town council. The President expressed special thanks to those who were personally responsible for the project – Chairman of the Vitebsk oblast executive committee Vladimir Andreichenko and Prime Minister Sergei Sidorskiy.
The President of Belarus has honoured Sofia Rotaru with a special prize of the Belarusian Head of State "Through Arts to Peace and Mutual Understanding." "We are awarding an outstanding singer, a beautiful woman and a good friend of Belarus," Alexander Lukashenko noted.
The People's Artist of the USSR, Ukraine and Moldova, the Hero of Ukraine, Sofia Rotaru said, "it is great honour for me to receive this award at this wonderful holiday of friendship and love."
The President of the Russian Federation, Vladimir Putin, and the President of Ukraine, Viktor Yushchenko, have also sent their greetings to the participants and guests of the festival.
The international festival "Slavonic Bazaar in Vitebsk" helps expand friendly ties and sends out an appeal for peace and tolerance, reads a greeting message from President of the Russian Federation Vladimir Putin to the participants and guests of the 16th international festival of arts "Slavonic Bazaar in Vitebsk".
The arts forum in Vitebsk always brings together best artists from Russia, Belarus, Ukraine and other countries. From year to year the festival is expanding its reach. The rich programme of the festival is drawing in an ever bigger audience. The festival helps strengthen friendly contacts and understanding between people. "The great public interest in the festival is a clear example of the mutual attraction our countries and peoples feel for each other and shows our sincere desire to strengthen our common humanitarian space," reads the message of the Russian President.
World has not become safer for Belarus, with pressure felt on different fronts, including military threats, Lukashenka says
From:
Naveny
The world has not become safer for Belarus, with pressure felt on different fronts, including military threats, Alyaksandr Lukashenka said at a meeting with graduates of Minsk's military training institutions on July 5.
According to government news agencies, the Belarusian leader spoke about NATO's eastward enlargement and the USA's plans to deploy parts of its anti-missile defense shield in European countries.
"But we all understand that our state, despite the destabilizing factors, will maintain its stability and the high rates of socio-economic growth, because the Belarusian people become increasingly consolidated and use their utmost effort to achieve our strategic goal of building a strong and prosperous Belarus," Mr. Lukashenka stressed. He added that Belarus' reformed armed forces can handle the new challenges and threats to national security and the demands of modern warfare. The Belarusian leader also pointed out that no one was able to embroil Belarus into political brinkmanship in the years after independence, as it pursued its peaceful multivectoral policies.
"The main task of every officer is to school military personnel to be faithful to their state. The patriotism of the Belarusian people is an essential element of our country's security. Key to this security are the armed forces." Mr. Lukashenka concluded.
Oil talks with Belarus constructive
From:
Press TV
Managing director of Iranian Oil Engineering and Development Company (IOEDC) says talks with Belarus on Juffair oil field have been constructive.
Mehdi Bazargan noted that Iran and Belarus are still holding talks on development of Juffair oil field Belarus is keen on taking part in Iran's oil and gas projects, Mehr reports.
"We negotiated with Belarus officials after holding talks with Indian officials on the same issue," he added.
Commenting on the result of talks with Chinese officials, Bazargan said that IOEDC is working to reach an agreement on financial issues with Chinese officials.
"Iran should not haste in its talks on development of Yadavaran oil field otherwise it will be forced to pay more," he added.
A memorandum of understanding has already been signed with Belarus on development of Iran's oil fields.
Belarus oil officials have already studied proposals given Iran for its oil projects.
In January-June Gomselmash increases exports by 40%
From: BelTA
A Gomselmash Harvester
In January-June 2007, Production Association Gomselmash posted the exports of $50 million, or 40% up from the same period last year, the director of the marketing centre of the association, Vladimir Frolov, told BelTA.
Major exports were grain and forage combine harvesters. The equipment was exported to Russia, Ukraine, the Czech Republic, Argentina, China and other countries.
According to Vladimir Frolov, most successfully the cooperation has been developing with the Russian regions. There is a branchy network of trading houses and dealer centres of the Gomel producer in Russia. Last month's biggest delivery was the shipment of 21 grain harvesters Polesie 1218 (KZS-1218) to Krasnodar krai of Russia.
The Belarusian company intends to continue increasing the export of farm machines to the southern regions of Russia. There are all prerequisites. For example, Gomselmash's equipment was awarded the Grand Prix Award and four golden medals at the agriculture exhibition "Day of the Russian fields" on July 1-4. The highest award went to the forage harvesting machine "Polesie-600" which is made by the company's subsidiary "Brianskselmash".
Another strategic area of the Gomselmash export policy is to boost exports to countries outside the CIS. At the end of last year several Gomselmash machines and Polesye-1218 combine harvester were certified in accordance with the EU standards. Not long ago two such machines were bought by the Czech Republic. Now Iran tests new machines.
Soon Ukraine will start assembling Gomselmash combine harvesters. According to Vladimir Frolov, the first machines will be assembled in early 2008. Several Polish firms are also interested in assembling Polesye-7.
Gomselmash is a major manufacture of multi-purpose agricultural equipment in Belarus. The company's offering range includes combine harvesters, mowing and soil cultivation machines. All the processes, like design, production and maintenance of agricultural equipment are certified to ISO 9001-2001.
In 2006, Gomselmash exports totaled $56 million which is 55.3% more than in 2005. The company won the Best Goods of Belarus and the Best Goods of Belarus in Russian Market contests.
Belarus promises weapons cooperation with Iran
From:
Tehran Times
Belarus' president promised aid to Iran's military Thursday, and held talks with the visiting Iranian defense chief.
"Our cooperation with Iran in the military-technical sphere is based on the development, above all, of high technologies," Alexander Lukashenko said during a meeting with Mostafa Mohammad Najjar.
He also said that Belarus would implement contracts it had signed with Iran. Najjar said that "Belarus holds a special position in Iran's foreign policy" and that "cooperation between Belarus and Iran is developing thanks to mutual understanding on the presidential level."
Less than two months ago, Iranian President Mahmoud Ahmadinejad traveled to the ex-Soviet republic and pledged solidarity in the face of foreign pressure.
Lukashenko and Ahmadinejad are vocal critics of the United States and have cultivated ties with other countries at odds with the West.
Chairman of Belarus' National Academy of Sciences invites South Africa to join «space alliance»
From:
Naveny
Mikhail Myasnikovich, chairman of Belarus' National Academy of Sciences, invited the Republic of South Africa to join what he called a "space alliance" to jointly develop and use a space satellite, BelaPAN reported.
"We currently make a new high-performance satellite that will have a very high resolution, and we could agree on jointly manufacturing one more satellite that we would be using together," Mr. Myasnikovich said while meeting with Buyelwa Sonjica, the visiting South African minister of minerals and energy, on July 5.
"We have one more reliable country together with which we are making a similar third satellite and we could talk about the formation of a joint space alliance," Mr. Myasnikovich noted, adding that satellites could be used for earth surveillance, climate monitoring, mapmaking, and military purposes.
"At the initial stage, we could sell you information obtained with the help of our satellite," he said. According to him, Belarus could build a data reception center in South Africa.
In a related Story, the
NLIPRB
tells us that Lyons Financial Solutions is setting up a fund to accumulate means for construction of the High-Tech Park (HTP) in Belarus, the company's director general declared at a presentation of the general plan of HTP construction in the National Academy of Sciences of Belarus.
He specified that the company plans to set up the fund in 2008. Earlier this year Lyons Financial Solutions won a tender for investing in HTP construction. The company is set to draft a technological project which will be laid into foundation of investment offers. The work of the kind takes lots of time, yet some results have already been achieved. Thus, the general plan of HTP construction has been drafted.
Attending the presentation were representatives of state agencies and ministries of Belarus, head of the National Academy of Sciences of Belarus Mikhail Myasnikovich and the South African delegation headed by Minister of Foreign Affairs, Dr Nkosazana Dlamini Zuma.
Belarusian Association of Journalists holds ceremony to commemorate anniversary of Dzmitry Zavadski's disappearance
From:
Naveny
The Belarusian Association of Journalists (BAJ) on July 7 held a ceremony in commemoration of the 7th anniversary of the disappearance of journalist Dzmitry Zavadski, BelaPAN reported.
Some 15 BAJ activists gathered in front of the building in which Mr. Zavadski lived and put up portraits of the journalist, which carried the inscription "Where is Dzmitry Zavadski?" and two baskets of red and white carnations.
BAJ Deputy Chairman Uladzimir Dzyuba said at the ceremony that this date is not only an occasion to commemorate Dzmitry Zavadski but also a day of professional honor because it is especially important for journalists now to continue the cause of their colleague Dzmitry Zavadski, that is, to report true information to people. Mr. Dzyuba expressed hope that the disappearance of the journalist would eventually be solved.
Volha Zavadski, the mother of the journalist, attended the ceremony. His wife, Svyatlana, could not take part, as she was staying abroad.
Dzmitry Zavadski, once Alyaksandr Lukashenka's personal cameraman, disappeared on July 7, 2000 at Minsk National Airport, where he had arrived to meet Pavel Sharamet, his long-time colleague and friend. His car was found parked near the airport, but the 28-year-old journalist was never seen again. His alleged kidnappers, Valery Ihnatovich and Maksim Malik, ex-members of Belarus' elite Almaz police unit, were sentenced to life in 2002, but they were found guilty of kidnapping, not murdering Dzmitry. The trial yielded no answer to the question as to what happened to him after he had been abducted. Although his body was never found, a district court in Minsk declared him dead in November 2003.
Dzmitry Zavadski had resigned from Belarusian Television in 1996 to join Russia's ORT television network and was later briefly imprisoned for his reporting.
The official theory of his disappearance is that Mr. Ihnatovich and his gang abducted the journalist in revenge for a newspaper report revealing that some Almaz commandos had fought for the rebels in Chechnya.
Mr. Sharamet argues that the motive may have been more serious. He testified at the trial in November 2001 that he had learned from former Prosecutor General Aleh Bazhelka about the involvement of top-ranking Belarusian officials in the abduction.
According to Mr. Sharamet, Mr. Bazhelka had told him that in the fall of 2000, investigators were about to solve the case. Some of the arrested suspects admitted that they had received an order to kidnap Mr. Zavadski from high-ranking officials with the Security Council of Belarus. However, Mr. Sharamet said with reference to Mr. Bazhelka, the investigation was put on hold by Mr. Lukashenka's order. Suspects either retracted their testimony or refused to answer investigators' questions. Some of the suspects were released and one of them, former Almaz officer Anton Kabzar, died under unclear circumstances in the spring of 2001.
Referring to the former prosecutor general, Mr. Sharamet told reporters in August 2001 about his suspicion that some of Belarus' top-ranking officials had dealt with deliveries of small arms and ammunition to Chechen rebels via Turkey and Georgia, using Belarusian secret services' officers who fought in Chechnya, siding sometimes with the Chechens and sometimes with the Russians. Mr. Sharamet said that an objective of the abduction of Mr. Zavadski could have been to find out what he knew about the deliveries.
At his questioning, former Prosecutor General Bazhelka denied that he had ever told Pavel Sharamet what he knew about the Zavadski case.
Man gets time served for staging crashes
From:
Buffalo News
A Belarus native who helped put together a scheme that involved staged car crashes and phony insurance claims was sentenced to 16 months he already served and ordered to pay $334,000 restitution Friday in U.S. District Court.
Maxim Levin, 29, was also ordered by Judge William M. Skretny to finish his last semester at the University at Buffalo as part of a five-year period of supervised release.
Levin took a guilty plea in March, one of nearly two dozen people to plead in the case, and admitted that he ran the former First Buffalo Medical Clinic in Williamsville.
Investigators from a federal task force involving the FBI, the Labor Department, the Department of Health and Human Services and the state Insurance Department said Levin's clinic helped people file insurance claims for injuries they never suffered.
Assistant U.S. Attorney Jack E. Rogowski said the clinic also employed a phony doctor, Mark Nepokroeff, 45, of Pendleton. Nepokroeff was sentenced to four months in prison after he admitted that he used a forged Mexican medical school diploma and treated patients for nine years.
Levin, of Buffalo, also made money at the clinic by selling medical devices to people who never needed them. Authorities said insurers paid for the devices.
Levin also admitted a felony drug conspiracy charge involving cocaine.
Anthony J. Lana, Levin's attorney, told Skretny that Levin has turned around his life since his arrest. Skretny could have sentenced Levin to five years in federal prison.
Trial lawyer Matthew L. Kolken, who married Levin's sister Natasha last December, wrote Skretny that Levin "is a man of character" and said the Levin family was a classic American success story.
Famous Belarusian poets recite Yanka Kupala's poetry
From: BelTA
The festival of poetry devoted to the 125th anniversary of the birth of great Belarusian classicist Yanka Kupala was held in the park named after him in Minsk today. During the festival, famous Belarusian poets recited the everlasting poetry of Yanka Kupala.
"Today Belarus is celebrating the 125th anniversary of the birth of the great author, - Belarusian Vice-Premier Alexander Kosinets noted during the ceremony. – The great poet devoted all his life to the poetry. In his works great writer and thinker Yanka Kupala showed that there is no nation without history".
Famous poet, co-author of the text of the Belarusian national anthem Vladimir Karizno, editor-in-chief of the Maladost Journal Raisa Borovikova, editor-in-chief of the Polymya Journal Nikolai Metlitsky, poet Viktor Shnip, Mikhail Mitskevich, a Yakub Kolas' son, members of the Yanka Kupala State Literary Museum and others voiced the words of gratitude to the Belarusian genius.
Famous artistes of the Yanka Kupala National Academic Theater Arnold Pomazan and Julia Mikhnevich presented a staging from the famous performance "Paulinka". Folk group "Ternitsa" and children's band "Buslik" took part in the festival as well.
Representatives of the Presidential Administration, the Council of Ministers, ministries, the Minsk City Council and the Minsk Oblast Executive Committee, the public laid flowers on the Yanka Kupala's Monument.
The celebration of the 125th anniversary of the birth of Yanka Kupala will be continued in the Yanka Kupala National Academic Theater. A solemn gathering and a concert will be held there. The festival of poetry and crafts is being held in the village of Vyazynka, a branch of the Yanka Kupala state Literary Museum, today.
President of Belarus Alexander Lukashenko has congratulated his fellow countrymen on the 125th anniversary of Belarusian poet Yanka Kupala marked on July 7, BelTA learnt in the Presidential Press Service.
Yanka Kupala makes part of the plethora of thinkers and enlighteners who had left a distinguishing mark on the cultural life of our country, the congratulatory message goes. Yanka Kupala became history as a poet-citizen and ancestor of the contemporary Belarusian literature which gained global recognition due to his works.
"Yanka Kupala wanted to see his Motherland as an independent, peaceful and powerful state. Today's sovereign Belarus which is characterized by the high level of economic, scientific and cultural development is the poet's dream came true," Alexander Lukashenko noted.
"Let Yanka Kupala's creative heritage be an example of true patriotism and selfless service to the Motherland," says the message.
Around the region...
Outside View: Azeri ABM Problems
From:
Post Chronical
Belarus has deployed Russian S-300 anti-aircraft systems
It is wrong to think that Russian President Vladimir Putin's proposal might stop the deployment of an American defense shield in its tracks. U.S. Secretary of State Condoleezza Rice has already said that despite Russia's proposal to jointly use the radar in Azerbaijan, Washington will continue its negotiations on building missile defense systems in the Czech Republic and Poland. It follows then that Azerbaijan's national security strategy cannot be formulated without taking into account world processes. The traditional geographic concepts of security in a rapidly globalizing world are increasingly losing their relevance.
One aspect of NATO expansion remains open: should it recognize Russia's role as a "buffer zone" between the European Union, China and the Islamic world as NATO goes on enlarging? Or should it allow Russia to join? For NATO, the prospect of Russia as a "buffer" is more acceptable than its integration into NATO. Russia as a buffer requires no spending nor poses any threats.
One may look at NATO from many angles, but one thing about it is beyond doubt: The North Atlantic alliance is set to move farther towards Central and Southeast Asia, i.e., NATO's strategic advance is global. In other words, missile defense facilities will also spread in depth. Against the background of NATO expansion and the deployment of elements of a missile defense system in Poland and the Czech Republic, Russia is trying to put the finishing touches on its Collective Security Treaty Organization, a military alliance comprised of former Soviet republics, and its military bases in Belarus, Armenia, Tajikistan and Kyrgyzstan.
Belarus has deployed Russian S-300 anti-aircraft systems, as well as new shorter-range Iskander missiles. If upgraded Iskanders and S-400 systems are located in the Kaliningrad Region, then practically all of Poland, the Czech Republic and the Baltics will be within Russia's reach. Incidentally, S-400 surface-to-air missiles will go on operational status in the Moscow Region this summer.
It is anybody's guess how well the Gabala initiative will fit in with an American missile defense system. If a threat arises from Iran, the Gabala radar will be exposed. Baku provides air cover for the facility, but, unfortunately, Azerbaijan does not yet have the latest air-defense systems. However, the technology exists to cover the Middle East without being close to its borders.
Meanwhile, the Gabala radar is too far from the Czech Republic and Poland, where the United States plans to station its interceptor missiles, although the Russian president said that the Pentagon would do well to consider the possibility of deploying the missiles in Turkey, which is a NATO member, in Iraq, or even on offshore platforms. But that is bound to lead to a wider theater of operations and prompt all countries in the region to join the arms race. In that case, finding a solution to the Kosovo, Arab-Israeli, Iraqi, Lebanese, Karabakh and Afghan conflicts would be out of the question.
It is in Azerbaijan's interests to operate the Gabala radar, which is the property of the republic, on its own after 2012. Currently, Azerbaijan is engaged in drawing up its military doctrine and re-equipping its army to meet NATO standards. The Gabala factor may prove quite useful in the context of these reforms
Concept of further CIS development provides for evolutional improving Commonwealth, Vladimir Rushailo says
From:
NLIPRB
The coordinated draft concept of the further CIS development provides for evolutional improving the Commonwealth, Chairman of the Executive Committee – Secretary Executive of the CIS Vladimir Rushailo said in the CIS Executive Committee in Minsk at a session of the interstate working group for drafting a plan for implementing the concept.
He has noted that the concept formulates the CIS main tasks and ways to fulfill them and approves priority cooperation areas. The document also describes mechanisms of integration cooperation and possible integration reforms.
The draft concept was submitted for consideration of the CIS heads of state at the St. Petersburg informal summit in June this year. According to Vladimir Rushailo, the presidents stressed the need to draw up a plan of actions in order to implement the concept. As a result, the CIS leaders authorized the CIS Executive Committee to map out the draft plan for implementing the concept and to submit it for consideration of the CIS leaders jointly with the draft concept at the next meeting of the CIS council of heads of state.
According to Vladimir Rushailo, the fact that the presidents authorized the CIS Executive Committee to draw up the plan means that as a matter of fact they agreed with the draft concept.
In a related story,
Itar-Tass
tells us that Ukrainian Prime Minister Viktor Yanukovich has expressed confidence that a project on the creation of a common economic space uniting Russia, Kazakhstan, Belarus and Ukraine will have a continuation.
"Although we are open for discussing different mutually advantageous projects within the framework of the four-party cooperation, we have to take into account specifics of other participants. We should carefully study their demands and not be guided by emotions," he said in an interview with a Kiev weekly.
"I am confident that the project of the common economic space creation will have a continuation in some way or other," he said.
Russian championship ends in riot
From:
Guardien Sports
Sazhid Sazhidov
Russia's national wrestling championship disintegrated into rioting when dozens of angry fans spilled onto the mats and beat up match officials in protest at the result of a bout.
The violence broke out over Thursday's gold medal match in the 84 kg weight class between freestyle world champion Sazhid Sazhidov and European champion Georgy Ketoyev.
It involved fans from neighbouring regions in the Caucasus mountains which have a long tradition of ethnic rivalry.
They were furious with a decision to award victory to North Ossetia's Ketoyev over Sazhidov from Dagestan.
The organisers had to call in riot police reinforcements who finally restored order at the 5,000-seat Luzhniki Olympic arena.
Tempers between rival ethnic fans had already been boiling after an earlier match featuring Ketoyev and another Dagentani wrestler also ended in a brawl, with the two athletes trading punches in the middle of their bout.
The ill-fated championship, which originally was scheduled to take place in Vladikavkaz, the capital of North Ossetia, was moved to Moscow after protests from Dagestan officials.
Major international wrestling championships have been marred by fights in the past.
Ukraine and Poland Unprepared for Hosting Soccer Cup
From:
DW
Five years from now, Poland and the Ukraine will host the European Soccer Championships. Both are struggling to find billions of euros needed to build basic infrastructure such as roads, stadiums and hotels.
Poland needs to do construction work on approximately 4,000 kilometers (2,485 miles) of roadway. But they're 10 billion euros ($13.6 billion) short with no solution in sight, according to Wojciech Malusi, who heads an association of Polish road construction companies.
Warsaw's city hall doesn't know where to get money needed for projects like lengthening the metro lines. A regional train route needs to be built along with a national sports center with ultra-modern arena needs to go up.
Finding enough money is not the only one problem. Vendors at a fairground that is supposed to be razed to make way for the national stadium, are holding out for more compensation.
"They shouldn't think that we're going to willingly leave this place. If necessary, we'll take to the streets, like the miners did. Our work place here is more important than soccer and a show for Europe," one man said.
European Union will help out
Can Ukraine and Poland play ball?
At least Poland, unlike the Ukraine, can count on getting some help from the European Union. Brussels has promised 18 billion euros in the next years for infrastructure plus an additional 11 billion for road construction.
Polish Prime Minister Jaroslaw Kaczynski has taken a confrontational tone with the EU. Most recently, Poland angered its EU counterparts by nearly derailing a treaty deal over disagreements about voting rights.
"The government should simply refrain from this tone that we're the tiger of Europe. We're one of the poorest countries in the European Union," Malusi said.
While the money from the EU is welcome, Poland doesn't have the necessary 15 percent co-financing the EU help requires, Malusi said.
Kaczynski urged people to be patient and not to be influenced by the "hysteria created by the media." There's no problem yet, Kaczynski said. Preparation work has started and a minister will soon be appointed to oversee the projects.
"We're only human and can't do everything at once," he said. "But we certainly will have a handle on it."
The Polish public seems less optimistic. Only half of people in a recent survey thought the country was preparing well for the 2012 games.
Ukraine distracted by political problems
Both countries need to improve their roads
The Ukranian government plans to invest more than 20 billion euros to get the country ready for the European soccer championships.
The Ukraine needs to make massive improvements to its infrastructure. Streets and rail lines need to be built. Airports and hotels are not up to international standards. And it all has to be done in five years.
A political standoff has kept the government distracted. But Ivan Fedorenko of Ukraine's football association said all political parties signed on to a letter guaranteeing their support of the event and understand what it means to Ukraine.
"In only five years we must do the impossible," Fedorenko said. "Then we can invite the representatives from the European Union to the final game in Kiev and say to them: look here, we're a European country and we're ready to become part of the European community."
It's an ambitious goal. The country is still far behind European standards and won't get any money from the European Union to help get up to speed. Of the 20 billion euros, 90 percent will come from private capital, primarily from abroad. For foreign investors, the soccer championship is a signal that Ukraine is a good place to do business, said Ricardo Giucci, of the German advisory group for the government in Kiev.
But the Ukraine still has an image problem. Until now, many politicians didn't worry about what the rest of the world thought. That's changing, Giucci said.
More hotel beds a priority
Giucci expects a lot of foreign investors to be interested in the hotel sector. The country lacks modern hotels. Without modern accomodations, the Ukraine will face a lot of criticism come tournament time, Giucci said.
Ostap Protsyk, who is responsible for international affairs in the Ukranian host city of Lemberg, said the city continues to attract more European tourists. There are currently 6,000 beds available in town. To accommodate rising interests, they could use three or four times as many, Lemberg said.
"This is not only for the European Championships, but also for normal requirements for a city with a large tourist potential," he said.
Ivanov warns of new "Berlin Wall" between Russia and Europe
From:
M&C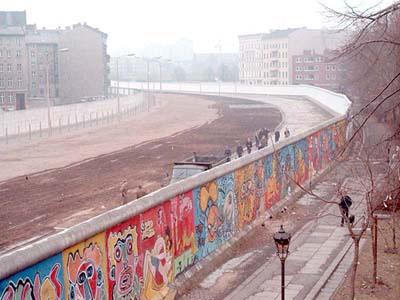 The Berlin Wall
Russian Deputy Prime Minister Sergei Ivanov on Sunday spoke of the possibility of a new 'Berlin Wall' between Russia and Europe triggered by the stationing of US military technology in the Czech Republic and Poland.
Speaking on the far-eastern Russian peninsula of Kamchatka, the former foreign minister said Russia was ready for close cooperation with the United States over the issue of US missile defence technology.
Should the US accept suggestions made by Russia President Vladimir Putin, an alternative joint global missile defence system could be created.
'This leads inescapably to an exchange of very sensitive military technology, for which Russia is ready,' Ivanov said, adding that such cooperation would strengthen trust between the two countries.
In a meeting last week with US President George W Bush, Putin in the United States offered wideranging cooperation in missile defence. The Russian president also proposed widening the dialogue on the issue to include the European Union and the North Atlantic Treaty Organization.
From the blogs...
The Idea of Russia-Belarus Union
From:
Belarus politics
On April 2, 1996 Yeltsin and Lukashenka meet in Moscow and agree to sign a Russo-Belarusian Union treaty entitled "On deepening integration and comprehensive drawing together." The treaty provides for the creation of an Interparliamentary Congress with 50 parliamentarians from each side, an executive body called the Integration Committee and a Union Court. According to president Lukashenka, a common parliament and constitution could follow later. The name of the new union (SSR in Russian) bears a striking resemblance with the name of the old USSR (SSSR).
For Lukashenka the treaty is a major success; he hopes for remission of the Belarusian debt for oil and gas and for the creation of a common economic area with equal prices. This is another example of how Lukashenka tries to solve the problems caused by his own economic policies at Russia's expense.
Lukashenka's argumentation comparing the new Russo-Belarusian union with the European Union is not seen as very convincing, since neither the economic potential nor the territory concerned can be compared. This union - according to the opposition - looks more like one country surrendering its sovereignty to another one, voluntarily giving up its own independence.
The spring of 1996 is marked by a number of rallies and demonstrations in protest against the president's policies. On March 24, April 2, 26 and May 31 tens of thousands of people take to the streets of Minsk to voice their protest against the president and defend their country's independence. The largest rally is the one on April 26, entitled "Carnobyl'ski sliach" ("The Chernobyl path") and held in remembrance of the Chernobyl disaster ten years ago. It is the largest meeting in Belarus since the country became independent in 1991. The main organiser of the rally was the BNF, supported by the other democratic parties, among others by the Civic Action Party.
The authorities dissolve the peaceful meeting by force. Riot police forces use truncheons and tear gas. Several hundred demonstrators are arrested and beaten by the police and members of the presidential security troops. However, not only demonstrators are arrested and beaten, but also passers-by, especially young people. Harsh measures are also taken against journalists and photographers of independent or foreign papers. Eye witnesses describe the behaviour of the police as very brutal. The official media and Belarusian state television cover the events in a very biased way: the Belarusian TV correspondent refers to the demonstrators as "drunken students, idle pensioners and other loafers" and compares them to "wild animals" who had forgotten they were human beings.
Note: This blog seems just to have started publishing. There is lot of interesting stuff here which is worth reading.

Свободные мысли... - Ревизор
From:
Sammy_Belarus
Minsk, Belarus
Вчера:
Еду домой с работы. Читаю книгу (Идиоток Томы Лисицкой), в ушах наушники...
Проходят кондукторы.. я их вижу боковым зрением...
один остановился, посотрел на меня... и прошел... (я ж никак не отреагировала)..
Сегодня:
Мне выходить на Одоевкого... и тут меня по плечу (тоже, сижу читаю, наушники в ушах)...
девушка, выключите музыку, талон или проезной..
Я говорю . сейчас куплю..
Она: - я не кондуктор - я ревизор..
Немая сцена...
6 200 платите.
Я в кошелек.
В кошельке 1150 руб. ))
Она: документы... и не выпускает меня... из троллейбуса...
Документов нет.
Вообщем пришлось рассказать ,что я не из Минска, а из Гродно и что у меня нет с собой денег...
Это ж правда частично - у меня еще нет минской прописки...
Пришлось наврать.. нагло и дико...
что я приехала.. сегдня уезжаю, документов с собой нет..
И что "случайно" не пробила талон..
Он (талон) у меня был!.. Но в целях экономии я его не пробила...
Денег больше нет... Это тоже правда., а нет - есть еще 2 бакса )))).
Вообщем, Ревизорша оказалась моей землячкой... ))
Мы разговорились. Она спросила, знаю ли я в Гродно улицу Ткачева - это именем покойного ее соседа назвали в гродно улицу. Я такой улицы действительно не знаю....
Итак, пришлось проехать круг и выйти на той же остановке (Одоевкого), куда мне и нужно было )))
Мораль:
ЧЕ делать? всегда пробивать талон?.... средств не хватит до зарплаты )) (это вопрос, конечно разрешимый).. но блин.. ну не привыкла я их пробивать )))
Наглость?...
возможно.......................
PS: мне стыдно... что я нагло наврала такой женщине...
и отвратно.....
Метки: Минск
Annals of Neo-Soviet "Education": Russia Tries to Whitewash its Past
From:
Russophobe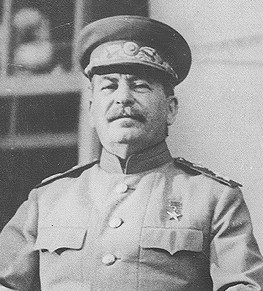 Josef Stalin is described as "the most successful Soviet leader ever," for building industry and leading the country to victory in World War II.
The Wall Street Journal reports (continuing a theme opened by La Russophobe last week):
A new manual for Russia's history teachers succinctly distills President Vladimir Putin's drive to rekindle patriotism, retelling events of the past six decades according to the Kremlin's preferred storyline: Russia is a great power that shouldn't be ashamed of its past.
Backed by support from the president himself, the book, which rails against U.S. hegemony, is raising fears among some historians that the Kremlin is -- quite literally -- trying to rewrite history in a way that risks breeding ultranationalism and whitewashing the darkest chapters of Russia's past.
Mr. Putin gave the manual a presidential boost last month, inviting its author along with a number of historians and teachers to his residence to talk history. Though he said students should be allowed to draw their own conclusions, he made clear that events should be portrayed in a way that fuels national pride.
The manual's publication comes as the Kremlin is trying to restore Russians' sense of pride after the anarchic 1990s. In recent years, celebrations marking the Red Army's victory over Nazi Germany have been cranked up, the authority of the Czarist-era Orthodox Church has been boosted and patriotic youth groups have become increasingly vocal about Russia's resurgence.
The moves have complemented an increasingly assertive Kremlin foreign policy and a flat rejection of Western criticism that Moscow is moving to undermine democratic institutions. The new teachers' manual is the clearest sign yet that the drive to inculcate the Kremlin's view of the world is reaching Russia's millions of schoolchildren.
"We are forming...the worldview of a nation, of how Russians see themselves and the outside world," Leonid Polyakov, editor of the new manual, told Mr. Putin at last month's meeting, according to a transcript released by the Kremlin.
The book, aimed at teachers of students who are in their final year of high school, reads like a hymn to the Putin era, echoing the president's own rhetoric. Far from offering contrasting interpretations, it toes the Kremlin line: Mr. Putin's statement that the demise of the U.S.S.R. was "the greatest geopolitical catastrophe of the 20th century" is stated as historical truth rather than opinion.
The book claims that the U.S. and Britain's obsession with fighting terrorism risks turning them into totalitarian states, and accuses Washington of trying to build "a global empire" under the guise of spreading democracy.
It also offers a point-by-point defense of the policies that have earned Mr. Putin criticism in the West, such as clamping down on nongovernmental organizations and abolishing direct regional elections.
Another teachers' guide getting Kremlin support, meanwhile, recasts key elements of Soviet history. Dictator Josef Stalin is described as "the most successful Soviet leader ever," for building industry and leading the country to victory in World War II. The guide explains his purges and the system of camps for political prisoners as a function of his desire to make the Soviet Union strong.
Mr. Putin himself echoed that view at the meeting with teachers, saying Stalin's "Great Terror" of 1937 -- during which at least 700,000 people were executed -- wasn't as bad as atrocities other nations had perpetrated, such as the U.S. use of the atomic bomb.
"What is happening now is historical revisionism," said Irina Scherbakova, a historian and expert at Memorial, a human-rights group here. "It's dangerous and it's harmful."
Aleksander Tsipko, a senior academic at Russia's Academy of Sciences, agrees. "If you deprive someone of a complete account of history," he told Russian radio, "it means you don't trust them."
The Kremlin insists it isn't trying to rewrite history, just correcting the overly negative tone of many of the texts of the 1990s -- a time when Russia was weak and criticizing the Soviet era was fashionable among the ruling elite.
"Views on history that engender self-respect...are very popular in any country that respects itself," Vladislav Surkov, deputy chief of staff of Mr. Putin's administration, told a teachers' conference last month. He would know; the term he concocted to describe Russia's brand of democracy -- "Sovereign Democracy" -- is given pride of place in Mr. Polyakov's manual.
Mr. Polyakov, a professor, who didn't respond to interview requests, told Mr. Putin at their meeting that 1990s textbooks were outdated. "In 1990-91, we disarmed ourselves ideologically," he said. "In return we only got a certain abstract recipe: become democrats and capitalists...and we'll control you."
For now, the Kremlin doesn't mandate which textbooks are used in Russia's decentralized system, identifying recommended texts but leaving local schools latitude to choose. But the new manuals clearly enjoy high-level support, having been explicitly requested by Mr. Putin's entourage. Their state-owned publisher says a "serious" percentage of the country's teachers will have the books by the end of this year, and that they will form the basis of a new text for students.
At his meeting with Mr. Polyakov and the teachers, Mr. Putin criticized textbooks funded by foreign foundations, most of which were written in the 1990s, saying they distort history.
"Many textbooks are written by people who are working for foreign grants," Mr. Putin said. "So they're dancing a polka ordered by whoever is paying."
One of the manuals' co-authors, Pavel Danilin, said there is nothing sinister about the project: "Imagine in the U.S. you were told that all your history was awful and nightmarish. I'm sure you'd change the way history was taught, too."
That view is shared by Education Minister Andrei Fursenko, who told the daily Izvestia newspaper that he is "absolutely convinced" there won't be a return to the Soviet practice of having just one mandated text book. But he argued that some degree of standardization is legitimate.
Grumpy diplomacy hurts Poland most of all
From:
Edward Lucas
The troublesome twins
YOUR family is kidnapped by a cult that murders your best and brightest, steals your money and tries to brainwash your children. Eventually, it collapses and you are free—if a bit batty and scruffy after years of captivity. Your relatives have lived well in the meantime. You expect warmth, sympathy and generosity. But they sneer at your backward habits and treat you as an outsider. If you want to join the family (or rejoin, as you see it) you will have to fit in. And you had better be humble and grateful.
That, roughly, is the source of the misunderstanding between Poland and the old democracies of Europe. Lech and Jaroslaw Kaczynski, the twins who are the country's president and prime minister, are outraged that the European Union is treating Poland as a new member of a club. Of course Poland won't meet all the EU's standards (and, the Kaczynskis note, many old members break them too). But does not western Europe owe it a huge moral debt? The twins almost brought a recent EU summit to a standstill by insisting that a new treaty give smaller countries greater voting rights, rather than have such rights determined directly by population size.
The treaty favoured by western European countries would have given Germany the most votes—a fact that sat poorly with another singular but deeply held belief in Poland: that Germany must still atone for the second world war. Germany's notorious closeness to Vladimir Putin's Russia under Gerhard Schroder, chancellor from 1998 to 2005, added insult to injury. First Germany murders millions of Poles. Then (telescoping history a bit) it tries to short-change Poland on EU voting rights. Even worse: when Poland tries to negotiate toughly (just as other EU members do) it is patronised and abused for being "prickly" and "obstinate". That, Poland insists, verges on the racist.
It is hard not to sympathise with the Poles on some points. Western Europe has indeed been grudging, timid and hypocritical in its dealings with the former captive nations. The first reaction to the collapse of communism was to erect trade and visa barriers, not to welcome the kidnapped victims into the common European home.
But as with so many things, the Kaczynskis' views are frozen in the past, and their logic is based on misunderstandings. To say "something very negative is happening in Germany", as Jaroslaw Kaczynski did in a recent radio interview, is monstrous. It would have sounded mad and silly even when Mr Schroder was in charge. Angela Merkel, the present chancellor, is tremendous: the best-placed friend that east Europeans could wish for. It is most likely the only time that someone who grew up under communism will run one of the big Western democracies.
It is true that Germany's politics are still too Russia-centred. But Mrs Merkel is struggling to unpick that, quite successfully. Poland could help her by offering friendship. The deal is blindingly obvious. Poland's leaders could say, "we will support you inside the EU, to make it easier for you to support us against Russia". Instead, the Kaczynskis prefer to wallow in a swamp of paranoid nostalgia, in which Germany and Russia are enemies of an equal hue.
Obviously, hard bargaining is sometimes necessary: even the best friends in the EU haggle like mad. But wise negotiators can talk nicely too. After the bruising EU summit in June, Poland could have been gracious in victory—they succeeded in delaying the new voting system's implementation for a decade—but instead the Kaczynskis were grudging and ungrateful. Ireland's diplomats are renowned for getting what they want. But their logic and persistence are laced with charm. They do not try to wrongfoot their British counterparts by suddenly raising historical atrocities. They stick to deals.
The Kaczynskis have won a battle. But they risk making Poland as Greece used to be: unpopular, expensive and, most dangerously, marginal. Perhaps only America can persuade the avowedly Atlanticist twins that a strong Poland in a strong EU is hugely preferable to a marginalised Poland in a weak one.
Exemplary Victims
From:
Robert Amsterdam
Bank of New york
Peter Foster of Canada's Financial Post argues that the Kremlin's continued lawsuits against the Bank of New York is thin cover for legal extortion.

From the Financial Post:
Wielding lawsuits like blunt objects is in no way strange to the Kremlin, where bullets and polonium lattes are other judicial options. This case is being heard in the Moscow Arbitration Court, which has hardly ever been the domain of Blind Justice (unless the blindness came from having acid thrown in her face). It was here that the former head of giant oil company Yukos, Mikhail Khodorkovsky, an oligarch who made the mistake of trying to go straight and challenge Mr. Putin, lost both his company and his freedom in a put-up case. Yukos was crushed by claims for tens of billions in back taxes, but Mr. Putin hasn't finished with Mr. Khodorkovsky yet. Yukos' former auditor, PricewaterhouseCoopers, is also now being sued by the Russian government for allegedly being party to tax evasion. The accounting firm recently withdrew its Yukos audits for the past 10 years.
Former world chess champion Gary Kasparov said in Toronto last month that "Russia today is a police state masquerading as a democracy." Russia recently refused to extradite Andrei Lugavoi, the former KGB agent who is the prime suspect in the poisoning in Britain of Alexander Litvinenko. Mr. Putin meanwhile wants to have Russia's most distinguished human-rights lawyer, Karinna Moskalenko, disbarred. The state has used various forms of harassment against her Moscow-based International Protection Center. Among its more boldfaced charges is that Ms. Moskalenko failed to present one of her clients properly. The client was Mikhail Khodorkovsky!
Ms. Moskalenko has emphasized the reign of terror that Mr. Putin is attempting to install by legal harassment, and worse. She has said that "it isn't necessary to put all the businessmen in jail. It is necessary to jail the richest, the most independent, the most well-connected. It isn't necessary to kill all the journalists. Just kill the most outstanding, the bravest, and the others will get the message."
Not only is the Kremlin above the law, it is not above attempting to use the law, even U.S. law. Russian prosecutors have suggested that if they win, damages against the Bank of New York Mellon will be collectible via the U.S. legal system. Good luck with that one.
Live the Belarusian Dream this Belarusian Independence Day!
From:
Babushka
Honor this dynamic nation with shashliki (barbeques), family gatherings, and a military parade! No Belarusian Independence Day is complete without a giant cabbage leading the armed forces into victory. Uncle Sam's July 4th fireworks cannot begin to compete with Cousin Ivan's July 3rd Soviet concerts. Come celebrate the existence of Belarus in the capital itself where the smells of daffodils and alcohol permeate the air!
Happy Birthday, Belarus!
Sport...
Young Meets Ignatic In Boys' Final
From:
Wimbledon
Vladimir Ignatic Advances
Donald Young, the third seed, is through to the boys' singles final after a 6-4, 7-5 victory over sixth seed Greg Jones of Australia.
The 17-year-old's main weapon was his powerful left-handed serve, which he used to good effect, managing to win 81 per cent of the points on his first serve. Showing a display of power and accuracy that demonstrated the sharper edge to his game due to his appearances on the ATP Tour, the American took the first set with just 31 minutes played.
His opponent will be top seed Vladimir Ignatic of Belarus who defeated Ricardas Berankis of Lithuania 7-5, 3-6, 6-1.
The 16-year-old Belarussian was given a tough time by his Lithuanian opponent, with both players winning a similar amount of points on their first serves. Despite taking the opening set, Berankis, who recently turned 17, found himself 5-0 up in the second set. Ignatic managed to break back once but the match was soon level at a set-all.
Ignatic stormed away with the deciding set, with some aggressive ground strokes and Berankis was struggling to find an answer to his opponent's power. Three match points quickly came on the Belarussian's serve and he took the first, firing down a ferocious serve that Berankis could only net.
It promises to be a high quality final. Ignatic, like Young, also has a grand slam title, winning the boys' singles at the French Open earlier this year when he defeated Young's semi-final opponent Greg Jones in straight sets. He will now be aiming to win back-to-back junior grand slams.
Tour de France 2007 - Team Preview: Team Barloworld
From:
Daily Peleton
Kanstantsin Sioutsou
Team Barloworld is one of the wild card teams for this event. The team of Claudio Corti, former sport-director of Lampre, was delighted to get an invitation from the ASO after they rode very well in the past two seasons. At the moment Team Barloworld is second in the team ranking of the Europe Tour behind the continental team of Rabobank thanks to riders like Robert Hunter, Alexander Efimkin, Fabrizio Guidi and Enrico Degano. For every rider in the team, except of Cardenas and Hunter, it will be there debut in the Tour de France. They hope to do well with Hunter and Degano in the sprints and with Cardenas, Efimkin and Soler in the mountains or the GC.
Now we will introduce Kanstantsin Sioutsou from Belarus. Sioutsou is a former World Champion U23 (Verona 2004). Before he became U23 World Champion he was already professional with the Itera (and later Lokomotiv team) from 2001 - 2003. But he became a "real" professional after his World Title when he joined Fassa Bortolo. Last year he rode for Acqua & Sapone and since the beginning of 2007 he is riding for Barloworld. Sioutsou is an allround rider and has a good time trial. Last year he won a stage in the peace race, which is his only victory thus far. He also finished as 4th in the final ranking of the Peace Race. This year he finished as 9th in the Settimana Ciclista Internazionale.
Endnote...
Oh, the Being Had Times...
From:
The Story
Alexander Lukashenko giving an address at the Palace of the Republic on the occasion of Independence Day of the Republic of Belarus.
You know, I really like my little on-line gazzetta. When I started it I think all I wanted was to put together a view of Belarus that spoke to people of a different level than just the political stories you read.
Another interesting one just out today, I think. In it, we have, amongst many other things another presidential speech. This one was made the day before Independence Day. A lot of specifics about current events regarding Europe, Russia and America, but one small section to me really seems to sound good:
According to Alexander Lukashenko, under difficult conditions, Belarus manages to attain economic growth that serves as a foundation for continuously improving the quality of life of the people. Belarus is expanding opportunities for free entrepreneurship and business activity and at the same is reinforcing social security of the ordinary people, preserving the principles of social justice in the society. As the Head of State said the country successfully develops socio-cultural sphere, strengthens the family and children support. Impressive results are achieved in arts and sports.

Over a short period our young state has managed to enhance the international prestige, Alexander Lukashenko stressed. Through the well-coordinated work of the diplomatic missions abroad Belarus has established close cooperation with international organizations and various countries. The security of the country is ensured through the mechanisms of regional security.

"All we have achieved is a result of joint efforts, is a result of love for the Fatherland and selfless work of the Belarusian people," the President of Belarus stressed.
Elsewhere in the issue is another story concerning the Belarusian economy that sort of backs up this story:
Over the five months this year, the Belarusian exports upped by 15% to make up $8.684 billion, imports – by 21.7% to make up $10.134 billion. Belarus posted a deficit in foreign trade to the tune of $1.45 billion.
Now both of these clips came from BelTA news stories. In case you don't know, BelTA is the state news service and is believed to be so controlled by the state that it is not even acknowledged by Google or Yahoo as being in existence. I cover them for the BHTimes though. I like it.
Here is another BelTA quote:
The state will do everything possible so that the Belarusian people would not suffer from the consequences of the increase in the prices for the Russian energy carriers.

"That was a gonzo price hike, with no such precedent in history," the Head of State said.

According to him, the talks started to emerge in the society that the government would have to curtail the social program. "A half a year has passed and nothing terrible has happened or will in the future. In fact, the price spike passed unnoticed for the population," Alexander Lukashenko said, "It is not easy to overcome. But this is not a catastrophe. We should hold out and reach the parameters and goals we have set for ourselves," the President added.
Now, I live here and I must tell you that this is almost true. I don't mean this in the sense of sarcasm, like I am implying it is a lie, I just mean that it is pretty close to the truth. They did raise the price of the gas and, it was a little more than they told us it would be. But at the same time, for some odd and ironic reason, we seem to be getting more gas in the tanks. I am not accusing GorGaz of siphoning or anything, I am just saying that we seem to be getting twice as much mileage from each balloon they bring us than we used to. And they still will never give you a gauge so that you can see how much gas is in the tank, but the gas seems to be lasting longer now.
They also raised the price of the basic food stuffs at least 10 to 20%. When speaking of Bread, it is close to an 80% hike over the last two years or so from 30 cents to about 50 cents. You might argue that this is insubstantial, but it becomes part of it. The payments for the houses also became larger. At least 20% in the winter and about that here in the summer without the payment for hot water. They are also counting the hot water now. The phone bill is also up. Actually, everything but the internet is up. We finally got a pretty good deal as far as that is concerned.
And of course they took a lot of the extras away from students and pensioners.
But look at what Belta is telling us. It's not lies. They are letting the president speak to the people of Belarus about things that everyone here understands to be the truth. Belarus had a trade deficit of $1.5 Billion dollars! What the hell can you do about a shortfall of $1.5 Billion dollars?
(By the way, the Belarusian translation is "Гэта было шалёнае павышэнне цэн"; that word 'шалёнае' means crazy but I love the word 'gonzo' that the translator found to use. Don't tell me Belarusians have no sense of humor.)
Obviously there are problems and obviously everyone knows about it. Don't tell me they lie to the people or hold back information because it is all here, straight from the horse's mouth!
Now, a huge chunk of this is from the gas. I don't know how much profit there would have been at last year's prices, but this year, with the president shaking every hand who will take it and nickel and dime cuts every place any fat can be found, there was still a shortfall of 1.5 billion dollars!
But yet, life did sort of continue pretty much as before. Sort of. People still went to work. People still got their pensions. The bus is still full for that trip out to the village. The markets still seem to be full, there are still cars on the road, the students still had schools to go to and most of the landscaping still made it to the flower pots. And 200,000 people showed up at the party in Minsk as well as countless others at the other 70 public parties around Belarus. Not 5000 saying no, 200,000 saying yes!
Now I have lots of opposition friends and they love to yell that the problem is a lack of democracy and the answer is that Lukashenka has to go. But to me, I don't believe there are any easy answers. I was in Europe a couple of years ago and I didn't see a whole lot of open hands. I did see a lot of freighted people desperately trying to make enough money to stay afloat. My man Steve from
Pensees sur les USA
calls this the effect of economic fascism and says that people are enslaved by the economic systems they populate. I think that there is a whole lot of truth to this. Inevitably there is no satisfying way out of the gonzo, shaloniye quagmire Belarus is in other than to remain disciplined and keep fighting on. Capitulation to something you don't believe in is not the answer. Selling out your friends and family does not lead to happiness.
So I am just asking people to just listen to the man speak.
"We have not succumbed to the pressure of the energy price hike and will not die from losing $20-30 million as a result of these (American and European)sanctions," the Head of State said.

He stressed that by revoking the preferences the European Union "showed its face". "They hold negotiations by one hand and try to choke us by the other. Not Lukashenko but the Belarusian people and our state," the President said.

According to him, they are doing this "not because we lack democracy as they say." "They had better deal with the democracy in their own countries. We have not forced any nation to its knees; we have not sent troops to kill children and mothers. We mind our business in our own country. The reason of the pressure is that no one wants to see on the map of the world a calm, civilized, fast-growing and economically advancing state which bows to no one. They have failed to force us to our knees as they wanted to," Alexander Lukashenko said.
Tell me, is this really a lie? Is this really just empty propaganda?
And what about Belarus? Gazprom's New Year's gift did not break the country and the impending bad times, and next year and then the year after will be even harder, has not torn Belarus apart. In fact, to me it seems as though the country just pulled even tighter to stay together.
I think one reason that this is true is simply that character has always been what it is about here. Well, character and building good people. This was always what it was about back in the good old days. Then, and this was during the days when it was not about money, it was about trying to live up to the model of the soviet man; to be the most disciplined, the most refined, to be the best people. Being presented with an astronomical debt such as the equivalent of two month's salary for every single working person in the country might seem rather daunting but the real question is "Can Belarus handle it?" Or perhaps a better question might be, "If it would be possible for the country to handle it, how exactly would they go about it?"
And this is where I think Lukashenka wins the people over. He isn't bullshitting, he is simply asking them to do what people know to be the right thing. And Belarus seems to continue to agree with him. I think they do this because hard times or no hard times, tBelarusians understand that what he is saying is the truth: It's not about theft, it is not about imperialism and it is not about accepting lies: It is about getting up and going to work in the morning with your head up and your eyes open; everyday, rain or shine.
I only have one more thing to say. Today was Egor's 12th birthday. Despite living only on her pension, grandma managed to send over $100 for the kid's savings account. His mom and I also came up with a few dollars for the bank and a few more to get him to the movies and to feed a bunch of his friends (who came up with a new fishing pole for him as a gift!).
But when the evening was over and the friends went home, I had a chance to talk with him about growing up and life and the future. I told him life was hard but that doing what needs to be done is the only real road. I told him that a man's responsibilities do no end just because he is tired or it hurts. I told him it is about pride and knowing who you are. I told him that he needs to remember to believe in what is true and do what needs to be done, to do it well and to remember that there will be more to do the next day.
And you know, these are basically the same sorts of things that Lukashenka says in his speeches. Is that so bad? I heard Milinkevich speak. I heard Kazoulin. And I have heard George W speak many times. I think we need to decide what sorts of lessons we really want to teach the next generation. To me, as a responsible adult, this pretty much seems to be what it is all about.