Interaction with China, UNCTAD, Foreign trade totals, Jewish News, war on Drugs, Spies caught, Diplomats ousted, Blogs and Sport
Mutual trust between Belarus and China on political level is foundation of bilateral interaction
From: BelTA
Meeting with the Minister of Finance of China
Mutual trust between Belarus and China on the political level is the foundation of bilateral cooperation in trade-economic and other areas, President of Belarus Alexander Lukashenko said when meeting with China's Finance Minister Jin Renqing.
"We have been eyeing each other for a long time, especially China proceeding from the traditional Chinese wisdom, the Belarusian leader said. – The political trust helped us build a good foundation of trade-economic and other relations. We have no problem in cooperation."
The Belarusian Head of State thanked China for cooperation in credit-investment area. "Belarus is grateful for the financial resources China has extended under certain projects. We appreciate this now and always will," Alexander Lukashenko said.
The Belarusian Chinese turnover has exceeded $1 billion. This is a result of the close bilateral cooperation.
The Belarusian leader noted that not long ago a target to reach a $500 million turnover had been set. Belarus and China managed to achieve even more in a short period of time.
Alexander Lukashenko stressed that "Belarus will go on adhering to the policy agreed upon during the exchange of visits".
The Belarusian-Chinese intergovernmental commission on the trade-economic cooperation has been actively operating. The 8th session of the commission was held in January this year in Beijing to discuss a wide range of economic issues.
China to provide financial assistance to 35 China-Belarus joint projects
In addition, the government of Belarus has determined 35 projects which will be implemented jointly with the People's Republic of China.
As the Premier said, the projects have been agreed with the government of China. The first in line will be the project to reconstruct Minsk CHP plant #2. China will issue a $40 million loan through the export-import bank of China under a preferential interest rate coordinated with the finance ministries and governments of the two countries.
Sergei Sidorsky also informed that an agreement has been reached to finance the projects in energy and gas spheres, "We will construct hydroelectric power stations with the participation of Chinese colleagues. Chinese investors will be involved in the projects to upgrade the Belarusian cement works. In power engineering we plan to increase the capacities of the Belarusian power stations," the Premier said.
The meeting also focused on purchase of Chinese equipment to modernize companies of the light industry of Belarus. There are also plans to start up joint pharmaceutical ventures.
According to the Prime Minister of Belarus, "this is a massive programme and it fits well into the Innovation Development Programme of Belarus by 2010".
In turn, PRC Finance Minister Jin Renqing noted that granting a preferential credit for reconstruction of Minsk CHP plant #2 is the first specific project in recent years. He informed that in the near future an investor group will come to Belarus to get familiar with the country's industrial sector, especially with the processing industry. "We are ready to start active cooperation," the Finance Minister stressed.
Belarus President meets with UNCTAD Secretary General
From: BelTA
On July 17 President of Belarus Alexander Lukashenko met with Secretary General of the United Nations Conference on Trade and Development (UNCTAD) Dr. Supachai Panitchpakdi, BelTA has been told in the press service of the head of state.
The Head of State said Belarus "attaches great importance to the UNCTAD activity."
President Alexander Lukashenko has thanked UNCTAD for assistance with Belarus' accession to WTO. Alexander Lukashenko stressed Belarus puts much emphasis on the UNCTAD efforts to develop trade and development. Alexander Lukashenko urged the United Nations Conference on Trade and Development to support both Belarus and other medium and small countries in the complicated globalisation conditions.
"As far as the WTO is concerned, you should definitely understand that regardless of whether we enter the WTO or not, we will be amongst other countries of the World Trade Organisation and will work with them using WTO principles. We would like these states to work with us without double standards, using WTO principles. That is why it is very important for us to be WTO members. Otherwise, we may be discriminated against by these states," the Belarusian Head of State said.
The UNCTAD Secretary General thanked Belarus for fruitful cooperation with UNCTAD.
Dr. Supachai Panitchpakdi highly appreciated cooperation with Belarus' permanent mission to the UN Office and other international organisations in Geneva. The foreign official stressed, Belarusian diplomats in Geneva help a lot with the UNCTAD reformation, which is aimed at making the organisation more comprehensive, effective and hence more helpful to transition economies and developing countries.
The UNCTAD Secretary General said the organisation intends to intensify cooperation with Belarus and other countries in the region.
The meeting focuses on specific ways to strengthen cooperation between Belarus and UNCTAD.
Belarus joined UNCTAD in 1964. The country attaches big attention to the participation in the intergovernmental dialogue within the framework of the organisation and sees it as a tool to attract attention to the development problems of the economies in transition. Since September 2006 Belarus has been acting as the coordinator of Central and Eastern Europe countries and the CIS in UNCTAD.
For this purpose UNCTAD will provide technical assistance to Belarus in accessing the World Trade Organization within the frames of the country project implemented in partnership with the United Nations Development Project (UNDP).
In 2007-2008 UNCTAD and UNDP will survey the investment policy of Belarus and provide assistance to the National Investment Agency.
In January-May Belarus' foreign trade totals $20.5 billion, 19% up
From: BelTA
Minsk Tractors: The country's industrial sector is diversified, and principal industries include machine and motor-vehicle production. This factory produces machines in Minsk, the republic's industrial center.
In January-May 2007 Belarusian foreign trade in goods and services grew by 19% to $20,507 billion, BelTA learnt in the Ministry of Statistics and Analysis.
In the five months Belarusian exports grew by 16% to reach $9,813 billion, imports went up by 21.8% to $10,695 billion. The foreign trade deficit stood at $881.6 million. The deficit is mainly attributable to the import of noncapital items such as energy carriers, raw materials and components).
According to the Ministry of Statistics and Analysis, the trade in goods made up $18,818 billion in January-May 2007, including $8,684 billion exports and $10,134 billion imports.
In January-May 2007 Belarusian economic entities traded with 160 countries exporting to 125 states and importing from 140. Among the main trade partners of Belarus are Russia (accounting for 48.3% of the total turnover), the Netherlands (8.7%), Ukraine and Germany (5.5% and 5.4% respectively), Poland (3.8%), the UK (3.1%), China (2.4%), as well as Latvia, the USA and Italy.
The foreign trade in services totaled $1,593 billion in the period under review having increased by 40.6% as against same time last year. Exports of services upped by 32.5% to reach $1,079 billion, imports – by 61% to $514.5 million.
In H1 2007 the budget revenues totaled Br 21.9 trillion, BelTA learnt in the Ministry of Statistics and Analysis.
VAT, income tax and excise duties accounted for 37.5% of the total revenues with VAT accounting for 18.1% or over Br3,956 trillion.
According to the data of the Ministry of Statistics and Analysis, as of July 1, 2007 arrears to the budget totaled Br221.5 billion, 5.6% down since the beginning of the year.
According to the Ministry of Finance, the surplus of the consolidated budget in January-May stood at Br1.8 trillion or 5.4% of GDP. In January-June 2007 Belarus' gross domestic product totalled Br42.4 billion in current prices, 8.6% up on the year, the Ministry of Statistics and Analysis told BelTA. The H1 2007 target stands at 7.5%, this year's target — 8-9%.
The industry share in the GDP amounted to 28.1%, that of transport and communications — 9.3%, trade and public catering — 10.3%, civil engineering — 8.1%, agriculture — 2.8%.
Belarus official says Minsk tipped off by Russia on Polish spies
From:
M&C
,
Axis Globe
,
Kommerant
and
Virtualn Polska
On Sunday the details of a notorious operation carried out by Belarusian KGB. Former servicemen of Russia's and Belarus' armies were arrested. They were accused of being linked to Poland's special services. The spies now face long imprisonment terms for treason. Meanwhile, sources in the staff of the Russia-Belarus Union State's secretary said that Russia's FSB (Federal Security Service) played the key role in exposing the enemy agents.
Belarusian KGB reported on Friday about discovering a foreign agent network. Although the spies, as it turned out later, were neutralized back in January 2007, the operation's details became known on Sunday. KGB deputy head Major General Viktor Vegera spoke on air on Belarusian TV. He said that KGB officers disclosed Poland's agent network acting on the territory of Belarus. Five people were arrested on espionage charges. They are four former Belarusian servicemen and one Russian. They were collecting data for Polish special services. According to Vegera, they were interested in data concerning the strategic elements of the Russia-Belarus unified air defense system, primarily the S-300 anti-aircraft missile defense system. However, Vegera underlined the spies were prevented from harming the Russia-Belarus Union State's defense capacity.
After the KGB official's speech, Belarusian TV showed the four reclaimed spies. One of them, former serviceman of Belarusian air defense forces Vladimir Russkin, gave a detailed response about the reasons why he cooperated with Poland's intelligence. Russkin said he was enrolled at his attempt to export alcohol from Poland, which exceeded the allowed amount by 5 times. He said they offered him two variants: either deportation for 5 years plus confiscation of his car and a fine, or cooperation with the Polish intelligence. Russkin confessed he had chosen the second variant. Then he organized agent network and began collecting strategically important information, passing it on to the intelligence. He was helped by Major Viktor Bogdan, chief intelligence officer of a Belarusian air defense missile brigade, radio-radar brigade servicemen Kornelyuk and Petkevich, and Russian army officer Yurenia [their first names are not mentioned]. The agents photographed the secret documentation of air forces and air defense troops with film cameras, then digitized the data, and saved it to flash memory sticks. They used hiding-places for intelligence data transfer, and made a container inside a car fire-extinguisher for moving the data across the border.
Russkin was arrested in January 2007 at the Warsaw Bridge border crossing point, while trying to export the secret data on the Union State's air policing system at the western front. His three accomplices were arrested soon afterwards. Meanwhile, according to Minsk, Russian army Major Yurenia came to give himself up to the FSB.
Belarusian KGB spokesman Valery Nadtochaev said it is now being decided to which particular court should the espionage criminal case be directed.
Poland's Foreign Ministry did not respond to Belarusian sensational accusations. Tadeus Ivinski, member of the Sejm Foreign Affairs Committee, said the notorious Polish spies case is a "purely domestic news pretext": "All this is necessary to show the country is surrounded by enemies. Poland has nothing to do with it."
Russia's FSB refrained from comments on the Russian officer's connection to the espionage for Poland. "We give no comments on the issue. No comments at all," said FSB spokesman Sergei Ignatchenko. He also refused to give the full name of the Russian officer mixed in the scandal.
Meanwhile, sources in the staff of the Russia-Belarus Union State's secretary spoke more openly. They assured that the FSB played the key role in exposing the enemy agents.
According to Ivan Makushok, a Belarusian official working as a Kremlin liaison, when Belarusian police detained the five, one, identified as Major Yurenya, identified himself as a Russian citizen and demanded he be handed over to Russian authorities.
'This guy (Yuren) told the FSB everything, and so getting a case against the others was easy,' Makushok said. Yuren would avoid a severe prison term in exchange for cooperating with investigators, he predicted.
"Major Yurenia came to the FSB, confessed everything, and the case moved on. We began joint work and joint surveillance, and here's the result," said the Union State secretary's assistant Ivan Makushok. "Our special services work together well. If the economists worked the same way, the Union State would have been created long ago." Makushok added that Yurenia might escape punishment due to his active cooperation with investigators. Anyway, he definitely will not be extradited to Minsk. Answering the question 'isn't the operation by Belarusian KGB a put-up show', Makushok answered: "It can hardly be a show. There are so many spies. Yet, I think that Poland is not the final customer. The enemy is somewhere across the ocean."
Moscow-based radio Echo Moskvy reports, referring to the KGB sources in Minsk, that the detained had gathered and conveyed to Poland data on anti-aircraft defence complexes S-300. A Major of the Russian Armed Forces had to surrender with confession of spying after four other suspects were arrested, it says. Another suspect, former head of military intelligence at a Belarusian air and missile defense brigade Viktor Bogdan, was detained in his office.
A criminal case was opened on charges of spying (Part 1 of Article 356 of the Belarusian Criminal Code) against them for giving away a state secret to a foreign state, espionage, assistance to a foreign state in carrying out hostile activities against Belarus by committing crimes against the state intentionally committed by Belarusian citizens in prejudice of external security of ten country, its sovereignty, territorial integrity, national security and defense potential. The case was taken to court, news agency BelaPAN reports. Article 356 Part 1 provides for an imprisonment for up to 15 years unless loss of human life took place as a result of the espionage, in which case the penalty is death.
The Belapan report identified other members of the alleged spy ring as retired Belarusian army major Volodymyr Russkin, retired Belarusian army intelligence major Viktor Bogdan; and two Belarusian air force radio intercept specialists only by their last names Korneliuk and Petkevich.
Besides Yurenya's alleged confession, the Belarusian prosecutor will use as evidence video tapes of members of the group meeting with Polish embassy personnel in Minsk, the report said.
Portions of the tapes already have been aired on Belarus' state- run television channel. Belarus' KGB has refused to comment on the arrests.
Officials in Poland's embassy on Friday said Warsaw would comment on the Belarusian allegations in the near future, but as yet has not made a statement on the incident.
Belarus' authoritarian President Aleksander Lukashenko has repeatedly accused Poland's government of working to undermine his regime by covert means.
Belarus' state-controlled media in 2006 accused diplomats in Poland's embassy to Minsk of acting as go-betweens between Belarusian dissident groups and western governments.
Belarusian security teams arrested Polish military attache Kasimez Witaschy in April 2004 on spying charges. He was ejected from Belarus a few weeks later.
Poland's Foreign Ministry Tuesday refused to comment on recent Belarusian State Security Committee (KGB) reports saying it uncovered five spies who allegedly gathered classified data on Belarusian and Russian air defense systems for the Polish government, but affirmed that no Polish citizens were detained in Belarus on espionage charges.
"We do not have any intentions to comment on the subject," Grzegorz Korczynski from the Information System Department at the Polish Foreign Ministry told Interfax Central Europe Tuesday. "Polish citizens are not involved in this affair."
Wake held for Belarus-born policeman shot on duty in Brooklyn
From:
Newsday
Thousands of miles from the former Soviet land where Russel Timoshenko was born 23 years ago, family and friends of the New York police officer who died in the line of duty saw him for a last time at his wake on Tuesday.
The officer died on Saturday, five days after he was shot in the face while pulling over a stolen vehicle.
Hundreds of mourners lined up at the I.J. Morris funeral home near Timoshenko's 71st Precinct in Brooklyn. The five-hour wake started at 4 p.m. Tuesday and was to be repeated on Wednesday.
The officer's parents, Leonid and Tatyana Timoshenko, sat before their only child's open casket, graced with a folded American flag, a cross and a Russian icon _ a sacred image in their Eastern Orthodox Christian faith.
On a pillow by Timoshenko's head lay his New York Police Department hat.
Attorney Terri Kalker, who was Timoshenko's court adversary, representing clients in numerous traffic summons cases, recalled how he was "very nice, very polite."
"He was eloquent, he had a sense of humor and he was well educated," Kalker said.
Timoshenko's funeral, planned for Thursday, is to be conducted mostly in an antique form of Russian that is the language of the Eastern Orthodox church to which he was born in Belarus, a former Soviet republic.
He grew up as an immigrant on Staten Island, where his family settled after arriving in the United States when he was 7. He graduated from the borough's Tottenville High School, where he played lacrosse and liked to dance.
But his longtime dream was to become a police officer.
He died as an officer whom Mayor Michael Bloomberg praised as "a hero."
He was felled only a year and a half after he joined the NYPD.
He and his partner, Herman Yan, had pulled over a stolen sport utility vehicle. When Timoshenko approached the car, the occupants opened fire, spraying his face with bullets and hitting his partner, police said. The partner has survived.
Three men face charges in the shooting.
In death, the immigrant youth returned to his roots, mourned in the faith of his childhood.
In his last hours at the hospital, Timoshenko's neck was graced by a silver crucifix from Russia said to contain the bones of a third-century Eastern Orthodox martyr.
As mourners entered the funeral chapel Tuesday, they were met with a display of photos that included pictures of Timoshenko as a boy in the Soviet Union.
Most knew him as a young man in New York.
While preparing to become a police officer, Timoshenko worked as a waiter at a Manhattan hotel.
"He was a good guy _ a very, very good guy, very friendly," said Maureen Cottle, who works in housekeeping at the midtown Novotel.
She visited him at the hospital a day before his death.
"I thought that by some miracle he wasn't going to die," she said, her voice breaking.
Belarus' Belpromstroibank assigned 'Ba1/NP/E+' ratings - Moody's
From:
Forbes
Moody's Investors Service assigned 'Ba1' long-term and not prime short-term local currency deposit ratings and an 'E+' bank financial strength rating (BFSR) to Belarus's JSC Belpromstroibank, with a stable outlook.
Moody's (nyse: MCO - news - people ) said Belpromstroibank's 'E+' BFSR, which translates to a Baseline Credit Assessment of 'B2', is underpinned by its leading market position as the country's third largest bank by assets, good financial indicators and asset quality.
However, it is constrained by the bank's fairly weak corporate governance due to the high likelihood of the government's interference in the bank's business, and large albeit declining borrower concentration and growing competition with the other large Belarussian banks, Moody's added.
Moody's said the 'Ba1'/'NP' long-term/short term local currency deposit ratings have a four-notch uplift from the 'B2' baseline credit assessment as they factor in systemic support probability in a stress situation given the bank's 87.2 pct ownership by the Belarus government and its leading position in the country's banking system.
Lukashenko Fires KGB Chief in Security Service Shake-Up
From:
Kommersant
Stepan Sukhorenko
Belarusian President Alexander Lukashenko on Tuesday fired the head of the country's KGB and his deputy in the security service's biggest purge in the recent years. Unofficial sources say that President Lukashenko may be afraid of Russia's influence on Belarusian security services.
President Lukashenko dismissed KGB Chairman Stepan Sukhorenko and his First Deputy Vasily Dementey "to transfer them to other jobs," the president's office said.
Mr. Sukhorenko was replaced by the head of the presidential security service, Yuri Zhadobin, who has been instructed to work on "strengthening the KGB staff," which virtually means that more dismissals in the KGB's high ranks will follow.
A Kommersant source close to the Belarusian leadership says that President Lukashenko was discontented with Mr. Sukhorenko's entourage rather than him personally.
Belarusian opposition leaders say that the reshuffle reflects an ongoing battle in the country between the KGB and oil tycoons.
Other politicians come up with more reasons. "Lukashenko is afraid of the security services' inference on his policies and influence of Russia on Belarusian siloviks," says opposition leader Nikolay Statkevich.
The dismissals came soon after Belarus said it has smashed an spy ring that was allegedly passing information to Poland about a joint Belarusian-Russian air defense system.
Belarus Jewish Camps Witnesses Record Turnout
From:
FJC
The Association of Jewish Communities of Belarus, one of the largest Jewish organizations in the country, will soon be hosting a summer camp for Jewish children. The event gets underway in July in a scenic place on a lakeshore near Pinsk, a city located in the Brest Region.
Sholom Malinkin, the Chair of the Association, explained. "This is the first time ever that we have been able to organize the camp for about 300 children," explained Sholom Malinkin. "They come from 20 different towns across Belarus, including firstly those cities with a Chabad Lubavitch emissary."
Campers will enjoy guidance from Yeshiva students from the U.S.A. and young Jews from numerous cities across Belarus. These counselors will help the kids to become better acquainted with Jewish traditions and culture, as well as teaching them about Jewish life in their respective countries.
Israeli tourist village may be set up in Belarus
From: BelTA
Belarus has suggested facilitating visa procedures for certain population categories to Israel, Ambassador Extraordinary and Plenipotentiary of Belarus to Israel Igor Leschenya told media on July 16.
"We have suggested facilitating visa procedures for Belarusians and Israelis aged under 16 and over 60 as part of the draft agreement on mutual travels. Belarus suggests allowing them either to travel without visas or to get free visas. Israel is now considering the draft document. I hope we will sign this agreement," said the diplomat.
According to Igor Leschenya, the embassy has suggested Belarusian ministries should consider annulling the need for Israelis willing to visit Belarus to get invitations. The decision requires considering many factors, but if taken, it would allow expanding contacts between Belarus and Israel, added the head of the diplomatic mission.
He also noted, in summer thanks to assistance of the Belarusian embassy five air flights between Belarus and Israel are made every week. At present Israelis are willing to enjoy recreation services Belarusian resorts offer.
An Israeli tourist village may appear in Belarus. Ambassador Extraordinary and Plenipotentiary of Belarus to Israel Igor Leschenya explained, a team of enthusiasts is now working on the project.
"Interested persons are expected to buy some facility in Belarus or to rent a land plot and build tourist infrastructure using their own money," said the head of the diplomatic mission. The Ambassador named the Minsk oblast as a possible place for the new tourist village.
Igor Leschenya added, the embassy works to establish twinship relations between cities of Belarus and Israel. The diplomat said that according to corresponding Israeli authorities, Belarus may be the only CIS country, to which migrants from Belarus to Israel return after rejecting Israeli citizenship.
Law enforcers of Gomel, Bryansk oblasts to step up suppression of synthetic drugs shipments
From: BelTA
Officers of the law enforcement bodies of Gomel and Bryansk oblasts have been efficiently cooperating to block international channels of drug supplies, chief of the Bryansk oblast department of Russia's federal service for the control over the turnover of drugs Gennadiy Pozhogin told reporters today.
He has noted that the border law enforcement bodies of Gomel and Bryansk oblasts have been directly coopering since 2005 when Russia's federal service for the control over the turnover of drugs and the Interior Ministry of Belarus signed a cooperation agreement. Gennadiy Pozhogin praised cooperation between the two departments which regularly exchange latest and analytical information and hold joint actions aimed at fighting drug business.
As an example of international cooperation Gennadiy Pozhogin cited the recent detention of a drug dealer on the territory of Bryansk oblast. The drug dealer was arrested due to the cooperation with Gomel colleagues. The criminal had crop-based and synthetic drugs on him. According to Gennadiy Pozhogin, drugs were supplied to Belarus, Russia and Poland.
Today Gomel hosted a working meeting between officers of the department for drug control and combating human trafficking of the criminal police of the interior office of the Gomel oblast executive committee and the Bryansk oblast department of Russia's federal service for the control over the turnover of drugs. The participants of the meeting discussed issues relating to efficiency of joint operational search actions aimed at blocking channels of drug supplies as well as at developing cooperation in the sphere of counteraction to the illegal drug turnover.
Law enforcement agencies of the Gomel and Bryansk oblasts intend to step up efforts in order to suppress supplies of synthetic drugs — methadone and trimethyl fentanyl, head of the drugs control and human trafficking unit of the criminal police of the Gomel oblast police department Yuri Markevich said after a working meeting with colleagues from Bryansk. The meeting took place in Gomel today.
According to Yuri Markevich, the issue is becoming especially acute for the two regions. The main channels used to transport the aforementioned drugs originate in Central Asia and pass through Russia to reach Belarus. During the meeting in Gomel the law enforcers of the bordering regional services discussed the topic in detail and outlined several joint actions to be taken to detect the existing channels.
Yuri Markevich expressed confidence, the law enforcement agencies will get down to taking the envisaged actions in the near future. Joint practical operations of this kind are always fruitful, he noted.
Around the region...
London waiter recounts poisoning of former Russian security service agent
From:
Axis Globe
In the first eyewitness account of the moment the former Russian security service agent Alexander Litvinenko was consigned to death in London, the head barman at the Pine Bar at the Millennium Hotel, Norberto Andrade, describes how an assassin sprayed a deadly poison into Litvinenko's tea.
Andrade said in a report published in the Sunday Telegraph that an assassin had added the lethal dose of the isotope polonium-210 to drinks that were due to be served to Litvinenko and former KGB agents Andrei Lugovoy and Dmitry Kovtun. The 67-year-old man who served the victim and his killer has revealed that as he tried to serve drinks to Litvinenko, Lugovoy and Kovtun, he was deliberately distracted in order, he claims, to allow the killer to add the poison to a pot of green tea. Andrade also said investigators had found traces of the substance on a picture close to where Litvinenko had been seated in November last year. Litvinenko died 23 days after being poisoned.
Andrade told the newspaper he had noticed that "the tea looked more yellow than usual and was thicker - it looked gooey" when he cleared the table and discarded the contents of the teapot. "In the weeks after what happened, I was feeling hot and had a throat infection," he was quoted as saying.
Alexander Goldfarb, who was a friend of Litvinenko's and co-authored a book on his death, said the waiter's account provides "extremely significant" evidence, according to the International Herald Tribune. "This sort of detail, how he served them, how the tea changed color, is clearly very serious evidence," Goldfarb said.
The testimony comes as Britain contemplates its next move after Russia refused to extradite Andrei Lugovoy, who has been named by Britain as the chief suspect in the Litvinenko poisoning case.
Britain Waits For Russia's Response To Ousted Diplomats
From:
RFE/RL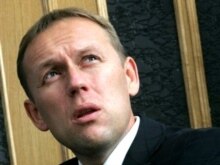 Will he stay or will he go? Moscow, for now, is determined to keep Lugovoi at home
London and Moscow remain in a diplomatic standoff following Russia's threat to take "targeted" steps against Britain for its expulsion of four Russian diplomats.
Russia's ambassador to Britain, Yury Fedotov, told journalists in London the fate of future bilateral ties is unclear, and that much depends on the "political will" of the British government.
Fedotov's comments followed threats by Russia to take "targeted and adequate" actions against London for ordering the diplomat expulsion and proposing limitations on visas and security cooperation.
"The response will follow," Fedotov said, without specifying what it would be. "You will learn it from the news. It takes time. We are serious people, we are not rushing."
"It's clear that something was done in the course of killing a single person that ended up posing a danger to an enormous number of people." The latest row comes from Russia's refusal to extradite Andrei Lugovoi, a former state security agent and Britain's prime suspect in the Litvinenko case.
British investigators say they believe it was Lugovoi who administered a fatal dose of highly radioactive polonium-210 -- and left traces of the toxic substance on airplanes and in numerous locations in London and Germany.
One of Russia's loudest arguments in refusing to turn Lugovoi over is that London itself has ignored more than 20 similar extradition requests from Moscow, including one for anti-Kremlin businessman Boris Berezovsky.
But Svetlana Gannushkina, a prominent Russian rights campaigner, says Moscow has shown no compunction about obliging other extradition requests in the past.
She says Russia should be doing much more to explore an equitable, legal resolution to the Litvinenko case.
"It's clear that something was done in the course of killing a single person that ended up posing a danger to an enormous number of people. It's perfectly intolerable," she says. "If there's a serious basis for it, then no one will prevent Russian lawyers from defending Lugovoi. But if there's a basis for his being a suspect, then I think he should be handed over."
Berezovsky has said he is willing to travel to a third country to face trial on charges of plotting to overthrow the government of President Vladimir Putin.
The businessman, who was a close ally of Litvinenko's before his death, has called on Lugovoi to do the same.
In another development, newspapers in the U.K. are reporting today that British intelligence foiled a recent plot to use a Russian hitman to assassinate Berezovsky in London.
Abandoned motorbike closes Warsaw airport
From:
UPI
Poland's Warsaw airport was closed and all passengers evacuated Monday when police spotted an abandoned motorbike in a terminal building.
Artur Burak, spokesman for the Warsaw Okecie Airport, told reporters all international and domestic flights had been delayed to let police check the terminal area, Polish Radio reported.
The evacuation of the terminal was necessary as a precaution until police found the motorbike posed no threat, Burak said.
He said authorities could not immediately determine who had left the bike unattended in the terminal.
The radio quoted a police official as saying the bike might be left unattended due to negligence.
Toxic fumes threaten thousands in Ukraine after rail crash
From:
Forbes
Toxic fumes threatened thousands of residents in western Ukraine on Tuesday after a freight train derailed and caught fire, causing mass evacuations and leaving at least 21 people injured.
Authorities were urging residents to use gas masks and remain inside as yellow clouds of highly toxic phosphorus hung over the area.
Six of the train's tank cars caught fire in Monday's accident near the city of Lviv, leaking a 'large quantity of toxic fumes and gas,' regional government spokesman Taras Batenko said. The fire had been put out several hours later.
Twenty-one people had been hospitalised for poisoning, including seven rescue workers and two police officers, regional officials said. One of those injured was in serious condition.
Doctors prepared for the arrival of more victims in the days to come, fearing phosphorus could be ingested through food.
Fumes covered an area stretching 86 square kilometres from the scene of the accident almost to the village of Ojydiv before dispersing, said Oleg Chtangret, spokesman for the health minister.
A total of 11,000 residents live in the affected area, Batenko said. Some 900 had been evacuated at their own request.
Ukraine's neighbours were also concerned. Romania, Hungary and Poland promised to exchange information on the incident, fearing they could be affected by toxic fumes.
The train had been heading from Kazakhstan to Poland. Authorities have yet to establish the cause of the incident and have opened an investigation.
Poland's junior coalition partners may quit Kaczynski government
From:
M&C
The leaders of Poland's two junior coalition partners were set to decide Monday afternoon whether to quit the tri- party Law and Justice (PiS) government of Prime Minister Jaroslaw Kaczynski, a move which could precipitate early elections this autumn.
Sacked last week from the post of deputy prime minister over allegations of corruption, Andrzej Lepper, leader of the populist Samoobrona farmers party, said Monday his party wants to quit the coalition with PiS.
But a final decision would be made after consultations with Roman Giertych, head of the Catholic nationalist League of Polish Families (LPR) junior PiS coalition partner.
Last week Lepper and Giertych suggested they may quit the government and join their parties into a new formation, Liga and Samoobrona (LiS).
Lepper has called for a special parliamentary commission to probe an Anti-Corruption Bureau (CBA) operation which he claims tried to frame him for bribe-taking.
'The role of politicians in this case, perhaps the prime minister in all this, in thinking up this entire affair, must be investigated,' Lepper told reporters in Warsaw.
Lepper alleged the CBA, created by Kaczynski's government to rid the state of graft, was being used as political police to eliminate PiS rivals.
Opposition politicians have demanded the CBA be dismantled.
Kaczynski announced Lepper's shock dismissal from the post of deputy prime minister and agriculture minister last Monday evening in connection with a CBA probe which the Polish daily Dziennik claims appears to have tried to set up Lepper in a bribery investigation.
CBA investigators appear to have no concrete evidence suggesting Lepper took a bribe in connection with the case, based on re-zoning agricultural land for commercial and residential use in the Mazurian Lakes region, a popular holiday destination in north-east Poland.
The Samoobrona party leader and former minister of agriculture insists he is completely innocent.
His dismissal cast a shadow over the future of the Kaczynski government, with the prime minister himself saying early elections were possible this coming fall.
Poland's next scheduled general election is due in the autumn of 2009.
PiS Prime Minister Kaczynski took command of the rocky three-party coalition government including the populist Samoobrona and the right-wing LPR a year ago, after taking over from Kazimierz Marcinkiewicz.
Kaczynski sacked Lepper last year over personal differences only to renominate him within a few weeks after a political scandal sent PiS popularity ratings into a nose-dive.
From the blogs...
Russia's Terrorizing Market Prices
From:
Moon of Alabama
According to Simon Jenkins, asking for market prices is terrorism.
Russia will not lay aside oil and gas as weapons to terrorise former colonies on its western border, any more than the west is going to stop attacking Putin for suppressing free speech.
Simon Jenkins in today's Guardian
Let's consider this terror. In 2006 U.S. average wellhead prices for natural gas were about $275 per 1000 cubic meters.


The old price Ukraine paid was about 486% lower than Turkey paid Gazprom (Turkey pays $243 to Russia, $236 to Iran for gas).
Russia-Ukraine gas dispute
An hour after Gazprom threatened to cut off supplies, the firm announced that Tbilisi had agreed to pay $235 per 1,000 cubic metres, up from $110.
Georgia 'agrees Russia gas bill'
The deal more than doubles the amount Belarus will pay for Russian natural gas in 2007, and will raise it to European levels by 2011.
Belarus, Russia Sign Last-Minute Gas Deal

There you have it - Russia threatened Georgia, Belarus and the Ukraine by asking them to pay the market price for its natural gas. For Jenkins this is the equivalent of suicide-bombing in the London tube.
It is terrorizing.
Depicting these countries as 'former colonies' as Jenkins does is ahistoric. Ukraine has been in a union with Russia since the signing the Treaty of Pereyaslav in 1654. Belarus was annexed by Imperial Russia in 1795. Before that it was not independent but under the rule of the Poland and Lithuania union. Georgia was incorporated into the Russian Empire in 1800 which prevented it from being conquested by Persia.
Until the 1990s these countries were integral parts of the Russian Empire for hundreds of years. They never were colonies like those the British Empire exploited.
But Jenkins' tirade fits the current British propaganda theme about the nasty Russians who don't extradite their citizens based on flimsy accusations.
Mark Leonard, director of the European Council on Foreign Relations, said that Britain had been less successful than Russia in convincing its European partners of the merits of its case. "Quite a lot of people are convinced by the Russian argument that we lecture them about the rule of law and now we're asking them to overrule their own constitution," he said.
The rules of markets and constitutional laws - truely terrorizing.
Downtown & Open Market
From:
Daryl goes to Belarus
On Wednesday, I had a down day while others were doing their thing. I cooked for our hosts... Luda & Oleg... They took me to the markets to shop. Now that was fun! I haven't seen that kind of amazing fruits and vegetables in one place ever... I was like on the Food Network or the Travel Channel.. (hmmm maybe spending too much time there??) I cooked pork 'neck'.. you'll see in the pictures the 'meat market' is in an open room as big as a gymnasium.. covered and closed in though... just a lot of meat lying about.. you don't eat beef here too much because they kill a cow only when it quits giving milk.. eeek! I made them an amazing meal... and all were happy. Thursday, we found Heidi.. she was supposed to come in Wed. late and was not on her flight from Moscow.. yikes!!! She was coming from Seoul and was hasseled by 'the system'... turned a 5 hour layover into a 6 and she missed her flight and was not able to get an internet connection or make a phone call.. we were all worried.. but she came in on the flight the next morning's flight. She said it was an old old jet where there wasn't an emergency exit 'slide' that would come out in case of emergency.. it was an emergency exit 'rope'.... what is this?
Thursday afternoon we went to Yuri & Helena's flat where we were invited to a real Belarussian feast in a real 3 room Belarussian flat... Three rooms plus kitchen & bathroom. We ate in the 'living room/Yuri & Helena's bedroom. They sleep on the pull out couch. Their son has the same setup in his room. no bed.. Having a 'bed room'... just for sleeping is not usually something that is in this culture.. at least in the apartments. The meal was awesome.. we drank 'fermented bread juice' called Kvas (Ka-vahs). YUM! because of the fermentation.... it's carbonated...mmmmm. It was a real feast... amazing and they are such amazing people. Yuri is our interpreter.. I think I've mentioned him. He speaks perfect English and is very witty and fun. Helena doesn't speak any English. Then Yuri took me back to Borisov (I was corrected there's no 'e') for a rehearsal with the band for Sunday night. They are amazing...the drummer and bass player.. Andre and Andre are amazing.. they listen one time to the tune on cd and then BAM! play it perfectly back like they have mp3 players in their heads. They learned 4 new songs in English and 3 in Russian they taught me. It was totally worth the price of admission. Thanks to my friends at Fender, They all have new guitar straps and picks and strings. I also brought cables and strings and picks and have been passing them out to the players.. there are several musicians in this church. It's much like Discover Church... it's a real musician hangout. So after a 3 hour rehearsal.. I came home and of course. had trouble sleeping.
Tomorrow Heidi and I do a 2 hour 'informal' concert here in the flat on Karl Marx.
Belarus Update 2 (This one is long!)
From:
David at My Space
Well friends, it was quite an experience! There was no internet, so that's my excuse for not updating you sooner, but I have it right now - so let me try to catch everyone up. We got up and went to the camp on Tuesday where we met all of our translators and began meeting the kids. It was crazy.
The food was very interesting - as was the fact that in Belarus they do not serve cold drinks at all. No drink is served with ice - instead almost all drinks are served piping hot! Let's just consider this to be my most recent "forced fast" from ice. Almost all meats are very different from what I've grown accustomed to in the good ol' US. Vienna sausages are considered to be a scrumptious treat - and you thought it was only for folks who like their meat to come out of a can! We ate 3 meals and 2 snacks each day - with lunch being the largest meal by far, which is very different from home but actually didn't bother me that much.
Meals were one of the few times when we could just eat and enjoy getting to know our translators. Their responsibility was to say whatever we said in Russian, but they became so much more of a part of our team. One of my real regrets after this trip is that I didn't get to spend as much time as I would have liked talking TO them, rather than THROUGH them. Sasha, Nadia, Tonya, Milah, Max, Ted, Phoenix, Ilra(?) were a HUGE reason the camp was the success that it was.
And it was a success. We say 30 come to Christ in a camp of 200. That's 15% for you math nerds. Two nights in particular were amazing. Thursday, when I gave the Gospel presentation hand after hand after hand raised in order to accept Christ. I'm almost (not quite) embarrassed to admit afterwards I sunk into my chair and just cried out of sheer mental, emotional, and spiritual fatigue. God had used me and my voice to relay His Words - and He gave me the strength for it - but it was exhausting. I hope that I can watch God do somethings of a similar nature back home.
The last night, they asked every student who had accepted Christ to come forward and recieve a gift - a new Bible - and it was incredible to see all the students that came forward. A lot of those students grabbed my heart - I hope I can return to see them again.
Sunday was a very difficult day for most of us as we pulled away from the camp - away from the kids we'd been pouring our hearts into for a week - especially with the knowledge that the absolute best case scenario plays out with us seeing them again in a year. But Monday was the day that was by far the hardest for me.
Saying goodbye to our translators - to our teammates - was one of the most painful things I've had to do in a while. Maybe that speaks to how spoiled I am, but these people really had gotten to my heart. Their prayers and encouragement kept me going. Their heart and passions were evident as they talked to the kids (sometimes without an American at all)!
And so after a long week at camp - a wonderful week, but a long week - we get all of 3 hours with our translators before wishing them well, sharing e-mail addresses and promising to write before we had to load up to head to the airport. I never expected to tear up wishing them goodbye (even if I did repeatedly tell one of them that they would - and they did, but will deny it if you ask them).
Свободные мысли... - Рататуй
From:
Sammy_Belarus
Вчера сходила на этот забавный мультик.
Весьма иронично представлена история ))
Было очень забавно заблюдать за публикой, которая и смеялась и хлопала...
Думаю, что все современные мультяшки несут некую добрую энергетику.
И здесь, как и раньше - добро побеждает зло.
В конце сеанса зал просто аплодировал - и стар и млад... ))
Кстати анимация - как реальные съемки)) а про звук вообще не говорю... пару раз подпрыгивала )))...
Рекомендую!
Метки: кино
Evil Leaders League, Week 3
From:
The HarazQuack Times
Nostradamus may have predicted the rise of Hitler, but he couldn't tell you how our 8 competitors fared in Week 3 of the ELL. Let's get the results:
Karimov vs al-Bashir
Uzbekistan's Islam Karimov makes sure the trials of his former deputies are secretive and that his deputies get the ole Scooter Libby treatment. But capital punishment will be abolished in 2008. What kind of evil leader makes killing illegal? The genocide in the Darfur region of Omar al-Bashir's Sudan continues. The international community continues to try in vain to stop it. This time a conference in Tripoli is suppose to figure things out. Once Karimov starts funding genocidal militias, we'll have something of a contest between these two.
winner: al-Bashir
Chavez vs Putin
Venezuela has a leader by the name of Hugo Chavez. Mr. Chavez has been accused of silencing dissent and practicing the politics of fear and division. I'm not sure how he's practicing the politics of division by silencing dissent and forcing everyone to unify behind his ideology. Simply put, Chavez is his generation's Ho Chi Minh, except more of a dick. And instead of the warm persona of Uncle Ho, Chavez is the fiery Latin lover, interested in corralling not only power, but the hearts of women everywhere. Vladimir Putin of Russia is all about diplomacy. Sure, he's made things difficult for President Bush, but he's no match for Chavez's suave boisterous anti-Americanism. Being a tough negotiator doesn't correlate with wins in this league.
winner: Chavez
Ahmadinejad vs Sarkozy
On the one hand, Mahmood Ahmadinejad, Iran's president, is struggling. Iranian economists believe he gets his inspiration from Ken Lay's Guide to "Running" a "Business". However, Mahmy is determined to keep enriching uranium, like it's his job. That's pretty evil. France's Nicolas Sarkozy wants the president of France to have increased clearly-defined power. What a coincidence, he's the president! He also called for solid checks and balances of that power. Jocking the US Constitution is a sure way to fail in the ELL. But never forget, he's a wine-drinking Frenchman; they're inherently evil.
winner: Ahmadinejad
Kim vs Lukashenko
North Korea has halted their nuclear program in exchange for oil. The country's leader Kim Jong-Il isn't as crazy this week as usual. But this is not the Crazy Leader's League, and evil shrewdness is rewarded. Kim needs to make concessions every now and again to retain power. Alexander Lukashenko of Belarus accused President Bush of supporting the opposition. This comes after Bush strengthened sanctions on "Europe's last dictator." Unfortunately for Lukashenko, his hissy fit hasn't accomplished much. Kim's clever compromise evens their all time head to head tally.
winner: Kim
standings:
Chavez 2-1
Kim J-I 2-1
Putin 2-1
Ahmad 2-1
al-Bash 2-1
Karimo 2-1
Lukash 0-3
Sarkozy 0-3
Sport Briefs...
Moscow Torpedo FC won the juniour football tournament dedicated to the 80th anniversary of the Dynamo FC Minsk. The final match drew the Moscow team and the U16 team of Belarus. In the qualifying round the two teams scored nine points out of nine. The final match ended 2:1 in favour of the guest team. Zilina FC from Slovakia won a bronze medal match against Minsk Dynamo juniour team. Another Belarusian team representing Minsk RGUOR lost the fifth-place match to Kharkov FC from Ukraine. According to Dynamo FC general director Bronislav Yasinsky, all the guest teams were satisfied with the tournament in Minsk as it gave them a chance to try their strength in the matches against representatives of different countries.


In the Champions League 1st Qualifying Round, APOEL eased to a comfortable win in Cyprus against their visitors from Belarus, FC BATE Borisov. Nikos Machlas had missed a hat-trick of chances for APOEL before Chrysostomos Michail broke the deadlock, shooting beyond Aleksandr Fedorovich in the Borisov goal. Machlas finally got on the score-sheet with the Cypriot side's second - a powerful header just after the hour-mark. The cisitors then had defender Anton Sakharov dismissed. APOEL are thus on course to meet the winners of the FH Hafnarfjordur v HB Torshavn tie.


The unseeded pair of Rohan Gajjar and Aditya Madkekar won the title beating the top-seeded combination of Syrym Abdukhalikov of Kazakhstan and Siarhei Betau of Belarus 7-6(2), 6-7(2), 7-5 in the final of the $15000 ITF men's Futures tennis championships.


Belarus wins three Olympic berths in sailing. The Belarusian crew of Sergei Desiukevich and Pavel Logunov finished in 14th the 470 Men at the ISAF World Sailing Championships in the Portuguese Cascais to win a berth at the Olympic Games 2008 in Beijing. Nikolai Zhukovets was 55th in the RS:X Class to pick up a license for the Olympic Games. Belarusian Tatiana Drozdovskaya won the Laser Radial champion title and claimed one of 29 berths at the Beijing Games.
The 54th position of Alexander Mumyga in the Finn Class was not enough to get an Olympic license.


Endnote...



About that isolation business…

From: The Story

The Beatroot: Lukashenko really has no friends left at all

Spoke with Pete Beatroot over the internet yesterday. Pete manages the Beatroot blog, one of the better blogs on the net in general, but it is even better for taking a jaundiced look at Poland, a country greatly deserving of some yellow press. Pete wrote me in response to my query over Lukashenka's telling America that he would close down any opposition NGO who got caught receiving American money.

Pete's response was direct and to the point that Belarus was an unwanted pariah country with no friends- basically, the popular European line on the subject:


Lukashenko appears to be trying to get Moscow back on side after they put the price of oil up. He knows that without Putin the Belarusian economy is in ruins. So the missile shield is one way he can show that he is with Putin against the US. The row over the shield in Poland is one way he can show he is loyal and hopes Putin will reward him with better oil deals. Lukashenko really has no friends left at all except Chavez.
I don't know that I agreed with the comment and this last sentence about how many friends Belarus has got me thinking.

I knew that I have seen quite a few names go by of countries which are doing business with Belarus and the number, though not everyone out of the 185 we have, seemed to be at least more than 20 or 30. Off the top of my head, Iran really likes Belarus and they like Chavez as well. This is not hard to figure though because of that 'second axis of power' thing and that Chavez has more money than G-d right now.

But I don't think there is a better oil/gaz deal to be had. If anything, to my eyes it saeems as though Belarus is slowly preparing for an absorption by Russia. They can call it a union and leave Belarus on the map, but the day they start using the Russian Ruble, we are Russia. I think that for all his talk of sovereignty, Lukashenko might really have it in his head that this is really the only way. And that he might be able to be president there in a decade or so. And why not? A friend told me that people in his family were receiving $1500 and 2000 a month in Russia already and a guy on my blog told me a cup of coffee in Moscow was $6.75. If anything, this quote telling Bush to piss off and the sister quote saying Belarus wants normal relations with Europe without having to be told what to do (having them dictate policy) it just echoing Russian policy. Belarus is not a dog; they are just a poor cousin waiting patiently to be invited into the family business.

Pete wrote back asking why Russia would even want to be stuck with Belarus. They have Kaliningrad, he said, they simply don't need Luka. As for Iran - they are having trouble selling the oil they have because of the all the trade bans. So an alternative market would do them fine. I told him that it would not be a matter of being stuck. Rather, Belarus would simply go back to being a manufacturing arm, just as they have always been.

But this business about whether Belarus has any friends was still on my mind so what I did was to go went through the Ministry of Foreign Affairs site from this year and found 28 trade partners specifically listed for Belarus:

Russia, Latvia, China, Ukraine, Moldova, Poland, Slovakia, India, Bulgaria, South Korea, Georgia, Kyrgystan, Austria, United Arab Emirates, Lithuenia, Estonia, Quatar, Venezuela, South Africa, Turkey, Germany, Egypt, Italy, Bangladesh, Hungary, Iran

Russia is the largest trade partner at over $20 Billion.

In addition to these, a bit later I remember also that there had been serious meetings with Oman, North Korea, Mongolia, Armenia and Israel, which off the top of my head I remember from specific articles. And also, of course the UK, all of it as well as Australia and New Zealand which I remembered because I advertised for Belarusian champagne sold in UK and printed articles about Belarus tractors down under. Also, the big news on the new BHTimes was the big meeting with the French and the president being interviewed by La Monde. !

I also found several foreign trade blurbs, the first one speaking of 2006 stated that Belarus traded with 174 countries, exporting its products to 139 countries and buying products from 159 countries. It also specifically mentioned the US and the Netherlands as major trade partners.

So with roughly forty countries willing to do business and another hundred buying and selling either way, I would not say that Belarus is all that isolated.

Those trade statistics also showed how the Russian oil deal has screwed the country because that huge debt alone changed Belarus from showing a trade profit to a major and growing deficit. As of the moment, if I remember correctly, Belarus is now down about $1.5 Billion just since new years.

Yes, Europe and America are trying to make life hard on Belarus, but in no way does their price fixing cause the end of the world for Belarus. Russia and Gazprom was the end of the world, European and American sanctions were not.

So the truth is that Belarus is not alone despite what may be said in the European and American press, it is just they are simply not doing so good at the moment. However, what is also true is that Belarus is not taking their current situation lying down. Manufacturing and productivity are up, the GDP is up and though prices are also up, inflation seems to be more the fault of the falling American dollar than any mishandling of the economy locally. Yes, paying double (and soon triple and more) for the gas is bad and not receiving oil at a price that allows for profitability has turned the entire enterprise sour, but nevertheless Belarus still goes to work in the morning. There have not been general strikes or any sort of havoc; life has pretty much just gone on so far.

Maybe this has also been for Russia's benefit and certainly the idea of calling this whole deal a "hostile takeover" was well covered in the Russian press around New Years.

Anyway, when I sent all of this over to Pete, this is what he had to say:


Well, indeed....but the reason they are not 'doing so well at the moment' is that they have a complete shithead for a president. I know he is popular with many Belaruskis....but so were many historical authoritarian figures....the way he has treated oppositional figures is just the insecurity of a proto-dictator...
So there you go. All I can say to this is: That's Europe for you. Or better, as we are speaking Poland, That's an insecure proto-Europe for you, every time.

More soon…