Belarus wins 4-1 in Davis Cup, Lukashenka speech, Iran/Russia, Schools, Communications, OSCE, Scandals, Gleb Povlovski, Olympic results
From the Top

Alexander Lukashenko satisfied with his visit to Yelizovo glass manufacture

Belta


Alexander Lukashenka visiting the Yelizovo glass plant

The president of Belarus is satisfied with the results of his visit to the Yelizovo glass plant. "The company produces favorable impression. It is no longer a semi-destroyed plant it used to be in 2002 when there was an urgent need to save the situation and, first of all, people," Alexander Lukashenko emphasized at a sitting dedicated to the glass industry development held at the plant.

He said that the foreign investor – Austrian company ATEC has fulfilled its investment and social obligations in full. About USD 41 million were invested in company's reconstruction. According to the president the company managed to set up a competitive production of highly demanded goods. "This is an example of how both the private and state capitals should work," the president added.

He noted that today "another page in the company's history has been turned – production of a new type of glass containers has been launched".

During his visit, the president had several comments concerning Belarus in general for reporters

About the upcoming elections, the president stressed that the present-day leadership of the country "does not need to use non-democratic steps or the administrative toolbar since it will bring only harm". "Sociological research of my rivals show that the rating of the effective president is over 60 per cent. The opposition can get today only 5-7 per cent. Tell me: why does Lukashenko need to rig the election in this situation? If you were me would you falsify the elections to be reproached then? I do not need this", the president underlined.

The situation in Belarus develops normally, the head of state noted. "Belarusians see everything and compare what was 5-10 years ago and what is now and in the neighboring states. "We did not sell the country out", the president said.

According to him, if someone has some doubt in the democracy of the elections, so everyone has his own point of view.

"Some western countries and oligarchs did not get what they wanted in Belarus. Certainly, they own mass media outlets today and fulfill someone's instructions. But people should decide", Alexander Lukashenko underlined.

Belarus will create appropriate conditions for people to decide in a democratic way whom to make the president.

The head of state also underlined thAT he is not against foreign investments in the economy of the republic. "We do not intend to squander our country's wealth. We have powerful authority today which can manage these processes", he said. "It is bad when a foreign investor comes and wants to get everything free of charge".

At the same time Alexander Lukashenko valued highly the investments of the Austrian company ATEC in Elizovo Glass Plant. Having invested more than USD 40 million the Austrian company breathed new life into the plant and in the whole settlement – it creates new jobs, settles social problems, etc, the president noted.

The head of state welcomed the intention of ATEC to invest about USD 100 million in the republic's economy. These funds are expected to be utilized for construction of new plants and factories in Belarus.

When speaking of possible EH or US sanctions on Belarus, Alexander Lukashenko said that he is convinced it is impossible to quarantine Belarus.

"How can be the center of Europe isolated? It will do harm to Europe first of all. One should realize that the policy of Europe and the one of the United States are different things. Western Europe has to dance to the American tune. However, it does not want to. The Americans need a belt today – the Baltic States, Belarus and Ukraine to isolate Russia with its raw materials from Europe. Do the Europeans need it? No. It is a conflict of interests. This is why I am confident Europe will never complicate the situation", the head of the Belarusian state noted during his visit to Mogilev oblast.

"And we should not be uncertain in this respect – we develop. The fact that we are pressed in some spheres is even good for us. We would have never achieved such progress without these difficulties. Counteraction and competition always give vigour. We take it easy", Alexander Lukashenko underlined.

According to the president, "the main thing is economy. Nobody can prohibit anything to anyone in this field".

As an example Alexander Lukashenko cited the successful cooperation record with the Austrian company ATEC invested USD 40 million in Elizovo Glass Plant. "The investor came from Austria and gave USD 40 million, as he saw a normal situation. He did bribe anyone. It is business. If it profitable investors will come because we support them and work honestly", the Belarusian leader said.

And about the danish Cartoon scandal, Belarusian president Alexander Lukashenko has called the "caricature war" inadmissible in the civilized world.

"I favor inter-ethnic and religious peace in the world, this is why I deem the situation inadmissible. Why re-publish this elsewhere if the entire Muslim world has become indignant about it? Someone needs escalation of tensions between countries. This is what I think", the Belarusian president said.


Sports Special

Belarus complete 4-1 rout over Spain in Davis Cup


vARIOUS SOURCES


Vladimir Voltchkov is a hero after defeating Spain's 10th Ranked David Ferrer on Saturday

Belarus completed their rout of twice former winners Spain by splitting the last two dead rubbers on Sunday to ease into the Davis Cup quarter-finals.

Spain's David Ferrer hammered Davis Cup newcomer Sergei Tarasevich, who is ranked 1,252, 6-2 6-1 to give the visitors their first point in the three-day tie while Vladimir Voltchkov beat Tommy Robredo 7-6 6-3 to seal a 4-1 win for the home side.

Max Mirnyi and Voltchkov beat Feliciano Lopez and Fernando Verdasco 7-6 6-4 7-5 in Saturday's doubles to give Belarus an unassailable 3-0 lead in their World Group first-round tie.

David vs Goliath

In the last six years Spain, No. 2 in the current Davis Cup Nations Ranking, has played three World Group finals and twice lifted the magnificent silver trophy. Apart from that, it has a 100-year tennis tradition, 88,000 licensed players, 1000 clubs and many thousands of courts in a country with a population of 41 million.

In Belarus, a nation of 10 million people, tennis only began to develop in earnest 15 years ago and there are 1,000 licensed players and 180 courts. Mirnyi and Voltchkov are the only Belarusian players to appear in the top 1000 of the ATP rankings, in which we find no less than 75 Spaniards.


Max Mirnyi and Vladimir Voltchkov (BLR) celebrate their win over Spain

Belarus, who maintained their proud record of not losing a home Davis Cup tie since joining the elite World Group, now take on Australia or Switzerland in the quarter-finals.

"It would be nice to play the Swiss because then we would be facing them at our home court," said Belarus number one Mirnyi.

"Besides, they have the world's best player in Roger Federer and it would be great for our fans to see him play."

Spain captain Emilio Sanchez Vicario was gracious in defeat.

"It was important for us to win a match today to avoid a whitewash but in the end we lost to a better side," he said.

"They were sharper and more competitive at the crucial moments in the tie," Spain captain Sanchez Vicario said.

"We aren't going to blame the surface because the Belarussian players gave an extraordinary display."

On Friday Mirnyi, nicknamed the Beast, upset the 14th-ranked Robredo 6-3 6-7 6-3 6-3 and Voltchkov, who languishes at 301 in the world, stunned world's number 10 Ferrer 6-3 6-4 6-3 in the second singles to put the home team in command.

The third-seeded Spaniards, winners in 2000 and 2004, were without world number two Rafael Nadal (foot injury) and Juan Carlos Ferrero (stomach problem).

Hero Voltchkov

In the absence of Rafael Nadal and Juan Carlos Ferrero, the Spaniards were unable to compete with the Belarus team, which has now won its last 11 home ties on the fast Taraflex, which suits both Mirnyi and Voltchkov. Tommy Robredo was the only Spaniard to offer any resistance.


Alexandr Lukashenko with the Belarusian and Spanish players

Mirnyi, 'The Beast' drove through both singles and doubles rubbers masterfully, killing his opponents' hopes with deadly serves and superior net play: "We are a united team which is able to earn the three points necessary for victory. It doesn't matter what order we would play in."

At the closing ceremony, the Belarus team was presented with engraved pistols by Belarus President Alexander Lukashenko.

"I couldn't eat, sleep and work looking for this match," Lukashenko said, referring to the deciding doubles victory on Saturday.

The central figure of the whole tie, however, was Belarus No.2 Vladimir Voltchkov. Undergoing a career crisis and currently ranked No. 301, Voltchkov competed hard from the baseline against David Ferrer, directing one ball after another to different corners of the court with ease. He made us remember the time when he reached the 2000 Wimbledon semifinals as an unknown and remains one of the most unpredictable players on the world stage.

Australia next

Belarus's second Davis Cup quarterfinal appearance will be away to Australia on 7-9 April.

It will probably be on grass or hard court, But whatever the surface, it will be a tall order for Belarus: since 2000, the Australians have played home 13 tries and won 10 of them.

Looking ahead to the tie, Mirnyi said, "It will be more difficult to compete with them away from home."

For the second year running, Spain will have to compete in September's Play-offs to retain its place in the World Group.


World

Iran, Russia to discuss uranium enrichment

RIA/Novosti


Hamid Reza Asefi

TEHRAN, February 12 (RIA Novosti) - Iran and Russia will discuss Russia's proposal to enrich uranium on its soil on February 14 at the level of deputy heads of the national Security Councils, an official spokesman for the Iranian Foreign Ministry said Sunday. Hamid Reza Asefi said Iran still did not view Russia's proposal negatively and would discuss it comprehensively.

Russian Deputy Prime Minister and Defense Minister Sergei Ivanov earlier said that Russia's proposal to Iran to enrich uranium on Russian soil remained on the negotiating table.

At the same time, Ivanov said Russia spoke firmly for the strict observance of all the norms of international law on nuclear non-proliferation.

The Russian offer has been seen as a compromise in the standoff between the Islamic Republic and the West. It could remove the need for Iran to enrich uranium, which is the process that has aroused international concerns as it can be used to create nuclear weapons.

Iran said earlier it saw no reason to accept Russia's proposal after the UN's nuclear watchdog, the International Atomic Energy Agency (IAEA), decided to inform the UN Security Council about the Iranian nuclear issue.

The IAEA resolution also urged Iran to resume its moratorium on nuclear fuel research, to ratify an additional protocol to its agreement with the IAEA, and to allow the agency to clarify all aspects of its past nuclear activities.

Iran threatens to reconsider its position on NPT

RIA/Novisti


Former terrorist Mahmoud Ahmadinejad

Iranian President Mahmoud Ahmadinejad said Saturday that Iran may reconsider its position on the Nuclear Non-Proliferation Treaty if the West continues to use this agreement as a means of denying the country's right to nuclear energy for peaceful purposes.

"If the West continues to use NPT provisions to deprive Iran of its legal right to peaceful nuclear technology, the Iranian nation will change its position on the treaty," Ahmadinejad said.

"The West has undermined the authority of the NPT," the president said. "The Iranian people will not give up its rights or succumb to your [the West's] threats."

The president was speaking on Freedom Square in Tehran on the 27th anniversary of the country's Islamic revolution.

People all over Iran went to the streets displaying slogans asserting the country's right to develop peaceful nuclear energy, and declaring "Death to America" and "Death to Israel".


Education and Sciences

In 2006 some 95 young talented scientists to get presidential scholarships in Belarus

Belta


Lukashenka at the Belarusian Academy of Sciences

By his ordinance head of state Alexander Lukashenko awarded talented young scientists scholarships in 2006.

As BelTA was informed in the Belarusian leader's press service, 95 young scientists will be given scholarships: 16 Doctors of Science, 57 candidates of science and 22 young scientists having no academic degrees. Thus the president marked a big volume of research studies carried out by the scholarship recipients and their scientific results significant for the innovation development of the country.

Scholarships for Doctors of Science will make 40 base amounts, for candidates of science – 30 and for young scientists having no academic degrees – 20 base amounts. The scholarships will be paid irrespective of the wage rates.

By instituting and awarding scholarships the state pays attention and takes care of young talented scientists, on whose efforts the future of the republic will mainly depend, the press service noted.

New entrance regulations to promote just enrollment campaign

Belta


The Rules for Belarusian students has become simpler, but getting into the schools has become more difficult

On February 7 Belarusian president Alexander Lukashenko signed Decree # 80 thus adopting the regulations of enrollment to higher and vocational educational establishments of the country.

The president's press-service reports, the document is to promote just and transparent entrance campaign and equalize the enrollment terms for all entrants. The enrollment regulations are the same for all higher and vocational educational establishments regardless of their subordination.

The free centralized testing will become the main form of entrance examinations to all types of departments. Entrants are to present at least two central testing certificates (one with the result of the state language exam and another one with the result of the exam in the major). Higher educational institutions are entitled to define the form of the major examination themselves.

Those striving to enter vocational schools on the basis of the secondary education are to present one certificate of a centralized testing with the result of the state language exam and further on they are to take a major exam. In case entrants have only base education – they are to take traditional examinations.

Enrollees have a right to free centralized testing in three subjects (a state language and two majors). The regulations do not provide for chargeable testing.

During the enrollment campaign the account will be made of the results of the entrance examinations as well as of the average grade of the education certificates.

In line with the new regulations the right to apply for budget-funded evening and external courses will be given only to those students who already work in the field chosen for studying or those who have relevant education in the same or similar field.

Students who are admitted without exams should have grades higher than average (more than 6) for the subjects they are going to study. Admittance to the departments in high demand (international relations, law, medical and pharmaceutical, etc) will be only contest-based.


Scandal vs Reality

German Journalism Lost in Translation

Special from the BR23 Blog

http://www.br23.net


Beltelecom, for all of its actual mistakes, was wrongly scandalized by the German press

Here's another "brilliant" example of ze German journalism, an item from the #1 German news agency dpa:

Belarus to cut off home computer internet access nationwide:


Minsk - Belorussian Ministry of Communications officials on Friday announced new laws effectively banning home access to the Internet.

A policy statement from the national telephone monopolist Beltelekom defining legal internet access limited potential users of the Internet to companies and government organizations and specifically omitted private individuals.

Belorussian internet domain operators not associated with a company or government agency would be cut off and in case of repeated violations could face heavy fines or even jail, the statement said.

The Belorussian internet is in terms of size in its infancy, with some 1,300 domains, almost all non-commercial, and 14,000 users.

The Beltelekom policy if put into effect would nevertheless drastically reduce Belarusian's access to international media, as Belarus' state media is heavily biased towards the country's authoritarian President Aleksander Lukashenko.

Internet aside, the only other source of uncensored information in Belarus is foreign radio broadcasts, which are at times jammed by the Lukashenko regime.

Lukashenko is widely expected to win a third term in office in national elections this March.

His administration and the country's KGB has cracked down on potential opposition groups in the run-up to the vote, targeting among others Polish ethnic groups and western NGOs.

© 2006 dpa - Deutsche Presse-Agentur


For the information of the dpa journalists, they got it totally wrong. Nobody is going to ban home internet access in Belarus.

Here's what happened actually. In Belarus, most of the people have slow dial-up connections, and fast DSL connections are very expensive (probably for economical, but maybe also for political reasons). Our smart computer "hackers" figured out that they could buy one expensive DSL link, and then create a Local Area Network with their neighbours, thus sharing the bandwidth and the costs.

Ministry of information and Beltelecom learned about those home LAN's and got a bit upset, but there was no legal basis for persecuting those people. So they finally found a possible legal pretext for doing that. Those LAN's are typically found in high-storey buildings, connecting people from different floors. In order to connect their computers, those people usually use the common area shafts, the so called "riser pipes" where telephone and other cables are laid. So, the ministry issued a warning to those people saying that they are not allowed to use the shafts in the common area for their own cables.

That's it. As you can see, the German dpa reported completely false information, exaggerating the problem beyond any measure.

And this in addition to a number of other factual mistakes:

1) The correct English spelling and pronunciation is Belarusan or Belarusian. ("Belorussian" is the obsolete and misleading Soviet adjective form preferred by the Germans)

2) "The Belorussian internet is in terms of size in its infancy, with some 1,300 domains, almost all non-commercial, and 14,000 users". — FYI, Belarusan internet is as developed as the Internet in many other countries (just one number: 50% of all the internet-related crimes in former USSR has its origins in this small country). The number of regular internet users is at least 15% of the total population, or 1,500,000 people. I wonder how they screwed up the number so badly. Probably, they meant the number of DSL users. But this is totally different.

3) "Belarus' state media is heavily biased towards the country's authoritarian President Aleksander Lukashenko." — It is not biased, it is totally controlled by Lukashenka.

4) "The only other source of uncensored information in Belarus is foreign radio broadcasts, which are at times jammed by the Lukashenko regime." — (A) There are still several independent newspapers, although they barely survive, being under extreme pressure. (B) President Lukashenka never jammed radio transmissions.

5) "Lukashenko is widely expected to win a third term in office in national elections this March." — Everybody knows that it will be falsified. That's what USA, EU, OSCE already said. The correct statement would've been "Lukashenka is widely expected to falsify the actual results of the March elections."

Na ja… Nothing's new really, just another journalstic story from the White Holland, in addition to many others. (Here's another recent one — how German journalists covered Milinkevich's meeting with Angela Merkel).


Elections

Alexander Lukashenko: some candidates had better visit remote places of Belarus not foreign states

Belta


Lukashenka offers some paternal advice to his oponents
Certain candidates for the presidency had better visit remote regions of Belarus not foreign states in order to help create new jobs there or just to talk to ordinary people, Alexander Lukashenko told reporters today.

"The fact that they visit Brussels to be praised or Moscow to see oligarchs means that they do not want and intend to become presidents. If any of them wanted to become the head of state he would work for the welfare of the nation. But he knows that he will lose the campaign, so he does not run it. And in Brussels or Moscow this candidate will make a good showing – it is just business".

"After the presidential elections they will go to Brussels and Moscow again to say that there is such a totalitarian country as Belarus", Alexander Lukashenko is convinced. It means they are paving the way for the post-election period to be received somewhere and to be paid some money. This is the reason of these foreign visits".

OSCE To Send 400 Monitors To Belarus Election

RFE/RL


Sweeden's Urdur Gunnarsdottir

The Organization for Security and Cooperation in Europe (OSCE) today said that it will deploy some 400 observers to monitor the presidential election in Belarus in March.

OSCE spokeswoman Urdur Gunnarsdottir said the monitors will try to maintain the fairness of the voting process, ballot counting, and the tabulation of results. She said the observers will also assess how the electoral process complies with OSCE standards for free and fair elections.

The spokeswoman said 10 members of OSCE's election-monitoring staff are already in Minsk and will soon be joined by 40 long-term observers to follow the pre-election process at a regional level.

The election is widely expected to secure an unprecedented third term in office for President Alyaksandr Lukashenka.

The OSCE observed elections in Belarus in 2000, 2001, and 2004. It criticized them all for failing to meet international standards.

Political analyst: nation names election legitimate, not foreign observers

Belta


Gleb Pavlovskiy

It is the nation, which should define whether an election is legitimate, not foreign observers, believes well-known Russian political analyst Gleb Pavlovskiy.

He told the press in Minsk on February 10, Russia and in some measure Belarus are "too much preoccupied with the presence of West observers at the election". Meanwhile, he noted, West countries are not accustomed to inviting foreign observers, because they need no outside confirmation of national elections. The Russian political analyst wondered whether Russia and Belarus need to invite foreign observers. "The voters will ensure the election is legitimate, not foreign observers", stressed Gleb Pavlovskiy.

He stated, certain western countries have openly stated they are going to interfere with the Belarusian electoral process. Gleb Pavlovskiy was convinced, they will not have an opportunity to do so.

Asked whether Russian political experts can aid one of the candidates for the Belarusian president post, Gleb Pavlovskiy noted, "Which help may the candidate, who is way ahead of the others, need? Nobody can aid alternative candidates in such a situation. We can but to watch the process form outside", concluded the Russian political analyst.

International election observers should come up with single criteria of assessment of some issues arising during the election campaign, chairman of the CIS Executive Committee – CIS executive secretary Vladimir Rushailo has told reporters today in Vitebsk.

According to him, despite the similarity of the methods to assess the elections employed by the OSCE and CIS observers, one and the same fact can be interpreted differently. Vladimir Rushailo considers that there is a need "to elaborate clear recommendations as to the use of administrative and information resources".

Speaking about the election campaign in Belarus Vladimir Rushailo said that the situation is "calm and stable". He noted that during the election campaign in Belarus CIS international observers will make working visits to all regions of the country where they will meet with the leaders of the oblasts, members of the election commissions and election staffs of the presidential contenders.

Today a delegation of the CIS international observers headed by Vladimir Rushailo is on a visit in Vitebsk oblast.


Questions

What is Gleb Pavlovskiy doing in Minsk?

From the Tobias Ljungvall on BelarusBlog
http://tobiasonbelarus.blogspot.com/


Pavlovskiy, the Kremlin's own favourite "political technologist."

In Moscow, there are currently three people whom I would like to ask about their involvement in Belarusian politics. I rather doubt, however, that any of them would give me straight answers.
-
The first one is Valeriy Pavlov, a former general and member of the Belarusian parliament in the early 90s. In the last few years, Pavlov has found a niche for himself as a link between the Belarusian opposition and the Russian establishment. I think his first public appearance in that role was made in 2004 through no less than three interviews by a journalist of Ukrainian citizenry, Podolyak, who was subsequently very hastily deported even though he had a family in Minsk. Pavlov is also supposed to have given the imprisoned opposition politician Michail Marinich the US$ 90,000 which were confiscated when he was arrested at about the same time.
-
Pavlov seems to be a rough person. A friend of mine told me about an incident some ten years ago in which Pavlov, having arrived in a mid-sized town to settle a political problem, actually used a gun to intimidate a local official. Overall, he does not strike me as a democratic idealist although he poses as one, so it would be interesting to know what his real motivations are and what interests he may be serving in his work against Lukashenko.
-
The second person is Russian opposition politician Boris Nemtsov, of Russia's Union of Right Forces (SPS), who in later years have often been heard complaining that Lukashenko will not give up Belarus' gas transit company to Russia. Nemtsov and SPS hold long-standing ties to Belarus' United Civil Party (UCP), and since this past fall they claim to be financing the main Belarusian opposition newspaper, Narodnaya Volya. If SPS's agenda is to support the united part of the opposition (including its partners in the UCP) and its presidential candidate Aleksandr Milinkevich, however, it would be interesting to know why Narodnaya Volya is now taking a clear stand for the Kremlin-backed Aleksandr Kozulin. It would also be interesting to know why Nemtsov is now calling for an election boycott in Belarus, thereby in effect undermining Milinkevich's position.
-
It seems to me that Nemtsov is part of the utterly cynical Russian political landscape, where opposition to the Kremlin is a relative matter, and where few pacts are too unholy to make. So it would be interesting to know what he hopes to achieve by his active interest in Belarusian matters.
-
Finally, this week Minsk was visited by the notorious Gleb Pavlovskiy, the Kremlin's own favourite "political technologist." Pavlovskiy's Foundation for Effective Politics (FEP) is sort of a hybrid between a Western-style PR agency and the KGB, and is considered the most skilful organisation in planning typically dirty post-Soviet election campaigns. Whether Pavlovskiy visited Minsk only to observe the elections campaign, or whether he is actively involved in this campaign, would also be interesting to know.


Human Rights Center "Viasna" Urges Authorities to Stop Repressions against Youth

Viasna


Viasna is asking the state to allow for freedom of expression in the political process

Human Rights Center "Viasna" is concerned with the arrests of activists of youth democratic movements. The wave of such arrests all over the country witnesses the aggravation of repressions on the eve of the presidential election in the Republic of Belarus.

Youngsters are kept in inhuman conditions in investigative isolators for their public and political activity, critics of the regime and political graffiti. Persecution of youth acquires mass nature during the last two months a large number of political cases have been brought against youth.

The Zubr activists Aliaksandr Kazakou and Dzmitry Zubro were detained at night of 28 December 2005 for political graffiti (they drew number 16 to remember people about the day of solidarity with political prisoners, 16th day of every month). The youngsters spent more than two days in the temporary isolator and then were released under written undertakings not to leave Minsk. They are charged with violation of part 2 of article 363 of the Criminal Code (resistance to the police) and can be sentenced to up to 5 years of jail or the same term of personal restraint.

In Zhodzina a criminal case was brought against the activist of youth democratic movement Pavel Krasouski, member of the initiative group of Aliaksandr Milinkevich. The criminal case was initiated for grotesque cartoons of Zhodzina authorities in the bulletin "Nabliudatel", edited by P. Krasouski. This publication was considered as violation of Article 369 of the Criminal Code (public insult of duty officials).

A criminal case was brought against the BPF activist Dzmitry Kaspiarovich. He was detained at night of 17-18 January 2006 on suspicion in outrage of the state symbols. According to Mr. Kaspiarovich, he really climbed the roof of Minsk City Executive Committee and really tried to tear up the state flag, considering him as "Stalinist". Outrage of state symbols is punished with personal restraint upon article 370 of the Criminal Code. Besides, the suspects can"t be kept in investigative isolator before the trial. Probably that"s why Kaspiarovich's actions were first considered as "malignant hooliganism" and then as "hooliganism". The maximal punishment for it is 3 years of jail. The procurator's office decided to keep him in the investigative isolator of Minsk. The case investigation was finished and the materials will be soon passed to the court.

A criminal was brought against the activists of "Young Front" Artur Finkevich and Aliaksei Ianusheuski. The police detained them at night of 30 January in Minsk for political graffiti. At present they are kept in temporary isolator. The case was brought upon part 2 of article 339 of the Criminal Case (malignant hooliganism), which provides up to 3 years of jail.

The fact that investigators purposefully consider political graffiti as hooliganism or malignant hooliganism is especially alarming. It allows keeping public activists in investigative isolators. Human Rights Center"Viasna" considers the mentioned arrests as politically motivated persecution and urges representatives of the Belarusian authorities to immediately stop repressions against youth and release all arrested persons.

Human Rights Center "Viasna" applies to representatives of the Belarusian public and urges them to express solidarity with the arrested persons and their families and give to them the necessary support.

Free Elections Impossible In Belarus, Media Leaders Say

RFE/RL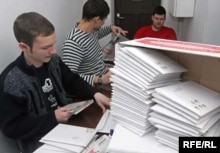 Members of the "Narodnaya volya" staff send out copies of the paper in an effort to circumvent government restrictions

Press freedom advocates said today that tight government restrictions on the media make free elections in Belarus impossible.

Voters in Belarus are due to go the polls to elect a president on 19 March.

The media advocates held a joint news conference in Moscow to highlight their concerns.

Alex Lupis, of the U.S.-based Committee to Protect Journalists, said no election can be valid when voters are deprived of independent news about the candidates and their positions.

Oleg Panfilov, head of the Moscow-based Center For Journalism in Extreme Situations, said it was "impossible for Belarusian society to evaluate" the candidates.

Svetlana Kalinkina, managing editor of "Narodnaya volya," a leading Belarusian opposition newspaper, said the government is using overt threats as well as financial pressure to drive independent media out of business.


Scandal

Lithuania Refutes Accusation of Belarusian Side

Charter '97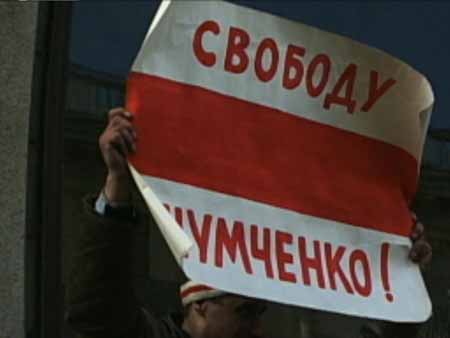 Lithuenia bindingly denies allegations

Lithuanian Ambassador to Belarus Piatras Vaitekunas refutes information contained in the article "Teenagers Trained to Rake Up Fire of "Revolution" published in the newspaper "Zvyazda" on February 7. It was stated in the article that at the territory of Lithuania rebels for Belarusian opposition are trained.

"I bindingly state that your allegations in this article about some camps for training youth groups to use methods of street rallies and to resist to law-enforcing agencies are in contrary to fact," P. Vaitekunas wrote in a letter addressed to the editor-in-chief of the newspaper "Zvyazda" Uladzimir Narkevich. The diplomat also expressed a hope that his letter would be accessed by the "Zvyazda" readers.

An analogous letter has been sent to the editor-in-chief of the "Respublika" Anatol Lemyashonak. The ground for that was an article of Yauhen Rostsikau "Radicals in Short Trousers", published on February 9. The author of the article also stated that there are camps for training Belarusian militants at the territory of Lithuania.

Milinkevich's HQ Head Summoned to Prosecutor's Office Of Belarus


CHARTER '97


Alexander Milinkevich

Syarhei Kalyakin, the head of HQ of democratic candidate Alyaksandr Milinkevich, is summened to the Prosecutor's Office on Monday, February 13 at 9 a.m. He is to provide explanations concerning his press conference on January 28.

As we have informed, on January 28 a press conference of the single democratic candidate's chief of campaign headquarters Syarhei Kalyakin and the head of Milinkevich's initiative group Alyaksandr Bukhvostau was held. It was dedicated to the results of signatures collection for nomination of Alyaksandr Milinkevich as a candidate for presidency in Belarus.

At the press conference Syarhei Kalyakin said that the regime is not too nice about the means for achieving its aims: "We are observing a fully criminal action, a crime. Heads of enterprises, administrations, executive authorities, educational institutions, and what is the most dangerous, workers of law-enforcing agencies and prosecutor's office, who are to enforce the law, are drawn in this crime. In all bodies of internal affairs and prosecutor's offices, a forcible collection of signatures in support of Lukashenka was carried out. Moreover, administration of enterprises and agencies took part in that, which is directly prohibited by the Electoral Code".


Economics

Decree amendment believed to boost quality of bank services

Belta


The National Bank of Belarus

As Belarusians no longer have to produce passports to buy foreign currency, Belarusian banks are expected to improve their quality of service.

Representatives of the central exchange regulation and exchange control department of the National Bank of Belarus explained, in particular, the measure will decrease by threefold the time a natural person has to spend to buy foreign cash at a currency exchange office. At present the operation takes 3-5 minutes.

BelTA reported earlier, in line with the Belarusian president's decree #2 of February 9, 2006, natural persons willing to buy foreign cash no longer have to produce their passports. Now outdated, the measure was introduced in 1997 to tame multiple exchange rates. It was meant to liquidate misbalance between foreign cash demand and supply and prevent shadow market speculations.

Measures implemented by the National Bank to stabilise the domestic foreign currency market and remove the misbalance of demand and supply proved to be successful, as shadow market operations dwindled and most exchange operations became official.

BelTA noted earlier, in 2005 the volume of foreign cash Belarusians bought exceeded the amount of sold foreign cash by USD 470 million. Specialists attributed the rising demand for foreign cash to the growing living standards of the population and the rising number of foreign currency loans issued to cater to consumers' needs.

According to the National Bank, in 2005 in Belarus the number of currency exchange offices grew by 12 per cent to make 3,425 as of January 1, 2005.

However, in line with the law "Measures to prevent money laundering" natural persons still have to produce passports when they buy a foreign currency sum, which exceeds 2,000 basic units.


Sports:
Belarus and the Olympics

Here is a list of the Belarusian Olympic team complete with current results:



Olena Zubrilova

Aidarov, Alexei Biathlon
Ananko, Ludmilla Biathlon
Anisimov, Maksim Ski Jumping ( 33rd place Men's NH Individual Final Rankings, 28th place Men's NH Individual Qualification Round)
Chaadaev, Petr Ski Jumping (45th place Men's NH Individual Qualification Round)
*Dashinski, Dmitri Freestyle Skiing
Davydov, Sergei Figure Skating
Dolidovich, Sergei Cross Country
*Dratchev, Vladimir Biathlon (43rd place Men's 20 km Individual)
Elsakova, Julia Short Track ( 3rd in heat, did not qualify for Women's 500 )
Grishin, Alexei Freestyle Skiing
Ivanova, Ekaterina Biathlon
Khatylyov, Aleksey Speedskating
Korolik Shablouskaya, Ludmila Cross Country (44th place Women's 15 km Pursuit (7.5+7.5))
Kotyuga, Anzhelika Speedskating
Kushnir, Anton Freestyle Skiing
Lasutkin, Alexander Cross Country
Lopatina, Viktoria Cross Country
Mikhailov, Vitaly Speedskating
Nazarova, Olga Biathlon
*Novikov, Sergei Biathlon (20th place Men's 20 km Individual)
Radkevich, Svetlana Speedskating
Rak, Dmitri Freestyle Skiing
Rudakova Bulauka, Ekaterina Cross Country (49th place Women's 15 km Pursuit (7.5+7.5))
Ryzhenkov, Oleg Biathlon
Sannikova, Alena Cross Country (43rd Women's 15 km Pursuit (7.5+7.5))
Slivets, Oly Freestyle Skiing
Slivets, Timofei Freestyle Skiing
Syman, Alexandre Biathlon (72nd place Men's 20 km Individual)
Tsuper, Alla Freestyle Skiing
Valiullin, Rustam Biathlon (46th place Men's 20 km Individual)
Vasiljonok, Olga Cross Country (51st place Women's 15 km Pursuit (7.5+7.5))
Zikounkova, Ksenia Biathlon
*Zubrilova, Olena Biathlon