Belarusian Business, Russian Oil, Viasna wins award, Skrebets trial, Elections gossip, Belarusian skier wins the gold
From the Top

Loss-Making Enterprises Will Be Able to Expand Production Activities

From the office of the president


Lukashenka is trying to show Belarusian businesses how to do it
President of the Republic of Belarus Alexander Lukashenko signed into action Decree No 27 "On debt restructuring and some other measures for the financial sanation of loss making state-owned organizations."
By putting this document into effect, it will be made possible for the loss making state-owned organizations to release blocked accounts and to make only mandatory current payments, to use the loan resources of banks for the current and investment purposes, in short, it will ensure the expansion of production activities.
The president of the Republic of Belarus has also congratulated the editorial staff of the newspaper "Belorusskaya Niva" on the 85th anniversary of the first issue of the periodical.
"Today, the State accords great attention to the comprehensive support of the agrarian sector, to the betterment of living conditions of rural toilers. It is gratifying to see that the newspaper "Belorusskaya Niva" makes it a priority to offer its pages to the coverage of the progress in implementing the State Programme of rural revival and development for 2005-2010," the message of felicitation says
TRANSITION TO EUROPE GAS PRICE REGARD ALL GAZPROM COUNTERAGENTS
Itar/Tass
Alexander Medvedev
MOSCOW, Transition to European gas prices will be related to all Gazprom counteragents, including Belarus, Gazprom Board Deputy Chairman Alexander Medvedev said.
The Prime-Tass news agency quoted Medvedev as telling a teleconference on Monday that in order to set prices for Belarus Gazprom would proceed from Gazprom's interest in property of the republic. Gazprom is planning to hold talks on this issue with Beltransgaz in 2006, the company's board deputy chairman stressed.
Gazprom owns the Belarussian section of the Yamal-European gas pipeline. "We should not forget about the existing ally relations between Russia and Belarus," Medvedev said. The economic effect outstripped gas prices for Belarus, he added.
Medvedev said RosUkrEnergo will supply 56 billion cubic metres of Central Asian gas and 17 billion cubic metres of Russian gas to Naftogaz Ukrainy in 2006.
The price to be charged by Ukraine for the transit of Russian gas through its territory in the next five years will be 1.6 U.S. dollars per 1,000 cubic metres for every 100 kilometres, as follows from an agreement signed by Russia's Gazprom and Ukraine's Naftogaz. Gazprom made an advance payment for transit by the old rate of 1.09 U.S. dollars per 1,000 cubic metres for every 100 kilometres, Medvedev said.
Therefore the actual transit price will be less than 1.6 U.S. dollars for the next five years, Medvedev said.
He said the price of 1.6 U.S. dollars would also apply to Central Asian gas that is transported to Ukraine through Russia.
RUSSIA AND BELARUS SIGN GAS TRANSPORTATION AGREEMENT
JANUARY 15 2006
From www.alternativanews.com and emeconomy
Gazprom will supply 21 billion cubic meters of gas to Belarus
Russia and Belarus have signed a gas transportation agreement, which envisages to increase the transportation of Russian gas to Europe. Under this agreement, Belarus will get Russian gas at the same price as last year.
In accordance with the agreement signed by Alexander Ryazanov, the Deputy Chairman of Russian's gas monopoly Gazprom and Dmitry Kazakov, General Director of Belarus' national gas company Beltransgaz, Gazprom will supply 21 billion cubic meters of gas to Belarus. Prices for gas supplies and transportation tariffs will remain the same as in the 2005 contract.
After the two sides signed the accord, Ryazanov, the Deputy Chairman of Gazprom, said that the prices offered by Gazprom were economically justified and fair, adding that Gazprom's policy with regard to Belarus would be beneficial to both the Russian government and the company's private shareholders.
Commenting on the agreement, Alexandre Garese, French attorney at law and an expert on Russian commercial law, said that the agreement between Russia and Belarus shows that Russia's gas giant Gazprom is moving towards global market principles in the energy sector. Garase has also added that the gas transportation agreement between the two countries will strengthen and further boost Russia's gas supplies to Europe.
Ukrianian Government Scandal
UKRAINIAN SPEAKER CALLS FOR CABINET CHANGES TO RESOLVE STAND-OFF
RIA/Novosti
Lots of unrest in Kiev as it appears that the "Orange Revolution" has been peeled
The Speaker of the Ukrainian parliament Monday dismissed as unrealistic calls for the reversal of its decision last week to dismiss Yuriy Yekhanurov's government, but said that the resolution could be cancelled if changes were made to the Cabinet.
"The Supreme Rada cannot adopt a resolution and make the opposite decision a few days later," Volodymyr Lytvyn said. The resolution could not be ignored, he said, as it had already come into effect and no appeals had been made against it.
But he proposed a "partial rotation" within the cabinet, expanding parliament's support for government.
"After that, we could either cancel the resolution or adopt another version," Lytvyn said.
Lytvyn also said that President Viktor Yushchenko, who demanded last week that the parliament rescind its resolution to dismiss the government, could nominate a new candidate for the premiership who would attract parliament's support.
Otherwise, each side will defend its position "pretending that nothing has happened," he added.
Earlier on Monday, a bill was submitted to parliament claiming that the resolution in favor of dismissing the government - which the Supreme Rada adopted after debating how the Yekhanurov Cabinet had handled a gas price dispute with Russia - was in breach of the country's constitution.
Parliament is expected to examine the bill later this week.
NEO-NAZIS MARCH IN BELARUS
From JTA
This gazette has nothing to say about these… people
About 30 neo-Nazis marched recently in the city of Grodno, Belarus, according to the Russian Jewish Web site Jewish.ru.
The marchers screamed "Heil Hitler!" and insults directed at local anti-fascists. Several bystanders were beaten before the marchers dispersed upon spotting the police. A local journalist was quoted in the report as saying that neo-Nazis had become much more active in Grodno lately.
City police said that they had no information about the incident.
VIASNA HUMAN RIGHTS LEADER WINS SAKHAROV PRIZE
RFE/RL
The BHTimes wholeheartedly congratulates Viasna and Mr. Byalyatski on their award and salutes their longstanding contribution to the betterment of the Republic of Belarus.
16 January 2006 -- A leader of a human rights group in Belarus has been named the winner of a Norwegian human rights prize, the Sakharov Freedom Prize.
The Norwegian Helsinki Committee praised Alyaksandr Byalyatski, chairman of the Human Rights Center Vyasna, for the legal, political, and practical support that he has offered to victims of the authoritarian government led by President Alyaksandr Lukashenka.
The prize is named after Andrei Sakharov, the former Soviet dissident and human rights campaigner who won the Nobel Peace Prize in 1975.
SUPREME COURT OVERRULES SYARHEI SKREBETS' MOTION
Chatrter '97
Sergei Skrebets
A presidential challenger to Lukashenka, Sergei Skrebets, has gone on trial in Minsk, charged with financial crimes in a case that he insists was fabricated as a means of removing him from the presidential race.
Skrebets, a former parliament deputy, is running as an independent in the election, which is scheduled for 19 March.
The Supreme Court today overruled the motion of the ex-deputy of the Belarusian Parliament about the challenge of the participants of the court proceeding. According to Interfax the court mentioned insufficient statement of motivation of Skrebets' claims as the reason for the decision.
On account of Skrebets' statement that he allegedly did not sign the copy of the Supreme Court decision about the commencement of court hearings, the Court adjourned for verification of this information.
The court sitting is to resume on Tuesday.
S.Skrebets has been charged with three offences of the Criminal Code of Belarus: "Bribery", 'Planning a crime' and 'Illegal commercial activity'.
At the end of 2005 the Central Executive Committee registered the initiative group in support of S.Skrebets as a contestant for presidency.
The observers agree in their pointing out the political background of the criminal action against Syarhei Skrebets. In summer 2004 he took part in a hunger strike of the "Republika" deputies who demanded democratization of election legislation. In 2004 he was one of the initiators of the action devoted to the expiration of the ten-year presidential term of Alyaksandar Lukashenka.
9 RUSSIANS DETAINED IN BELARUS AFTER SPRAYING GRAFFITI
Pravda.Ru
There are differences in the reporting as to who had done the graffiti
Police in the Belarusian capital Minsk have detained nine Russians for allegedly spraying graffiti on a downtown movie theater, officials said Monday.
Police spokesman Oleg Slepchenko said that the Russians were taken into custody on Saturday and may face charges of hooliganism, which is punishable with three months up to a maximum sentence of six years. "Some of the slogans contained swear words," said the official.
According to the police, the detained Russians do not belong to any political organizations but are into punk music.
A member of a Belarusian anarchist group, Anastasiya Hekazakova, told The Associated Press that some of the graffiti targeted the former Soviet republic's authoritarian President Alexander Lukashenko.
"It was an informal protest against the arbitrary rule in Belarus," she said.
Among those detained are members of a Russian anti-fascist movement and a Russian punk group that gave a concert in Minsk.
A spokesman for the Russian Embassy in Minsk, Alexander Frolov, said that consular officials had contacted Belarusian authorities in connection with the arrests.
NOTE: According to another news source, the story went like this: From ISN SECURITY WATCH
The authorities in Belarus have detained 11 Russian and Belarusian human rights activists for painting opposition graffiti on a wall in the capital, Minsk, Radio Free Europe/Radio Liberty reported.
The nine Belarusian and two Russian activists were members of the "We" human rights organization. They face up to five years in jail if found guilty.
The head of the rights group, Roman Dobrokhodov, told RFE/RL that the arrested Russians had not come to Minsk with the aim of carrying out political activities.
Elections
STUDENTS FORCED TO SIGN FOR LUKASHEKA
Charter '97
More student protests
Students of Maxim Tank Belarusian State Teachers-training University have written a letter to the Charter'97 press center. They tell about an incident which is absolutely unprecedented in its lawlessness. Not only heads of faculties, but even officers of law-enforcing agencies are compelling the students of the university to give signatures in support of Lukashenka's nomination for presidential race. One of the students who had refused to sigh was even beaten by them. We offer you the full text of the letter:
"Dear Charter'97!

We are students of Maxim Tank Belarusian State Teachers-training University. We cannot write our names, and you will understand why. We have to address you after an unprecedented episode on Friday 13. That day was really a black Friday for all those who were passing exams from 11 a.m. until the afternoon in the main building of our university in Independence Square.

The all thing began earlier. For the whole last week, starting from Monday, representatives of the deans' office were visiting every room in the hostel in Artylerystau Street. They warned that every student must bring a passport to exams. Those who had passports at the places of their registration in other towns (in police, at passport and visa services and so on), were demanded to phone home, and write down their passport details. On Thursday, before the exam, dean Dyshchenka announced that only after students would give a signature in support of YOU KNOW WHOM, they would be allowed to pass exams. He argued in favour of this illegal order that our university is a state one, and we must support the head of the state. He said that we can vote for anyone we like, but we must help one candidate during election campaign. And if you want to sign for anyone else, you can sign in the street where pickets are standing. He said that to sign for HIM is our civic duty, and for others is our right.

Some students refused to sign, and they were not allowed to pass exams under a pretext of absences from school. It was on Thursday 12, and on the next day something unbelievable started. All students who refused to submit signatures were invited to the 4th floor to the office of Mr Dyshchenka. Two officers in police uniform and one in mufti were sitting there. Dean rudely and categorically, almost like an ultimatum demand, ordered to sign in support of Lukashenka. He threatened by expulsion from the university. People in uniform promised that the students would have "problems with the criminal law", and a person in mufti (dark grey suit, about 35 or 40 years of age, crewcut) was sitting silently and observing.

One of the students, Ilya Areshnikau, a 4-year-student, said politely that he would not sign anything as these demands are illegal, and asked the men present themselves. Then one of the officers opened his dark brown credentials.

Ilya has not noticed what was on its cover, except for the "cabbage" (state coat of arms), but he read "police captain Skarbogatko" inside. The captain hid the document and told that now Ilya should respond by signing the sheet of paper. When Areshnikau refused again, the captain suddenly stood up (he was sitting by a little table), seized Ilya's hair (the guy has long plaited hair) and unexpectedly hit his face against the table. Ilya's tooth was broken, his nose was bleeding, and another tooth has come loose. Some documents and a sheet of paper with signatures were splashed with blood. A person in mufti jumped to the captain and pulled him back, saying him to use force in different place. And dean Dyshchenka left his office immediately.

Skarbogatko gave a sheet of paper to Ilya and said it's just a beginning. He advised him "To show his gap-toothed face to everybody to be a teaching aid to all law-lovers".

We recommended Ilya to go home (He is a dweller of Staryja Darohi) and to register the signs of beating in a hospital officially. He left Saturday morning, and we, students who live in a hostel, decided to do something. Maybe we should organize a students' trade union to defend all students from arbitrariness, which is gaining momentum.

We do not know is it worth to publish this letter. We only want to share our concern. If SUCH facts are taking place now, 2 months before the elections, what is yet to come? And in which way the authorities want to gain loyalty of students, if they act in this way?

We believe this incident should not be forgotten. The time will come, and a new "Nurnberg Tribunal" would consider all these crimes.

We propose you, dear workers of the Charter'97, to open an information bank of such events. Then all the tricks of the authorities could be disproved by facts, though they apparently would cry about their innocence.

Ilya Areshnikau called today and said that he had officially documented all the evidence of beating. He is going to buy a mobile phone soon, and we shall give you his number to contact him personally.

Yours respectfully

Students of the 3rd and 4th year of Maxim Tank Belarusian State Teachers-training University
(more than 30 students)
COLLECTOR OF SIGNATURES FOR ZIANON PAZNIAK FACES PROVOCATION AT WORK
According to Viasna and the informational commission of the Conservative-Christian Party BPF
Now just sign here and you won't feel a thing
On 12 January Ihar Loban, member of the initiative group for registration of Zianon Pazniak as a candidate to the presidential election was summonsed to the office of the administration of Liakhavichy District Outpatient Hospital. Ihar Loban works there as a doctor. The chair of Liakhavichy District Executive Committee Ivan Klisheuski and the vice-chair of the executive committee on ideology met him there.
They stated that according to their information, he terrorized his patients, saying he wouldn't accept them in the case they didn't sign for Zianon Pazniak. I. Loban answered said it was false and he considered this action of the local administration as an attempt to pressurize him.
SOCIAL WORKERS PINCH SIGNATURES IN SUPPORT OF LUKASHENKA
Charter '97
The postman always rings twice
The following accident happened to Tatsyana Kolyshava who lives in Minsk. On 13 January the postman of the local post office №13 brought Tatsyana's ninety-one-year-old father Uladzimir Josefavich his pension. Before handing the money the postman asked him to sign in support of Lukashenka's taking part in presidential elections.
Tatsyana Kolyshava asked the postman if she was associated with Lukashenka's initiative group. The woman replied that each postman was ordered to collect at least 5 sheets of signatures (18 signatures per sheet) in support of the acting president. She complained that she had prepared one sheet already, but she had no idea where to get signatures for the 4 sheets that were left. That was the reason why she was asking for help.
US COUPLE SENTENCED FOR ABUSING ADOPTED KIDS FROM RUSSIA
MosNews
Utah couple punished for unacceptable behavior with their adopted children
A U.S. couple from the state of Utah accused of beating and starving their two adopted children from Russia have been sentenced to probation, with jail time and fines stayed pending their adherence to probationary rules, Associated Press reported.
Teresa Hansen, 41, and her husband, Reed Hansen, 38, are now required to pay $35,000 into a trust fund for the two children, who now live with other families. The children can use the money for college or church missions at 18, and whatever money remains will be turned over to them at 25.
The Hansens originally were charged with felonies and were accused of withholding food as a form of punishment, beating the children with a wooden stick and forcing one to sleep in a bathtub without a blanket or pajamas.
On Monday, 4th District Judge Gary D. Stott sentenced Teresa Hansen to one year in jail and up to $5,000 in fines, which will be imposed if she does not complete two years of probation and pay the money into the trust. Reed Hansen was sentenced to six months in jail and $2,000 in fines with the same requirements. Stott said the probationary period could be shortened if the money is paid into the trust early.
The brother and sister, who were adopted from Russia, were 4 and 5 when the charges were filed. They are 7 and 8 now and live with new adopted families, are doing well in school and are happy and healthy, Utah County Deputy Attorney Sherry Ragan said.
The Hansens also have three biological children, of whom they still have custody.
Prosecutors have said they were satisfied with the plea agreement, which spared the children a lengthy trial and provides for them financially.
RUSSIAN BOMBER CRASHES IN FAR EAST
RIA/Novosti
Apparently this is what was left of the Su-24 Fencer tactical bomber
A Su-24 Fencer tactical bomber crashed Monday in Russia's far-eastern Amur Region, the Defense Ministry said.
There were no casualties, as the two pilots safely ejected from the plane and were rescued by a helicopter, the ministry said.
"The doctors described the condition of the pilots as satisfactory," Air Force spokesman Colonel Alexander Drobyshevsky said. "The crew has been transported to the base airfield and is undergoing a medical examination."
"According to preliminary data, a control failure caused the accident," he said, adding that the plane had been guided to an area where the pilots could eject safely after receiving permission from an air traffic control center.
A special committee has been established to investigate the crash.
The Su-24 is a tactical bomber with similar capabilities to those of the American F-14 Tomcat or the British Tornado. It can maintain supersonic speeds while flying low and is equipped with terrain-following radar and laser-designators for guided weapons, which means the plane can approach enemy targets beneath radar coverage and attack with pinpoint accuracy.
About 650 Su-24s are thought to have been built, but many have been removed from service since the collapse of the Soviet Union.
BELARUSIAN UNIVERSAL MERCANTILE EXCHANGE TO START TRADING IN DRY MILK, CASEIN IN JANUARY
Belta
Belarus is about business
Belarusian Universal Mercantile Exchange OJSC has opened a department to trade in agricultural products, company representatives told BelTA.
Specialists noted, January 17 will see the first trade sessions to export dry skimmed milk, January 20 – technical casein. Besides, on January 24 the mercantile exchange is expected to sell crude cattle hides for export. Customers will be offered wet-salted hides.
Let us remind you that the Belarusian Universal Mercantile Exchange has sold Br 128 billion worth of timber, metal and agricultural products during the first seven months of its operation (June-December 2005).
Belarusian Universal Mercantile Exchange open joint-stock company was registered in May 2004. The exchange was set up to improve state regulation of domestic and foreign trade, develop the organised wholesale market, ensure equal market access and create additional economic stimuli for commercial entities. In June 2004 exchange trade rules were adopted as well as a list of goods subject to exchange trade. The first trade sessions were held in early June 2005.
Opinion
DEFUSE RUSSIA'S ENERGY WEAPON
From Keith Smith for the International Herald Tribune
An off shore oil rig working hard to keep Russia important to your lives
WASHINGTON The recent "gas war" between Ukraine and Russia was viewed by too many in Europe and in America as a short-term crisis that raised questions about Russia's reliability as a stable supplier of energy. It's time the West ended its complacency regarding Russia's willingness to use its considerable energy resources for political blackmail.
Moscow's deployment of the "energy weapon" dates from 1990, when it cut energy supplies to the Baltic countries in a futile attempt to stifle their independence movements. It was again used against the Baltic states in 1992, in retaliation for demands that Russia remove its remaining military forces.
In 1993 and 1994, Russia reduced gas supplies to Ukraine, in part to pressure Ukraine into ceding more control over its energy infrastructure and over the Black Sea Fleet. Even Belarus, and indirectly Poland and Lithuania, suffered in 2004 from politically motivated supply reductions.
Why has the European Union, and particularly the large gas importers like Germany, the Netherlands and France, ignored the lack of transparency and competition in Russia's energy sector? The Russian pipeline monopolies of Gazprom (natural gas) and Transneft (oil) have been given free rides in terms of the open-market requirements of the World Trade Organization and the EU's own energy charter.
The EU's agreement with Russia on its entry to the WTO gave Moscow's increasingly monopolistic pipeline and production companies' carte blanche. Russia has been able to increase its market power in Europe through the construction of the expensive undersea Baltic Pipeline System.
The West ignored Gazprom's takeover, with Ruhrgas' help, of domestic gas facilities and markets in the Baltic states. It disregarded Transneft's preventing Kazakhstan from supplying oil to Lithuania's Mazheikiu Nafta Refinery through the Russian pipeline system, even though it has the legal right to do so.
Russia has stopped all piped shipments of oil to Latvia for the past two years in an effort to control the port of Ventspils. Now, Moscow is again attempting to keep non-Russian companies from buying Lithuania's Mazheikai Nafta Refinery and the port at Butinge.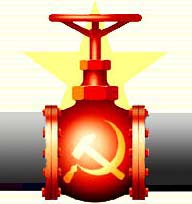 Should this use of raw energy power not be a subject for discussion within the European Commission?
Does the West believe that it needs Russian energy supplies more than Russia needs the oil and gas revenue that comes from Western markets? Russia cannot develop its vast energy fields without Western capital or technology, but there has been no inclination by either the EU or the United States to use their considerable leverage to force Russia to play by transparent, competitive rules that guide business in the West, partly because of competition by Western companies for exploration and production rights in Russia.
The Russia-Ukraine "gas war," which recently drew the world's attention to Moscow's energy blackmail, was purportedly resolved to the satisfaction of both sides on Jan. 4, but few people familiar with political and economic relations between Russia and Ukraine believe that this agreement will last very long.
Moscow's requirement that all gas to Ukraine be contracted by the nontransparent company RosUkrEnergo, the direct successor to the even less transparent EuralTransGas, raises questions about the reliability of future European gas supplies that originate in Central Asia.
Russia's political agenda in using gas prices to punish the pro-Western government of President Viktor Yushchenko is clear from statements made by Russian supporters of Gazprom's hard line and from remarks by Russia's few remaining reformers.
Ukraine's politicians, however, deserve some of the blame for the present situation. Kiev has allowed corrupt oligarchs to continue to control gas deliveries from Russia. More damaging in the long run is the Yushchenko government's lack of movement in developing a level playing field for domestic and foreign energy investors.
Ukraine could substantially reduce its dependency on Russia through rapid reforms that permit open tenders for exploration rights and a welcoming atmosphere for legitimate foreign energy investors. Instead, the cozy relationship between Russian and Ukrainian energy interests persists, even after the New Year's Day reduction of gas supplies.
The West has the economic and political leverage to force Russia to become more transparent and commercial in its foreign energy policies. It cannot allow Moscow to threaten the security of Europe, particularly the new democracies of Central Europe, through neglect or unwillingness to face down the new imperial mindset in the Kremlin.
(Keith Smith, a senior associate at the Center for Strategic and International Studies in Washington, was U.S. ambassador to Lithuania from 1997 to 2000.)
Culture
MINSK TO PLAY HOST TO INTERNATIONAL ART FESTIVAL OF FESTIVALS
Belta
Smoktunovskiy playing "Uncle Vanya"
For the first time international theatre and television "Festival of Festivals" will take place in Minsk on October 16-22, 2006, informed representatives of the Russian theatre and television support charity fund "Maski" named after Innokentiy Smoktunovskiy, which initiated holding the prestigious festival in the Belarusian capital. The forthcoming festival will be dedicated to the 10th anniversary of the Belarusian-Russian Union relations.
The Minsk festival will be festival number eight. Earlier all forums arranged by "Maski" fund were held in Russia only. The source noted, in recent years the contribution of Belarusian art figures was most prominent and decisive. The Russian public were especially pleased with performance by Belarusian scene maestros staged at the recent festival, which was dedicated to the 60th anniversary of the Victory. Therefore, they decided to hold the next "Festival of Festivals" in Minsk.
The festival does not include any contests. Its major target is to show an interconnection of the cultures of Belarus and Russia. "It will be a celebration of unity and there is no doubt that it will be held at a high professional level", the source underlined. The forum will be also supported by the culture ministries of Belarus and Russia, mayor of Moscow Yuri Luzhkov and the Union State Permanent Committee.
Well-known Belarusian playwright, chair of the Theater Union of Belarus Aleksei Dudarev will co-chair the council of experts who will
Select the plays for the festival. Aleksei Dudarev and People's Artist of Belarus, art director of Maxim Gorki National Academic Drama Theater Boris Lutsenko went to Moscow to discuss different organizational issues connected with the forthcoming festival.
The Russian charity fund "Maski" founded by Innokentiy Smoktunovskiy and Galina Ulanova is a very prestigious organization. It unites famous artists from different countries and generations. One of the goals of the organization is to support actors in the countries of the former Soviet Union. The organization currently headed by famous actor Aleksei Batalov unites such celebrities as Vladimir Zeldin, Vladimir Etush, Vasiliy Lanovoi, Vera Vasileva, Natalia Durova, Liudmila Liadova, Nikolai Slichenko and many others.
One of the first members of the "Maski" international theater academy was People's Artist of the USSR and Belarus Stefania Staniuta. Today Belarus' representatives in the academy are Rostislav Yankovskiy and Boris Lutsenko.
BELARUSIAN OFFICIAL DELEGATION VISITS MSU LOMONOSOV LIBRARY
Belta
Vladimir Matveichuk
An official delegation guided by Belarusian culture minister Vladimir Matveichuk visited Moscow today. The delegation included deputy culture minister Valeriy Gedroiz, chief architects of the new building of the National Library of Belarus Mikhail Vonogradov and Vitaliy Kramarenko, representatives of the institute Minskproekt and employees of the National Library.
The press-service of the Belarusian culture ministry reported to BelTA that the delegation aimed to get familiar with the scientific activity in the new building of Lomonosov Moscow State University.
During the meeting between the Belarusian delegation and the administration of the Moscow library the parties changed experience in the fields of library management, provision the facility with technological systems and of generation of information resources. Besides, the parties touched upon the issues of exploitation of the library and peculiarities of organization of the work of the personnel under moving to a new building and ways and most effective methods of moving the stock of the library to the new building as well as interior decoration techniques.
Sports
DASHINSKI, XINXIN WIN FREESTYLE AERIALS
Yahoo News
Belarus' Dmitri Dashinski competes in the men's aerial World Cup freestyle skiing finals Saturday
PARK CITY, Utah - Aerialist Dmitri Dashinski of Belarus overcame gusting winds Saturday night to win a one-round World Cup contest at Deer Valley resort.
Dashinski received 130.53 points for his full, double-full, full (four twists, three flips) after nearly a two-hour delay for safety reasons because of erratic winds after what was to have been the women's qualifying round.
"This is what it's all about — to go and to win," he said.
Belarusian Alla Tsuper has also won a bronze at the competitions in the USA. Together with Assol Slivets she will also partake in the Turin-2006 Games.
This season the Belarusian freestyle athletes have claimed seven World Cup medals. Among the prize winners is the Salt Lake City Olympic bronze medalist Alexei Grishin.
Chinese skier Xinxin Guo won the women's event with 98.82 points when organizers elected to cancel the final round and declare the qualifying round as the official competition. Second place went to Canadian Veronika Bauer at 93.76 with Alla Tsuper of Belarus completing the podium (92.29).
The meet was stopped temporarily when Russian Dmitri Arkhipov, who won the aerials world championship at Deer Valley in 2003, crashed as he started the first round. He was taken to a Salt Lake City Hospital with a reported concussion and shoulder injury.
Top American in the men's meet was Olympic silver medalist and local favorite Joe Pack, who was sixth, while Emily Cook led the U.S. women, also finishing sixth.
The World Cup tour heads next to Lake Placid, N.Y., for two moguls contests and an aerials meet Jan. 20-22. The U.S. Olympic Freestyle Team will be announced Jan. 25 at Deer Valley.