Lukashenka calls for less bureaucracy, Candidates file, Union State, Russian Public chamber, Kseniya Sitnik gets local reward, Belarusian Models
From the Top

SNOWFALL LEAVES OVER 140 BELARUSSIAN VILLAGES WITHOUT ELECTRICITY

(Itar-Tass)


White Christmas blackouts
Over 140 towns and villages in the Brest and Grodno regions of Belarus remained without power as a result of a heavy snowfall, Tass learnt on Sunday at the republican Ministry for Emergencies.
Wet snow stuck to power transmission lines which snapped under its weight.
Emergency repair teams in the Brest Region managed to restore power supplies to nearly all towns and villages. The situation remains much difficult in the Grodno Region. According to information from the Ministry for Emergencies, power supplies have not been restored to around 80 towns and villages in the region by this morning. This notwithstanding, all projects, necessary for population's normal life, operate normally, the ministry emphasized.
PRESIDENT LUKASHENKA ATTACKS RED TAPE
From Belta and the office of the president
As campaign promises go, this is a winner!
The procedure of resolving the problems which make people have recourse to government institutions must be radically changed from the 1st of January 2006, emphasized President of the Republic of Belarus Alexander Lukashenko at today's meeting which was focused on implementing the assignments by the Head of State related to debureaucratization of the work of government organizations. "The topic of today's discussion is very important and urgent because it touches upon every person and the society as a whole. This is the problem of eradicating bureaucratization in the activities of the government institutions where people turn for help, noted the Head of State. - As of today, there is no task more important than this one. We will not be able to build the state for the people without resolving this task."
Lukashenko noted that bureaucracy inevitably undermines the roots of the state as well as the people's trust in the state, its bodies and institutions, it brings about social apathy and spite. It is possible to fill shelves in shops with goods and give good salaries to people. But if citizens face indifference and even rough treatment from officials, all benefits of the state will become nothing.
The head of state emphasized, administrative barriers substantially influence the investment attractiveness of any country and the business environment as a whole.
Therefore, the president commissioned all authorities with eradicating bureaucracy and red tape.
"It is not citizens who are to accommodate the authorities, but it is the authorities who are to serve citizens. A solid state system should be set up which would work for the citizens.
"However, not only authorities are "infected" with red tape", the president underlined. "People face many problems in attempts to give products of low quality back to shops. Every day doctors and teachers have to fill in a lot of different applications and to give reports. They simply have no time to treat and teach. This is why we should combat this evil in all spheres. And this work will be systematic and deliberate."
Lukashenko believes that all-levels of officials should be accessible for people. "Certain managers have become too bureaucratic. They have surrounded themselves by dozens of aides, councilors, inspectors and secretaries. The president does not have even a half of such a number of people".
Lukashenko deems it inadmissible that "a worker who comes to see officials seeking for assistance is forced to queue up for hours pondering over whether they would deign to concede his request or he would have to go home empty-handed. There should be no such things like when a man spends his day-off or gets permission to be absent at work and fails to get through to an official".
"We should put an end to red tape, the head of state stressed. – A person should come to an organization no more than two times. The first time – to inquire and the second – to have the document handed out. The organization itself should send inquiries to other agencies rather than have this man running to and fro getting various papers. This is the essence of the one-stop organization approach.
The Belarusian leader warned officials that their accountability will be extremely tough for unwarranted demands to citizens who seek for assistance, protracting in handing out documents and drawing up unauthorized working schedules.
Interaction between people and authorities should be raised to a new level: accessibility, simplicity and efficiency in resolving urgent problems of ordinary people.
At the same time the president noted: "I do not expect you to settle all issues that our citizens are concerned about. Let people overcome on their own those problems which they have to solve for their families. However, it is our duty to help them in those spheres, where we can do it".
UNION STATE PARLIAMENTARIANS TO DISCUSS SOCIAL POLICY
Belta and Itar Tass
Putin and Lukashenko
A sitting of the commission for social policy, science, culture and humanitarian issues of the Belarus-Russia Union State Parliamentary Assembly will take place in Minsk December 26, BelTA has been told in the PA.
The deputies intend to consider the results of 2005 and the schedule of the commission for 2006. The deputies will discuss the prospects of international activity of the Parliamentary Assembly, the program "Formation and development of the single education space of the Union State, the events in this sphere and also the results of the Year of Culture of the Russian Federation in the Republic of Belarus.
Also along these lines the State Duma has ratified the Russian-Belarussian intergovernmental agreement on the use of a standard migration card.
The document was signed back on October 5, 2004.
Russian First Deputy Foreign Minister Alexander Chekalin presented the agreement to legislators.
In compliance with the agreement, Russian and Belarussian citizens will be issued standard migration cards during their stay in the host country.
The chairman of the State Duma Committee on the CIS and Russian Diaspora Relations, Andrei Kokoshin, pointed out that "the agreement allows to equalize Russian and Belarussian citizens' rights."
"It is one more step towards forming a common migration policy of the union state."
"The agreement will make standard the rules of entry, departure and temporary stay of foreign citizens in Russia and Belarus," he said.
The document is aimed at promoting closer relations between the people of Russia and Belarus and state and social integration.
At present, Russia and Belarus have a simplified control regime and some illegal migrants cross the border without migration cards.
EIGHT CANDIDATES TO SEEK BELARUSIAN PRESIDENCY
RFE and Charter '97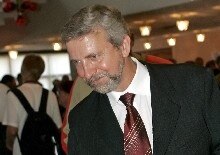 Opposition presidential candidate Alyaksandr Milinkevich

Eight men have submitted documents in a bid to become candidates in Belarus's presidential election on 19 March.
Among those submitting papers to electoral authorities for yesterday's deadline was independent Alyaksandr Milinkevich, who was chosen in October to be the sole candidate of united opposition forces.
The leader of the democratic forces of Belarus Alyaksandr Milinkevich submitted documents for registration of an initiative group for nomination him a candidate for presidency to the Central Election Committee. The initiative group of Alyaksandr Milinkevich consists of 5,136 citizens. It is headed by the leader of the Labour Party Alyaksandr Bukhvostau.
"Lukashenka has run out of cadres. A person, who previously was engaged exclusively in ideology, becomes a head of the culture. Now the culture is not to be developed, but to be used. The latest appointments Lukashenka had to make at Belarusian TV channels are a vivid evidence that we have a propagandistic TV, not an informational one, as the two all-national TV channels are headed by experts in propaganda sphere. But I think it's not for long. Our position is known: there should be a public TV in Belarus, and culture is not to be directed, but promoted in any way," were Milinkevich's comments on the appointments of the new Culture Minister, the chairman of the Belarusian State TV and Radio Company of Belarus, and the STV director.
Other hopefuls who submitted papers include Valeriy Frolov, Alyaksandr Kozulin, Alyaksandr Voytovich, and Sergei Skrebets.
Incumbent President Alyaksandr Lukashenka, who is seeking another term, and two other hopefuls -- Zenon Poznyak and Sergei Gaidukevich -- submitted their applications on 22 December.
Electoral authorities are expected to announce on 27 December which hopefuls have been registered. Those who get registered will then need to gather 100,000 voter signatures to be officially added to the ballot.
CEC: FOREIGN MINISTRY TO DECIDE WHETHER TO INVITE OBSERVERS TO ELECTION
Partnerstva
Mikalay Lazavik
The Foreign Ministry is tasked to decide on the issue concerning the invitation of international observers to the presidential election, which is to take place on March 19, the Central Election Commission secretary Mikalay Lazavik said.
"Invitation of international observers, including observers of the OSCE Office for Democratic Institutions and Human Rights (ODIHR OSCE) to the elections lies within cognizance of the Foreign Ministry," said the CEC secretary. "They know about that and are no longer bothering us," M.Lazavik said.
He also stated that the Belarusian CEC members have "serious complaints" over the assessment of election process by the ODIHR OSCE. "There should be general criteria. It mustn't be so that the same facts of election campaign were considered positive in one country and negative in another," M.Lazavik said.
He also informed that "if we would invite somebody, we would invite our colleagues from the CECs of other countries". "And [we would invite them] not as official observers entirely, but rather as guests, who are arriving to study the practice of preparation and carrying out elections, for exchange of experience," the secretary of Belarusian CEC explained.
MAZ STARTS FIRST DELIVERIES TO POLAND
Belta
Big trucks are big business
Minsk Automobile Works (MAZ) is completing the certification procedures of big trucks in Poland in order to start first deliveries of the equipment to the EU countries. This will increase the exports of Belarus to Poland in 2006, Ambassador Extraordinary and Plenipotentiary of Belarus to the Poland Pavel Latushko told BelTA.
He noted that in 2006 the efforts will be taken to diversify the deliveries of the products which deliveries are not big now. This is high technology goods, including MAZ trucks and buses.
Pavel Latushko informed that Poland, as a new member of the European Union, gets considerable financial assistance from the EU, to develop the road industry as well. "Belarusian equipment might be used to construct roads and we should make use of this opportunity", the diplomat believes.
Besides, farmers from the Podlaska wojewodztwo get significant financial assistance to grow their business. This opens a prospect to increase the deliveries of Belarusian tractors, agricultural equipment, fertilizers. "We cannot take part in these projects directly. But it is quite real to get involved in these programs indirectly. Increasing financial resources of Poland allow this country to build up its exports to the neighboring country", the ambassador noted.
Pavel Latushko also stressed that as against 2003 the Belarusian-Polish trade has surged three times. For the nine months of 2005 the trade is up by 22.4 per cent to USD 1,159 billion as against the same period of the previous year. Exports went up by 20.9 per cent to USD 694 million, import - by 25.7 per cent to USD 465 million. The abovementioned shows the mutually beneficial trade that promotes cooperation between economic agents of the two countries.
"The main thing is to preserve the positive dynamics in trade taking into account the development of the two economies", the ambassador noted.
At present Poland ranks third among European trade-economic partners of Belarus. Economy, development of the border infrastructure, tourism, ecology and joint projects in the banking sphere are pivotal guidelines of the bilateral cooperation, Pavel Latushko underlined. Today representatives of Belarusbank, Belpromstroibank, Belinvestbank and Belvnesheconombank work in Warsaw. Even the economy ministry of Poland stated that "the Belarusian banks work accurately as Swiss watches". Belarusbank, Belpromstroibank, Belinvestbank have already signed investment agreements with Polish banks.
The Belarusian-Polish intergovernmental agreement on economic cooperation will promote the cooperation in the trade-economic and investment spheres. The agreement entered into force in December 2005 after Belarus and Poland fulfilled relevant interstate procedures. The Republic of Belarus was the first among the CIS countries that signed with Poland the agreement envisaging new interaction conditions after the EU expansion. The document envisages to continue the activity of the joint Belarus-Poland commission on trade-economic cooperation and to develop mutually beneficial links in different sphere of the economy.
As BelTA has been told in the PR agency of the Minsk Automobile Works /MAZ/, the service center, which includes a technical maintenance station for 10 cars, a ground for sales and a department on selling spare parts for Belarusian trucks and buses, was set up at the Novosibirsk urban transport company. Besides, the center will be engaged in the technical maintenance of MAZ buses and municipal equipment.
In a related article, the plenipotentiary representative of the president of Belarus – vice-premier Vasiliy Dolgolev is expected to attend an opening ceremony of the MAZ service center.
In January-November 2005 MAZ manufactured Br1,583 trillion worth of products, or 112.9 per cent against the same period of 2004. The company issued 18,395 trucks, or 1 per cent more from the analogous period a year ago. In January-November MAZ produced 910 buses and trolleybuses /a 60 per cent growth/. Minsk buses are in great demand on the national and foreign markets. For the 11 months the company manufactured 6,714 trailers and semi-trailers /a 40 per cent increase/. Mogilevtransmash, the MAZ subsidiary, produced 259 truck cranes.
PUBLIC CHAMBER POINTS TO MINUSES IN NGO BILL
(RIA Novosti)
Is Big Brother watching?
The Russian Public Chamber issued a statement Friday pointing out the flaws in the bill on non-governmental organizations that the lower house of parliament passed in the third and final reading.
The chamber said the newly revised draft law had a number of drawbacks and that some provisions of the bill would lead to the formation of a new powerful bureaucratic machine.
Members of the chamber said one of the main drawbacks was the provision on annual inspections of public and non-commercial organizations to be conducted by a new supervisory body.
The statement said that under the law, organizations would be obliged to provide information about their activities on a regular basis, not upon special request.
As a result, the statement said the supervisory body's main focus would be to find grounds for the elimination or suspension of activities of public organizations in order to justify the existence of the new bureaucratic machine.
The bill stipulates registration procedures and requirements for public non-profit organizations. However, when the law comes into force, existing NGOs will not be required to re-register. Only new branches and representatives of foreign NGOs will need to obtain registration from the federal registration service.
Branches of foreign NGOs in Russia will also have to report on their programs, their financing, and the organizations they plan to deal with in Russia.
Under the final version of the law, public organizations that will not act as legal entities in Russia will not have to report to authorities about their activities.
KSENIYA SITNIK GETS GOMEL OBLAST HIGHEST AWARD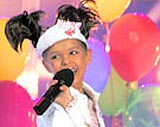 Kseniya Sitnik: all around winner!
The Gomel oblast executive committee has held a ceremony today in honour of Kseniya Sitnik – the winner of the Juniour Eurovision-2005. The ceremony was attended by heads of the oblast and regions and editors of the regional newspapers. Chairman of the oblast executive committee Alexander Yakobson presented Kseniya with the highest award of Gomel oblast – a certificate of honor of the oblast executive committee and a TV set. Svetlana Statsenko, the art leader and Kseniya's mother, was officially thanked by the Gomel oblast executive committee.
The ceremony was followed by a small concert of Kseniya Sitnik and Svetlana Statsenko.
Alexander Yakobson informed that following the president's commission the oblast executive committee has made a representation to award Kseniya Sitnik and Svetlana Statsenko at the presidential level.
Speaking to journalists, Kseniya Sitnik said she was sorry there was no Juniour Worldvision, where she would take part in and make every effort to win for the world to know about Belarus.
ALMOST 12 THOUSAND CHILDREN WAITING FOR ADOPTION IN BELARUS
Belta
Far, far too many children without parents to help them grow
There are almost 12 thousand orphaned children on the adoption list in Belarus, chief of the department for the underage children and youth policy of the Office of Public Prosecutor of Belarus Valeriy Ivanov told a news conference December 23. He further said, the priority is given to the national adoption while the international adoption has been made complicated to avoid abuses.
There are about 35 thousand orphaned children and children who have been left without parents' care. "Until recently there were numerous faults in the state policy as most of the children were adopted by foreign citizens. Yet, in 2004 this process was halted", Valeriy Ivanov said.
According to him, the information that Belarus has introduced a moratorium on international adoption is not true. However, he added "this process has been made complicated and transparent to seal the loopholes". In line with the Belarusian legislation, the education minister gives the permission on international adoption, then the case is considered by the oblast or Minsk courts with the participation of the public prosecutor. "Only 4 out of 38 candidates for international adoption received permission of the education minister. The permission in respect of 2 children was legally confirmed", Valeriy Ivanov stated. According to him, all these children are sick and, in many cases, incurably.
At the same time Belarusian foster families raise over 6 thousand children. Of them 90 per cent are so-called "social orphans".
According to Valeriy Ivanov, consular establishments of the foreign ministry should monitor the living conditions of the Belarusian children abroad. The Belarusian enforcement bodies did not report cases of human trafficking in the guise of international adoption. Maltreatment towards adopted Belarusian children has been detected in Sweden and Italy in recent years. Valeriy Ivanov noted that all necessary inquiries were undertaken; the guilty sustained punishment.
SUPREME ECONOMIC COURT REINSTATES ENORMOUS PENALTIES AGAINST THE BELARUSIAN HELSINKI COMMITTEE:
HUMAN RIGHTS GROUP MAY BE FORCED TO CLOSE; LEADERS MAY FACE CRIMINAL CHARGES.
From Viasna
Belarusian Helsinki Committee logo
Minsk, Vienna, 22 December 2005. The International Helsinki Federation for Human Rights (IHF) and the Belarusian Helsinki Committee (BHC) are extremely concerned by the 20 December 2005 ruling of the Supreme Economic Court (SEC), which, in a reversal of its earlier ruling, reinstated enormous sanctions against the BHC that were first introduced by tax authorities almost two years ago. The SEC Presidium ordered the human rights group to pay around $75,000 in back taxes and fines.
In early 2004, the Taxes and Dues Ministry Inspection of the Maskouski district of Minsk ordered the BHC to pay 155 million rubles in allegedly unpaid taxes and penalties on grants received from the European Union TACIS Programme. The State Control Committee's Department for Financial Investigations brought tax evasion charges against BHC officials in connection with the case.
The Minsk City Economic Court annulled the penalties in July 2004, explaining that technical aid in the framework of the TACIS Programme was non-taxable under an agreement between the Belarusian government and the European Union. The tax authorities lost a series of appeals against this final ruling.
However, despite the fact that this matter is res judicata, the SEC First Deputy Chair Eugene Smirnov contested this ruling, prompting a rehearing of the case by the SEC Presidium, and obtained reinstatement of the sanctions against the BHC.
The IHF and the BHC protest against the new, obviously politically motivated, SEC decision, which creates obstacles to BHC efforts to monitor the ongoing presidential campaign and other issues, and paves the way for closing down the last remaining national human rights organization. Moreover the new SEC ruling opens opportunities for the criminal prosecution of BHC officials who may face up to seven years in prison and confiscation of property.
The IHF and the BHC will continue to defend human rights in Belarus, and appeal to the SEC to revise the Presidium's ruling.
We appeal to the international community to help convince Belarusian authorities to protect the rights of the Helsinki Committee and other civil society organizations.
For further information:
IHF Executive Director, Aaron Rhodes, +43–1–408 88 22 or +43–676–635 66 12
Dzmitry Markusheuski, Press Officer, Belarusian Helsinki Committee, +375–29–709 5702
Commentary
LUKASHENKO PREVENTS COMPETITION
Vadim Dovnar, Olga Berezintseva. Kommersant
Lukashenko indeed does not make it easy
The presidential election campaign has started in Belarus. Today was the last day for submitting lists of initiative groups members to the Central Election Committee, which are introducing contenders for presidential office in Minsk. Also, yesterday, President Lukashenko signed the law that introduces a new article into the Criminal Code, according to which a person, who "discredits the republic" is criminally responsible. This new law practically bans opposition candidates from conducting active election campaigns
The presidential elections in Belarus are expected not earlier than in the end of spring : beginning of summer of next year. However, last Friday Belarussian parliament held an urgent session where it was decided to set election date for March 19, 2006. "We want most of our citizens to participate in elections. For that reason, we should hold elections before the vacation season," Vladimir Konoplev, Speaker of the lower house of parliament, said.
Alexander Milinkevich became single opposition candidate already in September. However, it will be tough for him to compete with President Alexander Lukashenko and leader of Liberal-Democratic Party Sergey Gaidukovich. Also, Milinkevich will find "fellow rivals" among the opposition camp as well : Zenon Poznyak, ex-leader of Belarussian People`s Front, who resides currently in the U.S., Pyotr Kravchenko, former Foreign Minister, and Alexander Kozulin, former head of the Belarus University.
Yesterday, it became known that the Law "About introducing amendments to some legislative acts of Republic of Byelorussia about increase of responsibility for deeds against a person and social security" was signed by President Alexander Lukashenko and came into force. Stepan Sukharenko, Head of KGB of Byelorussia, said that this was a preventive measure. It was adopted with consideration of the experience of other states, where opposition seized power through organization of mass protests.
Form now on, Belarussian Criminal Code got one more Article - about criminal prosecution for "discrediting the republic". According to the president`s amendment, any citizen, who would knowingly provide false political, economical, military or international information about Belarus to foreign state or foreign organization, could get a prison term from 6 months to 2 years. Also, citizens of Belarus, who call for actions against their own country : its sovereignty, territorial integrity, national security, and defense capabilities : might also end up in jail. The prison term or large fine looms over the people who participate in banned parties. And those, who prepare or finance public disturbances, have definitely reserved themselves a space behind bars.
WHERE A COVER GIRL IS GIRL NEXT DOOR
By Steven Lee Myers The New York Times

(Article suggested by the BR23 Blog)
Belarus looks no further than the girl next door
MINSK, Belarus Something has changed on the boulevards of this city, though it is not so easy to spot. This much can be said: Cindy Crawford, reported to be a precipitating cause, has disappeared from Minsk's billboards. So have the likes of Kate Moss or "those French women with grubby faces."
That, anyway, was how President Aleksandr Lukashenko put it when he bemoaned the propagation of foreign models on billboards "at every road crossing, including where the president drives."
In a country where political power is absolute, where public dissent is not tolerated, where an all-compassing, Soviet-like state controls what it pleases, Lukashenko's remarks a year ago eventually became a decree and then the law.
Models who appear in public advertisements - whether on billboards, on television, in newspapers or magazines - must now be Belarussian.
"Photograph ours there and let them advertise the watches of our factories and imported watches, too," Lukashenko said. "Let them pay our girls."
The law, which took effect in April, has roiled Belarus's modeling and advertising industries. Accompanying the citizenship requirements for models, all modeling schools and agencies were required to seek new licenses. And those were not forthcoming.
Sergey Nagorny's agency, the country's most prominent, received its license only last month. It was the second, after the state's newly created agency, the National School of Beauty. Before the law, there were 25.
Companies with well-planned promotional campaigns also had to scramble to comply, often by significantly revising their ads.
"We have had difficulties in getting models for shoots," said Raman Lapchuk, an account manager for Hepta Group Publicis, an advertising agency here that represents such international companies as Renault, L'Oréal and Hewlett-Packard. In some cases, he said, "We just used images without humans."
Lukashenko's decrees are often the subject of ridicule - openly abroad, less so here - but the campaign against foreign models is an example of how he maintains power, appealing to populist or nationalist sentiments even as he exerts greater control over economic, social and political life.
Not long ago he decreed that at least 75 percent of songs played on radio stations be Belarussian - an autocratic whim, perhaps, but one that was popular among musicians who received more exposure on air.
On the streets of Minsk, the visible result has not exactly been dramatic.
The new law coincided with new state advertising campaigns that included tributes to the 60th anniversary of the Soviet victory in World War II and paeans to the Ministry of the Interior ("We are always next to you," one says in a message larded with double meaning here in what is considered a police state.) Those campaigns have had, arguably, a more noticeable impact on the cityscape.
For those ads featuring models, not militiamen, it is now safe to assume they are Belarussian. While Slavic beauty - fair hair, fair skin, sculpted cheekbones - is a recognizable, even fashionable thing, it is difficult to quantify a uniquely Belarussian version of it.
Lukashenko's bureaucracy found a solution: Every ad must now be submitted for approval to a new committee that requires a copy of the model's passport.
The law had stated motives, including supporting local jobs to campaigning against human trafficking (since at least some modeling agencies have been accused of luring vulnerable young women into prostitution abroad).
But Lukashenko's critics - at least those who dare to speak out, given that statements discrediting the state will soon be punishable by up to three years in prison - say the real goal was in keeping with his drive to limit contacts with the outside world, especially Europe and the United States.
A law passed by the lower house of Parliament last week, for example, would impose restrictions on Internet dating and marriage agencies, especially those catering to foreigners. It would also restrict college students from studying abroad without expressed permission from the Ministry of Education.
"There is a general trend that the government wants to control the social sphere in every way," said Andrei Dynko, the editor of Nasha Niva, an independent newspaper with a precarious future following a decree ending its right to be distributed through the state postal system.
And yet Lukashenko's decree on models has support. Olga Seryozhnikova, director of the National School of Beauty, said the law had brought order to a chaotic, at times exploitive industry. Instead of using foreign models on ads typically prepared abroad, companies must now hire locals - at $25 to $50 a shoot.
More important, as a former model herself, she said that those in the business now had a formal title in the country's Soviet-like labor classifications. They are now called "models (clothing demonstrators)," with what was and is again known as a labor record, a necessity to receive a pension later in life.
"It will be like it was in Soviet times," Seryozhnikova said.
An obvious beneficiary of the change would seem to be Olga Antropova, crowned Miss Belarus last year. She is already the celebrity face of a Belarussian lingerie company, Serge. The law, she said, should help Belarussians "to realize themselves."
Belarus, though, remains a poor country, with few prospects for free-market expansion, given that the state controls about 80 percent of business. Lukashenko's decree might create more opportunities for models here, but as Popova said, "No decree can turn Minsk into a modeling center of the world."
Those with prospects do what aspiring models do everywhere. They head to Paris, New York or other fashion centers. Miss Belarus - perhaps the most recognizable face in Belarus, excepting Lukashenko's - has recently accepted a job with a modeling agency in Miami.
ANTI-WESTERN PROMOTER OF THE NEW UNION
From the Belarusian review by Walter Stankievich
Is the Belarus/Russia Union to be a reality?
The formation of the Russia-Belarus Union has been in the works for nearly ten years, leading many analysts of the post-Soviet political scene to doubt that it will ever take place. Alternatively, the fervent supporters of Belarus' independence see in the integration process a growing danger of annexation, while the Russian nationalists see it as a means of restoring Russia's greatness. Recently, the Belarusian political analyst Vitali Silitski has called this drawn out, up-and-down process "a virtual integration of a sinusoidal nature" with rosy pronouncements invariably followed by quarrelsome denunciations.
Its 1996 ceremonial inauguration in the Kremlin by Yeltsin and Lukashenka was sealed by brotherly embraces and toasts of undying friendship. Soon afterwards, however, while Yeltsin was preoccupied with chaotic events in Moscow, Lukashenka was actively engaged in developing a solid grass roots support by frequently visiting Russia's neglected regions. There he very effectively played on the growing Soviet nostalgia by championing the restoration of the Soviet Union's past greatness. He promised to devote the energy of a 40 year old leader to that cause, compared to the blundering of an 80(sic) year old Yeltsin, who was then in his sixties. Subsequently, this lengthy virtual integration process has given ample speculative material to a variety of specialists on the post-Soviet scene. Both positive and negative aspects of such Union were widely discussed.
Authoritative Russian think tanks listed a number of advantages for Russia resulting from such a Union. In 1997 one such institution with close links to the Kremlin published an extensive study on the developments within the Commonwealth of Independent States (CIS). The study urged taking advantage of pro-Russian Lukashenka's stay in power to secure the Union as the first step in expanding Russian influence in the world. In 2002, Sergei Karaganov, the head of a semi-official think tank, declared: "The process of national self-identification, of independence, is developing in Belarus, and the sooner we put a stop to it, the cheaper it will be for Russia. And this (step) is essential in order for us to hold onto the Kaliningrad oblast." And finally, Belarus serves well as the site of many Russian military bases, including newly placed early warning systems.
Serious disadvantages were raised as well. The unreformed Belarusian economy might end up being a substantial burden for Russia for a long time. So will the almost total state control of Belarusian industry, and the authoritarian form of government. Both were very different (until recently) from the fledgling democracy of Russia.
The latest evaluations of the integration process generally reach a conclusion that Lukashenka is determined to maintain Belarusian sovereignty while extracting maximal advantages from Russia, now fearful of yet another 'color' revolution on its periphery.
Such a conclusion is believed to be flawed because it does not take into account the internal situation in Belarus. Most of the comparative cost-benefit analysis has been done only with Russia in mind. And more importantly, the analysts do not take into account Lukashenka's driving ambition to be the restorer of the Soviet state, or the builder of a new Russian-dominated and virulently anti Western Slavic power. With all his unpredictability, Lukashenka has consistently been a promoter of all things Russian, including a union with Russia. To that end he has established strict authoritarian control of Belarus, in order to have it in place as a dependable power base in advancing his plans for a role on the Russian stage, whether it be around the end of Putin?s term in office in 2008, or during some future chaos in Russia, one possibly triggered by a drop in world oil prices.
Lukashenka's destruction of all aspects of Belarusian cultural identity serves to establish a state that will soon become Belarusian in name only, and thus more easily integrated into Greater Russia. The russification campaign now exceeds anything experienced during the Soviet times. It started immediately after his election by reducing the status of the Belarusian language, followed by eliminating it from the media, and effectively from the overall educational system. The fraudulent referendum of 2004 allows Lukashenka to run again in 2006, and if necessary, five years later, all the while tightening his control on the country, waiting for the right opportunity to exert his anti Western influence in Russian affairs.
If the world's democracies are interested in preventing such future Russian expansionism with everything that it might entail, it behooves them to prevent the first expansion from taking place, namely the absorption of Belarus, whether it be economic or territorial. To accomplish that, both the European states and the United States need to focus on undoing all of Lukashenka-imposed political, economic and ideological controls and providing essential support for the cultural revival of the Belarusian nation and its return to democracy.
This article appeared in
Belarusian Review, Vol. 17, No. 4