97Georgiy Zhzhenov, Chernobyl, NATO, Protests, EU vs Belarus, Chinese sweatshops, Natallia Tsylinskaya takes the gold
"The Soviet criminal code as of 1960 provided for criminal liability for criticism, discredit and contempt of state authorities. Article 70 which concerns Anti-Soviet Agitation and Propaganda for example, envisaged a prison term of 5 to 25 years. The article on parricide stipulated for a prison term or capital punishment. Another former Soviet state, Turkmenistan, has similar norms now. An article on "making an attempt at slander, libel or contempt of the president" provides for a 5-year prison term."

From Charter '97


From the Top

LIFE AND ART OF GEORGIY ZHZHENOV IS EXAMPLE OF HIGH SPIRITUALITY AND DEVOTION TO ART

From Belta


Georgiy Zhzhenov
On behalf of the Belarusian people and personally the Belarusian president Alexander Lukashenko expressed heartfelt condolences to the friends, relatives, colleagues and the entire company of the Mossovet Academic Theater in connection with untimely demise of USSR people's artist Georgiy Zhzhenov, the president's press-service told BelTA.
The life and art of Georgiy Zhzhenov is an example of high spirituality and devotion to art, to the ideals of patriotism and humanism. Multi-sided talent of Georgiy Zhzhenov was impeccably embodied in his superb acting which crystallizes the truth and depth of perception of the human soul. His roles became classics for both domestic and foreign cinematograph.
The message runs that the name of Georgiy Zhzhenov is widely known on the Belarusian soil. The Belarusians will never forget his great contribution to strengthening of friendship and cooperation between Belarus and Russia.
MINSK TO PLAY HOST TO INTERNATIONAL CONFERENCE TO MARK CHERNOBYL 20TH ANNIVERSARY APRIL 19-21, 2006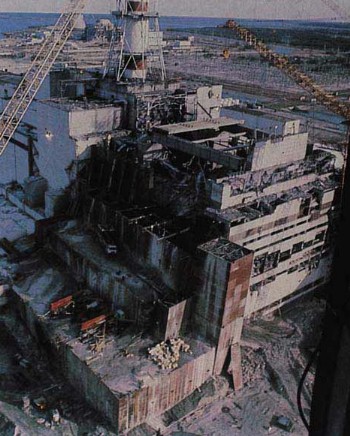 20 years have gone by- But no one here ever forgets
An international conference to mark the 20th anniversary of the Chernobyl catastrophe will be held April 19-21, 2006 in Minsk, BelTA was told in the press office of the foreign ministry of Belarus.
Belarus put forward an initiative to hold the forum at the 58th session of the UN General Assembly. A national organizational committee headed by deputy prime minister Vladimir Drazhin and an international organizational committee co-chaired by head of the Chernobyl committee under the Council of Ministers of Belarus Vladimir Tsalko and UNDP representative in Belarus Cihan Sultanouglu have been set up to handle the preparation of the conference. The international organizational committee is made up of representatives of the Russian Federation, Ukraine, Germany, France, Japan, Lithuania, Switzerland, the European Union, IAEA, the World Bank, UNICEF, OSCE and charity organizations of Great Britain, Ireland and Germany.
The major target of the conference is to generalize the experience in mitigating the consequences of the Chernobyl catastrophe and work out recommendations to develop a strategy for the next decade.
Apart from plenary sittings the conference will include sittings on long-term medical, social, economic and ecological consequences of the catastrophe, improvement of rehabilitation coordination mechanisms, information policy and financial aid. Besides, participants of the conference will visit the affected territories.
Lately Belarus, Russia and Ukraine and also the UN and EU international organizations, governments, research and public organizations of several countries have accomplished a huge amount of work to minimize the consequences of the catastrophe and investigate their impact on the people and environment. The 20th anniversary of the Chernobyl catastrophe is expected to attract attention of the international community to the problems of rehabilitation of the affected regions and to the needs of people to mobilize the international support to mitigate the consequences of the catastrophe", the foreign ministry notes.
FOREIGN MINISTRY: COOPERATION WITH NATO – IMPORTANT COMPONENT OF NATIONAL, EURO-ATLANTIC SECURITY
From Belta
The NATA round table
Belarus sees the development of all-round and mutually beneficial cooperation with Nato as an important component of national and Euro-Atlantic security. "We believe that all possible forms and mechanisms of cooperation should be made use of", the head of the Belarusian delegation first deputy foreign minister Vasiliy Pugachev stated at a sitting of the Council of Euro-Atlantic Partnership (CEAP) in Brussels, BelTA has been told in the press service of the foreign ministry of Belarus.
Vasiliy Pugachev stressed that the Republic of Belarus is a part of the global antiterrorist coalition. This country has ratified twelve universal conventions against terror. Assisting to the antiterrorist operation of Nato in Afghanistan Belarus has allowed transit of ISAF goods and personnel through its territory to Afghanistan.
The head of the Belarusian delegation reminded that the sitting of the Nato Political-Military Steering Committee and the political committee in the format "26+Belarus" was held in November 2005. The sitting considered a number of issues on bilateral cooperation, approved and adopted an assessment document on Belarus' participation in planning the Partnership for Peace program.
At the same time Belarus and Nato implement the individual partnership program on a consistent basis. The number of events of the national individual partnership program has trebled in 2005 over 1997. The draft individual partnership program between Belarus and Nato for 2006-2007 has passed interior coordination procedures.
Vasiliy Pugachev deems the destruction of landmines as another important area in Belarus and Nato interaction. According to him, on November 14, 2005 the Republic of Belarus and the Nato Maintenance and Supply Agency signed an executive agreement to destroy the stockpiles of antipersonnel mines on the Belarusian territory.
STUDENTS, CITIZENS PROTEST NEW LAW

HUNDREDS THOUSANDS OF LETTERS IN SUPPORT OF FREEDOM OF SPEECH
Note: There has been great international reaction to Belarus' passing of its controversial "anti-opposition" laws. Following are several stories about the subject from Charter '97. In addition to these, please see the concluding opinion/article from Tammy Lynch, an annalist for the ISCIP
The Amnesty International emblem
The Polish branch of influential human rights organization "Amnesty International" has held a wide action "Freedom of Speech in Belarus" against persecution of independent media in Belarus, Polish reporter of the Radio Svaboda Alyaksei Dzikavitsky informs.
Two weeks ago the Amnesty International urged the Poles to send emails and ordinary letters to the administration of Belarusian president and Belarusian Embassy in Warsaw with a demand to stop harassment of independent journalists, public leaders and oppositionists. Leading Polish newspapers were issued with black paint on their front pages, which symbolized censorship. About 30 thousand portraits of repressed Belarusians were put in the streets of Polish cities.
"The action was a success. Only on the first day Polish citizens sent about 100,000 emails to the presidential administration and Belarusian Embassy. In general we can speak of hundreds thousands such letters. The most influential world mass media have written about the action. To be honest, we had not expected that so many Poles would support this idea so willingly," one of the organizers of the protest Pawel Usakowski told.On Friday, December 16, 2005 Students for Global Democracy (SGD) will protest against the dictatorship in Belarus. Democracy leaders in Belarus have designated the sixteenth of every month as a "Day of Belarusian Solidarity," with protests held in cities across Belarus, throughout Europe and around the globe. Washington area students and democracy supporters will join citizens worldwide in protesting on behalf of Belarusian >political prisoners, abducted opposition leaders, and missing journalists. "It is important for the people of Belarus to know that students in the U.S. are helping them in their fight for democracy," said SGD President Charlie Szrom.
Often referred to as "the last dictatorship in Europe," Aleksandr Lukashenka`s government in Belarus continually cracks down on independent media, activists, students, and others who try to exercise their basic rights of free speech and assembly. "After nearly a decade of falsifying elections and entrenching his power, Lukashenka is afraid that the Belarusian people will rise up like those in Ukraine, Georgia, Serbia and elsewhere and oust him," said Jonathan Crock, SGD Belarus Task Force Leader.
Protest Location: In front of the Belarusian Embassy
1619 New Hampshire Ave. NW, (Near 18th & New Hampshire), Washington, DC 20009
Metro: Dupont Circle (Red Line).
SGD is a non-governmental non-partisan organization based in the United States. It currently has seventeen chapters spanning the world from the Netherlands to Turkey to Pakistan and is still growing. Organized around the belief that every person has the right to help choose their government, SGD uses solidarity demonstrations, fundraising campaigns, and internet outreach to further the democratic aims of local, nonviolent activists who seek support in their struggles. Previous work involved working with youth groups in Belarus, Azerbaijan, and Ukraine.
PACE DEPUTY CHAIRMAN BLASTS POLITICAL AMENDMENTS TO CRIMINAL CODE
Tadeusz Ivinski, amongst others, does not agree with the new "anti-opposition" laws
Tadeusz Ivinski, deputy chairman of the Parliamentary Assembly of the Council of Europe, had criticized amendments to the Belarusian legislation, previously adopted by the "council of representatives". As he told to the Radio Svaboda, "Such amendments should be assessed unambiguously critically, as it is attempts to block those sources of independent information in Belarus and from Belarus that still exist. As a deputy head of the PACE, I should note that last year the Assembly passed a report on situation in Belarus, stating that the democracy, freedom of speech in this country are under threat in this country. Since that time nothing changed for the better unfortunately. These amendments probably are related to the upcoming presidential elections. It's an attempt to block everything".
EU: NO PLANS TO CHANGE STANCE ON BELARUS
Interfax
Ian Boag
KYIV. Dec 9 (Interfax) - The European Union is going to examine the situation in Belarus. However, it does not expect to change its policy towards that country, Ian Boag, the head of the European Commission delegation to Ukraine, told Interfax on Friday in Kyiv.
The EU is closely watching the situation and will continue scrutinizing developments in the election campaign, Boag said. The EU will consider changing its approach if the situation merits, he said.
The European Commission asked the Belarussian authorities to agree to open a representative office in Minsk, he said, adding that the Belarussian authorities are thinking over the proposal now.
The European Commission has sent a letter to Belarussian Deputy
Prime Minister Andrei Kobyakov asking to study the issue of registering European projects in Belarus, the commission's delegation in Ukraine reported.
A total of 8 million euros is granted to Belarus once every two years. That figure is 80 million euros for Ukraine and 40 million euros for Moldova.
Currently the European Commission has adopted a number of programsfor Belarus, in particular, educational programs within the Tempus program (1.9 million euros), assistance to the national coordination center (600,000 euros), countering human trafficking (1.2 million euros) and support to vulnerable social classes and those who live in the regions affected by Chernobyl (2.8 million euros).
The European Commission is going to introduce a number of projects
for Belarus, in particular, on improving border infrastructure.
EUROPEAN UNION READY TO CONTINUE FINANCING PROGRAMS ON REFUGEES IN BELARUS
Belta
The European Union is ready to continue financing programs of the UN Office of the Higher Commissioner for Refugees (UNHCR) in Belarus in order to improve its national system of the work with refugees, UNHCR's representative in Ukraine, Belarus and Moldova Simone Wolken stated at a meeting with permanent representative of Belarus in the UN and other international organizations in Geneva Sergei Aleinik.
As BelTA was informed in the press service of the Belarusian foreign political department, in the course of the meeting the sides discussed urgent cooperation issues between this republic and UNCHR. Simone Wolken expressed satisfaction with the level of cooperation between Belarus and the Office of the United Nations High Commissioner for Refugees. The UNHCR Representative regional representative will get down to her work at the beginning of 2006.
In turn, Sergei Aleinik informed Simone Wolken about the ongoing activities to continue the process of Geneva Conference on Refugees and Migrants in the CIS under the auspices of UNHCR and the International Organization for Migration. The Belarusian representative also invited Ms Wolken to partake in the meeting of the CIS experts due within the first six months of 2006 which will focus on the contents and the structure of the forthcoming process.
World News

RUSSIA'S 24-HR ENGLISH-LANGUAGE NEWS CHANNEL TO HIT AIRWAVES
Ria/Novosti
Margarita Simonyan, the 26-year-old chief editor of Russia Today
MOSCOW, Russian Foreign Minister Sergei Lavrov said Saturday that Russia Today, the country's first 24-hour English-language news channel, that hit the airwaves at 1 p.m. GMT, would be a success overseas.
"I do believe that giving the huge interest to everything related to Russia, be it culture, history, modern days developments, the information demand for Russian news, for Russian views of the world affairs, and of coverage of what is going on in Russia is going to be huge," Lavrov said in an interview with the channel.
"And I think that the initiative to create this channel is a welcome one and will certainly get a lot of viewers around the globe," the minister said.
Russia's first 24-hour English-language news channel will begin broadcasting on Saturday, December 10.
"We have several satellites, and we will broadcast to the United States and Canada via IA-5 and to Europe via Hotbird-6," Margarita Simonyan, the 26-year-old chief editor of Russia Today, said. "The Taicom-3 satellite will transmit our programs to Asia, Africa and Australia."
She said people in Russia would be able to watch the channel as part of the NTV-plus basic package.
"Broadcasting will start at 4 p.m. Moscow time [1 p.m. GMT] tomorrow," Simonyan said.
The launch of Russia Today was announced in June, and technical broadcasting began September 15.
"We want to show the way Russia sees itself and the world," Simonyan said when the channel was launched.
She also said the channel would seek to strike a balance between domestic and international news reports.
CHINA SET TO BE WORLD'S SWEATSHOP, REPORT WARNS
By Andrew Taylor, Employment Correspondent From the Financial Times
Low wages equals low prices equals strong international trade
The eradication of poverty in China has stalled since the country joined the World Trade Organization four years ago, with more than three-quarters of rural households expected to suffer a cut in real incomes between 2001 and 2007, a report warns on Friday.
The study by the International Confederation of Free Trade Unions (ICFTU), timed to coincide with next week's WTO ministerial conference in Hong Kong, says that China is becoming the sweat shop of the world as large numbers of agricultural and former state enterprise workers chase work in the cities, depressing wages.
A separate report by Oxfam warned earlier this week that imports of cheap subsidized US cotton to China would result in a loss of $208m in income and 720,000 jobs this year, hitting in particular Gansu and Xinjiang, two of China's poorest regions.
ICFTU says that membership of the WTO has boosted the incomes of those already benefiting from China's economic reforms: private enterprise capitalist and white collar workers. The losers have been blue collar workers, farmers and unskilled office workers, "whose income has remained stagnant for the last 10 years".
About 250m people still earn less than $1 a day, the official measure of poverty, and 700m, 47 per cent of the population, live on less than $2 a day. As a result, "the people who provide everything from T-shirts to DVD players to the world's consumers often have 60-70 hour working weeks, live in dormitories with eight to 16 people in each room, earn less than the minimum wages that go as low as $44 per month, and have unemployment as the only prospect if they should get injured in the factories", says the ICFTU.
It warns that China will need to create 300m new jobs over the next decade to compensate for job losses in agriculture and at former state-owned enterprises - which is "much higher than China's current job creation capacity".
Unemployment and inequality therefore would continue to rise "if the Chinese government's strategy for further growth, employment creation and poverty eradication is based only on securing a larger share of global trade".
Since 1995, the number of companies under state control has halved, shedding 59m jobs, while emerging private enterprises have created only 16m jobs, according to the International Labour Organisation.
Guy Ryder, ICFTU general-secretary, said: "Most people seem to have been too blinded by China's economic results to see the dark side. Domestic concerns, such as their own trade deficits and the jobs they might lose from cheap Chinese imports, have overshadowed any doubts the international community may have about exactly how Chinese companies are able to produce DVD players that sell for less than $50."
CHECHNYA'S NEW PARLIAMENT TO HOLD FIRST SESSION DECEMBER 12
Novosti
Chechnya
GROZNY- The new parliament of the Chechen Republic will hold its first session in Grozny December 12, the republic's Election Commission chairman said Saturday.
Ismail Baikhanov said the opening ceremony would be attended by a number of high-ranking guests, including the Russian presidential envoy in the Southern Federal District.
Later in the day, both houses of parliament - the Republic's Council (the upper house) and the People's Assembly (the lower house) - will meet to discuss nominations for house speakers and deal with a number of organizational matters.
The parliament of the Chechen Republic consists of 58 deputies - 18 in the Republic's Council and 40 in the People's Assembly. Pro-presidential United Russia has 33 seats in the Chechen parliament - nine in the upper house and 24 in the lower house. The Communists have six seats, three in each house. The Union of Right Forces (SPS) has four deputies, all in the Republic's Council. There are 14 independent deputies in the Chechen legislature - five in the upper house and nine in the lower house.
Five MPs are women.
CONFERENCE WORKS DOWN TO WIRE ON EMISSIONS CONTROLS

CLINTON: BUSH 'FLAT WRONG' ON CLIMATE
From CNN.com
Clinton still doing that Jimmy Carter "Just because I ain't the president anymore, it doesn't mean I don't care" thing
MONTREAL, Quebec (AP) -- Delegates from around the world worked into the final hours of a U.N. climate conference to produce a plan for deeper cuts after 2012 in greenhouse-gas emissions, buoyed by a last-minute message of support from former U.S. President Bill Clinton.
Clinton, in an applause-filled appearance at the Montreal meeting on Friday, said U.S. President George W. Bush was "flat wrong" to claim that reducing greenhouse-gas emissions to fight global warming would damage the U.S. economy. But the ex-president urged the negotiators from more than 180 nations to find a way to "work with" the current U.S. administration.
Throughout the two-week conference, the Bush administration repeatedly rejected Canadian and other efforts to draw it into future global talks on emission controls, just as in 2001 it renounced the existing Kyoto Protocol and its mandatory cuts.
Canadian officials said the U.S. delegation was displeased with the last-minute scheduling of the Clinton speech. But U.S. delegation chief Paula Dobriansky issued a statement saying events like Clinton's appearance "are useful opportunities to hear a wide range of views on global climate change."
Despite Clinton's message, many here seemed resigned to waiting for a political change in Washington.
"It's such a pity the United States is still very much unwilling to join the international community, to have a multilateral effort to deal with climate change," said the leader of the African group of nations here, Kenya's Emily Ojoo Massawa.
"The administration just doesn't seem to get it. They don't understand the world is suffering from climate change," said Jennifer Morgan of the environmentalist group Climate Action Network.
The U.S. delegation had little public comment, maintaining the low profile it has generally kept at recent annual climate conferences.
This was the first such meeting since the Kyoto Protocol took effect last February, mandating cutbacks in 35 industrialized nations of emissions of carbon dioxide and five other gases by 2012.
A broad scientific consensus agrees that these gases accumulating in the atmosphere, byproducts of automobile engines, power plants and other fossil fuel-burning industries, contributed significantly to the past century's global temperature rise -- of 0.7 degrees Celsius, or 1 degree Fahrenheit.
Continued warming is melting glaciers worldwide, shrinking the Arctic ice cap and heating up the oceans, raising sea levels, scientists say. They predict major climate disruptions in coming decades.
Clinton's former vice president, Al Gore, was instrumental in negotiating the treaty protocol initialed in 1997 in Kyoto, Japan -- a pact that the Senate subsequently refused to ratify. When Bush, taking office, rejected Kyoto outright, he complained that China, India and other major industrializing countries were not bound by its emission controls.
The protocol's language required its member nations at this point to begin talks on presumably deeper emissions cuts for the next phase, after 2012.
Negotiations among the more than 150 nations that ratified Kyoto went on until dawn Friday and then resumed later in the day, as they hammered out final details of a plan whereby a working group would begin developing post-2012 proposals. The tentative document included no deadline for that work, but said it should be completed early enough to ensure that no gap develops after 2012.
That would guarantee an uninterrupted future for the burgeoning international "carbon market," in which carbon reductions achieved by one company can be sold to another to help it meet its target.
At the same time, the host Canadians tried to draw in the Americans, Kyoto outsiders, on a parallel track, under the nonbinding 1992 U.N. climate treaty. Canada's proposals offered vague, noncommittal language by which Washington would join only in a "dialogue" to "explore" cooperative action.
The U.S. negotiators repeatedly rejected these efforts, however, and instead pointed to $3-billion-a-year (euro 2.55-billion-a-year) U.S. government spending on research and development of energy-saving technologies as a demonstration of U.S. efforts to combat climate change.
In a news conference after his speech, Clinton suggested that Europeans and others not force "targets" on Washington, but look for agreement on specific energy-saving projects.
"If we just keep working with the administration, we'll find some specific things we can do that are consistent with the targets," he said, but "without embracing the targets."
Most of the conference was devoted to the nuts-and-bolts work of the climate pacts.
Environmentalists were pleased at agreements in such areas as how to quantify gas emissions and how to penalize nations that do not meet Kyoto targets.
"They've released the brakes on the Kyoto process," said Greenpeace International's Bill Hare.
Others expressed disappointment, meanwhile, there was not more progress here in such areas as helping finance developing countries' adaptation to damaging climate change.
SOVIET TIMES ARE HERE AGAIN
Opinion/Article By Tammy Lynch, ISCIP analyst
The Soviet Union: To be or not to be
Today, if Senator John McCain were a Belarusian politician in Belarus, it is likely that he would be in prison. If Senator Joseph Biden were a Belarusian opposition politician in Belarus, probably he would be serving time in a labor colony. What would be their crime? Questioning – no matter how benignly – the policies or actions of their country's president.
For several years now, such action has been illegal in Belarus and punishable by extended time in prison or labor camps. This law has been a powerful tool against the country's strongest opposition politicians, most of whom now sit behind bars.
But beginning in the very near future, as a result of anticipated changes to Belarusian criminal codes, not only politicians or outspoken activists, but also journalists, human rights monitors and even heads of polling firms run the risk of similar treatment. Such is the state run by the man President Bush once called "Europe's last dictator," Aleksandr Lukashenko.
Last week, Lukashenko took the latest step in his stated plan to maintain a link with Soviet times. In the 11 years of his rule, the man, who became president in elections widely condemned as rigged, has reintroduced Soviet symbols and continues to perpetuate the cults of personality surrounding Lenin and Stalin. But most importantly, he has worked hard to maintain the police state left to Belarus as the Soviet Union's legacy.
On 2 December, this police state reached new levels when the rubber stamp lower house of parliament overwhelmingly passed new criminal codes. These codes will allow the authorities to label as criminal any protest gathering, publication or broadcast of negative information about the state, as well as the receipt of assistance from international organizations or foreign countries.
In the future, the Tom Brokaw's of Belarus would be behind bars for relaying both positive and negative news about the country, as would the Bob Geldof's, for organizing gatherings to spotlight policies that need improvement.
International Helsinki Federation Executive Director Aaron Rhodes heavily criticized the proposed new codes, grouped together under the general category of "Discrediting the Republic of Belarus." "If adopted," he said, "this law could be interpreted to render human rights monitoring and reporting as well as any kind of criticism of the authorities illegal."
Belarusian politicians and journalists also reacted strongly, with Aleksandr Milinkevich, Lukashenko's sole opponent in next year's presidential election, suggesting simply, "This is a return to Stalinism."
The bill must now pass the upper house and then be signed by Lukashenko, and both the European Union and the United States released almost identically worded statements calling on Lukashenko not to sign the law or face "serious consequences."
However, comments by the head of Belarus' KGB – as the security service is still known – suggest that Lukashenko and his allies are unconcerned about Western condemnation of their actions. "We have to protect national security and prevent color revolutions like those that happened in Georgia, Ukraine and Kyrgyzstan," Stepan Sukharenko said.
Clearly, Lukashenko has presidential elections on his mind. To maintain his own power, he must win, and no rhetorical criticism from Tony Blair or George Bush is likely to deter him from this goal.
Moreover, Lukashenko is regularly and repeatedly "propped up" by neighbor Russia. This support enables Lukashenko to continue to pursue whatever policy he wishes, as long as it is not strongly opposed by the Kremlin.
In return, Russia receives preferential treatment when state assets are disbursed, the right to deploy weaponry on Belarus's soil – at the border of the European Union and NATO – and a firm outpost against the creeping "Westernization" of Central and Eastern Europe.
Just this week, … Kosachov, chairman of the Russian State Duma Foreign Affairs Committee, defended Belarus against strong (and increasing) criticism of it by Polish officials. "Poland's meddling in the internal affairs of Belarus, is in the view of Russia, inadmissible and uncivilized." It is unclear whether Kosachov was expressing an official opinion, but notably, his statement was not retracted or questioned by any higher-ranking Russian official.
Even more importantly, this week, Russia confirmed that Belarus would continue to receive Russian gas at the bargain price of just over $46 per cubic meter. This is in direct opposition to Russia's attempts to force Ukraine, Moldova and Georgia to more than double the price they are currently paying. In fact, Russian energy is Belarus' main lifeline.
As reported previously in TIA, a Bratislava-based NGO recently completed an examination of Belarus' energy market in relation to its economy, and suggested that in order to have an impact on Lukashenko's actions, oil exports to the EU should be frozen. This, the Pontis Foundation said, "could strike a direct blow against the Minsk government by blocking oil exports from Belarus."
The study found that Belarusian authorities and government-owned businesses make considerable profits by importing Russian oil into Belarus at bargain prices and then exporting it to the EU at market–or just below market–prices. These contracts with the EU are reportedly worth up to 3.3 billion euros each year and allow Lukashenko to maintain his country at a minimum subsistence level. Without these funds, the Belarusian president would be forced to reform the economy and allow his citizens more Western contact.
Other opposition activists in Belarus have also called on the EU to take a stand against Russia's ascension to the G8 presidency next month, in response to Russian support for Lukashenko's regime. However, the EU has so far refused to punish Moscow for new draft Russian laws that could force Western-based NGOs out of Russia, and even place EU citizens at risk of harassment or detention. Consequently, it seems unlikely that the organization–or the US for that matter–will concern itself with pushing Russia to end its support for Lukashenko.
Nevertheless, Amnesty International in Poland is undertaking a campaign to raise awareness of the situation in Belarus. "Silence is the worst thing," Amnesty-Poland Spokesperson Mirella Tanek said. "People need to be made aware of what is happening in Belarus." Tanek is no doubt glad to be in Poland. If she were in Belarus, she would be waiting undoubtedly for a knock on the door.
SportsNATALLIA TSYLINSKAYA WINS GOLD MEDAL IN 500 METER TIME TRIAL TRACK CYCLING SPRINT
The brilliant Belarusian sprint cyclist Natallia Tsylinskaya in action
Natallia Tsylinskaya, a Belarus hero and medalist in the last summer Olympics won a gold medal in the 500 meter time trial track cycling part of the Manchester leg of the World Cup. Tsylinskaya lost a chance at a second medal when she crossed the lower line during the finals of the match sprint against Victoria Pendleton, the great British rider who is trying to make the world forget her weak Olympic performance.
The first heat went to Pendleton as she crossed the finish lin perhaps a centimeter ahead of the formidable Tsylinskaya. In the second run and final run, though it looked to be all Tsylinskaya, a brief moment over the blue line caused a disqualification and secured the Gold for Pendleton.
Pendleton won her second medal inside 24 hours, taking bronze in the 500m to go with the gold she won in the individual sprint the day before.
BELARUS SACK COACH AFTER WORLD CUP FAILURE
MINSK, Dec 10 (Reuters) - Belarus sacked coach Anatoly Baidachny on Saturday after the country finished second from bottom of its World Cup qualifying group.
The Belarus Football Federation have installed Baidachny's assistant Yuri Kurnenin as coach and said he would either be confirmed in the job at their next executive committee meeting in two months' time or they would appoint somebody else.
Last month Belarus President Alexander Lukashenko said a former Czech Republic national coach was a possible candidate, without being more specific.
The 53-year-old Baidachny took over Belarus in August 2003 after coaching local club side Dinamo Minsk.
He failed to steer Belarus into contention for a place at next year's World Cup finals in Germany after they won just two of their Group 5 qualifying matches.
Italy won the group with 23 points ahead of Norway with 18. Belarus finished fifth with 10 points.