Lukashenka speech, New writers group, US complaints, Defense agreement with Ukraine, Day of Solidarity, Belarus loses final World Cup game
From the Top

LUKASHENKA SAYS OPPOSITION HAS NO SUPPORT

Reuters and Moldava.org


"Life itself requires us to accord first priority to education and science. Belarus is not so rich in natural resources as to make a living by selling them. Only through our work, intellect and talent can we ensure the nation's welfare," Said Alexander Lukashenko during his speech to the Mogilev State University. November 17, 2005.
17 November 2005 -- Belarus President Alyaksandr Lukashenka said today those hoping to vote him out of office next year in presidential elections are losing support.
In remarks aired on state-run Bel-1 television, Lukashenka said anyone interested in staging a revolution in Belarus like those in Georgia or Ukraine would fail because they would receive no support from workers, factories, farmers, the military, or the elderly.
Speaking before university students in eastern Belarus, Lukashenko said "closed sociological experiments" showed that the overwhelming majority of citizens would support him, though less so in the capital, Minsk. He also again vowed to prevent a mass uprising similar to those which erupted following elections in other Soviet republics.
"Today, the so-called democratic forces in Belarus and abroad view the youth as cannon-fodder, cheap materials for building a 'colored' revolution and seizing power," he said, referring to the Rose and Orange revolutions that brought opposition leaders to power in Georgia and Ukraine.
Lukashenko also accused the European Union and the United States of using the rhetoric of "globalization" to try and enslave Belarus.
"By all accounts, it's clear that the haters of the Slavic people now want to subordinate the Belarusians and enslave them for the civilized Europeans," he said. "Under the guise of globalization, we are losing our rights to an independent path of development and, this means, taking away the future of our descendants and our people."
But he indicated that he had no plans to reduce or halt broadcasts of foreign television programs in his country. Lukashenka said 90 percent of the country's population is in favor of foreign broadcasts. He also added that he was convinced that this same 90 percent of voters would support him in next year's presidential elections.
Entitled to run for a new term next year after a disputed referendum on constitutional change, Lukashenko said the liberal and nationalist opposition also had little hope of winning over young voters or businessmen.
Lukashenka said while the government should be involved in media policy it should "do so in a civilized manner without playing favorites."
"By pledging to fight not for life but to the death by seizing power, they must face the fact that they will get no support from workers, factories, farmers, the military and the elderly," Lukashenko said of opposition activists.
His opponents were wrong in hoping to enlist young people, entrepreneurs and academics to stage an upheaval like the "Orange Revolution" that helped propel liberal Viktor Yushchenko to power in neighbouring Ukraine.
"The experience of coloured revolutions shows participants start by protesting in squares and end up smashing state institutions, private shops and small street kiosks," BelTA news agency quoted him as saying in the town of Mogilev.
"They find it harder and harder to hide behind schoolchildren and students in opposing the will of the Belarussian people."
Lukashenko, who remains genuinely popular, expecially outside big cities, denies violating fundamental rights. He says his administration has spared Belarussians the upheavals of other ex-Soviet states.
The opposition has overcome recurring divisions and named independent Alexander Milinkevich as the sole challenger to the president in next year's contest.
Lukashenko cited figures from an unpublished opinion poll giving him 90 percent support in rural areas, 84 percent in small towns and 67 percent among respondents in the capital Minsk.
Lukashenka then went on to add that Belarus does not have intentions to reject cooperation with its traditional economic partners, but at the same time it will be striving to enter new markets, including those of Latin America and Africa.
Belarus continues to hold purpose-oriented talks on its accession to WTO and many states have voiced their support for our membership, the President noted. "There's little cause for concern if you join the WTO or not. If we think that Ukraine and Russia have become WTO members, we should work in compliance with the WTO principles," Lukashenko said in his meeting with students on Thursday.
In his words, "Belarus is holding talks on its admission to the WTO and many countries are ready to support it. But as soon as the United States knows about it, it will start refraining this process on political motives."
Lukashenko said he is convinced that when Belarussians make an ambitious aim to bring to the level of industrialised European countries "we shouldn't run to Europe by giving up our culture, traditions and the regime. Belarus is in the centre of Europe and it will be able to bring to European standards and create the modern infrastructure."
"Those who hate the Slav people and seek to make Belarussians to subordinate to 'civilised Europeans' under the pretext of globalisation deprive them of the right to decide their fate themselves. But even our most malicious opponents – the IMF and the World Bank – forced to recognise that Belarus followed its development path," the president stressed.
When referring to the language policy of the State, Alexander Lukashenko emphasized that the Belarusian people do not intend to give up the Russian language.
In his words, there is no ban in Belarus as to which language one may communicate with, be it the Belarusian language, Russian language, English or any other tongue. The President said he does not understand the people who insist on giving up the Russian language and switching over to the Belarusian language. "Let us leave both: our Russian and our Belarusian. And let us calmly perfect our native tongue, without outcries and revolutions," the Head of State said.
BELARUS INCREASED WINTER PLANTINGS 9% FROM LAST YEAR
Winter Wheat is already in the ground
According to governmental BelTA news agency, winter cereals for the 2006 crop in Belarus have been sown on 1,449,500 hectares, which is 9 percent more than last year.
The news agency with reference to the statistics and analysis ministry said that winter rapeseeds area had been increased 20 percent from last year's - to 136,700 hectares.
The ministry said that that was the most substantial growth of winter crops area over the last five years.
BELARUS, RUSSIA STILL NEGOTIATING ON GAS SUPPLIES FOR 2006 - DEPUTY MINISTER
Excerpt from report by Interfax-Ukraine news agency
Belarus plans to import 21.5bn cubic metres of gas next year.
Minsk, 17 November: Belarus has not managed to negotiate the specific volume of Russian natural gas supplies for 2006 so far, the first deputy economics minister of Belarus, Uladzimir Naydunow, told journalists in Minsk on Thursday [17 November].
"Unfortunately, the talks have not been completed so far. Our working group is continuing negotiations in Moscow today," Naydunow said.
As was reported earlier, Belarus plans to import 21.5bn cubic metres of gas next year. [Russia's gas monopoly] Gazprom is ready to supply 20.5bn cubic metres of gas at the previously agreed price (46.68 dollars per 1,000 cubic metres).
[Passage omitted: Belarus needs more gas to boost the capacities of the Yamal-Europe gas pipeline.]
Besides, Naydunow said, the parties are still continuing the approval of the joint fuel and energy balance for the period until 2020.
As was reported earlier, Belarus and Russia have so far failed to reach agreement on the volume of Russian oil supplies to Belarus.
ALEXANDER LUKASHENKO: PRIVATE BUSINESS HIDES PROFIT
From Belta
Lukashenko: the situation has not changed
Private businesses do not show their profit on purpose to evade taxes, Belarusian president said today at the meeting with the leadership of Mogilev oblast and the Shklov region.
As an example Alexander Lukashenko sited Shklov Forest Ltd. Which stores, processes and sells timber. But this company has been unprofitable since the very first day of its existence notwithstanding the fact that it was founded with Latvian and American capital. The president already pointed to the necessity to intensify investing and develop a deeper processing of timber at the enterprise earlier when he visited the region.
However, the situation has not changed – half-stock exported abroad at minimal prices and then is resold at much higher prices on the European markets.
"Thus, tax evasion influences the country's development as our natural resources do not pay back", Alexander Lukashenko stated.
According to the head of state, the State Control Committee, specialists of other agencies are analyzing the situation in the sphere of saw-mill, timber utilization and forest reproduction. In the near future this issue will be settled.
BELARUS, UKRAINE SET 10 PRIORITY TRENDS FOR DEFENCE COOPERATION
From Itar-Tass
Anatoliy Gritsenko
MINSK, -- Belarus and Ukraine identified ten priority areas for defence cooperation, Ukrainian Defence Minister Anatoly Gritsenko, who is on a visit in Belarus, said on Wednesday.
Gritsenko and his Belarussian counterpart Leonid Maltsev signed a plan of cooperation between the armed forces of the two countries in 2006.
"Our cooperation is based on the principles of friendship and good-neighborliness, pragmatic interests and common sense," the Ukrainian defence minister told Itar-Tass, commenting on the essence of the document.
Among the main areas for cooperation Gritsenko named, in particular, the training of engineer units, health rehabilitation programmes for officers in both countries, the sharing of peacemaking experience, the exchange of teachers and students from military higher educational institutions.
The Belarussian defence minister said, "Our relations in the military and related areas develop in a stable manner."
The two sides agreed that officers and troops will continue to participate in national military exercises on each other's territory, Maltsev said.
Speaking about military-technical cooperation, he noted that Ukraine has plants manufacturing tanks and aircrafts.
"We have no such enterprises, but we have plants for repairing and upgrading military hardware," the Belarussian minister said, adding that this is a good basis for cooperation.
BELARUSIAN WRITERS CREATE NEW ARTISTIC UNION: NIKOLAY CHERGINETS ELECTED CHAIRMAN
Belta
Cherginets and "Union of Writers of Belarus" a truly artistic and creative establishment
The Belarusian writers have founded a new republican organization "Public Association "Union of Writers of Belarus" on November 18 at a constituent assembly.
The prose writers, poets, dramatists and critique writers in their statements at the assembly noted that the previous organization the "Union of Writers of Belarus" failed to meet their professional needs while it aimed at fulfilling only political aspirations. In a number of cases the work of the union was aimed at discrediting and counteracting the active authorities. As a result the union found itself in a serious artistic and organizational crisis.
The initiators of the new organization decided to make the "Union of Writers of Belarus" a truly artistic and creative establishment which would preserve the precious traditions of the past years and propel the Belarusian literature to a new level.
The participants of the meeting adopted the Charter of the Union, elected its management bodies. Besides, the members of the meeting issued an appeal to the literary community of Belarus.
The "Union of Writers of Belarus" elected member of the Council of the Republic, well-known prose writer Nikolay Cherginets chairman of the public association
According to Charter '97 however, the leaders of the current Union of Writers: its chairman Ales Pashkevich, deputy chairman Barys Pyatrovich and Eduard Akulin, and representatives of independent media were not let into the Trade Union Palace in Minsk where a constitutive meeting of the pro-governmental Union of Writers started. As the Charter'97 press-center was informed, a special police regiment is guarding the building. The officers of the special police force forces in a private conversation say that they have been called in to guard the building "for the event of attack". What kind of "attack" are pro-Lukashenka writers afraid of?
Belarus Jewish leader deplores "instances of anti-Semitism"
From Charter '97
Leven: Its not hooliganism, its anti-Semitism
The chairman of the Union of Belarusian Jewish Public Organizations and Communities, expressed anxiety on Thursday at "instances of anti-Semitism in Belarusian society." "There are instances of anti-Semitism in Belarusian society, but there is no anti-Semitism at the state level," Leonid Levin told a news conference in Minsk.
"The greatest source of concern for the Belarusian Jewish community are acts of vandalism that are sometimes committed in Jewish cemeteries and against Jewish monuments," he said.
They "are not merely teenage hooliganism, but instances of anti-Semitism," Levin said. Stanislav Buko, chairman of the Religious and Ethnic Affairs Committee, a Belarusian government agency, said, "There has never been any anti-Semitism at the state level in Belarus, nor is there any."
"Tolerance and respect for other peoples and ethnic groups is part of the Belarusian national character. The Belarusian people have never been nationalistic," he said.
There are 120 ethnic cultural associations in Belarus, Buko said.
The Union of Belarusian Jewish Organizations and Communities is the country`s second ethnic association after the Union of Poles in terms of membership and reach, he said.
"The Union comprises 46 Jewish organizations, 13 of which are in Minsk," he said. Yigal Koifman, first secretary of the Israeli Embassy to Belarus, said Israel had conferred the title of Righteous Among the Nations on 500 Belarusians who rescued Jews from the Nazis during World War II.
BELARUS NET FOREIGN ASSETS UP 70.5% IN 10 MONTHS
From Interfax
Gross foreign assets increased by 58%
MINSK. Nov 17 - Monetary authorities in Belarus had net foreign assets of $1.471 billion as of November 1, up 70.5% from the start of the year, the National Bank of Belarus said in a statistical report.
Net foreign assets grew 7.8% in October after growing 3.8% in September.
The increase in the first ten months was due to an increase in gross foreign assets by 58% to $1.498 billion amid a drop in foreign liabilities by 68.3% to $26.9 million.
Net foreign assets grew 43.5% in 2004 to $862.8 million.
UNITED STATES CALLS ON BELARUS TO CEASE REPRESSION OF FREE MEDIA
From USINFO.STATE.COM
Julie Finley: Belarusian repression of free media and independent public opinion research is a disturbing trend in the run-up to presidential balloting in 2006
The United States is deeply concerned about the latest development in the continuing repression of independent media in Belarus, and the latest in a long line of closures of the eastern European country's nongovernmental organizations.

Addressing the Organization for Security and Cooperation in Europe (OSCE) in Vienna, Austria, November 17, U.S. Ambassador Julie Finley said the United States calls on Belarus to ensure private media access to distribution through the state postal agency, which has declared it no longer will distribute several independent publications.

Following is Finley's statement as provided by the United States Mission to the OSCE permanent Council:
The United States is disappointed that we need once again to raise the issue of Belarus' disregard for its OSCE commitments on free media and freedom of information here in the Permanent Council.
In recent days, the Belarusian state postal agency, Belpochta, informed several independent newspapers, such as Narodnaya Volya, Salidarnasts and Zhoda, that they would no longer be included in Belpochta's list of periodicals available for subscription in 2006. As a public monopoly, Belpochta should be expected to provide non-discriminatory treatment to all customers, whether government or private, paying for its services.
Mr. Chairman, Belpochta's actions are only the latest in a series of steps against independent information providers in Belarus over the last year. For example, Narodnaya Volya and Zhoda are being harassed through libel cases, the publishers of the newspapers Den and Kuryer iz Borisova have been shut down and several newspapers were forced to re-register under new names due to an arbitrary requirement that they not use the terms "national" or "Belarusian" in their titles.
We are deeply concerned that the deaths of journalists Veronika Cherkasova in October 2004 and Vasily Grodnikov in October 2005 also remain unsolved.
The United States further notes that the Independent Institute of Social, Economic and Political Studies was closed in April 2005. We understand that Belarus recently decided to require any organization that conducts public surveys on national political issues and elections to apply for accreditation to a special panel under the Belarusian National Academy of Sciences, which includes representatives of the Information and Justice Ministries.
In light of Belarus' record, the United States fears that such a requirement will prove yet another tool abused by authorities to control the flow of information in Belarus.
Mr. Chairman, in the 1999 Istanbul Charter for European Security, all participating States reaffirmed "the importance of independent media and the free flow of information as well as the public's access to information." They further committed themselves "to take all necessary steps to ensure the basic conditions for free and independent media and unimpeded transborder and intra-State flow of information."
The United States calls on Belarus to ensure private media's access to distribution through Belpochta, desist from libel cases and other forms of harassment against such media and facilitate, rather than restrict, the activities of independent research organizations.
Belarusian repression of free media and independent public opinion research is a disturbing trend in the run-up to presidential balloting in 2006. Such repression already calls into question Belarus' intention to hold an election in line with OSCE commitments.
Just what does the Government of Belarus fear? The judgment and intelligence of fellow Belarusians? How very elitist. How very intolerant. And what a great way to continue the prevention of progress economically, environmentally, educationally, and certainly democratically.
STOP CODDLING BELARUS: Opinion by Aldis Kuskis, a Member of the European Parliament from Latvia, is Vice - Chairman of its Delegation for Relations with Belarus.
From Moldava.org
Aldis Kuskis: European hypocrisy stands naked.
Lenin once said that capitalists were so cynical that they would sell the Soviets the rope with which they would hang them. Lenin and communism have passed away, but that cynical indifference to suffering when profits are involved remains.
Belarus provides a glaring example. The European Parliament has consistently denounced Belarus as Europe's last dictatorship, yet EU member governments continue business as usual with Aleksander Lukashenka, the country's wayward and near lunatic despot.
This is especially true when there is a chance to save or make money. For example, for more than a decade, Germany's police forces, customs service, and even the Bundeswehr have been ordering uniforms from a state-owned factory in the city of Dzherzinsky, named after the father of the Red Terror and founder of the Soviet KGB, Feliks Dzherzinsky. Similar examples of such indifferent cynicism abound.
By treating Lukashenka as a favored business partner at the same time that the EU is trying to isolate him as an international pariah, European hypocrisy stands naked. Instead of indirectly propping up Lukashenka's regime through such cozy deals, Europe's governments must begin to act in accordance with what Europe's parliament has long understood: underwriting Lukashenka economically only prolongs his misrule.
So it is now more important than ever that European parliamentarians unite and make their position clear. The European Parliament has, indeed, taken the lead. Since last year it has been enlisting people with historic knowledge and understanding of totalitarian regimes to help guide its response to events in Belarus. This advice helped shape the parliament's strong stance against maintaining unnecessary economic engagement with Lukashenka and his henchmen.
But there are two radically different attitudes regarding Belarus's participation in European activities. On one hand, the Parliamentary Assembly of the Council of Europe has denied Belarusian politicians even informal access to meetings in Strasbourg. The Assembly condemned Lukashenka's usurpation of power when he twisted the constitution to grant himself a virtual lifetime presidency, and it has denounced the disappearance of those Belarussians who have dared to think differently from the regime.
RUSSIA-BELARUS UNION MOVES FORWARD
Opinion By Michael Mainville
The Washington Times
Could Putin be in charge of the NEW Soviet Union?
MOSCOW -- A draft constitution to be submitted to national leaders today would unite Russia and Belarus in a new country, potentially establishing a way for President Vladimir Putin to stay in power after his second term expires.
Boris Gryzlov, the head of the State Duma, Russia's lower house of parliament, announced last month that the draft was being prepared for Mr. Putin and Belorussian President Alexander Lukashenko. If approved, the constitution could go to referendums in both countries next year.
Although the so-called Russia-Belarus Union has been under discussion for years, some analysts think work on the project has been hastened ahead of Russia's 2008 presidential elections.
Mr. Putin yesterday named two key allies to top Cabinet posts, fueling speculation that he is paving the way for potential successors. Defense Minister Sergei Ivanov was named deputy prime minister and will retain his defense post. Mr. Putin's chief of staff, Dmitry Medvedev, was named first deputy prime minister. Both have been touted as successors to Mr. Putin.
But few think Mr. Putin is closing the door on staying in power himself.
He has said repeatedly that the Russian constitution should not be changed to allow for more than two presidential terms. But the unification of Russia and Belarus would entail the adoption of a new constitution, opening the door to him retain power.
"He really would like to remain in power, but he understands that prolonging his term will be badly perceived in the West and would put him on an equal footing with dictators in Central Asia," said Yevgeny Volk, the head of the Heritage Foundation's Moscow office.
"So he and his people are preparing a scheme that would make Putin remaining president digestible in the West," Mr. Volk added.
Mr. Volk said another option being discussed inside the Kremlin is expanding parliamentary powers and turning the presidency into a largely ceremonial position. Mr. Putin then could become prime minister as head of the pro-Kremlin United Russia party, the largest party in the Duma.
In a September poll of 1,500 Russians, 51 percent supported legislation to allow Mr. Putin to run again in 2008.
Russia and Belarus formed a loose union in 1996, but further integration has been hampered by Mr. Lukashenko's reluctance to cede power to Moscow.
Mr. Lukashenko has ruled his country of 10.3 million with an iron fist for more than a decade, imposing Soviet-style economic controls, silencing political opponents and running a series of flawed elections. The United States has called him "Europe's last dictator" and openly supports regime change in Belarus.
Pressure has been mounting on Mr. Lukashenko since democratic revolutions overthrew post-Soviet regimes in Georgia, Ukraine and Kyrgyzstan.
"This is a good time to put pressure on Lukashenko. He may be wondering about his political future and looking to keep at least something," said Nikolai Petrov, a political analyst with the Moscow Carnegie Center.
BELARUSIANS HAVE TAKEN PART IN DAY OF SOLIDARITY
From ZUBR
The Bison is the emblem…
"This time much more people have taken part in the Day of Belarusian Solidarity. According to our common estimation, we can speak of 300 thousand Belarusians who on November 16 took part in the action of solidarity. I would like to note in particular the activeness of people in the regions. Many regional centers, settlements and villages lit up candles of Freedom," told a well-known journalist Iryna Khalip, who was one of the initiators of the Days of Solidarity, to the Charter'97 press center. "I think that by December 16 there would be even more supporters of the Day of Solidarity. It arouses understanding, strikes a deep chord in the heart of every concerned citizen. Those who are burning candles today, tomorrow are to form a basis of future mass resistance to dictatorship, and finally, this would lead us to victory".
"We are greatly thankful to Vaclav Havel, Bronislaw Geremek, Aldis Kuskis, Azim Mollazade, Christos Pourgourides and other emblematic personalities, who have supported the Day of Belarusian Solidarity. The Day of Solidarity has become a national day already, and very soon, I hope, it is to become the day of international solidarity with Belarus. More and more states, politicians, Human rights activists, common citizens are supporting us.
Another initiator of holding the Days of Belarusian Solidarity, a coordinator of the Zubr movement Mikita Sasim stated that the awareness campaign before the November 16 was much wider than before the October event. According to the estimation of the "Zubr" movement, about 1.5 mln of people have learnt about the action and about 300,000 have taken part in it.
crucial playoffs in November, with Spain or Turkey the other options.
This will be decided in a draw scheduled for Friday.
SOLIDARITY-16: SECOND TRY
From the br23 blog
Day of Solidarity
Today was supposed to be a Belarus Solidarity day again. People were encouraged to switch off the lights and lite up a candle on their window pane at 8PM. My mother actually did that, but unfortunately she didn't see a single candle in any other neighboring windows. Some friends from Minsk told me they saw a couple candles in the buildings opposite to theirs. So I guess, at least several thousand people in Minsk probably did take part in the solidarity action.
On the other hand, in some other towns people even took to the streets. In Svietlahorsk (Homel region) there were about 30 young people with candles on the central square. And in Barysau (Minsk region), surprisingly more people came out to the central square. RFE/RL reports more than 300 people took part in the street protest in Barysau, lighting up candles.
In Vilnia (Vilnius) several dozens Belarusian students marched from Vostraja Brama gates through Vilnia's central streets.
I was told in Kiev there was some sort of solidarity demonstration in support of Belarus. And in Warsaw there was some street action too. Here are several
photos from the Polish capital:
SportsWORLD CUP QUALIFIER: BELARUS - NORWAY 0-1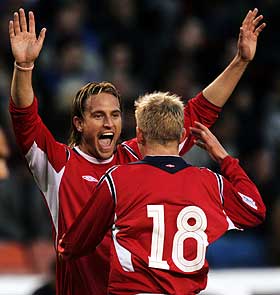 Thorstein Helstad of Norway.
Norway won deservedly 1-0 against Belarus away Wednesday, in their last qualifier for the World Cup. Thorstein Helstad scored for Norway.
Norway won deservedly 1-0 against Belarus away Wednesday, in their last qualifier for the World Cup. Thorstein Helstad scored for Norway.
For Norway this match was more of a good training match, as Hareide's men were already number two in their group and set for a play-off spot.
They could now face the Czech Republic in the crucial playoffs in November, with Spain or Turkey the other options.
This will be decided in a draw scheduled for Friday.