No income tax from real estate sales, Elections, Poll says opposition has no chance, tourism to increase, Lukashenka, Putin and cheap Russian gas.
From the Top

PRESIDENT OF BELARUS APPROVES PREVIOUS ORDER ON SELLING REAL ESTATE


Obviously the world of "Reaganomics" is on its way no matter how tough Lukashenka wants to be
President of Belarus Alexander Lukashenka signed decree #634 "On personal income tax" on December 28.
The document fixes that an apartment, house, cottage, garden-plot, a garage or a car can be sold once in five years income tax free. The norm comes into force on January 1, 2006.
As deputy head of the presidential administration Natalya Petkevich has told BelTA, the Belarusian parliament has recently adopted a new wording of the law on the personal income tax that toughened requirements for the sale of real estate . In particular, it included a norm that a person can sell an apartment, house, cottage, garden-plot, a garage or a car once in five years without paying an income tax only in case he or she owned this property for five years.
"The norm was set to bring order to the housing secondary market, to cut down the construction of apartments and cottages for speculative purposes and to make prices for accommodation and land on the secondary market available for people", Natalya Petkevich noted.
However, she stressed, this novel concept did not take into account some situations that might appear there. For example, a grandmother devises an apartment to her grandchild and he cannot sell it during five years. Or a man privatizes a house he has lived in all his life and has to wait for five years to sell the house tax free.
...and people are hoping that real estate will be their economic answer
"If this norm remained in force it would create big problems for law-abiding citizens who, due to some objective reasons, would like to sell their property", Natalya Petkevich said.
According to her, this was the reason why the head of state signed the new wording of the law on income tax but did not approve this norm. Decree #634 has been issued to regulate this issue. The document secures the procedures that exist currently in this sphere.
In addition the president signed several other decrees including # 637 "On the procedure for the transfer into the budget of a part of the profit earned by the state-owned unitary enterprises, of incomes from the republican and communal property shares (shares in the authorized fund) held by economic societies and on the establishment of the state targeted budgetary fund of national development."
And No 635 "On Signing the Agreement between the Republic of Belarus and the Russian Federation on ensuring equal rights for the citizens of the Republic of Belarus and the Russian Federation to the freedom of movement, choice of stay and domicile on the territories of the Union State member states."
CAMPAIGN TO COLLECT SIGNATURES IN SUPPORT OF CANDIDATES FOR PRESIDENCY OF BELARUS LAUNCHED
Belta
Becoming president is also a bureaucratic function
The most difficult part of the election campaign – nomination of the candidates for the presidency of Belarus has started today. It will continue till January 27, BelTA has been told in the central election commission. Eight candidates are taking part in the election campaign. Every initiative group has to collect no less than 100 thousand signatures in support of its potential candidate.
Once the central election commission receives all necessary documents – from January 28 to February 11 – it will take decisions to register the candidates. This procedure will take place on February 12-21.
In line with the country's legislation only the signatures of Belarusian citizens having the right to vote are valid. Signatures are collected by members of the initiative groups who should present documents issued by the central election commission to the voters. Every signature list should provide information about the candidates for the presidency. The voters have the right to support all the candidates, but put only one signature for every candidate.
In case a person has no passport, a military service record card is asked from military men, a certificate issued by the interior bodies – from those who have lost their IDs.
Candidates for the presidency or members of their initiative groups should present signature lists to the territorial election commissions by January 27.
ECOOM POLL: BELARUSIANS BELIEVE OPPOSITION HAS LITTLE CHANCE TO WIN PRESIDENTIAL ELECTIONS
Belta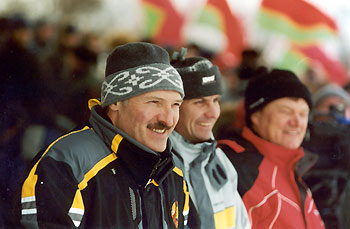 Lukashenka is enjoying an easy time of it
According to the poll conducted by the analytical center Ecoom in November-December, the Belarusians believe the opposition has little chance to win the presidential elections in 2006.
Answering the question "Does a representative of the opposition has a real chance to win the presidential elections in 2006 in Belarus", 85.2 per cent respondents believe the opposition representatives have no chance or very little chance. Some 63.7 per cent of the respondents answered "no" while 21.5 per cent of the polled – "rather not".
Only 5.3 per cent of the respondents answered "yes" and 9.5 per cent – "rather yes".
The poll was conducted in all regions of Belarus. 2800 citizens of the country older than 18 have been questioned.
MINSK TO EXPERIENCE THREEFOLD INFLUX OF TOURISTS BY 2010
Belta
Yes, Belarus does have some interesting things to come and see
Minsk is expected to experience a threefold increase in the influx of tourists by 2010 to 150 thousand per annum, the 2006-2010 program for tourism development in Minsk runs. This document was adopted today at the 16th session of Minsk City Council.
Unwrapping the document, director of information and tourist center "Minsk" Vitaliy Moshechkov noted, receiving 70 per cent of tourists coming to Belarus, Minsk accounts for some 50 per cent of all tourist services in Belarus. "The figures stress the importance of development of this industry in Minsk", Mr.Moshechkov said.
According to him, for many countries tourism is a critical socio-economic phenomena. "Unfortunately, the Belarusian capital is still lagging behind foreign cities in this respect", Vitaliy Moshechkov stated. For example, Vilnius is annually visited by 800 thousand tourists with the native population being 600 thousand. Prague has the population of 1,2 million and annually receives 2,5-3 million tourists. This year Minsk expects about 50 thousand tourists.
"We should turn around the situation", he said. The program sets out the goals, guidelines and a plan of actions.
About Br500 million will be allocated next year to promote the image of the capital and to develop the infrastructure. Off-budgetary sources, banking loans, investment will be used as well.
The document determines the development of tourist zones in Minsk – the historical downtown (Upper town, Minsk castle site, Troitskoye and Rakov suburbs), a manor and a park in Loshitsa. A special emphasis will be placed on revitalizing the suburbs of Minsk – a museum of the ancient Belarusian architecture and ethnography in the village of Strochitsa, historical-cultural preserve Zaslvl and many others.
A boost will be given to business, sports, ethnographic, religious, recreation and scientific tourism.
In line with the projections, the volume of paid tourist services, tourism proceeds and profits should race up 14 times by 2010.
CHEAP GAS IS RUSSIA'S REWARD FOR LOYALTY, SAYS LUKASHENKA
Rfl
It is true that Belarus pays less for gas, however, they also have less money to buy cars
29 December 2005 -- Belarus President Alyaksandr Lukashenka has suggested his country got a bargain deal on gas deliveries from Russia because Minsk is a loyal ally.
In an interview with the Russian-government daily "Rossiiskaya gazeta," Lukashenka said he was not surprised that Russia was seeking to quadruple the price of its gas deliveries to Ukraine.
He said this was a direct consequence of Ukraine's orientation toward the West and what he called Kyiv's "unfriendly" policies toward Russia.
While Russia is seeking to charge Ukraine some $230 per 1,000 cubic meters of gas from January 2006, Belarus will receive gas from Russia for just $47 per 1,000 cubic meters.
BELARUS TO BUILD HOCKEY STADIUM FOR $100 MLN
Charter '97
It is hoped that this will raise the level of Belarusian sport
In 2010 in the capital of Belarus a construction of a cultural and sports complex "Minsk-Arena" for 20,000 seats, the Interfax was informed in the institute "Belproekt". As said by the expert of the institute, chief designer, it would be the largest closed sports complex in Belarus. At the moment the seating capacity of analogous buildings does not exceed 5,000 seats.
Experts noted that the preliminary cost of the construction is about $90-100 mln. However, it was the of the initially planned complex with 13-15,000 seats, they added.
The complex is created for holding sports competitions of international level, for attracting tourists, training sportsmen, training of population, and for holding cultural events.
CATHOLIC PRIEST ROBERT KSZYVITSKI, A POLISH NATIONAL, WAS REFUSED RENEWAL OF THE VISA FOR THE YEAR 2006.
Viasna
Father Robert has been cast out from the fold
Pastor Robert has been working in Belarus for over ten years. In Barysau he is the head of a Catholic parish, but now he has been refused a visa for the next year.
According to Pastor Robert, the Committee for Religions and Nationalities did not agree that he could stay any longer in Belarus. The deputy chair of the committee Uladzimier Lamieka said to Radio Liberty that unfortunately he did not have any detailed information and could not make any comments.
The information that Pastor Robert is being made to leave Belarus was met with large repercussions among the Barysau Catholics and the local youths. According to Zmitsier Barodka, a Catholic believers and a member of the Council of Civil Initiatives "Free Belarus", residents of the city started to collect signatures against this decision: "The information that Pastor Robert did not get a renewed visa caused widespread indignation.
The believers initiated the collection of signatures. He is known as a very honest man. Pastor Robert was absolutely uncontrolled by the authorities, he was warned that in he must be more careful expressing his opinions.
People were interested in his sermons. The people deliberately went to hear Pastor Robert for inspiration, to understand the circumstances of their life, the life of the country. Some thought that the sermons contained criticism of the current authorities".
BELARUS: EIGHT CANDIDATES MEET FIRST HURDLE IN PRESIDENTIAL VOTE
RFE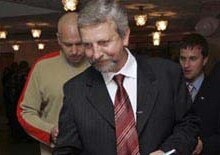 Milinkevich is now seen as only one of several candidates for the Belarusian presidency
The Central Election Commission of Belarus today registered eight candidates, including incumbent Alyaksandr Lukashenka, for the March presidential vote. Having cleared one hurdle, the contenders now need to gather 100,000 signatures of support from eligible voters in order to be added to the ballot. The united opposition candidate, Alyaksandr Milinkevich, is among the most prominent challengers. But few are expecting a political upset to ruin Lukashenka's goal of a third term in office.
Lukashenka's presidential challengers face several key obstacles ahead of the 19 March poll. They have limited access to mass media, very little money, and no right to free assembly. Adding to the difficulties is the fact that local electoral commissions have almost no opposition representatives in their ranks.
Alyaksandr Milinkevich is considered to have the best chance of any of Lukashenka's challengers.
But he told RFE/RL that Belarusian authorities are making life increasingly difficult for him and his supporters.
"The situation in the country is very difficult. For instance, our [party] activists are being arrested for distributing leaflets about the result of our [party] congress, including information relating to the united opposition candidate," Milinkevich said.
"They [activists] are put on trial; huge fines are imposed. The authorities are afraid of even the smallest piece of alternative information."
Among other challenges, opposition candidate face a shortage of time.
Sudden Rescheduling Good For Lukashenka
The Belarusian parliament moved forward the date of the presidential ballot from July to March, leaving would-be candidates with very little time to register, campaign, and connect with the voting public.
Manaev said the polls indicate Lukashenka is enjoying a strong lead, and would take 52 percent of the vote if it were held today. Milinkevich, by contrast, has just 7-percent support. Critics say the sudden rescheduling works almost exclusively in Lukashenka's favor.
But Milinkevich said such maneuverings are nothing new -- and that it's important to stay in the race regardless.
"Belarus is the country where laws haven't been observed for a long time already. We know that already for many years the votes haven't been properly counted during elections -- just the desirable results are recorded," he said.
"But nevertheless, we will participate in the elections, because for us it's a chance to meet people, to find ways into their hearts. It's very important for us to see people, and to bring information to them."
Professor Oleg Manaev heads a group of sociologists who have conducted independent public polls ahead of the ballot.
Manaev said the polls indicate Lukashenka is enjoying a strong lead, and would take 52 percent of the vote if it were held today. Milinkevich, by contrast, has just 7 percent support.
But even with little apparent suspense regarding the outcome of the vote, Manaev said the presidential vote is an opportunity for the opposition to gain crucial exposure, saying: "Of course it's not the same as speaking on the floor of parliament, or speaking on Belarussian television, but it's still something."
No Unity
Manaev said the rigors of the election may help notoriously fractious opposition officials patch up their differences and force a unified long-term political strategy.
For now, however, the opposition remains distinctly disparate. There are six opposition candidates in addition to Milinkevich staging a presidential bid.
They are Syarhey Haydukevich, leader of the Belarusian Liberal Democratic Party; Alyaksandr Kazulin, leader of the Belarusian Social Democratic Party (Hramada); Zyanon Paznyak, the exiled leader of the Conservative Christian Party; and former General Valerii Fralou, who as an opposition lawmaker staged a hunger strike in 2004.
Two additional former lawmakers, Alyaksandr Voytovich and Sergei Skrebets, are also running as independent candidates.
Not all observers are willing to accept the March vote as a fait accompli. Valerii Karbalevich, an analyst with the Strategy political analysis center in the Belarusian capital, Minsk, says it is too early to declare Lukashnka the definite winner.
"It's clear that Lukashenka has the biggest chance of winning, but I won't say it's a 100-percent guarantee, because every campaign brings unexpected things," Karbalevich said. "Experiences in different countries clearly indicate this is so."
Karbalevich didn't specify what, if anything, would provoke a surprise outcome in the presidential vote. But he noted that many people in Belarus, and particularly Minsk, are increasingly unhappy with the economic and social conditions they are subject to under the Lukashenka regime.
PRESENTATION OF MILINKEVICH'S PLATFORM TO TAKE PLACE TODAY
Charter '97
Today at 12 p.m. in Minsk a presentation of the program of social and economical development of Belarus prepared by the candidate for presidency, Alyaksandr Milinkevich, nominated at the Congress of Democratic Forces. The presentation will be held in a form of a round table with participation of a big group of scientists and experts in this sphere.
"Belarus has become a country for nomenklatura and bureaucrats. GDP is growing, but profits are staying in the pockets of businessmen and officials, confidants of the government… Rewards and new high positions are given for lies. It is an unjust and immoral policy, which does not has future," the foreword to the project of the program reads, the Radio Svaboda informs.
Opinion
PEN VS. SWORD
By Philip Kennicott, Washington Post Staff Writer, Charter '97
A "rattle-trap" Minsk bus
After more than a year in the United States, Iryna Vidanava says she doesn`t feel like an idiot when she smiles on the street. In her homeland of Belarus, spontaneous good humor toward strangers just isn`t done in public places. In the grimly efficient, Soviet-era subway and on the rattletrap buses that ply the drab streets of Minsk, almost every face is studiously expressionless. Even most young people put up a shell and stay nervously within it.
Changing that, in some ways, has become her life`s work. And it may land her in prison.
Vidanava, a graduate student at Johns Hopkins University, holds down three jobs -- putting in long days including a commute between Washington, where she lives, and Baltimore, where she studies. She has two gigs with the university, where she works as a research assistant and a teaching assistant.
And then there`s what she calls "my night job" -- as editor of Student Thought, perhaps the most edgy and professional publication left in Belarus, where the government has been ruthlessly shutting down all independent media. Although Minsk is almost 5,000 miles away, she still works -- with cell phone and e-mail -- to keep alive the magazine she has edited since 1998. But as Belarus, a landlocked country sandwiched between Poland and Russia, prepares for an election in March, things have never been more difficult.
Last month, the government seized all but a handful of copies of the magazine. And now Vidanava is under investigation for financial crimes and infractions against the country`s draconian press laws.
If charged, the 27-year-old editor could face a huge fine and up to six years in prison. But it`s hard to know exactly what`s happening with her case in Belarus. One investigator is on vacation; another has given no word on where things stand..
As Vidanava faces the possibility of a long, shadowy journey through the sphinxlike world of justice in Belarus, her father, Aliksei Karol, has just emerged from the same nightmare. Like his daughter, he is an editor; he heads one of the country`s last independent newspapers. And like his daughter, he has faced down the authorities. In October, the government fined him $1,200 for insulting the president, a charge based on some satirical cartoons found in his newspaper`s office when government agents raided it last spring. In a country where $250 a month is a good salary, the fine is staggering; but at least it`s not prison, which was a distinct possibility. "He paid it just to keep the newspaper alive," Vidanava says, with both affection and admiration.
As the country heads into elections, opponents of authoritarian President Alexander Lukashenko are struggling to keep some measure of a democratic movement going. They don`t expect to win outright. In a country where there`s no opposition access to radio or television, no easy legal means of taking a simple poll, and where the KGB still monitors anyone not firmly loyal to the government, opponents of Lukashenko don`t know how much support they have. But there`s a mantra, among publishers and journalists, leaders of independent groups and clubs, and the beleaguered political opposition -- just stay alive through the election.
Vidanava, a short, energetic woman with a ready laugh, seems to have inherited a pretty evenhanded genetic mix of her parents` attributes. Her mother is irrepressibly good-natured and has supported her husband through three attempts at winning a seat in the country`s parliament. "She`s always in the front row at protests," Vidanava says.
Her father is more given to the soft chuckle than her mother`s great gales of laughter. He is quiet, and often serious, and has played a large role in his country`s intellectual life as Belarus emerged as an independent country after the breakup of the Soviet Union.
Iryna has both her mother`s sparkling nature and her father`s seriousness. Her magazine was, in some ways, a fusion of these attributes. When she took over editing it in 1998, it was a small, serious publication aimed at members of the Belarusian Students Association. Within a few years, she had transformed it into a broader, more appealing, more youth-oriented magazine, aimed at Belarusian kids who looked longingly to the West for music, fashion and a feeling of freedom they lacked at home. It had an edge, and though it was apolitical, it had a larger cultural agenda: to spark some life in what Belarusians call "the gray mass."
"We don`t know why this issue became a target," Vidanava says, holding one of the few remaining copies of the magazine`s most recent publication. The government claimed it was printed with "dangerous ink," she says, with a sardonic laugh. The cover story is about shoplifting and shows an attractive young woman with various purloined goods stuffed into the top of a pair of long, sexy stockings. It`s a typical cover, and fairly racy for Belarus, where state media manage to be both dull and paranoid, and rarely deal with serious social issues. Vidanava assumes that the crackdown is election-related.
"Young people don`t like Lukashenko," she says. "They want to travel. They want to have normal lives. He understands that he needs to control them. Young people will go to the streets -- they don`t have that much to lose."
So Student Thought, to stay alive, will now go even more underground than it was before. The next issue, says Vidanava, will definitely come out, but she doesn`t want to say exactly how. Meanwhile, she waits, in limbo, for news of her own future.
Lenin After Lenin
Last summer, before the government confiscated the October issue, the offices of Student Thought hummed with the controlled frenzy of magazine offices everywhere. With a picture of Iryna on the wall -- laughing -- the young journalists who manage the day-to-day editing while she is away explain how they hope their magazine can influence the country`s youth. For them, Western music and fashion aren`t just luxury goods; they`re a statement, a refusal by young people to disappear in the country`s "sovietized" society.
Designer jeans, chic glasses, colorful shoes, a haircut that isn`t just another military brush cut, are all about standing out from the faceless, brutalized crowd. Bono is a hero to them for his mix of music and social consciousness. They want to be "Belarusian Europeans," not Belarusian Russians, the cultural identity that Lukashenko promotes through close ties to Vladimir Putin`s leviathan state to the east.
"We are not political," says Max Aheeu, the pen name of one of the magazine`s two main editors. Only Iryna has her real name on the masthead. The magazine`s offices are in a nondescript, Khrushchev-era apartment flat. They`ve moved four times in the past three years. The KGB has tried to infiltrate the group, approaching one of the magazine`s lead writers. When she realized she was being tracked, she quit her job and changed apartments. They apparently lost the scent.
Aheeu says the magazine isn`t political, but it is certainly independent, and that`s bad enough. Student Thought has published investigations into the rampant bribing of college professors during exam season -- the cover showed an exam book stuffed with cash. It has profiled music promoters and young political leaders. It has published a very popular guidebook to studying abroad, but that was before Lukashenko instituted new restrictions making it increasingly difficult for students to study outside of Belarus.
"For us, the most important thing is to stay alive and have access to young people," Aheeu says. "The major idea is you should stay active. You should not lose hope, you should not be like this gray mass."
Across town, in the offices of Iryna`s father, the message was the same.
"The main thing is to live until the elections," Karol says. If the editors at Student Thought look to reform youth culture with European values, Karol looks to his country`s past to explain his mission.
After the breakup of the Soviet Union, he says, Belarus was left a little lost. Other former Soviet republics embraced independence. There was a flourish of nationalist sentiment in the Baltic states to the north, and Ukraine to the south. But under Soviet rule, Belarusian national identity had been ruthlessly squelched. So while Belarusians became independent, they did so without a strong sense of who they were and what the future might be after communism. Unlike in most of the rest of the old Soviet Union, the statues of Lenin never came down, and many people still associate "democracy" with the turmoil and privation of the first few years of independence.
Karol struggled to change that.
"In the Brezhnev era, we intellectuals weren`t satisfied," he says. "We understood that the current system was a vicious system and needed to be changed. As a historian, I had access to closed archives, and I was working to rehabilitate the people who had suffered from the regime in the 1920s."
Karol used his access to state archives to put together a better understanding of the Stalinist purges against Belarusian nationalists. With perestroika, he and other intellectuals started advocating for the revival of a distinct, Belarusian cultural life. And then they started forming political parties. Karol founded one, and also a newspaper in 1992. At one point his circulation was about 50,000, but now, he says, people are afraid to buy it, or be seen reading it. As of last summer, circulation was down to fewer than 6,000. The offices have been robbed, computers have been confiscated, and in September 2002, Karol was attacked in the street, by government agents, he assumes.
Iryna is close to her parents, communicating with them often by instant message over a cell phone. Her father has advised her over the years, and now she advises him as well.
"We are friends, partners," she says. "He brought me to the movement, and we discuss everything. I was lucky to be born there."
She describes a childhood in which her father wasn`t a dissident, but "in our house we always had unusual books." Her mother has supported her family`s often dangerous political activities. Her brother, a financial analyst living in the United States, sends financial advice stories home to his father`s newspaper.
"In Belarus, people really know very little about how to manage their money," says Iryna. Or, she might well add, how to function in a free society. Both Iryna and her father are part of a wider movement to reform Belarusian values. Lukashenko`s power is so absolute, his ability to steal elections so certain, they argue, that the opposition must work to change the basic culture before it can hope to change the government.
Even some politicians, including the opposition candidate Alexander Milinkevich, speak of a deeper "Belarusian" problem that must change if their country is to change.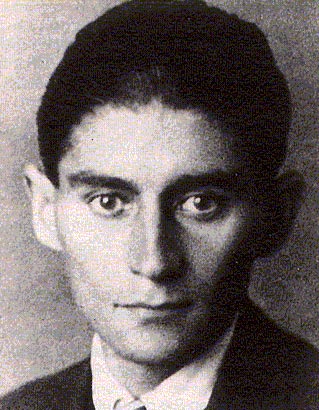 Franz Kafka
"The main problem of Belarus is not Lukashenko himself but the mentality of each Belarusian," Milinkevich said one day last summer. "Unfortunately, Belarus as a country was sovietized in the strongest way, compared with other post-communist countries. The process of decommunization did not take place. And there are two major problems: The first is fear and the second is the absence of information."
Leaf through any of the official, state-sponsored newspapers and you see the depth of the problem. "Economic crisis in Ukraine goes hand in hand with political crisis," began a typical article one Sunday, suggesting that Ukraine`s Orange Revolution, which unseated another post-Soviet authoritarian government, had brought nothing but chaos. "Dead at Disneyworld" screamed another story about accidents and heart attacks at the American theme park. And then there was the almost comical discovery, early last summer, of a shadowy new group called the "Belarusian National Liberation Army," a terrorist group threatening mayhem. Independent journalists just laughed at what they said was a government hoax.
The Beautiful Land
"It is an essential part of the justice dispensed here that you should be condemned not only in innocence but also in ignorance," said a bitter Joseph K., the frustrated hero of Franz Kafka`s "The Trial." This might be Iryna`s motto, as she awaits word on her legal status.
Belarus today is somewhere between Kafka`s dark fantasy of opaque and authoritarian bureaucracy and the brutal Big Brother of George Orwell`s "1984." Secretary of State Condoleezza Rice has called Belarus "the last true dictatorship in Central Europe." Europe and the United States shun Lukashenko and his government, especially those top officials implicated in the 1999 disappearances of opposition figures. To intellectuals and opposition figures in Belarus, Lukashenko is just a thug, and a rather ridiculous one, given to rantings about spies and terrorists and American agents determined to overthrow the government.
But Lukashenko`s steady campaign against publications such as Iryna`s Student Thought, and her father`s newspaper, has created a vast, dead, negative space within the country. It`s a society in which even the mood of the people is a mystery.
Vidanava hopes her magazine will bring something new, something independent and questioning into the lives of young people, "who lead very sad, gray lives." But Belarus is also relatively prosperous, and it`s not clear how many young people are, in fact, unhappy with their existence. It`s an unknowable fact in a land of silence.
One morning last summer, Vidanava got up early to make a telephone call home. Her parents were serving lunch to a reporter in their small dacha on the outskirts of Minsk. She called to remind her mother, an unsinkably good-humored woman, not to talk too much. The call prompted a chuckle from her father and hearty laughter from the kitchen, where Olga Karol was bustling about a meal of prunes stuffed with garlic, Georgian cheese pie and potato-and-pork pancakes. There seemed a mutual agreement among all three, even though they live on different continents, that these daughter-mother calls were obligatory whenever guests came by -- and that the calls never did any good. Nor did anyone care very much, because her mother`s burbling stream of conversation was as relaxing as the crickets and late afternoon sun.
A bottle of Georgian red wine was produced, the thick grass and fruit-laden trees seemed to hum, and for a moment it was hard not to think of a Belarusian proverb, a proverb with currency in other countries that have suffered in the orbit of Russia over the centuries. God made the land so beautiful, they say, that He felt obliged to compensate by giving the people bad rulers. It was the sort of afternoon that Turgenev described in "On the Eve," a novel about a country pregnant with revolution: It was an afternoon of "radiant haze," when "it was pleasant to sit in the cool shade and hear that hot sound of life."
In Minsk, a half-hour away by car, the parks were filling with young people, some of them cocooned in the spell of MP3 players, other sharing bottles of beer and -- perhaps it was the brew or the summer sun -- laughing . At least a little.
"Isn`t it a selfish word," asked one of Turgenev`s characters, about the idea of happiness, about the kind of feeling one has on a radiant summer afternoon. "I mean, a word that keeps people apart."
After centuries of suffering at the hands of the Russians, and especially the Germans, the country is at peace. Many of its younger people know no other leadership than that of Lukashenko; many of its older people have known much worse. Many, it seems, are content to leave democracy to others and spin out passably decent lives. Not Vidanava, or her father, or her mother.
She will go back, she says, if charges are filed. The Belarusian government generally tends to be very bad at things people wish governments would do well. It can take an hour simply to mail a package in the government post office. And it tends to be very efficient at things that people wish it would do less well, like keep tabs on its citizens. But, just like the silent bureaucracy that threatened Joseph K. with The Trial, the government of Belarus is also capricious and hard to predict. Vidanava thinks she can mount a defense, if need be, even on the government`s own terms.
But it`s not really a question of whether she can win her case. Returning isn`t a question at all.
"I am Belarusian," she says. "That`s the most important thing, and I love my country. I feel comfortable there despite all the problems. And I want it to be better."
USA HAS TOO MANY TROUBLES APART FROM BELARUS
Alyaksandr Tsikhamiraw, BelaPAN, Charter '97
So many countries to meddle with, so little time...
Despite the adoption of the ambitious Belarus Democracy Act last year, Washington`s strategy toward Minsk now is more like a series of small stings rather than massive pressure to support democracy. A number of both domestic and foreign issues have prevented the US from an active policy with regard to Belarus last year.
Before mid-2004 the relationship between the US and Belarus could be described as "cold peace," but in the end of last year it worsened substantially and was reminiscent of USA-USSR relations during the Cold War.
In the fall of 2004 the US leadership had a negative assessment of Belarusian procedures associated with parliamentary elections and a national referendum in October. After Alyaksandr Lukashenka announced his decision to call a plebiscite to amend the country`s Constitution to the effect of removing the two-term limit on the presidency, Washington intensified its work on Belarus Democracy Act. The document was passed by the US Congress and approved by the president in October 2004.
The Act provides for the possibility of sanctions against Belarusian top officials, including visa bans on those responsible for gross violations of democratic standards and human rights, freezing of assets of Belarusian state enterprises, and ban on export of strategic commodities and government loans and investments to Belarus. In addition, certain funds are earmarked for alternative broadcasting to Belarus and support of civil society.
While commenting on the adoption of Belarus Democracy Act in the USA, Lukashenka said that the document would only add voter popularity to him. The Belarusian foreign ministry came out with sharp criticism, saying that the document was interference in domestic affairs and violation of international law, and that the main motivation behind it was the attempt to destabilize the situation rather than improve democracy in Belarus.
Minsk disregarded the opinion of the US administration that the Belarusian people were not actually given opportunities to make their choices in the fall of 2004. Moreover, a number of propagandistic steps were taken by the Belarusian authorities. The state television several times showed Fahrenheit 9/11, an American documentary with severe criticism of US President George W. Bush`s policies. In November 2004, Mikalay Charhinets, a member of the Council of the Republic of the National Assembly and a staunch supporter of Lukashenka, took part in the observation of the US presidential election as a member of the OSCE Parliamentary Assembly`s mission. He then said that he saw substantial drawbacks in the organization and conduct of voting. Charhinets even approached the OSCE Office for Democratic Institutions and Human Rights and asked it to take measures to defend the rights of Washington`s voters.
On November 4, 2004, the Belarusian foreign office said that the US election was neither democratic nor transparent, pointing to the fact that Belarusian observers were not even allowed to enter some polling stations in the US. Lukashenka called the American system of voting "the most archaic in the world."
The same month a session of the UN General Assembly voted down a US and EU-sponsored resolution on human rights violations in Belarus. As many as 103 countries voted against it. Belarusian diplomacy was triumphant and spoke about the UN decision as its victory in the international arena.
Belarus Democracy Act did not prompt the country`s leadership to soften its policy toward the opposition. Quite on the contrary, following the Orange Revolution in Ukraine, the Belarusian leadership started to tighten the screws.
This summer the Ministry of Education did not allow 60 school students to leave for the US as part of the FLEX exchange programs. The children had been selected as a result of a contest run by the government-controlled Nastawnitskaya Hazeta (Teacher`s Newspaper) in October 2004. Ministry officials said that the conditions of the contest had not been agreed with education authorities.
In the end of 2005 the Belarusian government introduced a number of repressive amendments into the country`s Criminal Code, in particular, an article on "discrediting the Republic of Belarus." Minsk remained deaf to the US`s calls to free people who had been detained and convicted "on spurious charges."
In the beginning of this year US Secretary of State Condoleezza Rice called Belarus an "outpost of tyranny" among other undemocratic regimes.
A Belarusian opposition delegation visited the US in March and met with representatives of the Department of State and National Security Council. Vintsuk Vyachorka, leader of the Belarusian Popular Front, made a speech in front of the international affairs committee in the US Congress. The delegation noted that their position "was finding increasing support and understanding on the part of US lawmakers and administration."
In April 2005, Belarusian opposition politicians and human rights activists met with Condoleezza Rice in Vilnius. The US secretary of state set forth four important points for the promotion of democracy in Belarus: support of the independent media, involvement of NGOs into democratic opposition, creation of a nationwide movement and nomination of a single candidate for President.
In July this year the US Congress passed a bill on allocations for foreign policy operations in 2006. The document has $15 million for the support of democracy in Belarus, particularly, for "free elections, development of political parties and NGOs, support of the independent media and international exchanges and training programs for pro-democracy leaders and activists."
In November, the US Department of State declined a visa request filed by the same Mikalay Charhinets, who was going to take part in a session of the UN General Assembly.
Several times over the year Washington made statements condemning policies of the Belarusian leadership.
Thus, measures taken so far by the United States with respect to Belarus can hardly be described as massive pressure, contrary to what Belarusian state propaganda is saying. The US administration has not fulfilled most of provisions in Belarus Democracy Act. The Americans seem to be using a tactic of small stings, which allows the Belarusian authorities to emphasize their significance and launch ideological counter-attacks.
Analysts believe that Belarus is not a high-priority matter for the US (as can be seen in modest amounts allocated for the support of Belarusian democracy). Washington surely dislikes the Belarusian regime but it has more pressing issues, like Iraq, Afghanistan, Iran, Ukraine, Russia and strengthening of trans-Atlantic unity.
Moreover, the US has not yet been successful in addressing those issues effectively. Many observers, including the recognized authority Zbigniev Brzezinski, are now speaking about a crisis in the neo-conservative course of George W. Bush. Strange as it may seem but the American rather than Belarusian leadership has to prove its adherence to human rights.
Serious issues at home and abroad reduce the possibility of Washington`s active policy toward Belarus in the near term. This could have also been taken into consideration by the Belarusian authorities while making the decision to hold the country`s next presidential election in March 2006.
Economic relations between the US and Belarus will be discussed in a separate article.
***
Alyaksandr Tsikhamiraw

Born in 1965...Graduated from the history faculty of Belarusian State University in 1989...Completed a post-graduate course at the History Institute of the National Academy of Sciences in 1993...Assistant professor with Belarusian State University`s International Relations Chair...Holds a doctoral candidate`s degree in history...Specializes in the history of international relations
.
From the blogs
UKRAINE-RUSSIA GAS WAR
From the December 27th, BR23 blog (From Warsaw)
Belarus pays less for gas, but the have less money for the cars to put it in
IMHO, Ukrainian-Russian "gas war" is one of the most important and crucial battles in the region, ever since USSR broke up. It also shows what kind of treatment Belarus might face, if Kremlin gets upset with our political line. The problem is that now Belarus is very dependent on cheap Russian gas, and by the way, this explains many successes of our economic model (dubbed Lukanomika). Russians are already addicted to cheap gas, and Lukashenka's economy is also turning into a drug addict "best supporting role."
If nothing else, one thing is clear, Russians are using gas prices as a means to wage political control, and it's still the top news from the region this week because Ukraine-Russia conflict is far from being resolved. "International Herald Tribune" wrote about it again, in today's issue:
…The only country that will face no immediate price increase will be Belarus, Russia's small western neighbor, which will continue to pay $47.
When Medvedev was asked why, if Gazprom believed in applying market rules for countries that bought its gas, Ukraine was being charged the most, other countries were being charged less and Belarus was exempt, he replied: "It's because Gazprom owns the transit pipeline across Belarus."
Gazprom, however, holds only a 32 percent stake in the pipeline, and President Alexander Lukashenka of Belarus has repeatedly refused to sell Russia a majority stake in that pipeline, which also ships gas to European markets.
WILL IT BE PUTIN THE ENFORCER OR KINDLY COUSIN VLADIMIR?
Alison Rowat, «The Herald», Charter '79
Vladimir Putin
Just as the west begins to pack away the tinsel and distant relatives for another year, the Russian Orthodox Christmas rolls into view. The official date for celebrations is January 7. This year, however, Mother Russia will receive her biggest gift unusually early. On Sunday, the UK hands the presidency of the G8 to Russia. The former evil empire, the target of the west`s fiery rhetoric and nuclear missiles for most of the last century, has well and truly come in from the cold. Preparations for the G8 summit in St Petersburg are being kept under wraps, with the last news posting on the official summit website dated six months ago. Given the city`s embarrassment of cultural and architectural riches, world leaders can expect to be dazzled in a way that Gleneagles, for all its tartan-clad luxury, could not hope to match.
St Petersburg is president Vladimir Putin`s home town, and the boy brought up in a slum will be keen to show how far he and his country have come up in the world. Peter the Great`s "window to Europe" becomes, in July, the viewing point for the new Russia and the new Putin.
Though there is an element of Buggins`s turn about the G8 presidency, Russia has been handed an extraordinary accolade, even more so considering it is not yet a full member of the elite club. When the G7 first began to welcome Russia into its embrace, the notion of the former communist nation some day assuming the rotating presidency must have seemed like the fitting end to a capitalist fairy tale. After some initial setbacks (involving, among other things, tanks firing on the parliament), the country did seem to be on the path to real democracy. Debate was flourishing, economic liberalism was rapidly becoming the new state religion, and in Putin the west had found a man with whom it could do business after the helter-skelter Yeltsin years.
Now that the prospect of Russia heading the G8 is almost a reality, however, doubts are beginning to emerge about how the "Year of the Bear" will pan out. Like hapless owners of exotic pets, the rest of the G8 are looking at the large, unpredictable brute before them and wondering where the cuddly young creature they brought into their home a decade ago has gone.
The latest warning that there could be interesting times ahead came this week from Andrei Illarionov, the one-time golden boy among Putin`s economic advisers and the man who used to be in charge of liaisons with the G8. Cutting his last ties with Putin after five years in government, Illarionov said: "It is one thing to work in a country that is partly free. It is another thing when the political system has changed and the country has stopped being free and democratic."
The Kremlin has responded with its usual Siberian silence. Illarionov is yesterday`s man to Putin; he is presumably banking on the west regarding his former aide in the same way. Yet it is not just the regrets of one minor character that have the rest of the G8 looking at the calendar for 2006 and mentally putting a large question mark against July.
Those who want to put a case for calling the whole St Petersburg thing off can choose from any number of reasons. There is the running, putrid sore that is Chechnya; Russia`s terrifying friendships with nuclear-hungry Iran and Syria; Putin`s scrapping of direct elections for regional governors, his control of the parliament and his neutering of the press; the jailing of Mikhail Khodorkovsky, oil mogul and political rival; the bullying of groups which try to hold the government to account on human rights and other abuses; the Kremlin`s support for the dictatorships in Belarus and Uzbekistan; its meddling in Ukraine . . . The charge sheet runs and runs.
Fortunately for President Putin, he is blessed with two of the most valuable commodities in global politics: powerful friendships, born out of the "war on terror", and economic might. Much has been said about the former, less so the latter. The world has been so busy admiring the irresistible rise of China to economic superpower status that the march of Russia towards the same goal has tended to go unnoticed. Largely due to the efforts of a certain gas company, that situation is changing.
Gazprom is to the Russian government what British Coal used to be to Downing Street in pre-privatisation days. It is not a satisfactory comparison, because even in the days when they could put the lights out and topple a government, British energy suppliers were never as powerful as the state-controlled Gazprom. The word`s largest gas company, in which the Kremlin has the controlling stake, already keeps Russia and the rest of the former Soviet Union warm and powered, and has big plans for western Europe, the US, China, Japan and South Korea. Now that Putin has thrown open the door to foreign investors, Gazprom is expected to see its earnings soar further. And all of this before it even touches the virgin expanses of the Barents Sea.
What makes Russia-watchers nervous is the apparently close connection between Gazprom and the foreign policy of its main shareholder. On the same day that Russia assumes the G8 presidency, the company is threatening to turn off the gas tap to Ukraine if it does not agree to a fourfold increase in prices. The dispute is purely economic, says Gazprom. This is the same Ukraine, however, whose orange revolution left Russia with a red face. It is the same Ukraine that is edging closer to the EU and Nato. If paying market rates were compulsory, Belarus, whose odious dictator, Aleksander Lukashenko, is a friend of the Kremlin, would not be buying gas at one-fifth of the price being asked of Ukraine. Something stinks here, and it is not the gas.
What happens between now and the threatened switch-off will be a test of the new Russia, as will elections in Belarus in March. As the charge sheet cited earlier shows, Russia will have no shortage of other tests to pass. Putin, the former KGB chief who called communism`s collapse "the greatest geopolitical catastrophe of the twentieth century", is now the fully paid-up world player he always wanted to be. Will he continue to act like the enforcer at home and abroad he believes Russia needs? Or will he pitch up in St Petersburg as kindly cousin Vladimir in the mould of Uncle Joe of wartime fame?
After the twin towers fell, the west agonised over its failure to get a handle on Islamic extremism. There were not enough agents on the ground, said old hands; it was not like the Cold War when the enemy was well kent. The Russia of today, despite its awesome power, is just as much of an unknown quantity as the Islamic world was a few years ago. It has become again Churchill`s riddle wrapped in a mystery inside an enigma. For good or otherwise, its new, true colours are about to be revealed.
Sport
BELARUSIAN GRAND MASTER ANDREI VALYUK WINS WORLD'S RUSSIAN CHECKERS CHAMPIONSHIP
Belta
It is a different game from western checkers…
Belarusian grand master Andrei Valyuk has won the title of the world champion in 64-square checkerboard version (modern Russian checkers).
The world championship took place in Yevpatoriya (Ukraine) on December 16-26, BelTA learnt from the sport and tourism ministry. The competition was divided into two stages. 27 competitors partook in the preliminary stage according to the Swiss system to define eight finalists.
The finals defined the world champion. Andrei Valyuk scored 8 points and won gold. Two Russians Murodullo Amrilloyev and Dmitriy Tsinman ranked second and third having scored 7 points each.
The players showed great results at Junior World Checkers Championship. In Dneprodzerzhink (Ukraine) Igor Mikhalchenko won silver, another Belarusian Andrei Tolchikov went second.