Union State looks like a go, Chernobyl cleanup, nuclear power, Gazprom, Lukashenko collects 1.5 mil signatures, Milinkevich looks good in poles
From The Top

• Union State

Unification of Russia, Belarus to raise standard of living - Putin


Putin and Lukashenka head the table at a meeting of the two countries
ST PETERSBURG, January 24 (Itar-Tass) - Russian President Vladimir Putin is confident that the unification of Russia and Belarus will raise the standard of living of citizens.
"Over the past few years, we've done much to select the optimal model of union construction," which takes into account similar trends and the specifics of national development, while working toward the main objective: the pooling of the potentials of the two countries, Putin said at the session of the Supreme State Council of the Union State on Tuesday.
Belarusian President Alexander Lukashenko praised the documents signed after a Russia-Belarus summit on Tuesday and Russia's assistance to Belarus on the international arena.
"I agree with the Russian president that the adopted decisions give this meeting a special character and importance," Lukashenko told a news conference after a meeting of the Supreme Council of the Russia-Belarus Union State.
"The conclusion is clear - with the adoption of these decisions we have finally determined that the citizens of Russia and Belarus are not considered foreigners on their territories," he said.
He also praised Russia's support to Belarus on the international arena.
"I am especially grateful to the Russian leadership, and [Foreign] Minister Lavrov in particular for a colossal support that the Russian Foreign Ministry provides to Belarusian partners on the international arena," Lukashenko said.
The citizens of the two countries await consistent progress in Russian-Belarus integration, and practical decisions strengthening its basis and raising the standard of living in both countries," the Russian president said.
"We are facing serious and painstaking work to meet their expectations," he underlined.
"The issues of ensuring equitable rights of Russian and Belarussian citizens have been and remain in the focus of our attention," he noted.
President Vladimir Putin said he is satisfied with the meeting of the Russia-Belarus Union Supreme State Council.
"We had a detailed and frank discussion of a broad range of issues in the strengthening of the Russian-Belarussian integration, and defined tasks for the near and distant future," he said. "We confirmed the common wish for energetic progress in the union development."
Alexander Lukashenko said: "This is a special year for Russian-Belarusian integration," adding that ten years ago the two countries had made the right decision in forming the union.
The Russia-Belarus Union State's unified external border program has been extended until 2007, Russian President Vladimir Putin said Tuesday after a session of the Union State's Supreme Council.
Belarusian President Alexander Lukashenko said the border would soon be called locked. "Soon we will be able to report to our nations that the border is 100% locked, as it was in Soviet times," Lukashenko told a news conference.
Putin singled out the economic integration and the agreements on equal rights of Russian and Belarussian citizens and humanitarian contacts.
A large set of legal acts was signed, including an agreement on union property, an agreement on the social and medical security, and the freedom of traveling.
Putin said the two countries would also sign a document on the Union's property "establishing a precise order of using and managing the joint property of our nations," and would approve the Union's budget.
"Its adoption will help to launch a range of the Union's programs for cooperation," Putin said.
Belarusian-Russian assembly approves 2006 union budget
The
Moldava.org
Belarusian-Russian Parliamentary Assembly approved the 2006 budget of the Belarus-Russia Union State in Moscow on 20 January, ITAR-TASS reported. The budget totals 3.1 billion Russian rubles ($110 million), including Russia's contribution of 1.76 billion rubles, Belarus's contribution of 948 million rubles, and 259 million rubles in Belarus's debts on its budget contributions between 2000 and 2003. Eighty-two percent of the budget is allocated for 40 joint programs and events, including the development of computer technologies, diesel-car making, radio electronic systems, as well as special and dual-purpose equipment. Belarus-Russia Union Secretary Pavel Borodin said 8,000 companies employing up to 300,000 workers of the two countries currently work on union projects.
• StateBelarus enlarges financing of Chernobyl cleanup program
Winter in Chernobyl
MINSK, January 24 (Itar-Tass) -- Belarus will enlarge the financing of the Chernobyl cleanup program 1.7 times in 2006-2010 as against 2001-2005, a source at the Belarussian governmental committee on the Chernobyl nuclear accident aftermath told Prime Tass on Tuesday.
"That would be the fourth five-year Chernobyl program of the government. It will focus on better health and living standards of people affected by the accident, and the reclamation of damaged lands," the source said.
"It is planned to start gas deliveries to 8,500 houses, and that would require the construction of 463 kilometers of gas pipelines," the source said.
Thirty percent of the funds will be spend on radiation monitoring, reclamation of polluted lands, and maintenance of radioactive waste storage facilities.
"The government will guarantee pure products made by farms and individuals on lands polluted with radionuclides," the source said.
"A World Bank loan for the Chernobyl accident cleanup in Belarus opens a new phase of cooperation. The sides are transferring from free aid to crediting," he said.
According to the committee, 20% of the national territory populated by 1.3 million people is polluted with radionuclides. All in all, Belarus has 9.75 million residents.
The areas polluted with cesium-137 have reduced by 11% thanks to the governmental measures. The Gomel and Mogilyov regions were polluted most.
0.138 million people have been resettled from polluted territories, and 14,600 hectares of land have been reclaimed. Another 1.1 million hectares of farmland require constant attention for producing pure foods.
Belarus may start building nuclear power plant in 2008, says official
It is odd that Belarus would consider working with nuclear power considering its proximity to Chernobyl, but apparently they are
MOSCOW, Jan. 23 (Xinhua) -- Belarus may begin building a nuclear power plant in 2008, a government official said on Monday.
"Construction of a nuclear power plant is planned to begin in 2008. The project's deadline is 2012," the unidentified official was quoted by the Interfax news agency as saying. He added the site for the facility has yet to be selected.
The official noted concerns for the project in the country after the 1986 disaster at the Chernobyl nuclear facility, but he said Belarus "cannot avoid taking this step, especially as modern nuclear power plants have much more reliable safeguards."
The nuclear power plant is expected to save up to 4 billion cubic meters of natural gas annually for Belarus and reduce the country's spending on energy by 200 to 300 million U.S. dollars a year.
Alimony defaulters not to be let out of the country
Charter '97
Belarus looks into doing something about those pesky ex's debts
As Minister of Justice of Belarus Viktar Halavanau said at a press conference held in Minsk, the Ministry of Justice of Belarus plans to elaborate a bill regulating foreign departures of the people who have alimony obligations. According to the Minister, "some people leave Belarus and forgo allowance of alimony for their juvenile children".
According to "Interfax", the Minister emphasized that the new bill is to imply that "those who have alimony obligations have the right to leave Belarus, temporarily as well, only with the concurrence of the alimony receiver".
He said the bill makes provision of an appeal of the refusal to leave the country imposed by the alimony receiver on the alimony payer.
The Minister remarked that "the bill concerns only long distance foreign departures, since there is a framework convention between the CIS member states on enforcement of judgements". According to him, the above-mentioned bill "should not bother honest alimony payers".
V.Halavanau also said the term of the permission (once-only or annual) has not been defined yet.
"In any case, the decision will be taken to children's benefit", - the Minister of Justice concluded.
• Russian OilGazprom says ships more gas to Europe via Belarus
The GAZPROM building in Moscow
MOSCOW, Jan 24 (Reuters) - Russia's gas monopoly Gazprom is shipping more gas to Europe via the territory of Belarus to compensate for losses in transit gas in Ukraine, a Gazprom official said on Tuesday.
"We have started shipping more gas via Yamal-Europe (pipeline via Belarus) and Blue Stream (pipeline to Turkey) to compensate for losses in Ukraine. We are still calling on Ukraine to optimise their gas use," the official said.
Gazprom, which has been forced to dramatically boost supplies to Russian clients amid extreme cold, is blaming Ukraine for lower than expected deliveries to European customers as it says the state is burning gas above agreed levels.
Gazprom, the world's largest gas producer, supplies one quarter of Europe's gas needs and its clients across the continent in countries such as Italy and Hungary have complained about lower supplies over the past week.
But complaints were mostly heard from countries in southern Europe, which gets most of its Russian gas via the territory of Ukraine, while consumers in northern Europe have said supplies of Russian gas were mostly normal.
Yamal-Europe has a much smaller capacity than Gazprom's transit pipelines via Ukraine and it mainly supplies Poland and Germany via Belarus. But Europe's extensive pipelines network could in theory allow complex gas swaps between north and south.
Ukraine orders cut in gas use amid record consumption
An Employee of Ukrainian gas firm UKRTRANSGAZ checks equipment in the Boyarka village,
KIEV (AFP) - Ukraine's government ordered a cut in the use of gas as a cold snap sent consumption in this key transit country for Russian gas to record levels, leaving several European countries short of supplies.
The government had ordered regional governments to cut gas usage by 15 percent, the fuel and energy ministry said in a statement, adding that industrial consumers have also been ordered to cut back on fuel use.
"We are forced to decrease gas consumption," Prime Minister Yury Yekhanurov was quoted as saying by the Interfax news agency.
Ukraine, the main transport route for Russian gas to Europe, has been using record amounts of energy during the past several days because of plunging temperatures, exceeding volumes foreseen in contracts with Russia's state-owned Gazprom energy giant.
"We can't have such an excess," Yekhanurov said.
The increase in consumption led Gazprom to accuse Ukraine of keeping some of Moscow's gas exports to Europe for itself.
"You can call it withholding or taking, legal or illegal -- call it whatever you like. But what is happening is that gas is remaining in Ukraine at higher volumes than envisioned. This prevents us from fully fulfilling our obligations to our foreign customers," Gazprom deputy chairman Alexander Medvedev said on Monday.
Gazprom said on Tuesday that it would increase gas deliveries to Europe via pipelines through Belarus and Turkey, which bypass Ukraine.
A Ukrainian government official told AFP Tuesday that Russia had agreed Kiev's increased amounts of gas use.
"It was agreed... and everything was going well even though Ukraine had for several days used gas in excess of contractual amounts," the official said on condition of anonymity.
"I don't know why (Gazprom) made the statement... we had an agreement with Gazprom of non-aggression, of mutual silence... maybe they received hysterical calls from European customers," the official said.
The official said that the severe temperature drop had forced Ukraine to increase its gas consumption to record levels of 407 million cubic meters per day (532 cubic yards).
"If we had shut off gas... people would have simply frozen to death," the official said.
Like Russia, Ukraine has been gripped by a severe cold snap for a week, which has left at least 77 people dead, including 26 during the past 24 hours.
The plunging temperatures have also reached Europe, which receives about 25 percent of its gas from Russia, and a handful of countries there have recorded a drop in supplies from Moscow over the past several days.
On Tuesday, Italy's biggest gas importer ENI said that it expected Russian gas deliveries to come up short of demand for an eighth day in a row, with volumes due to drop by 8.1 percent, or about 1.4 percent of Italy's daily consumption.
Romania also said Russian gas deliveries came short of demand on Tuesday as several neighborhoods in the capital Bucharest, where gas demand has nearly doubled in the last few days as temperatures dropped to minus 30 C (minus 22 F), remained without heat.
During the past several days, Poland and Bosnia have also registered drops in Russian gas supplies.
Government okays draft National Energy Saving Programme for 2006-2010
Belta
The Belarusian government has approved a draft National Energy Saving Programme for 2006-2010. The programme's main aim is to decrease power consumption of the gross domestic product and to replace imported fuel and energy with local ones.
The programme was discussed at a sitting of the Cabinet of Ministers board on January 24, which was chaired by first vice premier of Belarus Vladimir Semashko.
The first vice premier noted, over ten years Belarus has doubled the GDP while the power consumption remained at the same level. However, the power input figures are somewhat lower than those in industrially advanced countries. "We have a huge reserve to increase the energy effectiveness status", he said.
"Today concrete examples suggest that we should look for unconventional solutions of the problem", said Vladimir Semashko. Besides, introduction of new technologies will contributing to improving the energy effectiveness status.
According to the first vice premier, the National Energy Saving Programme for 2006-2010 is well-shaped and understandable. Its draft was submitted for consideration to enterprises. The source stressed, targets set by the programme should be considered as minimal ones. "It is understandable that reaching the goals will be harder every year. But with the present economic situation it is not time for everyone to be happy", he noted.
The document envisages that by 2010 the programme would allow reducing GDP power intensity by 26-30.4 per cent against 2005 indices. Local fuels, waste energy, non-traditional and renewable resources would increase by 1.7 million tons of fuel equivalent. The introduction of modern power-efficient technologies and equipment will save at least 7.7 million tons of fuel-energy resources. Atmospheric emissions should go down by 12 million tonnes.
The document is set to increase the efficiency of generative resources using traditional fuels. Special attention would be paid to the development of non-traditional and renewable energy resources. The programme major events include the growth of energy efficiency in the industry, construction, agriculture and budgetary sphere. Energy producers and consumers will form an economic interest in the rational use of energy. The country will create new energy efficient and import-distributing technologies, equipment and materials. Besides, the programme is to reduce expenses in the energy transportation and decrease power inputs in the housing and municipal service.
The draft programme determines the amounts of fuel-energy resources with their distribution among the republican state governmental bodies, state-run organizations and regions of Belarus. It also outlines funding resources on energy saving and a list of large energy efficient projects.
The programme envisages USD 4675 million of funding.
• ElectionsMore than 1,5 million signatures collected to nominate Alexander Lukashenko for presidency
Alexander Lukashenko with Vladimir Putin.
Alexander Lukashenko's initiative group has collected 1,574,239 signatures to support the nomination of the incumbent president as a candidate for the presidency, reads a press release of the initiative group.
In this connection head of the initiative group Viktor Sheiman has thanked warmly those citizens of Belarus who supported the candidature of Alexander Lukashenko to be nominated for presidency.
The number of people supporting the incumbent president is growing. "This is a logical outcome of the socio-economic policy pursued in the republic which is oriented towards the needs of every man", Viktor Sheiman noted. Moreover, compared with 2001 the initiative group of the Belarusian leader is considerably bigger.
The initiative group to nominate Alexander Lukashenko for presidency is composed of 6212 people. The group has already received 1872 offers and requests. "We make concrete decisions concerning every offer and request", the head of the initiative group underlined.
Thus, the initiative group filed an application to the health ministry of Belarus to simplify the rules of selling medical preparations on prescriptions and also proposed to intensify housing construction for of servicemen and officers of the law enforcement bodies, Viktor Sheiman informed.
New violations committed during collection of signatures for Lukashenka are connected with under age people
VIASNA
Alieh Sidarau, a Vitsebsk resident, informed the Headquarters of the leader of the democratic forces of Belarus Aliaxandr Milinkievich that on 16 January a 9 grade student of Vitsebsk secondary school No.6 Viktoryia Valoudzina was collecting signatures in support of the nomination of Aliaxandr Lukashenka as a candidate for presidency. This is the proposal she made to Mr. Sidarau.
As is known, the Election Code of Belarus does not allow non-members of an initiative group to collect signatures in support of a presidential candidate. Only citizens who are 18 and older can be members of an initiative group.
A checkup is being conducted regarding this case by the legal service of the Milinkievich Headquarters, reported the press service of Charter-97.
Belarus: Opposition Wants More Focused Support From The EU
(RFE/RL)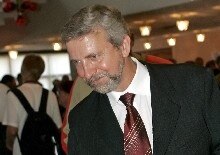 Opposition candidate Alyaksandr Milinkevich
Although resigned to losing the presidential elections on 19 March, the Belarusian opposition is seeking more focused EU help. Two Belarusian opposition representatives told a meeting at the European Parliament in Brussels today that the EU should make aid funds directly available to President Alyaksandr Lukashenka's challengers. They also warned that after Lukashenka's highly likely win, the EU must beware conferring any legitimacy on him.
BRUSSELS, -- The EU is a welcome source of support for the Belarusian opposition, but one that is too often sluggish, unwieldy, and ill-informed.
This was the gist of the addresses of two Belarusian opposition figures during a small meeting at the European Parliament today.
Jaroslav Romanchuk, a vice-chairman of the United Civic Party and a member of the opposition Coalition Five-Plus (5+), said the opposition expects from the EU clear messages of support and a quick injection of funds.
The messages will be delivered to a high-level Belarusian opposition delegation that will visit Brussels on 30 January.
Romanchuk said the money is needed to allow the opposition to make the best of the less than two months of campaigning left: "We distribute leaflets, information materials, papers, special issues. We do our best but definitely we lack resources and support right now in order to print materials, to distribute materials -- and this is, essentially, the fundamental issue of the European support at this particular moment."
Romanchuk said the opposition wants to tell "millions" of Belarusians about alternatives to Lukashenka's regime. Its joint candidate, Alyaksandr Milinkevich, however, is prevented from campaigning until his candidacy is formally approved.
Romanchuk said that after Lukashenka last week asked the Organization for Security and Cooperation in Europe (OSCE) to send observers, the EU must be careful not to legitimize Lukashenka. He indicated the Belarusian opposition believes the elections will be fixed and Lukashenka will subsequently win a landslide victory.
Hence, Romanchuk said, the EU must look beyond the routine monitoring of the polls. "I would recommend and I would ask you [that is, the EU countries] to send as many people -- even without observer status because that's not about the observation per se but the support of the people who would act after the day of the elections," Romanchuk said. "Primarily, people should come one, two days before the elections and then will stay for another two days because I think the main event would be on 20 March. Then will be like the clash of forces, and that will be kind of the reality of this political campaign."
Calls For Quick EU Response
He said that to know the world remains informed would "boost the morale" of the people preparing to protest against the results.
Romanchuk and Leonid Zaiko, an independent economist who attended the meeting, warned that the EU must be prepared to respond to developments quickly after the elections.
Both said Lukashenka appears to be preparing ground for a possible falling out with Russia. Zaiko said Lukashenka's unwillingness to hand over Belarusian gas infrastructure to Russia may provoke reprisals.
Romanchuk said Lukashenka could then try to portray himself as the champion of Belarusian independence and appeal for Western support. He said the EU would then face tough choices.
Zaiko said the Belarusian economy is increasingly turning away from Russia toward the EU. "It's an unusual situation. Because you could imagine that for the real political [choice] of Lukashenka, Russia is the strategic partner for the policy of the Belarusian leader," Zaiko said. "[He] is oriented to strengthening the contacts with Russia, but in [reality] the economic objectives show that [this] is the time of the increasing of economic contacts with the European Union, and decreasing [of those] with Russia."
But Zaiko said that Belarus remains extremely dependent on Russian oil, gas, and other raw materials.
Both Romanchuk and Zaiko warned that Belarusian civil society will face a crisis after Lukashenka's expected victory, with increasing numbers of young and entrepreneurial people leaving the country.
Romanchuk said that in such a situation, the EU must give up its current policy of seeking contact with individuals in the civil society and avoiding direct contact with the opposition. This, he said, is a "bad trade-off," allowing Minsk to selectively ban organizations it considers dangerous.
He said the EU must also find ways of directly funding opposition groups and Western organizations working with them. So far, all EU aid money needs to be approved by the government in Minsk.
Romanchuk said the EU's recent support for outside media broadcasts is "important," but has very little impact. He said Deutsche Welle, which began EU-funded broadcasts last autumn in Russian, reaches a very limited audience.
"As for Deutsche Welle, the controversy is not in the language, of course, of broadcasting, when we design programs for Belarus, we should really know what's going on there, what people know, how they get information," Romanchuk said. "I think that even in the expert community, [the proportion of] people who know [how] Deutsche Welle can be heard is like 1 percent. So, [for] the general public if you want to send a message to Belarusians about the situation in the European Union, the situation in their own country, Deutsche Welle probably is the least feasible and the least useful means."
Romanchuk said that to promote Deutsche Welle would take a lot of time and money. Instead, he said, the EU should seek to coordinate its media programs with Radio Liberty, which he said remains by far the most popular independent radio station in Belarus.
Milinkevich says he relies on samizdat, Internet
Charter '97
Aleksandr Milinkevich, united opposition forces` contender in the March presidential election, said he relies on small periodicals and the Internet in his effort to break through the government-imposed information blockade.
"There is no equal access to the media now and there will be no equal access during the campaign stage," Mr. Milinkevich said during an on-line news conference hosted by the RFE/RL Belarusian Service on Monday.
"We bank on the remaining independent newspapers, samizdat [clandestine copying and distribution of periodicals], the Internet and initiatives of active and indifferent people," he noted.
Mr. Milinkevich said that he does not plan to withdraw from the race or support the alternative vote idea put forward by nationalist candidate Zenon Poznyak, stressing that both would discourage and disappoint voters.
Mr. Milinkevich reiterated his determination not to quit the race during his meeting with intellectuals on the same day. He stressed that he will take only actions that boost his supporters` morale.
Taking part in the meeting were Vladimir Kolos, head of the closed Yakub Kolas National Humanities Lyceum, Ivan Nikitchenko, a corresponding member of the National Academy of Sciences, and Radim Goretsky, a member of the National Academy of Sciences.
U.S. Welcomes Belarus Invitation for Election Observers in March
American diplomat urges Belarus to stop harassing Helsinki rights group
USINFO.STATE.GOV
Observing the elections will not be an easy task- even if you do believe in its results
The United States has welcomed a decision by Belarus to invite international observers to monitor elections in March, but a U.S. official also urged Belarus to stop harassing human-rights workers in the country.
Belarus Foreign Minister Sergei Martinov formally has invited the Organization for Security and Cooperation in Europe (OSCE) to observe elections March 19, the OSCE said. The international organization monitors democracy and human rights throughout Europe and Eurasia.
"This is a very welcome step," said Kyle Scott, chargé d'affaires for the U.S. Mission to the OSCE, in a January 19 statement to the OSCE Permanent Council in Vienna, Austria.
However, Scott went on to express concern over the Belarus government's repeated prosecution of the Belarus Helsinki Committee (BHC), a nongovernmental organization that reports on human-rights violations and monitors elections. (See related article.)
He noted that the Belarus Supreme Economic Court recently reinstated "harsh and unwarranted penalties" against the BHC – including $75,000 in fines and back taxes -- on charges of tax evasion. "BHC has already successfully defended itself in court from these charges a number of times, including in the Supreme Economic Court," Scott said.
"The decision appears to be an attempt to silence one of the most outspoken advocates for human rights and freedom of speech and assembly in Belarus," he said, adding that the United States believes the prosecution of the BHC is "politically motivated."
In the time leading up to the country's elections, "it is critical that independent organizations such as the BHC are allowed to operate without undue restrictions," Scott said.
Belgian Foreign Minister Karel De Gucht, who is also the chairman in office for the OSCE, also welcomed the Belarus invitation for election observers.
"I expect that the authorities of Belarus will ensure that all eligible candidates be permitted to register and that the election process be conducted in a free and fair manner, including unimpeded access to the media by all candidates," De Gucht said in a brief OSCE statement January 19.
Signature collecting for presidential hopefuls in Belarus ending
MINSK, January 24 (Itar-Tass) - The signature collecting campaign for Belarussian presidential candidates has entered the final stage. The presidential election will be held on March 19. "Friday is the last day of submission of signature lists by initiative groups, therefore the current week will be decisive for the contenders," Chairwoman of the Belarussian Central Election Commission (CEC) Lidiya Yermoshina told reporters on Monday. According to her, the checking of the signatures authenticity will take some 10 days. "The registration of the presidential candidates will be held closer to February 20," Yermoshina said.
Meanwhile, six out of seven presidential runners have said that their initiative groups have collected over 100,000 signatures necessary for nomination for the country's presidency. Incumbent head of state Alexander Lukashenko is the absolute leader at this stage of the election campaign. Representatives of his election headquarters said last week that his initiative group has collected over 900,000 signatures.
After Lukashenko follow the "common candidate" from the opposition Alexander Milinkevich, leader of the Liberal Democratic Party Sergei Gaidukevich, opposition leader Zenon Poznyak, leader of the Social Democrats Alexander Kozulin, ex-deputy of the Belarussian parliament Valery Frolov. It became known on Monday that Frolov intends to withdraw from the election campaign (his headquarters is preparing a corresponding statement).
Ex-deputy Sergei Skrebets who is now under investigation on suspicion of committing economic crimes is unlikely to collect the required number of signatures in his support.
• From the Blogs
Comentary from
Tobias Ljungval
300 people gathered in Warsaw for a solidarity day manifestation

This past Monday was the 16th, the monthly day of Belarusian solidarity. I am not sure what to think about this event. Two months ago, after the second solidarity day in November, I was a bit disappointed. All those within Belarus I had spoken with, and all whom they had spoken with, were also a bit disappointed. Even though they themselves had lit a candle in their windows, they had not seen others do the same, and so the mirror that was supposed to show that there were many of them showed instead that they were few.
-
The initiators of this action, on the other hand, announced that they had monitored it and concluded that at least 300 000 people had taken part. Since Belarus has a population of about ten million, this should mean that one in thirty homes would have had a candle burning in its window. I found this hard to believe. But then, recently, I laid eyes upon the latest report from the independent polling research institute NISEPI, which I usually trust, and which confirmed that 3,3 percent of the population had participated in November's candle-lighting.
-
So now I am not sure anymore. Perhaps the spirit of solidarity is alive in Belarus, perhaps not. Also, I have little idea of how many people have participated after that, in December and January. Figures are not reported, so I assume there is no monitoring going on any longer.
-
In Sweden, solidarity day was mentioned in a televised speech by our foreign minister, talking at the annual conference on security policy. She spoke mostly about Africa, about development, and about other issues that do not really have much to do with our own national security, since the Swedish government seems blissfully unaware of any threats to this. But she did mention Belarus, and the fact that a manifestation would take place later the same day on Norrmalmstorg square in central Stockholm, for which I felt somewhat grateful.
-
A few hours later, I was on the square, microphone in my hand, trying to pronounce my pre-written speech as clear as I could although a bitter cold was starting to get hold of me. As I was about to read out the fifth paragraph I quickly glanced to my left where another member of the government, the minister of development aid, was standing. I wanted her to hear this, because, in the televised speech, her colleague had repeated the credo that Sweden's solidarity with Belarus is best shown by maintaining broad contacts, and by persuading Europe to do the same. Broad contacts, in this context, means working with the country's so called vertical of power.
-
"...Sweden should also stop co-operating with Lukashenko's state apparatus," I said into the microphone. "Because the dictator's henchmen are everywhere in the administration. On his orders they rig elections, make sure that undesirable people are sacked from their jobs, and generally behave like swine. Lukashenko's bureaucrats are among the worst bribe-takers in Europe, this was shown by the organisation Transparency International in their latest corruption survey. Why should Sweden co-operate with such people? No, ban them from coming here instead, I say..."
-
The minister was busy talking to someone, and not listening. I doubt she would have been impressed, though. Our social-democratic government seems unaware of any other means than constructive dialogue to handle problems, sometimes leaving no room whatsoever for moral principle. For instance, this weekend a platoon from the Russian 138 mechanised rifle brigade, known to have committed war crimes in Chechnya, is conducting a joint exercise with my old regiment in the north of Sweden as part of a "democracy project."
-
I do not know if such things happen out of cynicism or naivety. They make me as uncertain about Swedish solidarity that I am about solidarity in Belarus.
The BR23 BLOG talks sports
Australian Open && Davis Cup in Minsk
January 24th, 2006
Being an avid tennis fan I'm happy that tennis season finally kicked off, so every night I watch live reports from "down under." The best match so far was Roger Federer's battle with Tommy Haas, today, a real pleasure to watch. And before that Federer easily won against Belarus' Max Mirnyi:
• Regal Roger Rolls Past Max
In women's tournament our young starlet Victoria Azarenka fell in the first round. Junior Australian Open champion in single and doubles needs more, in order to win on the profi WTA level.
Also Radael Nadal announced that he's not coming to Minsk for the Davis Cup match. Still, Spanish line-up in Minsk will be formidable: David Ferrer, Tommy Robredo, Fernando Verdasco and Feliciano Lopez. All of them are big players. I wish I could be in Minsk in February to see them live.
P.S. On a deeper level I understand that watching sports is a waste of time. Yet, I do watch it because it makes me feel "normal", "just like other guys" and it makes me feel relaxed. Also, sometimes I like excericising on the stationary bicycle while watching tennis, becase it gives me an additional mental push in order to work harder.