RussNeft to help Belarus, Belarus to support R&D, Milinkevich, Josep Borrell, EU, Moscow,U.N. Marks Holocaust, Ostapchuk, SAMSONOV and Herasimenia
From the Top

RussNeft to help Belarus upgrade Polimir petrochemical plant

RIA Novosti, Olesya Luchaninova and the office of the president


Alexander Lukashenka and Russneft President Mikhail Gutseriev

MINSK, January 31 Russian oil company RussNeft is prepared to help fund upgrades at Belarus' Polimir petrochemical plant, the company's president said Tuesday.
Mikhail Gutseriyev told President Alexander Lukashenko that RussNeft was ready to allocate funds from its 2005 $1-billion revenues and attract loans to help Belarus modernize the plant, which produces high-pressure polyethylene, acrylic fiber and consumer goods.
"We are highly interested in an effective project of the Polimir modernization, which should be divided into four to five stages, in order to produce competitive products and supply them to Eastern and Central Europe," said Gurtsiyev.
RussNeft produced 13 million metric tons (260,000 bbl/d) of oil in 2005 and is expected to produce 24-25 million mt this year.
President of Belarus to confer doctor of science and professor diplomas; promises to double science funding by 2010
belta
Belarus wants to boost modern high-tech productions, new competitive products and develop resources and energy-saving technologies.
President of Belarus Alexander Lukashenko will confer today doctor of science diplomas and professor qualifications on people engaged in science and education, the president's press service told BelTA.
The head of state is expected to award chief of the BSU genetics department Doctor of Biology Natalia Maksimova, hematologist of the 9th clinical hospital of Minsk Doctor of Medicine Vladimir Zmachinskiy, design manager – head of the MTZ design office Doctor of Engineering Vladimir Korobkin. Academic status will be conferred on representatives of Belarusian State University, Belarusian State Economic University, Belarusian National Technical University, Academy of the Interior Ministry, Belarusian State Medical University, Belarusian Medical Graduate Academy, Gomel State University n.a. F. Skorina, Vitebsk State University n.a. P.M. Masherov, Grodno State Medical University and Belarusian-Russian University.
Overall, in 2005 the supreme attestation commission conferred the academic degree of Doctor of Science on some 116 contenders and candidate of science – on 661 competitors. Medicine accounted for 17.4 per cent of the awarded academic degrees, then goes engineering sciences – 17 per cent, physico-mathematical – 9.9 per cent, economic – 8.2 per cent, and also biological, philological, historical and juridical sciences. An academic status of professor was conferred on 108 competitors, a status of docent – on 467 contenders.
In his speach during the cerimony, president of Belarus Alexander Lukashenko has stated that direct state support on research and development works will be targeted, for funds and that other preferences would be aimed to R&D works that are able to boost modern high-tech productions, new competitive products and develop resources and energy-saving technologies.
As the head of state has noted, such R&D works include, first of all, tasks on rational use of resources and alternative energy sources, information, nano and biotechnologies, vacuum and plasma electronics, pharmacology, chemistry and high-molecular substances.
The Belarusian science funding will double by 2010 in comparison with 2005, Belarusian president Alexander Lukashenko stated today while bestowing doctor of science certificates and assistant professors certificates to Belarusian scientists and teachers.
The head of state reminded, "We will live the next five years under the motto of educated and talented people, who will live and work on the basis of scientific achievements".
According to the president, the state increases support for science every year. In 2005 the figure stood at Br 245 billion, in 2006 the figure makes Br 310 billion (almost 30 per cent up).
"Today our country needs the science. We declared the innovative way of development a priority and implement it. We expanded the field of domestic science application and created new opportunities for Belarusian scientists to continue growing their skills", said the president.
"We have reached the limit, we have made the best of the economy performance. Without production modernisation we cannot ensure the state existence today", added the Belarusian leader.
Belarus: Opposition Leader Canvasses EU Support For 'Revolution Of Hope'
RFE/RL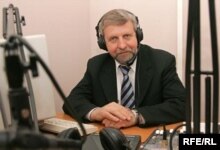 Alexander Milimkevich addressing an on-line conference
Alyaksandr Milinkevich, the presidential candidate who is backed by most democratic opposition parties in Belarus, today urged European Union (EU) officials to be present in the country for the presidential election on 19 March.Speaking before the European Parliament's foreign affairs committee, Milinkevich predicted a "revolution of hope" will follow the poll, which he said is skewed in favor of incumbent President Alyaksandr Lukashenka. Milinkevich said that if the government clamped down on any protests, a massive EU presence could "soften the blow."
Alyaksandr Milinkevich today predicted that, much like in Georgia and Ukraine in recent years, people in Belarus are ready to take their desire for democracy to the streets.
And he has little faiththat the March presidential election will be conducted in a free and fair manner. So much so, Milinkevich told the foreign affairs committee that he wants all European countries to clearly state ahead of 19 March that the elections do not meet international standards.
Milinkevich indicated that the Belarusian opposition is "in principle" against a revolution. However, he warned, if Lukashenka's government denies the country free and fair elections, people will take to the streets.
"If the government does not [respect] our demands, then in that case, certainly, there are many people in our country who will come to the streets to defend their dignity," he said. "That is the most important thing for the people who live there. It is not a battle for material things, and there are many people like that. And if we [are to] call it a revolution, then according to us, it will be a revolution of hope."
EU Threatens Sanctions
Milinkevich's high-profile visit to Brussels was marked by EU foreign ministers on 30 January with a statement threatening sanctions against Lukashenka's regime if international standards are not respected.
Today, Milinkevich praised recent EU decisions to fund independent radio and television broadcasts to Belarus, but said their reach is limited. He said abolishing current crippling visa fees levied by EU countries was far more important than access to relayed information.
Milinkevich also called for more tangible support from the union. Above all, he asked EU deputies and other representatives to come to Belarus to follow the election and its aftermath.
He said a massive EU presence would show support for the opposition and counter one of the mainstays of Lukashenka's propaganda -- that "no-one in Europe is interested in Belarus."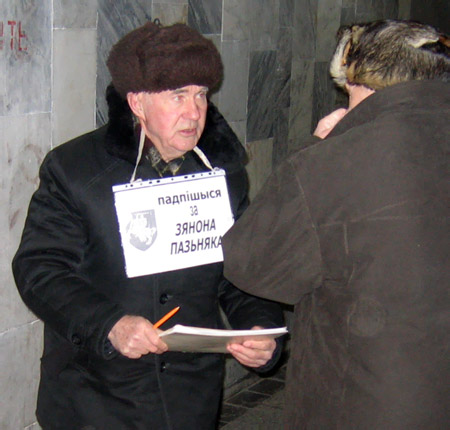 Opposition-candidate supporters gathering signatures in Minsk earlier this month

"Honorable deputies, it would be good if you could set aside some time towards the end of March and travel to Belarus as international observers," Milinkevich said. "To us, that would be extremely important. You will be obstructed, prevented from carrying out observation work, but [nevertheless] your arrival in our country for the elections will have a great significance for democratically oriented Belarusians, especially in the countryside. They must see that Europe is not turning away from us."
But even more importantly, Milinkevich said, the presence of EU politicians and officials would act as a shield for the protesters he expects will take to the streets a day after the poll.
"I would ask for the help of all those who want to help us, to arrive [whether as observers or not] before [the elections] and stay on for a few days after 19 March. It could soften the blow that Lukashenka has already promised," Milinkevich said.
EU Support For Opposition
There was no direct response to Milinkevich's appeal today. The chairman of the European Parliament's foreign affairs committee, Elmar Brok, said the parliament has so far not received an invitation from Minsk to send observers. Lukashenka's government has, however, asked the Organization for Security and Cooperation in Europe, or OSCE, to send monitors.
However, Brok said he was hopeful that the parliament will help the Belarusian opposition to attain a crucial longer-term objective -- funding independent of the approval of the Lukashenka government.
"[The European Parliament's foreign affairs] committee is negotiating with the [European] Commission [at] the moment [about] setting up a [financial] instrument on human rights which can be used even if there's no cooperation of the government concerned," Brok said. "I think that's the main point. Presently the [New] Neighborhood Policy instruments and action plans have to be in cooperation with the government concerned. But we believe the work for the rule of law and human rights should be also possible by support of the European Union in countries where such cooperation is not [forthcoming]."
And what would Milinkevich do if he won the presidential election?
He said, under his leadership, Belarus would make "no sudden turns" and try to act as a bridge between Europe and Russia. He ruled out a union with Russia saying Belarus values its independence above all.
Whether he has much of a chance is another matter. The Belarusian opposition leader said he is confident he would win a fair poll. He said his support in the capital Minsk is more than 40 percent, higher, he said, than Lukashenka's.
Outside Minsk, though, Milinkevich will probably fare less well. Recent independent polls indicate that country-wide Lukashenka has more than 50 percent support, whereas Milinkevich has more than 20 percent.
Statement by Josep Borrell following his meeting with Alaksandar Milinkevič
Josep Borrell, the president of the European Parliament
"I emphasised that the European Parliament welcomes all initiatives that would lead to the true democratisation of Belarus. The European Parliament's support for democracy derives from the Treaties and more importantly, from its role as the voice of the European citizens. This is particularly the case in a country with which the European Union shares common frontiers.
I assured Mr .Milinkievic that the European parliament will give its full backing to efforts to organise a free, democratic and transparent ballot the 19 march.
We, in the European Parliament, are strongly committed to supporting all efforts to promote democracy, the rule of law and respect for human rights. The EP has condemned the Belarus regime's many violations in these fields. This was clearly stated in the latest EP resolution, adopted on 29 September 2005.
In this last resolution the European Parliament calls for the sending of an ad hoc high-level delegation on a fact-finding mission to Belarus in order to investigate and report on the situation regarding respect for human rights in Belarus.
I underlined that the further development of EU relations with Belarus will also continue to depend on the progress made towards democratisation and reform in the country and access for Belarussians to objective, free and transparent media, as well as respect for minority and religious rights and freedoms."
Belarus Foreign Ministry somewhat surprised at EU leadership approach
Belta
The Belarusian side is somewhat surprised at the approach of the European Union leadership, acting press secretary of the Belarusian Foreign Ministry's information department Andrei Popov said while commenting on informal meetings of European Union representatives with a Belarusian presidential candidate as part of a European Union Council sitting.
"We are somewhat surprised at the European Union leadership approach. Especially when we are negotiating on visits of high-ranking representatives of the European Union Council's General Secretariat and the European Commission to Minsk. Besides, it should not be forgotten that the elections will be held in Belarus, not in Strasbourg, Brussels, Paris or Warsaw", stressed the official representative of the Belarusian Foreign Ministry.
EU Ministers To Discuss Belarus, Afghanistan, Iran, Iraq
By Ahto Lobjakas for Payvand's Iran News/ (RFE/RL)
The agenda of the monthly EU foreign ministers' meeting in Brussels today was topped by discussions on the pre-electoral situation in Belarus.
BRUSSELS, 30 January 2006 The EU foreign ministers' debate on Belarus was accompanied by an appearance at the meeting by the joint opposition candidate Alyaksandr Milinkevich.
Milinkevich also met today with European Commission President Jose Manuel Barroso, EU foreign policy chief Javier Solana, EU External Relations Commissioner Benita Ferrero-Waldner, and European Parliament President Josep Borrell.
An EU diplomat who asked not to be named said on 27 January that Milinkevich's high-level reception is "not unusual" for the EU. The official said the EU regularly meets opposition representatives from other countries, but said that does not mean the EU endorses them personally. "We don't back political parties; we back principles," noted the diplomat.
European Commission spokeswoman Emma Udwin told RFE/RL on 27 January that the foreign ministers' discussion of Belarus will be held in the context of grave concerns about the situation in the country.
"The EU remains deeply concerned about the deteriorating situation in Belarus as regards democracy, political freedoms, and respect for human rights," Udwin said. "We're watching the run-up to the [19 March presidential] election very, very closely, and as we have said at the end of the last year the EU has not ruled out taking further restrictive measures if international standards are not upheld."
In November, EU foreign ministers threatened to take unspecified "restrictive measures" against Belarus if President Alyaksandr Lukashenka does not ensure the March polls are free and fair.
The EU ministers adopted a statement today that reiterated the threat.
For a few years now, the EU has enforced a travel ban on a number of leading Belarusian officials who are held to be personally responsible for repressive measures against specific opposition figures and pro-democracy protesters.
Carrot-And-Stick Approach
EU member states also keep to a minimum bilateral political contacts with the Belarusian regime, leaving them to the rotating presidency and Solana's office.
Udwin on 27 January highlighted one rare bit of "good news," however.
"In the meantime there has been one piece of good news, which is that the Belarusian authorities have agreed to allow an OSCE observer mission to operate," Udwin said. "That is something we welcome very much; it's something we've pushed for. And what we now want to be certain [of] is that mission will be allowed to do its work without being impeded and that all eligible candidates are allowed to register, are allowed to campaign, that reporters are allowed to operate freely. These are things we'll be watching very closely."
Today's EU statement noted that should the Belarusian authorities show goodwill and allow free and democratic elections to take place, then the EU would seek to improve relations with the country.
Officials on 27 January said "some member states" -- widely believed to be headed by Poland -- will argue for travel facilitation for Belarusian citizens. However, officials in Brussels said that while improving contacts with the Belarusian society is an important objective, the EU cannot offer easier visa rules to Belarus while it denies them to countries with which it is on much better terms.
One official said the European Commission today will "remind" member states that under current common visa rules they can already do more. For example, they may waive or reduce visa fees.
Moscow condemns attempts to bar Belarus from int'l cooperation
Moscow is firmly standing behind belarus in anticipation of the Union State
MOSCOW, January 31 (Itar-Tass) - Moscow condemns attempts to present Belarus as a democracy problem zone and bar it from international cooperation under this pretext, UN special rapporteur on human rights in Belarus Adrian Severin was told at the Russian Foreign Ministry on Tuesday.
"The development of our union is an integral part of the common European integration, which we will give a comprehensive support," ministry representatives said. "A constructive dialog with Minsk would promote the development of open economy and the market and strengthen democratic principles."
The ministry hopes that "the Russian position will be taken into consideration by the special rapporteur of the UN Human Rights Commission."
President Putin also said thathe had hope that that March's presidential elections in Belarus would be free and fair.
"Free elections are always possible," Putin said at a Kremlin news conference.
"As for my meetings with the Belarusian president, they do not mean that I back a regime, but that I support the fraternal Belarusian nation," Putin added.
Putin said Russia and Belarus were building a union state, and said "integration processes" were underway.
"We pursue a weighted policy aimed at cooperation with [all] states," the Russian leader said.
The head of the Aliaxandr Milinkievich initiative group, Aliaxandr Bukhvostau demands the right to appear on Belarusian television, saying that Viktar Sheiman "is presenting to the voters untrue information".
Viasna
Belarus presidential candidate Alexander Milinkevich addresses the media at the European Parliament in Brussels, Tuesday, Jan. 31, 2006.
This is what the complaint sent to the National State Television Company and Central Election Committee said.
Below is the text of the complaint:
"On 24 January 2006 the Belarusian National TV Channel showed an interview with the head of the initiative group in support of the nomination of Lukashenka as a candidate for the president of Belarus. Viktar Sheiman reported on the course of the signature collection performed by the initiative group, of which he is the head. The TV journalists also claimed that they had appealed to the other initiative groups, which, allegedly, refused to appear on television. This is not true to fact and presents to the voters distorted information and defames the other contenders. The Milinkievich initiative group has never received any proposals to make a speech or comment on the presidential election campaign.
Article 6 of the Election Code of the Republic of Belarus guarantees the principle of equality to all election process participants.
Article 46 of the Code also guarantees equal opportunity for the use of the governmental media.
Part 3 of Article 49 of the Election Code of Belarus guarantees the right to appear in the media with refutation of untrue information.
The commentary of the channel journalists saying that representatives of the other initiative groups apart from the Lukashenka group do not want to provide information points out to deliberate distortion of the facts, the use of the state-controlled media with a view to agitating for Lukashenka, and also discredits the other initiative groups. Also, such actions by the state-controlled media indicate full disregard of the principle of equality for all election process participants, laid down in the Election Code of the Republic of Belarus.
Also, Viktar Sheiman said in the interview that the Lukashenka initiative group had been receiving complaints from the voters regarding the current procedure used for giving prescribed drugs in pharmacies. The Ministry of Health allegedly took measures to simplify the procedure used to give out drugs. Then he continued to say that the complaints regarding the provision of apartments to servicemen and officers of interior organs were met by preparing a presidential decree on increasing the social protection of this category of people.
These actions violation part 8 of Article 61 of the Election Code of Belarus. This article forbids collection of signatures by means of offering remuneration or using the organization's administration. The help provided to the electors by using the powers of the incumbent president means deliberate use of the official position with a view to collecting signatures in support of the nomination as a presidential candidate.
Also, in this interview Mr. Sheiman indicated the location of the public reception room and election headquarters of Lukashenka. The buildings indicated are on the balance of the Main Economic Office of the Administration of the President of Belarus. This fact indicates that the buildings owned by the state are used for the election campaign of one of the pretenders. Proceeding from the principle of equality of all participants of the election process, premises for election headquarters must be provided to the election headquarters of other candidates on the same terms and conditions as to the Lukashenka initiative group.
On the basis of Part 6 of Article 49 of the Election Code of Belarus I REQUEST:
1. »»allow the head of the initiative group in support of nomination of Mr. Milinkievich as a candidate for the position of the president of Belarus to appear in the Panorama program on the First National Channel of Belarus;
2. strictly observe the legislation of Belarus, when covering elections and other political processes in Belarus;
3. The Central Election Committee of Belarus must cause the National State Television and Radio Company to allow the head of the initiative group in support of nomination of Mr. Milinkievich for the position of the president of Belarus to appear in the Panorama program;
4. The Central Election Committee must announce the terms and conditions under which the state-owned premises are used by the election headquarters of Lukashenka and provide the same opportunity to the election headquarters of Milinkievich.««
World Remembrance

Sixty-one Years After Liberation of Auschwitz, U.N. Marks Holocaust

By Chanan Tigay (JTA)


Leonid Rubinshtein, a survivor of Minsk ghetto during World War II, lights a candle in memory of Holocaust victims in Minsk, Belarus, Friday, Jan. 27, 2006. Belarusian Jews marked the first international day commemorating the victims of the Holocaust.


UNITED NATIONS, Jan. 29 -- Sixty-one years to the day after the liberation of Auschwitz, the United Nations marked its first-ever Holocaust remembrance day, commemorating those lost in the genocide that was the impetus for the world body's birth.

The acknowledgment was long overdue, said those who attended last Friday's ceremony in a packed General Assembly Hall.

"For us survivors, this commemoration under U.N. auspices is a muted triumph," said Roman Kent, chairman of the American Gathering of Jewish Holocaust Survivors. "It is imperfect justice, for it took 60 years for the crimes committed during the Holocaust to be properly acknowledged by the United Nations."

Even as speakers harkened back to Nazi atrocities of the last century, the ceremony's relevance to the present day seemed to be a presence of its own in the large hall.

That's because it came just a day after Hamas, a Palestinian terrorist group committed to Israel's destruction, won a landslide victory in Palestinian legislative elections -- and just weeks after Iran's president called for Israel's destruction and sought to deny the Holocaust.

Meanwhile, an Islamic journalists group reportedly is preparing to host a conference on the Holocaust that a spokesman said will include "those who have spent years of their lives in the study of documents related to the Holocaust and have come to the conclusion that the history books in schools and universities do not correspond to the truth."

"We sound an alarm, a call to arms, and a wake-up call to the world," Israel's ambassador to the United Nations, Dan Gillerman, told last Friday's audience of Holocaust survivors; Jewish, Israeli and other officials; and members of the general Jewish community. "A world in which a member state of this organization calls for wiping Israel off the face of the map. A world in which an extreme and evil regime denies the Holocaust while preparing the next one."

In a Jan. 20 letter circulated to the General Assembly, a copy of which was obtained by JTA, Iran lays out its opposition to U.N. Holocaust commemoration, taking issue with the body's recognition of the suffering of "a particular ethnicity or religion" and calling for the exploration of "different aspects of historical events without any arbitrary restrictions" -- a clear nod to Holocaust denial.

"Regrettably, the Zionist regime has routinely attempted to exploit the sufferings of the Jewish people in the past as a cover for its crimes being perpetrated today against Palestinians in the occupied territories, including massacre, demolition of houses, properties and farmlands, as well as acts of state terrorism," the letter states.

In a videotaped address to the memorial ceremony, U.N. Secretary-General Kofi Annan did not refer to Iran by name, but took aim at comments like those of its president, Mahmoud Ahmadinejad.

"Remembering is a necessary rebuke to those who say the Holocaust never happened or has been exaggerated," Annan said. "Holocaust denial is the work of bigots. We must reject their false claims whenever, wherever and by whomever they are made."

"Let us pledge ourselves to even greater efforts to prevent genocide and crimes against humanity," he added.

Malcolm Hoenlein, executive vice chairman of the Conference of Presidents of Major American Jewish Organizations, which helped organize the event, echoed Annan's call for action.

"It's not just Ahmadinejad," he told JTA following the ceremony. "Ahmadinejad has given public expression to what's going on every day in the Arab and Muslim press."

Last year, the General Assembly held a session for the 60th anniversary of the liberation of Auschwitz. The event marked the first time the body observed the new International Day of Commemoration in Memory of the Victims of the Holocaust, which was mandated in an assembly resolution adopted in November 2005.

While last Friday's event was emotional and successful, the vast majority of those attending were survivors and members of the Jewish community, not representatives from U.N. member states, an Israeli official noted.

However, the official did note the presence of European representatives, including ambassadors.

The ceremony included a performance by Boston's Zamir Chorale of music by Holocaust victims, along with remarks from the president of the General Assembly, Jan Eliasson of Sweden; Gerda Weissmann Klein, whose story was told in the Academy Award-winning documentary "One Survivor Remembers" and who offered a moving recollection of her Holocaust experience; and Yehuda Bauer, an academic and adviser to Yad Vashem.

"To all those today who hesitate to act against anti-Semitic propaganda, the question must be posed: Have you not learned your lesson?" Bauer asked.

He went on to offer three additional commandments that he said should be added to the biblical decalogue: "Thou shalt never be a perpetrator; thou shalt never be a victim; and thou shalt never, but never, be a bystander."

Several days of Holocaust-related events at the United Nations led up to last Friday's ceremony, including a candlelight vigil, performance of a play and the display of several Holocaust memoirs and diaries. The books were published by the Holocaust Survivors' Memoirs Project, which so far has published seven of 900 manuscripts it has collected.

"The authentic memoirs of Holocaust survivors are the single most powerful antidote to the intellectually reprehensible efforts by the likes of Iranian President Ahmadinejad to dismiss the genocide of millions of European Jews as a 'myth,' " said Menachem Rosensaft, chairman of the memoir project's editorial board.

The books are available in the U.N. bookstore and on Amazon.com.

Gillerman, the Israeli ambassador, concluded his remarks from the podium by removing a kipah from his pocket, placing it on his head, and quoting the Book of Psalms, in Hebrew: "May God Give His People Strength," he said. "May God Bless His People With Peace."


Economics

Belarus to take tough measures to keep inflation within forecast parameters in 2006

belta


The state intends to keep a firm hand in control of the economy

The government will take tough measures in 2006 to prevent inflation from crawling upward (within 7-9 per cent). In 2005 the inflation was kept at its lowest forecast level – 8 per cent or 0.6 per cent per month, first vice-premier announced on January 31 at a sitting of the Council of Ministers chaired by Belarusian premier Sergei Sidorskiy. The meeting discussed the socio-economic performance of Belarus in 2005.

Referring to the results of 2005, Vladimir Semashko stressed that some 14 out of 16 socio-economic targets were met excluding those in production of non-foodstuffs and gross agricultural production.

The GDP growth in 2005 made 109.2 per cent against the same period in 2004. "This is a good result, it is fully in sync with our strategy of economic growth", the first vice-premier noted. The output growth in the industry reached 110.4 per cent.

In 2005 the share of loss-making companies went down partially on the back of trimmings in production costs. In particular, the intensity of the use of materials reduced in industry by 1.8 per cent. Vladimir Semashko pointed to a high share of loss-making companies among those GDP-forming.

According to him, last year special attention was paid to improvement of the financial state of middle and small companies. "In this sphere we should develop our own restructuring methods", Vladimir Semashko underlined. Creation of stabilizing economic groups on the basis of big and financially successful companies can become one of the forms of such improvement.

Vladimir Semashko also took note of the reduction of the stocks of finished products and of the improved quality of the Belarusian goods.

The level of non-cash forms of settlement of accounts reduced in Belarus from 31 per cent in 2002 to 16 per cent in 2004 and to 11.3 per cent during 11 months of 2005. The number of barter operations fell to 0.2 per cent.

Last year capital investments grew by 23.2 per cent. On the whole, some Br14,8 trillion was allocated to develop the economy and the social sphere. Investments accounted for 23.3 per cent of GDP.

Government approves draft state import substituting program for 2006-2010

belta


Sergei Sidorskiy


The draft state import substituting program for 2006-2010 was approved on January 31 at a sitting of the Council of Ministers' Presidium of Belarus chaired by prime minister Sergei Sidorskiy.

The draft aims to ensure sustainable development of the national economy and to satisfy the national demand with competitive domestic goods. The measures envisaged in the document are aimed at tapping deeper into production potential, creating new working places, increasing the economic security of the country.

To achieve these goals the technical level of producers who ensure price and quality competitiveness of national products will be increased. Selective investment support will be rendered to the producers of high technology goods which are much in demand on the home and foreign markets.

The draft lists the following priorities: import substituting of the demand (encouragement of the consumption of home-grown goods), consumer goods, production resources and services.

In line with the draft program, 87 projects will be implemented in 2006 including 26 new programs. A special attention will be given to the projects in economy: machinery construction and metal working, agricultural, pharmaceutical and construction industries.

The draft provides for the creation in Belarus of a complex system to pursue state import-substituting policy. It is important that the program will be integrated with the programs of socio-economic development of Belarus for 2006-2010, industry potential development for 1998-2015 and also the national export program.

The measures to replace import of goods with national products will reduce the dependence of the country's economy on foreign trade, which is characterized as the ratio of foreign trade to GDP volume, down to 94.5 per cent in 2010 (according to the first variant of foreign trade development) and to 86.4 per cent – according to the second variant as against 116.8 per cent in 2005.

The country's economic security will strengthen by 2010. Some 0,477-0,437 import unit will account for one cost unit (as against 0,595 in 2005).

Within the framework of the import-substituting program for 2001-2005 some 109 projects were implemented, import-substituting products worth of USD 1,5 billion were produced, goods to the amount of USD 640 million were exported. More than 2,6 thousand new jobs were created.

The sitting of the Council of Ministers' Presidium considered the results of the state village revival program in 2005 and the program's targets in 2006.

The matter also concerned the course of implementation of the comprehensive programs of developing 60 base agricultural organizations which were supposed to reach the agricultural production level of 1990.

The sitting also surveyed the progress in the program on setting up in 2003-2005 of 700 agricultural organizations with the cow productivity of 4 thousand – 4,5 thousand kilos of milk a year and bringing these companies to account for 70-80 per cent of the total production in the country.


Commentary

Editor's note:
The following text was sent to the BHTimes in connection with a request to link to the website:


http://aciminsk.alfamoon.com/
Probably, the comment was written in 2000 or thereabout, but as there are other references in the site to the referendum vote in 2004 and that the writer says that it is part of his update from July of 2005, we can at least say that it is a reasonably modern opinion.
The reason for running this piece is not because it is mildly pro-Lukashenka, but rather it is because in the view of the BHTimes, it represents a remarkably accurate local view of the president of Belarus and the current political situation. This writer, though unnamed, is definitely from here, his syntax indicates as much, and what he says is really about what people think here.

Why Lukashenko?


One of the many fine landscape photos that can be found in the photo section of the site.


Unlike the Baltics, who wanted, fought and won their independence, Belarus (Or at that time Byelarussian Soviet Socialist Republic) in general (I'll never finish this post if I go into details) hadn't been considering being independent from the USSR. So, back in 1991 the Independence had fallen onto BSSR somewhat unexpectedly. And those who had been running the BSSR at that time did not know how to handle it.
As the result by the Presidential elections in 1994 already Republic of Belarus had got idle industry, distorted financial system, hyper-inflation and hyper-unemployment, robbed (by my rough estimations people lost about 6 bill USD in saving accounts) population below poverty line, critical gap between rich (Those 6 bill USD did not vanish. There were people who had adapted perfectly well to the situation and there were tools to conveniently convert money into real estate property or other more reliable assets) and poor. And on top of all total corruption and criminalization.
Do not remember how many candidates for presidency there were in 1994, but I'd single out three approaches:

1. We have ideals. Our ideals are good, all other ideals are bad and not ideals at all. We will lead you to the victory of our ideals. You are not exactly that good for our ideals as yet, but sure we will make you perfectly fit for our ideals by the time of our bright future. Our western friends will help us.
Note1: You will have to learn how to speak and write properly so that you could meet our ideals.
Note2: You have to agree that our Eastern neighbor is not our friend at all
Note3: Not all of you are eligible for the bright future even if you know how to speak and write properly

2. We have experience. We have made some mistakes, but we learned the lessons. Now we know how to build the bright future for you. Our Eastern friend will help us.
Note: To make those of us with ideals happy, all others will have to speak and to write a little bit different

3. We know in what dire straits situation you and we as part of you are. We know who is responsible for the dire straits situation and we will punish them. We know your needs and we'll make sure they are met. We'll have fair and bright future. Quite possible we shall do it together with our Eastern friend.

So you might guess who became the president.
And it should be admitted that Lukashenko kept many of his promises. People regularly get their salary. Almost no unemployment. The industry is running. Financial system has been stabilized. One of the lowest indexes of corruption, one of the lowest indexes of crime. Quality of life not that much different from Poland and Baltics, and better then in Ukraine (without Kiev) and better then in many places in Russia. Cities and towns (Not only Minsk) are being kept well and developing. Heavily subsidized agricultural sector is in much better shape then in Russia and Ukraine. etc.

The problem is not with the current situation, the problem is that Lukashenko is building administrative economy, which unlike market economy does not have self adjustment mechanics. Past experience shows, that administrative economy can achieve some high and even very high results at some points in time, but in the long run it loses the competition.


Sports

High class shot puts in Belarus Indoor Champs - Ostapchuk 20.30m and Mikhnevich 20.78m.

IAAF athletics


Nadezhda Ostapchuk of Belarus wins the women's World Champs Shot Put


Mogilyov, Belarus - Reigning women's World Shot Put champion Nadezhda Ostapchuk and men's 2003 World gold medallist Andrey Mikhnevich produced very good results in the Belarussian open indoor championships. The competition was supported by the newspaper "Sportivnaya panorama" and held last weekend (28/29) in a new sports centre called "Alimpiec".

In the women's Shot competition (29), a high class example was shown early on by the young Natalia Horoneko who pushed her implement out to 19.21m to take the opening lead. But Ostapchuk was not far adrift, with an opening effort just five centimetres behind. However, the youngster improved to 19.25m in the next round which held the gold medal position until the last round when Ostapchuk perfectly, with a technically faultless push, produced a mighty 20.30m, a world indoor season lead. Horoneko could not better that but still responded very well with a release of 19.16m, and so finished second.

"I'm very pleased, that I won and that I made such a good attempt," confirmed Ostapchuk. "I did not prepare at all for this tournament, and I am still doing very hard training which will continue for another week. And only after that, shall I start to practice my actual throwing movements and sharpen up to be fit for the World Indoor Championship. Probably, before Moscow I shall participate in a tournament in Germany."

The men's Shot Put took place a day earlier (28), and Andrey Mikhnevich, produced his best of 20.78m in the third round. However, in the fourth he produced the same distance again, and in total had four 20m efforts.

"I was guided by only one idea: simply to make the first start in a season and to examine the technique of the put," remarked the winner. "One competition is usually as beneficial for me as doing three good training sessions. I liked the fourth attempt technically the best but it is now necessary to move forward and to go further."

Elena Nevmerzhitskaja together with Mikhnevich were named the best athletes of the championship. Nevmerzhitskaja became the double winner in the women's sprints beating Oksana Dragoon in the 60m dash. Nevmerzhitskaja had the better finish of the two, out-dipping her rival 7.29 to 7.30 seconds. She then took the 200m title in overwhelming fashion in 23.29.

Natalia Safronova won the women's Triple Jump – 14.20m. "I was attempting to adjust to the runway surface (of this new arena) and believe I can reach 14.30m or 14.40m, and in my next few competitions I hope to jump far."

In the women's 1500m, Alesya Turova took the lead from the start of the race and was never passed, winning in a national indoor record time of 4:09.51. There was also a national record for the women's indoor 10km Race Walk by Elena Ginko. Her time was 44:07.43.

Belarus' Vitali Martynov loses to Amir Khan in 75 seconds

940news

http://us.news3.yimg.com/us.i2.yimg.com/p/rids/20060128/i/r1020410156.jpg?


Amir Khan, Britain's Olympic silver medallist, right, and Belarus' Vitali Martynov in action during their Lightweight bout at the Nottingham Arena, Saturday Jan. 28, 2006. Amir Khan took just 75 seconds to fire back at his critics by seizing his fifth professional win.

NOTTINGHAM, England (AP) - Amir Khan posted the quickest victory of his pro career when he knocked out Vitali Martynov after 75 seconds to win his fifth lightweight contest on Saturday.

Rated the best boxing prospect in Britain since Lennox Lewis, Khan fired a straight right through the guard of the 22-year-old Belorussian, who had won 10 of his previous 11 fights, seven by knockout.

Although Martynov got to his feet, referee Terry O'Connor waved an end to the scheduled six-rounder as Khan, the Athens Olympic silver medallist, took another step toward what he hopes will be a world title.

"I can feel myself getting a lot stronger," Khan said. "I trained very hard for it and I'm a bit upset it finished in the first round. I didn't even get hit in that fight.

"I would have liked to have shown a bit more of myself but it's the way the fight went."

SAMSONOV wins in Zagreb!

ITTF News


Twenty-nine year old SAMSONOV beat CHEN Qi 4-11, 11-5, 8-11, 11-6, 8-11, 11-4, 11-9.

Vladimir SAMSONOV of Belarus retained his Men's Singles title at the Liebherr Croatian Open on Saturday 28th January 2006 when, in a final that went the full seven games distance, he accounted for China's CHEN Qi to capture the crown.

It was the second time in a World Ranking event that Vladimir SAMSONOV had played CHEN Qi and it was the first time he had won, on the only previous occasion that they had met, the last sixteen of the Men's Singles event at the German Open in 2003, the China star had prevailed in six games.

Different Styles
CHEN Qi is a talented player. He can raise his game to tremendous heights and execute the most dazzling strokes whilst SAMSONOV is the man who appears to have that split second extra time, exerting outstanding control when he plays.

The match reflected CHEN Qi's ability to play like a wave, sometimes at the crest sometimes surfing below; the Chinese star went ahead, SAMSONOV levelled, the patter continued and at three games all it was parity. A decisive seventh was needed.

Good Start
"I made good start, I went ahead 7-3 in the seventh game", said SAMSONOV. "He was serving and I had really good chances on both his services to go further ahead, I made easy mistakes." CHEN Qi, to his credit never stopped fighting and strained every sinew in a desperate bid to reduce the deficit.

"He got back to 7-6 so I decided to take a `Time Out' I needed to collect my thoughts", explained SAMSONOV; the break halted the momentum of CHEN Qi, it worked in favour of SAMSONOV and he went ahead 9-6. "They weren't special or memorable points and it was becoming a very nervous game", continued SAMSONOV. "I made mistakes retuning his service and he played very well."

Recovery
CHEN Qi did play extremely well; he recovered to 9-all. "I'd experienced some problems with his service; quite often he served short, no spin on the ball, I flicked it back and then he attacked with a fast forehand and I was in trouble", explained SAMSONOV. "At 9-all he was serving but instead of serving with no spin, he served with backspin, I returned short, he tried to flick the ball and it flew off the end of the table."

It was match point to SAMSONOV. "Again on the next point he served with backspin, I returned short and he made a mistake with his first attack" said SAMSONOV. "I'd won, just"

Dangerous
"He is a very dangerous player, his services are good and his first attack is also good, it's very important that you receive service well against him", explained SAMSONOV. "He takes risks and sometimes he plays at an extremely high level but you feel it's impossible to maintain that level all the time, you are waiting for the mistakes to come."

CHEN Qi did play at a high level and he did make mistakes but it was a superb match to conclude the tournament and the crowd had a hero. "He had tremendous support, it was like a football match", said Senesa BOZIC who throughout the tournament had done a splendid job in the media centre. "They love him her", BOZIC continued. "He thanked everyone in Croatian `hvala-svema' and told everyone that he looked forward to 2007 when Croatia would host the World Championships."

Entranced
Everywhere SAMSONOV plays he is popular and with a European playing a Chinese in the final the crowd was enraptured. "I had very good support, I can speak Serbo-Croat but I make mistakes", said SAMSONOV who can speak a whole host of languages and seems to be able to learn them with the same ease he hits a table tennis ball.

The crowd's favourite was the champion, he had beaten three Chinese en route, MA Long, HAO Shuai and CHEN Qi; in Liиge in October 2005 at the Liebherr Men's World Cup he had played extremely well on the first two days but on the final day had lost to both WANG Hao and MA Lin. On that day against Chinese players he looked vulnerable but to be fair to SAMSONOV he did have a slight shoulder injury.

Higher Level
"I think they are a little high standard than the players I beat in Zagreb", said SAMSONOV. "If I'm to beat WANG Liqin, MA Lin and WANG Hao, I have to improve." The gap isn't that great and at the Liebherr Croatian Open CHEN Qi did beat WANG Hao.

At the Liebherr Men's World Cup the two Chinese players appeared to be too fast for SAMSONOV but in Zagreb he beat two of the World's fastest players, RYU Seung Min and CHEN Qi. He proved that against those who rely on speed he is more than a match.

Confidence
"I was on the border here, the match against MA Long was very close and so was the final", said SAMSONOV. "However, it's good I can still beat the Chinese players and that does give me confidence."

In Zagreb, Vladimir SAMSONOV gained in confidence, he retained his title and for the second consecutive year he was Men's Singles champion Liebherr Croatian Open.

2006 worl cup swimming:
Herasimenia wins twice

superswimmer news


Aliaksandra Herasimenia

Belarus' Aliaksandra Herasimenia won two 50-meter events, the backstroke and freestyle on day one of the World Cup short-course championships in Moscow. Compatriot Sviatlana Khakhlova finished right behind her in both. Herasimenia starts her 50m backstroke heat at the FINA swimming World Cup series in Moscow, Wednesday, Jan. 25, 2006. Herasimenia won two 50-meter events, at the swinning Wolrd Cup, Wednesday, the backstroke and freestyle.

Oleg Lisogor won the 50-meter breaststroke Wednesday. The Ukrainian won the event in 26.75 seconds, off the world-record 26.17 he managed Saturday at a World Cup meet in Berlin. He also won Wednesday's 100-meter individual medley at the Olympisky sports complex.

American Rachel Komisarz was another double victor, winning the women's 200 freestyle and 100 butterfly. But she faded in the 800-meter freestyle and finished second, nearly 15 seconds behind Russia's Anastasya Ivanenko.

Jason Lezak won the 100-meter men's freestyle with fellow Americans Randall Bal taking the 100-meter backstroke and Tara Kirk the women's 100-meter breaststroke.


And one photo for the road...



A Belarusian hanging on for dear life!

A Belarussian man enjoys winter kiteboarding in a windy cold weather near the village of Rakov, some 35 km (22 miles) west of Minsk January 23, 2006. The temperature in Belarus dropped to around -22 degrees Celsius (-7.6 Fahrenheit) on Monday.