Lukashenka on TV, Minimum wage raised, elections, Anti-Semitism, Foreign ministry slams Warsaw, Milinkevich, Union State
From the Top

Belarus Leader Gives a Telavision Interfiew;
Talks of Union State, Promises There Will Be No Elections Protests

ABC News, The office of the president, Belta


Belarusian President Alexander Lukashenko seen during his television interview
MINSK, Belarus - On January 27, during an interview to the Belarusian BT, ONT, STV TV-channels, President of the Republic of Belarus Alexander Lukashenko answered over a dozen questions touching upon socio-economic development of our country, its home and foreign policy.
The subjects highlighted were Belarusian economic model, sources of the dynamic development of the country over the recent years, safeguarding national sovereignty, debureaucratization of the state machinery, internal political life of the Belarusian society. "We have built a sovereign independent state in Belarus. It is a good and worthy result of the decennary. If we had failed we would become a part of some union, association or some other country. One can hardly find a person in Belarus who would wish such prospects. We had not any other choice or a way out except building this sovereign independent state. We promised it to the people and we have built this State," Alexander Lukashenko said in particular.
Much attention was focused on the issues of cooperation between Belarus and Russia, the Union State construction. Lukashenko, who has forged increasingly close ties with Russia since the wave of revolutions in other post-Soviet states, said he was confident of Russian Vladimir Putin's support in the March 19 election.
"President Putin wants Lukashenko to stay, he wants to see Lukashenko in Belarus," he said.
The President also answered questions on international policy of our country, interrelation with the West.
Authoritarian Belarus leader Alexander Lukashenko warned activists late Friday that any protests over the country's upcoming presidential elections would meet a harsh government response.
Lukashenko also vowed that he would not allow the type of mass street protests that brought opposition leaders to power in Georgia, Ukraine and Kyrgyzstan.
"There will be no disturbances. No one will climb onto the barricades to fight Lukashenko," he said. "If there are provocations, we'll give them such a going-over they won't know what's hit them," Lukashenko threatened.
The Belarusian leader also turned on Western diplomats, saying he would not allow any interference in his ex-Soviet republic's internal affairs. "The embassies should know, that they can be out of here at 24 hours' notice and no one will help them," he said.
From the office of the president

Minimum Monthly Wages and Salaries Raised

On January 28, with a view of enhancing social protection of workers in the republic, the President of the Republic of Belarus signed into action Decree No 54 "On Determining Minimum Salary and Wage Rate."

In pursuance of the document, from the 1st of January 2006, the minimum monthly salary shall be 156.9 thousand rubels ($72.98) i.e. 28.5($13.28) thousand rubels or 22 percent higher that the salary established from the 1st of January 2005. The minimum hourly salary shall be 930($0.43) rubels.


Elections

Milinkevich calls on European organizations to coordinate their policies regarding Belarus

Charter '97


Aleksandr Milinkevich

Belarusian opposition leader Aleksandr Milinkevich called on the Parliamentary Assembly of the Council of Europe (PACE), the Organization for Security and Cooperation in Europe (OSCE) and the European Parliament to coordinate their policies toward Belarus. "We expect PACE, the OSCE and the European Parliament to coordinate their actions regarding the Belarus issue," Mr. Milinkevich told PACE in Strasbourg on January 26.

"We are against inviting to democratic countries those involved in repressive activities and responsible for election frauds," he said, speaking French. "We believe that without serious change in the atmosphere in Belarusian society and in electoral regulations and practices, the [presidential] election that the authorities plan to conduct on March 19, cannot be recognized as the will of the Belarusian people."

"Why are pro-democratic forces participating in this campaign? The chief thing for us to inform people of our stance," he said. "It is possible to attempt to destroy the deep-rooted adherence of the Belarusians to the European democratic tradition and freedom, but these attempts are useless. We know that in the event of a really free election, the Belarusian authorities would have no chances. But our public have to get rid of fear and see an alternative. This alternative exists today."

"We have embarked on the hard mission of restoring freedom in Belarus," Mr. Milinkevich said. "This is our goal. We expect understanding and the firmness of principles in assessing the situation from our European neighbors."

According to Mr. Milinkevich, the main idea of Belarus` pro-democratic forces can be stated as follows: "When a majority feel that they are a majority, the authorities will be powerless to stop inevitable changes."

Belarus` foreign ministry slams Warsaw for backing opposition contender


charter '97

Lech Kaczynski

Belarus` foreign ministry has condemned Warsaw`s support for an opposition presidential contender as interference in the country`s internal affairs. The statement comes in response to Aleksandr Milinkevich, united democratic forces` candidate, meetings with Poland`s president and lawmakers the previous day.

"The persistent support by the Polish side of only one presidential candidate, in our opinion, represents open and purposeful interference in the internal political process in our country," Andrei Popov, spokesman for the foreign ministry, told reporters on Thursday.

During a 30-minute meeting with Mr. Milinkevich, Polish President Lech Kaczynski said he fully supported Belarus` united democratic forces, reported the opposition hopeful`s camp. The Polish leader reportedly noted the contender`s courage and pledged support for democratization in Belarus.

They do not want to sign signature lists for Aliaxandr Milinkievich

Viasna

In the Administration of Frunzenski Borough of Minsk none of the officials certified signatures lists of the Aliaxandr Milinkievich initiative group members from 12:00 – at 15:00 there was a large line. The people are indignant but the officials are not taking any measures.

According to Aliaxandr Bukhvostau, the head of the Aliaxandr Milinkievich initiative group, "this is an attempt to prevent certification of signatures in support of the united democratic forces pretender and so cancel his registration".

Now the Aliaxandr Milinkievich Support Headquarters are taking all measures to make sure that the officials of the Frunzenski Borough Administration fulfill their duties.

Five presidential candidates in Belarus collect 100,000 signatures

(Itar-Tass and Belta)


GAJDUKEVICH, Sergei Vasiljevich

MINSK, January 28 Five presidential candidates in Belarus have submitted more than 100,000 signatures to the Central Election Commission and can now officially qualify for registration.

The signature-collecting campaign ended on Friday evening. Incumbent Belarussian Territorial election commissions have received signature lists from 6 initiative groups on nomination candidates for presidency, chairperson of the central election commission of Belarus Lydia Yermoshina has told BelTA. We remind that the collection of signatures ended January 27.

Alexander Lukashenko's initiative group totaled 1,905,631 signatures in favor of his nomination as candidate for presidency.

The initiative group of A.V. Milinkevich gathered some 198,559 signatures, A.V. Kozulin – 156,618, S.V. Gaidukevich – 150,319, V.D. Frolov – either 150 or 60 thousand signetures depending upon the source and Z.S. Poznyak – 719 signatures.

At first there were 8 competitors for the post of the head of state. The initiative groups of A.P. Voitovich and S.N. Skrebets have not presented their signature lists to the territorial commissions, Lydia Yermoshina has informed.

The CEC chairwoman has noted that "this stage of the election campaign was calm. Figures were high enough despite the unfavorable weather conditions". According to Lydia Yermoshina, "the biggest amount of signatures in favor of nomination of candidates for presidency has been gathered in Minsk". Lydia Yermoshina stated that "the current figures may change after the verification of their authenticity".

Central Election Commission Secretary Nikolai Lozovik told journalists that district commissions have 10 days to complete their protocols and submit them to regional election commissions. They will scrutinise the signatures for five days and then forward them to the Central Election Commission for final approval. The registration of candidates will be open from February 12 to February 21.

Zenon Poznyak, Sergei Skrebets, and Alexander Voitovich have withdrawn from the presidential race.

Poznyak, the leader of the Conservative Christian Party integrated into the Belarussian Popular Front, said he would not submit lists with 130,000 signatures as he "cannot hope to win the elections" in the current situation, a representative of his election team said.

Poznyak encountered problems during the registration of his initiative group. He was away from Belarus, living in the United States in emigration over the past nine years, but the Central Election Commission allowed him to run. However it issued an official warning to him, advising against starting the election campaign ahead of time.

Sergei Popkov, the head of his initiative group, had been arrested by police several times. "In this situation we do not want to do useless work, specifically to collect and check signatures, as well as to send them to the election commission, in order to become pawns in the game," Poznyak told journalists.

Another candidate, Sergei Skrebets, withdrew his candidature on Thursday. He is suspected of being involved in economic crimes that are under investigation now. Prior to Skrebets, Alexander Voitovich, former chairman of the upper house of the Belarussian parliament, had withdrawn his candidature.

The presidential election is scheduled for March 19.

Collection of signatures for Alexander Lukashenko becomes large-scale social study

Belta

Collection of signatures became a large-scale social study for Alexander Lukashenko's initiative group. During the collection voters voiced their concerns and proposals, told the initiative group about their problems and expressed support, the Alexander Lukashenko's initiative group told BelTA.

January 27 saw the end of the campaign to collect signatures for future candidates. The initiative group of the acting president handed in 1,905,631 signatures to territorial commissions, while the required number makes 100,000.

"The collection of signatures was the first significant trial for those willing to become candidates. It was good that some of them had the courage to admit their ambitions were stronger than people support they enjoyed and removed their candidacies. We regret the fact that there are people, who try to pass off their political inconsistency as "repressions" by the authorities. How should we evaluate actions of a person, who said 135,000 voters signed in his support, but he wouldn't show the signatures out of fear of possible "sanctions" against the signers? He betrayed his few adherents", stressed the source.

First ODIHR observers expected to arrive in Belarus on February 6

Charter '97

The first observers of the OSCE Office for Democratic Institutions and Human Rights (ODIHR) are expected to arrive in Belarus on February 6 to monitor the country`s presidential campaign, Nikolai Lozovik, secretary of the central election commission, told BelaPAN on Friday.

The ODIHR mission began work in Belarus on Wednesday to assess the need for deploying an observation mission for the country`s March vote.

Mr. Lozovik said that the team had met with election officials earlier in the day.

Lidiya Yermoshina, chairwoman of the central election commission, reportedly told them about the work of the commission and the first stages of the election campaign, and answered their questions.

Mr. Lozovik expressed hope that the observation of the election would be carried out in an unbiased manner and monitors would refrain from direct involvement.

He called on the mission to embark on a "constructive and business-like cooperation" with the central election commission.


Social Issues

Belarus City Faces Anti-Semitic Newspaper Rant

Charter '97 from the Federation of Jewish Communitites of CIS - Moscow,Russia


A scan of the ofending article

The city of Mogilev has experienced an anti-Semitic upset, as two local newspapers – "Vecherniy Mogilev" and "Mogilevskiye Vedomosti" – have published spiteful and offensive articles calling on citizens to boycott the production of `Bluminskiy` kosher bread, which is manufactured by the city`s Thrid Bakery since October 2005.

The articles feature letters by local residents, who blame the bakery for "turning all of Mogilev into a Jewish community" and summon them to cease producing kosher bread. The author of this letter assured readers that it is "well known that koshering may require using blood from sacrificial animals". Other journalists participating in this campaign brought their "evidence" to prove that the production of kosher bread must be stopped. Although the publications also feature some positive opinions by an Orthodox priest and bakery workers, they go largely unnoticed among the general anti-Semitic views expressed in this series of articles.

None of the newspapers involved asked the local Jewish community or a rabbi for an explanation. Those Jews, who sent their written reactions to these horrendous publications, are convinced that their letters will never be published, which would prove that somebody is interested in promoting an anti-Semitic mood in Mogilev.

This latest incident is quite shocking considering that kosher bread production has been established and successfully operates in other cities of Belarus, including Bobruisk, Gomel and other locations. It is consumed by both Jews and Non- Jews, who exercise their own free choice when making their purchase.

Moscow Commemorates International Holocaust Memorial Day

FJC


Moscow remembers. So should we all.

MOSCOW, Russia – Today, the Great Hall of the Central House of Literature Workers hosted an event dedicated to the International Commemoration Day for Holocaust Victims, which involved Chief Rabbi of Russia Berel Lazar.

The gathering was arranged by the Holocaust Foundation with the assistance of the Moscow Administration, the Federation of Jewish Communities of Russia, the Israeli Embassy, the Jewish Agency in Russia, the Russian Jewish Congress, the International Center for Research on East-European Jewry, the Israeli Cultural Center, and ORT-Russia and Media Holding company.

This commemoration ceremony also involved Moscow's Vice-Mayor Vladimir Resin, Israeli Ambassador Arkadi Mil-Man and other high-profile figures including Russian Duma Deputy Vladimir Ryzhkov, the Arch-Bishop of Kostroma and Galich Alexander, as well as many leading figures in the artistic and cultural world.

This gathering featured an awards ceremony to honor winners of the Fourth International Contest "Lessons of the Holocaust – Path to Tolerance", which involved more than 500 schoolchildren, students and teachers from ten separate countries. The winners include schoolchildren from Krasnoyarsk, Kirovsk, Vladimir and the Bryansk Region, as well as students from Moscow, S. Petersburg, Elista and Boston. The victorious teachers come from Kazakhstan, Krasnodar and the Novosibirsk Region.

Hirchson: Anti-Semitism is a problem for the world

By JONATHAN SCHNEIDER for the J-Post


The burning of synagogues and the defacing of gravestones is still a problem in many countries, and in Russia and Ukraine the number of overall incidents has actually increased dramatically.

"Anti-semitism is a world problem, not a Jewish problem, and the government of Israel will fight against it," declared Tourism and Communications Minister Avraham Hirchson during a press conference hosted by the Global Forum Against Anti-Semitism (GFAA) at Beit Agron in Jerusalem on Thursday.

Speaking after a cabinet meeting during which the GFAA had presented statistics highlighting an overall decrease in the number of violent anti-Semitic attacks worldwide, Hirchson emphasized that in certain specific cases "the world had still not learned its lesson."

He noted that the burning of synagogues and the defacing of gravestones was still a problem in many countries, while in Russia and Ukraine the number of overall incidents had actually increased dramatically.

"Governments must take more responsibility for controlling anti-Semitism, while a change in the education system is required both for Jews and non-Jews," he added.

Amos Hermon, chairman of the Jewish Agency's Education Department, asserted that present day violent anti-Semitism originates from two separate sources: radical Islamists in the Middle East and Western Europe as well as the neo-Nazi youth element in Eastern Europe and Latin America.

In presenting the reports' specific findings, Hermon noted that though the number of overall anti-Semitic incidents recorded in Britain - which was at the top of this inauspicious list - had decreased from 330 in 2004 to 300 in 2005, this still represented the highest number of incidents in that country for more than 20 years.

Hermon also alluded to Britain's proposed academic boycott of Israeli universities and London Mayor Ken Livingstone's negative attitude towards Israel as examples of left-wing anti-Semitic tendencies in that country.

The report also showed that France, Russia and Ukraine had all chalked up more than 160 incidents, while in Argentina, Germany, the Czech Republic, Belgium and Australia, there were less than 50 each.

Though the GFAA is still waiting for statistics from the US, Hermon noted that North America was by no means free of anti-Semitism, citing the recent capture of an al-Qaida cell by the FBI in Los Angeles just prior to a planned attack on local Jewish institutions.

In American university campuses, he said, Jewish students were being discriminated against by both faculty and the students.

Referring to the recent announcements of Iranian President Mahmoud Ahmadinejad "to wipe Israel off the map," the report also shows that the media in Middle Eastern countries such as Egypt, Jordan, Syria, Lebanon and Saudi Arabia are vehemently anti-Semitic. However it also claimed that despite incitement being widespread in the media of the Palestinian terror organizations, there has been a noticeable decline in this area in the PA's official media since Mahmoud Abbas came to power.

Jewish Agency chairman Ze'ev Bielski told The Jerusalem Post that although it was "unlikely" that anti-Semitism would ever be completely eradicated, it was important to deal as best as possible with the cause rather than just the symptoms. He exhorted people "to stop being apathetic about this issue."


Union State

Belarus President Says Union With Russia Based On Equality

RL/RFE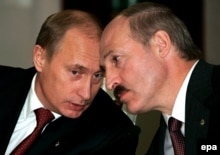 Lukasheno and Putin

28 January 2006 -- Belarusian President Alyaksandr Lukashenka has said that a proposed union with Russia would be built on the principles of equality.

Speaking in an interview on Belarusian state television on 27 January, Lukashenka said the creation of a unified state would be "time- and effort-consuming."

The Belarusian president said that there are also unresolved issues to be considered, for example the approval of a single constitution and a shared currency.

Belarus and Russia have been speaking about a union since the mid-1990s, but integration efforts have often stagnated.

Belarusian President Alyaksandr Lukashenka said he and then Russian President Boris Yeltsin made the right choice when they decided to create the union a decade ago.

Discussions are under way to organize parallel referendums in both countries on a union constitution.

Russia-Belarus Union to have common currency starting from 2008


Looks like the end of Belarusian "Zaitsa" money

KAZAN, January 27 (Itar-Tass) -- The Union of Russia and Belarus will have a common currency starting from January 1, 2008, representatives of the Interbank Currency Council said on Friday. They were received by Tatarstan President Mintimer Shaimiyev.

"The agreement signed in 2000 says that the Russian ruble shall become the legal tender in Belarus starting from January 1, 2005, and the Union will have a common currency starting from January 1, 2008," Belarussian Central Bank Chairman Pyotr Prokopovich said.

"Equal terms in the economic and customs affairs are still to be ensured, so the two governments and banks have drafted a common action plan," he said. "Thirty important measures will be taken in the Belarussian banking sphere this year alone."

"We have discussed issues, which will promote the unification of the credit and monetary policy. We have defined principles, approaches, instruments and mechanisms, which will quickly level terms. Our clients should enjoy equal terms by the time the currency is endorsed," Russian Central Bank head Sergei Ignatyev said.

Lukashenka Ready to Give Away Half of Beltransgaz

Charter '97


The Gazprom building in Moscow

Belarus is ready to restart negotiations with Russian Gazprom on creation of a joint gas transportation enterprise. First Vice prime minister Uladzimir Syamashka told so to journalists on January 26. He noted that these talks were initiated by the management of Gazprom in December 2005. "We were ready to continue work on creation of the joint venture long ago. An now the Russian side was to make a step in this direction in response".

Uladzimer Syamashka reminded that in the beginning of 2003 Belarus completely prepared conditions for creation of a joint venture. Many important conditions were coordinated. Shares ratio in the authorized fund should be 50:50, and the price for gas is to be equal to the 9th zone of Russia (like in Smolensk). Gazprom agrees to invest money to development of gas transportation system of Belarus, and to build underground gas storages.

But the Russian side has proposed to be based on balance value of Beltransgaz. "We said no," Uladzimir Syamashka said. "Beltransgaz is a profitable enterprise, and to sell it at balance value is to go against all international norms. We could speak only about a market value of the enterprise. After that negotiations were held for a long time about evaluators, as you know. And after it was defined, petty issues like where the firm has an office, in Moscow or in London, were discussed," the first vice prime minister said.

"All these events show that the Russian side is to give an answer now," Uladzimir Syamashka said. He also said that the Belarusian side has already defined market value of Beltransgas.


Information

Return videotapes seized from scribe, Ukraine to Belarus

(AP)

KIEV (Ukraine) — Ukraine lodged a protest yesterday over what it said was the seizure of journalists' videotapes by authorities in neighbouring Belarus, whose authoritarian leader has warned there will be foreign attempts to influence the forthcoming presidential election.

In a note delivered to Belarusian diplomats, the Ukrainian Foreign Ministry expressed concern and asked Belarus to return the tapes.

Belarusian border guards seized three videotapes containing reports about the election to be held on March 19 from a crew from Ukraine's Inter television, according to one of the journalists, Oleksiy Ivanov. He said the journalists were told the tapes could contain evidence of anti-government activity. The Ukrainian Foreign Ministry said Belarusian diplomats promised the incident would be investigated.

Council of Ministers adopts Information Protection programme

belta


The editorial director of the BHTimes could not understand this article, but decided to run it anyway

The Belarusian Council of Ministers has adopted a state scientific and technical programme Information Protection. The programme was designed to ensure information protection for the sake of the national security, representatives of the State Science and Technologies Committee told BelTA.

According to the source, scientists and specialists have to design and implement reliable instruments to prevent special services and organised crime from getting unauthorised access to information and to resolve problems of information system protection and counteraction of technical intelligence services.

Tasks of the state scientific and technical programme are meant to provide a comprehensive solution to problems related to the functioning of the state information protection system, to create information protection technologies and products in order to equip government bodies, state enterprises and organisations with the technologies and to provide technical support to the government's information systems, which are being developed.

The programme also aims to render scientific support to the governmental programme "Electronic Belarus". The information protection facilities developed within the framework of the programme are 1.5-2.5 times cheaper than the analogues produced in the CIS and foreign countries.

New information protection facilities worth USD 1.5 million and import-substituting products worth USD 2 million will be made within the framework of the programme. The payback period makes three years.

The expected effect from its implementation will depend on the damage prevented by the new protection facilities. This volume can be qualitative (when payments are made in the bank sphere) and qualitative (in the systems where secret information circulates or in the systems of critical technologies – management of ecological and socially dangerous technological processes).

The state information security centre under the president of the Republic of Belarus is the customer of the programme. Scientists and specialists of the National Academy of Sciences of Belarus and leading establishments of higher education of this republic will implement the programme.