Business, Belarus Blocks Pre-election U.S.-EU Visit, 59 CIS observers accredited, Customs accord with Russia, Free theatre, Ljungval, Dashinski
From the Top

Alexander Lukashenko: effectiveness of administration of justice in economic sphere betters

Belta


Recent years have witnessed a steady upward trend in the number of applications from business entities and governmental bodies to economic courts

Chairman of the Supreme Economic Court of Belarus Viktor Kamenkov has reported to the Belarusian president today on the performance of economic courts of the republic.

Administering justice in the sphere of private business, economic courts play an important role in strengthening economic relations, revitalizing the country's economy and improving the legislation. The administration of justice in the economic sphere secures legal rights of all-type business entities and interests of the state as well as the due execution of court regulations.

According to the president's press-service, the recent years have witnessed a steady upward trend in the number of applications from business entities and governmental bodies to economic courts of the republic. In 2005 the number of applications went up by 9 per cent from 2004 to 48,5 thousand. The increase is an objective process typical for a stably developing economy. The total sum of the claims filed to the economic courts made about Br1,5 trillion in 2005.

Viktor Kamenkov and Alexander Lukashenko discussed issues on enhancing the quality of justice in the system of economic courts. They considered financial, personnel and other issues of the activity of economic courts including the ones on the cooperation with other state bodies and the forthcoming discussion of the draft Code on Juridical System and Judges' Status.

The president valued highly the activity of economic courts in Belarus. At present legal proceedings are instituted on 90 per cent of applications to the courts. The number of ungrounded refusals has considerably reduced.

Protection of the rights and legal interests of citizens and subjects of economy should remain top-priority in the activity of economic courts, the head of state underlined.


Elections

Belarus Blocks Pre-election U.S.-EU Visit

RFE/RL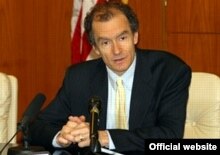 Dan Fried U.S. assistant secretary of state for Europe

4 February 2006 -- A high-level visit to Belarus by U.S. and European Union officials has been cancelled after Belarus authorities reportedly failed to issue visas.

The officials -- Robert Cooper, director-general for external and political-military affairs at the Council of the European Union, and Dan Fried, the U.S. assistant secretary of state for Europe -- had planned during the trip to discuss the presidential elections scheduled for 19 March.

State Department spokesman Sean McCormack said Washington was disappointed that Minsk had not taken the opportunity to engage in an "open and frank dialogue" with the international community.

Fifty-nine international CIS observers get accredited with central election commission of Belarus

Belta


European Union election observers watch a voter cast a vote at a polling station

Fifty-nine CIS representatives got accredited with the central election commission as long-term observers for the presidential elections in Belarus, leader of the CIS observation mission Asan Kozhakov has told reporters today in Minsk.

According to him, the observation mission includes representatives of Russia, Armenia, Kazakhstan, Kyrgyzstan, Tajikistan, Turkmenistan and also the CIS economic Court.

"CIS observers are set both on the organizational and technical levels to work during the presidential elections in Belarus", Asan Kozhakov said.

According to him, during the election campaign and on the voting day alike observers will work throughout the republic. Representatives of the CIS diplomatic missions accredited in Minsk will partake in the observation process.

The CIS observation mission has started to monitor the election campaign in all oblasts of the republic and in Minsk. Today observers are busy overseeing the process of formation of territorial and district election commissions, abidance by the legislation at registration of initiative groups and collection of signatures in support of nominees and are getting familiar as to how the complaints of participants of the election process are managed, Asan Kozhakov said.

The head of the CIS observation mission has stressed that the observers will perform the afore-mentioned activities at polling stations for the Belarus presidential election in the CIS countries, too.

Candidates for Presidency to Receive Two Hours on TV and Radio


Charter '97


Oposition candidate Alexander Milinkevich

In Belarus each candidate for presidency will be granted two hours on air for presenting his election platform at the state radio and TV, Interfax was informed by the secretary of the Central Eletion Comission (CEC) Mikalay Lazovik.

"Each candidate will be given an hour to appear on state radio and one hour on TV," the CEC Secretary said.

As said by him, the order of using the state mass media in preparation and carrying out elections of the head of state would be determined on February 8 at the CEC meeting.

M. Lazovik said that in the period of the election campaign every candidate for presidency will appear two times on the radio (for 3- minutes each time), and two times on TV.

Registration of the candidates for presidency is to be completed on February 21. Presidential vote is to take place on March 19.

Yarmoshina Suggests Individual Candidates Funds Establishing


Partnerstva


Lydzia Yarmoshina

The Central Election Commission's head Lydzia Yarmoshina has proposed individual funds establishing for presidential candidates. She considers that the sum of 2300 basic coefficients (some 26,700 USD) granted by state is not enough to carry out an election campaign.

"It's evident that we also should put down into practice individual funds for candidates," Mrs Yarmoshina said. "However in many countries the authorities started to limit the aims' list the money can be used for," she continued.

Lidzia Yarmoshina also admits that it is not only money which is given by state to contenders but also air time on TV and Radio and the possibility to publish a candidate's election programme in state-running newspapers that costs a pretty penny.

Piatro Avidovich Is Charged with Pre-term Agitation for Aliaksandr Milinkevich and Punished for Violation of Electoral Legislation

Viasna


Judge Kazakevich considered the flyers were printed by Iavidovich illegally

Two weeks ago, before the visit of the pretender to the presidential position Aliaksandr Milinkevich to Ashmiany, Piatro Avidovich distributed there fly-sheets and the self-produced bulletin Chas Adzinaha. The bulletin and the flyers contained information about the upcoming visit of Aliaksandr Milinkevich to Ashmiany. Nobody detained him when he handed out the production. However, the following day he was summonsed to Ashmiany District Procurator's Office. There a report for distribution of the bulletin and flyers was composed and the case was passed to court.

Judge Kazakevich considered the flyers were printed by Iavidovich illegally and the bulletin contained a quotation from the interview of Aliaksandr Milinkevich, which was considered as pre-term agitation.

Before the beginning of the trial Piatro Iavidovich declared impeachment to the judge Vital Kazakevich. He said that in 2001, when an administrative case against him was considered by the same judge, the court ignored the fact that documents with forged signature of Iavidovich were attached to the case. The impeachment was reversed by the court. The judge also ignored another petition: to admit to the trial the representative of the Belarusian Helsinki Committee Eduard Balanchuk as a public defender. Last Monday the judge didn't satisfy the solicitation to admit to the trial the human rights activist from Smarhon, lawyer Ales Dzerhachou in the capacity of the representative of Kazakevich's interests. What is even more interesting – he satisfied this petition in the morning, but changed his mind after the dinner break.

Piatro Iavidovich considers the sentence lawless and is going to complain against it to regional court.

-- This case has been faked-up in order to insult my honor and dignity and intimidate public activists, said the public activist.

Belarus` presidential election gets little TV coverage, monitors say


Charter '97


The 1st National Chanal is being acused of ignoring the elections process

Belarus` presidential election scheduled for March is receiving little television coverage from national and regional networks, says a report by the Belarusian Association of Journalists (BAJ).

The association monitored media reports between January 16 and 27, the day when the deadline expired for submitting ballot-access signatures to territorial election commissions.

Social and economic reports dominated the airwaves, the group said on Thursday while unveiling its findings in Minsk.

Over the ten days, the ONT television network devoted just over one minute to the election campaign in its news programs, according to the report. Almost nothing was said about how presidential contenders were collecting voter signatures.

Aleksandr Lukashenko`s daily activities were receiving heavy ONT coverage, while virtually no reference was made to his challengers.

The group said that Mr. Lukashenko gets far more television coverage than all of his opponents, election observers and the central election commission put together.

The BAJ monitored reports by ONT, the First National Channel also known as Belarusian Television (BT), two networks operating in the Mogilyov and Vitebsk region, the state-run radio company Radiofakt and a series of state-run and private newspapers.

The group conducted a similar monitoring before parliamentary elections and a national referendum in 2004.


International Relations

Belarus endorses new rules for foreign visitors

Itar/Tass


Belarus is tightening security in advance of both the elections and the the Union State

MINSK, February 5 (Itar-Tass) -- New rules for foreigners have entered into force in Belarus.

From now on foreign visitors will have to carry about $14 per each day of their presence in Belarus. They can be accommodated only at places of their registration, which shall be received within three days.

Belarus has also endorsed new rules for foreigners' transit. The transit period shall not exceed two days, and the foreigners shall be carrying $68 per each day. The foreigners must keep to international routes during their transit through Belarus.

The rules say that Belarus may deny entry to foreigners. According to unofficial information, there are tens of thousands of unwelcome foreigners on Belarussian lists. Most of them have committed felonies or misdemeanors in Belarus or are members of terrorist and extremist organizations.

Customs accord between Russia and Belarus proposed

Gateway to Russia

Signing an agreement between the customs authorities of Russia and Belarus will help resolve issues of the transit of goods via Belarus, said Economic Development and Trade Minister German Gref today. A serious problem exists with the reexport, as well as reimport, of Russian goods at reduced value via Belarus. The reimport issue has to do mostly with considerable volumes of cane sugar imported into Russia via Belarus. Without such an agreement, there can be no effective system for controlling the transit of goods, the minister concluded.

Russia says no NATO, for now

UPI


Russia does not intend to join NATO at this time

MUNICH, Germany, Feb. 5 (UPI) -- Russian Deputy Prime Minister and Defense Minister Sergei Ivanov says Russia does not intend to join NATO at this time.

"Russia is not thinking about filing an application for NATO membership so far but, as the saying goes, never say never again," Ivanov told the 42nd international conference on security in Munich, Germany.

Ivanov said Russia is interested in developing relations with its Asian partners, especially with China and India, RIA Novosti reported.

He also said cooperation between NATO and the Collective Security Treaty Organization -- Armenia, Belarus, Kazakhstan, Kyrgyzstan, Russia and Tajikistan -- may contribute to the partnership between Russia and NATO in fighting terrorism and rebuilding Afghanistan.

EU Officials Assert Importance of Accord with U.S. on Belarus

usinfo.state.gov


Aldis Kuskis


Washington – Officials from the European Union told a congressional hearing in Washington February 1 that it is essential the United States and Europe unite in responding to developments in Belarus before, during and after its March 19 presidential election.

The situation in Belarus is "grim" and the ability to choose the country's political leadership freely is "nonexistent," said Aldis Kuskis, a member of the European Parliament from Latvia who serves as vice chairman of the EU Parliamentary Delegation for Relations with Belarus.

The U.S. ambassador to Belarus, George Krol, similarly has characterized the prospects for a free and fair election in Belarus as "dismal." (See related article.)

Kuskis told the hearing that Belarusian President Aleksandr Lukashenko "and his cronies have increased their manipulations of the Belarusian political system and the intimidation of the opposition as the elections grow closer."

As evidence of Lukashenko's determination to crush all opposition, he cited the imprisonment of Mikhail Marynich, the opposition candidate in the 2001 presidential elections, on "dubious" charges of theft, and the imprisonment of Valery Levaneusky and Aliaksandr Vasilieu, the chairman and vice chairman of the ""Free Belarus" movement, on charges of publicly having insulted the president.

Kuskis also cited the suspicious deaths and disappearances of prominent opposition figures and journalists, including Anatoly Krasovki, Yuri Zakharenko, Viktor Gonchar and Dmitry Zavadsky.

"The efforts of Europe, the United States and the whole international community must be coordinated when standing up for freedom in Belarus," Kuskis said.

Urging a joint U.S.-European Union parliamentary position, he said the goal "should be to ensure the Belarusian issue is at the forefront of both European and global agendas."

Kuskis is proposing on behalf of the European Parliament's Delegation for Relations with Belarus "concrete steps that should be taken before the elections, during the elections and after the elections."

Among the steps being contemplated is "a joint [U.S.-EU] political statement condemning human rights violations in Belarus and expressing our joint demand for free and fair parliamentary elections in March 2006," he said.

The chances of a free and fair election in Belarus are "slim," Kuskis said. "If during the elections we see that not only human rights and freedoms have been sacrificed but also human lives, we should take joint efforts to remove Belarus from the [Organization for Security and Cooperation in Europe] and bring Lukashenko to the [European] Court of Justice," he said.
Complete Text

U.S. firms willing to operate in Russia's special zones - Gref

RIA Novosti


Russian ED&T smart-guy German Gref

BANGALORE (India), February 5 (RIA Novosti) - Large U.S. companies are willing to operate in special economic zones in Russia, the Russian economic development and trade minister said Sunday.

German Gref, who is visiting technological parks in Bangalore, India, said the world's major companies, mostly from the U.S., were displaying interest in their operation in special economic zones.

The minister declined to specify the companies but said they were engaged in the production of telecommunications equipment, microelectronics and computer technology. According to Gref, it would have been impossible to attract U.S. companies to operate in Russia without special economic zones.

The head of the Federal Agency for Special Economic Zones said that talks were underway with such U.S. companies as IBM and Boeing.

Companies working in special economic zones will be exempted from all local taxes for five years.

In late January the Russian prime minister signed decrees on the establishment of six special economic zones (SEZ).

Under law, the Russian government can establish two types of SEZs, industrial production and technical innovation zones, for a period no longer than 20 years. In SEZ territories, foreign-manufactured goods will be subject to a free customs zone, which means they can be imported and used without customs duties or VAT and without the typical economic restrictions imposed by the Russian Federation.

Russian-manufactured goods in the SEZs will be subject to an export regime that includes excise taxes but no export customs duties. There are also certain benefits under the tax code, the customs code, the land code and other legislative acts.

The law on Special Economic Zones will go into effect January 1, 2006

Mikhail Miasnikovich: average wage of scientists should make not less than USD 800 by 2010

Belta


National Academy of Sciences of Belarus

The average wage of scientists of the National Academy of Sciences of Belarus /NAS/ should make not less than USD 800 by 2010, chair of the NAS Presidium Mikhail Miasnikovich stated at the session of the NAS general meeting.

According to him, in January-December 2005 the average wage made Br533,300 in the NAS budget organizations or USD 247,8 in equivalent – 1,4 times more than in 2004.

The NAS fundamental and applied research aims to settle top-priority economic and social problems, the republic faces, Mikhail Miasnikovich noted. In 2005 the NAS scientists carried out the work worth of Br350 billion or 22 per cent more than in 2004. Products worth of Br216 billion were made.

Last year the NAS organizations fulfilled 1180 tasks of seven governmental fundamental research programs, 30 governmental programs oriented towards fundamental research and 11 applied research studies.

The session of the NAS general meeting summed up the results of the work of the academic science in 2005, discussed plans of scientific, scientific-technical and innovation activities in 2006 and prospects for the next five-year period. First deputy prime minister of this republic Vladimir Semashko, chair of the Constitutional Court Grigoriy Vasilevich, first deputy head of the presidential administration Anatoliy Rubinov, heads of ministries, departments, concerns and big companies took part in the session.

Some 343 of out 383 members of the NAS general meeting attended the session.


Energy

Br173 billon to be allocated to reconstruct gas transport system in 2006

Belta


There is no argument that gas and oil are at the heart of the Belarussian economy

Br173 billion will be allocated this year to construct and reconstruct the objects of the gas transport system of Belarus, BelTA has been told in the energy ministry of Belarus. The funds, in particular, will be invested in the construction of gas mains and gas distribution plants.

According to experts, in recent months the energy ministry jointly with Beltransgaz has repeatedly scrutinized the readiness of the company to implement investment projects in 2006. Thus, design estimates have been completed in respect of 20 out of 32 objects of the gas transport system included in the 2006 investment program. A lack of permits from executive committees to proceed with design and survey works attests to the poor work of Beltransgaz with local authorities, the ministry believes.

The energy ministry also informed that last year the company increased capital investments by 10.7 per cent over a year earlier (the forecast provided for 9.5 per vent). In 2005 the company rendered gas transport services via Belarus worth of USD 198,3 million, or 9.4 per cent more. The company reported 6.6 per cent of profitability (the forecast – 5.1 per cent).


Culture

Belarus: Underground Troupe Brings Cutting-Edge Theater To Moscow

RFE/RL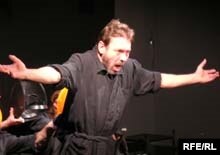 Actor Oleg Sidorchik during a performance of "We. Self-Identification" in Moscow last weekend

The Free Theater of Minsk is a rare voice of dissent in President Alyaksandr Lukashenka's Belarus -- it is currently the only drama troupe boldly resisting government pressure and censorship. The company, created less than a year ago, is now coming into the international limelight and played to Russian audiences for the first time last weekend. RFE/RL spoke to playwright Nikolai Khalezin, co-founder of the theater group.

Russian drama lovers got a rare chance last weekend to see the Free Theater in action. This underground theater troupe is popular with emancipated Belarusians, but its performances abroad are still few and far between.

The Free Theater's Russian debut was a success: its three performances at Moscow's Meyerhold Center -- one of the Russian capital's most progressive theaters -- were widely popular.

In Belarus, catching a performance by this troupe is not easy.

In a country that the U.S. government has famously dubbed "the last dictatorship in Europe," staging uncensored plays is a dangerous activity. Playwright Nikolai Khalezin says prospective spectators are therefore carefully screened before every performance.

"To attend one of our performances, you need to find out a special telephone number, call it, someone will write down your name, then you need to go to a place far from the city center, where you will be identified," Khalezin said. "Seats are booked for many performances in advance, and entering the room [on your own] is almost impossible."

The Free Theater was founded in March 2005 when Khalezin, together with his wife Natalya Kolyada, launched a playwright competition. Over the next few months, they received more than 230 plays from a dozen different countries. The Free Theater manages to deliver cutting-edge, effervescent performances -- and is determined to fight for its right to do so until Lukashenka's regime comes to an end.

The group soon premiered with "4.48 Psychosis," a play by British playwright Sarah Kane dealing with depression and suicide -- two themes that are taboo in state-controlled Belarusian art.

The Belarusian authorities were quick to retaliate. The state-owned theater in Minsk, where the play's young director, Vladimir Shcherban, used to work, reduced his salary and barred him from staging plays.

Since then, actors, directors, and playwrights involved in productions by the Free Theater have often run into trouble. Owners of bars and clubs have also suffered repercussions after letting the theater use their premises.

But this has done nothing to dampen the determination of the troupe, which continues to dodge censors by renting out premises for alleged "corporate parties" or even performing in private flats.

After winning over fans at home, the company rapidly attracted international attention. The theater has gained the staunch support of a number of luminaries, including British playwright Tom Stoppard, U.S. playwright Arthur Kopit, and former Czech President and playwright Vaclav Havel.

The Free Theater so far has only three plays in its repertoire. "Technique Of Breathing In A Vacuum," by Russian playwright Natalya Moshina, tells the story of a girl with cancer.

"We. Self-Identification" is based on trivial conversations recorded by one of the actors on the building site of the National Library in Minsk -- a construction project closely supervised by Lukashenka, the former collective farm director who has ruled Belarus with an iron fist for the past 12 years.

In the final scene, the four actors, dressed in black workers' dungarees and orange safety helmets, recite texts about slavery by Socrates and Aleksei Losev, a prominent Russian philosopher who was sent to labor camps for rejecting Marxism.

Khalezin describes the play as a "contemporary vision of slavery." One passage from a scene reads: "In a sense, the slave looking after his master is freer than the latter, since he has the option of running away from him. The master, however, cannot hide from himself."

"We. Self-Identification" is seen by many as the Free Theater's most political work.

Khalezin, however, balks at the label of "political theater."

"The actors, the directors, and us, the theater's founders, do not consider ourselves [to be] political theater," Khalezin said. "Political theater is boring. The fact that our aesthetical position and our views on the freedom in art differ from those of the authorities have enabled journalists and society to say: 'this is political theater.' No, we do not declare any political idea. The only thing we declare is freedom in art and the morality of those involved in theater." "In a sense, the slave looking after his master is freer than the latter, since he has the option of running away from him. The master, however, cannot hide from himself."

If the Free Theater has no political agenda, then what makes it so subversive in the eyes of the authorities?

Khalezin says Lukashenka's authoritarian regime, which he describes as "collective farm-like," has failed, unlike the Soviets and the Nazis, to establish an aesthetic platform to promote its doctrines.

The Belarusian leadership, he says, therefore feels threatened by any form of individual artistic expression that illustrates present-day dilemmas.

Despite the pressure and obstacles, the Free Theater manages to deliver cutting-edge, effervescent performances -- and Khalezin says the troupe is determined to fight for its right to do so until Lukashenka's regime comes to an end.

"Dictators don't live forever," Khalezin said. "Each of us will take his or her own place in history -- he will take one place, and we will take another."

European spectators will have to wait a little longer for a chance to meet the Free Theater since it has suspended all performances abroad until the end of the presidential elections, slated for 19 March.


Comentary from the Blogs

A wall to the West, penetration from the East

From the Tobias Ljungvall on Belarus Blog


Tobias Ljungval

This week has confirmed two things that I have long believed but not been sure about.

The first one is that I am still forbidden to enter Belarus. It has now been almost two years since I tried to go there last time, in February 2004. After I had attended the by-elections to the local council of the town Belooziorsk a few months earlier, I had found out that a local journalist had been sued for defamation over a discussion at a polling station that I had also taken part in. Since I did not think she had done anything wrong, I sent a written statement to the court and said that I was prepared to come there to give my version of events. Some weeks later, I received an official letter by ordinary mail, telling me to appear as a witness in the proceedings.

I got an invitation and applied for a visa at the Belarusian embassy here in Stockholm. I got the visa, and the next day I spent travelling via Vienna to Minsk. At the international airport, the border guards told me that I was forbidden to enter the Republic of Belarus, changed my return ticket, and forced me to get on the same plane back again.

I never got an explanation. The Swedish Ministry of Foreign Affairs asked, both in Minsk and with the embassy in Stockholm, but got not response. A subsequent letter from me to the Belarusian ambassador was also ignored.

So ever since then I have not really been sure about my status, but now I am. A week and a half ago I paid the fee of 650 kronor (a bit over 80 USD) and handed in my passport along with a visa application at the embassy. This Thursday I returned there.

"Here is your passport," said the consular officer.

I took it and looked at him for a brief moment but he did not say anything. I opened it to start going through the pages.

"There is no visa in it," he said.

I was not going to get my money back. I was not going to get any explanation of why I had been denied a visa. I was not going to be told whether it would make sense or not to apply again later. Unfortunately, he said.

Well, at least now I know that I have not been missing any opportunities during the last two years. And at least they had the courtesy not to have me going all the way to Minsk's international airport to find out about it.

The second thing that was confirmed to me is that Aleksandr Kozulin, the other allegedly democratic presidential candidate besides Aleksandr Milinkevich, is working for Moscow. I have never believed in Kozulin's democratic credentials, but the mystery to me has been whether he is being run by the Belarusian or the Russian regime. I was inclined to believe the latter, and this week I felt certain about it when his election team was joined by Valeriy Frolov.

Frolov, a former army general and member of parliament, became known as a bold opposition politician a few years ago with the launching of the parliamentary group Respublika. Frolov is one of the most openly pro-Russian opposition politicians, and did not even make a secret of the group's meetings with the Russian security and intelligence services during their trips to Moscow.

As for the up-coming election, both Frolov and another member of Respublika, Sergey Skrebets (who is in jail), first positioned themselves as potential candidates. Recently, Skrebets pulled out and said he supported Kozulin. When Frolov did the same this week, my doubts left me.

I can not help feeling a bit sorry about this. I have met Skrebets, and he seems a good enough person. Frolov is also said to be sympathetic.

Yet they both allow themselves to be used in the games of Belarus' chauvinist neighbour.



Sports

Dashinski, Li Win World Cup Aerials Event


Dimitri Dashinski

SPINDLERUV MLYN, Czech Republic - Dmitri Dashinski of Belarus earned his third victory of the season Sunday in a World Cup aerials competition.

Dashinski earned 251.77 points in the two-round race and moved to the second position in the overall standings. Xiaopeng Han of China finished second with 244.44, followed by Dmitri Rak of Belarus with 224.80.

Kyle Nissen of Canada leads the overall with 485 points.

In the women's race, Nina Li of China claimed her third season win with 199.33 points, followed by Alla Tsuper of Belarus with 177.35 and Maunela Mueller of Switzerland with 174.31.

Li leads the overall standings with 436 points, followed by Switzerland's Evelyne Leu and Maunela Mueller.

Many of the World Cup leading athletes did not participate in the race, the last before the Olympics.

Belarus to set up sport TV channel

Belta


ИСПН (Espn in Russian) might be getting underway soon

Belarusian mass media can be the engine in reaching a state priority of raising a healthy and strong nation, information minister Vladimir Rusakevich said during an international press seminar "Sport and Health — Basis of Belarus and Union State's Health Policy" in the national skiing centre "Silichi".

He said, printed and electronic mass media can and should create an environment to make sporty and healthy lifestyle look prestigious. The minister is convinced, it could happen only if Belarusian people drastically change their attitude to health.

The minister reminded, Belarus has adopted several state programmes, including one to form the population's healthy lifestyle in 2002-2006 and one to develop physical culture and sport in 2003-2006.

Vladimir Rusakevich informed, in order to promote better coverage of healthy lifestyle and physical culture propaganda, the information ministry staged a national information action "Belarus for Health Lifestyle", which was held in various parts of the country. As part of the action the first international specialised exhibition "Health in Fashion Week" was held. Last year it gathered 24 state printed mass media, 3 TV companies as well as over 70 enterprises and organisations, which represented their products such as sportswear, footwear, sport equipment and foodstuffs.

The minister informed, today Belarus has around ten sport editions, which is quite good for a ten-million people country. All state regional, town, and district newspapers, which number nears 140, has special columns to highlight sports, physical fitness and healthy lifestyle.

According to the minister, Belarus has lately expanded sport air time, in particular, the Belarusian TV&Radio Company broadcasts all big international competitions, which take place in Belarus. The monthly sport air time nears 55 hours, which can be compared to that of non-specialised European TV channels. Vladimir Rusakevich said, Belarus has plans to set up a specialised TV channel, which will be fully dedicated to sport.