The Presidential Interviews, NATO expansion, Foreign relations, Money, Minsk Real Estate, Sports, Opinion, Blogs and Napoleon Orla
Belarus concerned about NATO expansion eastward
From:
BelTA
The Ukraine's course towards joining the NATO is an internal affair of a sovereign state. At the same time the expansion of the area of influence of the North Atlantic Treaty Organization as new member states join this organization causes some concern, said Nikolai Cherginets, chairman of the permanent commission for international affairs and national security of the Council of the Republic of the National Assembly of Belarus.
"We remember that when the decision was being taken about the withdrawal of the Soviet troops from the countries parties to the Warsaw pact the NATO leaders said the [NATO] troops would not move an inch further east. However, they have already moved 1,000km eastward. At the same time Belarus and Russia continue acting in conformity with the Strategic Arms Reduction Treaty. This is why we are concerned about the fact that by accepting new member states, including former states-parties to the Warsaw pact, the NATO is dramatically increasing the quantity of its soldiers and officers and arms. Without a doubt this increase has influence on political and military interests of our state. This is a violation of the agreements reached before," Nikolai Cherginets said.
The Belarus' foreign policy has remained a policy of non-intrusion into home affairs of other states. Belarus has adopted a defense strategy, he continued. The country possesses the necessary force for defending itself. This force, however, cannot be used for offensive operations.
Lukashenka: Belarusians Do Not Want to Unite With Russia
From:
Charter '97
Only 30% of Belarusian citizens support the idea of the union with Russia, Alyaksandr Lukashenka has announced today, Echo Moskvy radio station informs. The reason for this loss of interest to the "union state" lies exclusively in the policy of the Russian authorities, who "have put a noose around Belarus' neck". As said by Lukashenka, he doesn't know what to do with that.
"What kind of union we are speaking about when a factory, a collective farm, an owner of private business in Russia has privileged conditions, getting gas three times cheaper than economic entities in Belarus," Lukashenka noted. "Who needs such a union when we are oppressed this way?"
As said by Lukashenka, everything depends on Russian leadership today, "but it seems to need nothing," he underlined. "However sooner or later the Russian people are to stand up from their knees and make the government carry out the right policy".
According to independent Belarusian sociologists, more than 55% of the citizens of our country support Belarus' joining the EU.
Note; About that last sentence, well, it's charter '97 so you know...
44,900 Belarusian children travel abroad for recreation in 2006
From:
BelTA
As part of Belarus' humanitarian cooperation with foreign non-governmental organisations thanks to foreign gratuitous aid 44,900 Belarusian children travelled to 23 countries for recreation in 2006.
Representatives of the humanitarian activities department of the Belarus presidential property management directorate informed BelTA, the most hospitable countries were Italy (which hosted 20,100 children), Germany (9,200), Great Britain and Spain (2,800 each), Ireland (2,500), Belgium (1,900), the USA (1,400), the Netherlands (1,200).
Humanitarian projects for Belarusian children's recreation abroad cover practically every part of the country, first of all, Chernobyl-affected areas in Gomel oblast (44.7%) and Mogilev oblast (19.4%).
The priority in organising recreation tours is given to children and the underage living in radionuclide-polluted areas (42.4%), children from large families and low-income families (23.2%) and children from children's homes and boarding schools the state has taken guardianship of (11.6%).
Children with oncological diseases in the remission stage as well as children with medical diseases and blood diseases make 53.7% of Belarusian children sent for recreation abroad.
Belarus companies urged to look east
From:
Belarusian Ambassador Aleksandr Guryanov
Belarus and Korea have more in common than most people think. For one thing, geographically they are two small countries sandwiched between powerful neighbors. Both countries also share the problem of a lack of resources and so rely heavily on their manufactured exports to sustain growth.
"We are in the same situation as Korea; Korea is totally export oriented and totally dependant on imported raw materials," said Belarusian Ambassador Aleksandr Guryanov during an interview with The Korea Herald.
The ambassador has been in Seoul for almost a year and during that time has been active in promoting business exchanges between the two countries, but it hasn't been easy, he confessed.
"For the moment we are not satisfied with the level of trade volume but it's steadily growing," he said.
Trade between the two countries stands at about $100 million with a deficit on the Belarusian side. During the past few years Korean companies have been very active in promoting and selling their products in the Belarusian market.
"Still, we have a problem of active business exchange because we feel those branches of industries aren't developing, since there are no contacts there is no progress," he said.
Guryanov explained that Belarusian businesspeople mostly look to the west for business development, because of its proximity, but his message for them is to look east.
"I tell them that sometimes you should travel a greater distance to find a better deal," he said.
At the vanguard of the Korean-Belarusian relationship is the science and technology sector.
Korean companies and scientific institutions have not been hesitant in traveling the great distance between the countries to make contacts and look for technologies that can benefit their organizations back home.
"We have good progress in this sector," he said. "Korean companies have found very sophisticated technologies in Belarus. They are especially interested in materials, biotechnologies and others."
To help grow this relationship, both trade ministries have signed and subsequently established close relations and agreements recently.
Companies from the biotech industry in both countries have invested large sums of money in setting up a joint research center in Minsk.
"All the technologies they (Korean scientists) found in Belarus are developed in that center and then sent to Korea for implementation in their enterprises. We found a very interesting thing that Belarus now has a very strong basis in theoretical sciences. But at the same time Korea is famous for practical implementation of modern technologies so we matched our interests," he said.
Samsung and LG are just two of the many large companies who are using the technologies developed out of this center.
"This is an example of good cooperation between both countries and I always say that we should focus on our sciences," Guryanov said.
The 34-year-old ambassador explained that he is very interested in implementing joint projects in Belarus.
Their selling point is that they are a transit country on the border between two huge markets: The European Union on one side and the Russian Federation and the Commonwealth of Independent States on the other.
Another plus in developing joint ventures with Belarus is that there are six economic zones where Korean companies can enjoy several benefits when exporting their manufactured goods to the Russian market, such as no taxes or duties. For goods going into the EU, Belarus' agreements will give Korean companies the advantage of no taxes on exported products made within these economic zones.
On the other side of this relationship, Belarus' top exported sector is the semiconductor and microchip industry.
"This is good because Korea is No. 1 internationally in this field and everyone is asking me why I'm so lucky to provide shipments of this product."
It is no secret that Korea makes very sophisticated microchips that power some of the most advanced computer systems in the world, but for everyday products such as television sets and air conditioners less advanced microchips will suffice.
"There is no production of those microchips in Korea so we found a very good niche," the ambassador said.
Last year both countries started a new agreement for companies that produce electronic components for automobiles, which has resulted in microchips being installed in some GM Daewoo cars.
"Belarusian electronic companies are buying a lot of LCD components from Korea which we think is a good area for cooperation," he said.
When people go out to buy a television set they are automatically attracted to the new LCDs from companies like LG and Samsung.
It's become such a hot seller that LG has recently opened a factory near Moscow.
So here is the problem that Belarus had to overcome. Of course LG doesn't need to open a factory in Belarus now that they have a factory pumping out sets for that part of the world.
"So we are now using parts from LG and installing them under a Belarusian company's name," he said. "The thing is LG will never be able to produce a cheaper product in the Russian market."
It is true that these sets are pricey, making it possible for the majority of those sets to be sold in large cities like Moscow and St. Petersburg while leaving out other parts of Russia and CIS countries.
"So they will buy Belarusian TV sets which have LCD panels from Korea. This is a good example of cooperation. We have two companies that produce TV sets: one is using Samsung LCD panels the other is using LG."
Guryanov is hopeful trade will increase in the years to come with more businesspeople traveling to and from both countries.
"We are planning a visit to Korea by our prime minister sometime this year. In Belarus the prime minister is the chief economist of the country so he will bring with him heads of companies from Belarus."
This year is also the 15th anniversary of diplomatic relations between the two countries and both are celebrating this important year with the opening of the Korea-Belarus Friendship Association. "In Belarus we have had a Belarus-Korea friendship association for the past five years and it is working very well."
Guryanov was sent to Korea by his president with the aim of building on the practical cooperation between the two countries - a sentiment that was shared by President Roh Moo-hyun in a conversation with the ambassador.
"I have many ideas in my young brain but sometimes it's hard to implement them because of the distance, but we will," he said with optimism.
Belarus,Iran study prospects of opening a bank in Belarus with Iranian capital
From:
india nmuslims
Last week, a delegation of representatives of the leading Belarusian banks headed by Piotr Prokopovich, chairman of the board of the National Bank of Belarus, made an official visit to Tehran to discuss ways of expanding cooperation between Belarus and Iran, BelTA learnt in the information department of the National Bank.
Iran is willing to thoroughly consider the issue of opening a representative office of one of its banks in Belarus and set up joint companies which would be subsidiaries of financial institutions.
Moreover, Iran is ready to open credit facilities through its export development bank to finance joint projects with Belarus. The bank said it is also willing to provide financial assistance to Iranian companies in purchasing Belarusian goods and in addressing other issues.
Iranian governmental agencies confirmed their desire to provide the necessary assistance to Belarus in case Belarus decides to join the Asian Clearing Union what would significantly simplify settlement of transactions between Belarusian and Iranian cooperating entities.
The sides reached an agreement on mutual support in cooperation with other international financial organizations, on the possibility of using the potential of the Iranian mint, on information exchange in the banking sphere including legal issues and activity of financial institutions of the two states and on the exchange of delegations which would promote cooperation in different areas.
The sides also pointed to the absence of problems in settling accounts between Belarusian and Iranian banks, with exception for some currencies, and agreed to address any cooperation problems that might occur in a speedy and responsible manner.
During meetings between representatives of the Belarusian delegation and governor of the Central Bank of the Islamic Republic of Iran Ebrahim Sheibani, top officials at the economy and finance ministry, foreign ministry and top management of the leading Iranian banks the sides did not only express eagerness to further consolidate mutually-beneficial ties between the banking systems but also voiced intention to expand trade and economic contacts between the two countries to grow mutual turnover.
The Belarusian delegation brought a number of documents to Iran for consideration like an agreement on cooperation between the National Bank of Belarus and the Central Bank of Iran, an agreement on cooperation in personnel training and a memorandum of understanding in banking supervision between the central banks of the two states.
Governor of the Central Bank of the Islamic Republic of Iran Ebrahim Sheibani accepted an invitation voiced by chairman of the board of the National Bank of Belarus Piotr Prokopovich to visit Belarus in 2007 at a time which would be most convenient for him.
Lukashenko confirms Belarus' stable course to enlarge ties with Iran
From:
Itar Tass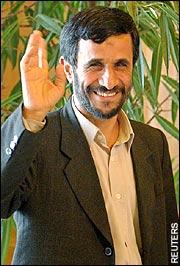 Mahmoud Ahmadinejad
Belarusian President Alexander Lukashenko has confirmed the steadiness of the country's course towards developing comprehensive cooperation with Iran.
He said this in a congratulatory message sent on Sunday to Iranian President Mahmoud Ahmadinejad on the occasion of the 28th anniversary of the Islamic Revolution, Lukashenko's press service said.
Lukashenko also "expressed confidence that the strategic agreements, reached during his visit to Iran last November, will be successfully implemented in the interests of the two peoples," the press service said.
According to the Belarusian Foreign Ministry, Ahmadinejad is going to make a return visit to Minsk "in the near future." The sides are actively preparing for the visit.
Belarus delegation set to leave for Moldova to talk over supplies of wine materials
From:
NLIPRB
A Belarusian delegation may leave for Moldova on February 18-19 to talk over the supplies of wines in bulk to Belarus, representatives of the Belarusian food industry concern Belgospischeprom told BelTA.
The source explained, the supplies of wine materials to Belarus were interrupted in January 2007 after Moldova changed rules regulating the export of such products, leaving the right to export the make to producers (bypassing mediators). Besides, the right can only be granted to wineries approved by special commissions.
While in Moldova, members of the Belarusian delegation plan to meet with representatives of wineries, which have been granted the export right. "We would like to assess their equipment, technologies, products, and to work out possible conditions of the deliveries", explained the source.
BelTA has been told, it is necessary to sign contracts for the supplies of wine materials as soon as possible as the situation threatens the performance of Belarusian wineries and the satisfaction of the domestic market with grape wine. Let us remind you Belarus has adopted a programme to enhance the production of grape wines. This year's target exceeds 4 million decalitres against 2.2 million decalitres in 2006. Besides, Belarus plans to produce over 1 million decalitres of champagne.
The representatives of Belgospischeprom concern informed, along with efforts meant to resume the wines in bulk supplies from Moldova, Belarus is seeking suppliers from other countries — Hungary, Bulgaria, Macedonia, France, and Spain. However, supplies from these countries will be subject to import duties, which will make the wines more expensive and, respectively, less competitive. "In the situation we would like half of the supplies of wine materials to come from Moldova", added the source.
Belarus aims to raise one billion USD in foreign loans in 2007
From:
Belarus wants to raise up to one billion USD worth of foreign bank loans this year to make up for the increase in the Russian oil and gas prices, Finance Minister Nikolai Korbut said.
He added in an interview with the Reuters news agency here Tuesday: "So far we have settled the problems with the help of mainly internal sources. To survive the sudden rise in oil and gas prices this year we will need foreign support in the form of bank loans."
"I think we will be able to attract bank loans of about one billion USD," he added. "The sum is manageable by the country in terms of its potential to serve the external debt. Foreign creditors have never had any problems with Belarus and we do not have any overdue debts."
Korbut added that Belarus is not going to attract state loans but has been negotiating syndicated loans with banks in Russia, Britain, the United States, Switzerland and several other states.
The finance minister also said that Belarus does not rule out placing Eurobonds and is ready to issue bonds worth of up to 10 billion rubles in the Russian market. "We have drafted all necessary documents concerning this issue. At the same time we have been working on the project to issue the bonds," he said.
Belarus will use privately placed bonds as the primary borrowing instrument
on the international market according to the
NLIPRB
. The view is upheld by specialists of the Belarusian finance ministry.
Representatives of the finance ministry informed BelTA, the country will get down to borrowing by late February 2007. Now Belarus is choosing the bank to organise the borrowing. In the near future the finance ministry is expected to hold more definite consultations on the issue. The source pointed out quite a high interest of large western financial institutions in this bond flotation.
Besides, Belarus plans to get foreign loans through the practice of getting participation loans. Experts believe the experience of using this kind of borrowing has proved the instrument's effectiveness.
Belarus will also attract funds of foreign governments.
The source informed, using all these instruments simultaneously, the task of attracting $1 billion in foreign funds in 2007 looks feasible.
Belarus plans to purchase Ukrainian grain
From:
ForUm
Belarus expressed its interest in purchase of Ukrainian grain.
According to the press service of the Agricultural policy of Ukraine, this question was discussed during the meeting between deputy the Agricultural policy Minister of Ukraine Ivan Demchak and deputy Agriculture and food Minister of Belarus Vasiliy Sedin on February 10 in Kyiv.
"The Belarusian side expressed interest in Ukrainian grain supplies to the Belarusian market. In turn, the colleagues from Belarus noted that they are ready to supply necessary quality of flour to the Ukrainian market," UNIAN informs.
The parties also discussed conditions of development of agriculture of two countries. Special attention was paid to development of grain branch, grain processing and its production.
In other news,
Ukraine will issue an immigration permit to foreign citizens, who will invest into the Ukrainian economy at least 100,000 USD, "Cabinet press office" reported.
The Cabinet of Ministers has established an immigration limit of 7,323 foreign citizens for scientists (675) and relatives of the Ukrainian citizens (2,465), former Ukrainian citizens (349), people, residing in Ukraine for the latest 3 years (714) and relatives of the Ukrainian immigrants (3,120).
Meanwhile those, who will perform investment into the Ukrainian economy will be issued an immigration permits irrespective of the set limit, albeit, the 2006's limit for them was observed at 22 persons.
Housing prices to rapidly increase in Minsk
From:
Charter '97
According to the Realt.by center, in January 2007 prices for the Minsk real estate at the secondary market of real estate increased by 10.8%. Within a month an average apartment offer in Minsk rose by USD 131 and amounted to USD1345 / sq. m.
In comparison to the previous month the offered volume decreased from 2745 to 2280 apartments.
In January prices for one-room and two-room apartments grew most rapidly. Within a month prices for one- and two-room apartments grew by 13.6% and 13.3%, respectively, and three- and four-room apartments- by 7.7% and 7.8 %, respectively.
The most expensive average offers are in the Tsentralni (USD1786) and Savetski (USD 1786). The cheapest average offers are in Zavadsky (USD 1190) and Kastrichnitsky (USD 1300) districts. Offers in other districts of the city fluctuate at the level of USD 1345/sq.m.
The greatest price hike for apartments was in the Tsentralni (+ 12%) and Pershamaiski (+11%) districts.
Newly built apartments are offered at commercial prices of USD 1000-2000 per square meter. Average offer of shared- built blocks of flats in Minsk amounts to USD 1300 /sq.m.
Krasnoyarsk to host "Days of Belarus in Siberia"
From:
News lab
Krasnoyarsk will host "Days of Belarus in Siberia" in 2008, as Belarusian Commerce and Industrial Chamber Deputy-Chairman Yuri Lositsky stated at the closure of "The national exhibition of the Republic of Belarus". The decision was made during the talks of regional and Krasnoyarsk authorities with Belarusian delegation.
According to Lositsky, it will be a large-scale event, where businessmen, politician, scientists and cultural officials of the Republic of Belarus would participate. International Exhibition and Business Center "Siberia" will host the event.
"There will be political meetings, a large-scale exhibition of Belarusian enterprises as part of "Days of Belarus". We plan to bring a wide range of enterprises, companies and firms. The State Committee on Science and Technology of Belarus, National Academy of Science, Ministry for Construction and Architecture, Ministry for Agriculture and Belarusian State Food and Industry Committee are already known to attend the event. In addition, there will be seminars and panel discussions at the exhibition. We also intend to bring our national dance, vocal, instrumental and other groups," Lositsky told.
As Newslab reported earlier, in October 2006 "Siberia" Business Center had held "Days of Armenia in Siberia", with an exhibition of Armenian foods and industrial goods. Armenian businessmen had meetings with regional businessmen, Central Siberian Commerce and Industrial Chamber, the Krasnoyarsk Territory Union of Industrialists and Businessmen, and the Union of Commodity Producers and Consumers.
Napoleon Orda's relative grateful for invitation to visit native land of famous ancestor
From:
BelTA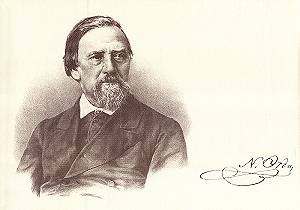 Pinsk's Own Napoleon Orda
Organisers of events timed to the 200th anniversary of the birthday of prominent Belarusian painter, musician, composer, pedagogue, writer and scientist of the 19th century Napoleon Orda have found one of the maestro's descendants — Maria Savitskaya-Orda, 85, who now lives in Great Britain.
"We contacted her by phone, invited her to attend the festivities, which will take place in the village of Vorotsevichi, the native land of Napoleon Orda", head of the culture department of Ivanovo district administration Vladimir Shelyagovich told BelTA. "Unfortunately, she said she couldn't come due to her age, however, she was grateful for the invitation to visit the land of her famous ancestor".
Napoleon Orda was famous as the creator of architectural landscape. He has left over one thousand watercolours and graphics, which pictured architectural ensembles and estates of famous people of Belarus, Ukraine, Lithuania, Poland, Algeria, Germany, Holland, France, Spain, Portugal and other countries.
An exhibition of pictures by Orda will open in the village of Vorotsevichi on February 14. Visitors will be able to get themselves familiar with unique paintings by another famous native of Ivanovo district, painter Aleksei Kuzmich. He will present new pictures of his Madonnas. The central one is Madonna's Birth out of Tear of the Lord Almighty.
All the events dedicated to the Napoleon Orda jubilee will take place as part of the work aimed at creating a museum of the famous painter, musician, composer, pedagogue, writer and scientist of the 19th century. The museum is being created following an order of the president of Belarus as part of the programme for supporting culture and arts.
Note: For some Lithographs from Napoleon Orda, please see Page Three of the current beinghad.com
Opinion...
Is the West serious about the "last European dictatorship"?
From:
Eurozine
Andriy Shevchenko not Alexander Lukashenko
The moral repugnance felt by the West towards the Lukashenko regime in Belarus is not matched by policy ideas. Civil society in the West should stop tolerating cynical realpolitik and put pressure on their governments to blacklist offending officials, says Ukrainian analyst Mykola Riabchuk. As the example of Yugoslavia shows, more sticks for the government and more carrots for the nascent civil society could well bring about positive results.
Travelling from Budapest to Belgrade a few years ago, I found myself in a compartment with two other passengers. They were conversing; one spoke Bulgarian, the other Serbian. The Bulgarian was telling the Serb stories about Russia, a subject about which he was pretending to be an expert. Finally, the Bulgarian changed the subject: "Well, there's even a stranger country called Belarus. They have a president who banned anybody else from using the title 'president'. Nobody may call themselves president of a company, an institution, or whatever. His name you know is... er... Shevchenko!"
The Bulgarian was probably confusing the name with that of the Ukrainian footballer rather than the nation's most venerated nineteenth-century poet. So I was amused by the thought of the Serb coming to the Ukraine and finding monuments to the latter everywhere. Puzzled, he would wonder why the Ukrainians were so eager to celebrate the Belarusian dictator...
This story provides a graphic example of how a serious situation can be trivialized. We can easily label a country a "pariah state" or a "rogue regime", but what are the consequences of this, apart for some jokes and a kind of orientalization? The real problem is that a pariah state is very difficult to influence. They are highly independent.
The common wisdom about Belarus as the "last European dictatorship" reveals a lot about the essence of the regime and prompts a clear-cut moral stance vis-à-vis the dictatorship, but gives little indication of any practical policy that could and should be applied towards the country. First, it would be difficult to impose political and economic sanctions against the regime without harming society at large, even if this policy were completely value-motivated. Second, it would be almost impossible to assist civil society, to encourage dissent within the ruling elite, and to facilitate a transformation and/or collapse of the rogue regime if, in response to international isolation, the regime imposed similar sanctions, pursuing a policy of autarchy and limited contact with similar "pariah states". Third, Western policy vis-à-vis rogue regimes has never been coordinated, coherent, and completely value-motivated. Rather, there has always been, and there always will be, opportunism, particularism, one-off deals, double standards, and other distasteful things euphemistically called realpolitik.
Finding a proper balance between these factors and circumstances would certainly not be easy; however, two major imperatives should be clearly pursued. First, Western civil society should put pressure on governments and businesses to make their policies vis-à-vis undemocratic regimes more coherent and less hypocritical. They should not tolerate cynical statements from their own politicians or journalists, such as the piece of wisdom expressed by French News in 2006 on the eve of elections in Ukraine and Belarus: "From the Baltic to the Black Sea, Russia is faced with Nato or would-be Nato states, and, as a much invaded country, feels nervous about the future. Paradoxically, in this situation the best option for the people in [Belarus and Ukraine], at least in the short term, would, be to vote against the Western tendency."[1] Second, while sanctions against rogue regimes should be limited and fixed, sanctions against government officials should be extensive and flexible. Visa denial and freezing of bank accounts is the main and probably most effective way to punish rogue officials. Every human rights infringement, be it the harassment of the opposition or acts of lawlessness, by the police, the border guards, or the judiciary, should prompt Western governments to blacklist the names of the guilty officials. Lawlessness in Belarus is neither anonymous nor committed by Alexander Lukashenko alone. The list of official "pariahs" should be extended daily, top down, person by person. Coordinated, coherent international pressure is certainly not the only factor that may ultimately facilitate regime change. However it might be the most effective and the easiest to employ.
Click HERE to read on...
Sergei Karaganov: We were buying Lukashenka's loyalty at an extremely high price
From:
Charter '97
Sergei Karaganov
"I permanently follow the mass media space and I can admit that for the last three or four years there haven't been more aggressive and hostile propaganda coming from any state of the former USSR than from Belarus and its leader. Simply, we didn't notice or pretended not to notice it. For the time being, we were buying Lukashenka's loyalty at an extremely high price. And when we decided to stop it he showed his true colors", a well-known Russian political scientist declared in his interview with Rossiyskaya gazeta.
According to Karaganov, Alyaksandr Lukashenka have been purposefully destroying the Russian press in Belarus, all the pro-Russian forces around him, pursued the anti-Russian propaganda through the state mass media, which substituted the Russian press in Belarus.
"Lukashenka's latest declarations are grounded by the fact that at this moment we have decided to put an end to this hypocrisy and have begun to realize the state of things. And now we are doomed to pay a higher price than it might have been several years ago. Lukashenka is eager to sell his supposedly pro-European position to the West, trying to beneficially buy certain preferences for himself. Despite of the fact that he has been hated in the West", the political scientist points out.
Karaganov pays attention to the fact that "many people are imprisoned for their convictions in Lukashenka's country". "Much to our disgrace, we have not paid attention to it", he says.
"The West despite of criticizing the Belarusian regime has been buying beneficially petrochemical products from Lukashenka, which Minsk had received from our people almost for free and directed the resources for enforcement of its repressive structures. To the best of my knowledge, the staff of Lukashenka's repressive bodies get wages times higher than those received by the defenders of our Motherland", the Russian political scientist remarks.
Nevertheless, according to the expert, that doesn't mean that the Belarusian people are hostile to Russia. Hostile attitude to Russia has certainly increased due to the Lukashenka's massive propaganda, but the Belarusian people remain friendly and fraternal.
"The anti-Russian propaganda in Belarus has been persistently pursued for years. But, unfortunately, Russia didn't care much about improving the situation. We, ourselves, gave the information space in Belarus into the hands of Lukashenka. And we didn't listen to those who had been warning of the consequences", considers Karaganov.
From the blogs...
Svanidze Speaks: So Fouled Up, It's Kind of Fun!
From:
LaRussophobe
Nikolai Svanidze
A friend of mine recently returned from a political mob-event in Germany, a "round table" on Russian-European affairs. The discussion with his foreign colleagues did not bring him any great satisfaction. One could say that no discussion developed at all. My friend returned in the sort of mood that was well-described in 1916 by S.L. Markov, the future White Russian general and legendary hero of the Volunteer Army. At the time, Markov found himself surrounded by far superior German forces, and relayed to his commander, A.I. Denikin, "It's so fouled up, it's kind of fun!"
There are, it is true, a few differences. No one is attacking us now, we are not surrounded, and no one thirsts for our blood. We don't need to cling to the frozen earth like a lover, under withering enemy fire. We don't need to tear ourselves from that earth and, with an "ooh-rah" and an indistinct curse whispered from our fear-dried gullet, stand up for a bayonet charge. Nothing of that sort at all. We have no enemies at all. With the exception of our former friends, but they are not dangerous, inasmuch as they are small and fear us more than fire. We have a different problem. Like Panikovskiy*, no one likes us. The only thing they want is to get as far away from us as they can, as one might view a drunk on the street. It is tough to realize this, and tougher still to come to terms with it. We could, of course, grab them by the lapels and directly, impartially ask them: "Don't you like me?" Or we could work ourselves up into a patriotic trance and chant that Russia is just getting up from its knees and no one is ready to forgive us for it. We could do this, and we already are. But then, being monsters, they shun us even more. They shun us, like crazy people; you can't knock sense into their heads. It's clear they're genuinely sick.
Of course, all this did not begin this morning. For some years now any discussion of Russia and its problems in western universities and research centers has invited at best a yawn, at worst – irritation. And academic programs devoted to the study of us – from history and economics to arts and literature – are closing. Students don't want to study Russian, they want to study Chinese. In other words we have already been for some time pushed to the periphery of western intellectual interests. But that was actually a victory. Now it's much worse. The final straw was the polonium incident. On top of that lay, as if on someone's order, as if naturally, the incident with Belarus. Time to cash out.
With a complete lack of interest, utterly coldly, they watch as our discussion of the polonium incident is turned upside down. They could care less whether Litvinenko was killed by rogue or non-rogue KGB agents, working for or against Putin. It's all the same even if they were working for Berezovskiy, or Nevzlin, or the horned devil. It's all the same. For them, we're like Chinese, we all look the same. The main thing is -- they're all Russians. Look at these stupid Russians, in trouble because of their adolescent complexes and stolen billions, now not only have they had a public brawl in the heart of Old Europe, they've brought on an investigation using the tables of their own stupid Mendeleyev!** And they think that exactly in this way they are getting up off their stupid knees! Let them stand up, dance around, maul each other with chemicals, and beat their chests all they want, only please, as far away from Europe as they can.
We have made history, in the eyes of the world, with the first instance of nuclear terrorism. And now we are being congratulated by a grateful world. The world is now interested not in our plans for reform or anti-reform, not in our plans for economic or political freedom. All this "sputtering" is seen as categorically unreal, everyone knows it. No one even bothers asking dumb questions about freedom of speech anymore. Even the anti-aircraft missile systems we sold to Iran get only a wave of the hand. Only one small slice of us is interesting – the slice with the oil and gas pipelines. That is because their sick imagination suggests to them that such temperamental, at best unpredictable children, who spit polonium at each other as easily and unnecessarily as school children shoot spit wads, are capable of much more. They've gotten up off their knees before, too. For example, to turn off the pipeline. It's good that we already had occasion to fear them.
And now, Belarus. Right for the groin, so to speak. With that, regarding what is and isn't Belarus, all our European friends are united. Today it is, tomorrow it isn't. And suddenly they appreciate the Little Father [TN: the President of Belarus, Lukashenko]. So the issue, of course, is not Belarus and not Lukashenko, but yet another instance of what they consider not playing by the rules. We ask them, of course, in all seriousness, "Who thought up these idiotic rules? We didn't. We have our own rules. We keep our candy in our sweaty palm and don't give it out for just a 'thank you'." To this, of course, they have nothing to say. They just sit quietly, squint their eyes, and don't want to hear anything. They don't trust us. At all.
It just means they have to speed up their transition to alternative sources of energy. And that means that prices will fall to their traditional levels. Wreaking our bright dreams of "Russia – The Energy Superpower." And this is just the ideological part. In the economic part, serious problems await us, and not way off on the horizon.
Police rescue hostage teenager
From:
Belarus News and Facts
The Almaz emblem
Three residents of Minsk were arrested in the Smalyavichy district near Minsk on Sunday accused of stealing a senior student of a Minsk-based gymnasium and demanding €50,000 for his return, the press office of the interior ministry said.
The boy was snatched in northeastern Minsk on Saturday at around 10 p.m. and forced into a car. He was kept captive until police together with officers of the interior ministry's Almaz anti-terror unit rescued him the following day.
According to the press office, the boy was reported missing by his grandmother on Sunday's morning.
The Pershamayski district police department brought kidnap charges against the three persons under Part 2 of the Criminal Code's Article's 182. Two of them reportedly have previous convictions for homicide and theft.
Sport...
Sweden downs Belarus 3-2 in David Cup
From:
Reuters
Robin Soderling outlasted Max Mirnyi 6-7 7-5 6-7 7-6 6-3 in the first reverse singles on Sunday to clinch victory for Sweden in their Davis Cup first-round tie against Belarus.
Soderling's epic victory after four hours of high-octane tennis gave the visitors an unassailable 3-1 lead over Belarus in the three-day encounter at Minsk's indoor soccer arena, sending the Swedes into the quarter-finals.
In the last eight, they will face the winners of the first-round clash between Austria and last year's runners-up Argentina.
Soderling saved two match points against Mirnyi while serving at 5-6 in the fourth set.
"I think it was the turning point in the match," said the Swede, who won both of his singles matches, beating Belarus number two Vladimir Voltchkov in straight sets on Friday.
"I was able to regain my confidence after that and played very well for the rest of the match. It was a great win for me."
Belarus, who had not lost a home tie in the Davis Cup since 1995, had only slim chances of beating the seven-times Davis Cup champions after losing both of their singles rubbers on Friday.
But Mirnyi and Voltchkov kept their hopes alive by prevailing over Swedish duo Jonas Bjorkman and Simon Aspelin 7-5 4-6 7-5 6-3 in Saturday's doubles.
In Sunday's battle between two power hitters, who both won 96 percent of their first serves, Soderling had a clear edge over Mirnyi, breaking the towering Belarussian three times while losing his serve only once in the entire match.
"I knew serving would be the key and I served very well in the whole match," the 26th-ranked Swede told reporters.
Mirnyi said: "I did what I could today. I was both mentally and physically tired after playing for three consecutive days," added the Belarus number one, who lost to Thomas Johansson in straight sets on Friday.
"Hopefully will be able to re-group for our next Davis Cup tie and will keep our place in the World Group next year."
Voltchkov beat Johansson in the final dead rubber 6-4 7-5 to make the score 3-2 in Sweden's favour.
Canada/ Powell River Regals fall 9-2 to Belarus in Polese Cup
From:
Peak On-line
Canada entered their final game of the Polese Cup looking for their first win against the host Belarus National Team coached by former NHL player and coach Curt Fraser. Belarus took the game 9-2, but Canada had it a one-goal game entering the third period. After alternating games with backup Scott Peters, goaltender Chad Vizzutti was once again the best player on the ice, earning Goaltender of the Tournament honours. With the win, Belarus wins the first Polese Cup. Although Canada finished the tournament without a win, these amateurs showed true Canadian heart and soul. They went to the wall each and every shift, blocking more shots than any other team in the tournament by a wide margin and earning the admiration and respect of the Belarusian fans.
First Period
Three minutes in Canada was awarded the first powerplay of the game but was unable to generate good scoring chances. Soon after Belarus worked with its first man advantage and was able to get plenty of pucks on goaltender Vizzutti, who kept the game scoreless with a fantastic glove save, to a roar from an appreciative crowd. Belarus did finally beat Vizzutti with an even-strength goal after a turnover in Canada's zone, creating a two on one. With Canada working on its second man advantage less than a minute later, the Canadians evened the game at 1-1 with their first powerplay goal of the tournament on a John Coyle tip into the top of the net from a Kip Noble point shot. But Belarus was able to take the lead back 13 seconds later when a Belarusian shot attempt slid off his stick right to an unchecked teammate at the side of the net. Canada soon after had its third powerplay of the period but was unsuccessful.
End of first period Belarus 2, Canada 1. Powerplays: Belarus 0-2 Canada 1-3.
Second Period
Penalties and powerplays were the theme of the middle stanza. Canada had a chance to pull even with a man advantage, but it was short-lived after a Coyle interference minor. Belarus then had a five on three and was able to get its third goal of the game. The Canadians then found themselves down two men for the second time in the period as Dan Shiels was sent off for delay of game for sending the puck over the glass in his own zone. But Canada's best penalty killer, Vizzutti, kept it a two-goal game. Near the midway point of the period the Canadians had their own two-man advantage, but they too couldn't capitalize. Soon after Belarus had a breakaway, but yet again Vizzutti was there. After a third five on three for Belarus, Canada had its second two-man advantage, but couldn't take advantage. Right after Belarus was back to full strength, Canada's Mark Kolanos pulled his country to within one on a slapshot that hit the goaltender high and over his shoulder. Assists went to Lyle Tassone and Richard Seeley.
End of second period Belarus 3, Canada 2. Powerplays: Belarus 1-6 Canada 0-5.
Third Period
Belarus restored its two-goal lead early in the final frame as a pass to the front of the net hit a player in the leg to beat the goaltender. Belarus captain and ex-Pittsburg Penquin Konstantin Koltsov scored their fifth goal, much disputed by Vizzutti, who had control of the puck before it was batted off him and in. Canada's tank had then run dry and Belarus scored four more times to take the game 9-2 and win the Polese Cup.
Sport briefs...
Japan's Kosei Inoue defeated Yury Rybak of Belarus in the men's over 100-kilogram final to claim victory at the Super World Cup in Paris on Sunday.
Inoue, appearing for the first time at an international tournament since a crushing defeat at the Athens Olympics, beat 2005 world champion Alexander Mikhaylin of Russia on points in the third round and scored an ''ippon'' against Rybak in the final.


End note...



Students Expelled for Politics

From: TOL Blogs
Jaŭhen Ivaniuk (Bełaruś National Technical University, 3rd year) and Nastaśsia Šamrej (Bełarusian State Pedagogical University) had been expelled after the winter exam session.

After their incarceration on the 22nd of December, dean's offices has mounted pressure on both students. KGB officials had been visiting Jaŭhien, Naścia had been offered to leave university "at her own will". Severe personal pressure had been imposed on parents of both students. As a result, they simply had been "dragged down" in their winter exams.
Expellation order for Naścia had been ready after just 2 days.

According to the official information, their expellation had been connected with poor academic results both of them showed at the winter exams.
You can support Jaŭhien and Naścia by writing them:
Jaŭhien: jaugeni@gmail.com
Naścia: ansy@tut.by

eolonir

Note: Please our responce to this article over at BEING HAD: The STORY