March 8th is a national holiday in celebration of women
From the top

President of Belarus presents women working in different branches of economy with orders and medals

Belta

There cannot be peace without woman. Such a great feeling as love could not have appeared without woman. We are thankful to you for that.
Women are source of the Belarusian nation's vital force, spirituality, and morality, noted Belarusian president Alexander Lukashenko while making his speech at a state reception dedicated to the Women's Day and the Mother's Year today.
The head of state noted, "Not by chance do we place words woman, love, and peace alongside. There cannot be peace without woman. Such a great feeling as love could not have appeared without woman. We are thankful to you for that. If I were asked what life beauty and individuality is about, without a shadow of a doubt I would say: tenderness, devotion, fidelity of women as well as their light, kindness and soul generosity".
The president stressed, 2006 is declared the Mother Year, which means a year of kindness and charity.
This year and within the next-five year term on the whole Belarus will considerably intensify support to women, especially mothers, Belarusian leader Alexander Lukashenko stated today at a solemn reception dedicated to the Women's Day and the Year of Mother.
Women are source of the Belarusian nation's vital force, spirituality, and morality, the head of state underlined.
The president stressed, 2006 is declared the Mother Year, which means a year of kindness and charity.
As BelTA was informed in the presidential press service, the Belarusian president presented Orders of Mothers to director of the farm of the open joint-stock company AgroTurno of the Kamenets region Maria Petrenko, housewife from Minsk Marina Gerasimova, saleswoman of the shop of the Grodno oblast unitary company Galantereya Galina Rudevich.
The president also presented several other women with medals "For Labor Services" and "Medal of Frantsysk Skorina".
Lukashenko says opposition doesn't believe in its victory
The office of the president and Itar-Tass
CAPTION
On March 6, the Head of State granted an interview to the program "Real Politics" (NTV Channel) anchored by Gleb Pavlovsky.
Gleb Pavlovsky is a well-known Russian political scientist, an advisor to the head of the Presidential Administration of the Russian Federation, the president of the Foundation for Effective Politics.
The interview focused, among others, on the following topics: distinctive features of the Belarusian model of state system, strong social policy in this republic, socio-economic development of Belarus for the next five years, support of entrepreneurship, prospects of the Union construction, forthcoming presidential election, and the activities of the so-called opposition.
Alexander Lukashenko underscored that the main distinctive feature of the Belarusian development model is the highest degree of social protection of the population. "We have never left people to the mercy of fate, now will we ever do so. What is most important is that more than 65 percent of the state budget are channeled to social needs," emphasized the President.
President Alexander Lukashenko said the Belarussian opposition does not believe in its victory at the upcoming presidential elections on March 19.
"They don't believe they can defeat Lukashenko. Politics for our so-called opposition has long become a business because it means big money," Lukashenko said in an interview with the Realnaya Politika (Real Politics) programme on NTV channel on Monday.
Lukashenko recalled that he himself had come to power from the opposition but those who are fighting against incumbent authorities had once been with him. "The opposition must crystallise and grow within society. In order to become such, it must offer something constructive to society, not just shout: introduce economic sanctions against Lukashenko, " he said.
The president stressed such sanctions would be not against Lukashenko but "against the country and people".
He said there is neither ethnic nor religious strife in Belarus. "No one is fighting. So, is it bad in Belarus? Only one thing is bad: Lukashenko is pursing a different policy. This is what worries the West. A Lukashenko upset all plans for a new European order, decided to build a union with Russia and, on top of it all, sets a 'bad example' – from the American point of view – for others," Lukashenko said.
Elections

Belarus welcomes Ukrainian mass media

Interfax

Ukrainian media people, who had been stopped at the Belarusian border and refused entry, have now been cleared to come in

Ukrainian mass media will be granted the permission to cover the election, Extraordinary and Plenipotentiary Belarusian Ambassador in Ukraine Valentin Velichko told in Kyiv press conference.

"Some of Ukrainian mass media have got accreditation for the presidential election in Belarus. They will be able to travel over Belarus and cover the election campaign," said Velichko.

Regarding the last incident with PORA-PRP, in which several members of the Ukrainian media were stopped at the border and sent home,the Belarusian diplomat commented on Belarusian actions as something which is regulated by the corresponding legislation.

The Pora Civil Party had urged after the incident that the government take a number of measures at the state level in connection with the coming presidential elections in Belarus.

The party also considered the possibility necessary to halt official visits to Belarus before the publication of official findings on the elections by the OSCE and PACE. The party also called on Kyiv to recall its observers from the CIS mission to the Belarusian elections.

Ukrainian-Belarus relationship is strong enough to overcome some insignificant misunderstandings, Foreign Minister Borys Tarasyuk told.

"It is obviously difficult to say we have friendly relations with the country which forbids Ukrainian citizens Belarus. Actually saying, it violates bilateral agreements. However, I would refrain from dotting or evaluating whether it is friendly or not deed. Nevertheless, we do reckon Ukrainian-Belarusian potential is greater than sporadic splashes which sometimes happen," commented Forging Minister Tarasyuk in 1+1 Channel live broadcast.

Tarasyuk stressed that the bilateral trade-economical relations do not depend on the ruling authorities in Belarus. However, the current Belarusian power badly influences the wide circle of bilateral ties, such as ratification of some important bilateral documents.

Regarding the incident with PORA-PRP members, Ukraine Foreign Ministry spread the statement with negative evaluation of the incident. The Head of the Ministry denies the information spreading by Belarus concerning so-called un-friendly actions held by Ukraine. Ukraine is also alleged to be the channel for the US financing of Belarusian opposition.

SPS members insist they will visit Belarus on Election Day

Interfax
Members of Russia's Union of Right Forces (SPS) will visit Belarus during the presidential elections, though SPS has no official invitation or accreditation.

"We applied to the Central Election Commission of Belarus for accreditation as election observers. But head of the Belarussian Central Election Commission Lyudmila Yarmoshin replied by saying that she had no right to do so, since only those with an official invitation can be accredited," SPS leader Nikita Belykh told Interfax on March 6.

State Duma Deputy Vladimir Ryzhkov received the same response to his letter, he said.

"Nevertheless, we will go to Belarus to take a look at the electoral process there," he said

Brest: Tap Found at Milinkevich's Electoral Headquarters

Viasna

Dzmitry Shymanski was warned about possible provocations

On 7 March a tap was found at Brest city electoral headquarters of Aliaksandr Milinkevich. The day before the chair of the headquarters Dzmitry Shymanski received an anonymous letter from the persons who called themselves KGB officers. They warned him about possible provocations against the activists of the headquarters. According to them, soon somebody will bring firearms to the headquarters. The police will search it and find the arms, which will let them detain all activists and paralyze the work. In order to convince Mr Shymanski their words were true, the authors of the letter also informed Mr Shymanski about the place in the office where the tap was installed and the wavelength on which it worked. The tap was really there and he could be heard on the following radio frequencies: 396,07 WFM, 404,67 WFM, 417,5 WFM, 418,56 WFM, 430,26 NFM, 834,93 WFM, 968,34 NFM.

As a matter of fact, the office in under signalization and is guarded by the police of Brest Maskouski Borough Security Department. That's why one could get inside after turning off the signalization, which means the security department knew about the visit.

Dzmitry Shymanski said he believed the letter and that secret services can really prepare provocations against the activists of the headquarters. "I assume that firearms, drugs, false money, etc. can be brought to the headquarters. That's why I urge the city's public to adequately react to the possible bringing of criminal cases against me and other activists,' he said.

Today's finding lets us assume that offices of NGOs, political parties and electoral headquarters all over the country can be tapped as well. D. Shymanski also urged the headquarter's activists to beware and try to prevent the possible provocations and said he was preparing a complaint to the procurator's office on the fact of unsanctioned tapping.


MEPs go it alone to Belarus

EUObsewrver

MEPs and Belarusian NGOs say thousands could take part in protests after the 19 March vote

MEPs monitoring the Belarusian presidential elections on 19 March will not be speaking for the EU, the European Commission has warned, while signalling interest in new official election missions to Asia and Africa.

The European Parliament is planning to send an ad hoc delegation of seven MEPs to Minsk next week, with around five more liberal group members set to go under their own steam.

The MEPs are using member states' embassies in Belarus to try and get visas but will not have access to polling stations or produce a final report, with the commission leaving official observation duties to the OSCE.

"They [the MEPs] speak for themselves," external relations commissioner Benita Ferrero-Waldner said on Monday (6 March). "It is the OSCE who, at the end of the day, will make the official statement."

Commission methods rule out sending official missions to the OSCE zone, she explained, with the Vienna-based body covering the EU as well as all the former Soviet states.

The MEPs' ad hoc mission, led by Polish conservative Bogdan Klich, will focus on giving moral support to Belarus opposition parties and boosting international attention in the event of potential post-election protests and police reprisals.

"In the end we will see who can get in and what they can do," a parliament official indicated.

Pre-election beatings
The OSCE has so far deployed 46 experts in Belarus, with an interim report last week criticising the detention of opposition activists and the beating of independent presidential candidate, Aleksander Kozulin.

Ms Ferrero-Waldner called the beating a "serious development" and repeated EU threats to extend a visa ban on Minsk politicians if the OSCE mission concludes the elections are unfair.

The OSCE plans to deploy a further 400 observers for the elections, with another 300 to 400 observers due to arrive from separate national missions from the former Soviet countries.

But Minsk has questioned the objectivity of both the OSCE and the EU when it comes to discussing the elections.

Belarus foreign ministry spokesman Andrei Popov said OSCE, EU and US reactions to the Kozulin beating were not only misinformed but suspiciously-well coordinated, Belarus NGO Charter97 reported.

"All this prompts the thought that there is obvious stage direction here," Mr Popov said on state media.

Belarusian diplomats also attacked the EU's decision to hold VIP-level meetings with opposition candidate Aleksander Millinkevich in Brussels last month.

"One can even doubt the sincerity of the EU's analysis of the election results if the result is something other than what the EU expects," Minsk contacts told EUobserver.


Union State

Russia-Belarus living through steady economic growth.

Itar-Tass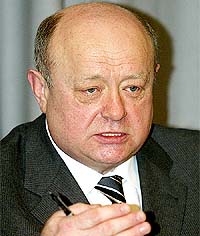 Russian Prime Minister Mikhail Fradkov

The heads of the Russian and Belarussian governments, who attended a meeting of the Union Council of Ministers here on Tuesday, pointed to a steady economic growth in the Russia-Belarus Union State. "Trade turnover between Russia and Belarus grew by three-fold during ten years of integrated relations – from five billion dollars in 1995 to 16 billion dollars in 2005," Belarussian Prime Minister Sergei Sidorsky said.

In his turn, Russian Prime Minister Mikhail Fradkov pointed to "the steady economic growth in the Union State," to the boosting of investment programmes and to the intensification of social aspects in the policy of the Union State. According to his information, "trade and economic cooperation grew by 45 per cent in January 2006, as against the corresponding period of 2005. The growth of cooperation in the fuel and energy sector is especially impressive."

According to Fradkov, the meeting will coordinate the fuel and energy balance for the period ending in 2020. "The problems are being settled in a constructive way and on a mutually advantageous basis," he said.

"The commission for tariff and non-tariff regulation will play a very important role. It should work even harder," Fradkov continued. He added as well that the meeting would discuss problems dealing with the formation and functioning of the single transport system, crime control and the main directions of the development of common scientific and technological space.

Sidorsky also pointed to the fact that the work for the creation of equal rights for Russian and Belarussian citizens on the territory of the Union State had also been boosted of late. He reminded that the latest meeting of the Supreme State Council had adopted a package of agreements, whose implementation would permit to settle "the most burning problems facing the people of both countries." According to Sidorsky, those agreements "made our Union more comfortable."

The Belarussian prime minister said as well, that the Union Council of Ministers had discussed and settled some 400 various problems within the framework of economic development of the Union State. "By today a sufficient legal basis has been formed," he said. In his opinion, "conditions have been created for the lifting of customs control on the border for the making out of documents on the goods coming from third countries." He believes the lifting of that type of control would create "real common customs space" on the territory of the Russia-Belarus Union State.

Fradkov pointed to a high degree of the coordination of actions of the two countries in the international arena. "I am pleased to stress that our cooperation in the sphere of foreign policy is aimed at consolidating the prestige of the two countries and of their position in the international arena," Fradkov said.

"This year we shall celebrate the tenth anniversary of the Russia-Belarus Union. We see the results of putting to use the potential of the Union development. The agenda of the current meeting of the Council of Ministers is rather strenuous. It will become an important stage in the building of the Union State," he said.


About the All-People's conference

Belarus In For Another 5-Year Program


Kommersant

Under the program sealed by All-Belarus People's Assembly past week, the GDP of Belarus is expected to widen 146 percent to 155 percent by 2010, industrial output is to gain 143 percent to 151 percent, agricultural output will go up by 134 percent to 145 percent.

The 3rd All-Belarus People's Assembly approved past week the five-year acceleration program for years from 2006 to 2010. The program suggests stepping up GDP by 46 percent to 55 percent by 2010, retains and even toughens the state-control in economy, actually winds up the promised privatization, but offers a string of liberal reforms without describing them in detail.

Under the program sealed by All-Belarus People's Assembly past week, the GDP is expected to widen 146 percent to 155 percent by 2010; industrial output is to gain 143 percent to 151 percent; agricultural output will go up by 134 percent to 145 percent. The fixed capital investments are forecasted to step up 165 percent to 175 percent, while the salaries are promised to reach $500 on average.

The new target has been elaborated in view of the economic achievements of 2000 to 2005. Past year, Belarus caught up and even exceeded a lot of parameters posted in pre-crisis 1990, according to strategic experts of Belarus.

Another matter that justifies the route chosen by Belarus is higher achievements vs the other countries of CIS. Compared with 1991, for instance, the 2004 GDP of Belarus was 117 percent; CIS had 89 percent; Russia – 89.5 percent; Ukraine – 66.7 percent; Kazakhstan – 115.9 percent.

The flaw in the program is its contradictions. "Promising to reach $500 salary, the planners have written it will rise 50 percent, but in this case it will be actually nearing $400," said Leonid Zaiko, one of the masterminds of election program for Alexander Milinkevich, the sole candidate of democratic opposition at forthcoming presidential elections in Belarus. Other shortcoming is that it sets forth the optimistic scenario exclusively. The program takes into account no possible rise in prices for energy sources, said Zaiko.

"When you're listening to a fairy tale, you can evaluate just the flow of speech," said a former official of Belarus on condition of anonymity.

Analysis: The Peculiarities Of Political Discourse In Belarus

RFE/RL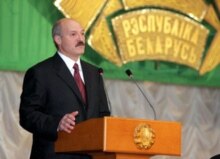 Lukashenka at the podium


Belarusian President Alyaksandr Lukashenka made a nearly four-hour-long televised speech to some 2,500 handpicked loyalists at a gathering called the All-Belarusian People's Assembly in Minsk on March 2. The speech was very distinctive of Lukashenka's oratorical skills and fully reflected the authoritarian character of official political discourse in Belarus, where only one individual -- the incumbent president -- is allowed to know and proclaim answers to any imaginable question from every possible person. Here, a look at Lukashenka's typical oratorial techniques.

Lukashenka's speechmaking is based to a considerable extent on the Soviet-era tradition of Communist Party congresses, when first secretaries delivered lengthy reports on virtually all aspects of life over which the party extended its control. Lukashenka's presidential addresses are similarly protracted, all-embracing, overloaded with statistical data, and indigestible to listeners after the first 30 minutes -- as were those by his antecedents from the politburo.

Here is a typical example of this style:

"With satisfaction, I report to this high assembly," Lukashenka said at the beginning of his speech. "The country has achieved major indicators of the Program of Socioeconomic Development of the Republic in the years 2001-2005 of the 21st century. The development course we worked out has proven correct. The confirmation of this can be found in high rates of economic development demonstrated by our economy in the past 10 years. Compare: our average annual economic growth in the past five years was 7.5 percent, versus 3.5 percent in the world as a whole."

In another passage -- some 60 minutes after his "dung-ocratic" comparison -- he portrayed the West as "the developed countries toward which we are getting orientated."However, there is one feature that makes Lukashenka's lengthy orations lively for his listeners even after two or three hours -- the Belarusian president often strays from the text prepared by his speechwriters and inserts impromptu passages, sometimes pages-long and usually emotionally loaded. Take, for example, the following phrase in which the Belarusian president, beginning the third hour of his address with criticism of the United States and Western democracies in general, expressed in passing his displeasure with the "colored revolutions" in the CIS.

"There has been a sequence of various revolutions of various colors in the former republics of the Soviet Union, including with support from those democratic -- I would rather say -- dung-ocratic states," Lukashenka said.

Word Play

The play on the sound similarity between the word "demokaraticheskii" (democratic) and the neologism "dermokraticheskii" (dung-ocratic) is hardly an ingenious oratorical device, but his listeners usually are not lovers of a lofty or subtle literary style. The people listening to the president on March 2 woke up at this point, preparing for more. And Lukashenka did not fail to meet their expectations. He immediately delivered a 30-minute impromptu diatribe, in which he branded Western democracies as being "covered in blood."

But Lukashenka is not consistent in his vision of the West. In another passage -- some 60 minutes after his "dung-ocratic" comparison -- he portrayed the West as "the developed countries toward which we are getting orientated."

Finding a generally accepted socioeconomic measure under which Belarus could compare favorably with Western states is still an unachievable task for Lukashenka, so he occasionally proposes indicators that are not immediately verifiable or perhaps unknown in the West. This time the Belarusian president claimed that Belarus is the only country in the world that created a system of "social standards" for the population and asserted that his government would observe no fewer than 44 such standards.

"Who else, which other country has taken such responsibility upon itself?" Lukashenka asked rhetorically. "Name it! There are no such countries! And we, I do not doubt it, will make this system work!"

Lukashenka's Advice

Apart from publicizing plans for the future, Lukashenka also likes to touch upon a broad variety of topics either serving as illustrations of his economic theses or emphasizing his self-imposed stature as considerate "father of the nation."

During the All-Belarusian People's Assembly on March 2, the Belarusian president in particular gave Belarusian sportsmen advice on how to fight for Olympic medals, briefed publicly his ministers on how to sell Belarusian fertilizers abroad with profit, and instructed Belarusian men and women in general on how to keep a good physical and sexual form and overcome a demographic crisis in the country.

"The average life expectancy of our men is 10 years lower than that in developed countries," Lukashenka said. "Soon [our] women will bear children of Western men, my dear ones.... There are several reasons for this [situation], but two of them are the most important. First, this is nonobservance of the healthy style of life: lack of physical exertion and overeating, particularly late at night. This is the main thing. And then we groan and moan and cannot breathe, weigh 130-150 kilograms and cannot walk, while women applaud Western men."

Lukashenka is also known for using highly offensive language with regard to his opponents, be it specific people or political organizations. This time was no different. He referred to his political opponents in Belarus as "otmorozki" (which can be translated as "bastards" or "thugs") and "soplivye" ("the snotty ones"). And he publicly advised the defense minister to draft opposition politicians and their children into the army, in order to "clean out [their] brains."

Taken as a whole, Lukashenka's address on March 2 was rather typical for him, in both content and style. But it was evidently more emotive than on other occasions, which can be explained by his stress connected with the upcoming presidential election on March 19 and the political stake involved in it. This, incidentally, was admitted by Lukashenka himself.

"This election campaign costs our armed forces, our security forces a lot of nerves and health," he noted at the end of his speech. "The tension is so high, you cannot even imagine."


Opinion

'Color' revolutions wane


The Christian Science Monitor

RALLYING SUPPORT: If elections are rigged, Belarus opposition leader Alexander Milinkevich (l.) and his supporters plan to defy a government ban on protests.

MOSCOW – Two key former Soviet states - Belarus and Ukraine - head into elections this month amid dramatic accusations of planned coups, state coercion, and vote-fixing.

But Moscow isn't worried.

Instead, there is a sense of calm and fresh confidence here that contrasts sharply with the Kremlin's panicky reactions to the surge of "colored revolts" that swept through the region in recent years. That revolutionary wave - which began with Georgia's 2003 Rose Revolution and continued with Ukraine's Orange Revolution - seemed unstoppable just a year ago, when Krygyz President Askar Akayev was overthrown.

But the inability of new leaders to fulfill revolutionary pledges, together with the failure of popular pressure to effect change in other Soviet satellite states, has opened the way for Moscow to reassert its influence in the region.

"Those upsurges were the response of people to bad governance and worsening conditions, and the new leaders that came in have shown themselves unable to offer improvements," says Gennady Chuffrin, deputy director of the official Institute of World Economy and International Relations in Moscow. "Ukraine could even see a reversal of what happened a year ago. Obviously the Kremlin would like to see a weakening of [Ukrainian President Viktor] Yushchenko, and I think that's what's going to happen."

Ukraine's economic decline and disillusionment have propelled the pro-Moscow opposition party into first place in opinion surveys for parliamentary elections on March 26. In an ironic twist, the opposition leader Mr. Yanukovych, who was forced out of power after being accused of rigging Ukraine's 2004 presidential election in his favor, claims the authorities are preparing to steal the polls. "The orange team can only remain in power through massive falsifications, and this is what they are doing," he said last week.

According to a survey conducted last week by the Institute of Social and Political Psychology in Kiev, Ukraine, Yanukovych's Party of Regions leads with 27 percent support, followed by former prime minister Yulia Tymoshenko's Bloc with 19 percent and Mr. Yushchenko's Our Ukraine movement with 17 percent.

If the elections bring in a deeply split parliament, it could lead to an extended political crisis that would play into Moscow's hands. A January gas blockade by Russia appears to have deepened Ukraine's economic slump while strengthening the hand of the pro-Moscow Yanukovych.

"We can make Ukraine strong and rich, because democracy is impossible in a poor country," Yanukovych told his campaign workers last week. "Unlike the present leadership, we will not build our strategy to the detriment of relations with Russia."

In Belarus, good relations with Russia are not an issue. The Kremlin will try to put the best face on President Alexander Lukashenko's almost certain third-term victory in polls slated for March 19. But even Russian experts who support the Belarussian leader refrain from calling the election process democratic.

Two candidates running against Lukashenko, Alexander Kozulin and Alexander Milinkevich, have been all but barred from media and their rallies have been broken up by force. Last Thursday, Mr. Kozulin was arrested and allegedly beaten by police after he attempted to stage an impromptu press conference at the Palace of the Republic, Belarus' parliament, in Minsk. "I wanted to tell the truth about the dictatorship that we live in," Kozulin told journalists.

Lukashenko, a former collective farm chairman who has maintained a strict, state-controlled economy, can point to healthy growth rates, low unemployment and stable, if meager, living standards.

"Lukashenko, for all his lack of democracy, has the support of his people and is pursuing sensible policies," says Mikhail Delyagin, director of the independent Globalization Institute in Moscow. "He may be the devil incarnate to the West, but Belarussians regard him as their legitimate leader."

But at least a few Belarussians apparently have other ideas. Last week, the chief of Belarus's KGB security service accused an allegedly foreign-funded opposition group of planning to stage an election-day coup after publishing faked voting results.

Opposition leaders deny the allegations. Mr. Milinkevich has called for peaceful protests if vote-rigging occurs. But all election-day demonstrations were banned by government decree last week. "These elections are being held under conditions of total falsification and persecution of the opposition," Milinkevich told journalists Friday.

The turmoil prompted US Deputy Secretary of State David Kramer to warn Belarussian leaders that "there will be consequences" for incidents like Kozulin's arrest. "We are paying very close attention to those who are involved in activities that promote either fraudulent elections or promote violence," he said.

Many Russian experts worry that the perceived rivalry between Moscow and Washington for influence in the post-Soviet arena, as played out through these events, is accelerating a chill between the two countries. A US Council on Foreign Relations report released over the weekend noted a "downward trajectory" in US-Russian ties, in part due to Moscow's alleged meddling in the affairs of its neighbors, through energy squeezes and political pressure. "Russia's relations with other post-Soviet states have become a source of significantly heightened US-Russian friction," the report said.

That view is mirrored in Moscow. "Unfortunately, the [wave of revolutions] was perceived in Russia as a kind of conspiracy against Russian interests," mainly promoted by the US, says Irina Zvigelskaya, an analyst with the independent Center for Strategic and International Studies in Moscow. She says the problem results from poor communication over each other's policies in the region. "The US has been obsessed with the notion of democracy, while we have been obsessed with the notion of stability," she says. "It's a deeply fraught misunderstanding"


From the blogs

Dmitriy Pavlichenko enters the election campaign

Tobias Ljungvall on Belarus

Dmitriy Pavlichenko

I have been away this week, but it was still hard to miss one event. On Thursday, 2 March, the presidential candidate Aleksandr Kozulin uninvitedly tried to get into the All-Belarusian Congress, a huge propaganda event now staged for the third time by Lukashenko during his time as president. Instead of simply denying Kozulin entry and quietly but firmly showing him to the door, the following happened.
-
1. Kozulin gets beaten up by no one less than Dmitriy Pavlichenko, a police special forces colonel mostly known as the head of Lukashenko's death squad, and is taken to a police station.
-
2. Pavlichenko makes a statement about the beating to the press, saying that Kozulin had offended him and that he had therefore held a "man-to-man talk" with him.
-
3. In the police station, Kozulin smashes a portrait of Lukashenko.
-
4. Outside the police station, police apprehends some thirty of Kozulin's supporters and unprovocedly opens fire on a car with four of them inside.
-
5. All this gives Kozulin the best PR effect any alternative candidate to Lukashenko could ever imagine, both within and outside Belarus.
-
I have been negative about Kozulin ever since he showed up on the opposition scene a year ago, unexpectedly given the leadership of Belarus' largest social democratic party (of which he had never been a member) by internal intrigue-makers. Available information, as well as his collection of more well-known supporters, has shown that he relies on support from Moscow. The main effect of his political existence, so far, has been to sap strength from the united part of the opposition which stands behind Aleksandr Milinkevich in the so-called elections that will take place 19 March. In short, I do not think that Kozulin is meant to play a constructive role.
-
It seems that the common interpretation of this weeks events have been that the president and his surrounding are nervous, even loosing their mental balance. Strange statements by Lukashenko at the All-Belarusian Congress, about the 16th century publisher Francis Skaryna having lived in Saint Petersburg (which was founded only in the 18th century!), has strengthened this impression. Lukashenko is, however, known to use very skilled so-called political technologists and, as I wrote the other week, recently the Kremlin's top manipulator Gleb Pavlovskiy visited Minsk. It would certainly be irresponsible of any observer to take all events of this election campaign at face value.
-
The question that needs to be asked is whether the beating was deliberately staged to boast Kozulins popularity, partly to sap strength from Milinkevich and partly to establish a controllable opposition politician on the playing field for the longer run.
-
Could Kozulin have been taking a beating voluntarily? I think so. Since a strange incident at the candidate registration ceremony the other week, which also involved physical confrontation, Kozulin has been making a point of his training as a naval commando. So it seems reasonable to assume that he would be willing to endure this, if the gains were big enough.
-
Could Pavlichenko have beaten a presidential candidate, and then have made a statement about it to the press, without instructions from above? I find this hard to believe.


Sport

Belarusian Sergei Novikov wins silver at European Biathlon Championship

Belta

Sergei Novikov has won silver in Germany

Belarusian athlete Sergei Novikov has won silver in the men's 10km sprint in Germany. With just one miss in standing shoot he yielded gold to Yaroslav Soukup of the Czech Republic.

Among other Belarusian biathlon achievements is 8th ranking of Vladimir Drachev who missed thrice. Rather disappointing was performance of Rustam Valiullin and Alexander Syman, who finished 44th and 48th respectively. Junior Eugeni Abramenko is now on the 8th position.

Natalya Sokolova, who due to various reasons missed the Torino Olympics, was fourth in the 7,5km sprint/women. Ekaterina Ivanova finished 11th, Liudmila Ananko – 13th, Ksenia Zikunkova – 44th. Belarusian junior Olga Teteruk despite excellent shooting is on the 4th position.