Lukashenko, Milinkevich, KGB thwarts plot, Police detain agitators, Voitovich, Peggy Sue Hilt pleads guilty, Polina Smolova
From the top

Lukashenko Meets with CSTO

From the office of the president

Alexander Lukashenko with Nikolai Bordyuzha

On February 28, President of the Republic of Belarus Alexander Lukashenko met with the general secretary of the Collective Security Treaty Organization (CSTO) Nikolai Bordyuzha.
The meeting focused on the issues related to preparing a session of the CSTO scheduled for June this year in Minsk. Alexander Lukashenko emphasized that the session must be held at a very high level.
The Head of State recalled that the exercises of the joint Belarusian-Russian troops grouping are also to be held within that period.
During the conversation, the Head of State wished to "hear the latest information, specifically as regards the attitude of the heads of states to the CSTO." "Uzbekistan had left the CSTO. But today we know that Karimov is displaying interest to this organization. It is an evidence of its growing popularity," the Belarusian leader remarked.
The CSTO general secretary informed the Head of State on the state of affairs in the organization and on the preparation underway for the CSTO summit in Minsk during which Belarus will take over the chairmanship. According to Nikolai Bordyuzha, the upcoming session is expected to discuss "a number of serious issues."
He also informed Alexander Lukashenko on the results of the recent meetings with the heads of state of the CSTO member states and with the leaders of Uzbekistan.
According to Nikolai Bordyuzha, the CSTO is the only international agency in the former USSR's space which received permanent member status at the UN standing committee on interaction with regional organizations for the period of 2006.
President of Belarus Alexander Lukashenko believes that the popularity of the Collective Security Treaty Organization /CSTO/ has been growing. The head of state expressed this opinion during today's meeting with CSTO secretary general Nikolai Bordyuzha.
During the meeting Alexander Lukashenko noted that "he would like to learn the latest information about the organization, in particular about the attitude of heads of the CSTO member-states". "Although Uzbekistan is no longer a member, we know that Mr. Karimov is showing interest in CSTO. This attests to the growth in organization's popularity," the Belarusian leader emphasized.
The elctions

Alyaksandr Milinkevich: "Tomorrow We Meet At Freedom Square"

Charter '97

Alyaksandr Milinkevich

The meeting of voters with the single democratic candidate to presidency in Belarus, Alyaksandr Milinkevich, is to take place tomorrow, on March 2, at 6 p.m. on Svaboda Square (Freedom Square) in Minsk. The single democratic candidate Alyaksandr Milinkevich and the head of his electoral headquarters Syarhei Kalyakin have told about that at a press conference today. "Tomorrow we meet with our voters on Svaboda Square in Minsk. The legislation of the Republic of Belarus, allows candidates for presidency to meet with voters in any public places. And we shall use that right. We have not to ask permission from the authorities, we can inform them about the place of the meeting, and they are to guarantee public order there. Tomorrow is the decisive day of our attitude towards the events in the country," Alyaksandr Milinkevich said.

During the press conference the head of the campaign headquarters of Alyaksandr Milinkevich Syarhei Kalyakin commented on yesterday's statements by the Central Elections Commission head Lidziya Yarmoshyna, who said that an authorization of Minsk city executive committee is needed for meetings with voters.

"The authorities are applying unprecedented pressure on activists of the single candidate for presidency. At the same time, a wide campaign for Lukashenka in mass media had been launched with violation of all possible rules. Today we can witness shocking violation of the right for equal agitation non-stop. Belarus had never observed such a cynical campaign before. These events could hardly be called elections. March 2 can become a touchstone of the attitude towards elections in Belarus for Belarusian citizens and international observers. On this day, entirely in keeping with the Constitution and the Electoral Code, we organize a meeting of Alyaksandr Milinkevich with voters," told the head of the single democratic candidate's headquarters.

As said by Kalyakin, yesterday's statement by Yarmoshyna is illegal. "Yarmoshyna's statement is not based on law, it is criminal, it contains element of crime. That is why Lidziya Yarmoshyna has either forgotten when she read Electoral Code, or her opinion is not an opinion of a lawyer, the CEC chairperson, but of a man in the street who does not know the electoral legislation of the republic of Belarus," the politician said.

The head of Alyaksandr Milinkevich's headquarters noted that the Electoral Code contains Article 16, stipulating a right of free discussing of platforms of candidates at meetings and assemblies. According to this article, state organs must facilitate such meetings. Article 45 of the Electoral Code of Belarus on campaigning for candidates for presidency states that Belarusian citizens, political parties, public associations, candidate's agents have a right of free campaigning for election of candidates for presidency at meetings and assemblies.

"Stating that Milinkevich does not have a right to hold such a meeting, Lidziya Yarmoshyna performs acts under Article 191 of the Criminal Code – hindering a citizen from exercising his/her electoral rights, which is punished by restriction of liberty. When these actions are performed by an official or by previous concert, they are punished by up to 5 years of restriction of liberty. In fact, yesterday Yarmoshyna performed instigation to committing a criminal offence. When a person who is to guard elections performs such actions, the elections are turning not even in a farce, but in a criminal act, headed by highest officials of Belarus," Syarhei Kalyakin said.

Alyaksandr Milinkevich and Syarhei Kalyakin have called upon the Belarusians to come to Svaboda Square in Minsk tomorrow, March 2 at 6 p.m., to enjoy their right for meeting with a presidential hopeful.


More from the partnerstva arrests

Belarus opposition plotting coup: state security

API

The head of Belarus' security services (KGB) Stepan Sukhorenko talks to the press

Belarus's security chief said on Wednesday his agency had uncovered an opposition plot to mount a violent coup in the days after this month's presidential election.

The coup plot allegation was made a day before an opposition rally in the capital that opposition politicians say may be broken up by police.

Stepan Sukhorenko, head of Belarus' KGB state security agency, said opposition leaders were planning to set off an explosion at one of their own protests after the election, and then blame the authorities for the resulting bloodshed.

"The appearance of blood and victims would have untied the hands of the protest organizers," Sukharenko said. "After that (they will) start seizing official buildings and stations and blocking railway lines with the aim of completely paralyzing the functioning of the state.".

The authorities in Belarus have accused the opposition of plotting a coup several times before, most recently late last year. But they have not followed up the allegations or prosecuted anyone over the alleged plots.

Opposition presidential candidate Alexander Milinkevich denied that his supporters planned to seize power.

"This is an absolutely malicious falsehood," he told Ukraine's 5 Kanal TV.

"We are peaceful people, a peaceful coalition. We are telling the authorities all the time: hold a fair election, and there won't be any revolution in Belarus. But the authorities do not want to do so."

"We do not have any plans to seize power. We'll rally only for the sake of our peaceful goal; to defend our choice," opposition leader Alexander Milinkevich told supporters at a rally late Wednesday. "If force is used, it will be the authorities that are responsible"

Lukashenko has vowed to cut short any upheaval like rallies which helped unseat governments in Georgia and Ukraine in the aftermath of disputed elections.

The United States and European Union accuse Lukashenko of crushing dissent and muzzling the media. They have suggested they may toughen sanctions on him if -- as his critics predict -- the presidential vote proves neither free nor fair.

"LITMUS TEST"

Milinkevich, the main challenger from the opposition, called the pre-election rally for Thursday without securing police permission. In the past, police wielding truncheons have been sent in to disperse such protests.

"How the authorities act tomorrow will be a litmus test for us," Milinkevich told a news conference. "If they use force, we reserve the right to take appropriate measures."

He gave no explanation of what these measures might be.

"We don't want to respond by using force. But there are ways to oblige the authorities to act according to the law," he said. "They are not even trying to imitate an honest election."

The head of Belarus's Central Election Commission, Lidiya Yermoshina, has called the planned rally a "provocative act" and said security forces were entitled to use force. Milinkevich, she said, would bear full responsibility for what might occur.

Lukashenko, in power since 1994, remains popular, particularly outside Minsk. He tells voters he has spared them the turmoil of other ex-Soviet states.

The president, due to address the "Belarussian National Congress" on Thursday, says he will win without cheating and if not, go into retirement.

Opposition rallies attract small crowds in Belarus, with activists discouraged by tight control of politics and recent laws setting down stiff penalties for illegal assembly.

National sentiment in the country sandwiched between Russia and Poland is anyway less marked than in either Georgia or Ukraine -- sites of mass protests against election fraud.

Milinkevich says he will not incite people to protest, but has not ruled out rallies if voters feel the election is rigged.

He told reporters he wanted supporters to mass outside the election commission headquarters after polls closed -- a tactic used by liberal Viktor Yushchenko in Ukraine's 2004 "Orange Revolution" that led to his election.

Belarussian authorities last week criticized a top U.S. diplomat who said the ex-Soviet state's citizens had a right to protest if they chose.

Also running in opposition colors is Alexander Kozulin, ex-rector of Belarussian state university. The fourth runner is an ally of the president who competed against him in 2001.


More agitation

Police continue to detain those distributing agitation materials in favor of Aliaxandr Milinkievich

Viasna

Local police have thier hands full with political crimes

In Homel Oblast and in Homel the police continued to detain those distributing agitation materials in favor of the united democratic forces presidential candidate Aliaxandr Milinkievich.

In Rahachou the police detained Uladzimier Khadasievich and Uladzimier Tamkovich, who were handing out the Milinkievich booklets and the newspaper Narodnaia volia that contained the candidate's manifesto. The deputy chair of the district executive committee, the chair of the district election committee Ryma Iastremskaia, a legal advisor Ludmila Barbaliuk, and the ideology department chief Aliaxandr Kliatsunou arrived at the police station. Mr. Khadasievich and Mr. Tamkovich were accused of violating the election law – organizing a meeting with electors and handing out, allegedly, "agitation information" in an unspecified place – at the Maskouski market.

Ludmila Barbaliuk, the legal advisor of the district executive committee, drew up a report registering the violation of the district executive committee decision No.143 of 13 February 2006 and article 167 part 3 of the Administrative Code.

In Homel the police detained Piotr Kuzniatsou and Zmitsier Zalatarou for distributing booklets at the Prudkouski market.

Police Major Sukharukau and Senior Lieutenant Dziatlou detained Iuras Zakharanka, Katsiaryna Haurylienka and Leanid Tuzhyk at the bus stop outside the measurement instrumentation factory. They kept them in the police station for 2 hours.

Because the distributors had a fold-down table, a small chair and a pad with portraits of Milinkievich, they were accused of conducting an unauthorized picket. A corresponding report was drawn up. The table, chair, pad and 62 Milinkievich booklets were confiscated.

Tsentralny Borough Police Department officers detained Andrei Tolchyn, confiscated a table and an agitation billboard, and drew up a report registering an administrative offence.

The Tsentralny Borough Police Department officers attempted members of the Aliaxandr Milinkievich initiative group in Tsentralny Park, where there were "Farewell Winter" festivities taking place, for distributing newspapers and booklets.

In Navabielitsy District the police detained the sisters Aliena and Halina Pratsko. They were distributing the newspaper Narodnaia volia.

In Kalinkovichy outside the market the police detained the distributors of the Milinkievich agitation products Aliaxei Manievich and Dzianis Rabianok. The police confiscated 107 booklets of the democratic forces candidate at the police station. Before the detention, unknowns in plain clothes had photographed the agitators. One of the provokers urged the people around: "Bash them"!

In Svietlahorsk Police Captain Shcherbin and his partner prevented Viktar Ramanishka and Sviatlana Mikhalchanka from distributing the Milinkievich booklets outside the city market.


Loopholes

Voitovich urges election authorities to remove Lukashenko from race

Charter '97

Voitovich

Aleksandr Voitovich, an ex-chairman of the Council of the Republic (upper parliamentary house) who withdrew from the country`s presidential race in January, has appealed to the central election commission to annul the registration of incumbent leader Aleksandr Lukashenko as a presidential candidate because of numerous violations of the constitution and the Electoral Code.

Dr. Voitovich insists that the national referendum in 2004 that allowed Mr. Lukashenko to run for a third term was unconstitutional, and that the incumbent uses his powers to drum up the population`s support, which runs counter to Article 73 of the Electoral Code. The article bans a candidate from using the advantages of his/her official position for election purposes, which means, among other things, that candidates may not use in their campaign persons who are in professional or other subordination to them.

Article 77 of the Electoral Code requires that candidates for President shall be exempted from performing their employment functions for the period between the date of registration as a candidate and the polling day. An exception is only made for the incumbent president who runs for a second term, Dr. Voitovich says.

In addition, he stresses, almost all state media outlets act in violation of the Electoral Code`s Article 74, which requires equal access to the media for all candidates. The state television networks "are conducting an all-out campaign" for the reelection of Mr. Lukashenko, constantly broadcasting his speeches and interviews, whereas his opponents receive very little coverage, are represented as enemies of Belarus and the Belarusian people, and are denied the opportunity to appear on television to "respond to the mud and slander slung on them," Dr. Voitovich says.


Reality

Analysis: When Bread Is Dearer Than Freedom In Belarus

-An article with a surprising amount of sanity from the west about Belarus

RFE/RL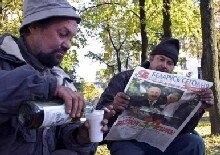 Either a couple of unemployed "bums" or two locals locals having a sitdown, depending on your perspective

In the West, Belarusian President Alyaksandr Lukashenka is often portrayed as a deeply unpopular dictator. The truth is a little more complex than that. According to a January poll by the Vilnius-based Gallup/Baltic Surveys, Lukashenka enjoys support of some 55 percent of Belarusians, thus being practically able to win the 19 March presidential election in a free and fair vote. So why do so many people in Belarus support Lukashenka, apparently of their own free will?

One of the possible answers lies in the country's economy, which has officially enjoyed robust growth in the past four years. For many Belarusians Lukashenka's economic policies appear to outweigh his heavy hand in subduing political dissent and impinging on human rights and personal freedoms in the country.

Democracy, Yes; Hullabaloo, No

Speaking to workers of the Minsk Automotive Plant in 1998, Lukashenka gave a memorable definition of the democracy he claimed he was building in Belarus.

"We don't need democracy with hullabaloo," he said. "We do need the type of democracy where people work and get paid, even if not much, but enough to buy bread, milk, sour cream, cottage cheese, and sometimes a piece of meat in order to feed their children and so on." After a short pause, Lukashenka added: "Well, as regards meat, let's not eat too much of it in summer."

In Lukashenka's 12 years in power, he has remained largely true to his words. He has all but eliminated the possibility of any uncontrolled "hullabaloo" from the opposition on the streets. And he has ensured that the overwhelming majority of Belarusians have jobs and get paid regularly, "even if not much."

Low Unemployment

According to official data, registered unemployment in Belarus stands currently at 1.5 percent. By contrast, in neighboring Poland, the jobless amount to around 20 percent of the population. The average monthly wage in Belarus in 2005 was $205, up from $150 in 2004; the average monthly pension in 2005 was $98, up from $63 the previous year. The country's gross domestic product (GDP) doubled in U.S. dollar terms between 2002 and 2005, growing respectively by 4.7 percent, 6.8 percent, 11 percent, and 9.2 percent year-on-year in the past four years.

However, it makes little sense comparing the above-mentioned figures with their equivalents in other countries, since the cost of living in Belarus is much lower. But it is instructive to look at how Belarusians themselves feel about their economic wellbeing.

A poll conducted in Belarus by two Slovak nongovernmental organizations in January found that 24 percent of Belarusians assessed their economic situation as "very good" or "good," 59 percent deemed it "fair," and just 13 percent declared it to be "bad" or "very bad." According to 70 percent of respondents, the economic situation in Belarus has not changed in the last month, 13 percent said it has improved, while 7 percent said it has worsened.

It is not surprising, perhaps, that the same poll found that there was a prevailing feeling of political stability among Belarusians. According to 65 percent of respondents, the political situation in Belarus was "calm," while 12 percent found it even "positive." On the other hand, for 15 percent of respondents the political situation was "tense" and for 1 percent "critical."

No less revealing were the findings of the Slovak pollsters regarding the preferred values and goals that Belarusians attribute to the ideal president. According to 97 percent of respondents, the president should put primary emphasis on decent living standards (81 percent fully and 16 percent partly subscribed to this view); 91 percent said the president should predominantly be concerned with the preservation of state sovereignty (60 percent fully and 31 percent partly); and 86 percent deemed the president should primarily develop democracy (51 percent fully and 36 percent partly).

Assessing the chance of mass protests against a potential fraudulent presidential election on 19 March, 17 percent of respondents said they were possible, while 70 percent were of the opposite opinion.

Sustainability

Quite a few independent Belarusian economic experts predict that the current political stability in the country, which was coupled in recent years with palpable economic growth, is unsustainable in the longer term. They basically argue that Belarus's economy has already exhausted its government-backed potential for growth and without deep restructuring and foreign investments may soon enter a phase of stagnation or even decline, thus triggering wider public discontent.

Lukashenka himself seems to be aware of the possibility of such an unpleasant scenario looming. "We have already squeezed practically everything out of what we have inherited from the Soviet era and what we have built in recent years," he said in a television interview in January. "Practically all of our production sector is working at 100 percent capacity, apart from some small- and medium-sized enterprises."

Another serious problem that Belarus will have to inevitably deal with in the future is the country's dependence on -- or as some put it, "addiction to" -- cheap Russian oil and gas supplies, which can be seen as indirect subsidies by the Kremlin to Lukashenka's "socially oriented" economy and are estimated at $3 billion-$4 billion annually.

The Russian energy-related subsidies have helped Lukashenka not only keep his economy afloat but also expand its existing production capacities. At the same time, however, they have done little to adapt Belarus's command economy to the conditions of genuine competition. When Belarus eventually moves to embrace some market-economy methods and give entrepreneurs more economic freedom, many Belarusians may find that their country's economic stability in the Lukashenka era was hardly a real asset.


Former USSR

Belarus and Ukraine to sign Consular Convention

Belta

Kiev, ukraine

Belarus and Ukraine are expected to sign a Consular Convention in the near future. The Belarusian party will be represented by foreign minister Sergei Martynov.

According to Igor Sekreta, head of the analysis and planning office of the consular department of the Belarusian foreign ministry, this agreement is coined to create a wholesome environment for development of consular relations between Belarus and Ukraine, in particular, in the sphere of enhancing effectiveness of protection of rights and interests of citizens and legal entities of both the states.

Comparing the Belarusian-Ukrainian convention to the Vienna Convention of 1963, one sees that the former expands certain consular functions, including those dealing with passports and visas, notary's actions and consular legalization, assisting citizens, arresting and detaining individuals, and in regard to issues of inheritance and guardianship.

According to Igor Sekreta, the draft Consular Convention includes provisions on rendering assistance in case of damage of aircrafts and descriptions of diplomatic and consular establishments of both the sides to protect the interests in case of compulsory measures or investigations on board.

"As practice shows, a consular convention is an effective mechanism, due to which the sides can take into account a specific character of bilateral relations in any spheres and timely resolve problems of consular nature", Igor Sekreta said.

He has noted that at present Belarus has signed consular conventions with China, Kazakhstan, Poland, the Russian Federation and Romania. The analogous international treaties with Lithuania, Uzbekistan and Vietnam are at the stage of preparation.

U.S. woman pleads guilty of murdering adopted Russian daughter

RIA/NOVOSTI

Not an American Hero

WASHINGTON, March 1 (RIA Novosti) - An American woman pleaded guilty of murdering her adopted two-and-a-half year-old Russian daughter in court Wednesday.

At a court session in Manassas, Virginia, Peggy Sue Hilt, who was facing a charge of second-degree murder, confessed to having killed Nina Hilt.

The child, originally named Viktoria Bazhenova, had lived in an orphanage in the Siberian city of Irkutsk before the adoption.

Hilt, 33, now faces a prison term of 5-40 years. The court will announce the verdict on May 25.

On July 2, 2005, Hilt was with Nina, visiting her friends in Manassas where she had arrived from North Carolina. She called an ambulance and said the child had stopped breathing. The autopsy showed that the girl had died of heavy blows to the stomach. Hilt then admitted having flown into a rage against the child.

According to the case materials, Hilt first shook the baby and then threw her to the floor and started beating her in the stomach. She then picked the girl up and continued the beating.

Hilt was president at a computer firm, Hiltech, owned by her husband Christopher, who, police said was not involved in the murder.

Medical examinations showed that Hilt was perfectly sane, including during the lethal beating.

Olga Savinova, the head of the local adoption center, said the Hilts had adopted the girl from Irkutsk's Orphanage No.1 in January 2002 when she was 15 months old. The couple was described positively in the adoption papers, and had already adopted a girl from Ukraine.

Savinova said the couple had sent reports with photographs, in which the girl looked well, 6 months and 12 months following the adoption.

The Hilt incident is the latest in a string of tragic occurrences involving Russian children adopted by foreigners. According to the Ministry of Education and Science, 12 Russian children with foreign foster parents have died from abuse since 1991, with 11 of these cases being registered in the United States.

On May 4, U.S. citizen Irma Pavlis was found guilty of manslaughter of a child, adopted in Russia, and sentenced to 12 years in prison. Following this, Russian prosecutors cited numerous law infringements by foreign citizens involving adoption.

The U.S. does not have a system of oversight bodies for international adoptions either on the federal or state level. Therefore, it is left to Russian consulates, private adoption agencies, and to a certain extent the U.S. State Department, to monitor the living conditions and upbringing of adopted children from Russia.

"One of the major problems for us is that under U.S. legislation on adoption passed in 2000, children adopted abroad become U.S. citizens immediately after crossing the U.S. border on the way to their foster homes," Alexander Demkin, Russia's vice consul in New York, said. "We consider them to be Russian citizens until they reach 18, although when we make inquiries with their foster parents we often hear the answer, 'Talk to our lawyer, please. Our child is an American citizen'."

"Russia allows independent adoption, which gives foster parents the right to adopt children on their own. Sometimes in these cases the necessary medical examination, including a psychological evaluation of potential foster parents, are not conducted," Galina Tseikin, a doctor with the Bridge of Hope adoption agency said. "Only two out of 13 adopted Russian children, who died in the last 15 years in different circumstances, had been adopted through special agencies, whereas the rest of the children were adopted independently."

Multiple Bombings in Baghdad Kill 66

Yahoo news

An Iraqi woman wails at her house which was damaged during a car bomb explosion...

BAGHDAD, Iraq - A series of suicide attacks, car bombs and mortar barrages rocked Baghdad on Tuesday, killing at least 66 people and wounding scores as Iraq teetered on the brink of sectarian civil war.

Iraqis suffered through days of reprisal killings and attacks on Sunni mosques after bombers blew apart the gold dome of a Shiite Muslim shrine north of Baghdad on Wednesday.

Fears were complicated by the continuing struggle among Iraqi politicians to form a government based on parliamentary elections nearly three months ago.

National Security Adviser Mouwafak al-Rubaie traveled to the Shiite holy city of Najaf on Tuesday to meet with Grand Ayatollah Ali Al-Sistani, the Shiite community's most revered leader. Al-Rubaie emerged to tell reporters "the way to forming the government is difficult and planted with political bombs. We ask the Iraqi people to be patient, and we expect forming the government will take a few months."

"The (United Iraqi) Alliance has chosen (Prime Minister Ibrahim) al-Jaafari and will not give up this choice. We expect that our partners in this country will respect this choice ... taking into consideration the election results" which gave the Shiite bloc a majority, but not enough seats to rule alone.

Al-Jaafari, now serving as interim Prime Minister, is a controversial figure even among some Shiite politicians.

In the south Tuesday, two British soldiers were killed in Amarah, 290 kilometers (180 miles) from Baghdad, the Defense Ministry reported in London, but gave no other details. A witness said a car bomb targeted a British patrol and helicopters were seen taking away casualties.

And north of Baghdad, a blast badly damaged a Sunni mosque where the father of Saddam Hussein was buried in the family's ancestral hometown, Tikrit. The deposed leader's trial resumed in Baghdad with his defense team ending their monthlong boycott of the proceedings.

The Iraqi Islamic Party reported the Sunni Thou Nitaqain mosque in Baghdad's northern al-Hurriyah neighborhood was destroyed in an explosion Tuesday morning. Police said three people were killed and 11 injured in the blast. The Sunni organization blamed the Shiite-dominated government that, it said, "cooperates with the criminal hands that sabotaged God's houses and lighted the fires of sedition."

Also Tuesday, gunmen in two speeding cars opened fire on the Sunni al-Salam mosque in the western Baghdad's Mansour district, killing the guard, said police Lt. Maitham Abdul-Razaq.

That night, explosions hit two Shiite targets in northern Baghdad. A car bomb hit the Abdel Hadi Chalabi mosque in Hurriyah, killing 23 and wounding 55, police said. Mortar fire at the Shiite Imam Kadhim shrine in the Kazimiyah neighborhood on the opposite side of the Tigris River killed one and wounded 10, police said.

The Baghdad filling station blast killed 23 and wounded 51 in the mostly Shiite New Baghdad neighborhood, said Interior Ministry official Maj. Falah al-Mohammedawi.

The attacker joined a line of people waiting to buy kerosene before detonating the explosives strapped to his body, police and witnesses said. The charred remains of metal carts used by customers to transport kerosene drums littered the scene.

In the same neighborhood, a car bomb targeting a police patrol killed five people and wounded 15 — many of them construction workers who gather there to look for work — the Interior Ministry said.

Another car bomb hit a small market opposite the Shiite Timimi mosque in the mostly Shiite Karradah neighborhood, killing six people and injuring 16, the Interior Ministry said. Distraught residents rushed to the scene, as fire fighters fought back flames from burning cars.

A roadside bomb targeting the convoy of a defense ministry adviser killed five soldiers and injured seven others in the eastern Zaiyona neighborhood, ministry spokesman Mohammed al-Askari said. The adviser, Lt. Gen. Daham Radhi al-Assal, escaped unharmed, he said.

A fifth blast, believed to have been a mortar round, landed in an open area not far from the National Theater, officials said. There were no immediate reports of casualties.

The U.S. military reported a U.S. soldier was killed by small-arms fire west of Baghdad on Monday. No details were provided. The death brought to at least 2,292 the number of members of the U.S. military who have died since the beginning of the Iraq war in March 2003, according to an Associated Press count. The figure includes seven military civilians.

The Baghdad bombings occurred as Iraqi leaders sought to dampen the threat of civil war between the nation's Shiites and Sunnis, but execution-style killings continued with the discovery Tuesday of nine more bullet-riddled bodies, including a Sunni Muslim tribal sheik, off a road southeast of Baghdad, police and hospital officials said.

The Iraqi army found the bodies near two burned out minibuses along the road from Baghdad into Iraq's strife-prone Diyala province. The victims included Sheik Hamid Irbat Ghazi, of the influential Mahamdeh tribe, and two of his nephews, police said.

Leaders of all major sects and ethnic groups have appealed for calm, and U.S. Ambassador Zalmay Khalilzad told U.S. television networks that he believed "the crisis is over."

"I think the country came to the brink of a civil war, but the Iraqis decided that they didn't want to go down that path and came together," Khalilzad told CNN late Monday. "Clearly the terrorists who plotted that attack wanted to provoke a civil war. It looked quite dangerous in the initial 48 hours, but I believe that the Iraqis decided to come together."

On Tuesday, wailing relatives collected the bodies of their loved ones killed in last week's wave of sectarian violence from Baghdad's central morgue. The Iraqi Cabinet said 379 people had been killed and 458 wounded in reprisal attacks in the week since bombers destroyed the golden dome atop an important Shiite shrine in the predominantly Sunni Muslim central city of Samarra.

The Washington Post reported Tuesday that more than 1,300 Iraqis had been killed since the shrine attack, but the Cabinet statement described that account as "inaccurate and exaggerated." The Post cited figures from the Baghdad central morgue, but an official there told The Associated Press that as of Sunday night they had received only 249 bodies tied to the violence. The Post figure appeared high based on police and hospital reports from the major population centers at the time of the attacks.

More than 60 relatives of the dead — many of them women dressed in black and beating their breasts as they wailed in grief — assembled with empty coffins at the morgue to take away their dead family members.

One young man, who refused to give his name, told an AP reporter that his three brothers had gone out to buy bread Saturday night and were gunned down in a drive-by attack.

Also Tuesday, gunmen in Mosul, 360 kilometers (225 miles) northwest of Baghdad, killed four police and a doctor, Dr. Bahaa al-Bakri of the city general hospital said. Three gunmen broke into the clinic of Dr. Youssef Ibrahim and shot him to death.

Iraqi officials also reported 36 people killed the day before in violence that included a fierce gunbattle late Monday between Iraqi commandos and insurgents southeast of the capital.


Military

Belarus to destroy some 300,000 antipersonnel mines within six months

Belta

Belarus has decided to destroy 300,000 of its land mines.

Within the next six months Belarus will destroy around 300,000 TNT-based antipersonnel mines. Belarus will be assisted by the NATO Maintenance and Supply Agency: the former and the Belarusian defence ministry signed a contract in February 2006. Lithuanian and Canadian governments donated money for the project.

Belarusian defence ministry representatives told BelTA, the mines will be exploded at a site in Gomel region, with ecological impact taken care of. Money to take care of this aspect was donated.

Facilities storing around 200,000 more mines, which are not subject to the Ottawa Convention, in particular, remote control mines, will be examined. The source specified, the inspection mission will visit to seven army storage facilities. As early as March 1 examination of the army depot at the 120th guards independent mechanised brigade started in Uruchye.

This year Belarus also plans to start destroying most dangerous liquid explosive mines PFM-1. The European Commission funded the project.

Chief of the Belarusian Engineer Corps Major-General Sergei Luchina earlier told the press, in line with the Ottawa Convention Belarus has to destroy around 4 million antipersonnel mines the Soviet Union left behind by March 1, 2008.

Modern warfare practice shows that instead of army military it is civilians who fall victim to antipersonnel mines. The fact urged the international community to adopt the Ottawa Convention, which provides for antipersonnel mine destruction as inhumane weapons.


Culture

Polina Smolova wins Belarus Eurovision

moldova.org

Polina Smolova

Belarus will be represented at the 2006 Eurovision Song Contest by Polina Smolova.

The song she will sing in Athens remains in doubt and may not be confirmed until the EBU deadline of 20 March. Last year Belarussian performer, Angelica Agurbash also changed her song just 24 hours ahead of the deadline.

Smolova had to perform the song ' Sait Odinochestva '. But she asked the BRTC to allow her to change it to the English language song 'Mama'.

Belarussian performer will keep fans guessing about the song until the last moment.

"We are preparing a different song, as I consider "Mama" not to be the right song for Eurovision, although it was right for the national reselection. If we do not succeed in finding a new song, then Polina will perform a different version of 'Mama'", said song co-writer Sergei Suhomlin to website esckaz.

The deadline to submit all details to EBU, including song and preview video is 20 March. News related after doteurovision.com

Polina Smolova began her music career in children's amateur bands. She learned to play the piano in music school and sing in the children's folk theater "Gostsitsa" and Belarusian folk band "Zhavoronochki".

She graduated from Glinka Music School and finished the department of folk song at Belarusian State University of Culture and Art. At the moment Polina Smolova is a soloist of Youth Pop Theater and MVD orchestra.


Sports briefs

Minsk launches international football youth tournament

Belta

Belarus Football

The second youth football tournament for prizes of the Belarusian Football Federation /BFF/ and Minsk City Council went off today in the Minsk football manege.

The first match featured Belarusian Y16 and Latvian Y17, BelTA was informed in the BFF. Although the Belarusian football players trained by Andrei Zygmantovich were one year younger then their Latvian rivals, they put up decent resistance and drew the game 1:1.

The match Azerbaijan vs. Poland was won by the latter with the score 2:1. Tonight Belarusian Y17 trained by Pavel Rodnenok will play vs. the Lithuanian counterparts.

The winner of the tournament will be announced on March 5.


Vladimir Drachev

Vladimir Drachev of Belarus claimed a bronze medal at the European biathlon championships which have kicked off in Germany. As state coach of the biathlon team Alexander Belyaev told BelTA, the Belarusian finished in third the 20km race with four shooting bounds having missed just one target. Another Belarusian Sergei Novikov came in fourth.