Middle East Special, Mosc bomb, Nuclear issues, terrorism, Also: Defenders Day, Dashinski takes a silver medal, Elections, Scandals, Aleksandr Kozulin
From the Top

Head of the State Greets His Compatriots on the Occasion of the Fatherland Defenders Day


Office of the president

President Lukashenka pays respect at the memorial for the fallen soldiers of the Great Patriotic War.
On February 23, the Day of the Defenders of the Fatherland, Belarusian president Alexander Lukashenko has laid a wreath at the Victory monument in Minsk.
During the official ceremony at the Victory Square the president was accompanied by premier Sergei Sidorskiy, chairman of the Council of the Republic of the National Assembly of Belarus Gennadiy Novitskiy, defense minister Leonid Maltsev, chairman of the republican council of the Belarusian public association of veterans Anatoliy Novikov, governor of Minsk oblast Nikolay Domashkevich, mayor of Minsk Mikhail Pavlov and other officials.
The representatives of the Council of Ministers, National Assembly, veterans, internal ministry, defense ministry, emergencies ministry, Minsk City Council, Belarusian republican youth union, trade unions, CIS, diplomatic missions accerited in Belarus, European Union, Orthodox and Catholic Churches have laid wreaths at the Victory monument.
Alexander Lukashenko observed a minute of silence in memory of the defenders of the Fatherland. Following the national anthem, a guard of honor marched along the square with an orchestra of the main commandant's office.
The Head of State Alexander Lukashenko has congratulated his compatriots on the Day of Fatherland Defenders and the Armed Forces of the Republic of Belarus.
The President stressed that we are proud of our talented commanders, valiant warriors and partisans of the Belarusian land, the Great Patriotic War veterans, who have not only defended their native land but also saved the world from the Nazis. Today, they are sharing their invaluable experience with the future generations.
"On this day, we are paying tribute to those who served and are serving in the Armed Forces, devotedly defending the security of the state and its every citizen, and to those who are just preparing to perform their duty to the Fatherland. The Republic of Belarus is an independent and sovereign state where peace and stability are reliably ensured," said Alexander Lukashenko in his message of felicitation.
Olympics

Belarus denied first Winter Olympics gold

UPI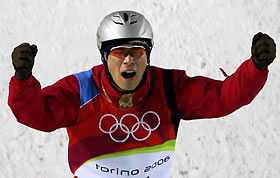 China's Han Xiaopeng took the gold from Dmitri Dashinski of Belarus

SAUZE D'OULX, Italy, Feb. 23 -- China's Han Xiaopeng denied Belarus its first gold medal in Winter Olympics history Thursday by winning the men's freestyle skiing aerials.

Dmitri Dashinski of Belarus led after the first jump, but failed to deliver a knockout performance on the second. He had to settle for what was his country's third Winter Games silver medal. Belarus also has won three bronze medals.

Han totaled 250.77 points for his two jumps while Dashinski managed 248.68. Dashinski led by less than a point following the first jump.

Russian Vladimir Lebedev was third with 246.76 points, followed by Alexei Grishin of Belarus and Kyle Nissen of Canada.

American Jeret Peterson stood third after the first jump, but stumbled on his second to finish seventh.

Freestyle skiing came to an end at the Turin Olympics with the United States having won only one bronze medal in the four events. At Salt Lake City four years ago, American freestyle skiers won three silver medals.

Head coach of the Belarusian freestyle team Nikolay Kozeko has reported to BelTA that he is satisfied with the performance of his sportsmen. "The freestylers have shown virtually everything they are capable of displaying courage while competing with the strongest rivals".


Catastrophe in Moscow

Roof over Moscow market collapses, killing at least 56 people

Pravda.ru

Dozens buried under collapsed roof of Moscow market

Rescuers, pausing frequently to put their ears to the rubble to listen for signs of life, pulled scores of corpses out of a mass of concrete planks and metal beams Thursday after the snow-laden roof of a Moscow market collapsed.

At least 56 people were killed and 32 injured, said Emergency Situations Ministry spokeswoman Natalya Lukash.

Virtually all the victims were believed to be workers from Azerbaijan and other former Soviet republics, among the thousands who have poured into the Russian capital to fill low-paying jobs such as those at the city's produce and housewares markets.

The probable cause was either the buildup of heavy snow, design flaws or maintenance errors, Moscow Prosecutor Anatoly Zuyev said. Prosecutors have opened a criminal investigation on charges of negligence leading to deaths, the RIA-Novosti news agency reported.

One of the survivors, Ukhtai Salmanov, a 52-year-old herb-seller from Azerbaijan, said he left the market just before the roof gave way around 5 a.m.

"I heard a loud noise and I fell to the ground and lost consciousness. When I came to, I was lying by the entrance.

"There was smoke and people were screaming," Salmanov said, his clothes covered in dust.

Fighting back tears, he said his three sisters, who also worked in the market, were killed. There was no way he could have saved anyone, he said, because a mound of rubble blocked him from reaching them.

Dogs were helping to try to locate survivors and bright searchlights illuminated the rubble after darkness fell.

Cries and shouts rang out from the crowd of relatives gathered near the site as emergency workers read off the names of the hospitalized. One woman was pulled away, wailing, after hearing her brother was killed.


Investigators interrogated Thursday an architect who designed the Basmanny market building in central Moscow after a tragic accident that had killed 47 and injured 29 people so far

"I have a cousin there. I've been calling him since morning but at first there was no answer, and now the phone does not ring," said Eshkin Mekhvaliyev, a young Azerbaijani man.

Medical workers tried to help a man trapped under a slab of concrete that left only his hand visible, giving him painkillers through an intravenous drip.

Machines were brought in to blow warm air into the rubble to try to keep victims alive in the near freezing temperatures.

Trapped survivors called relatives using mobile phones, helping rescuers find them, said Yuri Akimov, deputy head of the Moscow department of the Emergency Situations Ministry. But hours passed in the afternoon with no rescues.


Scandals

Belarus KGB thwarts activity of grouping financed by US NGO

Itar-Tass/Interfax

Members of Partnerstva taking a poll about the Belarusian language on February 21st

MINSK, February 23 (Itar-Tass) - State Security Committee (KGB) of Belarus has thwarted the activity of an illegal public association called Partnership Civic Initiative that was set up by an American non-governmental organization.

A KGB spokesman said it had closed down an unregistered organization that, it
said, "was set up, governed and financed by the U.S. nonprofit
organization National Democratic Institution (NDI) in violation of the
current legislation."

The Partnership was set up, managed and financed by the US National Democracy Institute, an NGO. Belarussian law forbids the practice of financing national NGO's from abroad.

"Law enforcement agencies issued numerous official warnings that the Partnership's activity was illegal, and a number of its activists were brought to administrative responsibility from 2003 through 2005 but it continued operations this year, too," a spokesman said.

As a result, four leaders of the organization -- Nikolai Astreiko, Alexander Shalaiko, Timofei Dranchuk, and Enira Bronitskaya -- were detained February 21.

The KGB instituted a criminal case over their activity citing an article of the Criminal Code that envisions punishment for setting up a public association posing a threat to individuals or citizen's rights.

The detainees were placed in a KGB detention center.

U.S. accuses Belarus officials of harassment

Pravda.ru

Belarus is claiming that the US is employing "Bush League" tactics to create unrest in Belarus

The State Department condemned authorities in Belarus for their alleged harassment of citizens for exercising their civil and political rights.

On Tuesday, the authorities detained leaders of a civil society group partnership and raided its offices. They also seized documents and equipment, deputy spokesman Adam Ereli said.

"Actions like this call into question the commitment of the government of Belarus to conduct upcoming elections freely and fairly," Ereli said, referring to voting March 19 in which President Alexander Lukashenko is running for a third term, reports AP.

According to Prensa Latina, arrests by Belarus State Security Committee (KGB) halted the activities by the group Associate Civic Initiative, financed by a US non governmental organization.

A KGB source said the US National Democratic Institute created, ran and financed the ACI, violating domestic laws that ban the existence of NGOs financed from overseas.

The ACI ignored numerous official warnings on the illegal nature of its activities and many members were sanctioned between 2003 and 2005, reaching their climax in the early 2006, said the source.


From the Blogs

Lenin inspires anti-opposition propaganda

Opinion from the Tobias Ljungvall on Belarus Blog

VI Lenin: Western backing of the opposition is not the only aspect here

I just finished reading Richard Pipes's The Russian Revolution. It is striking how the accusations directed by today's Belarusian regime (and lately also by the Russian) against its critics, that these are foreign agents paid to destabilise their societies, fits much better as a description of what Lenin actually did almost 90 years ago. Lenin's agenda was truly to destabilise his country, to crush the attempts at the time to give Russia a constitutional framework and replace it with Bolshevik lawlessness. And he did get foreign money, without which his success may not have been possible, from Germany. He also sold out his country's interests in World War I to this foreign power (which was the main reason why Berlin financed him).
-
Let us compare this historical reality with the current situation in Belarus. Yes, it is not much of a secret that the West does finance opposition forces in the country. But contrary to Lenin's agenda, the aim is to re-establish those legal restraints on raw power that have been abolished by Lukashenko's regime. And although this may be a hypothetical statement, there are probably few strings attached to this. Belarus will not be forced to compromise its national interests, like the Bolsheviks did when they signed the Brest-Litovsk peace treaty with Germany.
-
Unfortunately, though, Western backing of the opposition is not the only aspect here. Part of those who say that they share the agenda supported by the West, feel that they cannot get adequate support from it. So they seek it in Russia instead, and this make them more similar to Lenin in his lack of principle. I have heard well-respected Belarusian democrats say that they see the only hope of bringing about a power shift in striking a deal with Moscow, promising to give away the country's main enterprises. Personally, I think that the best possible product of a Russian-backed regime change would be so-called "directed democracy," which is the strange term with which today's Russia is often described, and which in practice has very little to do with real democracy. So, to the extent that the Belarusian opposition receives support from Moscow, the accusations made by the regime are more or less correct.
-
The regime, however, is silent about this. Instead, its accusations continue to be directed against the West. This week, the government newspaper Respublika repeated these accusations and also published a list of some thirty Western organisations allegedly backing the Belarusian revolutionaries. Four of the organisations were Swedish, three of them have a rather apolitical agenda and none of them would be likely to demand the sell-out of Belarusian state enterprises or any other compromise with the national interest.
-
The reasons that Lukashenko conceals the real threat to his country are simple. First, since Russia does not care the least about lack of democracy, there is no public criticism of Lukashenko's domestic policies that can be exploited into a public propaganda conflict. Second, to an unknown extent Russian "support" to the Belarusian opposition is probably co-ordinated with the infiltration efforts carried out by the Belarusian security services. Finally, "directed" democrats are likely seen as less threatening than those truly driven by principle, since the former are by nature more open to strike a deal.
-
By the way, the little remnants of directed democracy that are still left in Belarus reminded of themselves this week. All four candidates to the presidential elections in March were registered as such by the Central Election Commission, including the opposition representative Aleksandr Milinkevich. Now they have four weeks of highly restricted campaigning before them.
-
Also this week, the monthly solidarity day took place. This time, Belarusians were asked to take it a step further, not only lighting candles in their homes but joining a manifestation on Minsk's central October Square. About two hundred people showed up, twenty of which were arrested by police. A democratic revolution is still not in the air.


Elections

Sociological poll: about 80 per cent of Belarusians ready to vote for incumbent president

Belta

Likashenko is liking his numbers

n response to the question of the analytical center EKOOM "Who of the candidates on the list are you going to vote for, if you take part in the presidential elections in Belarus on March 19, 2006?", 77.2 per cent of the citizens have said they are going to vote for incumbent president of the Republic of Belarus Alexander Lukashenko.

According to the sociological poll, 1.2 per cent - 8 per cent of the questioned are ready to cast their votes for other three candidates for the presidency registered by the central election commission.

The nationwide poll was held in January-February 2006. The poll represents the population by sex, age, territorial zone and type of a population center. Some 2760 residents of Belarus aged 18 and older were questioned.

In addition, the absolute majority of the citizens of Belarus – 83.8 per cent have not witnessed any violations of the election legislation, the sociological poll conducted by the analytical center ЭКООМ says.

At the same time 12 per cent of the interviewed noted they did not know all details of the election procedures and legal acts. Some 4.2 per cent of respondents said they had witnessed violations of the election legislation.

The poll was conducted in January-February 2006 in all regions of Belarus. Some 2760 people aged 18 and older took part in it. The poll represents the population by sex, age, territorial zone and settlement type.

Candidates on the airways

Charter '97

Alyaksandr Milinkevich and Alyaksandr Kazulin

After yesterday's TV speeches of candidates for presidency, Alyaksandr Milinkevich and Alyaksandr Kazulin, it has become obvious that the pre-election campaign has started seriously. No matter how Lukashenka is trying to ignore the two real candidates, he is already taking part in the debate and losing them totally. Both Milinkevich and Kazulin have raised the most serious questions, concerning every citizen of Belarus. They have not just raised them, but they also proposed practical ways of their solving. Milinkevich was sincere, thoroughgoing and composed. Kazulin pinpointed attention upon problems hushed rather forcefully dispelled the myth of "flourishing" country, saying about the level of salaries, pensions and fees which are to be paid by the state with an open and controlled budget. It is not even pre-election promises, but a realistic calculation in line with the potential of Belarus.

Milinkevich is a transparent candidate, who has passed through a democratic selection beneath our eyes. His platform is a result of collective work of professionals. It is still unknown, who or what is standing behind Kazulin. We'd most like to believe that he is an independent figure, or at least he wants to become one. But the combination of a calm, thoughtful and a bit too quiet Milinkevich and harsh Kazulin has changed the pre-election game.

So what's Lukashenka's answer to criticism and invitation for a discussion? He answers with wild stepping-up of his special services, rather reminding of armed gangs that are ready to seize anybody, and then invent accusations. With barbaric pictures "For Belarus!" (that should be reads as "For me, dictator") that transfigured towns and reached public transport. With shameful concerts under the same name with bubblegum music ridden to death and low-class "stars". With blocking Russian TV channels for new portions of mud-flinging against opposition and the West. And this all is done on our money.

"Lukashenka has nothing to say to people any more. For twelve years he had been promising to solve all problems of the Great Patriotic War participants, veterans of the Armed Forces and military men, but nothing happens. The authorities recall Motherland defenders only on holidays, February 23, May 9 and July 3, in the blare of the trumpets, when sweet talk is heard. But military men and their feat of arms are worthy of being remembered constantly,"

After the two TV speeches the society has started to discuss earnestly advantages and disadvantages of Milinkevich and Kazulin, estimating who would be better as a president. Meanwhile Lukashenka is regarded as an annoying hindrance to changes, who is preoccupied by his our fears and complexes, not by the country. The things he could propose, are well-known: intensification of self-isolation, enslaving contracts, suffocation of business, humiliation of public servants. No joy.

And the candidates are holding out hope for real changes for the best. All told – we want a new one!

Aleksandr Kozulin: «The time of Lukashenko is over»


Charter '97

Aleksandr Kozulin got aggresive in his 30 minute television speech

In his defiant pre-recorded campaign speech broadcast by Belarusian Television on February 22, presidential candidate Aleksandr Kozulin demanded that Aleksandr Lukashenko should not be on the ballot in the forthcoming presidential election.

He read out an excerpt from his statement made during the candidate registration ceremony five days before, in which he suggested that the Constitutional Court should hold an emergency session to examine the legality of Aleksandr Lukashenko`s participation in the race.

Dr. Kozulin, a former rector of Belarusian State University, said that the Lukashenko-called 2004 referendum that allowed the incumbent to run for a third term and the Belarusian authorities` decision to schedule the election for March, four months before the expiration of Mr. Lukashenko`s current term, were in violation of the constitution.

He also cited the constitution`s Article 77, which he said requires that candidates for President shall be exempted from performing their employment functions for the period between the date of registration as a candidate and the polling day. An exception is only made for the incumbent president who runs for a second term, not a third term, Dr. Kozulin said, adding that Article 77 still remains in force and Mr. Lukashenko should take a leave of absence for the campaign period.

He also noted that the election authorities had rejected his proposal to use transparent plastic ballot boxes, which he said is evidence of plans to rig the vote.

Dr. Kozulin showed a front-paged headline, "We are to Choose!" above a photograph of Mr. Lukashenko together with Lidiya Yermoshina, head of the central election commission, in the largest government-controlled newspaper, Sovetskaya Belorussiya. "This means that they will choose, not you, citizens," he commented, alleging that the authorities had already decided what percentage of the vote should be announced as votes for the incumbent. He showed an article on another page of the same newspaper that featured "76 percent" as a survey`s finding with regard to Mr. Lukashenko`s popularity. "These are myths. It`s time to tear these myths and throw them to the dump of history," he said and ripped the paper across and threw the halves away.

According to him, no more than 20 percent of the voters in Minsk are ready to vote for the incumbent.

"If a civil servant plays ice hockey for pleasure during working hours and public money is paid for this, this servant should be dismissed," he said. Since the president is just a civil servant hired by the people of Belarus, "I propose that the employment contract with Lukashenko should not be prolonged," he said.

In reply to Belarusian Television`s recent allegation that he is divorced but lies that he is married, Dr. Kozulin said that his wife, Irina, was with him in the studio, but the channel had refused to show her. He said that they have been together for 28 years. In this regard, he alleged that the nation has never seen the first lady, Galina Lukashenko, together with her official husband over the entire 12 years of his stay in office, and that the incumbent lives with another woman, whose mother is former Health Minister Lyudmila Postoyalko, and has a son with her.

Dr. Kozulin also displayed Oleg Alkayev`s book The Death Squad, in which the former chief of a death raw prison who was granted political asylum in Germany in 2001, insists that he issued the pistol used for executions in the prison to Dmitry Pavlichenko, commander of an elite police unit who was arrested in November 2000 on suspicion of being involved in killings was released the following day by order of President Lukashenko and Viktor Sheiman, then secretary of the Belarusian Security Council.

In June 2001, former investigators accused the authorities of sponsoring a death squad to eliminate political opponents, and the squad, allegedly led by Colonel Pavlichenko, was said to have killed their victims with that pistol.

Dr. Kozulin demanded in this regard that the Prosecutor General`s Office should institute criminal proceedings against Mr. Lukashenko or against Mr. Alkayev for slander.

"The time of Lukashenko is over. He has no future. All who follow him remain in the past. His strength is based on lies, fear, threats and bayonets. But strength is in truth and moral courage. And I will have enough courage to tell you the truth," Dr. Kozulin concluded.

Presidential contender Aleksandr Kozulin voiced strong criticism of incumbent Belarusian leader Aleksandr Lukashenko`s personnel policy, pulling no punches in his address to theoters broadcast by the First National Channel (Belarusian Television) on Wednesday.

"Our ministers and government officials are changing as the weather. Only one man has been staying in his post for 12 years now. During the 12 years, there is no unity in the team. During the 12 years, personnel issues are decided spontaneously and in an unsystematic manner. Best professionals drop their jobs and leave the country. There is no more players left on the bench," said a former rector of Belarusian State University.

"The executives of all levels are afraid to show an initiative, they are afraid of their own shadows. They work to meet targets handed down from above. An executive should have the right to a mistake, only in this case, he will use his own initiative and be creative. Meanwhile, our main principle is that we would better not do anything in order not to get into prison; we will praise Lukashenko and mind our purses. Normal executives are simply tired of offenses at government conferences."

The politician stressed that Mr. Lukashenko does not need wealthy people and companies. "Lukashenko needs hungry and humble people begging alms and thanking him for what they have," he said.

Dr. Kozulin was also critical of the opposition, which he said had been producing nothing but defeat after defeat in the last 15 years.

"We need a team of like-minded people, a team of professionals in power. A right decision can be reached only in dialogue as a result of a debate. I think you are also fed up with these ill-considered decisions like me. First they renamed avenues, then they tore posters off billboards when the ruler did not like an oversee girl whom our girl, which cannot travel abroad, will never match.... Meanwhile, our money, which the authorities collect from us in extortionate taxes, is spent on all these things," he said.

OSCE observers biased in runup to Belarus election - ministry

Ria/Novosti

The OSCE has already found fault with the Belarusian system

Observers from the human rights office of the world's largest regional security organization display bias ahead of a March 19 presidential election in Belarus, a spokesman for the Russian foreign ministry said Wednesday.

Mikhail Kamynin said observers from the Office for Democratic Institutions and Human Rights of the Organization for Security and Cooperation in Europe (OSCE) had no transparent and comprehensible regulations to follow during the election.

"As we already learned in the past, such a way of doing things gives grounds for biased conclusions," Kamynin said.

The diplomat said the OSCE observers had concluded that Belarus had no conditions for free and fair voting long before election day.

Russian officials have repeatedly criticized the OSCE's approach to monitoring elections in former Soviet states, particularly after mass protests against election fraud swept new pro-Western leaders into power in Ukraine and Georgia. The international observers themselves deny any involvement in the regime change.

Last month, Russian Foreign Minister Sergei Lavrov met with the OSCE Chairman-in-Office, Belgian Foreign Minister Karel De Gucht, to discuss cooperation. Lavrov called on the member nations to work together on contentious issues, specifically ones related to monitoring of national elections.

"We will have to find a compromise on difficult issues, including the activities of the OSCE Office for Democratic Institutions and Human Rights, particularly election monitoring," the minister said.

De Gucht said the issue of reforming the OSCE, whose 55 member countries span from Canada to Russia, should be resolved by the end of 2006.

Belarus: Opposition, International Politicians Meet In Prague

RFE/RL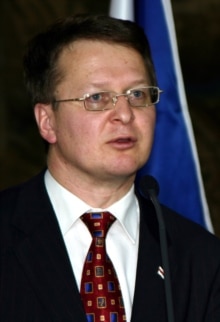 Vincuk Viacorka, leader of the Belarusian Popular Front Party

European politicians have gathered in Prague to demonstrate their support for members of the Belarusian opposition with less than a month to go before the presidential election on 19 March. The meeting comes at a time of rising tensions: A 'preemptive' security sweep in Belarus, ordered by President Lukashenka, has seen democracy activists arrested and opposition members' homes raided; and the meeting's host, the Czech Republic, has been accused of using its embassy in Minsk to spread antigovernmental and subversive material.

EU politicians have once again expressed their support for Belarus's struggling democratic opposition, at a conference in Prague organized by the Parliamentary Assembly of the Council of Europe (PACE).

The conference comes at a time when relations between the Czech Republic and Belarus are showing very visible signs of strain.

The host of conference, Czech Foreign Minister Cyril Svoboda, said Belarusian officials had not replied to an invitation.

However, Svoboda said he believed that Minsk's anger at Czech support for the pro-democracy movement -- including its decision to host the conference -- was clearly apparent in current attacks by the Belarusian media.

"What is happening now in my country is absolutely incompatible with European values. We need strong solidarity messages from our European neighbors and brothers." "There is a very strong campaign against the Czech Republic taking place in Minsk," Svoboda said. "On regular Sunday [TV] programs and in press releases, these attacks are taking place against the Czech Republic. Our diplomats are being blamed for interfering in the internal affairs of the country."

The Belarusian regime has accused the Czech embassy in Minsk of subversive activities and spreading antigovernment material in the country.

Svoboda said the alleged propaganda material was in fact a UN resolution on human rights in Belarus.

An End To Isolation

The president of the Parliamentary Assembly, Rene Van der Linden, called on Europe to become more involved in helping the Belarusian opposition parties and NGOs.

"For me, it is clear that a policy of isolation doesn't work," he said, calling it a "dead path."

Instead, he argued, "we have to work together with all international organizations, like the Organization for Security and Cooperation in Europe (OSCE ), on a new strategy of how to support civil society, citizens, and democratic forces" in Belarus.

Der Linden's comments came on a day when the European Commission announced that a new EU-financed TV and radio broadcasting program for Belarus would go live on 26 February. The radio broadcasts are due to start from Lithuania and Poland, two countries that border Belarus.

This is part of a wider program to support development of the Internet, as well as to help train Belarusian journalists.

The signs of solidarity and the recognition of Belarus as a European nation that belongs to "the European cultural space" were welcomed by Vincuk Viacorka, the chairman of the Belarusian Popular Front Party. "What is happening now in my country is absolutely incompatible with European values," he said. "We need strong solidarity messages from our European neighbors and brothers."

The Belarusian Popular Front Party has thrown its support behind the opposition candidate Alyaksandr Milinkevich in upcoming presidential elections to be held on 19 March.

President Alyaksandr Lukashenka is expected to win a third term in office.

The election campaign has been heavily criticized by EU officials, who have already dismissed the possibility of a fair election.

Linden expressed the hope that the elections would at least provide some encouragement for Belarusians who want change.


Iran/Iraq

Head of Russian atomic agency in Tehran for nuclear talks

upi

Sergei Kiriyenko

The head of Russia's atomic energy agency launched an attempt Thursday to win acceptance of a Russian offer to conduct Iran's uranium enrichment, a compromise proposal aimed at resolving the nuclear standoff with the West.

Sergei Kiriyenko arrived in Tehran on Thursday ahead of talks with Iranian officials on the proposal, seen as the last chance for averting an escalation in the nuclear issue.

Under the offer, Russia a top ally of Iran would carry out uranium enrichment on its soil for Iran to ensure that no material is diverted for a weapons program. Iran which says its nuclear program is peaceful has insisted it has the right to carry out its own enrichment, but says it is considering the deal.

"We are ready to compromise," Iran's Foreign Minister Manouchehr Mottaki told reporters during a brief visit to Indonesia, part of an Asian tour that will take him to Thailand on Friday.

"We believe that we should move from here to compromise, not go back."

Mottaki said four issues in the Russian proposal remain unresolved, among them which countries and companies would be involved, timing and place must be resolved before his country agrees to the proposal.

The new round of diplomacy came ahead of a March 5 meeting of the U.N. nuclear watchdog agency, which could start a process leading to punishment of Iran before the U.N. Security Council.

China another ally of Iran was preparing to send an envoy, Vice Foreign Minister Li Guozheng, to Tehran on Friday in a last ditch effort to broker a deal before the International Atomic Energy Agency meets.

After negotiations in Moscow earlier this week, Russian President Vladimir Putin said Wednesday that he has not lost hope. "The talks are not going easily but we are counting on reaching a positive result," he said.

"Certainly, our delegation will continue its work to try to find a diplomatic and political way out of the current situation," Russian Foreign Minister Sergey Lavrov told reporters ahead of the visit to Tehran by Kiriyenko, a former prime minister.

Kiriyenko held out the possibility of economic rewards if Iran solves the crisis.

"If the issue is resolved successfully, then we shall be able to advance cooperation in aircraft building, transport and some other industries where there exists a vast potential," he was quoted as saying by the ITAR-Tass news agency.

Kiriyenko's first meeting with the Iranian side was scheduled for Saturday afternoon, his spokesman, Sergei Novikov, said. Kiriyenko is scheduled to visit the Bushehr nuclear power plant, which Russia has been building and which is due to go online next year.

The confrontation escalated earlier this month, when the IAEA board of governors, including Russia, reported Iran to the Security Council and called on its government to suspend all enrichment-related activities.

European negotiators have been trying to prevent Iran from developing an enrichment program. Enrichment can produce either fuel for a nuclear reactor as Iran says it intends or the material needed for a nuclear weapon, reports AP.

Belarus Paper Reprints Muhammad Cartoons

ap


The cartoons:(Click)

MINSK, Belarus — A small independent newspaper in Belarus has reprinted the cartoons of Prophet Muhammad that set off violent riots across the Muslim world, an editor said Wednesday. The government condemned the publication and said it was not in line with its policy.

The European Union's representative to Sudan said the controversy over the prophet drawings sparked attacks on foreign aid workers in the troubled Darfur region.

Former President Clinton, who is visiting Australia, said the furor over the cartoons has been a squandered opportunity for dialogue between the West and the Muslim world.

And Italy's foreign minister said the death toll from prophet drawings protests in Libya last week was 14, three more than previously reported. That would bring to at least 48 the total number of people killed in protests in the Middle East, Asia and Africa over the past month.

The 12 drawings were first published in a Danish newspaper in September and were reprinted earlier this year in some European publications. The papers had asserted it was an issue of freedom of the press. But many Muslims were deeply offended by the cartoons, one of which depicted the prophet wearing a turban shaped like a bomb with a lit fuse

Islam widely holds that representations of Muhammad are banned for fear they could lead to idolatry.

In Belarus, the weekly Zgoda on Saturday reprinted some of the 12 drawings, Alexander Sdvizhkov, the paper's deputy chief editor, said.

"We did the right thing by speaking out against Islamic hysteria," Sdvizhkov told The Associated Press on Wednesday.

The Foreign Ministry said the "publication is of a clearly provocative character ... and completely contradicts the policy of Belarusian officials." The statement was published on its Web site.

"The Foreign Ministry decisively condemns any intentional actions which can result in the inciting of religious hatred, and the spread of hostility and mistrust between ethnic and religious communities living in Belarus," it said.

Zgoda, one of the few remaining independent newspapers under the authoritarian Belarusian regime, has been banned from the state-run distribution network and is mailing copies directly to subscribers. Sdvizhkov dismissed the government response to the cartoons as "inappropriate."

Predominantly Orthodox Christian Belarus has a tiny Muslim minority.

In neighboring Russia, a regional newspaper which ran the cartoons has closed down to avoid controversy. Another publication that also published a drawing depicting Muhammad has been ordered to close.

Golden Dome of Shiite Shrine Destroyed

By ZIAD KHALAF, Associated Press Writer

Iraqis inspect what appears to be the shield and turban of 9th century Shiite Imam

SAMARRA, Iraq - A large explosion Wednesday heavily damaged the golden dome of one of Iraq's most famous Shiite religious shrines, sending protesters pouring into the streets. It was the third major attack against Shiite targets in as many days.

Police believed some people may be buried under the debris after the 6:55 a.m. explosion at the Askariya mosque but there were no confirmed figures. The shrine contains the tombs of two revered Shiite imams, both descendants of the Prophet Muhammad.

Tradition says the shrine, which draws Shiite pilgrims from throughout the Islamic world, is near the place where the last of the 12 Shiite imams, Mohammed al-Mahdi, disappeared. Al-Mahdi, known as the "hidden imam," was the son and grandson of the two imams buried in the Askariya shrine.

Shiites believe he is still alive and will return to restore justice to humanity. An attack at such an important religious shrine would constitute a grave assault on Shiite Islam at a time of rising sectarian tensions in Iraq.

A police officer who declined to give his name because he is not authorized to speak to media said armed men, with at least one wearing a uniform, broke inside the shrine before sunrise and seized the five policemen responsible for guarding the site.

The gunmen planted explosives and fled the area, the officer said.

Following the blast, U.S. and Iraqi forces surrounded the shrine and began searching houses in the area. The Sunni Endowments, a government organization that cares for Sunni mosques and shrines, also condemned the blast and said it was sending a delegation to Samarra to investigate what happened.

Thousands of demonstrators gathered near the shrine, waving Iraqi flags, Shiite religious banners and copies of the Muslim holy book, Quran. Shiite leaders in Baghdad's Sadr City neighborhood called for demonstrations against the blast.

"This criminal act aims at igniting civil strife," said Mahmoud al-Samarie, 28-year-old builder who was among the crowd in this city 60 miles north of Baghdad. "We demand an investigation so that the criminals who did this be punished. If the government fails to do so, then we will take arm and chase the people behind this attack."

Religious leaders at other mosques and shrines throughout the city denounced the attack in statements read over loudspeakers from minarets.

The shrine contains the tombs of the 10th and 11th imams, Ali al-Hadi who died in 868 A.D. and his son Hassan al-Askari who died in 874 A.D and was the father of the hidden imam.

The golden dome was completed in 1905.

Shrine Attack Brings Reprisals and Fear

By ZIAD KHALAF, Associated Press Writer

Iraqis walk past the damaged shrine following an explosion in Samarra

SAMARRA, Iraq - A large explosion Wednesday heavily damaged the golden dome of one of Iraq's most famous Shiite shrines, sending protesters into the streets and triggering reprisal attacks against Sunni mosques. It was the third major attack against Shiite targets in as many days.

Shiite leaders called for calm, but militants attacked Sunni mosques and a gunfight broke out between Shiite militiamen and guards at a Sunni political party in Basra. Army Capt. Jassim al-Wahash said about 500 soldiers were sent to Sunni neighborhoods in Baghdad to prevent clashes between Shiites and Sunnis.

A leading Sunni politician, Tariq al-Hashimi, told reporters 29 Sunni mosques had been attacked nationwide. He urged clerics and politicians to calm the situation "before it spins out of control."

No group claimed responsibility for the early morning attack on the Askariya shrine in this city 60 miles north of Baghdad. But suspicion fell on Sunni extremist groups such as al-Qaida in Iraq of Abu Musab al-Zarqawi.

The Interior Ministry said four men, one wearing military uniform and three in black, entered the mosque early Wednesday and detonated two bombs, one of which collapsed the dome and damaged part of the northern wall of the shrine.

A government statement said "several suspects" had been detained and some of them "might have had been involved in carrying out the crime."

Police believed some people might be buried under the debris after the 6:55 a.m. explosion but by late afternoon no casualties had been found. The shrine contains the tombs of two revered Shiite imams, both descendants of the Prophet Muhammad, and is among Iraq's most sacred sites for Shiite Muslims.

The attack on such a major religious shrine threatened to enflame sectarian passions at a time when talks among Shiites, Sunnis and Kurds on a new government have bogged down.

Major Sunni groups also joined in the condemning th attack. The Sunni clerical Muslim Scholars called the bombing a "criminal act," and a Sunni political alliance blamed "evil people" for trying to divide Iraq.

In Baghdad, National Security Adviser Mouwafak al-Rubaie pointed to religious zealots such as al-Qaida terror network and Ansar al-Sunnah, telling Al Arabiya television that the attack was an attempt "to pull Iraq toward civil war."

The country's most revered Shiite cleric, Grand Ayatollah Ali al-Sistani, sent instructions to his followers forbidding attacks on Sunni mosques, especially the major ones in Baghdad. He called seven days of mourning, his aides said.

U.S. and Iraqi forces sealed off all streets leading to the main Sunni mosque in Baghdad, Abu Hanifa, in the mostly Sunni Azamiyah neighborhood.

The Sunni Endowment, a government organization that cares for Sunni mosques and shrines, condemned the blast and said it was sending a delegation to Samarra to investigate what happened.

Shiite leaders in surrounding countries, including Iran's most influential cleric body, the Qom Shiite Seminary, were also quick to respond.

"Ayatollahs in Qom have condemned the explosion and announced one day of public mourning," Hashem Hosseini, head of the seminary, told the state-run television.

Following the blast, U.S. and Iraqi forces surrounded the shrine and began searching houses in the area. Five police officers responsible for protecting the mosque were taken into custody, said Col. Bashar Abdullah, chief of police commandoes in Samarra.

Large protests erupted in Shiite parts of Baghdad and in cities throughout the Shiite heartland to the south. In Basra, Shiite militants traded rifle and rocket-propelled grenade fire with guards at the office of the Sunni-led Iraqi Islamic Party. Smoke billowed from the building.

Merchants in the holy city of Najaf closed their shops, and about 1,000 people marched through the streets waving Iraqi flags and shouting religious slogans.

In Baghdad's Sadr City, thousands of Shiites, some brandishing Kalashnikov rifles, marched through the streets shouting anti-American slogans.

All mosques in the Shiite city of Diwaniyah, 80 miles south of Baghdad began broadcasting "Allahu akbar," or "God is Great" from loudspeakers and urged people to turn out in the streets. All markets, shops and stores closed, police Maj. Muhammad Ali said.

About 3,000 people marched the Shiite city of Kut, chanting anti-American and anti-Israeli slogans and burning U.S. and Israeli flags. Crowds hurled stones at two Sunni mosques in Basra.

In the capital, the biggest attack against a Sunni mosque occurred in the Baladiyat area of eastern Baghdad, where about 40 Shiite militiamen sprayed the building with automatic fire. One street vendor was killed in another mosque attack.

Radical Iraqi Shiite cleric Muqtada al-Sadr cut short a visit to Lebanon and left by road for Syria, where he was expected to travel back to Iraq, Lebanese officials said.

In Samarra, thousands of demonstrators gathered near the shrine, waving Iraqi flags, Shiite religious banners and copies of the Muslim holy book, Quran.

"This criminal act aims at igniting civil strife," said Mahmoud al-Samarie, a 28-year-old builder who was among the crowd. "We demand an investigation so that the criminals who did this be punished. If the government fails to do so, then we will take arm and chase the people behind this attack."

Religious leaders at other mosques and shrines throughout the city denounced the attack in statements read over loudspeakers from minarets.

President Jalal Talabani condemned the attack and called for restraint, saying the attack was designed to sabotage talks on a government of national unity following the Dec. 15 parliamentary election.

Talabani urged religious and political leaders to speak out strongly against the attack.

Prime Minister Ibrahim al-Jaafari urged all Iraqis to condemn the attack and urged both Muslim and Christian leaders abroad "to redouble their efforts to help the Iraqi government stop these saboteurs."

The shrine attack followed a devastating car bomb late Tuesday in a Shiite corner of Baghdad, killing 22 people, according to police. The day before, 12 died in a suicide attack on a bus in the capital's heavily Shiite district of Kazimiyah.

Sunni Arabs have also accused the Shiite-led Interior Ministry of targeting Sunni civilians under the pretext of fighting the mostly Sunni insurgents. Extremists from both communities have staged tit-for-tat kidnappings and assassinations.

Tradition says the Askariya shrine, which draws Shiite pilgrims from throughout the Islamic world, is near the place where the last of the 12 Shiite imams, Mohammed al-Mahdi, disappeared. Al-Mahdi, known as the "hidden imam," was the son and grandson of the two imams buried in the Askariya shrine.

Shiites believe he is still alive and will return to restore justice to humanity. An attack at such an important religious shrine would constitute a grave assault on Shiite Islam at a time of rising sectarian tensions in Iraq. The shrine contains the tombs of the 10th and 11th imams, Ali al-Hadi who died in 868 A.D. and his son Hassan al-Askari who died in 874 A.D and was the father of the hidden imam.

Samarra has been among the most difficult cities to pacify in the Sunni heartland. In 2004, the city fell under the control of extremists, and al-Qaida flags could be seen flying over some buildings in the city. U.S. forces regained control but the city remains tense.

Last April, an explosion blew away part of a wall on top of another Samarra landmark, the spiral minaret from a 9th-century mosque. Witnesses said two men climbed the 170 foot tall minaret, then returned to the ground before the blast scattered rubble on the stairs that spiral up the outside of the structure.

Iranian Students Plot Anti-U.S. Suicide Attacks

abc news

The Iranian group Esteshadion, or Martyrdom Seekers, claims to have trained 1,000 members as suicide bombers in order defend Iran.


A group of potential suicide bombers in Tehran warned the United States and Britain it will attack coalition military bases in Iraq if there is a strike against Iran's nuclear facilities.

An Iranian group calling itself Esteshadion, which translates as "Martyrdom Seekers," hopes to sign up thousands of potential bombers.

Suicide Bombing 101

As they gather in Tehran at Khajeh Nasir University, these students aren't studying the subtleties of history or science, they're learning about suicide bombings.

The students study videos showing suicide attacks around the Middle East and listen to lectures from a former Revolutionary Guard member who praises the use of suicide bombers.

"Their possible attacks to [nuclear facilities of Iran] will not certainly be a ground attack — that would be, a missile attack — but they should know that they have interests in some sensitive areas which can be targeted by our suicide attackers," said Muhammad Ali Samadi, one of the movement's leaders, speaking in Farsi.

Samadi claims to have trained 1,000 students already.

At the meeting over the weekend, more than 200 people gathered and 50 signed up.

"For example, if some day it's necessary to attend such operations, I will definitely do that," said university student Ahmed Salehi. "I will attack the one who have attacked us."

But another student said he had no interest in signing up, he just wanted to hear what the group had to say.

Esteshadion was formed in late 2004, calling for members on a sporadic basis at Friday prayer ceremonies, state-sponsored rallies and at the group's occasional meetings.

Iran says it will provide financial assistance to PA

Jeruselem Post

Exiled Hamas leader Khaled Mashaal meets Iranian President Mahmoud Ahmadinejad in Teheran

Iran offered Wednesday to help finance a Palestinian Authority run by Hamas, state radio reported.

The secretary of Iran's Supreme National Security Council, Ali Larijani, announced the offer after a meeting with Khaled Mashaal, exiled leader of the Hamas, in Tehran, the radio said.

Larijani said the decision was taken after the United States said it would not provide aid to an authority governed by Hamas until the group renounced violence, recognized Israel and agreed to abide by existing agreements between Israel and the Palestinians.

"The United States proved that it would not support democracy after it cut its aid to the Palestinian government after Hamas won the elections. We will certainly help the Palestinians," Larijani said, according to the radio.

Mashaal said Tuesday that Iran will have a "major role" in Palestinian affairs. But Hamas leaders in the territories told The Jerusalem Post that they were "not rushing" to embrace that role.

"The ayatollah's regime will have a major role in Palestine," Mashaal said during a meeting in Teheran with Iranian Foreign Minister Manouchehr Mottaki. "We trust Iran to help us deal with the challenges facing us today."

Mashaal is visiting Iran as part of a tour of Arab and Muslim countries aimed at gaining political and financial support for the soon-to-be Hamas-led government. The Palestinian Authority faces a serious financial crunch and possible collapse following the landslide Hamas victory in the recent Palestinian legislative elections.

The US, EU and Canada have threatened to stop all assistance to the Palestinian Authority once Hamas takes control.

Iran sees no link between Russian offer, moratorium - official

Rai Novosti

Arial shot of an Iranian bomb building/nuclear power plant

Tehran sees no links between Russia's uranium enrichment proposals and its nuclear research moratorium, which it unilaterally lifted in January, a senior Iranian official said Tuesday. "We see no technical links between these two issues," Ali Hosseini-Tash, the deputy head of Iran's Supreme National Security Council, told Russia Today TV.

He said both issues had been discussed during the February 20-21 nuclear talks in Moscow.

Speaking about the pressure on Iran from the West, the official said this had more to do with the moratorium.

Ali Hosseini-Tash said the Russian side had supported Iran's right for the peaceful use of nuclear power, adding that the talks would soon be resumed.

Russian Foreign Minister Sergei Lavrov said Monday that he hoped the results of the talks would make it possible to keep the situation within the remit of the International Atomic Energy Agency.

He said Iran should resume its moratorium on uranium enrichment and continue talks with all sides to reach mutually acceptable agreements.

Lavrov said the upcoming IAEA session on March 6 in Vienna would take into account Iran's progress on meeting the organization's requirements and issues related to the country's nuclear-related activities.

"Russia believes that the [IAEA] report will reflect Iran's performance in meeting IAEA requirements, and [Iran's] progress on the issues related to its past nuclear activities that have not been cleared up yet," Lavrov said.

Russia and Iran are discussing the Russian initiative to set up a joint uranium enrichment venture in Russia, with the possible participation of other countries, in particular China. The position adopted by the Iranian delegation will determine the future of Iran's "nuclear file".

The trio of European nations involved in talks with Tehran (France, the United Kingdom and Germany), along with the board of governors of the UN's nuclear watchdog, and the U.S., want to refer the file to the UN Security Council. The body has the power to impose sanctions, if Tehran is found to be in breach of its international commitments.

The mooted deal with Russia on uranium enrichment is seen as a potential compromise in the crisis around the nuclear programs of the Islamic Republic, which some countries suspect of pursuing a covert weapons program. Although Tehran has consistently said it only wants nuclear power for peaceful purposes, the United States and other nations have concerns, as enriched uranium is a vital component for an atomic bomb.

An emergency session of the IAEA board in early February showed that its approach to Iran's position on uranium enrichment and a full nuclear cycle had become noticeably tougher. The board approved a resolution binding IAEA Director General Mohamed ElBaradei to inform the UN Security Council about Iran's nuclear program and position on cooperation, and about the IAEA's actions on the issue.


Media

Poland backs Belarus broadcasts

BBC

Lech Kaczynski

Poland has given backing to a radio station set up to broadcast to eastern neighbour Belarus in a bid to promote democracy and freedom of speech there.

The Polish government is funding the project just weeks before forthcoming presidential elections in Belarus.

Belarus President Alexander Lukashenko has been in power for more than a decade. Opposition activists say he has become increasingly authoritarian.

Belarus's ambassador in Warsaw says Poland is violating international law.

He predicts the radio station will have relatively few listeners.

Radio Racja, which translates roughly as Radio Right, will begin its first broadcasts on crackly medium wave on Wednesday evening.

Solidarity links

It is based in the north-eastern city of Bialystok, about one hour away from the Belarusian border.

Its small team of Belarusian and Polish organisers say it will transmit music and uncensored information into the central and eastern parts of Belarus.

They say it will give the country's opposition a chance to be heard, ahead of the presidential elections next month.

Radio Racja stopped broadcasting four years ago due to a lack of money. The Polish government is funding its relaunch.

The station has its roots in the Solidarity movement which overthrew communism in Poland, so it is no stranger to state censorship.


Belarus issues regulations for government websites


DM Europe
The Council of Ministers of the Repubbic of Belarus adopted official regulations on internet sites of national governmental bodies. The regulations provide general requirements for the websites and describe government officials' responsibilities concerning their functioning.

According to the regulations, all government body sites should include basic information about the body such as how it is structured and a biography of the head of the department. Central governing bodies should include information about its activites, including legislative and other official acts.

The sites should also provide practical information such as a schedule of activities, prices for government services and addresses and phone numbers of government officials. They sould also include a list of documents citizens should submit to get certificates, notes, references or other information, as well as a description of the terms of application procedures for such documents.


Sport

Belarusian "snow leopards" ready to climb Europe's highest peak

Belta

Elbrus

A group of Belarusian mountaineers will climb the highest peak in Europe – former volcano Elbrus. The team will leave for Kabardino-Balkaria on February 27, chairperson of the Belarusian mountaineering association Alexander Godlevskiy told the press today.

For several days a group of ten mountaineers will perform test expeditions on Caucasian glaciers and rocks located as high as 3500-4800 metres above the sea level. Climbing Elbrus is scheduled for March 8. If everything goes well, our compatriots will place a state flag of Belarus, a flag of Minsk, and symbols of the national Olympic committee (NOC) at the top of the mountain. NOC executive director Andrei Kokashinskiy handed the Olympic flag and a sign "Olympic Quality" to the conquerors of mountain peaks.

According to Alexander Godlevskiy, today there around one thousand people going in for mountaineering in Belarus. Belarusian sportsmen climbed 5 out of 14 8000m peaks. In 1998 Viktor Kulbachenko was the first Belarusian to climb the roof of the world – Mount Everest (8848 metres) in 1998. Besides, 14 our compatriots have been awarded with the most prestigious mountaineering title "snow leopard". Several of them will join the expedition to climb the highest peak of Europe.
6

AZERBAIJANI SAMBOISTS TO ATTEND INT'L TOURNAMENT DUE IN BELARUS

azertac.com(AZERBAIJAN)

Sambo is a tough guy sport

Belarus capital Minsk will host the international sambo tournament from February 24-28.

Led by coach Natiq Ahmadov, Azerbaijani team will comprise Mobil Huseynov (68kg), Nahid Nuriyev (74kg), Elmaddin Ahmadov and Nadir Mammadli (both 82kg).

According to Mubariz Ibrahimov, the national team's senior coach, the main goal of participation in this event is to prepare for the international tournament in memory of Anatoliy Kharlampiyev - one of the sambo founders - due in Russian capital, Moscow, from 17-21 March.


Olympics

Complete Belarus results through February 24


World Champion Dmitri Dashinski took the Silver Medal in Torino

Aidarov, Alexei Biathlon
Alternate, did not race

Ananko, Ludmilla Biathlon
(42nd place Women's 7.5 km Sprint, DNF Women's 10 km Pursuit, Women's 4x6 km Relay 4th place Nazarova / Ivanova / Ananko / Zubrilova BLR 1h19:19.6(0+8)

*Anisimov, Maksim Ski Jumping
(33rd place Men's NH Individual,Men's LH Individual Qualification Round 36th)

Chaadaev, Petr Ski Jumping
(45th place Men's NH Individual Qualification Round-DNQ, Men's LH Individual DQ)

Dashinski, Dmitri Freestyle Skiing
Took the silver medal in the Men's Aerials

Davydov, Sergei Figure Skating
(14th place Men Short Program, 15th place Men's Free Skating)

Dolidovich, Sergei Cross Country
(disqualified for five days for high hemoglobin count//Feb 26 Men's 50 km Free)

Dratchev, Vladimir Biathlon
(43rd place Men's 20 km Individual, 63rd place Individual 10 Km)

Elsakova, Julia Short Track
(20th place Women's 500; women's 1500 5th place in heat 2, 22nd overall// Currently in 3rd place in the women's 1000. Finals to be held on Feb 25 )

Grishin, Alexei Freestyle Skiing
(finished in fouth place)

Ivanova, Ekaterina Biathlon
(44th place Women's 15 km Individual, 37th place Women's 7.5 km Sprint, women's 10km pursuit 29th place, Women's 4x6 km Relay 4th place Nazarova / Ivanova / Ananko / Zubrilova BLR 1h19:19.6(0+8)

Korolik Shablouskaya, Ludmila Cross Country
(44th place Women's 15 km Pursuit (7.5+7.5), 30th place Women's 10 km Classical, Women's 4x5 km Relay 15th place//Feb 24 Women's 30 km Free, Mass start)

Kotyuga, Anzhelika Speedskating
(Women's 1000 m DNQ)

Kushnir, Anton Freestyle Skiing
(Men's Aerials finished in 8th place overall)

Lasutkin, Alexander Cross Country
(Disqualified from team sprint because of Dolidovich, Men's 15 km Classical 16th place// feb 26 Men's 50 km Free, Mass start

Lopatina, Viktoria Cross Country
(Qualified for women's sprint finals 16th place, Feb 24 Women's 30 km Free, Mass start)

Mikhailov, Vitaly Speedskating
(Men's 1000 m DNQ// DNQ Men's 1500 m)

Nazarova, Olga Biathlon
(7th place Women's 15 km Individual, 8th place Women's 7.5 km Sprint, Women's 10 km Pursuit 7th place, Women's 4x6 km Relay 4th place Nazarova / Ivanova / Ananko / Zubrilova BLR 1h19:19.6(0+8)

Novikov, Sergei Biathlon
(24th place Men's 20 km Individual, 32nd place Individual 10 Km// Men's 12.5 km Pursuit 32nd place, Men's 4x7.5 km 11th place Ryzhenkov / Syman / Novikov / Valiullin BLR 1h25:04.1(1+15)

Radkevich, Svetlana Speedskating
(27th place Women's 500 m (29th and 26th place),Women's 1000 m 33rd place 1:20:11)

Rak, Dmitri Freestyle Skiing
( Men's Aerials 24th place in qualifying)

Rudakova Bulauka, Ekaterina Cross Country
(49th place Women's 15 km Pursuit (7.5+7.5), Feb 18 Women's 4x5 km Relay 15th place// Feb 22 Women's Sprint, Feb 24 Women's 30 km Free, Mass start)

Ryzhenkov, Oleg Biathlon
(30th Men's 10 km Sprint 28:15.9, Men's 12.5 km Pursuit 29th place, Men's 4x7.5 km Relay: 11th place Ryzhenkov / Syman / Novikov / Valiullin BLR 1h25:04.1(1+15)

Sannikova, Alena Cross Country
(43rd Women's 15 km Pursuit (7.5+7.5), 29th Women's 10 km Classical, Women's 4x5 km Relay 15th place)

Slivets, Oly Freestyle Skiing
(finished in 5th place)

Slivets, Timofei Freestyle Skiing
(Did not race)

Syman, Alexandre Biathlon
(72nd place Men's 20 km Individual, 11th place Ryzhenkov / Syman / Novikov / Valiullin BLR 1h25:04.1(1+15)

Tsuper, Alla Freestyle Skiing
(finished in 10th place)

Valiullin, Rustam Biathlon
(46th place Men's 20 km Individual, 25th place Individual 10 Km, Men's 12.5 km Pursuit 28th place, Men's 4x7.5 km 11th place Ryzhenkov / Syman / Novikov / Valiullin BLR 1h25:04.1(1+15)

Vasiljonok, Olga Cross Country
(51st place Women's 15 km Pursuit (7.5+7.5), Women's 4x5 km Relay 15th place, finsihed in 25th place in the women's sprint final, Feb 24 Women's 30 km Free, Mass start)

Zikounkova, Ksenia Biathlon
(76th place Women's 15 km Individual//Feb 23 Women's 4x6 km Relay )

Zubrilova, Olena Biathlon
(14th place Women's 15 km Individual, 5th place Women's 7.5 km Sprint, Women's 10 km Pursuit 25th place, Women's 4x6 km Relay 4th place Nazarova / Ivanova / Ananko / Zubrilova BLR 1h19:19.6(0+8)