Elections special: Demonstrations, Shootings, acusations and Arrests. Also KGB acused of shooting Pope, Mid-east scandals
Elections special!!

From the top

We Have Built a Sovereign State

From the office of the president

The meeting of the All-People's congress in Minsk
The main motto for the next five-year period is "the state for the people, for the man." We have built a sovereign state and now we will have to make it as comfortable as possible for the people to live in, " stated President of the Republic of Belarus Alexander Lukashenko in his address at the third All-Belarus People's Assembly on March 2. The two-day forum is being held in the Palace of the Republic in Minsk.
The all-people's congress has two main items on the agenda: summarizing the results of the implementation of the Programme of socio-economic development of the Republic of Belarus for 2001-2005 and discussing the draft socio-economic programme for the next five-year period.
In his address at the forum, the President expounded on Belarus' development prospects for the next five-year planning period and outlined the priority objectives whose implementation would furnish a powerful impetus to socio-economic development of our republic and would considerably raise living standards of the people.
Alexander Lukashenko underscored that Belarus had worked out its own model of development based on well-balanced and thought-out reforms. This model shuns sweeping privatization and shock therapy and preserves everything what was best in our economy and in our traditions.
"The country's development policy line worked out by us has proved right. High rates of economic growth which our economy has been demonstrating for more than 10 years already provide a good evidence thereof," Alexander Lukashenko said. The annual GDP growth over the past five-year planning period was 7.5 percent in Belarus as against 3.5 percent of the world average.
The President pointed out that Belarus had fulfilled the major indicators of the Programme of socio-economic development of Belarus for 2001-2005. "The secret behind our success is in strong state power, strong social policy and reliance on the people," the Belarusian leader added.
The priority goal of the current five-year planning period is a sharp rise in living standards. We should be striving to achieve, in five years, a quality of life of our citizens comparable to the West-European standards, the President said.
If all goals of the program on socio-economic development of Belarus for 2006-2010 are met, the wage will make not less than USD 250 in Belarus and the average wage will reach USD 500, president of Belarus Alexander Lukashenko stated on March 3 at the Third All-Belarus People's Congress.
According to the head of state, many people do not understand the term "average wage", which makes USD 250 in the republic today. Some people think that everybody gets such money. The average wage is an averaged index, which is used to compare economic parameters of different years, the president explained. "For example, in the mid 1990s the average wage was USD 25 in the republic, today – USD 250. And we have chosen the right path. Even international organizations such as the IMF and the World Bank admit it", Alexander Lukashenko underlined.
Acceleration of innovations is going to be the main distinctive feature of the development of the production sector in the current five-year period. For one thing, Br 310 billion have been envisaged for the support of science during this year alone, nearly one-third more that it was targeted last year. By 2010, allocations to science will grow at least two-fold.
We should also reduce the inflation down to 5 per cent a year. This inflation would be unnoticeable for our citizens, president of Belarus Alexander Lukashenko stated at the All-Belarus People's Congress
As the president stated, most often people are concerned with the price growth. "They are concerned whether the inflation can even out an incerase in wages". According to the head of state, it is impossible, as the prices today have reached their absolute limit. Otherwise the Belarusian products would not sell.
Analogous products from abroad make their way onto the Belarusian market. We cannot close our market for them as it might spark reciprocal measures. Belarusian economy is open and export-oriented, therefore to close the market for imports would be illogical, the head of state stressed.
In the international scene, Belarus is a full-fledged and active member of the international community. What is more, it is one of few states which pursue a truly independent foreign policy, Alexander Lukashenko stated.
"Our foreign policy line is not decided in other capital cities, powerful as they might be, but is determined independently, proceeding from concrete national interests," the Head of State said.
Belarus' foreign policy is of exceptionally peace-loving nature. "Our republic is committed to security both in the region and in the world. We are doing everything to make relations between the main military and political organizations in Europe - CSTO and NATO – the relations of partnership and cooperation. An equal footing partnership though, not the one based on the master-and-servant principle, " Alexander Lukashenko remarked.
Elections

Lukashenka: "My dear, if I had banned him from appearing on television, you would not have known that he is a moron"

Piqued Lukashenko responds to Kozulin's attacks

Belpan

The president of Belarus, Alexander lukashenka

Minsk, 3 March. Aleksandr Lukashenko broke into a tirade against one of his rivals in the presidential race, Aleksandr Kozulin, in his closing speech at a campaign conference called the Third All-Belarusian People's Assembly.

Apparently deeply offended by Dr. Kozulin's remark that the Belarusians do not need a president who is unwelcome in European countries, Mr. Lukahsenko said, "Firstly, I visited all countries in Europe, when they admitted. Should I go there for the second time to show off? Maybe, I should. But what will this change? Leonid Kuchma was received in all countries of Europe, but what is the result?"

Lukashenko then accused opponents of cribbing his election manifesto.

"Let them do it. I have nothing to add. All people have understood that they cannot do more than we have done," the Belarusian leader said in his televised speech closing the All-Belarusian People's Assembly.

"I have listened to them [pre-recorded televised addresses], had enough patience to listen to the end. You know, 75-80 percent of the time [they were speaking] Lukashenko, Lukashenko, Lukashenko, Lukashenko, Lukashenko. What kind of a manifesto is it? They have been zombified by Lukashenko to such a degree that they do not know another name. Yesterday, one man was allegedly speaking about his manifesto [an apparent reference to candidate Aleksandr Kozulin]. I listened to attentively, then departed, and after an hour I thought what it left in my head.... He spat over the head of state but did not say what he was going to do."

While apparently referring to Thursday's incident involving Dr. Kozulin in which the latter was assaulted and detained while attempting to register as delegate to the government-organized congress, the head of state noted, "I know that he needs a scandal so that we would remove him from the election race, as he thinks that it would be better if a fearing government dropped him [from the race] than if he got one and a half percent [of the vote]."

"We cannot give him such a present," he added.

Mr. Lukashenko noted that two of his rivals are using the presidential race to struggle with each other for leadership in opposition forces, adding that "our people has not deserved to be treated like this by contenders, even by such bastards."

While commenting on televised addresses to voters by his rivals, the Belarusian leader said, "I'm often reproached: why do you allow them to say this on television? My dear, if I had banned him from appearing on television, you would not have known that he is a moron," he said in another jab at Dr. Kozulin.

"I don't want to say who is writing his speeches. We read his speeches before he does," Mr. Lukashenko said.

Mr. Lukashenka did however answer to comments made by Kozulin regarding his familial situation. The opreseident admitted that he does not live his wife. (BHTimes Note: This has never been a secret in Belarus) In his campaign speech broadcast by Belarusian Television on February 22, Dr. Kozulin alleged that the nation has never seen the first lady, Galina Lukashenko, together with her official husband over the entire 12 years of his stay in office, and that the incumbent lives with another woman, whose mother is former Health Minister Lyudmila Postoyalko, and has a son with her. "Those how wants a 'first lady' should elect them [opposition figures], they will bring the first lady and some others in addition," Mr. Lukashenko said to the applause. "I'm not an example to follow [with regard to family life], everybody knows this. Unlucky would be the woman, even the top model in the world, if she lived with the president of Belarus. Because I have not had anything but this country and this exhausting hard work."

"I'm not a family man, because I've devoted my life to this," he said. According to him, he keeps a tight hand on his sons. "Have you ever heard of a scandalous incident that would involve the president's children?" he asked in an injured voice. In his speech, Dr. Kozulin recalled rumors that Viktor, Mr. Lukashenko's elder son, had inflicted a gunshot wound on ice hockey player Mikhail Zakharov, who was later appointed as head coach of the national team.

Mr. Lukashenko also said that he had to lead a sequestered life, for which "even the opposition frequently reproached me," because of his status and because "there is terrible pressure and threats every day."

He dismissed as slander Dr. Kozulin's allegation that the future president had served as a prison warden.

He stressed that he has no bank accounts abroad. "All this is a lie and fib," he said, adding that his assistants had drawn up a report on his income for the US State Department. "Let him take [what was not stated] - I wrote so and sent that letter," he said.

He also denied that the authorities had earned billions of dollars on arms sales. He said that opposition leaders allege this "not because they know something or want to learn something personally," but because "their bosses abroad" suggest doing this. He insisted that 50 percent of the proceeds from arms sales had been used for the modernization of the army and the defense industry, and the rest had gone to Belarusian banks and afterward been spent on the construction of social facilities.

The preseident also acused "one of the candidates" of offering a deal.

"If you give five or six percent [of the vote] to Milinkevich and 32 percent and the post of prime minister to me, I will say after the election that Lukashenko has won," the Belarusian leader quoted his unnamed rival as allegedly saying. "I say, throw this bastard out of here so that there's no place for him inside Belarus," he said in an apparent reference to Aleksandr Kozulin, former rector of Belarusian State University and the de facto leader of the Belarusian Social Democratic Party "Hramada."

The camps of presidential contenders denied Friday's remarks. "There's nothing to comment," said Aleksandr Kozulin's campaign manager, Mecheslav Grib, whom the Belarusian leader on Friday described as a person three times as old as himself. "These remarks are pretty much the same that the one about me being 180 years of age. This is complete nonsense," he told BelaPAN.

"If it was not Sergei Vasilyevich Gaidukevich [who offered the deal] then Mr. Lukashenko was out of his head when speaking about this," said Sergei Kalyakin who leads the team of Aleksandr Milinkevich.

Mr. Gaidukevich, chairman of the Liberal Democratic Party and another contender in the race, said he had no connection to what the head of state said. "What do I need this for? I'm the leader of a large political party, a member of the House of Representatives. This is unthinkable," he told BelaPAN.

Belarus presidential campaign going with tension - president

Itar/Tass

Kozulin being grabbed at the All-People's congress

MINSK, March 2 (Itar-Tass) -- The presidential election campaign in Belarus is going on "not easily and with tension", incumbent President Alexander Lukashenko has said.

"The campaign costs nerves and strength. I have set the task not to be dragged in provocations of the opposition," he said at the 3rd All-Belarussian Assembly on Thursday.

The whole Western world is acting against Belarus with the aim of having its authority overthrown, Lukashenko said, adding that "literally a few days ago, the country's KGB has exposed several organisations that engaged in subversive activities and were already ready to rig results of the elections".

Lukashenko said that "a lot of money is coming to Belarus for the opposition through Ukraine and Baltic republics".

He comment on Thursday's incident with presidential candidate Alexander Kozulin, who wanted to enter the All-Belarussian Assembly, but was obstructed and manhandled by security guards.

Lukashenko said that Kozulin "staged a provocation, a scuffle in which women suffered too".

"These persons are opponents of the people and after the elections we shall show who was behind them and what they wanted," he said.

Police release presidential candidate in Belarus

Ria Novosti

A photo of the police shooting at the tires of a journalist as he attempted to drive away from the Kozulin scene. According to sources, the journalist later tried to come to the police to say he had been shot at and was then arrested for resisting arrest.

MINSK, March 2 (RIA Novosti) - Police in Belarus have released a candidate in the March 19 presidential elections who had been detained earlier Thursday, the candidate's press secretary said.

Nina Shedlovskaya said Alexander Kozulin, the leader of social-democratic party Gramada, was not feeling well and had been bleeding from the nose and mouth.

Kozulin was about to undergo registration at the All-Belarusian Assembly, currently being held in Minsk, when police detained him inside the building and took him to a police station in the capital's Oktyabrsky District.

"I wanted to tell the truth about the dictatorship we live in," Mr Kozulin was quoted as saying.

Minsk prosecutors have accused Kozulin of hooliganism.

Outside the police station where Kozulin was being held, police fired warning shots and beat up and detained about 20 of the candidate's supporters, opposition leaders said. A local journalist and a cameraman with the Reuters news agency were also beaten and hospitalized. Plainclothes police officers fired on the car of another journalist, eyewitnesses said.

First Deputy Prosecutor Nikolai Starovoitov said the candidate had pushed a policeman during registration and then damaged a picture of President Alexander Lukashenko at the police station.

The president called the incident a provocation.

Meanwhile, Kozulin is facing a fine, one to two months of community service, or a five-day administrative arrest.

Kozulin complains to Prosecutor General's Office about his beating

Note: For some other pictures from Kozulins arrest (as well as some incredibly biased propaganda), please see the BR23 Blog

Belpan

Kozulin being grabbed by knit-hatted police

Minsk, 4 March. Presidential candidate Aleksandr Kozulin has filed a complaint with the Prosecutor General's Office about his beating and arrest by "unknown men in black" in the Railroad Workers Palace of Culture in Minsk on March 2.

As the candidate said in an interview with the newspaper Komsomolskaya Pravda v Belorussii, he wants to be told what the force beat him. He noted that he had been beaten not only in the lobby of the Palace but also in the minibus into which the "men in black" pushed him.

"They loaded me like a ram, folded me double and sat down on me in addition," Dr. Kozulin said.

According to him, members of his team told him that Dmitry Pavlichenko, commander of a special rapid response police unit (SOBR), had kicked him from behind in the Railroad Workers Palace. Colonel Pavlichenko told Interfax that Dr. Kozulin had insulted him. "He insulted me, and I reacted like a man," he said.

Dr. Kozulin entered the building to get registered as a delegate to the government-organized All-Belarusian People's Assembly, saying that his Belarusian Social Democratic Party "Hramada" had delegated him to that conference. A group of round-headed men in black civilian clothes attacked him, knocked him down to the ground and started kicking him with army boots.

Dr. Kozulin also said that he would sue Aleksandr Lukashenko for slander. In his emotional speech at the All-Belarusian People's Assembly on Friday, the Belarusian leader alleged that the candidate had beaten up a woman who had been distributing delegate cards in the Railroad Workers Palace.

Dr. Kozulin, a former rector of Belarusian State University, acknowledged that he had broken a Lukashenko portrait in the police station where he had been taken after the arrest. "I hit it with my hand and it came apart," he said.

He expressed the opinion that he had been beaten up with Mr. Lukashenko's knowledge.

Belarus Vows to Bar Rally During Vote

Taipai times

Belarussian riot police block a road during a rally supporting opposition presidential candidate Alexander Milinkev

Belarus' police yesterday banned public gatherings by anti-government groups on election day, as crackdowns on the country's political opposition continued.
Law enforcers will use "all legal methods" to break up demonstrations on March 19, Interior Minister Vladimir Naumov said.

Opponents of Belarus' authoritarian President Aleksander Lukashenko had been planning mass protests on the day of the vote, whose result, they say, already has been fixed.

"We will give them 10 to 15 minutes to disperse, and if they do not, we will use force," Naumov said.

The ban came one day after an opposition leader was detained for several hours when he attempted to confront Lukashenko at a political convention in Minsk, police said.

Alexander Kozulin, leader of the Social Democratic party and one of four candidates in the election, said he was held in a police station and released later in the day.

Witnesses said Kozulin, a former dean of Minsk university, was beaten up after organizers refused to register him when he arrived at the Congress of People's Deputies demanding to be let in.

Kozulin said he tried to attend the conference because ``I wanted to tell the truth about the dictatorship we live in.''

Prosecutors said Kozulin was under investigation for "hooliganism," which is punishable by up to 15 days in prison, and that he could incur an additional penalty for smashing a portrait of Lukashenko.

The detention set off alarm bells in Western capitals.

The US administration urged Lukashenko's hardline regime to allow free elections or face consequences.

"We have indicated to them that should there be incidents like there were today, there will be consequences," David Kramer, deputy assistant secretary of state for European and Eurasian affairs, told reporters on Thursday.

"We are paying very close attention to those who are involved in activities that promote either fraudulent elections or promote violence," Kramer said.

The EU's presidency yesterday expressed "deep concern" over Kozulin's arrest and urged the country to guarantee the personal safety of all those taking part in the election.

"The EU expects Belarus to ... assure a free, transparent and fair election process, safeguarding in particular the right of assembly and freedom of expression," the EU said in a statement from Austria, which currently holds the presidency of the 25-nation bloc.

At the convention center on Thursday, Lukashenko railed against what he labeled outside interference.

"If we give up our country without fighting, our descendants will never forgive us," said Lukashenko, who is widely favored to win the election.

He vowed to put down any attempts at an "orange revolution" similar to the popular street demonstrations that brought pro-Western President Viktor Yushchenko to power in Ukraine.

In front of 2,000 people, including many government officials and military personnel, Lukashenko accused the US and the EU of financing the opposition.

"They don't have any lessons to teach us in terms of human rights. They've covered the Middle East, Afghanistan, Iraq, Yugoslavia in blood. People are dying in their millions," Lukashenko said.

"They say: we're going to democratize Belarus. Democratize yourselves first!"

U.S., EU Condemn Belarus As Lukashenka Issues Warning

various sources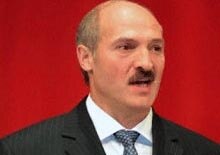 President Lukashenka

March 2, 2006 (RFE/RL) – The United States and European Union today condemned the actions of authorities in Belarus even as President Alyaksandr Lukashenka was repeating his warnings to the West not to interfere in the March 19 presidential election.

The United States accused the country's authorities of trying to undermine democratic institutions.

A U.S. statement to the Organization for Security and Co-operation in Europe (OSCE), said that in recent weeks, authorities in Minsk have harassed and intimidated non-governmental organizations, opposition political figures, and civil society groups.

The U.S. spokesman, Bruce Connuck, listed a number of groups that he said had suffered harassment.

Connuck told the OSCE in Vienna that there is a "growing atmosphere of intimidation" against these targets.

The U.S. diplomat also accused the Belarus authorities of manufacturing conspiracies and crises to justify its repression.

The EU Adds Its Voice

Also today, European Union External Relations Commissioner Benita Ferrero-Waldner condemned what she called "serious violations" of the campaigning rights of the opposition candidates.

Her statement says the EU is particularly concerned by reports of the detention of Alyaksandr Kazulin, one of the four registered candidates in the race. Kazulin was held for several hours today and allegedly beaten before being released.

She also noted that a declaration adopted by EU foreign ministers in January said the EU is ready to take "further appropriate restrictive measures against the responsible individuals" if the elections are not conducted in a democratic manner.

President Lukashenka's warning came during a speech in Minsk as thousands of opposition supporters rallied in the streets of the capital against his regime.

Lukashenka said tension was rising in Belarus ahead of the vote and urged vigilance against "provocations."

CIS observers: election campaign runs in Belarus within framework of current legislation

Belta

Ambassador Gerard Stoudmann, Director of the OSCE might not agree with the CIS observer's observations.

The election campaign is running in Belarus without serious violations and within the framework of the current legislation, chief of the headquarters of the CIS mission of observers Asan Kozhakov told a briefing in Minsk today.

According to him, in line with the legislation the central election commission determined special areas to place election leaflets and to hold meetings between presidential contenders and voters. All candidates have been given an opportunity to publish their programs in mass media outlets and to appear on radio and TV. "The headquarters of the CIS mission is monitoring news programs on the BT, ONT and STV channels, studies election programs of candidates, their interviews and statements. We have not detected any serious violations", Asan Kozhakov noted.

The head of the mission also said that the CIS observers continued to oversee the performance of district election commissions.

According to the observers, all commissions have been provided with communication facilities and office equipment, election legal acts and necessary materials. Chairmen and secretaries of the commissions regularly hold meetings to discuss their work. Addresses and phones of members of the commissions have been published in oblast, town and regional newspapers. At present the commissions are finishing work on drawing up lists of voters.

Asan Kozhakov has noted that the election campaign is the most active and tense phase of the election fight. In this conjunction on behalf of the CIS observers he appealed to the candidates for the presidency to hold a fair and civilized campaign "for themselves but not against other candidates".

"It is easier to criticize. And to win over the candidates should popularize their programs. A calm situation, lack of nervousness and provocative statements is half the battle", Asan Kozhakov underlined.

Ukraine presses Belarus for explanation on detention

RIA Novosti

Ukrainian journalists

Ukraine wants to know why Belarus refused to allow six of its citizens into the country, the Ukrainian Foreign Ministry said Friday.

"The Ukrainian Foreign Ministry insists that the Belarusian authorities investigate the incident when entry was denied to six Ukrainian nationals, and offer the Ukrainian side a satisfactory explanation," the ministry said in a statement.

The ministry said it would consider delays to the investigation or refusal of an explanation as disrespect for the rights of Ukrainians and a step contradictory to traditionally friendly relations between the two countries.

The ministry also said that Belarus had violated Ukrainians' rights to free entry to the country, as laid out in a 1992 bilateral agreement.

"[This incident] is also evidence of unmotivated discriminatory migration control on the Belarusian border," the ministry said.

Belarus denied entry to six Ukrainians, including the leader of the PORA party, Vladislav Kaskiv, and journalists.

PORA played an active role in last year's Orange Revolution in Ukraine.


Scandal from Rome

Italy blames KGB for plot to kill Pope John Paul

The Independent

John Paul II was shot at close range on 13 May 1981 by Mehmet Ali Agca, a Turk. Interrogated by Italian police, Agca initially said the assassination attempt was commissioned by the Soviets, but changed his story repeatedly.

A parliamentary commission set up by Silvio Berlusconi has concluded that the KGB was behind the 1981 plot to kill Pope John Paul II.

A draft of the commission's final report, leaked yesterday, said: "This commission believes, beyond any reasonable doubt, that the leaders of the Soviet Union took the initiative to eliminate the Pope Karol Wojtyla."

But the credibility of the report was open to doubt because its author is a close ally of the Prime Minister. In the past the work of the commission, named after the KGB double-agent Vassily Mitrokhin who fled to Britain in 1992 , has been seen as a sophisticated effort to stigmatise Italian Communists - once closely linked to the Soviets - as enemies of Italy and of the Catholic Church.

John Paul II was shot at close range on 13 May 1981 by Mehmet Ali Agca, a Turk. Interrogated by Italian police, Agca initially said the assassination attempt was commissioned by the Soviets, but changed his story repeatedly. He was released from prison in Turkey on 12 January this year, but was re-arrested when prosecutors said he must serve more time for murdering a Turkish journalist.

It is the first time the Soviet Union has been formally blamed for the assassination attempt, although the report has no bearing on any judicial investigations, which were concluded years ago.

Russia's Foreign Intelligence Service spokesman, Boris Labusov, denied the allegations. He said: "All assertions of any kind of participation in the attempt on the Pope's life by Soviet special services, including foreign intelligence, are completely absurd."

In 1991, Soviet President Mikhail Gorbachev denied there was any complicity by the KGB in the plot.
The commission's report also alleged that a photograph showed that Sergei Antonov, a Bulgarian man acquitted of involvement in the assassination attempt, was in St Peter's Square when the pontiff was shot.

The Bulgarian secret service was allegedly working for Soviet military intelligence, though evidence was insufficient to convict the Bulgarians in the plot.

Mr Antonov's lawyer, Giuseppe Consolo, said the man in the photograph had come forward during the investigation as an American tourist of Hungarian origin. Mr Consolo added that the photo was not used as evidence in the trial. "Since Mr Antonov is alive and well in Bulgaria, they should make a comparison with the physical person, not with other photos," he said.

Paolo Guzzanti, the head of the Mitrokhin Commission, is a senator in Berlusconi's party, Forza Italia, and associate editor of Il Giornale, the paper owned by Berlusconi's brother Paolo. In 2003 he published an article in The Spectator defending Berlusconi and Mussolini.

Mr Berlusconi is in the habit of stigmatising his opponents, political and judicial, as "communists", and with a finely balanced general election due in a month, an authoritative-sounding denunciation of communist perfidy is grist to the electoral mill.

John Paul II said in his book, Memory and Identity: Conversations Between Millenniums, of the assassination attempt: "Someone else planned it, someone else commissioned it."


Mid-east Nuclear crisis

How we duped the West, by Iran's nuclear negotiator

News.telegragh

Iran has completed uranium enrichment equipment at Isfahan

The man who for two years led Iran's nuclear negotiations has laid out in unprecedented detail how the regime took advantage of talks with Britain, France and Germany to forge ahead with its secret atomic programme.

In a speech to a closed meeting of leading Islamic clerics and academics, Hassan Rowhani, who headed talks with the so-called EU3 until last year, revealed how Teheran played for time and tried to dupe the West after its secret nuclear programme was uncovered by the Iranian opposition in 2002.

Iran has completed uranium enrichment equipment at Isfahan
He boasted that while talks were taking place in Teheran, Iran was able to complete the installation of equipment for conversion of yellowcake - a key stage in the nuclear fuel process - at its Isfahan plant but at the same time convince European diplomats that nothing was afoot.

"From the outset, the Americans kept telling the Europeans, 'The Iranians are lying and deceiving you and they have not told you everything.' The Europeans used to respond, 'We trust them'," he said.

Revelation of Mr Rowhani's remarks comes at an awkward moment for the Iranian government, ahead of a meeting tomorrow of the United Nations' atomic watchdog, which must make a fresh assessment of Iran's banned nuclear operations.

The judgment of the International Atomic Energy Agency (IAEA) is the final step before Iran's case is passed to the UN Security Council, where sanctions may be considered.

In his address to the Supreme Council of Cultural Revolution, Mr Rowhani appears to have been seeking to rebut criticism from hardliners that he gave too much ground in talks with the European troika. The contents of the speech were published in a regime journal that circulates among the ruling elite.

He told his audience: "When we were negotiating with the Europeans in Teheran we were still installing some of the equipment at the Isfahan site. There was plenty of work to be done to complete the site and finish the work there. In reality, by creating a tame situation, we could finish Isfahan."

America and its European allies believe that Iran is clandestinely developing an atomic bomb but Teheran insists it is merely seeking nuclear energy for peaceful purposes. Iran's negotiating team engaged in a last-ditch attempt last week to head off Security Council involvement. In January the regime removed IAEA seals on sensitive nuclear equipment and last month it resumed banned uranium enrichment.

Iran is trying to win support from Russia, which opposes any UN sanctions, having unsuccessfully tried to persuade European leaders to give them more time. Against this backdrop, Mr Rowhani's surprisingly candid comments on Iran's record of obfuscation and delay are illuminating.

He described the regime's quandary in September 2003 when the IAEA had demanded a "complete picture" of its nuclear activities. "The dilemma was if we offered a complete picture, the picture itself could lead us to the UN Security Council," he said. "And not providing a complete picture would also be a violation of the resolution and we could have been referred to the Security Council for not implementing the resolution."

Mr Rowhani disclosed that on at least two occasions the IAEA obtained information on secret nuclear-related experiments from academic papers published by scientists involved in the work.

The Iranians' biggest setback came when Libya secretly negotiated with America and Britain to close down its nuclear operations. Mr Rowhani said that Iran had bought much of its nuclear-related equipment from "the same dealer" - a reference to the network of A Q Khan, the rogue Pakistani atomic scientist. From information supplied by Libya, it became clear that Iran had bought P2 advanced centrifuges.

In a separate development, the opposition National Council of Resistance of Iran (NCRI) has obtained a copy of a confidential parliamentary report making clear that Iranian MPs were also kept in the dark on the nuclear programme, which was funded secretly, outside the normal budgetary process.

Mohammad Mohaddessin, the NCRI's foreign affairs chief, told the Sunday Telegraph: "Rowhani's remarks show that the mullahs wanted to deceive the international community from the onset of negotiations with EU3 - and that the mullahs were fully aware that if they were transparent, the regime's nuclear file would be referred to the UN immediately."

Hamas: 'We won't recognise Israel'

news24.com

Moscow policemen detain participants of the picket at the embassy of Palestine in Moscow protesting against the visit of the Hamas delegation, Friday 03 March 2006. The Hamas delegation arrived in Moscow Friday for talks with Russian officials.

Moscow - Hamas's political leader on Friday bluntly rejected any discussion of the militant group's refusal to recognise Israel, dealing a setback to Moscow's effort to persuade it to soften its stance.

"The issue of recognition (of Israel) is a decided issue," said Hamas' exiled political leader Khaled Mashaal upon arrival in Moscow for talks with Russian officials. "We don't intend to recognise Israel."

'Israel remains an aggressor state, an occupant state and the Palestinian people are a victim. Israel has not ceased its aggression, did not release political prisoners, this is why we are not very interested in a ceasefire.' he added.

There could be no peace while Israel still occupied Palestinian territories, Mashaal told journalists.

Russian Foreign Minister Sergey Lavrov was scheduled to receive Mashaal in what will be Hamas' highest-profile foreign visit since winning Palestinian parliamentary elections in January. The Hamas delegation is set to have talks with a Lavrov deputy, Alexander Saltanov, as well as Russian lawmakers, and meet Russian Orthodox Patriarch Alexy II.

Russia's invitation, extended by President Vladimir Putin, was the first crack in an international front against the group, considered a terrorist organization by Israel, the European Union and United States. Hamas has sent dozens of suicide bombers to Israel and does not accept the presence of a Jewish state in the Middle East.

Senior leaders of the Palestinian party are currently in Moscow, the first visit by Hamas leaders to a major foreign power since it won Palestinian parliamentary elections on January 25.

Hamas is hoping to gain a measure of international standing from the three days of talks, opposed by Israel and the United States. Both brand the group a terrorist organisation because the Hamas charter calls for the Jewish state's destruction.

Moussa Abu Marzouk, Hamas's deputy political leader, said recognising Israel would negate all Palestinian rights.

Abu Marzouk said: "It means a negation of the Palestinian people and their rights and their property, of Jerusalem and the holy sites, as well as negation of their right of return.

"Therefore the recognition of Israel is not on the agenda."

On Friday, the first day of the talks, Russian foreign minister Sergei Lavrov said Hamas must recognise Israel's right to exist and abide by interim peace deals.

This echoes demands made by the Quartet of Middle East mediators, which includes the United Nations, Russia, the United States and the European Union.

Israel's acting Prime Minister Ehud Olmert insisted on Friday that the international community must maintain a united front against Hamas and said that Russia has promised to limit its contacts with Hamas in the future.

"In recent days, I received messages from Russian President Putin, which talk about restrictions of their contacts with Hamas and support the principles we laid before the Palestinians and which have the support of the Quartet (of Mideast mediators)," Olmert said on Friday.


Sports

Alexei Grishin of Belarus comes in second

Winipeg sun

Steve Omischl

DAVOS, Switzerland -- Steve Omischl of North Bay, Ont., earned his first victory of the season in a freestyle World Cup aerials competition.

Omischl, who didn't make the aerials final at the Turin Olympics, earned 251.25 points for the gold to beat Alexei Grishin of Belarus and Ales Valenta of the Czech Republic.

Fellow Canadian Kyle Nissen's eighth-place finish was enough to move him to top of the World Cup standings with 517 points. The Calgary native is 32 points ahead of Belarusian Dmitri Dashinski with just one event remaining at Apex Mountain, just outside Penticton, B.C., later this month.

Australia's Jacqui Cooper claimed the women's title yesterday. Cooper received 196.50 points to finish ahead of Alla Tsuper of Belarus and Evelyne Leu of Switzerland.

Third place was enough to move Leu into first place in the World Cup standings with 474 points.