Elections Eve Special
(Note: This edition of the BEING HAD Times is being Published on Sunday evening, March 19th. Probably by late this evening we will know who has either won this first round of voting, or has been elected outright. As of the moment, advance reports are showing Alexander Lukashenka having received so far some 82% of the vote. Any relevant stories about this will be added here as they occur.)

From the top

Mar 18 last electioneering day in Belarus before presidential poll

ITAR TASS

March 19th is the last day to vote
Saturday in Belarus is the last day of electioneering before the presidential election due on Sunday, March 19.
Under the country's election code, campaigning is not allowed only on the polling day.
The election campaign began immediately after the official registration of candidates. Each was given an opportunity to publish the election platform in seven dailies and speak twice (for 30 minutes each time) on the national radio and television.
As it was the case in the previous election, the incumbent president, Alexander Lukashenko, refused to either participate television debates, or campaign for himself in some other fashion. Yet, his opponents have accused him of using the administrative leverage.
The opposition candidates have been touring regional centers and small towns and meeting with voters.
Each candidate received the same lump sum equivalent to 30,000 dollars to spend on the election campaign.
Contesting the Belarussian presidency are the Opposition's common candidate Alexander Milinkevich, Social Democrat leader Alexander Kozulin, centrist Liberal Democrat leader Sergei Gaidukovh, and the incumbent head of state, Alexander Lukashenko.
The elections due on Sunday will be declared valid, if no less than half of the 7.02 million voters cast ballots. Belarus has opened 6,585 polling stations.
Eligible for Belarussian presidency are citizens over 35 years of age and resident in the country for no less than ten years running. The candidate who collects more than half of the votes is declared the winner. Otherwise, a run-off is to be held in two weeks' time under the same rules.
Twenty percent of the electorate cast their votes in the early elections over the four days, the Belarussian Central Electoral Commission's chairwoman Lidia Yermoshina reported on Saturday, adding that the early elections proceeded calmly.
She also said that 6,585 polling stations would open in Belarus and 41 abroad for more than seven million Belarussian voters on Sunday.
Belarussian president vows to prevent government coup on polling day
ITAR TASS
Lukashenka Visiting the Potash Company «Belaruskaliy»
Belarussian President Alexander Lukashenko has said that he will quash all attempts at staging a government coup in the country on March 19, the day of the presidential election, should there be any.
In a televised message to the nation in the run-up to the elections Lukashenko said that "there will be no violent seizure of offices or attempts to block streets and squares."
"Every measure has been taken to ward off even the slightest threat to the security of the people, and to prevent violations of the Constitution," Lukashenko said. He called on the people to display "civic responsibility for the future of their country and their families."
Lukashenko promised that the presidential election will be in full compliance with the country's legislation.
"I guarantee that the election will be fully in line with our laws. They will be no less fair or transparent than in any other countries we are told to use as examples," he said.
The president pointed out that only the people of Belarus will be able to decide the country's future.
"You should by no means stay away. Don't be indifferent. Do go and vote. The country needs the vote of each of you. Go to the polling stations to show one and all that we, Belarussians are the real masters of our home," Lukashenko said.
He also addressed youth, those who will be voting for the first time.
"This is not a question of going and voting for somebody you don't know. First and foremost you shall be voting for yourself and for your own future, for the future of your country that cannot materialize without your participation."
Lukashenko is certain that Belarus has been moving quickly and steadily towards higher living standards and greater political stability.
"The people of Belarus have not become puppets in somebody else's hands. They have not plunged into the abyss of social, political, ethnic or religious conflicts," he said. "The people have earned the right to independent and free choice with their hard work and they will never abdicate it."
"We have accumulated our own experience of building a sovereign, independent and genuinely free state bit by bit. In defiance of foreign pressures we have managed to confront and resist all threats and challenges," he said.
Belarus' Milinkevich calls for peaceful rally after elections
ITAR TASS
Alexander Milinkevich is fighting until the end
Opposition candidate Alexander Milinkevich has called on his supporters to hold a peaceful rally after the end of the March 19 elections.
He made the appeal at a joint meeting with another opposition candidate Alexander Kozulin on Friday. Milinkevich said that he would bring his family to the rally.
Belarus still lives in the middle of the 20th century, while the government is back to the middle of the 18th century, Milinkevich said. He said that his team is taking part in the elections to bring freedom, truth and justice to people.
"Russia has always been and will be a strategic partner to Belarus," he said in answer to voters' questions. "Yet we will remain an independent state. Independence is our sacred thing," he said.
Milinkevich said that the elections should have the second round. The opposition expects Milinkevich and Kozulin to gain no less than 60% of votes in the first round of the elections.
Kozulin and Milinkevich made a joint statement on Friday.
They demanded an urgent meeting of the parliament to discuss the dismissal of the Central Elections Commission, territorial and district elections commission "due to their failure to ensure free and fair presidential elections" and set a new day for presidential elections, no later than July 16, 2006.
"The country lives in an atmosphere of fear, total control and suppression of dissidents. In fact, the country has a state of emergency," the statement runs.
Law enforcement agencies rather than election commissions are organizing the election process. The candidates urged them "not to abide by illegal orders of higher officials that incite violence, arrests and bloodshed and hamper the use of constitutional rights and freedoms of citizens."
Belarus Leader Loved by Many of His People
www.newsone.ca
Pensioners are amoungst Lukashenka's strongest supporters
KRYNICHNY, Belarus - In his 71 years, Nikolai Azhenilok has never felt happier and more secure than under the rule of President Alexander Lukashenko.
Critics abroad and at home call Lukashenko — who is widely predicted to win Sunday's presidential election — a ruthless dictator and a tyrant. But to many in Belarus he is a beloved benefactor, the "Batka," or father, as he likes to be called.
The former collective farm director appeals to many Belarusians as a common man who has risen through the ranks to fight for the interests of peasants and workers.
State television endlessly shows Lukashenko touring the country, where he is seen milking cows, descending into coal mines and playing hockey. At one meeting, Lukashenko told World War II veterans he shared their grief as the son of a soldier who died in the war. He is 51, and was born nearly 10 years after war's end.
Belarus was devastated in two world wars in the last century. One in three Belarusians died in World War II, and the nation has a history of yearning for peace and stability.
Retirees such as Azhenilok and his wife Tatyana, 63, are grateful to Lukashenko for their modest pensions.
"There used to be no bread. Now there is everything: bread, wine vodka," Azhenilok said. Before Lukashenko, "we were going around without underpants."
Under Lukashenko, Krynichny has enjoyed a revival. It has been turned into an "agrogorodok" or agricultural town — part of Lukashenko's program of building modern housing in villages to attract young workers to collective farms.
"With him we've begun living, I mean living a real life — people are getting apartments, houses and there is food in the store," he said.
And Romanchuk said that without hefty Russian economic aid, Lukashenko could not have afforded to raise pensions and salaries, and Belarus' Soviet-style centralized economy could soon falter.
The Russian aid yields cheap gas prices. And with the media under tight government control, there is scarce criticism of Lukashenko on the economy.
Many Belarusians sincerely believe in the success of their leader.
Belarus KGB chief threatens election crackdown
Belarus KGB chief threatens election crackdown
www.timesonline.co.uk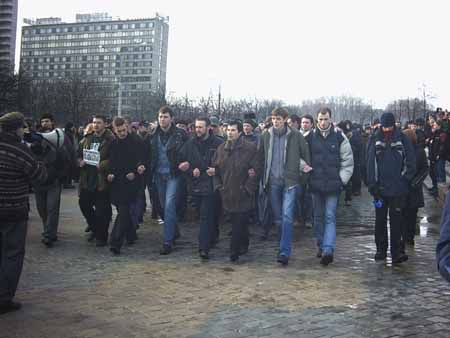 Picture of a protest chain from March 25th, 2005.
The head of the Belarusian state security service warned today that protesters who take to the streets on election day could be charged with terrorism and executed.
Stepan Sukhorenko, the KGB chief, also accused other nations of involvement in opposition plots to seize power in a coup during the election, which takes place on Sunday."We will not allow the seizure of power under the guise of presidential elections," Mr Sukhorenko told a news conference. "For those who take the risk of going out into the street and try to destabilise the situation, their actions will be qualified as terrorism."
Demonstrators who "try and destabilise the situation will be charged with terrorism" and face sentences of up to 25 years, or life in prison, or capital punishment, he said.
Mr Sukhorenko's announcement was similar to previous statements that the security services had uncovered Western-backed plots to destabilise the former Soviet state of 10 million people, which has been accused in the West of crushing human rights.
This month, the security chief went on television to announce that activists had been plotting explosions ahead of the poll.
But the timing of the latest statement and stark warning to demonstrators added high drama to the election, in which Alexander Lukashenko, the country's authoritarian President, is universally expected to beat his two rivals from the liberal and nationalist opposition.
Mr Sukhorenko showed reporters footage of an unidentified young man saying that he had undergone military training at a camp in Georgia. "Brigades of volunteers are being formed in neighbouring states," he said."The key moment will be detonation of several explosions."
Several key figures in the opposition camp have been rounded up in recent weeks and fined or sentenced to short prison terms.
Western countries have threatened to toughen sanctions against Belarus if, as expected, independent observers declare the election neither fair nor free.
Alexander Milinkevich, the main opposition candidate, has urged supporters to mass at polling stations to keep the count honest, but the government ban on rallies Sunday has potentially set the stage for violent confrontation.
Mr Lukashenko, in power since 1994, has said that he will tolerate no upheaval like the mass protests that helped to bring liberals to power in Georgia and Ukraine, two other ex-Soviet states.
Adrian Severin, the UN special investigator on human rights in Belarus, condemned Mr Lukashenko's Government for its attacks on the independent media, opposition parties and rights advocates.
Authorities should "immediately cease all actions aimed at intimidating opponents, journalists and human rights defenders and jeopardising the free and fair running of the electoral campaign," Mr Severin said in a statement.
Belarusian authorities stepped up the pressure on opposition groups yesterday by detaining Anatoly Lebedko, a party leader who has thrown his weight behind Mr Milinkevich, and barring three members of an international monitoring mission from the country.
Mr Severin urged Belarusian authorities "to release immediately and unconditionally all political opponents, to bring all violations of freedom of expression and of the right of peaceful assembly to an immediate end, and to ensure that the elections are held in full compliance with international standards".
Vladimir Vorobiov: many nongovernmental organizations are financed by foreign intelligence services
BELTA
Vorobiov: NGOs here are just "a useful tool for foreign multi-millionaires to gain their goals".

Most of the CIS nongovernmental public organizations are financed by the foreign intelligence services, the chairman of the military-scientific society under the Central House of Officers of the Armed Forces of Belarus, the chairman of the council of the public association "Military Intelligence Veterans", Major-General in retirement Vladimir Vorobiov stated today in the course of the radio satellite bridge on the First National Channel of the Belarusian Radio.
According to him, representatives of the foreign intelligence services are members of virtually all such organizations. They work as representatives of various companies constantly cooperating with NGOs. "They try to exert all-round influence first of all upon citizens of the Slavonic states, especially upon young people. Their main goal is not to let future unification of the brotherly peoples and the further economic growth of the former USSR republics", Vladimir Vorobiov underlined.
He believes, various overseas non-governmental funds financing the so-called "independent" mass media and "democratic" parties seek to implant their people in the essential agencies of the country to "privatize and colonize countries of the former Soviet Union". NGOs here are just "a useful tool for foreign multi-millionaires to gain their goals".
But an appropriate understanding of the situation and further integration of the CIS countries, first of all Belarus, Russia and Ukraine, will help ward off an aggressive policy of the West and maintain the state sovereignty, Vladimir Vorobiov said.
Sweden/Belarus

Freivalds Calls Election in Belarus a Sham

RADIO SWEDEN

Swedish Foreign Minister Laila Freivalds

Swedish Foreign Minister Laila Freivalds has dismissed the upcoming election in Belarus as a sham, and blasted President Alexander Lukashenko for suppressing democracy and free speech.

At a downtown rally held to demonstrate support for a free and democratic Belarus the Foreign Minister stated that "We know that when the election results come in on Sunday, it will not have been a fair election:"

Freivalds said the Lukashenko regime has repeatedly jailed opposition leaders, quashed independent media and isolated its people from Western democracies.

She added that "In such a country, you cannot have fair, democratic elections."

The Foreign Minister then went on to say that "We will not close our eyes to the increasing oppression. ... In today's Europe, there is no place for autocratic presidents, no place for dictatorships."

Lukashenko has ruled the ex-Soviet nation of 10 million since 1994, quashing dissent and maintaining his grip on power through votes dismissed as illegitimate by critics.

He is seeking five more years at the helm after pushing through a referendum scrapping term limits.

His government has warned against election-day protests, accusing the opposition of plotting to forcefully overthrow the government and claiming Western countries and their ex-Soviet allies were working with the opposition toward that aim.

On Tuesday, two Swedes who were part of a team of unaccredited election observers in Belarus were arrested and ordered to leave the country, allegedly for breaking a polling law.

Swedish Gays Protest on Behalf of Friends in Belarus

www.ukgaynews.org.uk

Foreign Minister Laila Freivalds addresses protesters in Stockholm today.

STOCKHOLM, March 18, 2006 – Swedish gays today joined politicians and representatives of human rights organisations in a downtown demonstration in the Swedish capital on the eve of the elections tomorrow in Belarus, the last dictatorship in eastern Europe.

The elections, in which Belarussian president Alexander Lukashenko running for a third term, are widely seen in Europe and the United States as being 'rigged'. A number of observers, including nine MPs from Georgia, and journalists have this week been denied entry into the country.

In Stockholm, member of Tupilak (the Nordic homo cultural workers) and the Nordic Homo Council joined the demonstration, which was addressed by Foreign Minister Laila Freivalds.

Both organisations will be helping a representative from the Belarus gay movement to travel to Moscow for the International Lesbian & Gay Cultural Network (ILGCN) world cultural conference in May, and to the 'Right to be Gay' conference in Montréal in July.

While homosexuality is legal between consenting adult in Belarus, LGBT organisations in the country have been refused official recognition – and the gay press is severely repressed.

Later this year, Belarus gay "festivals in exile" are set to be staged in Poland and Sweden, with both Tupilak and the Nordic Homo Council backing the events.


BELARUS/GEORGIA

Belarus officials claim U.S., Georgia backing coup attempt

%RIA NOVOSTI

Belarus is accusing the US and Georgia of plotting ahead of the March 19th elections

Senior Belarusian officials said Thursday they had evidence of an American-backed plot to overthrow the country's current regime during Sunday's presidential elections, and said any attempts at disruption would be classified as terrorism.

Security service head Stepan Sukhorenko showed a press conference in the capital, Minsk, a video of an interview with a man he said was one of those involved in the plot. The man said he had been at a training camp in Georgia at which training was provided by "four Arabs [and] officers of the former Soviet army".

The man also said a colonel from the Georgian security services and American instructors had conducted examinations, and that the Americans had told them to bomb four polling stations at schools in Minsk during voting Sunday.

"The Americans told us to organize four explosions at schools. The place and time [of the attacks] were to be told [to us] later. Concrete locations were not indicated," the man said.

He also showed video footage he said was of Georgian nationals confessing that they were to deliver money and "everything necessary" to stage disturbances on March 19. He said other attacks may be in the making.

Sukhorenko said all attempts at disruption would be seen as terrorism. "Anyone who will take to the streets in a bid to destabilize the situation will face terrorism charges," he warned.

Georgians deny allegations

"These Belarusian allegations are pure fantasy", a member of a Georgian political youth movement said Thursday.

"We cannot comment on such statements since they are the pure fantasy of Belarusian authorities," said Georgy Meladze, a member of the Kmara (Enough) political youth movement, which played an active role during Georgia's "rose revolution" in late 2003.

He added that such statements "are another attempt of [Alexander] Lukashenko's regime to switch the attention of the Belarus people from the existing problems in the country."

The punishment for acts of terrorism in Belarus is 8 years to life in prison or the death penalty.

The security chief's warning against street rallies on election day is an attempt on the part of the Belarusian government to prevent a "color revolution" in the country.

Belarus' beleaguered opposition has been inspired by the recent triumphs of democracy in Georgia, Ukraine and Kyrgyzstan, where peaceful protests against election rigging led to the overthrow of governments.

Georgian election observers to be kicked out of Belarus

RIA NOVOSTI

Georgian Soldier; Relations are strained between Belarus and its former USSR brother Georgia

Nine Georgian lawmakers in Belarus to monitor the March 19 presidential elections will be sent back home, Belarusian border officials said Friday.

"Nine people representing Georgia have been denied entry into the country, as their presence on Belarusian territory is undesirable," a source in the Belarusian border committee said.

The observers were detained at Minsk-2 airport on arrival from Vienna.

"[The observers] are currently in a European standard hotel where they are provided with food and can contact their relatives," the committee said.

Relations between Georgia and Belarus have deteriorated since President Mikheil Saakashvili came to power in the South Caucasus republic in the "rose revolution" in 2003.

Senior Belarusian officials said Thursday they had evidence of an American-backed plot to overthrow the country's current regime during Sunday's presidential elections, and said any attempts at disruption would be classified as terrorism.

Security service head Stepan Sukhorenko showed a press conference in the capital, Minsk, a video of an interview with a man he said was one of those involved in the plot. The man said he had been at a training camp in Georgia at which training was provided by "four Arabs [and] officers of the former Soviet army".

The man also said a colonel from the Georgian security services and American instructors had conducted examinations, and that the Americans had told them to bomb four polling stations at schools in Minsk during voting Sunday.

No official notice barred Belarus poll monitoring - Georgia MPs

RIA NOVOSTI

Georgian President Mikheil Saakashvili

The Georgian parliament did not receive an official denial of accreditation from Belarusian election authorities barring its members from participating in the OSCE mission to monitor the March 19 presidential elections, the vice speaker said Friday.

"We submitted all the documents on time and all the lists were made," Mikhail Machavariani said. "That is why they [the parliamentarians] went to Belarus."

A group of Georgian parliamentarians, who arrived in the Belarusian capital of Minsk Thursday as members of the Organization for Security and Cooperation in Europe (OSCE) mission, were not allowed to leave the airport. Belarusian border authorities said, "Their presence on Belarusian territory is undesirable."

Machavariani said that another member of parliament, Georgy Bokeria, had been denied accreditation as an observer from the CIS, a loose union of ex-Soviet republics, and therefore did not go to Belarus.

The Novosti-Georgia agency quoted Kakha Getsadze, a member of the delegation, as saying that the parliamentarians would be deported Saturday.

The Georgian Foreign Ministry has already made a statement condemning the incident and sent a note of protest to Belarusian diplomats.

Machavariani said Speaker Nino Burdzhanadze had requested assistance from the Parliamentary Assembly of the Council of Europe to organize the quick and smooth return of the parliamentarians to Georgia.

In response to comments by some Belarusian officials that Georgian representatives were planning a coup in Belarus, Machavariani said: "Let the Belarusian people decide what they want to do."

"Georgia, like many Western nations, does not believe the current regime in Belarus to be democratic," he said. "If people doubt the results of the elections, then the Belarusians, themselves, can organize this ['revolution'] if they want."

The Georgian president's spokesman, Gela Charkviani, said Georgia, as a democratic country, insisted that Belarus allow the Georgian observers in to monitor the elections or ensure their safe return home.

Charkviani called the arrest absurd and said that Belarus had given unclear reasons for the incident.

"I do not understand the statement that Georgian legislators are undesirable guests in Belarus," he said.

Moscow Subway Tunnel Collapses; No Injuries

news.yahoo.com

Commuters stand outside the closed doors of an exit of Voikovskaya station

MOSCOW - A section of tunnel collapsed in the Moscow subway Sunday, triggering a fire on a train, officials said. No injuries were reported.

Emergency Situations Ministry spokesman Viktor Beltsov said a concrete section fell on a train between the Sokol and Voikovskaya stations in north-central Moscow, and that train caught fire. Rescuers safely evacuated all passengers, he said.

Train service was halted.

Moscow subway chief Dmitry Gayev said the accident apparently was caused by workers who were erecting a street billboard in the area and damaged piles supporting the tunnel's roof, the ITAR-Tass news agency reported.

A fleet of ambulances and fire engines responded to the subway stations, creating huge traffic jams. Authorities launched additional buses for travelers.

Gayev said subway service will be restored Monday morning.

Q&A: Belarusian Opposition Gaining Speed but No Revolution in Sight

The New York Times gives an opinion and poll about the Belarusian elections

NY TIMES

Everyone understands that the pensioners are behind Lukashenka. A vote for the president is a vote for Belarus.

All signs indicate Alexander Lukashenka will win Belarus' March 19 presidential election, amid concerns in the West about his authoritarian rule. Yet there may be cracks in his consolidation of power. Independent polls have shown his popularity slipping, however slightly. There are also signs the opposition--historically disorganized--is united and able to organize itself, abetted by various civil society groups and youth movements. But Belarusians do not expect the election to be free or fair. Members of opposition groups who hold rallies or post flyers continue to be arrested or beaten. Sarah Glacel, project manager for InterMedia, a Washington-based international media and polling firm, says a new opinion survey signals Lukashenka's grip on the public may be slipping but there is little indication Belarus will experience the revolutionary fervor of Georgia or Ukraine after fraudulent presidential elections there. InterMedia conducted a survey of public attitudes and political preferences of 1,085 adults in Belarus from February 28 to March 4.

What did the data from your polls reveal?

The results are not surprising if you've been looking at other polls that have come out recently, with about 50 percent [of Belarusians] for Lukashenka. The exact number is 52.9 percent.

That low?

Yes. And of all the other candidates, the highest is [Alexander] Milinkevich with 6 percent. What's particularly interesting is the number of people--17.4 percent--who said they didn't know, and 10.4 percent refused to answer the question. And so, you have to look at that number and think: While some of these people really do not know, a good number have an idea of which [candidate] they would vote for but have this kind of fear and don't necessarily want to say. When asked if they'll vote, 86 percent of people are planning to vote, while 5.4 percent say they're not, and everybody else either does not know or refuses to answer.

What issues are important to Belarusian voters? Do they vote with their wallets?

Well, I think that in a lot of ways they vote with their wallets. If you look over the past five years from 2000, we see that in answer to the question, "How do you view the next twelve months?" people have a lot more hope for the coming year. The last time we asked this was in September 2005, and 47.6 percent said they look at the next twelve months with hope. If you compare that to five years ago, in 2000, only 31.9 percent were saying that. So obviously they're feeling better about what's going on in the country. One of the reasons for this is economics. If you ask Belarusians what they think about their own standard of living, the number of those who answer "very satisfied" has gone from 1.3 percent in 2000 to 4.6 percent in 2005. But even more significant is those who are "somewhat satisfied," which went from 13.8 percent [in 2000] to 30.1 percent in 2005. So people are obviously feeling better about their economic situation and about where their lives are going.

Is there a sense of who votes in Belarus? In other words, do older people who might rely on pensions vote more than, say, younger people?

Back in September, we asked the question, "To which political personality do you feel closest?" And if we looked at that by age and by education, not surprisingly, younger people are less likely to feel close to Lukashenka, as are people with better educations. People who use the Internet are less likely to feel close to Lukashenka. This is also because people who use the Internet are also young and better educated, but they also have more access to information. People who read independent newspapers are much less likely to feel close to Lukashenka.

Also, when you ask people if they think human rights is a problem, if they think rule of law is a problem, or lack of rule of law is a problem, and if you ask if people think lack of a free press is a problem, those who do not support Lukashenka are more likely to say these are problems [that] are critical. On the other hand, when you look at things like unemployment, housing, etc., the people who think those are more serious problems are usually more likely to support Lukashenka.

How many Belarusians have access to satellite radio or television and can actually listen to outside or independent broadcasts?

It's very small. Only 2.7 percent have access to satellite television.

But there's a fair amount of Internet penetration there, correct?

There's a fair amount, slightly lower than Russia's. Weekly use of the Internet is 9.7 percent. That means, when asked the last time they used the Internet, 9.7 percent report using it in the last week.

And how much of the Internet is censored?

We do qualitative research with Internet users and focus groups where we get four groups of eight in a room and talk to them about their Internet use. They report they don't necessarily have problems getting to the independent sites, whether it's independent international broadcasters, or [opposition news agency] Charter 97. They do report problems around important political events, for example, before the [October 2004] referendum [to extend presidential term limits]. It's not clear whether it was because the government was doing something to jam them. At the same time, they do admit it could also be because so many people were trying to get on some sites to find out information.

Going back to the polling data: Does the opposition appear to be surging?

From our surveys alone, it is difficult to tell. In our last survey in October, we didn't ask about Milinkevich simply because it wasn't clear he was going to be the opposition candidate. We did ask about [Anatoly] Lebedko, who Milinkevich just barely beat out as the opposition candidate, who had 1.7 percent [popularity approval] then. If you think because they're a united opposition group of candidates and are probably going to have somewhat similar numbers, it does look like it has increased. But then you'd have to keep in mind that the question was asked differently. It wasn't asked, "Who would you vote for in a presidential election?" It was asked, "Which political personality do you feel closest to?" And the other thing is, obviously back in October, because we didn't know who the candidates were going to be, there was a much greater choice. What is interesting to note back in October was that although Lukashenka was in first place, "none," and "don't know" were in second and third places.

The magic number, of course, is the 50 percent necessary to avoid a runoff vote. Is there a sense that a marginally close result might force a runoff? Some experts have told me there's no chance Lukashenka will let it go below 70 percent, regardless of the actual outcome.

I would agree with that. When we asked Belarusians whether they think the elections are going to be free and fair, only 48.8 percent said they did. And so half of the population is probably expecting a situation where Lukashenka will report receiving a higher percentage of votes than he actually did or there will be other forms of fraud.

Is there a sense from your study how many would actually take to the streets in protest afterward? Moreover, what's the general feeling in Belarus on neighboring countries where they have been so-called color revolutions?

That is a question we did ask, whether people think what occurred in Ukraine and Georgia was a positive or a negative thing, and it's mostly negative. First of all, we could not ask the question, "Will you go out and protest if there's election fraud?" because of the current political situation in which people are unlikely to answer. But if you ask them whether they think the Rose Revolution resulted in positive changes, only 9 percent either agree strongly or agree somewhat. Granted, you have to look again at the "don't know" and "refuse [to answer]" numbers, which combined are 35.6 percent. So the number of those who view the Rose Revolution positively could actually be much higher, but only 9 percent will admit to the fact they think it brought positive changes in Georgia. In Ukraine, together it was 10.8 percent who agreed strongly and agreed somewhat that it brought positive changes. The "don't know" and "refuse" were a little smaller there: 17.7 for "don't know" and 6.4 for "refuse." So people aren't sure.

What about the view of Russia among Belarusians? Is Russia seen as a positive influence in Belarus?

Yes, 82.3 percent of people are very favorable or somewhat favorable toward Russia. However, if you ask if people want to form a union with [Russia], there's some contradiction. I think people are either not really aware of what's going on or what they think. We have two questions that asked how much they agree with the following statements: "Belarus should remain a sovereign and independent nation," and the second is, "Belarus should merge with the Russian Federation." Some 63 percent of people who strongly agree that Belarus should merge with the Russian Federation also strongly agree that Belarus should remain a sovereign and independent nation. So, I'm not sure if that's a result of people not really understanding what the merger is or not being well informed.

What about general attitudes and impressions of the United States?

[Favorable] feelings for the U.S. are very low compared to that of other Western countries. It's 32.5 percent.

What about Belarusians' views of nongovernmental organizations [NGOs], which work in civil society, and pro-democracy groups? Are they viewed as just arms of the U.S. government?

When asked about international NGOs, 22.4 percent of people are favorable. But for all the questions on domestic and international NGOs and organizations like the IMF [International Monetary Fund] and the World Bank and the OSCE [Organization for Security and Cooperation in Europe], people really don't know a lot about them or don't have an opinion about the matter.

What kind of trend line can you point to, if any, from looking at data from [the last presidential election in] 2001 versus looking at this year?

As I mentioned, people are more comfortable with their standard of living and more comfortable with where the country is going. We've only asked the [question of which] politician you're closest to for the last three years, and Lukashenka went from 30 percent in 2003 to 46.6 percent in 2005. I think where we see some differences are the feelings of younger, more educated people, who eventually--if we look at Georgia and Ukraine--are the groups that are going to make the difference, and especially if they're able to get more information. What's scary is that they're not; they're having problems getting information right now. Those groups are the ones that can spur change on and that really feel a problem with the current situation. My own personal opinion is that it's not going to happen after this election, but if they can continue to kind of gain speed then it may happen in the future over the next couple of years.


Viasna Speaks

REVIEW-CHRONICLE OF HUMAN RIGHTS VIOLATIONS IN BELARUS IN FEBRUARY 2006

VIASNA

Several stories of administrative abuse from the human rights organization Viasna

On the eve of the presidential election the harassment the opponents of Lukashenka's regime acquired violent forms. On 21 February the unprecedented wave of pressurization and intimidation covered the country. Workers of KGB and police searched private flats and offices of public activists in Navapolatsk, Brest, Mahiliou, Zhlobin, Minsk and other towns and cities of Belarus. They confiscated the information carriers, computer equipment, printed production and documents. The formal reason for the searched was the order for searches that was issued by Minsk City Procurator's Office in connection with the case that was brought on part 1 of article 367 of the Criminal Code - defamation of president of the Republic of Belarus in a public speech, printed edition or publicly demonstrated artwork. KGB workers detained and interrogated as witnesses dozens of public activists all over the country. They openly pressurized the detainees. The massive action of intimidation takes place against the background of libelous and tendentious information of the state mass media about representatives of the Belarusian democratic opposition and civil society. Belarus hasn't experienced such informational terror since Stalin's times.

Secret services also started to fabricate cases against NGOs, accusing them of anti-state activity. The KGB chair Stsiapan Sukharenka stated the opposition prepared to forcibly seize the power. According to him, after the declaration of the election results on 19 March the opposition was going to declare the election rigged. "The starting point could be the provocative statement of the leaders of the unregistered NGO Partnership who allegedly conducted parallel monitoring of the election', he explained. To prove his words he showed to the public "the minutes of the exit-polls that were to have proved the falsification of the election'. These documents were confiscated from four detained leaders of Partnership. According to the minutes 53,7% of electors voted for Aliaksandr Milinkevich, 41,3% -- for Aliaksandr Lukashenka and 5% for the other two candidates. Human Rights Center Viasna considers such actions of the authorities as pressurization of the country's citizens on the eve of the presidential election.

1. Right to association


The authorities pressurize the Union of Belarusian Writers, the oldest public organization of Belarus that has existed for more than 70 years already. On 12 January 2006 Minsk City Economic Court received from the Main economical board of the presidential administration the note where it was stated that the Union of Belarusian Writers occupied a part of the House of Literary Worker without any grounds, because the rent agreement between the organizations had already lost its force. The MEB also demanded from the UBW to pay more than 55 million rubles for rent (25 700 US dollars) for the fear of eviction. On 31 January the judge proposed to the sides to reach a peaceful agreement and sign another rent agreement. However, the writers don't have such huge sum of money and are convinced of the illegality o the MEB claims. The court hearing that was appointed on 15 February was later postponed to 2 March. Besides, the Ministry of Justice has already submitted to the Supreme Court a suit for liquidation of the Union of Belarusian Writers.

The main pretensions of the ministry are as follows: the absence of the organization charter; the board with the emblem Pahonia on the House of Literary Worker; the use of the seal that does not meet the requirements - the name of the organization is not in he quotation marks - has been used for four months. The UBW is also accused of relation to a political action - holding of the assembly of the Belarusian Social Democratic Party Hramada in the café of the House of Literary Worker, which is prohibited by the law. In addition, since 2003 the organization had no premises for legal address.

The human rights organization Belarusian Helsinki Committee still has to defend itself from pretensions of the tax inspection. The organization received a copy of the order of the Minister of Justice Viktar Halavanau for its eviction. The order is grounded on the information of the Minsk Maskouski borough tax inspection according to which BHC didn't pay 157 171 607 rubles (73 450 US dollars) of taxes to the budget. The minister also obliged the organization to take the measures for correction of this situation within a months' term. The inspection imposed on the BHC a tax a large economic sanctions for the activity within the limits of the Program of technical aid TACIS. In 2004 Minsk City Economic Court defeated these pretensions. However, the Presidium of the Supreme Economic Court reversed this verdict and satisfied the protest of the first deputy chair of the Supreme Economic Court Iauhen Smirnou against the decision of Minsk City Economic Court that had already come into force. In the beginning of February BHC applied to the Procurator's Office of the Republic of Belarus with a complaint against the illegal decision of the presidium and now is waiting for the decision of the Procurator General. Belarusian human rights activists are sure of the political motivation of the case.

In February the Supreme Court liquidated the Belarusian Union of Youth and Children's Public Associations Rada, the last large independent youth association of Belarus. Rada included seven organizations that possessed the national status.


2. Politically motivated criminal cases


On 21 February workers of KGB detained the activists of the unregistered NGO Partnership Mikalai Astreika, Enira Branitskaia, Tsimafei Dranchuk and Aliaksandr Shalaika. Now all of them are kept in the investigative isolator of KGB. They are accused in organization of the activity of the unregistered NGO on monitoring of elections in Belarus. The KGB also confiscated all equipment and documents from the organization's office.

The activist of Young Front Artur Finkevich was detained at night on 30 January in Minsk together with his friend Aliaksei Ianusheuski for writing political graffiti (He pissed us off!). A criminal case on part 2 of article 339 of the Criminal Code (malignant hooliganism) has been brought against the detainees. They can be sentenced to up to 6 years of jail in the case the final accusation keeps to the same article. Mr Finkevich is kept in the investigative isolator of Minsk, whereas Aliaksei Ianusheuski was released under written undertaking not to leave Minsk.

On 27 February Minsk Maskouski Borough Court sentenced the activist of the BPF Party Dzmitry Kaspiarovich to 5 months of jail. Mr Kaspiarovoch was detained at night of 17-18 January on suspicion in the state flag. However, he was accused on part 1 of article 339 of the Criminal Code (hooliganism). This article provides harder punishment and also allows keeping of the suspect in custody till the trial.

In Mahiliou a criminal case on part 1 of article 435 of the Criminal Code (evasion from military service) was brought against the activist of Zubr Iauhen Suvorau. Activists of Zubr are sure it is just a formal pretext for imprisonment of their friend. It is also confirmed by the fact that the military commission had found Mr Suvorau unfit for military service in peaceful time. Ia.Suvorau was detained on 14 February for hanging out a banner with the urge to take part in the Solidarity Day and charged with violation of article 156 of the Code of Administrative Violation (petty hooliganism).

3. Administrative arrests of public activists


Riot police beat opposition protesters marching through Minsk in 2002

On 17 February the courts of Minsk sentenced to different terms of jail a number of public activists. One of coordinators of the Zubr movement Aleh Miatselitsa was sentenced to 15 days of jail, the activists of Young Front Pavel Fihuryn, Barys Haretski and Aleh Korban - to 10 days of jail. We should remind that on 16 February, the Solidarity Day, the police detained 24 persons in the center of Minsk. The detainees came with candles to Kastrychnitskaia Square to express their solidarity with the political prisoners of Belarus and the families of missing public and political activists. A considerable part of the detainees were under age. There's one more interesting circumstance. Earlier the police used to compose on the detained participants of mass actions reports for violation of article 167 of the Code of Administrative Violations (violation of the law on mass actions). Now all of them are charged with violation of article 156 (hooliganism). This tendency is observed in all courts of Minsk.

On 11 February Minsk Leninski Borough Court sentenced to 10 days of jail the chair of the coordination council of individual entrepreneurs Aliaksandr Manaieu, who was charged with organization of an unauthorized action on the territory of Chervenski market of Minsk on 10 February.


4. Tortures

On 9 February in Homel region the liquidator of the consequences of Chernobyl accident Vasil Siliverst tore off from the agitation stand the portrait and the biography of Aliaksandr Lukashenka (the activity before registration of candidates is prohibited by the electoral legislation and the registration took place on 17 February). The police severely beat Mr Siliverst. They kept him lying on the snow, as a result of which he received a chilblain and was taken to a hospital.

On 26 February in the town of Belaaziorsk the activist of Zubr Artsiom Hovin was taken to a hospital with a cranial trauma. On 25 February the police detained him for a political graffiti. They severely beat him - twisted his arms and hit in the head. Mr Hovin was taken to the surgical department of Belaaziorsk town hospital.


5. Anti-Semitism

Propaganda of anti-Semitism and Stalinism becomes a part of the electoral campaign of Aliaksandr Lukashenka. In February the state TV showed the series Spiritual War with glorification of Stalin and Lukashenka. The oppositional candidates were shown there with David stars on their foreheads.


6. Right to education

One of the leaders of the Young Front Siarhei Marchyk was expelled from the second year of the financial-juridical department of Baranavichy State University. The leader of Hrodna branch of Young Front Iauhen Skarabutan was expelled from the third year of the department of Belarusian philology of Hrodna State University. In both cases the reason for the expulsion was political activity.


end note: Exit polls Sunday showed Lukashenko with an 80 percent majority, which critics claim is fraudulent, having been carried out by two pro-Lukashenko groups.

An exit poll by the EcooM organization gave Lukashenko 84.2 percent of the vote and Milinkevich just 2 percent, EcooM chief Sergei Musiyenko said.

Exit polling by another group, the Belarusian Committee of Youth Organizations, gave Lukashenko 84.2 percent and Milinkevich 3.1 percent, group representative Alexander Yushkevich said on state television.

Milinkevich said he would not recognize the results and called for a repeat vote.