The EU and National elections, Russia and Kazakhstan, Azerbaijan, Flu, Meat and dairy products; Opposition, News, Sport, Culture and Polish scandal...
Belarus calm about EU's criticism of national election laws
From:
BelTA
Belarus is calm about the European Union's criticism regarding the national election legislation. The statement was made by President of Belarus Alexander Lukashenko at a cabinet session held on 10 November to discuss election legislation improvement.
"Let's not conceal that Europeans make certain demands. When I met with representatives of the European Union leadership lately, I told them we are not allergic to and we don't reject the demands made by the European Union," said the President. "We just need a little time. And we accept virtually all the 12 demands of Europe without damaging our domestic policy".
According to the head of state, the Belarusian leadership has no intention to hide that the European Union, the USA and Russia make hints that Belarus could do with correcting the national laws a bit. "We don't reject hints. But I would like to underline once again that we will create all the conditions to preserve stability and manageability in the country. We will hold the elections for ourselves, our nation and the domestic policy of our country. To avoid destabilizing the situation, everything must be compliant with the Belarus Constitution," stressed the President.
Belarus' President: improvement of electoral law will not require constitutional changes
The improvement of the electoral legislation in Belarus will not require introducing changes to the Constitution, President of Belarus Alexander Lukashenko said at a cabinet session held on 10 November to discuss the improvement of the electoral legislation.
"There is no need and no time to hold another referendum on changes in the Constitution," Alexander Lukashenko said.
The President said that the measures to improve the electoral legislation in Belarus that are currently being discussed are a great step forward. However the consequences of such a step should be carefully considered. "It should be done exclusively in the national interests," the head of state said.
A special focus was placed on the following proposals: firstly, election commissions (except for the Central Election Commission) should consist of representatives of political parties and other non-governmental organisations by at least one third. "I do not see any problems here at all. The decision is taken by the executive committee. Contact the executive committee, and it will decide whether or not to include you in an election commission. But such a representation should not be enforced," Alexander Lukashenko said.
Secondly, the procedure of nominating candidates will be simplified. Political parties will be able to nominate candidates in all constituencies regardless of the presence of their offices there.
Third, to give candidates the right to hold mass election campaign events on a notification basis and in the specially-designated places and to give them the right to conduct joint events.
"There are no problems with that either. But let us agree once and for all: whatever place we talk about, may it be Minsk, Mozyr, Bereza or any rural council, a special place should be designated for these purposes. There will be no exceptions for any party. They are welcome to hold rallies provided they give prior notice so that we could ensure the security and order. These rules should be strictly abided by," Alexander Lukashenko said.
Fourth, to allow creating individual election funds having ensured a tough control over fund raising and use.
Fifth, to abolish the minimum turnout requirement to recognize elections to local councils as valid. The head of state stressed that this does not pertain to the presidential election. "We should not cancel the minimum turnout requirement for the presidential election. It should remain as it is: 50% plus one vote," Alexander Lukashenko said.
There are proposals to expand the rights of observers allowing them to monitor vote counting. But again I do not see any problems with that. The chairman of the election commission takes a decision on site who can take part in vote counting and who cannot. Nevertheless, let us discuss this proposal too, said Alexander Lukashenko.
No political turmoil out of liberal election laws in Belarus
"I would like to warn you that discussions about the possibility of these changes should not launch some political saber rattling campaigns. If we start doing it in the time of economic hardships, it is unlikely that we will get out of it," said the head of state.
According to the President, at his latest meeting with CEC Chairwoman Lidia Yermoshina he calmly discussed prospects of improving Belarusian election laws. "We agreed that we will come back to matters relating to improving the election process as a whole," he reminded.
"I would like to stress one more time that we will not stop thinking about the economy, concrete matters relating to the life of the people," said Alexander Lukashenko. He added that the elections should be calm. "Don't pay attention to the squeaking and shrieking inside and outside the country. We should just calmly do our work," he said.
The elections should be honest, fair and open. If Belarusian laws have to be improved to make it happen, it should be done promptly, noted the President. "We should make the principal decision on it today. I wish for the parliament to be able to make the necessary amendments to national laws during this session and wish for the nation to be made aware of them," concluded the head of state.
Other Belarusian News...
Belarus, Kazakhstan proceed with joint projects in various fields
From:
BelTA
Belarus and Kazakhstan will continue implementing joint projects in various areas. This decision was formalized in the protocol signed by the heads of state of the two countries following the working visit of Prime Minister of Belarus Sergei Sidorsky to Kazakhstan on 8-9 November, BelTA has learnt.
The sides discussed the implementation of the agreements reached during the high level visits in 2009 and expressed their satisfaction with the progress in the expansion of the bilateral trade and economic relations.
President of Kazakhstan Nursultan Nazarbayev is to pay an official visit to the Republic of Belarus in late November 2009. During the visit the sides will adopt a joint action plan for 2010-2011 to implement the economic cooperation program between the Republic of Belarus and the Republic of Kazakhstan that is set to run in 2009-2016 ("the roadmap" of the bilateral trade and economic cooperation). Apart from that, the Government of the Republic of Belarus and the Government of the Republic of Kazakhstan are set to sign an agreement on manufacturing and sci-tech cooperation.
According to the sides, there is a need to attach a greater focus to the creation of joint ventures provided they are financially and economically feasible. The sides reached agreements to develop and support the running projects to produce ESSIL-740 (kzc-812) grain harvesters, PST-9 dump semi-trailers, PT-165 balers, lifts and other machinery.
Apart from that, Belarus and Kazakhstan agreed to jointly produce mineral fertilizers. The sides are busy discussing the details of the projects, choosing the Kazakh partners and sources of financing.
The main avenue of cooperation is machinery construction. The sides have agreed to continue the work on the project to develop the assembly facilities of MAZ semi trailers-refrigerators, MAZ passenger transport vehicles and special-purpose equipment based on MAZ chassis.
The sides are mulling over a possibility to start the production and processing of grain crops on the basis of pedigree seeds and modern system of machines, to set up joint ventures to manufacture machine tools, process milk, to make dairy products from Belarusian milk feed stock in the Mangystau oblast, potato products, and to set up a joint venture to package dried baby formula.
The sides will discuss projects on developing the production of instruments and implants for traumatology and orthopaedics and also on joint production of medical goods.
What concerns education the sides agreed to keep working on the Ekzamen.KZ projects. The cooperation in agricultural training will also be enhanced.
The scientific field is presented by projects to develop telecommunication and computing systems, photodiode techniques, high-tech digital medical radiographic equipment together with inspection complexes and non-destructive x-ray inspection systems.
The government bodies and other organizations have been instructed to take necessary steps to implement these agreements and to complete the plan of joint activities for 2010-2011, taking into account the aforementioned projects by 17 November, and to report to the prime ministers of the two countries on the progress in the implementation of these projects.
Russia to honor all obligations on Customs Union formation
From:
BelTA
The Russian Federation is ready to meet all its commitments related to the formation of the Prime Minister of Russia Vladimir Putin said at a session of the State Border Commission on 10 November, BelTA learnt from the press service of the Russian Cabinet.
Vladimir Putin commissioned the relevant authorities with a task to focus on the additional development of the Union State common border together with their partners from the Customs Union. According to the Russian Premier, the Customs Union formation faces a lot of threats; it is a very complicated process from the administrative, financial and law enforcement points of view. But it is a real integration on the territory of the former Soviet Union, Vladimir Putin added.
The Russian Prime Minister reminded that in the time frame of 1 January 2010 – 1 July 2010 the sides plan to launch unified mechanisms regulating foreign trade, enforce the Customs Union Code, complete the moving of control functions to the external border of Belarus and significantly ease control on the Russian-Kazakh border.
"Such integration will require a closer cooperation between the watchdogs and law enforcement bodies of the Customs Union member states. The concerted effort is key to creating an efficient system of state control on the external borders of the common customs area," Vladimir Putin said.
Customs Union to facilitate single car market of Belarus, Russia and Kazakhstan
The Customs Union of Belarus, Russia and Kazakhstan will facilitate a common free car market, Anton Kudasov, Deputy Director of the Foreign Economy Department of the Belarusian Foreign Ministry, told a press conference on 10 November.
"When the Customs Union comes into force we will have the common free market of cars and car components. This will create favourable conditions for us to implement our own projects and attract foreign investors," Anton Kudasov said.
The Customs Union member countries have agreed that any cars which are produced in the Customs Union will be sold duty free in the common customs area, the official of the Foreign Ministry noted. "Today if a car is sold duty free it should meet a long list of concrete technological operations," Anton Kudasov explained.
The sides also agreed that all the transport vehicles (trucks, dump-trucks, buses, farm machinery and cars) produced by the Customs Union member countries will be protected by tariffs which it is of great importance amid the global financial and economic crisis. "At present, all transport vehicles production facilities in Belarus, Russia and Kazakhstan are in need of the tariff shelter. The level of the tariff shelter is important for an investor as well. When entering the Belarusian market the investor will be making the plans regarding the market of the Customs Union," Anton Kudasov said.
Anton Kudasov added that the single customs tariff has not been passed yet. "It is inappropriate to discuss the changes of the tariff rate until the customs tariff is approved by the Customs Union heads of state," the official underscored.
Azerbaijani President to meet with students and professors of Belarusian State University
From:
BelTA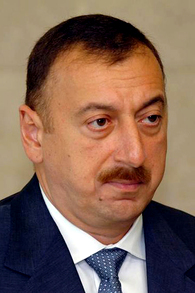 Ilham Aliyev
President of Azerbaijan Ilham Aliyev will deliver a speech to students and professors of the Belarusian State University during his official visit to Belarus on 12-13 November, BelTA learnt from the press service of the Belarusian Foreign Ministry.
The Azerbaijani President is expected to hold negotiations with the Belarusian leadership. He will also lay a wreath at the Victory Monument in Victory Square.
In 2008, Azerbaijan ranked sixth in Belarus' foreign trade with the CIS member states, moving up one position in terms of export.
In 2008, Belarus-Azerbaijan trade totaled $117.7 million, up 25.9% from 2007. Belarus exported $105.4 million worth of commodities to Azerbaijan (up 22%) and imported $6.2 million worth of commodities (90.9% up). Belarus had a $99.2 million surplus in trade with Azerbaijan. In 2008 the export of services amounted to $4.4 million (80.9% up), import — $1.6 million (20.4% up). Belarus had a trade surplus of $2.8 million in trade with Azerbaijan.
For the past five years the bilateral trade has increased more that 10 times and surpassed $100 million in 2008. The Belarusian exports to Azerbaijan have surged 12 times over the same period.
In January-August 2009, the bilateral trade amounted to $71.5 million (up 90.4% as against the same period of last year). Belarus' export totaled $68.861 million (91.4%), import — $2.6 million (70.1%)
Belarus and Azerbaijan cooperate not only in trade and economy. The two countries have been developing industrial interaction too. Azerbaijan's companies assemble Belarusian tractors, trucks and optical equipment; the assembly production of elevators and agricultural machinery is being negotiated, too.
Cultural Scene...
Alena Lanskaya and Natana to represent Belarus at Atlantic Breeze 2010 in Miami
From:
BelTA
Alena Lanskaya
Belarusian singers Alena Lanskaya and Natana will represent Belarus at Atlantic Breeze 2010 international song contest in Miami (USA) on 8-10 May.
Taking part in the selection final were also VTNV duet, Katusha RnB band, Dmitry Maksimovich, Aleksha Cherniy, Dmitry Grin, Igor Vakoluk, Daria, Katrin and Anna Blagova. All the participants performed two songs.
The selection final in Minsk was opened by Pulya (Lena Voloshina), the winner of the contest in 2009. Therefore Belarus received an opportunity to send two performers in 2010.
The jury panel included People's Artist of Belarus Alexander Tikhanovich, singer Aleksei Khlestov, designer and modeller Ivan Aiplatov, conductor of the President's orchestra of the Republic of Belarus Viktor Babarikin, Alpha Radio program director Natalya Barkovich, finalist of the 1st Latvian song contest Marite Veitnere, participant of Lady Boss Latvian photo project Irina Beinarovich.
Altlantic Breeze 2011 selection tours will start in January 2010, chairman of the organizing committee of the contest Alexander Voloshin said. The finalists of 2009 will have a chance to start with the semi-final of the contest.
Economics...
Belarusian meat, dairy products in EU within six months
From:
BelTA
Belarus can start supplying meat and dairy products to the European Union within the next six months, Belarusian Agriculture and Food Minister Semyon Shapiro said during an online conference hosted by BelTA.
"I think major changes should happen within the next half a year," said the Minister. "Belarus is not widely represented in the European Union yet. Our dairy products are already available in England, Japan, and many other countries. They are available as finished products and can be used as raw stock. In order to increase the access to the European Union market, we are now working on several things, in particular, the technology".
At present Belarus is in talks with the European Union regarding food supplies to Europe. A meeting of agriculture ministers of Belarus, Estonia, Latvia and Lithuania is supposed to take place in Riga in two weeks. The agriculture ministers of the Baltic Sea states have promised aid to Belarus in getting wider representation in the European Union.
"I think apart from technological measures some political steps are necessary. We expect considerable support from our diplomatic agencies. The support is already granted: negotiations with the European Commission are in progress, meetings are organized, protocol obligations are honored," said Semyon Shapiro. He also said that European experts have already checked three Belarusian companies — Santa Bremor, Savushkin Product, Bereza Cheese Factory. The experts were pleased with the quality of Belarusian meat and milk processing, remarked the Minister.
In his words, the European Union has rather severe requirements for the entire chain of milk product manufacturing from feeding the animals to supplies to end customers. "I think there are some tricks here, the lack of a desire to see another competitor on the European market. Taking into account the cost of our products, we will be tough competitors for European producers," believes Semyon Shapiro. "Belarusian food is less expensive thanks to lower salaries and other factors. Many European Union representatives don't like that".
The Agriculture and Food Minister also underlined that Russia and Ukraine will remain key markets for the Belarusian meat and dairy industry for the next few years. At present, Russia's annual demand for meat stands at 9 million tonnes per annum, while the country manufactures 3 million tonnes. "At present Russia's demand for milk makes 37-38 million tonnes per annum while the country manufactures only 32 million tonnes. Why the brotherly country is restricted to supplying only 3 million tonnes of milk onto this market? I think we should supply more to the Russian market. Our colleagues in Russia are interested in more favorable treatment of Belarusian products. Since the Soviet Union times we have been a major supplier of food to the Union market. It would be ill-advised to break these business ties both for the Belarusian and Russian sides," believes the Belarusian Agriculture and Food Minister.
Belarus' jobless rate remains at 0.9%
As of 1 November, the unemployment rate in Belarus remained at 0.9% of the workforce. The index has not changed since 1 October, BelTA learnt from the main employment and population office of the Ministry of Labour and Social Protection. As of 1 October 2008, this index was 0.9%, and it was 0.8% on 1 November 2008.
The national employment program for 2009-2010 envisages that the unemployment rate will not exceed 1.1-1.2% of the workforce by the end of 2009.
As of 1 November, the 1.1% unemployment rate was registered in the Brest, Vitebsk, Gomel, Grodno and Mogilev oblasts. The jobless rate in the Minsk oblast was 0.9%, and in Minsk it was 0.4%. The registered unemployment in Minsk fell down by 0.1%, while in the Mogilev oblast it increased by 0.1%.
As of 1 November, 41,400 people were registered as unemployed (7.5% up as against the same period of 2008). About 2.7% more people applied to the state employment service in January-October as against the same period of 2008. The number of registered unemployed increased by 5.2%. The number of people who needed to be employed remained the same – some 346,000.
In January-September 2009, 3,100 people who were laid off got registered as unemployed (3.9% down as against the same period of 2008). Their ratio to the total number of the registered unemployed made up 1.7% (1.9%).
Nationwide LAN may span Belarus in 2012-2013
A united Ethernet network might cover the entire Belarus in 2012-2013, Igor Sukach, Director General of the Alternative Digital Network company (Atlant Telecom and Shparki Damavik brands) told media on 9 November.
"The Ethernet network will cover Minsk and all Belarusian regional centers in 3-4 years", said Igor Sukach. Current technologies allow accessing internal and external resources of the network at the speed up to 100 Mb/s. Nowadays thousands of Minsk households, including those in the remote residential districts of Loshitsa, Kuntsevschina and Sukharevo, can use this network. The net is supposed to span the whole city and the regional centers in the future. The Ethernet technology will be interesting for housewives, engineers and school students, said Igor Sukach.
He also stressed that the wireless solutions mobile operators offer, including high-speed Internet access via 3G networks, do not pose any competitive threat to the companies which develop wired technologies. Each company has its own area: some focus on home and office users while others cater to those who are constantly on the move, assured Igor Sukach.
The Atlant Telecom CEO admitted the possibility of launching IP television via the Internet. "Such a solution is evident taking into consideration development tendencies of Internet technologies and their services", said Igor Sukach.
From the Foriegn Press...
Belarus Reports Nearly 1/4 Million Cases of Flu
From:
Before it's news
From the web site Recombinomics, where they have translated an article that describes a significant influenza outbreak in Belarus...
According to the press service of Belarus continues to rise in the incidence of influenza and acute respiratory infections (ARI). From 2 to 9 November in 18 cities of the republic controls 223,349 registered cases of influenza and ARI. Among the control of cities, the highest incidence rates of influenza and ARI recorded in Rechitsa, Gomel, Mozyr, Molodechno, Mogilev, Vitebsk, Borisov, Minsk, Soligorsk.
In the region from 2 to 9 November diagnosed with influenza and acute respiratory infections (ARI), put 48,752 people, of which the proportion of children was 49% (24051), adults - 51% (24701). Share hospitalized was 2.7% (1,299 people). Among the hospitalized children predominate (60%).
Translation is a little rough, but there is more information at the site, including some speculation about small genetic changes in virus position 225, which have now been reported in multiple swine isolates.
Minsk Forum Raises New Questions
From:
Eurasia Daily Monitor
The Minsk Forum has become a regular feature of the late fall in the Belarusian capital. Each November, an increasingly large gathering –including diplomats, politicians, academics, and business people from more than 20 countries this year– assembles to discuss a variety of issues, with its focus on E.U. relations with Belarus and the prospects for democratization in the country. For the second year in succession, the head of the presidential administration, Uladzimir Makei, attended the proceedings. In 2008 he was bombarded with questions, but this year he seems to have had a warmer reception. The forum, which was initiated and is still chaired by German scholar Rainer Lindner, mirrors the efforts of the Eastern Partnership Project to develop closer ties with Belarus. On the horizon –before the end of November– is the prospect that the Council of the E.U. will remove all formerly imposed sanctions on Belarus, which are currently suspended. Speakers at the Forum were insistent that Europeans have not compromised any principles in the new policy of engagement with the Lukashenka regime.
Thus, German MP Mariluise Beck, in a speech at the forum, emphasized the significance of freedom of the media, open work with informal associations, and freedom for political parties in Belarus. Charge d'affaires of the Delegation of the European Commission to Belarus, Jean-Eric Holzapfel, stressed that the Europeans have not forgotten the original 12 principles they elaborated in order for full working relations to be established with the Minsk government (www.charter97.org, November 6).
One question raised by the forum was the issue of Belarus' recognition of Abkhazia and South Ossetia, the breakaway regions of Georgia. Only three countries to date have recognized their independence, namely Russia, Nicaragua, and Venezuela. Swedish ambassador Stefan Eriksson praised the Belarusian government for its stance to date, despite pressure from Russia to take such a step (Belapan, November 6).
There is every indication that the E.U. will remove the sanctions permanently. It has recently lifted similar sanctions on Uzbekistan, which has a much worse human rights record than Belarus. The E.U. has also found in Belarus an amenable partner: the Lukashenka administration is happy to trade and talk with the Europeans, and in particular it would like to see the elimination of the restrictive visa regime, which requires 60 Euros ($90) for entry of Belarusians into the Schengen zone (Narodnaya Hazeta, November 9). The vast majority of Belarusian residents would favor such a step. On the other hand, the Belarusians are not prepared to change either the nature of their regime or their foreign policy. They have never wavered from this position.
Thus, speaking at the forum, Makei stated that Belarus' participation in the Eastern Partnership Project does not signify a change in foreign policy. Similarly, Uladzimir Ulakhovich, the Director of the Center for International Research at the Belarusian State University, commented that the Belarusians favor pragmatism and the lifting of barriers and restrictions to trade between Belarus and the countries of the E.U. (Narodnaya Hazeta, November 9). He also reported (November 4) that the Belarusian parliament will consider recognizing South Ossetia and Abkhazia. On the following day, the legislature formed a working group that is to travel to these regions to examine the situation at first hand. The move seems illogical, if Belarus is really paying attention to the comments made at the Minsk Forum (www.charter97.org, November 4-5).
On November 4, President Alyaksandr Lukashenka stated that the E.U. and other international organizations, as well as European governments, were beginning to recognize that it was necessary to treat Belarus as an equal partner (Belarusian Telegraph Agency, November 4). From his perspective, that status signifies that it is not the place of the E.U. or the EPP to impose any conditions on his country. It seems evident that the position of Belarus is to maintain relations with both Russia and the E.U., using the former as a major political partner and the latter as a source of trade and extra income.
Meanwhile, some political parties are still struggling for recognition. A case in point is the Belarusian Christian Democratic Party, a radical rightist organization that campaigns against abortion and "for family values." Having been turned down twice by the ministry of justice, the party leaders considered holding a repeated founding congress in Kastrichnitskaya Square in the center of Minsk. However, on October 31, it held a more formal meeting and again applied for registration (Belorusy i Rynok, November 2-8). Pressure on political parties opposed to the government remains intense. One of the leaders of the BCDP, Pavel Sevyarinets, has frequently been harassed and arrested.
One can hardly blame Lukashenka for exploiting the vacillation and uncertainty of Europeans, whose policies have been markedly inconsistent. One wonders, however, whether the latter really believe that the Belarusian government pays any attention to issues of human rights or democratization. It has no need to do so when it has maneuvered itself into a very favorable position without reforms or developing a more tolerant society. As analyst Uladzimir Padhol told Jamestown, those opposition factions that do not back membership in the EPP with minimal concessions on the part of Minsk, are consigned to the role of dissidents in their own country, increasingly marginalized if not ignored altogether. That is what the government has been seeking for the past thirteen years and it is now very close to attaining its goal.
Belarus MPs to visit Abkhazia, S.Ossetia on recognition request
From:
RIA Novosti
A delegation of Belarusian MPs will visit the two former Georgian republics of Abkhazia and South Ossetia on November 17-19 to study their request on recognizing their independence, a senior lawmaker said on Tuesday.
"Belarusian deputies and senators intend to study the situation on the spot to make a decision on whether to recognize the independence of Abkhazia and South Ossetia or not," said Sergei Maskevich, chairman of the lower house's commission for international relations with former Soviet republics.
Abkhazia and South Ossetia asked Belarus to recognize their independence last year. However, Belarus has so far refused to join Russia in recognizing the republics.
Russia recognized the two republics shortly after a five-day war with Georgia in August 2008 that began when Georgian forces attacked South Ossetia in an attempt to bring it back under central control. Abkhazia and South Ossetia have also been recognized by Nicaragua and Venezuela.
The Belarusian parliament resolved last week to establish a working group to consider the recognition of the former Georgian republics.
Israeli ambassador urges Belarusian authorities to restore synagogues
From:
Navany
The Israeli ambassador to Belarus has urged the authorities to restore synagogues amid a "disastrous" shortage of prayer houses for Jewish communities in the country.
The Belarusian government should pay attention to deteriorating synagogues, which were built with contributions by the faithful, Ambassador Edward (Eddie) Shapira said at an international conference on a Christian-Jewish dialogue that began in Minsk on November 9.
"I do understand that there is no restitution law in the country, but there is a wave of religious revival and the state does not only return churches that once belonged to Orthodox Christian communities but also helps renovate them," the ambassador said.
Mr. Shapira expressed concern about the condition of the "unique" three-story synagogue in Hrodna. Many tourists, including Jews, visit the city, but it is impossible to invite them to the synagogue hit by "devastation," he said.
The ambassador also voiced alarm over what he called the unwillingness of law-enforcers to probe attempts to incite national hate "even when they are visible by the naked eye."
He said that a swastika and an anti-Semitic text were sprayed on the building of the Jewish community in Slutsk, Minsk region, earlier this year, condemning the act as a vivid example of racism.
The ambassador called on the authorities to draw up regulations that would prevent immoderate construction work at old Jewish cemeteries and the sites of the WWII mass execution of Jews, and ensure that human remains discovered at such sites be reburied with proper rituals.
From the Opposition...

Swine flu cases in Belarus 4.5-fold higher than in Ukraine
From:
Charter '97
According to the Ministry of Health, 85 people suffer from swine flu in Belarus. Seven of them died. The Ministry of Health of Ukraine says 17 swine flu cases have been detected in the country, 6 people died.
Thus, if take into account that the population of Ukraine exceeds the population of Belarus 5 times, the number of swine flu cases per capita in Belarus is 20-fold higher than in Ukraine.
The Ukrainian authorities announced an epidemic and applied for international aid, the Ukrainians have all necessary medicines now. The Belarusian authorities say there is no epidemic in the country, drugstores lack of antivirus and immune-enhancing medicines, hospitals are overcrowded with patients with pneumonia, who can't get necessary treatment because of the lack of medicines.
We remind that in the evening of November 4, official media said referring to the Ministry of Health that a seasonal increase of acute respiratory infections started in Belarus. The number of ill persons is greater by 70 percent if comparing with the last year.
The number of pneumonia cases is growing in the country, the Ministry of Health notes. The total number of people suffering from pneumonia is 2154. 19 lethal outcomes have been registered for the last 19 weeks.
In total, 85 cases of swine influenza have been detected in the republic, officials say. 31 persons are in hospitals, 47 persons recovered. The virus A(H1N1) was found at 7 out of 19 patients, died from pneumonia.
Far more people that officially announced 85 obviously have swine flu in Belarus. As the Ministry of Health reported earlier, most patients with pneumonia are not tested for swine flu. It should be noticed that the death rate from wine flu in the world is less than 1 percent.
2 126 persons amnestied
From:
Viasna
According Zhana Baturytskaya, head of the regime work department of the Ministry of Internal Affairs, as a result of the law on amnesty whose implementation came to an end on 7 November, 2 126 persons were released from closed penitentiary institutions of Belarus.
383 of the released persons are under-aged, pregnant women, single parents, men over 60 and women over 55 years old, people ill with tuberculosis, oncologic illnesses, etc.
58 of the released people had been convicted for the crimes that didn't present a large social threat. 560 of the released were sentenced to less than six years of imprisonment and served one fourth of their sentence till enforcement of the law on amnesty.
194 persons were freed from arrest. 37 of the released had committed crimes on negligence, mainly car accidents. Less than a year of imprisonment was left to 798 of the released persons.
The prison terms were reduced by a year to 9 345 persons.
162 women were released from women's colonies. The prison terms were reduced by a year to 991 women. 159 minors were release from children's colonies and prison terms were reduced by a year to 255 minors.
As a result of the amnesty the scale of financial compensation for the harm done by criminals reached 5 812 000 069 000 rubles. During the previous amnesty this number was 1.5 billion rubles. 'Thus, this amnesty was beneficial for the victims', said Baturytskaya. According to her, in some cases the prisoners' relatives took bank loans to pay the means necessary for getting the convicts amnestied.
'Those who were getting obligatory treatment against dipsomania could be granted parole only after completion of the treatment course. The number of such persons is insignificants,' she added.
Russia...
Russia, S.Ossetia to report in Geneva on possible Georgian attack
From:
RIA Novosti
Russia and the South Ossetia are set to raise the issue of a possible Georgian attack on its former territories during the Geneva talks on situation in the Caucasus to begin on Wednesday.
The Geneva talks are backed by the UN, the EU and the OSCE and involve Georgia, Russia, South Ossetia and Abkhazia. The previous, seventh round of talks took place in September.
Russian Deputy Foreign Minister Grigory Karasin said Russia had "alarming facts" that show that Tbilisi was still counting on using force to regain control over its former republics of Abkhazia and South Ossetia.
He also said that Russia would again raise the question of concluding treaties on the non-use of force between Georgia and its former republics.
South Ossetia said it would also present "conclusive evidence" that a new Georgian aggression against the former republic is being prepared.
The Georgian delegation plans to raise the issue of four Georgian teenagers, detained in South Ossetia reportedly while in possession of grenades and explosive substances. In a similar move, South Ossetia will urge the release of three of its nationals apparently abducted from its territory by Georgian special services on October 13, 2008.
Russia recognized the independence of the former Georgian republics of Abkhazia and South Ossetia last August after a five-day war with Georgia over the latter, which was attacked by Tbilisi in an attempt to bring it back under central control.
Russian ex-officer's anti-corruption blog causes stir
From:
Reuters
A former Russian policeman, who accused officers in his home town of corruption in blogs that had more than one million Internet hits, said on Tuesday he wanted to discuss the affair with Prime Minister Vladimir Putin.
Major Alexei Dymovsky was fired after he posted two video clips on YouTube in which he appealed to Putin to rein in senior officers who he accused of pressuring subordinates to charge innocent people to meet statistical targets.
Unusually for Russia, where reports of high-level corruption and abuse of power rarely go public, Dymovsky's accusations have become a highlight of print media and key state-controlled television channels.
"We have to serve the law, not the generals," Dymovsky told a packed news conference in Moscow on Tuesday, Russia's national day for its police forces. "I want to keep working and I want to achieve justice."
He also complained of surveillance and efforts to stop him traveling to Moscow.
After the videos gained attention in media reports over the weekend, Interior Minister Rashid Nurgaliyev, responsible for the police, promised an inquiry into Dymovsky's allegations.
POLICE REJECT ACCUSATIONS
Regional police were fast to report that their own investigation failed to back up Dymovsky's charges.
Dymovsky, who worked in the criminal police force of the Black Sea port of Novorossiisk, accused senior officers of forcing him to work at weekends and exerting undue pressure.
The major repeated the accusations in video clips posted on his website dymovskiy.ru and viewed more than one million times on YouTube, according to the site's statistics.
"I want to show you from the inside the life of cops across Russia ... the ignorance, the boorishness, the recklessness, where officers die because of their dim-witted bosses," Dymovsky said in the video.
Dymovsky told reporters that senior officers kept compromising material on subordinates so they could fire them at any time. He said officers were pressured to charge innocent people to meet targets for solved crimes.
"If you fulfil the plan, then great, if you don't, you have to pay. The orders come from the leadership, but it's all oral, of course."
Dymovsky said he planned to stay in Moscow to try and have a meeting with Putin to secure a wide-scale inquiry to help restore the honor of the police.
Dymovsky told reporters he believed his telephone was tapped after the YouTube clips came to light and described how his car was blocked on his way to a local airport.
After leaving by road for Moscow, he said he changed his car three times and removed the battery and sim card from his mobile phone to prevent himself from being monitored.
Russian news agencies quoted an unnamed interior ministry source as saying Dymovsky's protest was a provocative act aimed at destabilizing the situation in Southern Russia and discrediting police, possibly organized by "foreign money."
Is Russia playing both sides on Iran nukes?
From:
CSMonitor
Russia's President Dmitry Medvedev speaks with German journalists Sunday at the Gorki residence outside Moscow. Sanctions against Iran should not be ruled out if it fails to agree to restrictions on its nuclear program, Medvedev told the German weekly magazine Der Spiegel.
Iran's failure to respond to an international offer to enrich much of its uranium stockpile outside the country – for use in a Tehran medical research facility – is again raising the prospect of tougher sanctions.
Much of the focus of the sanctions debate is falling on Russia, which has blown hot and cold on additional punitive measures on Iran over its nuclear program – but which is sounding open to the idea once again. The attention is reviving lingering questions about Russian assistance – either official or unauthorized – to Iran's nuclear program and weapons research.
Russian President Dmitry Medvedev and French President Nicolas Sarkozy issued a statement Monday warning Iran that "the international community's patience is not infinite." The two leaders, in Berlin for the 20th anniversary of the fall of the Berlin Wall, said they "do not rule out" another round of sanctions aimed at the Iranian leadership and its advancing nuclear program.
Those words followed comments by President Medvedev over the weekend to German journalists, when he suggested that Russia could support additional sanctions if Iran fails to take the opportunity to cooperate with world powers in its nuclear program. Noting the offers now before the Iranian leadership, Medvedev told Germany's Der Spiegel magazine, "I wouldn't like to see all that ending in the introduction of international sanctions … but if there is no movement forward, no one is excluding such a scenario."
The US, Russia, and France last month negotiated a deal with Iranian officials to remove almost three-quarters of Iran's slightly-enriched uranium stockpile to Russia and France for further enrichment to a level needed for a research reactor. Removal of the uranium would ease international concerns about Iran's nuclear intentions and allow for what the Obama administration hopes would be fruitful negotiations with Iran on a range of issues.
But Iranian state media reports and statements from some Iranian lawmakers suggest the government will reject the deal – perhaps offering to buy the uranium it needs for its reactor and moving its uranium stockpile to a domestic location for international surveillance instead.
Eyes have turned to Russia because, as a veto-wielding member of the UN Security Council, it could squelch any move to impose additional sanctions through the council. China also holds veto power in the Security Council and has discouraged talk of a new sanctions resolution, but some diplomats believe that it would go along if Russia decided to support new punitive measures.
Russia also has close economic ties to Iran and a history of cooperation with Iran on both its nuclear program and defensive military development.
"There's quite a bit of military cooperation between the two countries, and suspected nuclear cooperation before '04," says David Albright, president of the Institute for Science and International Security in Washington.
Officially, Russia has sold defensive missile systems to Tehran – though it is currently holding up delivery of a more sophisticated surface-to-air system, drawing protests from Iranian officials. "The Russians seem to modulate that cooperation depending on how things are going," Mr. Albright says, noting there could be a connection between Iran's lack of response to the uranium deal and the Russian brakes on delivery of the new missile system.
But suspicions have also grown over the last year that Russian scientists, perhaps acting in an unofficial or "rogue" capacity, have been assisting their Iranian colleagues in pursuit of a nuclear weapon and weapons delivery systems. Israeli Prime Minister Benjamin Netanyahu is believed to have flown secretly to Moscow in September to present Medvedev and Russian Prime Minister Vladimir Putin with a list of names of Russian scientists that Israel says took nuclear know-how to Iran.
Those reports have prompted some members of Congress to pressure President Obama to report to Congress on suspected Russia-Iran nuclear cooperation before the US pursues any new or additional nuclear accords with Russia.
From the Polish Scandal Files...
Corruption is background of Polish gambling law
From:
Earth Times
The Polish government, in a draft law it approved on Tuesday, is taking on the gambling industry and corruption weeks after a scandal broke involving high-ranking politicians accused of lobbying for casino owners. The draft law, which requires the approval of the parliament and president before it can take effect, would ban slot machines outside casinos and raise taxes for the industry.
The scandal saw four top politicians depart on October 7 amid reports of politicians' lobbying to block provisions in a bill that would have increased taxes the gambling industry pays to the state.
But experts warn that the country needs long-term solutions to tackle corruption in politics, and that Warsaw is focusing on the gambling problem to steer attention away from government corruption.
Anna Urbanska, chairman of Transparency International in Poland, had a favorable view of the draft law, but she said that Warsaw needs to address corruption with a permanent system that will outlast the current government and continue beyond the next elections.
"More important now is a national strategy of a couple years - a national anti-corruption strategy - where NGOs and other organizations and watchdogs would monitor every year if progress has been made," Urbanska said.
Transparency International, based in Berlin, monitors corruption worldwide.
Last month, Prime Minister Donald Tusk dismissed the head of the Central Anti-Corruption Bureau amid charges the official overstepped his powers during an investigation in 2007. That same day Tusk accepted resignations from the justice minister, deputy economy minister and deputy prime minister in connection with the gambling scandal.
Those sweeping changes in the government came after the sports minister resigned and the head of Tusk's Civic Platform, Zbigniew Chlebowski, was dismissed after publication of wire-tapped conversations between Chlebowski and gambling industry leaders.
Despite these drastic moves, one analyst said, Tusk is taking a milder approach to battling corruption than one of his predecessors, former prime minister Leszek Miller, who conducted sweeping purges of his Democratic Left Alliance.
"Politicians and governments that battle corruption in a spectacular way are doomed to failure, because it's hard to prove later that they were effective," said Grzegorz Makowski, an analyst at the Institute of Public Affairs, a Warsaw-based think tank.
Tusk's strategy is different from Miller's, Makowski said, as he quickly shifted from the gambling scandal to tackling slot machines and under-age gaming.
"Tusk hasn't engaged himself in the scandal. He got rid of those closest to the scandal, but there wasn't a thorough cleaning up of his entire party," Makowski said. "He covered the problem of corruption with the problem of gambling."
Some 76 per cent of Poles say corruption is widespread in their government, according to polls by Gallup of 1,000 adults conducted in 2006 and 2007.
Poland was near the bottom of a 2008 Transparency International study of 31 European nations, with only Romania and Bulgaria scoring worse.
But the individual score for Poland in 2008 was an improvement compared to its 2007 score, and that could be due to the creation in 2006 of the Central Anti-Corruption Bureau, Transparency International said.
Poles are quite conscious of corruption, Urbanska said, which puts pressure on government to work towards transparency.
"Poles talk more about corruption and are more aware of it, which has a big influence on government reforms," Urbanska said. "That leads to our feelings that it's getting better. And maybe we don't have many successes, but something is being done."
An investigative commission, which is being led by Civic Platform, was recently set up to probe the gambling lobby scandal. Urbanska said it is not appropriate for Civic Platform to be leading the commission.
Poles are doubtful that the commission will examine everything, because there have been so many different commissions over the years that they have lost value, Urbanska said. Often, she added, they are used as a field for political battles.
Polish man Reszpondek faces life for murdering 'Tati'
From:
The Leader
Lukasz Reszpondek
THE Polish cheese-cutter found guilty of murdering Ermatati Rodgers of Wrexham now faces a mandatory life sentence.
Lukasz Reszpondek showed no emotion as the majority verdict was announced in Mold Crown Court yesterday.
Sentencing was adjourned until Friday.
Mr Justice Lloyd Jones told him: "You will know that by law there is only one sentence for murder and that is life imprisonment."
The 11-strong jury took seven hours and 17 minutes to convict the defendant by a majority of ten to one at the end of the three week trial.
After the verdict, the officer who led the inquiry branded Reszpondek as determined and cold, and said he had done everything he could to protect himself.
"All he was concerned about was self-preservation, not the recovery of Tati's body or the feelings of her family and friends," said Det Chief Insp Wayne Jones.
The court heard how he strangled her and buried her – but 14 months later tried to dig her up again as police closed in on him.
Reszpondek spent three hours digging with a spade, a fork, and his bare hands but he could not recover the body.
So, in the early hours one day in March he went to police to tell them where the body was – and claimed she had simply dropped dead of natural causes at his home.
He buried the woman in panic, he claimed. But the jury rejected his story and found that he had murdered her and then disposed of the body in a bid to get away with the crime.
The court heard how 41-year-old Mrs Rodgers, known as Tati, who lived in Gwersyllt, was missing for 14 months before her body was eventually found by police at a beauty spot at Erddig in March.
Police had set up covert cameras in the countryside and watched the defendant visit the shallow grave. He claimed he went there to pray.
But after a long operation the police changed tactics to try and spook the defendant to lead them to the body – and it worked.
Prosecuting barrister Michael Chambers, QC, said that quite simply innocent people did not bury bodies.
He then set about disposing of the body and might well have got away with it if he had not made certain fundamental errors, the prosecutor claimed. Using his credit card, which police were able to trace, he bought a spade, a large suitcase and other items used to help him bury the body.
Secondly, he buried her body in clay which had the effect of preserving the body.
Thirdly, Mr Chambers said, the defendant had recorded the approximate area of the burial site at Erddig in the memory of his car satellite navigation system in the list of his favourite locations and named it "Tt", an abbreviation of her name.
He kept returning to that area in his car but the police did not know precisely where the body was buried.
On Thursday, March 19, this year after months of surveillance, the police made a big show of digging in the fields around that area, looking for the body of Ermatati Rodgers, with a lot of Press publicity.
"The defendant made the error of taking the bait," Mr Chambers said.
"The defendant watched the police looking for the body from the top of a nearby slag heap, hiding in bushes, wearing camouflage clothing and using binoculars.
"What he did not know was that the police were watching him, watching them," he said.
By Sunday afternoon, March 22, the police digging was getting perilously close to the actual field which contained the body, Mr Chambers told the jury.
"The defendant must have thought that on the Monday morning they were likely to move into the actual field and find the body.
"So, on that Sunday night, he tried to move it.
"However it was more difficult that he anticipated and after about three hours he had to stop. It was only at that stage that he went to Wrexham police station.
"He told them where they could find the body."
Home Office pathologist Dr Brian Rodgers conducted a post mortem examination and he said that there was no sign of any natural decease which could have explained her sudden death.
But he did find bruising and fractured thyroid cartilage horns consistent with strangulation.
Mrs Rodgers met the defendant in the summer of 2004 when they both worked together at a dairy at Marchwiel near Wrexham.
The prosecution said that they formed a close relationship which continued after the defendant's wife came over from Poland to join him in Wrexham.
It was alleged that they had a sexual relationship although that was denied throughout by Reszpondek.
At Christmas 2007 the defendant – a married father of two – returned to Poland. His family travelled by plane but he went separately by car. He, apparently, did not like flying and he would also have the use of the car in Poland.
He returned from Poland early without his family in order to work and drove back again.
The journey was more than 900 miles and involved taking the car ferry from Dunkirk to Dover. He arrived on Friday, January 4, and instead of resting after his long journey the defendant took the opportunity of his wife being away to see Mrs Rodgers.
Interviewed after the body was found in March, the defendant denied that he had murdered her.
He said that on the night of January 4 he had gone upstairs to take a shower, leaving her downstairs. The defendant said that he came back down to discover that she had collapsed and was dead.
Jeffrey Samuels, QC, put forward the theory that she may have died of sudden death syndrome. Or her crash dieting may have caused a fatal cardiac condition, he added.
LUKASZ RESZPONDEK was last year jailed for possessing indecent images on his computer.
They were found by detectives when he became their number one suspect in the murder of Ermatati Rodgers.
Officers seized his computer as part of the investigation – but also found child porn images. He was charged and jailed for 32 weeks in October of last year.
Reszpondek was ordered to register as a sex offender for 10 years.
At the time, Judge Philip Hughes also made an indefinite Sexual Offences Prevention Order which, among other things, restricts his use of the internet and particular file sharing software.
He took into account the defendant's guilty pleas to 12 offences of making and possessing the 83 images and the fact that he had no previous convictions.
Sex tape delivered to family of Farrell's Polish girl
From:
New Poland Express
The family of Polish model Alicja Bachleda-Curus is shocked by the sex scandal
A banned sex tape showing Hollywood star Colin Farrell romping with a Playboy model has been sent to the family of his girlfriend Alicja Bachleda-Curus, it emerged Wednesday.
Farrell and Alicja - who has just given birth to the star's baby son- are said to be furious over what they see as an attempt to horrify her traditional Polish family.
The film - showing Farrell and model Nicole Narain in a frantic sex session - was shot more than six years ago and has been banned since the star won an injunction in 2005.
But Polish media report that a copy of the tape has arrived at the home of Alicja's cousins in remote Zakopane, in a plain package with no clues as to who sent it.
"They are simple mountain people who are pretty conservative and this video just confirms for them what they thought all along - that Farrell is a corrupt bastard," a friend of the family told the daily paper Fakt.
"They don't see him as a superstar - but as a person who has hurt the pride of their family," they added.
Friends say there was already tension between Alicja's family and Farrell who has been accused of seducing the actress with his louche lifestyle.
"Her mother Lydia went to America to see her daughter and the couple's son Henry Tadeusz, but she ignored his English name and just called him Tadeusz.
"She is determined to persuade Alicja to grow up and bring her baby back to Poland so that he can be raised away from the Hollywood," added the family friend.
Police launch murder probe as dad nicked
From:
NPE
Police in the town of Deblin have launched an investigation into a shocking multiple murder, that left three members of a family, including an 89-year-old woman, dead.
The bloody bodies of 15-year-old Karol J. his mother Halina J. and his grandmother Wenceslas S. were found in their home. All had been killed by knife or axe wounds.
Police reported that the killer had tried to hide the crime by attempting to set fire to the family home. After murdering the three he had, apparently, lit a candle and then opened a gas canister in the hope that an explosion and fire would obliterate traces of the crime.
Although a small fire broke out the gas failed to ignite.
So far police and prosecutors' attention has focused on Karol's father Zbigniew J. Prosecutors from Lublin confirmed that they have placed the 46-year-old man, who was the first to alert the police about his family's brutal slaying, in detention for three months as they investigate a crime that has left friends and neighbours of the family stunned.
"Just yesterday I talked with Mrs. Halina. I asked her how her mother felt, and to pass on my greetings. Several hours later, I learned that she was murdered," one neighbour told the television channel TVN24.
Just why the three died has left investigators perplexed.
Living in modest circumstances they had little in the way of valuables that could have attracted thieves.
They were not wealthy," said another neighbour. "There are many richer people living on the street. You know that by just looking at the houses."
Police said that the house showed no sign of forced entry, indicating that the victims knew the killer, adding that the family were respected in the local community and therefore may not have fallen victim to somebody with a grudge or bent on revenge.
"Karol never had trouble with anyone," said a friend, Przemek. "He was an ordinary, likeable pupil; I still see him standing before my eyes now. A few days ago we played football together. It's difficult for me to believe in everything that has happened."
A stalwart of the community before made frail by ill-health, Karol's grandmother had sung on the local choir and was known in the town for the warmth of her hospitality and the quality of her cakes.
Two days after the murder television news showed the handcuffed father being taken away by the police for questioning.
Sport...
Belarus wins 11 medals at world sambo championship in Greece
From:
BelTA
Belarusian athletes won 11 medals at the FIAS World Sambo & Combat Sambo Championships in Thessaloniki in Thessaloniki on 5-9 November.
The men's team won six awards. Yuri Rybak won a silver medal in the 100kg+ category. The bronze medalists are Anton Mashkovich (57kg), Igor Sedoi (62kg), Magomed Abdulganilov (82kg), Andrei Kazusenok (90kg) and Evgeny Semochkin (100kg).
The women's team picked up five medals. The gold medals went to Yekaterina Prokopenko (60kg), Anastasia Leshkova (64kg) and Yekaterina Radevich (72kg). Yulia Borisik (80kg+) claimed silver and Tatiana Moskvina grabbed a bronze medal.
Belarus' men's team placed third in the overall medal scoreboard with 23 points behind Russia (47 points) and Kazakhstan (26 points).
Belarusian athletes did not compete in the combat sambo tournament.
The women's team of Belarus was second with 30 points. Russia ranked first (49 points) and Serbia was third (19 points).
All in all 46 countries took part in the 2009 World Sambo & Combat Sambo Championships in Thessaloniki.
Belarus wins Polesie Cup
Belarus national ice hockey team have won Polesie Cup for the 4th time.
Belarus defeated Norway in the final match in Bobruisk on 8 November. The final score was 3-2 (1-1, 1-0, 1-1).
Austria outscored France on the same day to win the bronze medals.
The final standings were as follows: 1. Belarus; 2. Norway; 3. Austria; 4. France; 5. Polesie; 6. Denmark.
Belarus' Vitaly Koval was recognized as the Best Goaltender of the tournament, Lars Erik Lund of Norway became Best Defender, and Austria's Daniel Oberhofler won Best Forward.
Giulien Derosier of France was the best scorer of Polesie Cup with 5 (3+2) points.
Polesie Cup is the first tournament for national teams that is held in Belarus since 2007.
Belarus beats Sweden at World Junior A Challenge
Belarus' U-20 hockey team became fifth at the World Junior A Challenge that was held in Summerside, Canada, on 1-8 November.
Belarus beat Sweden (5-3) in the 5th place match on 8 November.
The USA team became the winner of the tournament after a win over Canada West (2-1). Russia defeated Canada East (6-2) to win bronze medals.
Belarus was fifth at the World Junior A Challenge in 2007, and fourth in 2008.
Endnote...
Lukashenka to Europeans: Never in my life!
From:
Charter '97
On the eve of adopting a decision on extending sanctions against Belarusian officials by the European Union, Alyaksandr Lukashenka stated that elections in Belarus should be held as before.
Obviously to throw dust in Europeans' eyes once again, the Belarusian leader decided to hold a so-called "consultation on improvement of the electoral laws" on November 10. However right in the beginning of the consultation he dotted all the i's and crossed all the t's. mentioning requirements of the European Union to change the electoral code of Belarus and hold free and democratic election, Lukashenka stated: "I have said that several times, it is counterproductive to put pressure on us".
And the farther into the forest, the thicker the trees. "Improvement of the electoral process should not have a negative impact on situation manageability in the country," the dictator stated.
As said by him, "some people treat the necessity to change the electoral legislation as fulfilment of demands of the European Union on political liberalization of Belarus".
To answer those "some people", Lukashenka stated that "the liberalization of election laws will not lead to political turmoil and anarchy during the forthcoming election campaigns".
"I would like to warn you that discussions about the possibility of these changes should not launch some political saber rattling campaigns… The election must be held calmly, as they are always held here. Don't pay attention to the squeaking and shrieking inside and outside the country. We should just calmly do our work," he said.
That's Lukashenka's answer to the naïve appeals of European officials for democratization. It was possible to make changes in the electoral legislation long ago. Demands of the world community and Belarusian democrats are simple – not to hinder registration and campaign of opposition candidates, to allow representatives of oppositional political parties and public associations become members of electoral commissions of all levels, for them t be able to participate in vote count; and not to hinder the work of independent observers. However Lukashenka continues to sell the decrepit horse called "liberalization" to the simple-hearted West.