Belarus looks to science, Medical conference, Swine flu; Russia, Ukaine, Latvia, UAE, Culture, Money, Hockey, Opposition and Polish scandal...
Alexander Lukashenko: Belarus' science should advance national economy to higher level
From:
BelTA
Belarusian science should become a powerful intellectual generator that will bring the national economy to a brand new level of performance, President of Belarus Alexander Lukashenko said as he presented state awards on 3 November 2009.
Addressing the awardees, the President underlined, "A great intellectual potential and conscientious, devoted every-day work is the major resource of the country. I am glad to welcome outstanding Belarusian scientists and professors. The national science faces quite a challenging task: it should become a powerful intellectual generator bringing the national economy to a new, high-performance level. I am sure you can handle this."
The President believes that each individual and collective achievement is a real contribution to the foundation of the progressive social and economic development of the country. High awards are a fair recognition of each person's contribution to the construction of a state for people.
The awardees include a group of employees of the Atlant company, workers, specialists and top managers.
"I would like to express my profound gratitude to all those who have been preserving and multiplying the best traditions of labor heroes and innovators. You have showed that upgrading production, enhancing the quality and competitiveness of Belarusian products in the international market is quite a manageable task. You by right deserve these orders, medals and honorary titles," Alexander Lukashenko said.
The awardees included the best representatives of the interior troops and the border service, the staff of the Public Prosecutor's Office. "Behind every award are heroic deeds and, above all, saved lives. You are a bulwark for the state and the Belarusian people," the head of state said during the awarding ceremony.
The President also thanked outstanding cultural and art figures, those who have dedicated their lives to maintaining and increasing a priceless cultural heritage of Belarus. "I hope you will continue bringing joy to the audience with your genuine talent and extraordinary performance," the President said.
The Belarusian leader also awarded healthcare workers who made great headway in cardiology, maternity and child care.
Alexander Lukashenko: Belarus can overcome world crisis fallout
Alexander Lukashenko is convinced that Belarus will be able to handle the global crisis' negative impact on the country's development. The Belarus President made the relevant statement during a state award ceremony on 3 November.
The head of state underlined that responsible and smooth work in every office is now important more than ever. "It is not a secret that the global crisis negatively affects the development pace of our country, generates quite many economic hardships and social problems," he said. "But I strongly believe that we will overcome them through the united will of the Belarusian nation and the country's leadership, the desire for dynamic upheaval of all spheres of life of our society".
According to Alexander Lukashenko, "The confident intention to effectively achieve national goals cannot but inspire optimism. The intention is manifested by deeds of most labor collectives and directly by deeds of everyone awarded today".
The President remarked that bestowing top national awards on worthy Belarusians on the eve of October holidays has become a good tradition. In Belarus the strong social policy has come true. Nationwide respect for those, whose concrete deeds, creative endeavors contribute to strengthening and glorifying the Fatherland, is an inalienable principle of the strong social policy.
Alexander Lukashenko told the awardees that the public recognition of their services is a remarkable event for them and the country. It is a testament of strong patriotism manifested through real deeds, through daily efforts aimed at developing and enhancing the young republic. "I may tell the truth if I say that you are all united by one thing: the desire to do one's best to benefit the beloved motherland, develop its economic potential, strengthen the national security, and raise the international authority," said the head of state.
Other Belarusian News...
Ten countries to attend medical conference in Vitebsk
From:
BelTA
Vitebsk State University will be host to more than 100 scientists and specialists from ten countries
The 5th international conference Medical Education of the 21st Century will take place in the Vitebsk State Medical University on 3-4 November, BelTA learned from representatives of the university.
Attending the event will be more than 100 scientists and specialists from ten countries, namely Russia, Ukraine, Germany, Poland, Kazakhstan, Moldova, Georgia and Belarus. A delegation of the Argentina University Maimonides, which has signed a cooperation agreement with the Vitebsk State University in summer 2009, will take part in the scientific forum in Vitebsk for the first time.
The conference will discuss a wide range of issues such as up-to-date problems and development prospects of the medical and pharmaceutical education. Leading specialists will present reports on innovation activities in medical education, education quality management, humanization and humanitarizaiton of the education. The conference will also focus on self-guided work of students in the context of innovation technologies, important problems of pre and post-graduate education of doctors and pharmacists, military medicine education and emergency medicine.
The conference is dedicated to the 75th anniversary of the Vitebsk State Medical University and the 50th anniversary of the pharmaceutical department of the university. An official meeting of the board of the university with participation of numerous foreign delegations will be held on 3 November.
The forum is organized by the Healthcare Ministry of Belarus and the Vitebsk State Medical University.
US heart surgeons to come to Belarus
Heart surgeons from the US will take part in the regular Children's Heart charitable act. It started in Minsk and will last two weeks, BelTA learnt from the Belarusian Children's Fund.
The Children's Heart charitable act will be held at the Children's Heart Surgery Center affiliated with the National Cardiology Research Center. Ten specialists from the United States together with Belarusian medical professionals will provide a series of consultations and perform operations on kids with congenital heart defects.
A national seminar on pediatric critical care will be held for Belarusian doctors and nurses. The seminar will consist of lectures and training.
The Children's Heart charitable act is aimed to lower children's mortality rate and improve the life quality of children suffering from congenital heart defects. The program is run by the Belarusian Children's Fund, the Healthcare Ministry of Belarus and the International Children's Heart Foundation (US). Since 2000, William Novick and his international medical team have visited Belarus 19 times; 428 children have been operated, over 1,800 kids have received consultations. The international medical team included specialists from the US, Canada, UK, Germany, Denmark, Ireland, Croatia, Lithuania and Singapore.
One of the most important goals of the program is to provide training and share experience. In 2009 five Belarusian doctors from the Children's Heart Surgery Center worked in the international team of heart surgeons. Seven doctors took part in international conferences of heart surgeons in Austria, US, Portugal and Switzerland.
The program helps children with congenital heart defects to receive consultations, surgeries, follow-up care and rehabilitation. Over four years the Belarusian Children's Fund has been running a special recuperation program "Cheerful Hearts" at the international rehabilitation and recuperation center "Hope 21st Century". Doctors, psychologists, teachers and rehabilitation experts help children come back to normal life. All in all, 208 children have received psychological help.
Belarus builders to visit UAE on 21-26 November
From:
BelTA
Abu Dhabi
Heads and specialists of Belarusian civil engineering companies will travel to the United Arab Emirates (Dubai and Abu Dhabi) on a business trip on 21-26 November, BelTA learned from representatives of the Belarusian Chamber of Commerce and Industry.
The representatives of the Belarusian civil engineering industry will get familiar with a business program "Innovation approaches to civil engineering and associated industries. Experience of the United Arab Emirates".
BelTA has been told, during the visit the Belarusian builders are expected to get familiar with international civil engineering practices, innovative construction machines and equipment, state-of-the-art technologies and their application. The representatives of the Belarusian companies also plan to find new business partners in the UAE and hold negotiations on mutually beneficial cooperation.
The Belarusian delegation will visit affined companies in the UAE. Roundtable sessions and business talks with top executives of construction companies in Dubai and Abu Dhabi will be held. There are also plans for a visit to the largest civil engineering expo in the Arab world The Big 5 Show (Dubai). It unites five different expos under one roof and is one of the most significant events for contractor organizations, architects, engineers and buyers in Arab countries. Every year around 2,900 companies from 67 countries and over 58,000 visitors participate in the expo.
The visit is organized by the Business Education Center of the Belarusian Chamber of Commerce and Industry with assistance of the Embassy of Belarus in the United Arab Emirates.
Latvia, Belarus come up with new transport projects
From:
BelTA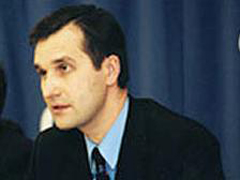 Minister of Foreign Affairs of Latvia Maris Riekstins
Latvia and Belarus have determined new projects for cooperation in transport area. The statement was made by Minister of Foreign Affairs of Latvia Maris Riekstins after negotiations with Belarus Foreign Minister Sergei Martynov on 3 November, BelTA has learned.
The Latvian Foreign Minister remarked that Latvia is a traditional partner of Belarus in cargo transportation. Held on 3 November, the meeting tabled cooperation of the sides in transport and transit. In particular, port services of Latvia are ready to continue servicing Belarusian cargoes.
"There are also new projects. For instance, container transportation by the Zubr train, which travels between Minsk and Riga. In future it may be extended into Tallinn and Ukraine," said Maris Riekstins. In his words, the idea of renewing direct passenger transportation by rail between Minsk and Riga is still topical. Passenger transportation was discussed at a recent session of the Belarusian-Latvian intergovernmental commission. Belarus and Latvia agreed to jointly invite Lithuania to participate in this project.
In turn, Belarus Foreign Minister Sergei Martynov underlined that today's talks with the Latvian Foreign Minister touched upon the entire range of the bilateral relations. "The intensity of contacts between Belarus and Latvia at all levels has been on the rise in the last two years," he said. Despite the global crisis business communities of the two countries show a growing interest in cooperation, the sides tend to prefer manufacturing cooperation over plain trade more often. Sergei Martynov mentioned transport and transit area as well as energy as the most promising avenues of cooperation.
The sides have agreed that a Belarusian-Latvian economic forum will take place in Riga next year.
Cultural Scene...
Young Belarusian movie-makers partaking in international movie forum in Russia
From:
BelTA
"We have invited most gifted young people - screenwriters, directors and cameramen – and gave them an opportunity to meet with renowned artistes and each other. The first forum showed that the professional contacts established during the forum are unbreakable,"
Young Belarusian movie-makers will present their feature movie "Disappearance of Sound" at the 2nd international movie school that opened in Belye Stolby, Moscow region, on 1 November, BelTA has learnt.
Taking part in the forum are about 40 young screenwriters, directors and cameramen from 13 countries of the CIS and Baltic States. The participants of the forum will take part in master classes in directing, dramaturgy, history of the multinational Soviet Union movie. The thematic classes will be held by famous artistes and movie experts.
According to Chairman of the Confederation of Unions of Filmmakers Rustam Ibragimbekov, the only difference between this and the previous forum is the composition of its participants, while the program remains the same. "We have invited most gifted young people - screenwriters, directors and cameramen – and gave them an opportunity to meet with renowned artistes and each other. The first forum showed that the professional contacts established during the forum are unbreakable," Rustam Ibragimbekov said.
The forum is organized by the Confederation of Unions of Filmmakers and the State Fund of Movies of the Russian Federation under the auspices of the CIS Interstate Humanitarian Cooperation Fund.
Belarusian dance teams to partake in IFMC in Vitebsk
Ten Belarusian dance teams will take part in the XXII International Festival of Modern Choreography in Vitebsk, Marina Romanovskaya, deputy director general for special projects of Vitebsk Culture Centre told BelTA.
The XXII International Festival of Modern Choreography (IFMC) will be held in Vitebsk on 18-20 November. The contest of modern choreography has always been the main intrigue of the IFMC. Taking part in the competition will be four dance studios from Vitebsk, dancers from Grodno, Minsk and Mogilev.
The international jury chaired by Valentin Elizaryev, the people's artist of the USSR and Belarus, will estimate the dancers in five nominations: Best Staging, Performing Skill, Artistic Skill, Traditions and Innovation, Postscript.
Foreign dance groups including The Ballet of Evgeny Panphilov, Ekstsentrik Ballet of Sergey Smirnov from Yekaterinburg, Cocoondance international project, Soul B and D.TigerS from Ukrain, Fine Fife Dance Theatre from Estonia, Ulvi Azizov (the Latvian National Opera) and Saron Petshak (Poland) will perform out of competition.
The information program of the festival will include round table meetings, theoretical and practical workshops, meetings of the Belarusian choreographers and teams with directors and managers of the foreign festivals and contests.
The international festival of the modern choreography in Vitebsk is aimed at promoting Belarus' best dance teams and choreographers. Participants from foreign countries are expected to invite a favourite Belarusian dance team over to their country, Marina Romanovskaya stated.
The festival was founded by the Vitebsk oblast executive committee, the Vitebsk town executive committee, the Culture Ministry, the National Academic Big Theatre of Opera and Ballet. The organizer of the festival is Vitebsk Culture Centre.
Economics...
Belarus foreign trade 38.7% down in January-September
From:
BelTA
In January-September 2009 Belarus' foreign trade in goods totaled $35.04 billion (or 61.3% as against the same period in 2008), BelTA learnt from the National Statistics Committee.
Belarus' export shrank by 43.3% to $15.009 billion; import was down by 35.8% to $20.03 billion. The foreign trade deficit amounted to $5.021 billion. The export volume increased in comparison with Q1 2009, when it was 51.2% as against the same period in 2008. On the other hand, the import is shrinking (in Q1 2009 it totaled 68.1% over Q1 2008).
In January-September, the trade with the CIS countries reached $19.344 billion (59% as against the same period in 2008). The export was $6.555 billion (56%), and the import - $12.789 (60.7%). The Belarusian-Russian turnover slumped to $16.478 billion (59.5% as against the same period 2008). Export to Russia was $4.729 billion (55.2%); Russian import amounted to $11.749 billion (61.4%).
In January-September 2009, the bilateral trade with Ukraine dwindled to $2.07 billion (51.4% over the same period in 2008). Export was $1174.6 million (49.5%); import - $895.4 million (54.1%).
The Belarusian trade with non-CIS countries totaled $15.695 billion (64.3% over January-September 2008), export was $8.454 billion (57.3%), import - $7.241 (75%). The trade with Germany, in particular, amounted to $2.169 billion or 81.7% as against the same period in 2008.
Export oil duty in Belarus down to $231.2 per ton
On 1 November the export crude oil duty in Belarus reduced from $240.7 to $231.2 per 1 ton. The Council of Ministers adopted relevant Resolution No 1410 on 29 October, BelTA learnt from the Office of the Council of Ministers.
The oil export duty was revised downward following a similar decrease in the export oil duty in the Russian Federation effective from 1 November. The export duty on oil products will be also reduced to the level of the duties valid in Russia. For example, duties on light oil products (light and middle distillates, liquefied gas, benzol, toluene and xylol) will be reduced from $174.5 per ton to $168.1 per ton. Duties on dark petroleum products (engine oil, processed oil products, mineral wax, oil coke, oil asphalt) will be down from $94 to $90.5 per ton.
In line with the intergovernmental Belarusian-Russian agreement, export duties on oil and oil products in Belarus are equal to the duties applied in Russia. They are imposed in Belarus on the same day as the duties in Russia.
In accordance with the Belarusian-Russian agreements, in 2009 the oil duty for Belarus is calculated under the coefficient of 0,356 of the Russian duty. Beginning 1 November, it will make up $82.3 per 1 ton in Belarus as against $85.7 in October.
From the Foriegn Press...
Belarus registers first swine flu death
From:
Earth Times
The first Belarusian death from swine flu was registered by health officials on Tuesday. The victim, a 37-year-old female resident of the town of Drogichin, died on Friday, but results of blood tests confirming the presence of the H1N1 virus only became available Tuesday, said Oleg Arnautov, chief doctor of the western Brest province.
The woman reportedly had visited Ukraine's western Kovel region, currently near the centre of Ukraine's flu outbreak, in early October.
She became ill in the latter half of October and experienced severe flu symptoms for four days before consulting doctors, Arnautov said.
The victim had been suffering from other illnesses before having been infected by the flu, which may have contributed to the respiratory problems causing her death, he said.
In recent weeks, the Belarusian capital Minsk has seen an estimated 10 deaths of persons suffering from pneumonia preceded by flu-like symptoms. Public health workers were working to identify the virus causing the illnesses.
Greater part of Belarusians will encounter swine flu, expert predicts
In a
related story,
The greater part of Belarus' population will encounter H1N1 (swine) influenza, Alena Fisenka, head of the epidemic prevention department of the Minsk City Hygiene and Epidemiology Center, predicted in an interview with BelaPAN on Monday.
Swine flu has become widespread and Belarus will not remain unaffected by it, Ms. Fisenka said.
This is a new flu virus for which there is little or no immunity in people, she noted.
"Everyone will react to the virus differently," Ms. Fisenka said. "Some will get a minor headache while others will not even notice it. Nevertheless, they will become resistant. But some people, unfortunately, will become ill and develop complications."
This virus and its spread should not be viewed separately from other types of flu and acute respiratory disease, she noted.
At present epidemiologists are not required to record every new case of swine flu, Ms. Fisenka said. "This would be too expensive," she explained. "The detection of even a few cases of H1N1 infection is enough for epidemiologists to conclude that the virus is present in Belarus."
The symptoms of swine flu and seasonal flu and the prevention recommendations are identical, Ms. Fisenka said. People should above all get a seasonal flu vaccine, which, owing to the similarity of the virus strains, will also protect them against swine flu, she said.
Deputy Health Minister Valyantsina Kachan said on November 1 that there were 59 confirmed cases of swine flu in Belarus. There have so far been no fatal cases associated with pandemic H1N1 influenza, she claimed.
Belarus must not wait for favors from Russia, West - Lukashenko
From:
RIA Novosti
"In these conditions we should be guided exclusively by Belarus's national interests rather than someone's geopolitical ambitions, even if they emanate from our closest allies,"
Belarus should not wait for "presents or preferences" from Russia or the West, President Alexander Lukashenko said Monday.
"Our partners place conditions on each step...by demanding concessions...be they economic or political," the Belarusian leader said at a conference on foreign policy issues.
"In these conditions we should be guided exclusively by Belarus's national interests rather than someone's geopolitical ambitions, even if they emanate from our closest allies," Lukashenko said.
He also said his country will not develop a partnership with the European Union to the detriment of other states' interests, and vice versa.
"Relations with the EU are one of the key factors to ensure our independence and sovereignty," Lukashenko said.
"But this does not mean that in the urge to receive benefits emerging from a closer integration with the EU we will sacrifice social and political stability in society or the achieved level of cooperation with Russia and other states," he said.
Grayling commences operations in Belarus
From:
prfire.co.uk/press-release
Worlds third largest independent PR, PA and IR consultancy opens office in Minsk extending its Central and Eastern European footprint
Services offered to Belarus companies seeking investment from world capital markets and international businesses planning entry into Belarus
Grayling, the worlds third largest independent Public Relations, Public Affairs and Investor Relations consultancy and the largest in central and eastern Europe, south eastern Europe and Eurasia, today announces it is opening its own office and has commenced operations in the Republic of Belarus. It believes it is the first international network firm to have incorporated and begun a full-time local presence in the market.
Grayling, which is being formed from the merger of Grayling, Trimedia and Mmd, is owned by Huntsworth Plc (www.huntsworth.com/ LSE: HNT), a world class communications group with Public Relations at its core.
Through its heritage company, Mmd, Graylings experience across the CIS includes global communications for Rosneft in Russia and System Capital Management in Ukraine; international reputation building; financial communications and Investor Relations for big CIS businesses and strategic communications, Public Relations and Government Relations for multinational companies in Russia, Kazakhstan, Ukraine and Azerbaijan. Huntsworth Plc is the largest UK company by market capitalisation to invest in the Republic of Belarus to-date.
Graylings operation in Belarus will offer a full range of Public Affairs, Government Relations and Public Relations services to international companies present in the Republic or contemplating entrance into the Belarusian market. Grayling will also offer international Investor Relations, Public Relations and Public Affairs services to Belarus companies and state institutions seeking exposure to world capital markets, or other publics, internationally. It will do this by dovetailing its Minsk office with Graylings network of offices in 65 locations in the global financial, commercial and political centres around the world
Graylings Belarus operation is a 70-30 joint venture of between Grayling and BTH Investments (UK); a corporate advisory company working across Central and Eastern Europe and CIS.
Vladimir Melnikov, Deputy General Director of Grayling in the CIS and Dmitry Marinovsky, the agencys chief consultant in Minsk, will lead Graylings day-to-day operations in Belarus.
State Border Committee denies rumors that Polish helicopter could be shot down
From:
Navany
The Belarusian State Border Committee (SBC) has denied rumors that a Polish helicopter crashed in the Brest region after being shot down by a Belarusian military unit.
The Polish Border Guard (Straz Graniczna)'s helicopter crashed while making a routine border patrol on the evening of October 31, killing all three officers aboard. The wreckage of the helicopter was discovered the following morning some 200 yards from the Polish border near the village of Vysokaye in the Kamyanets district, Brest region.
The rumors, which have been circulating on Polish Internet forums and suggest that the incident could be a "provocation," are groundless, SBC spokesman Alyaksandr Tsishchanka told BelaPAN.
Belarusian border control officers have neither the authority nor the weapons to engage such targets, while "there would have been nothing left of the aircraft" if it had been shot down by an anti-aircraft unit, the official stressed.
The Polish chopper did not explode and was not burning when it crashed, he noted.
Mr. Tsishchanka said that the Polish Border Guard had warned the Belarusian border service of the helicopter's flight in advance and the aircraft had been on Belarusian radar screens before the crash.
Any possible airspace disputes involving a border guard aircraft are solved at meetings between representatives of the Belarusian and Polish border control services, he stressed.
Belarus and Poland have formed a joint commission to investigate the accident.
From the Opposition...

Secret document: Belarusians die from pneumonia complicated by swine flu
From:
Charter '97
Medical workers report to the Health Care Ministry that, about ten people have died in Minsk from pneumonia, a A(H1N1) flu complication.
Journalists managed to get a medical report saying the cause of death of two persons of 27 and 36 years old (they died on the same day) was pneumonia. RNA of A(H1N1) flu were detected in their tissue samples.
The 27-year old man had a high temperature and went to a local polyclinic, was treated at home, but after some days taken to hospital #6, where he died on October 26.
According to a source of "Belorusskie Novosti", it is mostly young people who die from the A(H1N1) virus in Belarus.
The difficulty is that a death certificate is only the first step to prove the cause of death was the virus. According to the source, it give the officials an opportunity to sit on their hands and speak about the mixed infection, etc. Post-mortem and histologic examinations are needed to confirm the death was caused by the A(H1N1) virus. Medical officials can state the flu is just a background disease, but not a ground for the complications, and will be right formally.
For the moment, the medical worker has information about ten confirmed death cases of A(H1N1) flu. He states: "The pneumonia, we are speaking about, is a complication of A(H1N1) flu, it is not a bacterial pneumonia. A sick person chokes and can't breathe. He prescribed artificial ventilation, but dies. This takes three or four days."
The source notes a fast growth of pneumonia cases in Belarus and in Minsk. He states that the number of fatal cases exceeds the normal statistics for this period of year. There are many patients with pneumonia in intensive therapy units. He can't say whether all of them are checked for the A(H1N1) virus.
The physician's statement can't be proven officially. According to some reports, medical workers are not permitted to say any information about the current situation with the A(H1N1) virus. Requests to the Health Care Ministry remain unreplied. The ministry representatives deny death cases of swine flu or refuse to give any comments in order to prevent panic. Officials never think it is impossible to hide the truth for long, it will leak and gather rumours and make even greater panic.
Attempts of the authorities to hush up the situation are short-sighted, the physician said. The current situation needs not reports saying it is under control, but urgent measures.
He gives an example of behaviour of the Ukrainian government: "The country has asked for help and received it. 600,000 doses of Tamiflu, bought by the Ukrainian government, had already been delivered. In accordance with medical norms, this is enough to supply all regions of Ukraine and make reserves."
The medical worker emphases that Belarus becomes a proving ground where the virus is tested in natural condition, when preventive measures are insufficient and treatment is minimal: "The duty of the health system is to buy the necessary medicines beforehand and be able to forecast keen demand. At least, sufficient number of protective masks must have been purchased. It finds out that our medical system is not effective to fight the epidemic. The officials continue to state the virus is raging in Ukraine and Russia, but not in Belarus. "
The physician emphasized: the Belarusian medical workers are not allowed to give information to the public (that's why the source wants to stay unanimous). He proves this with own examples: "We are constantly told not to sow panic, which means we can't give true information. We are strictly forbidden to speak with the press... An attempt to decrease the number of disease cases in Belarus comes to absurdity and forgery. Medical issues become political issues. They twist our arms forcing us to make politically correct diagnoses. Influenza is another proof in this range."
Human rights defenders again urge MFA to implement the international undertakings of Belaru
From:
Viasna
Human rights defenders applied with an open address to the minister of foreign affairs Siarhei Martynau concerning the registration of the individual communication of the death convict Vasil Yuzepchuk by the UN Human Rights Committee.
Representatives of the human rights community of Belarus called on the foreign minister to take all necessary measures for implementation of the international undertakings of the Republic of Belarus. They also insist that the MFA must inform the appropriate state organs about the official note of the UN High Commissioner of 12 October 2009 about registration of the individual communication of Vasil Yuzepchuk and the demand of the Committee to abstain from executing the death sentence till consideration of the case on its merits.
According to paragraph 5.11 of the ruling of the Soviet of Ministers of the Republic of Belarus On the Ministry of Foreign Affairs of the Republic of Belarus the Ministry is charged with supervising the implementation of the international treaties of the Republic of Belarus by the state agencies of the Republic of Belarus and facilitating the implementation of the international treaties of the Republic of Belarus'.
Bear in mind that the Republic of Belarus has ratified the International Covenant on Civil and Political Rights and the Optional Protocol to it. Thus, the state recognized the competence of the UN Human Rights Committee to consider the individual communications about the supposed violations of any rights enshrined in the Covenant.
'We decided to address the state organs responsible for supervising the execution of penalties, legality, and also the Ministry of Foreign Affairs, as it coordinates and controls the implementation of the international treaties of the Republic of Belarus. We informed these structures that the individual communication of Vasil Yuzepchuk has been registered at the UN Human Rights Committee and, according to the Committee's rules of procedure and the international undertakings of the Republic of Belarus, the state mustn't execute the death sentence till consideration of the communication on the merits.
We purposefully give publicity to these facts with the aid of mass media lest representatives of the appropriate state organs would later tell they were unaware of the demand of the UN Human Rights Committee to suspend the execution till consideration of the cases of Vasil Yuzepchuk and Andrei Zhuk on their merits,' pointed the member of the Human Rights Center 'Viasna' Valiantsin Stefanovich.
The human rights defender also stated that similar addresses will be submitted to the prosecutor general Ryhor Vasilevich, the interior minister Anatol Kuliashou and the head of the presidential administration Uladzimir Makei.
Russia...
Former spy shot dead near Putin's Moscow office
From:
Reuters
Shabtai von Kalmanovich
Gunmen shot dead a former KGB spy turned basketball tycoon in his car Monday a few hundred meters from the Moscow office of Russian Prime Minister Vladimir Putin, officials said.
Shabtai von Kalmanovic, who went on to organize a Michael Jackson concert in Moscow and help two clubs win Europe's top basketball title, died at the scene, the state prosecutor's office said in a statement.
More than 20 shots were fired at Kalmanovic's Mercedes from a silver Lada a few hundred meters from the White House, the seat of Russia's government headquarters, state Russian television channel Vesti reported.
Kalmanovic's driver, who was wounded, gave chase to the attackers but had to abandon it because of his wounds, investigators said.
Kalmanovic spent five years in an Israeli prison for passing secret military technology to the KGB before being released in 1993, state media reported.
Returning to Russia, Kalmanovic set up a market in the center of Moscow and helped organize concerts by Tom Jones, Liza Minnelli and Michael Jackson in Russia, the reports said.
The attack was likely a contract killing, senior investigator Anatoly Bagmet said, quoted by RIA news agency.
A citizen of Israel, Russia and Lithuania, Kalmanovic's financial support helped Lithuanian basketball club Zalgiris Kaunas win the Euroleague, the continent's top basketball competition, in 1999.
He helped Spartak Moscow win the women's Euroleague in each of the past three years.
Moscow and other Russian cities were hit by a wave of gangland-style shootings after the 1991 fall of the Soviet Union as businessmen sought to settle disputes and carve up profits.
Although less frequent in recent years, contract killings still plague the Russian capital.
Russia Rejects British Extradition Request in Litvinenko Poisoning
From:
globalsecuritynewswire.org
Former KGB agent Alexander Litvinenko died of polonium poisoning in London three years ago
Russia yesterday maintained its refusal to turn over to British authorities the lead suspect in the poisoning death of a former KGB agent, the London Guardian reported (see GSN, Oct. 16, 2008).
Russian exile Alexander Litvinenko died of polonium poisoning in London three years ago. The chief suspect in his death is former Federal Security Service agent Andrei Lugovoi. The Federal Security Service is the successor intelligence agency of the KGB.
"We continue to seek justice for [Litvinenko]," said British Foreign Secretary David Miliband said during a meeting in Moscow with Russian Foreign Minister Sergei Lavrov.
"We did discuss this issue in some detail," Miliband added. "I emphasized the importance we continue to attach to the request made by our independent prosecuting authorities in respect of the murder of Mr. Litvinenko."
Lavrov, however, put to rest any thoughts that the Kremlin had changed its position on extraditing Lugovoi.
"Our position hasn't changed. Our British colleagues understand that," Lavrov said, adding that Russia would be ready to prosecute Lugovoi if British prosecutors could make a credible case for doing so.
However, he said British authorities had not provided "sufficient" evidence to warrant prosecution. Miliband responded that the British Crown Prosecution Service had already provided Moscow with "full" and "substantial" information on the case (Luke Harding, London Guardian, Nov. 2).
Moscow has also said that Russia's constitution forbids the extradition of Russian citizens, the London Times reported.
"I believe our British colleagues understand their demand -- that we amend our constitution -- is absolutely unrealistic," Lavrov said
New Russia-Ukraine gas dispute unlikely
From:
Reuters
It's almost certain that the next president will be either Ukraine's prime minister, Yulia Tymoshenko, or opposition leader Viktor Yanukovich. Both politicians have emphasized the importance of improved relations with Moscow
As New Year approaches, Russia and Ukraine are once again squabbling over gas. Russia's Prime Minister Vladimir Putin has warned that Ukraine is again at risk of defaulting on its payments for Russian gas. Despite sharp rhetoric and increasing tensions, another major bust-up seems unlikely this time.
Ukraine's economic situation is certainly difficult. Nevertheless, there's little economic reason why it should be unable to pay for gas imports. In July, the Ukrainian government recapitalized Naftogaz, Ukraine's gas company, to the tune of $2.4 billion (increasing its total capital to $3.2 billion), which is enough to pay for six months' gas imports. Commercial banks are reported to be willing to lend the company additional funds should it require them. And as Putin himself has pointed out, Ukraine also has adequate forex and gold reserves.
The real root of the recent bickering is Ukrainian politics. President Viktor Yushchenko is standing for re-election in January, but he has low ratings. It's almost certain that the next president will be either Ukraine's prime minister, Yulia Tymoshenko, or opposition leader Viktor Yanukovich. Both politicians have emphasized the importance of improved relations with Moscow.
Formerly allies, Yushchenko and Tymoshenko are now bitter rivals. They both have an incentive to blame each other for making a mess of things in the run-up to the elections. Yushchenko has objected to the method that Naftogaz uses to convert its capital into cash, and is also calling for the gas contracts with Russia to be revised. Tymoshenko is in turn blaming Yushchenko for obstructing payments to Russia.
But for this internal Ukrainian row to turn into a full-fledged gas war, Russia would have to allow itself to be provoked. It has little incentive to exacerbate matters.
For one thing, a new gas war with Ukraine would be highly damaging for Russia economically. The last dispute is estimated to have cost Gazprom (GAZP.MM), the state-controlled group, $1.5 billion in lost revenues, not to mention the damage to its reputation and the loss of market share that resulted.
Russia also has a strong political incentive to go easy on Ukraine. With Yushchenko almost certain to be replaced by a more pro-Moscow politician, the Kremlin has every reason to be satisfied with the way things are going. A renewed gas war on the eve of the election would just complicate matters.
This explains why Moscow has been highly accommodating in its energy relations with Kiev over recent months. This year Ukraine is set to consume far less gas than specified in its contract with Gazprom, which means that in theory it is liable to colossal fines of $7 billion.
But instead of making a big deal out of this debt, Russia has said it is willing to waive it. One of Yushchenko's main gripes is that this agreement is still informal, so the Russians could yet change their mind.
If the Russians wanted to aggravate matters, this debt could become an explosive issue. But it's a weapon that is more effective when dangled over the Ukrainians' heads than when actually used. With Yushchenko almost certainly heading for political oblivion in January, the Russians have every reason to stay their hand.
From the Polish Scandal Files...
Film about anti-Semitism in Poland sparks uproar
From:
JPost
A film about the rise of anti-Semitic movements in Poland has recently been met with censure by members of the country's parliament and public.
Hitler's Daughter, directed by Aro Korol and produced by Korol's London-based Awesome Industry, focuses on right-wing radio station Radio Maryja, as well as its founder, Tadeusz Rydzyk, a Roman Catholic priest.
"Father Rydzyk sees no contradiction between wearing a collar and spreading his politics via satellite," Korol wrote on the film's Web site, hitlersdaughtermovie.com. "One of Radio Maryja's many anti-Semitic commentaries suggested that Jews were sabotaging the struggle of democracy in Ukraine and Belarus. The station also made very nasty, anti-Semitic remarks accusing Jews of making a business of Holocaust reparation payments."
Hitler's Daughter has caused a media frenzy in Poland, and Korol has received death threats.
Marek Jurek, a former speaker in the Polish parliament now representing the Right of the Republic party, called on Polish Foreign Minister Radoslaw Sikorski to intervene, saying that "[such a film] should not only be met with severe political reaction, but also legal steps, to prevent insults addressed at Polish institutions to an international audience."
Jurek's comments were based on a four-minute clip of Hitler's Daughter available on the Internet. The film will be officially released in the fall of 2010.
"I find it deeply worrying that Polish politicians have taken such measures against me and that my film has been subject to such harsh judgment," Korol said in a statement. "I consider it essential to expose the anti-Semitic machinations of organizations in a country where racial and religious tolerance should be universal and unchallenged. My hope is that I can now produce and finalize this film within the next 10 months."
Poland at work: Polish basketball star says he was mistaken for drug dealer
From:
OC Register
Michael Jordon enjoys the same type of celebrity as Polish drug dealer Jerry Reschke, a picture of whom, unfortunately, could not be found
A Polish American basketball star wants Newport Beach to pay for plastic surgery he says is needed for injuries suffered when police mistook him for a drug dealer and forcibly drew blood from his arm.
Jerry Reschke, 56, says he was the victim of a rear-end traffic accident in 2007 and that his "dazed and confused" condition led to a "demeaning and demanding line of questions" about selling or possessing drugs.
The Laguna Beach resident has no criminal record in Orange County, according to court records.
Reschke "is a law-abiding citizen who is well-known in his home country and parts of Europe as a basketball star, and is easily recognized in Poland and other parts of Europe as such, not unlike the manner in which Michael Jordan is recognized in the United States," says a legal claim filed against the city Oct. 2.
Reschke, according to the claim, "remembers being unable to coherently respond to questions and recalls that he was dazed and confused at the scene – notwithstanding his excellent physical condition as a world-class athlete."
That resulted in the officer demanding that a blood sample be taken, an order Reschke says he resisted in vain. Reschke "squirmed as best he could and as much as he dared when confronted with a needle placed in proximity to his arm, and fought to avoid giving blood," the claim says.
While the results of any blood test were never provided, Reschke "knows the blood sample came out 'clean,' since he has never used drugs in his life, nor has he ever bought or sold drugs," the claim says.
Reschke "has a permanent hernia or hematoma at the site where the needle was inserted … as a result of his squirming and fighting," says the claim, which is a required precursor to a lawsuit.
Neither Reschke nor his attorney could be reached for comment, and city officials did not have an immediate comment.
The claim seeks $5,000 for surgery to address the injury, and says Reschke "will make himself available at any time for interview, deposition, lie detector test, medical examination or anything else to further or assist the city in the investigation and processing of this claim."
Poland at work: Grave listed in accused's sat nav
From:
BBC
Lukasz Reszpondek admits preventing the lawful burial of Ermatati Rodgers
A man who buried a female colleague's body on farmland put the location of the shallow grave in the "favourites" list on his sat nav, a court has heard.
Lukasz Reszpondek, 30, denies killing Indonesia-born Ermatati Rodgers, 41, whose body was found in March in a field at Erddig, near Wrexham.
Polish-born dairy worker Mr Reszpondek, a married father-of-two, admits preventing Ms Rodgers' lawful burial.
The murder trial continues at Mold Crown Court.
The court has heard that the defendant travelled to Wales in 2004 to look for work and met Ms Rodgers, who was known as Tati, at Dairycrest near Wrexham.
The prosecution alleges Mr Reszpondek strangled Ms Rodgers at his home in Rhostyllen, near Wrexham, in January 2008, before burying her body. The body was discovered 14 months later, in March this year.
Giving evidence on Tuesday, defendant said he had dug a trench exposing Ms Rodger's legs so that he could show police precisely where he had buried her, and then handed himself in to police.

The body of Ermatati Rodgers was found buried on farmland
The court heard he was also concerned that the police excavations with heavy machinery would damage the body and might destroy evidence that might help him, because he had been unable to explain how Ms Rodgers died.
He said he had told the truth in the three days of police interviews that followed as there was no reason for him to lie any more.
When asked directly if he had murdered Ms Rodgers, he replied: "No. I did not murder her. I did not see any reason why I should do that."
The court heard that one reason he said he had not alerted police when he said he found Ms Rodgers dead in his living room, was that he did not want to lose his job.
Grave location
He agreed that at the time he had been selfish, thinking of himself, not of Ms Rodgers.
He spent that night on the sofa thinking what he should do, the court was told, and in the morning took the view that it was too late to ring the police as he would have to explain why he had not contacted them earlier.
The court was told he therefore decided to hide the body.
He picked a "quiet and nice place," the jury was told, but it was not easy to dig the grave and he may have been there for five or six hours.
When asked why he had not simply abandoned the body, he said: "I had not done anything wrong to her and did not see any reason to do anything wrong to her body."
He said that another reason his did not abandon the body was that his faith as a Roman Catholic meant bodies were usually buried.
'Blocked mind'
He agreed that he had put the location of the grave in his sat nav under "favourite" locations.
The defendant said that he had "a blocked mind" and tried to carry on as normal.
The court heard Mr Reszpondek returned to the grave many times, which he claimed was to pray.
Earlier on Tuesday, Mr Reszpondek told the jury he had not had a sexual relationship with Ms Rodgers.
He said on one occasion she had kissed him but he said he made it clear he did not want a relationship.
He admitted they could have been in bed together once after a party at his landlord's house but he said they never had sexual intercourse.
Asked about his semen found on Ms Rodgers's mattress, he said it got there when he slept in her bed with his wife when they were staying with Ms Rodgers while searching for a family home.
He said he moved to the UK looking for a normal life and he missed his wife until she joined him.
Poland at work: Ten-man gang jailed for £1m car theft crime ring
From:
northantset.co.uk
Pawel Wodecki, Ricky England, Jumroz Khan, John McCulloch and, bottom row, from left, Zbigniew Nowak, Tomasz Nowak, Matthew Harrison and David Clatworthy,
The detective who helped jail an organised £1m car-crime ring from Wellingborough has warned criminals: "You're not untouchable".
Det Insp Jon Gilbert led Operation Pleat which saw a 10-man gang who made more than £500,000 by stealing high value cars and exporting them to Poland locked up for a total of 35 years.
And he said he believed the gang could be responsible for a further £1m of thefts.
DI Gilbert said: "People who previously thought they were untouchable, aren't. There are no international or national borders."
The gang, masterminded by polish national Pawel Wodecki, 29, of Hatton Park Road, Wellingborough, and crime boss Abdul Hussain, 26, of Pioneer Avenue, Burton Latimer – were jailed at Luton Crown Court on Wednesday for burglaries resulting in the theft and exportation of 23 high specification cars.
Automatic number plate recognition and mobile phone analysis were some of the methods used to prosecute the gang.
Polish brothers Zbigniew Nowak, 25, and Tomasz Nowak, 21, provided the transport links to Poland.
Gang members broke into homes in Northamptonshire, Bedfordshire and Hertfordshire from July 2008 to January this year, stealing keys for high value vehicles. Laptop computers, war medals, cash and credit cards were also taken.
The men were finally arrested and charged after early morning raids involving 130 police officers on January 28..
DI Gilbert said: "We are prepared to invest significant resources – human and financial – to bring these people to justice."
Jail sentences were also handed out to Ricky England, 21, of Gordon Road, Wellingborough, Matthew Harrison, 21, of Knox Road, Wellingborough, David Clatworthy, 23, of High Street, Rushden, who would pick up the stolen cars from Junction 11 of the M1, where they were left by burglars Jumroz Khan, 30, from Bedford and John McCulloch, 28, from Bletchley.
DI Gilbert said: "We hope this case reassures the public of our ability to dismantle organised crime operations and put offenders behind bars."
The tenth gang member, Dennis Skiller, 28, of no fixed address, will be sentenced at a later date due to the ill health of his defence barrister.
Sport...
Glen Hanlon quits Belarus' ice hockey national team
From:
Charter '97
Glen Hanlon has stopped his cooperation with the Belarusian team
Canadian Glen Hanlon decided to quit his coaching job with Belarus' ice hockey national team.
As the official website of the Belarus Ice Hockey Association informs, Hanlon had a private conversation with Association head Uladzimir Navumau in the morning of November 2 and said he stopped his cooperation with the Belarusian team. The Canadian explained his decision with his moral and psychological state.
"After a serious and careful consideration, I have decided that it would be better for the team and its performance if I left. I'd like to say special thanks to Uladzimir Navumau for the joint work and for the opportunity to coach the Belarusian national team for several years. I would also like to thank the officials of the federation, hockey players, journalists and fans for supporting the national team. I believe in the future of the Belarusian ice hockey and I wish good luck to your team at the Olympic Games and world championship," Hanlon commented on his resignation to the Ice Hockey Association press service.
The name of the coach who will take the Belarusian national team to the Palesse Cup tournament will be announced in the nearest time, Telegraf reports.
We remind that Glen Hanlon dismissed as the coach of Dinamo (Minsk) after a 4-1 home defeat to Amur (Khabarovsk) on October 20. Deputy Director General of Hockey Operations Sean Simpson, Hanlon's assistants Dave Lewis and Uladzimir Tsyplakou were also dismissed from Dinamo team.
Goalkeeper Coach Michael Lerner and Conditioning Coach Garnet Brown will continue working with new head coach of the club Alyaksandr Andryeuski who has led Gomel Hockey Club over the last 18 months.
Head of the Ice Hockey Association Uladzimir Navumau asked Hanlon to lead the national team. The Canadian asked for a few days to think and agreed on October 22. He started to train the team for the Palesse Cup, scheduled for November 5–8 in Babruisk and Zhlobin. However, he has decided today to refuse from work in Belarus.
Glen Hanlon headed Belarus' national team at the World Championships in 2005, 2006 and 2009. The Belarusian national team took the sixth place at the World Ice Hockey Championship in Riga in 2006, Belarus' best result at international competitions. Glen Hanlon was named Coach of the Year in Belarus in 2006 and 2009.
Endnote...
Low Corporate Taxes In Emerging Markets Can Only Go So Far
From:
WSJ
Some emerging-market countries are doing a better job at making their tax regimes more attractive to foreign business by keeping corporate tax rates low, but other taxes may pose greater risks.
More than 60 economies have recently cut corporate taxes, according to Pricewaterhouse Coopers.
Emerging markets are among those making the largest strides to boost revenue both by lowering rates and by simplifying tax codes. However, the ease of paying taxes to keep compliance costs low is just as important to business. Moreover, tax experts warn that corporate rates are only a portion of the tax spectrum.
"[The] corporate tax take can represent only 13% of the overall burden, with labor and consumption taxes potentially being far higher. This makes any comparison of 'tax rates' complex, indeed, if the true costs are to be extracted," said Barry Murphy, a tax partner at Pricewaterhouse Coopers.
The biggest cuts in corporate taxes in emerging markets in recent years have come in China, Malaysia and Thailand, among other spots in Southeast Europe, the Caribbean and Africa.
"Countries can increase tax revenue by lowering rates and persuading more businesses to comply with the more favorable rules," PWC said in a report, citing the example of Russia in 2001, which cut rates but which also saw higher revenue due to greater compliance.
Still, tax rates can vary greatly depending on the type of investment, and certain regions have favorable incentives and special economic zones.
Beyond the rates, other factors are of equal or greater importance in fostering economic growth and tax revenue. "Paramount are the commercial factors of regulation, access to markets and the availability of a skilled local labor force," said Murphy.
The efficiency of paying taxes also matters just as much. "Evidence suggests that simpler tax systems promote economic growth and can help achieve a win:win for governments and industry," said the World Bank in a report.
The World Bank and PWC's top-rated developing economies for the ease of paying taxes are the Maldives, Qatar, Hong Kong, United Arab Emirates, Singapore, Saudi Arabia and Oman, according to the latest rankings from the Paying Taxes 2009 global survey.
This calculation computes the number of payments a taxpayer would make, in addition to the time required to file and prepare payments.
The top reformer was the Dominican Republic, which lowered the corporate income-tax rate from 30% to 25%, abolished several other taxes, reduced the property-transfer tax and fully implemented an online filing and payment system.
Typically, Middle Eastern and East Asian countries top the list, while Latin American nations impose the heaviest burdens due to compliance costs, particularly on consumption taxes.
According to the survey, Brazil is ranked 145, bested by Poland at 142 and Argentina at 134. While Hong Kong is rated three, China is rated 132, India is ranked at 169 and Russia at 134. Colombia is at 141. The only country worse than Ukraine (ranked 180) is Belarus at 181.
In Ukraine, where the total tax rate as a percentage of commercial profits is 0.584, it took 99 payments and 848 hours a year for a company to pay its taxes, according to PWC.