Unobtrusive auditing systems, EurAsEC, Azerbaijan, Union State, Gas prices, Higher education; Economics, Opposition, Sport, Culture and Polish scandal
Belarus to get unobtrusive business auditing system
From:
BelTA
President Alexander Lukashenko holding a meeting on auditing (supervisory) activities
President of Belarus Alexander Lukashenko believes that a brand new auditing system and a flexible, transparent control mechanism, which is unobtrusive for businesses, must be created in Belarus. The President made the statement at a government session held on 12 October to discuss improvement of auditing practices in Belarus.
The head of state underlined that innocent companies and businessmen, who pay taxes on time and observe the law, cannot constantly live in fear, expecting yet another auditor. According to the President, there is nothing to audit if there are no substantiated claims against an economic operator. Alexander Lukashenko underlined that, first, the State Control Committee should take care of property matters, second, should be on top of spending, especially state budget spending.
The President demanded that the practice of continuous and repetitive auditing that can last for months must be ruled out. In his words, such things happen a lot. Auditing should be carried out when there is clear information about violations.
The President underlined that the draft decree under consideration should be based on present-day reality. On the one hand, it is supposed to reduce the number of unwarranted audits, to rule out redundant operation of controlling agencies, to step up the preventive component in auditing, creating most favored treatment options for honest businesses. On the other hand, the document should not impede full-fledged auditing activities because they ensure the national economic security.
The draft decree "Improvement of auditing activities in Belarus" had been discussed at a joint session of the Council of Ministers Presidium, the board of the Belarus President Administration and the State Control Committee together with chairmen of oblast executive committees and the Minsk City Executive Committee. Nevertheless, there are certain remarks of the National Bank and the State Control Committee that will be discussed today.
The President underlined that "We should not resolve problems brought about by incompetent auditing and controlling agencies at the expense of audited economic operators". The head of state also remarked that in line with the existing practice the most important draft legal acts are discussed in a collegiate manner before they are signed by the President because everything must be clearly functional to make the final decision.
Alexander Lukashenko remarked that the draft decree on improving auditing practices should be comprehensive, systematic and should address all problem issues at full scale.
Belarus President makes new appointments
On 13 October, Belarusian President Alexander Lukashenko made new appointments and took personnel-related decisions, BelTA learnt from the presidential press service.
The President appointed:
Nikolai Khamchenko – Judge, Chairman of the Vitebsk Oblast Court,
Vladimir Savchenko – Head of the Interior Department of the Brest Oblast Executive Committee,
Valery Polishchuk – Head of the Interior Department of the Gomel Oblast Executive Committee,
Irina Kangro – Deputy Chair of the Belarus National Statistics Committee,
Vadim Ipatov – Director of the Belarus National Center of Legislation and Legal Research
Gennady Lasuta – Deputy Emergencies Minister of Belarus.
The President gave his approval for the appointment of:
Viktor Pilipets – Chairman of the Gomel City Executive Committee,
Vladimir Dvornik – Chairman of the Mozyr Regional Executive Committee,
Jan Palchis – Chairman of the Zelva Regional Executive Committee,
Igor Stoma – Head of the Sovetsky District Administration of Minsk,
Anatoly Savenok – Director General of the Manufacturing Corporation "Belarusian Steel Works",
Valery Kiriyenko – Director General of the Production Association Belaruskali,
Vladimir Koltovich – First Deputy Trade Minister,
Leonid Marinich – Deputy Minister of Agriculture and Food,
Vladimir Dervenkov – Deputy Minister of Transport and Communications,
Vladislav Tatarinovich – Deputy Finance Minister,
Viktor Geisik – Consul General of the Republic of Belarus in Daugavpils (Latvia),
Valery Sadokho – Director of the Foreign and Economy Department of the Belarusian Foreign Ministry,
Ivan Polevoda – Head of the Command and Engineering Institute of the Belarusian Emergencies Ministry.
The Head of State has given his consent to extend the term in office of Deputy Secretary General of the Eurasian Economic Community (EurAsEC) Evgeny Vorsin.
Other Belarusian News...
EurAsEC commissions to get familiar with Customs Code draft
From:
BelTA
Three permanent commissions of the EurAsEC Interparliamentary Assembly, namely the commission for customs regulation and border policy, the commission for trade policy and international cooperation, the commission for agribusiness policy, nature management and ecology, will hold sessions in Minsk on 14 October, BelTA learnt from the press service of the House of Representatives of the National Assembly on 12 October
Speaker of the Council of the Republic and Chairman of the EurAsEC Interparliamentary Assembly Boris Batura and First Deputy Foreign Minister of Belarus Igor Petrishenko are expected to make reports at the opening of the sessions in the House of Government.
The MPs will get familiar with the draft Customs Code of the Customs Union of Belarus, Russia and Kazakhstan. The sides are set to discuss the synchronization of domestic procedures to implement the Customs Union agreements.
The participants of the sessions will also consider the interaction of the EurAsEC Interparliamentary Assembly with the United Nations Commission on International Trade Law (UNCITRAL), alongside with elaboration of standard plan of the EurAsEC Trade Code. The MPs plan to discuss the results of comparative legal analyses of the EurAsEC states concerning the rules and terms of residence of foreign citizens in the EurAsEC states.
The commission for agribusiness policy, nature management and ecology will study the draft recommendations on harmonizing the legislation systems of the EurAsEC states in open air protection. Elaboration of the EurAsEC standard food security law will be also on the agenda of the session.
Belarus, Azerbaijan to sign interparliamentary cooperation agreement
From:
BelTA
Oktay Asadov
Parliaments of Belarus and Azerbaijan are set to sign a cooperation agreement in Minsk on 12 October. A parliamentary delegation of Azerbaijan is in Minsk on official visit.
The delegation is headed by Oktay Asadov, Chairman of Milli Meclis (the Azerbaijani parliament). Valery Ivanov, Deputy Speaker of the House of Representatives of the National Assembly of Belarus, met the guests at the Minsk National Airport.
The Azerbaijani officials plan to meet with Chairman of the House of Representatives Vladimir Andreichenko and Speaker of the Council of the Republic Boris Batura.
The members of the delegation are scheduled to visit Minsk Tractor Works and Dzerzhinsky agricultural company, alongside with sport and cultural facilities of Minsk.
Azerbaijani MPs expect Belarus entry into PACE soon
Azerbaijan parliamentarians expect Belarus to enter the Parliamentary Assembly of the Council of Europe soon, said Chairman of the Azerbaijan Parliament Ogtay Asadov as he met with Chairman of the Council of the Republic of the National Assembly of Belarus Boris Batura in Minsk on 12 October.
"I think Belarus' entry into PACE is a near future prospect," said the Azerbaijani speaker.
He expects Belarusian-Azerbaijani interparliamentary relations to be stepped up after an agreement on cooperation between the National Assembly of Belarus and the Parliament of Azerbaijan is signed. The document is supposed to be signed in Minsk on 12 October. "The agreement will give a new boost to joint work of our parliamentarians," said the Speaker of the Azerbaijani Parliament.
In turn, Boris Batura thanked his Azerbaijani counterpart for supporting Belarus in international organizations. "We are thankful for the support in the international arena in such organizations as the Inter-Parliamentary Union, the Parliamentary Assembly of the Council of Europe, the OSCE Parliamentary Assembly," said Boris Batura. He said he hopes that this support will allow restoring status quo for Belarus in these organizations.
Speaking about the trade and economic cooperation between the two countries, Boris Batura said that last year the trade turnover increased a lot but the increase stopped this year. "The economic crisis might be blamed for it but maybe not all the reserves are used. I think during the forthcoming visit of the Azerbaijan President to Belarus essential changes will be made in order to at least preserve the trade turnover at last year's level," said Boris Batura.
In 2008 Belarus-Azerbaijan trade exceeded $111.5 million, while in 2007 the figure did not reach $90 million. In January-August 2009 the trade amounted to $71.5 million, 90.4% as against January-August 2008.
Prospects of Union State higher education to be discussed in Minsk
From:
BelTA
Professors, principals and scientists of Belarus and Russia are set to discuss the prospects of the higher education development in the Union State. The scientific and practical conference "State and problems of the higher education development in the Union State" will take place in Minsk on 13-15 October. Over 100 education specialists and eminent scholars of Russia have come to Minsk to partake in the conference, First Deputy Education Minister of Belarus Alexander Zhuk told BelTA.
All in all, the forum will gather more than 250 pedagogues. The conference will be held in line with a joint action plan of the two ministries aimed at developing the Union State common education space in 2008-2010. The participants of the meeting are expected to analyze the implementation of the Union State social development concept for 2006-2010 and work out proposals to form an agreed education policy of the two countries. Pedagogues will discuss the issues of improving the quality of the higher vocational education that highly contributes to the development of the integrated educational, cultural and sci-tech area of the Union State.
The participants of the conference will exchange experience in renovating the higher education of the two states. The specialists plan to discuss new projects at a roundtable "Belarus-Russia common education space formation". The session will take place in the CIS Executive Committee. Five thematic sections will highlight the issues of the higher education system development.
The forum has been organized by the Union State Permanent Committee, the Education Ministry of Belarus, the Federal Agency for Education of the Russian Federation, Belarusian State University and Russia State Social University.
Cultural Scene...
Minsk to host international festival of academic music
From:
BelTA
The 2nd international festival of academic music "Dialogues: Young Composers and Singers", which will be held in Minsk on 19-23 October, will gather musicians from seven countries, BelTA learnt from the Belarus State Academy of Music.
Taking part in the festival will be soloists and music bands from Belarus, Russia, Ukraine, Azerbaijan, Poland, Germany and Slovakia. The concert program includes five musicales of contemporary academic music.
A concert of Nostri Temporis Band (Kiev, Ukraine) will open the festival on 19 October. Ukrainian soloists will present compositions created by young Polish, Ukrainian, Russian, Azerbaijani and Belarusian composers.
On 20 October, Horsinn contemporary music band (Munster, Germany) and soloists of the Grodno Choir will perform compositions of German, Russian, Polish and Belarusian composers.
On 21 October, soloist-composer Dariusz Przybylski (Poland) will a give a concert of the ancient and contemporary Polish organ music.
On 22 October, the symphony orchestra of the Belarus State TV and Radio Company under the direction of Alexander Sosnovsky will give a concert of the contemporary academic music jointly with soloists Vladislav Sharishsky (piano, Slovakia), Daria Beltiukova (flute, Belarus) and Daria Moroz (piano, Belarus).
On 23 October, the festival will present the contemporary Belarusian chamber music performed by students of the Belarus State academy of Music.
Within the framework of the festival a number of art sessions with musicians and composers of Ukraine, Azerbaijan and Poland will be held.
The festival will be held in the concert hall of the Belarus State Academy of Music and in the concert halls of the Belarus Union of Composers and the Blessed Virgin Cathedral of Minsk.
The main goal of the festival is to promote close relations between the creative youth from various countries, expand professional contacts in the area of the contemporary music art.
The festival is organized by the Belarus State Academy of Music, the Polish Institute in Minsk and Kiev, the Goethe Institute, the Belarus Union of Composers and the Blessed Virgin Cathedral of Minsk.
Economics...
Belarus keen to find best deal to sell BPS Bank
From:
BelTA
Belarus will continue negotiations with foreign investors in a bid to find the best deal to sell BPS Bank (Belpromstroibank). The decision was made at a government session held by President of Belarus Alexander Lukashenko on 13 October to discuss several matters concerning the development of the national banking industry.
"It is another matter of special importance that should be discussed in an open and fair way and should be decided on," said the President. The matter is of economic and political importance.
According to Alexander Lukashenko, it is necessary to assess whether it is advisable to sell major financial institutions and other objects in Belarus, in particular, BPS Bank, one of the pillars of the national banking industry, in a crisis when prices fall to foreign companies.
"Certainly, foreign investors and other interested persons would like to become shareholders of our banks. Very large financial institutions, western and eastern ones, are interested in it. But we have to clearly determine how we will act in this situation," remarked the head of state.
He said that enticing offers to increase the capital and provide loans had been made. "But the prices are falling during this crisis. As for whether some companies should be sold or not, the answer is definite: they should be. The question is for what price," said Alexander Lukashenko.
BPS Bank has been evaluated by various institutions, with prices differing by almost three times. "Using international standards our real estate institute has estimated the bank to cost quite a fortune while western institutes hired by interested investors estimate it at two or three times less. This is why I cannot make the unanimous decision today when prices are jumping up and down," explained the President.
There is another question: why one of the country's best banks, a well-oiled business has to be sold now? In 2007-2008 the government allocated Br260 billion for developing BPS Bank. This year the state budget will be used to increase the authorized fund by another Br30 billion. Assets of the bank now stand at $2 billion, with 68% of the assets as investments in the public sector.
"It is an excellent bank," underlined the head of state. "It services most major state-run and private companies. Those are BMZ, Belorusneft, MAZ, Naftan, Atlant and others. Why do we want to sell this bank without considering alternatives?"
"So there are some issues. We have to discuss all pros and cons taking into consideration the economic security of our country. The decision should be fundamental and should not be limited to BPS Bank alone. We need to make the strategic decision on what we will do during the financial crisis when prices for everything have plunged," concluded Alexander Lukashenko.
Belarus' GDP down to 99.7% in January-September
In January-September 2009 Belarus' gross domestic product shrank to 99.7% as against the same period of last year in comparable prices, BelTA learned from representatives of the National Statistics Committee.
In line with Belarus' social and economic development forecast this year the GDP is supposed to grow by 10-12%. According to the National Statistics Committee, Belarus' GDP stood at 102.6% in January, 101.2% in January-February, 101.2% in January-April, 101.4% in January-May, 100.3% in January-June, 100.4% in January-July, and 99.5% in January-August.
Over the nine months the industrial output shrank to 95.5% as against January-September 2008 while the forecast expected it to grow by 10-12%. The consumer goods output totaled 99.4% (112-113%). The growth rate of food production reached 105.2% (112-113%) while the non-food production fell by 7.4% (111.5-112.5%).
Capital investment in Belarus up 14.5% in January-September
In January-September 2009, capital investments and investments in construction in Belarus totaled Br31 trillion, up 14.5% over the same period of last year, the National Statistics Committee told BelTA.
Over the period under review, building and assembly jobs made up Br15.151 trillion, up 24.1% over January-September 2008.
Meanwhile, 4.521 million square meters of new homes was built, up 15.3% on the same period of last year. In rural areas and small urban communities 1.812 million square meters was built (15.4% up).
From the Foriegn Press...
Belarus launches nationwide census
From:
RIA Novosti
elarus is set to launch its nationwide population and housing census on Wednesday, which is due to last until October 24.
The previous census, conducted in 1999, put the country's population at 10.045 million. According to latest specialists' estimates, the Belarus population totals currently some 9.8 million.
The survey will ask 37 questions of respondents, including their age, sex, nationality, ethnicity, education, income level and other questions.
The nationwide census in Belarus is held every 10 years and, according to the country's statistics service, some 21 billion Belarus rubles (about $7 million) were allocated this year to hold the census.
Belarus, Russia to work on harmonization of university admission procedures, education minister says
From:
Navany
Alyaksandr Radzkow
Belarus and Russia will work on the harmonization of rules governing admissions to higher educational institutions, Belarusian Education Minister Alyaksandr Radzkow said at a conference that opened in Minsk on October 13.
The harmonization will allow Belarus and Russia to recognize the results of standardized tests taken by school leavers in the other country, the minister said.
"The task is not easy, but we take consistent steps to harmonize admission procedures in the common education space of Belarus and Russia," Mr. Radzkow said.
The three-day conference, which focuses on higher education in Belarus and Russia, has brought together more than 250 scholars and teachers.
Vladimir Fridlyanov, deputy minister of education and science of Russia, said that Belarusian students have equal rights with Russian nationals in admission to a university, like Russian students have in Belarus.
"We have discussed the possibility of offering Belarusian entrants in Russia to choose between the Unified State Examination or an entrance examination at the higher education institution," he said.
Mr. Fridlyanov said that the matters would be looked at the conference.
The meeting's agenda also includes the establishment of joint Belarusian-Russian higher education institutions and the development of joint projects, he noted.
According to the Belarusian education ministry, more than 2,000 Russian nationals study at Belarus' higher education institutions this academic year, up on the 1,846 people last year.
Consultations on WTO admission to start in Geneva
From:
Itar Tass
Consultations on the admission to the World Trade Organisation (WTO) by the Customs Union (of Russia, Belarus and Kazakhstan) will be launched in Geneva on Monday. During the week delegations from the three countries will hold meetings with such key WTO members as the United States, EU, Canada, Australia, India and China.
The WTO press service told Itar-Tass that the Organisation's official schedule for this week does not contain any events with the participation of the Customs Union, however, confirmed that multilateral informal consultations will be held.
In June, the delegations of Russia, Belarus and Kazakhstan informed the WTO that they suspend individual talks on WTO admission.
Kazakhstani representative at talks on WTO bid Zhanar Aitzhanova told Itar-Tass earlier that "WTO entry is a priority for our three countries – Russia, Kazakhstan and Belarus. That is why we will continue talks." "However, before our entry we have decided to clearly stipulate those terms that will be common for all three countries," Aitzhanova said. A negotiating team with Maxim Medvedkov at the head has been set up for that. In reply to a query when will talks on WTO entry within the framework of the Customs Union be ended, she said things would get clearer after consultations in Geneva.
In Washington last week she met with US president's adviser Michael McFall as well as held talks at the office of the US representative at trade talks and at the Department of State. Aitzhanova said that the recent visit to the USA of Russian Deputy Prime Minister Igor Shuvalov and her current consultations have helped to fill that information gap that developed after a statement of the prime ministers of the three countries on WTO entry within the framework of the Customs Union. According to Aitzhanova, now American partners understand better the stance of Astana on those decisions that were taken by the leadership of Russia, Kazakhstan and Belarus.
A code of the Customs Union of Russia, Belarus and Kazakhstan is ready and will be signed in Minsk on November 27, Chairman of the Belarusian Customs Service Alexander Shpilevsky said earlier. The document will be effective starting from January 1, 2010.
It will introduce a unified service procedure for all member countries, while the tariff policy of those countries have already been unified by 95 percent and budget problems have already been resolved, Chief of the Russian Customs Service Andrei Belyaninov noted. "The partners have no disagreements. The most favourable conditions have been created for the setting up of the Customs Union," he said last Friday.
"Starting from July 1, 2010, the customs code will be ratified by the governments of the Union's member countries," Head of the Kazakhstani Customs Service Kozy-Korpesh Karbuzov indicated.
According to newly elected chairman of the CIS Council of Customs Services Belyaninov, the 50th meeting of the council focused on the ways for the speediest introduction of advanced information technologies in the customs sector. "It is our major and primary task to set up e-interaction with customs services of the CIS countries," he noted. In the format of the Council's meeting, the customs services of Russia and Kazakhstan signed a protocol on the procedure of joint customs control.
The negotiations on the terms on which the three Customs Union member-states (Russia, Belarus and Kazakhstan) may be admitted to the World Trade Organisation can be completed over a period of 18-24 months, Russian Deputy Economic Development minister Andrei Slepnev said earlier. "On unified conditions this process may be completed within a year and a half, two at the most," he noted. From the technical standpoint there exist no obstacles to taking the talks to a successful outcome. "As for political ones, it is a very different subject," he stated.
Slepnev said the negotiators proceeded from the assumption all Customs Union member-states would join the WTO simultaneously and on common conditions. As he dwelt on the formal part of the negotiations, he said that the mandates of all three parties would be preserved, and this would let each country join the WTO independently, should problems occur.
Slepnev acknowledged there were no reasons for the optimism everybody would agree to Russia's admission to the World Trade Organisation by the end of this year. At the same time he recalled that the negotiators had managed to iron out differences over the main unsettled items, such as intellectual property, phytosanitary and veterinary control of meat products, and also medicines-related matters. Common approaches to support for agriculture were agreed on.
Prime-Tass quotes Slepnev as saying the negotiations may be completed pretty soon – the pace of decision-making will largely depend on the partners in the negotiations.
Heir Apparent meets president of Belarus
From:
Gulf Times
HH the Heir Apparent Sheikh Tamim bin Hamad al-Thani being greeted by Belarus President Alexander Lukashenk at the presidential palace in Minsk yesterday
HH the Heir Apparent Sheikh Tamim bin Hamad al-Thani, yesterday met Belarus President Alexander Lukashenk yesterday during his current visit to Belarus.
During the meeting, which took place at the Presidential Palace in Minsk, Sheikh Tamim conveyed the greetings of HH the Emir Sheikh Hamad bin Khalifa al-Thani to President Alexander Lukashenk, and his wishes of progress and prosperity for the people of Belarus.
President Alexander Lukashenk reciprocated Heir Apparent's greetings and conveyed his greetings and wishes of good health to the Emir, hoping that the relations between the two countries will witness more progress and prosperity.
Ties of co-operation between Qatar and Belarus and means to further boost them, in addition to a number of regional and international issues of common concern were also discussed during the meeting
From the Opposition...
Miller: "Belarusian side must fulfil its obligations"
From:
Charter '97
Alexei Miller: Remember the Golden Rule- He who has the gold makes the rules!
The Chairman of Gazprom Management Committee said gas prices for Belarus would be increased gradually in accordance with the contract signed.
"We have a contract, providing for gradual increase in gas prices for Belarus, so we must act in accordance with the contract," Miller told in an interview to programme "Vesti v Subbotu" on Russia TV channel.
"The Belarusian side signed the contract, the Belarusian side must fulfil its obligations," the CEO concluded, ITAR TASS reports.
Uladzimir Syamashka, the first deputy prime minister of Belarus has recently said Minsk negotiates with Gazprom to avoid a hike in gas price in 2010. According to Syamashka, PM Syarhei Sidorski ordered minister of energy Alyaksandr Azyarets to talk with Gazprom taking into account force-majeure circumstances caused by the crisis.
On December 31, 2006, Gazprom and Beltransgaz signed a gas supply and transit contract for 2007-2011. The document defined the price formula since January 1, 2008 (in accordance with prices of Russian gas supplies to Europe), reduction factor for 2008–2010 (0.67, 0.8, 0.9 respectively). By 2011, Belarus should pay 100 per cent of the average European price.
Information on torture of participants of peaceful actions passed to international organizations
From:
Viasna
The Human Rights Center Viasna collected information about the facts of tortures and inhuman treatment of the detained participants of the peaceful actions held on 9 and 16 September 2009. The lawyers also prepared 6 complaints to the Tsentralny district prosecutor's office of Minsk against the unlawful police actions and questioned some eyewitnesses of the tortures.
On 12 October the compiled materials were directed to the International Federation of Human Rights and will be passed to the OMCT (World Organization against Torture) and the UN Committee against Torture with the assistance of the FIDH representative in Geneva to get an appropriate international reaction.
During the few last years the prosecutor's office hasn't given the due legal evaluation to unlawful actions of the police and refused to bring criminal cases against the police officers who used tortures towards participants of the mass actions held by the opposition. Now human rights defenders hope that these facts will receive the due attention not only in international organizations, but also in the prosecutorial organs of the Republic of Belarus.
Bear in mind that the HRC Viasna has already submitted to the UN Committee against Torture
two alternative reports on implementation of the Convention against Torture and Other Cruel, Inhuman or Degrading Treatment.
Click HERE
for seeing the complete texts of the complaints and the testimonies of the eyewitnesses.
Russia...
Russia Resists U.S. Position on Sanctions for Iran
From:
New York Times
President Dmitry A. Medvedev of Russia with Secretary of State Hillary Rodham Clinton at the presidential residence in Barvikha, outside Moscow, on Tuesday.
Denting President Obama's hopes for a powerful ally in his campaign to press Iran on its nuclear program, Russia's foreign minister said Tuesday that threatening Tehran now with harsh new sanctions would be "counterproductive."
The minister, Sergey V. Lavrov, said after meeting with Secretary of State Hillary Rodham Clinton here that diplomacy should be given a chance to work, particularly after a meeting in Geneva this month in which the Iranian government said it would allow United Nations inspectors to visit its clandestine nuclear enrichment site near the holy city of Qum.
"At the current stage, all forces should be thrown at supporting the negotiating process," he said. "Threats, sanctions and threats of pressure in the current situation, we are convinced, would be counterproductive."
Mr. Lavrov's resistance was striking given that, just three weeks before, President Dmitri A. Medvedev said that "in some cases, sanctions are inevitable." American officials had hailed that statement as a sign that Russia was finally coming around to the Obama administration's view that Iran is best handled with diplomacy backed by a credible threat of sanctions.
It also came after the Obama administration announced that it would retool a European missile defense system fiercely opposed by Russia. That move was thought to have paid dividends for the White House when Mr. Medvedev appeared to throw his support behind Mr. Obama on Iran, though American officials say the Russian president was also likely to have been reacting to the disclosure of the secret nuclear site near Qum.
After the meeting with Mr. Lavrov, Mrs. Clinton met Mr. Medvedev later on Tuesday, and two administration officials said he did not retreat from his support in his private discussions with her. But he said nothing about Iran publicly before or after the meeting. Prime Minister Vladimir V. Putin, who has been skeptical of sanctions, was in China on a trade mission.
Mr. Lavrov said that the talks in Geneva between Iran and other countries had raised hopes for a diplomatic solution, and that it made no sense to discuss sanctions as long as those negotiations were under way. "We are maybe not 100 percent, but still have chances to succeed," he said.
His position conflicts with that of the Obama administration, which argues that the threat of sanctions is crucial to the prospect for a diplomatic solution. Unless Russia and China join the United States and Europe in signaling that the sanctions may be necessary if diplomacy fails, American officials have said, Iran has less incentive to make concessions.
A Russian refusal to back sanctions could expose the Obama administration to criticism at home, where Republicans have argued that the president yielded to Kremlin concerns on the missile shield without getting much in return.
Enlisting Russia is critical for any sanctions campaign because of its geopolitical links to Iran. Russia's refusal to act now may influence China, which has invested heavily in Iranian oil and gas reserves and has also been wary of sanctions. That Mr. Putin was in Beijing cutting deals while Mrs. Clinton was in Moscow warning about Iran was not lost on analysts here.
Though Mrs. Clinton also stressed the importance of diplomacy, she reiterated the administration's view that there must be a parallel track of sanctions to prevent Iran from dragging its feet in negotiations.
"In the absence of any significant progress, we will be seeking to rally international opinion behind additional sanctions," she said at the joint news conference with Mr. Lavrov.
Mrs. Clinton insisted the United States did not make any specific requests of Russia at the meeting. But a day earlier, a senior official traveling with her said that the United States would be looking for "specific forms of pressure" that Russia would be prepared to back.
The next major step in the diplomatic process will be on Monday, when Iran and officials from France and Russia are to meet in Vienna to discuss the details of a plan to ship a majority of Iran's stockpile of lightly enriched uranium out of the country to be enriched in Russia to a higher grade. The uranium would then be returned to Iran, where it would fuel a research reactor.
That agreement was the most tangible result of the talks in Geneva between Iran and a group of countries: the United States, Britain, France, Germany, Russia and China. A senior American official said that in his meeting with Mrs. Clinton, Mr. Lavrov had told her that Russia was determined to hold Iran to the deal and would consider sanctions if the Iranians reneged on it.
While Iran dominated attention during Mrs. Clinton's visit, her first trip to Russia as secretary of state, she and Mr. Lavrov discussed a wide range of issues, including the decision to redesign the missile-defense system.
Despite a clear warming trend since Mr. Obama took office, old strains remain, especially over the West's role in the other former Soviet republics. In their meetings, officials said, Mr. Medvedev and Mr. Lavrov pointed to recent comments by a senior American defense official that the United States might consider including Ukraine in any future antimissile system.
Russia's ties with Ukraine have grown contentious in recent years, as Ukraine has tilted toward the West. The comments by the American defense official, Alexander Vershbow, clearly irritated the Kremlin.
A senior American official said that the United States had no plan to install missile-defense equipment in Ukraine, but that it might use data from radar stations in the country.
Analysts here expressed little surprise at Mr. Lavrov's refusal to threaten Iran. Fyodor Lukyanov, editor in chief of the journal Russia in Global Affairs, said the administration was misguided if it believed that there had been a fundamental shift in Russia's position in recent weeks.
Mr. Medvedev's comments during his visit to the United States last month represented more of a political gesture because of the missile-defense decision, rather than a Russian concession, he said.
"It was not based on a new assessment of an Iranian threat," he said. "It was just a feeling that Russia had to be polite and react to what Obama did."
Mr. Lukyanov pointed out that the United States and Russia approach Iran from sharply different perspectives. Russia and Iran are neighbors, and the Kremlin has for many years had positive dealings with Iran on regional issues, including unrest in Chechnya and in Central Asia.
"Iran is seen by Russia as much more rational and reliable than it is seen by the United States or Israel," he said.
Russia's rouble slides vs basket on profit-taking
From:
Forbes
The Russian rouble halted its recent rapid rise on Tuesday, with investors surprising the market by cashing on their gains and disregarding the high crude prices and the globally grappling dollar.
The rouble closed the day at 35.97 against the euro-dollar basket the central bank introduced in 2005 for guiding the rouble's nominal exchange rate policy, weakening 0.3 percent from the 35.85 close on Monday.
The rouble managed to remain somewhat stable against the dollar -- on a day when the greenback continued its slide to 14-months lows against major currencies -- weakening only by three kopecks to 29.55 from the year's high on Monday.
It is against the euro that the rouble's losses were substantial -- the rouble closed at 43.87 per euro, giving back 27 kopecks on the day.
'Evidently, some decided to start closing their short positions,' said Viktor Anisimov, a dealer at Moscow's Alba Alliance bank.
The rouble has enjoyed six weeks of gains, firming by 1.5 percent against the basket, mirroring the rising optimism on the global recovery, which has kept oil prices relatively high at around $70 per barrel and weakened the dollar in favour of high-yielding, commodity-driven currencies.
ROUBLE TO REBOUND
Analysts see the unexpected weakening of the rouble more just as a pause in the currency's upward march rather than a burst of the rouble's bubble.
'The rouble's rate still lies within the central bank's bid and I don't see any hints that the situation on the forex market will change,' said Nikolai Podguzov, the head of fixed income strategy at Renaissance Capital in Moscow. 'I would not take a 10-kopecks change against the basket as a turning point.'
The rouble's weakness on Tuesday was accompanied by losses on the local bourses, which backed off from their 13-month highs reached on Monday.
But NDF rates -- which show investors' sentiments towards the rouble in the medium-term -- continue to fall on Tuesday showing the rouble at 31.73 per dollar in a year, 12 kopecks stronger from the previous day.
'Despite the expected further easing (of lending rates), the level of policy and money market rates will likely remain above the levels seen in key developed and developing economies in the coming months,' Tatiana Orlova, an economist with ING ( ING - news - people ) Bank said in a note. 'Their relative attractiveness will likely continue to lure investors into buying the rouble.'
The central bank has administered a series of monetary loosening steps since April, with its benchmark refinancing rate now at 10 percent -- but still significantly higher than the 1 percent or smaller rates among the other G8 economies.
The rouble's recent rise would have been even steeper, had it not been for the central intervention to prevent volatility in the rouble's rate and make the appreciation gradual.
The regulator has been actively buying foreign currencies and moving the bid level of the rouble's corridor by 5 kopecks for each $700 million of interventions.
On Monday, the central bank was seen buying around $700 million, following between $4.5 billion and $5 billion last week.
Stalin's Grandson Loses Defamation Suit
From:
New York Times
Joseph Stalin as a young man.
On Tuesday in Moscow, a court ruled against Joseph Stalin's grandson, Yevgeny Dzhugashvili, who had demanded $340,000 in damages from the newspaper Novaya Gazeta, for supposedly besmirching his family's reputation by calling his grandfather a "bloodthirsty cannibal."
The independent Russian newspaper, which published the work of Anna Politkovskaya until her murder in 2006, characterized the Soviet dictator that way in an article about recently declassified documents he had signed and handed to Lavrenti Beria, his secret police chief. According to Memorial, a Russian human rights group, Stalin ordered the deaths of at least 724,000 people during a series of purges, although the overall death toll during his reign is believed to have been in the millions.
In court on Tuesday, The Associated Press reported that a lawyer for the dictator's grandson argued that "a document incriminating the Soviet Union and Stalin himself for the 1940 massacre of some 22,000 Polish officers, intellectuals and priests at the Katyn forest in western Russia was a fake." As the news agency noted, "After blaming the Nazis for decades, the Soviet Union acknowledged in 1990 that Stalin's secret police carried out the killings." Mr. Dzhugashvili's lawyer, Yuri Mukhin, also said that Novaya Gazeta and Memorial, "are working against Russia to make it weaker."
Despite an overwhelming amount of documentary evidence linking Stalin to the deaths of so many Soviet citizens, his great-grandson, Jacob Dzhugashvili, told the BBC last week that the dictator "never broke any Soviet law" and was "greatly misunderstood."
Last year, Stalin finished third in a Russian television station's popular contest to name the "greatest Russian" in the country's history. Despite his crimes, and despite having been an ethnic Georgian, the BBC reported that Stalin was actually leading the contest — in which more than 50 million people voted online or by phone — for months, "until the show's producer appealed to viewers to vote for someone else."
Some Russians still insist that that the dictator's crimes must be remembered. Last week, The A.P. reported:
Nina Khrushcheva, the great granddaughter of Nikita Khrushchev, said she was "absolutely on the side of Novaya Gazeta." Her ancestor first exposed Stalin's crimes and allowed the 1962 publication of Alexander Solzhenitsyn's "One Day in the Life of Ivan Denisovich," which told of Stalin's network of slave labor camps.

Khrushcheva, who teaches in the international affairs program at the New School in New York, told The Associated Press that the lawsuit is evidence that at least some Russian officials are determined to promote what she called the myth of Stalin as a wise if strict leader. "The fact that in 2009 we're still unable to separate facts from fiction is mind-boggling," she said.
Writing in June for The Guardian, Arseny Roginsky, the director of Memorial, explained why his group, which strives to make the evidence of atrocities contained in the Soviet archives public, matters both to Russia's past and its future:
People in power must bear some responsibility. They want to create a heroic image of Russia steeped in glorious victories, while forgetting the painful or shameful episodes. And archivists, historians, begin to reflect that trend. This national-patriotic formation of an idea of Russia as a 'Great Power' is a great hindrance to our work with history, at all levels. It's a trend that began before Putin, but under him it became incomparably stronger. And the rehabilitation of Stalin as a strong and pragmatic leader is part of it. [...]

There is a certain type of person now – what used to be called a member of the intelligentsia – who is disaffected with party politics, who sees little use in running to protest meetings but who sees Stalin popping up all over the place and finds it annoying. This sort of person wants to make some positive contribution to society, so supports us. That's how Memorial became a symbolic point of consolidation for these new intellectuals. And that's what the Kremlin doesn't like. That we human rights campaigners climbed out of our little cage and starting making a noise.
From the Polish Scandal Files...
Polish Treasury Officials Wiretapped
From:
WSJ
As political storm triggered by Polish Anti Corruption Agency, or CBA seems to be nearing end, at least for now, there are some implications that may be long-lasting.
What about the government's very ambitious privatization agenda, if key officials in charge of privatization have their phones tapped and virtually everything they say can be leaked to the press and used in local political battles? Poland aims at over $12 billion in revenues from asset sales by the end of 2010.
"It's likely that everyone knew that their phones could have been tapped, but nobody could expect this would be published in the press the next day," one local government official said Tuesday.
CBA, remains on top pages of local newspapers, although public interest may start fading among indications that the agency head, Mariusz Kaminski, is leaking classified information to the press as he may lose the post any day. Kaminski, nominated by the previous right-wing government led by Law and Justice, now the main opposition party, has never hidden that his political affiliations were far from those of the current government.
Last week the Cabinet was reshuffled as Prime Minister Donald Tusk sought to minimize political damage from the alleged corruption scandal. The political storm had been triggered after a local daily published transcripts of phone conversations of a top politician of ruling Civic Platform with a businessmen friend, intercepted by CBA. Their somewhat "informal" dialogs showed that legislative process may have been influenced in an way that was far from formal. The politician was trying to assure the owner of a gambling firm that he would block the legislative process of a bill that was to impose extra taxes on gambling.
Over the weekend, new revelations from CBA hit the local press. This time, the local weekly Wprost published wiretapped phone conversations of key officials from the Treasury Ministry, which in Poland is responsible for privatization. Dialogs concerned a recently failed tender to sell local shipyards to a Qatari fund. This time, putting "linguistic" color aside, the transcripts are unlikley to trigger any charges, local media say
Corruption perceptions shake more than corruption, economics
just political confidence
From:
WBJ
Corruption and nepotism, which had thrived throughout communist Central and Eastern Europe for decades, continues to this day.
Though attempts to unmask high-level corruption have improved, as demonstrated by the recent resignation of Sports Minister Miroslaw Drzewiecki due to evidence presented by the Central Anti-Corruption Bureau (CBA), the majority of graft takes place at the local and municipal levels. This has long permeated Poland's local justice system, tax authority, contract procurement, and university entrance and grading practices.
However, unlike their Warsaw counterparts, local officials lack the required resources and personnel to address these challenges head on.
According to Transparency International's 2008 Corruption Perceptions Index, Poland ranks 58th out of 180 countries surveyed. Among Central Europe's EU members, it outranks only Romania and Bulgaria, two countries that have been openly criticized, even financially reprimanded by the EU for their inability to adequately tackle corruption, fraud and organized crime.
Recent events in Poland not only highlight the severity of the problem, but demonstrate that repercussions go beyond politics. Specifically, high levels of corruption negatively affect a country's economic progress and development. For one, perceptions of corruption serve as disincentives for investors considering opening or sustaining business operations in Poland.
At a time when financial institutions and multinational firms are increasingly risk averse, higher corruption perceptions in Poland may make it increasingly expensive (and more competitive) to tap global capital markets or attract foreign direct investment.
Both the Polish government and the EU need to take a more active role working with local and high-level officials in setting clear metrics for success. Poland must require greater transparency and follow through with legal enforcement, otherwise it risks not only its political, but also its economic legacy.
Polish football fans call for PZPN red card
From:
The News.PL
Over 100,000 Polish football fans have already registered at a website aimed at expressing dissatisfaction with the Polish Football Association (PZPN).
The web site at koniecpzpn.pl was set up a month ago and immediately became a hit with fans calling for the abolishment of Poland's football governing body.
At the time of writing 112,607 have registered onto the web site, which says: "Wroclaw is a city that, every few days, is host to referees, officials, PZPN, players, coaches, observers, who do not choose to go there voluntarily."
Wroclaw is the centre of an investigation into widespread corruption within the Polish game, which has seen the arrest of up to 200 people.
Last week, the web site called for a boycott of Saturday's march between the Czech Republic and Poland - a World Cup qualifying match that was made all but meaningless, as Poland were already illuminated from reaching the finals in South Africa next year after a poor run of games in Group 3. Poland lost the match, 0 - 2.
Janusz Atlas of the PZPN reportedly referred to the fans who tried to organize the boycott as "terrorists and hooligans".
The fans say, however, that it is time someone blew the final whistle on PZPN.
Left wants anti corruption minister dismissed
From:
The News
Grzegorz Napieralski: Guilty as hell
The Democratic Left Alliance wants the government's commissioner against corruption to be dismissed, in connection to the recent Black Jack and shipyard scandals.
Grzegorz Napieralski, head of the Democratic Left Alliance (SLD) has accused Julia Pitera, the Civic Platform commissioner on fighting corruption, of directing a campaign of intimidation against the government's political opponets.
"Julia Pitera was supposed to fight against corruption everywhere. Meantime, she has pursued mainly Law and Justice politicians suspected of credit card fraud, and failed to investigate the Black Jack gambling scandal, in which Civic Platform politicians were allegedly involved," Napieralski told Polish Radio this morning.
Sport...
England v Belarus: match preview
From:
Telegraph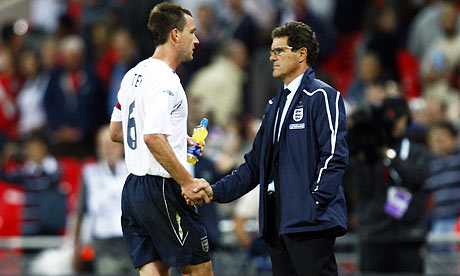 England manager Fabio Capello shakes John Terry's hand. "You feel you are alweays on trial with this manager," says the captain.
England v Belarus
Kick-off: Wed Oct 14, 8pm; Wembley Stadium, London
TV: ITV1 7.30pm, ITV HD 7.30pm
Bernd Stange, the 61-year-old former coach of East Germany, is on the verge of losing his job despite appearing to have done well. The problem is that Belarus's strong showing in almost qualifying for Euro 2008 – and beating Holland - had raised expectations.
But despite the emphatic 5-1 beating of Kazakhstan in Almaty and a goalless draw with Ukraine he is under sever pressure. His resources are limited, with Alexander Hleb, such an important player who has missed much of this campaign, again absent, and, for Belarus, Wednesday's World Cup game is simply about trying to maintain respectability.
Either way Stange, who has also coached in Australia and Iraq, expects to be on his way.
Key clash
Timofei Kalachev was the outstanding performer in Belarus's 4-0 home victory over Kazakhstan on Saturday, scoring twice including one effort from 35 yards.
It takes his goals tally for the campaign to five. The 28-year-old midfielder, who plays for FC Krylya Sovetov Samara in Russia, can play in the centre or on the wing, is also creative enough to set up opportunities for others and will have to be watched by England's left-back, probably Ashley Cole although Wayne Bridge may start.
Further forward striker Vitali Kutuzov, who has impressed for Bari, will hope to take advantage of Rio Ferdinand's recent jitters.
Talking tactics
The Belarusians have brought only 19 players – and they all went shopping in Oxford Street yesterday. All very relaxed. With England likely to experiment, they will want to exploit any uncertainty in their hosts.
They showed in Minsk last year that they can construct intricate passing movements – their goal ended a 23-pass sequence – often around Alexander Kulchy and also have pace in attack and a goal-threat on the wings.
Coach Bernd Stange will have to decide whether to play with two strikers and match England's probable formation and be more defensive with an extra midfielder. He may opt for the latter, but is unlikely to, and hope to frustrate England and strike on the counter-attack.
Probable teams
England (4-4-2): Foster; Johnson, Ferdinand, Terry, Bridge; Lennon, Lampard, Barry, Wright-Phillips; Crouch, Agbonlahor.
Belarus (4-4-2): Zhevnov; Shitov, Verkhovtsov, Sosnovsky,Yurevich; Kalachiov, Kulchy, Omelyanchuk, Bordachev; Kutuzov, Kornilenko.
Referee: C Cortez Batista (Portugal) .
Endnote...
Gypsy laborer faces execution in Belarus
From:
The Associated Press
Belarusian Gipsy Varvara Yuzepchuk, 52, smokes as a picture of her son Vasily, who is convicted to face execution, lies at a table, foreground, in her home in the village of Tatarya, 320 km south-west of Minsk, Monday, Oct. 12 2009. Belarus President Alexander Lukashenko let the deadline pass on midnight Monday for an appeal of the death sentence of Vasily Yusepchuk, an illiterate 30-year-old Gypsy laborer convicted in June in connection with the deaths of six elderly women. Belarus is the only country left in Europe that still conducts executions, according to Amnesty International.
His last hopes fading, a 30-year-old illiterate Gypsy laborer whose lawyers say was tortured into confessing to murder awaits his unannounced appointment with the executioner.
With all appeals exhausted and pleas for mercy from rights activists and European officials unheeded, Vasily Yusepchuk is to be killed Soviet-style — with a bullet in the back of the head. The time and place is a state secret, and if he is executed his family will never be told when he died or where his body is buried.
Belarus President Alexander Lukashenko let the deadline pass Tuesday for appeals against Yusepchuk's death sentence despite pleas both from within the country and abroad, at a time when the authoritarian leader is trying to woo Europe to counterbalance to Russia's influence here.
Belarus is the only country left in Europe that still conducts executions, according to Amnesty International. Under pressure from the West, Belarus has gradually reduced the number of executions in recent years.
But so far Lukashenko has resisted calls to abandon capital punishment in Belarus, where rights activists say more than 400 people have been put to death since the country became independent in 1991.
Yusepchuk was convicted in June for robbing and murdering six elderly women over the past two years, although his lawyers argue the case against him was fundamentally flawed.
Foes of Belarus' death penalty point out that former Judge Yuri Sushkov, who sought asylum in Germany in 1999, has claimed judges were pressed to sentence people to death without adequate evidence, and that suspects were tortured into making false confessions.
"We are deeply concerned that Vasily Yusepchuk... may face imminent execution after the Belarus Supreme Court has rejected his appeal against the death penalty," said a statement Monday from the 47-nation Council of Europe.
"We appeal to President Alexander Lukashenko to grant clemency to Mr. Yusepchuk, to declare forthwith a moratorium on the use of the death penalty in Belarus, and to commute the sentences of all prisoners sentenced to death to terms of imprisonment," said the statement issued by Council Secretary General Thorbjorn Jagland and two other officials.
But Yusepchuk's mother Varvara knows her son's chances have essentially vanished.
"Is anyone at all interested in the fate of an illiterate Gypsy?" asked the 52-year-old mother of five, who earns $35 a month working on a collective farm.
Slumped sadly in her decrepit home in the village of Tatarya, rats scurrying in the corners, she said she had given up hope. She has already tied a black ribbon around a photograph of her son.
Gypsies, also called Roma, face widespread discrimination. Yusepchuk, born in Ukraine and brought to Belarus at age 7, is not a Belarus citizen and his mother said his ethnic origin sealed his fate.
"I don't believe my son has killed anyone," she said. "They just found a defenseless illiterate Gypsy they can blame the killings on."
Investigators claim Yusepchuk, an itinerant worker who did chores for elderly women, would sneak back at night to rob and strangle them. The murders shocked the country and Yusepchuk was sentenced to death by Brest Regional Court on June 29.
"There's been a lot of talk about abolishing death penalty," said prosecutor Nikolay Zhechko. "Perhaps, it will happen one day, but in this case the sentence completely conforms with the crime."
Tatyana Sukharevich, chairwoman of a local village council, said she wasn't surprised by Yusepchuk's conviction.
"I can't say anything good about Vasily," she said. "He stole hens and geese from his neighbors. One could expect anything from him, including a murder."
In 2008, Belarus executed four people. So far this year, only two have been put to death. But Lukashenko, who has pardoned just one person after 15 years in office, has resisted suspending or abolishing executions.
He held a referendum on capital punishment in 1996: 80 percent of Belarusians supported it.
"Of course, the death penalty is necessary," said Dmitry Kishkovich, a 45-year old worker. "We need it so that criminals are scared and know what they can get."
But Yusepchuk's lawyers insist their client was wrongly convicted, claiming the case hinged exclusively on a confession that they claim was obtained through torture.
"Medical experts have documented the beatings," invalidating Yusepchuk's admission of guilt, said Igor Rabtsevich, one of the condemned man's lawyers. "How can one kill a man when there are so many questions about the case?"
Amnesty International says Yusepchuk reported being beaten twice, in January and March, while in pretrial detention. The group has appealed to Lukashenko, and Yusepchuk's lawyers and others have asked the United Nations Human Rights Committee in Geneva to intervene.
"Yusepchuk is illiterate and does not even know the names of the months of the year," said Valentin Stefanovich, a Belarus human rights advocate. "Under torture, he could have confessed to anything, without realizing the consequences."
Critics say Belarus' execution method is a brutal legacy of the Soviet era. Oleg Alkayev, a former head of an Interior Ministry execution team who emigrated to the West, has published a book, "The Death Squad," that caused an uproar here.
On the day of execution, the convict is transported from a pretrial cell in the Belarus capital of Minsk to a secret location, Alkayev describes. There, police officials tell the convict that all appeals have been rejected. He is not allowed to see a priest.
"The convict, who is on the verge of complete madness at this point, turns into an obedient, submissive creature who doesn't understand what's going on," said Alkayev, who said he supervised 134 executions over a period of five years.
The convict is blindfolded and taken to a nearby room, where the executioner waits with a Soviet PB-9 pistol equipped with a silencer. Two staffers force the convict to kneel in front of a "bullet-catching" shield, and the executioner shoots him in the back of his head. A doctor then confirms the convict's death.
"The whole procedure, starting with the announcement about denied appeals and ending with the gunshot, lasts no longer than two minutes," Alkayev said.
The body is then wrapped in a plastic bag and buried in an unmarked grave at a secret cemetery. The relatives are never told where.
"These Soviet instructions hurt innocent relatives who can't bury their kin and suffer from this meaningless and inhuman secrecy," said Stefanovich, the human rights activist.