Belarus completes CSTO agreement, Recognizing Abkhazia, S Ossetia, Eastern Partnership, EurAsEC, Br50 trillion worth of investment and Polish scandal
Belarus completes all procedures to sign CSTO CRRF agreement
From:
BelTA
Belarus has completed all procedures necessary for signing the Collective Rapid Response Force Agreement of the Collective Security Treaty Organization (CSTO), President of Belarus Alexander Lukashenko told a press conference for Russian regional mass media.
"We have completed all procedures relating to the signing of the document," the President of Belarus said. He also reminded that Belarus is ready to preside in the CSTO next year as well. "Belarus will make up for everything it owes to this organization," Alexander Lukashenko said.
The President stressed that Belarus does not refuse from cooperation within the framework of the CSTO. "We have always supported integration processes, and the CSTO is a close-knit organization promoting cooperation in military area, military and technical interaction. We are very interested in this," the head of state said.
According to Alexander Lukashenko, cooperation within the CSTO should not be linked to milk disputes. He believes that this economic dispute was "entirely subjective". "A hundred and fifty refrigerators with perishable products going to Russia were stopped at the border on a technicality for no good reason, just to teach us a lesson. Those were thousands of items of dairy products," the President said.
"This move was meant against our state. What did I have to do? I do not have the same leverage as Russia has against Belarus. This is why I had to refuse from going to Moscow in an emphatic manner. But it has nothing to do with the CSTO," the Belarusian leader underlined. "Later they linked these two events and said that Lukashenko veered to the West and is destroying the CSTO," the head of state added.
There is no confusing business with politics, President says
There is no confusing business with politics, President of Belarus Alexander Lukashenko told a press conference on 2 October.
"There is no way a businessman can go into politics in Belarus trying to purchase anything. This is fraught with consequences," Alexander Lukashenko said
According to him, there is no pressure on well-off people in Belarus. "No one prevents them from doing business. But politics is politics and business is business. These are different areas with different rules and concepts," the head of state said. According to him, relatives of people holding government posts cannot do business. They should be employed in government service. The President said that none of his relatives does business.
Alexander Lukashenko admits that corruption exists in Belarus as well. "It is impossible, however, in our country to buy a post of a deputy or be appointed to some position for a bribe," the President stressed.
The head of state is confident that corruption should be eradicated starting from the highest ranks. "It is always necessary to start with yourself. If you do not steal, neither will your people," Alexander Lukashenko said. Besides, those corrupted should be severely punished. "If there is any information that someone is corrupted, even if he or she is your close friend, they should be released from office immediately. I have experienced it many times," the Belarusian leader confessed.
Corruption is invincible without a political will and a vigorous fight against it, the President believes. "It will work without any laws if people see there is no pardon to anyone. Although, of course, we have a very strong anti-corruption base," Alexander Lukashenko stressed.
Belarus urges Russia to be guided by pure motives in Union State formation
Belarus urges Russia to be guided by pure motives in the Union State formation, President of Belarus Alexander Lukashenko said at a press conference held on 2 October for Russian regional mass media.
"We needed this union. We need it now. But in constructing the union let us stick to the principles worked out by mankind. If we step aside from these principles, the union will collapse; we will go against the people. We do not ask you to give us anything, we have signed an agreement. Let us work on equal conditions both in Russia and Belarus, for economic agents and ordinary people," the President said.
"We do not ask for any privileges. And Russia admits we are not parasites. Now when you understand that we do not want to achieve anything by having stuck to your gas and oil pipelines, let us move forward, but in an honest way. You have the same rights here as we have in your country. It is normal. What harm can we bring to Russia? Be sure, the Belarusian people will not flock to Russia seeking better life," Alexander Lukashenko said. The President also added that all subjective issues in this cooperation should be left aside.
Belarus President blames corruption for global crisis
The global financial and economic crisis stems from corruption and moral coercion via mass media, believes President of Belarus Alexander Lukashenko. The President of Belarus made the statement at a press conference held on 2 October for representatives of Russian regional mass media, BelTA has learnt.
"The present crisis is primarily a crisis of trust. People have been scared by mass media, by an avalanche of frightening gossip about the crisis," said the Belarusian head of state. "I said long ago that the crisis stems from corruption. And then the UN report confirmed my opinion," added Alexander Lukashenko.
"In Iraq the Americans dumped $1 trillion. Who pays for that now? The entire world," stressed the President.
This is why, Alexander Lukashenko believes, he said at a Cabinet session that there is no crisis in Belarus, forget about it: "Don't babble about it. We have to work however hard it can be".
"Certainly we try to protect people from consequences of the global crisis in practice as well," remarked Alexander Lukashenko. The people do not feel the crisis that much but it does not mean there is no crisis. Belarus' economy is export-oriented. The export has plummeted and it is a major problem. Primarily giant companies have been affected: BelAZ, MAZ, MTZ, stressed the President.
He also said that in January-August 2009 Belarus' GDP shrank by 0.5%. However, at the end of the year the GDP growth is supposed to make 1.5-2%.
Alexander Lukashenko: Russia could allow Belarus to extract gas, oil
"You see that we are looking for oil overseas, diversifying the market. But why? We could decently work in your country," said the Belarusian head of state. He remarked that at present Belarus extracts oil in Venezuela and has earned $100 million in profits already. Belarus is about to extract oil in Iran and plans to explore new oil fields in Africa. "Unfortunately, in our dear Russia we have been given zero oil fields. Why?" asked the President.
Alexander Lukashenko said one time he offered the Beltransgaz company to Vladimir Putin in exchange for a field. The company is in prime condition, with the government investing in modernizing it and keeping it at a good level. "I told Putin: you give us a field of 10 billion cubic meters, we give you some part of Beltransgaz. You give us more, we will give you the pipe. Take it and no payment is required". According to the Belarusian head of state, Vladimir Putin said it was a good offer but no decision has been made so far.
"Looks like everyone is allowed to extract: Americans, Germans but not Belarusians. Is it some kind of an attempt to keep Belarus on a tight leash? It is wrongful," believes the President of Belarus. "You could allow us to extract oil and gas on general terms like you allow Americans and Germans," he said.
The head of state also added that Belarus has fine tuned the technology for extracting oil from old wells. For instance, in Venezuela Belarusian specialists have re-opened old wells and extract oil from offshoots.
Belarus to stay focused on upgrading armaments
"The KGB has been instructed to switch to monitoring the situation around the army exercise West 2009. I wanted to know how the Russians react, how they see and evaluate our country, the army and weapons. And how the West reacts to the exercise. Russian officers said: 'The Belarusians have done well. They might not have the latest weaponry but they have done a good job modernizing Soviet armaments up to a good level,'" remarked Alexander Lukashenko.
According to the head of state, at present even rich and big countries cannot afford buying only new weapons. Belarus has been modernizing armored vehicles and aircraft for a long time. For instance, modernization allows improving parameters of T-72 tanks by a lot. "We have taught the tank to shoot well, we have equipped it with the latest sights, have protected it with active armor," said the President.
In addition, Belarus has successfully mastered the modernization of aircraft. For instance, fighter jets Su-27 could not attack ground targets but after the modernization in Belarus they can. Belarus is ready to continue modernizing aircraft. The profitability of this work reaches 70%.
The President underlined that Belarus has advanced far in modernizing weapons and materiel. The country modernized its own weaponry and exports these services because many countries use Soviet arms.
Alexander Lukashenko: Belarus should have recognized Abkhazia, S Ossetia long ago
"We have wonderful relations with these republics, especially with Abkhazia. I have said it many times. We had had few contacts with South Ossetia, but when the conflict broke out, I sent a group of people with humanitarian aid, Belarusian deputies also went there. When I had to decide whether to recognize their independence or not, I wanted to study the situation there, what really happened in these countries. Belarus unambiguously adopted the same stance as Russia and supported it on all the levels. All the CIS member states strongly refused to recognize their independence," Alexander Lukashenko said.
According to the President, the relations between Belarus and Abkhazia and South Ossetia are much like those that exist between states. "During my visit to Lithuania I said that we should have recognized Abkhazia and South Ossetia long ago thus showing support for our ally. But unfortunately it is the ally's fault that the issue remains still unsettled," the Belarusian leader said.
According to Alexander Lukashenko, Belarus had a certain mechanism of recognizing the republics. "But some in Russia wanted to bend us over, or they did not want us to recognize these republics at all. At some point the central mass media (Russian ones – BelTA's note) obviously controlled by the government started a witch-hunt against Belarus. They would say that Belarus did not recognize the republics because Russia did not lend it $500 million. As if Belarus should recognize these countries for money! This campaign was launched at a time when we were supposed to recognize them, and the Russian leadership was well aware of this," Alexander Lukashenko said.
"This is a very sore issue. As I said, we should have done this long ago, but it was not our fault. I think we will sort it out," the President added.
Belarus' domestic policy relies on social justice
The Belarus President said: "People are our key resource. In the hard time of the global crisis the Belarusian government has no bigger care than care for the people".
"We create everything with our own labor, our own hands," stressed Alexander Lukashenko. "We don't have impressive raw resources or a favorable climate. People are our key resource. The Belarusian economy is socially oriented. During the hard time of the global crisis the Belarusian government has no bigger care than care for the people. We don't kick thousands of people into the street, leaving them without means of sustenance. The unemployment level is under 1%".
The President remarked it is the seventh time when such a representative delegation of Russian reporters has come to Belarus. "I often talk to mass media of our brotherly Russia. It is the meetings like these that I believe to be particularly significant and useful for Belarusian-Russian relations. Your audience is millions of people, viewers, and listeners from the Baltic Sea to the Far East. It is very important to deliver objective and comprehensive information to them about how the Belarusian nation lives, what it aspires to achieve, and how it sees its future," said Alexander Lukashenko.
The head of state touched upon this topic because an excessive amount of wild guesses and blunt lies about the state of affairs in Belarus is spread via mass media both in the West and Russia. The President attributed it to various reasons such as lack of reasoning and politically motivated news. "There are many of those who don't like independent and uncorrupted Belarusians," said Alexander Lukashenko.
He asked the reporters to spread the word about what genuine Belarus is, about its successes and achievements, problems and concerns, he urged them to criticize with good reasoning.
Alexander Lukashenko said that Belarus does not build show-off villages for foreign journalists. The head of state underlined that "Like any good host we try to show the best things that we have". He remarked that over the years Russian reporters have traveled thousands of kilometers of Belarusian roads, have visited all parts of the country, have got familiar with hundreds of communities and companies, have talked to thousands of people, have actually seen Belarus evolve. The key thing is that during the mass media tours Russian reporters always find answers to the question where Belarus goes to, they see the real situation in the country — both drawbacks and achievements.
Alexander Lukashenko added that the Belarusian government does not have to report to the Kremlin like it did in the Soviet times and reporters happen to see the real life of Belarus' provinces.
76 representatives of mass media from 46 regions of Russia took part in the press conference hosted by President of Belarus Alexander Lukashenko on 2 October, the press service of the Belarus President told BelTA.
For more than three hours the head of state gave detailed answers to 30 questions. The reporters were interested in the development of Belarusian-Russian relations, construction of the Union State, cooperation in military and technical area, the army exercise West 2009, the signing of CSTO documents, economic cooperation, social and economic development of Belarus.
The Russian mass media were interested in Belarus' experience in social, cultural and educational spheres.
The press conference was the final event of the traditional annual media tour for large groups of mass media reporters from Russian provinces. The present media tour took place on 29 September – 2 October. It gathered 76 representatives from 46 regions of the Russian Federation as well as 70 mass media, including 17 federal ones and 53 regional ones. The total circulation of printed media stands close to 2.5 million.
Many participants of the seventh media tour had already visited Belarus and had taken part in press conferences of the Belarusian head of state in previous years.
During the present media tour the Russian reporters watched the active phase of the operative strategic army exercise West 2009 in the Lida region, got familiar with social, cultural and manufacturing infrastructure of the Vitebsk oblast. In particular, they visited the agro-town Novka of the Vitebsk region, the Ilya Repin museum Zdravnevo, the national historical and cultural museum in Polotsk (the local lore museum, the Belarusian book printing museum, Sofia Cathedral), Saint Euphrosyne monastery, Naftan company, and took sightseeing tours in Vitebsk and Minsk.
Political will required to create Union of Slavonic States
"It is primarily the will of heads of state that is required to create the Union of Slavonic States. If there is a will, it will be easy to create such a union. I speak about it in a responsible way," stressed Alexander Lukashenko.
He remarked that he did not mean Ukraine. "It is not Ukraine. Ukraine might be even faster and more ready for it". Alexander Lukashenko mentioned the creation of the Union State as an example. "Would we have had a problem with rapidly advancing the creation of the Union State if there had been the will of Putin and Lukashenko at that time? There was no such will. The process has slowed down a lot. It is not Lukashenko's fault," he stated. This is why, the President said, it should start with the will of heads of state. "Don't you think the nations of Belarus, Ukraine, and Russia will support it? They will. We [the presidents – BelTA] can't sort things out," Alexander Lukashenko is convinced.
The Belarus President also reminded that when he and Boris Yeltsin devised the Union of Slavonic States they planned "to travel the distance together fast". "Then Ukraine would have had nothing to do but accept. During Kuchma's early years," added Alexander Lukashenko. It was assumed that the two countries would advance fast to show benefits of the new union and Ukraine would join. "Kuchma agreed to it. It happened that at the end of his presidential life Kuchma said: what union are you talking about when the two of you can't sort it out? Unfortunately he was right. This was the idea but the first try has not worked out," said Alexander Lukashenko.
"Don't expect any wars from Belarus — either trade ones or military ventures. You can look to the west absolutely calmly. Don't expect any tricks. You should know that your kind of people live here," said Alexander Lukashenko.
"You probably know better how Russia will act. But in view of the relations that we have with the Russian Federation President I hope that we will have a radiant future," stressed the President of Belarus.
Other Belarusian News...
Belarus offered ambitious goals as Eastern Partnership member
From:
BelTA
The EU Eastern Partnership initiative offers ambitious goals to Belarus, John O'Rourke, representative of the Directorate-General for External Relations of the European Commission, told reporters in Minsk on 2 October.
Every member-state of the Eastern Partnership is setting forth vigorous goals which it should make every effort to reach, the diplomat believes. According to him, the Eastern Partnership initiative is intended to expand the political association and the economic integration of its six member-states (Belarus, Azerbaijan, Armenia, Georgia, Moldova and Ukraine) to the European Union.
The focus of attention is shifted to help the partners modernize their market systems in line with the European standards. The European Union market is based on very difficult and detailed regulations. One of the European Partnership goals is to harmonize the Belarusian and other partner markets with the European economic system, John O'Rourke said.
In his words, the initiative goals also include visa regime simplification, development of robust relations between the Belarusian and European organizations, signing new mutually beneficial contracts. The diplomat noted that Belarus and the EU had not yet signed any basic agreement on partnership and cooperation. Financial assistance that Belarus receives from the EU is still insignificant in comparison with other states.
As for the visa issue, John O'Rourke underlined that the EU is interested in removing visa barriers for Belarusians sooner or later as it promotes contacts between the people. It is also very important for a dynamically developing dialogue. The issue should be considered by both the sides, Minsk and Brussels, to manifest Belarus' systematic progress in the democratic reforming, said John O'Rourke.
Belarus urges EurAsEC parliaments to ratify Customs Union's documents
From:
BelTA
During its chairmanship at the EurAsEC Interparliamentary Assembly, Belarus will urge the EurAsEC member countries to intensify the ratification of Customs Union's documents, Chairman of the Council of the Republic of the Belarusian National Assembly Boris Batura told the first session of the Upper House of the Belarusian Parliament on 2 October.
"In this case we will have real opportunities to boost the trade. And, the main thing is that the free trade regime with the Customs Union member-states will be formalized," Boris Batura said.
Moreover, senators will pay more attention to preliminary analysis of the draft laws which are considered by the EurAsEC Interparliamentary Assembly.
The Speaker of the Upper House of the Belarusian Parliament also noted that the senators intend to promote the establishing the legal framework for the interregional cooperation of the EurAsEC member-states and initiate an exchange of anti-crisis projects.
Belarusian deputies ratify agreement on mutual protection of investments in EurAsEC
First Deputy Economy Minister of Belarus Piotr Zhabko reminded that the agreement has been already signed by the heads of the governments of Belarus, Kazakhstan, Kyrgyzstan, Russia and Tajikistan in Moscow 12 December 2008. The sides have agreed to provide the equal regime for investments, create favourable conditions for investors on their territories.
According to the agreement, the investors have the right for compensation for damage to their investments and incomes in case of civil disturbances, military operations, revolutions, mutiny, announcement of the state of emergency.
The agreement applies to all the investments carried out by investors of a EurAsEC member-country on the territory of the other EurAsEC member-country since 1 January 1992.
According to Piotr Zhabko, the agreement will promote the development of integration processes, expansion of trade and economic cooperation of the EurAsEC member-countries.
Belarus' MPs to carry out objective assessment of situation in Abkhazia, S Ossetia and Georgia
"While considering the recognition of independence of Abkhazia and South Ossetia we should take into consideration two factors: the opinion of the Belarusian people and the objective evaluation of the situation in these republics. The parliaments of Abkhazia and South Ossetia submitted their appeal to the Belarusian parliament last year. The Belarusian MPs thoroughly studied the issue," Vladimir Andreichenko said.
The Speaker stated that the permanent commission for international affairs and links with the CIS of the House of Representatives will put forward this matter for consideration by the council of the chamber. "After we study the opinion of the population and the relevant documents adopted by the European Union and the Council of Europe we might send a parliamentary group to Abkhazia, South Ossetia and Georgia to carry out an objective assessment of the situation. Apart from that, Belarusian MPs will meet with deputies of the State Duma of the Russian Federation," Vladimir Andreichenko said. He added that only after that the recognition of Abkhazia, South Ossetia independence might be included in the agenda of the session of the House of Representatives.
Belarus to consider moratorium on death penalty jointly with Council of Europe
From:
BelTA
The issue of introducing a moratorium on death penalty in Belarus will be considered in Minsk jointly with the representatives of the Council of Europe, Chairman of the House of Representatives of the National Assembly of Belarus Vladimir Andreichenko said when opening the third session of the House of Representatives on 2 October.
"We are considering the issue of holding in Minsk a roundtable on a possible introduction of a moratorium on death penalty and the abolition of capital punishment in Belarus. The roundtable will be held jointly with the representatives of the Council of Europe," Vladimir Andreichenko said.
BelTA has earlier informed that the Parliamentary Assembly of the Council of Europe conditioned Belarus with introducing a moratorium on death penalty to obtain a special guest status. Moratorium is an interim decision to the abolition of the capital punishment. This punishment in the Constitution of Belarus is marked as an exceptional one; such sentences are passed very seldom. The majority of the Belarusians voted against the abolition of the capital punishment during the nation-wide referendum in 1995. Belarus since then has made a lot on its way to restrict the administration of death penalty and the number of those who support its abolition has considerably increased.
No jury trials in Belarus in near future
At present the establishment of jury trials is not considered in Belarus, Presiding Judge of the Supreme Court of Belarus Valentin Sukalo told reporters on 2 October.
"The establishment of jury trials is not studied and will not be studied in the near future," Valentin Sukalo said. In his words, the relevant proposals were voiced but they were not upheld, including by the congress of judges. "Now this issue is not discussed either on the theoretical or practical level," the Presiding Judge of the Supreme Court of Belarus added.
According to him, jury trials are a rather expensive and not always efficient institution. "I think there are no sufficient grounds for it," Valentin Sukalo concluded.
Cultural Scene...
Italian Renaissance in Belarus to take place 1-14 October
From:
BelTA
The Italian Renaissance in Belarus cultural project will be held on the initiative of the Embassy of Italy in Belarus on 1-14 October. The action started with a presentation of the Madonna with Child between S. Enrico and S. Antonio masterpiece of Italian High Renaissance painter Paris Bordone in Minsk on 1 October, BelTA has learnt.
According to Ambassador Extraordinary and Plenipotentiary of Italy to Belarus Giulio Prigioni, the programme will be very interesting. The banner-bearers from Cava de Tirreni will perform in Minsk, Nesvizh and Mir on 3-4 October. In particular, the major performance will be held at the Minsk-Arena cycle track on 4 October. The event will be attended by nearly 2,000 Belarusian children, the participants of recuperation programmes with Italy. On the same day the Italian guests will perform in the Gorky Park in Minsk.
TENORES from Sardinia will perform in the concert hall of the Belarusian Music Academy on 15 October.
On 19 October the National Library will host an exhibition "Italian books on the Belarusian land of Bona Sforza's time". The exposition will display Italian editions of the 16th century that were kept in the private and church libraries of Belarus. They then were transferred to the library of the National Academy of Sciences and the National Library. On 22-23 October the National Library will play a host to the international conference highlighting Italianistica and the influence of the Italian Renaissance on Belarus. The event is organized jointly with Belarusian State University and the Polish Institute in Minsk.
A roundtable "Italian language in art, science and technologies" will be held at the philological department of Belarusian State University within the 9th World Week of the Italian Language on 20 October.
Minsk will also host a congress of the Italian-Belarusian charities on 2-3 November. A business forum "The most promising areas for the trade and economic cooperation between Italy and Belarus" will take place on 5-6 November.
Economics...
Belarus to attract Br50 trillion worth of investment in 2009
From:
BelTA
In 2009 Belarus plans to attract Br50 trillion worth of investment, Deputy Economy Minister Vladimir Adashkevich said at the First International Economy Forum in Grodno.
Capital investments amounted to Br37.2 trillion last year. Vladimir Adashkevich noted that for the past ten years Belarus' GDP has doubled, the industrial production increased 2.5 times, capital investments tripled. In view of the crisis the industrial production made up 95.4% in January-August 2009, export fell down to 56% in January-July. Yet, the growth of capital investments remains at the same level: in 2008 capital investments were up by 23%, in 2009 by 17%.
Vladimir Adashkevich stressed that the conditions for investors are very good in Belarus and are being improved. The decree "On creating additional conditions for investment activity in the Republic of Belarus" will come into force on 7 November. It will introduce a three-level system of signing investment contracts. Belarus has introduced the institute of investment agents, preference zones (free economic zones and High-Tech Park, a system of preferences for doing business in rural areas and small towns).
By the end of 2010 some 503 large companies will be given into private ownership. Foreign investors are invited to take part in the economic activity of 146 joint stock companies with a share of state capital, including such major enterprises as Minsk Engine Works, Minsk Automobile Plant, Minsk Bearing Plant, Alesya, Barkhim and other companies.
According to the Deputy Economy Minister, the most promising investment areas include logistics and transport infrastructure. Some 18 investment projects will be implemented in Belarus in line with the logistics development programme.
Despite the crisis, Belarus did not lose positions in sovereign credit rating. At present the country is ranked 52nd in the list of 183 states with best doing business conditions. Over the seven years, the number of companies with foreign capital more than doubled. Today Belarus has 2,700 joint ventures and 2,200 foreign companies. In H1 2009, $4.2 billion was invested in Belarus; of them $2.4 billion was direct investments.
Vladimir Adashkevich informed that in December 2009, an international investment and economic forum will be held in Minsk.
The First International Investment Forum "Grodno, a city at the border crossroads" is held in Grodno on 30 September – 2 October. Attending the forum are representatives of the High-Tech Park, scientists, heads of administrations of Grodno twin-towns and representatives of business communities from Russia, Poland, Lithuania, Estonia, Germany, and Finland.
MPs support decree on additional conditions for investors in Belarus
The House of Representatives of Belarus took note of President's decree No 10 "On additional conditions for investment activity of Belarus". The decree facilitates the process of starting an investment project in Belarus for Belarusian and foreign investors. The document reinforces the responsibility of investors for fulfilling the obligations undertaken under a project. The contracts need to clearly define the sites of investment projects, volumes and terms of investments.
The document also introduces a three-level system of signing investments contracts with Belarus, differentiates the preferences depending on the scale of a project.
The decree envisages mandatory conditions for signing investment contracts. Contracts can be extended depending on their area of application and specifics. A land plot can be granted to investors in Belarus without holding an action. Investors can have documents on the land plot registered and simultaneously start construction of facilities and design the next construction stages. They can import technological equipment under an investment project without paying customs duties and VAT. Investors are also eligible for other preferences and privileges.
The decree is intended to encourage large-scale investment activity in Belarus.
Economy Ministry: Belarus' GDP growth rate projected at 100-102% in 2009
The Economy Ministry of Belarus projects the GDP growth at the level of 100-102% in 2009, First Deputy Economy Minister of Belarus Piotr Zhabko told reporters on 2 October.
"In 2009, the GDP growth at the level of 100-102% is a good performance taking into consideration the recessions of the world economies," the Deputy Economy Minister said.
Piotr Zhabko noted that Belarus' export performances play an important role in the GDP growth. According to him, when stagnation processes are finished in the neighboring countries, we will start to move upwards and the export performances will start to grow.
The First Deputy Economy Minister noted that today during the global economic crisis, Belarus should continue investing in fixed assets and new technologies. "Investing these funds in these areas today, tomorrow, we will get the product which will be in demand on the market after the crisis," he underscored.
Reducing tax burden in 2010 will free up Br2.5 trillion for economy, Semashko says
Reducing the tax burden by 2% in 2010 will free up Br2.5 trillion for the national economy, First Vice-Premier Vladimir Semashko told reporters.
This money will be channeled into the development of companies. Next year Belarus will cancel turnover taxes. Last year they made up 2%, this year they are equal 1%, he said.
The country will also abolish the sales tax. VAT will be increased from 18% to 20%. This measure will help improve the performance of companies-exporters as the tax is not paid in export.
Despite all the difficulties facing the industry, some large projects remain intact. For example, the Belarusian Steel Works continues creating the plate rolling. This project is estimated at $1.2-1.3 billion.
Vladimir Semashko has also urged the industrialists to look for new sales markets and cited the examples of Venezuela and Pakistan.
Belarus urges Gazprom to keep this year's gas prices in 2010
In its negotiations with Gazprom Belarus suggests keeping this year's gas prices in 2010, Belarus First Vice Premier Vladimir Semashko told a session of the National Council for Labor and Social Affairs on 2 October.
"I don't know what the gas negotiations will arrive at," admitted the First Vice Premier. Belarus will continue insisting on "freezing the prices for 2010 and keeping the formula and coefficient terms of 2009 in place," he added.
Vladimir Semashko remarked that now Belarus pays $115 per 1,000 cubic meters. In 2010 the gas price may be raised up to $166-168 per 1,000 cubic meters.
From the Foriegn Press...
Belarus to sign documents on CSTO rapid reaction forces
From:
Xinua
President Alexander Lukashenko said on Friday that Belarus was ready to sign documents on the rapid reaction forces of the Collective Security Treaty Organization (CSTO), Russian news agencies reported.
We have completed all the procedures required to sign the documents, said Lukashenko, who did not sign the pacts in June due to controversial Russian ban on Belarusian dairy products.
"We have always advocated unification processes," he told a news conference. "We can not chop up our own brainchild with an ax, so Belarus is ready to fulfill its obligations in the CSTO in full."
The CSTO, a post-Soviet security bloc which consists of Armenia, Belarus, Kazakhstan, Kyrgyzstan, Russia, Uzbekistan and Tajikistan, agreed in early February to form rapid reaction forces.
The forces, which Russian President Dmitry Medvedev said "will be just as good and comparable to NATO forces," are expected to counter such threats as military aggression, terrorist activities and drug trafficking.
Leaders of CSTO member states signed the documents establishing the forces during a June meeting in Moscow. However, Uzbekistan and Belarus did not join the move since Tashkent "has some doubts" and Minsk boycotted the summit amid economic disputes with Russia.
Belarus wants access to Russian oil, gas deposits
From:
RIA Novosti
Belarusian President Alexander Lukashenko hit out on Friday at what he said was Russia's policy of excluding it from projects to develop its oil and natural gas resources.
"It seems like everyone is doing it - the Americans, Germans are coming [to Russia] to develop [its natural resources], but not Belarusians," Lukashenko said. "Could this be an attempt to keep the state on a short leash? But that is wrong."
He said Russia should allow Belarus "to extract oil and gas on an equal footing with the Americans and Germans."
Lukashenko also said Belarus was extracting oil in Venezuela and had already made its first $100 million in profit. He added that the former Soviet republic was starting to extract in Iran, and next year would move into Africa.
"Unfortunately, we have not received a single field in our dear Russia," he said. "Why not?"
Vested interests in Russia stopped Abkhazia recognition - Lukashenko
From:
RIA Novosti
Belarusian President Alexander Lukashenko said on Friday that Belarus did not recognize South Ossetia and Abkhazia following the August 2008 conflict in the Caucasus due to the actions of certain forces.
Moscow recognized Georgia's breakaway republics as independent states after a five-day war with Tbilisi. The two regions later requested Russian ally Belarus to follow suit, but the ex-Soviet state has not given an answer so far.
Lukashenko blamed reports in Russia's state-controlled media, which said Belarus's reluctance to recognize the regions was a response to Russia's refusal to grant the remaining $500 million of a loan.
"Someone in Russia wanted to force us [to recognize], or to prevent us from recognizing South Ossetia and Abkhazia," he said.
"As if I would have recognized or not recognized them for money! I said then 'Come on, guys! It won't be your way."
Lukashenko also urged Russia to be patient. "We will settle the issue," he said.
The two republics, which had maintained de-facto independence since post-Soviet conflicts in the early 1990s, have also been recognized as independent states by Nicaragua and Venezuela.
Georgia severed ties with Russia after its recognition of Abkhazia and South Ossetia, calling the regions occupied territories.
Moscow pledged to defend the regions after repelling Georgia's assault on South Ossetia, and has built up its military presence there.
Belarus capital mulling to install Gandhi's statue
From:
PTI News
The Belarus capital Minsk is mulling a monument to Mahatma Gandhi as it finds his philosophy of tolerance and non-violence "much relevant".
Addressing a function in Minsk yesterday on Gandhi's 140th birthday as International Day of Non-violence, a senior Foreign Ministry official promised all necessary help in setting a monument to Mahatma Gandhi.
"His philosophy of tolerance and non-violence was much relevant to Belarus as it had been the victim of conflicts," Vladimir Lopato-Zagorsky, Director of Asia & Africa Division of the Foreign Ministry said.
"The Foreign Ministry of the Republic of Belarus would extend all necessary help and facilitation in setting up an appropriate memorial of Mahatma Gandhi in Minsk," Lopato-Zagorsky declared paying homage to Mahatma Gandhi.
From the Opposition...
Russia itself is to blame for non-recognition by Belarus of Abkhazia, South Ossetia, Lukashenka says
From:
Navany
Russia itself is to blame for the fact that Belarus has not yet recognized the independence of Abkhazia and South Ossetia, Alyaksandr Lukashenka told a group of visiting Russian provincial reporters in Minsk on Friday, BelaPAN said.
Mr. Lukashenka stressed that Belarus has excellent relations with those republics. "I've already said many times that in Abkhazia, I'm a good man for them," he said. "To date, we've had good relations with Abkhazia. We had very few contacts with South Ossetia, but when that misfortune [2008 South Ossetia war] occurred, I sent a group of people there to offer humanitarian assistance. Our lawmakers went there."
According to the Belarusian leader, when the issue of the recognition of Abkhazia and South Ossetia as independent states emerged, he wanted to study the situation and understand what had really happened. "We unambiguously aligned ourselves with the stance of the Russian Federation and supported it at al levels," he said. "But recognition is a serious act. All CIS republics flatly refused to recognize. Actually, we should have recognized Abkhazia and South Ossetia a long time ago – no matter what happened there – thereby supporting our ally. Unfortunately, the ally itself is to blame for the fact that we have not yet decided on this issue."
The European Union and the United States were notified that Belarus "would be going to recognize those republics," Mr. Lukashenka said. "But someone in Russia wanted very much to compel us to do that sooner or maybe they wanted us not to recognize those republics at all. Major media outlets [in Russia], which were obviously under the control of government officials, started baiting us for the non-recognition, explaining it was because $500 million was denied, as if I had to recognize those republics in exchange for that money. That wave [of media attacks] came when we were about to recognize. Your leaders admitted this to be true. That's why I said, 'Stop guys. This will not be the case in this situation.' I've recently told both of them [Dmitry Medvedev and Vladimir Putin]: 'Guys, you yourselves created this situation, that's why have patience.' This is a very painful issue, but I think we'll sort it out."
Mr. Lukashenka told reporters last month that the Belarusian parliament would consider recognizing the independence of the two Georgian breakaway regions this fall.
However, the Belarusian leader stressed that no one should put pressure on Belarus in this regard. "No one has any right to demand anything from us," he said. "We won't submit to any pressure, even if a brotherly nation puts it."
According to Mr. Lukashenka, it is useless to exert pressure on him and that is why no one pressures him and demands anything. "Time will show what will happen," he said. "In early October, the new parliament will convene for a session, discuss the issue and then we'll see."
Apart from Russia, Nicaragua and Venezuela are the only countries to have recognized the independence of Abkhazia and South Ossetia, which the rest of the world still views as part of Georgia.
's advisor: "Regime of Lukashenka takes course on improving relations with West"
From:
Charter '97
Alyaksandr Milinkevich
The expert of the "For Freedom" movement made another statement on a "dialogue" between West and the Belarusian dictator.
Radio Svaboda asked Andrei Lyakhovich: PACE made a decision on not depriving Russia of its vote at the Parliamentary Assembly of the Council of Europe. Can parallels be drawn and this decision be compared with attitude of the Parliamentary Assembly to official Minsk? The European institutions have stopped isolation and begun a policy of involving Belarus into European affairs, even if they have to meet halfway.
The advisor to Alyaksandr Milinkevich, the leader of the "For Freedom" movement, said:
"There is a big difference between the result of this policy for Belarus and Russia. What concerns Russia, I don't think this policy will lead to positive climate in relations between West and Russia. This also won't lead to any democratic changes in Russia.
What to Belarus, the policy of involving has more prospects. Extending economic ties with West contributes to transformation of Belarusian society, including the authorities. This transformation is slow, but it exists – in spite of pressure from Russia, the regime of Lukashenka ha s taken a course on improving relations with West.
In actual fact, West could raise a question of political liberalization to Minsk. But we need to understand that the Belarusian opposition must undergo evolution to be able to use these opportunities. Unfortunately, the opposition is in crises and can't be the third party at negotiations. So, the dialogue is possible only between West and the regime of Lukashenka so far."
Pastor of 'New Life' Church fined for hindrance to officers of Ministry of Emergency Situations
From:
Viasna
Maskouski district court of Minsk fined the pastor of the New Life Church Viachaslau Hancharenka 420 000 rubles (about $147) for hindering the officers of the Ministry of Emergency Situations who examined the temple.
The formal reason for giving the charges was the case when the believers did not let the officers in their temple as a sign of protest against the policy of the city authorities.
The conflict between the Protestant community and the city authorities started in August 2005. At first the believers were deprived of the piece of land and then – of their temple (former cowshed at the outskirts of Minsk that was bought and reconstructed by the believers at their own expense). Since then the church pastor Viachaslau Hancharenka and its administrator Vasil Yurevich have been fined several times for holding unauthorized masses.
Later the believers went on a hunger-strike of protest. As a result the pastor was invited to the presidential administration and was promised that all issues would be solved for the benefit of the believers. However, this year the Supreme Economic Court upheld all earlier verdicts on the case New Life vs. the city administration, according to which the temple was to be confiscated from the religious community. In response the believers refused to let any state officers in the church.
Russia...
Does Russia Get It?
From:
Washington Post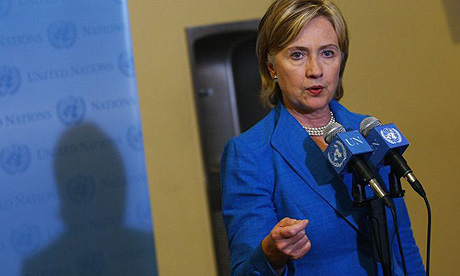 "I think Russia has begun to see many more indications that Iran is engaging in threatening behavior. Certainly these last incidents seem to confirm that. And, finally, the Russians were very supportive of our sanctions against North Korea. President Medvedev said in this room that sanctions may not be preferable, but they may be inevitable."

--Secretary of State Hillary Clinton, Sept. 27, 2009

"I don't have any doubts about Russian concern about the Iranian behavior at this point. I have no doubts about their concerns about it and their desire to do something about it."

--Then-Secretary of State Condoleezza Rice, Nov. 9, 2007

"The president will stress our strong conviction that any nuclear cooperation with Iran poses very serious risks for Russia, poses most serious risks for undermining the Middle East peace process, interferes with our aim to stop nuclear proliferation, and the point we'll be making most firmly, it's in Russia's own interest to cease this nuclear cooperation with Iran."

--Then-Secretary of State Warren Christopher, May 4, 1995

"There are many voices in Russia who want to shift the emphasis in Russia's interaction with America and our allies from one of partnership to one of assertiveness, opposition and defiance for its own sake.

If that happens, it would be a double disaster for Russia. . . . After all, Russia needs an effective non-proliferation regime -- and it does need to see that nations like Iran do not acquire nuclear weapons or missiles that can hit its territory."

--Then-Secretary of State Madeleine K. Albright, Oct. 2, 1998

"I think the threat assessment on the Russian side is not that dissimilar from ours. And indeed, many of our Russian interlocutors have said 'We have absolutely no interest in an Iran, for example, that has a ballistic missile capability associated with a nuclear capability that would pose a direct threat to us.' "

--Then-Undersecretary of State for Arms Control and International Security Affairs John R. Bolton, March 29, 2002
If you heard Secretary of State Hillary Clinton suggest last Sunday that the Russians are beginning to come around to the U.S. way of thinking on Iran, it may have sounded familiar.
For more than a decade, U.S. officials have been patiently explaining to the Russians that their interests are the same as ours in preventing Iran from building nuclear weapons. For just as long, U.S. officials have been telling themselves that the Russians are starting to get it.
Maybe this time it will turn out to be true. The U.S. logic is, as always, irrefutable: Russia's standing as a nuclear power is diluted every time another country goes nuclear. Iran is particularly, uncomfortably, close. And given Russia's restive Muslim population in the Caucasus region, closer to Iran than to Moscow, Russia's leaders should be especially leery of a revolutionary Islamic regime getting the bomb.
So far, however, the actions of Russia's leaders have suggested that they don't see things exactly as Americans believe they should. They consistently have dangled the possibility of cooperation with the United States while simultaneously undermining alliance unity and maintaining their connections to the Iranian regime. So it might be worth entertaining other theories about Moscow's logic.
It might be, for example, that Russia understands the value of keeping Iran nuclear-free, but values even more the fruits of its commercial and military trade with Iran.
It might be that Russia believes that the stalemate status quo is pretty close to ideal. Iran can be delayed in its progress toward nuclear status but also prevented from normalizing relations with the United States and the West. And as long as those relations are sour -- and the West won't buy Iran's natural gas -- Russia's leverage over Europe, as Europe's main gas supplier, is enhanced.
Perhaps Russian leaders are not united on the question. In the early 1990s, Clinton administration officials persuaded themselves that President Boris Yeltsin accepted their Iran logic but that he wasn't strong enough to control his nuclear-industrial complex, which wanted trade with Iran. Today the theory is different: Russian President Dmitry Medvedev may see the light but is stymied by Prime Minister Vladimir Putin.
Or maybe the Russians accept the logic -- but don't believe Iran can be dissuaded. In that case, their smartest policy would be to hold out hope to the Obama administration that they can be brought along -- thereby continuing to win U.S. concessions on missile defense, arms control and other matters for as long as possible -- while seeking a privileged position in Tehran for the day when Iran goes nuclear.
Their smartest policy, in other words, would look very much like the one we're seeing today.
Despite suspicions, Obama urges better Russia ties
From:
Reuters
U.S. President Barack Obama called for better ties between NATO and Russia on Tuesday and said the two sides should work together even as Moscow voiced suspicions about revamped U.S. missile defense plans.
Obama, who recently announced a shift in plans for an anti-missile system in Europe, said he and NATO chief Anders Fogh Rasmussen agreed on the need to improve relations with the military alliance's former foe.
"It is important for us to reach out to Russia and explore ways in which the missile defense configurations that we envision could potentially lead to further collaboration with Russia on this front," Obama said after meeting with Rasmussen at the White House.
"We want to improve generally not only U.S.-Russian relations, but also NATO-Russian relations, while making absolutely clear that our commitments to all of our allies in NATO is sacrosanct," Obama said.
Earlier this month Obama scrapped a Bush-era missile defense plan for Europe, bitterly opposed by Moscow, that would have included ground-based interceptors in Poland and a radar site in the Czech Republic.
The new plan, which the administration said was designed to address more immediate threats from Iran, would involve deploying U.S. ships with missile interceptors and, in a second phase, fielding land-based defense systems.
Russia originally welcomed Obama's shift, but the country's NATO envoy said on Tuesday Moscow still feared its strategic nuclear weapons could be threatened by the new system.
Obama said he and the NATO chief agreed the new plan was best for the alliance.
"We both agreed that the configuration that we have proposed is one that ultimately will serve the interests of not only the United States, but also NATO alliance members most effectively," he said.
"It allows for a full collaboration with NATO members, and we are very optimistic that it will achieve our aims and deal with the very real threat of ballistic missiles," he said.
That Nasty Little War
From:
New York Times
A report by the European Union on last year's brief but nasty war between Russia and Georgia confirms what we have long suspected: everyone is to blame.
Georgia is to blame because its blustering president, Mikheil Saakashvili, initiated a foolhardy attack into South Ossetia; Russia because it bullied and goaded Mr. Saakashvili and then used the attack as an excuse to invade Georgia; the United States because it tacitly encouraged Mr. Saakashvili for far too long; and Europe because it did nothing at all.
None of that may be surprising. But the report is still worth reading as an anatomy of a post-Soviet mess that was allowed to fester for too long — and could erupt again unless all sides show a lot more sense.
Unfortunately, neither the Russians nor the Georgians seem interested in learning anything. The Georgian government continues to insist — despite the report's findings — that the Russian invasion was already under way when it decided to send in its own troops. Georgia's ambassador to the European Union said that if the investigators didn't think Georgia's citizens deserved protection "then that's a matter of opinion."
The Russian government insisted that the report had vindicated its actions, but it rejected the finding that its army used disproportionate force and accused the European Union of a continuing bias.
What these governments should be paying attention to is the report's real bottom line: Everybody lost. More than a year later, an estimated 30,000 people, mostly ethnic Georgians, are still displaced. Georgia is divided. Russia's recognition of the independence of two rebel provinces, South Ossetia and Abkhazia, poses a lasting obstacle to better relations with the West.
The only way to repair the damage — and head off another fight — is for both sides to clean up their acts. The Kremlin will have to stop looking for ways to provoke Georgia and abandon, once and for all, its imperial ambitions. Georgia's leaders need to figure out that their best chance of recovering their lost provinces is by making the idea of a union with a democratic Georgia, one respectful of minority rights, a lot more attractive.
The United States and the European Union also need to learn that heading off conflicts before they erupt is a lot easier than trying to pick up the pieces afterward.
From the Polish Scandal Files...
Poland, Eureko Reach Agreement Over PZU Insurer
From:
WSJ
Poland and Dutch insurer Eureko BV have settled a nearly decade-long dispute over a botched privatization, going a long way to repairing Poland's reputation among foreign investors and saving the country from a potential $12.1 billion payout in an international arbitration case.
Analysts consider the difficult and complex deal a major victory for the ruling Civic Platform party, which has been accused of passivity since taking office in late 2007, and comes just in time to draw attention away from allegations that two top party officials have been involved in illegal lobbying.
"This is definitely a success and it's good that normal investment conditions are returning to Poland," said Pawel Swieboda, chief executive of DemosEuropa, a Warsaw-based think tank. "This conflict was turning investors off the country."
An element of the historic settlement is the high-profile initial public offering of insurer Powszechny Zaklad Ubezpieczen SA, or PZU, on the Warsaw Stock Exchange sometime in the first half of 2010, which will make it one of the largest companies by market capitalization in Poland.
Moreover, the resolution of the dispute unlocks a payout of three years' worth of dividends, 12 billion zlotys, a development anxiously awaited by various investors who have bought PZU employee shares off-market, as well as Poland's Finance Ministry concerned with a ballooning budget deficit and Eureko.
Negotiations between successive Polish administrations and Eureko had stalled until the effects of global economic slowdown - the need for funds - brought both sides back the bargaining table.
The dispute started when, in 2001, Poland refused to honor a 1999 agreement to complete PZU's privatization, which would have allowed Eureko to acquire a controlling stake in the company. Poland holds 55.1% of PZU, while Eureko has 32.1%.
Eureko claimed Poland's breach of contract had cost it the chance to buy shares at a lower price in the past and to raise PZU's value through its leadership.
Under the terms of the Friday agreement, Eureko will gradually reduce its stake in PZU, and will drop an arbitration case against Poland in exchange for compensation of PLN4.77 billion, several times less than the PLN35 billion or so Eureko initially demanded.
"We have accomplished our goal of regaining control of PZU and structuring Eureko's controlled exit out of the company," Treasury Minister Aleksander Grad told a news conference. "This unblocks PZU's growth."
The Treasury and Eureko will both sell stakes in PZU in an IPO likely to be held next year. Poland will pay Eureko compensation partly from its dividend proceeds and partly from the sale of a 5% stake in PZU sold in the IPO. Meanwhile, the state budget will receive PLN3.4 billion in dividends from PZU.
While Poland has weathered the global crisis relatively unscathed so far, it faces a ballooning budget deficit and needs structural reforms to unlock further growth potential and reduce surging public debt.
The ruling Civic Platform party, which has a majority in Parliament, has shied away from any ambitious and socially painful, economic reforms for fear that they will be immediately vetoed by President Lech Kaczynski, whose twin brother, Jaroslaw, heads the opposition Law and Justice party.
"The government is waiting out this term - and limiting itself to the bare minimum - in the hopes of winning both the next parliamentary and presidential elections," said Swieboda of DemosEuropa. "And it has given voters to understand it will take on ambitious reforms then."
Concerns that PZU would sell large amounts of its portfolio of bonds to pay the dividend and that Eureko would exchange its part of the dividend plus billions of zlotys in compensation into euro, weighed on both the zloty and Polish bonds in past weeks.
Treasury Minister Grad reiterated PZU would conduct the payout in a way designed not to disturb markets, while PZU Chief Executive Andrzej Klesyk said the company won't need to sell its portfolio of treasury bonds to fund its dividend payment, as it had secured commitments from banks for PLN32 billion in loans for the purpose.
The zloty strengthened 1.5% against the euro after Grad's statement.
Citing transcripts of wiretapped phone calls recorded by anti-corruption investigators, Polish daily Rzeczpolpolita reported that Zbigniew Chlebowski, a prominent Civic Platform politician, was trying to give assurances to his friend, an owner of a gambling company, that the government would scrap proposed tax hikes on gambling, which were expected to bring in PLN469 million extra budget revenue.
At a news conference later Thursday, Chlebowski said he had been involved in "unfortunate conversations" with the businessman but denied doing anything illegal or trying to shape the legislation.
Poland's Ruling Politicians Reportedly Involved In Illegal Lobbying
From:
WSJ
Zbigniew Chlebowski
Zbigniew Chlebowski, a prominent Polish politician of Poland's ruling Civic Platform party, was caught unawares when he tried to give assurances to an owner of a gambling firm that the government would scrap extra taxes on gambling that were expected to bring 469 million zlotys ($162.1 million) in receipts.
"We'll do it 90%," he reportedly said in a conversation intercepted by investigators, quoted by conservative daily Rzeczpospolita today. "I've been doing this alone trying to block those payments for a year. I'm taking all the credit."
A cabinet minister was also reportedly involved in those under-the-table negotiations.
In the past, we've seen political parties sidelined after corruption allegations of this magnitude. Oscar-winning film producer Lew Rywin was given a 2.5-year prison sentence after he came to media group Agora with a $17.5 million bribe offer in exchange for laws that would not block Agora's expansion into television. The post-communist Democratic Left Alliance that Rywin alleged to represent lost the 2005 parliamentary election, winning just 11.31% of votes, compared to 41.04% four years earlier.
But this time may be different. Donald Tusk's cabinet has had a good press with some of its controversial deeds and inactions, and will continue to enjoy it until the presidential elections next year that can take Tusk to the presidential palace, giving political retirement to Lech Kaczynski, the identical twin brother of the opposition leader Jaroslaw, who was prime minister in 2006-2007.
The Polish mainstream media are generally quite liberal and they don't want to see an election win of Kaczynski's conservative Law and Justice (PiS) party, as unlikely as it seems at this point.
But even though the corruption allegations may be downplayed, the ruling camp already has a hard time with them – the man taking all the credit has just tried to run away from a television crew that was questioning him about the affair.
"Oh come on, sorry, really – what's you're doing is really unethical," he told a reporter. Some nerve.
Athletes associations issue statement on corruption in sport
From:
Play the Game
At a conference organised by UNI europa and the European Elite Athletes Association in Krakow, Poland in September, participants, representing 26 players associations approved a number of statements, including one on corruption in sport.
The following statements were approved by the conference for release:
Statement on corruption in sport
The members of the European Elite Athletes Association recognize and commend section C4, clause 44, of the Coubertin Action plan of the White Paper on Sport relating to "corruption, money laundering and other financial crime".
Corruption, for the purposes of this statement, is defined as the misuse of entrusted power for personal gain, which may not necessarily be financial.
Corruption and conflicts of interest in sport have a substantial and negative impact on the position of the athlete. Therefore, the EU Athletes member associations call, in general, for more transparency and accountability in sport. Athletes associations are prepared to play a positive role in this effort but recognize that all actors in sport including federations and leagues must tackle this problem through the adoption and implementation of codes of ethics, and the establishment of effective ethics commissions and compliance systems as is the norm in other industries.
Sport...
Minsk to host Continental Hockey League's 2010 All-Star Game
From:
Navany
The press office of the league, which features all major Russian teams and one team from Belarus, Kazakhstan and Latvia each, said that the January 30 game "will become one of the most spectacular events of the season."
The game will be hosted by Minsk Arena, a 15,000-seat facility still under construction, which the CHL press office described as "one of Europe's best ice arenas."
CHL President Aleksandr Medvedev welcomed Minsk's selection as "justified and logical." "Hockey is a national sport in Belarus. We are certain that the All-Star Game will be held in the new beautiful arena successfully and on a high organizational level, will become a true festival and memorable event for both hockey fans and participants," he was quoted as saying.
The decision to hold the game outside Russia is "the reflection of the prospect of the CHL expanding on the European territory," Mr. Medvedev said.
The CHL, which was launched in 2008, hopes to admit teams westward of Belarus and attract hockey stars from around the world.
Endnote...
"Only an idiot could say that Lukashenka has turned to the West"
From:
Charter '97
The Belarusian dictator has confessed that he has finished the procedure of signing documents on creation of the Collective Operational Reaction Forces (CORF) of the Collective Security Treaty organisation (CSTO) – military groupings which have already been called "punitive".
"We have completed all procedures relating to the signing of the document… We will make up for everything we owe to this organization (chairmanship)," Alyaksandr Lukashenka said at a press-conference for regional media, Interfax informs.
Answering the question why he refused to take part in the CSTO summit in June this year, Lukashenka stated that the CSTO has nothing to do with that. As said by him, in the situation which had shaped then, he wouldn't go to the CIS summit or a session of the Supreme Council of the "union state".
"I was forced to cancel my visit to Moscow in an emphatic manner," Lukashenka stated, referring to the period of the "milk war".
"Out of pure prejudice to bend us or to bow us down, Russia was keeping our milk products on the border," Lukashenka said. "It was subjectivity, an attack against our state".
Medvedev was delighted
Russian president Dmitry Medvedev was delighted by the West 2009 operative strategic army exercise, Lukashenka stated at the press-conference today.
"The president of the Russian Federation was delighted by what he saw," A. Lukashenka said. "We have worked out all the questions, all variants. So I was satisfied," the Belarusian leader noted, answering the question about his impressions of the West 2009 exercise.
A. Lukashenka remarked that such drills failed to occur with the previous leadership of Russia. "We have approached about five times the idea to hold such joint exercises; my first proposal was to Yeltsin. "Last time we agreed with Vladimir Putin, when he was a president, to hold such drills and invite our friends from the CSTO. Such exercises have already been prepared already, and Russian tanks were sent to firing ranges of Belarus. But at the last moment Russian president didn't come to the exercises, and I had to carry out the exercise myself. Thanks goodness, Russians stayed, and their troops took part in that," he added.
"The new president of Russia has kept his word," he noted.
Lukashenka has also stated that the joint exercises demonstrate that Belarus hasn't turned away fro Russia. As said by him, "if we turned to the West from Russia", such exercises wouldn't be held.
"These exercises have not been held with the US, with the NATO, but with our Russians. And only an idiot can say after that, that Lukashenka has turned to the West or to some other direction, and abandoned Russia," the Belarusian president said.
"This fact (holding joint exercises) demonstrates that we are a single state indeed, if we act as one state in such a sensitive matter," he added.
As said by Lukashenka, the West 2009 exercise was held at a huge territory, from the Baltic Sea to Ashuluk firing range in Astrakhan region of Russia. "I am very pleased by these exercises," Lukashenka added.
"South Ossetia and Abkhazia's independence should have been recognized long ago"
Lukashenka has also touched upon the issue of South Ossetia and Abkhazia's independence recognition.
"The ally has only itself to thank for it. Someone in Russia wanted to bow us down. Central mass media controlled by state officials, started a real targeting of us," he said.
The president reminded that he was ready to recognize these break-away republics, and during his visit to Lithuania, said "no matter what has happened there, we should support our ally (Russia)".
Lukashenka added that "the mechanism of recognition of South Ossetia and Abkhazia by Belarus had been brought to information of the European Union, but an attack on Belarus in Russian media started.
"Maybe some people in Russia didn't want us to recognize them (the republics) at all," Lukashenka stated. "They simply started proper mud flinging against us in the press. Ha! He has not recognized, as he hadn't been given $500 million loan. As if I am to recognize these republics for money!" the leader of the state said.
As said by him, "the wave started exactly the moment when we were to recognize these republics," and the leaders of Russia knew about that situation.
"I said: it won't happen so in this situation. Everything was done for everybody knows who to receive some [ political] capital: they have been bowed down, and they agreed to recognized!" A. Lukashenka said.
"And I have said to both of them: guys, you have created such a situation ourselves, so you have to bear. I do not want to speak more concretely, as it is a very delicate topic," the president added.
A pause in adopting a decision has been explained by the leader of the state by the fact that the situation after the conflict of Russia and Georgia needed careful analysis.
"Recognition is a serious act. All the CIS republics have flatly refused to recognize [independence]". "but we'll work it out," the Belarusian ruler summed up.
He noted that he finds it necessary to recognize the independence of South Ossetia and Abkhazia, and now the relations of Belarus with these republics are "established as of a state with other states".