Belarus needs pinpoint investments, "Reloading" relations with Russia; Opposition, Trade, Politics, EU, Russia, Ukraine and as always, Polish scandal
Belarus needs pinpoint investments, President says
From:
BelTA
Belarus needs to attract investors purposefully, for specific projects, President of Belarus Alexander Lukashenko told media while visiting Vitebskdrev company on March 17.
"Today it should be understood that talking about investments in general like it was done before the world financial and economic crisis is futureless. At present it is necessary to seek investors, rich people purposefully, to start negotiations with them and make bargains," said the head of state.
According to Alexander Lukashenko, he dealt with these issues during recent visits to Serbia and Armenia. The President remarked that during his visit to Serbia fifteen businessmen expressed their desire to work in Belarus and the eastern market as a whole. Alexander Lukashenko underscored that favourable conditions will be created for foreign investors in Belarus. For instance, they can be exempted from taxes for three years in order to return their investments. However, they should meet several requirements. "We told them: don't expect to come to us and buy out factories, plants for a penny, don't expect us to allow them to be privatised like that. In order to participate in privatisation in Belarus, you need to deserve trust. Come and show what you can do, work for three years, for instance, prove that you are better and we may start privatising while you will have advantages meanwhile," said the President.
The head of state underscored that every investment project needs to be taken care of specifically.
Speaking about the recent visit to Armenia, Alexander Lukashenko remarked that many matters had been discussed ranging from economic ones to military and technical cooperation. The President underlined that Belarus has a major interest in Armenia and there are certain opportunities, including opportunities to build up the trade. "We don't have restricted topics for negotiations with Armenia. It is a country we are in the CSTO together with, this is why we discuss all matters regarding our cooperation," added Alexander Lukashenko. The President also remarked that Belarus welcomes investors from Armenia.
Preferential loan scheme for housing construction revised
On 17 March, President Alexander Lukashenko signed into action Decree No 131 'On Introducing Amendments and Additions to Decree of the President of the Republic of Belarus No 185 of 14 April 2000', BelTA learnt from the press service of the Belarusian leader.
At present, preferential loans for construction of residential houses are provided to building societies only after credit lines are opened for each individual member of such a society. This situation leads to considerable delays in financing of such construction projects; it also causes financial difficulties to contractors; and if a contractor does not have enough circulating assets, it leads to delays in construction.
"In order to speed up the financing of construction of residential houses and make sure that more houses are built in the country, the Decree provides for allowing building societies, which act as clients, to have preferential loans issued to them for the purpose of construction (refurbishment) of residential houses before the signing of loan agreements with each individual member of such a society. Afterwards, the preferential loans that have been issued this way shall be re-issued for individual citizens on the conditions stipulated in Presidential Decree No 185 of 14 April 2000," the press service of the head of state stressed.
No additional budget funds are necessary to implement the provisions of Presidential Decree No 131.
The decree comes into effect on the day of its official promulgation.
Alexander Lukashenko to assess performance of woodworking industry in H1
President of Belarus Alexander Lukashenko intends to give his assessment of the performance of the woodworking industry after the H1 results are made available. He made this statement when talking to reporters during his visit to Vitebskdrev company.
It is too early to make any conclusions. To analyze the situation we need to see the dynamics and tendencies, he said.
When speaking about the course of implementation of his instructions to develop the woodworking industry, the President said he was not sure how to assess it. "If we speak about Vitebskdrev than it is bad. We had plans to start a new facility to make MDFs. Yet nothing is ready, a site was not vacated, no contracts were signed. The plans were to get the construction of 13 facilities started. The funding has been allotted, yet no results have been produced.
He noted that despite lower production figures in comparison with other enterprises, Vitebskdrev is not working worse. The current situation is attributed to the seasonality of demand for the company's products. Apart from that, the sales prospects are quite promising. According to the director of the enterprise, about 50 contracts have already been signed to sell the products abroad. Despite the global drop in prices, the company intends to maintain its profitability at the level of 5-6%
Belarus-China financial bargain named tremendous victory
President of Belarus Alexander Lukashenko named the recent financial deal with China (the foreign exchange swap agreement) a tremendous victory. The President made the relevant statement in Vitebsk on March 17.
"We have been negotiating for three years," remarked the head of state. "It is a genuine breakthrough. It is what we have been talking to Russia about for so long. The Chinese took the lead there".
Now Belarus can buy goods from China with Chinese money and China can buy anything in Belarus with Belarusian rubles, said the President.
"If China plans to expand its influence in Europe via Belarus, we welcome it. I've been suggesting this strategic partnership to China for a long time".
According to the Belarusian leader, it is obvious that in 10-20 years the Chinese economy will be the leading economy in the world. "This is why Belarus can only benefit from the cooperation," concluded Alexander Lukashenko.
As part of the Belarusian-Chinese currency swap agreement CNY20 billion and Br8 trillion (roughly $2.8 billion) will be provided. The validity of the agreement makes three years and can be extended by mutual consent of the parties. Actually it is an agreement for a long term, during which financial support for the trade between the two countries will be provided.
Other Belarusian News...
Belarus positive about US approach towards "reloading" relations with Russia
From:
BelTA
Belarus is positive about the approaches of the new USA administration towards "reloading" relations with Russia, Foreign Minister of Belarus Sergei Martynov told the Czech newspaper Lidove Noviny in an interview.
Representatives of the Belarusian Foreign Ministry quoted Sergei Martynov as saying, these approaches would undoubtedly allow making considerable steps forward in addressing a complex of problems relating to the European and international security.
"Belarus' stance on the placement of US antimissile defence installations in Europe remains unchanged. We believe that the placement of the US antimissile shield in Poland and Czechia would not contribute to reinforcing the trust between NATO and eastern neighbours of the bloc. It is a negative factor from the point of view of the regional security. This is why if the USA scraps the plans to deploy the antimissile installations, we will welcome it," the head of the Belarusian Foreign Ministry made it clear.
Sergei Martynov also added, Belarus is ready to turn the page and get down to consistently building the entire complex of Belarusian-Czech cooperation.
Sergei Martynov confirmed that the Collective Security Treaty Organisation (CSTO) is not a counterweight to NATO. "This is not anti-NATO. The CSTO was not set up as counteraction on the geopolitical scale. It is a response to new challenges, not the NATO expansion," said the Minister. "If you take a careful look at the CSTO decision made at the recent summit in Moscow it deals with the need for collective potential for response, including response to such challenges as emergencies, terrorist attacks, drug trafficking, violent manifestations of extremism. Those are the things that the international community faces every day, unfortunately. The efforts are virtually focused on the Central Asia region, which is renowned for Afghanistan threat, hardly manageable drugs traffic and so on".
In his words, in order to counteract such challenges every regional component of the CSTO will make its contribution to forming so-called Collective Rapid Deployment Forces, which creation was authorised in Moscow. "As far as Belarus is concerned, the issue involves our Belarusian-Russian regional military taskforce, which, by the way, has existed for a long time. The troops of the taskforce, which Belarus will earmark for possible use (while the possible use will take place only by an authorisation of the Heads of State Council, a consensus decision), will be used only in the geographical direction of our responsibility," remarked Sergei Martynov.
Asked about the Belarusian-Russian integration, the Foreign Minister explained that Belarus has always been and will remain an independent and sovereign state. "It is out of question and is not subject to negotiations. The creation of 'a joint state' as you put it has never been discussed," emphasised Sergei Martynov.
"I cannot agree with your definition of the alleged 'failure to implement the project' of the Belarus-Russia Union. Contrariwise, it is a successful project because we have managed to really advance in tackling one of the key tasks initially set as one of the Union goals — equal rights and opportunities for Belarusians and Russians. At the latest session of the Supreme State Council of the Union of Belarus and Russia ratification instruments were exchanged for the last in the series of agreements, which secure the equality of such rights regarding taxation, social security, healthcare, freedom of movement and choice of residence, education. It is a major and real success of the cooperation of Belarus and Russia, which our people feel in their everyday life," said the Minister of Foreign Affairs.
In his words, the strive for creating equal conditions for business entities of the two countries is another fundamental pillar of the cooperation between the two countries. Major advance has been secured in this direction. In 2008 Belarus-Russia trade exceeded $34 billion, over 30% up. "This is why nobody can say that our union has failed," underlined Sergei Martynov.
All Eastern Partnership participants should have equal rights, Sergei Martynov says
The Eastern Partnership programme should be based on a mechanism providing all its participants with equal rights. This is Belarus' fundamental position, which the EU supports so far, Foreign Minister of Belarus Sergei Martynov said in an interview to the Lidove Noviny newspaper (the Czech Republic).
During a meeting with the EU Troika in late January Belarus confirmed that it welcomed the Eastern Partnership idea in principle. We see a constructive core and constructive component in it. Our fundamental position is that the partnership should be based on a mechanism providing all its participants with equal rights. This is our fundamental position which the EU shares so far. Therefore if the programme is eventually approved in the form it was discussed in a meeting with the EU Troika, then Belarus will take a constructive part in it, Sergei Martynov said.
When asked what the country expects from the Eastern Partnership programme, the Foreign Minister said that Belarus is coaxing nothing out of the European Union. "We are not seeking the EU membership in the foreseeable future and therefore we are not looking for massive financial help or any other preferences and benefits from the EU. We have got used to living on our own. What is principally important for us is putting an end to the use of discriminative measures and double standards," Sergei Martynov said.
According to the Foreign Minister, "Belarus and European partners can cooperate in the areas that are mutually beneficial for both the sides", including cooperation within the Eastern Partnership that aims to promote cooperation with the EU's eastern neighbours. "There is nothing artificial or far-fetched about it. This is the cooperation in counteracting illegal migration, drugs trafficking, organized crime, collaboration in the energy and customs fields, simplification of freight transportation, cooperation within the framework of serious infrastructure projects such as energy production and transit," the Minister added.
Belarus has always been the EU's reliable partner in such important areas as energy transit, fight against illegal migration, security and regional military-political stability, Sergei Martynov stressed. "We have always honoured our obligations to Europe on these issues never waiting for an invitation to summits. We are ready to do it in the future. This is our strategic choice," the Foreign Minister said. "Solid relations with the EU are economically beneficial for us. Belarus is an export-based country. With nearly 60% of its GDP destined for export, Belarus is among ten top open economies in Europe. Belarus is interested in reliable trade and economic relations with the European Union, a powerful technologically advanced interstate organisation with a highly solvent market. And we are not looking for one-sided benefits," Sergei Martynov said.
According to the Foreign Minister, Belarus can offer a lot to the European Union including the production cooperation and investment opportunities. "We have a number of strategic advantages: advantageous geographic location, developed infrastructure, up-to-date sci-tech potential, highly-skilled labour force, the absence of tensions, religious and nationality conflicts. From this point of view, the invitation of Belarus to attend the Prague Summit on Eastern Partnership would not be only a natural and logical step on the part of our European partners but a step which would meet their own interests," Sergei Martynov noted.
The Eastern Partnership's policy aims to boost the level of political cooperation, to promote integration into the EU economy, strengthen energy security and extend financial aid. The European Commission proposes six post-Soviet countries, namely Belarus, Armenia, Azerbaijan, Georgia, Moldova and Ukraine, to participate in the Eastern Partnership Programme. For instance, they have been proposed to sign an agreement on association and creation of a new European zone which would become the basis to develop the common internal market.
Alexander Lukashenko: so-called opposition is fifth column bringing damage to Belarus
From:
BelTA
The so-called opposition is the fifth column that only causes damage to the country, President of Belarus Alexander Lukashenko told reporters in Vitebsk on March 17, BelTA informs.
'As soon as we tried to come to an agreement with the Europeans and it resulted in some progress, it caused hysteria in them. Do not believe that these people want the sanctions to be lifted,' the head of state said.
'If we published all that we know about the opposition and its 'work' in Brussels, Strasbourg and other cities of Europe and America – you would be terrified,' the President added.
'It is not opposition. It is the fifth column working to the detriment of the Belarusian people. These people do not even seek to come to power anymore – they just want to make money in any way,' Alexander Lukashenko underlined. He informed that in the near future some documents regarding the opposition will be made public.
According to the President, members of the opposition started to clamour for the attention of the state to their plan of economic reforms. 'I have recently got familiar with all these proposals. What did I find there? Factories should be immediately privatized, land distributed among people. I was reading these proposals and thinking: where are these people living?' the President said.
'Tell me, who wants to obtain land today? What is the point of distributing land now if we will have to come back to large-size agricultural production anyways,' the Belarusian leader said.
According to Alexander Lukashenko, the opposition members lobby absurd proposals they are paid for from abroad. 'Today nobody intends to sell anything for nothing,' the President underlined talking about the privatization. 'It will not happen; our liberalization policy is not about that. They are enemies of the Belarusian people, I mean it as I know what they are talking about and what they want. They are ready to sell themselves to anyone just to overthrow Lukashenko, get to power and destroy the country,' the President said. 'It will not happen as long as I am alive,' Alexander Lukashenko stated.
Economics...
Belarus to switch to reserve currencies in trade with main partners
From:
BelTA
Belarus plans to switch to reserve regional currencies in trade with all the main trade partners. In future the step will allow dropping the country's dependence on one currency, the US dollar in particular. The plans were discussed at a meeting of President of Belarus Alexander Lukashenko and Chairman of the Board of the National Bank of the Republic of Belarus (NBRB) Piotr Prokopovich on March 16, the press service of the President of Belarus told BelTA.
The NBRB believes that domination of one reserve currency, the US dollar, was one of the causes of the global economy crisis. "We've made a conclusion that we should encourage the development of bilateral and multilateral relations through payments in national currencies as much as possible, through stimulating the use of reserve regional currencies of other countries in order to minimise losses from the hegemony of one currency," said the NBRB Chairman.
The first successful steps have already been made in this direction. Belarus has signed a business deal agreement with China, which enables access to around $3 billion of Chinese resources on extremely profitable terms. It is the basis for stepping up the trade and economic relations between the two countries and will allow boosting the bilateral trade by at least 400% in the near future. "It is the stimulus that provides financial support for the development of our economy for the next 10-15 years," remarked Piotr Prokopovich.
In his words, negotiations with the Russian Federation about using the Russian ruble in mutual trade as the reserve currency are close to completion. Similar negotiations with Ukraine are in progress.
The measures are one of the ways to minimise the aftermath of the global financial and economic crisis.
The head of state was informed about the performance of the country's banking industry in 2009.
Despite the complicated external conditions the banking industry managed to preserve stability and ensure the achievement of all goals outlined by the 2009 Major Monetary Management Guidelines.
Since early 2009 the exchange rate of the Belarusian ruble against the basket of currencies has hardly changed and stands at Br959.9 (Br960 as of January 2). The NBRB will keep fluctuations of the Belarusian ruble exchange rate against the basket of currencies within 5% band, assured Piotr Prokopovich.
The banking system provides lending support to the real economy in full. The borrowing increased by almost 70% in comparison with the same period of 2008. The borrowing volume used for housing construction has increased, with the amount of preferential loans up by 60%, the volume of loans issued on general terms up by over 70%. Piotr Prokopovich assured that the NBRB will take the necessary measures to satisfy the demand of the real economy sector for borrowed money. He also added that additional steps would be taken in order to raise the housing construction lending above last year's figures in Q2 2009 and 2009 as a whole.
The President was informed about the measures the NBRB took to increase the gold and hard currency reserves. Since early this year the NBRB has managed to increase the reserves by almost $500 million.
The country's payment system operates effectively, with the amount of payments in January-February 2009 up by over 70% in comparison with the same period of last year.
The steady lending of the economy, the steady national currency and the stable operation of the payment system make one believe that Belarus will step out of the global financial and economic crisis with minimum losses and within the shortest time possible.
From the Foriegn Press...
Belarus leader has cautious welcome to EU visa move
From:
Reuters
Belarus's President on Tuesday welcomed an EU decision to uphold suspension of a visa ban on top officials, but said he would not let the bloc keep Belarus hanging on a hook, "taking signals from our opposition scum".
EU foreign ministers on Monday prolonged for nine months a suspension of a visa ban imposed on president Alexander Lukashenko and about 40 officials after a 2006 re-election deemed fraudulent some observers.
But it stopped short of inviting Lukashenko to attend a May summit of six ex-Soviet states that the EU hopes will ease reliance on Russian energy.
The ministers' statement praised some positive steps in Belarus but expressed concern about what it called recent violations of human rights.
"I am aware of the Europeans' decision. Thank you -- this is good," Lukashenko, quoted by the official BELTA news agency, said on a tour of northern Belarus.
"But if they believe that they can keep us hanging on some sort of hook after taking signals from our opposition scum, if they believe they can push us around and use spurs, we will not take part in any dialogue."
Lukashenko said EU caution was prompted by the intrigues of Belarus's liberal and nationalist opposition.
"This is not an opposition. It is a fifth column. They are enemies of the Belarussian people," BELTA quoted him as saying. "Many of those whom we let out of prison are whining to push harder, put more pressure on Lukashenko in times of crisis."
Opposition groups, often subject to divisions and still without a seat in parliament, urge the West to demand changes to electoral law, legislation on the media and provisions of the criminal code they say are used against political opponents.
The EU froze visa sanctions last year as a reward for the release of what Western states saw as political prisoners. On Monday, it said the new extension sought to encourage "further concrete measures towards democracy and respect for human rights".
Belarus, where Lukashenko has been in power since 1994, has been trying to improve its ties with the West but also seeks close relations with Russia, its giant eastern neighbour.
The EU has still to decide whether to invite Lukashenko to a May summit of an Eastern Partnership with ex-Soviet states, to which it is offering 350 million euros ($450 million) in aid.
Belarus calls for Yamal-Europe 2
From:
UPI
Moving ahead with the swift construction of a second leg of the Yamal-Europe gas pipeline would benefit Russia and Europe, Belarusian officials said.
Europe and Russia are pushing for several rival pipeline projects to diversify the regional energy sector following a January row between Russia and Ukraine that disrupted gas supplies for weeks. About 80 percent of the Russian gas bound for Europe travels through Ukraine.
Belarusian Foreign Minister Sergei Martynov told the Czech-language Lidove Noviny that the gas crisis highlighted the "urgent need" to expand the natural resource infrastructure, the Belarusian Telegraph Agency reports.
"In this connection, the immediate construction of the second line of the Yamal-Europe gas pipeline would create clear advantages to Russia and our partners in Europe," he said.
Martynov said the project could start bringing gas to Europe within the next two years at a moderately low cost compared to other planned gas arteries.
Yamal-Europe travels more than 1,200 miles across Russia, Belarus, Poland and Germany. The capacity of the first leg is around 1.2 trillion cubic feet of natural gas each year.
A second line for the project would bring extra gas to Europe through Belarus as it provides the shortest route.
Belarusian builds monument to Holocaust victims
From:
AP
Nikolai Ilyuchik was 11 when his mother first told him how the Nazis killed all the Jewish men in their Belarusian village during World War II.
Three decades later, in defiance of the local government, Ilyuchik has built his own memorial to the six men shot Aug. 2, 1941, on the outskirts of Bogdanovka. It was something he just had to do.
"I was shaken by my mother's stories, because there was almost nothing in our textbooks about the Holocaust," the 42-year-old fireman said. "I built the monument to honor the memory, not for money or glory."
The Holocaust has been hushed up and largely forgotten in Belarus, a former Soviet republic between Poland and Russia where 800,000 Jews lost their lives during the war.
Even though President Alexander Lukashenko in 2007 compared Jews to pigs, the Belarusian government denies the existence of anti-Semitism. It pays lip service to Holocaust victims while at the same time allowing the destruction of Jewish cemeteries.
"In school textbooks, the history of the Holocaust is told in several paragraphs," Belarusian Jewish community leader Yakov Basin said. "In encyclopedias and academic literature, the history of the Jews is still suppressed."
Belarus lumps Jews together with all those who died during World War II, rather than acknowledging they were victims of genocide, he said.
About one-third of its population died in the war, including about 90 percent of the Jews, who formed a substantial minority in the predominantly Slavic nation. Only about 25,000 Jews remain in the nation of 10 million.
Soviet-era monuments erected on the sites of mass shootings of Jews noted the deaths only of "Soviet citizens."
So the determination of Ilyuchik, a Christian, to honor a handful of Jews was met with deep suspicion in the regional government, which threatened to hit him with huge fines if he put up a monument on village land. But he pushed ahead with support from his family, neighbors and Protestant church, building the monument from metal and concrete in his own yard.
He then called on his three sons — 12-year-old Anton and 11-year-old twins Viktor and Vitaly — to build a gravel footpath from the village to the site of the killings, about a kilometer (half mile) away. The boys also laid stones around the monument.
"The children would come home and simply collapse from exhaustion," said their mother, Raisa Ilyuchik. "For them it was a difficult history lesson."
Before the Nazis invaded the Soviet Union in June 1941, five Jewish families lived in Bogdanovka, then a village of 1,000 people 150 miles (250 kilometers) southwest of the capital, Minsk.
There is no historical record of the Jews or their fate, so Ilyuchik questioned elderly villagers and appealed for information through the local newspaper about the six men who were shot — two blacksmiths, two farmers, a trader and a rabbi.
They are honored on the monument, a black candle rising from the center of a concrete Star of David. Six red teardrops run down the side like dripping wax.
Their families were rounded up and sent to a ghetto. Ilyuchik was unable to determine whether any of the women or children had survived.
But two teenage boys who managed to escape the Nazis were saved by Ilyuchik's grandfather, who hid them in his barn for about six months. They later joined partisan forces fighting with the Red Army, where they became friends with Ilyuchik's father.
"Belarusians and Jews won this victory together," Ilyuchik said.
For support for his project, Ilyuchik turned to his pastor and fellow villagers, about half of whom belong to the same Protestant church. His pastor allowed him to keep the 10 percent of his income he usually gives to the church so he could buy the building materials.
Protestants are a small minority in Belarus. Roman Catholics make up about 15 percent of the population and the overwhelming majority belong to the Russian Orthodox Church.
Ilyuchik's church and Jewish groups offered to collect money for the monument, but he said it was important to him to do it himself.
So far, the regional government has not made good on its threats to fine him, and the monument has become a fixture in the village, where 2,000 people now live.
Children visit the monument on school excursions, and newlyweds come to lay flowers, honoring a Soviet tradition in which brides and grooms visit war memorials on their wedding day.
"When I see flowers on the monument I know that the memory of the murdered Jews is alive," Ilyuchik said, straightening a wreath that someone had left.
Prosecutors Say No Probe Into Belarus Activist's Suicide
From:
RFE/RL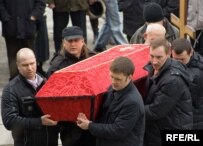 Yana Palyakova had vowed to "never be a convict."

Local prosecutors in Belarus say they do not plan any further investigation into the apparent suicide of prominent Belarusian human rights activist Yana Palyakova.
A spokesperson for the Salihorsk prosecutor's office told RFE/RL's Belarus Service that the investigation has ended and that there is no evidence that Palyakova was driven to suicide by her conviction in court.
The 33-year-old Palyakova hanged herself on March 7, shortly after being found guilty of libeling a policeman who she claimed had harassed her while she was in detention.
She told friends on March 3, after her verdict was pronounced, that she would never be a convict.
Colleagues and relatives say Palyakova was driven to suicide by her treatment and demanded an investigation into her death.
From the Opposition...
Vladlena Funk to spend a year in custody in Belarus?
From:
Charter '97
A procedure of forceful expulsion of Zeltser's secretary may last up to a year.
Mother of Vladlena Funk (Bruskova) – secretary of arrested and convicted in Belarus US lawyer Emanuel Zeltser – learnt this yesterday from the Russia's Embassy in Minsk, where the woman addressed asking to help release her daughter, a Russian citizen.
On March 16, Valentina Bruskova was denied a meeting with her daughter, who has been in the Homel temporary detention facility for five days after her release from the penal colony.
Valentina Bruskova, her daughter Alyona and lawyer Zmitser Harachka visited the Russia's embassy in Minsk on the same day. They were said in the diplomatic mission that on March 13 ambassador Aleksandr Surikov had spoken with Belarusian interior minister Uladzimir Navumau and asked him to speed up a process of expulsion of Russian citizen Funk. The Ministry of Internal Affaires promised to help.
The embassy also said the in accordance with the law a procedure of forceful expulsion, which would be applied to Funk, who "threatens the national security of Belarus", may last up to a year.
In an interview to BelaPAN V. Bruskova said she was surprised to hear that.
"It's difficult for me to understand this wording. I don't understand how this accusation can be brought. I just understand that my daughter was convicted on an unknown ground, as the lawyer said for "industrial espionage," V. Bruskova said.
On March 16 the Vruskovas and the lawyer visited Homel. The relatives were denied a meeting with the detained.
"I was denied a meeting, I don't why," V. Bruskova said. "I could just wave to her, thought I couldn't see her. That was our meeting."
In an answer to a question by BelaPAN about whether the Russia's embassy in Belarus helped the woman, V. Funk said the embassy helped her on the first stage only on her request.
"A representative of the embassy visited her in the temporary detention facility. He talked with the administration to pass cloths, medicines and food to Vladlena. They helped men in this, but only on my request. The embassy didn't offer help itself," she noted.
The woman hopes representatives of the Russian embassy will lend support in release of her daughter: "She has served her term, deserved or undeserved, and I want to see her at large."
It should be reminded that Vladlena Bruskova, who served her punishment in the penal colony in Homel, has her term expired last week. But as soon as V. Bruskova left the colony in the morning, militia officers detained her and guarded to the temporary detention facility of the Chyhunachny district of Homel.
It was decided to expel her. V. Bruskova is banned from visiting Belarus for a period of 10 years. On August 11, 2008, the Minsk City Court sentenced V. Bruskova tp 1 year of imprisonment for commercial information gathering and the use of fake documents. US citizen E. Zeltser was also involved in this case. He got three yeas in minimum security penal colony for industrial espionage and the use of fake documents.
E. Zeltser and V. Bruskova were detained in Minsk on March 12, 1008. The latter worked as Zeltser's secretary at that time.
Controversial decision by Prosecutor's Office: every law has a loophole
From:
Viasna
The politically motivated draft of a number of youth activists brought forth several extremely disputable legal issues, e.g. the arrest of Zmitser Khvedaruk on 28 January, resulting in his imprisonment for participating in the 1 May rally in Minsk.
Article 13.6 of the Code of Civil Procedure specifies the terms of the enforcement of administrative sentences – 3 months.
Thus, the imprionment of Zmitser Khvedaruk appears to be illegal, since it started over 8 months after the verdict was passed. Considering the above-mentioned fact, Khvedaruk's lawyer Pavel Sapelka lodged a complaint against the detention with Minsk Pershamaiski Prosecutor's Office.
In his reply to the complaint, Prosecutor Mliavy said that 'under the circumstances indicated there appear to be no apparent violations of the legislation regulating the procedure of administrative proceedings by Minsk Pershamaiski Police Department policemen.'
However, he later says that 'due to the introduced violation of Article 13.6 of the Code of Civil Procedure of the Republic of Belarus, Pershamaiski Prosecutor's Office has addressed Chair of Pershamaiski Police Department with a demand to take adequate measures to prevent similar violations occurring in the future.'
Still, it is unclear what kind of address was sent to Pershamaiski Police Department…
Thus, Pershamaiski Prosecutor's Office is knee-deep in phrase-mongering. On the one hand, there was no violation; on the other hand, Prosecutor Mliavy says there was.
The decision will be appealed at Minsk City Prosecutor's Office.
Around the Region...
Medvedev orders large-scale Russian rearmament
From:
Yahoo
President Dmitry Medvedev on Tuesday announced a "large-scale" rearmament and renewal of Russia's nuclear arsenal, accusing NATO of pushing ahead with expansion near Russian borders.
Meeting defence chiefs in Moscow, Medvedev said he was determined to implement reforms to streamline Russia's bloated military and stressed Moscow continued to face several security threats needing robust defense capacity.
"From 2011, a large-scale rearmament of the army and navy will begin," Medvedev said.
He called for a renewal of Russia's nuclear weapons arsenal and added that NATO was pursuing a drive to expand the alliance's physical presence near Russia's borders.
"Analysis of the military-political situation in the world shows that a serious conflict potential remains in some regions," Medvedev said.
He listed local crises and international terrorism as security threats and also stated: "Attempts to expand the military infrastructure of NATO near the borders of our country are continuing.
"The primary task is to increase the combat readiness of our forces, first of all our strategic nuclear forces. They must be able to fulfil all tasks necessary to ensure Russia's security," Medvedev said.
And while he praised Russia's military thrust into Georgia last year in defence of the rebel region of South Ossetia, he also said the conflict had shown up the military's failings.
The comments came despite signs of a warming in US-Russian relations since the inauguration of President Barack Obama in January.
Medvedev, who took office last May and has struggled to escape the shadow of Prime Minister Vladimir Putin, is due to meet Obama for the first time next month in London.
Some analysts believe the Obama administration is backing away from policies that angered Moscow under the presidency of George W. Bush.
Those policies included strong US support for expanding the NATO alliance to include the ex-Soviet republics of Georgia and Ukraine and a plan to build US missile defence facilities in Eastern Europe.
But even though Medvedev and others have expressed hope for an improvement in US-Russian ties, there was a combative tone to Tuesday's meeting, intended to sum up military developments in the last year and to plan ahead.
Defence Minister Anatoly Serdyukov said: "US efforts have been aimed at gaining access to raw materials, energy and other resources" in the former Soviet Union, while Washington had "actively supported processes aimed at pushing Russia from its traditional sphere of interests."
The head of Russia's strategic missile forces, Nikolai Solovtsov, told news agencies that Russia would start deploying its next-generation RS-24 missiles after the December 5 expiry of the START-1 treaty with the United States.
Moscow hopes to replace the treaty with a new accord.
Russia says its nuclear-capable, multiple-warhead RS-24 missiles are capable of overcoming defences such as the US missile shield.
In recent years Russia has been attempting to streamline its military, which currently numbers over one million personnel and has been burdened by corruption and bureaucracy.
Moscow-based defence expert Alexander Golts said he detected a contradiction in Medvedev's rhetoric, arguing that demonising NATO is at odds with Russia's stated goal of a slimmed down, efficient military.
"There are real threats, notably instability in Central Asia, but Russia can resist them alongside NATO. In Afghanistan it is clear NATO is also helping to defend Russia," said Golts.
Another independent expert, Pavel Felgenhauer, said it was unclear if the Kremlin had the stomach for military reforms likely to involve mass lay-offs in the current economic crisis.
"There's a lot of opposition in the ranks and this opposition will grow," Felgenhauer said. "It's unclear if the Kremlin will stay the course."
At Tuesday's meeting the defence minister, Serdyukov, said non-combat deaths in the military remained high at 471 last year, describing an "unhealthy moral and psychological atmosphere in certain military formations."
Serdyukov also said the vast majority of weapons in the Russian military were out of date. "The share of contemporary arms and military technology is around 10 percent," he said.
White House says NATO is no threat to Russia
From:
AP
The White House says Russian President Dmitry Medvedev's pledge to strengthen its military was meant for "domestic consumption" and not intended to worry Washington.
White House spokesman Robert Gibbs said Tuesday that President Barack Obama looks forward to meeting with Medvedev at the coming G-20 summit in London.
Gibbs says Medvedev's statement that NATO expansion is prompting an ambitious military modernization plan is not on-base.
Gibbs says NATO is a defensive organization and is not an offensive threat to Russia.
Moscow has fiercely opposed plans to put Ukraine and Georgia on track to NATO membership. Officials have also hoped that the Obama administration would cancel plans to deploy missile defense sites in Poland and the Czech Republic.
Ukraine government salaries halved amid crisis
From:
Businessweek
Ukraine's government says it has halved the salaries of Prime Minister Yulia Tymoshenko and her Cabinet amid a devastating financial crisis.
Ukraine is among the countries hardest hit by the global credit crunch. Industrial output fell by one-third in February compared with the same month last year.
The government's press service on Wednesday declined to reveal Tymoshenko's salary. Ukrainian media say other ministers were receiving about 15,000 hryvna ($1,875) a month.
The national currency, the hryvna, has lost about 43 percent of its value against the dollar since September. The economy is expected to shrink at least 6 percent this year.
The government hopes to revive a $16.4 billion loan from the International Monetary Fund. A second installment of the loan was withheld last month due to policy disagreements.
Ukraine says Russian gas supply to Europe falls
From:
Reuters
Russian gas transit to Europe via Ukraine fell 43.4 percent in February to 6.4 billion cubic metres from 11.3 bcm in February 2008 due to low demand, Ukraine's fuel and energy ministry said on Tuesday.
The ministry said gas transit totalled 11.1 bcm in the first two months of this year against 23.7 bcm in the same period in 2008.
"Europe is no longer taking Russian gas as it was before," Inna Koval, spokeswoman for Ukraine's gas transit monopoly Ukrtransgas, said.
In 2008, Russian gas transit through Ukraine rose 3.8 percent to 119.6 bcm from 115.2 bcm in 2007.
Russian giant Gazprom (GAZP.MM) says it expects sales to recover in Europe in the second quarter when gas prices fall from current peaks. Gas prices are adjusted to oil and refined products prices with a lag of six to nine months.
The flow of Russian gas to Europe was interrupted for three weeks in January in a row between Ukraine and Russia over pricing and payment arrears. Ukraine generally handles about 80 percent of Russian gas transit to European customers.
Ukraine's state-run gas and oil company Naftogaz also said the ex-Soviet state planned to reduce gas imports from Russia, but declined to comment on how the decrease in Russian transit to Europe could affect its revenue this year.
Naftogaz was at the heart of a gas pricing dispute with Russia that led to gas supply cuts for millions in Europe before Prime Minister Yulia Tymoshenko clinched a supply deal with a considerable rise in prices for Ukraine.
Naftogaz said Ukraine planned to import about 33 bcm of gas this year compared with 47.9 million in 2008. Naftogaz imported an average of 55 bcm in previous years.
"According to our calculations, overall gas consumption in Ukraine will total 55.9 bcm this year. Imported gas will total 33 bcm, Ukrainian gas - 20.6 bcm. Other needs will be covered by gas from our underground storages", Naftogaz said in a statement.
In January, Ukrainian authorities said 2009 gas imports should total 40 bcm, but Russian Prime Minister Vladimir Putin this month said Russia would levy no fines on Ukraine for not taking the contracted volumes of gas in February.
Naftogaz's acting head, Ihor Didenko, said in an interview published in a weekly that the contract allowed for Gazprom and Naftogaz to decide on the supply volumes by July 1.
From the Polish Scandal Files...
Panaji: Polish Hitman's Past Intrigues Goa Police
From:
Daijiworld.com
An international criminal, a Poland national named Adam Pyotr Mancic's visit to Attari village near Wagah border in Punjab state with Pakistan has raised eye brows of the personnel in the Goa police department.
The 41 year old Polish was apprehended in the coastal village of Morjim here, after a red corner notice was issued against him by the Interpol.
"We do not know why he went to that village as yet, as he is not prepared to talk to us in the absence of Polish embassy officials," a senior Goa police officer said.
The hit man, who is currently in police custody, was hiding in Goa after killing a prominent builder Freidhelm Lodenkaamp in Berlin on November 3, 2008.
Goa officials said that Mancic was paid 25,000 euros to kill the builder. He had already landed in India when the Interpol issued a red corner notice against him.
Mancic shot Lodenkaamp thrice with expertly placed shots, using a 9 mm Bertha pistol, when the victim was walking his dog in the evening.
"Two shots were aimed at the head and one at the chest," a Crime Branch official revealed.
The state police are also baffled with the fact that Mancic managed to change three guest houses in Goa during his stay, without being noticed by the police.
The mandatory `C' form, which needs to got filled by the guest house owners from the foreigner guests, was not filled by Mancic. The police now intend to crack down on those guest houses which ignored the mandatory 'C' form rule.
Bankrupt Polish sub-contractor causes Lenovo headaches
From:
WBJ
Lenovo's investment in a computer assembly plant in Legnickie Pole is under question following the bankruptcy of the sub-contractor building the factory – Immo Industry Group. In an official statement the IT giant declared, "Due to the new situation which Lenovo Poland is facing, the company must consider existing alternatives. Lenovo Poland will make an announcement about further steps at the relevant time."
"An inter-departmental team for supporting foreign investments approved a new support proposal, prepared at the request of the investor. We shall deliver it to the Cabinet. We are in contact with authorities of the firm," said Deputy Economy Minister Rafal Baniak.
According to Puls Biznesu sources, the Chinese firm might receive a higher subsidy but, "We proposed alternative locations in Lubuskie and Pomorskie ... In the first location, actual production could commence in four months, while in the second one [it could start in] six months," said Slawomir Majman, deputy president of the Polish Information and Foreign Investment Agency. He went on to say that the investor's decision is expected in 10 days.
Poland's economy minister, Waldemar Pawlak, has been questioned over his family's business ties
From:
WBJ
Last week Economy Minister Waldemar Pawlak came under fire in the media after accusations of nepotism and possible conflicts of interest arose. It came to light that companies which have won public tenders to service Voluntary Fire Service units are headed by the minister's relatives. Pawlak himself is the president of the Association of Voluntary Fire Service in Poland.
Dziennik reported that the Internet Institute of Information 3i, an internet service provider whose primary clients are Voluntary Fire Service units, has been headed for five years by Pawlak's spouse. The economy minister does not currently have a financial stake in this or other companies connected with the fire service, having in the past donated his shares to Partnerstwo dla Rozwoju, a foundation supporting the development of rural areas in Poland.
However, it turns out that this foundation is headed by Pawlak's mother. Reporters pointed this out as another example of nepotism.
Pawlak called a press conference on Thursday. "All of my activities, either public or business, are transparent and legitimate," he replied angrily to reporters' queries. But he was reluctant to answer detailed questions.
Prime Minister Donald Tusk said he was satisfied with Pawlak's explanations. "In the future we need to avoid these kind of [business] relationships, because they are not of high standards," said Zbigniew Chlebowski, head of PO's parliamentary club.
This is not the first time that PO's coalition partner has been accused of nepotistic practices. Last year the media revealed that relatives of PSL politicians were employed at various Agriculture Market Agency (ARR) branches.
For example, the former head of the Agricultural Social Insurance Fund, PSL member Roman Kwasnicki, was harshly criticized when it was reported that he employed a close female friend, her brother and the brother's wife at his agency. Reporters also proved that it is possible to get a job at the ARR office in Bydgoszcz by simply calling and claiming to be friends with a PSL politician.
Pawlak reprimanded, Senator Misiak dismissed; The Misiak and Pawlak corruption saga continues
From:
wbj
Prime Minister Donald Tusk publicly announced yesterday that Economy Minister Waldemar Pawlak has violated political standards by establishing a business-social arrangement around himself. However, since he is not a member of Civic Platform (PO) he will not be punished. The PM was more harsh concerning the future of Senator Tomasz Misiak, who is accused of a conflict of interest, and declared that the politician will be dismissed from the party.
"I needed some time. I avoid trivial comments. People expect decisions, not comments from the Prime Minister," declared Tusk, explaining why it took time before he announced his stance on the issues.
The coalition will not be effected by this incident. "Although [the coalition] is not nice and easy, there is no possibility of constructing anything else," added the PM. PO politicians pointed out that the Senator had technically not broken any laws, but had broken PO's ethical standards.
Sport...
Chairman of Belarusian Cycling Federation elected to UEC Management Committee
From:
BelTA
Chairman of the Belarusian Cycling Federation (BCF) Alexander Muraviev was elected to the Management Committee of the European Cycling Union (UEC), BelTA learnt from the press service of the National Olympic Committee.
The European Cycling Union (UEC) held its General Assembly in Pruszkow (Poland), where the UCI Track Cycling World Championships will be held on March 25-29.
Apart from Alexander Muraviev, the Assembly also elected Daniel Baal (France) Micael Concannon (Ireland) Madis Leopajoe (Estonia), Carmen Ramos (Spain) and Athanassios Tzimas (Greece) to the UEC Management Committee.
According to chief coach of the Belarusian national team Oleg Ivanov, the election of a Belarusian to the UEC Management Committee will contribute greatly to the development of this sport in Belarus. 'It is good news. If I am not mistaken, it is the first time a representative of Belarus has been elected to the management body of an international cycling union. It attests to the recognition of Belarus as a cycling country and the high estimation of the steps taken in Belarus to promote this sport. The UEC Management Committee is responsible for drawing up schedules of competitions; it influences the decisions about admission of sportsmen and national teams to competitions and promotes cycling.
Overall, it has a great number of responsibilities. So the election of Alexander Muraviev to the UEC Management Committee is to strengthen Belarus' positions on the international arena,' Oleg Ivanov said in an interview with BelTA.
Apart from that, a new UEC President was elected. The Assembly decided that Vladimir Holecek (the Czech Republic), the outgoing UEC President who had reached the maximum age allowed by the organisation's statutes would be succeeded by Wojciech Walkiewicz (Poland), the sole candidate for the post.
Forty National Federations attended the UEC General Assembly (out of a total of 48 members).
At the end of the Assembly, Pat McQuaid, the UCI President, presented a biological passport programme and outlined the main aspects of the UCI's campaign against doping to the European National Federations. He called upon the Federations to reinforce their collaboration with the UCI in the fight against doping.
Mr McQuaid then presented the "True Champion or Cheat?" programme. The objective of this initiative is to ensure that the riders are informed of the anti-doping regulations and underlying principles in the most effective manner possible. "True Champion or Cheat?" is an educational programme that has been developed in collaboration with the Norwegian and Swiss anti-doping agencies, together with the company Transform Learning and the UCI Academy.
Cultural Scene...
Канцэрт-акцыя супраць наркаманіі ў горадзе Смалявічы
From:
Зараз моладзь дасведчана аб тым, што лозунг "Рок супраць наркотыкаў" - гэта тое ж самае, што "пчолы супраць мёда". Арганізатары ды удзельнікі канцэрта-акцыі супраць наркаманіі ў Смалявічах 21 сакавіка ў адзін голас зцвярждаюць: жарт страціў актуальнасць! Зараз навучаные рок-н-ролльнымі гісторыямі поспехаў, а больш правалаў, музыкі не жадаюць паўтараць лёс Хэндрыкса, ці Джопліна, ці Морысана.
«Кайф ад драйва куды лепшы, чым кайф ад дурмана,» - упэўнены музыкі, якія выступяць 21 сакавіка ў кінатэатры "Радзіма" (г. Смалявічы) для таго, каб сказаць наркотыкам "НЕ!" На канцэрце будуць выкананы песні шматлікіх папулярных рок-гуртоў. Ва ўдзелу ў акцыі далучыліся два гурты з горада Смалявічы («За стеклом», «С-4») і адзін - з Жодзіна («Зеркало»). Яны не знаходзяцца пад заступніцтвам нейкай грамадскай арганізацыі ці палітычнай партыі, ім не патрэбен загад "зверху". Аб'яднацца РАЗАМ у рамках акцыі - гэта іх творчая і жыццёвая пазіцыя.
Тыя, каму падабаецца рок, панк, метал-музыка, і ў прыватнасці гурты "За стеклом", "С-4?, "Зеркало" могуць падзяліць іх пазіцыю ў дачыненні да проблем наркаманіі і зладзіць акцыю РАЗАМ.
Мэта арганізацыі акцыі - прывабіць увагу моладзі района да праблем наркаманіі. Аднак паказальнікам эфектыўнасці акцыі будзе лічыцца не вялікая колькасць наведвальнікаў канцэрта, а зніжэнне колькасці наркаманаў.
Такім чынам,
Удзельнікі канцэрта-акцыі супраць наркаманіі:
*За стеклом(Смалявічы, pop-punk)
*C-4 (Смалявічы,metal-core)
*Зеркало(Жодзіна,hard-rock)
Дзе? - г. Смалявічы, кінатэатр "Радзіма"
Пачатак: 21 сакавіка 2009 а 17:00
Заканчэнне: 21 сакавіка 2009 а 21:00
Кошт квіткоў - 2000 белруб.
Крыніца інфармацыі: За Новыя Смалявічы
Endnote...
Europe Falls Out of Love with Labor Migration
From:
Spiegal
With unemployment soaring in many EU countries, things are getting tough for foreign workers. In Spain the government is encouraging migrant workers to head home voluntarily, saying it will repay them the contributions they made to the social welfare system.

With unemployment soaring, many European Union countries want the migrant workers they once attracted to go home as quickly as possible. They are sparing no expense or effort to encourage them to leave.
Chultem Choijusuren was watching television in Ulan Bator when he decided to climb aboard the globalization bandwagon. According to an ad he had seen, companies in the Czech Republic were paying young mechanics "€1,000 a month." Most people in the Mongolian steppes were already familiar with the small Eastern European country. After all, many young people from here had studied in Prague during the two countries' Socialist pasts.
Choijusuren borrowed the equivalent of €3,000 ($3,900) from local banks. Part of the money was to pay the €1,500 fee that the Mongolian employment agency was charging for securing him a job. He would also need some money to start life abroad, and the one-way train ticket from the Mongolian capital Ulan Bator to Prague, via Moscow, cost €700 ($910). His wife and eight-year-old daughter waved goodbye as the train left the station.
The Mongolian planned to stay in Europe for perhaps half a year, save a few thousand euros, and return home to open his own car repair shop.
Choijusuren is part of the army of migrants that has moved westward from developing countries in recent years, with one in three chosing Europe as their destination. After the European Union's eastward expansion in 2004, tens of thousands of Asians found jobs in Polish, Czech and Slovak factories, where they were welcomed with open arms to fill the jobs that one million Poles and hundreds of thousands of Czechs, Balts, Slovaks and Hungarians had left behind when they in turn migrated to the wealthier EU countries. Ireland, Great Britain and Sweden, unlike Germany and Austria, had immediately opened their borders to citizens of the new member states, and Spain followed suit two years later.
Construction companies and restaurants in these countries were only too pleased to employ the cheap labor from the East. More and more families hired Polish women to clean their houses or nannies with Slavic accents to put their children to bed. The migrants' wages were modest, and yet in some cases three times as high as they were at home. The newcomers sent as much of their earnings home as possible, injecting capital that helped their hometowns gain unprecedented prosperity.
Once the global economic crisis erupted those days were over. Unemployment has risen twice as fast in Great Britain and Spain as elsewhere in Europe. Now the citizens of Western European countries need the jobs themselves, and their governments are resorting to all kinds of tricks and incentives to get rid of the wiling hands they once needed so badly.
Globalization has turned 200 million people into migrant workers in the last few decades. One fifth of them are Europeans, less than one tenth are Africans and 3 percent are from Latin America. Now the trend is reversing itself, a shift that generally affects those who came from Europe's poorest regions and from emerging and developing nations. Officials at the United Nations International Labor Organization (ILO) fear that 30 million people around the globe could lose their livelihoods by the end of the year.
No More Promised Land
There is considerable temptation to cope with the crisis by taking protectionist steps. In many places, guest workers are now only perceived as competitors. In Great Britain, domestic labor union members recently prevented Italian and Portuguese mechanics working for a Sicilian company from modernizing an oil refinery. British blue-collar workers also protested against the use of Spanish and Polish workers in the construction of a power plant in Nottinghamshire. In London, the Minister of State for Borders and Immigration announced that restrictions would be necessary "to protect British jobs."
"Great Britain was the Promised Land for me," says Andrzej Wlezinski, a Pole, "but that is now over." The 40-year-old plumber plans to return to Lodz, a city in central Poland, at the end of March. He came to London, he says, immediately after the EU's eastward expansion. The British public, who had had to put up with the shoddy work of expensive local tradesmen for decades, welcomed Wlezinski and others like him with plenty of work and good pay. The then Home Secretary Charles Clarke called men like Wlezinski "jewels of our nation."
That is now history. Since last fall, Wlezinski has been constantly searching the Internet for temporary jobs. He used to earn ?90 (€114 or $148) a day, but now he counts himself lucky to be making half as much -- if he can find work at all, that is. But he needs to earn ?200 ($284) a week to pay for his small dark room, his subway tickets and a few hamburgers. Lodz, he says, is cheaper and a city with "less stress." If he travels home now, after five years in England, he will be carrying hardly anything of value in his two suitcases. Saving money was not an option.
Elsewhere in Europe, migrants willing to return to their native countries can qualify for substantial assistance. Spanish aid organizations, for example, pay travel costs and €450 ($590) in spending money. The country is especially eager to part ways as smoothly as possible with its more than 700,000 Romanians, the largest group of registered immigrants in the country.
The government in Madrid has even taken things a step further by advertising its "Voluntary Return Program" in ads on subway trains and buses. Jose Luis Rodriguez Zapatero, the Socialist prime minister, hopes that the program will help oust 100,000 of the 2.8 million non-Europeans living legally in Spain.
By last December, 240,000 of them had already filed for unemployment benefits, and that number is likely to have increased since then. If migrant workers agree not to return to Spain for three years, they are repaid their contributions to the unemployment insurance system: 40 percent upfront, and the balance upon return to their native countries.
However, the offer has not been very successful so far, with only 2,000 foreigners signing up in the first three months. Most of them were Ecuadorians who, after Moroccans, are the largest non-European immigrant group.
Those who have worked in Spain legally for an extended period of time are not permitted to take more than €12,000 ($15,600) with them when they leave. This is barely enough to open a small shop or taxi company at home. Dora Aguirre, president of Ruminahui, an Ecuadorian association in Madrid, has given advice many of her compatriots. "Those who are leaving now," she says, "wanted to do so anyway. These are people at retirement age."
Men who have lost their construction jobs in recent months are often unable to leave. They have brought their wives and children to Spain and are usually stuck in a credit trap. They have bought cars that no one wants now, and some took out mortgages on condominiums with four or five other people. Because no one is willing to take over their share, they have to continue making their payments. "Most of them believe that this is a better place to sit out the economic crisis than Latin America," says Aguirre.
No European country has attracted as many guest workers in recent years as Spain. Since Madrid joined the EU in 1986, the economy has enjoyed consistently high growth rates, and recently was even above the average of the countries that use the euro as their currency. There was more construction in Spain than anywhere else, and there was plenty to do for the country's 5.3 million foreigners, who now make up more than 10 percent of the population.
The Rise of Xenophobia
When the Socialists came into power in 2004, they introduced an amnesty, giving papers to 700,000 illegal non-Europeans with jobs, so as to collect their contributions to the social security system. In addition, Spanish companies recruited workers in Colombia, Ecuador, Mexico, Mauritania, Poland and Bulgaria to pick fruit and vegetables, or to work in hotels, restaurants or the construction sector.
Now the labor market can no longer absorb any additional immigrants, says Labor Minister Celestino Corbacho. Tens of thousands of Spanish citizens are now applying for seasonal jobs picking olives and strawberries in Andalusian villages, thereby displacing the foreign workers. This has inevitably poisoned the climate for migrant workers.
In the Madrid region, governed by the conservative People's Party of Spain, the police force was instructed to crack down on foreigners during I.D. checks and arrest a predetermined number of foreigners without residency or work permits every week. Xenophobia is also growing in France, where President Nicolas Sarkozy, during his election campaign in 2007 had already elevated the "fight against tax and social fraud" to the status of a national responsibility. The deportation quota has been increased considerably since then.
The mood has now shifted to one of overt xenophobia in Italy, which, like Spain, only became a country of immigration in the last decade. Illegal immigrants cannot be "handled with kid gloves," Interior Minister Roberto Maroni said, and the government of Prime Minister Silvio Berlusconi promptly unveiled a new security law. It calls for a fee for residency permits and proof of a minimum level of income. Under the law, the homeless will be fingerprinted, doctors will be required to report patients without papers and citizens' patrols are to be authorized to pick up illegal immigrants. Anyone working in the country illegally will be deported, and those who refuse to leave can be sent to prison for up to four years.
The EU has long had plans to uniformly regulate immigration. But in light of the economic crisis, some governments are looking for a back door. They want to delay new rules that would allow Romanian and Bulgarian workers free access to the entire Western European labor market this year, and 11 EU countries want to hold on to existing restrictions. This, in turn, aggravates the situation in the EU's poorest countries. Authorities in Bucharest, for example, expect to see at least half of the roughly three million Romanians working abroad return home.
Aneliya, 38, and her husband Georgiy, 40, have already returned from Manta Rota, a sunny vacation spot in Portugal's southern Algarve region, to Dolno Ossenovo in southwestern Bulgaria. The construction company where the Bulgarian had worked for eight years notified workers in the summer that it expected a decline in contracts. At home, in her village in the Rila Mountains, Aneliya plans to pick tobacco for €150 ($195) a month, assuming she gets the job. Her wages will have to be enough to support the couple's two sons, 12 and 15, and of course her husband, until he can find work again. The only problem is that 300 of the village's 1,500 residents had moved to Portugal, and 200 are now back.
'My Debts Are Growing'
The struggle for the few available jobs will be relentless. A disaster is taking shape in the job market throughout Bulgaria. Investors are staying away. In December alone, 15,000 workers were laid off, mainly in the metal industry, mining and the textile sector. The government hopes to find jobs in construction projects for the unemployed workers now returning home.
Chultem Choijusuren, the Mongolian mechanic, is also packing his bags. There is no doubt that by the time he arrived in Europe, he had already missed the boat. Choijusuren is now sitting in the unheated office of the Czech-Mongolian Society in Plzen, one of 13,000 Mongolians in the country. A hanging on the wall behind him depicts Genghis Khan, and only a few meters away is a portrait of former Czech President Vaclav Havel. He never managed to find a job, he says, "but my debts are growing from one day to the next."
When Choijusuren stepped off the train in Prague after a weeklong journey, he was greeted by the Mongolian contact person, but with the news that "there is no more work in the Czech Republic." He found a place to stay with fellow Mongolians, rationed his savings and set out on his own in search of the €1,000 job he had expected. But his efforts were in vain. "There is nothing for me here anymore," he says.
The Czech government will pay his return ticket. It anticipates that there will be well over 30,000 unemployed foreigners in the country in the coming months. Czech authorities are deeply concerned that some of the Vietnamese, Chinese and Mongolian migrant workers could turn to crime.
Prague prefers to dispose of these victims of globalization before that happens.