Belarus-EU relations, Gas price, PACE, Agricultural products, Chinese cars, Opposition, Polish Scandal and Azerenka wins in Memphis
Alexander Lukashenko: no mediators in Belarus-EU relations
From:
BelTA
and
the Office of the President
The President meeting with the Secretary-General of the Council of the European Union, Javier Solana
Belarus and the European Union should try to remove any mediators from the development of relations, especially ill-wishing ones, said President of Belarus Alexander Lukashenko as he met with Javier Solana, Secretary General of the Council of the European Union, on February 19.
"I would like to ask you Mr Solana that in relations between Belarus and Europe we should try to remove any mediators, especially those, whose point of view is not entirely kind to our country. I refer to mediators both in and outside the country. And there are many of them," underscored Alexander Lukashenko.
I have got a feeling that at this stage of development of our relations there is some "bargaining" going on between Belarus and the European Union in both economic and political issues. We act according to the principle: We did this thing, now you do this. And then a dialogue acquires a form of bargaining, which is perhaps unavoidable in politics but I believe is undesirable and, what is more, one does not need it: the European Union is full aware of what modern Belarus means for Europe," the head of state said.
"On our part, we know how important the European Union is for us, both in terms of politics and economy, above all, economy," Alexander Lukashenko said.
The President thanked Xavier Solana for assistance in establishing good neighbourly relations between Belarus and Europe. "According to the information I have and to what I feel personally, neither this talk nor the present-day thawing in our relations would have been possible without you," Alexander Lukashenko said.
According to the President, the key goal of the present meeting is to express Belarus' readiness to do its best to establish totally close and trusting relations with the European Union first hand.
"I would like to tell you what we can do today and tomorrow and what we can't (exclusively for the sake of our country and not some individuals). If our points of view happen to differ, I will try to use facts to convince you that our policy towards the European Union is sincere," said Alexander Lukashenko. "We wouldn't like you to get the impression that we have no other way out but to follow one direction, making errors and deceiving Europeans, the leadership of the European Union and you personally. We have never had such a goal in mind".
The President of Belarus underlined that he adheres to an exclusively honest and sincere policy. "It will be a solid foundation. However bitter it can be, we will speak the truth: what we can do and what we can't. It is in your interests, too," said the head of state.
EU Troika
In October 2008 and January 2009 two first sessions of the EU Troika and Belarus were held on the level of foreign ministers who, according to experts, laid a foundation for a regular political dialogue between the EU and Belarus.
At present, the Eastern Partnership initiative is being discussed. This project announced by the EU on December 3, 2008, envisages a considerable expansion of cooperation between the European Union and Belarus, Ukraine, Moldova, Georgia, Armenia and Azerbaijan.
The Eastern Partnership concept is to be finalized in March 2009. The programme will be formally inaugurated on May 7 in Prague at the EU Summit (in the format 27 EU member states + 6 neighbouring countries).
The project will be implemented in two formats: bilateral (the EU +1) depending on the level of democratic development and interest of each of the country and multilateral (the EU + 6) aimed to enhance cooperation between the neighbouring countries to promote democracy, efficient governing and domestic stability, economic integration, energy security and migration.
Javier Solana said that being member of Eastern Partnership Belarus will be able to actively promote its interests at ministerial meetings of the Eastern Partnership member states and at the Eastern Partnership Parliamentary Assembly if such a body is created. "I am sure that this year will bring positive developments in our relations. I hope we will keep it up," he said.
"The visit has met the expectations completely: all that I wanted to achieve, was achieved," Javier Solana underlined.
Other Belarusian News...
Gas price Belarus pays may equal $100 by late 2009
From:
BelTA
The natural gas price Belarus pays may total $100 per 1,000 cubic metres by the end of the year, First Vice Premier of Belarus Vladimir Semashko told a session of the National Council for Labour and Social Affairs on February 20.
Taking into account oil price changes the gas price may drop as well, explained the First Vice Premier. "If the oil price continues to stay under $50 per barrel, by the end of the year we may get the price for gas at $100 per 1,000 cubic metres," he said.
Vladimir Semashko reminded, Belarus' development forecast expects the gas price to be at $148 per 1,000 cubic metres. The increase from last year's price of $128 is small, added Vladimir Semashko. This is why electricity tariffs in US dollar terms have not been raised in Belarus, only heating prices have been.
Belarus-PACE relations discussed in Minsk
From:
BelTA
The prospects of the relations between Belarus and the Council of Europe Parliamentary Assembly were considered at a meeting between Belarusian Foreign Minister Sergei Martynov and the PACE delegation led by Chairperson of the PACE Political Affairs Committee Goran Lindblad.
The head of the Belarusian Foreign Ministry asked the chairman of the PACE committee about his impressions of visiting Belarus and the meetings he attended. Goran Lindblad said that his visit to Minsk was interesting and fruitful; the discussions were held in an open atmosphere.
Sergei Martynov told reporters later that the sides discussed the cooperation prospects and issues that existed at the previous stage of Belarus-PACE relations.
"We agreed to proceed with collaboration and discussion of cooperation avenues, first and foremost, between the parliaments. The Belarusian Foreign Ministry will facilitate this dialogue," the minister added.
Belarus attends OSCE PA winter session in Vienna
In a related story, a parliamentary delegation of the Republic of Belarus led by deputy chairman of the House of Representatives Valery Ivanov is attending the winter session of the OSCE Parliamentary Assembly in Vienna on February 19-20, BelTA learnt from the parliament's press service.
This is one of the largest forums of the Assembly. Attending it are more than 270 parliamentarians from 56 countries. The Belarusian delegation met with the President of the OSCE Parliamentary Assembly, Joao Soares of Portugal, some national delegations and also with the PA working group on Belarus.
The key issue on the agenda of the OSCE PA session is European security. The forum will discuss Russian and French initiatives on modernising the European security system.
No plans to raise purchasing prices for agricultural products in Belarus
From:
BelTA
Purchasing prices for agricultural products will not be raised in Belarus, said President of Belarus Alexander Lukashenko during his working trip to the Mogilev oblast on February 17.
Ways to decrease prime costs should be sought, stressed the head of state.
"Today we see a kind of bottom prices for our products," said the President. "It means it is impossible to reduce prices anymore". Alexander Lukashenko added: "The market has already found the lowest equilibrium point and at this point stands the purchasing price that we offer to agricultural companies for milk now — up to 25% profitability. It is very good profitability".
The head of state underscored, the refusal to increase purchasing prices is a well-warranted demand. "The milk is not loss-making. If the purchasing price is raised even more, it will bring down processing companies," explained the President.
"Hydrocarbon resources and fertilisers are now cheaper. The fact should be used to decrease the prime cost," stressed Alexander Lukashenko. "Even if we discount the cheaper prices, our agricultural companies still have a lot of issues regarding labour organisation. They can be fixed to decrease expenses, which will allow reducing the prime cost and benefiting from better profitability".
Union programme for manufacturing agricultural machinery aggregates may be prolonged till 2010
The implementation of the Union State programme aimed at designing and batch production of aggregates of heavy-duty agricultural machines based on the 200-450 hp universal mobile power unit may be prolonged till 2010. The possibility is under discussion, Sergei Fedorovich, chief engineer of the state special design bureau for grain-harvesting and fodder harvesting machines, told media before a joint session of two commissions of the Parliamentary Assembly in Minsk on February 19.
Covering 2006-2009, the joint programme is meant to resolve technical problems of Belarusian and Russian agriculture by restoring and renewing the agricultural machinery park. According to Sergei Fedorovich, the Russian side started implementing the programme almost one year later than the Belarusian side, this is why the deadline has to be shifted for successful completion of the project.
In Belarus the Industry Ministry is the customer of the programme. The Gomel-based state special design bureau for grain-harvesting and fodder harvesting machines and the All-Russian Agriculture Mechanization Research Institute have developed a concept of rational use of material resources and power available to agriculture through using Polesie-type universal mobile power units.
The Belarusian side has designed a power unit with the capacity of 290-450 hp. The machine can be used for sowing in spring, substituting tractors in some ways, noted Sergei Fedorovich. Interchangeable aggregates for fodder, beet and grain harvesting have been designed, that is the machines that most agricultural companies need.
At the session Union MPs decided to recommend that the Industry and Trade Ministry of Russia should take immediate action to fully supply the programme with budget appropriations and to step up control over the programme realisation.
Economics...
Belarus to take into consideration global crisis development projections
From:
BelTA
Andrei Tur
Belarus will take into consideration the global crisis development projections, said Deputy Economy Minister of Belarus Andrei Tur at a session of the National Council for Labour and Social Issues.
The Deputy Minister acknowledged the aggravation of the global financial and economic crisis. In this connection international experts voice different opinions regarding the duration of the crisis: some project the recession will stop by mid-late 2009, while according to others, the crisis will last 1.5-2 years. The current year will be the most difficult, experts believe. Apart from that it will take about 3-5 years to overcome the consequences of the crisis. "Our country has to take these facts into consideration while making projections and taking measures to mitigate the crisis," Andrei Tur said.
He pointed out that over the last 10 years, the Belarusian industrial potential doubled; therefore our economy has accumulated some safety margin. The country posted an economic growth even in January 2009: the GDP was up 4.2%, investment up 24.9%.
The crisis resulted in a drop of consumer demand and profits, growing stocks of finished products, and worsening of the financial conditions of Belarusian companies.
According to Andrei Tur, the government will further decrease the number of administrative procedures in the economy. In particular, it pertains to the commissioning of construction objects.
NBRB: currencies of developed nations unpredictable
The stability of national currencies of developed countries is unpredictable these days, the press service of the head of state quoted NBRB Chairman of the Board Piotr Prokopovich as saying in his report to President of Belarus Alexander Lukashenko on February 20.
"I think this year's situation will be roughly the same as last year's when initially the US dollar gained against euro, than depreciated, and then grew stronger again. At present the stability of national currencies of developed nations is unpredictable," said Piotr Prokopovich.
He assured the head of state that in any situation in 2009 the National Bank will ensure that the exchange rate of the Belarusian ruble against the basket of currencies varies by 5% at most.
Since the beginning of the year the Belarusian ruble has gained 3.9% against the basket of currencies and totalled Br923 on February 18. The change is within the 5% band of changes allowed in 2009. In 2009 the NBRB pegged the Belarusian ruble to the basket of three currencies, namely the US dollar, the euro and the Russian ruble.
Inside the basket the currencies are changed with regard to the Belarusian ruble depending on the situation on the global financial market. Since early this year the dollar has gained almost 10% against the euro and over 21% against the Russian ruble. Respectively the Belarusian ruble has depreciated a bit and has grown stronger against the euro and the Russian ruble since early 2009.
The National Bank believes the situation on the global market is temporary. In time the dollar may depreciate against the euro (at any moment) and the Russian ruble (in H2 2009).
The National Bank of the Republic of Belarus also recommends reducing interest rates for foreign currency deposits to commercial banks, the press service of the head of state quoted NBRB Chairman of the Board Piotr Prokopovich as saying in his report to President of Belarus Alexander Lukashenko on February 20.
The National Bank will take measures to encourage banks to reduce interest rates for foreign currency deposits because at present they are extremely high without valid economic reasons. The country's central banking institution has already prepared relevant recommendations for the banks. The NBRB believes it is now more profitable to borrow resources abroad at lower interest rates.
At present the average interest rates for ruble deposits are close to 17%, those for new national currency loans — about 20% per annum. The figures are very high, the NBRB believes. The NBRB has requested commercial banks to stop raising the interest rates higher and is working to gradually bring them down. Some banks have already reduced interest rates for new loans. The efforts will continue and will also cover borrowings of commercial banks from the National Bank.
From the International Press...
EU foreign policy chief in first visit to Belarus
From:
Reuters
Javier Solana
The European Union's foreign policy chief will on Thursday pay his first visit to Belarus which has moved to improve ties with the West after years of accusations of human rights abuses, an EU official said.
EU ministers lifted a travel ban on long-serving President Alexander Lukashenko and dozens of other officials in October after authorities freed the last of what were deemed political prisoners.
The 27-member bloc, however, kept some sanctions as a sign of displeasure at a parliamentary election which western observers said fell below democratic standards, despite some improvements.
"We are at a moment when we can consider the potential development of relations between the EU and Belarus. At the same time this potential ... will only be confirmed if reforms continue," Cristina Gallach, spokeswoman for EU foreign policy chief Javier Solana, said by telephone.
"Mr Solana will welcome the important steps that have been taken but the trend has to continue," she said.
Solana will meet opposition politicians, the foreign minister and Lukashenko.
Gallach said part of the reason for Solana's visit was to gauge future developments before EU ministers decide in April what to do next with the suspended travel bans and remaining sanctions.
Lukashenko, in power for almost 15 years, has been accused of imprisoning his political opponents and stamping out freedom of speech through media censorship and crackdowns on rallies.
After a row with close ally Russia in 2006 over gas supplies, he has sought better ties with the West. Apart from releasing prisoners, the authorities also allowed two opposition newspapers to be printed and sold in the country.
He has also tried to open up the ex-Soviet state commercially. For years it retained a Communist-like economic model. Laws have been introduced allowing for greater foreign participation in the economy and some companies were privatised.
Godmanis met Belarus premier and discussed energy matters
From:
Baltic Course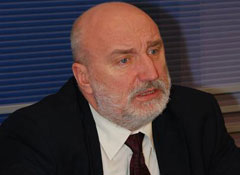 Ivars Godmanis
Yesterday, Prime Minister Ivars Godmanis (Latvia's First Party/Latvia's Way), together with other delegates from Latvia, had a meeting with the Belarus Prime Minister Sergey Sidorsky; large part of their discussions were dedicated to energy issues, as BC learned from the State Chancellery's Communication Department.
Godmanis pointed to the need to create new energy network links to ensure additional power capacities; these plans could be reviewed in the context of the pending energy link between the Baltic States and Sweden.
Sidorsky in turn informed about Belarus' plans to construct a new nuclear power plant by 2016, which would be another reason for the development of an interconnected energy network.
The officials also discussed current bilateral economic cooperation issues in such areas as transit and transport, energy, manufacturing, trade and cross-border cooperation.
The Belarus premier underlined the importance of the cooperation between the two countries at a time of global economic crisis, as well as the importance of the neighbor countries' policies in stabilization of Belarus economy.
Godmanis in his turn expressed appreciation of the fact that Latvia and Belarus have developed active economic cooperation, and underlined the need to ensure mutual investment protection; he also praised the economic growth of Belarus.
The prime minister of Latvia also emphasized that transit sector was crucial for the development of Latvia's economy as it has not experienced any contraction, contrary to other national economy sectors.
Transport Minister Ainars Slesers (Latvia's First Party/Latvia's Way) and Economy Minister Kaspars Gerhards (For Fatherland and Freedom/LNNK), who accompany the prime minister on the visit to Belarus, also drew attention to the recently increased number of direct flights on the Riga-Minsk route, which make Belarus more accessible not only to residents of Latvia but also Scandinavian travelers.
Gerhards underlined the successful cooperation between Latvia and Belarus in the sector of tourism.
During the visit, Godmanis also saw the Minsk Automobile Plant, the "Arena Minsk" sports complex and the Belarus National Library.
Today Godmanis continues the working visit to Belarus, today his agenda includes a meeting with Belarus President Alexander Lukashenko; officials from both countries will also take part in a business forum where entrepreneurs of Latvia and Belarus will meet with the purpose to establish new business contacts.
Godmanis will return to Latvia tonight.
Chery Auto Mulls Plan To Produce Cars In Belarus
From:
Autochannel
China's Chery Automobile Co and Belarus' MAZ will prepare a business plan to produce passenger vehicles in Belarus this April, reported Prime-Tass, quoting Sergei Varivoda, the chairman of the Council of Distributors of Chinese cars in Minsk, as saying on Thursday.
"Talks are taking place at government's level. Taking part in the negotiations was Belarus' First Deputy Prime Minister Vladimir Semashko, representatives with the Industry Ministry and top management of MAZ and Chery Automobile," said Varivoda.
"They were satisfied with the preliminary results and agreed to prepare a business plan by April," Varivoda told the news agency. No production volumes or sales have been decided.
He believes that there would be a huge demand for locally built Chinese cars in Belarus, referring to a questionnaire survey which showed that the number of Belarusians willing to buy Belarus-built Chinese vehicles is 18 times as big as the number of those in favor of imported ones.
In 2008, a total of 800 Chinese vehicles were sold in Belarus, up 77.8% year-on-year.
Belarusian Opposition Seeks To Mark 'Freedom Day'
From:
RFE/RL
Leaders of the Belarusian Popular Front party (BNF) have officially asked Minsk authorities for permission to hold a mass gathering on March 25 to mark the 91st anniversary of the Belarusian People's Republic, RFE/RL's Belarus Service reports.
The opposition marks March 25 each year as Freedom Day, in recognition of the first declaration of an independent Belarus.
BNF Chairman Lyavon Barshchevski told RFE/RL that this year demonstrators would also focus on social issues because of the deepening economic crisis.
BNF Deputy Chairman Vintsuk Vyachorka told RFE/RL that the protest's major goal will remain preserving Belarus's independence.
Vyachorka said the current Belarusian leadership continues to make the country dependent on Moscow.
The Belarusian People's Republic existed for just 10 months before falling under the control of the Bolsheviks and the Red Army.
From the Opposition...
Will Young Front be finally registered?
From:
Viasna
Dmitrie Dashkeivich
Over 30 Belarusian towns have received applications from the Young Front movement, asking for permission to hold a constituent assembly so that the organization's local offices can obtain legal addresses.
It is Young Front's fifth attempt to receive state registration.
'The Ministry of Justice has declared a campaign of registration of Belarusian NGOs.
Most of them are local pro-government initiatives receiving official status from local authorities. The Belarusian authorities seem to be showing their willingness to develop and liberalize the civil and political spheres. So Young Front has arrived at a decision to initiate another attempt to obtain registration starting from its local offices. The decision by local authorities will be an evidence of their evidence to start a genuine dialogue with the society,' says Young Front Chair Zmitser Dashkevich.
Ivan Shyla in army threatened with disciplinary battalion
Ivan Shyla, forcefully drafted into army "Young Front" activist, suffers pressure from the commanders of the military unit.
Radio Svaboda learnt this from youth leader Ivan Shyla's father.
"Firstly, he is accused of being a pretender and being ill too often. Secondly, they are trying to blame him for reading such "provocative" editions as "Nasha Niva" newspaper and "Arche" magazine. Ivan's talks with soldiers are called political activity, he is threatened with a disciplinary battalion. They say his activity is political, which is unlawful, so, they need to take measures," he says.
Ivan Shyla was examined at hospital in Lepel. He complained at backache and sore throat, he had felt before the drafting. Ivan Shyla spent most part of his service in the medical unit.
Preliminary hearing of an appeal against the decision of the draft board, permitted to call up Ivan Shyla without a medical examination, is to take place In Salihorsk today. According to Uladzimir Shyla, the commanders of the military unit hide this information from Ivan.
Khvedaruk denied surgery and sent back to army
Zmitser Khvedaruk, forcefully drafted into army "Young Front" activist, was postponed a surgery till 14 March. He has to serve in the military unit in Zhodzina on the same basis as other soldiers.
Zmitser Khvedaruk had a medical examination in polyclinic # 14 yesterday, website mfront.net reports.
It was planned that the activist would be hospitalized after the examination and analyses. It should be reminded that he has a varicose vein and needs a surgery.
Zmitser Khvedaruk refused to have a surgery in Barysau and was taken to military hospital in Minsk. The medical examination was conducted by Colonel Chaika.
As it was found out after the examination, the hospital didn't have enough places for soldiers, so the surgery was delayed for some weeks. Zmitser was said he would be hospitalized on March 14.
Zmitser Khvedaruk was taken to the military unit in Zhodzina, and the ill young man will have to serve in the army on the equal basis as other soldiers.
Solana had good relations with last dictator of Europe
From:
Charter '97
The EU's high representatives said he wouldn't make any conditions for the authorities of Belarus.
Javier Solana, the EU's High Representative for Common Foreign and Security Policy and Secretary General of the EU's Council, told journalists in Minsk he hoped for deeper and closer cooperation between the European Union and Belarus.
The EU's high representative said his visit was the beginning of a deeper and closer interaction between the European Union and Belarus.
J. Solana emphasised he was optimistic about for the future and added he hoped for developing of deeper relations between Belarus and the European Union. J. Solana said he had "a very long meeting" with president and "a very good meeting" with foreign minister Syarhei Martynau and in the morning he had met opposition representatives.
"We will meet again in March. It will be a very important meeting," Solana said.
Asked what terms Belarus was supposed to meet, he said he hadn't come to impose terms and that the EU was building relations with other countries on a no terms basis.
Belarusian foreign minister Syarhei Martynau, for his part, said that Belarusian-EU relations were pre-determined geographically.
"Those are relations in the economic, energy and transit spheres and in fighting such challenges as illegal migration and organized crime," Martynau said.
The Belarusian foreign minister S. Martynau said he hoped Thursday's meeting would pave the way for cooperation between the EU and Belarus. He also stressed the Minsk talks focused on mutual steps towards improving relations.
Solana leaving Belarus in good mood
Commenting on a two-hour meeting with Alyaksandr Lukashenka to Radio Svaboda, Javier Solana noted it was not talks but thoughts exchange on further developing. All in all, he is glad with his meetings with Lukashenka, Martynau, and representatives of the Belarusian opposition.
He said his meetings in Minsk were constructive. J. Solana said they had discussed all difficult issues and was satisfied with the results. He added he'd got an impression that Belarusian president had a desire to work in the direction of the EU's Eastern Partnership Initiative. He said he was leaving the country in a good mood.
What concerns possible visit of Lukashenka to the EU's summit in Prague and in Brussels, Solana said he didn't know if the Belarusian president would receive an invitation, as this is decided by the EU's presidency.
Commenting on detention of the businessmen in Vaukavysk, and crackdown of youth rallies ahead of his visit, Solana noted that everything that must have been said, was said, and what should have been criticised, was criticised. He said he found the results constructive.
Solana ducked the question about concrete "difficult" issues, discussed at the meeting with Lukashenka. He stressed they had establish good relations, and all question could be solved not under the table, but at the table, in an open way. He added he hoped for solving of all existing problems.
Solana refused to answer a question about possible Belarus's joining the EU. He said this question hadn't been raised, only the Eastern Partnership Initiative, which had possibilities to develop partnership with Belarus in economy and policy, had been discussed.
What concerns formal results of the meeting, Solana noted signing of documents hadn't been discussed, but the sides had tuned the relations, which is more important than any document.
BT and Euronews didn't mention about Solana's meetings with Belarusian opposition
In a
related story,
only Javier Solana's meetings with Belarusian officials were covered on television.
Official Belarusian television and Euronews reported about meetings of the EU's High Representative for Common Foreign and Security Policy with Alyaksandr Lukashenka and Belarusian foreign minister Syarhei Martynau.
They didn't mention, however, that Javier Solana began his visit to Minsk with meetings with the Belarusian opposition.
It should be reminded that EU's High Representative met a delegation of Belarusian democrats, consisted of former political prisoner Alyaksandr Kazulin, leader of the "For Freedom" movement Alyaksandr Milinkevich, head of the Belarusian Association of Journalists Zhanna Litvina, chairman of the Belarusian Helsinki Committee Aleh Hulak, human rights activist Alena Tankachova, economist Pavel Daneika, and head of the Belarusian Congress of Democratic Trade Unions Alyaksandr Yarashuk.
At the meeting with Javier Solana, Alyaksandr Kazulin told about new political prisoners which have appeared in Belarus. Leaders of businessmen Mikalay Autukhovich, Yury Lyavonau and Uladzimir Asipenka, as well as the "Young Front" activist Artsyom Dubski were arrested in Minsk recently. The politician also told the EU High Representative about harsh disband of the oppositional rally of February 14 and on the Day of Belarusian Solidarity on February 16. During these rallies dozens of peaceful protesters were beaten up.
Around the region...
Post-Soviet NATO, or the Rebirth of the Warsaw Pact?
From:
Balkanalysis.com
Territories of the Warsaw Pact
On February 4, 2009, the presidents of the seven member states of the Collective Security Treaty Organization (CSTO), Russia, Armenia, Belarus, Uzbekistan, Kazakhstan, Kyrgyzstan, and Tajikistan, signed an agreement in Moscow during a session of the Collective Security Council to set up a rapid response force.
In the past the CSTO had such a rapid deployment force consisting of 3,000 troops however, as noted by Russian Federation President Dmitry Medvedyev, all this merely existed on paper. The new agreement envisages increasing the number of troops to 10,000. Each of the member states will allocate one battalion to the rapid reaction force. Each nation's battalion will be stationed on its own soil and under its command.
Will Armenian forces fight against the Taliban?
The signing of the agreement has lead analysts to conclude that Moscow wishes to bring the Warsaw Pact back to life and that the new agreement is nothing less than a challenge to Washington and its NATO allies. In particular it was Russian President Medvedyev who gave rise to such conclusions when he declared that the force to be created would be combat ready, armed with the latest military technology and on a par with NATO forces in terms of overall military resources.
Medvedyev also noted that the CSTO and EurAsEC (Eurasian Economic Community) summits signal new qualitative Russian relations with the member states of these organizations both on a multilateral and bilateral level. According to official information, The officials at various levels enumerated possible missions such as: deterring and repelling aggression by conventional military forces; defending the sovereignty and territorial integrity of the organization's member countries; conducting "special operations"; and dealing with asymmetrical threats and challenges, including international terrorism, radical Islam, and other forms of "violent extremism," trans-border organized crime and drug trafficking, and even natural or technological disasters.
These challenges, by the way, are mostly hanging over the head of the central Asian republics and their source is to be found in neighboring Afghanistan. As expressed by Sergei Prikhodko, the Russian President's Foreign Policy Advisor, Afghanistan is the primary threat to the organization in terms of security. "The CSTO summit and its decisions are the joint response to those threats arising from its southern borders – the activities of the Taliban, the situation in Afghanistan and, to a large degree, in Palestine," he stated.
Collective disagreement
The signing of the agreement, however, wasn't unanimously accepted by all member states of the organization. Ukraine signed on with certain reservations, agreeing to the deployment of its forces to individual missions rather than on a permanent basis. The agreement led to widespread displeasure in Belarus. The political opposition there charged Belarusian President Alexander Lukashenka with violating the country's constitution because it prohibits the deployment of Belarus armed forces outside its state borders.
In addition, the Belarus Constitution notes that the Belarus strives to be a neutral nation. Nevertheless, a spokesperson for the country's ministry of foreign affairs publicly declared that the Belarus army cannot be stationed in post-Soviet hot spots, in conflict zones, given that the country's constitution doesn't allow it.
Perhaps what is noteworthy is that the CSTO member states are either not buoyed by the prospect of the application of collective forces in general or either each of them regards that new mechanisms are more beneficial. In addition, some of the CSTO member states are on friendly terms with one another.
In the estimation of analysts, the new agreement is most beneficial for Russia. As noted by Kremlin advisor Gleb Pavlovsky, the CSTO is of prime significance to Russia "in opposition to Georgia, a vengeful aggressor state that seeks to revise borders". Experts are of the opinion that the most important program in the back of Moscow's mind is to employ CSTO forces as a peacekeeping detachment across the post-Soviet expanse.
Aleksei Maleshenko, a resident scholar at the Moscow office of the Carnegie Endowment for International Peace, views the new agreement as the latest step by Moscow to strengthen its influence in former Soviet countries. Nevertheless, Mr. Maleshenko doesn't think that the CSTO will begin to play an active role in regional security issues. "I cannot picture the CSTO taking any real action. For example, it will not fight against NATO in Abkhazia or within the borders of Georgia. In the same manner, it will not come to the rescue of any of the presidents in the case of an Islamic-inspired uprising," notes Mr. Maleshenko.
"In a more tangible sense than other CSTO countries, Armenia regards this arrangement as beneficial to itself. Yerevan welcomes the February 4 decision to create a rapid response force in Yerevan's own frame of reference," writes the Eurasia Daily Monitor, alluding to the Karabakh conflict. "Armenia views the CSTO primarily as a conventional military actor as well as a framework for Russian protection of Armenian territorial gains against Azerbaijan. This traditional view contrasts with that of Central Asian governments, which expect the CSTO to deal with asymmetrical threats and challenges, such as those associated with terrorism, from non-state sources".
The prime targets of the CSTO, terrorism, Islamic extremism, narco-trafficking, etc, are truly the most vexing problems confronting Central Asia. However, these countries however aren't all that disposed to deploying there forces in other locations. In addition, conflicts amongst these countries on a host of issues (water resources, ethnic problems) continue till today and securing cooperation amongst them is a complex task indeed.
What is most important, however, is that for Russia the central Asian countries aren't the most reliable of partners. It was only after Russia agreed to give Kyrgyzstan a financial package of $300 million in cash (in addition to $1.7 billion investment and $180 million in debt relief) to close the American military base at Manas.
In the words of Kyrgyz President Kurmanbek Bakiyev the reason for the move is because the rent being paid by the United States wasn't sufficient as well as the fact that a negative backlash had taken hold in Kyrgyz society regarding the activities of the American forces.
The Manas military base, established in 2001, plays an important role in the U.S.-led war against terrorism in Afghanistan. The possibility that the Kyrgyz authorities will back down from their ultimatum to close the base if the U.S. agrees to a rent increase, cannot be ruled out.
At the same time, Tajikistan announced on February 6 that it was ready to allow its airspace to be used by non-military NATO aircraft for the transfer of materials to Afghanistan. According to other news in circulation, Uzbekistan still holds out hope of mending fences with the West, particularly the United States. One of the rumors is that Uzbekistan might soon possibly pull out of the CSTO all together as it did once before in 1999.
Due to their natural resources and military strategic position, the nations of Central Asia have found themselves at the center of conflicting interest amongst global geo-political forces. For this reason they are attempting to reap benefits by cooperating with all parties. This factor makes them unreliable partners for Russia.
A scarecrow for NATO
In the opinion of political scientist Sergei Kiselyov, the attempt by the Russian authorities to erect a scarecrow for NATO is perhaps doomed to failure. In Mr. Kiselyov's view what awaits Russia is the fate of the useless CIS and the never realized Russia-Belarus union state.
In such conditions, when the CSTO has practically no possibility of becoming a political-military alliance on an equal footing with NATO, representing the common interest of the member states, the question arises as to why the need for the "improved" alliance in the first place.
Perhaps, the Russian program to transform the CSTO into a competing military-political alliance vis-a-vis NATO seeks to create an illusion, rather than a reality. Russia will not be capable of ensuring cooperation amongst the "allies" in emergency situations. Instead, Russia will be able to create conditions where the West will pay it more importance and will more frequently enter into cooperation with it regarding pressing international and regional problems.
It is by no means coincidental that the CSTO confirmed Afghanistan as the prime target for joint action. Medvedyev declared that the CSTO is ready to cooperate with the United States in the war against terrorism in Central Asia. And all this comes at a time when NATO intends to intensify its anti-terrorism operations in Afghanistan.
Georgia Offers Sideburns and a Disco Beat as Payback for a War

From:
NYTimes
Having suffered a battlefield bruising from Russia last August, Georgia has taken the fight with its northern neighbor to the disco floor, with plans to present a tune that jabs at Russia's pre-eminent leader, Vladimir V. Putin, at Europe's premier song contest.
The title of the song, sung in accented English, is "We Don't Wanna Put In," a barely successful play on words involving the Russian prime minister's name.
The song, by a Georgian group called Stephane and 3G, was chosen by popular vote on Wednesday as Georgia's entry for Eurovision, the megapopular and kitschy European song contest that will be hosted by Moscow in May.
Georgia was planning to boycott this year's event to protest Russia's de facto annexation of two Georgian separatist regions after the August war, but it apparently settled on taking a musical swipe at Mr. Putin right in the Russian capital.
The news has already begun to excite patriotic passions in Russia, where anti-Georgian sentiment remains high after the war, which many in Russia believe Georgia started.
"In my opinion, this is amoral," Yana Rudkovskaya, the Russian producer for Dima Bilan, last year's Eurovision winner, told the Echo Moskvy radio station. "I think that the Eurovision board and the heads of Channel One should forbid this song because it insults our country."
The state-controlled Channel One will broadcast the competition live. If Georgia makes it to the final round, it is unclear how the station will handle such an affront to Mr. Putin, who receives little but fawning coverage by Russian federal television.
Stephane Mgebrishvili, the Georgian group's front man, said he and his three female bandmates had hoped for this kind of resonance when they came up with the song, which he referred to as a "marketing trick."
"The most important thing for us was to create the project that would attract as much attention as possible," said Mr. Mgebrishvili, a slight man of 29 who in a YouTube video performs the tune in a large black wig with sideburns as his three bandmates dance in spandex and hot pants to a disco beat that evokes "Saturday Night Fever."
"We don't wanna put in / the negative mood / is killin' the groove," goes the chorus.
Mr. Mgebrishvili, who participated in street protests against Russia in Tbilisi during the August war, said his group received "moral support" from some government ministers.
Dmitri Peskov, a spokesman for Mr. Putin, called the song "hooliganism" and told the Ria Novosti news agency that he thought it unfortunate that Georgia would use the song competition to "promote pseudopolitical ambitions."
It is not the first time former Soviet republics have used the song contest to take pop-music potshots at Russia.
The Ukrainian pop star Verka Serduchka, a flamboyant middle-aged drag queen, ruffled not a few feather boas in Russia with her 2007 Eurovision performance of "Dancing Lasha Tumbai," a nonsensical phrase that many — to the apparent surprise of the artist — interpreted as "Russia goodbye."
NATO discusses ways to keep door open to Ukraine

From:
IHT
NATO defense ministers sought Friday to find ways to keep the door open to Ukraine's membership, despite opposition from Russia over the alliance's perceived encroachment into what Moscow considers its historical sphere of influence.
Secretary-General Jaap de Hoop Scheffer said NATO would stick by its commitment to help Ukraine undertake "comprehensive reforms" in its defense and security structures and indicated the alliance was still considering ways to let Ukraine join.
Before a closed-door meeting with Ukrainian Defense Minister Yury Yekhanurov and ministers from the alliance's 26 members, de Hoop Scheffer said NATO officials were considering "ways in which the alliance can continue to support its preparations for NATO membership" for Ukraine.
At a summit in Romania last year, NATO leaders decided to offer Ukraine and Georgia a so-called "membership action plan" to prepare them to become members.
But faced with opposition from Russia — and in the wake of the Russian-Georgian war in August — NATO has since backed away from establishing a plan for the two former Soviet nations.
However, NATO has offered to step up military and political cooperation to help them achieve their goal of eventual membership.
Before the meeting, Germany's defense minister expressed his skepticism that Ukraine and Georgia were ready.
"At the moment I don't see the conditions for, for example, launching the membership action plan" for Ukraine and Georgia, Franz Josef Jung said.
The ministers also took up the issue of reforming the alliance, which has faced criticism that it could be losing its relevance in a world vastly different from the post-World War II and Cold War reality that served as the background to its birth 60 years ago.
To keep it relevant, de Hoop Scheffer has been calling for a new "strategic concept" that would help NATO face 21st century dangers like terrorism, climate change and cyber attacks.
A day before the talks on Georgia and Ukraine, U.S. Defense Secretary Robert Gates addressed other issues at the core of recent tensions between Washington and Moscow — and the Obama administration's attempts to improve ties as it seeks greater Russian support for its mission in Afghanistan.
Gates played down Kyrgyzstan's decision to evict the U.S. from the strategic Manas air base it depends on to supply troops in Afghanistan, a decision Washington believes Moscow has orchestrated. Gates said the U.S. would be willing to pay higher rent — within limits — but said the base was ultimately replaceable.
However, he also said he was skeptical of Russia's claims to have played no role in Kyrgyzstan's decision.
Gates also said the Obama administration needed more time to decide whether to go ahead with the previous administration's plans to build missile defense installations in the Czech Republic and Poland — a program that soured relations with Russia.
From the Polish Scandal Files...
Corruption scandal at National Bank of Poland
From:
The News
Polish National Bank Governor Slawomir Skrzypek
Eight people, including an official of the National Bank of Poland, suspected of giving and receiving bribes in exchange for fixing tenders, have been arrested by the Central Anti-Corruption Bureau.
Among the detained is the head of the IT department of the National Bank of Poland (NBP) Jan L.
The Polish Press Agency informs that the suspicious tenders concerned the servicing and repairs of IT equipment in NBP. In exchange for tender fixing Jan L. allegedly received money companies in Wroclaw, western Poland.
Apart from Jan L. CBA has arrested the two owners of the company and five other people who acted as middlemen in the transfer of the bribes.
"The suspects owned up to the charges and gave comprehensive evidence," said Malgorzata Klaus of the public prosecutors' office in Wroclaw.
According to the prosecutors', the corruption practice lasted for seven years between 2001 and 2008. The NBP official was to receive some 350,000 zlotys (some 72,000 euros) in bribes.
Polish paedophile ring detained
From:
The News
The police officers have searched 91 houses, flats and companies in the entire Poland and arrested 78 people suspected of dissemination of child pornography via the Internet.
The operation, code-named "Typhon" is part of an ongoing operation, say police, and more arrests could follow.
Ten people have been charged with downloading and spreading child pornography. Another ten alleged paedophiles will hear the charges today.
"The arrested people come from different social groups: there is an IT specialist, someone who works for ZUS, the national social insurer, a teacher, a miner, a retired soldier and a priest among them," said the police.
On Tuesday hundreds of police officers entered 91 houses in Poland. They secured servers, computers, portable discs and memory cards. A special unit from Austria, who were monitoring the web for illegal material picked up the trail of people who disseminated or gave access to child pornography in Poland and elsewhere in Europe.
Dissemination and storing child pornography is subject to up to eight years prison sentence in Poland.
Surprise, Surprise: Poland is bad boy of new EU member states
From:
The News
A report by the European Commission says that Poland has 65 legal proceedings against it for breaking EU laws.
The figure puts Poland well ahead of fellow 2004 entrants and makes Warsaw the worst behaved of the 10 countries that joined the bloc four years ago.
Poland has broken EC rules on, among others, telecommunications law, VAT rates, public procurement of automated radar coastal surveillance equipment, patent law, emergency call centre rules and money laundering law.
Bulgaria is catching up fast, however, with 20 proceedings currently in process against it after joining the EU as late as 2007.
The infringements, concerned with creating single markets in the 27 nation bloc, are most often broken by Spain, Italy and Greece.
Rokita detained and handcuffed in Munich
From:
The News
Former prominent member of the ruling Civic Platform party, Jan Rokita, was ordered to disembark a Lufthansa plane at Munich airport, Tuesday night, in handcuffs after flight attendants decided his rowdy behaviour was a threat to passenger safety.
Jan Rokita and and his wife Nelly, an MP for the opposition Law and Justice party, were on their way to their home town of Krakow, southern Poland. However, the politician got into an argument with a flight attendant, after she reportedly did not let Rokita's wife place her coat on a free seat. When the crew asked him to leave the plane, he refused. Soon after, police arrived at the spot and he was made to leave the plane in handcuffs.
Rokita was taken to a nearby police station, where the colourful couple were detained till Wednesday morning.
According to Rokita, the German police officers used foul language while addressing him. His wife said he shouted, "Help! The Germans hit me!" while being detained.
However, German police and media present another version of the story, claiming that Rokita pushed the flight attendant and was rowdy on board the plane, which is against international law.
Nelly Rokita, when interviewed by journalists on Wednesday afternoon, said her husband – who was once tipped to be a future prime minister of Poland - is going to sue Lufthansa.
According to Nelly, this was a case of discrimination as her husband was treated worse than other passengers because he "looked like a foreigner".
Joachim Brudzinski of the right- wing Law and Justice party has no doubt that Rokita is innocent and calls for Poland to unite around the politician.
The couple, helped out by consul, whom Nelly called an "angel," clearly stated that they were not going to take any more Lufthansa flights in the future.
Sport...
Azarenka dominates Wozniacki to win Memphis final
From:
Sports
Second-seeded Victoria Azarenka of Belarus powered past top-seeded Caroline Wozniacki of Denmark, 6-1, 6-3, to win the title at the Regions Morgan Keegan Championships & the Cellular South Cup tennis event.
The 19-year-old Azarenka won her first WTA Tour singles title earlier this year by taking the championship in Brisbane, and on Saturday night she was dominant in a match that lasted 70 minutes on the indoor hardcourts at The Racquet Club of Memphis.
This was Wozniacki's fifth career final appearance. She has three career titles with the last one coming at the AIG Japan Open in Tokyo in October 2008.
Azarenka, who appeared in her sixth career final, earned the $37,000 first- place prize. It was also a turnaround from the only other time she faced Wozniacki, as the Denmark native pulled out a two-set win at last year's US Open.
Cultural scene...
Новый проект галереи "Подземка"
From:
Urban.by
Галерея «ПОДЗЕМКА» представляет новый экспозиционно-дискуссионный проект «ВСЁ, ЧТО ВЫ ХОТЕЛИ ЗНАТЬ О СОВРЕМЕННОМ ИСКУССТВЕ, НО БОЯЛИСЬ СПРОСИТЬ».
В рамках данного проекта будет проведена серия выставок и дискуссий, в ходе которых зрители смогут увидеть произведения художников, работающих в самых разнообразных направлениях современного искусства и, что самое главное, пообщаться с самими авторами работ. Подобная форма презентации, на наш взгляд, позволит не только представить современное искусство во всем богатстве и неоднозначности его проявлений, но и обеспечить возможность диалога между зрителями и художниками.
Мастера приоткроют перед нами двери своей "кухни" и предстанут в образе живых людей, занимающихся конкретным делом, а не абстрактных творцов "неудобоваримых" шедевров.
Преодоление барьера непонимания и налаживание продуктивного "сотрудничества" между всеми участниками художественного процесса – необходимые шаги для дальнейшего развития современного искусства в Беларуси.
Предлагаем вам сделать их с нами вместе!
***
21 ФЕВРАЛЯ в 18:00
22 ФЕВРАЛЯ в 16:00
Серию диалогов «ВСЁ, ЧТО ВЫ ХОТЕЛИ ЗНАТЬ О СОВРЕМЕННОМ ИСКУССТВЕ, НО БОЯЛИСЬ СПРОСИТЬ»
открывает проект «PERSON. SEX. ART», инициированный an angelico group.
Участники арт-группы Антон Слюнченко и Виталий Дегтярев представят три новые работы, объединенные общей темой исследования личности и аспектов её сексуальности посредством видео-арта.
Главными героинями свежих видео-историй an angelico, как собственно и всех предыдущих работ, являются современные мадонны - глянцевые красотки, идеальные представительницы клубно-гламурной культуры. В их отстраненности и замкнутости, в их безупречной, отшлифованной красоте временами действительно чувствуется отзвук божественного умиротворения классических мадонн, с той лишь разницей, что идеальная физическая оболочка перестает быть всего лишь воплощением духовного совершенства и приобретает самодостаточную ценность. Крупным планом, камера фиксирует сосредоточенное самолюбование героинь, одиноких в своей исключительности, не знающих, куда им бежать от своей красоты – то ли на лоно столь же неизменно и недостижимо прекрасной природы их сестры, а быть может и соперницы, то ли в разрываемый неоновыми вспышками город как клуб или храм их красоты, то ли в недоступные непосвященным, скрытые от посторонних взглядов личные "покои", где нет уже ни соперниц, ни почитателей, а только остановившееся время и вечная, "замороженная" красота.
Экран дробится на множество проекций, одновременно дающих изображения с разных ракурсов, благодаря чему, возникает ощущение всеобъемлемости, вездесущности красоты, ее идеальной (видимой и невидимой) целостности… однако, подобный "божественный взгляд" как прием с ещё большей очевидностью отсылает к клипово-компьютерной эстетике, столь актуальной для западного искусства в еще недавнем прошлом.
Свои вопросы, сомнения и комментарии по этому и другим поводам вы сможете высказать в ходе открытой дискуссии с участием авторов, которая пройдет после показа.
Ждем вас на сеансе видео-арта с его последующим разоблачением!
Программа на 20-22 февраля
18.00 – Представление авторов, участников проекта.
18.10 – Показ первого фильма
18.25 – Короткий обмен впечатлениями
18.30 – Показ второго фильма
18.45 – Обмен впечатлениями
18.50 – Показ третьего фильма
19.05 – Дискуссия.
Вопросы для обсуждения:
1. Среда и художник
2. Обнаженная натура в искусстве
Программа на 23 февраля
16.00 – Представление авторов, участников проекта.
16.10 – Показ первого фильма
16.25 – Короткий обмен впечатлениями
16.30 – Показ второго фильма
16.45 – Обмен впечатлениями
16.50 – Показ третьего фильма
17.05 – Дискуссия.
Вопросы для обсуждения:
3. Среда и художник
4. Обнаженная натура в искусстве
Endnote...
To CIS or not to CIS...
From:
The Story
From: Alex R
Subject: Belarus...
To: beinghad_mail@yahoo.com
Date: Wednesday, February 18, 2009, 7:36 AM
Hey,
I would say I am relatively new to reading your blog and find it very useful in finding information and news on Belarus. I am currently studying for a Politics degree at University in the UK and am particularly interested in Belarus as my family were originally from Lida in the east of Belarus. I am currently pursuing work that will be help me in my dissertation for next year and seeing as you're a writer who is living in Belarus I thought I would ask you a question that would be really helpful to me. As you know, news that surrounds Belarus is usually distorted to enhance Belarus (coming from the state), tarnish the country (from the US) or be critical of the situation that really exists in Belarus (Charter 97). I feel finding valid and in certain circumstances, truthful information surrounding Belarus a difficult task.
With regards to the question I hope you can help me with, I am interested as to what someone like yourself says who lives in Belarus and has lived in other Eastern European states. The issue is the CIS. Whether Belarus still views it as important to their regional and international security? Or is the CIS irrelevant seeing as Belarus and other CIS members are subservient to Russia and its much needed energy?
It would be great if you could get back to me
Regards, Alex.
P.S. I visited Minsk when the England football team played Belarus at the end of last year. I had a great time and thought the City was an amazing place, somewhere where I would love to visit again and possibly live if I knew what was really happening in the country!
Re: Belarus...
Thursday, February 19, 2009 3:02 AM
From:
"Adam Goodman"
Well Alex, I would probably say that pretty much everything is about money. Though Belarus claims to have traded with 183 nations last year, obviously the vast majority of their trade is local. And this makes sense because the sorts of good and services which Belarus does have is only really normal for those countries from the former Soviet Union. I can see your point about the CIS and CSTO and EuAsEc becoming of lesser importance as European markets begin to open, but I think your perspective comes from an "always open world market" economic situation and this is simply not a privilege that Belarus has enjoyed nor even expects to enjoy. It also hasn't had the capital to reinvest in factory and infrastructure improvements. So, we are speaking of a different world.
Now, aside from the above mentioned grouping and the trade union movement with several other CIS states, Belarus has also created Union State with Russia as a protectionist entity, both economic and otherwise. You are right that everything centers on Russia just like it did during the time of the USSR. Russia is going to use Belarus for its air defense program and it also has missiles in Kazakhstan, Afghanistan; it has a fleet on the black sea in Crimea and of course, it has a strong presence in Chechnya and in the breakaway states in Georgia. But as you say, they are of course only protecting Russian interests. But this is how it has always been! The culture is not going to disappear in our lifetime; yes, it is about Moscow and this is no secret.
But they always ask people whether or not they want the Soviet Union to return in some form or another and there is always a reasonably large percent that wants it. There is nostalgia. But the idea is dwindling and there really is not that great of a movement to actually reinvent the USSR and I feel the reason is that, simply said, there is no more socialist ideology backing such a union and everybody knows it. In order for the USSR to exist, and I am speaking here of people agreeing to be the same and work for minimalist wages in a controlled economy for lifetimes, there needs to be a moral, spiritual and ideological reason to do it. Without communism, you just have suppression for the purpose of having suppression and that's fascism and it can't last. So with the ideology having been starved out of people and as they become more and more selfish out of need and experience, and as the country becomes more and more integrated, of course such a grouping would become less and less important.
So to answer the question about whether or not the CIS is important to Belarus, well, I think that the answer is yes. As you said, America still demands that Belarus be seen negatively and in fact, I just had my web hosting cancelled last week, my host sighting the Patriot Act as their rational for giving me the boot. So, there are still market problems. Perhaps this situation is somewhat less drastic in Europe and is becoming less and less the more the Europeans come here looking for business opportunities. And remember that Gasprom makes everybody pay so Belarus, either by design or providence, has had to become more accommodating and open. But entities like the CIS are and most probably will remain vital for Belarus because economically, it would be impossible for Belarus to exist without having those "original" markets to work with. If the association is seen negatively by the west, the reasoning there would only be the desire for greater control and availability by the Europeans, something that Russia and its neighbors are not likely to give up in this lifetime- and yes, they have missiles at the ready to prove the point.
Hope this opinion was helpful for you.
Cheers and best of luck with your education.
Adam