Belarus opens foreign markets, Corporization, EU cooperation, life:), High-Tech Park, Russian loans, Swedish diplomats, Ukraine and Polish scandals
Belarus does everything possible to have barriers removed on foreign markets
From:
BelTA
and
the Office of the President
The team of the President of the Republic of Belarus has won the ski race held between teams of the national government bodies as part of the winter holiday 'Minsk Ski Track 2009' in Raubichi. The presidential team participated in the event in Group A. The ski team of the Belarusian physical development and sport society 'Dynamo' came second. The third prize went to the skiers of the Presidential Security Service.

The Belarusian government is doing everything possible to lift barriers on foreign markets, President of Belarus Alexander Lukashenko said when talking to journalists in Mogilev, BelTA reports.
"We are searching for new markets and we find them. These are Ukraine, Kazakhstan and more remote places like Iran, Venezuela," the head of state said.
According to the President, the G20 summit in Washington passed a key decision, which is to refuse from protectionism. "Big economies should not block access for the products from such countries, like Belarus," Alexander Lukashenko said.
"What do we see in fact? Even with Russia we have to raise this issue on a permanent basis," the President said. "Freedom of movement of goods should be ensured," the Belarusian elder believes.
The President reminded, that today the main issue for all economic entities is the search for sales markets. "This is a difficult issue, a complex issue, which is on radar of the government," Alexander Lukashenko said.
Alexander Lukashenko: Belarus is not going to deceive West
"It is just clumsy babble of the opposition who says that Lukashenko allegedly deceives Europe. I have never ever intended to deceive anyone, I have always advocated honest and transparent policy. And Europe understands it now," the head of state underlined.
"I would like to point out: no one should think that I am trying to please the West. I do only what benefits or many benefit our people," Alexander Lukashenko said. "Are we interested in close ties with the European Union, the kind of relations that we have developed with Russia? Very much so. Both Europe and Belarus are interested in it," he added.
The President underlined that today Belarus and the West are seeking constructive cooperation. "Europe has realized that it cannot talk with our country by forcing something on us," Alexander Lukashenko said. Some changes took place in the dialogue between Minsk and the West, and western politicians realize the importance of Belarus for the regional stability as our country blocks the traffic of illegal drugs and immigrants as well as arms (including nuclear elements) in Europe. "They understood that it is better to have an honest, predictable partner who is willing to undertake reciprocal steps and even some steps in anticipation," the Belarusian leader said. "We are ready to proceed with this policy in the interests of our society," he added.
The head of state pointed out that he always recommends the ministers who are in contact with European politicians to no way promise them what the Belarusian side will not be able to do.
Alexander Lukashenko criticized representatives of the so-called opposition for making an inadequate list of requirements to the Belarusian government for Europe. "They have written a real petition for the Czech Presidency – I have this document on my table. The Czech Presidency has started to shape Belarus-EU agenda on the basis of the requirements of the so-called opposition which you will not be able to see even through magnifying glass," the President said. "This approach to the negotiations is absolutely unpromising," he added.
The head of state reminded that Minsk and Brussels have already developed an agenda which consists of some really important issues, "not the opposition' demands". "The opposition will not exert their pressure on us using the EU or the United States," Alexander Lukashenko underlined.
"If someone is caught in criminal activity here, he immediately calls himself an "oppositionist". Europe has already understood it," Alexander Lukashenko said.
The head of state commented on the attempts of some opposition members to avoid the army service. "Everyone should serve in the army: I did and my children did," he said.
Other Belarusian News...
Over 200 Belarusian enterprises earmarked for corporization in 2009
From:
BelTA
President Alexander Lukashenko visits the Babushkina Krynka Joint-Stock Company in Mogilev
- Over 200 republican ownership enterprises will be reformed through corporization in Belarus in 2009, Natalia Zhernosek, Director of the State Property Fund of the State Property Committee of Belarus, told media on February 17.
The number of enterprises subject to corporization includes Gomselmash and BelAZ.
The enterprises are important, there is a lot of work to do, remarked the official. The enterprises are supposed to become profitable, competitive, especially in view of the global financial crisis. According to Natalia Zhernosek, the State Property Committee should support the enterprises so that they would be able to the necessary investments. Talks with interested companies are in progress about their participation in the legal capital of the enterprises, which were incorporated in 2008, said the Director of the State Property Fund. She added they were working on an investment proposal for BelAZ.
"All the enterprises of the country are important and necessary for us. Major reformation efforts are in progress for each of them. It is important to make these enterprises competitive and find an effective investor for them," stressed Natalia Zhernosek.
The corporization of republican ownership enterprises was carried out in full in 2008. Only the corporization of several municipal ownership enterprises was postponed to 2009-2010. All in all, around 500 municipal ownership enterprises are supposed to be incorporated within three years. In 2008 30% of the total number was supposed to be incorporated, in 2009 — 40%, in 2010 — 30
Belarus President warns against hasty privatization of processing enterprises
We should not push the privatization of processing enterprises, President of Belarus Alexander Lukashenko told reporters during his working trip to the Mogilev oblast.
"We should be careful about selling such facilities. Our processing industry has reached the European level, and its total modernization will soon be completed, this is why we should not push its privatization," the President said.
The head of state pointed out that the processing industry requires special attention; we should not hurry up because of the social significance of such enterprises. Moreover, these enterprises should not be sold in the given market conditions. "We should be able to see prospects and control the process. Today all our industries are competitive," he said.
Talking about the financing of the 2009 sowing campaign, the President underlined that the campaign will be financed by what was saved in the oblast budgets last year. A total of Br1.7 trillion was saved in the country. The local authorities will decide independently which enterprises will get aid. As for the fund to support agricultural producers, most of its money will be spent on new agricultural machinery. Some money will be allocated for the purchase of mineral fertilizers and plant protecting agents. This way the state will support domestic producers, the President underlined. "It is time to finance the purchase of agricultural machinery for the domestic market. We will even search for additional funds for that purpose," Alexander Lukashenko said.
The head of state underlined that the decisions to allocate additional funds for the sowing campaign will be taken by him personally and only in emergency cases. "If we see that money is really needed, we will help," the President said.
"We will sow in time, very well, better than last year. If the weather does not let us down, though it is not an excuse, we will get a good harvest," the President said. He added that the savings alone account for almost Br3 trillion that is to be spent on agriculture.
Privatization procedures in Belarus will not be simplified
The head of state pointed out that almost all Belarusian enterprises have been reincorporated as joint stock companies. The privatization procedures involve the employees of an enterprise, its head, local authorities, the government and the President.
This process is much bureaucratized and it will not be simplified for a time. A single person will not be allowed to take decisions about selling property, the head of state underlined.
Alexander Lukashenko reminded that the privatization regulations were announced a long time ago. Everybody knows the terms. "An enterprise can be privatized provided 25 requirements are met. The major conditions include price, modernization, preservation of jobs, social programmes. If you are not ready to meet all these requirements – do not submit applications, talk about it or come to me. Not a single land plot in Belarus will be bargained away," the President said.
The head of state underlined that the overall liberalization had been announced in Belarus, but it does not pertain to the simplification of privatization processes. "We have simplified the tax system; introduced the declarative principle to tackle red tape. The perception of the liberalization as an opportunity to sell all property for a song is absolutely stupid," Alexander Lukashenko said.
He pointed out that in the conditions of the economic slump, "anything can be bought" for a song. "However I will not bargain away any enterprises," the head of state underlined.
Belarus-EU cooperation, Eastern Partnership initiative discussed in Oslo
From:
BelTA
The prospects of the cooperation between Belarus and the European Union, Belarus' participation in the Swedish-Polish Eastern Partnership initiative and the visa issues were discussed during the Belarusian-Norwegian ministerial consultations in Oslo, BelTA learnt in the press service of the Belarusian Foreign Ministry.
The participants of the consultations focused on further Belarus' involvement in the work of regional international organizations, the Council of the Baltic Sea States, first and foremost.
The parties discussed the bilateral cooperation including the development of political dialogue, expansion of trade and economic links, cooperation in the power engineering, environment protection and sci-tech areas, improvement of the legal treaty base.
The Belarusian side was led by Deputy Foreign Minister of Belarus Valery Voronetsky and the Norwegian by Director General of the Department for Security Policy and the High North of the Norwegian Foreign Ministry Steffen Kongstad. Ambassador Extraordinary and Plenipotentiary of Belarus to Norway and Sweden (on concurrent) Andrei Grinkevich also took part in the ministerial consultations.
A call for joint strategy on Baltic energy market
"The Ignalina nuclear power plant will be closed in late 2009. Lithuania is interested in receiving electric energy from other markets," Vygaudas Usackas said. "It is usual that the sides start negotiating the price for electric energy six months before a new year. We have commissioned the working groups to reach concrete agreements by April 1".
"We have been working on the best ways to use our energy potential. Apart from energy, however, we have a great deal of issues to cooperate in: transport, logistics, others," said Foreign Minister of Belarus Sergei Martynov. The meeting also highlighted the joint transport and infrastructure projects, the potential of the Viking container train.
As for the construction of the Belarusian nuclear power plant, the Foreign Minister of Belarus has noted that every country has a right to biuld a nuclear power plant. "We are interested in consultations with our neighbours to predict a possible impact on the environment," Sergei Martynov said. He added Belarus has been consulting the ground work of the construction with the international organisations and the International Atomic Energy Agency in particular.
According to Sergei Martynov, Belarus has two powerful neihgbours – Russia and the European Union, "we would like to have robust links with each of them". "We would like to cooperate with both Russia and the European Union," the Minister stressed.
The foreign ministers of Belarus, Lithuania and Ukraine believe it is necessary to develop the joint action strategy on the Baltic energy market, BelTA learnt from the Belarusian Foreign Ministry. The Belarusian Foreign Minister Sergei Martynov made a working visit to Lithuania where he participated in a trilateral meeting of the foreign ministers of Belarus, Lithuania and Ukraine.
The sides considered the promising avenues of regional cooperation, shared opinions about the EU Eastern Partnership Initiative.
Cellular company life:) to invest around Br260bn in network development in 2009
From:
BelTA
- This year cellular communication company life:) plans to invest around Br260 billion in network development, Technical Director of Belarusian Telecommunications Network Nikolai Yushkevich told a press conference on February 17.
Nikolai Yushkevich said that the first batch of Alcatel equipment had been supplied and the company had announced a tender for the second batch. All the world's top companies, in particular, Alcatel, Nokia Siemens Networks, ZTE, Huawei, and others, are taking part in the tender. The results will be announced in late February 2009. The tender is supposed to provide the company with 800 2G base stations and 500 3G base stations.
According to Nikolai Yushkevich, the installation of the first batch is nearly over. At present the network uses six commutators, with the central one placed in Minsk and five commutators located in the oblast cities. The total numbering capacity stands at 1.5 million. The company uses 744 sites, including 97 sites installed in January. By the end of March the number of sites is supposed to increase up to 1,000.
At present life:) communication is available at 57% of the country's territory, with the signal power as high as -94dB. The company plans to increase the penetration to 68-70% by the end of the year. life:) services are available in 111 out of the 118 regional towns of the country. All in all, the company's network covers 357 communities.
In addition, the company is completing deploying its network along eleven major Belarusian motorways. The licence stipulates that the company should provide communication along eight motorways, but the company management decided to extend the network onto motorways Minsk-Slutsk, Minsk-Mogilev, and Minsk-Molodechno, too.
Belarusian Telecommunications Network was registered on November 5, 2004. The company became part of the international group of companies Turkcell after the relevant contract was signed on July 29, 2008. At present BeST founders are life:) company (80%) and the Belarusian Information Technologies and Communications Ministry (20%). On August 26, 2008 Turkcell transferred the first payment of $300 million for 80% of BeST shares it had bought. The two other payments of $100 million each will be made on December 31, 2009 and December 31, 2010 at the latest. Another payment of $100 million will be made when BeST's annual earnings are positive.
Construction of Belarusian High-Tech Park to begin in April
From:
BelTA
- The construction of the united complex of buildings and facilities of the Belarusian High-Tech Park is supposed to start in April 2009, HTP Administration Director Valery Tsepkalo told BelTA.
Minskgrazhdanproject Institute has finished draft designs of the manufacturing and residential areas of the HTP. The investor, Fishman Group, has made some amendments to the design documentation. By the end of February the draft design and the architectural design, both of which are being developed simultaneously, will be adjusted. "I think documents will be ready in March to start the construction in April," said the official.
According to Valery Tsepkalo, at present the investor is in Belarus and will hold negotiations with the HTP Administration and resident companies in the next few days. According to the investment contract the territory of 50 hectares will be developed within six years. An agreement with forestry enterprises regarding the land allocation for the construction has been virtually reached. Not only Fishman Group but the resident companies as well will invest in the HTP construction.
Valery Tsepkalo said, certainly it was not the most favourable time for implementing major investment projects. "However, tribute should be paid to the Israeli company: capitalization reduction losses of Fishman Group have reached about $11 billion. It has abandoned several projects in Russia, Ukraine, and Israel but the HTP project is still a priority," stressed the HTP Administration Director. In his opinion, it means that Fishman Group has major hopes for the HTP and despite the colossal losses it still finances the HTP designing in Belarus.
In April the design of the first building, the main one, which will house the HTP administration, an educational centre, a business incubator for start-ups and two resident companies, will be completed. The two companies, Epam Systems and System Technologies, are co-investors. Some office premises in the building will be rented. Thus 10-12 companies will be able to work there, added Valery Tsepkalo.
The construction of the building could have ended earlier, however, the design document has been changed to introduce a common air conditioning system and the ventilated front of the building. The information and telecommunication structure has been changed to enable IP telephony, high-speed web access and Wi-Fi. Certain efforts have been put into reinforcing the structure of the building.
It has been reported earlier that Fishman Group is ready to invest $500 million in the project for setting up a complex of buildings and facilities of the Belarusian HTP. In early 2008 the company inked a partnership agreement with Lyons (South Africa). The agreement provides for co-investing the project in Minsk.
The High-Tech Park was set up with a view to creating favourable conditions for raising the competitive ability of Belarusian economy branches, which are based on new and high technologies. At present there are 58 resident companies in the HTP, including self-employed business.
Economics...
Sergei Martynov: Russian loan without political conditions
From:
BelTA
Russia does not make any political conditions for giving a loan to Belarus, Foreign Minister of Belarus Sergei Martynov told the German newspaper Frankfurter Allgemeine Zeitung in an interview.
Representatives of the Belarusian Foreign Ministry quoted Sergei Martynov as saying: "The union of Belarus and Russia is developing very successfully and has a great future. This is why Russia lends money to us without any political conditions". The Foreign Minister added that Russia is interested in further promotion of close economic ties with Belarus.
Speaking about the loan of the International Monetary Fund, the Minister remarked that the loan is necessary to make a "safety cushion" because Belarus has faced the problem of insolvent clients as an exporter country.
As far as Belarus' steps aimed at establishing the dialogue with Europe are concerned, Sergei Martynov believes that "both sides just have to develop partnering relations". After its expansion to the east the European Union is one of the most important neighbours of Belarus along with Russia. "We have 1,000 km of the common border. We are a country with a rapidly developing economy. The European Union is already our second largest trade partner. We are also a transit country between Europe and Asia and take care of preventing illegal migrants
In 2008 Belarus trades with 183 countries
- In 2008, Belarus traded with 183 countries. The country exported to 139 states and imported from 168, BelTA learnt from the National Statistics Committee.
In 2008, Belarus' major trading partners were Russia (47.2% of the total trade), the Netherlands (8.2%), Ukraine (6.8%), Germany (5%), Poland (4.1%), Latvia (3.2%), China (2.8%), Great Britain (2.4%), and also Brazil and Italy.
According to the Committee, in 2008 Belarusian exports to Russia were up 19.2% to $10.585 billion and accounted for 32.2% of the total exports. Exports to the Netherlands increased by 30% to $5.559 billion (16.9% of the total amount). Exports to Ukraine were up 89.9% to $2.79 billion (8.5%).
In 2008, Belarus' foreign trade in goods reached $72.385 billion, up 36.7% over 2007. Belarus' exports rose by 35.5% to $32.902 billion, imports by 37.6% to $39.483 billion
From the International Press...
Swedes key to US-Belarus diplomatic thaw
From:
The Local
Urban Ahlin
Sweden has played a key roll in the release of Aleksander Kozulin, Belarusia's most prominent political prisoner.
The Swedes have also influenced US foreign policy towards the country, Svenska Dagbladet reports.
Last winter relations between Washington and Minsk had hit rock bottom. The Bush government had described Belarusian president Alexander Lukashenko as Europe's last dictator and diplomatic contacts between the two countries had been cut to a minimum.
US foreign secretary Condoleezza Rice then made contact with David Merkel, under-secretary of State for Europe, who recommended Swedish Social Democrat politician Urban Ahlin for the task of diplomatic go-between.
Ahlin had built up an extensive contact network in Belarus and worked with the support of the Swedish government.
Meanwhile within his own party, only leader Mona Sahlin is thought to have known about Ahlin's role in brokering a deal over Kozulin and easing relations between the USA and Belarus, a key Russian ally in Europe.
Hungarian ambassador describes bilateral relations as pragmatic
From:
Navany
The Hungarian ambassador to Belarus, Ferenc Kontra, described relations between the two countries as pragmatic and trust-based.
"Today, our countries have the best bilateral relations over the last 17 years," the ambassador said in an interview with BelaPAN.
Belarus and Hungary established diplomatic relations 17 years ago.
The ambassador said that trade between Belarus and Hungary had increased from $300 million in 2007 to almost $400 million in 2008, with the shares of imports and exports being approximately the same.
However, Mr. Kontra expressed fears that the global economic crisis could affect the trade growth this year.
He said that Hungary's effort to open its diplomatic office in Belarus had "crowned with success" only in 2008.
"After the embassy opened, we have managed to achieve quite fair figures in priority areas of our cooperation," he said. "Those are trade and economic ties, consular matters and a political dialogue between our countries."
Since the beginning of its operation in June 2008, the Hungarian embassy's consular office in Minsk issued more than 2,500 Schengen visas, with half of them given to tourists.
The embassy organized two events celebrating Hungarian culture, Mr. Kontra noted.
Belarus police to bus drunks to church
From:
Ria Novosti
- Police in the Belarusian capital of Minsk are to begin bussing drunks and other wayward elements of society to church to hear sermons, a police spokesperson said on Monday.
The scheme, to be launched by one of the capital's regional police departments, will also involve "negligent parents."
"The first run is planned for February 18," he said. "Right now police are continuing talks on transportation."
Earlier police gathered local "undesirables" in a theater for a prayer meeting with local priests.
Suspension of EU's travel sanctions is «no alms-deed», Belarusian foreign minister says
From:
Navany
The European Union's decision to suspend its travel sanctions against top Belarusian officials is "no alms-deed," Belarusian Foreign Minister Syarhey Martynaw said in an interview with the German newspaper Frankfurter Allgemeine Zeitung.
The minister said that the abolition of the sanctions was needed for closer economic ties, BelaPAN said.
"The European Union has a specific set of expectations, which we are making steps forward to. Reform of electoral regulations and respect for human rights are among them," Mr. Martynaw was quoted as saying.
"We do not need a velvet, or orange or any other revolution. Our country is developing in an evolutionary way. And neither the EU, nor the USA, nor anybody else can influence the development."
Mr. Martynaw reiterated that the "current changes" taking place in Belarus "are the response of our government to what our society needs."
"In the 1990s, our country needed a tough grip. Or else, we would have fallen victim to the chaos that followed the collapse of the Soviet Union," the minister said." Now, our society is ready for a new stage."
Mr. Martynaw denied that the non-recognition by Belarus of Georgia's breakaway regions South Ossetia and Abkhazia was among the European Union's demands.
"I have not heard about the existence of such a condition," the minister said. "Certainly, we are discussing the recognition issue. But none of our partners in talks with the EU has put forward this as an official precondition."
Minsk studies "very thoroughly" the situation in South Ossetia and Abkhazia. "The situation is difficult, which is why we have not yet decided whether we will recognize the republics," Mr. Martynaw
From the Opposition...
Valery Bulhakau: 'KGB substitutes ideology control bodies'
From:
Viasna
The editorial board of the Arche magazine has been called in evidence concerning the confiscated issues of the magazine, named 'extremist' by the KGB Brest regional department.
During an interview with www.euramost.org, Arche's editor-in-chief Valery Bulhakau said:
'Unless the decision of the court takes effect, we cannot state that Arche is an extremist magazine. As yet, this is nothing but an opinion by the KGB. We will see if the charges will be supported by the court. I hope that common sense will help the judges understand that the action is nonsense
KGB finds elements of extremism in Arche magazine articles
The KGB Brest Regional Department addressed Brest Regional Court with a letter concerning the 10 copies of the Arche magazine confiscated by the Belarusian customs officers in October 2008. According to the copy of the letter received by Arche's editorial board, issues #7 and #8 of 2008 of the magazine 'contain elements of extremist ideology', namely certain information 'injuring the reputation of the Belarusian state bodies, intensifying social and political tension, encouraging mass riots and therefore undermining the national security of Belarus' political sphere.'
The KGB demands that the confiscated editions be declared extremist and liable to destruction.
Court turns down claim by independent journalist
Minsk Maskouski Borough Court rejected the claim by the independent journalist Maryna Koktysh working with the Narodnaya volia newspaper, following the decision by the House of Representatives to deny accreditation to the reporter.
Having considered the claim, Judge Alena Rudnitskaya resolved to turn down the civil action due to 'the applicant's inability to appeal the decision.'
According to the Belarusian Association of Journalists' press-service, the newspaper is going to appeal the decision at Minsk City Court.
Housing question solved: the house burnt down, owner arrested
From:
Charter '97
A house in Dzerzhinsky Avenue that hindered metro construction, has been burnt today.
Unconverted actions by the builders became a reason of burning of the house, owned by Vasil Khadzkou, who protested against eviction without providing a separate apartment for him.
On February 17, Vasil Khadzkou locked inside the house and fired the stove. By smoke, he wanted to attract attention of the Minsk dwellers to his problem.
It should be reminded that due to construction of a metro line along Dzerzhinsky Avenue, Khadzkou was taken away a house and a land plot and given a two-room apartment instead. But this apartment will belong no only to Khadzkou, but also to his ex-wife and her 5-year old son. Vasil Khadzkou refused to move in and went to law. The court supported the city authorities and ordered to evict Vasil Khadzkou forcefully.
Militia officers and construction equipment gathered neat Khadzkou's house today. Vasil Khadzkou was forcefully pushed into a militia car and taken to the Maskouski district militia department of Minsk.
Operation of the house demolishing began. Syarhei Nyauroz, officer of "Metro Construction Direction", was responsible for the demolition. A giant Amkodor bulldozer ruined a half of the house, including the hot stove, radio Svaboda reports.
Some minutes later, ruins were burst into flame. Three firer trucks arrived to fight the fire, but Khadzkou's house burned down during some minutes. The fire brigade was in danger, as builders didn't remove the electric cable.
The Minsk dweller has recently been detained by militia for he refused to leave his house. A report was drawn up against Khadzkou for "disobedience to law enforcement officers".
Around the region...
Russia's Putin pays thousands for secret 'Abba' show
From:
The Local
Former Russian president and apparent avid Abba-fan Vladimir Putin paid Euro 20,000 ($29,000) to fly an Abba cover band from the UK to Russia to perform a private concert for him at a remote resort.
"It was the most bizarre gig I have ever done," said Jennifer Robb of the Bjorn Again Abba-cover band to the Daily Telegraph newspaper.
Plans for the concert, which took place on January 22nd at Lake Valdai resort, nine hours outside Moscow began taking shape sometime before Christmas when Bjorn Again founder Rod Stephens received a mysterious phone call.
"The voice on the end of the phone said, 'Kremlin... Russia... Moscow... we want your band'," he told the Telegraph.
But the call was no joke, and about a month later the band found itself on a plane bound for Moscow.
Security at the resort was extremely tight, recalled Robb.
"We arrived at a building which looked like a big stronghold with metal security gates. We had to put all our belongings through an X-ray machine," she said.
"At one point I went outside to get some fresh air and there was a man with a machine gun who said something in Russian and made it very clear that I wasn't allowed to wander anywhere on my own."
And instead of taking the stage in front of a concert hall full of fans, the band members found themselves playing to a room featuring three couches.
"The prime minister was wearing a tuxedo and bow tie. The others were all men and wearing tuxedos too," said Robb, adding that she suspected the audience members were likely security guards.
But the surreal atmosphere didn't stop Bjorn Again from putting on a show dazzling enough to move the usually stone-faced Prime Minister Putin to burst into song during the band's rendition of Honey Honey, according to Robb.
The band's set, which also included such hits as Waterloo, Money, Money, Money, Dancing Queen and Mamma Mia, apparently met Putin's expectations.
"At the end, the prime minister shouted 'bravo, bravo' and gave us great applause," said Robb.
Band founder Stephens initially thought Euro20,000 was a fair sum to earn for the private, hour-long show, but upon realizing the depth of Putin's love for Abba, he's having second thoughts.
"I wish I'd asked for twice as much now," he told the newspaper.
It's not the first time Abba has emerged as a favourite among international leaders and politicians - John McCain also recently admitted he was a fan and Queen Elizabeth has even been reported as owning a number of Abba records.
Russia's Oligarchs: Brother, Can You Spare a Dime?
From:
Businessweek
Roman Abramovich and his swimming coach
Oh, how are the mighty fallen. On February 16, the Russian financial magazine Finans published its annual list of Russia's richest businessmen. (A more famous list, by Forbes, is due out in April). The estimates by Finans reveal the devastating impact of the financial crisis on Russia's wealthy, many of whom have seen their fortunes drastically slashed. Since last year, the total number of Russian billionaires has also been halved, from 101 to 49.
And, it seems, the richer they come, the harder they fall. The most stunning collapse has been suffered by Oleg Deripaska, an aluminum and automotive tycoon who was until recently the richest man in Russia. A year ago Finans estimated Deripaska's wealth at $40 billion, but today the magazine puts it at a paltry $4.9 billion.
Deripaska, who has slipped to eighth place on the list, is now struggling to preserve his empire. He owes an estimated $20 billion in debts, at a time when the collapse of the Russian stock market has wiped out the value of his collateral. Adding to Deripaska's woes is a catastrophic collapse in car sales in Russia which has hammered Deripaska's automotive holding, GAZ Group.
For similar reasons, the crisis has also slashed the fortunes of several other well-known tycoons, among them banking, retail and oil magnate Mikhail Fridman, and metals and media baron Vladimir Potanin.
But two other tycoons appear to have weathered the crisis relatively well. Today, reckons Finans, Russia's richest man is Mikhail Prokhorov, with a fortune of $14.1 billion. Prokhorov, 43, was formerly a major shareholder of Norilsk Nickel, Russia's biggest mining company, but he sold his 25% stake in Norilsk last April, after disagreements with his long-time partner Potanin, bagging $8 billion in cash.
Prokhorov's sale of his major asset last year proved to be highly fortuitous. It meant that when the crisis hit, Prokhorov was sitting on a pile of cash, escaping the calamitous falls in the stock market that have decimated the wealth of most Russian tycoons. He has subsequently announced plans to invest in technology companies, and has also launched a life-style magazine and website called Snob . But perhaps luckily, these projects were still in their infancy when the crisis hit.
Roman Abramovich, the former oil tycoon who now owns English football club Chelsea, has also fared comparatively well. Like Prokhorov, he is also lucky to have bailed out when the going was good, selling his oil company Sibneft for $13 billion in 2005. Finans reckons that Abramovich is today Russia's second richest man, with some $13.9 billion.
But if history has taught us anything, it's that the position at the top of Russia's rich list is often an extremely precarious one. Ask not only Deripaska, but also Mikhail Khodrokovsky. The former owner of the oil company Yukos was also the richest man in Russia once, but he lost both his fortune and his liberty after he was arrested in 2003, and charged with fraud and tax evasion.
Ironically, the same day that Finans published its rich list, Russian prosecutors announced that they plan to bring new charges of theft and embezzlement against Khodorkovsky. The new charges potentially mean that Khodorkovsky, theoretically due for release in 2011, may instead spend many more years behind bars. Perhaps saddest of all is the minimal publicity that the new charges against Khodorkovsky attracted - a sad reminder that fame and fortune are fleeting.
In comparison to poor Khodorkovsky, even hard-up Deripaska must feel himself lucky
New charges against jailed Russian oil tycoon
In a
related story,
Prosecutors are filing new embezzlement and theft charges against jailed Russian oil tycoon Mikhail Khodorkovsky.
The Prosecutor General's office alleged in a statement Monday that Khodorkovsky schemed with a group of investors at his company Yukos to bilk a Siberian oil company of 3.6 billion rubles ($102 million).
Khodorkovsky was once Russia's richest man. He was convicted of fraud and tax evasion, and sentenced in 2005 to eight years in prison.
He is serving his sentence at a Siberian prison colony. A court in August rejected his request for parole.
His Yukos oil company was broken up and its main assets were sold to a state-controlled company in what was seen as the Kremlin's punishment for Khodorkovsky's political ambitions.
Ukraine's Output Falls By a Third
From:
Moscow Times
Ukrainian industrial output shrank by more than one-third in January compared with a year earlier, data showed Tuesday, the worst drop in more than a decade.
Output fell sharply year on year in January in everything but oil refining, data from the state statistics committee showed. In total, it fell 34.1 percent year on year and 16.1 percent month on month.
Ukraine has been hit hard by falling global demand and declining prices for steel, a key export, as well as a squeeze on lending and a weakened currency, which has destabilized the banking system.
Political turmoil has delayed anti-crisis measures and now threatens a $16.4 billion loan from the International Monetary Fund. The IMF failed to agree last week on disbursing a second, much-needed tranche.
The parliament on Tuesday accepted the resignation of Finance Minister Viktor Pynzenyk, a veteran economic reformer who quit after a protracted dispute with Prime Minister Yulia Tymoshenko over high budget spending and a deficit.
The planned budget shortfall would be in violation of the agreement with the IMF, which has stressed the need for strong crisis management. Uncertainty over the next tranche led Fitch to downgrade Ukraine's rating.
Chemical and petrochemical production shrank by almost 50 percent. Much of the industry ground to a halt last month when Russia cut gas supplies to Ukraine over a pricing dispute.
Machine building and mineral production both contracted by more than half, year on year.
Tens of thousands of workers have been put on unpaid leave by the industry, and many have taken out dollar-denominated loans to pay for cars and homes -- only to see their repayments soar as the hryvna weakened.
That, as well as deposit withdrawals, has shaken up the banking sector. Seven banks have been placed in receivership, including the country's fifth- and seventh-largest.
Ukraine threatens to expel Russian ambassador
From:
Kiev Post
Viktor Chernomyrdin
Ukraine summoned Russia's ambassador in Kiev on Tuesday and threatened to expel him for "undiplomatic" comments, the foreign ministry said.
Ambassador Viktor Chernomyrdin was rebuked for his statements about Ukraine, whose President Viktor Yushchenko has been at odds with Moscow on a number of issues including Kiev's desire to join NATO.
It did not specify an incident or which comments the ministry deemed "undiplomatic".
Ukraine has banned several Russian politicians from entry due to comments they made about the largely Russian-speaking Crimean region, once Russian but granted to Ukraine when it was still a Soviet State
From the Polish Scandal Files...
Polish helicopter crashes while on rescue mission
From:
The News
A helicopter from the Airport Rescue Service in Wroclaw, southwestern Poland, has crashed on Highway A-4 on its way to a crash site – two people were killed immediately and several more injured.
The helicopter, flying to the scene of an accident on the highway that included nine personal vehicles, heavy goods vehicles and buses, crashed before reaching the scene due to extreme weather conditions, including snowfall and heavy fog.
Krzysztof Gielska of the local fire services told Polish Radio Wroclaw that they have contact with one of the doctors who was in the helicopter the describes some of the injuries as "severe".
One of the doctors in the helicopter crash was able to telephone the Europe-wide emergency 112 number which has allowed rescue services to pinpoint the location of the crashed helicop
yet another cigarette smuggler detained
From:
The News
The Silesian Border Guard have found about 21,000 packets of cigarettes in the car of a man from Bielsko- Biala, southern Poland.
The 36 year old was detained after the border guards stopped his car for a routine check. His car turned out to be carrying cigarettes worth up to 120,000 zlotys (25,865 euros).
While checking the man's flat in a follow up investigation, officers came across a complete alcohol bottling line, as well as 2,600 litres of illegal spirits and forged Polish and Czech excise bands.
"This is the biggest case of trafficking in Silesia this year," said the spokesman for the Silesian Border Guard, Cezary Zaborski.
The man has been charged with trying to avoid paying excise taxes.
Last year the Silesian Border Guard in Zabnze seized illegal alcohol and cigarettes, worth about 4 million zloty (838,803 euros)
Zloty continues free fall
From:
Polskie radio
Poland's currency, the zloty, continued to depreciate against major currencies, Monday, losing 4 percent against the euro.
The zloty finished trading to the euro at 4.85. Many analysts expect the currency to weaken further as nervousness grows at the amount of debt mortgaged household in Poland have with weakened western banks.
For example, 60 percent of mortgages are held not in the zloty but in the Swiss franc. Investors were not made any more confident from remarks by head of the National Bank of Poland Tuesday, who, in a report released yesterday, said that though the benefits of adopting the euro generally outweigh negatives, joining the ERM-2 – which would tie the zloty to a fifteen percent corridor to the euro for at least two years – was "too risky" in present conditions.
Prime Minister Donald Tusk's cabinet will meet for an emergency session on the declining strength of the zloty, Tuesday, which is following other currencies in the region downward as western European investors balk at the fact that 84 percent of loans to Eastern Europe are held by vulnerable banks in Austria, Italy, France, Belgium, Germany and Sweden. Austria, alone, has lent 230 billion euros to the region, which is around 70 percent of the nation's GDP.
Tuesday morning the zloty was trading to the euro at 4.7687 and to the Swiss franc at 3.1967.
Sport...
Azarenka winner in first round in Memphis
From:
UPI
Second-seeded Victoria Azarenka was a first round winner Monday at the Regions Morgan Keegan Championship in Memphis.
Azarenka, of Belarus, defeated Varvara Lepchenko of the United States 6-2, 6-2.
Third-seeded Czech Lucie Safarova beat Britain's Melanie South 6-2, 6-2; fourth-seeded Anne Keothavong of England beat Italy's Maria Elena Camerin 3-6, 6-3, 6-1; sixth-seeded German Sabine Lisicki beat Russian Ekaterina Bychkova 6-3, 6-3; and Dutch qualifier Michaella Krajicek beat seventh-seeded Russian Alla Kudryavtseva 6-1, 6-4.
Eighth-seeded Pauline Parmentier defeated fellow Frenchwoman Julie Coin 7-6 (8-6), 4-6, 6-1.
Cultural scene...
RAINBOW BACK TOGETHER FOR BELARUS SHOW
From:
Contact Music
RAINBOW star RITCHIE BLACKMORE's son JURGEN took his father's place as band members performed as OVER THE RAINBOW for the first time in Belarus on St. Valentine's Day (14Feb09).
Former Rainbow musicians Joe Lynn Turner, Tony Carey, Bobby Rondinelli and Greg Smith joined Blackmore's boy for the sold out Palace of Sport show.
According to rock news website Blabbermouth.net, the band performed a string of Rainbow classics and finished the show with rousing versions of I Surrender, All Night Long and Since You Been Gone.
Frontman Turner recently told AntiMusic.com how the reunion came about: "I was sitting in Russia after a tour with a few promoters and what not and they were like, 'It would be great to have a Rainbow reunion... Do you think that'll ever happen?' I went, 'Well, you know, you're not going to get Ritchie... He's really happy doing what he's doing and so on.'
"So they said, 'Well who would you get?' And I said, 'It wouldn't work...' (but) then it hit me... I said, 'I think I have an idea... Blackmore's got a son.' And they went, 'You're kidding. Really?' Nobody knows that. Not many anyway... because he's German, half German. And his name is Jurgen Richard Blackmore. And he's been playing guitar for like 30 years, and he's great.
"I was in Germany, and I started to get this bug about it, and I called Jurgen and said, 'Look, can we meet for dinner?' I knew him when he was, like, 16, 17 and he would come to the shows... He was a kid.
"Anyway, I called and we had dinner and he loved the idea. So I said, 'Now once I got Jurgen in place here, I got Blackmore on guitar, now I can start lining up the other guys, and of course I wanted to try to represent the incarnations of Rainbow as best we could."
Turner immediately rules out Rainbow musicians with drug and alcohol abuse problems and set about putting the new Rainbow together.
He adds, "We've got friends and family and actually we call this a family project. That's how we refer to it in emails. It's really strange because we've all known each other for over 25 years
Note: But neither Blackmore nor Dio play with them?
Endnote...
As Economic Crisis Bites, Belarus's President Tries A Political Thaw
From:
RFE/RL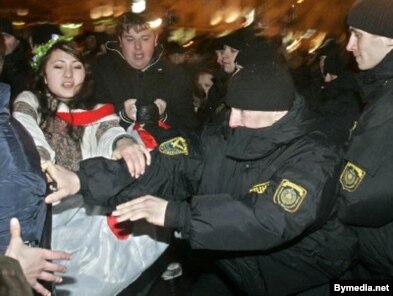 The Minsk authorities didn't demonstrate much love for the Youth Front on Valentine's Day.

They called it a "Demonstration of Love" on St. Valentine's Day. The purpose: To test whether authoritarian President Alyaksandr Lukashenka is serious about creating a new atmosphere of openness and tolerance in Belarus.
Activists from the opposition Youth Front gathered in Minsk dressed in festive costumes festooned with hearts and ribbons. They cheerfully greeted passersby and passed out carnations tied with red and white bands. They carried balloons and sang.
But the love only went so far. When the activists tried to march through the city center to Independence Square, they were violently dispersed by truncheon-wielding riot police who beat and clubbed them.
Opposition leaders say the Valentine's Day crackdown is a stark demonstration that recent moves by Lukashenka to liberalize Belarus have their limits -- and are motivated more by financial need than political awakening.
"What we have seen today shows the degree to which the authorities want to democratize our society," Youth Front leader Zmitser Dashkevich told RFE/RL's Belarus Service shortly after suffering a beating from police.
"This beautiful and peaceful celebration was broken up in such a brutal way. And this is taking place at the peak of the so-called period of dialogue and liberalization. We can only imagine what the self-styled dictator of Belarus will be doing after all [of his] financial and political games with the West are over."
The violence in Minsk came just days before a delegation from the Council of Europe's Parliamentary Assembly arrived in the capital for a four-day visit to assess Belarus's progress on democratization and human rights, a precondition for receiving badly needed assistance from the West.
In recent months, Belarus has released its last political prisoners, allowed the publication of opposition newspapers, created consultative councils that include members of the opposition, and made some cautious moves to liberalize the economy and relax controls on the online media.
At the same time, Lukashenka's regime has had a hard time letting go of some of its more traditional, repressive tactics. Opposition figures still face petty harassment and arbitrary arrests. Some youth leaders have also been detained and press-ganged into the armed forces. Critics describe the practice as politically motivated conscriptions.
Reform Schizophrenia
Belarus's economy is suffering due to declining demand for its exports to Russia -- leading to inventory stockpiles and unpaid workers. Belarus also devalued its ruble by 20 percent at the start of the year, partly to meet International Monetary Fund conditions set on a $2.5 billion loan. The move diminished the savings of much of the population.
Belarus's financial woes have coincided with a relaxation of social and political restrictions, as Lukashenka seeks to convince the West he is a willing and apt democratic partner.
But even as he courts the West, Lukashenka is far from abandoning Minsk's special relationship with Russia. Earlier this month, Minsk and Moscow inked an air-defense deal boosting military ties between the two countries. Russia has also pledged $2 billion in credits to Minsk, and Belarus is seeking an additional $2.7 billion in additional loans from Moscow.
Analysts say such schizophrenia is likely to continue as the regime seeks to balance its need for better relations with the West between its dependence on Moscow and its desire to hold onto power at home at all costs.
"This is a message to the opposition that, 'Yes we are taking some steps toward liberalization. But don't get any ideas that we are completely letting go of the reins. And don't get the idea that this liberalization will be absolute," says Yuri Drakakhrust, a political analyst with RFE/RL's Belarus Service.
Drakakhrust adds that, like all authoritarian rulers, Lukashenka "does not like to be seen as weak," and that recent mass protests in nearby European states over the mounting financial unrest have likely given him pause.
"The Belarusian authorities are looking around. In recent months we have seen a whole series of massive protests, in Athens, in Sofia during the Russian-Ukrainian gas crisis, in Riga, in Vilnius. If a few years ago we were talking about the spread of colored revolutions, then today we could be looking at a spread of rebellions and pogroms," Drakakhrust says, adding that Lukashenka seeks to send the message that despite the recent thaw, "the arm of the Belarusian state is still strong."
Belarus has already gained some concessions from the West. The European Union has suspended a travel ban against Lukashenka and other top officials, and will make a decision in April whether the move will be permanent.
Semblance Of Dialogue
Belarus is now seeking to join Armenia, Azerbaijan, Georgia, Moldova, and Ukraine and become a member of the European Union's Eastern Partnership program. The program would open the door to expanded economic assistance and could eventually lead to visa-free travel and free-trade agreements once certain criteria are met.
"At the moment, Belarus is not yet there because, indeed, there were lots of things missing on the democratic side. But for the other countries, in principle, the offer is there," EU External Relations Commissioner Benita Ferrero-Waldner told RFE/RL in a recent interview.
"But only when, really, all the things will have been done that we need to see -- like free media access, free assembly [will Belarus be ready]. There are many, many things that still are missing."
One of Lukashenka's showcase reforms has been the creation of consultative councils -- on media, human rights, and improving Belarus's international image -- that would allow the opposition to have its voice heard. The councils, according to Lukashenka's press service, are intended to "discuss current issues in the development of the country and society and to draft proposals to bring Belarus further into world processes."
Not surprisingly, Belarus's fractious opposition is divided over the councils
Opposition leader Alyaksandr Milinkevich's For Freedom movement has been asked to join the council, as has the liberal United Civic Party and the Belarusian Helsinki Committee.
The opposition Belarusian Popular Front, however, has refused to participate in the councils, criticizing them as a "semblance of a dialogue."
And in a recent speech, Lukashenka himself seemed to confirm the Popular Front's view. During a visit to an agricultural-machinery factory in Lida on February 10, Lukashenka made it clear that he had no intention of allowing the consultative councils to turn into a "parliamentary tribune" where the opposition can "shout and push their dirty ideas."
Guarded Optimism
Nevertheless, some rights activists remain optimistic.
"We can say that liberalization is taking place," says Aleh Hulyak, chairman of the Belarusian Helsinki Committee. "It can be seen in the sphere of economic and business regulation. This can also be seen in society as a whole. Because the pro-European rhetoric we can hear today was impossible a year ago or even six months ago."
The Organization for Security and Cooperation in Europe is also pushing Minsk to reform its election laws. Opposition groups are seeking greater limits on early voting, a source of vote fraud that is difficult to monitor. The opposition is also seeking greater access to media and representation on the electoral commissions.
Meanwhile, journalists have criticized a new media law requiring news outlets to re-register with the authorities. In what free-press advocates considered a major victory, however, online publications were exempted from the requirement.
The authorities are also trying to improve the business climate by easing the requirements to register enterprises. Entrepreneurs, however, complain that although registration has been eased, they still face petty harassment from authorities when operating their businesses.
Andrei Rikhter, director of the Moscow-based Center for Law and News Media, tells RFE/RL's Belarus Service that despite the back-and-forth nature of Lukashenka's moves, he expects Belarus to continue to gradually open up.
"This [liberalization] will happen sooner or later. The question is when?" Rikhter says. "There are indications of liberalization today and I think they will develop. This is the result of the fact that in recent months, and perhaps for the past year, Belarus is looking less to Moscow and more to the West."