Belarus,awards scientists, EU Troika, Ukraine cooperation; Gazprom, Taxes, Recognizing S.Ossetia, Opposition, Economics, Polish scandal and Sport
Belarusian President awards scientists from Russia, Ukraine and China
From:
BelTA
and
the Office of the President
Science in Belarus is a powerful intellectual industry which is aimed at addressing, first of all, practical issues, implementing the results of research and developments into production and education. There are 340 research organisations in Belarus and nearly 25,000 scientific workers, post graduate students and candidates for a doctor's degree. We are proud of this invaluable potential which we have managed not only to preserve since the Soviet times, but also build on it over the years of independence, said President of the Republic of Belarus Alexander Lukashenko at a meeting with representatives of the national and international scientific community
President of Belarus Alexander Lukashenko conferred state awards on the scientists from Russia, Ukraine and China who have made a great contribution to the development of cooperation with Belarusian scientific establishments, BelTA reports.
Presenting the award to Zhores Alferov, the Nobel Prize Winner, Vice-President of the Russian Academy of Sciences, the President stressed his enormous contribution to the development of scientific relations between Russia and Belarus and promotion of all-round cooperation and unity between the two countries.
Alexander Lukashenko expressed his profound gratitude to Academician Boris Paton, President of the National Academy of Sciences of Ukraine. "Thanks to your inexhaustible energy and good attitude towards our country, we have been fruitfully cooperating in the creation of up-to-date metals and technologies", the Belarusian President said.
For the great contribution to the development of joint Belarusian-Russian knowledge-intensive production, the award was presented to Academician Valentin Parmon, Director General of the Unified Catalysis Institute of the Siberian Office of the Russian Academy of Sciences.
The President conferred the state award on Li Haijian, President of the Shandong Academy of Sciences of the People's Republic of China, for his considerable contribution to expanding the strategic partnership in science and technology between Belarus and China.
Alexander Lukashenko praises efficiency of scientific activities in Belarus
The efficiency of the scientific activities in Belarus has been rising, President of Belarus Alexander Lukashenko said while meeting with representatives of the national and international scientific community on January 23, BelTA has learnt.
Alexander Lukashenko noted with satisfaction that the research is now more oriented to the needs of industry and other sectors of the economy.
"Scientific recommendations have underlain the most important national programmes of the last decade: the programmes on nuclear energy (its pinnacle will be the construction of a nuclear power plant), space, development of rural areas, small and medium-sized towns, resource-saving technologies," the Head of State stressed.
The President said that the foundation to secure the transit to the knowledge economy has been laid down in the national innovation development programme of the Republic of Belarus. According to the document, more than 100 new companies will be created, over 600 companies will be upgraded and around 400 up-to-date productions will be set up.
The Head of State also added that Belarus is proud of the invaluable scientific potential that has been multiplied during the years of independence. Alexander Lukashenko said that no strategic decision in Belarus is taken without the consultations with scientists and this attests to the increasing public status of science in the country. The Academy of Sciences has become an intellectual and expertise centre which plays an important role in identifying the areas of the country's development, the core of the modern system of generation of knowledge and innovation, the Belarusian leader is confident.
Alexander Lukashenko: Belarus' major scientific areas are solar energy and space
Implementation of biotechnologies, development of nanomaterials and elements of solar power engineering, designing information and aerospace technologies are considered to be the most important scientific activities in Belarus, Head of State Alexander Lukashenko said as he met with the members of the national and international scientific community, BelTA informs.
The President is confident that only unified efforts, creative and technological potential of the Belarusian and foreign scientists can become the key to settling the problems of the mankind.
The National Academy of Sciences of Belarus (NASB) is currently cooperating with scientific centres from 40 countries.
In particular, NASB and the Russian Academy of Sciences have been developing a multi-functional new generation satellite system. NASB has been long cooperating with the National Academy of Sciences of Ukraine. Belarusian scientists have established useful contacts with the academic organisations of all CIS countries, scientific centres of China, France, Germany and the USA.
Alexander Lukashenko has stressed that the joint projects are directly related to the most essential sectors of the world economy. As for the international projects, the national scientists have been working on the problems of destruction of dangerous chemical substances with the help of low-temperature plasma. "It will greatly reduce the risk of contamination with dangerous chemical substances in European and other countries," the President said.
NASB leading in many priority research areas, Alexander Lukashenko says
Belarusian Head of State Alexander Lukashenko has congratulated the personnel of the National Academy of Sciences of Belarus (NASB) on the 80th anniversary of the organisation, the presidential press service told BelTA.
"The Academy has turned into a large intellectual and humanitarian centre, contributed greatly to the development of the national economy, science and culture. It has given Belarus a pleiad of eminent scientists who glorified the country," the message of congratulations says.
Alexander Lukashenko has stressed that today the Academy is leading in many priority research areas, establishing closer connection between science and production. "We are proud of the achievements of the Belarusian scientists, appreciate their professionalism, creative energy and adherence to their mission," the President said.
Other Belarusian News...
Sergei Martynov to meet with EU Troika in Brussels
From: BelTA
Sergei Martynov
Foreign Minister of Belarus Sergei Martynov will visit Brussels on January 26-28 on the invitation of the Czech presidency in the EU, BelTA has learnt from the Belarusian foreign political department.
The Foreign Minister of Belarus will meet with the EU Troika at the level of the foreign ministers. Taking part in the meeting will be the Foreign Ministers of the Czech Republic (current presidency) and Sweden (next presidency), top-ranking officials of the European Commission and General Secretariat of the Council of the European Union.
The state and prospects of the Belarus-EU dialogue will be high on the agenda of the meeting.
OSCE/ODIHR delegation to visit Belarus January 22-23
A delegation of OSCE/ODIHR led by ODIHR Director Janez Lenarcic is to visit Belarus to discuss the recommendations of the OSCE/ODIHR Election Observation Mission that monitored the Belarusian parliamentary elections in 2008. The visit is scheduled for January 22-23, BelTA learnt from the press service of the Belarusian Foreign Ministry.
The ODIHR Director is to hold official meetings at the Presidential Administration, Central Election Commission, Foreign Ministry, National Centre of Legislation and Legal Research.
The visit is aimed at discussing the ways to improve the election legislation of the Republic of Belarus and its application.
Erkki Tuomioja: Finland hopes for democracy progress to be maintained in Belarus
Finland hopes Belarus will maintain its democracy progress, Chairman of the Grand Committee of the Finnish Parliament Erkki Tuomioja said on January 20 as he met with Chairman of the Council of the Republic of the National Assembly of Belarus Boris Batura.
Erkki Tuomioja believes that in the course of the negotiations between Finnish and Belarusian parliamentarians, the Finnish party will make sure the European Union and the OSCE took proper account of all comments concerning democracy in Belarus.
Grigory Vasilevich: possible abolition of capital punishment as Belarus joins Council of Europe
Belarus can abolish the death penalty in its pursuit to join the Council of Europe, Prosecutor General of Belarus Grigory Vasilevich told a press conference on January 21, BelTA informs.
"If we are moving towards joining the Council of Europe, we should stick to the rules of this organisation. When in Rome, do as the Romans do," Grigory Vasilevich said.
The Prosecutor General stressed that a small number of such sentences were passed in Belarus in 2008.
Belarusian Women's Union, National Women's Union of Ukraine sign cooperation agreement
From: BelTA
Kiev, Ukraine
The public association Belarusian Women's Union (BWU) and the National Women's Union of Ukraine have signed a cooperation agreement. The agreement provides for sharing practices and realization of joint humanitarian projects that are aimed at protecting women's and children's rights, BelTA learnt from BWU representatives.
"Each party has accumulated a great experience in social sphere, in ensuring gender equality, in liquidation of all forms of discrimination against women," said Antonina Morova, Co-chairman of the Belarusian Women's Union. "These facts were confirmed during the recent visit of our delegation to Kiev where the main parts of this agreement were developed. We should unite our efforts to respond to challenges of the time".
It is already the seventh international cooperation agreement between non-governmental women's organizations. The previous ones have been signed with Russia, Lithuania, the People's Republic of China, the Democratic People's Republic of Korea, Vietnam, and Syria.
Belarusian, Ukrainian justice ministries to sign forensic examination agreement
The Belarusian and Ukrainian justice ministries will sign an agreement on cooperation in forensic examination. The documents are supposed to be signed when Belarus Justice Minister Viktor Golovanov visits Ukraine on January 23, the ministry told BelTA.
The agreement will facilitate the scientific cooperation regarding problems and prospects of forensic examination development and the sharing of expert practices. The main avenues of cooperation are information sharing about scientific researches and new scientific, methodical and reference books about forensic examination; mutual aid in scientific and expert activities; personnel training and professional development through education, internships, joint seminars and courses on new forensic examination methods.
The document is supposed to make forensic examination cooperation of Belarusian and Ukrainian specialists more effective, to enhance partnership and friendly relations between the justice ministries of the two states.
During the forthcoming visit the sides are expected to discuss further development of the bilateral cooperation in the legal sphere and practical cooperation of the two justice ministries.
Belarus President grants 98 talented young scientists scholarships
From: BelTA
On January 23, President of Belarus Alexander Lukashenko signed a directive to grant talented young scientists the scholarships of the President of the Republic of Belarus for 2009, BelTA learnt from the presidential press service.
98 people became scholarship holders.
The scientists awarded the scholarships are leaders of the Belarusian science capable of identifying and meeting complicated scientific challenges. They have carried out a great amount of research in the vital areas of the country's life. The results of this research are of great use for the productive sector of the economy.
The decision taken by the President attests to the sustained state support of the young scientists, the press service of the Belarusian leader underlined.
97 postgraduates receive scholarship of Belarusian President
Scholarships of the President of the Republic of Belarus were assigned to 97 postgraduate students studying at state educational institutions. The relevant directive was signed by President of Belarus Alexander Lukashenko on January 23, BelTA learnt from the presidential press service.
The scholarship holders include 34 postgraduates researching in mathematics and engineering sciences, 33 in social and humanitarian sciences, 10 in biological sciences, 14 in medical and pharmaceutical sciences, 2 in chemical and 4 in agricultural and veterinary sciences.
"The postgraduate students who will receive the scholarships have already achieved significant results," the presidential press service said.
This directive is another step demonstrating the paramount importance attached by the state to the development of science and support of young and promising specialists.
Russian gas average price for Belarus to make up $148 per 1,000 cubic metres
From: BelTA
In 2009, Belarus is likely to pay an average price for Russian gas at the level of $148 per 1,000 cubic metres, Deputy Prime Minister of Belarus Andrei Kobyakov told a press conference on January 23, BelTA informs.
According to Andrei Kobyakov, gas pricing in Belarus goes under the market formula that depends on the prices for oil products which, in turn, are closely linked to the oil prices. "We have drawn up an average annual forecast and arrived to a conclusion that, taking into account the forecast parameters for oil prices of not more than $50 a barrel, we can expect the gas price for the Belarusian economic agents to be $175 in 2009," he said.
According to Andrei Kobyakov, the economic agents are facing difficult time and additional burden for them as the growing prices for energy is unnecessary. The Vice Premier said: "Understanding all the aforesaid, we have not revised the prices for electric energy in the foreign currency".
Russia to transfer second $1bn tranche of stabilization loan to Belarus in February
The Russian side has confirmed its readiness to grant Belarus the second $1 billion tranche of the stabilization loan in February, Vice-Premier of Belarus Andrei Kobyakov told a press conference on January 23, BelTA has learnt.
"Yesterday Alexei Kudrin and I discussed the preparation of the relevant loan agreement to transfer the second one billion dollar tranche to Belarus in February. Our partners have confirmed their intention to continue our cooperation," Andrei Kobyakov said.
Talking about the efforts of the government and the National Bank to create the so-called "safety cushion" to boost the gold and foreign exchange reserves of the country, Andrei Kobyakov reminded that in November 2008, Belarus received the first $1 billion tranche of the Russian loan, in January the International Monetary Fund transferred $800 million to Belarus.
Apart from that, Belarus continues its fruitful cooperation with other foreign financial institutions to add external borrowing to domestic resources to ensure the growth of the national economy. A memorandum of cooperation has recently been signed between the Belarusian government and Russia's Vnesheconombank to implement a series of joint projects. A similar memorandum will be signed with Russia's Sberbank. An extended delegation of France's Societe Generale Bank is expected in Belarus in the near future.
A reminder, Russia's state loan will be extended to Belarus for 15 years at LIBOR+3% with a five-year deferment on the principal debt. The funds will be transferred in two tranches. $1 billion was given in 2008, another $1 billion will be transferred in 2009.
On January 12, 2009, the Executive Board of the International Monetary Fund approved a 15-month Stand-By Arrangement for $2.46 billion for Belarus. The first tranche of the IMF loan at the amount of $787.9 million was transferred to Belarus in mid January.
Economics...
Belarus simplifies taxation system
From: BelTA
President of Belarus Alexander Lukashenko signed Decree No 53 to simplify the Belarusian taxation system on January 23, BelTA learnt from the presidential press service.
The document invalidates some decrees and ordinances stipulated in the law introducing amendments and addenda to some taxation laws of the Republic of Belarus of November 13, 2008.
As this law brings the corporate profits from conversion (redemption) of securities in the general system of profit taxation, this decree invalidates Decree No 43 on taxation of profits gained in individual areas of operation of December 23, 1999.
This Decree amends Decree No 293 "On Measures to Reinforce the Internal Control in the Republic of Belarus" of May 25, 2000 and Decree No 398 "On Adoption of Expense Standards for Advertising, Marketing, Consulting and Information Services, Representation Purposes, Personnel Training" of June 15, 2006 which abolished expense standards for auditing and personnel training. This is aimed at simplifying the calculation of profit taxes and removing bureaucratic barriers.
The Decree comes into force on January 1, 2009.
Assets of Belarusian banks up 52% in 2008
As of January 1, 2009 the assets of the Belarusian banks amounted to more than Br63.38 trillion, up 52% from January 1, 2008. Last year, the growth rate of the banks' assets significantly exceeded the projections (33-37%), BelTA learnt from Sergei Dubkov, member of the Board of Directors of the National Bank, Head of the Central Banking Supervision Department.
The earning assets make up Br60.2 trillion or 89.8% of net assets. Their share in the total volume of banks' assets rose by 1.4 percentage points in 2008 which attests to the better quality of the assets of the Belarusian banks.
The corporate loans account for 54.3% of the total banks' assets, household loans 20.1%, loans for governmental bodies 9.9%, for banks 3%, for the National Bank 5.55%, for non-residents 4.45%, others 2.7%.
As of January 1, 2009, the indebtedness of customers and banks amounted to Br50.3 trillion, up 55.7% from 2008.
According to the National Bank, the bad loans of customers and banks accounted for 0.6% instead of 0.7% of the total loans in 2008. A reminder, in line with the 2008 National Bank recommendations, the troubled assets of the banks were not to exceed 2%.
Capital adequacy of Belarus' banks at 2.8% in early 2009
As of the beginning of 2009, capital adequacy of Belarus' banks was at 2.8%. This is 2.7 times up over the minimum requirement, Pavel Kallaur, First Deputy Chairman of the Board of the National Bank of Belarus, told reporters on January 23, BelTA reports.
The Belarusian banking system is stable, Pavel Kallaur said. However, after the devaluation of the national currency in early 2009, the authorized funds of some banks have reduced and are now below the minimum requirement. The minimum authorized fund requirement is set in euros.
Pavel Kallaur has informed, these banks will be provided with a possibility to build up their authorized funds to the necessary level within a definite period of time.
Belarus' industry should seize new market opportunities
From: BelTA
The Belarusian industry should make use of the new opportunities that emerged on the market following the global financial crisis, said Prime Minister of Belarus Sergei Sidorsky at he visited Belorusskie Oboi company in Minsk on January 23, BelTA has learnt.
The Belarusian head of government noted that "we should produce as much as we can sell, and today we can sell more than before."
Being a small country with export-oriented economy, Belarus should realize its advantageous position in the conditions of the global financial crisis. "While enterprises are being shut down in other countries, we can and should take advantage of this situation," Sergei Sidorsky said. An aggressive export strategy is essential here. The companies should have a reliable distribution network abroad, including their own one with 100% of the Belarusian capital. The domestic market should not be neglected, either. After our foreign suppliers went bankrupt, our manufacturers have an opportunity to fill this niche, the Belarusian Premier underlined.
The import-substituting objectives can be achieved the same way. While visiting the Belorusskie Oboi company, the Prime Minister demanded the supplies to the domestic market increase. In 2008, the wallpaper worth of $30 million was supplied to the Belarusian market. The domestically manufactured products should compete for a greater market share, offering a wide choice of products. As of today, according to Sergei Sidorsky, the domestic producers "do not trade on the national market", they are being ousted by foreign companies.
The expansion of the Belarusian own distribution network is essential to boost the exports. "What matters most is to make sure that we have our own offices abroad and that they sell our products. In this case the payoff will come in due time," the Premier said. According to him, "if we develop a good production strategy, we will be able to market the necessary quantity of our products abroad." If Belarusian enterprises do it now and advance their brands on the foreign market, it will be hard to force them out of their.
The manufacturers should not use the crisis to justify their failure to sell products. "It means you work incorrectly, an enterprise has no strategy, and the export is not diversified: if you fail somewhere, you should try another niche. There should be many niches like that, it will ensure the competition," Sergei Sidorsky said.
The Belarusian head of government underlined that this work should be done quickly, within Q1.
From the International Press...
Russia says "not considering" $3 bln loan to Belarus
From:
Guardian
Russia is not interested in lending Belarus 100 billion roubles ($3.05 billion) as part of a move to carry out bilateral trade in roubles, Deputy Finance Minister Dmitry Pankin said late on Friday.
Interfax news agency earlier this week quoted a Belarussian source as saying Belarus had asked Russia for a 100 billion rouble loan as a pre-condition for switching to Russian roubles in bilateral trade.
That would be in addition to a $2 billion stabilisation loan from Russia agreed by the two countries last year.
Russia is Belarus' largest trading partner.
Asked about the request from Belarus for the new loan, Pankin told reporters in a briefing:
"They had the figure of 100 billion (roubles) in the letter -- we are not considering it."
The comments were embargoed for release on Saturday.
Russia is seeking to turn its rouble into a regional reserve currency as one way of combatting volatility brought on by its dependence on world oil prices and, as a result, the dollar.
Belarus, which accounts for almost 5 percent of Russian exports, devalued its rouble by 20 percent on Jan. 1, partly to meet IMF conditions set on a $2.5 billion loan and also to catch up with a slide for the Russian rouble.
Earlier the Belarussian central bank switched to the dollar peg from a previous Russian rouble link. It has talked of fixing the domestic currency to a basket of the dollar, euro and the Russian rouble some time this year.
The source told Interfax Belarus needed the Russian loan to have enough roubles inside the country to guarantee timely payments for Russian imports. The source said only a small part of the $3.6 billion forex reserves was kept in roubles.
Discussions over a monetary union between Russia and Belarus began in Sept. 1993, shortly after the break-up of the rouble zone. But talks stalled as Russian reforms advanced and Belarus' economy stayed along Soviet-era command lines.
Belarus to consider recognizing S.Ossetia, Abkhazia on April 2
From:
Ria Novosti
and
Georgian Times
The Belarusian parliament will consider recognizing the independence of South Ossetia and Abkhazia on April 2, a senior Belarusian lawmaker said on Thursday.
"The issue is being discussed among members of the House of Representatives. The [final] decision will be made at a plenary session on April 2," said Valery Ivanov, deputy speaker of the lower house of parliament.
Russia recognized South Ossetia and Abkhazia as independent states on August 26 last year, two weeks after the end of a five-day military conflict which began when Georgian forces launched an attack on South Ossetia in order to bring the rebel province under central control.
Only Nicaragua has so far followed suit.
Belarusian President Alexander Lukashenko earlier said that if parliament recognized the rebel republics' independence, he would "sign the appropriate document."
Abkhazia and South Ossetia split from Georgia in the early 1990s, and most residents of both republics have had Russian citizenship for a number of years.
Georgia accuses Russia of blackmailing Belarus
In a
related story,
Georgian lawmakers accuse Russia of blackmailing Belarus. The parliament of the country has announced that it will consider the recognition of Abkhazia and South Ossetia independence from Georgia soon. The issue is on the agenda on April 2.
Russia has been forcing Belarus to recognize Georgia`s breakaway regions since they were recognized by the Russian Federation.
Georgian MPs say it is an open blackmail and the Belarus should evade taking such a decision if the country wants to integrate into the European community.
`This country is under serious pressure and blackmail from Russia and if this country wants to join the international society and accept new western values, they should refuse to take such a decision,` Petre Tsiskarishvili, the leader of the parliamentary majority says.
Belarus forex reserves fall in Jan despite IMF loan
From:
Forbes
Belarus's foreign exchange reserves fell $100 million since Jan. 1 despite receiving $788 million as part of an IMF loan, an official said on Friday, indicating the central bank had spent almost $900 million on propping up its currency.
Belarus devalued its rouble by 20 percent on Jan. 1, partly to meet IMF conditions set on a $2.5 billion loan. It also cut salaries in the state sector, budget expenditure and raised rates for communal services and raised the refinancing rate.
Officials say they sought the IMF loan to create a cushion against the impact of the global financial crisis. While Russia and Ukraine have been suffering since September, Belarus's largely state-controlled economy had fared well.
There are now clear signs, however, that the crisis has hit Belarus -- officials expect zero percent economic growth in January against 8.3 percent growth a year ago.
The rouble has been under pressure despite the IMF loan because its exports have slumped. Prices for potash, of which Belarus is one of the largest exporters in the world, have dropped from historic highs.
The currency's rate was set at 2,695 per dollar for Friday, weaker than the original devaluation to 2,650/$ from 2,200/$.
'Taking into account the credit that was received, reserves now have been reduced by $100 million in comparison to Jan. 1,' Deputy Central Bank Chairman Pavel Kallaur told a news conference.
Top Belarus opposition websites attacked
From:
M&C
The websites of Belarus' top two opposition political parties were shut down Friday after attacks by hackers, party officials said.
The websites for the Party of the Belarusian People's Front (PBPF) and the For Freedom! group stopped working in the early morning, said Anatoly Lebedko, an opposition spokesman.
The Internet and web-published news are one of the few sources of of independent information in authoritarian Belarus. For Freedom! is an umbrella organisation headed by Belarus' leading anti-government activist, Aleksander Milinkevich.
'We are absolutely sure that the break-down of the sites took place with the cooperation of the authorities,' Lebedko said. 'They are trying to frighten us.'
Belarusian President Aleksander Lukashenko in December announced plans to 're-register' all media operating in the former Soviet republic.
An official at Lukashenko's office, contacted for comment, denied any link between the Internet problems experienced by the two opposition groups, and acts of the Belarusian state.
Belarus' new media registration programme, set to begin on February 8, is aimed at removing completely access for average Belarusians to unbiased news and information, Lebedko charged.
A former collective farm boss, Lukashenko enjoys total control over state media, and uses a powerful uniformed and secret police force to repress dissent.
The registration programme is necessary to push irresponsible reporting out of the media, and to raise the tone of Belarusian news reports, Lukashenko said in early January remarks.
From the Opposition...
Gold and foreign currency reserves of Belarus decreased by $900 mln over 3 weeks
From:
Charter '97
It has been admitted by officials of the national Bank of Belarus.
According to figures, announced by the first deputy chairman of the National Bank management Pavel Kallaur, gold and foreign currency reserves of Belarus have decreased by about $900 mln since the beginning of 2009.
As we have informed, on January 14 Belarus received the first tranche of the International Monetary Fund loan equal to $788 mln. This money has been credited to gold and foreign currency reserves of the country and used for support of the national currency exchange rate.
As explained by Pavel Kallaur, gold and foreign currency reserves have changed over January because this month is characterized by lower economic activities, and decreased currency earnings. "All this adds extra demand at currency market and decrease of gold and foreign currency reserves volume," P. Kallaur noted.
Thus, the deputy chairman of the National Bank noted that considering the foreign loans, the volume of gold and foreign currency reserves "basically, remains the same as in the beginning of the year".
As of January 1, 2009, the volume of gold and foreign reserves of Belarus was $3 billion 61.1 mln as compared to $4 billion 182.2 mln in the beginning of January 2008.
Over the last year international reserve assets (gold and currency reserves) of Belarus evaluated according to the IMF standards, decreased by $1 billion 121.1 mln (26.8%), which includes $714.3 mln fall over December 2008.
Around the region...
New talks needed on Russia gas deal: Ukraine aide
From:
Reuters
Ukraine should start talks with Russia by the summer to alter the agreement clinched this week on restoring gas flows to Europe, President Viktor Yushchenko's top economic aide said on Friday.
Oleksander Shlapak's call for further talks followed the postponement of a meeting of top leaders to discuss the deal negotiated by Prime Minister Yulia Tymoshenko.
He said the meeting of the National Security and Defence Council could be rescheduled for next Friday.
"The agreement is signed and is valid under international law and we must implement it," Shlapak told a news conference.
"I believe the Ukrainian side must again carefully analyse this agreement ... work out proposals to the Russian side on altering this agreement and begin consultations no later than this summer.
This week's deal restored flows to Ukraine and to hundreds of thousands of central European residents dependent on Russian gas for heating.
Russia ready to cooperate with US on Afghanistan
From:
AP
President Dmitry Medvedev said Friday that Moscow is ready to help stabilize the situation in Afghanistan by allowing the United States and others to cross Russian territory with cargo intended for coalition forces in the war-wracked nation.
Medvedev said that Russia also is prepared to help international efforts to combat drug-trafficking and terrorism in Afghanistan.
During his visit Friday to Afghanistan's neighbor Uzbekistan, Medvedev voiced hope that Barack Obama's administration will do better than its predecessors in stabilizing Afghanistan.
"Let's hope the new U.S. administration will be more successful than the previous one in dealing with the Afghan settlement," Medvedev said on television.
Medvedev's comments appeared to reflect the Kremlin's wish to mend ties with Washington, which deteriorated under the administration of George W. Bush.
U.S. State Department spokesman Robert Wood welcomed Medvedev's comments.
"We certainly look forward to working with Russia on Afghanistan," he said. "It's in both of our countries' interest to try to stabilize the situation in Afghanistan and bring about, you know, more economic development and security in the country."
U.S. and NATO forces in Afghanistan get up to 75 percent of "non-lethal" supplies such as food, fuel and building materials from shipments that cross Pakistan, where they have been increasingly targeted by Islamic militants.
U.S. Central Command chief Gen. David Petraeus said Tuesday that America had struck deals with Russia and several Central Asian states close to or bordering Afghanistan during a tour of the region in the past week.
Petraeus gave few details, but NATO and U.S. officials have said recently they were close to securing transit agreements with Russia and the patchwork of Central Asia states to the north of Afghanistan.
"We are ready to work on the most acute issues, (such as) ... deliveries of nonmilitary cargo," Medvedev said. He added that cooperation with the United States must be "full-fledged and equal."
Russia to help Cuba with oil projects
From:
AP
Castro and Khrushchev
Leading Russian oil companies pledged to help Cubapetroleo with prospecting, production, refining and other aspects of the oil industry under an agreement signed in Moscow on Friday before Cuban President Raul Castro's visit next week, Russian news agencies reported.
The memorandum of understanding calls for cooperation on activities "from geological work to drilling, refining and sales" of oil, ITAR-Tass and Interfax quoted Deputy Prime Minister Igor Sechin, a point man for the economic side of Russia's renewed push for influence in Latin America, as saying.
He said contracts for the development of Cuba's oil industry would be drafted, and specified that "there are good prospects for the development of sea terminals," the reports said. He said Russians will train Cubans for oil industry work, according to Interfax.
The memorandum was signed by representatives of Cubapetroleo and a Russian consortium comprising Gazprom Neft, TNK-BP, Zarubezhneft, Rosneft and Surgutneftegaz, Sechin said.
He said the agreement does not bar individual Russian and Cuban oil companies from working together, and that companies from other Latin American countries could also cooperate.
The Soviet Union provided billions of dollars in trade and annual subsidies to its Communist ally Cuba before the 1991 Soviet collapse. The Kremlin has moved to rebuild old ties with Cuba and Nicaragua, and cultivate new friends such as Venezuela, to flex its muscles close to the United States.
On Thursday, ITAR-Tass quoted Raul Castro as saying in an interview that Russia and Cuba enjoy "wonderful relations" again, after a pause in the 1990s.
Russian officials had announced that Castro would visit Russian in late January, and Sechin said Friday that the main meetings during his visit will take place Jan. 30.
Russian President Dmitry Medvedev wrapped up a Latin American tour in November in Cuba, where he met with Castro and his brother, the longtime leader Fidel Castro.
Russia sent a navy squadron to the Caribbean, with warships making port calls in several countries including Cuba.
Sechin said Russia and Cuba would continue their "military-technical cooperation," meaning weapons trade and training, but he gave no details, the reports said.
From the Polish Scandal Files...
New justice minister nominated
From:
Poland PL
Andrzej Czuma
Andrzej Czuma has been nominated to the post of Poland's justice minister. He replaces Zbigniew Cwiakalski dismissed in the scandal surrounding prison suicides committed by main convicts in a kidnapping case.
Czuma said his greatest challenge would be to increase the sense of public security among society. Clearing up the case of the kidnapping and murder of Krzysztof Olewnik and the following controversies would be his priority, he said: 'It will be my priority to look very closely into the work of law enforcement services, in order to wipe out all kinds of weird mafia-type groups there, the ties between politicians and bandits. In order to undertake effective tasks, you have to take a very close look at all that.'
Czuma's appointment by the PM still needs approval of the President. According to minister Michal Kaminski from the President's Office, given the candidate's impeccable record, this should only be a formality.
Andrzej Czuma, 70 years old, is an MP of the ruling Civic Platform (PO) and former activist of the democratic opposition in the communist period. He was imprisoned for 7 years by the regime for organizing the Movement In Defense Of Civic and Human Rights. He was also a regional Solidarity advisor after August 1980. Interned during martial law till December 1982, Czuma emigrated to the United States in 1986 not returning to Poland till 2005. Andrzej Czuma has been merited with Poland's highest state distinctions for his pro-democratic activity.
Polish MP finds provocative remarks costly
From:
FT
Janusz Palikot
Poland has at least temporarily lost its political clown prince, MP Janusz Palikot, who horrified and amused Poles with his provocative news conferences and his inflammatory blog, but who performed useful work as the head of a parliamentary commission aimed at slashing the red tape constricting the country's economy.
Mr Palikot resigned on Tuesday as head of the commission after causing yet another scandal that the ruling Civic Platform party could not ignore.
In recent days he had accused Grazyna Gesicka, the former minister of regional development, of politically "prostituting herself" for questioning the government's statistics in applying for EU funds. More seriously, he suggested that Jaroslaw Kaczynski, the head of the right-wing opposition Law and Justice party, may be gay.
Those were the latest in a long series of provocations which had turned the floppy-haired Mr Palikot into one of Poland's most recognisable politicians. Earlier he had wondered whether Lech Kaczynski, the president and twin brother of the opposition leader, had a problem with alcohol. He had also held a news conference during which he waved around a pistol and a vibrator, accusing police of rape.
His outbursts had been tolerated because of his work on the commission. The former liquor magnate attacked Poland's many ridiculous laws and regulations with a vengeance, and was strongly supported by business. Donald Tusk, the prime minister, has made battling red tape one of the centrepieces of his government, and Mr Palikot was the project's most visible face.
In its first year the commission pushed through many changes in tax law that made it more difficult for tax authorities to needlessly harass business, and automatically converted farmland within city boundaries into building land.
But a visibly angry Mr Tusk had evidently had enough of the problems generated by Mr Palikot.
The chastened MP, who will now be the deputy head of the commission, told reporters on Tuesday that giving up his post, "Made me feel like I was dying."
Polish woman from Hickory Hills indicted in murder of her husband
From:
South Town Star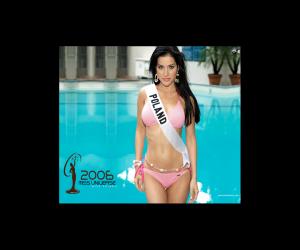 Miss Poland
As his sister-in-law sits in a Cook County Jail cell accused of murdering his brother, Karl Fabian can't help thinking about how the tragedy could have been avoided.
"She isolated my brother from the rest of the family," Karl Fabian said Friday of Maria Fabian. "She completely dominated him.
"My brother stayed in that house for his son," he said. "But he was afraid of her. He had told me on several occasions that she was capable of murder.
"She is pure evil."
Maria Fabian, 52, was indicted Thursday on six counts of first-degree murder in the fatal shooting of her husband Michael, 70, inside the couple's Hickory Hills home Jan. 5.
Michael Fabian suffered from a respiratory condition that required him to use oxygen, police said.
Married 18 years, Fabian told police she shot her husband while he slept in the couple's bed, police said.
She used one of the 17 handguns her husband owned and kept locked in a safe, police said.
Her husband was shot once in the back and a second time in the chest, prosecutors said.
Married four times, Maria Fabian told police she grew frustrated with having to care for an ailing husband, police said.
Karl Fabian said his brother "wasn't dying fast enough for her."
"She had blown through several hundred thousand dollars of his money in the last two years, and she knew he was going to find out about it," he said. "It was always a control thing with her. She controlled everything."
Born in Poland, Maria Fabian reportedly owns property in her homeland, according to Karl Fabian.
"And I'm sure it was purchased with my brother's money," he said.
Karl Fabian said he regrets ever introducing his brother to Maria, which he did nearly 20 years ago.
"She was a friend of a friend, and she asked if I knew any single guys," Karl Fabian said. "Boy, was that a big mistake."
He said he just doesn't understand why this happened.
"If she didn't want to be married anymore, all she had to do was grab her passport and jump on a plane to Poland," Karl Fabian said. "But I guess that was too easy."
Maria Fabian is scheduled to be arraigned on Feb. 4.
Sport...
Victoria Azarenka Knocks Out Mauresmo
From:
Right Pundit
Belarusian teenager Victoria Azarenka defeated former champion Amelie Mauresmo 6-4, 6-2 in the third round of the Australian Open. Mauresmo's exit leaves Serena Williams as the only former winner in the contest.
"It's a little bit frustrating to come out with only six games today, but I did not play well enough the key points, whether it was in the first set or second set," said Mauresmo, who reached the semifinals of Brisbane two weeks back. "She played a very good match. Really intense and consistent, and not giving away many points at all."
Azarenka is having the best year so far, She won her first WTA title just a fortnight ago in Brisbane when she beat Marion Bartoli of France in the final. She is seeded 13th in the Open and is one of the young players who are making their presence felt after the exit of a lot of former champions and top-seeded players.
Mauresmo suffered from an injury before deciding to play in Australian Open and it didn't look like she played like a champion, from the scoreboard at least. She won the 2006 title after both her semi-final and final opponents retired hurt.
Azarenka will next be facing her biggest challenge, playing against 2007 champion Serena Williams in the fourth round. Although, she'd had a dream run in this tournament, this match won't be easy considering Serena's current form.
Cultural scene...
PAINTINGS reflecting the life and countryside of Belarus will go on show at a special exhibition.
From:
Wales Online
Belarus ambassador Aleksandr Mikhnevich will attend a special reception celebrating the exhibition at The Old Library, The Hayes, Cardiff, on Monday.
The week-long show, opening tomorrow, features more than 60 paintings as well as fashion made from Belarus linen, designed by students from The University of Wales in Newport. The garments will also be exhibited at Minsk's fashion week in May.
HIGH School Musical fans are being given another chance to watch the 2008 hit movie.
Blackwood Miners' Institute will screen the U-rated film High School Musical 3: Senior Year for five days starting on February 16.
Tickets are priced L3.50 and are available in advance by calling 01495 227206.
Alternatively, payment will be accepted at the door.
Endnote...
Tax repressions as a sign of "liberalisation"
From:
Charter '97
With his back to the wall from crackdown on opposition charges, Belarusian dictator decided to change approach.
This story started last summer. Right after the blast during celebration of the Day of Lukashenka's Independence from the Belarusian nation, our number one "independence supporter" of the country announced that the blast had been orchestrated by his enemies. A wave of searches in headquarters of democratic organisations and arrests of oppositional activists rolled across the country. The whole world started speaking about mass repressions against the opposition in Belarus. As long as implication of oppositionists in this wild crime hasn't been confirmed, while the plan of a dialogue with the West for defrauding loans should have been implemented, Lukashenka decided to change the form of repressions. All-out nature of the crackdown on dissenters should have been maintained, though Europe shouldn't call this campaign political repressions.
Speaking in the key ideology programmes of the country, Lukashenka stated that "oppositionists are whining that they are allegedly persecuted, that is why I order: form now on to leave all of them alone", adding: "It's hard to imagine for you how prosperously they are living, having no job. They have luxurious houses, cars and other riches". He also said, addressing citizens: "We shall show their houses on TV soon, all of you will be amazed".
The order "to leave opposition alone" has been understood right. Right a day later thousands of members of oppositional parties, human rights activists, independent journalists and other democrats received writs to appear in the State Control Committee and tax inspections.
I received a writ from the State Control Committee of Minsk, too. I was demanded to file an income tax return for years 2007-2008 within 5 days. And I have done that. In early September 2008 I received a new writ with a demand to arrive to tax inspection of Minsk, where the senior state tax inspector Nila Varlyha explained to me that on instructions from the State Control Committee she should study out whether my revenues and expenditures match. "You own cars," she started in a mild and subtle manner. "I do not own them, I owned them, but long ago, in the middle of the 1990ies," I answered. "Ok, I owned cars. And with what money have you bought them?" the tax inspector asked. Then I gave a 8-page written explanation about occupying certain positions in certain firms, about my salaries, and attached a copy of my labour book.
I was left alone for a few months, and after the New Yaer a district police officer called me and said that the city tax inspection is waiting for me. Nila Varalyha whom I already knew, gave me a new stack of papers. I was to explain why in 1994, 1995, 2005, 2006 and 2007 my expenditures exceeded revenues, according to tax inspection.
I know that I am tiring readers with the details a bit, but I think that a detailed narration of my case can explain the new character of crackdown on oppositionists and dissenters in Belarus. I offer the,to
take a look at some documents.
A cursory examination of these documents made me ask a question to the tax inspector: "Why are you taking part in the campaign of political pressure, Nila Pyatrouna? Four months ago I meticulously enumerated my sources of income over a few years. Why didn't you want to consider my legal salary as revenues? Why my car sold for a sum of 3 thousand dollars in Belarusian rubles equivalent, is considered as an income of 34,500 today's Belarusian rubles by you? Why are you simply having problems with mathematics?" The tax inspector answered with her eyes bent on the ground: "You must understand, Zmitser, that wasn't me alone who opened this case".
The tax inspection failed to fulfill Lukashenka's order and discover a luxurious house belonging to me. After half a year of searches I am accused of having
my expenditures exceeding revenues
by 8,000 Belarusian rubles.
Having ignored all data contained in my written explanations and in my labour book, I was also accused that in 1995 my expense exceeded my income by 0.00357 thousand Belarusian rubles, but it is an anecdote.
See it yourself.
Officers of the state inspection senior inspector N.P. Varlyha and department head M.M. Babko show their inability to perform simple arithmetic operations. According to them, if expenses were 0.00357 thousand Belarusian rubles, and income was 34.5 thousands rubles, expenses exceeded income by 0.00357 thousand Belarusian rubles. So, inspectors state that 0.00357 is more than 34.5. But one can do everything when fulfilling a political order.
What concerns 2005, 2006, and 2007, I am accused of paying my telephone bills, but they didn't want to count my legal income for many years of work,
they didn't count real income of 3,000 dollars
from car selling.
Belarus has faced a serious crisis. The total foreign debt of the country amounts to 18 billion dollars. The country is a world's leader in corruption. Thievery and squandering of people's property has reached unseen rates. Hundreds of luxurious villas, owned by governmental officials and court businessmen, are being built in Drazdy district. With a motion of the hand, deposits of individuals are reduced by a billion dollars. Under these conditions, thousands and thousands of financial policemen, district militiamen, tax inspectors, and KGB officers are participating in a long-term campaign of looking for mythic treasure of the opposition. But the State Control Committee should know: the opposition has no access to state funds.
Non-governmental organizations, independent newspapers, regional departments of political parties are shut down at first, and then governmental officials ask: why are you still alive?
But the Belarusian opposition is alive, and Belarus is alive, too. No one is able break us. The time is coming when real criminals will answer for their machinations and crimes.