Social economic development, Budget revenues, EU dialogue, US sanctions, OSCE PA, Opposition, Russia, Ukraine, Polish scandal, Sport and Culture
No problems with replenishing Belarus budget revenues
From:
BelTA
and
the Office of the President
There are no problems with replenishing the revenue part of the state budget in Belarus, President of Belarus Alexander Lukashenko told media on February 24.
"No catastrophe has happened to the budget over the two months. There are even slight economic improvements," said the head of state. If the budget and all the funds are considered, this year's level is only Br200-300 billion lower than last year, he continued.
Alexander Lukashenko assured that the state will meet all social obligations set at the beginning of the year. Staying at the present performance level throughout the first half of the year is the key task. The President added that some money will be saved and some will be re-distributed.
In April the President intends to sum up the real sector performance in Q1 2009. "Then we will have some results, we will see tendencies. We will understand in what direction and at what speed we should advance. We will see how trends of the global crisis have affected our economy as a whole," he said.
Speaking about the operation of Minsk Engine Plant, the President remarked that the crisis had slightly slowed down the company's development. In 2009 the head of state wants the company to manufacture and sell 2,000-3,000 engines more than it did last year. He also mentioned great prospects connected with the company's launch of Euro-5 engines production.
The President remarked that it is necessary to monitor the situation. If the global economy starts recovering fast, Belarusian manufacturers should respond to it quickly. He added, it is important to grab a market niche in a crisis.
Belarus economy affected due to its export orientation, President says
The global financial crisis has affected the Belarusian economy because it is export-oriented, said President of Belarus Alexander Lukashenko after visiting Minsk Engine Plant on February 24, BelTA has learnt.
"We export all products, including engines, footwear, apparel, butter and other things. All companies have been assigned export targets. This is why the global financial crisis has affected our economy as a whole," said Alexander Lukashenko.
"As far as Russian and Western loans are concerned, so far we use them to support our currency and nothing else. Certainly, it is great support, it saves us for now but it is little. Nobody will help us in full if the economy does not work. Judging by the performance of the engine plant we can see that the economy is being revived. In particular, contracts are being signed, in March enterprises will reach last year's performance levels. The economic revival is seen in activities of other Belarusian companies, too," remarked the President.
Alexander Lukashenko underscored, if the economy works well, there will be earnings. In his words, the loans are important for Belarus for the sake of creating a "safety cushion". "We should be confident that tomorrow will be at least as good as today. This is why Venezuelan and Russian loans, the accumulated gold and foreign exchange reserves, IMF loans are great help and support for us," said the President.
Alexander Lukashenko added that the global financial crisis disillusioned many people; it made them have a more realistic approach. "Now Europe does not see its future without Belarus.
All commercial housing should be sold in Q1, Alexander Lukashenko says
In a
related story,
All the constructed commercial housing should be sold within Q1, President of Belarus Alexander Lukashenko said as he visited the Minsk Motor Works.
"If businessmen do not sell the ready housing within Q1, we will take it away and sell it to those on the waiting list for better housing. Businessmen should be happy if we buy the housing at its cost," the head of state said.
"The constructed houses are not commissioned. What is going on? People are waiting for cheap loans to buy this housing, preferably at 5-7%. Businessmen, however, adopted a wait-and-see approach, they think that the state will inject money and they will sell the housing at a rate of $2-3 thousand for a square meter. It will not happen," the President warned. "They should not hope to pocket money they receive from selling housing at enormous prices to the people on the waiting list for better housing." The price for this housing should not sharply differ from its cost, the President underlined.
Alexander Lukashenko assured that the state will continue granting subsidized loans at a rate of 5% for housing construction. He noted that the priority task today is to provide low-income households with housing. The rest of the population should buy housing at the current market price. "We will support people on the waiting list for better housing and will make business sell the constructed housing," the President said.
According to him, the governors have been informed about all the decisions and they will take the necessary measures.
Expressing his concern about the stagnating construction industry, the head of state underlined that in the near future he intends to focus on this issue.
Other Belarusian News...
Sergei Maskevich: EU realizes need for dialogue with Belarus leadership
From:
BelTA
The European Union realized the necessity to hold a dialogue with Belarus' leadership, Chairman of the Permanent Commission for International Affairs and Relations with the CIS Sergei Maskevich said at a meeting with professors and students of the history department of the Belarusian State University.
According to Sergei Maskevich, the European Union has realized full well that if they want closer ties with Belarus, they should discuss the existing issues with the country's leadership first and only after that voice their proposals.
In his words, European politicians used to hold a dialogue mainly with the opposition, but nowadays they are ready to cooperate with the country's authorities as the EU realized that they enjoy the popular support.
The point is that the European Union has its own standards and a civil society paradigm which is a criterion for evaluating the processes going on in other countries. Thus, according to European norms, opposition should be represented in legislative and even executive branches of power. "It is fundamental truth for them. If there is no opposition, it should be installed, urgently and by all means," he said.
EU Council includes Belarus into Eastern Partnership
During EU Council's session in Brussels on February 23, the foreign ministers of the EU member states discussed the launch of the EU's Eastern Partnership proposed to six post-Soviet countries – Belarus, Armenia, Azerbaijan, Georgia, Moldova, and Ukraine, BelTA learnt from the EU press service.
"The ministers have supported the EU Council's resolution of December 2008 on establishing the Eastern Partnership. The ministers also noted that there are some issues such as visa liberalization, the relationship between the Eastern Partnership and the Black Sea Economic Cooperation Organization, the participation of third countries and project's financing which will require further consideration as part of the process of developing and implementing the Eastern Partnership," the press service noted.
The relevant bodies of the EU Council will start preparing the European Union's spring summit which is expected to establish the Eastern Partnership initiative.
The Eastern Partnership is a multinational forum which includes the EU member states and six post-Soviet countries – Belarus, Armenia, Azerbaijan, Georgia, Moldova, and Ukraine. The goal of the Eastern Partnership policy is to facilitate the negotiations on setting up free trade zones for services and agricultural products, partnership agreements and visa agreements.
Belarus positive about Eastern Partnership invitation
Belarus has a positive view on the invitation to participate in the Eastern Partnership programme, said Press Secretary of the Belarusian Foreign Ministry Andrei Popov when asked about certain aspects of the development of Belarus relations with the European Union and the USA.
"As far as we were informed by our European partners, the essence of the decision taken yesterday is that ministers of foreign affairs of the European Union just confirmed the previously outlined general concept of the EU programme Eastern Partnership, which provides for inviting six countries, including Belarus, to participate in the programme," remarked Andrei Popov.
In his words, Belarus has a positive attitude towards the step and believes it is a step in the right direction. "We are ready to continue serious and objective participation in discussing the topic. Simultaneously we strictly adhere to the previously voiced position of Belarus that the final mechanism of the Eastern Partnership should be equitable and non-discriminatory towards all potential participants," said the Foreign Ministry Press Secretary.
The Eastern Partnership policy is aimed at essentially stepping up the level of political interaction, wide integration into the European Union economy, reinforcing the energy security and increasing financial aid. The European Commission suggests participation in the Eastern Partnership policy to six post-Soviet countries, namely Belarus, Armenia, Azerbaijan, Georgia, Moldova and Ukraine. They are offered an agreement on association and foundation of a new European economic zone, which should become the basis for developing a common domestic market.
Belarus Foreign Ministry welcomes further suspension of US sanctions against Belarus' companies
From:
BelTA
The decision of the US Treasury Department to extend the suspension of sanctions against Belarus' Lakokraska and Polotsk Steklovolokno will be welcomed by business circles of the two countries, Press Secretary of the Belarusian Foreign Ministry Andrei Popov told reporters commenting on the US decision to preserve the moratorium on economic sanctions against these two Belarusian enterprises till June 1, 2009.
"The Belarusian side has reiterated that it would like to see better relations with the United States than those that existed between our states till the recent time. It is obvious for us that the relations should be improved. I hope that the decision of the US Treasury Department attests to the fact that our US counterparts understand it," Andrei Popov noted.
The Press Secretary of the Belarusian Foreign Ministry thinks that this decision will be greeted by the business people of the both states. "The revenue Belarusian and US businessmen could get from unobstructed trade and economic relations will come in handy amidst the turbulent economic environment," he said.
Andrei Popov underlined that Belarus remains committed to improving its relations with the United States.
In September 2008, the US Treasury Department suspended its ban on US companies dealing with two Belarusian companies, Lakokraska and Polotsk Steklovolokno. Beginning September 4, a ban was lifted on all commercial transactions between US residents and the abovementioned Belarusian enterprises. The suspension of the sanctions was to last till March 2, 2009.
On November 13, 2007, the US Treasury Department imposed economic sanctions against Belneftekhim concern. The amendments issued in March 2008, broadened the sanctions to take in all the enterprises where Belneftekhim owns 50% or more shares.
Belarus' MPs, OSCE PA group to hold investment workshop in Minsk
From:
BelTA
The OSCE PA working group on Belarus and the National Assembly of Belarus will hold an investment workshop in Minsk on March 11. Such an agreement was reached during the OSCE PA winter session, Nina Mazai, chairperson of the permanent commission of the Council of the Republic, told a press conference.
Members of Belarus' parliament and members of the working group will make reports during the workshop. The workshop will then work in several sections. One of them will focus on the measures to cultivate a favourable investment climate.
During the OSCE PA winter session on February 19-20, Belarus reported on ecological issues: on the implementation of the OSCE resolution on Chernobyl and on the role of the parliament in executing the Convention on Climate Change and Kyoto protocol.
During the session Belarus MPs held bilateral talks with the delegations from Italy, Poland, Norway, Ireland, and other countries-OSCE members.
Economics...
No plans to revise Belarus' social and economic development forecast for 2009
From:
BelTA
The Economy Ministry is not going to revise the forecast of Belarus' social and economic development in 2009, said Economy Minister of Belarus Nikolai Zaichenko at a session of the Council of Ministers Presidium on February 24. The session discussed the performance of the Belarusian economy in January and expected performance in Q1 2009, BelTA has learnt.
The Economy Minister said: "Many suggest changing the adopted forecast in favour of more real economic growth targets. The Economy Ministry also put forward proposals for decreasing the load in Q1 and Q2 2009. However, at present nobody has precise knowledge about the deepness and duration of the financial crisis. This is why we believe it is inadvisable to suggest revising the forecast to the head of state. The adopted forecast does not impede specific efforts aimed at developing the economy," said Nikolai Zaichenko.
He noted, the economy performance is determined by flagship companies to a large extent. At present the effectiveness of these companies is somewhat lower than the industry's. In particular, out of 164 monitored flagship companies 60 ones have reduced their output.
The government has adopted a system of measures to ensure the steady operation of Belarusian companies during the global financial crisis and stabilise the economy. Decisions have been made concerning the sale of products at prices lower than the prime cost, giving preferential interest rates for loans, a zero customs duty on imported equipment, a tax respite and other measures. However, efforts of some government agencies are insufficiently effective in taking some of these measures.
Nikolai Zaichenko also believes Belarus needs additional measures to stimulate the domestic demand. He suggested the expansion of sales by instalment as one of the instruments able to increase the capacity of the home market for Belarusian manufacturers of consumer goods. It should be done primarily via proprietary shops.
Annual inflation to stay within designated range in Belarus
Efforts will be taken in Belarus to keep the annual inflation within the designated range. The statement was made by Prime Minister of Belarus Sergei Sidorsky at a session of the Council of Ministers Presidium on February 24. The session discussed Belarus' economy performance in January and expected performance in Q1 2009, BelTA has learnt.
"I would like this year's inflation to stay under 9-11%. So far the January results are not impressive," remarked the Premier. He reminded that inflation totalled 4.2% in Belarus in January. "We have not had such drastic curves for a long time," he said. The head of government attributed the high inflation to objective and subjective factors. In particular, the prices went up due to the national currency devaluation, an increase in tariffs on utilities and imported energy resources. At the same time certain companies deliberately raised prices for their products. Audits done by the Economy Ministry and auditing agencies have managed to gradually bring down the overrated prices to the previous level.
Sergei Sidorsky remarked, at present certain Belarusian companies suggest keeping pre-crisis prices on the domestic market and drastically reducing prices for foreign markets. "It will never happen. Prices in Belarus will be as high as prices for your exports. They will be falling and will correspond to the prices on foreign markets," stressed the Prime Minister.
"We have abandoned the practice of regulating prices for certain commodities lately but we will use antimonopoly laws in Belarus very carefully," added Sergei Sidorsky.
According to Economy Minister of Belarus Nikolai Zaichenko, the ministry has come up with a plan of measures to combat inflation. Monetary and pricing policy instruments will be used to secure the targeted inflation in 2009. The plan also provides for reducing production costs, increasing the output of consumer prices and services and saturating the consumer market.
Belarus' Q1 GDP growth projected at 2%, Nikolai Zaichenko says
In Q1 2009 Belarus' GDP is expected to increase by 2%, Economy Minister Nikolai Zaichenko said during a session of the Presidium of the Council of Ministers on February 24 that summed up the economic performance in January and expected Q1 results.
"The past two-month GDP growth is approaching 2.5%. In Q1 it will stand at 2%, with the manufacturing industry generating 1%," Nikolai Zaichenko said. According to him, in Q1 the main social and economic development trends will remain unchanged amid the global financial crisis, which will affect a little the economic growth.
According to the Economy Ministry, the growth of capital investment will reduce from 24.9% in January to 5% in January-February and 3% in Q1.
Foreign trade in goods and services is estimated at 62-65%. The foreign trade deficit will make around $30 million in January, $130 million in January-February. The Economy Ministry has designed a set of measures to restrict import and use of foreign currency, to increase foreign currency revenues. The Economy Ministry believes it is necessary to increase import customs duties on consumer goods (but for the Russian Federation).
Profitability of sold products, works and services in the manufacturing industry in Q1 is estimated at 4.4-4.5% while in previous years it was 13-18%. In the beginning of the year the GDP energy intensity will reduce by 1.5% instead of the projected 8%.
From the International Press...
EU warns Belarus not to recognize Georgian separatist regions
From:
IHT
The European Union warned Belarus on Monday that the country's prospects of drawing closer to the bloc would be undermined if the government in Minsk fell into line with Russia by recognizing the separatist regions of South Ossetia and Abkhazia.
In April the EU will decide whether to extend a relaxation of political sanctions against Belarus and whether to invite the country to take part in a new initiative to strengthen ties with East European nations.
But the thaw in relations could be complicated by the possibility of a parliamentary vote in Minsk over recognition of South Ossetia and Abkhazia, whose independence was recognized by Moscow after the brief war in August between Russia and Georgia over the enclaves.
Speaking after a meeting in Brussels, Foreign Minister Karel Schwarzenberg of the Czech Republic, which holds the EU's rotating presidency, described the decision as one for the Parliament of Belarus but added that such a step would leave Minsk isolated.
"If they recognize South Ossetia and Abkhakzia," said Schwarzenberg, "it would create a very, very difficult situation for Belarus because Belarus would be out of the European consensus."
The EU's Eastern Partnership plans to offer trade concessions, economic assistance, and consultations on security, and to promote economic integration in countries including Ukraine and Moldova.
But Belarus's poor human rights record and its alignment with Moscow its make it a complicated proposition.
Belarus has shown some signs of internal reform, although it is often described as the last dictatorship in Europe and retains close ties with Moscow.
Hitch for Croatia's EU plans
EU foreign ministers said Monday that they would help resolve a border dispute that threatens to derail Croatia's efforts to join the 27-nation bloc, The Associated Press reported from Brussels.
But they remained divided over Serbia's effort to join, with the Netherlands continuing to veto an interim accord until Serbia extradites Ratko Mladic, an important war crimes suspect. Mladic was the commander of Bosnian Serb forces during the war in Bosnia.
The disagreement between Slovenia and Croatia portends wider problems for other aspiring nations of the Western Balkans, where border disputes continue after the bloody breakup of the former Yugoslav federation in the 1990s.
The dispute between Slovenia, which joined the EU in 2004, and Croatia, which hopes to join in two years, centers on sea rights in the Bay of Piran, an inlet in the northern Adriatic shared by Italy, Slovenia and Croatia.
Slovenia, whose coastal waters are blocked by those of its two larger neighbors, insists that Croatia give it a channel to the open seas. The prime ministers of the two nations will meet Tuesday in Slovenia to try to resolve the impasse.
Slovenia is also threatening to block Croatia from joining NATO at the alliance's 60th-anniversary summit meeting in April.
The French foreign minister, Bernard Kouchner, said it was exasperating for the bloc to deal with a minor border spat.
The EU is "working on peace not only in the Middle East but everywhere in the world, but we are not able to get a solution on such a problem. Please!" Kouchner said.
"They need to negotiate, and the EU absolutely is ready to help."
Officials are reported to have asked former President Martti Ahtisaari of Finland, a Nobel peace laureate, to mediate.
Belarus: Economic crisis and the Russian bear factor
From:
FT.blogs
Perhaps I'm getting Marxist in my old age, but would it be wrong to suggest that economics is driving most things political in Belarus these days? That's to say, does the world economic crisis explain the very modest gestures in the direction of political liberalisation that have recently been taken in what is emphatically Europe's most tightly controlled state?
At the start of this year, with its economy tottering, Belarus devalued its currency by 20 per cent and negotiated a $2.5bn loan from the International Monetary Fund. Belarus has also secured a pledge of $2bn in credits from Russia, the giant neighbour from which it receives almost all its energy supplies at subsidised prices. Belarus has large debt repayments looming. The fact is, Belarus is in deep economic trouble and won't get out of it without help from the IMF, the European Union and - let this not be forgotten in Western countries - Russia.
At the same time, President Alexander Lukashenko has relaxed political controls a little bit, allowing two independent newspapers to be sold through the state-run distribution network and setting up public consultative councils on human rights and media freedom. Opposition activists in Minsk told me last week that these measures didn't add up to much and could be reversed at any moment. Moreover, two former political prisoners were rearrested earlier this month on what look like trumped-up charges of causing damage to property.
Nevertheless, EU policymakers have the impression that change - controlled change - may be on the horizon in Belarus. Some trace it to the appointment last July of one Vladimir Makey as the powerful head of Lukashenko's presidential administration. Makey is an interesting guy. For one thing, he is, so I'm told, of mixed Lithuanian-Scottish origin (is "Makey" the Cyrillic spelling of "Mackay"?). For another, he trained as a foreign linguist and served in the Soviet armed forces in the communist era. About much of the rest of his career his official biography is not so specific.
Neither Lukashenko nor Makey is going to turn Belarus into a pro-Western country. It makes absolutely no strategic sense for a small country that, geographically and culturally, is so close to Russia. But Russia's military smashing and de facto dismemberment of Georgia last August served as a wake-up call to Belarus's leaders. If they want their country to remain independent, they need to draw a bit closer to the EU. And that means introducing a degree of political reform.
Economics explains a lot. But in the case of Belarus, so does the Russian bear factor.
Belarus: condition of winter crops to be satisfactory
From:
AgriMarket
To date, condition of winter crop sowings in Belarus is estimated as quite satisfactory, declared Nadejda Melchakova, the head of the agrometeorological forecasts department of the republican Hydro-meteorologic centre.
The weather conditions of the last several days became rather comfort for winter crops. During the frosts, the snow blanket reached the level of 30 cm, and prevailed winter crops from frost-killing, noticed N.Melchakova. At the same time, in the eastern regions the center fixed small frost penetration of soils of nearly 10 cm, which was the optimum index for winter crops, these crops will not perish, but weaken.
According to her, inspection of winter crops at the end of January showed good results. On February 20, the center took additional tests, and the results will show change of winter crops conditions. The final results of the tests will be ready at the beginning of March.
According to N.Melchakova, the sowing areas have no dangerous factors, affecting them.
As a reminder, in 2008 Belarus sowed winter crops throughout 1.42 mln ha, up 1.4% compared to 2007 index.
Belarus: increase of prices for fruit and vegetable produce
In a
related story,
as of January 2009, prices for foodstuffs in Belarus increased by 3.3 %, compared to December 2008, and by 18.2 %, compared to January 2008.
At that, according to the official data, prices for vegetables increased by 23.2 %, including fresh cucumbers - by 32 %, for pepper - by 29 %, for cabbage - by 27.3 %, fresh tomatoes - by 23.4 %, for carrot - by 7.7 %, for onion - by 5.1 %. Prices for potatoes increased by 11.4 %. Fruits went up in price by 15.1 %, particularly, prices for bananas increased by 26.8 %, for citrus - by 15.2 %, for apples - by 3.1 %.
Belarus Reaching Out To The West
From:
RFE/RL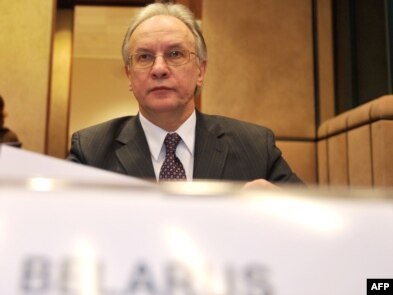 Belarusian Foreign Minister Syarhey Martynau
Hit by the economic crisis, Belarus is reaching out to the West -- at least in the pages of the "IHT."
In the paper today, Belarusian Foreign Minister Sergei Martynov "explodes" three myths about Belarus: that Belarus is only liberalizing its economy because of outside pressure; that Belarus faces a stark choice between Russia and the West; and that Belarus is stuck in a Soviet time warp.
On the first point, Martynov rattles out Belarus's argument -- which they've repeated so much recently that officials are perhaps even starting to believe it -- that they waited, didn't go down the road of rapacious capitalism like Russia, and now -- after plenty of careful analysis -- they're ready to liberalize their economy.
The reality is that the Belarusian economy is tanking, with declining demands for its exports and a devalued ruble. The IMF has agreed to loan Belarus $2.5 billion, but it needs more and is looking to Russia and the West to get the money.
Denying that the West has any influence over Belarus is just face-saving and nothing more.
But Martynov -- to give him the benefit of the doubt -- does cite some areas of progress in Belarus: an improved standing in a World Bank "Ease of Doing Business" survey and fewer Internet restrictions.
But as Brian Whitmore wrote last week, the loosening up is schizophrenic:
In recent months, Belarus has released its last political prisoners, allowed the publication of opposition newspapers, created consultative councils that include members of the opposition, and made some cautious moves to liberalize the economy and relax controls on the online media.

At the same time, Lukashenka's regime has had a hard time letting go of some of its more traditional, repressive tactics. Opposition figures still face petty harassment and arbitrary arrests. Some youth leaders have also been detained and press-ganged into the armed forces. Critics describe the practice as politically motivated conscriptions.
On the second myth, having to choose between Russia and the West, Martynov is probably right. Given Belarus's history and its long-standing political and economic relations with Russia, it shouldn't be forced to choose which parent to live with.
Charles Grant, writing in a second "IHT" piece on Belarus today, makes that point, saying that "the EU and Russia should work together -- and with the international financial institutions -- to help Belarus."
As to the third myth, that Belarus is "some sense a last outpost of Soviet ambition," well that's not entirely a myth of the West's making.
While journalists' boilerplates of "Europe's last dictatorship" or "a giant Soviet theme park" certainly get a little tiring, Belarus has retained more elements of a command economy and hung onto more trappings of its Soviet heritage than its neighbors to the east.
Not to mention that the biggest problem with Belarus is that we've seen it all before: the playing both sides off against the other, the signs that the country is opening up which then amount to nothing, or end up with more heads getting cracked at a rally (as happened a few Saturdays ago) or an independent newspaper getting closed down.
Lukashenka is a skillful diplomat and he's made his career -- and garners respect from many political operators in Belarus -- by knowing how to play the game.
While the most recent signs are indeed promising and should be encouraged by the West, a note of caution is still needed. Some habits are hard to break.
From the Opposition...
Anti-nuclear power plant newspaper launched in Hrodna region
From:
Viasna
According to Mikola Ulasevich, leader of the public campaign 'Astravets nuclear power plant is a crime', there has appeared the first issue of the Astravetski vesnik newspaper.
The newspaper is not registered and will be issued in 299 copies, which is not forbidden by the law.
The first issue covers the possible construction of a nuclear power plant outside the town of Astravets, Hrodna region. The activists claim that a nuclear power plant should not be constructed in the earthquake-prone area of Belarus. Besides they stress that the construction of a nuclear power plant in the post-Chernobyl Belarus is a crime, which will eventually result in another irreparable global disaster.
IFJ Calls for Belarus Media Reform as New Law Takes Effect
The International Federation of Journalists (IFJ) today called upon the Belarus government to bring in radical reforms to media and to abandon the strategy set out in a divisive new law that came into force on 8 February.
"Belarus media requires invigorating reform, not a new media law that merely turns the screw ever tighter on the independent media," said Aidan White, IFJ General Secretary. The IFJ says that last minute softening of the legislation and the recent return of two independent newspapers to state distribution system do not disguise the harsh reality that "Belarus journalists are the most oppressed in Europe."
The IFJ supports the Belarus Association of Journalists (BAJ), which is calling for reform of the media sector. It says the European Union should make normalisation of relations with Belarus dependent on a genuine commitment to free expression.
The new media law regulates online media and calls for the registration of media outlets. It also speeds up procedures for closing down media and says journalists can be prosecuted for reporting statements, whether from political parties or NGOs if they 'discredit the Republic of Belarus'.
There is no government decree on online media regulation, to the relief of press freedom advocates, although the provision remains in the law. In addition, the titles Narodnaya Volya and Nasha Niva have returned to Minsk for printing and access to the state distribution system, after a three-year exile across the Russian border in Smolensk. The government has set up a committee to oversee media and invited the BAJ to participate. All of this follows the lifting of European Union sanctions against Belarus.
"The key problems of journalism in Belarus remain unsolved," said Zhanna Litvina, Chair of the BAJ. "The state retains a monopoly on printed and electronic media, distribution systems and printing facilities. They regard media as a part of the official administration that has to perform propaganda functions."
For the full BAJ statement "Evaluation of the situation with media and the freedom of expression in Belarus by the Belarusian Association of Journalists" see www.baj.by
Belarusian democrats: There is a threat of 'Lukashenization' of Europe
From:
Charter '97
Javier Solana's visit to Belarus and his talks with the Belarusian dictator were not appropriate in the context of stepped up political crackdown. The EU policy should be based on European values.
It has been stated at the press-conference in Minsk by the former chairman of the Supreme Soviet of Belarus, the leader of the Belarusian Social Democratic Party (Hramada) Stanislau Shushkevich, the leader of the civil campaign "European Belarus" Andrei Sannikov, the former candidate for presidency in Belarus Alyaksandr Kazulin, the former political prisoner, former minister of foreign economic ties of Belarus Mikhail Marynich and the leader of the Belarusian Popular Front party Lyavon Barshcheuski.
The leader of the Belarusian Popular Front party stated that the visit of the EU High Representative for the Common Foreign and Security Policy (CFSP) of the EU Javier Solana, and statements about possible entering of Belarus into the Eastern Partnership project are absolutely inappropriate considering the political events taking place in Belarus, when new and new political prisoners appear, and repressions against democrats are just becoming harsher. Moreover, the politician is concerned by the fact that the essence and results of Javier Solana's talks with Alyaksandr Lukashenka are still unknown to the public.
"I would like to note that the Belarusian Popular Front party supported the initiative of creation of the Eastern Partnership program from the very start. But the events of the last weeks during which high European officials visited Belarus have given us some hard thinking. We believe that before the European Union will start developing relations with Belarus, free election should be held in Belarus. We are greatly concerned by the context in which the rapprochement of the official Minsk with Europe is taking place. It is emergence of new political prisoners, brutal actions of policemen and riot policemen during peaceful oppositional rallies, arrests and imprisonments for use of Belarusian language. Europe shouldn't be involved in the so-called subterranean diplomacy, as it happens for instance when Lukashenka holds talks with Putin, and the nation is unaware of what they are talking about. The context and the time chosen for these initiatives are far from being optimal," the leader of the Belarusian Popular Front Lyavon Barshcheuski stated.
Lyavon Barshcheuski called upon European politicians not to contribute to legitimization of the dictatorship of Lukashenka. He reminded that in 1998 Europe tried to hold talks with the Belarusian authorities with the help of the head of the Consultation and Observation mission of the OSCE Hans-Georg Wieck. As a result in 1999 leaders of the Belarusian opposition Viktar Hanchar, Anatol Krasouski, Yury Zakharanka, and in 2000 journalist Dzmitry Zavadski were abducted and assassinated.
"I am afraid that soon after these present "negotiations" repressions in Belarus are to be stepped up. The first results of such a policy of the European Union are obvious: 5 new political prisoners have appeared in Belarus," the politician said.
The former chairman of the Supreme Soviet of Belarus Stanislau Shushkevich was surprised that the visit of the EU High Representative has taken place despite of the fact that the official Minsk had fulfilled none of the conditions for the country's democratization.
"I do not understand why Javier Solana has arrived to Belarus. Why the four conditions offered to Belarus during Istanbul summit back in 1999 are forgotten right now? Why 12 conditions laid down the European Union in 2009 are forgotten? None of these conditions have been fulfilled. The political prisoners have been substituted by others. Why Javier Solana is saying now that he does not make any conditions to Lukashenka's regime now? And it happens after the past "parliamentary elections" were falsified; the ODIHR OSCE recognized that there had been no vote count, after peaceful demonstrations were cracked down in Belarus. The policy shouldn't be immoral," Stanislau Shushkevich is convinced.
The chairman of the Supreme Soviet of Belarus reminded that elections to the European Parliament are to take place soon, and it is possible that the recent actions of the officials of the EU are related to the fact that they want to present development of the relations with dictatorial Belarus as a success of their foreign policy. Stanislau Shushkevich warns Europeans against such a move.
Read More...
Around the region...
Obama Administration Signals Thaw in Relations with Russia
From:
VOA
US Vice President Joe Biden, left, meets with Deputy Prime Minister of Russia Sergei Ivanov in Munich, 08 Feb 2009
Vice President Joe Biden gave a hint to the Obama administration's attitude toward relations with Russia in a Feb. 7 foreign policy speech in Munich, Germany.
Many analysts agree that after eight years of the Bush administration, relations between the United States and Russia are not good. Those relations, experts say, have been steadily deteriorating.
But during a speech to an international gathering in Munich earlier this month, Vice President Joe Biden signaled a willingness to end that downward spiral.
"It's time - to paraphrase President Obama - it's time to press the reset button," he said. "And to revisit the many areas where we can and should be working together with Russia."
Marshall Goldman from Harvard University, says Mr. Biden's speech set a new tone for relations between Washington and Moscow.
"When you say 'reset' that means you clear the computer and that opens up all kinds of new opportunities and you're not going to be held back by past commitments which have been controversial," he said. "This provides an opportunity that maybe only a new administration could do because they don't have to be held down by complications that arose under the past government."
One of those complications, experts say, is the Bush administration's plan to put a missile defense shield in Eastern Europe, which is vehemently opposed by Russia.
Joe Biden addressed that issue in his Munich speech.
"We will continue to develop missile defenses to counter a growing Iranian capability, provided the technology is proven and is cost effective," he said. "We will do so in consultation with our NATO allies and with Russia."
Robert Legvold from Columbia University says it's a departure from the Bush administration's view to go ahead with the defense shield whether it's feasible or not.
"The basic position is we're not going forward with this unless it's technologically feasible and unless it's something that we can get agreement with at least the allies," he said. "And in doing so, we also want to consult the Russians. It's also my impression that in the separate conversation that Vice President Biden had with [Russian Deputy Prime Minister] Sergei Ivanov, that there were indications the U.S. would like to, whatever happens on ballistic missile defense, achieve an outcome that is acceptable to Russia and one that Russia buys into."
In his speech, Biden also said Washington and Moscow can cooperate in such areas as Afghanistan, cutting nuclear weapons arsenals and nuclear nonproliferation.
Mr. Biden said Russia and Washington will not agree on everything. But he said the two countries can disagree and still work together where interests coincide - and "they coincide in many places."
Experts say the speech was also important for what it did not address. For example, Robert Legvold says Mr. Biden did not mention speeding up Georgia and Ukraine's accession plans to the North Atlantic Treaty Organization - or NATO.
"[That] both the United States and the Europeans had retreated from as of last December's NATO meeting," he said. "And I think it's very, very unlikely that anybody is going to want to return to a sped-up process as we move toward the 60th anniversary NATO meeting in early April. So I think the issue of both Georgia and Ukraine in NATO is off the table for the time being. In principle it's not off permanently, but I think it's off the table for now."
Senior Russian officials, including Deputy Prime Minister Sergei Ivanov, reacted positively to the vice president's speech. But in an interview with the Russia Today television program, Ivanov was more cautious.
"From my previous experience - I'm 56 already - I saw a lot of thaws," he said. "I saw a lot of good intentions which ended nowhere. I hope this time it won't be the case."
Analysts say it was important for the Obama administration to early on set out the broad outlines of a Russia policy. Having done that, experts say now is the time to fill in the blanks and build on the positive tone set out in Joe Biden's Munich speech.
Russian tycoon transferred to Moscow for trial
From:
AP
Russian oil tycoon Mikhail Khodorkovsky has been transferred from his Siberian prison to Moscow for a new trial, a court official and lawyers said Tuesday.
Khodorkovsky, once Russia's richest man, was convicted in 2005 of tax evasion and fraud and sentenced to eight years in prison in what critics of the Kremlin said was a flawed trial. His prosecution has been widely seen as a Kremlin-backed attempt to silence an opponent and consolidate control over Russia's strategic energy sector.
Moscow City Court spokeswoman Anna Usachyova said Khodorkovsky and his business partner Platon Lebedev have been moved to Moscow from Chita, a region nearly 4,000 miles east (6,400 kilometers) of Moscow, near the border with China.
Lawyers said Khodorkovsky and Lebedev were placed in Moscow's Matrosskaya Tishina prison, where they were held at the time of their previous trial, defense lawyer Vadim Kluvgant said in remarks posted on the Web site of Khodorkovsky's supporters.
Prosecutors last week announced new embezzlement and theft charges against Khodorkovsky and Lebedev and scheduled preliminary hearings to begin March 3. The Prosecutor General's office said Khodorkovsky schemed with a group of investors at his company, Yukos, to bilk a Siberian oil company of 3.6 billion rubles ($102 million) along with billions more rubles from other companies.
Defense lawyers dismissed the new charges as politically driven.
Kluvgant said the new charges are 3,500 pages of documents that "don't even contain a hint of a crime."
"The prosecutors are preparing a massacre under the disguise of a trial," he said.
Khodorkovsky was arrested in October 2003 when his plane was stormed by special forces while on a refueling stop in Novosibirsk.
A court rejected his request for parole in August — for failing to keep his hands behind his back during a stroll through the prison grounds — and ordered him to serve the remainder of his eight-year sentence.
Some people have urged President Dmitry Medvedev to pardon the former tycoon, but Medvedev has declined to intervene.
Yukos, once Russia's largest oil producer, was broken up and sold off in auctions ordered by the state to pay off billions of dollars in alleged back taxes. Much of the company's assets were purchased by the state-controlled oil company OAO Rosneft.
Several other former top Yukos officials have also faced criminal charges in what Kremlin critics have denounced as a campaign of revenge.
Ukraine's Hryvnia Drops to Record Low on Moody's Rating Warning


From:
Bloomburg
Ukraine's hryvnia tumbled, closing at a record low against the dollar, after Moody's Investors Service said it may cut the country's rating because political infighting is hampering efforts to avert a financial crisis.
The currency dropped 3.4 percent to 9.2600 per dollar at 6:10 p.m. in Kiev, below the previous lowest close of 9.1000 on Dec. 18. Moody's is reviewing whether to cut Ukraine's current rating of B1, four levels below investment grade, it said today in an e-mailed statement.
The hyrvnia has lost more than 50 percent against the dollar in the past six months as reduced demand for exports and a lack of foreign credit causes Ukraine's first economic contraction in a decade. The situation is aggravated by power struggles between President Viktor Yushchenko and Prime Minister Yulia Timoshenko, delaying decisions needed to revive the economy and putting Ukraine's $16.4 billion International Monetary Fund bailout at risk, according to Moody's.
"The rating warning does not come as a surprise, but reflects the current state of affairs," said Dmitry Gourov, a Vienna-based analyst at UniCredit SpA. The currency may weaken to 9.8 per dollar by late March, Gourov said, adding that this level may be exceeded if "confidence tumbles."
The hryvnia touched a record intraday low of 9.7813 per dollar on Dec. 18 after a government official said the weakening currency may trigger defaults on more than half of loans. The cost to protect against a Ukraine default rose to a record high today, according to credit-default swap prices.
"The rating action reflects concerns about how persistent political uncertainty clouds the prospects for an orderly resolution of banking problems, in the context of a severe economic downturn," Jonathan Schiffer, senior credit officer at Moody's in New York, said in the report.
Loan Conditions
A cut by Moody's would bring Ukraine in line with rankings by Standard & Poor's and Fitch Ratings of B, which is five levels below investment grade. Both have the country on "negative" outlook, indicating they may fall further. S&P said Feb. 16 it may downgrade its rating more than one step, depending on clarification of how Ukraine will meet the requirements of its IMF loan program.
The IMF approved its loan for Ukraine in November on condition that the government balance its budget this year. Timoshenko's Cabinet plans a 5 percent state-budget gap this year, putting the bailout in jeopardy.
Orange Revolution
Yushchenko and Timoshenko stood side by side during the 2004 Orange Revolution, which swept them into office on promises to raise living standards and move the country closer to the West. Since then, the two most powerful politicians have battled, as Yushchenko criticized the government's wide budget gap and Timoshenko refused to cut social spending.
Inflation soared to 22.3 percent last month, the highest level in Europe and more than the IMF's year-end target of 17 percent.
Ukraine's growth slowed to 2.1 percent last year, compared with 7.6 percent in the previous year. The economy may contract 9 percent this year, according to Alexander Morozov, the chief economist in Moscow for HSBC Holdings Plc, Europe's biggest bank.
"Moody's rating review will examine whether or not these disagreements can be resolved in a constructive manner such that the IMF package continues to function effectively," according to the statement.
Credit Risk
Credit-default swaps tied to Ukraine rose 44 basis points to 3,857 basis points, according CMA Datavision in London. The default swaps are the most expensive for any government worldwide, higher than Argentina at around 3,200 basis points and Venezuela at 2,480 basis points, Bloomberg data show. A basis point is worth $1,000 on a contract protecting $10 million of debt.
The contracts, which are designed to protect bondholders against default, pay the buyer face value in exchange for the underlying securities or the cash equivalent should a company fail to adhere to its debt agreements. An increase indicates deteriorating perceptions of credit quality.
The extra yield investors demand to Ukrainian bonds instead of U.S. Treasuries has risen 10-fold in the past year and at about 32 percentage points is the highest of any country with dollar-denominated bonds except Ecuador, which defaulted in December, according to JPMorgan Chase & Co. EMBI+ indexes.
UKRAINE: Between the Kremlin and a Hard Place
From:
IPS
Ukraine's internal political problems and tensions with Russia threaten its path to stability and its candidacy for NATO and the EU, warns a new Council on Foreign Relations (CFR) report.
The report, "Averting Crisis in Ukraine," analyses the country's difficulties related to both domestic conditions, including its often disorderly politics, and foreign policy, such as issues related to Ukrainian and European dependence on Russia's natural gas.
The examination concludes that the U.S. needs to improve its dialogue with Ukraine to avert a bigger crisis.
"A more divided Ukraine would be less able to formulate a coherent foreign policy course with which the U.S. government could engage," said report author and former U.S. ambassador to Ukraine, Steven Pifer, a visiting fellow at the Brookings Institution's Centre on the United States and Europe. "It could even be driven to reorient itself on a more Moscow-focused course."
Domestically, Ukraine faces a presidential election, expected in late 2009 or early 2010, and perhaps preterm parliamentary elections in 2009 that will play out against a backdrop of economic recession and financial crisis.
According to the Bloomberg News Agency, inflation in Ukraine soared to 22.3 percent last month, the highest level in Europe. Ukraine's currency, the hyrvnia, has lost more than 50 percent against the dollar in the past six months, signaling Ukraine's first economic contraction in a decade.
President Victor Yushchenko and Prime Minister Yulia Timoshenko, who stood side by side during the 2004 Orange Revolution, have since engaged in fierce infighting, delaying decisions needed to revive the economy. Due to Ukraine's failure to meet loan obligations, the International Monetary Fund (IMF) withheld a key second part of a 16.4-billion-dollar loan.
The IMF isn't the only one putting external pressure on Ukraine. In the aftermath of the August 2008 Russia-Georgia conflict, Kiev must cope with an increasingly assertive Russian foreign policy. Ukraine is regarded by the Kremlin as part of its sphere of privileged interests.
Moscow has made clear its unhappiness with Kiev's desire to integrate into the European and Euro-Atlantic communities, and will attempt to disrupt that course. Moscow, driven by its geopolitical aims, could fan Ukraine's internal frictions by escalating its rhetoric against the NATO-Ukraine relationship.
"The Kremlin sees a messy Ukraine as a good thing," Pifer told IPS. Moscow portrays the former Soviet state as an inadequate partner for NATO and the EU.
The Kremlin also capitalizes on Kiev's political chaos in its domestic politics. The criticisms of Russians who, inspired by Ukraine's struggle for democratic transformation, want to draw closer to the West are deflected by Moscow's portrayal of Ukraine as an unattractive alternative political model.
By pointing to Ukraine's political problems and instability, the Russian government is saying, "Look at the turmoil - that's what democracy is," adds Pifer.
The CFR report speculates that a new gas dispute between Ukraine and Russia, similar to the most recent incident in January, could again transform into a broader European energy crisis.
A Russian decision to more actively oppose Kiev's effort to integrate into NATO could spark such a dispute, causing Moscow to cut off its gas supply, impose other economic sanctions, or make a demonstrative military move, such as redeploying army units closer to the Ukrainian border.
But Yushchenko is unlikely to back down in the face of Russian threats, which may, anyhow, be in vain.
According to Walter Zaryckyj, executive director of the Centre for U.S.-Ukrainian Relations, there is little Russia can do to prevent Ukraine's entrance into NATO. "Russia is bluffing," he said. "I think Russia is willing to do a lot, but they are not in a position to."
Zaryckyj contends that Russia, too, is in economic crisis, having spent much of its money on the Georgia conflict and on the recent agreement with Kyrgyzstan to close a U.S. air base in return for more than 2 billion dollars in loans and aid. The West, therefore, has an opportunity to take a hard stance against Russia.
"The West must say hands off (Eastern Europe) - stop playing games with gas and oil," adds Zaryckyj.
Despite Russia's opposition, NATO has signalled that it will continue to keep the door open to Ukrainian membership. According to the International Herald Tribune, before a closed-door meeting with Ukrainian Defence Minister Yury Yekhanurov and NATO defence ministers, Secretary-General Jaap de Hoop Scheffer said NATO officials were considering "ways in which the alliance can continue to support its preparations for NATO membership" for Ukraine.
Also, EU Commissioner for External Relations and European Neighbourhood Policy Benita Ferrero-Waldner laid fears of the possibility of a new pro-Russian Ukrainian government to rest, telling journalist in Brussels on Tuesday that, "Whoever comes to power [in Ukraine] in the future, they will certainly want to continue the process of Ukraine's integration into the EU." According to the CFR report, since the early 1990s, the U.S. government has attached special importance to Ukraine. It has applied billions of assistance dollars to facilitate the country's development.
"What happens to Ukraine will matter to Washington," says the report, recommending that the U.S. administration "should maintain the goal of Ukraine's development as a stable, independent, democratic, and market-oriented country, increasingly integrated into European and Euro-Atlantic institutions."
The report encourages the Obama administration to adopt certain strategies, including restoring regular high-level dialogue, counselling Ukrainian leadership and increasing technical assistance to promote energy security. It urges the U.S. to support continued Ukrainian integration with NATO, though it recommends waiting to back concrete steps toward membership until Kiev achieves consensus on this point.
Ukraine, however, "falls fairly low on a list of priorities (for the Obama administration)," said Pifer. "The problem I think that Ukraine has as a foreign policy issue is it's competing with lot."
The report, however, points to a reawakening of the West to a potential problem in Eastern Europe. According to Zaryckyj, "the report's title mischaracterises it. The debate is just beginning; I don't think its ending."
From the Polish Scandal Files...
Understatement of the young millennium: Poles wealthy but less trustworthy?
From:
The News
A CBOS poll has shown that three-quarters of Poles feel that their global position is better than ever before.
Seventy-five percent of respondents feel that Poland's global position has increased this year. 70 percent of Poles feel that the state of the economy is better as well, despite the economic crisis.
"Those who think that they have profited from [Poland's] transformation respond far more positively," claims Rafal Bouszewski from CBOS.
However, the poll also shows that interpersonal relations between citizens has decidedly worsened. Only 19 percent of those polled feel that Poles are people of integrity, while forty-four percent feel just the opposite.
Additionally, 68 percent of respondents feel that the level of criminality in the country is high.
The poll took place in January 2009 on a representative sample of 1,089 adult Poles.
Brits protest against Polish companies
From:
Polskie Radio
The local unemployed have mounted a demonstration against discrimination of British people by Polish companies located on the Isles. The demonstration took place in front of Grain Island Power Station at the mouth of Thames and Medway Rivers.
British trade union members are outraged by the fact that Polish companies are allegedly hiring exclusively Poles.
A few dozen people participated in the demonstration. The organizer, Unite trade union, claims that Polish companies reserved around 450 workplaces exclusively for Poles. Grain Island power station is owned by the German E.on company, whereas the French Alstom is the building contractor.
The spokesman for Alstom announced that the British companies could have participated in the bidding for subcontractors, but the Polish companies Remak and Robot Energy and Power Plant won the contract. Since no British people allegedly applied for work, Poles were hired.
Three years jail for IVF?
From:
The News
The "Contra In Vitro" Committee For Legislative Initiative is seeking 100,000 signatures to initiate a Project to change the civil code regarding the implementation of in vitro fertilization in Poland.
Head of the committee, Jacek Kotula, from Tyczyn in southeastern Poland, claims that the group aims to propose legislation before the Sejm, the lower house of parliament, after collecting enough signatures.
The Committee would like to amend Civil Code 160 to establish a law to the tune whoever engages in fertilization of an egg cell (fertilization by in vitro) outside of a mother's body will face up to three years in prison. Article 160 that the group seeks to make law a prison sentence for endangering one's life or for actions leading to the detriment the health.
As well, the group has proposed a law to imprison (for between five and 25 years) one who engages in embryonic stem cell research.
The "Contra In Vitro" Committee has declared that they are mounting a campaign to seek signatures all over Poland in order to initiate legislative in parliament on the issue. They have sought the aid of Catholic churches, asking priests to appeal for signatures during their sermons in mass.
"We are collecting signatures with the permission of the Bishop of Elk. For the past few days we have been collecting signatures and PESEL [identification] numbers," states Father Jacek Uchan of the Elk parish, northeastern Poland.
The Catholic Church stands officially against in vitro fertilization and the Polish Federation of the Society of Catholic Families functions in Poland to uphold this stance.
Currently, Poland does not have established laws to address the specific issue of in vitro fertilization and the government, led by Civic Platform, has put together a bioethics committee to analyze the issue and propose legislation. The project is expected to regulate in vitro procedures including protecting the rights of an embryo, forbidding the sale of sperm and eggs, as well as banning the selection of eggs for fertilization.
Sport...
Cup adds Azarenka, Wozniacki to field
From:
Charleston.net
World No. 11-ranked Victoria Azarenka of Belarus, fresh off capturing the second WTA Tour singles title of her career in Memphis over the weekend, has officially entered the Family Circle Cup.
She will be joined by No. 13 Caroline Wozniacki of Denmark, the losing finalist at Memphis, in the field set to compete April 11-19 at the Family Circle Tennis Center on Daniel Island.
Azarenka's ranking is the highest to date for the Belarus native, who at 19 year, 7 months, is the third youngest top 20 player, and she has passed $1.5 million in earnings. She earned her first career title at Brisbane this year, and followed that by reaching the fourth round at the Australian Open, equaling her best Grand Slam result.
Azarenka was a member of the Belarusian Olympic Team in 2008. Azarenka is making her second appearance on Daniel Island, where she reached the third round as the No. 13 seed last year and posted a 2-1 record on Daniel Island.
Wozniacki, 18, will be be playing in her first Family Circle Cup. In her third year on the tour, she has earned nearly $1 million in career earnings, and is the youngest player in the top 20 ranks. She reached the third round at the Australian Open.
Wozniacki built the foundation of her No. 13 ranking on three titles she captured at Stockholm, New Haven, and Tokyo (Japan Open) in 2008, her breakthrough year on the tour.
Belarus wins three silver medals at Winter Universiade in Harbin
Belarus won three silver freestyle skiing medals at the Harbin 24th Winter Universiade, BelTA learnt from Valentina Balyabo, chief of the physical education sector of the social and educational work department of the Education Ministry of Belarus.
The medal winners are Denis Osipov from the Skorina State University in Gomel, Timofei Slivets and Maria Shcherbina from the Belarusian State University of Physical Education.
According to Valentina Balyabo, these are Belarus' first medals at the 24th Winter Universiade which is hosted by China on February 14-28.
The Belarusian team includes 34 students who are competing in six sports: biathlon, skating, cross-country skiing, figure skating, freestyle skiing, short-track speed skating.
Belarus wins silver and bronze medals at boxing tournament in Hungary
Vitaly Bondarenko of Belarus lost the 75kg finals to Russia's Artem Chebotarev (4-9) at the 53rd Bocskai Istv?n Memorial in Debrecen, Hungary. Another Belarusian Ramazan Magomedov claimed a bronze medal in the 81kg category.
Belarusian Evgney Romashkevich (64kg) and Viktor Chvarkov (9kg) advanced to the quarterfinals. Two more Belarusians took part in the tournament. These were Magomed Nurutdinov (69kg) and Nikolai Veselov (75kg).
The tournament was held on February 18-21. Competing in the event were Belarus, Russia, Cuba, France, Great Britain and other countries.
Cultural scene...
Kiss me, I`m Irish! или станцуй со мной джигу…
From:
Urban.by
Ирландские танцы славятся древнейшей историей, дух которой можно почувствовать в каждом движении, в каждом шаге, в каждом взмахе руки… Столетия разрух, войн и завоеваний, смены власти, голод – с XIIго века танец помогал ирландцам преодолевать несчастья, вселял уверенность в завтрашнем дне, дарил радость и успокоение. Ходят легенды, что, танцуя, люди спасают себя от злых духов.
В настоящие дни верования немного изменились, и злые духи не так страшны, как раньше, однако легенда есть легенда- каждого, кто станцует хотя бы один исконно ирландский танец, в будущем году ждут удача, успех и везение во всех начинаниях. А в жизни людей, профессионально занимающихся ирландскими танцами, творятся настоящие чудеса… Не верите?
Приходите 27 февраля в клуб «Реактор» и спросите сами у участников фолк-кантри-келтик группа РАГНЕДА и ансамбля ирландского танца «Bassdance», которые в этот день устраивают уникальную танцевальную вечеринку.
Мастер-класс джиги, хорнпайпа и рила, конкурсы и стародавние ирландские игры- выбирайте то, что вам по душе и становитесь капельку счастливей!
Лучшие танцоры будут замечены организаторами и отмечены призами!
Начало в 20 00.
Endnote...
Two essays from the inside…
From:
The Story
I am teaching English here. And though I have really no connection to the Belarusian opposition, I do like to ask my more advanced students more difficult and telling questions. Specifically, I have a new group of students from Polesskie University's school of business and as a test before joining our group/business think tank, I asked several Ethics-type questions relating to business and financing. After we began, I added another open question regarding the idea of being a reliable partner; that phrase showing up at least 99 times over the last several years on the pages of The BEINGHAD Times.

One of my better students, and to be sure, one from outside the university group, wrote the following two rather passionate short essays. They have been mildly corrected for grammar but the thoughts and the order of information are those of the writer- and what is more, they are rather passionate about these ideas.

I think there is a stereotype that Belarusians are only passive conformists, but here I think we can see that there is passion and there is awareness as to what is going on in this little country. And so because of the strength of the emotions, I offered to publish what was said here.

I guess I should also say that the student offered another anecdote about the suicide of one company officer. Before hanging himself in his office, the manager took the trouble writing on the walls of his office that the reason for is departure was that his boss had sold his job to an acquaintance for $500 and that his life was now ruined.

So here are two short essays from Belarus answering the questions:

Does it matter if there is nepotism in a company? And, what is meant by the phrase "reliable partner" in Belarus?
Nepotism: A fish rots from its head
This is a very actual (real) question for our town. We know that the town of Pinsk is a small town and finding a job is always a big problem. Thus everybody tries to find a job via all methods. We are all people and of course, we think about our relatives first. For us, nepotism is such a usual (normal) thing like corruption is.
For example, Pinsk (companies) are solid nepotism. Where there is a normal salary, people run there to it. I want to say that if nepotism is at work, then a normal man won't work there.
My last chief was a straight example of nepotism. He was a son of the general director. Нe had an economic education but it didn't hamper his teaching me electric laws. I tried to take exception with him, but if you aren't a chief, then you are stupid. Now, I work at another place.
Yes, a simple man lives hard with this nepotism. You can't imagine how repugnant it is!
I (also) want to talk about the contract system in Belarus. Some time ago it was inserted as a stimulation of labor. I think you can guess what happened. Our directors began to use it for intimidation over the workers (really, I think that many people live in fear at work). It created a situation where each "director" began to feel like a king and people would come to them with sausage, cognac and dollars. Of course, this is normal for directors and chiefs, but probably (hopefully), they will die out like Mammoths.
I so want that it would (only) be necessary to count achievements at work and not dollars and bonds.
I'd (also) want to say several words about trade unions. What can a trade union be if the chief of that trade union is the best friend of the director? A Trade union must be an independent organization.
In the end, I say that the problem of nepotism is a global problem.
It seems to me that it is in all countries because people like this live everywhere.
Reliable partners
I think that we all know that Belarus, in the faces of our chiefs of state, was never a reliable partner to the West or to Russia. Until January 1, 2007, our head of state told us that Belarus had only one friend and it was Russia. But after (that day), I think that many people understood the real worth of that friendship. We understood that perhaps, the Belarusian (economic) miracle was not from the mind of our Batski but rather (instead) from inexpensive oil and gas. That picture was almost like the picture of this year's gas crisis in Ukraine. During this time, Belarus also remained a "reliable partner" to the East and to the West, forgetting about its 2007 position. After those developments, the Belarusian government began to become a reliable partner for other countries. So we found friends in Venezuela who "believed" in our reliability and honest friendship and allowed us to get oil in their country. But recently we went further and began to be reliable partners for (to) the "alien" West. Really, it only cost the discharge of several "political bastards" from our prisons. Probably, several of the bastards (such as Kozulin) had been at one time "reliable" partners for our head of state too. But in the end, they became unreliable partners. Why is this so?
We go to everybody with our newly opened souls to find new reliable partners but so far, we have not found them.
Of course, each country studies its own interests. We aren't an exclusion (exception). But why doesn't anybody believe in the friendship we are selling? Maybe it is because Belarus never kneels!
I don't think that Belarus has anything to sell. There is no oil, no gas, and worst, no people with any potential. And this is the most fearful (frightening) thing. And our thinking was that via changing our reliable partners we might survive somehow. I don't like this situation at all.