Iran/Russia and enriched Uranium special: EurAsEc, The US, The EU, China, Missiles; Gorbachev and the Nasha Niva
From the Top

President Answers Questions of Belarusian and Foreign Mass Media

From:the office of the president

AG Lukashenka on his working trip to Grodno
Within the framework of his working tour of Grodno region, the President answered questions from representatives of Belarusian and foreign mass media. The questions were related to this year's sowing campaign, mutual relationship with the neighbouring countries, situation around the prices for Russian gas supplies, integration processes in the post-Soviet space, and other topics of current importance.
Answering the question on possible Russian gas price hike for Belarus in 2007, the Head of State said: "The negotiation process is under way. Today, nobody yet knows what the natural gas price will be."
"I don't think the Russian leadership will take the step of a serious increase in gas prices," he continued.
Answering a journalist's question on the possibility of compiling the so-called Belarusian "blacklist" against some EU officials, Alexander Lukashenko said that those who deliberately distort the real situation in Belarus and, in fact, work against Belarus will be banned from travel to our country's territory "in the natural way," without any "blacklists."
Alexander Lukashenko also touched upon Chernobyl-related issues. "For the twenty years that have passed since the Chernobyl nuclear power accident, Belarus has done more than any other republic, the President emphasized. – And we have done it using only our own labor and resources."
"We will build roads, ship gas and pure water there, we will clean up our lands. That area will live like the rest of the country," the President said.
Talking to journalists, Alexander Lukashenko also refuted insinuations by some mass media about the health condition of the Head of State. He pointed out that over the recent weeks he worked as usually scheduled, making fewer TV appearances but giving more attention to the work with documents, and that, perhaps, gave rise to an emergence of ridiculous rumours. "I have had no recourse to any doctors. Nothing has been done, nor is it being done without the President. I have been controlling and am fully controlling the situation in the country. Now we are forming the Government, elaborating a new structure. Therefore, in vain one tries creating a kind of sensation out of this, " the Belarusian leader stated.
Belarus appoints same PM for new term
From:
Reuters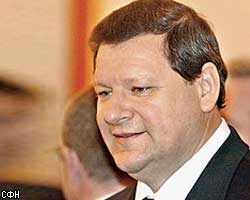 Sergei Sidorsky
Belarus's parliament re-appointed Sergei Sidorsky as prime minister on Monday in a sign that the ex-Soviet state has no intention of changing policies that sparked protests at home and in the West.
Sidorsky had to resign in line with the constitution after President Alexander Lukashenko was re-elected for a third term last month in a vote branded as rigged by independent observers.
But he was re-nominated by Lukashenko and predictably won overwhelming parliamentary support on Monday. He was backed by 103 deputies in the 110-seat chamber.
Belarus's liberal opposition protested against Lukashenko's re-election by staging an unprecedented vigil in capital Minsk. Police eventually broke up the rally and hundreds of opposition activists were jailed.
The European Union blames Lukahshenko for crushing dissent in the 10-million-strong country and backs his opponents' calls for a change of course. It has slapped a visa ban on the authoritarian leader and 30 of his top officials.
"Sidorsky's nomination confirms the continuity of the policies which were backed by the all Belarussian people," Gennady Nevyglas, head of the presidential administration, told deputies before the vote.
"Political stability, dynamic economic development, society's consolidation helped settle an issue of appointing the premier in the very first days and without political upheavals."
After Sidorsky's appointment, he pledged to deputies to maintain existing policies and simplify government structures.
"We will take further measures not to allow unjustified price growth," he said.
The Belarussian economy has maintained many of its Soviet-era features, with the government ordering companies what to produce and at what prices to sell.
Lukashenko routinely intervenes into the running of major state companies. He stresses his commitment to improving social standards and raising pensions and wages.
Belarus advocates common energy price within Eurasec
From:
Ria Novosti
Western European buyers of Russian gas now pay an average of $230 per 1,000 cu m. Belarus currently pays $46
Belarus proposes establishing common energy prices for member states of Eurasec, a regional economic organization, the country's vice premier said Friday.
Speaking after a session of the Eurasec, or the Eurasian Economic Community, an economic club of former Soviet republics seeking to establish a single economic zone comprising Russia, Kazakhstan, Kyrgyzstan, Tajikistan, and Belarus, Andrei Kobyakov said: "We stand for equal prices, since competition should be fair."
If prices for oil and gas are raised, "there can be no talk of equal conditions for competition," Kobyakov said.
Belarus faces a possible three-fold hike in the price it pays for Russian natural gas following an announcement earlier this week by Russia's energy giant Gazprom. The move is expected to tear a hole of around $2 billion Belarusian budget.
Alexander Ryazanov, deputy CEO of Gazprom, said on April 10 that gas prices for Belarus "should be at least three times higher."
According to a contract between Gazprom and Beltransgaz, the Belarusian state-owned gas company whose pipelines carry Russian gas to Europe, this year the Russian gas monopoly is to deliver 21 billion cu m of gas at $46.68 per 1,000 cubic meters. In return, Minsk promised to assist Gazprom's operations in the republic, notably not to change gas transit tariffs.
Western European buyers of Russian gas now pay an average of $230 per 1,000 cu m.
Kobyakov said that the mooted common oil and gas market had been discussed at today's session of Eurasec's integration committee, but the issue had been returned to member-states' experts for adjustment.
China, Belarus to Boost Military Exchanges
From:
CRI English.com
Chinese missiles also work pretty good.
China will further military exchanges with Belarus, said Vice-Chairman of the Central Military Commission Xu Caihou on Friday.
The friendly exchanges and cooperation between China and Belarus have been fruitful in the political, economic, scientific and cultural fields, Xu said when meeting with a Belarusian delegation headed by Gurulev Sergey, chief of general staff of the Belarusian armed forces.
The two sides also support and closely cooperate with each other in international affairs, Xu said, stressing that keeping the long-term stable and friendly cooperative relations is in the fundamental interests of the two peoples and conducive to the peace and stability of the world.
The military ties is an important part of the relations between the two countries, Xu said.
With joint efforts of the two sides, the military relations have enjoyed new progress in new historical conditions with frequent high-level exchanges and good momentum in cooperation in various areas, he added.
Gurulev expressed his hope that the two countries will enhance military exchanges and cooperation, adding that Belarus firmly pursues the one-China policy.
Russia, Belarus to discuss joint military exercises April 21
From:
Ria Novosti
Belarus and Russia prepare for the beginning of World War III

Russian and Belarusian defense officials will hold talks April 21 on holding joint military exercises in June of this year, the defense minister said Monday.
Sergei Ivanov said the exercises would form part of the two countries' plans to create combined air-defense systems.
He said the exercises would be held under the auspices of Collective Security Treaty Organization (CSTO) - a regional security body that also includes the former Soviet republics of Armenia, Kazakhstan, Kyrgyzstan, and Tajikistan - but would involve only Russian and Belarusian troops.
The CSTO was founded in 2002 to ensure peace in the post-Soviet space and preserve member-countries' territorial integrity, as well as to fight terrorism, drug traffic, and international organized crime. Some experts say the organization was created to prevent NATO's further eastward expansion and keep some former Soviet republics under Russia's military protection.