PROTEST IS SMASHED!
From the top

Belarus police attack crowd, opposition leader arrested

news.monstersandcritics.com

Special riot police forces scuffle with Belarus opposition supporters during their march on Nezalezhnosti (Independence) avenue in Minsk, Saturday 25 March 2006. The Belarus opposition is protesting against election results that gave President Alexander Lukashenko a third term.
Minsk - Belarusian police using non-lethal grenades and clubs broke up a crowd of anti-government protestors on Saturday and arrested opposition leaders, witnesses said.
The assault took place near the Opera Theatre building in the capital Minsk, where demonstrators had gathered following a failed attempt to reach central October Square.
Police charged the crowd shortly after 1500 GMT and were arresting all demonstration participants they could catch. Witnesses reported 'dozens' of demonstrators lying on the ground, some with injuries.
Mass arrests were in progress by 1600 GMT. Eyewitnesses described police detention vehicles as 'jammed with bodies.'
The violence came after six days of peaceful anti-government demonstrations, which began last Sunday after authoritarian Belarusian President Aleksander Lukashenko was re-elected to office in a fraud-ridden election.
It was not immediately clear how many of the demonstrators were actually injured, and how many of the demonstrators were prone because of police orders to lie down. Witnesses variously described the grenades used by police as gas-, sound-, or flash-based.
Law enforcers, according to early reports, arrested the leader of the Belarusian opposition, Aleksander Milinkevich on the central Kubyshev street shortly after the attack began, pulling Milinkevich from his automobile.
However, Milinkevich in a phone call to the Interfax news agency denied he had been detained, saying his press secretary had been arrested. Opposition workers were attempting to confirm Milinkevich's actual status.
The number two man in the opposition, Aleksander Kozulin, was beaten by police before submitting to detention and being hauled off, according to witnesses.
Between 2,000 and 4,000 anti-government protestors had gathered in central Minsk before the police assault. There were no early reports as to numbers escaped, and numbers arrested, either from law enforcers or from opposition spokespersons.
Pedestrians and bystanders at some locations showed support to the demonstrators, shouting 'Fascists' as the police made arrests.
There apparently was little physical resistance to the police assault, which according to witnesses, was carried out by elite OMON special forces troops, and in overwhelming force.
Police earlier in the day used force to arrest journalist Pavel Sheremet, according to a police statement because Sheremet used 'improper language' while conversing with a police patrol.
Sheremet, a Russian national, reportedly received hospital treatment for minor injuries before being transported to a police station.
The Saturday demonstration, like all the opposition protests over the course of the last week, had not been sanctioned by the authoritarian Lukashenko regime.
Police acting on Lukashenko orders broke up a tent encampment occupied by protestors on the central October Square since Sunday, arresting more than one hundred.
At the adjacent Yanki Kupali Square a group of opposition activists used snow and boots to shut down a Belarus state television crew filming them. Crew members and equipment suffered minor damage.
Belarus' state-controlled media has been at the forefront of a government campaign to demonise the pro-democracy protestors, usually depicting them as paid by the CIA.
Milinkevich, the loser in Sunday's lopsided election contest (won by Lukashenko with an 86 per cent margin) had called for the demonstration to mark the short-lived Belarusian republic, which was founded on March 25 1918.
Diplomats from the EU and the US on Friday announced sanctions, including travel bans on Lukashenko's entourage, and possible closure of foreign accounts owned by senior Belarusian officials.
Lukashenko has laughed off the threats.
(NOTE: For a list of the names of those arrested, please see the VIASNA article at the very bottom of today's news)
Belarus: Anti-Lukashenko protesters clash with riot police
www.jpost.com
The clash occurred after a gauntlet of riot police blocked the path of protesters marching to a jail where demonstrators arrested in previous protests were being held.
Riot police wielding truncheons clashed Saturday with protesters who held a defiant rally against the disputed election that extended the rule of Belarus' hard-line President Alexander Lukashenko.
Many protesters were detained, including one of the opposition leaders, Alexander Kozulin.
The clash occurred after a gauntlet of riot police blocked the path of protesters marching to a jail where demonstrators arrested in previous protests were being held. Police beat their shields with truncheons and advanced on the crowd.
Four explosions ripped through the air, apparently percussion grenades set off by police, and protesters began to disperse, yelling: "Fascists!" But police detained at least a score of people, loading them into trucks. At least two people lay injured on the ground, and one was seen being taken away by ambulance.
Earlier, rows of black-clad police blocked the central Oktyabrskaya Square where opposition leaders had called for a midday rally. Officers pushed the crowd of about 3,000 back in a bid to end a week of unprecedented protests in the tightly controlled former Soviet republic. Demonstrators shouted "Shame!" and "Long live Belarus!"
On the other side of the sprawling square, opposition leader Alexander Milinkevich led another crowd of several thousand to a nearby park, where he announced "the creation of a movement for the liberation of Belarus."
"The authorities can only confront the striving of the people for change with persecution and violence," Milinkevich told the crowd, which grew to as many as 7,000 people. Demonstrators held flowers, waved the red-and-white historic flag of the opposition and shouted "Mi-lin-ke-vich!" and "We are not afraid!"
"The people have come out today, they have come out in the face of truncheons, in the face of arrests," Milinkevich said. "The more the authorities conduct repression, the closer they bring themselves to their end."
Milinkevich praised Belarusians who have protested since the March 19 election, but acknowledged that their numbers are not enough to defeat Lukashenko's government.
"We can be proud of what we have already done: Fear is vanquished," he said. "But today there are not 200,000 or 500,000 of us coming out into the square. If there were, they (the authorities) would run away from the country."
"We are starting work against dictatorship, and this work will sooner or later bear its fruit," he said.
The tense scenes came a day after police stormed a tent camp in Oktyabrskaya Square that had been the focus of round-the-clock protests over the election in which Lukashenko won a new five year-term by a landslide in a vote the opposition denounced as a farce and the West criticized as undemocratic.
Milinkevich, who officially received about 6 percent of the vote and wants a new election without the participation of Lukashenko, had been calling all week for a major demonstration Saturday marking the anniversary of Belarus' first independence declaration in 1918.
"We're not planning any violence, any taking of the Bastille. We want a peaceful demonstration," he said before the rally, standing with his wife and about 100 relatives of detained activists.
Police took no action against the park rally, and did not prevent people from joining it.
"I am tired of being afraid, and the fear is leaving me," said Yelena Sokolovskaya, 44, an accountant at the park rally. She said the government's claims that the economy is thriving are "a lie - Milinkevich speaks the truth."
Protesters pelted a three-man crew from Belarusian state television, which has shown the protests in an extremely negative light, with snowballs and shouted "Shame on Belarusian television!"
Hundreds of riot policemen and policemen have attacked tent camp on October Square in Minsk. At 3 a.m. 10 police buses and patrol wagons for prisoners encircled the square.
The crowd began to disperse peacefully after opposition figures called for an end to the rally and said the next major demonstration would be held April 26. Heeding a call from Kozulin, many demonstrators headed toward the jail where some of the hundreds of protesters arrested Friday were being held, and the clash ensued.
The country's top police official, Vladimir Naumov, said one protester suffered a light head injury and eight police officers were hurt. He claimed the police had not set off the explosions, accused protesters of throwing rocks and bottles and refused to say how many people were detained. He said Kozulin had called for the government's overthrow and Lukashenko's death.
"The situation is calm and I think it will remain that way," Naumov said.
Milinkevich called the march to the jail "a provocation" and sharply criticized Kozulin, saying there had been an agreement that demonstrators would disperse after the rally. "Kozulin decided to spoil this holiday for the people," he told The Associated Press.
The two appeared together at a campaign rally shortly before the election, but they had obvious disagreements after the election, in which official results gave Kozulin 2.2 percent of the vote.
Last Sunday's election had set off a week of persistent protests, beginning with an election-night demonstration that drew some 10,000 people - an enormous turnout in a country where police usually suppress unauthorized gatherings swiftly and brutally.
Protesters raised the stakes Monday, setting up tents where hundreds stayed for days. Police had arrested hundreds of people in connection with protests, but their failure to break up the camp raised opposition hopes of establishing a foothold.
Those hopes ended when riot police stormed in early Friday, wrestling about 50 protesters into trucks and taking away hundreds of others who did not resist. Several people who were detained said they had been beaten.
The European Union and the United States said Friday that they would impose sanctions on Lukashenko, who they say has turned Belarus into Europe's last dictatorship. Both called for an immediate end to the crackdown on the opposition.
However, the measures seemed unlikely to influence Lukashenko, who despises the West and has allied his country with Russia. In a statement late Friday, the Foreign Ministry said the sanctions had "no prospects," and that Belarus reserves the right to take retaliatory measures.
Belarus minister accuses oppositionist of calls to topple power
RIA NOVOSTI
Kazulin has a talk with the media some time before being arrested for a second time
The Belarusian interior minister said Saturday that Alexander Kozulin, a leader of opposition forces detained today after a clash between the police and opposition, had called on people to overthrow power and kill the president.
"During the rally, Kozulin urged power overthrown, state facilities attacked and the head of state killed," Vladimir Naumov said at a briefing.
The minister said one civilian and eight servicemen and policemen had been injured during the unsanctioned rally. Naumov said the police had done its best to prevent military force from being used to disperse the rally.
In Sunday's polls, Kozulin and two other candidates challenged President Alexander Lukashenko, dubbed "Europe's last dictator" by Washington. According to official results, the incumbent won a landslide victory with 83% of the vote; main opposition candidate Alexander Milinkevich garnered 6.1%; Liberal Democrats Chairman Sergei Gaidukevich, widely regarded as a Lukashenko loyalist, finished third with 3.5%, and was followed by Kozulin with 2.3%.
The opposition disputed the official election returns on Monday, taking to the streets to call for a re-run.
Milinkevich blamed the consequences of the rally, originally planned as peaceful, on Kozulin, adding that the latter had made "more than a mistake" when he urged people to go to a detention center where reportedly several hundred people who had taken part in unsanctioned rallies were kept.
Harried Belarus protestors celebrate freedom among the trees
www.turkishpress.com
"Go! Go! Faster! Faster!" spat out one demonstrator, Yevgeny, at a column of riot police running past. "That's what they call protecting the people!"
MINSK - What started with a cluster of indignant pensioners turned into a surging crowd of thousands of protestors who faced off with riot police in the Belarussian capital Saturday before gathering in a nearby park.
The protestors had come with makeshift placards and flags to show their anger at an election last Sunday that gave a third term to President Alexander Lukashenko.
They were staging their demonstration on what is an unofficial holiday for the opposition known as Freedom Day, which celebrates Belarus' first brief period of independence from Russia in 1918.
"This is a disgrace for Belarus," said 74-year-old Ernst Sabila, a pastor with the Belarussian Evangelical Church, gesturing at the special forces officers who refused to allow entry to a square where protestors had camped earlier in the week.
"We gathered to celebrate our independence and the enemies of the people closed the square," said the pastor, whose church has long been at odds with Belarus' Orthodox authorities.
As the protest grew, it attracted people of all ages.
They became wedged along the sidewalks of Minsk's Independence Avenue by thousands of riot police and black-clad special forces officers who tried to push them away, as car-horns honked in support of the demonstrators.
"Keep off the road! Our first concern is for your safety!" blared the loudspeaker of a police car before authorities briefly closed the avenue to traffic.
"This is Europe interfering in our affairs," A taxi driver said, gesturing angrily at the protestors on the main street.
One woman scrawled her protest on the side of a cardboard shopping bag: "No King Lukashenko!" it read, referring to a 2004 constitutional change that abolished a two-term limit to tenure of the office of president.
Wedged up against a McDonalds restaurant, protestors interspersed cries of "Long Live Belarus!" with jeers for the special forces.
"Go! Go! Faster! Faster!" spat out one demonstrator, Yevgeny, at a column of riot police running past. "That's what they call protecting the people!"
Others were less eager to be present: "I'm just trying to get home," said a mother carrying a baby, hemmed in by riot police on what is the main shopping street.
Thousands then snaked in a long line through side streets to the wooded Yanka Kupala park, named after a celebrated Belarussian author.
Some 7,000 gathered in the snow among the trees in cheerful mood, playing with balloons and listening to Alexander Milinkevich, the main opposition contender at last Sunday's election.
Some climbed trees for a better view, as Milinkevich likened the task of ousting Lukashenko to storming a fortress.
"This assault will not go on for five years. It will happen soon," he said, referring to the five-year term for which the Belarussian leader is elected and prompting a huge cheer.
With security forces keeping their distance, the crowd showed anger only at mentions of Lukashenko and state television, which has portrayed opposition activists as drug addicts and sexual deviants.
"Disgrace! Disgrace!" they shouted when a state television crew arrived, some protestors throwing snowballs at the crew.
Other Minsk residents said they had no intention of being caught up in the excitement, among them Gennady, a taxi driver who praised the order he said Lukashenko had brought to the country following the Soviet Union's collapse.
"This is Europe interfering in our affairs," he said, gesturing angrily at the protestors on the main street.
"It's all part of a common American policy. The people voted for Lukashenko of their own free will," he said, dismissing Western and opposition accusations that Sunday's vote was rigged.
(For many more photos from the demonstrations, please see today's Charter '97)
US to impose sanctions against Belarus
The Hindu
The announcement of sanctions, but only with bare details, came from both the White House and State Department.
The United States has said it would impose sanctions against Belarus for a crackdown on political protestors after an election that the West, including America, alleged was "fraudulent".
The announcement of sanctions, but only with bare details, came from both the White House and State Department.
"The United States calls on authorities in Belarus to release without delay the hundreds of citizens who have been detained not only in the past 24 hours but in recent days and weeks simply for expressing their political views," White House spokesman Scott McClellan said yesterday.
He said America "strongly condemns" the actions of security services against demonstrators protesting the "fraudulent" elections of March 19.
In praising the decision of European Union to impose sanctions against the Belarusian leaders, McClellan said "we plan to take parallel steps involving targeted travel restrictions and financial sanctions." The American sanctions are likely to be travel restrictions against President Alexander Lukashenko and other top officials.
At the State Department, the response of acting spokesman Adam Ereli was along similar lines.
"The US is imposing targeted travel restrictions and is planning financial sanctions against individuals responsible for the recent electoral fraud and human rights abuses in Belarus, including Aleksander Lukashenko," he said.
"The US and the EU remain united in our response to the situation in Belarus. We urge all members of the international community to demand that Belarusian authorities respect the rights of their citizens to express themselves peacefully and to condemn any and all abuses," Ereli said.
Bush condemns Belarus government actions against protestors
www.playfuls.com
Bush said the world should demand "that Belarusian authorities respect the rights of their own citizens to express themselves peacefully."
US President George W Bush Friday condemned the early morning breakup of Belarus demonstrations by security forces in Minsk, and urged the international community to join in the condemnations.
Bush said the world should demand "that Belarusian authorities respect the rights of their own citizens to express themselves peacefully." Dozens of masked police in black uniforms entered October square early Friday morning and broke up a five-day demonstration, carting away about 200 individuals who had staged a final sit-down strike. No force was used in the removal.
The protestors charge that last Sunday's elections were manipulated to keep authoritarian Belarusian leader Aleksandr Lukashenko as president, a sentiment shared by much of the international community. "I appreciate those who labour in the shadows to return freedom to Belarus, and our nation's thoughts are with those who have been harassed, detained, imprisoned or beaten for their efforts," Bush said in a statement.
Earlier Friday, the US State Department announced it would join the European Union in placing sanctions on Belarusian officials, including Lukashenko, for rigging the elections and for human rights abuses. Travel and financial sanctions would be imposed, it said.
Bush mentioned Belarus' past strivings for independence, when Belarus nationalists declared their independence on March 25, 1918, from Russia just weeks after Russia had been granted the territory in one of World War I's peace settlements - the Treaty of Brest- Litovsk.
"I send greetings to those working to return freedom to Belarus and observing the 88th anniversary of the first effort to establish an independent Belarus," Bush said. In fact, Russia continues to set the tone for Belarus, with Russian President Vladimir Putin backing Lukashenko's win.
22 reporters held in Belarus this week--watchdog
www.alertnet.org
The "reporters without borders" logo
Police in Belarus have arrested 22 reporters since the beginning of this week, an international media watchdog said on Friday in what it called an unprecedented crackdown on journalistic freedom.
"These arrests are intended to gag dissent and to sow a climate of terror in the country. The independent journalists should be immediately released," the Paris-based Reporters Without Borders (RSF) said in a statement.
RSF said 13 of the journalists were still in prison, mostly serving sentences of several days "for alleged 'hooliganism', 'taking part in an unauthorised gathering' or for 'offering obscenities'".
It said they were held in overcrowded and unheated cells and called for their immediate release.
Official results from elections held in Belarus on Sunday showed an overwhelming victory for President Alexander Lukashenko over opposition leader Alexander Milinkevich, but the opposition complained of fraud and international observers said the vote was neither free nor fair.
Riot police on Friday broke up street protests against the election after several days but the opposition says it will go ahead with a rally this weekend.
The watchdog said four members of the Belarus Association of Journalists and reporters for Canadian, Georgian and Russian news organisations were among those arrested.
Local news

Belarus representatives attend "EU Labour Market" conference in Poland, Germany

BELTA

The Ramada at Frankfurt an der Oder

Belarus representatives are attending an international conference "European Union Labour Market" in the Polish town of Slubice and German city of Frankfurt an der Oder. The press service of the Belarusian embassy in Poland told BelTA, Belarus is represented by ambassador at large of the Belarusian foreign ministry Mikhail Alekseichik, deputy head of the citizenship and migration department of the interior ministry Sergei Matus as well as representatives of the Belarusian diplomatic mission in Poland.

Representatives of Russia, Ukraine, Hungary, Germany, Moldavia, Poland and Slovakia arrived at the meeting.

The conference's main purpose is sharing opinions of the European Union labour market and informing representatives of various countries about the existing European Union labour regulations.

The event is organised by the western chamber of commerce and industry, the Polish union of employers "Entrepreneurship", the commerce

Cuban side calls effective visit of special envoy of government of Cuba to Minsk

BELTA

There have always been good relations between Cuba and Belarus

The Cuban side considers as "effective and constructive" the visit of a special envoy of the government of Cuba, deputy foreign minister Eumelio Caballero Rodriguez to Minsk. The Cuban diplomat held talks with foreign minister of this republic Sergei Martynov and headed the Cuban delegation at the Belarusian-Cuban ministerial consultations.

In an interview with a BelTA correspondent Ambassador Extraordinary and Plenipotentiary of Cuba to this republic Omar Medina Quintero underlined in the course of the Minsk talks the sides managed to discuss several issues important for the bilateral relations. Among them – preparation for the summit of the Non-Aligned Movement in September in Havana. The leadership of Cuba has invited the president of Belarus to take part in this high-level meeting.

In the course of the Belarusian-Cuban ministerial consultation the sides shared their views on a wide range of international issues. The sides took note of a high level of the cooperation between the two states within the framework of the UN and Non-Aligned Movement and agreed to continue coordinating their joint efforts in the international arena.

Kyrgyzstan interested in attracting tourists from Belarus

BELTA

Three Kyrgyzstanian kids and their horse

In April-May the embassy of Kyrgyzstan in Belarus plans to hold several actions t expand the Kyrgyz-Belarusian cooperation in the tourism sphere, head of the Kyrgyz diplomatic mission in Minsk Lydia Imanalieva told reporters today. According to her, the potential in this field of the interaction between Belarus and Kyrgyzstan is not exploited to the full.

According to the ambassador, in particular the sides are working on a project on organizing recuperation tours to Kyrgyzstan for the personnel of Minsk Tractor Works.

Lydia Imanalieva has underlined that at present Belarus and Kyrgyzstan are discussing possible opening of direct charter flights from Minsk to Issyk-Kul, which has a modern international airport receiving all types of aircrafts.

According to the diplomat, the visa-free regime will promote development of the contacts in the tourism sphere.

Belarusians may like mountain hiking and extreme travel in Kyrgyzstan, believes Lydia Imanalieva.

The head of the Kyrgyzstan diplomatic mission to Minsk noted, the embassy personnel are intent on working hard to develop bilateral cooperation in various spheres. "Now the embassy is settling down and thanks to full replacement of the personnel experienced diplomats, who know Belarus well, arrive in Minsk. The fact that many diplomats return to Belarus is a good tendency", added Lydia Imanalieva.

Lydia Imanalieva was an advisor of the Kyrgyzstan embassy in Belarus in 1996-1999. The diplomat said, "There is a difference between what was then and what is going on now. There are pleasant changes and we point them out with pleasure".

In other news from this visit Imanalieva told the press today that "So far we see no dividends from the WTO membership and most likely will not see them in the near future",

The diplomat explained, practically all the CIS states started negotiations on the WTO accession at the same time. "However, due to different progress rates the accession is not simultaneous. We kind of got isolated for allegedly agreeing to the WTO's crushing terms", the ambassador noted.Kyrgyzstan entered the WTO in 1998.

Lydia Imanalieva stressed, "The WTO membership in view of the CIS integration processes must be defined. Kyrgyzstan did not define issues ranging from tariff rates to deductions. But we have to come to terms with the neighbouring states and partners. We failed to do that, and Kyrgyzstan was left alone".

"Our hurry to embrace the WTO membership and complacent approach were our mistake. However, the CIS states had different outlooks and we got a dissonance. We entered the WTO, but so far the WTO membership is the only good thing we enjoy", noted the Kyrgyzstan ambassador.

Belarus and Kyrgyzstan adhere to the same political stand within the framework of various international organizations. The statement to this effect was made by Ambassador Extraordinary and Plenipotentiary of Kyrgyzstan to Belarus Lydia Imanalieva during a briefing.

"Our countries strive for consolidation, integration, cooperation and do not support ideas of isolationism and alienation," the ambassador emphasized.

According to her, Belarus and Kyrgyzstan plan to further develop the legal-treaty base of the bilateral cooperation. The diplomat said that at the moment six draft legal acts are ready for signing, among them is a cooperation agreement in the education sphere. Lydia Imanalieva has highly evaluated the fact the Belarus managed to preserve professional training and emphasized that Kyrgyzstan was ready to invite the Belarusian specialists to help restoring the school in that country.

Representatives of Belarus' CEC to monitor parliamentary elections in Ukraine

BELTA

No one is expecting anything too big from this week's Uklrainian elections

Representatives of the central election commission of Belarus will monitor parliamentary elections in Ukraine due on March 26, BelTA was informed by CEC secretary Nikolai Lozovik.

Today CEC members Larisa Boguslavskaya and Margarita Zhorova have headed for Kiev. "Our employees were invited to observe the election by the central election commission of Ukraine. We have established close cooperation with our Ukrainian colleagues. Now we have an opportunity to extend contacts and exchange experience," Nikolai Lozovik noted. The Belarusian central election commission invited the Ukrainian counterparts to monitor the presidential election in Belarus. They accepted the invitation but failed to show up due to the preparation for the parliamentary election campaign.

Nikolai Lozovik said that the organization of the election campaign in Ukraine differs considerably from that in Belarus. "Ukraine has both majority and proportional voting systems. The political issues are paid greater attention than the social ones. After Ukraine's presidential election the political confrontation toughened. Therefore greater tensions are expected during these parliamentary elections than during the previous ones," the CEC secretary considers.

Belarusian scientists develop import substituting test-systems detecting HCV

BELTA

Hepatitis C is the most serious form of hepatitis.

Scientists of Gomel State Medical University have developed import substituting test-systems to detect hepatitis C virus /HCV/, BelTA was informed in the University.

Hepatitis C is the most serious form of hepatitis. The world's leading scientists consider it one of the most dangerous and insidious diseases as it is easily transmitted and not easily detected. The special feature of the infection is that it is unpredictable and has no symptoms. As much as 85 per cent of HC cases are likely to progress to chronic hepatitis C. According to the data of the World Health Organization, hepatitis C infects an estimated 3 per cent of people worldwide.

The tests developed in Gomel University are highly sensitive. The cost of tests and reagents will be much lower than that of foreign analogues. Gomel specialists also prepared a set of documents necessary for conduction of clinical trials and submitted them to the Center of Healthcare Expertise and Trials under the healthcare ministry.

Nina Savinova: compatriots in Estonia did not have any doubt in choice of Belarusian people

Belta

A group of Estonian folk dancers

The Belarusian Diaspora in Estonia did not have any doubt in the choice of their compatriots in Belarus during the election campaign, a BelTA correspondent was informed by the head of the association of the Belarusians of Estonia, editor and presenter of the Belarusian-language programs to the Scandinavian countries Nina Savinova, who is the head of a delegation of skilled Belarusian and Estonian craftsmen arrived today in Minsk.

"The home and foreign policy pursued in Belarus is supported not only by the ethnical Belarusians but also by representatives of other nationalities living in Estonia", she noted. "Only few residents of Estonia "get wages in Brussels" and other Estonians have to survive on their own", Nina Savinova underlined.

Nina Savinova also informed that the delegation comprised of 37 people arrived in Belarus to first of alls study the Belarusian folk art and to get familiar with the country and its mode of living. The trip is organized by the association of the Belarusians of Estonia within the frames of the program "Familiar unfamiliar Belarus". According to Nina Savinova, it is important that people will get first hand information about the state of affairs in the country and will form their own opinion.

The five-day program features a master-class in straw weaving, trips to Nesvizh, Mir, the museum compound of the ancient local crafts and technologies "Dudutki" and will make a tour around the Belarusian capital


Sport

Belarusians win nine medals at Paralympics in Torino

BELTA

SledgeHockey being played in Torino

The Belarusian paralympic athletes have clinched nine medals having settled for the 11th place in the overall medal table, BelTA has been told in the ministry of sport and tourism. This is Belarus' best result in the history of the Paralympic Games. Last time the Belarusians won two medals (both by Yadviga Skorobogataya) in Salt-Lake-City, while first appearance of Belarusian paralympic athletes in Nagano was disappointing medal-wise.

This time the gold medal was claimed by Lyudmila Volchek (10km cross-country skiing). She is also a winner of three silvers – the relay race (together with teammates Yadviga Skorobogataya and Larisa Vorona) and also two cross-country skiing races. Yadviga Skorobogataya picked up three medals – two silver and one bronze medals. Vasiliy Shapteboi won silver and bronze while Sergei Silchenko was a silver winner.

Russia came in first in the overall standings with 33 medals – 13 gold, 13 silver and 7 bronze. Germany settled for the second place (8 gold, 5 silver and 5 silver medals) and Ukraine - third (7 gold, 9 silver and 9 bronze medals). A total of 39 countries took part in the Paralympics in Torino.

Next Paralympics will be hosted by Canada's Vancouver in 2010.

Belarusian tennis-players win first matches in Miami


BELTA

Anna Kornikova and Max Mirnyi

Belarusian tennis players won the first matches at the NASDAQ-100 Open in Miami. Belarusian leader Max Mirnyi told BelTA that he had managed to crush a stubborn resistance of Gilles Muller from Luxemburg 7:6, 5:7, 6;4.

Max Mirnyi will play doubles with Jonas Bjorkman against Spanish tennis players Fernando Verdasco and Feliciano Lopez. Both partook in the Davis Cup match in Minsk. Max Mirnyi together with Vladimir Volchkov chalked up a convincing win over the Spaniards back then.

Anastasiya Ekimova and Viktoria Azarenko pleased the Belarusian tennis fans by successful qualification games beating Japanese Aiko Nakamura and Spaniard Laura Lous Tio correspondingly.

Belarusian athletes win two golds at Cup of Europe

Belta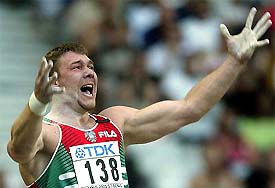 Andrei Mikhnevich

Natalya Khoronenko and Andrei Mikhnevich have clinched shot put gold medals at the Cup of Europe in Israel, BelTA has been told in the ministry of sport and tourism.

The shot put champion of the recent winter athletics worlds in Moscow, Natalya Khoronenko put the shot at 19m18cm to clinch gold, while in Moscow she showed the result of 19m84cm.

Andrei Mikhnevich, a silver winner in Moscow, produced this time the result of 20m21cm.

The two Belarusian athletes advanced in the world ratings this season.

List of names of those arrested at KASTRYCHNITSKAYA SQUARE

Viasna

The flattened remains of the Minsk tent camp

The detained are kept at Akrestsina jail and in the buses which stand in the yards of police departments and courts. The detained will be tried by Frunzenski, Maskouski, Kastrychnitski, Zavodzki, Savetski and Centralny courts. For information about your friends and family members please contact officer on duty of Minsk City Police Department: 227-02-21, 227-02-21 Telephone number of Akrestsina jail : 270-91-42 The list of the detained during the night of March 23-24 (UPDATED at 3.45 p.m. on Macrh 24)
1. Zhenya Kudzianava
2. Katsia Zhalezka
3. Yana Laurenovich
4. Ina Dziadzich
5. Nasta Chekhouskaya
6. Zoya Shchelo
7. Tanya Vitkouskaya
8. Ina Klimatko
9. Ina Shyshneuskaya
10. Ina Ivanova
11. Ina Burak
12. Aksana Serhiyenka
13. Siarhei Matskoyts
14. Ales Mazur
15. Viktar Arlou
16. Nadzeya Babich
17. Maksim Znak
18. Zmitser Kunich
19. Viktar Hryshkevich
20. Mikhail Subach
21. Frederick Lavoie (Canadian citizen)
22. Artsiom Lyava
23. Pavel Savitski
24. Alaksei Adamovich
25. Paval Kharlamchuk
26. Aksana Rudovich
27. Natalla Narel
28. Mikhas Chyzhyk
29. Leanid Skarabahaty
30. Artsiom Skarabahaty
31. Zmitser Laptsionak
32. Daria Kastenka
33. Aleh Chamerka
34. Dzianis Ziukau
35. Dzianis Sheiko
36. Tatsiana Ulasenka
37. Viachaslau Siuchyk
38. Anastasia Darafeyeva
39. Ala Sidarovich
40. Alaksandar Konach
41. Alaksei Konash
42. Karyniukhin
43. Hudzilin
44. Katsiaryna Kletsauka
45. Vera Kupchanka
46. Mariusz Maszkevicz
47. Paval Siarheyeu
48. Tatsiana Snitka
49. Yulia Chuyeshova
50. Viatal Krasiachkou
51. Yauhen Zavesnetski
52. Tatsiana Hryshan
53. Timur Hazizau
54. Natalla Sechko
55. Alena Radyna
56. Yauhen Kazlou
57. Hanna Muradava
58. Andrei Sidarovich
59. Alaksandr Zalatar
60. Vadzim Smok
61. Anton Sasnouski
62. Valeria Sauchankava
63. Nadzeya Kavaleuskaya
64. Daria Zialinskaya
65. Iryna Murauyova
66. Nadzeya Sychuhova
67. Yauhen Shedko
68. Dzianis Vashkevich
69. Yauhen Kazlouski
70. Eduard Hlezin
71. Ina Habryelchyk
72. Bahdan Arlou
73. Yulian Haiduk
74. Zmitser Zhykh
75. Paval Finkevich
76. Zmitser Harachka
77. Tatsiana Sveryn
78. Yury Yahorau
79. Viktar Kireyeu
80. Anton Sasnouski
81. Yury Shumovich
82. Siarhei Pisarchyk
83. Kiryl Ksiandzou
84. Mikhail Naskou
85. Maria Dzivina
86. Vital Karbinski
87. Natalla Dzemchonak
88. Anastasia Chekhouskaya
89. Alaksandr Ruhayn
90. Andrei Baranau
91. Dzmitry Vensko
92. Ales Hizun
93. Katsiaryna Yankovich
94. Dzianis Yukhnovich
95. Paval Lukin
96. Alaksandar Lantukh
97. Tatsiana Laryna
98. Tatsiana Hrudzko
99. Tatsiana Vanina
100. Tatsiana Baranchuk
101. Yauhen Netkachou
102. Stsiapan Svidzerski
103. Zmitser Dashkevich
104. Yauhenia Karona, under age, released
105. Ruslan Matsveyeu under age, released
106. Palina Kurylovich, under age, released
107. Ksenia Yolkina under age, released
108. Mikhail Subach
109. Danila Inazemtsau
110. Ivan Benedyktau
111. Vadzim Zenko
112. Mikita Krasnou
113. Siarhei Latsinski
114. Dzianis Buinitski
115. Alaksandr Darahautsau
116. Alaksandr Kuushynau
117. Tatsiana Kuushynava
118. Siarhei Marchyk
119. Stas Pachobut
120. Artsiom Platonau under age, released
121. Stanislau Bahdanau
122. Zmitser Rahachou
123. Viktar Shmyhau
124. Paval Sinkevich
125. Tatsiana Shandovich
126. Uladzimir Zoryn
127. Mikita Zaleski
128. Ruslan Shalaika
129. Alaksandr Sinkevich
130. Nadzeya Sinkevich
131. Andrei Rasinski (reporter)
132. Siarhei Batuyeu
133. Viktar Eunik
134. Anton Liashchou
135. Andrei Kozel
136. Yury Pakhuchy
137. Ivan parshyn
138. Salodki
139. Yauhen Yakimenka
140. Andrei Adzintsou
141. Viktar Drynchyk
142. Paval Savistski
143. Siarhei Tserakh
144. Siarhei Ilkevich
145. Tanya Sazonik
146. Ira Yarashevich
147. Siarhei Bialevich
148. Maria Pilayeva
149. Aleh Hrubich
150. Yury Talapila
151. Siarhei Shmelou
152. Ivan Stsepantsou
153. Alaksei Lashuk
154. Mikola Ilyin
155. Aleh Dziachkou
156. Aleh Hrableuski
157. Haraniuk
158. Mikita Abramenka
159. Yury Bakur
160. Ihar Salavei
161. Siarhei Mikhiyonak
162. Peralyhin – 10 days of jail
163. Volha Snytkina
164. Hleb Kurtsou
165. Natalla Semchonak
166. Tsikhan Zolatau
167. Dzianis Karnou
168. Alena Ihnatseva (under age, released)
169. Ihar Padalinski
170. Kim Savatseyeu
171. Alaksandr Kazulin (NOT the candidate) – Partyzanski court, Judge Audzeichyk
172. Alaksandr Alyabyeu -- – Partyzanski court, Judge Audzeichyk
173. Subach – Partyzanski court, Judge Barysionak
174. Alaksei Koshal
175. Eutsikhau – Partyzanski court, Judge Barysionak
176. Yakautsau – Partyzanski court, Judge Pykina
177. Siarhei Verabyou
178. Abramenka – Partyzanski court, Judge Pykina
179. Tsikhanovich – Partyzanski court, Judge Pykina
180. Hran – Partyzanski court, Judge Trubnikau
181. Lysiuk – Partyzanski court, Judge Trubnikau, 10 days of jail
182. Rebeka – Partyzanski court, Judge Trubnikau
183. Leshchou – Partyzanski court, Judge Lebedz
184. Alaksei haradzinski
185. Maksim Korzh
186. Alaksei Koshal
187. Nadzeya Batura (zavodzki court) 5 days of jail
188. Andrei Zuyeu
189. Bildziuk
190. Artsiom Lukyanenka
191. Sviatlana Lavonava
192. Yauhen Ivanenka
193. Zmitser Kazlouski
194. Alaksei Karalchuk