Lukashenka to be sworn in April 8th, EU bans BY travel, BY doesn't care, Gorbachev, Saddam Hussein, Kozulin, Gazprom, Aussi D-cup opens friday
From the Top

Belarus's Lukashenko confounds critics

From:Reuters

Lukashenko: Don't worry, I got it....
Belarussian President Alexander Lukashenko on Tuesday confounded critics who suggested he was rattled by protests against his rule by appearing on television in good form ahead of his weekend inauguration.
Lukashenko appeared strained last week in the sole footage of him shown since the day after his victory in an election denounced by the opposition and the West as blatantly rigged.
With state television regularly reporting on his activities at length, infrequent appearances -- and an initial postponement of the inauguration -- prompted diplomats and rivals to suggest he had been unsettled by protests after the March 19 poll.
On Tuesday, television showed him in good humour while bidding farewell to Kazakhstan's ambassador.
"We have absolutely no problems between us," Lukashenko told the departing ambassador. "And I believe there never will be. Thank you. Kazakhstan always supported us, no matter what."
The president's chief of staff had dismissed any speculation about his health on Monday, saying Lukashenko had outscored everyone in a weekend hockey game. But the president failed to appear at a major event on Monday evening.
Belarussian president pledges to cooperate with world
From:
China View
Belarus are ready to cooperate with all countries in the world, Belarussian President Alexander Lukashenko said when talking to his ambassador to Poland on Tuesday.
"Belarus is a country open to the world and interested in the interaction," Lukashenko was quoted by the Itar-Tass news agency as saying, at a meeting with Foreign Minister Sergei Martynov and Ambassador to Poland Pavel Latushko, who was recalled on Friday for consultations.
The recent presidential elections in Belarus did not change main direction and principles of the Belarussian foreign policy, Lukashenko said.
The talk also had a focus on developing relations between Belarus and Poland, primarily trade and economic cooperation that had tripled over the past three years.
"Pragmatism and neighborliness should be the main factor in the development of relations with Poland," Latushko said.
"Belarus thinks that Polish partners realize the futility of influence on the internal political situation. One should bear in mind that the Belarussian people makes independent decisions aboutits future, and the choice has been made," he said.
Latushko will go back to Warsaw when the consultations are completed.
Belarus recalled the ambassador amid strained relations following criticism by Polish officials over the Belarussian presidential election and the detention of Polish citizens during opposition protests in Minsk.
Poland has decided to impose visa restrictions and likely travel bans against Belarussian citizens deemed responsible for the alleged rigging of Belarus' presidential election, according to the Polish Press Agency.
Poland's former ambassador to Belarus Mariusz Maszkiewicz was sentenced on Monday by a Minsk court to 15 days in jail for taking part in an unauthorized rally in Belarus. Journalist Weronika Samolinska of the Gazeta Wyborcza daily was also jailed for 10 days.
President approves republican program "Youth of Belarus" for 2006-2010
From:
NLIPRB
The program is expected to raise the quality of life in rural regions, reduce youth migration, including young specialists working in rural areas, reduce the youth unemployment and develop the system of temporary and seasonal youth employment.
President of Belarus Alexander Lukashenko signed into force Decree #200 to approve the republican program "Youth of Belarus" for 2006-2010.
As BelTA has been told in the press service of the Belarusian leader, the program aims to further the state youth policy. Its main goals is to enhance the prestige and improve the accessibility of quality education, support creative and scientific young people, bring up citizen-a patriot, develop a system to promote permanent employment of young people, popularize healthy lifestyle, render assistance to young families, develop youth tourism, adopt preventive measures to stop crime, hard drinking, drug addiction from spreading among young people.
The program promotes conditions for more active involvement of young people into social-economic, political and cultural life of the society, development of positive children and youth initiatives.
The program also aims to improve the health, revive family values and strengthen the institute of family, increase the birthrate, consolidate the public youth movement to build up a strong and flourishing Belarus.
On April 5 Belarusian President Alexander Lukashenko signed Decree #204 "Adoption of resolution regulating asylum application by foreign citizens and stateless persons, asylum forfeiture and other affairs related to stay of foreign citizens and stateless persons in the Republic of Belarus", the Belarus President's press service told BelTA.
Unlike the existing procedure the new one sets conditions when a foreigner may not be granted asylum in Belarus. For example, asylum cannot be granted to foreigners when objective evidence states they committed crimes against peace and humanity, war crimes or non-political grave crimes outside Belarus or are guilty of actions contradicting aims and principles of the United Nations Organisation. Asylum cannot be granted to citizens of a third state, which does not persecute the abovementioned citizens for their political, religious beliefs or national affiliation, citizens, who have lost or have been stripped of their refugee status in the Republic of Belarus.
The new procedure simplifies asylum application documentation routine for foreigners. In particular, the Interior Ministry will forward the papers directly to the citizenship affairs commission under the President of the Republic of Belarus, thus bypassing the Council of Ministers. In turn, this will decrease the application consideration time by one month.
The new document specifies legal status of foreigners and their families, who have been granted refugee status in Belarus. They enjoy all rights and freedoms as well as responsibilities equal to those of foreigners, who permanently stay in Belarus. They are issued a permanent residence permit and a stay permit.
The decree also introduces the possibility to strip foreigners of asylum in Belarus. In particular, the measure can be enforced if the foreigner supplied false information, documents, which entitled him to the asylum in Belarus, or if he is a threat to the national security, is engaged in activities contradicting international laws. The asylum can be forfeited if the foreigner wishes to return to the native country, rejects the asylum, or leaves for permanent residence in another country.
The forfeiture can be enforced by the head of state only.
Besides, the decree amends certain laws related to compulsory medical insurance of foreigners temporarily staying in Belarus, their voluntary and mandatory fingerprinting and prevention of slave trade as well as laws specifying types of foreigners' stay in Belarus.
The decree fully meets existing international practices, underlined the Belarusian president's press service.
Polish diplomat in Belarus dies in hospital
From:
Radio Polski
Ryszard Badon-Lehr has died
Poland's vice consul in the Belarusian city of Grodno Ryszard Badon-Lehr has died in hospital in Bialystok.
He was transported from a Grodno hospital back to Poland last week with a suspected brain tumor, after being found unconscious in his apartment. Despite surgery he never regained consciousness.
The prosecutor's office in Bialystok is conducting an investigation into an alleged beating of Ryszard Badon-Lehr in Belarus. Prosecutor Janusz Kordulski has confirmed the Polish diplomat had burns in the kidney area suggesting the use of an electric paralyser.
EU to slap travel ban on 31 Belarus officials
From:
RFE/RL
Belarussian President Alexander Lukashenko attends a news conference in Minsk March 20, 2006. Lukashenko, whose re-election sparked opposition protests, on Tuesday abruptly delayed his inauguration without explanation, but declared "all political battles" were over in his country.
BRUSSELS - The European Parliament today approved a nonbinding draft resolution calling on members of the European Union to impose a visa ban on Belarusian officials it considers responsible for human rights violations -- including President Alyaksandr Lukashenka. The measure follows the parliament's reception on April 5 of Alyaksandr Milinkevich, who lost to Lukashenka in Belarus's March 19 presidential election. Addressing European lawmakers during a parliament session, the opposition leader lauded the EU's criticism of the Belarusian authorities following the vote, but called for even harsher action to be taken.
With the passage of today's nonbinding resolution, the European Parliament stepped up its criticism of the Belarusian regime following the presidential election.
The harshly worded resolution calls on EU states not to recognize Alyaksandr Lukashenka as president, and lists him among some 30 politicians it says should be banned from obtaining visas to enter the bloc.
The resolution also presses EU states to adopt sanctions against members of Lukashenka's regime.
Opposition candidate Alyaksandr Milinkevich learned firsthand of the European Parliament's intention during his visit to a parliamentary session in Strasbourg on April 5.
Austrian Chancellor Wolfgang Schuessel, whose country holds the rotating EU Presidency, described the decision to add Lukashenka to the travel blacklist.
"We put Lukashenka on the visa-ban list at the last European Council [the EU summit on March 23-24]," he said. "We are ready to impose sanctions against those responsible for the suppression of peaceful demonstrations. This will be discussed further, of course."
The official results showed President Lukashenka winning a third term with nearly 83 percent of the vote, while Milinkevich finished second with about 6 percent. Thousands of demonstrators took to the streets after the vote, and the EU characterized the poll as not free.
Today, the Belarusian Supreme Court rejected an opposition appeal for the election to be declared invalid due to electoral fraud.
But while the oppositions efforts are encountering resistance at home, Milinkevich told RFE/RL's Belarus Service on April 5 that he was pleased with his welcome in Strasbourg.
"[I had] very warm meetings," he said. "It is much easier to talk today because the interest in Belarus has never before been so big. And the people who lead the European Union are very well informed [about Belarus]. We don't need to explain what is going on, we can immediately start discussing what to do."
Milinkevich stressed, however, that the future course of Belarus will be decided in Minsk, not Strasbourg. And he said the EU's support is vital for the fledgling opposition.
"It was very important for them [to see] that the Belarusian people showed in Minsk that they are able to struggle," he said. "All of them understand that democracy in Belarus depends on Belarusians, not on the European Union. The European Union can support us but it cannot resolve this problem for us. When Belarusians demonstrate their will, character, and courage, it is extremely important for our contacts."
Milinkevich said he considered the travel ban to be a step in the right direction, but also suggested that the European parliamentarians could take the measure even further.
"Only, we think that not dozens, but as a minimum, hundreds of people should be on that [travel ban] list. Why? It [should include] judges whose rulings are politically motivated, heads of universities who expel students for their political views, militia officers who beat people, and all those propaganda-mongers who are destroying freedom of thought in society. We do not have TV. We have a propaganda organ," Milinkevich said.
However, ahead of today's European Parliament decision adopting the nonbinding resolution, Milinkevich said economic sanctions are not the answer. Such a move, he said, would affect ordinary citizens more than the authorities.
Belarus would ignore EU criticism of presidential election
From:
China View
Belarus: "The choice of the Belarussian people does not need to be accepted or rejected from the outside,"
A Belarussian Foreign Ministry spokesman said on Thursday that the European Union (EU) criticism over its recent presidential election would be ignored, saying that is "laughable".
"The European Parliament is making laughable calls on deeming the elections illegitimate," Andrei Popov said in a statement.
Popov made the statement as the European Parliament urged EU governments not to recognize Belarussian President Alexander Lukashenko, who was reelected last month, as a legitimate president and called for travel bans on Belarussian officials.
"The choice of the Belarussian people does not need to be accepted or rejected from the outside," the spokesman added.
EU foreign ministers due to meet on April 10 are expected to keep up pressure on Belarus.
Russian FM accuses EU of trying to isolate Belarus
From:
China View
Sergei Lavrov
Russian Foreign Minister Sergei Lavrov on Wednesday renewed Moscow's accusations that the European Union (EU) was trying to isolate Belarus since the reelection of President Alexander Lukashenko last month.
"We are convinced that if the EU has questions concerning the activities of a country's government, these questions should be addressed in a dialogue, and not through attempts to isolate the country," Lavrov told a news conference in the Slovak capital Bratislava.
However, his Slovak counterpart Eduard Kukan expressed full support to the EU sanctions against Belarus, including a visa ban on six key Belarus leaders.
EU foreign ministers due to meet on April 10 are expected to keep up pressure on Belarus.
The March 19 election in Belarus, which saw Lukashenko reelected for a third term with 83 percent of the vote, was branded by the EU and the United States as being rigged.
On the contrary, Russia said the presidential election in Belarus had been fair and was legitimate.
"The election has highlighted high civic activity among the population, the Belarusian people's interest in stability and continuation of the socially-oriented policy," the Russian Foreign Ministry said in a statement.
"There is every reason to believe that the election has been held in conformity with universally-recognized standards, and its legitimacy is beyond any doubt," said the statement.

Belarus also shrugs off opposition leader's Europe tour
From:
Reuters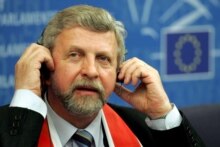 Alyaksandr Milinkevich at the European Parliament in Strasbourg on April 5
The Belarus Foreign Ministry on Thursday belittled a European tour by an opposition leader who lost a presidential election last month, but said Minsk was ready for a gesture of good will in its stand-off with the West.
The European Union branded the March 19 poll as neither free nor fair and is considering new sanctions against the government of authoritarian President Alexander Lukashenko, who was announced the winner and is due to be inaugurated on Saturday.
In a sign of mounting pressure on Minsk, key opposition candidate Alexander Milinkevich received a warm welcome during visits to Poland, Austria, the European Parliament and European Union headquarters.
"The Foreign ministry does not comment on visits by individuals," said the ministry's chief spokesman, Andrei Popov. "We assume that there is even less point in such meetings after the polls than there was ahead of the election."
Popov said Minsk was not alarmed by a resolution denouncing the polls that is likely to be adopted by the European Parliament later on Thursday.
"We are sure that yet again such a document cannot expect serious consideration in Minsk," he said.
According to official election figures Milinkevich trailed far behind Lukashenko, who is genuinely popular despite a tough Soviet style of government that has made his 10-million-strong country a pariah in Europe.
Milinkevich's supporters staged unprecedented protests against what they called rigged polls, including a four-day non-stop vigil at a central Minsk square. They plan to hold another rally on Saturday to coincide with the inauguration.
More than 600 protesters, including opposition leader Alexander Kozulin and the former Polish ambassador in Belarus, Mariusz Maszkiewicz, were detained after the polls. Most of them were sentenced to short prison terms of up to two weeks.
Poland, Belarus' EU neighbour and the most vociferous of Lukashenko's critics, has said it does not recognise the polls and has demanded that Maszkiewicz, sentenced to 15 days in jail, be freed.
Popov said the Foreign Ministry was considering the case and indicated the ex-ambassador could be freed.
"The Polish note is indeed in the Belarus Foreign Ministry," he said. "I want to stress that we do not consider it as any kind of a demand.
"It may be considered by the Belarus authorities on the basis of principles of good will," he added.
However, Popov said Belarus was not ready to return its ambassador to Poland, recalled after the polls in protest against Warsaw's tough criticism.
Lukashenko, who according to the official tally won 83 percent of vote, starts a new five-year term on Saturday. He first came to power in 1994.
Belarus Missile Crisis Vets Decorated
From:
Prensa Latina
Belarusian soldiers who participated ion the intense 1961 standoff have been honored in Cuba
The Cuban Embassy awarded the first degree internationalist medal to eight Belarusian veterans who accomplished missions during the difficult October (Cuban Missile) Crisis.
While presenting the medals on behalf of Cuba's Revolutionary Armed Forces and Council of State, Ambassador to Minsk Omar Medina evoked the symbolism of the service rendered by Soviet soldiers and officials of the time.
We are receiving today the seeds of solidarity and selfless aid you sowed during that crisis period in the fruits of younger generations and in the friendship and solidarity that will remain between our peoples, the diplomat said.
After receiving the award, some of the veterans referred to the strategic military importance of the so-called Operation Anadyr, as for the Soviet Army it was a top priority to prevent direct US aggression against Cuba.
First Lt. Guennadi Ladysev (R) thanked the Cuban Government for cherishing memories of the events and the contribution made by Soviet soldiers.
He said that by aiding other Third World nations, Cuba is a living example of internationalism.
Moscow Synagogue Attacker Gets 13 Years in Prison
From:
Mos News
Alexander Koptsev
A court in Moscow has sentenced Alexander Koptsev to 13 years in prison after the 21-year-old was found guilty of a brutal attack on members of the congregation at a local synagogue last January, Gazeta.Ru news website reported Monday.
The court sentenced Koptsev to 13 years at a high security prison. He was found guilty of racially motivated attempted murder but the charge of incitement to ethnic hatred brought against the man earlier was dropped.
The court also ordered Koptsev to undergo compulsory medical treatment in prison.
Alexander Koptsev broke into a synagogue in central Moscow during evening prayers on January 11. The young man, wielding a knife and shouting "I will kill Jews!" attacked worshippers, slashing and stabbing at least 9 people before the son of a rabbi wrestled him to the ground, officials and eyewitnesses said.
Witnesses said the shaven-headed attacker yelled "Heil Hitler!" as he aimed at victims' necks, heads or torsos in what appeared to be a well-planned attack.
Prosecutors completed the investigation by early February and Koptsev's case was transferred to court.
Moscow prosecutor Anatoly Zuyev said earlier this month Koptsev faced two charges, including ethnically and religiously motivated attempted murder. "Extremist publications found at the residence of the accused, his Internet searches for materials inciting interethnic strife, and other evidence give us every reason to assert that Kopstev's crime was motivated by religious and ethnic hatred," Zuyev said.
The prosecutor had said that if found guilty, Koptsev could face a maximum sentence of life in prison.
Earlier this month, the prosecutor demanded a 16-year sentence for the accused.
U.S. Has "Illusion of Omnipotence" - Gorbachev
From:
Mos News
Former Secretary of the politburo and pizza pitchman Mikhail Gorbachev has some harsh words about the US
Former Soviet leader Mikhail Gorbachev said the United States has an illusion of omnipotence — a "victory complex" - that's more dangerous than Russia's inferiority complex, San Gabriel Valley Tribune reports.
"Both countries should overcome those feelings," he said, "and their leaders should reflect what the people want, and what the people want is dialogue."
Gorbachev spoke through an interpreter Wednesday to a full house at the Distinguished Speaker Series at the Pasadena Civic Auditorium. He said the United States had a right to claim a leadership role in the world based on its military, cultural and economic power.
"But partnerships rather than domination should be used to exercise that power," he said. Gorbachev, the 1990 Nobel Peace Prize winner, spoke for almost 90 minutes on a wide range of issues.
On Iraq, he said: "I believe the only way out is for the U.S. to have an exit strategy that gives Iraq a chance to solve its problems, gets help from other Arab nations and does so with the involvement of the U.N. Security Council." Gorbachev criticized at the Bush administration's efforts to bring democracy to Iraq.
"Leaders should learn from Russia and not interfere in other countries," he said. "You cannot force democracy on people. Democracy is only worth something if it's homegrown. We need to respect other nations. Those who try and teach democracy often have a history that's not that good."
Gorbachev said it would be a mistake to lump the majority of the world's 1.5 billion Muslims with a few extremists and fundamentalists. "Traditional Islam and Christianity share the same values," he said. "They don't want to be condescended to. They want to be equals with the West."
"We're still using the old tools of force, thinking that war solves problems," Gorbachev said. "The people of the world don't need or want that, and instead envision living in a balanced, stable world where diversity is accepted and recognized."
He said perestroika, the government restructuring he started in the Soviet Union, was interrupted by the corrupt administration of Boris Yeltsin, but is resuming under Russian President Vladimir Putin.
"Anything can happen," he said. "There will be rollbacks and we may stumble, but Russia will never turn back, Russia will move forward. We want to have democracy. But what you did in 200 years, we cannot do in 200 days."
There has been backsliding on nuclear treaties he signed with Presidents Reagan and George H. W. Bush in the 1980s and 90s, he said. "We agreed neither country would use nuclear weapons in a first strike. We signed a statement that said a nuclear war could not be won and should never be fought," he said.
Current U.S. nuclear strategy discusses the possiblity of using nuclear weapons in a first strike, he said, so Russia has inserted similar language in its nuclear plans.
At a meeting with foreign reporters Marking his 75th birthday in March, Gorbachev blamed the United States for losing a chance to build a safer and more stable world following the Soviet demise. "Ending the Cold War was given as a gift" to the United States, but it only strengthened its arrogance and unilateralism, he said. "The winner's complex is worse than an inferiority complex, because it's harder to cure."
While praised worldwide, Gorbachev has been reviled at home, where a majority of Russians hold him responsible for the Soviet breakup and subsequent economic chaos that impoverished millions. He won a mere 1 percent of the vote in the 1996 presidential election; he hasn't run since.
Many still accuse him of caving in to the West. Anatoly Utkin, a senior researcher with the U.S. and Canada Institute, chastised Gorbachev for drastically cutting Soviet nuclear arsenals and agreeing to Germany's reunification without getting anything in return.
"Gorbachev didn't know the West. And the West didn't trust the nobility of his motives and coldly used him," Utkin said in a column in the weekly Argumenty i Fakty.
Special:

In Search of Saddam Hussein's WMD:
Russian Intelligence, Belarus & Highway 11

From:New Media Journal

A barrel of something nefarious was found buried shortly after Saddam Hussein was taken into custody

The 1990-2003 War Against Saddam has millions of untold stories. Perhaps one of the most important happened at the onset of the invasion. On the evening of March 22 there are several reports that Russians were witness to an American airborne assault near the Syrian/Jordanian/Iraq border, on or near Highway 11, and in the vicinity of Akashat. Allegedly American airborne troops and/or Special Forces were trying to seize some of Saddam's WMD on its way into Syria. They were detected by Iraqi forces, surrounded, and as many as 30 were killed or captured. Forces from Jordan were sent to provide air support and rescue for the survivors.

There are no reports of this incident in the mainstream media, but Russian intelligence reports that were remarkably published on the internet during the invasion were generally close to the mark in accuracy (albeit embellished with a distinct political slant), and the Department of Defense has affirmed that the reports do seem credible and accurate-particularly the ones that reference radio intercepts. This report of the border incident stems from such radio intercepts. It's also echoed in Yossef Bodansky's book, The Secret History of the Iraq War, and he cites several Russian eyewitnesses as well.

That the casualties are not listed in the DoD's casualty list is not unusual since the words "Ranger" and "Green Beret" are missing from that list entirely. It seems Special Forces casualties are not generally reported in the same manner as conventional forces. If true, the presence of American forces captured and taken into Syria perhaps might be one of the reasons why more pressure hasn't been exerted on the Assad Regime.

In any event, on March 24th President Bush called Russian President Vladamir Putin and there can be no doubt that the issue of Russian support for Saddam's regime was discussed. That the phone call (widely reported by the press at the time) came immediately in the wake of the border incident is interesting and poignant.

On March 29 and 30, Saddam contacted Belarus. The former Soviet Republic had been one of many that offered Saddam exile in the days just prior to the war. Instead of accepting the offer, Saddam had a Belarusian IL-76 transport plane flown to Baghdad, allegedly loaded with "sensitive cargo" and immediately flown back to Belarus. In December, Yevgeny Primakov's plane had been reloaded with "sensitive cargo" (ie cargo the Americans would want-like WMD, WMD equipment, documents, and people), and flown to Belarus. All flights in and out of Saddam International were monitored closely by the USAF, British Intelligence, and a list of other foreign intelligence services.

Many of the Russian-made weapons procured through Syria's front companies-like SES International-had come from Belarus. After the fall of Saddam's regime, it was found that many of the senior leaders who had fled went to Syria and Belarus (sometimes in that order). If one asks, "What happened to all that WMD?" Then a finger can be pointed towards the former Soviet Republic at the very least for enabling the former leaders of Saddam's regime to escape and orchestrate an insurgency, clearly for removal of "sensitive items" from Saddam's regime, and very likely for accepting Saddam's WMD, WMD equipment, documents, and people.

On April 5th, CENTCOM reported spotting a large column of Iraqi vehicles, and braced for a possible counterattack. Rather than race south to certain defeat and death, the column slipped into Syria. Russian intelligence reports reiterate this event as do Lebanese sources. Mainstream media reports only confirm the convoy's sighting, but they do not follow up the report, and they do not report on what happened to it. Allegedly the convoy included Russian-made mobile rocket launchers some with chemical weapons.


The issue of Hussein's involvement and development of chemical weapons is at the forefront of his trial.


The exodus from Iraq to Syria by Saddam's allies and the highest ranking members of Saddam's regime didn't end on April 9th, but it was fully brought to the attention of the world when American Special Forces intercepted a Russian convoy headed into Syria. The Russians said that the convoy was on a diplomatic mission following a convoy that carried Primakov himself. To this day no one knows for sure. Some reports claim that Primakov's convoy carried Russian WMD people, documents, and equipment that could not be left to fall into the hands of the Coalition. That Russian convoys as well as convoys from Saddam's regime were assembled and rushing out of Iraq/into Syria during those last few days has been well-reported by the mainstream media, and summarily ignored then forgotten.

The contents of the convoy that American commandos attacked remain classified, but former deputy undersecretary of defense for international technology and security, John A Shaw, reports that American intelligence has documents confirming that Saddam's Regime paid Russia to provide security forces for Iraq's Russian-made arms and paid Russia to conduct counterintelligence activities that would prevent the Coalition from discovering the illegal arms supply line from Russia through Syria. This is consistent with the other aid Russia is known to have provided Saddam's regime in its last days.

"An Arabic-language report obtained by U.S. intelligence disclosed the extent of Russian armaments. The 26-page report was written by Abdul Tawab Mullah al Huwaysh, Saddam's minister of military industrialization, who was captured by U.S. forces May 2, 2003." Other intelligence officials confirm the possession of these documents and more. "The materials outlined in the documents included [illegal] missile components, MiG jet parts, tank parts and chemicals used to make chemical weapons, the official said."

Recently declassified documents from Saddam's Iraqi Intelligence Services headquartes as well as the Iraqi Perspectives Project report released two weeks ago both serve as new sources detailing how Russian intelligence was working hand in hand with the IIS-even going so far as to provide the Iraqis with the American invasion plans for Operation Iraqi Freedom. Sec State Rice has even brought up the matter of Russian aid to Saddam's dying regime as recently as last week.

One wonders how differently the war in Iraq would look if American commandos had been able to seize elusive WMD in those first few hours of the war, and what it would have been like if they could have presented it to the world? As more and more captured documents are being released every day, why not present the documents detailing the list of illegal Russian armaments provided to Saddam, or the other evidence of illegal Russian support as well?

That answer will come later.

Belarus opposition leader must wait months for trial - lawyer

From:Ria Novosti

Kozulin

A Belarusian opposition leader Alexander Kozulin, arrested during protests in Minsk March 25 will spend at least two more months in prison before his case comes to court, a defense lawyer said Wednesday.

"Investigation usually takes two months. However, if the case becomes politically charged, it will be hard to guess how long it will take. Anyway, Kozulin is ready for trial," defense attorney Igor Rynkevich said.

Kozulin has been charged with hooliganism and public disorder offenses over his involvement in a protest rally against the results of presidential elections March 19. The elections ended with a landslide victory and third term in office for Alexander Lukashenko, dubbed "Europe's last dictator" by Washington.

The Belarusian opposition denounced the elections as fraudulent, and staged a sit-in protest on central Oktyabrskaya Square in the capital, Minsk. The rally was broken up by force, as was a demonstration March 25 that saw hundreds arrested and, the opposition alleges, left at least one protestor dead.

Rynkevich said Kozulin had earlier pleaded not guilty, and had refused to give testimony.

Kozulin faces punishment ranging from a fine to six years in prison.

600 people charged over Belarus election protests - prosecutor

From:RIA NOVOSTI

The March 25th crackdown on the Minsk tent-protestors netted a pretty decent haul

Belarus' chief prosecutor said Wednesday that about 600 people have been charged over mass demonstrations following the country's recent presidential elections.

Pyotr Miklashevich said prosecutors had filed 33 administrative and six criminal cases and issued 32 official warnings in the wake of unsanctioned rallies protesting the results of March 19 elections.

The elections ended with a landslide victory and third term in office for Alexander Lukashenko, dubbed "Europe's last dictator" by Washington. The results sparked protests in the capital, Minsk, which were broken up by force.

Belarusian opposition leader Alexander Milinkevich outlined Wednesday his objectives in continuing efforts against Lukashenko's regime, saying efforts would be based on information warfare and peaceful protests.

"Today our efforts have three fundamental objectives: free elections, freedom of speech, and free education," Milinkevich said in a statement.

"We are switching from the wonderful romantic sentiments of a brave minority to everyday educational and information efforts involving tens of thousands of freedom volunteers," he said, adding that political parties and non-governmental organizations would be the core of the opposition movement.

Russia, Belarus, Kazakhstan to Form Economic Bloc in Near Future — Putin

From:Mos News

Vladimir Purin and his Kazakh counterpart Nursultan Nazarbayev

Russia, Kazakhstan and Belarus are ready to sign the first package of 38 documents designed to establish the Common Economic Space, a proposed trade bloc, the UPI news agency reports. Russian President Vladimir Putin said the three countries would sign the documents in the near future.

"As for our Ukrainian partners, we will be glad if they are ready to sign. But as far as we know from experts, our Ukrainian friends will attend the signing and are ready to sign several documents from the package, but not the entire package," Putin said Tuesday at a news conference in Moscow.

The main principles of the Common Economic Space are the free movement of goods, services, capital and people. The ultimate goal is to abolish tariffs and harmonize markets in key areas such as transportation and energy.

The agreement to create the CES was announced by Russia, Ukraine, Belarus and Kazakhstan, the largest nations in the Commonwealth of Independent States, on Feb. 23, 2003.

Since Viktor Yushchenko became president, Ukraine has been more interested in European Union membership, but the recent victory of the pro-Russian Party of the Regions in parliamentary elections could again change the situation in Ukraine.

Gazprom aims to triple rates for Belarus

From:The Washington Times

Alexander Ryazanov

Russian gas monopoly OAO Gazprom yesterday called for at least a threefold increase in gas prices for Belarus, a move that could strain relations between the two neighbors.

Belarus is the only former Soviet republic that did not receive a gas-price increase from Moscow last year and it is paying the rock-bottom price of roughly $47 per 1,000 cubic meters of natural gas.

Speaking at an energy conference in Moscow, Gazprom Deputy Chairman Alexander Ryazanov said Belarus should pay at least three times the rate it is paying now, the Interfax news agency reported.

Mr. Ryazanov's words echoed statements last week by Gazprom officials that Belarus should pay European rates for Russian gas. Many analysts have interpreted the move as a ploy by Moscow to acquire control over Belarusian pipeline operator Beltransgaz, which carries Russian gas to lucrative Western markets.

Analysts say the proposed price increase would cripple Belarus because its Soviet-style economy relies on cheap Russian gas to keep its exports competitive.

Gazprom has said Belarus has until the end of April to put forward its proposals.

Russia and Belarus signed a union agreement in 1996 that envisaged close political, economic and military ties but stopped short of creating a single state.

Belarusian President Alexander Lukashenko, branded Europe's last dictator in the West for his crackdown on dissent, has rejected a scenario Russian President Vladimir Putin floated in 2002 under which Belarus essentially would be absorbed by Russia.

Moscow has become increasingly impatient about subsidizing the ailing Belarusian economy.


Sport

Davis Cup quarters set for Friday

From:TSN.ca

Lleyton Hewitt

Three struggling former top-ranked players hope to seek to regain top form in the Davis Cup quarter-finals starting Friday.

Australia's Lleyton Hewitt, Russia's Marat Safin and Andy Roddick of the United States will all play singles. Australia hosts Belarus, Russia is at France and the U.S., plays Chile in California. Defending champion Croatia hosts Argentina.

Hewitt will play Vladimir Voltchkov - ranked 457th - in the second singles on the hard courts at Kooyong in Melbourne. Australia's Chris Guccione opens against Max Mirnyi.

Hewitt didn't play in Australia's opening-round win against Switzerland - minus Roger Federer - in February. He has slipped to 12th in the rankings and lost in the second and third round at his last two events.

"I still consider him a top-five player," Mirnyi said. "People expect so much of him now. But the game is so competitive, and him not winning a title does not mean he's playing any worse."

On Saturday, veteran Wayne Arthurs is scheduled to team with Paul Hanley in doubles against Mirnyi and Voltchkov, while Hewitt plays Mirnyi and Guccione takes on Voltchkov in the reverse singles on Sunday.

Croatia, which won its first Davis Cup title last year, plays Argentina on indoor carpet in Zagreb. Player-captain Ivan Ljubicic hopes to have a psychological edge.

Ljubicic beat both David Nalbandian and Agustin Calleri last week at the Nasdaq-100 Open in Miami before losing to Federer in the final. Both Argentines were nominated to play singles and doubles.

"This is altogether different," Ljubicic said. "Our last meetings have nothing to do with this. It doesn't give me any advantage. It only gives me a good feel of what is to come."

Ljubicic will play Calleri in Friday's opening match. Mario Ancic faces Nalbandian in the second match.

Russia has beaten France the last two times they've played- the 2005 quarter-final in Moscow and a dramatic 2002 final in Paris.

"Whenever this Russia team has beaten us, it has been stronger than us whether we like it or not," France captain Guy Forget said. "If we beat them it will be considered an upset as they have better players than us."

Richard Gasquet plays two-time Grand Slam winner Safin in the opening singles on indoor carpet in Pau, France. Arnaud Clement plays Russia's Nikolay Davydenko in Friday's second singles.

Safin only reached the second, fourth and first rounds in his last three tournaments. His last Davis Cup appearance was in a 4-1 first round win over Chile in March 2005.

Roddick has struggled since losing in the first round of the U.S. Open last year. He and James Blake are expected to play singles against Chile. The Bryan brothers - Bob and Mike - will play doubles.

The United States has won the Davis Cup 31 times, but not since 1995.

Chile, which has never won the title and is in the quarter-finals for the first time since 1982, will be represented by 19th-ranked Fernando Gonzalez and No. 43 Nicolas Massu in singles.


End note

Dozens of Thousands of Congratulatory Messages Arrived to Alexander Lukashenko

From:The office of the president
Dozens of thousands of congratulatory messages have arrived to Alexander Lukashenko in connection with his election as President of the Republic of Belarus.

The geography of the countries from whence letters, telegrams, e-mail messages came covers all the Earth's continents. Among those who have congratulated Alexander Lukashenko and the Belarusian people are state leaders, political and public figures, parties and NGOs, foreign diplomats, ordinary Belarusians and citizens of foreign countries, work collectives, veterans, military servicemen, businessmen, scholars, athletes, members of the creative intelligentsia, mass media representatives, members of the Belarusian communities abroad, actors, pupils and students of Belarusian and foreign schools and universities.

The message of Russia's President Vladimir Putin's reads in particular: "The results of the election that has just taken place are evidence of the voters' confidence in the course you have chosen to ensure rising prosperity for the Belarusian people. Russia and Belarus are bound by solid ties of friendship. We are working together actively to develop multifaceted integration and to deepen our relations in all areas of our cooperation. I am sure that by working together we can make real progress in the union construction and ensure consistent democratic development of our countries."

Most congratulations have arrived from the Russian Federation, Ukraine, Georgia, Moldova, Azerbaijan, Armenia, Kazakhstan, Tajikistan, Argentina, Belgium, Bulgaria, Great Britain, Egypt, Israel, Italy, Canada, the Netherlands, New Zealand, Czech Republic, Poland, France, Finland, USA, Sweden, Baltic States.

Maciek Suska from Poland has expressed disagreement with the policy pursued by the Polish government. "I was in your country on 3 July 2005. I admire your war veterans. They have overcome the German invasion. Belarus cannot be subjected to manipulations of the western satellites of the USA," he wrote.

"In my view, it is totally evident. I support you!" wrote V. Kirk from Sidney, Australia.

Patrick Rich from Great Britain wrote: "Your country Belarus is one of my favorite countries. It can achieve a lot with its friendly people and fantastic countryside. Whenever I am in Belarus I feel like home."

David Michael, Great Britain: "I would like to congratulate you on your recent election victory. I deplore the actions of my country and others in attempting to destabilize Belarus."

Dr. Stefano Quacquarini from Italy: "I would like to make my best congratulations to President Lukashenko. I have a very beautiful memory of Minsk and Bielorussia and I hope Bielorussia will go on by this way."

Nikola Mikovic from Serbia emphasizes that Alexander Lukashenko has done a lot for the people of Belarus. "I'm sure most of them are proud to have such good president. I'm from Serbia, and Belarus is Serbia of my dreams," he wrote.

"Your Excellency's re-election as President of the Republic of Belarus is indeed a clear manifestation of the immense confidence that Belarusians have re-reposed in your dynamic leadership to guide their destiny in this millennium. The overwhelming mandate given by the Belarusian people to you for a third term is unparalleled in your country's history, reflecting their unequivocal endorsement of your government's policies and achievements during the past twelve years under your leadership. The results also bear ample testimony to their continuing confidence in your stewardship and vision for the future," wrote Nalin De Silva, from Colombo, Sri Lanka.

Congratulatory messages addressed to the Head of State continue arriving.

(Note: The BEING HAD Times would also like to add its name to this list and offer its approval and congratulations to the president of the Republic of Belarus, Alexander Gregorivich Lukashenka ahead of the April 8th inauguration.)

And finally, a special thanks to a great supporter of the BHTimes, Mr. Mike Miller of Indiana.