Belarus/Austria, Sidorski's Cuba trip, Belarus/Iran, Russian missiles and bombers on the way, Ukraine and Chernobyl
From the Top

Alexander Lukashenko: Belarus to develop all-round cooperation with Austria

From:Belta

The city of Mantafan in Vorarlberg, Austria
Belarusian president Alexander Lukashenko has thanked the representatives of the federal land Vorarlberg, Austria, for charity aid provided to cushion the Chernobyl impact. Today, during a meeting with the Vorarlberg government delegation, the head of state stressed the importance of the Austrians' 15-year-long assistance for the residents of the affected regions including those of Gomel oblast.
Such long-term contacts has proved our cooperation strong, the president said.
The Belarusian leader has also extended gratitude to head of the Austrian delegation Hans Kohler, leader of the commission for the European affairs of the Vorarlberg parliament, burgomaster of the town of Rankweil, for an unbiased approach to observing the presidential poll in Belarus. Mr. Kohler visited Belarus twice as an election observer – in 2004 for the parliamentary election and in 2006 – for the presidential vote. He is well-known as a man of integrity and moral fibre, an independent international observer.
During a meeting with a government delegation of the Austrian land Vorarlberg Belarusian president said that the project of using renewable energy resources pursued by Austria is interesting for Belarus. The president appreciated Austria's contribution to boosting Gomel oblast economy.
The government of the federal land Vorarlberg allocated EUR 100 thousand to construct two solar plants in Belarus. A woodworking waste treatment facility project is being finalized. There are efforts underway to design and construct a bio-gas installation in the village of Tereshkovichi, Gomel oblast, worth of EUR 1 million. The Austrian firm AAT from Vorarlberg has won the tender for its construction.
The Belarusian leader confirmed the interest of the Belarusian government to develop large-scale trade-economic cooperation with Austria.
The president said that he had repeatedly visited Austria and saw the way the Austrian population treated Belarusians. According to him, "this is a very advanced economy". Belarus is eager to cooperate with Austria in all spheres.
Belarus is ready to develop all-round cooperation with Austria, president of Belarus Alexander Lukashenko has stated today at a meeting with the governmental delegation of the Vorarlberg federal land /Austria/.
The head of state noted that Belarus values highly the cooperation with Austria in mitigating the Chernobyl consequences and confirmed the interest to develop relations in other areas.
Alexander Lukashenko stressed that Belarus is ready to implement any trade and economic projects. According to the president, a project on the use of renewable energy is of special interest
Cuba, Belarus Strengthen Bilateral Ties
From:
prensa Latina
Belarusian PM, Serguei Sidorski and Cuban Vice Presidente Ricardo Lage
Havana, Apr 23 (Prensa Latina) Before leaving Cuba on Sunday, the Belarusian Prime Minister, Serguei Sidorski, confirmed relations between the island and his nation are stronger than ever as bilateral agreements sealed in Havana illustrate, he said.
Sidorski arrived here at an invitation from Cuban President Fidel Castro, whom he met on Saturday.
The official and his accompanying delegation wrapped up their three-day visit with a tour of Matanzas province´s tourist resorts to learn on the development of this industry.
Havana and Minsk signed five deals on transport, air services, politics, legal matters and information exchange.
Sidorski mentioned plans to enhance economic contacts with Cuba and supply tractors, heavy mining technology, fertilizers and refine Cuban sugar in Belarus.
Friday he laid a wreath at the monument to Cuban National Hero Jose Marti.
Cuban Foreign Trade Minister Raul de la Nuez, who accompanied him at the ceremony, admitted that annual exchange is not yet sizable (nearly 19 million dollars) but so far, both countries have signed 17 trade agreements on commerce, economics, health, certifications and consular ties.
In addition to meeting with President Fidel Castro, Sidorski will fulfill an ample agenda of meetings with government ministers and visit sites of cultural, historic, educational and scientific interest.
Both nations clinched accords in town services and the supply of powdered milk and beans to the Caribbean island. Sidorski also said that President Alexander Lukashenko will attend the 14th Non Aligned Countries Movement Summit in Havana since its debates helps the Movement expand.
Iran, Belarus sign MOU on economic ties
From:
mehrnews
Iran's Minister of Commerce Masud Mir-Kazemi
Iran and Belarus signed a Memorandum of Understanding (MOU) on exportation of technical and engineering services and products by the Islamic Republic.
During his visit of Minsk, Iran's Minister of Commerce Masud Mir-Kazemi, signed a MOU on development of economic cooperation between the two countries, a statement released by the ministry said here on Saturday.
The Iranian minister assessed his visit, which was made within the framework of the 7TH Iran and Belarus Joint Economic Commission, as very positive.
The president of Belarus said Friday the former Soviet republic was seeking to expand trade ties with Iran, while Tehran said the two countries had much in common in many areas.
"Trade between Belarus and Iran is much lower than it could be," Alexander Lukashenko told an Iranian minister. "It is absolutely inadmissible to leave it at the current level."
The presidential press service said trade between the two countries in the first two months of 2006 had slipped by 8% year-on-year to about $5 billion, primarily due to a fall in Belarus' exports.
Meanwhile, a number of problems hindering the commercial development between the two countries were mooted at the joint commission. However, the tradesmen and merchants taking part in the meeting called for more interactions between the private sectors of the two countries.
CIS police commandoes hold joint anti-terror exercise
From:
Itar Tass
Special police forces in training for anti-terrorist scenarios
Commandoes from the interior ministries of the Commonwealth of Independent States fought a "terrorist gang" in a joint exercise in Tajikistan's mountains on Saturday.
The exercise in the Magov Valley involved special police task force units from Russia, Belarus, Tajikistan, and Armenia. It involved a total of 700 police officers.
According to the legend, several groups of up to 45 "terrorists" penetrated Tajikistan from neighbouring countries in order to detonated bombs at the Nurek hydropower plant, an aluminium plant, and an electrochemical plant. The gunmen reached arms caches on former battlefields and took several farmers hostage.
Russian Interior Minister Rashid Nurgaliyev praised the commandoes for their excellent teamwork. ""This is the first joint exercise held within the framework of a meeting of the Council of CIS Interior Ministers. It proves that the terrorist threat is the most sensitive topic and that only jointly can we stop criminals and ensure stability and security in our countries," Nurgaliyev said.
Russia Starts Delivering Missiles to Belarus
From:
MosNews
Russia's S-300SP surface-to-air missile system
Russia has began delivering advanced anti-aircraft missiles to Belarus, the Associated Press quoted the country's defense minister as saying.
Russia and Belarus signed an agreement last year on the delivery of the latest and most advanced version of Russia's S-300SP surface-to-air missile system, capable of shooting down targets some 90 miles away.
Belarusian Defense Minister Leonid Maltsev denied a report in the British defense journal Jane's Intelligence Digest that Belarus agreed to transfer the S-300SP missiles to Iran to defend against any possible U.S. or Israeli air strikes designed to derail what many in the West allege are its efforts to develop nuclear weapons.
Russia has already agreed to supply sophisticated Tor-M1 air defense missile systems to Iran.
"I have no intention of commenting on this nonsense," Maltsev said. "Under the contract for the delivery of the S-300s from Russia, Belarus does not have the right to transfer these systems anywhere else."
Iranian Commerce Minister Masud Mir-Kazemi, who headed a trade delegation that traveled to Minsk, also denied that Tehran wanted to acquire the Russian S-300 missiles.
"From the viewpoint of military technology, we are self-sufficient and there is no need for us to consider buying weapons abroad," he said.
The Iranian minister said he had not met with Russian Defense Minister Sergei Ivanov, who on Friday was also in the Belarusian capital for talks with President Alexander Lukashenko.
The missile shipment is the latest move expanding military ties between the two ex-Soviet republics. In 1996, the two nations signed a union agreement providing for close political, economic and military ties and their armed forces have held frequent joint drills.
In February, Russian air force chief Gen. Vladimir Mikhailov said Russia planned to set up a permanent military air base in Belarus.
Russia has watched warily as former Soviet bloc countries bordering Belarus — Poland, Latvia Lithuania — have joined NATO.
Russia-Belarus air defense to be finalized by year's end-Ivanov
From:
Ria Novosti
The Tu-160 strategic bomber
Russia and Belarus could start integrating their air defense systems by the end of the year, the Russian defense minister said Friday.
"I expect the documents on an integrated air defense system to be signed before the end of the year," Sergei Ivanov, who is also deputy prime minister, told a news conference in Minsk.
He also said Russia would send 1,500 servicemen to a joint exercise with Belarus this June, adding that Tu-160 strategic bombers, Su-27 fighters, and an AWACS plane would be taking part.
Kazakhstan to participate in 10th Mass Media in Belarus exposition
From:
kazinform
A photo from the Mass Media in Belarus exhibition
The 10th anniversary international specialized exposition Mass Media in Belarus organized by Byelorussian Information Ministry will take place on May 3-6 in the city of Minsk. Representatives of mass media of Kazakhstan, Russia, Ukraine, Armenia, China and Egypt will participate in the event. The exposition will be held in order to enhance and develop international cooperation in the sphere of information and press.
Within the framework of the exhibition there will be held the first Byelorussian Informational Forum including Minsk session of International Antiterrorist Media Forum, Eurasian Teleforum sitting and awarding of the winners of the 2nd national print media competition and laureates of Golden Pen Byelorussian Union of Journalists.
Besides there will be organized presentations of mass media, thematic mounts, meetings, seminars and press-discussions.
Belarus hits Western sanctions
From:
People's weekly world
Belarus is just a little country in the center of the world
After Western-funded candidates failed to unseat incumbent Belarusian President Alexander Lukashenko in the March 19 elections, the U.S. and the European Union have intensified a campaign to isolate the country's government.
On April 10, the European Union slapped a travel ban on 30 officials, including Lukashenko, and threatened further measures. The U.S. has vowed similar action.
Belarusian officials denounced the moves as a rejection of people's "right to live in their own country with their own wits, not with someone else's," and called the EU's actions "uncivilized."
The incumbent won 82.6 percent in a four-way race, while his closest opponent, Alexander Milinkevich, received only 6 percent. Western countries, including the U.S., said that the elections were flawed and accused Belarusian authorities of vote-rigging. But 30,000 domestic monitors called the elections "free and fair," as well as the vast majority of hundreds of foreign observers.
Lukashenko's popularity, which is acknowledged even by his Western critics, stems from his role in combating corruption and helping to ensure that Belarus not fall into the poverty that has engulfed other parts of the former Soviet Union. He has fought to preserve social programs and to retain public ownership of big enterprises, for example.
His resistance to privatization, as well as his alliance with Russia, is the primary reason the U.S. and Europe wanted to unseat him, several observers said.
"Get busy with restoring order in your own countries," Lukashenko said at his inauguration, clearly aiming his comments at the West. "Belarus has a robust immune system. Your clumsy attempts to plant the virus of revolution have produced the reverse effect."
Ukraine's government fighting to remain pro-west despite pro-Russian vote
From:
ohmynews
Ukrainian president Viktor Yushchenko is trying to keep things orange despite his country's recently having voted red
Representatives from three Ukrainian political parties agreed on Thursday to form a pro-Europe ruling coalition in parliament, but have yet to decide on a common platform. The participants include the Julia Timoshenko Block, which secured 22 percent of the vote in the March elections, Our Ukraine (13 percent), and the Socialists (5.5 percent). The parties generally support closer Ukrainian relations with the West and market reforms, but in the past have differed on economic issues. Despite continued disagreements between partners, the alliance, know as an "Orange bloc," still has chances to control the country's parliament, the Verhovna Rada.
The Orange Revolution, which took its name from the color of Viktor Yuschenko's party and swept him to power in Ukraine in January, was welcomed by millions of Ukrainians. During the revolution, Yuschenko's main slogan was to end the country's corrupt practices and get rid of tainted politicians.
However, former Orange Revolution allies split last fall amid mutual accusations of graft. Yushchenko dismissed Tymoshenko in September 2005 following a split between members of the Orange Revolution team over corruption accusations. Tymoshenko hit back by depicting Yushchenko as an oligarch puppet.
But last month, Ukrainian President Yushchenko, under pressure following the pro-Moscow Party of Regions March 26 elections win in the country, has offered to form a coalition with Timoshenko, whom he dismissed as prime minister last year. The pro-Russian Party of the Regions won the most votes in the election, but failed to win an overall majority, forcing the country into difficult coalition talks.
The March 26 parliamentary vote whose final results were announced earlier in April failed to give any party a majority and forced the country's top lawmakers into uneasy talks to put together a parliamentary majority. According to the final results, the pro-Russian Party of the Regions will have the biggest parliamentary faction after winning 32.14 percent of the vote, followed by the now-divided Orange Revolution team. Ukraine's new parliament had planned to convene on May 10.
But Natalya Vitrenko, who heads a vocal anti-Western party, filed the lawsuit after her party fell 0.07 percentage points short of the 3 percent of votes needed to enter parliament. The electoral commission had refused her party's requests for a recount. The High Administrative Court issued the order last week after a small party filed a lawsuit complaining about how the votes had been counted. This move could delay the newly elected lawmakers from taking office.
If formed, the ruling coalition would leave in the opposition the country's largest party. Viktor Yanukovych, the leader of Ukraine's pro-Russian Party of Regions and former prime minister warned Thursday against the "orange" coalition in the country's new parliament. "The revival of the 'orange' team is a repeat of the mistakes of 2005 in the worst possible way," Yanukovych said. "Ukraine face a catastrophe," said Yanukovych, who lost to Viktor Yushchenko in a re-run of the second round of presidential elections in late December 2004.
Ukraine's parliamentary elections saw the Party of Regions come out on top but without enough seats to form a majority in the 450-seat parliament, the Supreme Rada. Under the Ukrainian Constitution, the Rada must form a coalition majority within 30 days of the new parliament starting work, and appoint a new government in the next 30 days. If a ruling coalition is not formed by the end of the period, the president may call for new elections.
The 20th aniversary of Chernobyl

Chernobyl still controversial 20 years on

From:EU Observer

Yet another picture of reactor #4

Days ahead of the 20th anniversary of Europe's worst nuclear disaster - Chernobyl - contradictory reports about the dangers of nuclear energy have sparked debate between pro and anti-nuclear groups.

A 2005 report by the UN's International Atomic Energy Agency and World Health Organisation confirmed just 50 directly-linked deaths with a further 4,000 radiation-related mortalities.

Environmentalist NGO Greenpeace recently alleged the UN report deliberately played down the real numbers, however.

The new data, based on Belarus and Russian information, links 153,000 deaths to the accident while predicting that thousands more will still die of radiation-related cancer in future.

"In the past 20 years it has become clear that nuclear energy conceals danger," the study states.

"The ejecta from this one reactor exceeded the radioactive contamination caused by the nuclear weapons used at Hiroshima and Nagasaki by one hundred times."

Greenpeace calls for an urgent investigation into the data discrepancies.

40 percent of Europe affected
The Chernobyl accident occurred on April 26, 1986 in Pripyat, on what is today the Ukraine-Belarus border but was previously part of the Soviet union.

The plant's No. 4 reactor exploded while on a test run, releasing massive amount of radioactive materials into the atmosphere, reaching western Europe.

The western Balkans, Finland, Sweden, Bulgaria, Norway, Romania, Germany, Austria and Poland recorded high levels of radioactivity.

In total, some 40 percent of the European continent's surface was contaminated a European Parliament report debated earlier this week has concluded.

In many European countries, food safety restriction orders related to Chernobyl are still in force.

The UN study published data on the 2.3 percent of European soil that received the very highest levels of radioactivity (over 40.000 Becquerel per square metre) however.

The parliament's rapporteur, German green MEP Rebecca Harm, called the approach "remarkably selective reporting" but the UN energy agency has denied massaging figures.

Chernobyl still a risk
To mark the anniversary, the European Commission on Thursday (20 April) presented a summary of its investments in fighting the consequences of the disaster.

Brussels has so far allocated over €470 million to Chernobyl-related projects and is pledging another €240 million to help construct by 2012 a new sarcophagus, or shell, to help seal in the damaged reactor.

Leaks and cracks in the current shell could cause the structure to collapse, experts fear, creating a second catastrophe.

Villagers Return to Chernobyl's Shadow

From:chron.com

The old control room is shown inside reactor No.4 in the Chernobyl nuclear power plant in this Nov.10, 2000, file photo. This is the location where Soviet engineers flipped a power switch on April 26, 1986, and two explosions followed one after another immediately, sending radioactive clouds thoughout most of Europe, causing the world's worst nuclear accident.

BARTOLOMEYEVKA, Belarus — The map says Bartolomeyevka is off-limits. A sign at the outskirts displays the international radiation symbol and says "Do Not Enter." But smoke rises from the chimneys of wooden houses, dogs bark and villagers go about their business.

Bartolomeyevka is one of scores of contaminated villages in Belarus that are being revived 20 years after the Chernobyl nuclear reactor explosion, nudged back to life by a government that says the farmland is badly needed, that the radiation threat is overblown, and that people claiming radiation-related diseases may simply be seeking a government handout.

Bartolomeyevka suffered such high radiation levels that its several dozen inhabitants were evacuated. However, over the past decade 10 villagers have moved back, disregarding the radiation warnings. In neighboring villages _ labeled contaminated but still suitable for living _ many others are returning, along with job-seeking migrants from impoverished ex-Soviet republics.

On Bartolomeyevka's surface, it looks like renewal _ but resignation is at the core.

"You cannot escape your death," said 70-year-old Ivan Muzychenko. "It's better to die of radiation than of hunger."

As evacuees, he and his wife, Yelena, lived hand-to-mouth. Here, along with a combined monthly pension worth about $200, their vegetable garden, 10 geese, a cow and a pig add desperately needed nutrition.

Muzychenko dismisses warnings that the vegetables and animals are probably contaminated, and gathers berries and mushrooms in the nearby woods.

A fifth of Belarus' area was evacuated after the April 26, 1986, explosion in neighboring Ukraine, and health officials say about 20 percent of the country's 10 million people suffer from radiation-linked ailments including thyroid and circulation problems.

Official figures say 1,100 square miles, less than 1.5 percent of Belarus' territory, remains too irradiated for human habitation.

The government of authoritarian President Alexander Lukashenko _ the same government that put up the warning signs at Bartolomeyevka _ is encouraging resettlement.

Activists and doctors complain that it is ignoring radiation dangers, cheating on illness statistics and refusing to care for ailing children and adults.

Bartolomeyevka's neighboring village, Belyayevka, was recently taken off the list of highly contaminated population centers, stripping its villagers of a $20 monthly supplement for living there. Mothers say the payment is still justified because most of the village's 58 children have health problems and need healthy food and vitamins.

Belarusian workers who participated in the cleanup at Chernobyl have also seen their benefits sharply reduced.

Nineteen collective farms in the region have been revived to grow crops which officials say can be rendered safe with special fertilizers; another 39 farms are awaiting their turn.

Vladimir Tsalko, head of the State Chernobyl Committee, the official agency for dealing with Chernobyl's consequences, says the goal is "to teach people to earn money and invest it into the region."

When asked if economics are more important than health, he is frank: "Yes. We need those lands. ... Who will feed them?"

Activists say their independent studies find people in contaminated areas still displaying high radiation doses from locally made food. They say more should be done to warn returnees of the dangers.

"To take advantage of people's lack of information and lull them into believing that it is safe there is the biggest crime there can be," said Valentina Smolnikova, of the Children of Chernobyl group.

Smolnikova said the radiation effects have been devastating. She said her group's study of one district in the contamination zone showed cases of congenital anomalies have increased fourfold, the number of cancers have doubled and the number of heart attacks is seven times higher than before the accident.

She said she is struggling to get foreign funding to monitor and treat children's contamination levels because the state shows little interest and minimizes the numbers. The government denies it.

Victims also complain the government is reluctant to link radiation to health problems such as heart disease, cancerous growths and diabetes. Yakov Kenigsberg, the Chernobyl State Committee's top medical expert, says only thyroid cancer is internationally recognized as directly caused by radiation contamination and calls attempts to link other diseases with the Chernobyl accident "stupidity," suggesting the motive often is monetary compensation.

But, Tamara Kurbatova, a 40-year-old unemployed mother of three in the town of Buda-Koshelevo, sharply disagrees. Her 4-year-old son, Pavel, is being treated for eye cancer, and after years of struggle, she has won official recognition that it's the result of his mother's radiation levels while he was in the womb. That entitles the boy to financial aid.

"It is a miracle he is still alive," Kurbatova said. "But what awaits him I don't know."

What became of the Children of Chernobyl?

From:JPost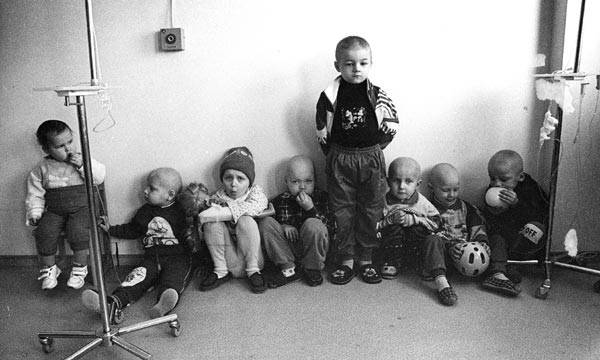 Chabad's Children of Chernobyl project has brought thousands of children to Israel

Like many young people, 21-year-old "Ilana" took advantage of the Pessah holiday to take a break from her National Service and headed to the beach Thursday to enjoy the Mimouna festivities and the hot weather.

In a telephone interview with The Jerusalem Post, Ilana came across much like any other young Israeli woman enjoying her day off. But as one of the thousands of children brought here as part of Chabad's Children of Chernobyl project, she has experienced more hardships than most people see in a lifetime.

"I feel great today," giggled Ilana. "Chernobyl does not enter my life at all."

Ilana was only one year old when the world's worst nuclear accident took place. She does not really remember the event, though she does have some recollection of her life in Belarus in the years following the explosion.

"I do remember a little about the place but Israel is my home now," continued Ilana, whose mother died of cancer four years after the explosion. Ilana, then five, was then thrown into a Belarus orphanage, where she lived until she was brought here by Chabad at the age of nine.

While Ilana seems to have found some semblance of normalcy in her life, there are thousands more children living in Belarus, Ukraine and western Russia who are still in serious danger of being poisoned by radiation in the air they breathe, the food they eat and the water they drink.

Ahead of the disaster's 20th anniversary on April 26, international organization Greenpeace has released a report showing that during the last 15 years, 60,000 people have died in Russia as a direct result of the Chernobyl accident and estimating that the total death toll for Ukraine and Belarus could reach 140,000.

The report also concludes that the radioactive fallout from the disaster has had a devastating effect on survivors, damaging immune and endocrine systems, leading to accelerated aging, cardiovascular and blood illnesses, psychological illnesses, chromosomal aberrations and an increase in fetal deformations.

The children in the region are at even greater risk than the adults, said Rabbi Yossie Raichik, director of the Children of Chernobyl project in Israel.

"The main problem today is that the world will remember these victims for one whole day and then the story will sink into oblivion again," he said. "These are the world's forgotten children."

"There have been so many disasters since Chernobyl," he continued, citing the 2004 tsunami and last summer's Hurricane Katrina. "The main difference is that in other areas the situation starts to remedy itself within two or three years, but in Chernobyl the fallout is just as strong today as it was 20 years ago."

Raichik explained that children born today in the infected areas are at even greater danger than children who were around when the disaster took place, because a fetus has no immune system and can absorb radiation inside the uterus.

Furthermore, he said, doses of radiation that might not have a great effect on an adult can cause serious damage to young children.

The Children of Chernobyl project is just as active today in evacuating children from the danger zone as it was when it started 16 years ago, he said. Aside from the 2,248 children who have already been brought here since the project began in 1990, Raichik said that 15 children arrived last October and up to 30 are expected on the anniversary of the disaster next week.

Chabad puts the children through an intensive detoxification program, which can last as long as 18 months, said Raichik. Some of the children stay in the boarding school until they are ready to enter the army or volunteer for national service.