Belarus and Abu Dhabi, Ruble pegs Yen, Energy, Georgia, Telecom buys MDC, Expo-07, Warsilla, Polish scandal, Russian intrigue, Blogs and Sport…
Belarus and Abu Dhabi Emirate sign document on cooperation
From: BelTA
Meeting with Khaldoon Khalifa Al Mubarak, the Chairman of the Executive Affairs Authority of the Government of Abu Dhabi (UAE)
A protocol on cooperation between the Government of the Republic of Belarus and the Government of Abu Dhabi of the United Arab Emirates was signed in Minsk on October 1. The document was signed by State Secretary of the Belarusian Security Council Viktor Sheiman and Khaldoon Khalifa al Mubarak, the Chairman of the Executive Affairs Authority of the Government of Abu Dhabi of the United Arab Emirates.
Moreover, three memorandums more have been signed in Minsk on October 1 as well. The Minsk City Executive Committee concluded a memorandum on investment cooperation in the real estate sphere with Almaabar International Investments Company.
Belarus' National Carrier Belavia signed a memorandum on cooperation in the sphere of transportation of passengers to European countries with Etihad Airways.
Belarusian company Peleng concluded a memorandum on cooperation in the sphere of satellite technologies with Al Yah Satellite Communications Company.
The documents were signed after a meeting held in the House of Government on October 1 with State Secretary of the Belarusian Security Council Viktor Sheiman who is the Co-Chairman of a working group on cooperation of Belarus with the United Arab Emirates. Talks with 1st Deputy Prime Minister of Belarus Vladimir Semashko were held on October 1 as well.
In 2006, the Belarusian exports to the United Arab Emirates totaled $24.3 million (5 times more as against 2005), imports - $1.8 million. Belarus posted a surplus in trade with that country to the tune of $22.5 million. Over the sevenths months 2007, the Belarusian exports to the United Arab Emirates totaled $12 million (150% on the same period last year). The main export articles of Belarus to the United Arab Emirates are: dried milk, oil products, tires and bearings. The main import articles are: cord fabrics for tires' production and small amounts of perfumery, china-ware, air-conditioners, rubber and plastic articles, medicines, tea.
The Republic of Belarus also shows interest in carrying out joint oil production and refining projects with the United Arab Emirates, State Secretary of Belarus' Security Council Viktor Sheiman said on October 1 when meeting with a delegation of the UAE headed by Khaldoon Khalifa al Mubarak, the Chairman of the Executive Affairs Authority of the Government of Abu Dhabi of the United Arab Emirates. The talks took place in the House of Government and were attended by First Vice-Premier of Belarus Vladimir Semashko.
According to Viktor Sheiman, Belarus also intends to cooperate with the Emirate of Abu Dhabi in such spheres as real estate, communications, high technologies and space. "We have achieved encouraging progress in military technical cooperation," said Viktor Sheiman. The State Secretary of Belarus' Security Council, who is also a co-chairman of the working group for cooperation with Abu Dhabi, took note of the importance of the visit of the UAE delegation to Belarus. According to him, the visit will become a starting point for the promotion of mutually beneficial cooperation. "We consider our relations with the UAE as cooperation between strategic partners," Viktor Sheiman noted.
"A protocol and three memorandums on understanding between the sides signed today in Minsk is only the beginning of big joint work. We have come to the agreements, which will be concretized in the near future," Viktor Sheiman stressed.
In turn, Khaldoon Khalifa al Mubarak noted that the UAE considers Belarus as a strategic partner. He confirmed readiness of his country to interact with Belarus in various fields. "We consider as promising projects in the aforementioned spheres. Belarus has recently made considerable progress and we should continue developing our agreements," Khaldoon Khalifa al Mubarak noted. The foreign guest expressed confidence that bilateral meetings between Belarus and the UAE will be held on a regular basis.
Other Belarusian News...
Belarus Picks Out China's Yuan as Reserve Currency
From:
kommersant
The National Bank of Belarus has made China's yuan one of reserve currencies, the bank announced officially. The previous reports were that Belarus may add China's yuan and Japan's yen to the reserve list.
So far, the reserves of Belarus have been kept in three currencies – the U.S. dollars, euros and Russia's rubles. Adding China's yuan to the reserve list could be attributed to higher weight of China's economy in global GDP and to development of trading relations between China and Belarus, said the official statement of the National Bank of Belarus.
For comparison, Russia keeps its gold/foreign exchange reserves in five currencies – the U.S. dollars, euro, yen, Britain's pounds and Swiss francs.
Energy outlook for belarus promising
From: BelTA
Lithuania is ready to consider projects for pipeline transit of the oil Belarus plans to import, Lithuanian Economy Minister Vytas Navickas told the press on October 3.
"We are ready to consider Belarusian projects for oil transit via the Klaipeda port," he said. The official added, the Lithuanian side expects Belarus to present concrete proposals.
According to Lithuanian experts, if the project is implemented, the Lithuanian pipelining system may pump 5-6 million tonnes of oil delivered to the Klaipeda port and then piped to Belarus.
According to Vytas Navickas, the Lithuanian side is also interested in cooperation with Belarus in power engineering and is ready to use the Belarusian experience of implementing
Belarus believes energy industry cooperation with Germany promising
Belarus believes cooperation with Germany in all areas of interest, especially in power engineering and the use of alternative energy resources, is promising. The statement was made by Belarus' Deputy Foreign Minister Valery Voronetsky at an event arranged by the German Embassy in Belarus on October 3 to mark the German Unity Day.
According to Valery Voronetsky the all-round Belarusian-German collaboration is successful, especially collaboration in trade, economy and legal affairs. Relations between ministries of foreign affairs and other government agencies of the two countries are developing effectively. Belarusian and German towns and regions maintain friendly relations, contacts between the two nations are expanding. Valery Voronetsky expressed hope that visa procedures between the two countries will be facilitated. He underscored, "We are ready to build relations on what unites us".
In turn, Ambassador Extraordinary and Plenipotentiary of Germany to Belarus Gebhardt Weiss remarked, Germany will be a good partner for Belarus. In his opinion, Belarus and Germany will have to be more creative in exploiting the existing potential of the bilateral relations.
Czech Republic eager to partake in building Grodno Hydropower Plant
The Czech Republic is interested in building Grodno Hydropower Plant, said Vice Speaker of the Chamber of Deputies of the Czech parliament Vojtech Filip as he met with Belarusian Deputy Energy Minister Mikhail Mikhadyuk in Minsk on October 3.
During the meeting prospects of cooperation of the two countries in power engineering were discussed. In particular, the Czech side suggested Belarus should consider importing electricity from the Czech Republic and also presented its proposals concerning the possibility of supplying hydro turbines and electrical machinery for Belarusian power engineering installations.
Besides, it was noted the Czech side is interested in the Belarusian practices used to deliver electricity to small urban communities and provinces.
The construction of Grodno Hydropower Plant with the capacity of 17MW on the river Neman is part of the state complex programme for modernising basic production assets of the Belarusian power grid by 2010. The power generation capacity of the new hydropower plant will exceed the total capacity of all existing Belarusian hydropower plants. Once commissioned, the power plant will essentially improve the reliability of power supply to Grodno. Grodno Hydropower Plant will generate around 90 million kWh of electricity per annum on the average, allowing saving about 28 thousand tonnes of oil equivalent, which heat power plants would need to generate the same amount of energy.
ODD BEDFELLOWS? GEORGIA, BELARUS EXPLORE PARTNERSHIP
From:
eurasianet
Just a year ago, ties between Minsk and Tbilisi were antagonistic. Now, united by common frustrations with Russia's regional energy and economic policies, Georgia and Belarus appear to be trying to make a new start of things.
Following a September 17 meeting in Minsk between Georgian Interior Minister Vano Merabishili, part of President Mikheil Saakashvili's inner circle, and Belarussian President Alexander Lukashenko, Georgia is moving forward with plans to open an embassy in the Belarussian capital next year. David Zalkaliani, a Foreign Ministry official, has already been tapped to serve as ambassador to Minsk.
"We have a possibility to draw a line under a period of chaos and a mess in establishing our mutual relations," Lukashenko said in comments broadcast on Belarussian television. "We are determined to restore and develop our relations and to take them even to a higher level in comparison with the Soviet Union's times."
Saakashvili's earlier denunciations of Lukashenko's alleged "tyranny and dictatorship" appear to have fallen by the wayside. The Georgian president made the harsh assessment following the arrest and deportation of several Georgian parliamentarians who had traveled to Minsk to monitor the March 2006 presidential elections. [For background see the Eurasia Insight archive]. Two Georgian journalists and several other citizens were also detained and deported from Belarus. In September 2005, Belarussian officials also arrested and deported two Georgian youth movement activists. [For background see the Eurasia Insight archive].
At the time, there seemed to be little chance for reconciliation between the two countries. Now, members of Georgia's foreign-policy-making establishment, such as Konstantin Gabashvili, chairman of the Georgian parliament's Committee on Foreign Affairs, believe Georgia and Belarus can get off to a fresh start diplomatically. "Georgia is a politically developed country and the more countries with which we have relations, the better it is for us," Gabashvili said. "Belarus has proved that it is not Russia's satellite."
Recent disagreements between Minsk and Kremlin over gas prices have been taken by Georgians as a sign of this independence. Lukashenko recently announced that the country expects as much as a 20-percent price hike for Russian gas. The country currently plays $100 per 1,000 cubic meters. "What is our guilt before the Russian authorities? I don't know," the Itar-Tass news agency reported Lukashenko as saying.
In comments to Georgian reporters, parliamentarian Giga Bokeria, a close associate of Saakashvili, said that Georgia supports Belarus as "a country towards which Russian aggression has been noticeable over the last year."
Lukashenko, however, has stressed that the establishment of diplomatic relations with Georgia does not mean "friendship against Russia."
"We are a sovereign, independent state and have every right to build our foreign policy as we see fit," Itar-Tass quoted Lukashenko as saying. "But we have never built it against someone, especially Russia."
For Georgia to expect radical political changes from Belarus would be a mistake, said Kakha Gogolashvili, director of the Georgian-European Policy and Legal Advice Center.
"It will be hard for Lukashenko to openly confront Russia because his policy from the beginning was based on the brotherhood of the Russian and Belarussian people," said Gogolashvili.
Many experts believe bilateral relations will focus on strengthening economic ties. Bilateral trade has grown exponentially in the past year – in 2006, trade turnover reached $29 million, according to the Ministry of Economic Development. The figure, 211 percent above 2005 levels, is the highest on record. Lukashenko has optimistically placed potential trade turnover between the two countries at "at least" $100 million per year.
"Due to this tendency, Belarus is considered a promising market for increased exports from Georgia . . ." commented Marina Macharashvili, head of the ministry's Division for Trade Policy, in an email interview.
On the Georgian side, wine comprises a large share of its exports. Georgia still is struggling to find new markets for its wine, after Tbilisi lost its largest market, Russia, due to the imposition of a trade embargo. [For background see the Eurasia Insight archive]. Exports of Georgian wine to Belarus increased by over 45 percent between 2004 and 2006, while mineral water exports doubled, according to the ministry. In return, Georgia imports tires, trucks, mini-tractors and sugar.
A joint Commission on Economic Cooperation will meet before 2008, said Macharashvili, who added that the two countries are presently negotiating various trade agreements.
Telekom Austria buys Belarus MDC for $1 billion
From:
Reuters
Boris Nemsic
Telekom Austria has agreed to buy Belarus's second-biggest mobile phone operator MDC, continuing its drive to tap rapid growth in emerging European phone markets, the company said on Wednesday.
Telekom Austria will initially buy a 70 percent stake in MDC's parent, Cypriot company SB Telecom, for around $1 billion in equity and debt, and has an option to buy the remainder of SB Telecom for $450 million in 2010, it said.
The deal, which Telekom Austria flagged two weeks ago, values MDC at six times next year's core earnings, which analysts said was cheap relative to similar deals, helping Telekom Austria shares rise as much as 3.5 percent.
"The acquisition of MDC ... offers us an entry to the attractive telecommunication market in Belarus, while the terms of the transaction once again underline our disciplined approach to expansion," Chief Executive Boris Nemsic said in a statement.
MDC, operating under the Velcom and Privet brands in Belarus, had 2.5 million subscribers and a market share of 42.5 percent last year. Its earnings before interest, tax, depreciation and amortization (EBITDA) were 159 million euros ($225 million), giving it an EBITDA margin of 60 percent.
The deal values MDC at 5.9 times next year's estimated EBITDA, Telekom Austria said. It may top this up with an additional payment in 2010 linked to MDC's performance, which would bring the entire price paid to 6.5 times EBITDA in 2010.
"Six times EBITDA is quite an attractive condition," said Konstantin Belov, telecom analyst at Uralsib bank in Moscow. "It does not look very expensive, especially if you look at current valuations of Russian telcos."
Russia's MTS and Vimpelcom are both valued at around seven times next year's EBITDA, while the Russian market is already more saturated than Belarus, he said.
UBS analysts pointed out in a note that speculation ahead of the deal pointed to prices of as much as 1.5 billion euros, so that a sense of relief helped Telekom Austria's share jump.
By 0748 GMT, Telekom Austria had pared some gains, trading up 1.3 percent at 19.05 euros, one of the few gainers in the DJ Stoxx Telecoms index, which was down 1 percent.
Telekom Austria will finance the purchase with existing credit lines. It will suspend its current share buyback program as its net debt level will rise from 1.8 times EBITDA at the end of June to "less than 2.5", a spokeswoman said.
Chief Financial Officer Hans Tschuden said he would resume the buybacks once the company had reached a net debt level equivalent of twice its EBITDA. He vowed no change in his policy to pay out around 65 percent of net profit as dividend.
BelarusEXPO-2007 opens in Vilnius
From:
NLIPRB
The 5th Belarusian national exhibition BelarusEXPO-2007 has opened in Vilnius. It will run till October 6.
According to Prime Minister of Belarus Sergei Sidorsky, the event bears testimony to the dynamic development of cooperation between Belarus and Estonia. The previous BelarusEXPO in Vilnius was held two years ago. Within that period Belarus enhanced its export potential. Today it trades with more than 165 countries worldwide. The exhibition will make a significant contribution in the development of the Belarusian-Lithuanian ties.
The total area of the exhibition is 2,840 square meters. Outdoor pavilions occupy 300 square meters. This is 1.5 times more than the area of the previous exhibition held in October 2005. Over 130 companies showcase a wide range of their products which vast majority has passed European certification.
During the exhibition, various round-table discussions will be held to consider investment opportunities of Belarus, cooperation between technological parks of the two countries, interaction in the construction field and export of building materials to Lithuania. During the exhibition the Belarusian Universal Commodity Exchange, companies of the Industry Ministry, Belgospischeprom, Bellesbumprom and Belneftekhim concerns will hold presentations.
BelarusEXPO-2007 is a central event of Days of Economy, Science and Culture of Belarus in Lithuania held in September-October. The Days mark the 15th anniversary of establishment of the diplomatic relations between the two countries.
Note: Please see belarusexpo.com
BELARUS: How serious is official call to phase out foreign clergy?
From:
Forum 18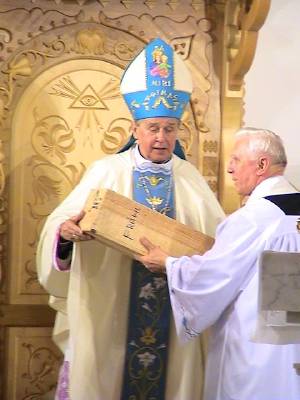 The Catholic Church is unsure about the implications of remarks by Belarusian Vice-premier Aleksandr Kosinets about foreign clergy. With about 190 foreign priests plus more than 100 nuns, the Catholic Church is by far the religious community in Belarus which relies most heavily on foreign clergy. Kosinets told a 19 September round table with Belarus' religious leaders that the Catholic Church should end the use of foreign clergy over the next few years. However, Forum 18 News Service has been unable to clarify whether this is a recommendation or an order. "The Vice-premier's words arouse questions and perplexities rather than outright concern," a senior Catholic told Forum 18. Religious affairs official Aleksandr Kalinov, who was also present at the round table, refused to tell Forum 18 if action will be taken if the Catholic Church does not end the use of foreign priests, but insisted: "No-one is preparing to expel them." The Catholic Church – like the Orthodox Church – also has a number of foreign-born bishops, while other religious communities – including Jews – have foreign religious leaders.
Amid a lack of clarity over whether Vice-premier Aleksandr Kosinets was suggesting or requiring that all foreign religious leaders should leave Belarus within five or seven years, Catholic sources say they are unsure about the implications for their Church. The Catholic Church is the religious community in Belarus which relies most heavily on foreign clergy by far. "The Vice-premier's words arouse questions and perplexities rather than outright concern," a senior Catholic told Forum 18 News Service on condition of anonymity. "This was not an attack on the Church but it would be wise to watch this very carefully." The Catholic points out that the Church depends on about 190 foreign priests as well as nuns and that it is a long way before it reaches self-sufficiency in local priests.
Forum 18 notes that the Catholic Church – like the Orthodox Church – also has a number of foreign-born bishops, while other religious communities – including Jews – have foreign religious leaders.
Kosinets made his comments at a round table of religious leaders at the new National Library in Minsk on 19 September. He also insisted during the four-hour meeting that the highly restrictive 2002 Religion Law will not be changed (see F18News 27 September 2007 http://www.forum18.org/Archive.php?article_id=1025).
According to a 19 September Interfax report of the meeting, Kosinets said: "We are in favour of religious personnel in our republic being natives of Belarus (..) people may not conduct religious activity if they do not know either Belarusian or Russian, or the mindset and customs of Belarus (..) it is pleasing that we have the understanding of the Roman Catholic Church on this issue (..) there should be a substitution of foreign religious personnel by natives of Belarus in the course of the next seven years."
The Catholic who requested anonymity told Forum 18 that adding to the Church's questions was the fact that Kosinets has already made remarks which "intrude into the life of the Church". "The Vice-premier said earlier that six or seven years' seminary training is too long and that the bishops should reduce this," the Catholic noted. "Of course the bishops will not do this. The preparation and formation of priests belongs to the specific domain of religious denominations."
While conceding that seven years is a long time, the Catholic does not believe that at the present rate there will be enough local clergy to supply all the country's parishes within seven years.
In his 26 September statement to the Human Dimension Implementation Meeting (HDIM) of the Organisation for Security and Co-operation in Europe (OSCE) in Warsaw, Yuri Uralsky of the office of the Plenipotentiary for Religious and Ethnic Affairs maintained that the Belarusian state supports the invitation of foreign citizens for religious and non-religious activity.
Two Polish Catholic priests were forced out of Belarus at the end of 2005 (see F18News 13 January 2006 http://www.forum18.org/Archive.php?article_id=715).A year later, seven Polish Catholic priests and five nuns were forced out of Belarus at the end of 2006 (see F18News 12 January 2007 http://www.forum18.org/Archive.php?article_id=899). Other foreign religious workers invited by local religious communities are increasingly being barred from the country (see F18News 18 October 2006 http://www.forum18.org/Archive.php?article_id=856).
According to the latest official figures, 192 out of 381 Catholic priests in Belarus are foreigners with a further 105 nuns. Most of these foreign priests and nuns are Polish.
Forum 18 has been unable to find out whether the Vice-premier's remarks were designed as an order or a recommendation. After stating that Kosinets was unavailable for comment on 26 September, his assistant directed Forum 18 to Leonid Gulyako, the Plenipotentiary for Religious and Ethnic Affairs. Gulyako's telephone was engaged whenever Forum 18 rang on 26 September and went unanswered on 27 September and 1 October.
Gulyako's colleague, Aleksandr Kalinov, who was also present at the round table, insisted that reports of Kosinets's comments on foreign priests were "distorted". He claimed to Forum 18 on 1 October that the law requires foreign priests to know the state languages, Belarusian and Russian (though it does not in fact do so). "Regarding the Catholic Church, within seven years the work of the seminaries in Pinsk and Grodno will allow the Church to have enough local priests so that there won't be a deficit," Kalinov maintained.
Asked by Forum 18 whether the insistence on a local clergy was an order or a recommendation, Kalinov repeatedly avoided answering. Asked what the government would do if after seven years foreign Catholic priests are still serving in Catholic parishes he responded: "No-one is preparing to expel them." However, he would not say what action would be taken. He then said he was being called away and put the phone down.
However, two other religious leaders also present at the 19 September meeting were certain that Vice-premier Kosinets had not made any threat to ban or deport foreign Catholic priests over the next few years.
"He said that in five years there shouldn't be any foreign clergy in Belarus, only natives of Belarus [vykhodtsy]. That other countries wouldn't accept our clergy, so why should we accept theirs?" Pastor Vyacheslav Goncharenko of the Minsk-based New Life Church, who heads the charismatic Full Gospel Association, told Forum 18 on 25 September. "But he didn't say anything about a ban, or other state measures that might be used to achieve this. He was just speaking about the need to concentrate on training up our own clergy."
Wartsila receives first combined heat and power plant order from Belarus
From:
kauppalehti
Wartsila Corporation received in July 2007 its first order from
Belarus for the delivery of a combined heat and power (CHP) plant.
Wartsila will supply gas-fired generating sets and other equipment to
the Belarussian state-owned forestry-to-wood processing enterprise
"Bellesbumprom" for CHP plant at a new paper mill in the city of
Shklov, approximately 300 kilometres east of Minsk.
Wartsila will supply two gas-fired generating sets and two
dual-pressure waste heat recovery boilers. The engines will generate
electricity and run on natural gas. Their exhaust gas heat will be
recovered in the individual boilers. The delivery will take place in
summer 2008.
All electricity and steam output of the CHP plant will be employed in
the Shklov paper mill. This new mill has an annual capacity of 40,000
tonnes of newsprint and lightweight coated paper.
"This contract is proof of Belarus' commitment to improving the
energy efficiency of power production by using high-efficiency gas
engines," says Harry Lindroos, Regional Director for Eastern Europe,
Wartsila Power Plants. "For Wartsila this is the first contract from
Belarus and as such an important entry to future opportunities in the
Eastern European markets," he continues.
Forestry, timber, wood processing, paper and wood pulp are major
industries in Belarus as forests cover nearly 40% of the area of the
country. These industries employ some 90,000 people.
Belarus: vegetable crop will exceed 2 million MT
From:
Fresh plaza
According to the information presented by representatives of the Ministry of Agriculture and Foodstuffs of Belarus for the Interfax Agency, the country plans to harvest more than 2 million MT of vegetables in the present season. "We forecast the vegetable crop to reach 2,08 million MT, which will draw level with the 2006 crop", announced Belarusian experts.
The vegetable harvest in agricultural cooperatives will amount to 355,000 MT, including 96,000 MT of white cabbage, 55,000 MT of beet root, 78,000 MT of carrot and 40,000 MT of onion. The Ministry of Agriculture and Foodstuffs of Belarus forecasts that the total vegetable crop from cooperatives, other agricultural enterprises and private farms will be sufficient for the needs of domestic market.
Additionally, the free resource of vegetables, which can be used for export is evaluated at 153,000 MT. As Belarusian specialist reported, by September 27th, the cabbage harvest was already finished on acreage of 195 hectares (10% of total), carrot - 554 hectares (16.8%), beet root - 726 hectares (21.5%) and onion - 1,9 thousand hectares (74%). It is planned that onion harvest will be completed in the first decade of October and other vegetables by the end of October.
The total potato crop is forecasted at 8,5 million MT, including 1 million MT from cooperatives. By September 27th, 642 thousand MT of potatoes was harvested from 30,100 hectares, about 67.4% of total acreage, with the average productivity of 21.3 MT per hectare (17.46 MT per hectare in 2006).
Cultural Happenings: Around 400 names of Belarusian books to be presented at 59th Frankfurt Fair
From: BelTA
Around 400 names of books will be presented at the 59th Frankfurt International Book Fair which will be held on October 10-14, BelTA learnt from Yelena Pavlova, the head of the publishing and book trade department of Belarus' Information Ministry.
The Belarusian book publishers attend this forum annually. Six state publishing houses: "Belarus", "The Pyatrys Brouka's Belarusian Encyclopedia", the Publishing House Belaruskaya Navuka, "Vysheishaya Shkola", "Mastatskaya Litaratura", "Narodnaya Asveta" and also private publishing houses "Aversev" and "RifTour" will present the novelties issued in 2006-2007. Moreover, book trade companies will showcase their products as well.
According to Yelena Pavlova, periodicals in Belarusian are always in popular demand at the German book fairs. Guests of the display will be able to get familiar with the most interesting issues of the newspapers Zvyazda, Respublika, Narodnaya Gazeta.
Belarusian book publishers and book sellers intend to establish new contacts with their colleagues from various countries, to extend a contract for a delivery of Belarusian books to Germany. This contract is extended annually, the specialist noted.
The Frankfurt International book Fair is one of the biggest in the world. This year, more than 7 thousand exhibitors from 114 countries worldwide announced about their participation in the forum. More than 400 thousand books and multimedia products will be showcased there. Around 2.5 thousand cultural events will be held. This year's honorary guest of the fair is the region of Catalonia.
Exhibition of creations of famous film director Sergei Paradzhanov to be presented in Minsk
An exhibition of works created by famous film director Sergei Paradzhanov will be presented in Minsk during the Days of Armenian Culture in Belarus which will be held on October 22-28, BelTA learnt in the Armenian Embassy in Belarus.
A documentary movie devoted to the outstanding film-maker is expected to be demonstrated in Minsk as well. The film was shot by Georgy Paradzhanov- a nephew of the film director.
According to the Armenian diplomatic mission, during the Days of Armenian Culture, residents of Belarus will be able to get familiar with the best art groups of Armenia. An ethnographic dance group and the Yerevan State Chamber Orchestra are expected to arrive in Minsk.
The Days of Armenian Culture will make a great contribution to expanding the bilateral relations, representatives of the embassy noted. An Armenian delegation will be led by Armenian Culture Minister Asmik Pogosyan. To the point, the Days of Belarusian Culture were held in Yerevan in 2005.
According to diplomats, Belarus and Armenia established good cultural exchange. Armenian side invited three Belarusian writers – Alexander Martinovich, Alexander Karliukevich and Ganada Charkazyan – to take part in cultural forum "Translation as a gravitational field of social interaction
Youth Orchestra of Union State to be set up in 2008
The Youth Orchestra of the Union State is expected to be set up in 2008, 1st Deputy Minister of Culture Vladimir Rylatko told a press conference on October 2.
According to Vladimir Rylatko, the Youth Orchestra will be not a permanent one. Organizing the master-classes for students of art schools of Belarus and Russia is one of the projects which is constantly financed from the budget of the Union State. Talented young people from Belarus and Russia, as a rule, laureates of international contests, attend a master-class traditionally conducted in summer. Next year, all orchestral specialties will be presented. Belarus has everything to organize the master-class of this kind, Vladimir Rylatko noted.
A symphonic orchestra composed of 60 musicians is expected to be set up after completing the master-class. Many Russian and Belarusian conductors are ready to take part in its work.
The Youth Orchestra will present its concert programme in several towns of Belarus and Russia. The concert tour will last 10-12 days on the eve of a new academic year. The orchestra is expected to give around eight concerts. Young musicians will perform on the stage of the Belarusian State Philharmonic Society, in the hall of the Moscow State Conservatory, on the stage of the Slavonic Bazaar in Vitebsk, Vladimir Rylatko noted.
The concert tour is supposed to be financed by the Belarusian Ministry of Culture and the Russian Federal Agency for Culture and Cinematography.
In 2007, Belarusians to get more than 100 thousand visas
From: BelTA
In 2007, more than 100 thousand German visas will be issued to Belarusian citizens, BelTA learnt from Ambassador Extraordinary and Plenipotentiary of Germany to Belarus Gebhardt Weiss. On October 3, the Federal Republic of Germany celebrates the national holiday – the Day of German Unity.
According to the diplomat, this year German consuls in Minsk issued about 100 thousand visas including about 40 thousand free visas mostly for children from the Chernobyl zone and also for participants of student, sport and scientific events.
An increase in number of the issued visas attests to boosting the contacts between Belarus and Germany. Especially, it concerns the trade-economic ties. In January-July this year, the trade turnover between Belarus and Germany totaled $1.5 billion, 18% up on the same period last year. The Belarusian exports made up $308.5 million, the German imports - $1.2 billion. The Federative Republic of Germany is the 4th biggest foreign trade partner of Belarus. Germany ranks second among the importers of this country.
In a related story, Poland will postpone the introduction of new regulations of issuing visas to the Belarusians till December 1, 2007. Such agreement was reached during the bilateral ministerial consultations held in Warsaw on October 2-3, 2007.
The Polish side also expressed readiness not to increase consular fees for visa services till December 31, 2007, BelTA learnt from the press service of Belarus' MFA.
Earlier Poland stated Polish visas would cost ?60 for Belarusians starting from November 1, 2007.
During the consultations the Belarusian delegation expressed concern about Poland's unilateral decision to denounce the existing agreement on mutual trips of citizens on January 1, 2008. Nevertheless, during the talks the sides managed to conclude an agreement, which would regulate mutual trips of citizens till the end of 2007.
The new agreement is expected to preserve preferences and simplified procedures of issuing Polish visas to certain groups of Belarusian citizens. These amendments will not conflict with the relevant Schengen regulations. The Belarusian side offered preserve simplified procedures of granting multiple visas to citizens of the two states under 16, older than 65 and disabled people.
The Polish side realizes the necessary to preserve the practice of issuing immediate free visas in case of grave illnesses, death of relatives and family members. During the consultations the Polish side accepted a proposal put forward by the Belarusian delegation concerning maximum wider application of simplified procedures of granting visas to members of creative groups, sports teams and other persons promoting humanitarian contacts. Consular departments of both the states will be given such recommendations.
The Belarusian delegation drew attention of the Polish side to the necessity to simplify complex procedures of applying for Polish visas and to settle the problem of long lines near the Polish consular offices in Belarus. The Polish officials assured their Belarusian colleagues they would take necessary steps and would consider a possibility to prolong working hours of their consular establishments.
Chief of the consular department of Belarus' Foreign Ministry Andrei Giro and Ambassador Extraordinary and Plenipotentiary of Belarus to Poland Pavel Latushko were received by Deputy Foreign Minister of Poland Pawel Kowal, BelTA learnt from the press service of Belarus' Foreign Ministry.
More than Br660 mln allocated from presidential fund to support culture and art
From: BelTA
Belarusian President Alexander Lukashenko has approved the decision of the council of the presidential fund for support of culture and art.
As BelTA learnt in the press service of the Belarusian leader, the fund allocated Br660.714 million to support culture and art.
The Culture Ministry will purchase artworks, graphic arts, sculpture, arts and crafts of leading Belarusian artists at the expense of the presidential fund to replenish the stocks of the Belarus National Museum of Arts, the Museum of Modern Arts, the Gantsevichi Regional Museum, the Polotsk Historical-Cultural Reserve and other museums of the country.
A part of the funds will be assigned for publishing albums and catalogues devoted to the creative activity of famous Belarusian art figures: Mikhail Savitsky, the Hero of Belarus, the People's Artist of the USSR, Boris Gerlovan, the People's Artist of Belarus, Nikolai Tarasjuk, a craftsmen, the laureate of the special president's prize, the collections of the National Museum of Arts, the Yanka Kupala State Literary Museum.
A part of the funds will be assigned for staging performances by the National Academic Theater of Opera, the National Theater of Belarusian Drama, the Brest Puppet-Show, the Gomel Oblast Theater of Drama, the Mogilev Oblast Theater of Drama, the people's theater of the Shumilino Town House of Culture. The staging of new concert programmes by the Zhinovich National Academic Orchestra and Belarusian State Honorary Choreographic Company "Khoroshki" will be financed as well.
The adopted decision will be aimed at popularizing the national culture; it will help to replenish the repertoire of leading and regional art groups with new musical, dramaturgic and choreographic works, the press service noted.
Around the region...
Russia's Kasparov slams Putin for power grab
From:
reuters
Russian opposition leader Garry Kasparov said on Wednesday President Vladimir Putin's plan to run for parliament risked destabilizing the country.
Putin, who must step down as president next year, told a congress of the United Russia party on Monday that he would head the party's list in December parliamentary elections and could be a future prime minister.
"Putin must be the boss, he wants to be the boss, he wants to remain the boss -- do you doubt it?" Kasparov, former world chess champion, told reporters.
"It is very dangerous," Kasparov said, raising the specter of the February 1917 Russian revolution when Tsar Nicholas II was toppled, sparking years of upheaval and civil war.
"The consequences could be a collapse of power, February 1917. Power must be legitimate," Kasparov said.
Putin's announcement was seen of a way of preserving significant influence under a new president when he steps down next year after serving two successive terms.
At a news conference in Brussels on Wednesday, Russian activists said human rights were likely to suffer if Putin were to cements his grip on power by becoming prime minister.
Kasparov, well known in the West, is one of the leaders of the Other Russia coalition of anti-Kremlin groups which accuse Putin of crushing the democratic freedoms won after the 1991 collapse of the Soviet Union.
Kremlin supporters say the movement has no popular support and gains far more coverage in the Western media than it deserves. Other Russia has put Kasparov forward as its candidate to run in March presidential elections.
PUTIN'S TRAP
Kasparov said Putin had centralized power to such an extent since taking office in 2000 that he was afraid of letting go.
"Putin is afraid to leave, fear is playing a key role here," Kasparov said.
"He has created a system where there is no guarantee but having power himself, so he will try to preserve it."
"But he will do it subtly -- he doesn't want to be Mugabe," Kasparov said, referring to Zimbabwe's President Robert Mugabe, who has been in power since the country's independence from Britain in 1980.
Kasparov said he doubted Putin would become prime minister and cautioned that Putin had sent many signals to obscure his real intentions.
"You should forget about that -- all his life he has been leading people along," Kasparov said, citing previous speculation that Putin could endorse Sergei Ivanov or Dmitry Medvedev, both first deputy prime ministers, as successors.
"Half a year ago everyone was talking about Ivanov and Medvedev and now where are they? They are nowhere," he said.
Russia's Gazprom Says Ukraine Will Pay Gas Debt
From:
VOA
Russia's state-controlled energy company Gazprom says Ukraine's government has agreed to pay its debt to Russia to avoid a reduction in gas supplies.
Gazprom Chairman Dmitry Medvedev announced the agreement Wednesday after talks in Moscow with Ukrainian Energy Minister Yury Boiko. He said Ukraine plans to pay its debt before November. The payment deal has not been confirmed by Ukrainian officals.
On Tuesday, Gazprom warned Ukraine that it would reduce supplies to the country, if Kyiv failed to pay more than $1.3 billion it owes Russia.
The gas issue had raised fears of a repeat of last year's price dispute, when Gazprom halted natural gas shipments to Ukraine. The stoppage sharply reduced the flow of gas to European Union countries that depend on Russia for a quarter of their supplies.
The European Commission announced Wednesday that it plans to meet with representatives of Russia and Ukraine later this month to discuss the gas issue.
Polish Neo-Nazi Arrested With Plans

From:
splcenter
Father Tadeusz Rydzyk
Police arrested a municipal employee in central Poland after a raid turned up neo-Nazi materials that included anti-Semitic propaganda and detailed instructions for terrorist bomb and arson attacks on refugees, homosexuals and Jews.
Authorities would identify the arrested man only as Adam P., who they described as a city worker in Bialobrzegi in his thirties, according to Agence France-Presse. But they said the man was linked to the racist group Blood and Honour and added that they found "instructions for neo-Nazi groups in Poland." These included detailed methods of intimidation and a listing of targets for bombs and arson.
Last year, Blood and Honour, an international skinhead group, called on its members to supply information on anti-racists and others considered enemies. It then posted this information on a website called "Redwatch," resulting, authorities said, in the stabbing of a man in Warsaw. The site, which was based on a computer server in Arizona, was blocked by the FBI in July 2006 after a joint investigation with the Polish police. Three Poles linked to the website were arrested in Poland.
About a month after the June arrest of the neo-Nazi Bialobrzegi worker, a national furor erupted over the anti-Semitic remarks of a Catholic priest who has built a nationalist media empire in Poland. Father Tadeusz Rydzyk, speaking in a private lecture to the journalism college he started, attacked right-wing premier Lech Kaczynski, saying he was a "swindler" who had succumbed to Jewish pressure to compensate Holocaust victims who lost their property during World War II.
"You know that it's about giving $65 billion" to the Jews, he said, according to a tape recording obtained by the weekly magazine Wprost. "They will come to you and say, 'Give me your coat. Take off your pants. Give me your shoes.'"
Poland had the largest population of Jews in the world before the war, more than 3 million people. Most were murdered or starved to death by the Nazis, with just an estimated 250,000 to 300,000 surviving. Jews were not welcomed back to Poland after the war, and today the Polish Jewish community is infinitesimal.
Father Rydzyk, who also runs a television station, a newspaper and a major radio station called Radio Maryja, went on to call the premier's wife a "witch" who should kill herself because she has supported limited abortion rights. But Kaczynski declined to counterattack Rydzyk, who had been a major political supporter.
More than 600 Polish Catholic intellectuals, journalists and others signed a letter protesting Rydzyk's "scornful and anti-Semitic remarks." In the U.S., the Simon Wiesenthal Center condemned the priest as a "Josef Goebbels in a collar."
Polish prospective senator arrested after 'sting' operation
From:
News pl
Poland's Central Anti-corruption Bureau (CBA) have arrested Beata Sawicka of the opposition Civic Platform (PO) along with the mayor of the seaside town of Hel on corruption charges.
Sawicka was released after 5 hours questioning.
As Tomasz Fratczak of CBA informed, Sawicka and Mayor Miroslaw Wadolowski were caught red handed while taking a bribe in a 'sting' operation prepared by the CBA. The MP was arrested, Tuesday, in a hotel in Gdansk, and the mayor in a restaurant in Gdynia, northern Poland.
As a reaction to the arrest PO sacked Sawicka from the party and forced her to withdraw her candidacy for Senator in the coming elections.
She was to run as PO candidate in Legnica, western Poland.
Civic Platform's Secretary General Grezgorz Schetyna explained that this decision is not prejudging Sawicka's guilt. He said he hopes that the case will be unraveled by the relevant authorities.
PO's Leader Donald Tusk, in turn, said that Sawicka was excluded because she failed to resolve doubts connected with her involvement in the crime.
Poland's Prime Minister Jaroslaw Kaczynski denied that the arrest had anything to do with the ongoing election campaign in Poland. Kaczynski pointed out that the whole case proves that corruption is a problem relating to all political parties.
According to the CBA, the arrested took a bribe of 250,000 zlotys for setting up a tender for a 2 hectare property in Hel. It was to be used for a construction of a large hotel and leisure complex.
Sawicka was elected in the 2005 election as an MP for Civic Platform in the Legnica district.
USSR misjudged importance of Sputnik satellite: Krushchev's son
From:
AP
The Soviet Union did not immediately grasp the importance of its Sputnik satellite after launching it 50 years ago, triggering a space race with the United States, said the son of then USSR leader Nikita Krushchev.
"The consequences became clear much later. At the time it was like sending a ball far away," Sergei Krushchev, an expert on Russia at Brown University in Rhode Island, told a forum on the 50th anniversary of the Sputnik's launch on Monday.
On October 4, 1957, the shiny, 58-centimeter (23-inch) spherical satellite beamed its now famous distorted beeps back to earth, announcing the start of man's conquest of space.
The next day, the official Soviet newspaper Pravda gave Sputnik a few lines.
The space launch was at first perceived as just another breakthrough in Soviet technology, said the son of Krushchev, who ruled from 1953-1964.
"It was proving that we were on the right road" technologically, he said.
For the United States, instead, Sputnik boosted awareness about the challenge of space at the height of the Cold War, Sergei Krushchev said.
"It was a wakeup call for the US," he said. "All threats are creating this paranoia that can be used in a positive or negative way. The fear after Sputnik was used in a positive way, with consequences on education."
In its effort to win the space race, the United States revised academic programs and increased funding for the study of science and a presidential advisor for sciences was appointed. Eventually, in July 1958, the National Aeronautics and Space Administration (NASA) came into being.
"It was no space race with the USSR, it was an American race with itself," Sergei Kruschchev said.
"The real race was when (Leonid) Brezhnev came to power" in 1964, he added.
And the space race continues to this very day, Sergei said: "America will go to Mars because they want to prove themselves that they can do it before the Chinese."
According to US experts who took part in the forum, the United States was shocked and inspired by the USSR's success with Sputnik.
"America had always thought we were first in everything. Russia led us with the first satellite, there was a lot of concern about that," said historian Roger Launius, of the Smithsonian Institution's National Air and Space Museum.
"We couldn't believe the Russians had put an object in space," said Thomas Stafford, a former NASA astronaut co-leader of the first US-Soviet, Apollo-Soyuz space flight in 1975.
"A response so dramatic doesn't happen too often," he said about the late US president John F. Kennedy's pledge in 1961 to put a man on the moon before the the end of the decade.
"I don't think we would have accomplished so much in such a period of time," Staffort said.
"Sputnik pushed education in ... science and technology in schools and universities," he added.
From the blogs...
Videorecorders: Greetings From The 90-ies
From:
TOL
While cleaning my old cupboard yesterday, I got across an old videoplayer. All cassettes had been thrown away long time ago, but heroes of action movies of the 90ies still prove to be in memory.
We have purchased our first videorecorder in mid-90ies when it was no longer a sign of ultimate well-being. Ten years before that only well-connected people could afford having a videoplayer at home, while it was completely absent from the supermarkets. They were brought in the country mostly by the militarymen and sailors who were lucky enough to serve abroad. I have heard a story that a woman who had such a player at home had been offered a house in nearby village in exchange for it.
I also recall that in the end of 90ies which were marked by a "videoboom" numerous videosaloons emerged in every city. They were nothing more but a room with a TV and a videorecorder in it. Most of the saloons showed American actions with simultaneous translation. Lots of people thought at that time that the person who was translating those movies was hiding from the KGB and therefore changing his voice. Now we know that had been just a legend: Leanid Valadarski was not covering himself and the voice recorded was a natural one.
Despite an awful video quality there had been no need to attract clients specially: all seats were full. Sometimes those sallons would be created in regular flats to demonstrate erotic and action movies. As "there was no sex" in the USSR, video saloons were the first place were people could watch erotics. My relatives recall that the saloon was completely silent during such shows, people were afraid to look each other in the eyes. Some middle-aged men were leaving with red faces after the movie.
"Emmanuelle" had first been shown in Baranovichi in the "Palace of Culture" of one big local enterprise. Before being admitted inside people were explained what erotics was and how it differed from pornography; as illustrations, art pictures comtaining erotic elements had been shown.
Videoboom together with the "perestroyka" has changed our country. People started to believe in American dream, started conducting as movie heroes…
The Polish Ambassador, Blackwater and the Iraqi terrorists
From:
beatroot
The Polish Ambassador in Iraq, Gen. Edward Pietrzyk, was wounded today after two bombs exploded when he was being driven in Baghdad, near the area of the Iraqi embassy, and outside of the 'Green Zone'.
His driver – a member of the Polish government protection service – was killed in the attack and nearly a dozen others were hurt.
Poles have had just over 20 people killed so far in Iraq since they became part of the occupying forces there. So every death or injury is felt strongly here. There has never been a majority of public opinion for Poland's involvement in Iraq and every incident is accompanied by calls for more troops to be withdrawn.
But government spokesman, Marek Kuchcinski, made sure that Washington would never be disappointed in Poland. He said today:
"Such a decision would make the terrorists stronger and would let them expand their activity. No government should ever take even one step back in the battle with terrorists. "
But how did he know that the Polish Ambassador was attacked by 'terrorists'?
Blackwater and Poles in Iraq
Minutes after the blast which injured the Ambassador, AP reported that:
U.S. Army and Iraqi troops sealed off al-Arasaat street where the attack took place. "Little Bird" helicopters, the type used by Blackwater USA, were seen flying above the bombing site, although it was not immediately known what role, if any, the North Carolina-based company has in providing security for the Polish diplomat. An unidentified wounded man [now thought to be the Polish diplomat] with bandaged head, leg and hands was seen walking toward one of the choppers…

U.S. authorities confiscated an AP Television News videotape that contained scenes of the wounded being evacuated. U.S. military spokesman Lt. Col. Scott Bleichwehl told the AP the government of Iraq had made it illegal to photograph or videotape the aftermath of bombings or other attacks.
I bet they have. Last week Blackwater was – briefly - prohibited from working in the country after an incident where they shot up Iraqi civilians. Blackwater are very unpopular in Iraq.
But the ban didn't last long. It's thought that pressure from Washington was put on the hapless Iraqi government to keep allowing these firms to operate.
Mercenary firms play an essential role in the occupation, and will be even more important in the future. As troop numbers are reduced for political reasons, they can still increase the number of Blackwater employees and the 30,000 other…well, 'dogs of war', is what they used to call them.
And it's not just Americans who make up the Blackwater workforce. Ex-army Poles have been working for Blackwater in Iraq. In 2004, two former Polish GROM officers (the Polish equivalent of the SAS) were killed after an attack by, the now dead, Abu Musab al-Zarkawi and his al-Qaeda type gang of cross-state Inslamists.
Zarkawi, from Jordon, was, for sure, a 'terrorist' – putting bombs in the middle of crowds of civilians was a regular trick of his. But how can the government spokesman, Kuchcinski, know who was behind the attack on the Ambassador today?
Poles are a target in Iraq because they are part of the occupation. And occupations do, I am afraid, get bombs lobbed at them quite often by those who do not want them in their country.
The status of the occupation is made all the more transparent – and resented - by the existence of Blackwater and their ilk. If Iraqis cannot arrest and try these people for crimes against Iraqis - which they cannot - then Iraqi sovereignty is a mirage.
Putin Lashes Out Against Tymoshenko
From:
publiuspundit
Removing all doubt as to who the winner of the Ukrainian parliamentary elections was, Vladimir Putin's Kremlin lashed out against the democrats yesterday in a fit of hysterical, barbaric rage -- illustrating once again the cowardly Putin's fundamental maxim of cosa nostra governance: "If you can't beat 'em, kill 'em."
As the Moscow Times reported: "[State-owned energy monopoly] Gazprom on Tuesday threatened to reduce gas supplies to Ukraine if it did not receive $1.3 billion it is owed, just as it was looking more likely that Western-leaning Yulia Tymoshenko would become Ukraine's next prime minister." The Kremlin's stooges in Ukraine explained: "Volodymyr Bronnikov, a parliament member with the Party of the Regions, said a price hike from Gazprom could come in response to an attempt by Tymoshenko to move Ukraine closer to the West. 'If Ukraine is an ordinary European country, then it must pay ordinary European prices for gas,' Bronnikov said."
These crude, neo-Soviet threats can only serve to convince Ukraine's democrats that Russia is a bloodthirsty enemy with whom cooperation is simply impossible. The should also be a wakeup call to NATO that urgent action is necessary to assure Ukraine's security.
As of now, according to Ukraine's Central Election Commission, 99.44% of the ballots in the parliamentary poll have been counted. Here's an overview of the results:
Roughly 20.5 million Ukrainians cast their votes for one of the five parties which collected more than a 3% share of all votes cast, thereby earning a share of the open seats in the parliament, about 55% of the 37 million eligible to vote in a country of about 45 million. An additional 1.6 million split their votes between another 15 minor parties and about half a million went to the polls to vote "against all" the alternatives, for a total turnout of about 22.5 million or 61%. For some contrast, in 1992 when Bill Clinton was elected president for the first time, only 55% of eligible Americans went to the polls and Clinton collected only 43% of votes cast. Had 1992's presidential ballot in the U.S. been a parliamentary election under Ukrainian rules, H. Ross Perot's party would have been awarded 19% of the U.S. Congress and Perot, by forging an alliance with either the Democrats or the Republicans, would have decided who ruled the country.
Russian lackey Victor Yanukovich's party received the most votes, 34.28% of the total (7.9 million votes). His communist allies raked in 5.38% (1.2 million), giving his sordid pro-Russia coalition 39.66% of the electoral support.
The pro-Western Orange Coalition totaled 44.97% (10.4 million votes total). Julia Tymoshenko's party dominated their results, improving dramatically on its performance in the last election and taking 30.77% of all votes cast (7.1 million) -- assuring her the prime ministry of the country, much to the Kremlin's chagrin (she's shown above speaking to a rapt group of reporters). One of the most glamorous and vivacious politicians in the world today, Tymoshenko is positioned to lead her country into a new era. Victor Yushchenko's party earned 14.20% of the votes (3.3 million).
In other words, a decisive victory of well over 1 million votes for the pro-West, pro-democracy side and a cold slap in the face to the Kremlin. When comparing the results just between the three major parties, the desire of the Ukrainian people to reject enslavement by Moscow is absolutely clear, the victory of the Orange forces is simply overwhelming (a massive 25% margin). But for the communists, convicted criminal Yanukovich is non-competitive -- and needing their support is a telling indicator of the viability of the pro-Russia side. The Kremlin is, of course, beside itself. As the AFP reported: "Moscow has been at odds with Yushchenko and Tymoshenko ever since the Orange Revolution, a major defeat for Russian foreign policy, when Yanukovych was forced to rerun his rigged presidential election win."
Hence, the Kremlin's pathetic, barbaric threats to turn the lights off in Ukraine. Let's not forget that the first time it was seriously threatened, by Yushchenko, it adopted the Litvinenko solution and simply tried to liquidate the opposition by poisoning Yuschenko with Dioxin. It's time for NATO to reach out and protect Ukraine as it struggles to free itself from the Russian yoke of imperialism, time to stand up for democracy and avoid moving down the road that led to World War II. It's worth pointing out, too, that the only reason Ukraine is behind in its gas bills is that it has been made feeble by nearly a century of Russian/Soviet oppression, including genocide. Perhaps its time to discuss financial reparations Russia needs to make before dealing with the gas bill?
Urkaine's version of Perot-as-kingmaker in this ballot is a fellow named Volodymyr Lytvyn, whose eponymous party achieved the lowest vote total in the group earning seats in the parliament -- 3.96% of the total or about 900,000 votes. He does not have enough votes to put Yanukovich on top, but he can solidify the Orange group if he chooses to join it and create a razor-thin parliamentary split if he sides with Russia.
Is Dvorkovich the New Illarionov?
From:
Amsterdam
Today economic adviser to the Kremlin Arkady Dvorkovich is quoted in the Moscow Times, making some pretty compelling and rational statements on the pernicious rise of state corporatism in Russia, particularly those proposed to control the fishing industry, build roads and produce medicine:
"I view the fashion of creating state corporations as being extremely dangerous, particularly for the industries being proposed," he said at a business forum, Interfax reported. ... "That makes you think that the state is not even trying to understand that private business could do all of that," he said. "It's a path toward setting to nil the growth of the Russian economy." The majority of people in the government, Dvorkovich said, realize the importance of private business. "But risks do exist as well," he said.
We haven't heard a Kremlin adviser make this much sense since Andrei Illarionov called for the deregulation of Russia's gas and electricity sectors, not long before his resignation.
Is Dvorkovich just paying lip service to these reformist ideas, or is he the new Illarionov? If so, let's hope that they listen to him.
Sport...
Govortsova into round two
From:
UK Press
Olga Govortsova and Tatiana Poutchek
Olga Govortsova of Belarus secured a safe passage into the second round of the Tashkent Open at the expense of Renata Voracova.
The third seed proved too strong for her Czech opponent as she eased to a 6-3 6-3 victory.
Fourth seed Elena Vesnina also advanced with a 6-3 6-4 win over Alberta Brianti, but Alla Kudryavtseva, the sixth-seeded Russian, fell at the first hurdle after suffering a 6-1 6-2 loss to local favourite Vlada Ekshibarova.
Olga Poutchkova defeated Iroda Tulyaganova 7-5 6-3, ending a 12-match losing streak for the seventh-seeded Russian.
Other first-round winners in Tashkent were Great Britain's Katie O'Brien, Russian Vesna Manasieva, Luxembourg's Anne Kremer and Tatiana Poutchek of Belarus.
Hleb included in Gunners squad
From:
UKSoccar
Arsenal midfielder Aleksandr Hleb has travelled with the squad to Romania for the Premiership leaders clash with Steaua Bucharest in the Champions League on Tuesday.
The Belarus international had been stretchered off on Saturday's 1-0 victory over West Ham at Upton Park after a nasty tackle by Mark Noble, but will receive a late fitness test in Bucharest.
Jens Lehmann (elbow), William Gallas (groin), Tomas Rosicky (hamstring), Eduardo (groin) and Alex Song (calf) all remain sidelined.
Wenger had expected Hleb to miss the trip, but he confirmed: "Alex Hleb will travel. We tested him for a check on his bone and a decision will be made on Tuesday over whether he will play or not.
"Emmanuel Adebayor will (also) travel, but it looks a little less good than it did."
Arsenal will be looking to build on their opening game 3-0 victory over Sevilla at the Emirates Stadium.
Steaua coach Gheorge Hagi resigned in the wake of his sides 2-1 defeat to Slavia Prague and they will realize it's vital to take something from this game to give themselves a chance of qualifying.
Endnote...
Ученик и мастер
From:
Давид Альт
Вечер на склонах мешает масти –
Печати дневных улик.
Ученик знает – он будет мастер,
А мастер,- что он ученик.
Ученик слышит, как плачет ветер,
Тростниками волос шурша.
А мастер – у ветра голоса нету,
А плачет его душа.
Ученик знает, что жизнь – причуда,
Все сжато в одно кольцо,
А мастер видит, как с каждой секундой,
Меняет она лицо.
Ученик жаждет постичь нирвану
И знать – жизнь и смерть – одно,
А мастер помнит – в глуби океана
Мы ищем (опять же) дно.
Ученик верит, что нет утраты,
А мастер – он невозвратим,
И в то, что мир многогранней каты
И трудно расстаться с ним.
Ученик знает – молчанье лучший
Ко всем временам пароль,
А мастер знает, что слово губит,
А может утешить боль.
А ночь крадется по мягким склонам
И их скрывает от нас,
И мы не беремся измерить словом
То, что сокрыто от глаз.