Nukes in Belarus, Crime down, Embassy news, Harvest issues, Russian oil, Polish corruption, Oligarchs in England and Tikhon takes hammer gold in Osaka
President of Belarus cracks down on crime and corruption
From:
NLIPRB
The President of the Republic of Belarus, Alexander Lukashenko, visiting agro-town Gervyaty in Ostrovets district, Grodno region last week
On August 28 Prosecutor General Piotr Miklashevich delivered his report about the performance of prosecution agencies in reinforcing law and order in Belarus, fight against corruption and crime in January-July 2007 to President of Belarus Alexander Lukashenko.
According to the press service of the President of Belarus, the accomplishment of a set of measures contributed to steadying positive law enforcement tendencies, first of all, the falling crime rate. In January-July 104,507 crimes were registered in Belarus, 7.5% less than in the same period of last year. The number of grave crimes shrank by 20%. The number of homicides and attempted homicides went down by 12.2% (from 548 down to 481), robberies — 18.9% down (773 to 627), rapes and sexual assaults — 19.5% down (from 205 to 165), cases of disorderly conduct — 25.4% down (7,968 to 5,943). The crime rate among the underage decreased by 19% (from 4,753 to 3,852 crimes).
Nevertheless, the President demanded that the Prosecutor General should take more decisive and effective measures to fight crime.
It was also noted, in January-July 2007 the number of corruption-related crimes slightly declined in comparison with the same period of last year, which was attributed to a crackdown on this evil in Belarus. All in all, around 2,000 corruption crimes as well as 666 briberies were registered.
According to the Prosecutor General, the Anti-Corruption Law enforced in January 2007 played its positive role in decreasing the number of such crimes. The achievement was also attributed to the fulfilment of the State Anti-Corruption Programme the President approved in May 2007, to anti-corruption propaganda and a set of preventive measures.
Yet Alexander Lukashenko demanded more vigorous and aggressive stance in fighting corruption in Belarus. He said, it was vital to detect corruption crimes at all levels of power.
The President was also briefed about the progress in investigating several major cases, in particular, a criminal case involving an illegal transfer of commodities through the Zapadnyi Bug customs house. The criminal actions resulted in around Br50 billion of damage.
The procuracy supervision exercised top-priority control in the branches of the national economy that directly influenced the national economic, food and energy security. Exercising control over the observance of laws and the legality of legal instruments, over the seven months of the year the prosecution carried out over 9,000 inspections of companies, establishments, local executive bodies, central government agencies and controlling bodies. The prosecution restored violated personal rights and imposed disciplinary, financial and administrative punishment on more than 20,000 infringers. Using extra-judicial procedures natural and juridical persons reimbursed over Br60 billion of damage they had inflicted. Law courts and economic courts satisfied around 10,000 suits filed by the prosecution and recovered more than Br100 billion of financial damage from the guilty.
Over the seven months of 2007 the prosecution processed 24,000 appeals from individuals. The appeals mainly concerned violated labour, housing or other social rights, illegal administrative punishments, and illegal actions of preliminary investigation bodies. One in five of the appeals was satisfied, with specific measures taken to restore violated rights and bring legal action against the guilty.
Special attention was paid to the operation of the investigative corps of the prosecution and improvement of its practices. The investigation of 2,400 cases was finished. Around 85% of official malfeasance cases, which investigation represents special difficulty, were handled by investigators of the prosecution. During preliminary investigation the prosecution's investigators took measures to recover more than Br3.3 billion to repay the damage crimes had inflicted.
Prosecutors backed public prosecution in 37,000 criminal cases. Following protests the prosecution filed courts brought their rulings concerning more than 800 convicts into compliance with law, as such rulings wrongly qualified actions of the convicts, imposed unjustifiably soft or severe punishments and infringed other laws.
Over the seven months of the year the prosecution took part in court proceedings concerning almost 16,000 civil suits, corrected miscarriage of justice concerning over 500 suits involving housing, labour and other social arguments between individuals and involving the protection of state interests.
Defense ministry says that Russian deployment of nuclear facilities in Belarus is matter of "highest-level" politics
From:
Naveny
The deployment by Russia of nuclear facilities in Belarus is a matter of "highest-level" politics, the press office of the Belarusian defense ministry commented to BelaPAN on Monday's statement by Russian Ambassador Aleksandr Surikov.
Mr. Surikov told the Interfax Zapad news agency that Russia might consider deploying new nuclear facilities in Belarus in response to a US plan to expand its embryonic missile defense shield to Eastern Europe.
"This depends on the level of our political integration," Mr. Surikov said. "It also depends on the views of experts, diplomats and the military whether it is necessary and possible, when and how. I am talking about sites connected with nuclear weapons."
The Belarusian ministry's press office said that it was up to politicians to decide about the deployment, adding that the military only "execute" orders.
This past April, Belarusian leader Alyaksandr Lukashenka said that Belarus would participate in "preparations for an asymmetrical response" to the US plan, without specifying the response.
Russian Official Downplays Belarus Nukes Talk
From:
RFE/RL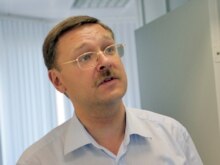 Konstantin Kosachyov said in theory there was nothing to prevent Russia deploying nuclear weapons abroad (file)
(RFE/RL)

The head of the State Duma's Foreign Affairs Committee has said Russia currently has no plans to deploy nuclear weapons beyond its territory, characterizing suggestions that Belarus could host nuclear-related weaponry as "theoretical."
Konstantin Kosachyov was responding to reports that a Russian official had said Moscow might consider deploying "objects relating to nuclear weapons" in Belarus in response to U.S. plans to install parts of an antimissile shield in Central Europe. That official, Russian Ambassador to Belarus Aleksandr Surikov, has since said his comments were "misinterpreted."
In an interview with RFE/RL's Belarus Service today, Kosachyov shrugged off Surikov's reported comment, but also noted that there was nothing to legally prevent Russia from deploying nuclear weapons abroad.
"When it comes to Russia's nuclear weapons, their deployment beyond the country's territory, on the basis of mutual agreement between sides, does not contravene international obligations of Russia and the other country the enters such an agreement," he said. "But I want to underline again that now I am commenting on the purely theoretical, legal side of this question."
Surikov's suggestion was made in passing during a recent interview in which he discussed energy and economic cooperation between Russia and Belarus.
Interfax this week quoted him as saying that the possibility that Russia would consider deploying equipment in Belarus depended "on the level of our political integration [with Belarus], as well as points of view of experts, diplomats, and the military."
The comments attracted significant media attention and speculation.
Issue 'Hasn't Come Up'
In comments made to RFE/RL today, Belarusian Foreign Ministry spokeswoman Maria Vanshyna said the issue of deploying Russian nuclear facilities in Belarus had not been discussed.
"We have a high level of integration [with Russia] in many spheres, including the military. There are Russian military objects on the territory of Belarus," Vanshyna said. "As for deployment of objects related to nuclear weapons, this question has not come up yet. Life will show if this discussion will take place."
After the fall of the Soviet Union, Belarus, along with Ukraine and Kazakhstan, agreed to destroy all strategic nuclear warheads that were located on its territory, or turn them over to Russia. Belarus became a non-nuclear weapons state in November 1996.
Number of Loss-Making Companies Down 1.5 Times
From: Office of the president
The number of loss-making companies in Belarus has reduced 1,5 times in H1 this year, the Minister of Industry, Anatoly Rusetsky, reported to the President of the Republic of Belarus, Alexander Lukashenko, on August 28.
When outlining the results of the Ministry's performance in H1, Anatoly Rusetsky said that the profitability of industrial enterprises in January-June 2007 averaged 17.1 percent. The Belarusian manufacturing industry has successfully adapted to the new energy prices, he added.
The Minister also reported on the refurbishment and overhaul projects currently in progress in the manufacturing sector. The Ministry deems it promising to set up production associations that would include companies located in small and medium towns, he said.
The meeting also focused on infrastructure development of and ecological impact produced by manufacturing enterprises in big towns. In this respect, the Head of State said he wanted the Ministry to develop effective solutions related to relocating big industrial facilities outside city population centres.
Alexander Lukashenko gave instructions to promote Belarusian industrial brands. Belarus has quite a lot world-renowned trademarks like Atlant, Gefest, BelAZ, MTZ and others. First of all, it is necessary to expand the output of well-known brands, and only then to create new ones, the President said.
The Minister of Industry also reported on the results of the 8th meeting of the Belarusian-Iranian commission for economic co-operation, which took place recently in Tehran. The meeting resulted in a series of crucial decisions relating to co-operation in the manufacturing industry, power engineering, banking sector, in science and technology. The two sides are making progress in preparing preferential trade agreements, which are critical for booting trade between Belarus and Iran.
The President of Belarus set a task to increase trade turnover with Iran to $1 billion a year.
In a
related story,
Inflation in Belarus will stay within the predicted range of 6-8% till the end of the year, Belarus' Deputy Economy Minister Vladimir Adashkevich told media today.
Over the first seven months of the year consumer prices in Belarus swelled by 4.1%. Meanwhile, consumer prices in Russia went up by 6.6%, Ukraine — 5.6%.
According to the Deputy Economy Minister, the changes of the indicator were good in January-July 2007. "I think we will be able to reach the forecast figures at the end of the year," he said.
Hungarian embassy to open in Minsk by late 2007
From: BelTA
An embassy of the Republic of Hungary is supposed to open in Minsk before the year is out, BelTA learnt from Belarus' diplomatic mission in Budapest.
The issue was discussed during a meeting of Ambassador Extraordinary and Plenipotentiary of Belarus to Hungary Yelena Kupchina with State Secretary of the Hungarian Foreign Ministry Laszlo Szoke. The Hungarian side was handed a note of the Belarusian Foreign Ministry, which, in response to the official enquiry of the Hungarian Foreign Ministry, expressed Belarus' agreement to setting up a permanent diplomatic mission of the Republic of Hungary in Minsk.
Yelena Kupchina said she hopes the opening of the Embassy of Hungary in Minsk will contribute to promoting the entire range of Belarusian-Hungarian relations, first of all, trade and economic cooperation, and will favour the invigoration of interpersonal contacts, cooperation in culture and education. The Ambassador of Belarus thanked the Hungarian side for the pragmatic approach to Belarus' proposals aimed at facilitating mutual travels for citizens of Belarus and the European Union. Hungary together with several other states backs this position in European institutions. The diplomat also expressed interest in the Hungarian embassy's starting issuing visas to Belarusian citizens soon.
In turn, the State Secretary of the Hungarian Foreign Ministry remarked, the Hungarian side plans to finish setting up the embassy in Minsk by the end of 2007. He stressed, Hungary will continue pursuing a policy meant to facilitate interpersonal contacts in relations between Belarus and the European Union. Laszlo Szoke also noted the importance of facilitating the mutual travels of individuals within the European Union without simultaneously creating hardly passable barriers at the external borders of the European Union.
In other embassy news, In the first half of August ambassadors of the European Union countries will pay an information visit to the Gomel oblast. The trip will be organized by the Slovakian embassy in the Republic of Belarus, which performs functions of a local representative office of the European Union in Belarus on behalf of Portugal.
As BelTA was told by Charge d'Affaires ad Interim of the Slovak Republic to Belarus Lubomir Regak, during the trip the EU ambassadors will visit the industrial companies of the Gomel oblast and will meet with students. Special attention will be paid to the problem of mitigating consequences of the Chernobyl catastrophe. "The main goal of the visit is to draw attention of the ambassadors to the problems Belarus encounter after the Chernobyl catastrophe and to promote cooperation between Belarus and the EU in this sphere," Lubomir Regak underlined.
According to him, the Slovak embassy has already organized trips of the EU ambassadors to Vitebsk, Novopolotsk, Braslav, Grodno and Pinsk.
As the local presidency of the European Union in Minsk on behalf of Portugal, the Slovak Embassy will endeavour to improve relations between Belarus and the European Union, Charge D'affaires Ad Interim of the Slovak Republic to Belarus Lubomir Rehak told BelTA. Today Slovakia celebrates a national holiday — the Anniversary of the Slovak People's Rebellion.
The diplomat stressed the mutual benefits of cooperation between Belarus and the European Union and praised steps the Belarusian leadership made towards tighter relations with the European Union by deciding on setting up a representation of the European Commission in Minsk.
Also, the newly appointed ambassador of Italy to Belarus, Norberto Cappello, will arrive in Minsk on August 30, 2007, BelTA was told in the Italian diplomatic mission in Belarus.
According to the Belarusian Embassy in Rome, Italy is one of the main trading partners of the Republic of Belarus in Europe and in the world (the 9th place in the total turnover of Belarus, the 7th place - among the countries outside the CIS as of 2006). The trade between Belarus and Italy amounted to $669.1 million (an increase of 20.9%). Last year the exports of Belarus totalled $172.2 million.
Despite certain difficulties encountered by Belarusian exporters in the European market, Belarus managed to ramp up exports to Italy by 3.5% to $99.6 million in H1 2007. Exports of new products feature woodwork, polyethylene, optical equipment, fruit and vegetable products.
CEO of Syabar brewery reiterates concern over quality of Belarusian malt
From:
Naveny
The chief executive of the Babruysk-based Syabar brewery has reiterated concern about the quality of Belarusian-produced malt, BelaPAN reported.
Syarhey Levin told reporters in Minsk on Tuesday said that the quality of barley grown in the country this year had been reported to be good, but it was not yet clear whether the content of protein in the crop was in compliance with the company's standards, which he noted differed from those established elsewhere in the country.
In 2006, domestic breweries were allowed to import only limited amounts of malt amid the government's claims that domestically-grown barley was of a proper quality.
They buy the product from the country's monopoly, Belsolad, which charges a much higher price than Russian and Ukrainian suppliers.
Mr. Levin said that Syabar planned to buy in 2008 22,000 tons of malt from Belsolad whose annual production capacity totaled 65,000 tons.
He said that the company also bought the product from private farms, noting that it was "much easier to conduct a dialogue" with them.
The brewery was founded in February 2004 by Detroit Belarus Brewing Company (DBB Company), which belongs to Detroit Investments Ltd. and the International Finance Corporation, and by the Babruysk-based Dzednava brewery that provided its facilities for the new brewery.
Recently, the brand has launched a new, title brand.
Mr. Levin said that the new product had a success that impressed even the company. He said that they planned to target initially the domestic market and then expand to neighboring countries, with the new brand to be supplied to Russia to cost 40 or 50 percent more than here in Belarus.
Syabar reportedly spent more than $45 million on the launch of the title brand and is planning to invest $20 million more in the project in the next three years.
DBB Company owns 75 percent and Dzednava more than 20 percent in the brewery whose authorized capital stock reportedly amounts to $8.2 million.
Potato harvest will grow 7.2% in 2007 in Belarus
From:
Agromarket
The gross potato harvest in all types of agricultural enterprises is expected to reach the level 8.9 mln. tons in Belarus in 2007 comparing to 8.3 mln. of tons in 2006; the Department of fruit&vegetable production, processing and trade of the Ministry of Agriculture and Food of Belarus provided this information to Interfax.
"All types of farms expect to have the gross harvest on the level of 8.9 mln. tons", the specialists of the Ministry informed. All kinds of agricultural and other organizations, including farms, forecast to harvest 1.1 mln tons of potato, i.e. 52% more than in 2006. The agricultural organizations allocated 45,700 ha of land for this crop. 185,500 tons of potato will be supplied this year to provide the needed volumes for the commercial processing this year.
The Ministry forecasts, the agricultural organizations (included to the potato production development program for 2006-2010) will harvest 330,000 tons of potato this year (past year harvest constituted 268,400 tons of potato in these organizations). According to the Ministry data, as of August 27th the agricultural organizations harvested potato on the acreage of 0.5 thousands of ha, or 1.1% of the planned cultivation areas. 9,100 tons of potato were harvested; the average yield constituted 181.3 centner/ha. "This yield is rather high, as the massive harvesting has not started yet", the Ministry specialists pointed out. "We expect the yield to further grow".
In the whole, the Ministry mentions the favorable weather conditions this year for the formation of potato harvest. "Only some fields were flooded in Brest region because of the heavy rainfalls", the specialists observed.
In a
related story,
According to Deputy Minister of Economics of Belarus, in 2007 they plan to buy about 200.000 tons of milling wheat and missing volumes of feed grain.
Belarus intends to purchase milling wheat just now due to possible increase of prices in the nearest future to 250 USD/t. At present, market structure in neighboring countries is not very favorable for Belarusian market of grains, for today price for milling wheat is about 200 USD/t
Belarus hopes to receive 22 mln tonnes of Russian oil next year
From:
Itar Tass
Belarus hopes to receive 21.5-22 million tonnes of Russian oil next year. "Negotiations with Russia have begun. Experts of the Economics Ministry and of Belneftekhim concern participate in them," Vladimir Volkov, the concern's vice president, told reporters on Wednesday.
He said this amount of oil would be included in the fuel-and- energy balance for the next year. "Pricing now takes into account price fluctuations in the world markets," Volkov said. He said everything now hinges not only on the price of Russian oil but also on prices of oil products. "If this index is good, the profits of Belarussian enterprises will be high," he said.
At the same time Volkov said that with price rises on Russian oil from the beginning of the year, Belarussian enterprises showed low profits, around five percent for six months. "Profitableness of oil refining plants was lower than last year, but this is not dramatic," he said, answering the question of Itar-Tass. Volkov remarked that price rises on raw materials is a world tendency.
Volkov said that Belarussian oil processing enterprises operate to full capacity after January. He said that on the government's instruction efforts are made to receive oil from different sources. For instance, Belarusneft aims to look for sources of oil supply outside Belarus, specifically, in Venezuela and lran. Meanwhile, Volkov said, Russian oil supplies are enough for Belarussian refineries operating to capacity, and the price of Russian oil is the most acceptable to Belarus.
About 50 percent of oil Russia delivers to CIS countries goes to Belarus. Russian oil supplies to Belarus made up 19.7 million tonnes in 2006.
Belneftekhim always on lookout for alternative oil supplies to Belarus
From: BelTA
Belarusian petrochemical concern Belneftekhim constantly monitors opportunities for alternative oil supplies to Belarus, Belneftekhim Deputy Chairman Vladimir Volkov said at a press conference in Minsk today.
He remarked, the concern is working on measures to diversify oil supplies to Belarus. "We monitor international markets, know channels and prices," he said. "If economically expedient, the possibility of getting crude stock from other regions should be secured". Meanwhile, Russian oil supplies keep Belarusian refineries working at 100% of their capacity. Due to objective reasons Russian oil is less expensive, added Vladimir Volkov. However, if necessary, Belarus should be able to buy alternative oil. "We are working on it," said the official.
Vladimir Volkov remarked, Belarus also works on specific projects for oil exploration abroad — in Venezuela, Iran and other countries. Implementing them, Belarus prioritises setting up joint ventures and other institutions to allow the country to export its intellectual and technological potential.
BelTA reported earlier, Belarusian oil exploration company Belorusneft will make a contribution in the national currency of the Bolivarian Republic of Venezuela to the tune of $200,000 into the authorized capital of an oil extraction company. The latter is being set up in Venezuela with Belorusneft's involvement.
The joint venture is expected to develop oil deposits Guara Este and Lagamedia. In future the extraction area may be enlarged to include other Venezuelan oil fields. The commercial oil extraction in Venezuela may start in December 2007. Belorusneft geologists are now in Venezuela examining oil reserves in Junin-1 area in the Orinoco River basin. The oil presence in this area has been confirmed.
Belarus is expected to import 21.5-22 million tonnes of oil next year, Deputy Chairman of Belarusian petrochemical concern Belneftekhim Vladimir Volkov told a press conference today.
In his words, corresponding negotiations with the Russian side have been started.
"We plan to buy approximately this amount of oil in 2008," said the official. He remarked, the figure fits plans the Russian side has for the period up to 2020.
Asked about the next year's oil price, Vladimir Volkov said there was no univocal forecast. "As always some experts believe the price will go up, while others think there are no reasons for it and the price will go down," he said. Oil price has been on the rise since early this year, but it showed a tendency to shrink over the last month, added Vladimir Volkov.
He underscored, the gap between crude oil prices and prices for petroleum products is an important factor for oil refiners.
Speaking about the next increase in customs duties on Russian oil as from October 1, 2007, Vladimir Volkov said, the decision is a technical one. "I cannot say it will entail losses for oil processing companies. The correlation of crude oil prices and prices for petroleum products will determine everything," he explained.
Experience of Belarus in toponymy is of interest to international experts
From: BelTA
Experience of Belarusian experts on toponymy is of interest to international experts, BelTA learnt in the Representative Office of the Republic of Belarus at the United Nations Organization.
On August 21-30 New York hosts the 9th United Nations Conference on the Standardization of Geographical Names. The conference is held once in five years. The previous one was held in Berlin in 2002.
Simultaneously the UN Group of Experts on Geographical Names is holding the 24th session. A Belarusian delegation takes an active part in both the forums.
Reports delivered by the Belarusian delegation focused on creation of a universal six-volume guide "Geographic Names of the Republic of Belarus". Four volumes of the guide have already been published.
A Google representative who was attending the session of the UN Group of Experts on Geographical Names as an observer expressed interest in using results of Belarusian toponimy studies in the Google database.
Around the region...
Can a music festival really bridge borders?
From:
Baltic Times
DIFFERENT AGENDAS: While some spectators embraced Be2Gether's cross-border idealism, others just came for the music.
Among a sea of colorful tents, several nations' flags wave high in the sky against a backdrop of lush woodlands. A group of young Belarusians is laughing and singing near a small campfire, sharing smoked sausages, cheese and bread.
It's Saturday afternoon (Aug. 25) at the Be2Gether festival in Norviliskes, 80 kilometers south of Vilnius, and these students are relaxing under the summer sun, eagerly waiting for their most-prized Belarusian rock band, Lyapis Trubetskoy, to take center stage.
Just 50 meters away lies the border that separates Lithuania and Belarus. On its other side the students have experienced a political, economic and social life unlike that of any other former Soviet republic. It's a life characterized by autocratic rule and backed by a government whose relationship with its neighbors is strained at best. Suspicion and distrust flow freely across the border in both directions.
Enter Be2Gether.
"Our slogan is 'Music opens borders,'" organizer Darius Ivanauskas told journalists before the event. "It has a broader meaning – opening borders between human beings, in the broadest sense possible, meaning destroying the walls that exist in the human soul, opening minds."
But can a music festival really make any headway in bridging the border between two countries, or is that hope merely an idealistic pipe dream?
Anna Jahorova, a student from Minsk, said she believes music festivals like Be2Gether can be effective in drawing attention to countries that are on the international community's watch lists.
"You can see the Belarus border from here, and you can feel Belarus territory, but we are in Lithuania," Jahorova said. "[Here] you can feel freedom."
She and the other students at the campground said that where they live, rock bands don't enjoy the same creative privileges as elsewhere.
"For more than three years, our rock groups can't release new albums and they are blacklisted," Jahorova said.
Jahorova also fully backed the festival's theme, in a very literal sense. "In our opinion, we don't want any borders at all. This festival is to show that borders are not important," she said.
Lithuanians also expressed support for the idea that music festivals can unite nations.
"After the performance, I think it could cause people to go back to their countries, share their stories and connect countries together," said Kristina Baird, a festival goer from Vilnius.
Her friend Dragas, who was clad in Che Guevara patch, aviator glasses and had a symbol of Lithuanian independence tattooed on his wrist.
"Belarus and Lithuania are neighbors," he said, adding his belief that Belarus should be in the EU.
The warm sentiments of togetherness surrounding the festival didn't seem to penetrate Belarusian officialdom, however. Despite the organizers' statements that the festival was completely non-political in nature and only promoting "free communication among Belarusians and Lithuanians," the government's reaction was far less than supportive.
According to many of the young Belarusians who made it to the party, the weeks leading up to Be2Gether sparked fear, political pressure and protest in Belarus. There was little to no radio promotion; most of them said they received information about the event only through Internet resources and word-of-mouth.
On Aug. 10, the Foreign Ministry of Belarus distributed an appeal for Lithuania to not let "propagandistic, unfriendly, anti-Belarusian actions" occur at the festival.
For most Belarusians who came here though, getting a Lithuanian visa was a bigger concern. To facilitate the process, the Lithuanian Ministry of Foreign Affairs, the European Commission and other international organizations arranged a special 5-euro visa fee, something to help take the edge off the festival's 45-euro ticket price.
Still, the border itself was a powerful presence at the event. Low-flying helicopters zoomed over the fields, officers roamed around with guard dogs on leases, and bags were inspected at nearby fences. In the concert booklet, one page stated, "We insistently ask you to regard the Lithuanian border and not to cross it! Trespassers may get fined and imprisoned."
Cross-border relations are likely to become more complicated in coming months. When the Baltics join the Schengen zone in early 2008, countries like Belarus will find themselves on the outside of a tighter EU border. At the same time, however, international efforts to foster stronger relations with Belarus are ongoing, and a generation of Belarusian students is forming grassroots links with their European Union neighbors by studying abroad. There is hope that the status quo will change eventually.
Back at the festival, these political complexities were far less visible.
"I came to the festival to relax, not for politics. I just want to listen to some good music with my friends," said Sergey, another music fan from Minsk.
When it was time for Lyapis Trubetskoy band to blast their trumpets, drums and electric guitars, hundreds of attendees jumped up and down shaking their Belarusian and Lithuanian flags closely together in the air.
At the end of their performance, the band's leader Sergey Mihalok said he was glad to see happy Belarusians in the crowd.
His die-hard fans were happy to see him, too, all together in Lithuania.
From Russia with $3 billion; Another Putin opponent may have fled to London
From:
Mikhail Gutseriyev, the former CEO of Russian oil producer Russneft, in his then office in Moscow.
Relations between Russia and Britain were facing fresh turbulence yesterday after a billionaire oligarch wanted by the Kremlin for tax evasion was reported to have escaped to London. Mikhail Gutseriyev - the former head of one of Russia's largest private oil firms - disappeared from Russia last week. On Tuesday a court in Moscow issued a warrant for his arrest.
Last month Mr Gutseriyev stepped down from his oil company, RussNeft, citing "unprecedented bullying" by Vladimir Putin's government. Mr Gutseriyev - whose personal fortune is estimated at $3bn - accused the Kremlin of "illegally" forcing him out of business using trumped-up tax claims.
Yesterday Russia's Kommersant newspaper reported that Mr Gutseriyev had fled to London, apparently taking his billions with him. Quoting "unofficial sources", the paper said he had slipped past Russian investigators and gone to the UK.
Mr Gutseriyev's whereabouts was unclear last night. But the case has the potential to exacerbate the government's already brittle relations with Moscow. Mr Putin regularly denounces Britain as a haven for "criminals and terrorists" following Britain's refusal to send home the London-based former oligarch Boris Berezovsky.
Numerous Russian dissidents and opponents of the Putin regime now live in London. They include Mr Berezovsky - who enjoys political asylum and is Mr Putin's biggest critic - the Chechen rebel leader Akhmed Zakayev, the former Kommersant journalist Yelena Tregubova, and executives from the bankrupt oil company Yukos.
Last night prominent members of London's Russian community said there had been persistent rumours over the past few days that Mr Gutseriyev had fled Russia to set up in the UK. The Home Office refused to comment on the reports.
Mr Berezovsky said: "I know him and although I don't have an especially close relationship with him I will help if he gets in touch, although he will not need all that much help because he has big experience abroad and he has money." Mr Berezovsky said he expected more Russians to come to London because the UK's legal system offered protection from what he described as Russia's "gangster" government.
Any application by Mr Gutseriyev for political asylum in the UK will infuriate the Kremlin. Mr Putin has already accused Britain of "stupidity" for trying to extradite Andrei Lugovoi - the former KGB agent charged with the murder and poisoning of the Russian dissident Alexander Litvinenko. Last month both countries expelled four of each other's diplomats.
Mr Gutseriyev was last seen in Russia attending the funeral of his British-educated son, who died last week following a mysterious car crash, Kommersant reported. Chingiskhan Gutseriyev, 22, was educated at Harrow and Warwick University. He apparently died from trauma after possibly crashing his Ferrari. Police and hospitals in Moscow, however, say they have no record of a crash.
Mr Gutseriyev's woes appear to have started after he bought up assets from the oil firm Yukos. On July 30 he published a damning letter accusing the Russian authorities of using regulation as a pretext to grab back oil and gas assets from Russian and western companies.
He wrote: "They made me an offer to leave the oil business, to leave on 'good terms'. I refused. Then, to make me more amenable, they tightened the screws on the company with unprecedented persecution." The letter marked the most significant public challenge to Mr Putin from a leading businessman since the imprisonment four years ago of the former chairman of Yukos Oil, Mikhail Khordorkovsky.
Khordorkovsky was jailed for eight years in 2004 for tax evasion and fraud. The case was widely seen as political punishment for his refusal to stop funding anti-Kremlin opposition parties ahead of 2004 elections. The oligarch, once Russia's richest man, is now in jail in Siberia.
Yesterday Russian newspapers dubbed Mr Gutseriyev a "second Mikhail" - a reference to Khordorkovsky. They predicted that, like Yukos, his RussNeft oil empire would be swiftly dismantled, sold off, and most probably absorbed into a new state-run firm. Russian investigators have already seized the firm and accuse Mr Gutseriyev of failing to pay $800m in tax.
Mr Gutseriyev, 47, was one of Russia's most successful Muslim businessmen, and according to Forbes magazine is Russia 31st richest man.
Last month he announced that following government pressure he was selling his firm to the pro-Kremlin oligarch and billionaire tycoon Oleg Deripaska. Yesterday Kommersant said the deal had already gone through - with Mr Gutseriyev pocketing $3bn.
In Russia, four formally charged in Politkovskaya murder
as new suspect emerges

From:
CPJ
Investigative reporter Anna Politkovskaya speaks in Moscow in a 2001 photo. Russian prosecutors have formally charged at least four people as accomplices in the murder of reporter Anna Politkovskaya, local news agencies quoted a lawyer of one of the defendants as saying on Tuesday.
Four of the 10 suspects detained in the 2006 murder of journalist Anna Politkovskaya have been formally charged, a defense lawyer told the independent radio station Ekho Moskvy. A warrant has been issued for the detention of an 11th suspect in the case, a spokeswoman for the Moscow City Court told the Interfax news agency today.
The names of the 11 suspects appeared in the Russian press on Tuesday, although the prosecutor general's office has refused to comment since it first announced a break in the case on Monday. The Committee to Protect Journalists today urged Russian prosecutors to disclose more information about its investigation.
"The murder of Anna Politkovskaya shook the Russian and international community," CPJ Executive Director Joel Simon said. "The public expects a thorough and timely accounting of the investigation."
Court spokeswoman Anna Usacheva told Interfax that a warrant was issued for Sergei Khadzhikurbanov, a former police officer with the Moscow Directorate for Combating Organized Crime. The daily Kommersant said Khadzhikurbanov is suspected of helping plan the murder. Usacheva did not provide further details.
Defense lawyer Murad Musayev said four suspects have been formally charged with complicity in the October 7, 2006, slaying. In comments on the Ekho Moskvy talk show "Razvorot," the lawyer said his client, Dzhabrail Makhmudov, a paralegal, has an alibi for events related to the murder. Musayev accused investigators of beating the 25-year-old Makhmudov to coerce a confession. He said his client did not confess. The government did not immediately respond to the accusation.
Musayev said Makhmudov's two brothers, Tamerlan and Ibragim Makhmudov, were also among those formally charged. He described all of the Makhmudov brothers as Chechen citizens residing in Moscow. The lawyer did not identify the fourth person formally charged. The brothers, he said, deny wrongdoing.
Politkovskaya, an internationally known reporter for the Moscow newspaper Novaya Gazeta, was killed by a lone gunman in the elevator of her apartment building on October 7, 2006.
Several Russian newspapers and Web sites have published the names of those said to be suspects. Among them was Pavel Ryaguzov, a Federal Security Service (FSB) colonel, who is accused of conducting surveillance of Politkovskaya, Kommersant reported.
In a news briefing on Monday, Prosecutor General Yuri Chaika blamed Politkovskaya's assassination on unidentified masterminds abroad who want to destabilize Russia. His comments were interpreted by some to point at exiled tycoon Boris Berezovsky, who has denied involvement.
Chaika said the investigation "leads us to the conclusion that those interested in the removal of Politkovskaya can only be individuals outside the territory of the Russian Federation." He said the journalist's murder benefits people whose aim is "destabilizing the situation in the country; changing the constitutional order; creating a crisis in Russia; restoring the former system, when everything was decided by money and oligarchs; discrediting the leaders of the Russian state; and aspiring to provoke an external pressure on the government of our country."
Politkovskaya earned worldwide fame for her coverage of the conflict in Chechnya and the Caucasus.
According to a
transcript of the press conference
posted on the prosecutor general's office Web site, Chaika said investigative evidence shows that a member of the criminal group implicated in the Politkovskaya murder was also involved in the 2004 murder of Paul Klebnikov, the American editor of Forbes Russia.
Chaika did not identify the purported masterminds or elaborate on evidence of their involvement.
"Prosecutor Chaika has made assertions about alleged overseas masterminds in Anna Politkovskaya's murder—along with a connection to Paul Klebnikov's murder—but he has not yet backed up these accusations," said Simon. "We call on the authorities to be transparent and provide evidence for such claims."
Polish PM pressed over 'Polish Watergate'

From:
Globe and Mail
Kazimierz Marcinkiewicz
Polish Prime Minister Jaroslaw Kaczynski faced a growing outcry on Wednesday over accusations his secret services had spied on politicians, an affair some commentators have branded a "Polish Watergate."
Former prime minister Kazimierz Marcinkiewicz joined the fray, saying in media interviews he had grounds to suspect he was spied on when in office and that Poland had become an "Orwellian state" — a reference to "1984," a novel by George Orwell describing a future totalitarian state.
"I cannot rule out that I was eavesdropped on," he told private tvn television late on Tuesday. "We are living in an Orwellian state and we need to be aware of that."
Mr. Kaczynski is pushing for a snap election in October after the acrimonious collapse of his coalition with fringe anti-EU parties, which deprived him of a majority in parliament.
The main opposition parties have agreed to hold an election two years early but want a parliamentary inquiry first into the spying allegations and what they call abuse of power by Mr. Kaczynski and his twin brother Lech, the president.
The allegations were fuelled by former interior minister Janusz Kaczmarek, sacked in July, and by Mr. Kaczynski's ex-coalition partners.
Mr. Kaczynski has dismissed their charges as a "pile of rubbish" aimed at discrediting his anti-corruption crusade.
But Mr. Marcinkiewicz, in another interview, in Wednesday's conservative daily Dziennik, said he had evidence that a senior Law and Justice official had tried to persuade the internal intelligence agency to put him under surveillance, but that the request had been denied.
Mr. Marcinkiewicz, one of Poland's most popular politicians, declined to say who had wanted to spy on him. He was forced to resign as prime minister in July 2006 because of policy differences with Mr. Kaczynski, the party leader, who replaced him.
A visibly angry Mr. Kaczynski said Mr. Marcinkiewicz was "telling fairy tales," but the opposition seized on the remarks.
"What we have here is governing with the use of special services, governing through surveillance — methods that in a democratic country are forbidden," said former president Aleksander Kwasniewski, who heads the centre-left opposition.
Polish media have also attacked the government, saying the accusations must be thoroughly investigated.
"This could become one of the biggest political scandals in independent Poland," said Mr. Dziennik. "We would like to believe that this is not true. But this matter needs to be explained thoroughly."
Opinion polls show that despite a booming economy and falling unemployment, Law and Justice faces an uphill battle to remain in power after a two-year rule marked by conflicts inside the cabinet and rows with EU partners.
Parliament will vote next week on whether to dissolve itself to permit an October election.
Some opposition leaders suggested they might vote against the motion, which requires broad support, unless the spying affair was properly investigated.
Polish premier proclaims government record, says corruption could return if he loses election
From:
IHT
Poland's prime minister on Saturday proclaimed his party's two years in office the country's best in decades, and suggested that a defeat for him in expected early elections in coming months could reopen the door to corruption.
Prime Minister Jaroslaw Kaczynski is seeking an election two years ahead of schedule after his rickety three-party governing coalition collapsed, leaving his nationalist, conservative Law and Justice party to run a minority government.
While polls have shown Law and Justice trailing the largest opposition party, the pro-business Civic Platform, Kaczynski declared himself optimistic at a rally in the Baltic Sea city of Gdansk.
"In less than two months there will probably be elections, and I'll say it again — we will win," he told a large, cheering crowd, many waving red-and-white Polish flags or blue Law and Justice placards.
Kaczynski stressed what he called his government's many successes in building a modern Poland since Law and Justice came to power in 2005.
He touted the country's robust economic growth, currently running at some 6 percent per year, and a decrease in crime and corruption as two major accomplishments. He also pointed to increased funding for social services.
"If you look at the two years and the economic and social results, on returning elemental historical decency — by the government's and president's efforts — these were the best years for Poland in a great number of decades," he said.
However, Kaczynski also warned that the corruption and shady ties between business and politics that he says thrived under previous governments are "very strong and rebuild quickly."
"If we want to eliminate them, we must build a strong state," he said, insisting that only Law and Justice can achieve that.
Parliament is slated to vote Sept. 7 whether to dissolve itself, which would trigger an early election.
If Parliament approves the motion to dissolve itself, Kaczynski has suggested that voting could be held Oct. 21. If the motion fails to gain the necessary two-thirds majority, he has said that his government will resign — also triggering an early election, but by a longer constitutional process.
Earlier Saturday, Civic Platform leader Donald Tusk accused Kaczynski and Law and Justice of "betraying the dreams of Poland."
"For many months now, Poland has been an involuntary witness, and maybe soon a victim, of an evil whose source is the incompetent, pathological government of Jaroslaw Kaczynski and Law and Justice, which is aggressive toward its own country and countrymen," he said at a rally in Warsaw.
The governing party has faced allegations that it abused power by using the secret services to entrap political foes and spy on opposition politicians. Several parties are urging parliament to set up panels to investigate allegations of wrongdoing.
Law and Justice won the last parliamentary election, in September 2005, beating Civic Platform by a slim margin despite polls that predicted a Civic Platform victory.
Since then, Law and Justice has presided over constant instability and has seen a steady turnover of senior ministers — governing first as a minority administration, then in a coalition with two small, unpredictable populist parties that collapsed earlier this month.
Ukraine holds firm as a top world arms exporter, but lags far behind Russia
From:
Kiev Post
Ukraine, one of the world's top 10 arms exporting countries, earned some $750 million through weaponry sales to 19 countries in 2006, with exports to Azerbaijan and China leading the way, according to the country's annual report to the United Nations Register of Conventional Arms.
Azerbaijan received 17 battle tanks, while 20 were bought by the Congo and one was purchased by the United States. Ukraine has reported the transfer of more than 720 tanks to 11 different countries since the country joined the voluntary reporting mechanism established by the UN nearly 15 years ago.
Azerbaijan and the Congo also purchased 23 armored combat vehicles, while 50 armored combat vehicles (ACV) were delivered to Iraq and 10 to Nigeria. Earlier this month, Ukraine won a contract to supply 96 ACVs for $117 million to Thailand, which will take two years to complete.
In addition, Azerbaijan acquired 13 units of large-caliber artillery, according to the report published this month.
Ukraine also exported 17 combat aircraft to Azerbaijan, 12 to Yemen, six to Belarus, five to Vietnam, four to Sri Lanka, three to the US, two to Great Britain, and one airplane each to Estonia, Lithuania, New Zealand, South Africa, the Czech Republic and Uganda, for a total of 55 aircraft in 2006. Algiers imported 32 missiles and mobile missile launch systems from Ukraine, while Kazakhstan received 12. The most Ukrainian missile systems were acquired by China – 590 in 2006. The US increased its purchases of parts of Ukrainian "mobile zenith rocket complexes" to 295 units, which include rockets and mobile launch systems.
In 2005, Ukraine shipped only six launch mechanisms and 29 rockets for the Holka zenith launch system to the US. In 2003, the US acquired 10 launch mechanisms and 29 rockets. In the past five years, Ukraine has increased its world arms market share from 4 percent to 10 percent, earning the country $750 million annually, according to Serhiy Zhurets of the Center for Army Conversion and Disarmament Studies. By way of comparison, Russia, earns $5-7 billion annually. Zhurets pointed out that the UN registry does not cover all military exports, like radar equipment and firearms.
"The arms export business will never be fully transparent and open in any country," said Zhurets. He said that in addition to the UN registry, efforts to tabulate data on exports are conducted by the US Congress and the Stockholm International Peace Research Institute, which pegged Ukraine's arms exports for last year at only $118 million. He said that the US Congress six-year estimate for Ukraine's weapons exports stood at more than $2 billion.
Like Ukraine, Russia reported no conventional arms imports for last year. For 2006, Russia reported selling 30 battle tanks to Algeria, a total of 114 ACVs to Bangladesh, Colombia, Kazakhstan and Uruguay and 100 large-caliber artillery systems to Myanmar. In terms of the sea, Russia sold two warships to China, which was also the destination for 944 missiles and missile launchers.
By contrast, Ukraine has reported shipping more than 1,000 missile and launch systems to China since 2000. Export data from Ukraine and Russia are among the few open sources available to the international community regarding Chinese military imports and exports.
China, a permanent member of the UN Security Council, stopped participating in the voluntary reporting program more than 10 years ago, after the US included arms exports to Taiwan in its 1995 and 1996 reports.
Meanwhile, Russia's South American ally Venezuela was empowered with four combat aircraft and 14 attack helicopters in 2006, according to the UN's disarmament website. Ukraine delivered 320 T-80UD tanks to Pakistan during 1996-1999 in a deal that was reportedly worth $550 million.
The UN's Register of Conventional Arms is a voluntary reporting mechanism established in 1992 aimed at promoting transparency in the international arms trade. On average, more than 115 of 192 UN member states have reported each year since 2000.
In the late 1990s, a governmental investigation found that the military equipment inherited by Ukraine after the demise of the Soviet Union was worth nearly $90 billion.
Another One Bites the Dust: Who Will be Next?
From:
Russophobe
Mikhail Gutseriyev pictured in coinversation with Alexander Lukashenka back in January.
The Moscow Times reports that an arrest warrant has issued for Mikhail Gutseriyev. When we predicted this four weeks ago, some Russophile slugs responded by saying we were over-reacting and this wouldn't happen. Well, it has. Now the only question is: Who will be next as Russia slips down in to the neo-Soviet abyss. If you are in Russia, dear reader, it could be you. Ask not for whom the bell tolls.
A Moscow court on Tuesday issued an arrest warrant for billionaire Mikhail Gutseriyev, amid speculation that the former Russneft president had fled the country to avoid what he last month called a politically motivated campaign against him. The Tverskoi District Court approved an Aug. 6 request by prosecutors to issue an arrest warrant for Gutseriyev, spokeswoman Anna Usachyova said. "When they find him, they'll arrest him," she said. Gutseriyev had broken a vow not to leave the city, a police spokesperson said, Interfax reported.
Gutseriyev, who stepped down last month as head of Russneft, was charged in May with "illegal entrepreneurship" for exceeding production quotas at the country's seventh-largest oil company. He also stands accused of tax evasion. Gutseriyev wrote a scathing letter to employees upon his departure July 30, accusing tax and legal authorities of pressuring him to step down in favor of a more state-friendly leader. A source inside the company, who asked not to be identified because of the sensitivity of the case, said he had not seen Gutseriyev for about two weeks. "I don't think he's in the country," the source said.
Gutseriyev has been placed on an international wanted list and has fled the country, an unidentified Interior Ministry official said, Bloomberg reported. Interior ministry spokespeople declined to comment, and Interpol's Moscow office and headquarters in France did not respond to requests for comment. The move against Russneft comes amid renewed speculation that the Kremlin is heading closer to creating a giant state-run oil holding, which would include assets from firms such as Rosneft, Surgutneftegaz and Russneft. Gutseriyev created Russneft from scratch in 2002 after leaving state-run oil firm Slavneft and subsequently buying its assets on the cheap. Forbes magazine estimates his personal fortune at $2.9 billion. "This [arrest warrant] is a different matter. It has nothing to do with Russneft," the company source said.
The Federal Tax Service has brought a total of eight lawsuits against 11 companies that are or have been shareholders in Russneft, and some of its shares and all of its assets have been frozen. Basic Element, the holding company controlled by Kremlin-friendly oligarch Oleg Deripaska, is hoping to buy the embattled oil firm. "Our plans regarding Russneft have not changed," Basic Element spokesman Sergei Rybak said Tuesday. Yet Irina Kashunina, a spokeswoman for the Federal Anti-Monopoly Service, said Deripaska's holding had yet to send the service a request for approval of its bid.
Gutseriyev explained the reasons behind his departure in a letter published in Russneft's internal magazine in late July. "I was invited to leave the oil business 'on good terms.' I refused. Then, to make me more compliant, the company was subjected to unprecedented hounding," Gutseriyev wrote. "I am handing control of the holding to a new owner whose appearance, I am sure, will ensure that all Russneft's problems will be resolved in time," he wrote. The letter was quickly removed from Russneft's web site, however, and Gutseriyev subsequently disavowed the statements in interviews with Russian news agencies.
Yet the letter appeared to provide insight into the workings of a sector coming under increasing state control, with a boldness unseen since former Yukos CEO Mikhail Khodorkovsky accused the Kremlin of orchestrating his arrest to wrest the company from him. Khodorkovsky and his associate Platon Lebedev are currently serving eight-year prison terms on charges of fraud and tax evasion, while other high-ranking Yukos officials live in exile in Britain and Israel. It remains unclear when Gutseriyev was last seen. According to Kommersant, Gutseriyev attended the funeral of his son, Chingiskhan, who died after a car crash in Moscow on Aug. 22. The funeral was held Thursday in the family's native republic of North Ossetia. The newspaper said Chingiskhan, 21, died at home of a brain hemorrhage from injuries sustained in the crash and that police and hospitals had no record of the accident. The version of events presented by tabloid newspaper Tvoi Den was similar, adding that Chingiskhan Gutseriyev called his father from home after the crash to say his Ferrari was a write-off, but that he felt well enough not to seek medical assistance. The tabloid said Gutseriyev did not attend his son's funeral.
On July 31, Moscow's Lefortovsky District Court froze all of Russneft's assets, blocking Gutseriyev's ability to sell or transfer his stake of about 70 percent in the company. The city's courts have consistently upheld multimillion-dollar lawsuits against Russneft. In late July, a Moscow court upheld a 3.4 billion ruble ($134 million) lawsuit against the firm on tax evasion charges, and earlier this month a Moscow arbitration court upheld a further 17 billion ruble ($665 million) tax evasion lawsuit. The arbitration court was due to hear a further two lawsuits Wednesday brought by the Federal Tax Service over invalid share transactions. The Energy Intelligence newsletter reported last week that the Kremlin was aiming to incorporate Russneft into a new state oil holding, which would also include the assets of state-run Rosneft and Zarubezhneft, the state-run oil company that focuses on oil projects abroad.
The Reciprocity Clause
From:
Robert Amsterdam
Tomorrow the FT will be running an article about a confidential working paper making its way around the European Commission which could attach a "reciprocity clause" for foreign investors, meaning that they will not be allowed to purchase energy assets unless they are equally open to investors in their country. The document is seen as a direct shot at Russia and Gazprom, aiming to limit their political exploitation of Europe via the mass acquisition of energy distribution infrastructure (emphasis mine):
A separate internal Commission document about the implications of unbundling, seen by FT Deutschland, the Financial Times' sister paper, says the EU could be "vulnerable to a strategy of third countries to dominate the EU markets not only in terms of supply but also by acquiring the networks".
The document explicitly warns about situations "where investment is driven by other motives than economic ones".
It has been suggested Russia or other resource-rich countries could gain control of European energy supply by means of state-controlled companies such as Gazprom or state-owned investment funds.
In the working paper, the Commission suggests several options to prevent uncontrolled access.
The weakest proposal would give the commission the right closely to examine any potential buyer.
The toughest measure would declare the European energy sector a "strategic industry", thereby excluding most countries from outside the EU from investing in it.
The requirement for reciprocity would be a particular blow to Gazprom, Russia's state-controlled gas company, which has intense ambitions to expand in Europe and already owns a range of assets and equity stakes in the EU.
Attempts by the EU to restrict acquisitions by non-European companies are likely to be ­vexatious. The European Commission has set itself firmly against attempts by member states such as Spain and France to declare their energy industries strategic sectors that can be ­protected from foreign bidders. However, it seems likely that some form of protection for the energy sector will be implemented.
Sport...
ATHLETICS WORLD CHAMPIONSHIPS: Tikhon wields mighty hammer
From:
asahi
World Champion Ivan Tikhon of Belarus
With the hopes of nation riding on him, Athens Olympic hammer-throw champion Koji Murofushi came up a little short in the men's final Monday night at Nagai Stadium.
Instead, the glory went to defending champion Ivan Tikhon of Belarus, whose final throw of 83.63 meters elevated him to gold-medal status ahead of Slovenia's Primoz Kozmus (82.29) and Slovakian Libor Charfreitag, who took the bronze with a season personal-best toss of 81.60 meters.
Tikhon, who nailed the world's second-longest toss of 86.73 meters in 2005, topped his season-best throw of 82.58 in taking the title in Osaka. His third World Championship gold medal will sit nicely on his mantelpiece alongside his 2006 European Championship gold and his silver from the 2004 Olympics.
Murofushi had the home crowd firmly behind him and gave it his best shot. Three of his five throws Monday were season personal bests for him, including his final throw of 80.46 meters. The 33-year-old Murofushi, who had not cleared 80 meters this season coming into this event, went past that distance three times on Monday.
"I'm proud of being here and doing my best and that's why I did a victory lap with Ivan," said Murofushi, who circled that stadium with the winner. "I'm looking forward to defending my title next year in Beijing."
Best eight cyber sportsmen to represent Belarus at WCG 2007 in Seattle
From: BelTA
The best eight cyber sportsmen will represent Belarus at World Cyber Games 2007 in Seattle. The national elimination games ended in Minsk on August 26. The virtual battlefield featured four events, namely Counter-Strike 1.6, FIFA 2007, StarCraft and WarCraft III TFT.
The last year's best team Ultimo won the Counter-Strike 1.6 event. Aged between 18 and 22, the five players — Igor Savostenko (captain), Sergei Taleiko, Yevgeny Shulzhenko, Vladimir Dedkov, Mikhail Shkut — represented Minsk.
The holder of the StarCraft champion title at the WCG 2005 and WCG 2006 national elimination games, Anton Plebanovich continued the trend by winning this year as well. A 20-year-old resident of the town of Dyatlovo known only by his nickname Dragod won the WarCraft III TFT event. Denis Krumkachev of Minsk won the FIFA 2007 event — a new event nominated for competitions this year.
According to Yelena Rantsevich, marketing manager of Samsung Electronics, an organiser of the national elimination games, around 7,000 people attended the competition. The WCG national finals were broadcast online using IPTV.
The competitions in Belarus were arranged by Samsung Electronics in association with cyber games portal SportInTheGame (sng.by) as well as Minsk City Hall, the Healthcare Ministry, Education Ministry, Information Technologies and Communications Ministry, and Defence Ministry. The competitions used software licensed from Buka Entertainment. This year US city Seattle will gather the best of the best from 70 countries across the globe, including the Belarusian national team.
Endnote...
Belarusian Ecological Green Party BEZ liquidated
From: BelTA
The cd cover photo for end of green's Dead end dreaming
The Supreme Court of Belarus has satisfied the lawsuit filed by the Justice Ministry regarding the liquidation of the Belarusian Ecological Green Party BEZ. Thus, the Supreme Court recognised the reasons provided by the Ministry for liquidating the party by juridical means as substantiated.
The court ruling reads, the BEZ Party repeatedly violated the existing laws. In particular, the BEZ Party failed to bring its charter into compliance with the Political Parties Law, failed to name its activities in the charter as well as procedures used to take account of the party membership and to appeal against decisions the party's bodies take. Besides, the BEZ Party failed to take measures to set up a city structure in Minsk as well as oblast organising structures in most oblasts of Belarus.
The Supreme Court also remarks, the BEZ Party had only 582 members, almost twice as few as the legal minimum of 1,000 people.
In March 2007 the Justice Ministry received the minutes of the sixth congress of the BEZ Party, which had considered the party's termination, however, no documents confirming the congress' authority were presented. As the BEZ Party's leadership did not start the self-liquidation procedure, the Supreme Court deemed it necessary to start the procedure by judicial means.
Representatives of the Belarusian Ecological Green Party BEZ sent a statement to the court saying they did not object to the Justice Ministry's lawsuit and requested the court to hear the case in their absence.
The ruling of the Supreme Court is final and is subject neither to cassational appeal nor protestation.