Motovelo sold to Austria, Trade gap widens, Harvest, Politics, Smart children; Russian planes, Polish elevators, Ukrainian elections, Blogs and Sport
Alexander Lukashenko congratulates President of Ukraine Viktor Ushchenko on Independence Day
From: The office of the president
President of Belarus Alexander Lukashenko attending the official ceremony of opening a new bridge across the River Dnieper
The President of the Republic of Belarus, Alexander Lukashenko, has congratulated the President of Ukraine, Viktor Ushchenko, and the people of Ukraine on their national holiday – Independence Day.
"May the common urge of our countries to promote mutual understanding and realise their co-operation potential always drive the development of traditionally friendly and good-neighbourly relations between Belarus and Ukraine," the President said in his message of congratulations.
in related news, On August 20, the President of the Republic of Belarus signed Decree No 392, which introduced amendments and additions to Decree No 222 of May 12, 2005, "On Certain Issues of Organising the Activity of Student Work Teams".
The purpose of this document is to raise the efficiency of organisation of young people's free-time activities outside their academic and working hours.
Under the Decree, student work teams can be set up within the period from May 1 till September 30 with a view to working in the spheres of education, environmental protection, construction and agriculture. Moreover, young people can be involved in the services sector: they can work as members of admission commissions in educational institutions, as railway conductors; they can also do various types of accessory work in public catering facilities in children's recreation camps and do the types of work taught as special subjects at school-based work training centres. Under the Decree, student construction teams can work with private organisations.
The Decree authorises regional executive committees and the Minsk City Executive Committee to co-ordinate the decision-making related to the setting up of student work teams.
The measures taken will create additional opportunities for addressing the unemployment challenges and secondary employment issues faced by young people.
The Decree takes effect from January 1, 2008.
Belarus' State Property Committee sells Motovelo shares to ATEC Holding GmbH
From: BelTA
The State Property Committee of Belarus and the company ATEC Holding GmbH (Austria) have signed a Motovelo shares sale contract, BelTA was told in the State Property Committee. The document was signed in line with decree #354 of July 26, 2007 "On certain issues relating to the open joint stock company Motovelo".
ATEC Holding GmbH bought 31 269 538 Motovelo shares (99.72% of the authorized fund) at the price of Br500 for every share to the total amount of Br 15 billion 634 million 769 thousand.
Under the contract ATEC Holding GmbH undertakes obligations to preserve specialization of Motovelo (production of motorcycles and bicycles) and its trademark and to invest at least $20 million in the development of the company in 2007-2012.
Motovelo produces various models of bicycles, road and sports motorcycles, motorcarts, exercise bikes, wheelchairs, bicycle and motorcycle spare parts.
Founded in November 1945 Minsk Motorcycle and Bicycle Plant was jointstockicized in 1999. Some 100% of shares belonged to the personnel. Earlier the plant was successfully selling products to Russia and several Asian countries. Motovelo has been recently forced out from the market by the Chinese competitors. In 2006 the President of Belarus issued a decree on restructuring debts of the company to the republican and local budgets and on giving Motovelo budget subsidies. The equity issue was carried out to pay off debts for energy resources. After the restructuring the state got 99% of shares of the company. However, last year the company failed to meet the production target.
Belarus wants S-400s by 2010
From:
UPI
Russia's new S-400 Triumf ground-to-air missile defense system
Belarus is seeking to buy Russia's new S-400 air defense system, even though Moscow says it won't export it yet.
RIA Novosti reported Friday that Belarus, the poor former Soviet republic west of Russia now run by authoritarian President Alexander Lukashenko, is pushing to get the advanced S-400 Triumf air defense system -- NATO designation SA-21 Growler -- within two and a half years. RIA Novosti cited "a source in Russian military-industrial circles" for the report.
The S-400 Triumf is claimed by Russia to have a far greater range and effective interception altitude than the U.S. Patriot PAC-3 system. It was designed by the Almaz Central Design Bureau as an upgrade of the S-300.
"Belarus submitted a formal request for two S-400 battalions to be made available by 2010," the source told RIA Novosti. He said that if the deal went through, Belarus could receive the systems by 2010.
The report was published a day after RIA Novosti cited a Russian military official as ruling out any exports of the S-400 even to Moscow's closest allies such as Belarus in the Commonwealth of Independent States. Russian officials have said it will take until 2015 to equip a full 24 battalions with the S-400. The first battalion became operational outside Moscow this month.
Almaz has signaled it is eager to begin exporting the system. RIA Novosti noted that Almaz General Director Igor Ashurbeili had previously said the export of S-400 systems could begin as early as 2009.
The S-400 is claimed to be able to intercept stealth aircraft, cruise missiles and ballistic missiles with a range of 2,200 miles and speeds of nearly 11,000 miles per hour.
RIA Novosti noted that an S-400 battalion is designed to have a minimum of eight launchers and 32 missiles and a mobile command post
Belarus' trade with CIS countries in first six months reported up 22.3 percent year-on-year
From:
Naveny
Belarus' trade with the other CIS member countries from January through June 2007 totaled $13,038.5 million, an increase of 22.3 percent on the first six months of the previous year, according to the press office of the Belarusian economy industry.
The country's exports to CIS countries reportedly rose by 29.9 percent to about $4,937.3 million and imports increased to about $8,101.3 million.
Trade between Belarus and Russia increased by 20.2 percent to $11,206.7 million, with exports rising by 28.7 percent to $3,935 million and imports increasing by 16.1 percent to $7,271.7 million, the press office said.
Belarus had an import surplus of $3,336.7 million in trade with Russia, which accounted for 86 percent of Belarus' trade with the CIS countries, 79.7 percent of its exports to these countries and 89.8 percent of its imports from there.
Trade between Belarus and Ukraine reportedly rose by 25.4 percent to $1,271.7 million, with Belarusian exports increasing by 15.5 percent to $575.8 million and imports by 35 percent to $695.9 million.
Trade between Belarus and Kazakhstan rose by 71.5 percent to $258.5 million, and between Belarus and Moldova by 26.7 percent to $102.1 million.
Belarus' exports to Turkmenistan reportedly rose 12-fold, to Azerbaijan by 125 percent, to Uzbekistan by 90 percent, to Kyrgyzstan by 20 percent, and to Armenia by 10 percent.
Belarus' trade gap expected to widen to $2.1 billion by end of 2007
From:
Naveny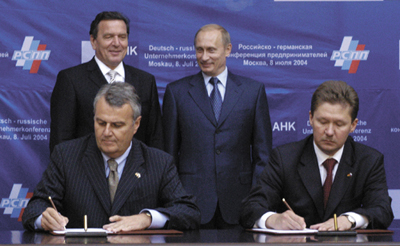 Vladimir Putin and the heads of Gazprom
Economy Minister Mikalay Zaychanka predicted that Belarus may have a trade deficit of $2.1 billion, or 4.8 percent of GDP, by the end of this year.
The minister was speaking at an August 23 meeting of the Council of Ministers' Presidium that focused on the country's key economic development targets and next year's budget.
Mr. Zaychanka linked Belarus' ever-widening foreign trade gap to a significant rise in the price of energy resources and an increase in the amount of equipment imported by manufacturers.
The economy ministry expects the foreign trade deficit to narrow to some $1.4 billion in 2008 and to $600 million in 2009, he said. Belarus is projected to have an export surplus in 2010, he added.
Belarus had a trade deficit of $1,070 million in the first six months of 2007, according to the Ministry of Statistics and Analysis.
In the period, Belarus had a deficit of $1,524 million in trade in goods and an export surplus of $453.9 million in trade in services.
Belarus prepares for winter
From:
Fresh Plaza
For the interseasonal period 2007-2008, Belarus plans to prepare about 21 thousand MT of vegetables and 24 thousand MT of potatoes to supply the needs of inhabitants of Minsk. This information was presented by the chairman of Minsk city executive committee Mikhail Pavlov at the special conference concerning 2007 harvest. For the interseasonal period Minsk administration want to prepare reserves of 1,75 thousand MT of meat, 24 thousand MT of potatoes, and 21 thousand MT of vegetables, including 4 thousand MT of beet root, 6,5 thousand MT of carrot, 8 thousand MT of cabbage, 2,5 thousand MT of onion and about 1 thousand MT of apples.
Moreover, the administration wants to order about 1 thousand MT of animal oil, 0,2 thousand MT of cheese, 3,5 thousand MT of the dry degreased milk. It is planned that practically the entire volume of production will be supply by domestic production from the Minsk region. M. Pavlov noted that city administration "will take all measures to avoid the scarcity of agricultural production on the consumer market". At the same time, he noted that the most of the problems will concern vegetables, because of its deficiency from domestic production.
Every year the consumption of vegetables in the city of Minsk increases by 7%, and even more in case of the valuable forms of vegetables - sweet pepper, asparagus, bean, cauliflower, eggplants, spinach. At the same time, buyer demand is ensured in essence due to the import, although climatic conditions make it possible to organize cultivation in the republic, added M. Pavlov.
In a
related story
, according to Ministry of Statistics and Analysis of Belarus, in January-June 2007, the country imported 483.577 tons of grains, up 55.3% as compared to the analogous period of the previous year.
In January-June 2007, the average price per ton of grains was $229, up 22.3% as compared to the analogous period of 2006. During the indicated period, the largest supplier of grains to Belarus was Kazakhstan - 195.460 tons. The second place takes Ukraine with 179.400 tons, up 5.4% as compared to last year. During the first six months of the season, Russia exported 72.500 tons of grains, up 2.7 times as compared to last year.
At that, Moldova delivered to Belarus 12.600 tons of grains (+42.5%), Pakistan - 7.200 tons (-2.4%), Lithuania - 6.600 tons (-9.7 times).
Belarus also purchased grains in India, France, Chile, Vietnam, Germany and Hungary.
Russia may turn down its military bases in Belarus
From:
Charter '97
Vladimir Popovkin
Russia is to turn down its radiolocation stations which are located beyond its territories. That was reported, according to the Russian mass media, by the commander in chief of the space air forces of Russia General Colonel Vladimir Popovkin at the space aircraft exhibition "MAKS-2007" 23 August.
According to him the Russian space military forces "are to leave its radiolocation stations beyond Russian territories to avoid the dependence of the country's defense on the "foreign policymakers".
I assure you that there are no "loopholes " in our antimissile shield, Popovkin said .However, there is a problem which is connected with stations beyond our territories- in Ukraine, Belarus, Azerbaijan, Kazakhstan ", the BelaPAN informs.
According to the General Colonel Vladimir Popovkin in case of a conflict "an intension may appear to use those radiolocation stations for making pressure on Russia, for example through their depowering", General Colonel Vladimir Popovkin specified.
There are two military objects belonging to the Russian Federation- radiolocation Station "Volga" (Gantsevichi, Brest region ) and center of remote control of the Russian Navy (Vilieka, Minsk region). Around 900 army men serve and 500 people work there.
Six political parties get warnings
From:
Naveny
Zianon Pazniak of the Belarusian Popular Front
The justice ministry has issued official warnings to six political parties at once for their failure to comply with a requirement for the number of registered chapters.
The ministry cited Part 3, Article 10 of the law governing political parties that requires them to have a Minsk city chapter and regional-level chapters in at least four regions.
It said that the requirement had been effective since July 10, 2005, but the six parties had failed to comply despite "repeated demands and warnings."
The parties include the Belarusian Popular Front, the Belarusian Social Democratic Party "Hramada," the Belarusian Social Sports Party, the Belarusian Environmental Party of Greens, the Republican Party and the Social Democratic Party of People's Concord.
The ministry said that the parties might face suspension or closure if they continued "ignoring the requirement of the law."
When asked for comment by BelaPAN, Vintsuk Vyachorka, leader of the Belarusian Popular Party, said that his party for instance had the required number of chapters, but they had no legal addresses. He recalled that many chapters of political parties had officially been closed after the authorities had required them to move from residential buildings to offices. He stressed that it was extremely difficult to lease an office for a political party.
Mr. Vyachorka described the warnings as attempts to conduct a "cleaning up operation" in the country's political arena ahead of the 2008 parliamentary elections.
However, he noted that the party would continue effort to obtain legal status for its chapters.
About 100 foreign guests to partake in Day of Belarusian Written Language in Shklov
From: BelTA
About 100 foreign guests will partake in the celebrations to mark the Day of Belarusian Written Language which will be held in Shklov on September 2, BelTA was told by Deputy Culture Minister of Belarus Igor Laptenok.
According to him, the Day of Belarusian Written Language has been celebrated in Belarus since 1998 and always gathers many guests. These are officials of the foreign diplomatic missions accredited in Belarus, foreign delegations, representatives of ministries and departments of Belarus, cultural and art workers, writers and reporters. The Day traditionally becomes a great event for the Shklov residents and the population of the neighbouring towns and villages. People from all regions of Belarus come to Shklov on this day.
For the first tine the winners of the 2006 republican contest for the best work of art "Golden Cupid" will be awarded within the framework of the celebrations in Shklov. The prize was instituted by Belarus' Union of Writers. The winners of the national contests "The Art of Book" and "Golden Volume" will traditionally take part in the opening ceremony.
In a related story, Around 600 printed editions of Belarusian publishing houses will be showcased during the XX Moscow International Book Fair, which is scheduled to take place in the Russian capital on September 5-10, BelTA learnt from Yelena Shitik, consultant of the Publishing and Book Trade Development Office of the Belarusian Information Ministry.
In her words, on September 6 the presentation of the national exposition of the Republic of Belarus will take place. It will traditionally include printed editions of state-run and private publishing houses featuring all kinds of books — fiction, textbooks, scientific literature, reference books, encyclopaedia, business literature. This year's Belarusian stand will occupy around 42 square meters.
The exposition will also include books, which won the national contest Book Art 2007.
The People's Republic of China will be a guest of honour at this year's Moscow International Book Fair.
Yelena Shitik informed, the award ceremony of the winners of the IV CIS international contest Book Art (Moscow, August 9-10) will be held on September 7.
BelTA reported earlier, Belarusian editions won ten diplomas at the contest. A second degree diploma in the nomination "Commonwealth" went to Belarusian news agency BelTA for its edition "The Commonwealth of Independent States Turns 15". A first degree diploma in the nomination "Book of Interesting Fate" went to publishing house Mastatskaya Litaratura for a book of poems "Mama. Matsi. Matulya". A two-volume encyclopaedia "Belarusian Folklore" by publishing house Belarusian Encyclopaedia Named After P.Brouka won a first degree diploma in the nomination "My Universities". The Grand Prix went to Armenia.
The awarded editions will also be displayed on the stand of the Federal Agency for Press and Mass Communications of the Russian Federation to be handed over to the CIS Executive Committee for replenishing reserves of the Commonwealth History Museum and for popularising CIS efforts.
Gennady Korotkevich of Gomel wins Informatics Olympiad, aims to enter Guinness Record Book
From: BelTA
Gennady Korotkevich, a seven-form student of Gomel Gymnasia #56, has won the International Informatics Olympiad in Croatia. He is the youngest winner of the Olympiad ever. The 11-year old beat his competitors aged between 15 and 19 and secured the first gold medal for Belarus.
We want him to be listed in Guinness Record Book and are now considering making an application, leading specialist of the Gomel oblast executive committee Irina Abramtseva told BelTA. She added that last year Gennady Korotkevich also took part in the Olympiad and won silver.
Some 300 students from all around the world took part in the International Informatics Olympiad in Croatia this year. The Belarusian team included the best students in informatics trained by assistant professor of Gomel State Frantsysk Skaryna University Mikhail Dolinsky. This year the team secured four medals, two of them – gold and silver - were clenched by Gomel students Gennady Korotkevich and Vladimir Minyailov.
According to Irina Abramtseva, now the students are back home. Soon the town and oblast executive committees will give a reception in their honour.
Around the region...
Russian oil supplies to Germany drop by as much as one-third
From:
IHT
Russian oil supplies to Germany have dropped by as much as one-third in recent weeks, Russian and German officials said Friday, sharply pinching supplies at a major German refinery.
Sergei Grigoriev, a top executive with state-controlled pipeline operator OAO Transneft, blamed oil giant OAO Lukoil and several smaller oil companies and said it was not linked to any repairs of the Druzhba pipeline, which runs from Russia through Belarus en route to Europe.
"The reduction was evident last month and this month," Grigoriev told Dow Jones Newswires.
"Maybe they're looking for another market," he said.
A spokesman for Lukoil — Russia's largest private oil company — declined to comment, but said a statement would be released in the coming days.
Meanwhile, a spokesman for the Schwedt refinery confirmed that the plant in eastern Germany has seen disruptions in supplies from Russia since July.
Karl-Heinz Schwellnus, a spokesman for refinery operator PCK Raffinerie GmbH, would not say what the cause was, but said PCK has been talking with suppliers to try to ease the disruptions.
Despite the disruptions in Russian supplies, the refinery was operating at full capacity through the use of its own resources, he said.
The refinery is jointly owned by BP PLC, Royal Dutch Shell PLC, Total SA and Agip, and can process approximately 10 million tons (about 9 million metric tons) a year, about 10 percent of Germany's capacity.
European leaders have had growing doubts about the reliability of Russian oil and gas supplies following several disputes between state-owned Russian energy companies and Ukraine and Belarus, where transit pipelines for European-bound supplies are located.
The disputes resulted in Russian energy exports being disrupted and led to calls in some European capitals for Europe to diversify its sources.
Analysts said there didn't appear to be a political element to the supply slowdown.
"What we have here sounds predominantly like a commercial dispute, between Lukoil and a distribution company, rather than anything more political," Andrew Neff, a senior energy analyst at Global Insight, told Dow Jones.
Russia and Germany are also building a natural gas pipeline under the Baltic Sea intended to get Russian supplies directly to Germany and bypass transit countries.
3 Britons removed from off-limits area at Russian air show
From:
IHT
Police detained three Britons and removed them from an off-limits area at a major Russian air show outside Moscow earlier this week, the RIA-Novosti news agency reported Friday.
The British citizens were discovered Wednesday in a "technical zone" at the International Aviation and Space Show, the state-run news agency reported, citing police at the show. They were removed from the area after informal questioning, it said.
Police and British Embassy officials could not immediately be reached for comment.
The report did not include any information about the area where the Britons were allegedly found or what they were doing. However, RIA-Novosti cited regional police as saying earlier that the foreigners had a camera.
The air show displays Russia's newest military and civilian planes and other equipment.
The reported incident came after repeated Russian accusations of British espionage and at a low point in relations between Russia and Britain, badly strained by the dispute over the radiation poisoning death of former Russian security agent and Kremlin critic Alexander Litvinenko in London last year. Russia has refused to hand over the suspect named by British prosecutors.
In a
related story,
A wealthy Russian tried to buy a U.S. B-52 bomber from a group of shocked American pilots at an air show near Moscow, a Russian newspaper reported on Friday.
The unidentified Russian, wearing sunglasses and surrounded by bodyguards, approached the U.S. delegation and asked to buy the bomber, the Komsomolskaya Pravda newspaper said.
An astounded member of the U.S. delegation said the bomber was not for sale but that it would cost at least $500 million (249.5 million pounds) if it were to be sold on the spot.
"That is no problem. It is such a cool machine," the Russian was quoted as saying by the newspaper, which said its reporter overheard the conversation. The bomber was not sold.
Be2Gether rock festival kicks off
From:
Naveny
Morcheeba and more than 30 other bands will be apearing this weekend at the Be2gether festival in Lithuania
An unprecedentedly large-scale rock festival titled Be2Gether began at the foot of the medieval Norviliskes Castle in Lithuania, 50 meters from the Belarusian border, on Friday evening.
The festival, which has the motto "Music Breaks Walls," is supported by the Lithuanian Ministries of Culture and Foreign Affairs and the European Commission. This year it is dedicated to the 50th anniversary of the European Union, but the organizers say that it may become a tradition, which would draw thousands to this picturesque area.
The festival, meant to be the largest ever event of the kind in Lithuania, is to feature more than 30 bands, including world-known ones such as Morcheeba, Therapy?, Bloodhound Gang, The Young Knives, Datarock and Zion Train, as well as Finnish, Icelandic, Latvian, Lithuanian, Polish, Russian and Ukrainian artists. Belarus is be represented by Lyapis Trubetskoi, Drums Ecstasy and IQ48.
Attendance was expected to exceed 15,000.
Part of the proceeds will go toward the rehabilitation of Chernobyl-affected children resident in the Homyel region's city of Chachersk, according to the Lithuanian embassy in Belarus.
The Belarusian foreign ministry warned in its August 9 statement that Lithuania, "by choosing a venue situated in the border zone, assumes full responsibility for maintaining the state border regime and preventing any incidents that may occur because of people arriving there in massive numbers."
It also expressed hope that Lithuania would not allow any "propagandistic acts of a hostile, non-neighborly and anti-Belarusian nature" during the Be2Gether rock festival.
"We will refrain from comments on the text of the statement," Daiva Rimasauskaite, spokeswoman for the Lithuanian foreign office, told BelaPAN the following day. "We want only to note that the essence and idea of the concert is reflected by its name Be2Gether — let's be together. This means that the festival is intended to bring the Lithuanian and Belarusian peoples closer together."
The spokeswoman promised that the Lithuanian authorities would take an all-out effort to maintain security and order during the festival.
While attending the festival on Friday, Edminas Bagdonas, the Lithuanian ambassador to Belarus, told reporters that security at the event would be maintained by a reinforced police squad and two helicopters. A Belarusian helicopter was seen patrolling the area on the other side of the border.
Mr. Bagdonas expressed satisfaction that many young people had come from Belarus. "We are drinking beer and having fun," he said.
Polish Police Operation Gets Stuck In An Elevator
From:
Gazetta
Polish Police got stuck in an elevator on a secret operation to take a Samoobrona political party member, whose immunity from prosecution was just lifted, from a hospital in Gdansk to a prosecutor in Lodz.
The Police wanted to avoid reporters so they, with two doctors and Samoobrona MP Stanislaw Lyzwinski, took a cargo elevator that lead to the basement. They planned to leave the hospital by a basement back door.
The elevator got stuck and the secret group spent thirty minutes in the elevator before they could be freed.
The journalists did not have the full thirty minutes for a photo opportunity because it took time to get the doors open.
On Thursday the Polish Parliament voted 392 to 10 to lift the immunity of Lyzwinski who has been implicated in a sex for work scandal.
Lyzwinski was not in the Parliament when the vote was taken because he had checked himself into a hospital.
There is no information about whether someone turned the elevator off as part of a political provocation or any other details as to why the elevator got stuck.
In spite of all the attention to detail and professionalism, the secret operation was not so secret.
Ukraine's election campaign: mired in scandal
From:
Russia Today
The star of this election campaign, popular drag
queen Verka Serduchka
Mired in litigation and scandals, the parliamentary election campaign has kicked off in Ukraine. Around 40 parties have already registered for the race.
The star of this election campaign, popular drag queen and No.2 in this year's Eurovision song contest, Verka Serduchka, a charater created by the actor Andrei Danilko, has announced that she is to set-up a political party "For ourselves!" and will take part in next months elections. He promised not to turn up in parliament in stage costumes if successfully elected. Serduchka counts on support of those people disappointed in politics. Yet after some thinking, the man behind her character pulled out of the process.
"The star should have come to distribute these badges to the would-be deputies from her party. It was meant to be a light-hearted touch to our political convention. But apparently she is not ready yet", Igor Dushin, Verka Serduchka's supporter, said showing a bag of badges with flag designs.
But if Verka's party is not going to provide entertainment in parliament, there are other candidates that will.
Yulia Timoshenko has started her election crusade with a so-called "Address Scandal". The Central Election Commission refused to register her delegates for failing to provide their full home addresses. After four days of mass protests and a court ruling, Ms Timoshenko's Bloc was back in the race.
The Party of Regions, which is favoured to win the election, criticised the incident as a promotional stunt. Their supporters have only just left the capital after months of rallying against the dissolution of the Rada.
Mikhail Chechetov, would-be deputy from the Party of Regions, says that Ukraine doesn't need elections at all.
"Elections destabilise the economy and slow down economic growth. They were instigated by the 'Orange Camp' that went bankrupt and now wants to return to power no matter what," he thinks.
The stakes are high for the Orange Our Ukraine party which is lagging behind the Party of Regions, and former ally of Ms Timoshenko's party. Its members are on a mission to protect the President from the Prime Minister and make Ukraine a European state.
"They want to make the office of the President a puppet position. They are interested in power so as to improve Ukraine's economy but not to the benefit of the people but to the benefit of the major capitalist elite," Roman Zvarych from the Our Ukraine party stated.
So, perhaps Verka Serduchka had good reasons to reject the political life. At Eurovision, she positioned herself as a new peace dove. But it seems that politics in Ukraine is more about making war than love.
Around 40 parties have registered for this election campaign but their programmes all seem to be infected with populism. They are fighting for people's votes by offering either free payouts or better pensions. But whether they will keep their promises or return to fighting each other for power, as they were in the last two years, is a major concern for the Ukrainian people.
From the blogs...
Russia, Belarus: Lukashenko's Two Bad Options
From:
EXECUTIVE OUTCOMES
Russian state-controlled natural gas monopoly Gazprom will reduce natural gas deliveries to Belarus by 45 percent Aug. 3, although natural gas exports transiting Belarus to the European Union will continue, Gazprom announced Aug. 1. The reduction follows Belarusian Prime Minister Sergei Sidorsky's unsuccessful negotiations with Russian Prime Minister Mikhail Fradkov on July 30-Aug. 1 for a $1.5 billion loan from Russia to pay off its $456 million energy debt to Gazprom. In Russia's eyes, Belarusian President Aleksandr Lukashenko wasted both Belarus' negotiating time and Gazprom's (and thus the Kremlin's) patience by focusing on internal politics rather than the issue at hand.
To resolve the situation, Lukashenko will have to either ask Europe to repay the debt -- a move that would require Lukashenko to overcome his concerns that the West wants him out of power -- or bend to Moscow's will and surrender more of Belarus' energy assets to Gazprom. Neither choice is particularly appealing for the Belarusian president.
Belarus missed the July 23 deadline to pay back its debt to Gazprom, which it accrued by continuing to purchase natural gas from Russia at $55 per 1,000 cubic meters after Gazprom upped the price to $100 per 1,000 cubic meters in January. Fradkov said Russia will approve the loan as soon as Belarus agrees to certain concessions, such as a promise to allow Gazprom more control over the Belarusian energy market, and enable Belarus to pay its debt.
This is not the first time Belarus has been in this position. When Russia reduced energy supplies to Belarus in January, Lukashenko siphoned oil from supplies destined for Poland and Germany, eventually resulting in a Russian shutoff of all oil deliveries to Europe through Belarus.
The risk of a repeat shortage is considerable for a nation like Poland, which imports 60 percent of its natural gas from Russia through Belarus. Poland's Economic Ministry and the European Commission, wary of another Ukraine-style energy cutoff, have demanded that energy deliveries remain unaffected by the current Russian-Belarusian commercial dispute -- no small concern, since 20 percent of Russia's natural gas exports pass through Belarus to states such as Germany, Poland and Lithuania.
Lukashenko could ask Europe for help based on a shared concern about Russian energy cutoffs if he were not afraid that democratic reform or a color revolution would be a precondition for assistance. Though the West could be willing to put energy security ahead of democratic values, it will be difficult for Lukashenko to change his Cold War mindset. The same problem hindered Lukashenko's last appeal to the West for help with Belarus' mounting debt, in February. Instead, he ended up going with Moscow and selling Gazprom a 50 percent stake in Belarusian natural gas pipeline operator Beltransgaz. However, the announced Aug. 3 reduction is a sign that Belarus does not necessarily have Russia's unconditional support.
With the natural gas reduction two days away, checked by the Kremlin on one side and his paranoia on the other, Lukashenko has only two options ahead of him. On one hand, he can go with his traditional pro-Russian instincts and crawl into the doghouse on the Kremlin lawn, giving Gazprom full access to Belarus' energy infrastructure and promising not to cause any more trouble. On the other hand, he can make a sincere overture to the West based on common energy concerns or the potential for economic and political reform, asking Europe to come to his aid and pay the debt. Neither option is optimal for Lukashenko, but given his previous behavior, he will accept the Kremlin's terms rather than risk being removed from office.
What's That Up in the Sky?
From:
Publius Pundit
The Ilyushin-114
Reuters reports:
A wealthy Russian tried to buy a U.S. B-52 bomber from a group of shocked American pilots at an airshow near Moscow, a Russian newspaper reported on Friday. The unidentified Russian, wearing sunglasses and surrounded by bodyguards, approached the U.S. delegation and asked to buy the bomber, the Komsomolskaya Pravda newspaper said. An astounded member of the U.S. delegation said the bomber was not for sale but that it would cost at least $500 million if it were to be sold on the spot. "That is no problem. It is such a cool machine," the Russian was quoted as saying by the newspaper, which said its reporter overheard the conversation. The bomber was not sold.
Reuters also tells us:
Russia has signed a deal to sell 98 Ilyushin civilian aircraft to Venezuela, Russian newspapers reported on Friday. Sergei Chemezov, head of state arms exporter Rosoboronexport, signed the deal for the Ilyushin-114 planes, which can be used as passenger and cargo planes, the Vremya-Novostei newspaper said. The deal could be worth several billion U.S. dollars, the Izvestia newspaper reported. Russia said last year it had sold 24 Sukhoi jets and 53 helicopters to Venezuela as part of a long-term package of arms contracts worth over $3 billion. Details were not disclosed.
Granted, sending creaking Russian aircraft made by clueless Russians (who can't even show them properly, much less make them safely -- such that the oligarch wants to buy American) to Venezuela may be one way to undermine the Chavez dictatorship by killing off its pilots. But one has to wonder why Chavez needs so much cargo space. What does he want to send, and to whom?
Speaking of Russian planes, Georgia says that they have once again overflown Georgian territory without permission, and this time Georgia has fired at them. Cold war? Perhaps not. Seems to be getting pretty hot in Putin's kitchen.
Russian Bear Eats Elections Like Candy
From:
Russophobe
The Moscow Times reports on yet another nail in the coffin of Russian "democracy":
Little more than three months before the parliamentary elections, Channel One has hired a television executive linked to United Russia to oversee its election coverage.
Opposition politicians said the appointment not only dashed their slim hopes of objectivity in pre-election television coverage but also showed tacit support of nationalism in the Kremlin. They promised to complain to the Central Elections Commission.
Andrei Pisarev [pictured -- creepy, isn't he?], formerly head of small Moscow-based Channel Three television, was appointed to the newly created post of deputy director general in charge of elections coverage by Channel One chief Konstantin Ernst in late July, a Channel One spokeswoman said Wednesday. Kommersant first reported the development Wednesday. Repeated attempts to reach Pisarev for comment were unsuccessful. Pisarev told Kommersant that he was not a member of United Russia.
Pisarev, however, has been credited with advising United Russia on several initiatives, including the pro-Kremlin party's Russian Project. The project, unveiled in February, is ostensibly aimed to promote Russian culture and language in a series of conferences across the country, but it is seen by many as an attempt to steal the nationalist vote. "It is the Kremlin's approval of nationalist ideology," said Sergei Mitrokhin, deputy head of the liberal Yabloko party. He condemned Pisarev's appointment as an example of "the insolence of the authorities" and said Yabloko would ask the Central Elections Commission to investigate the "illegal" recruitment. "After all, television itself determines the election result," he said.
The Channel One spokeswoman, Larisa Krymova, said the appointment was made for "purely professional" reasons not connected to Pisarev's political sympathies. "Pisarev is a well-known, professional director who has worked with Channel One on more than one occasion," Krymova said.
Pisarev played a key role in Channel One's coverage of the funeral of former President Boris Yeltsin in April, Kommersant said. Pisarev also has covered numerous Russian Orthodox events. Before heading Channel Three, he led the Orthodox Television Information Agency. Channel Three representatives declined immediate comment, asking that questions be sent by fax. United Russia spokesman Konstantin Mikhailov said he was unaware of the appointment. Asked whether Pisarev was indeed a party adviser, he said, "Ask Mr. Pisarev yourself." United Russia dominates the State Duma, holding 305 of the 446 available seats, and follows any political course designated by President Vladimir Putin. Legislation backed by the Kremlin passes through the house unchallenged. That kind of control is what is at stake in the upcoming elections, said Oleg Panfilov, director of the Center for Journalism in Extreme Situations. "What a nightmare," he said of Pisarev's appointment. "Now the propaganda will begin in earnest."
Another Journalist Detained in Russia under "Extremism" Law
From:
Robert Amsterdam
Thanks to Russia's new broad and flexible extremism legislation, just about anyone who inconveniences the government can face arrest. Such a wide definition of extremism allows the Kremlin to use this legislation to punish and threaten its critics (such as Andrei Piontovsky), and impose a chilling effect on any journalists who should dare to write about the true state of Russia politics, lest they offend the masters of the dark arts in the FSB.
Case in point, late Thursday, the Kremlin once again invoked the extremism law to briefly detain the Vedomosti reporter Valery Panyushkin as he was boarding a train for a business trip.
From WSJ: Russia Briefly Holds Writer On Suspicion of Extremism
"It's incomprehensible to me on what grounds and by whom Valery could be suspected of violating that law," said Tatyana Lysova, editorial director at Vedomosti. "He's just a journalist."

Mr. Panyushkin, 38 years old, writes about business and politics, and his columns have frequently attacked the Kremlin's crackdown on dissent and political opposition. He was among a number of journalists arrested in Moscow this spring while attempting to cover an opposition march led by former chess champion Garry Kasparov that was violently subdued by riot police.
Furthermore, the harassment of Panyushkin comes with suspicious timing, on the exact same day that we on the Mikhail Khodorkovsky defense team won a major landmark decision from the Swiss prosecutor which underscores the political nature of his persecution, and the illegitimacy of the Russian procuracy. Panyushkin, in addition to being a consummate professional journalist, covering not only democracy movements in Russia but also Belarus and the Ukraine, is also the author of the bestselling book about Mikhail Khodorkovsky entitled "Khodorkovsky: the Prisoner of Silence."
It is furthermore tragically ironic that back in April, while reporting on the March of the Discontented, Panyushkin speculated that "most of the people who feel disgusted about the lies of Putin's regime do not take to the streets, because they are afraid to be seen in the company of "extremists," but this fear evaporates as the lack of freedom becomes suffocating."
We can only hope that people like Panyushkin only feel more emboldened and inspired by these outrageous repressive acts.
Georgia shoots down Russian plane?
From:
vilhelm konnander
According to Georgian TV-channel Rustavi 2, Georgian interior ministry forces today shot down a Russian fighter over the Kodori gorge of breakaway region of Abkhazia. The interior ministry tonight confirms that its forces has indeed shot down a Russian plane in a remote part of Georgia. Russia, on its part, emphatically denies any such incidence and representatives of both the Foreign and Defence Ministries speak of Georgian provocations. Pending furhter information, contradictory statements cease the day. Still, it seems that the conflict between Russia and Georgia is about to heat up even more, though hopefully not in armed confrontation.
Sport...
Belarusian junior football team beats Latvian one in European championship qualifier
From: BelTA
On the 22nd, the Belarusian national junior football team played the third qualifying match of the European Championship 2009.
In the Belarusian town of Borisov the Belarusian team beat the Latvian one 2:1. Before that Belarus played against Hungary to win 1:0 and against San Marino — 3:0.
With nine points Belarus is now leading in the eighth qualification group followed by Hungary (three points), Serbia (1) and Latvia (1). San Marino has no points so far.
The Belarusian team will play the next qualifying match against Serbia on September 8. A day before that San Marino will play against Hungary.
According to the regulations of the championship, only winners of the ten qualifying groups as well as the four best teams, which come second, will be able to enter the next tour.
The national U18 ice hockey of Belarus is in the German city Fussen for a training camp. Yesterday they scored victory 2:1 (1:1, 0:0, 1:0) in the first out of three friendly matches with their German peers. The goals were scored by Evgeny Solomonov and Igor Revenko. The next two matches are scheduled for August 24 and 25.


The Belarusian Mountaineering Federation has opened its affiliate in Brest. According to the chairman of the newly founded affiliate Yuri Kozhukhov, the Brest division of the Belarusian Mountaineering Federation was opened in the mountain climbing club "Rubezh". This is the only club in Belarus formed 11 years ago. At present it unites 20 people aged between 26 and 48. Every year they go to the Caucasus, the Carpathians and the Crimea for training camps. In 2007 two expeditions conquered peaks of the mountains located in the region of Uzunkol and Dombai of the Northern Caucasia (Russian Federation). The regional department of the federation intends to develop mountaineering in the Brest oblast. As part of the serious republican organization the Brest affiliate is expected to get more opportunities for training professionals.


Belarus race walker Rita Turova has pulled out of the world championships, which start in Osaka, Japan on Saturday, because of health problems.
"I have certain problems health-wise but I don't want to go into the details of what they are," Turova, 26, told the newspaper Pressball on Friday.
"Thus, I won't be able to compete in Osaka."
She finished second in the 20-km race at the 2005 world championships in Helsinki and was one of the favourites for the title in Osaka after setting the world's best time at the distance this year.


Endnote...



12 offers of the European Union

From: Charter '97
The European March is to be held by the democratic forces in Minsk 14 October. The corresponding application was submitted to the Minsk city executive committee. One of the European March targets is realization by the Belarusian authorities of the 12 offers of the EU for its closer and more efficient cooperation with our country. The Charter`97 press office once again presents the requirements and offers of the European Union to our readers attention.

PROPOSALS AND DEMANDS OF THE EUROPEAN UNION (Text of the document)

What the European Union could bring to Belarus

The European Union has a special relationship with its closest neighbours around its eastern and southern borders. This is called the European Neighbourhood Policy. Through this policy, the EU works to support the political, economic and social reform processes of its neighbours, and to draw them closer to the EU, notably through gradual economic integration. This will allow for the further extension of a zone of prosperity, stability and security, thus sharing with the people of Belarus the benefits the EU (which includes three of Belarus' neighbours -Latvia, Lithuania and Poland) has built over the last 50 years.

The EU is already working with Belarus' neighbours and partners and would of course like to build such a relationship with Belarus. This would contribute to reinforcing Belarusian links with countries that are part of the European Neighbourhood Policy already, such as Ukraine and Moldova. At the same time, this would fully respect traditional Belarusian relationships with our other common neighbour, Russia, which is also a strategic partner for the EU.

What the EU offers to Belarus

When Belarus becomes a full participant in our neighbourhood policy[1], and thus a full partner of the EU, the EU would be able to help to improve quality of life of the Belarusian
people.

To this end, the EU and Belarus would work together to achieve the following improvements that would directly benefit the people of Belarus:

easier travel by Belarusian citizens to EU countries;

increased cross-border cooperation, allowing greater cooperation on economic
development, environmental protection and border management;

boosting the Belarusian economy, supporting the development of small and medium enterprises and preparing Belarusian enterprises for further opportunities in the European market. This would create more jobs and provide better perspectives also for the younger generations; this could be achieved through economic reforms that would make Belarus more attractive for foreign investors;

improve the provision of healthcare and education and of support for the vulnerable in society;

making the Belarusian public administration and local government more efficient in order to provide the people of Belarus with better services;

reform of the legal and judicial system to ensure equal rights to all. This requires independent judges who work in a fair and independent manner to protect the rights of all citizens and the development of civil society;

greater economic opportunities for Belarus and improved living conditions for its citizens through the development and modernisation of transport and energy networks. This would improve Belarus' road and rail links to its neighbours as part of a European-wide network,
thus facilitating travel and the transport of goods;

improve the quality of the environment: water quality, waste treatment, continued support to deal with the aftermath of the Chernobyl disaster;

participation in Europe-wide cooperation on environment, health, food safety standards, working conditions, aviation safety, judicial cooperation etc. through participation in European programmes and agencies.

We would also be able to develop more and better contacts between the EU and Belarus:

We would simplify contacts across the border and make border-crossing easier for local people through cooperation with Belarus' neighbours;

Belarusian cities and communities could work together with cities and communities in the EU, exchanging information and experiences on how to better serve the population;

We would offer Belarusian students more scholarships to study in EU universities. We would encourage regular and long-term exchanges and lasting relationships between universities in Belarus and in the EU at all levels, including both administrative and academic;

We could have a close dialogue and cooperation with Belarus' democratically-elected leaders and civil servants and experts on a wide range of issues, domestic or international, of importance to us all. Belarusian views would be heard more widely on the international stage;

We could more actively involve representatives of Belarus – at national, regional or local level – as well as Belarusian officials, academics, scientists etc., in working together to tackle issues of common interest, sharing and exchanging our expertise and know-how on e.g. economy and trade, modern governance, the rule of law, information, education, tourism, culture, research, energy, health, social issues, environment, transport and communication etc.

We would have deeper economic and trade relations and more business opportunities:

Greater access for Belarusian products, provided they meet our standards, to the EU market of 480 million consumers, which would help to increase Belarus' trade and subsequently enhance the country's further economic development;

Looking in particular at the Belarusian textile sector, better possibilities for textile products from Belarus to enter the European market;

When Belarus joins the World Trade Organisation, this should increase market opportunities for Belarusian products across the world, including in the EU.

In order to support Belarus' economic and social development programmes, we would significantly increase European financial assistance, and we would offer our valuable experience in reforms.

Belarus has, up to now, received far less assistance than its neighbours. However, this situation would change and Belarus would receive assistance comparable to that of its neighbours, if the Belarusian government takes significant steps towards democratisation.
The story coninues...